Are you thinking of visiting Rome in November and wondering how the weather is, how busy it is, and whether late fall is a good time to go to Rome, Italy?
In this article, you can read all about what it's really like in Rome in November, what to expect, and find our top tips for your visit. Take a look!
Good to know: We recently visited Rome in November and all the info in this article is based on our first-hand experience and observations of what it's like to visit Rome in the late fall. Of course, every visit will be different, but this should give you a good idea of what to expect.
If you are also thinking of visiting other places in Italy, you may also like to read our guide to Italy in November.
Top experiences & tours we recommend in Rome: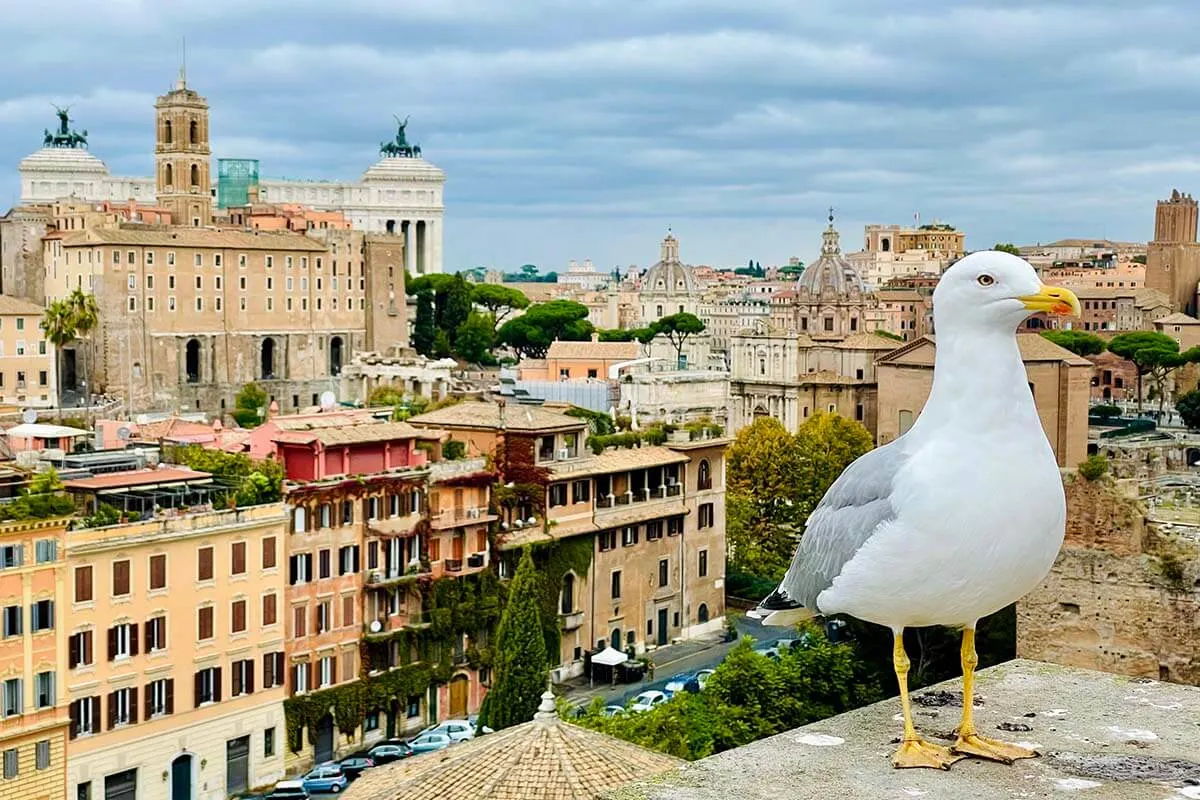 Is November a good month to visit Rome?
Yes, November is a good month to visit Rome. It's shoulder season, so there are some disadvantages (such as less predictable weather and the possibility of some rain), but there are lots of advantages as well.
Cooler weather and fewer crowds in Rome in November make sightseeing more enjoyable. Because the sun is lower, the light for photography is beautiful, and colorful autumn foliage adds a nice touch as well.
Furthermore, because it's a lower tourist season, you can also make your budget stretch further since accommodations and some tours are slightly cheaper than in the high season. And it's quite likely that the flights to Rome will also be cheaper in November.
PRO TIP: If you want to take advantage of the better deals, you have to be sure to book your flight tickets and hotels well in advance! We found some really good deals when we booked our 4* hotel for November in Rome a couple of months in advance, but when I checked if there were any last-minute deals a week before the trip, accommodation prices were significantly higher (and lots of places were fully booked too).
How is the weather in Rome in November?
The weather in Rome in November is pleasant and mild. It's not too warm and not too cold, with an occasional rain shower. Temperature-wise, there is a big difference between visiting Rome in the first week of November or around Thanksgiving. While you can still wear t-shirts and sweaters during the day at the beginning of the month, you'll definitely need a warmer jacket towards the end of November.
Average November temperatures in Rome are between 7 and 17°C (45-62°F). On average, Rome gets 8-9 days of rain in November, and it's the rainiest month of the year in the Eternal City. However, in practice, you'll most likely have dry and rather warm weather with just a few showers (if any).
If you visit Rome at the beginning of November, you can expect daytime temperatures of around 18-22°C (65-72°F). If the sun is shining, you can sometimes still wear shorts and t-shirts during the day.
Mid-November usually has temperatures of 14-16°C (57-61°F). By the end of the month, you'll likely experience daytime temperatures of 10-12°C (50-54°F).
Our experience: We visited Rome in the first week of November and it was one of the rainiest Novembers of the last few years. The weather forecast showed rain for 5 out of 6 days of our visit. However, in reality, it only rained on 2 days.
On one 'rainy' day, there were was a shower that lasted about half an hour and the rest of the day was dry. The other rainy day was quite wet indeed, with several downpours during the day, but also perfectly beautiful weather in between. On the other days, it didn't rain at all or only during the night.
As for the temperatures, the last week of October, just before we arrived, the temperatures were 22-23°C. We had temperatures of 18-20°C on all days, and also one sunny day when it was 22°C.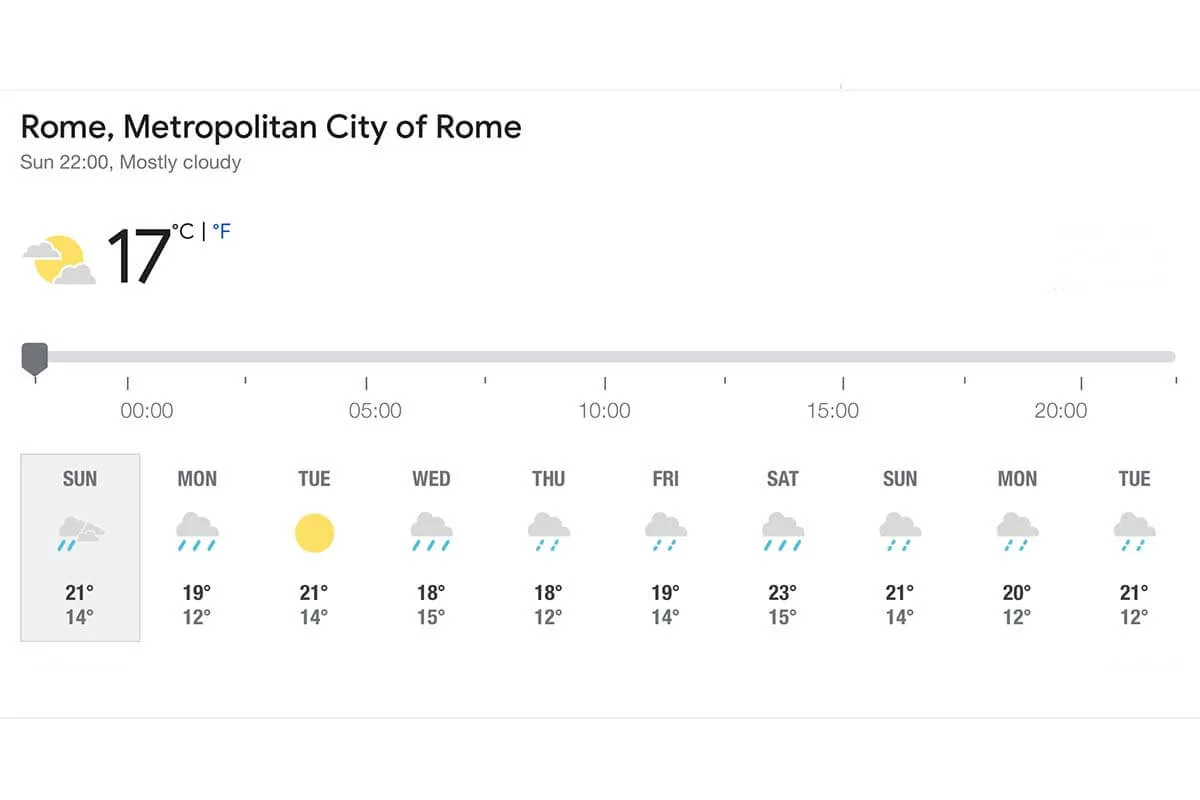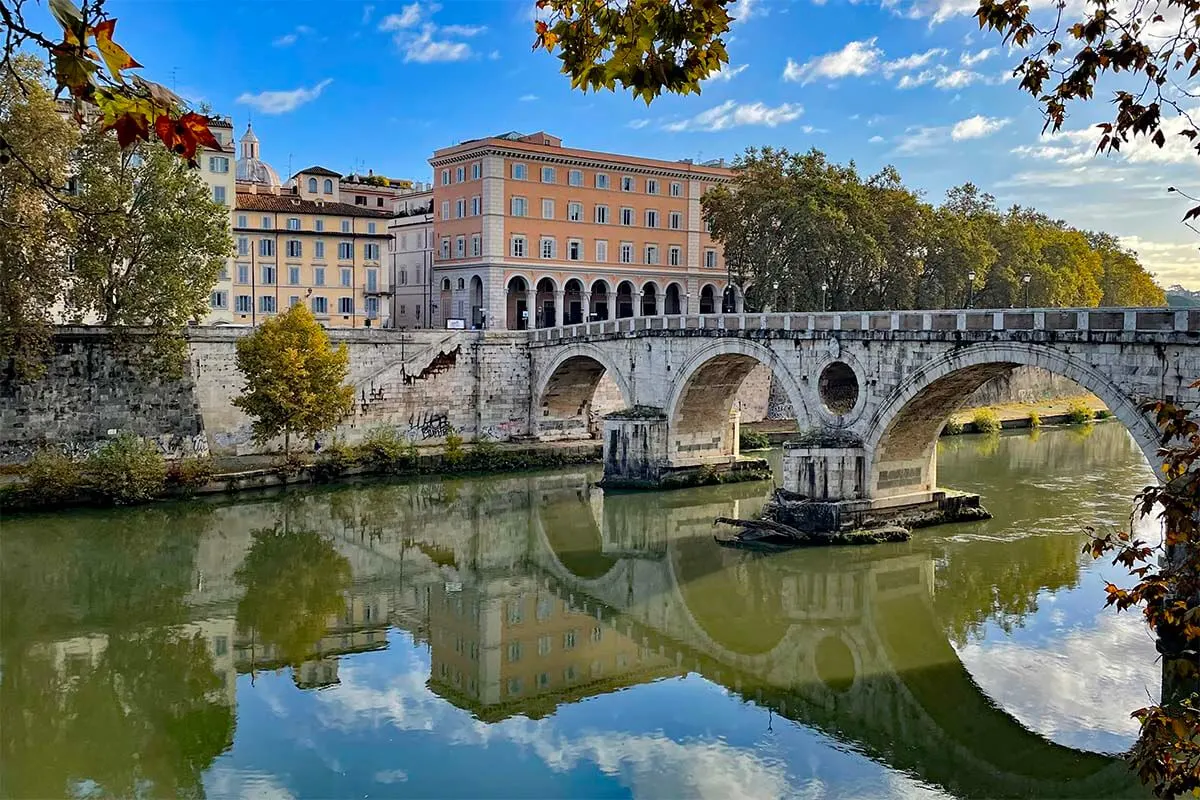 What to wear in Rome in November
It's quite easy to pack for Rome in November. Jeans, a few shirts, a sweater or two, and a light jacket is all you really need. Ideally, you can layer up and down, because it's often a bit chilly in the morning and in the evening, but it gets a lot warmer during the day.
Comfortable shoes are a must, and ideally, they can withstand some rain. I also recommend a light scarf or a buff, especially in the second half of November. Sunglasses are a must as well because when it's sunny, the sun is quite low and shines right into your eyes.
Also, take a look at the weather forecast and – if it shows rain – pack a small umbrella with you. Ideally, a light travel umbrella that fits in a small purse.
Our experience: During our visit to Rome in the first week of November, we wore jeans and a sweater every day. I also used a light shawl in the evenings. We also wore light rain jackets, usually in the evenings or on those few occasions when it rained.
We also used our travel umbrella one day and it was a real lifesaver because it poured cats and dogs. The heavy rain only lasted 10-15 minutes every time, but if you are outside at a time like this, you can get soaking wet in a matter of minutes.
Good to know: If you forget something – anything – you'll be able to buy it in Rome. When it starts to rain, you'll see street vendors selling rain ponchos and umbrellas of all sizes and colors. When the sun comes out, they sell sunhats and water bottles… It's incredible to see how quickly they adapt to the situation and the weather and are always ready to help you out with whatever you may need.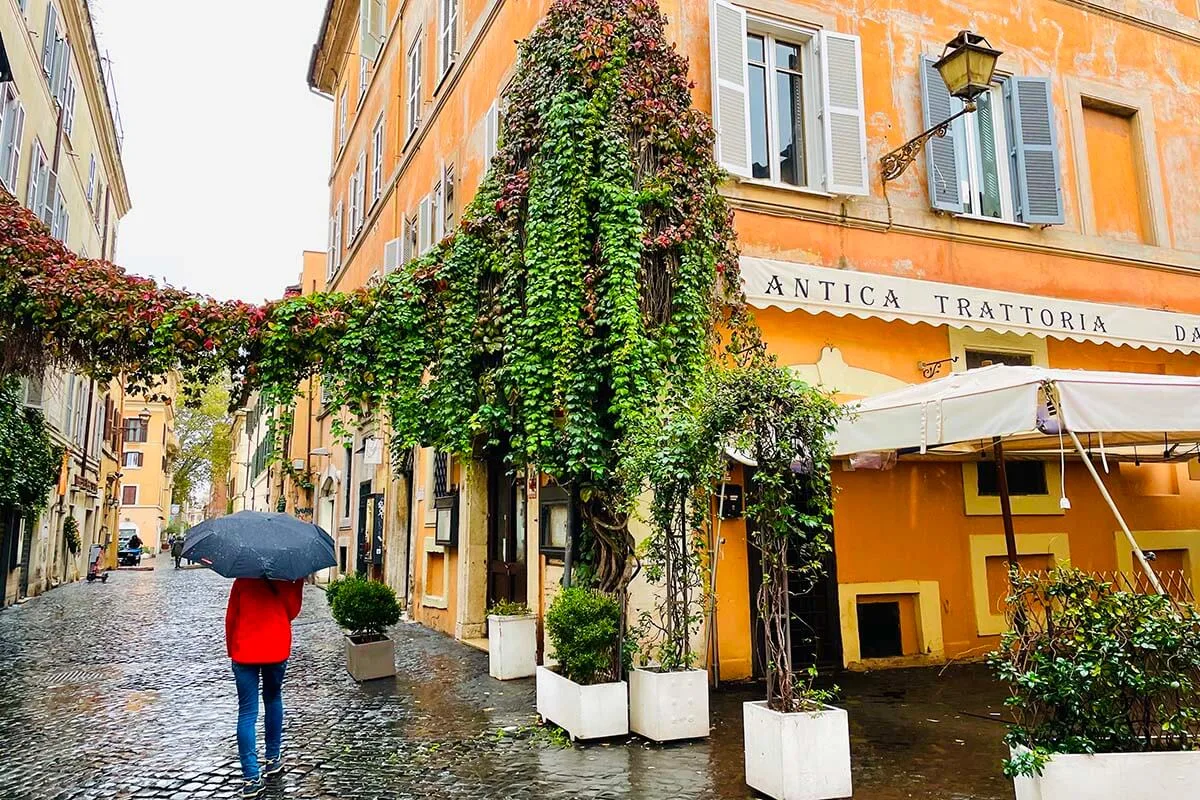 How long are the days and is there sufficient daylight in Rome in November?
As Europe switches to winter hour on the last Sunday of October, it gets dark quite early in Italy in November. In November, the sunrise in Rome is at around 7 AM and the sunset – at around 5 PM, and it gets dark soon after that.
At first, we were a bit concerned that shorter November days would make it difficult to see and do everything that we had planned. We shouldn't have worried!
If you start your days early, you can see everything you want to see before it gets dark. Furthermore, you can take advantage of the best light for photography without having to get up very early or stay late. And, you can enjoy the beautifully lit landmarks of Rome every evening and still go to bed in time.
Shorter days in November are more than compensated by the fact that there are fewer people and thus almost no waiting times. Except for the main landmarks (that were still VERY busy), we didn't have to queue anywhere for more than 5 minutes, often not at all. And because we prebooked tickets and tours for all the busy places, we hardly wasted any time at all.
Our experience: We usually started our days at around 7-8 AM, and by the time it got dark (around 5.30 PM), we were completely exhausted from all the walking. We saw everything we wanted to see and so much more! In fact, we usually had all the sightseeing done before it got dark and enjoyed quiet evenings with gelatos, long dinners, and relaxing evening walks in the city.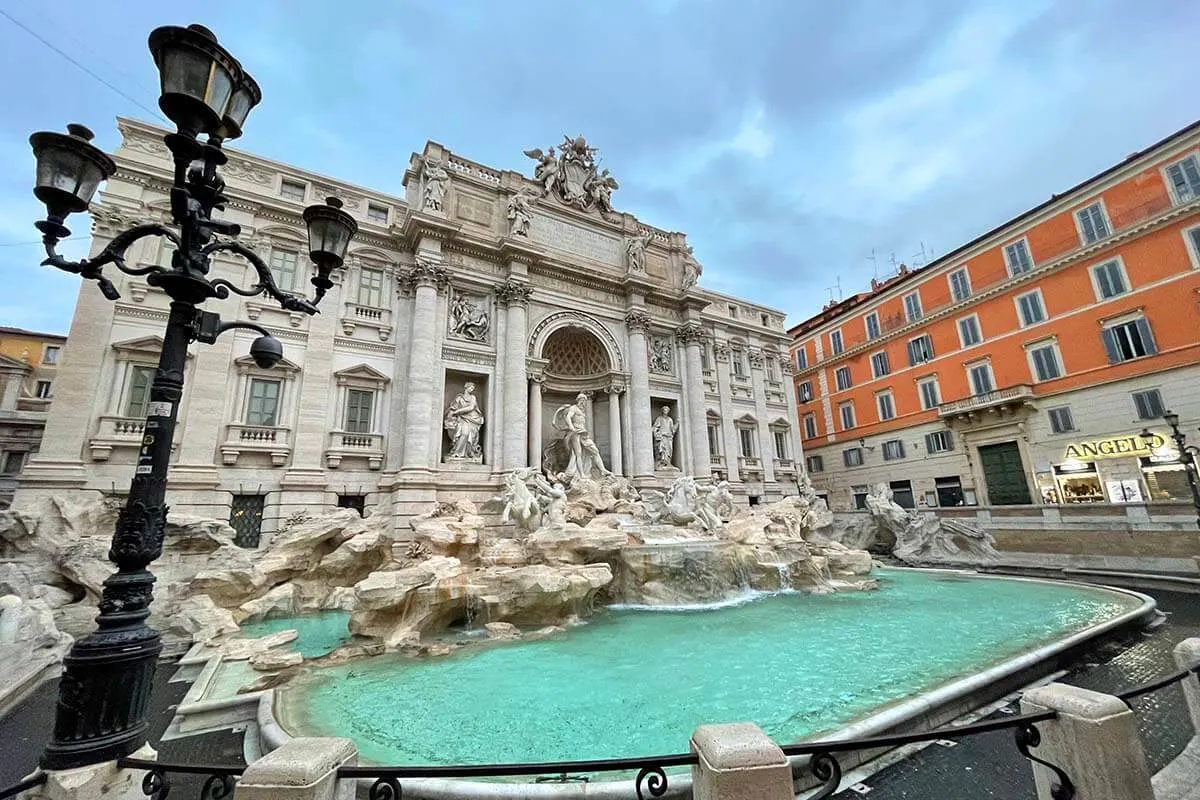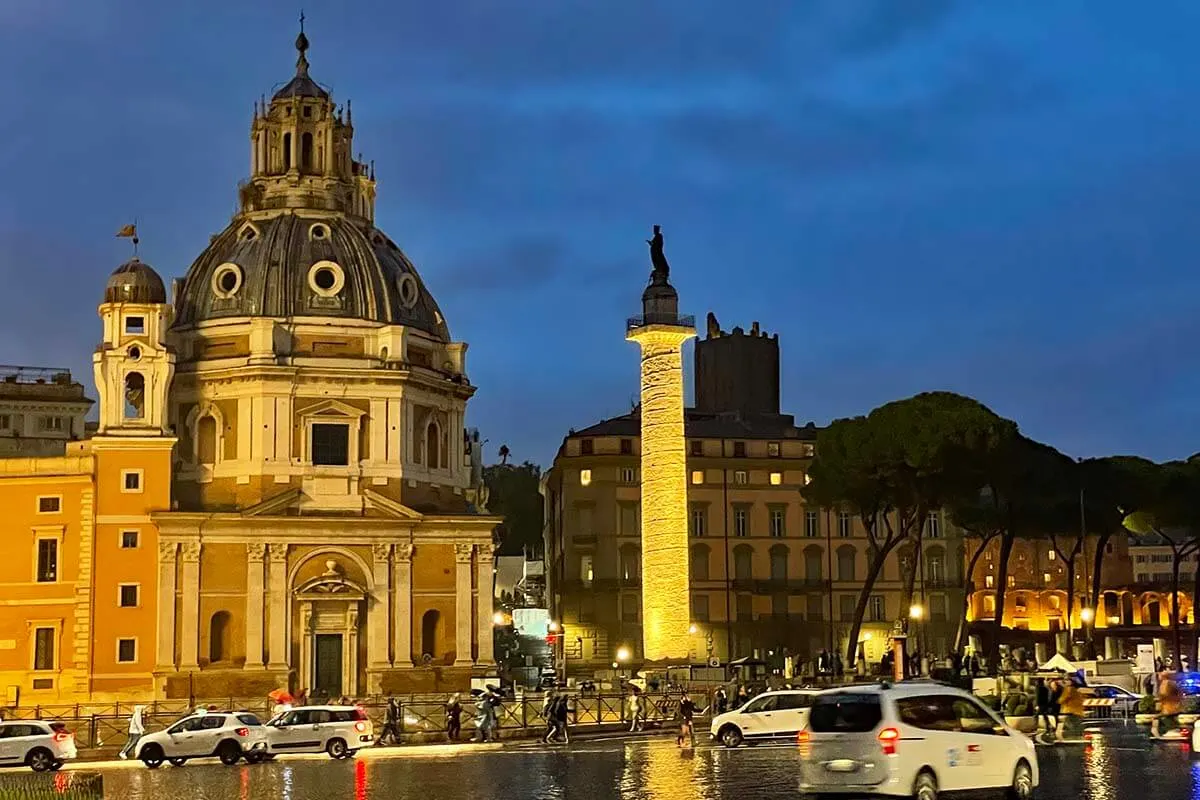 Is it busy?
We always heard that November is one of the quietest months to visit Rome, together with January and February. We also recently visited Barcelona in November and the city surprised us with the lack of crowds (this was pre-pandemics, on a very busy travel year). So we expected that it would be quiet in Rome as well. But it wasn't quiet at all!
The main landmarks and the historic city center of Rome were crowded in the first week of November. And I mean really busy – as busy as I have ever seen it in the more popular months like May or September.
The Colosseum, the Vatican Museums, and the main walking streets between the Pantheon and the Trevi Fountain were full of people from morning to late evening. It was so busy at the Pantheon, that every time we passed, there was such a long queue to get in that the entire square looked like a waiting line at the popular theme park attractions. Some locals were even selling their spot at the beginning of the line for 10 Eur and people were actually paying for it, in order not to waste hours of their time waiting to get in…
That being said, it was only this busy at the most popular sights. Most of the hidden gems of Rome that we visited were rather quiet, with hardly any people at all. And because we made an effort to get out of bed early, we could also see the most popular landmarks of Rome without any people at all. The Trevi Fountain was deserted at 7 AM, and most other popular places in the city remained really quiet until 9 AM.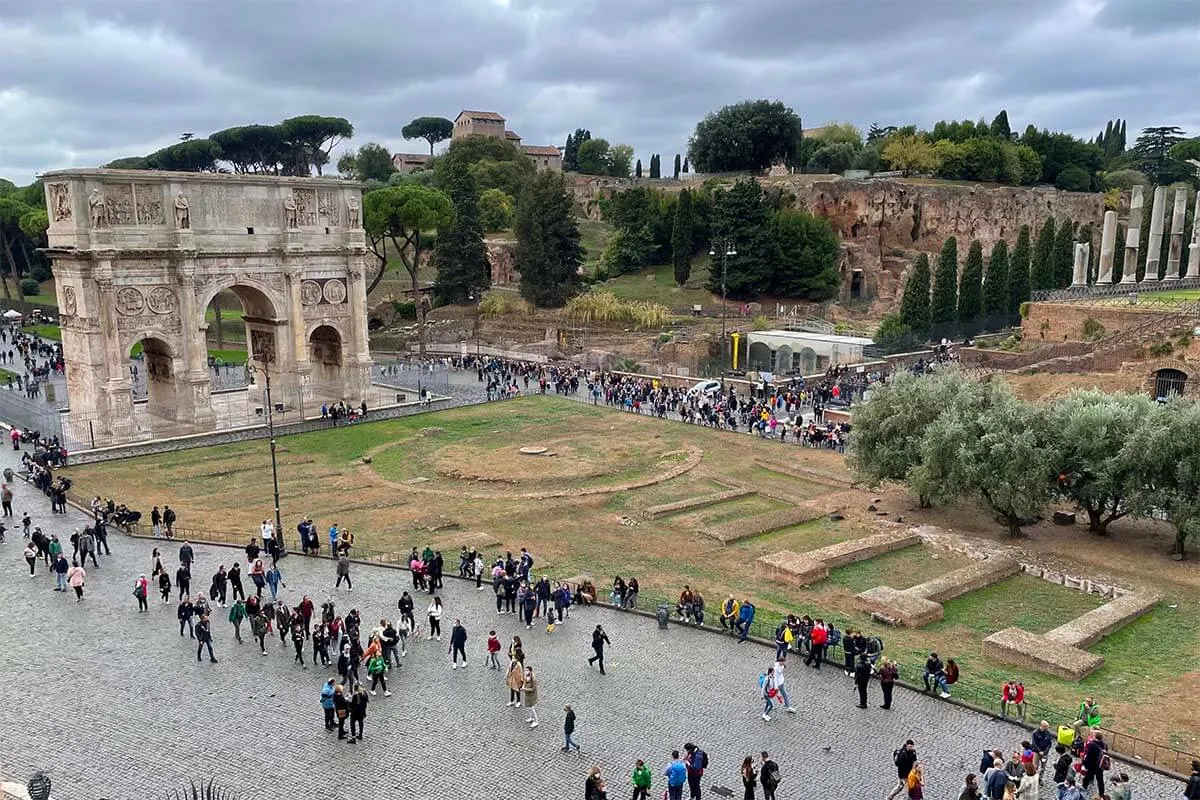 Do you need to pre-book tours and activities when visiting Rome in November?
Yes and no – depending on which tickets and which tours!
No matter when you visit Rome, there are two places you really have to reserve your tickets in advance – the Vatican and the Colosseum. For the rest, it depends on the place. But, as a general rule, if you absolutely want to do something and want to be sure that you can actually visit at a specific time, I'd definitely reserve upfront.
We booked all our tickets and tours via GetYourGuide. They have the most flexible cancelation policy, allowing you to cancel almost any tour up to 24 hours before it starts. So you have nothing to lose really, and it gives you peace of mind and saves a lot of stress.
Furthermore, there are just so many options of tickets and tours available that the choice can get overwhelming. But by booking in advance, you can do some research, compare different options, read the reviews, see what fits your itinerary and interests best, and book with confidence.
Booking in advance also prevents unpleasant surprises – you'll immediately see if one or the other landmark is closed on a specific day, or if a tour is booked up already.
Our experience: We booked everything that we absolutely wanted to do in advance (Colosseum underground tour, tickets for the Vatican Museums, St. Peter's underground & dome climb tour, food tour, and the e-bike tour of the Appian Way), and then just got the tickets for all the smaller places upon arrival (some churches, crypts, lesser-known museums).
Three days before our trip, I looked at the tours again as I was considering switching the dates of two tours because of the weather forecast. However, there were no more tickets available for the Vatican Museums for the day I was thinking of switching to, so I just left it as originally planned (and it worked out great in the end). So yes, even in November, it pays to book in advance.
READ ALSO: Best Colosseum Tickets & Tours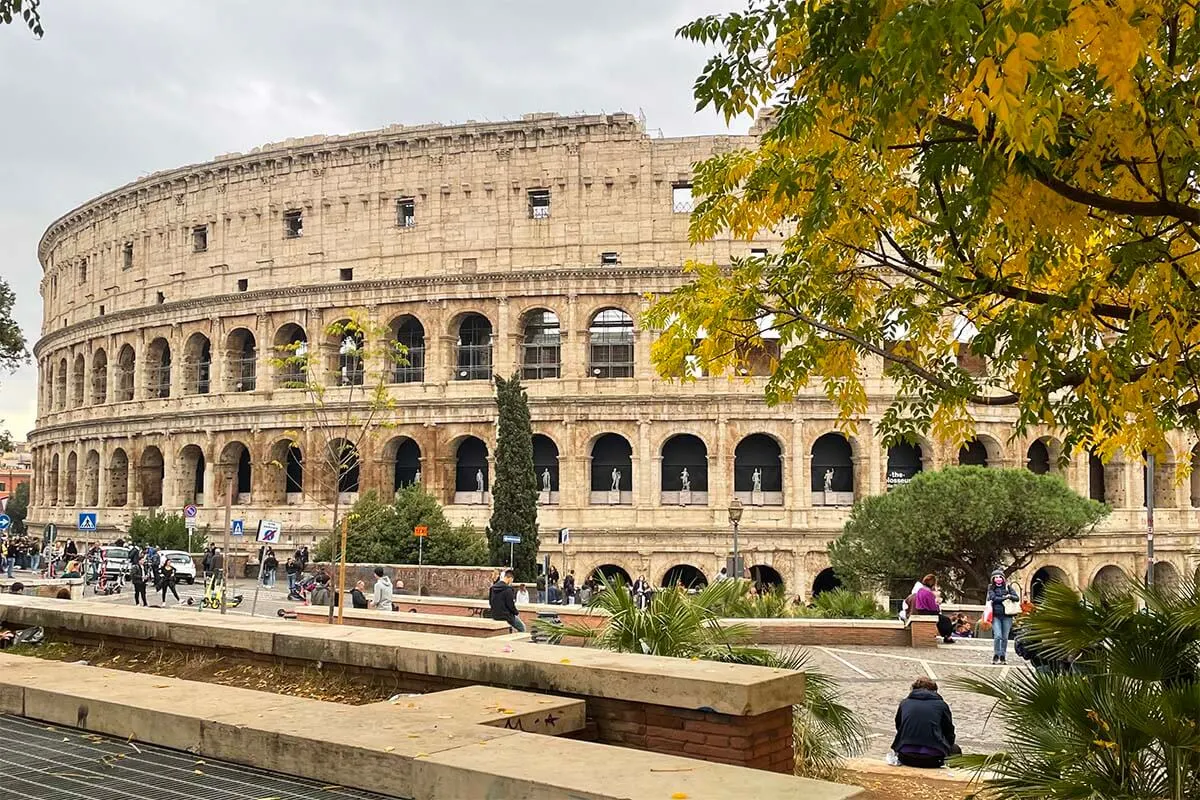 Is everything open in Rome on November 1?
November 1 is a public holiday in Italy (and most of Europe), and some places might be closed. However, in Rome, almost every tourist landmark or attraction is open on the 1st of November, with the exception of some religious sites.
When we were doing research for our trip, the only place that was closed on November 1 in Rome was the Vatican, more precisely the Vatican Museums & Sistine Chapel. That's it. St. Peter's Basilica is open on November 1, and so is the Pantheon, the Colosseum, and most other places.
So we simply booked a tour of the Colosseum on November 1 and visited other places that day and went to the Vatican on November 2.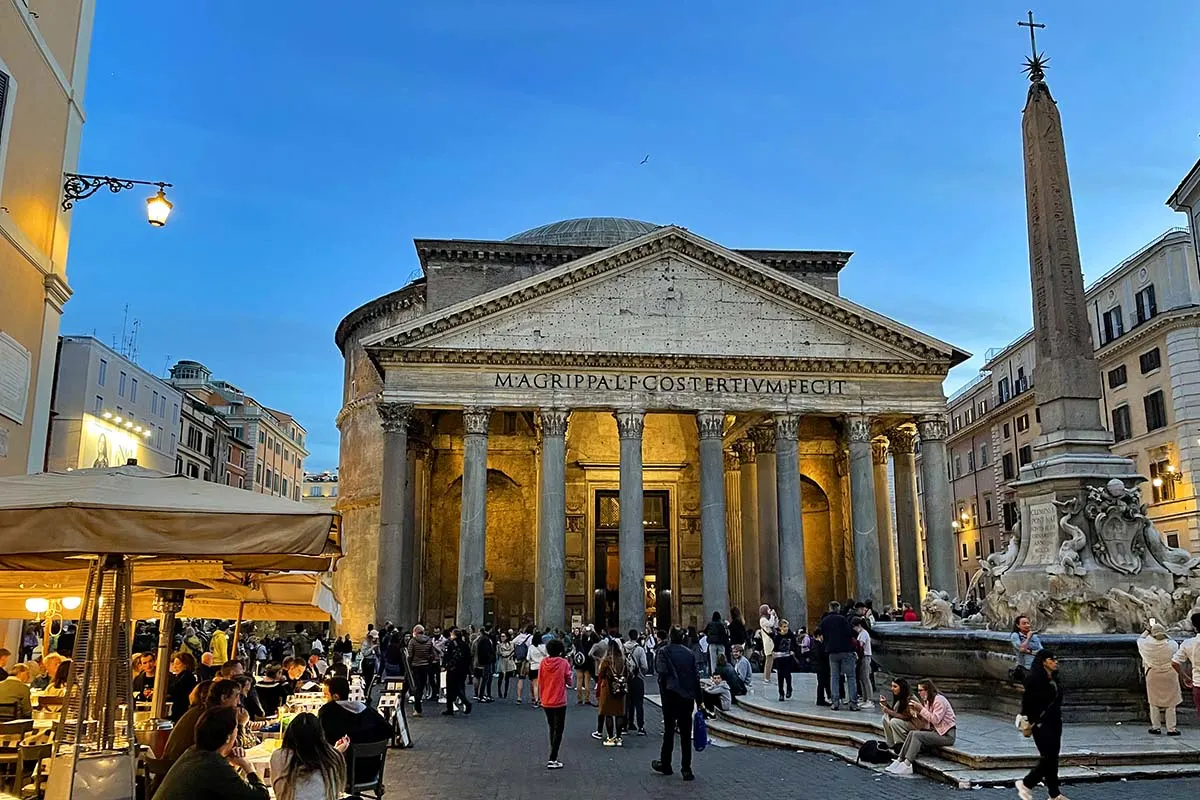 Dining and restaurants
One of the concerns we had when visiting Rome in November is if we would be able to dine outside. Not just because of the pandemics, but – in general – I find that dining outdoors always gives me more of a vacation feeling.
Well, in 4 full days and 5 evenings, we only had dinner indoors twice and breakfast – three times. On all the other occasions, including all lunches, we ate outside. Most restaurants in Rome have beautiful outdoor terraces and terrace heaters, and even in November, it was still very pleasant to dine outside.
We booked our hotel for this trip for its amazing central location, but also because of its stunning rooftop terrace. And despite the fact that we started our days very early, we were able to enjoy breakfast on the beautiful terrace on a few occasions as well.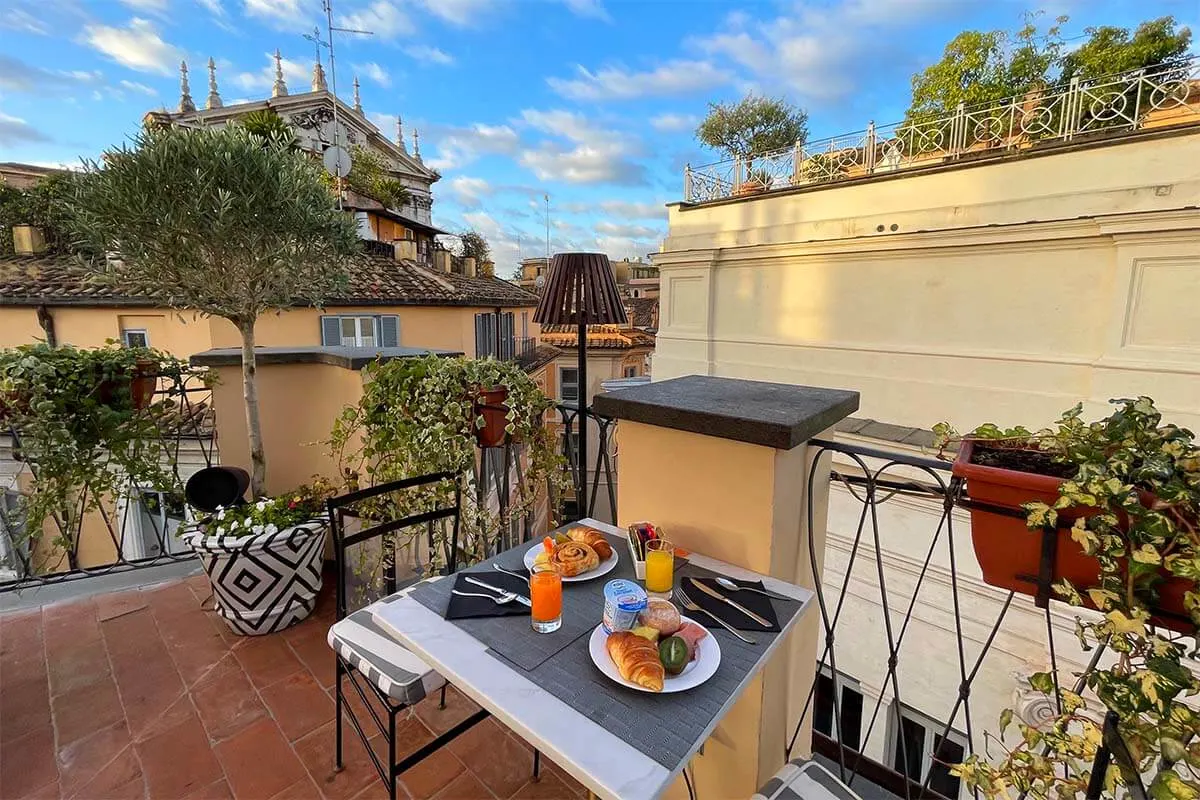 What to do in Rome in November
If you are wondering what to see and do in Rome in November, my answer is quite simple – EVERYTHING! Visiting Rome in November allows you to explore the city to the fullest.
There was not one place or experience in Rome that we didn't enjoy or couldn't do because of the weather in November.
Quite the contrary, in fact. Because it wasn't as hot as during our previous visits, we could enjoy sightseeing much more and we actually saw more of the city than ever before as it wasn't too warm or too busy.
And if it rains, there are so many churches and museums to visit that you'll never run out of ideas of things to see and do in Rome. No matter the weather.
It rained a bit when we were at the Colosseum and it didn't ruin our visit at all. In fact, overcast skies made it easier to take pictures of the Colosseum and also at the Roman Forum and Palatine Hill. These places have hardly any shade and get unbearably hot in the warmer months; now it was truly enjoyable! It also rained a bit when we had our walking street food tour in Rome city center and that didn't ruin the experience either.
I know it's human nature to worry about the weather – especially if rain is on the forecast for every single day of your visit, as it was for us. But try to relax and make the best of your time in Rome, no matter the weather! And if you are indeed very unlucky and get soaking wet, you'll likely have some fun travel memories too…
Good to know: Some day tours outside the city stop running in November, but you can still find plenty of other options to the most popular places, and some tours slightly adjust their itinerary. For example, this popular Pompei & Mt Vesuvius tour runs in November and this Tuscany tour is available in November as well. So yes, there are still plenty of options in and outside the city.
READ ALSO: Best Places to See & Things to Do in Rome (ultimate bucket list!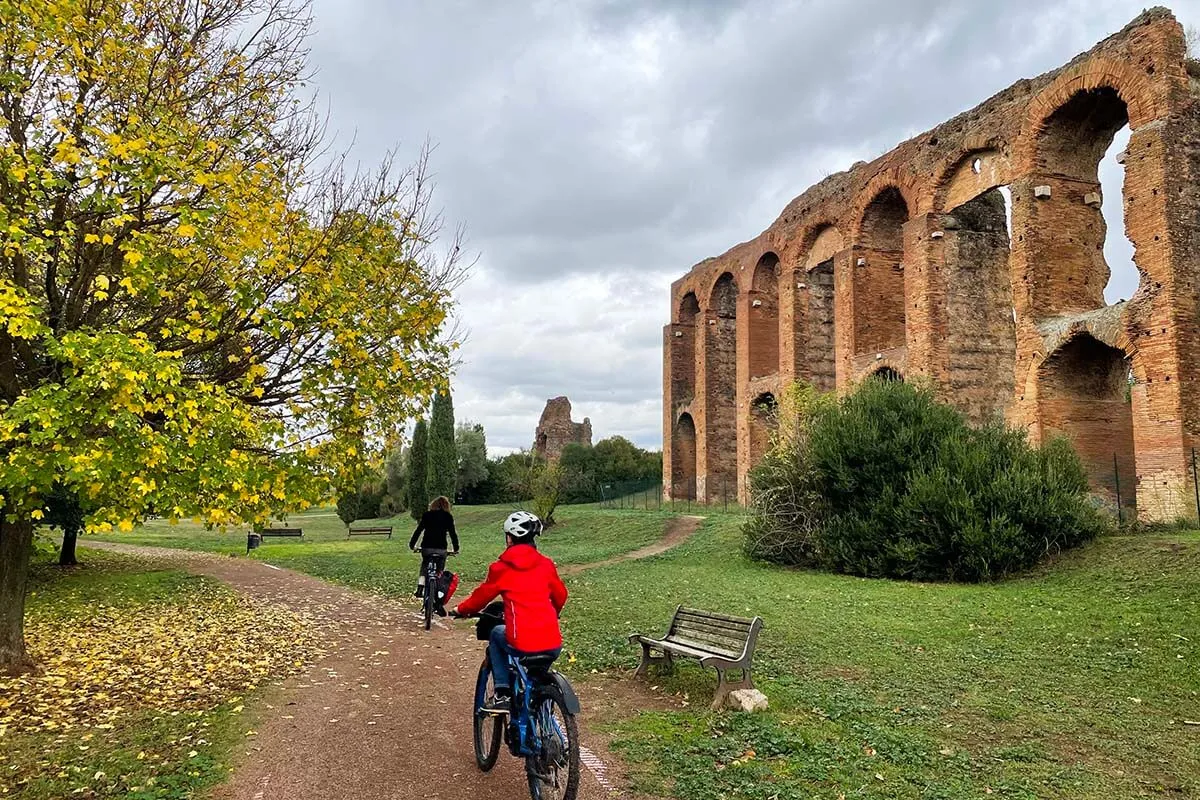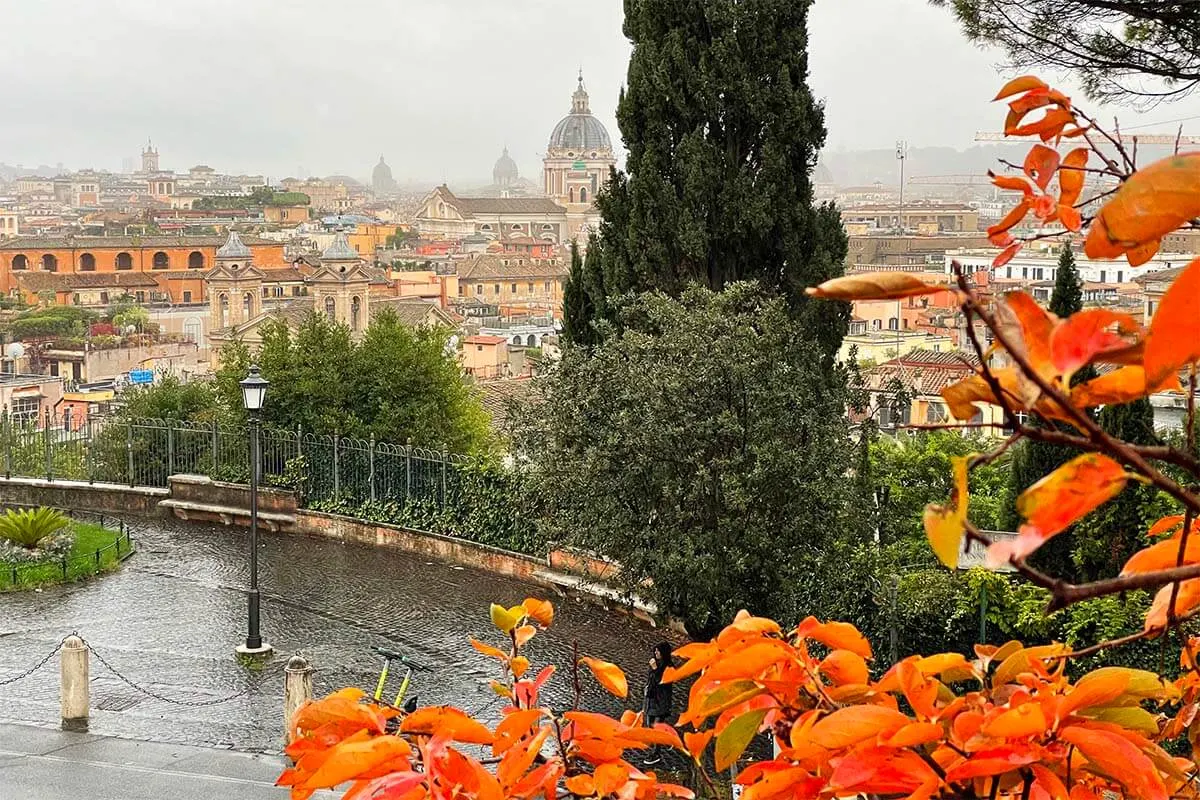 Rome in November with kids and teens
We travel a lot and our kids are always with us, no matter where we go. Yet, even now that they are teenagers, we are still somewhat reluctant to plan a longer city trip with them… Because we all know that cities can be really tiring for children.
I felt much more comfortable visiting Rome with kids in November than in the warmer months. And it worked out great! Because it wasn't too warm, the sightseeing was really pleasant and we could see and do so much. And we didn't have to plan our itinerary around the locations of the drinking fountains or gelaterias.
We still had plenty of gelatos, of course, but not because we needed them in order to cool off. In fact, we could take our time and walk to the best gelaterias in the city instead of just buying the first ice cream we came across. And that was really nice too, for a change.
So yes, Rome can be great with kids in November. We saw lots of families with children of all ages in the city (the first week of November is a popular period for school holidays in many European countries) and they all seemed to be having a good time. Even in the evening, I didn't hear any kids complain. And that's always very different if you go to any big city in the summer.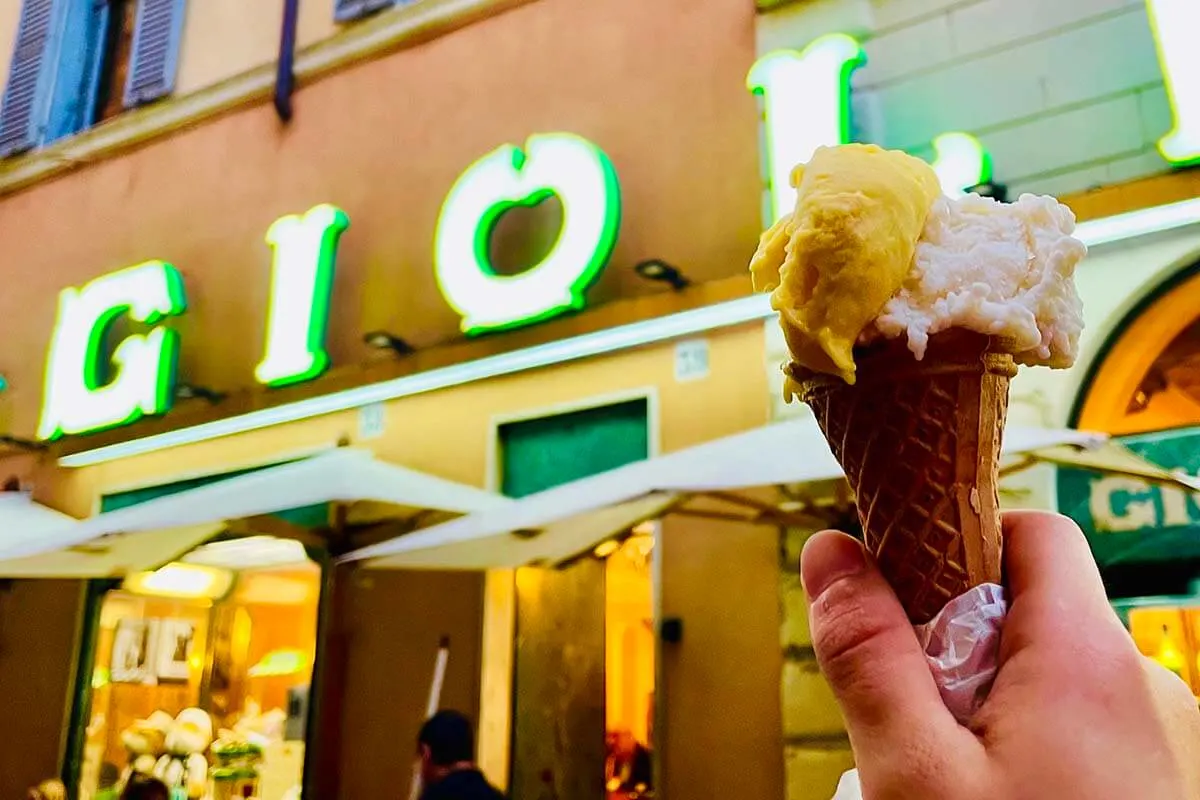 So, this is our experience and tips for visiting Rome in November. I hope that it gives you a better idea of what to expect.
I really think that there is no wrong time to visit Rome. But from all the times we visited Rome, this visit in November was probably the most relaxing and most enjoyable. AND we actually saw and did much more than on any other trip in the warmer months.
TIP: If you are looking for more information and general tips for your visit, be sure to check out this article with tips for visiting Rome. It contains all the useful info, tips, and tricks that will help you plan a more enjoyable visit. You may also want to read our guide to the best airport transfers in Rome. Check it out!
Be sure to also check our other guides about Rome:
READ ALSO: Where to Stay in Rome (the best area)
If you found this post useful, don't forget to bookmark it and share it with your friends. Are you on Pinterest? Pin these images!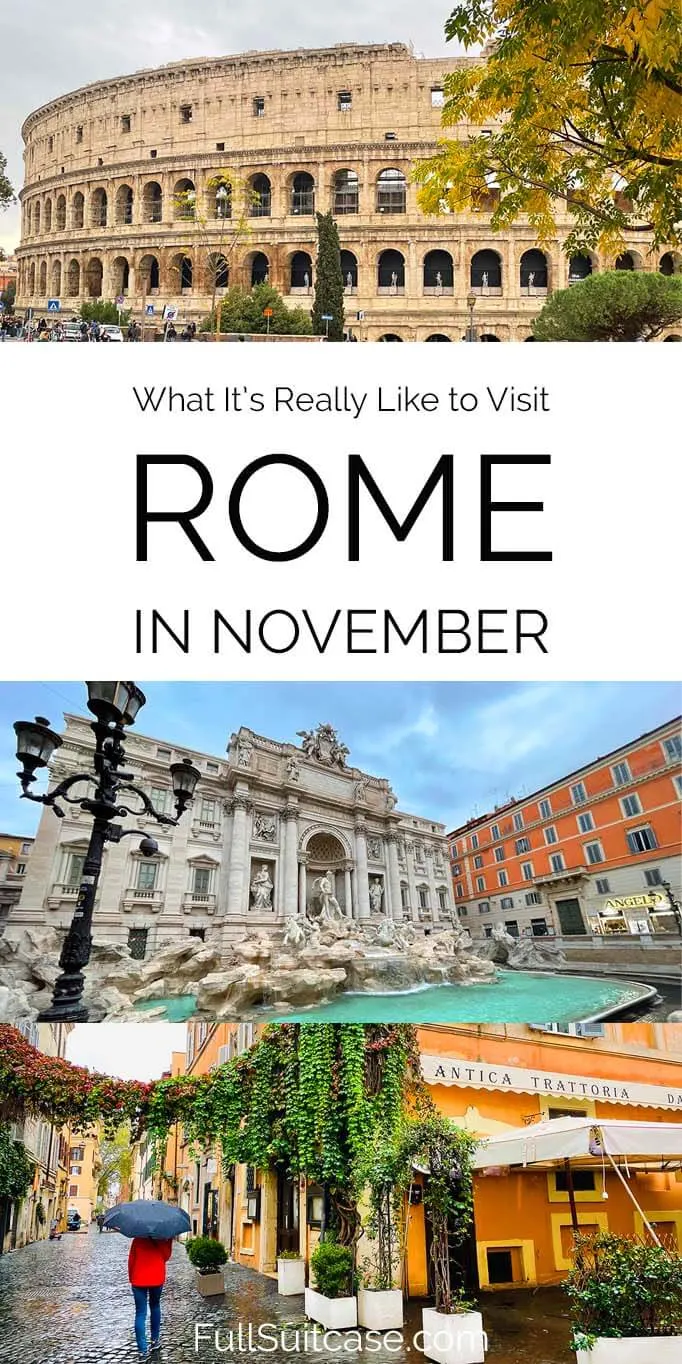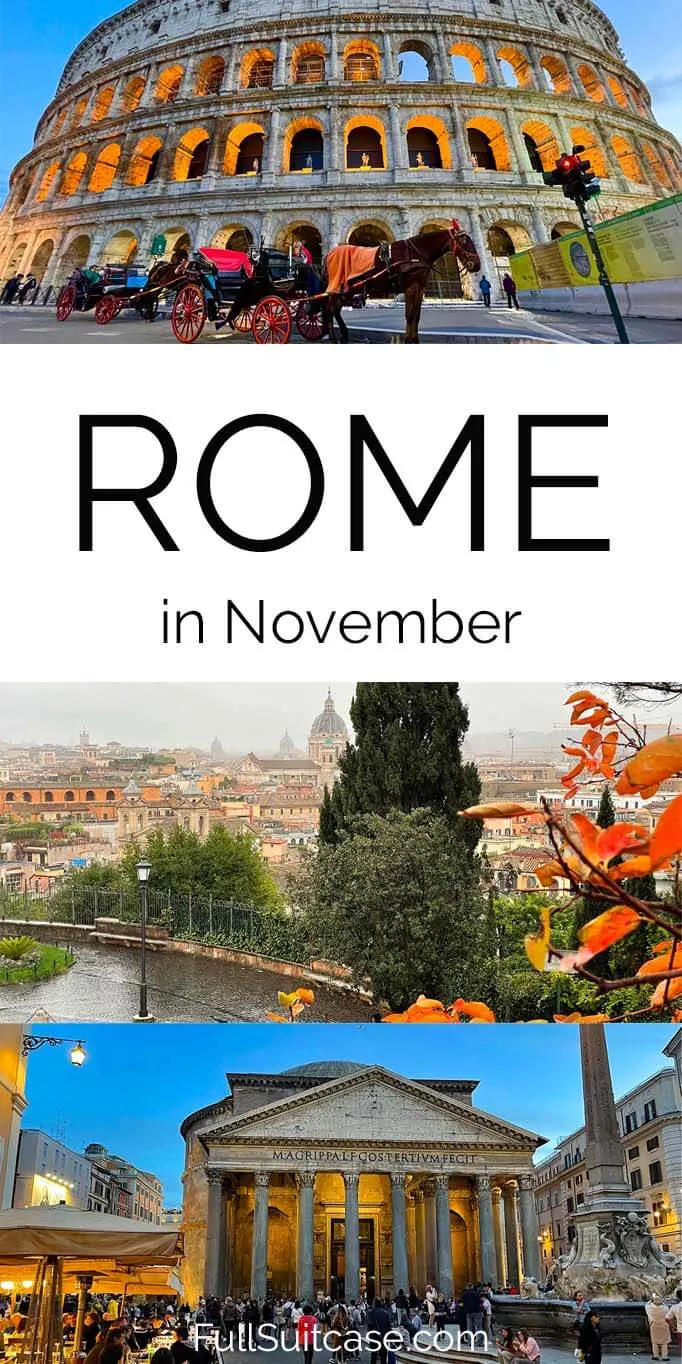 More travel tips and inspiration for visiting Italy: