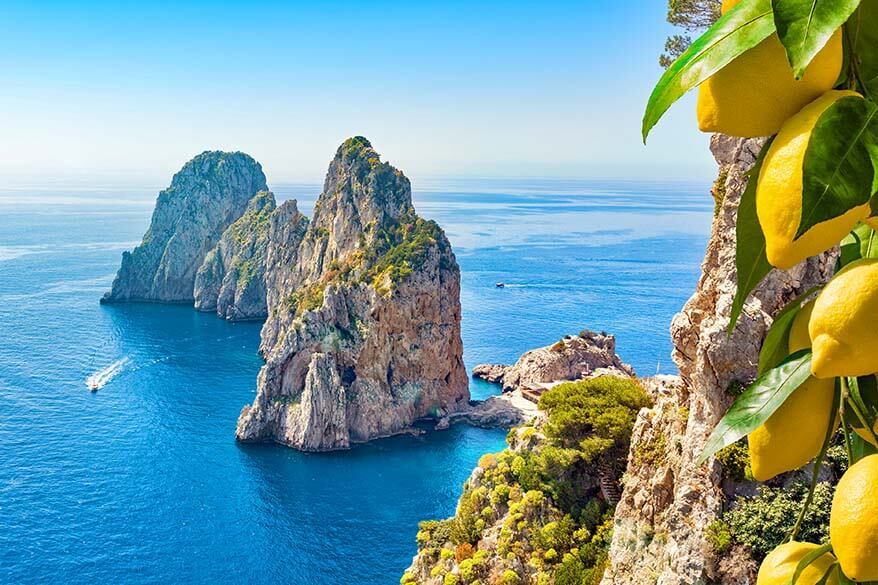 Are you planning to visit Capri island in Italy and wondering what you can see there and what are the best things to do in Capri? You came to the right place! Whether you are visiting Capri for just a day or planning a longer vacation on the island, this guide should answer all your questions.
Capri island, just off the Amalfi Coast, is a famous destination in Italy, but somehow it's really tricky to find a comprehensive guide to things to do on Capri. Everyone just tells you how amazing it is, without telling you where to go and what to see, or just mention a few most popular sights without showing what Capri is truly about…
Thus this guide to visiting Capri island, which we wrote in collaboration with Nicky from That Anxious Traveller who knows the region quite well. This guide to visiting the Isle of Capri not only covers all the main landmarks and must-see places in Capri but also includes a couple of lesser-known gems on the island. We also included a few fun things to do that make your trip to Capri even more special and memorable. Find out!
To help you better plan your time on Capri island, at the bottom of this article I also included a map indicating all the things to do in Capri mentioned in this article and a suggested itinerary for one day in Capri. You can find them all the way at the bottom, together with our recommendations on when to visit Capri, how to get there, and how long and where to stay.
Featured image: IgorZh/Shutterstock.com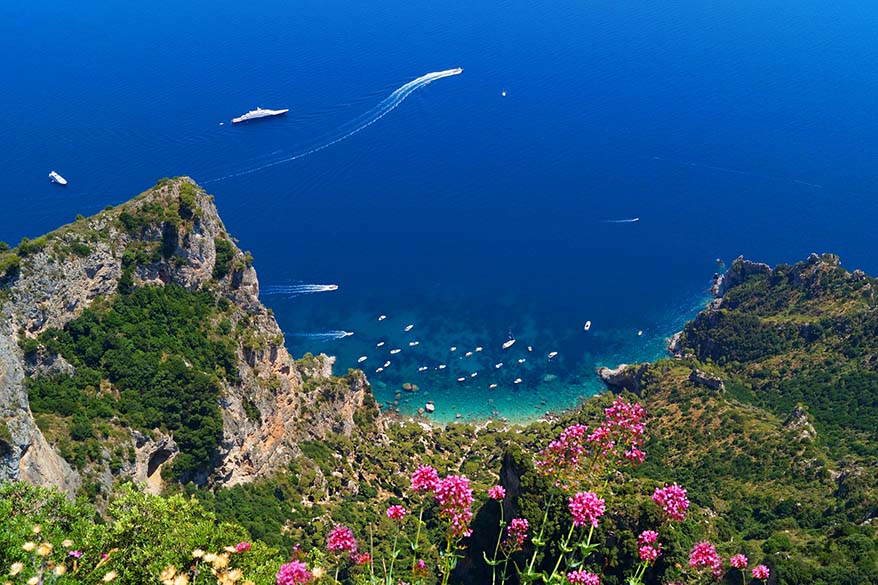 If you're feeling overwhelmed by Capri's gorgeous sights, you're not alone. In fact, Capri has been enchanting people since ancient times, its glittering blue seas and pine tree-strewn lands casting a spell over all who visit. The Roman emperor Tiberius liked it so much that he refused to go back to Rome, and spent much of his reign staying in a villa overlooking the mainland.
These days, Capri still has a hold on the rich and famous – you should see the villas dotting the cliffsides! Luckily, there is still plenty to see and do for us mere mortals, so finding amazing things to do on Capri is hardly a chore.
When you're wandering down tidy pathways, surrounded by bright flowers on one side and views of the sea on the other, finding your way around becomes part of the fun!
However, in order to help you to narrow it down, we've compiled a list of only the very best things to do on Capri island. Whether you're looking for stunning natural beauty, ancient ruins, or just some fantastic shopping, you'll find it all in this guide!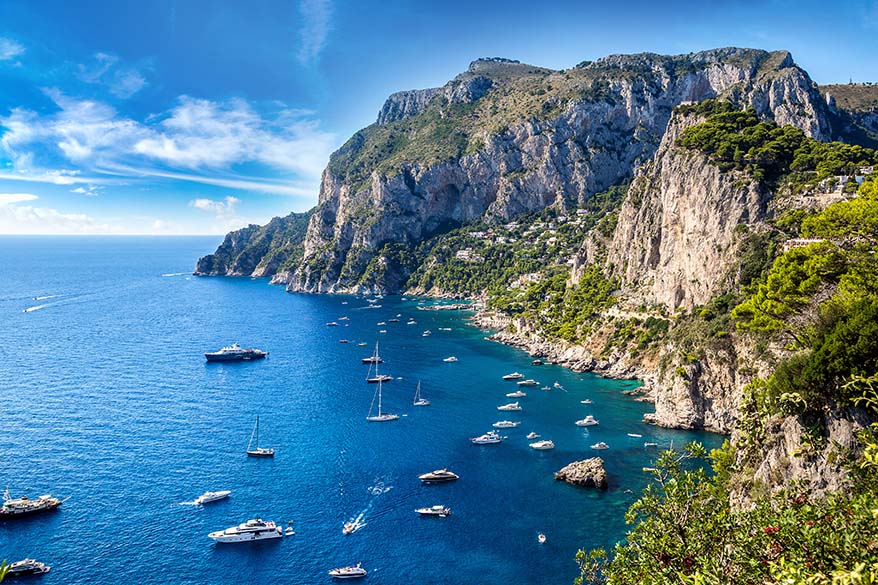 How to use this list of the best things to do on Capri
This list of things to do in Capri is structured in such a way that the very best things to do on Capri island are mentioned at the top. These are the experiences you really can't miss. Think of them as the essentials, main Capri attractions.
However, all of the places and experiences listed here are truly amazing. All of them together will make your trip to Capri more special. You should definitely try to see as many as possible, but if you are short on time, prioritize the ones closest to the top.
At the bottom of the article, you will find all the practical information for visiting Capri, including suggestions on how to see the best of Capri in one day.
Complete guide to visiting Capri island – overview: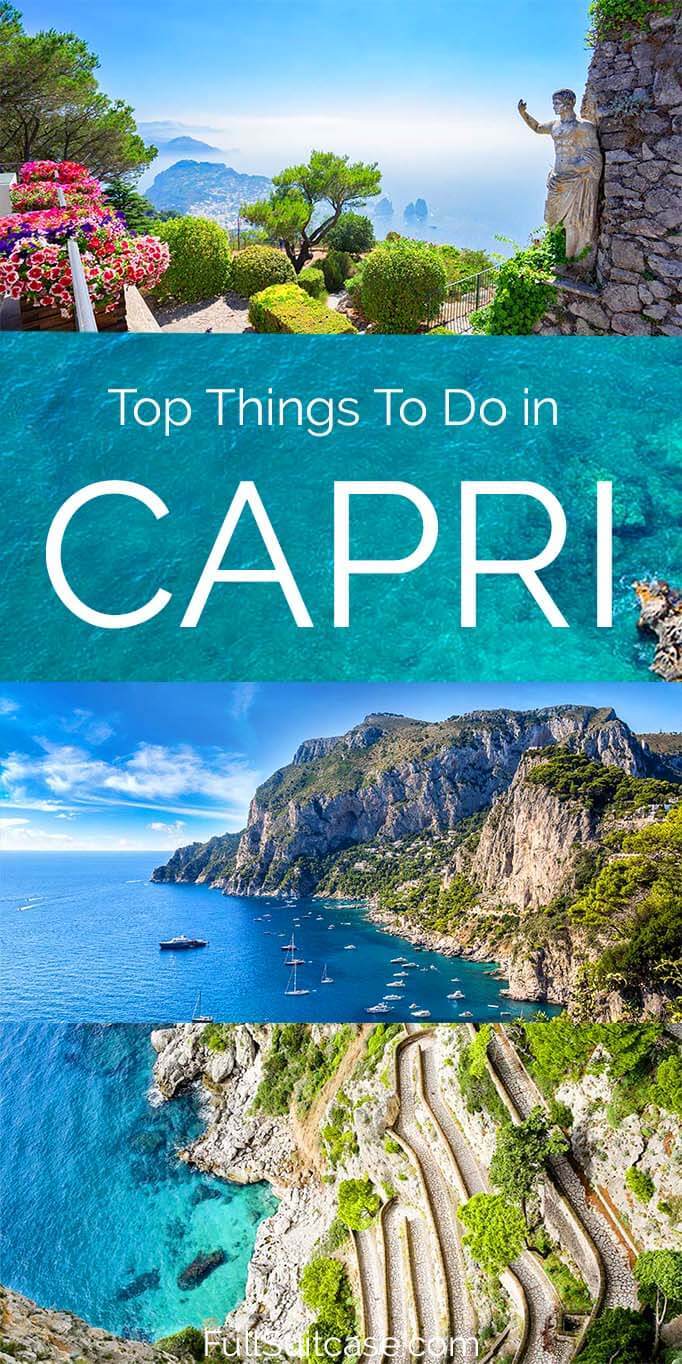 Best Things to Do in Capri
Without further ado, below are 21 amazing things to see and do in Capri. Find out!
1. Blue Grotto
Let's start off with Capri's most famous sight, the one that you'll be seeing on all the postcards in the area. The fact that it's so heavily featured in any literature about the island is no surprise: the Blue Grotto is world-famous for its crystal clear aquamarine waters and blue color. It's definitely the place that everyone visiting Capri has to see, one of the absolute best things to do in Capri.
The cave gets its distinctive bright blue color thanks to a large hole in the rock beneath the water surface, and a quirk of science which means that red light entering the hole gets filtered out. The result is stunning!
There are many blue grottoes around the world (in fact, we just recently visited a similar Blue Cave in Croatia), but Capri's Grotta Azzurra is by far the most famous. Interestingly, it's been loved and shunned in equal measure throughout history: the emperor Tiberius used it as his private swimming pool, but after that, it was avoided by the locals due to stories of the cave being haunted.
These days, it's definitely a favorite place on Capri island. You'll need to board a tour boat at Marina Grande (the port where you'll arrive on Capri) in order to be taken to the Blue Grotto. Various companies offer tours with little variation in price.
You'll be taken around the coast, then transferred to a rowboat in order to enter the tiny entrance of the Grotto. Keep in mind that the rowboat has an extra cost and that you may well be held in a queue of rowboats in peak season. But it'll be worth the wait, as the glowing blue cave truly is a magical experience!
TIP: Many organized Capri day tours include a visit to the Blue Grotto. You can find the best ones listed under 'how to get to Capri & best Capri day tours' section.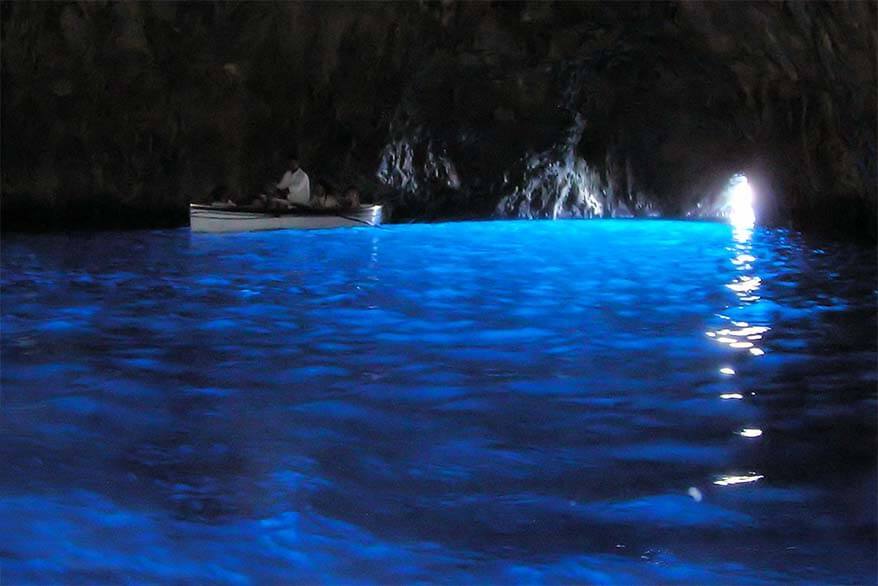 2. Giardini di Augusto
The Gardens of Augustus may not be vast in size, but they're definitely one of the best places to see in Capri. What they lack in size, they definitely make up for in views!
The Giardini di Augusto are located just a short walk from the center of Capri Town and are truly excellent value – entry costs just 1 EUR. This is by far the cheapest paid attraction you'll experience on the island!
Once you walk up a small flight of steps, you discover the most beautiful views. The gardens are extremely well cared for and have a vast variety of Mediterranean flora. The best time to visit is in spring and the beginning of summer when the blossoms are at their best. You can also enjoy some rather lovely statues, which look perfectly suited to their surroundings.
However, it's the views that most people come here for, and they're well worth the trip! At the back of the gardens are two terraces that offer breathtaking views of the sea, the surrounding lush greenery, and of the famous Faraglioni rocks. It's a wonderful place for taking a moment to relax and watch the pleasure boats zipping through the seas, as well as taking some amazing photographs!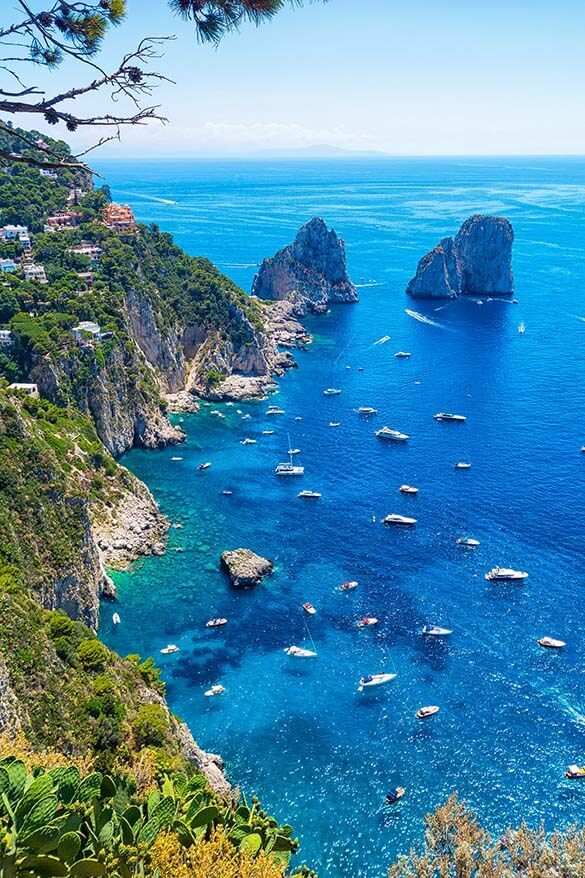 3. Via Krupp
The twisting hairpin bends of Via Krupp are located right next to the Giardini di Augusto. This is one of the most iconic landmarks of Capri!
Via Krupp is a real jewel in Capri's crown. It's being extensively photographed – you may well find that it looks strangely familiar as you approach! The narrow path switches back on itself over and over, as it descends towards a particularly attractive bay of the pale blue sea. It just begs to be photographed.
The road gets its name from a German industrialist, Friedrich Krupp. He created and used the path regularly, as it lay between his hotel and the research vessel he was using. Krupp outstayed his welcome by getting over-friendly with some of the local youths, resulting in him being asked to leave. But the name of the road has remained.
There's only one problem with Via Krupp – it's frequently closed due to the danger of falling rocks from the surrounding cliffs. It's worth checking online to its status before you leave, but don't be disheartened if it's closed. You may not be able to walk the path yourself, but you can take an excellent photograph of it by visiting the terrace at the back of the Giardini di Augusto. The view of Via Krupp from the gardens is probably better than the view from the path itself!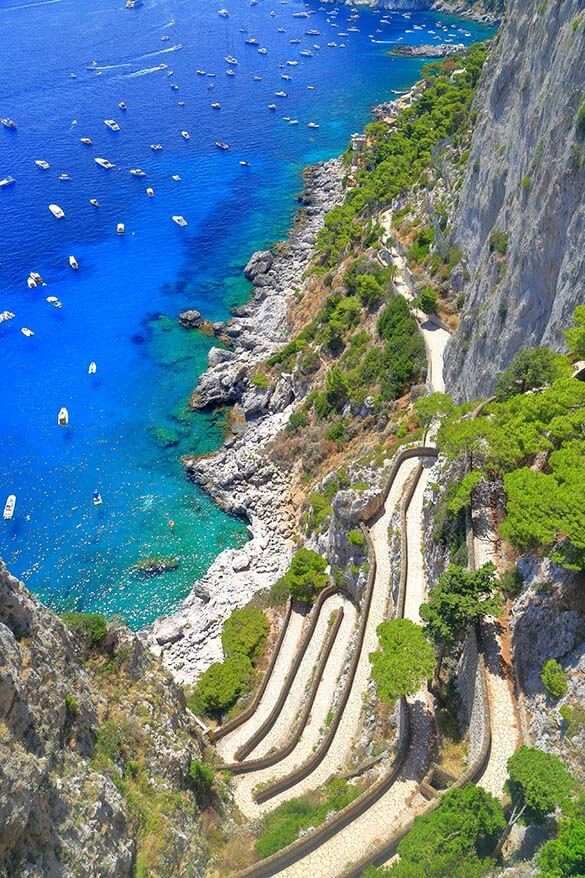 4. Faraglioni
Along with the Blue Grotto, the Faraglioni rocks are the symbol of Capri. These rock formations tower out of the blue waters which surround them, and are a photographer's dream!
The Faraglioni have been formed by the crashing of the waves beneath them, the waters slowly eroding everything but the strongest rock formation. This has led to three rock stacks remaining: Stella (the one closest to Capri), Mezzo in the middle, and Scopolo, which is the furthest distance away. Scopolo is actually a bit of natural curiosity, as it's the home to blue lizards which are only found there.
The best way to view the Faraglioni is to walk along Via Tragara, which is a treat in itself. You can admire the tidy villas with their stunning gardens, which are located along the path. Most of the properties back on to a cliffside, and offer amazing views. You can see gardens with a backdrop to die for, framed by a vista of blue seas and rolling hills. Owners are used to the tourists admiring their gardens, but remember to be respectful of their property.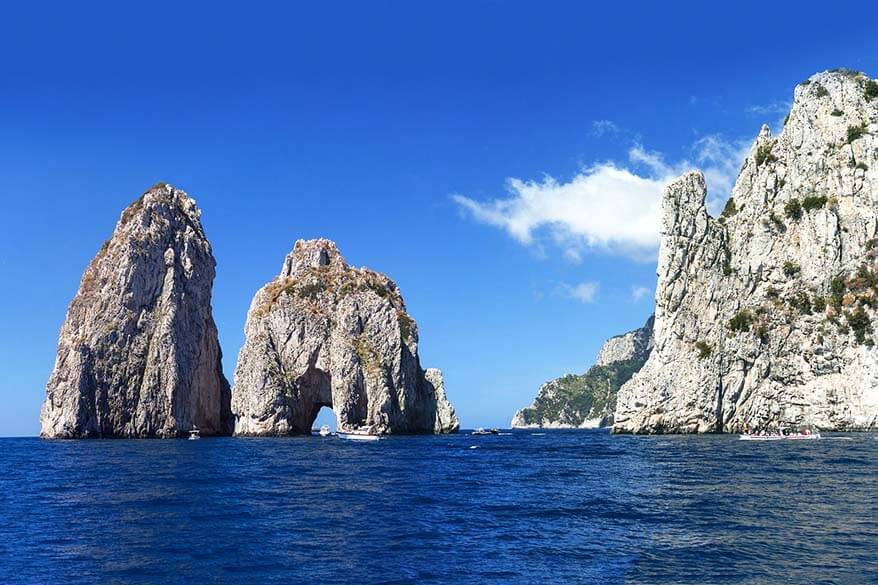 5. Boat trip around the island
If attractions such as the Faraglioni and the Natural Arch sound wonderful but also sound like too much walking (or if you really want to take it easy on vacation), you could consider taking a boat trip around the island.
Taking a boat allows you to view all the sights of Capri that you wouldn't see otherwise. For example, did you know that in addition to the Blue Grotto, there's also a Green Grotto and a White Grotto? You can visit all of these on a boat tour, as well as go through the arches in the rock formations of the Faraglioni and the Natural Arch.
Wandering around the island of Capri is definitely a great way to see the island's splendors, while at the same time having a relaxing day. You can find a boat tour at Marina Grande. A lot of tours will also give you some time for snorkeling, so remember to bring your swimming gear!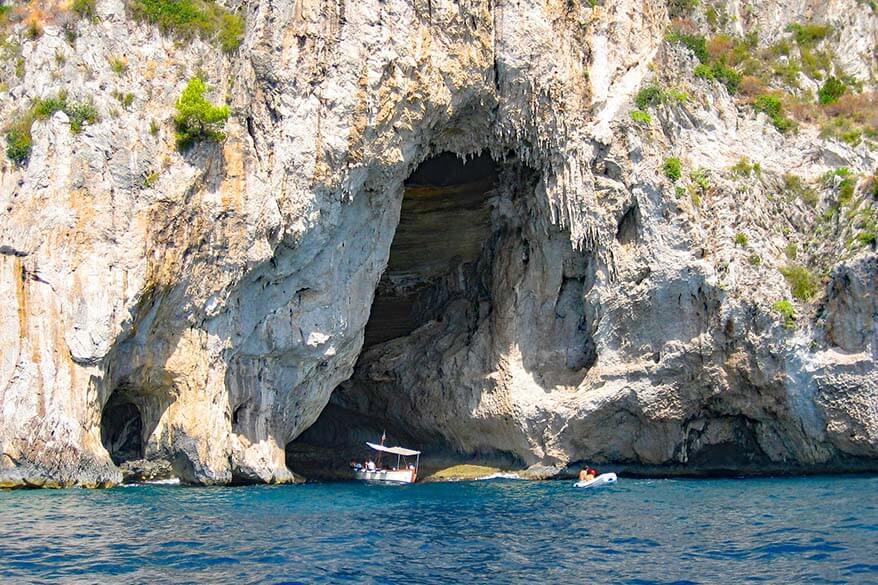 6. Monte Solaro
If you are looking for the very best views in Capri, then you'll need to go to the island's highest point, Monte Solaro.
You'll see Monte Solaro as soon as you arrive on Capri – it's the mountain which towers over Marina Grande. No need to worry about hiring climbing gear: it's actually rather easy to get to the summit! A hiking path starts in Anacapri (you'll need to take a bus to Capri's second town), and it's an easy hike for anyone in good condition. You can enjoy the local flora on the way up: Monte Solaro is known for its proliferation of plant life!
If you want to make life even easier for yourself, you can catch a chairlift to the summit. The single-seat chairlift is an experience in itself and the ascent to the top is quite gentle – there are no large drops beneath you at any point. The chairlift starts from the station at Anacapri, on Via Caposcuro.
Once you're at the top of Monte Solaro, you can enjoy the region's best views! The vistas stretch all over the Bay of Naples and you're treated to fantastic sights of the Faraglioni, and Sorrento on the mainland.
TIP: Take a chairlift on the way up and then walk back down. That way you can enjoy the scenery without too much effort.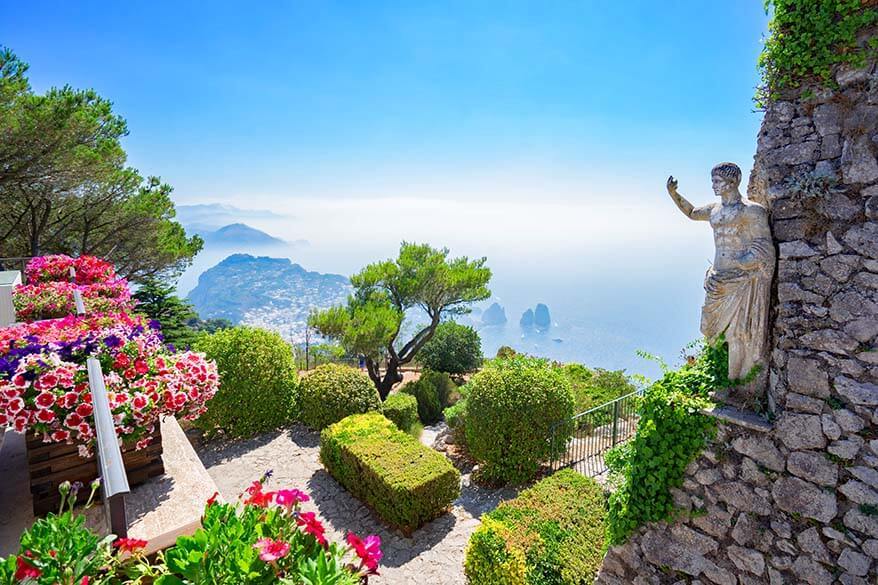 7. Via del Pizzolungo
Via del Pizzolungo stretches from the Faraglioni to the Natural Arch and offers amazing scenery. It is well worth taking the opportunity to get away from the crowds and enjoy a slice of Capri's natural beauty!
It's advisable to start the trail from the Natural Arch end. That way you'll avoid having to climb up a large flight of stairs. Simply follow the signs to the Natural Arch from the center of Capri Town, then turn off when you reach the Ristorante Le Grottelle. If you want to walk from the other end, take Via Tragara until you reach the Faraglioni viewpoint, before taking a small pathway on your left.
Whichever side you start walking, you can expect wonderful views of the coast and the Faraglioni rocks. There is a viewpoint of the rocks located on the trail which is much quieter than the one on Via Tragara.
You can also get a glimpse of the distinctive Casa Malaparte, a red modern villa which clings perilously to dangerous rocks, almost surrounded by crashing waves. The villa is on private property, but it's an astounding piece of architecture, well worth seeing.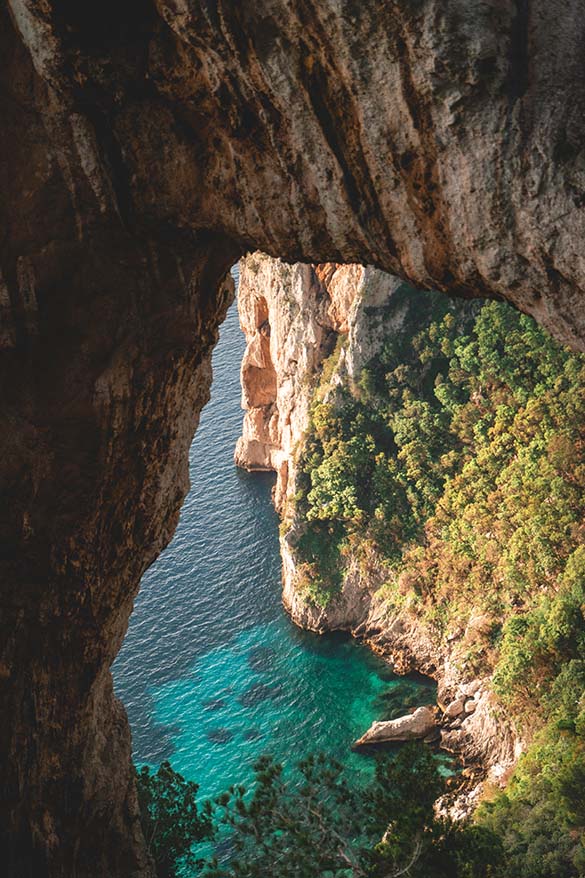 8. The Natural Arch
Much like the Faraglioni, the Natural Arch is a quirk of nature and erosion. It's also just as photogenic! It used to form the roof of a grotto, but when the grotto collapsed, the arch was left on its own.
The Natural Arch is an easy hike from Capri Town. Most of the walk is down a quiet street and the only strenuous activity you'll need to do is traversing down a flight of steps. Bear in mind that you'll need to come back up, though! The walk is well worth it, however, as you'll be rewarded with glorious views of the arch, with a bay of clear blue water directly underneath it.
It's also possible to hire a boat and see the arch from the sea. It gives some incredible perspectives of the underside. It's also said that it's lucky to give your partner a kiss as you pass through the arch!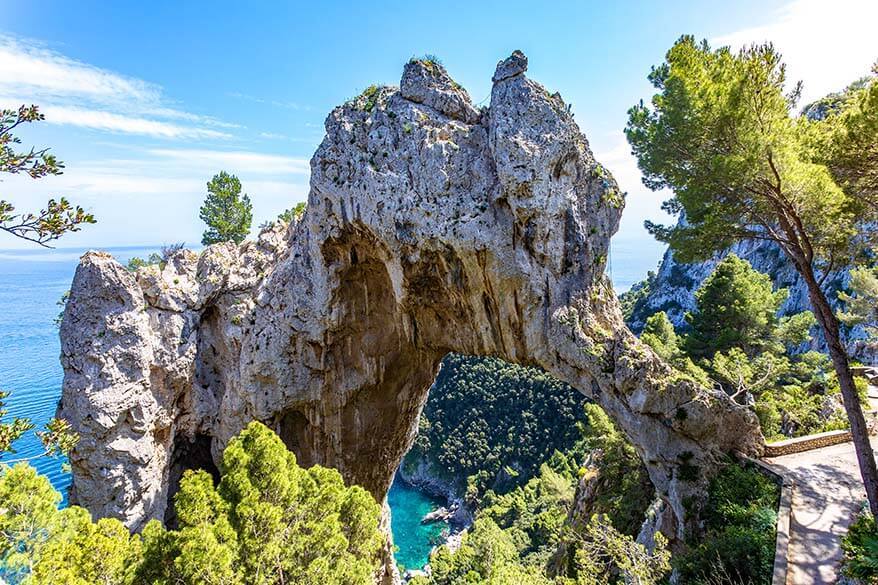 9. Villa Jovis
If you enjoy spotting the beautiful villas dotted around Capri, then you can see the one which started it all – Villa Jovis. The original posh home on the island was owned by Emperor Tiberius, a lifelong fan of Capri.
It's said that he used the villa for less than savory pastimes. Rumors abound about orgies and other sexual excesses, and any guests who didn't meet with his approval were dispatched by being thrown off the nearby cliffs. Whether it's true or if it's propaganda against an unpopular tyrant, nobody really knows. But you can certainly see why he picked Villa Jovis to be his home from Rome. The views are astounding, as well as handy for keeping an eye on the mainland and Capri's port!
Villa Jovis is in ruins these days, but it's a really interesting place to look around. It's an easy walk from Capri Town and you should count about an hour for a visit.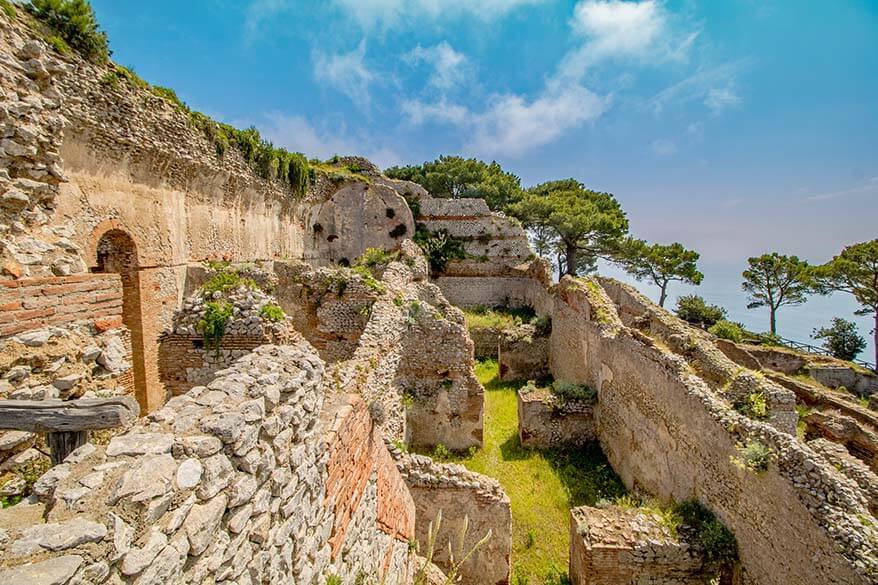 10. Via Camerelle
As beautiful as the sights are around the island of Capri, there's also another reason why people come here – the designer shopping on Via Camerelle.
This serene street in Capri Town probably has one of the highest concentrations of luxury fashion shops found anywhere in Italy! Name a fashion brand, particularly Italian ones, and you'll probably find it here.
Shoppers with the requisite cash can choose between Louis Vuitton, Bulgari, Dolce & Gabbana, Versace, Valentino and many more. You'll see plenty of people who are swinging more than one paper bag emblazoned with the top names in fashion. If you've got the urge to treat yourself to some high fashion, there's probably not a finer place in the world to go on a shopping spree.
If these fashionable boutiques are a little out your range, there's nothing stopping you from window shopping or just walking along the street and living the dream.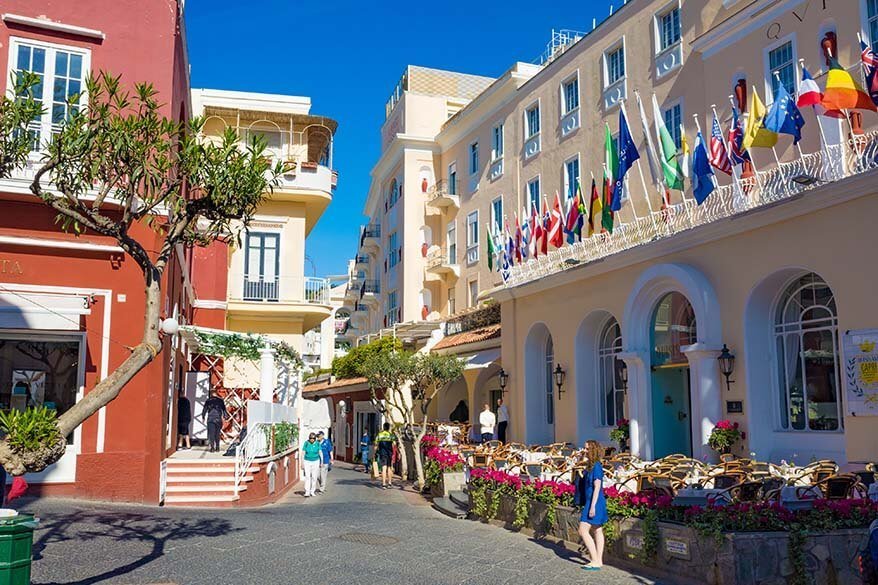 11. Piazza Umberto I
People-watching is a guilty pleasure anywhere in the world, but there are probably few finer spots for it than the square in the center of Capri Town, Piazza Umberto I.
Capri attracts the glamorous: whether it's those who live a luxury lifestyle every day or people who just enjoy having a taste of the high life on a day trip.
Grab a chair in one of the outdoor cafes in the piazza and simply watch the new arrivals emerging into the square. There will be tour groups, trying to take photographs and keep track of their tour group at the same time. You'll see young backpackers, determined to enjoy Capri's legendary party scene. But you'll also see some locals going around their daily business oblivious to the tourists around them. Or – on the contrary – doing people-watching, just as you are…
In general, you'll see people dressed to the nines and looking to impress. Treat Piazza Umberto I like your own personal fashion show, and it'll provide endless interest. Not to mention that you may even spot an actual celebrity – they'll be the ones dressed down, trying to look as average as possible!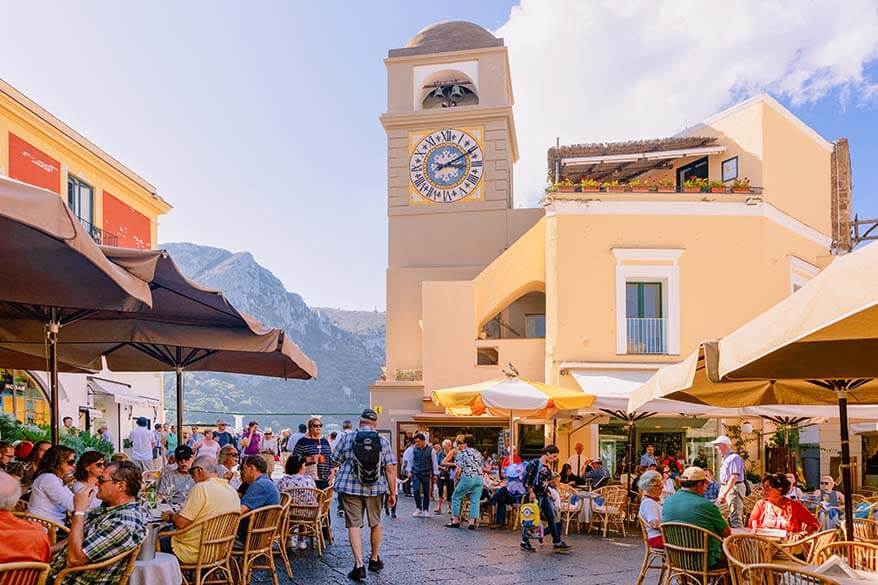 12. Marina Piccola
Marina Grande is just the entry port to Capri and generally just filled with boats with some souvenir shops. Marina Piccola, on the other hand, is well worth mentioning as one of the best places to visit on Capri. Marina Piccola is much smaller and has fewer boats. It's a place where everybody who's anybody comes to the beach.
On the southern coast of the island, the Marina Piccola isn't far away from the gardens at Giardini di Augusto. It can be reached via Via Krupp. However, if Via Krupp is closed, you won't be able to access it from that direction. Instead, you'll need to walk or take a bus from the station near Marina Grande and take the twisting road which leads over to the other side of the island. A bus journey only takes 15 minutes and is well worth it – you don't want to waste all your energy before you even get to the beach.
When you arrive, you'll find the finest place on the island to take a dip. The seas are wonderfully clear, and the beach is situated in a natural sun-trap. You'll find many locals and some tourists here, all enjoying the sun and scenery!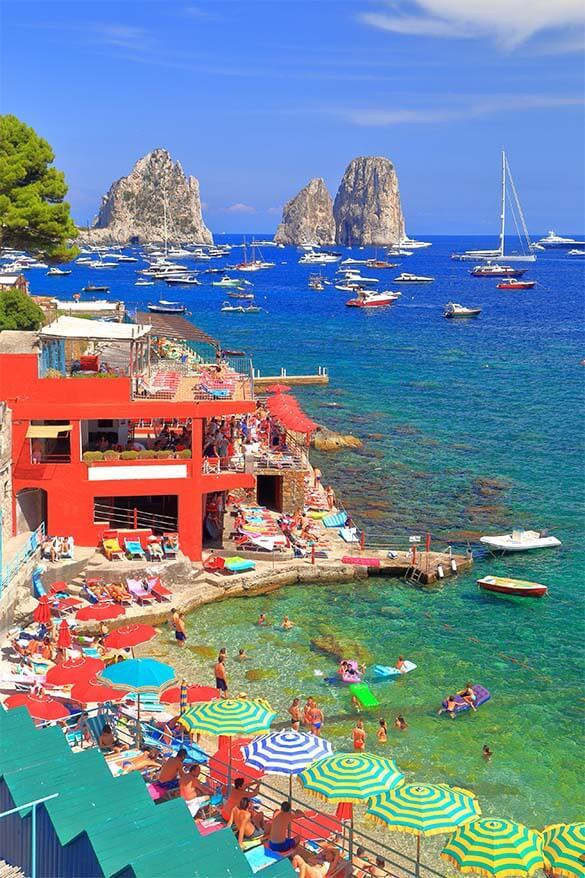 13. Villa San Michele
Villa San Michele is another popular place to see on Capri island. This beautiful house was owned by Axel Munthe, a Swedish doctor. He loved Italy so much that he decided to set up home on Capri (can you blame him?). He visited the island when he was seventeen and saw a ruined chapel dedicated to San Michele. Years later, after assisting with an epidemic which had affected Naples, he came back to Capri and bought the property.
Munthe was an author as well as a doctor, and his house became a sort of museum. He was fascinated by art and collected many items that are now on display in the house.
He was also rather good at designing gardens and the ones at Villa San Michele are still laid out according to his specifications. These are a particular highlight: they're not big, but they have an incredible variety of Mediterranean flowers and plants growing within them. Definitely worth a visit!
Villa San Michele is located in Anacapri, and is easily accessible by bus.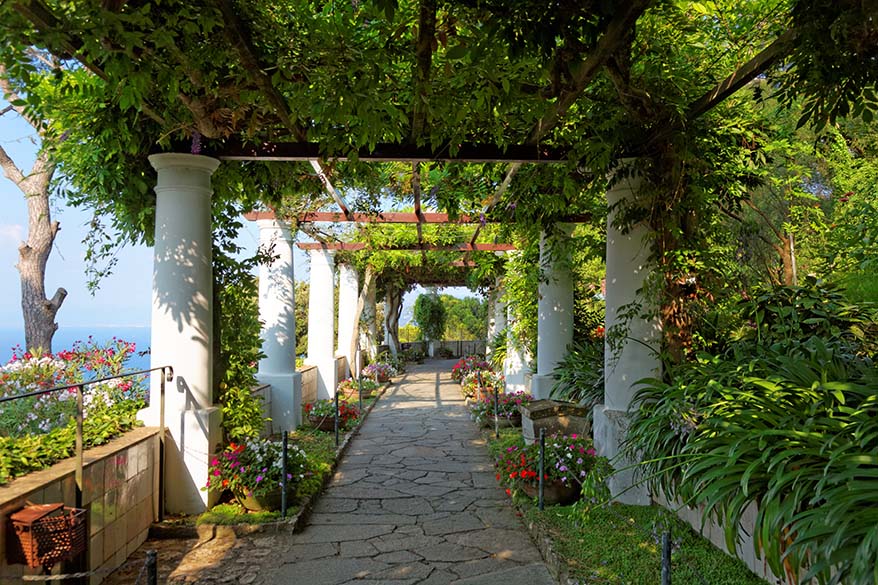 14. Gelato at Buonocore Gelateria
Every town in Italy has its own legendary gelateria, serving the finest ice-cream to be found. In Capri, it's Buonocore Gelateria. No trip to Capri is complete without ice cream or a snack here!
In addition to its famous ice cream, Buonocore Gelateria has a fantastic range of savories and cakes, all made the day itself and with local ingredients. The tiny Caprilu al Limone cakes come particularly recommended, as is the mouthwatering quiche!
But the chances are that you're here for the gelato. It's fresher, more delicious, and more reasonably priced than anywhere else on the island. The range of flavors is incredible and you can't go wrong with any of them. Strawberry and crema flavors are particularly good! Even the cones the ice cream is served in won't disappoint – they're freshly cooked to order in the cafe itself. You'll smell them baking from down the street!
I don't have a good picture of gelato from Buonocore Gelateria to share with you, so you'll just have to go and see (and taste) it yourself! In the meantime, the Italian gelatos pictured below will probably get your mouth watering…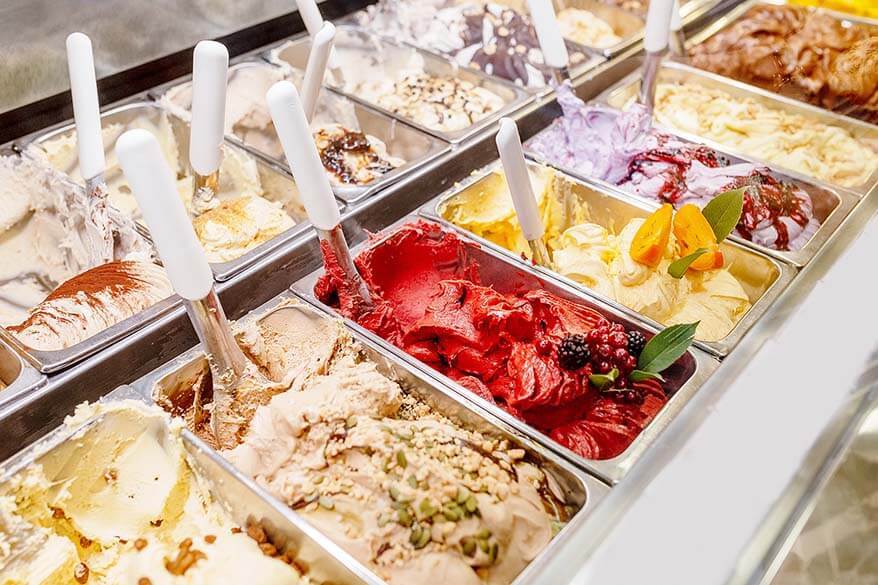 15. Grotta di Matermania
On the Via del Pizzolungo, not far from the Natural Arch, lies the Grotta di Matermania (also called Grotta di Matromania). Even if you don't want to walk the whole of the Via del Pizzolungo trail, it's worth popping down to see this remarkable cave. The grotto takes you almost by surprise as you walk along: it disappears quite deeply into the rock of the cliff face. It's fascinating to see.
In the past, it was used as a shrine. During Roman times it was dedicated to the cult of Mithras and was almost certainly a nymphaeum (grottoes and naturally formed caves that had spring water flowing through them and so were associated with the mythical sites of nymphs and other water-loving creatures). The Grotta di Matromania is a perfect site for such worship, thanks to its location above the crashing waves of the island's southern coast!
Take a moment to wander into the cave, and marvel at how recent it feels – you really can imagine the grotto still being in use!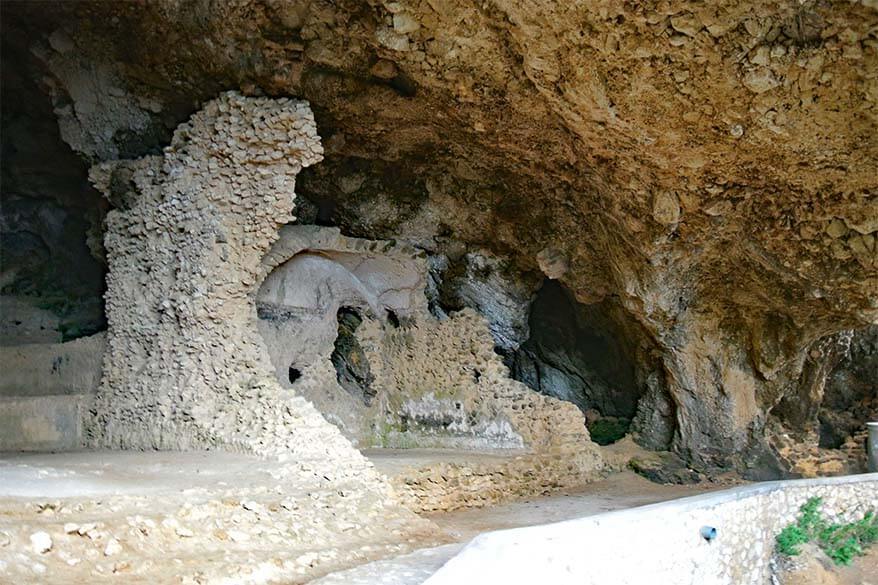 16. Anacapri
Capri's second habitation, Anacapri, is a welcome relief from the bustle of Capri Town. It can be easily reached by bus from Capri. Bear in mind that the bus journey can be a little hair-raising for nervous travelers. The road curves around the edge of a mountain and it often doesn't feel like there's much spare room on the tarmac!
However, Anacapri is well worth the trip. It's not just the base for some of the island's best attractions, such as the Monte Solaro chairlift and Villa San Michele, but it's also a slice of the real local life of Capri. Not nearly as glamorous as Capri Town, Anacapri has a more Italian, more local feel.
Anacapri doesn't lack in attractions either: it may not have the designer shops of Capri Town, but it's a far better place to shop for souvenirs and local handicrafts. It also has some truly lovely and quiet piazzas, as well as a good selection of restaurants.
Anacapri is an antidote to the relentless fashion parade of Capri Town, and you may well find that it becomes one of your favorite spots on the island!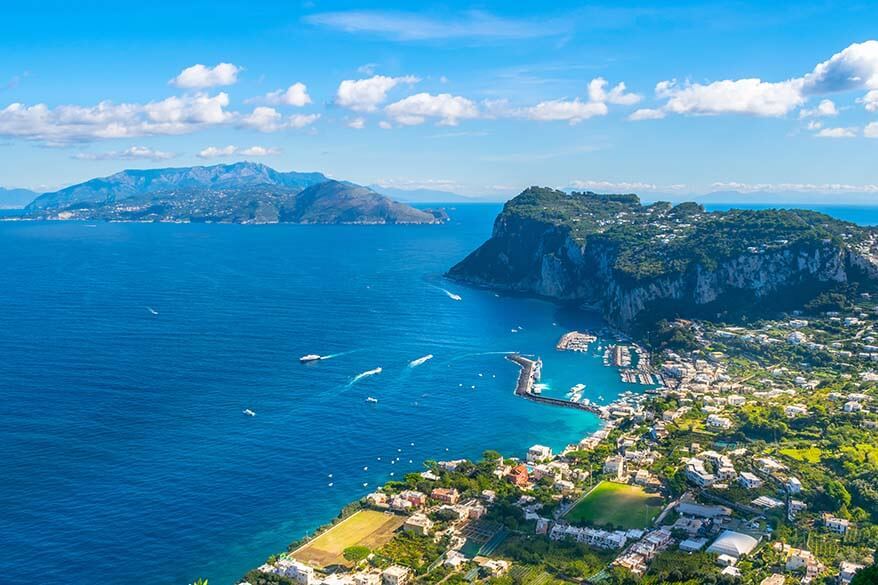 17. Punta Carena
The coast at Punta Carena is notable for its lighthouse, but it's loved for its beach!
After a short walk from Anacapri, the first thing you'll notice at Punta Carena will be the lighthouse. This has been guarding the waters since 1866. The waters around this coast are deceptively deep.
If you were to draw a straight line from the lighthouse, the next land you'd meet would be on Sicily. Accordingly, the lighthouse protects boats and ships from the rocks scattered around the island's coast.
However, the main reason for Punta Carena's popularity is the beach. It is nestled beneath the lighthouse and might just be the best beach on Capri island. You'll certainly see plenty of locals here, as the beach is largely undiscovered by visitors. Come here for a day of fun in the sun, and leave with that essential Mediterranean tan!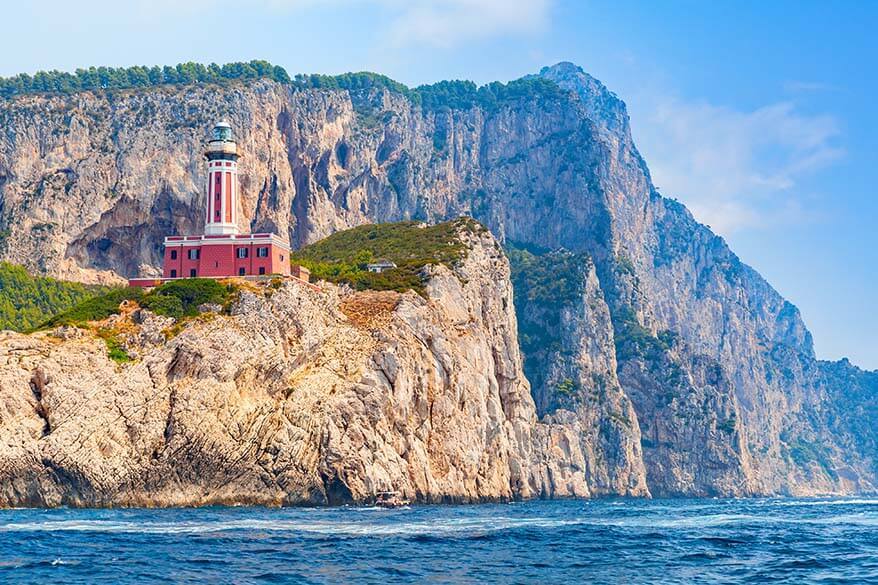 18. Pizza at Da Gemma
It's near-impossible to visit the Naples region without partaking in some of its finest export – pizza!
Like anywhere else in the Campagna region of Italy, you'll find plenty of restaurants and hole-in-the-wall joints offering pizza In Capri as well. But why not go for the finest…
Ristorante Da Gemma is a Capri institution, located right on the seafront near Marina Grande. If you take one of the tables on the outdoor terrace, you can't dine any closer to the sea. Crystal blue waters lap against the terrace, which is partially over the sea itself!
Whatever item you choose from the menu, you won't be disappointed – the restaurant dazzles with its pasta and seafood. But it's the pizza which steals the show, cooked perfectly in the Naples style. It's always freshly cooked, light, and crisp. Locally sourced ingredients, including the finest mozzarella cheese from the mainland, means that this pizza simply melts in the mouth. Add the scent of a sea breeze, and you have a perfect dining experience!
READ ALSO: Best Food to Try in Campania Region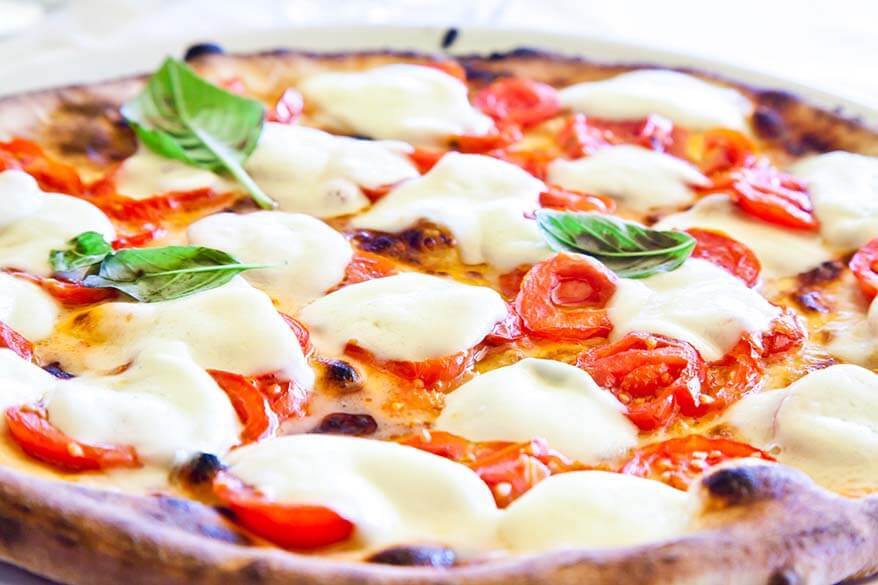 19. Buy handmade Capri sandals
In a location as image-conscious as Capri, it can be tempting to bring some fashion home with you. But if the international designer shops on Via Camerelle don't really appeal, what can you do?
Solution: get yourself some handmade sandals, custom-made to fit your feet, making them both unique and a perfect fit! Capri has its own legendary sandal shop, named Amedeo Canfora.
They've been making custom sandals for their customers since 1946. Every piece is made of soft, supple leather, and decorated with costume jewelry chosen by its prospective owner. Check out some of their pieces; they really are works of art!
Although the original owner is no longer around, his daughters have carried on the family tradition. You may still have to pay the prices of Via Camerelle, but you'll be getting a one-off piece of fashion art, made just for you.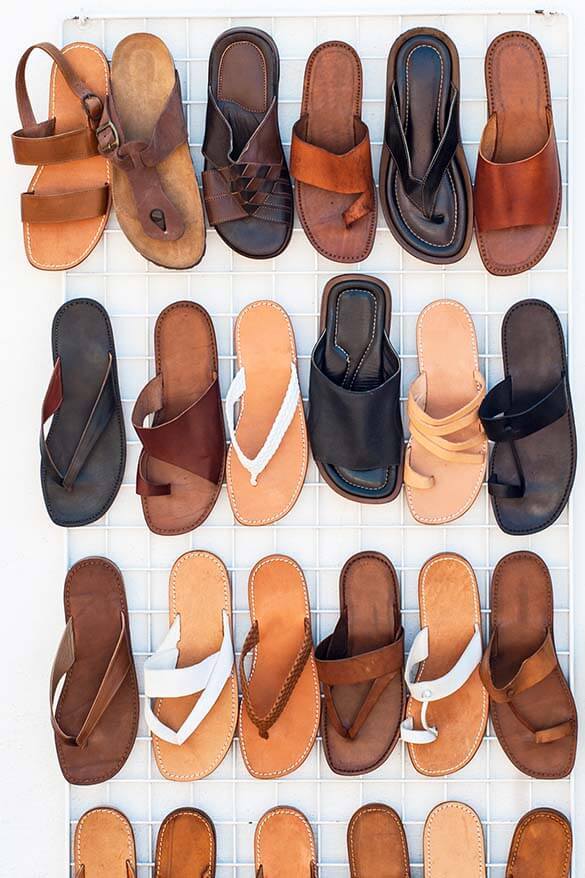 20. Certosa di San Giacomo
The Certosa di San Giacomo is a former monastery and is the oldest standing building on Capri. It's also a lovely spot to visit and relax from the hustle and the bustle of Capri.
When in use, the buildings were home to an order of monks. You can still see the strict separation which governed their lives. Of the three buildings, one was used for male monks, one as a nunnery, and one was comprised of cells where the monks could live a life of solitude and contemplation. They certainly had beautiful surroundings to do their meditations: the inner courtyard really is a lovely, soothing space.
These days, the buildings are used as a museum and as a space for events. Keep in mind that the monastery is closed on Mondays.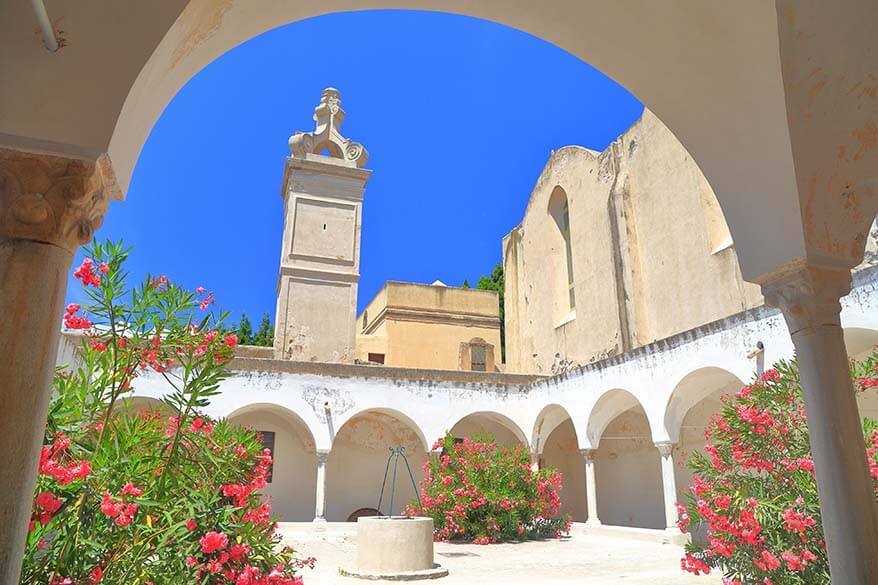 21. Phoenician Steps
The Phoenician Steps (La Scala Fenicia) provide some incredibly beautiful views. It's one of the shortest ways to reach Marina Grande to Anacapri, but be warned: there are 921 steps and they're steep!
Despite the name, the steps probably weren't created by the Phoenicians. Instead, they were the product of the Greeks, who connected the fledgling communities at Capri Town and Anacapri by carving out steps from the rock face. In fact, until 1874, the steps were the only way of reaching Anacapri!
Nowadays, people still walk the steps for both views and for pleasure. Bill Bryson mentioned this staircase in his book "Neither Here Nor There"; he describes the magical dusk-lit scene when he arrives here.
Although you may well be out of breath when you arrive in Anacapri, the steps are perfectly safe and you'll get some dazzling views of the sea as you ascend. You'll arrive at Villa San Michele tired but exhilarated!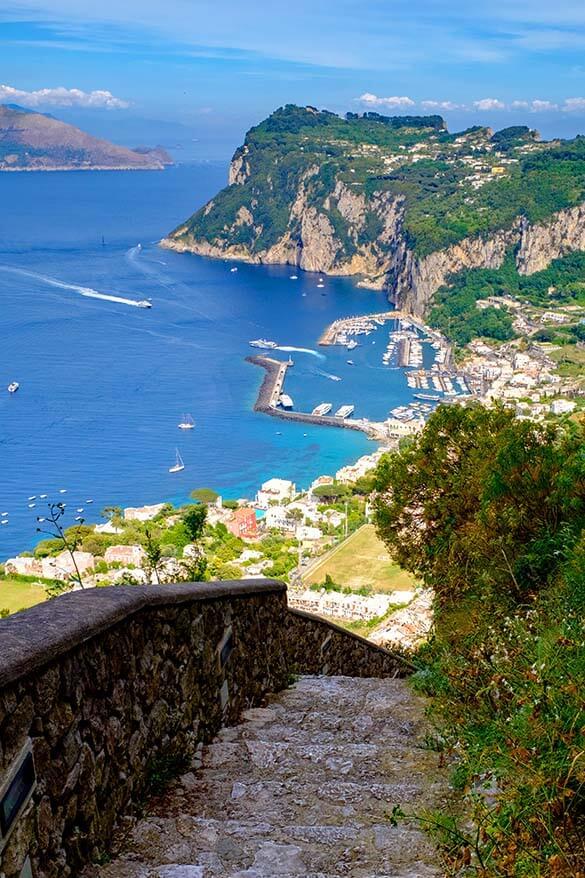 Map of Top Things to Do on Capri Island
Making your way around Capri can be easy in one sense – after all, there are very few vehicles on the island, and so there isn't a myriad of roads and streets for you to get lost in.
However, this also means that taxi access is limited and that there are a lot of places that you'll need to find on foot. This means that accurately finding your way to a site becomes more important! As lovely as Capri's streets are, you don't want to waste your time getting lost.
To help you out, we created a map of the best things to see on Capri – this should let you see as much as possible!
How to Use This Map: Use your computer mouse (or fingers) to zoom in or out. Click on the icons to get more information about each place. Click the arrow on the left top corner for the index. Click the star next to the title of the map to add this map to your Google Maps account. To view the saved map on your smartphone or PC, open Google Maps, click the menu button, and go to 'Your Places'/'Maps'.
How Much Time Do You Need in Capri?
One day is enough to see the highlights of Capri (below you can find our suggestions on how to best spend a day in Capri). However, if you have more time and want to combine sightseeing with some relaxing vacation time, you should probably plan to spend 2-4 days on Capri island.
The majority of tourists just come to Capri for a day and they are usually gone by the evening. Staying on the island allows you to explore the most popular sights of Capri without the crowds and spend the warmest hours of the day on the beach or by the pool of your hotel.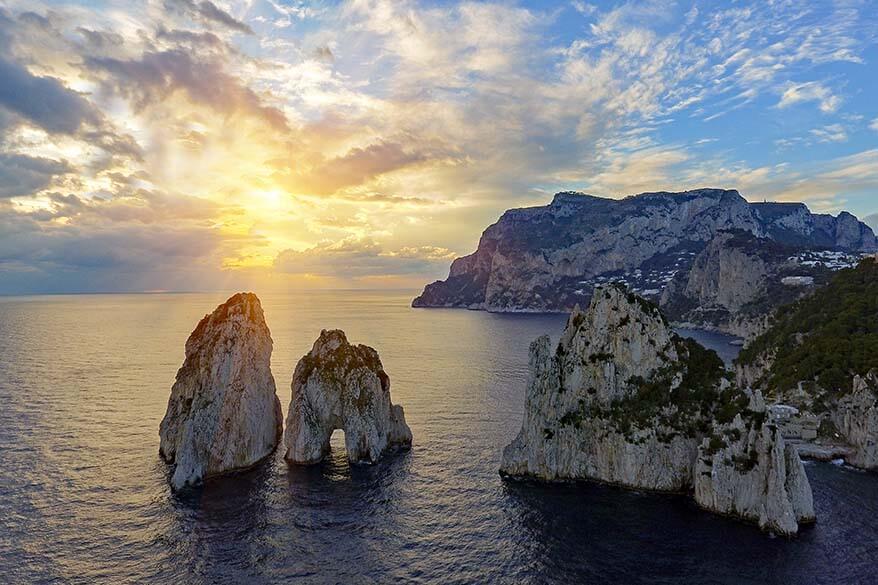 One Day in Capri: Suggested Itinerary
Below is our suggested one-day itinerary for Capri. If you are visiting the island for the first time and want to see the very best of Capri in one day, then this itinerary will get you to the nicest places in just a day. Find out!
Start the day by arriving at Capri's Marina Grande, and hiring a boat tour to take you either to the Blue Grotto or on a tour around the island. On your return to the Marina, take the funicular up to Capri Town, and get a coffee or light lunch on Piazza Umberto I.
Stop at Buonocore Gelateria for a gelato, before walking past the shops on Via Camerelle, and turning off to walk along Via Matermania. Walk all the way down the road and take in the Natural Arch, before doubling back to the flight of steps leading down at the side of Ristorante Le Grottelle.
Continue along the Via del Pizzolungo, pausing to see the Grotta di Matromania and Casa Malaparte. Finish up with a view of the Faraglioni, before walking back up Via Tragara and bearing towards Giardini di Augusto and Via Krupp.
If you have time, decide whether you'd rather see Monte Solaro (catch a bus to Anacapri if so), or Villa Jovis. On your return to Capri Town, head back down to Marina Grande, and grab at pizza at Ristorante Da Gemma!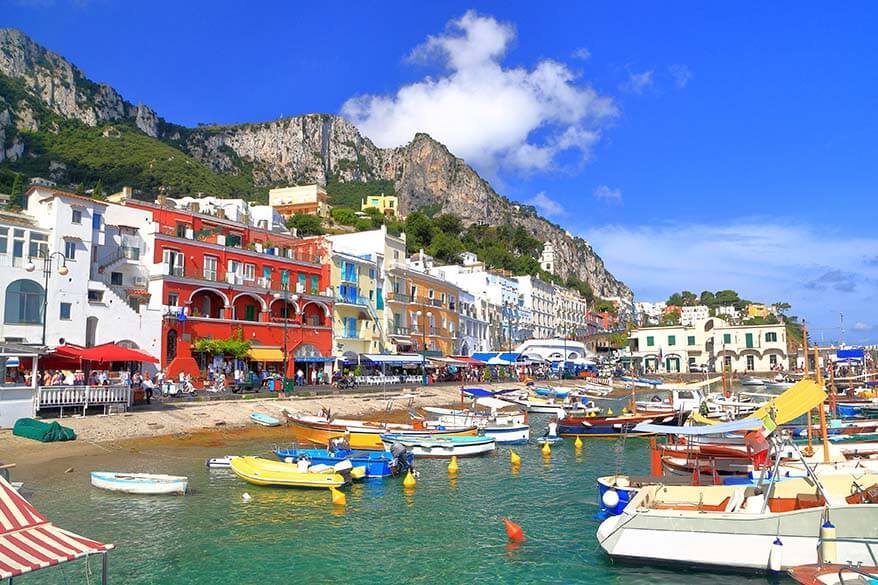 When is the Best Time to Visit Capri?
Most tourists visit Capri between May and October. Crowds, temperatures, and prices soar in July and August. In my opinion, the best time to visit Capri is in late spring (May to mid-June) or early autumn (September to mid-October) – the weather is nice but not too hot, there are fewer tourists, and it's more affordable.
How to Get to Capri & Best Capri Tours
With Capri being an island, you really only have one choice on how you get there: it's got to be by boat. However, you can choose where you travel from, as there are at least three major sites that offer regular boat services to Capri.
Just to be clear – if you are visiting the region by car, you'll have to leave it on the mainland. Capri is not an island for cars!
The most frequent boats to Capri are from Naples. Simply travel to the city's Molo Beverello port, and queue at the ticket office. You can then check the large departure board to find out which dock you need to be on. Boat journey will take about 45 minutes.
To travel from Sorrento, you'll need to catch a ferry from Marina Piccola in Sorrento. Buy a ticket from the office (which is partially hidden in a bowl below sidewalk-level – you'll need to go down a flight of steps) and queue up by the appropriate dock. The journey time from Sorrento is only 25 minutes.
It's also possible to get to Capri from Positano on the Amalfi Coast, though this route has the longest journey time and least-frequent services. Buy a ticket from one of the booths at the side of Positano's Spiaggia Grande. It will take around 50 minutes to reach Capri.
TIP: If you are short on time and only have one day to see Capri, consider an organized tour. Taking a boat tour is by far the best way to see the highlights of Capri, the Blue Grotto, and the stunning coastline in one day.
Here you can find the best-rated Capri day tour from Sorrento (Blue Grotto visit possible at a small additional cost), best Capri day trip from Naples (includes Blue Grotto), and the best-rated Capri day tour from Positano, Praiano, Ravello, or Amalfi. It's even possible to visit Capri as a day trip from Rome.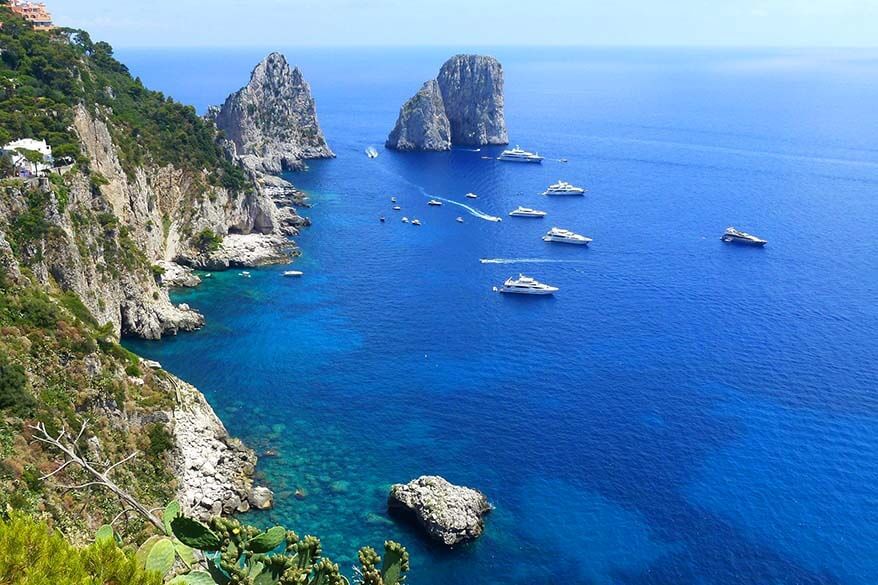 Where to Stay in Capri
When looking for Capri accommodation, you should keep in mind that Capri is a luxury destination. There aren't many 'true' budget hotels on the island and even mid-range hotels will be more expensive than at most other places on the mainland in Italy.
Therefore, your normal expectations for what you'd consider a reasonable price for a night's stay will almost certainly have to be adjusted upwards, no matter which standard of hotel you're looking for!
Below we have listed several hotels on Capri island for all budgets. There are obviously many more options (you can find the best deals for Capri accommodation here), but these are one by one hotels that offer a good price/ quality ratio in their price range. Take a look!
TIP: Using the map below, you can compare hotels, B&Bs, and short-term rental accommodations in Capri. Simply insert your travel dates and group size, and you'll see the best deals for your stay. Check it out!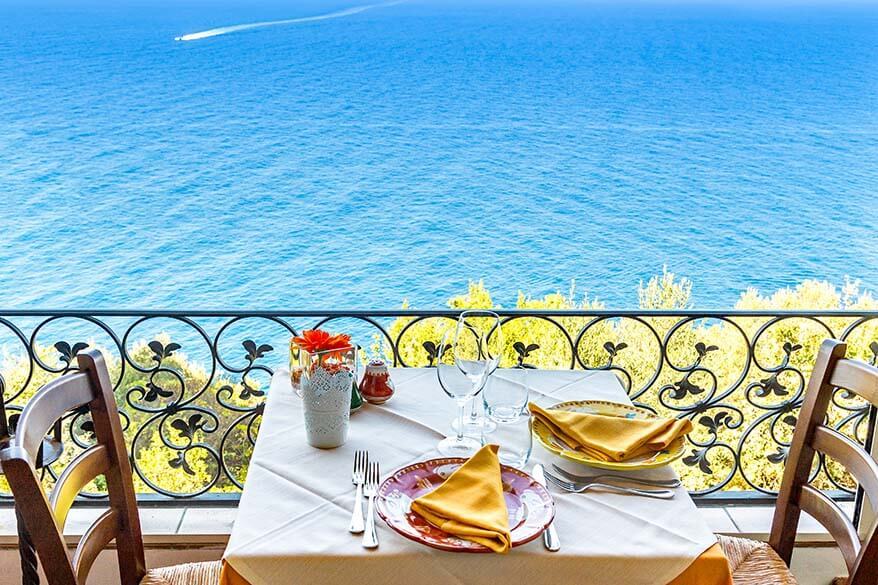 What to See Nearby: Capri Day Trips
Most people come to Capri as a day trip from somewhere else. However, many others choose to base themselves on the island and take an occasional day trip from there.
If you are staying on Capri island and are looking for some excursions nearby, you should know that there aren't that many options for day trips from Capri. Even if you find any, they are quite expensive. Therefore it might be easier to just take a boat to Sorrento and take public transport to the other places or book an organized tour from Sorrento.
One place you really have to see when staying in Capri is the famed Amalfi Coast, comprised by the small towns of Positano, Amalfi, and Ravello. No trip to this area is complete without seeing the beautiful scenery of the coast, whether it's by road or sea!
I only found this one private Amalfi coast tour from Capri. Alternatively, you can take the Amalfi Coast day trip from Sorrento. Even a private Amalfi day trip from Sorrento will save you hundreds of euros in comparison to booking it from Capri.
The second trip you'll definitely want to do is the Roman town of Pompeii, which was destroyed in 79AD. Now in a suburb of Naples, you can wander where Roman sandals once walked, and take in some truly amazing archaeological sites, including an amphitheater and brothel!
You can visit Pompeii and Vesuvius on a guided trip from Capri. A similar Pompeii day tour from Sorrento will cost you less than half the price. Of course, you have to get to Sorrento first…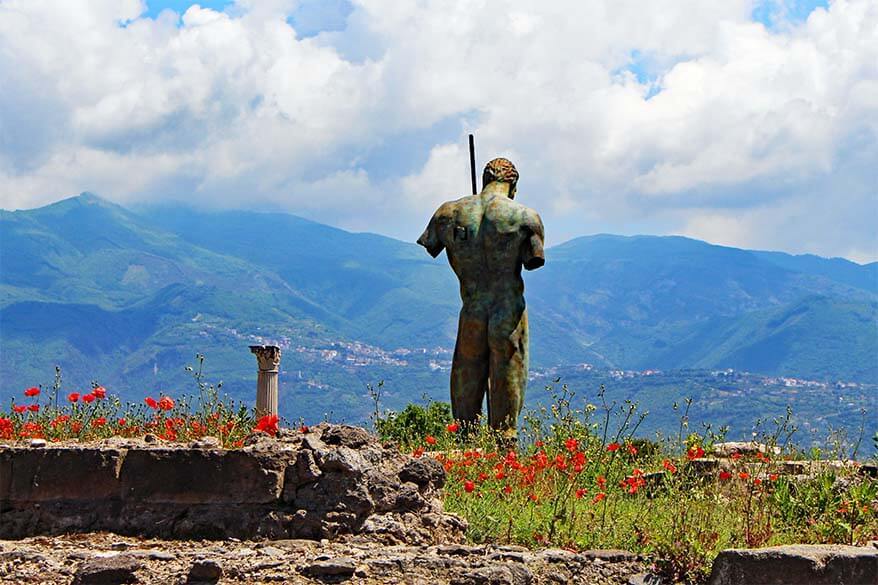 So, this is our guide to visiting Capri island in Italy and the very best things to do in Capri. Hope this inspires you to visit this beautiful Italian island and make some amazing memories.
If you enjoyed this guide to Capri, make sure to also read our recommendations for visiting the Amalfi Coast! In that article, you can find detailed suggestions for all the best places to see along the Amalfi Coast and how to best plan your trip. Check it out!
More tips for your trip to Italy:
If you found this post useful, don't forget to bookmark it and share it with your friends. Are you on Pinterest? Pin these images!