If you are looking for a beautiful mountain destination to visit in Tyrol, Austria, but are not sure where to start, then you should definitely check out the Stubai Valley, just near Innsbruck.
It is here that you can visit one of the most iconic mountain destinations in Austria – Stubai Glacier, also known as the Top of Tyrol.
In this article, we share our experience with visiting Stubai Glacier (Stubaier Gletscher), the Top of Tyrol viewing platform, Stubai Ice Grotto, and more. What to expect, what to see and do, and also practical information for your visit. Take a look!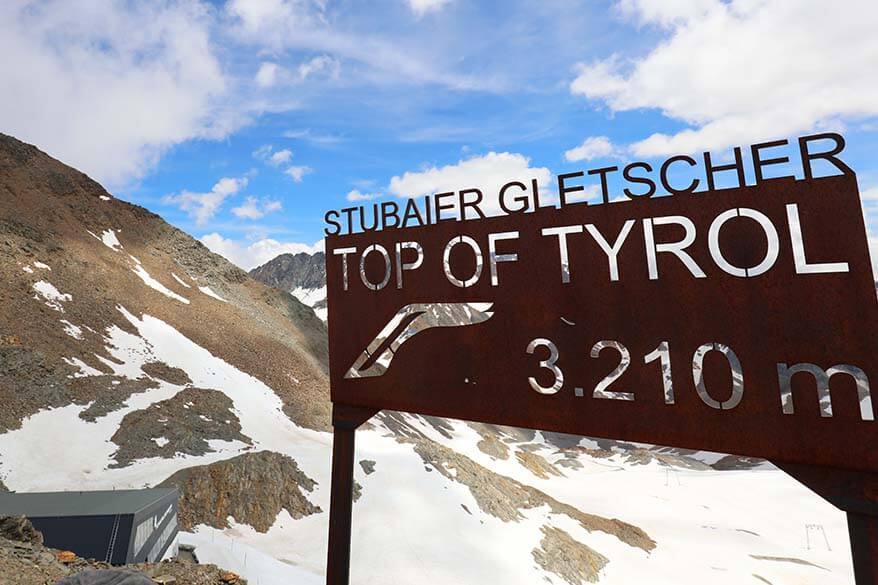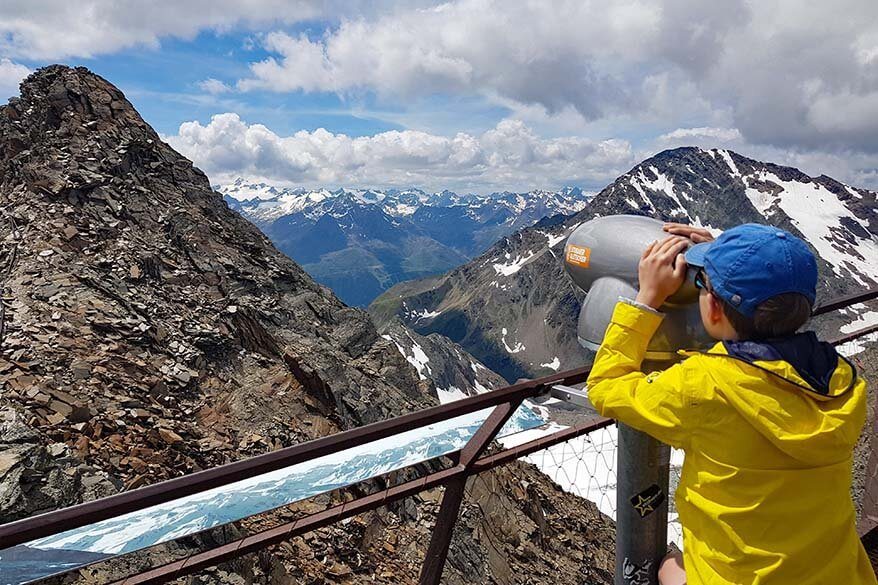 In winter, Stubai Glacier is the biggest glacial ski resort in Austria. In summer, you'll find eternal snow here. The most incredible views and fun activities await you in any season!
Good to know: We visited Stubai Glacier in the summer, so in this guide, I focus on the summer activities. However, most of these activities can be experienced in winter as well.
To help you get a better idea of where everything is located, below you can see the map of Stubai Glacier. You can also see the winter map. So that if you are planning to visit Stubai Glacier in winter, you have a better idea of where the ski runs are. But you don't have to ski in order to enjoy the winter visit – the Top of Tyrol and the Stubai Ice Grotto are very enjoyable and worth a visit at any time of the year!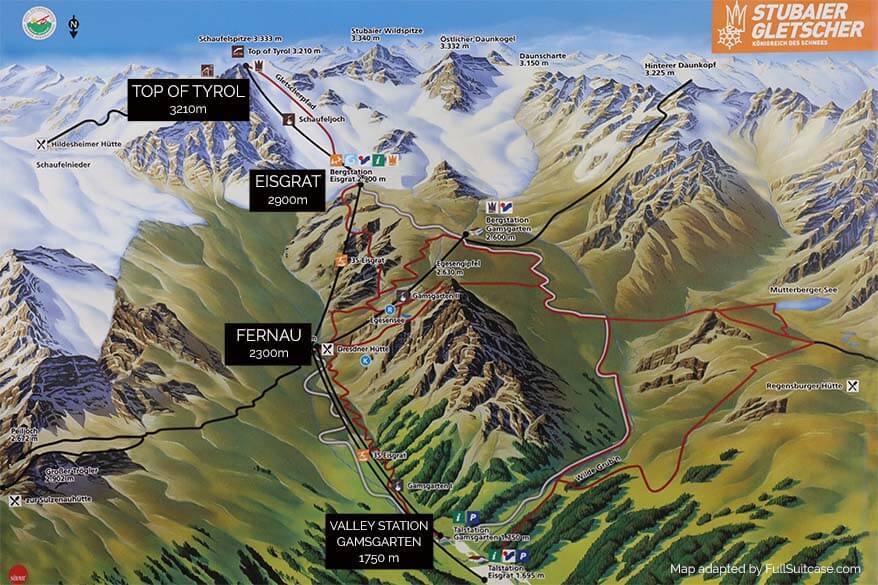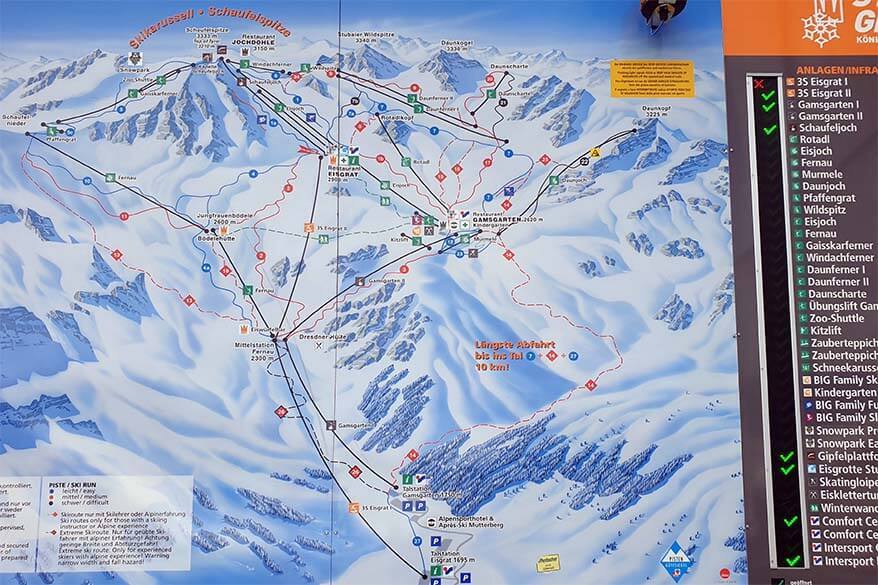 Here's what you can expect to see & do at Stubai Glacier:
Top of Tyrol
From the Top of Tyrol viewing platform at 3.210 m (10.531 ft), you have the most incredible 360° views of the Alps.
On a clear day, you can see 109 mountains that are higher than 3000 meters from here. 109!!! Just try to imagine or to count that! If there are no clouds, you can even see the Italian Dolomites and the famous Marmolada mountain, the Queen of the Dolomites, from here.
Top of Tyrol has been featured as one of the 10 world's most beautiful viewing platforms by GEO magazine and that probably says it all.
On the platform, you'll find several Viscope telescopes (free to use) that not only zoom in on the surrounding mountains, but also show you the names of the highest summits. Our kids just couldn't get enough of it. It's so cool! These telescopes are so cool – not comparable to any other telescope we've seen before.
Good to know: Top of Tyrol might get closed in winter if there's a lot of snowfall or in summer if there is risk of lightning. Other than that, and weather-permitting, this is a year-round activity.
Top of Tyrol viewing platform can be visited free of charge. You do need to purchase a cable car ticket in order to get there (hiking all the way to the top is also possible, but it's not something that I'd ever recommend). If you have the Stubai Super Card, it includes a free cable car ride all the way to the top.
TIP: You get the Stubai Super Card for free when staying in most hotels in the region. So pay attention to this when booking your accommodation! At the bottom of this article, you can find information & tips for your stay.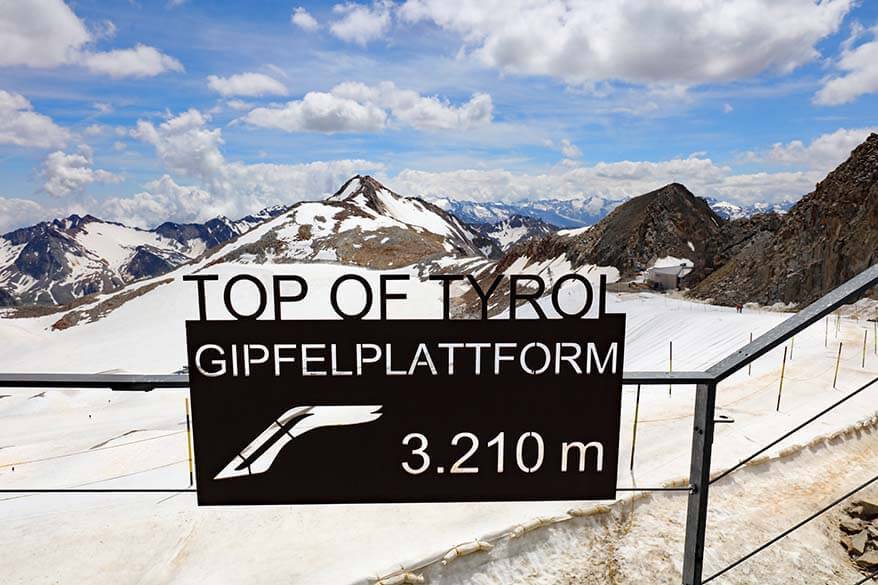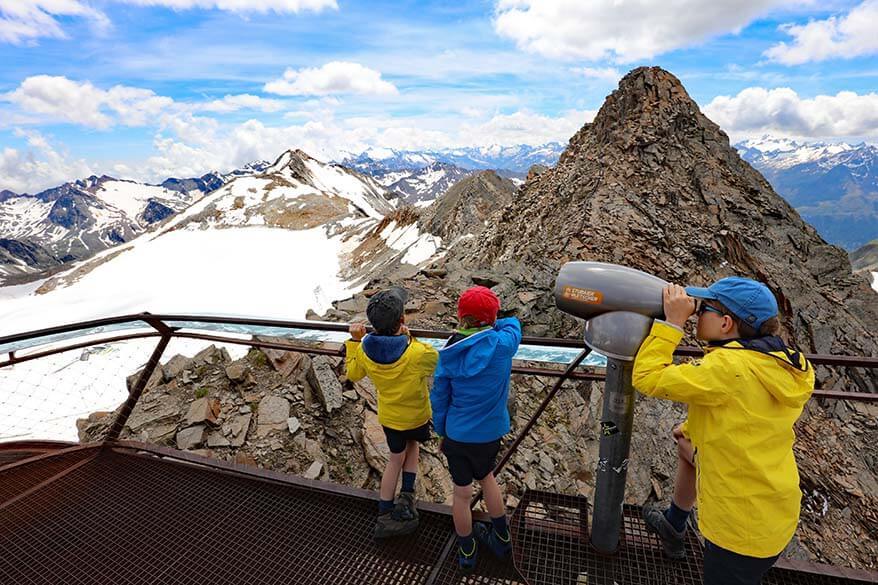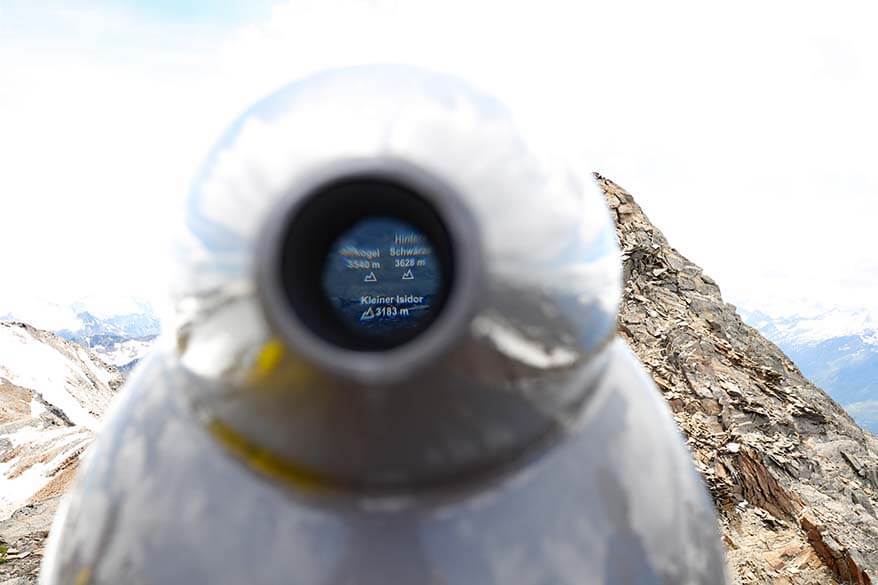 Schaufeljoch
Schaufeljoch is the name of the cable car that brings you all the way to the top of Stubai Glacier. In addition to the Top of Tyrol viewing platform described above, there are a few other things you can do at the top.
Just nearby, you can find a small chapel – Schaufeljoch Chapel. Not a usual sight at over 3.000 meters altitude!
There is also a mountain peak with a cross on top of it – Schaufelspitze (3.333 m). So if you want to get as high as possible, you can climb all the way to the top here.
If you want to dine at Austria's highest mountain restaurant, the Jochdolohle (3.150 m), you'll also find it here, at the top of Schaufeljoch mountain station. Locals say that their Riesen-Schnitzel is a must!
For more adventurous, it is also possible to walk on the glacier in summer. You can take a well-marked glacier path from the top cable car station at Schaufeljoch (Top of Tyrol) down to Eisgrat cable car station (2.900 m).
It's also possible to do this hike the other way around – uphill. In any case, you'll need good hiking boots and hiking poles if you are planning a hike on the glacier. It is also possible to rent equipment at Eisgrat gondola station.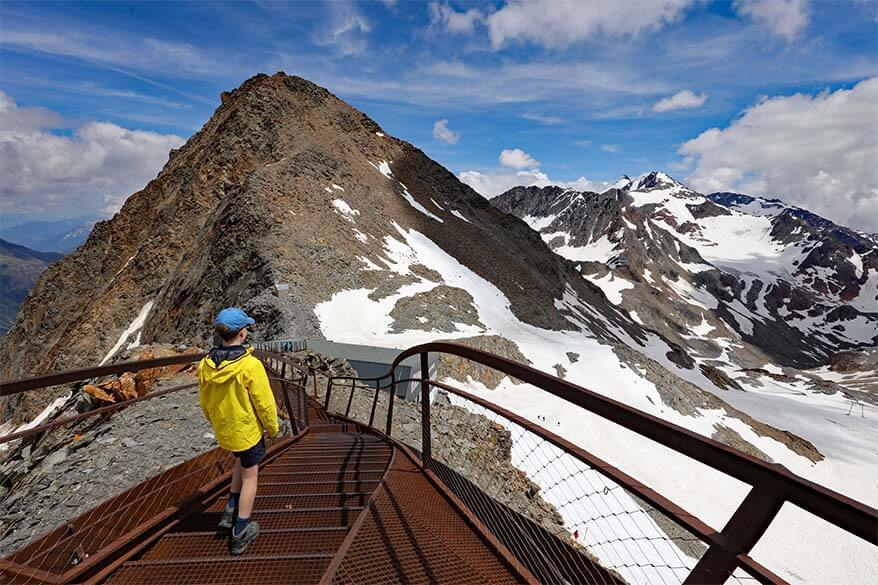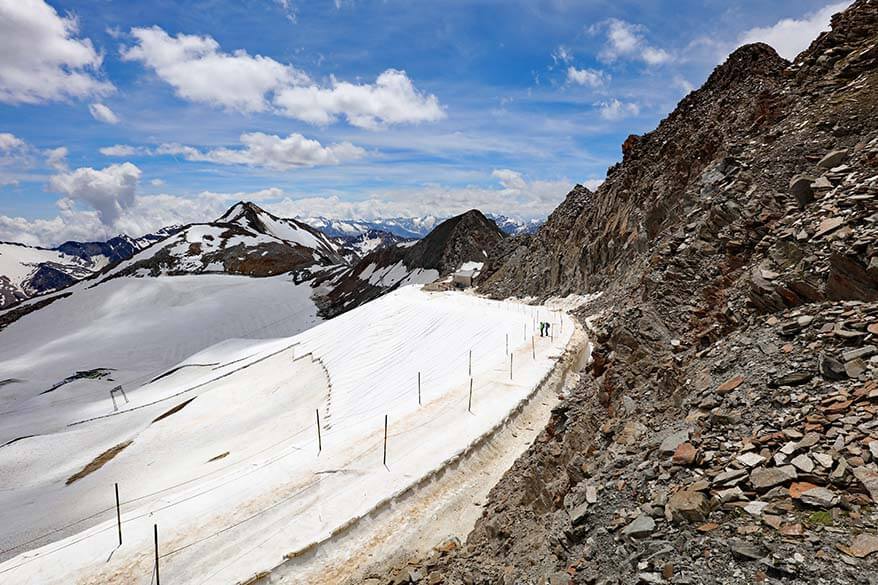 Stubai Ice Grotto
If you want to experience what it's like to walk inside an ice tunnel carved inside a real glacier, then don't miss the Stubai Ice Grotto!
We have visited countless ice tunnels over the years, including the most impressive ones at Mt. Titlis and Jungfraujoch in Switzerland, and I have to say that the Stubai Ice Grotto offers one of the best experiences out there!
What makes it special is that it is a very long ice tunnel, of about 200 meters. Furthermore, there are lots of informational panels and various features where you can learn more about the fascinating world of ice. You can see different ice layers, moraines, glacier milk, and many other amazing things.
This is a fascinating place to visit for young and old!
Good to know: Stubai Ice Grotto is open in summer and in winter. It can easily be reached from the Eisgrat gondola station. In winter, you can ski or hike to it. In summer, you can walk there via the well-indicated hiking trail. It's not a long walk, maybe 5 minutes, but it's quite steep downhill (and back uphill afterwards). So good hiking shoes are recommended.
Tickets: Ice tunnel is not included in your cable car ticket. However, the fee is quite low and it's absolutely worth it! When we visited, the price was 6.50 EUR for adults and 3 EUR for kids over 10 (free for younger kids). Furthermore, if you have the Stubai Super Card, you get a small discount for the grotto as well.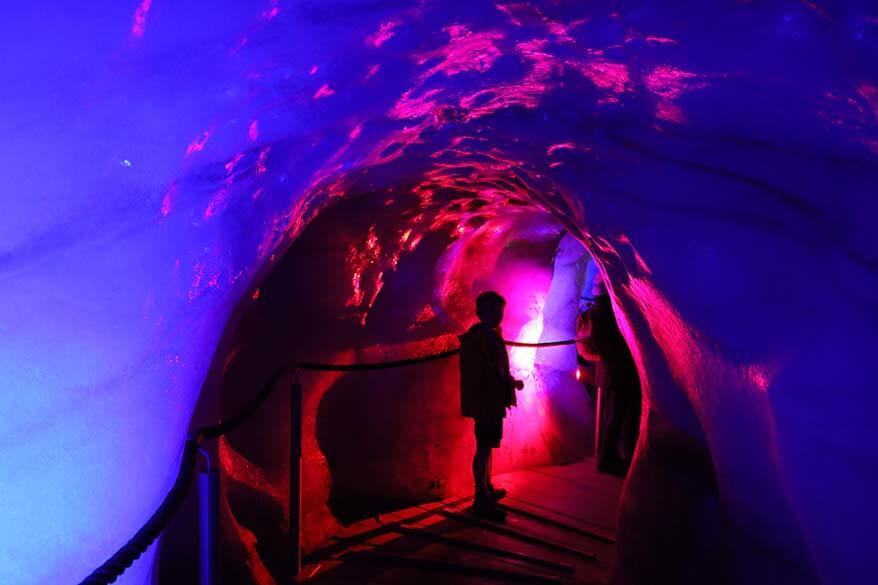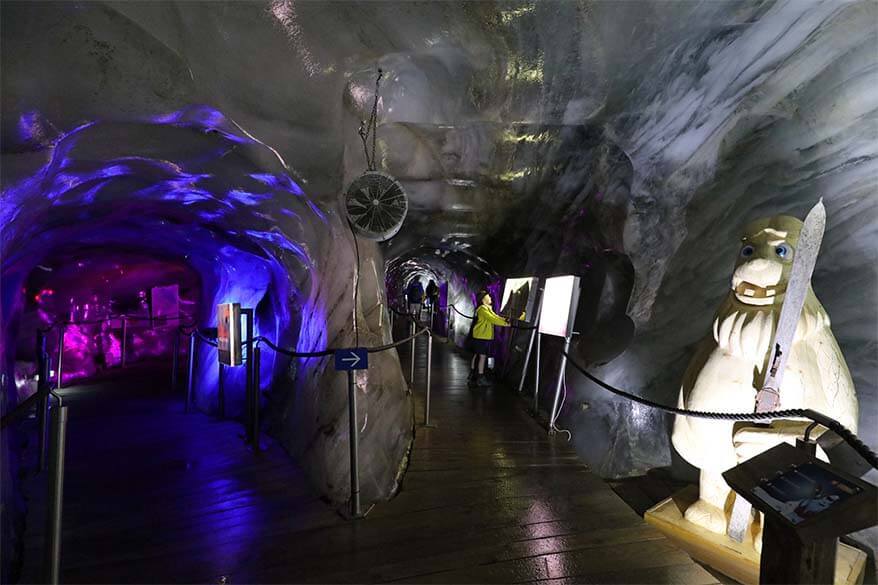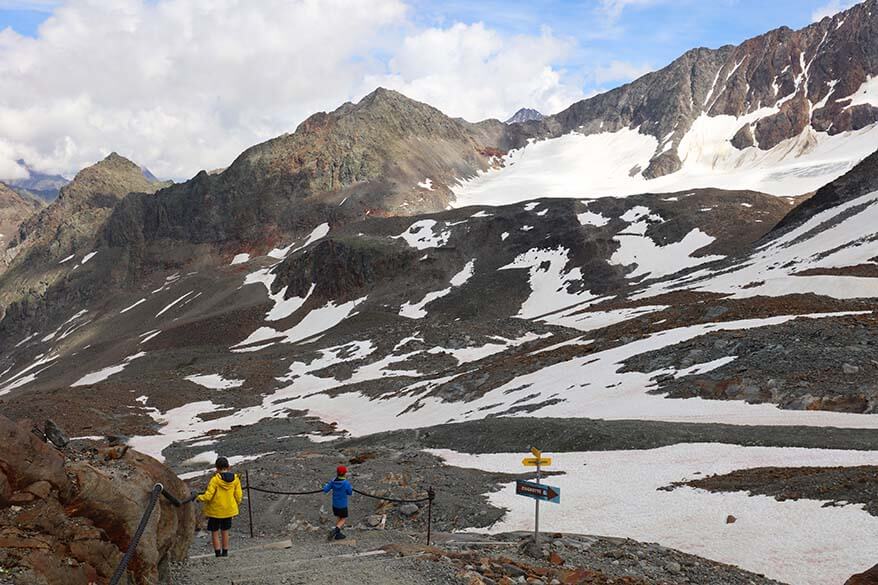 Eisgrat Mountain Station Playground and Restaurants
In addition to the ice tunnel and glacier hike near Eisgrat mountain station, there is also a nice playground for the kids here – Mammoth Adventure Playground.
You can't miss the giant mammoth with a slide-nose. While it's probably not the best idea to try climbing inside the mammoth as an adult, if you are visiting with kids, you definitely have to foresee some time for this playground.
In the meantime, adults can enjoy a drink or some local specialties at the adjacent Eisgrat Restaurant.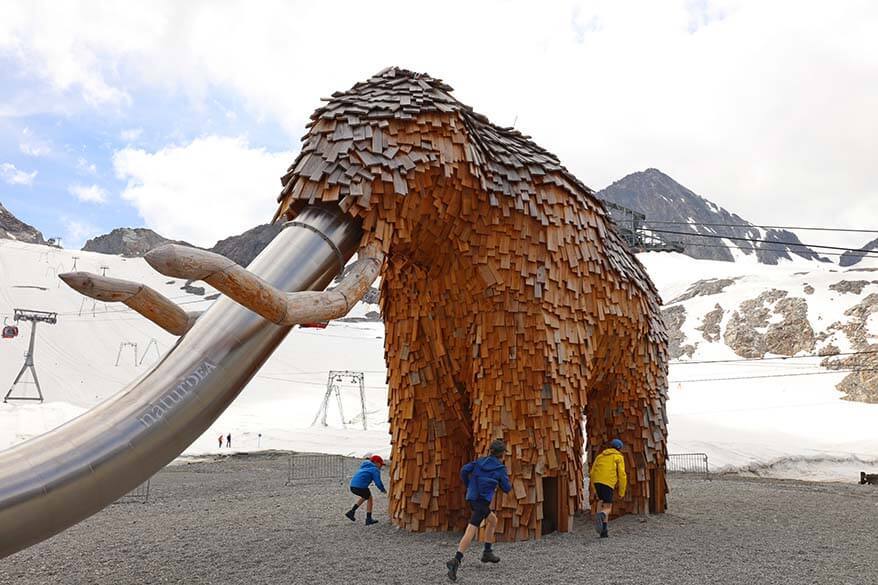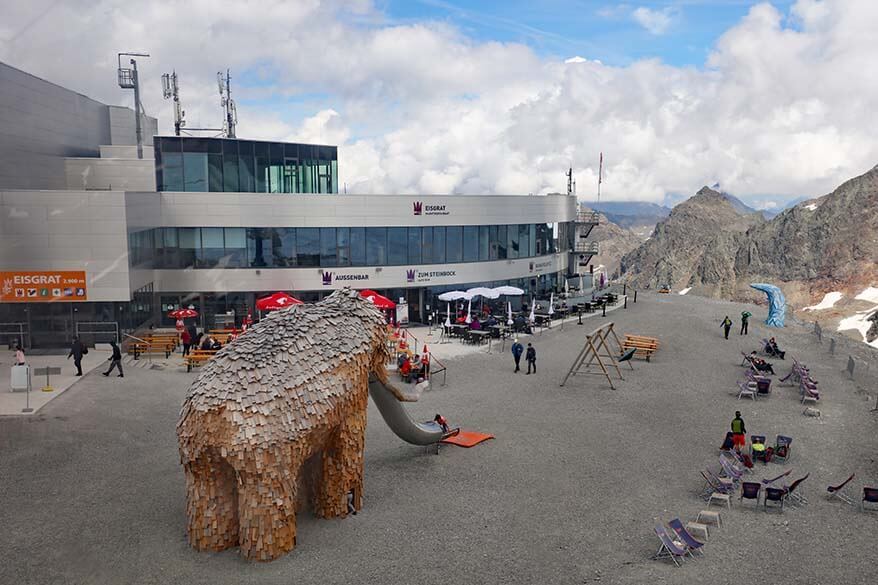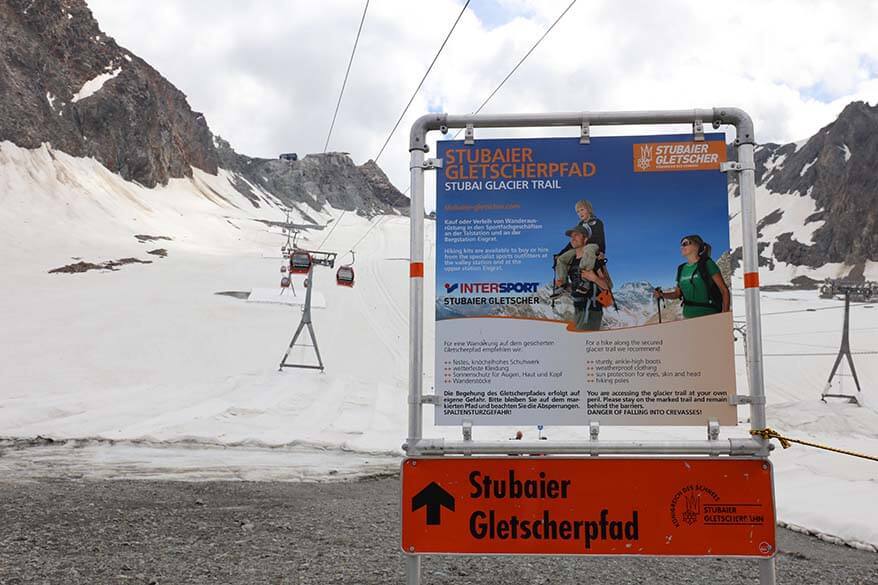 Hiking at Stubai Glacier
There are several hiking possibilities in the Stubai Glacier area too. So if you have a few hours to spare, you may want to choose one of the following hikes:
Walk down from Eisgrat mountain station (2.900 m) to Dresdner Hütte at the middle cable car station Fernau (2.300 m). This downhill hike would take about 2 hours.
Hike from Dresdner Hütte at Fernau (2.300 m) all the way down to the Gamsgarten valley station (1.750 m). This hike is also about 2 hours.
There is also a possibility to do a shorter circular hike starting at Dresdner Hütte at Fernau, via Egesensee, and back to the middle cable car station Fernau. This hike takes about 1 hour.
And there are many other options. You can get a hiking map of the area at the ticket desk and easily find a hike that will suit your schedule and interests.
We visited Stubai Glacier in the afternoon. So due to time constraints, we didn't do any of these hikes and just walked a little bit around at the middle station Fernau/ Dresdner Hütte. There were some sheep here and the views were well worth the short detour.
The hiking trail between Dresdner Hütte and the valley looked really nice. Granted, it's a steep descent, but the views are great and you'll be passing several very impressive waterfalls along the way. Or, you just take a cable car both ways and enjoy the amazing views the easy way, as we did.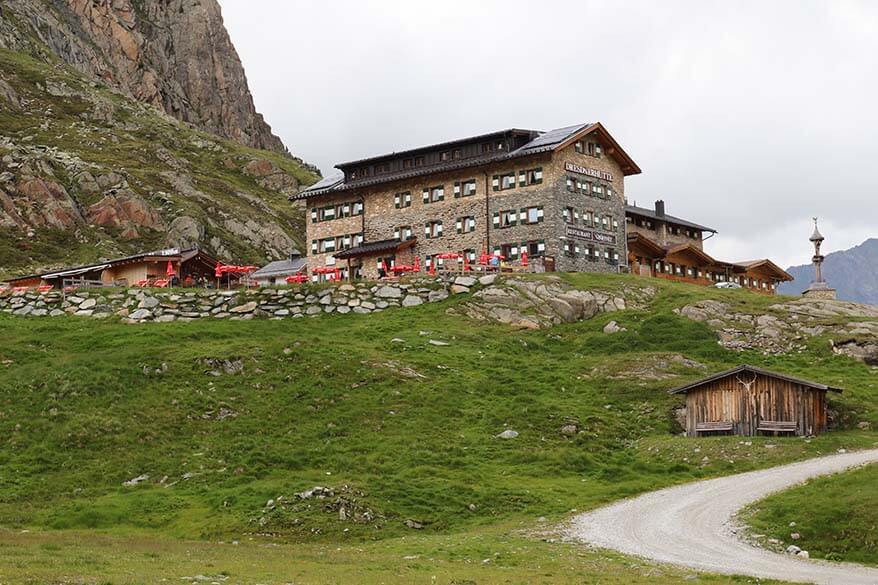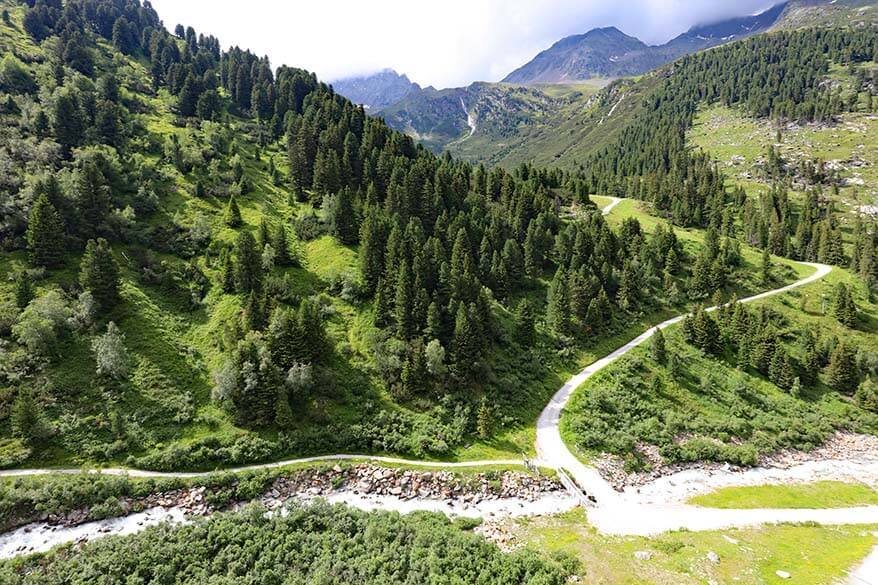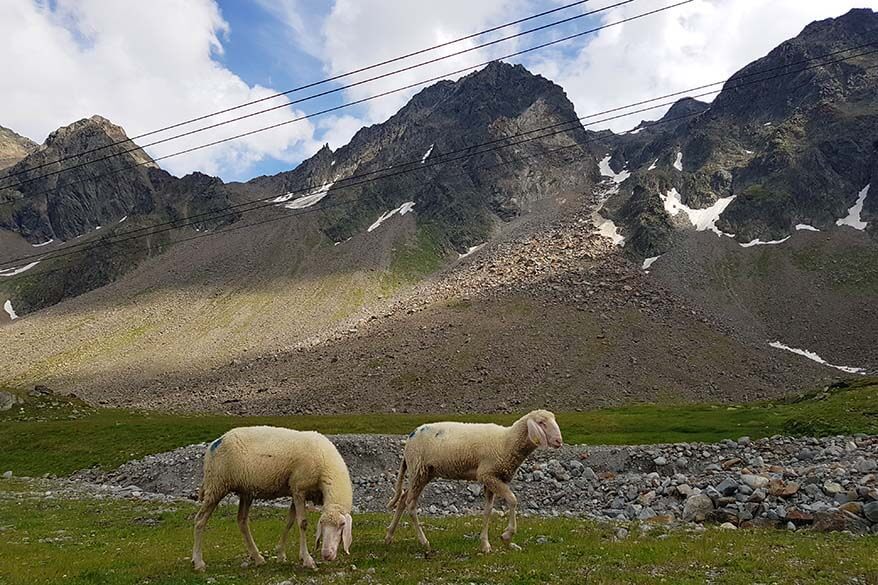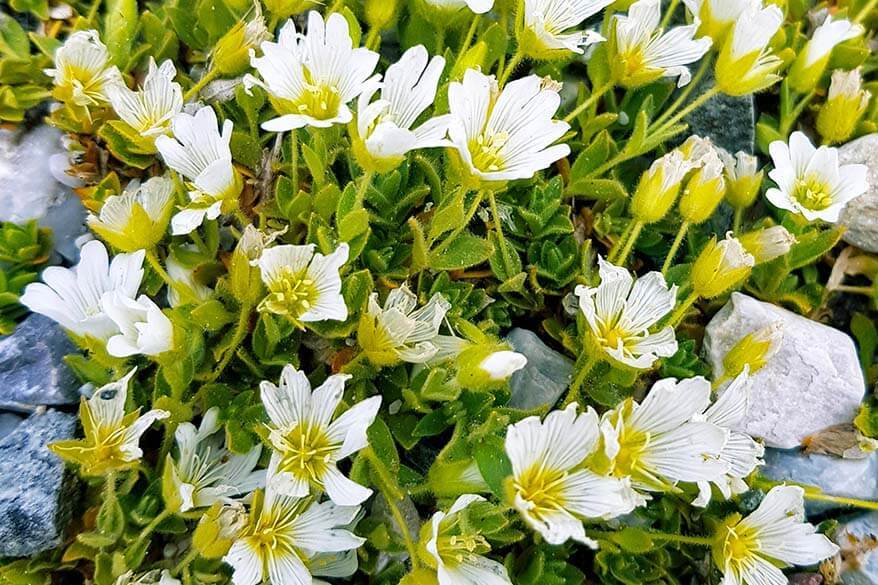 Waterfalls
If you didn't do any hiking at the Stubai Glacier itself, you can still do some easy hiking and see some amazing waterfalls in the Stubai Valley.
The easiest waterfall to visit is Mutterberg Waterfall, located right next to the car parking at the Gamsgarten valley station (bottom cable car station at Stubai Glacier). You'll see this waterfall from the car parking on your right side. Just cross the wooden bridge and you'll have the most amazing view of this powerful waterfall. It's just a short walk of a minute or two, so don't miss it!
If you have some time to spare, don't miss the Wild Water Trail (Wilde Wasser Weg) just a few kilometers drive along the main road. You can read more about it in our guide to things to do in Stubai Valley.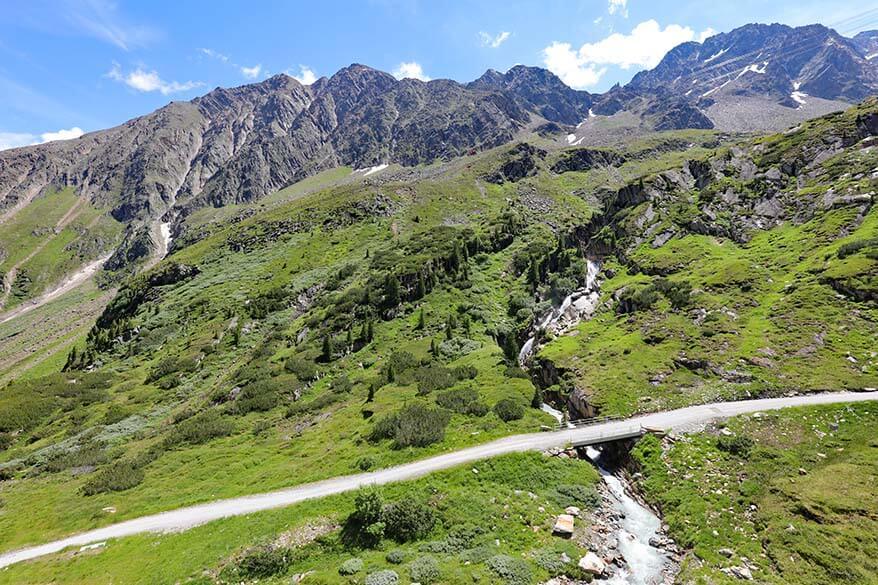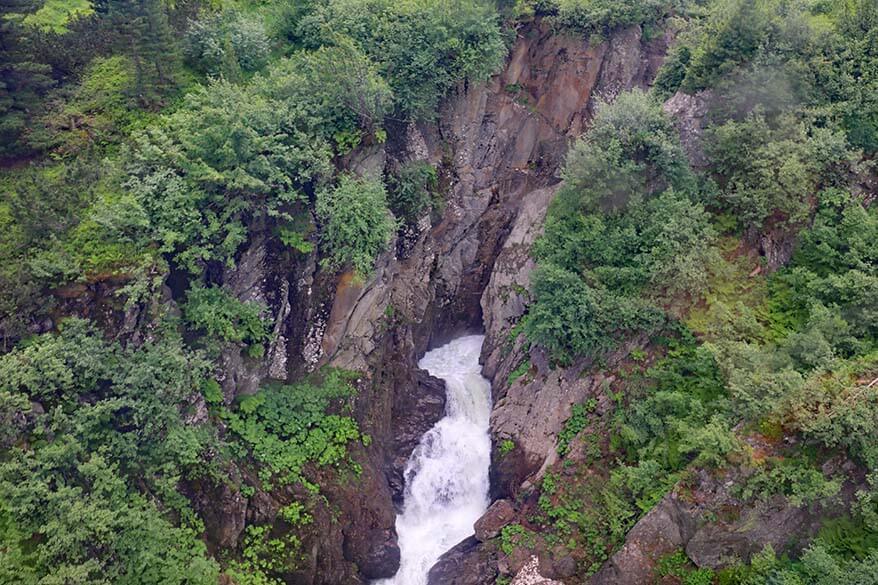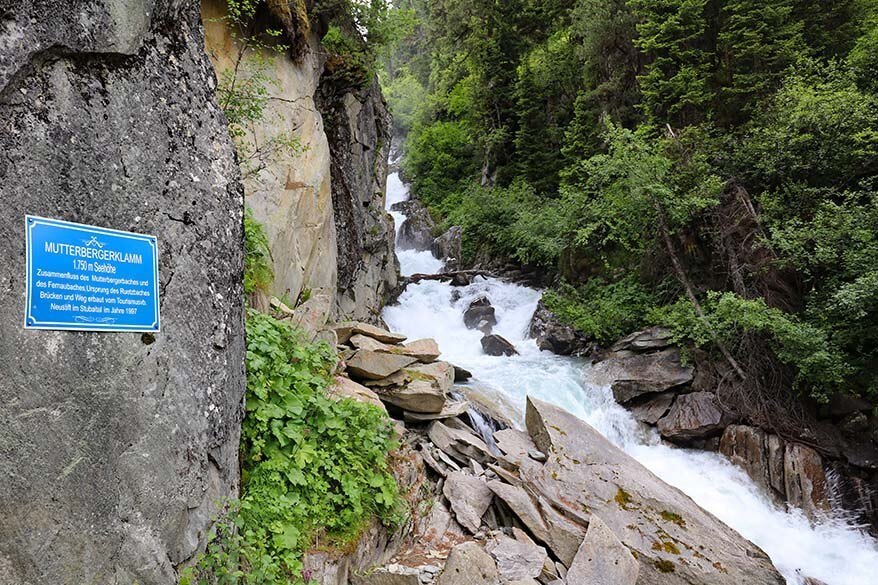 Practical Information for Visiting Stubai Glacier
Getting to Stubai Glacier
Stubai Glacier can be reached by a series of cable cars from Gamsgarten Valley Station in Stubai Valley (see the exact location on Google Maps). Stubai Valley is located just south of Innsbruck and is extremely easy to get to by car or by public transport.
By car. Just drive the Stubai Valley road all the way to the end until you reach a huge parking area at the Stubai Glacier. Gamsgarten Valley station is about 40 km/ 45 minutes drive from Innsbruck.
By public transport. You can easily reach Stubai Valley by bus, tram, or train from Innsbruck. Once in Stubai Valley, you can use the public bus that connects all the main places in the valley. This regional bus is free of charge (with the Stubai Super Card) and it runs very frequently.
Once you reach the Stubai Glacier valley car parking area, you can take one of the two gondolas up to the middle station Fernau. In summer, only one of the two gondolas is operating – the one from Gamsgarten. The entrance is at the large glass building all the way at the end of the road.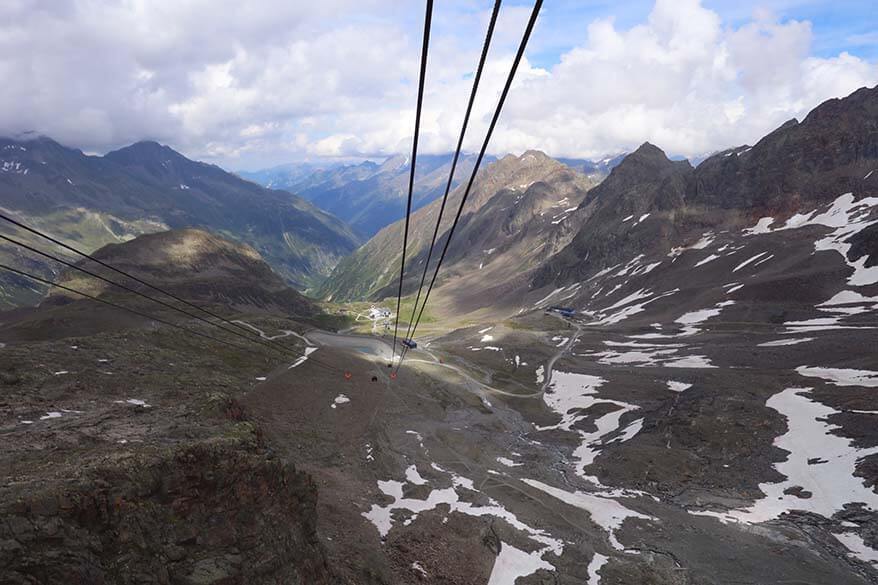 How Much Time Do You Need
As you can see, there is enough to see and do at Stubai Glacier, so you could easily spend an entire day here. However, if you are just planning to visit the Top of Tyrol viewing platform and the Stubai Ice Grotto, you could do it in about 2 hours. Add another hour if you are planning to have lunch at one of the mountain restaurants.
We spent a bit less than 3 hours visiting Stubai Glacier. We saw all the highlights and also spent some time at the playground, but since it was late afternoon, we didn't have any time left for hiking in the area. If you want to explore this beautiful place a bit more, I highly suggest that you come in the morning and plan to spend a good part of the day here.
READ ALSO: Schlick 2000 & Stubaiblick Viewing Platform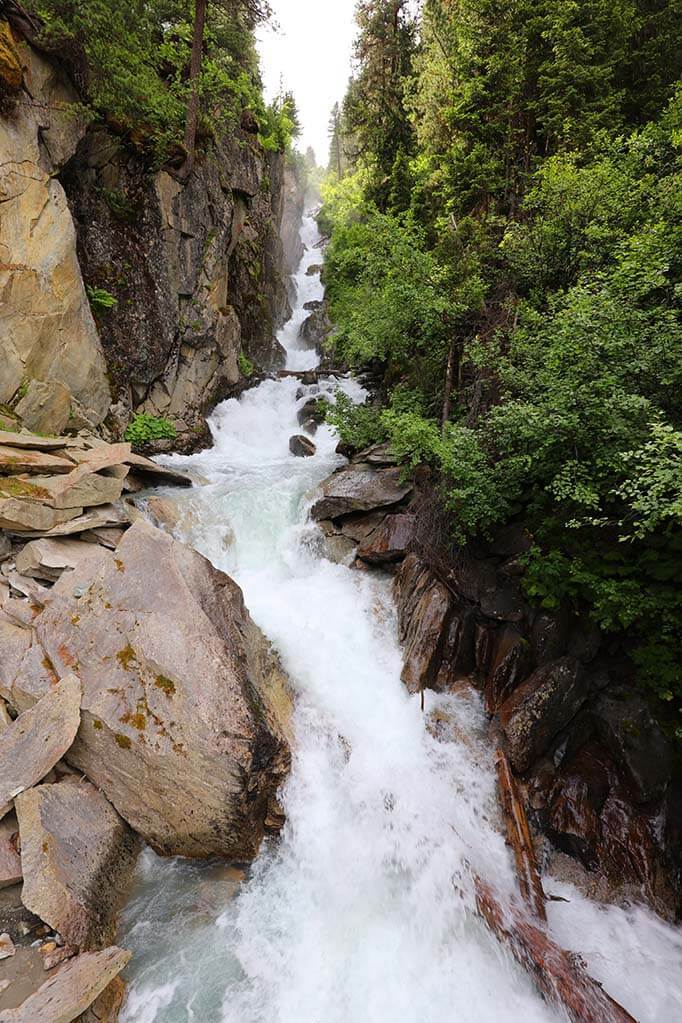 Where to Stay
You can stay in any village of Stubai Valley and explore everything from one central location. If you want to have all the facilities within easy reach, we recommend staying in the main village – Neustift im Stubaital.
We stayed at two different hotels in Stubai: Sepp & Hannis Suiten im Dorf apartments that belong to Hotel Stubaierhof and Apart-Pension Wasserfall. Both accommodations offered the free Stubai Super Card, which saved us hundreds of euros on gondolas and other activities.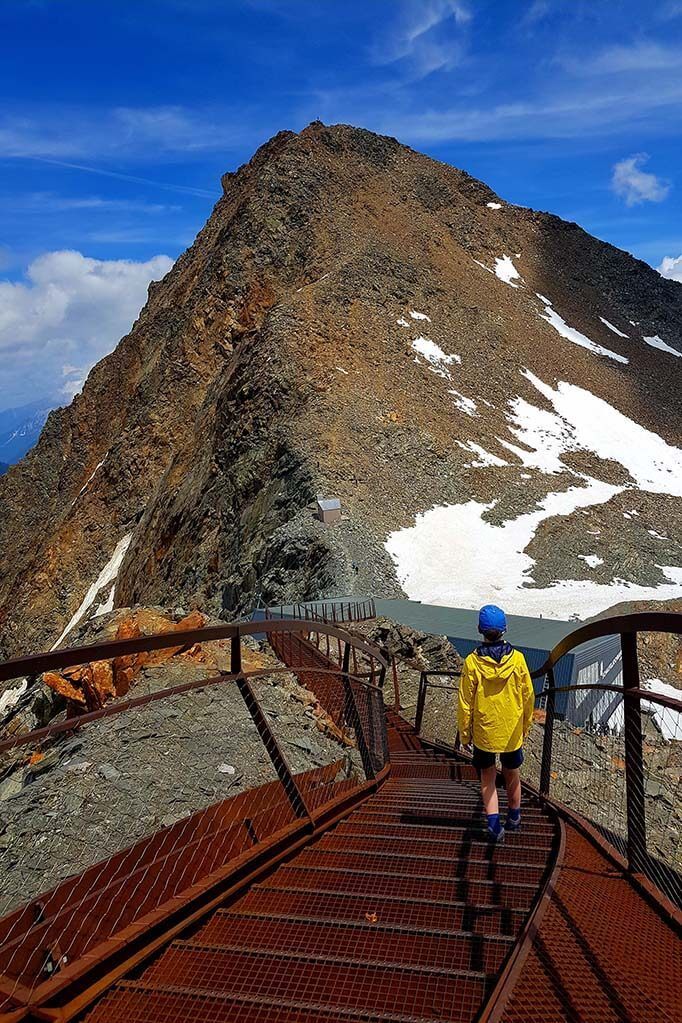 So, this is our guide to visiting Stubai Glacier and the Top of Tyrol viewing platform. I hope that this inspired you to visit. It's a beautiful place – well worth it!
If you are looking for more travel inspiration for the Tyrol region, please check our guides to some of our favorite places via the link below!
READ ALSO: Best Things to Do in Stubai Valley
More travel inspiration for Austria:
If you found this post useful, don't forget to bookmark it and share it with your friends. Are you on Pinterest? Pin this image!