Are you thinking of visiting Austria with kids and are not sure what to expect or where exactly to go? We recommend skipping all the rest and heading straight to the Tyrol region. In this article, you can find out why. In addition, you can also read about where exactly to go and what to see and do in Tyrol with kids. Find out!
Tyrol (Tirol) region in Austria is one of the best holiday destinations for families with kids. Period. You have to experience it to appreciate what it truly means to travel to a place that is so focused on giving both adults and kids the best vacation ever.
We are just back from our summer family trip in Austrian Tyrol and now we finally understand why this region has been the favorite family vacation destination of many Germans, Dutch, and Belgians for many decades. Halfway through our holiday we already started making plans to come back…
And indeed, we did! This article was originally written after our first trip to Tirol with kids. We have re-visited several times later and expanded this guide to include all our favorite places and activities.
There are so many reasons to visit Tirol with kids that it requires a separate article. In the meantime, I want to tell you about some of the best things you can do in Tyrol with kids in summer. Find out!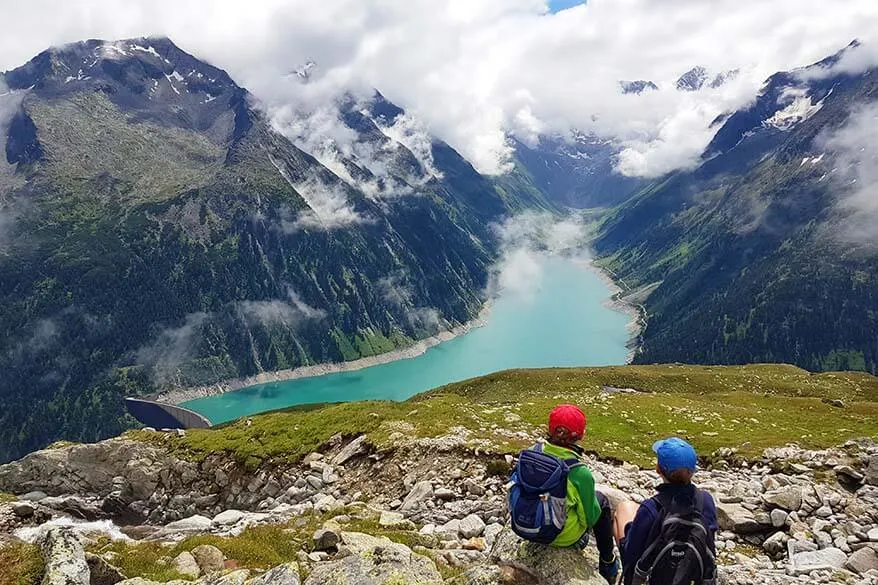 The first time we visited Tyrol, it was in collaboration with Visit Tirol and we published a list of the best summer activities for families based on the recommendations that they gave to our family. However, we quickly realized that there is so much more to see and do in Tirol for families with kids than you could ever do in one trip, so we went back again, and again.
This list has been updated after each trip, to include all our favorite places and activities in Tyrol for families.
Still, even after a couple of trips, we just scratched the surface of what Tyrol has to offer. We loved every trip and will be definitely going back to the region again, so I might update this list with even more fun family activities in the future. But in any case, this should give you plenty of ideas on what to see and do during your family vacation in Austria.
So without further ado, below you can read about some of the very best places and unforgettable experiences that we recommend to everyone visiting Tyrol with children in summer. At the bottom of this post, you can also find a map indicating all the places mentioned here. Find out!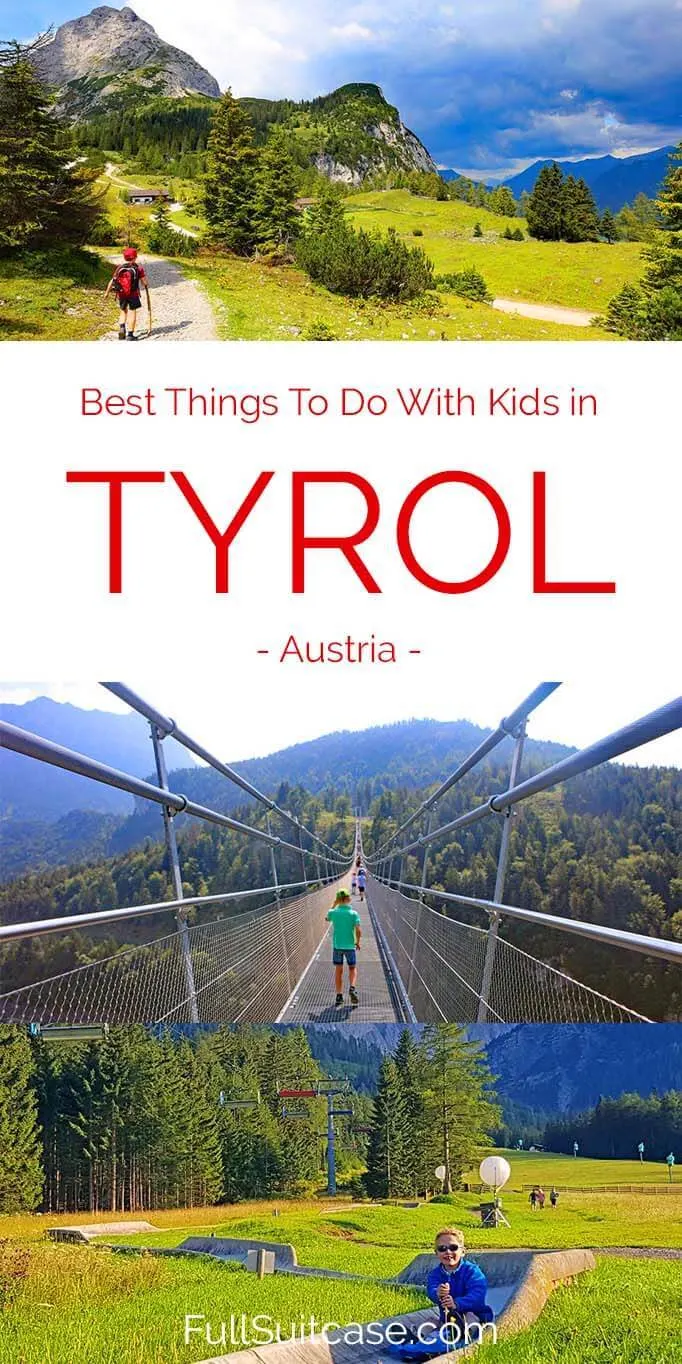 Here are some of the best things to do in Tirol with kids:
1. Alpine Coasters and Summer Toboggan Runs
Summer tobogganing is very popular in Tirol with at least 9 different alpine coaster routes in the region. I put it as our number one thing to do in Tyrol with kids, because 2 of our 3 kids chose it as their personal favorite activity (the other one voted for the adventure park – see below).
We tried one of the longest toboggan runs in Tyrol – a 1.3 km ride with 40 curves and turns down the scenic Marienberg mountain in Biberwier and just loved it.
We have done several alpine coaster rides in the past, but this one was simply the best. What makes it really fun is that it's so long, so you have plenty of time to truly enjoy the ride.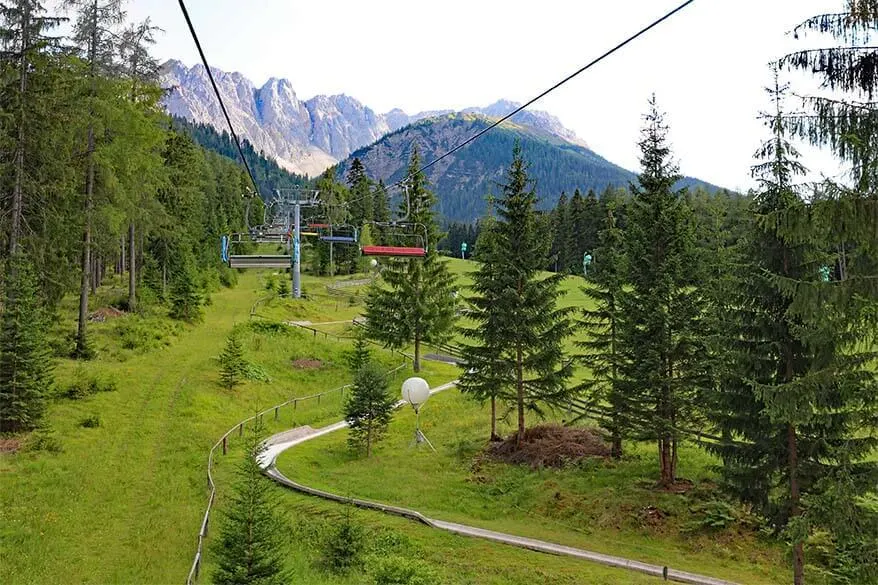 It takes about 10 minutes to get to the top of the mountain by a chair lift from which you can admire the beautiful mountain scenery and check out the toboggan run from above. Once on top, you take a sled, get some instructions on how to use it, and set for a long thrilling ride down to the valley.
Don't worry – it doesn't go fast if you don't want it to – you are always in complete control of the speed and can do it in a way that feels the most comfortable for you.
TIP: Ride carefully, keep your knees and elbows inside, and don't underestimate the speed in the curves.
Practical information: You can find this toboggan run at Marienberg cable car in Biberwier. It's open daily from mid May to mid October. You can find prices, opening times, and other info here. Our youngest kids are 7 and they were allowed to use a sled on their own, with adults in between them; younger kids can also share a sled with their parents.
Update: On our most recent trip to Tyrol with kids we tried two more toboggan runs. One in Serles in Stubai Valley and one in Zillertal. The one in Stubai is 2.8 km long and is so much fun! The Arena Coaster in Zillertal has some serious loops and feels like a rollercoaster ride in the mountains. Amazing for kids and adults! And, once again, this was our kids' favorite activity of the entire vacation.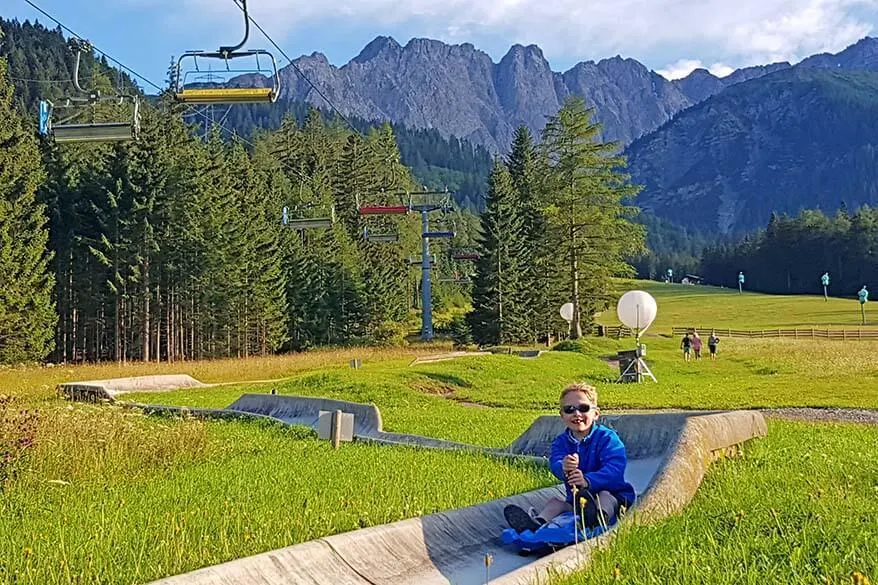 2. Highline 179 Suspension Bridge
Highline 179 is the world's longest pedestrian rope bridge Tibetan style. It is 406 m (0,25 mile) long and connects Ehrenburg castle ruins (don't miss!) with Fort Claudia (can also be visited, but requires a separate ticket).
Visiting this suspension bridge is without any doubt one of the highlights of any trip to Tyrol! It looks really high and a bit intimidating from the bottom, but once on top, it's not scary at all. Its construction is such that you don't really have to worry about coming here even with small children and the scenery is amazing. Must do in Austria, with or without kids!
Practical information: Highline 179 is open daily from 8 AM till 10 PM. You have to walk up the hill (15-20 min) in order to get to the bridge, but it's a wide path and is easier than it looks at first sight. We saw families with strollers here as well. You can find more practical information for your visit here.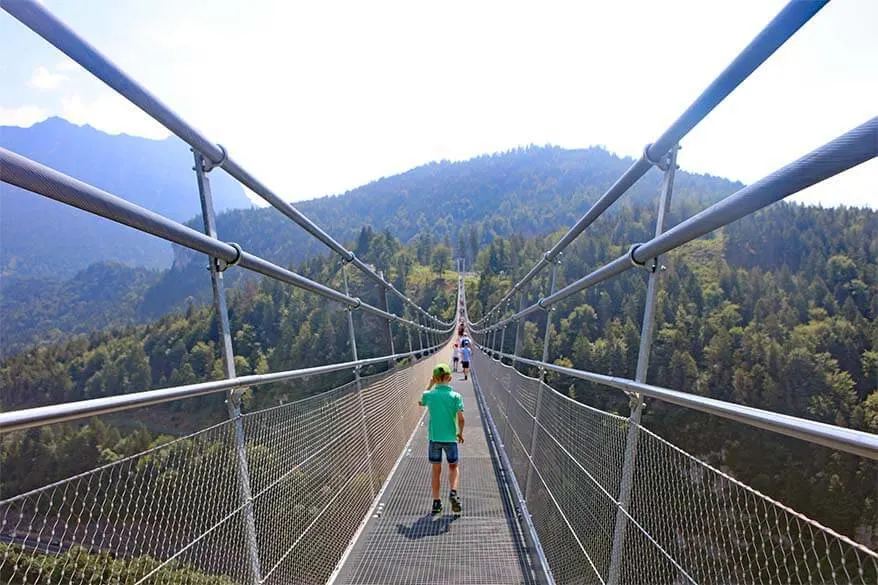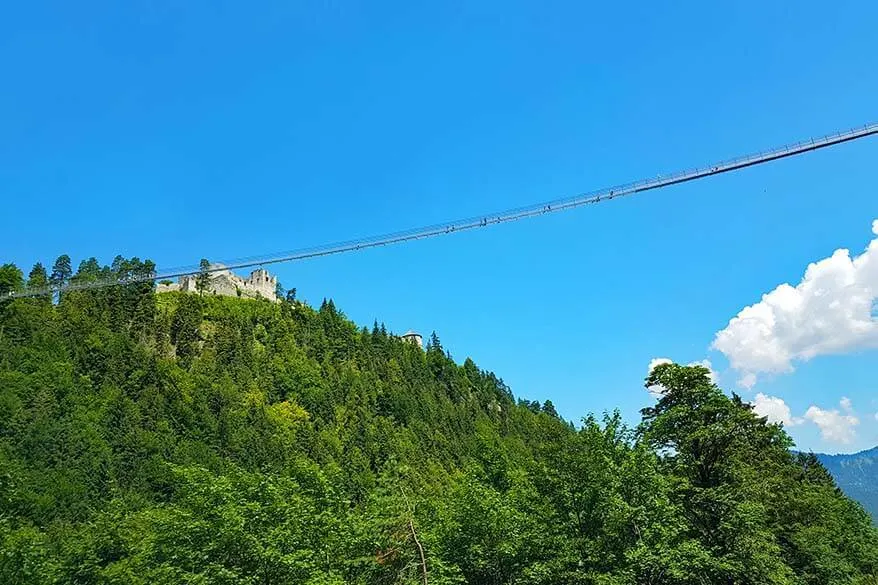 3. Adventure Parks
We just recently discovered adventure parks with kids for the first time and it has quickly become one of our favorite things to do as a family. Adventurous high ropes courses and zip-lining is such a great way to unplug and spend quality time with your kids!
In Tyrol we visited the adventure forest in Bichlbach. It has 5 courses of different levels of difficulty and a newly opened 90m (295 ft) long Flying Fox.
This adventure park is truly a place for the whole family. Even the easiest routes have some places that are a bit too high to reach for young kids, so adults have to go with them to be able to help where needed. That being said, it's a really fun park where even the youngest kids can do quite a few really fun and more adventurous courses. Our boys loved it! Zip-lining on the Flying Fox was so much fun too!
Practical information: I asked at the park about the age limit and they told me that it's quite flexible and depends on each child and their parents. Normally, it's for kids from about 5-6 years old, but always with adult supervision. As I said, it's a real family activity, so embrace it and you'll have a wonderful day spent together with your children. You can find opening times and prices here.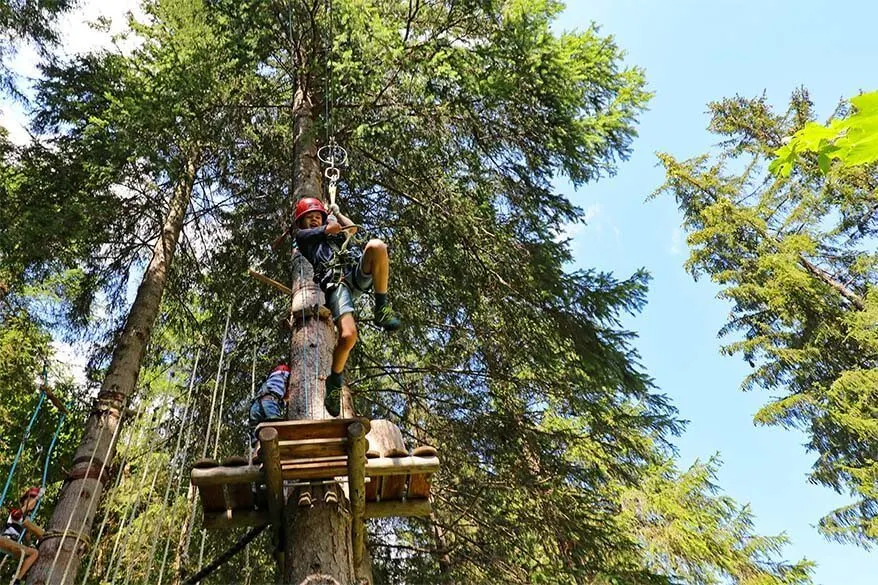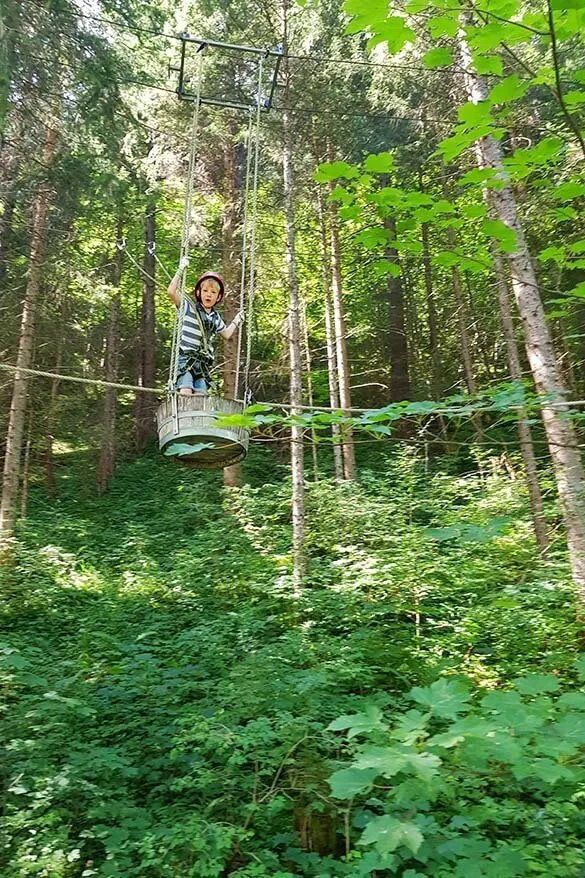 4. Ice Caves & Ice Tunnels
Tyrolean mountains have some impressive glaciers. And there are quite a few places in the region where you can visit ice grottos and man-made ice tunnels.
Walking in an ice tunnel deep under the surface of the eternal snow is always a big hit with our kids. And it's a real bucket-list experience for adults as well!
We visited two ice tunnels in Tyrol with our kids. The first one was a man-made Ice Grotto in Stubai Glacier. The other one – Natural Ice Palace under the Hintertux Glacier in the Zillertal region. Both are very different experiences and both equally fun for the whole family.
With young kids, it's best to visit man-made ice tunnels as they are much easier accessible. Often, there are also kid-friendly educational activities as well. Whereas natural ice caves are better for families with somewhat older kids or with teenagers.
For example, the natural ice caves at Hintertux Glacier can only be visited with kids from the age of 6 and it's a very adventurous visit indeed. You have to climb ladders and walk on slippery ice. Fun for older kids, but definitely not something for the little ones.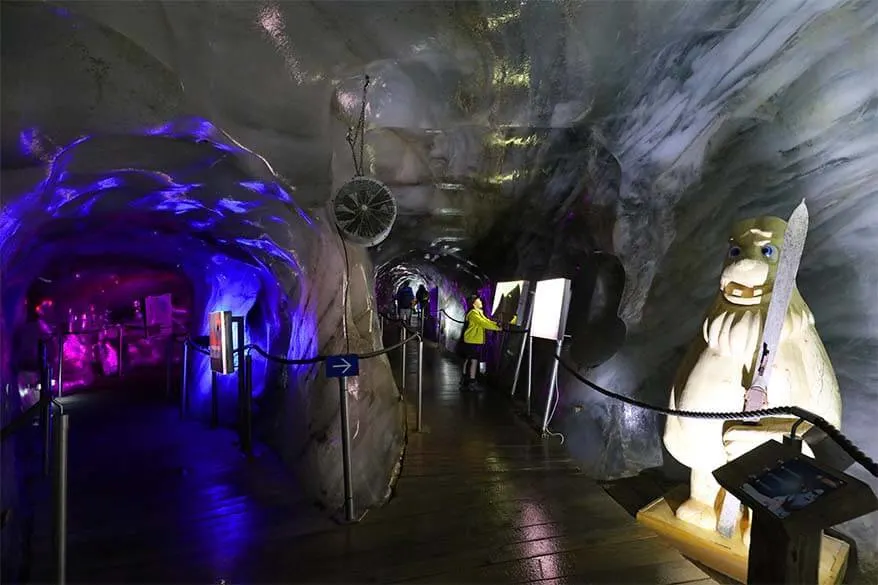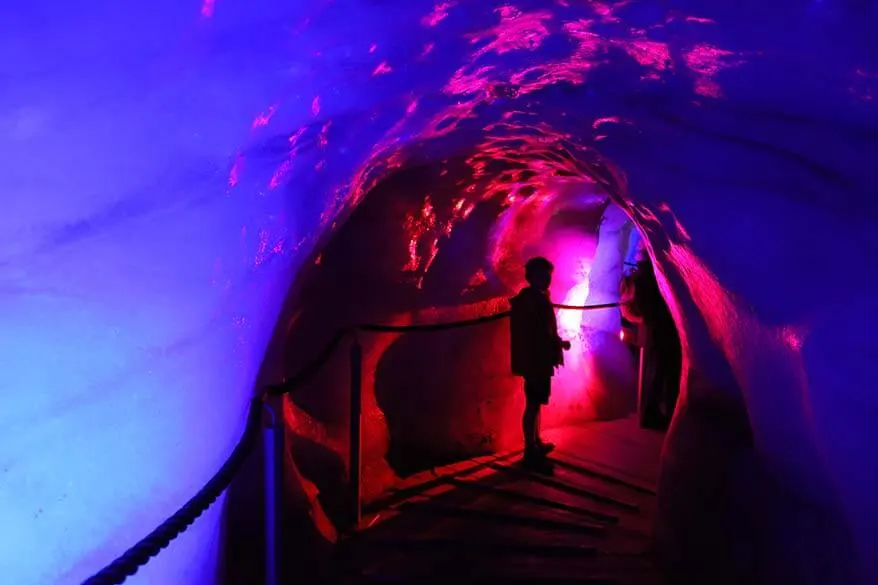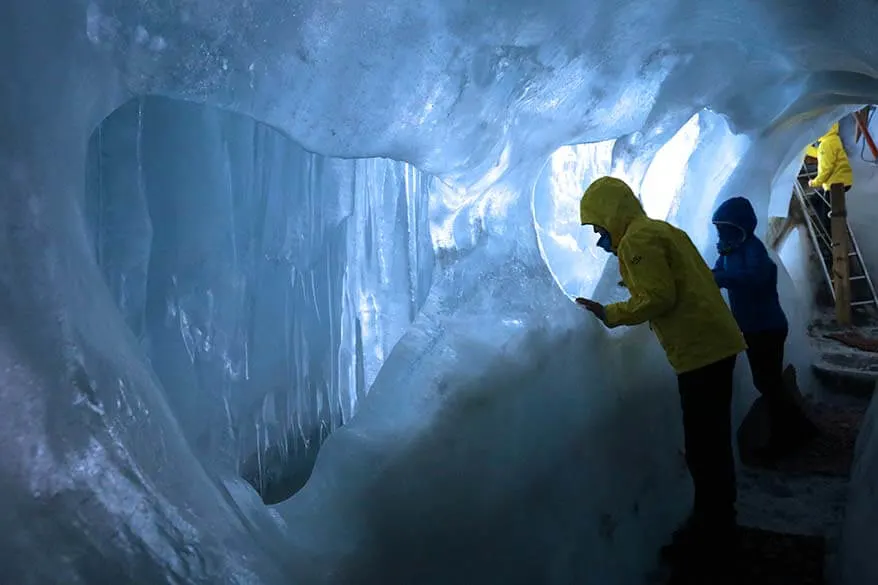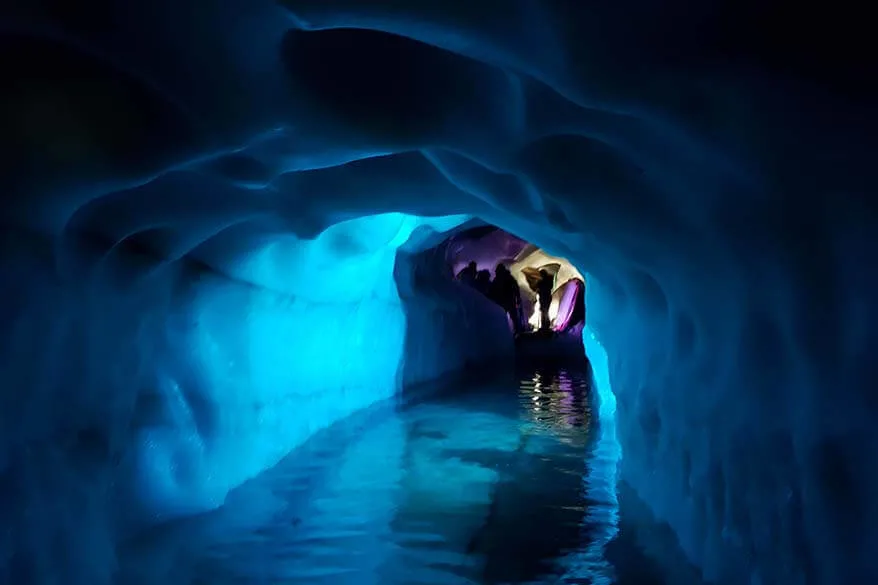 5. Family-friendly Hikes
As already said, Tyrol is truly a place for families, so you can find plenty of easy walking paths and family-friendly hikes. Often, there are all kinds of games and activities to keep the kids busy and interested along the way. It's a perfect way to discover the beautiful mountain scenery of Tirol with your family.
We did several such hikes in Tyrol. Two of them in St. Anton Am Arlberg region. The first one was a visit to Verwall Valley (Verwalltal) – a recently opened mountain valley with walking and biking paths, a lake, suspension bridge, playgrounds, and lots of stories and activities for kids along the way.
There is a free shuttle bus running in the valley, so you can drive one way and walk the other. The road is also accessible to bikes and strollers.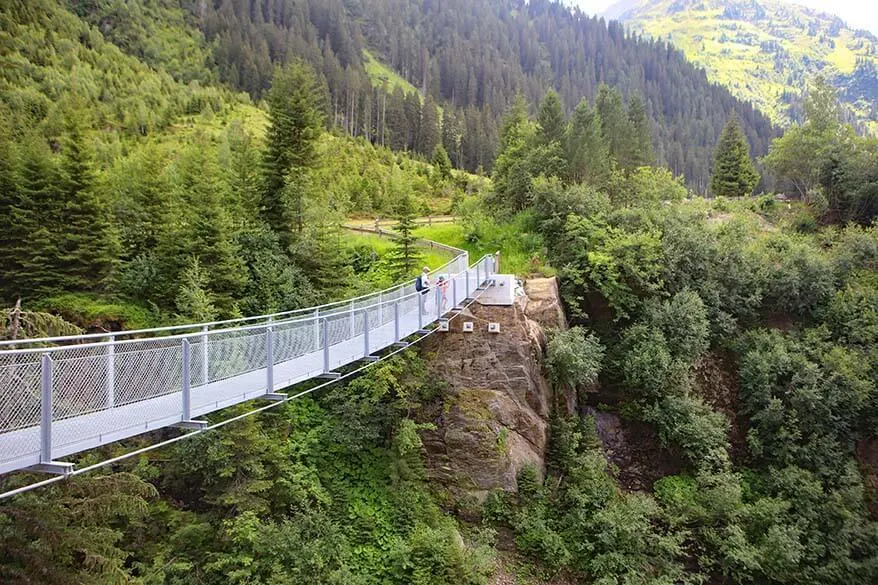 The second one was an alpine Mutspuren Trail that can be reached by Gallzigbahn gondola, also in St. Anton. This is a real mountain hike, so it's a bit more challenging. However, it's just about 5km in length and has lots of entertainment and playgrounds to keep the kids happy along the way. You can find more practical information about this hike here.
TIP: No matter which area you are visiting in Tirol, they definitely have at least a couple of easy fun hikes for the children. Ask any local tourism office and they'll point you in the right direction.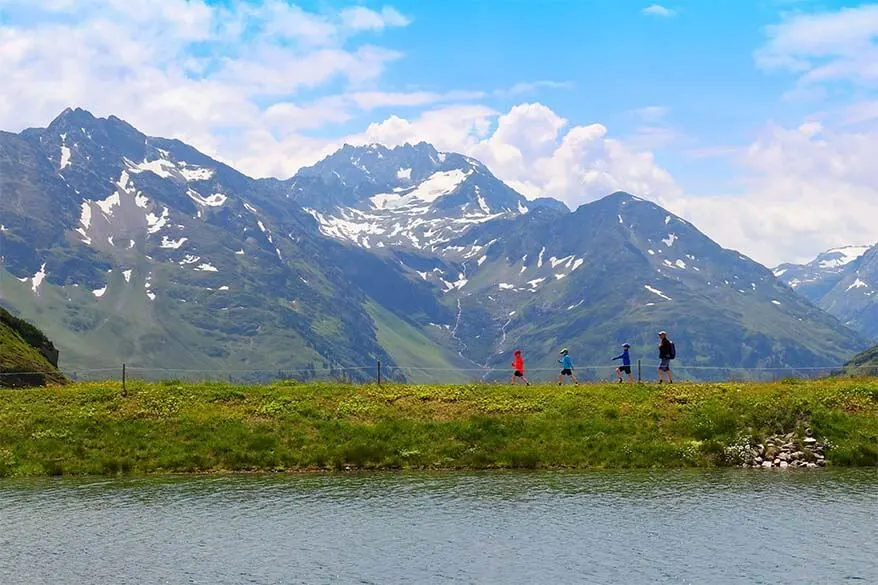 Another really nice family-friendly hike is the so-called Educational Nature Trail at Schlick 2000 in Stubai Valley. It's somewhat longer, but can be done with kids of any age (even in a stroller) and the scenery is absolutely stunning.
Furthermore, there is so much for kids to explore and discover on this trail. And there are also fun activities like zip-lining, playgrounds, a Tree House Trail and so much more. Great fun for the whole family!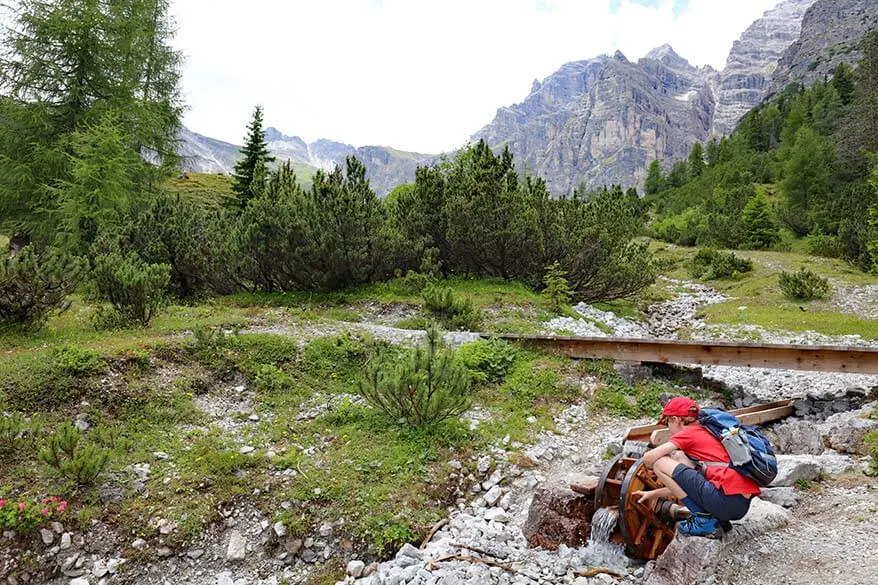 6. Archery
Boys will be boys. The moment our kids saw a picture of a bow and arrow when researching St. Anton summer card activities, they wanted to give it a try.
Archery is so much fun, you guys, and not just for the children! We spent 1,5hrs practicing our archery skills, shooting (or at least trying to) targets, balloons, and fake animals. The time flew by and kids didn't want to stop.
The good news is that they have bows of different sizes for the whole family and it doesn't take long to learn how it works. Of course, it takes time and lots of practice (or lots of luck) to actually hit the target, but it's just a really fun activity for the whole family. Recommended.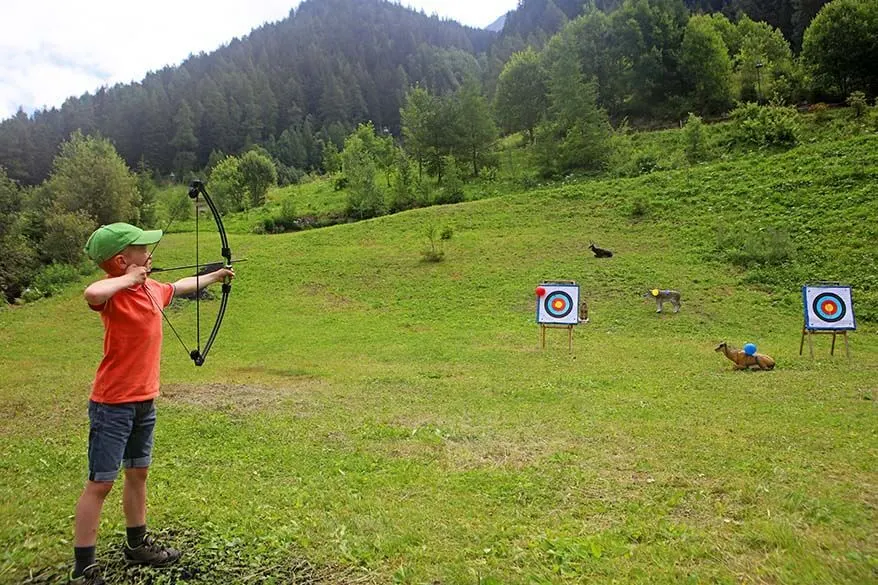 7. Torch-lit Hike
Torch-lit hikes seem to be a very popular activity in many places in Tyrol. Many mountain resorts organize torch hikes, in summer and winter, so inquire at a local tourism office. Often it's an activity that is included with a guest card that most resorts offer to people staying in one of the hotels of that area. It was the case in St. Anton.
What kid wouldn't want to stay up late and go on the evening walk with a torch in their hands… Of course, our kids were enthusiastic to explore St. Anton in the dark. Torches are provided and the walk is usually easy and can be done with kids of any age.
TIP: Our torches were made of paraffin wax and the kids' pants and shoes were full of it after the walk, so don't wear your best clothes. Of course, theoretically, you could tell the kids to just be careful, but in practice… Anyway, luckily it comes out quite easily with some help of hot water and a little brush.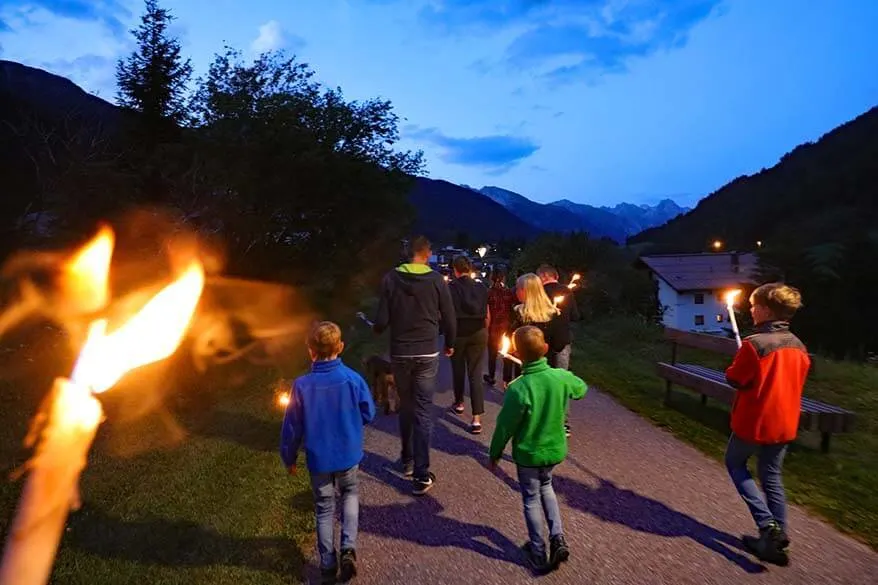 8. Playgrounds
Now, I wouldn't normally include playgrounds in a list of things to do in any region, but… You really have to plan some extra time for a playground when visiting Tyrol with young kids!
They sure do take playgrounds seriously in Tyrol. No matter where you go, there's always a playground nearby. And not just a playground!
We have three kids and have spent more time in the playgrounds all over the world than I would have liked to, and never have we seen such a big variety of playground equipment as in Austria. From activity and climbing towers to swings, slides, and countless other things that I don't even know the name of… to the most creative water playgrounds you can imagine.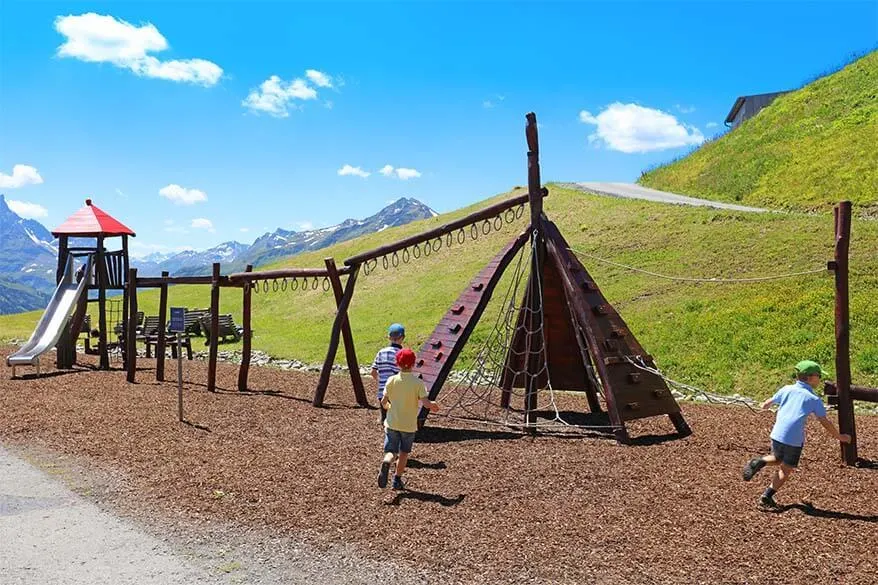 You better plan a lot of extra time for the playgrounds when visiting Tirol with children because there is no way you're getting them out of there before they thoroughly discovered every corner of every playground you come across… And there are many!
Our kids' favorite water playgrounds were along the Mutspuren Trail in St. Anton.
There is also a water experience trail that you can do in Ehrwald. It's called Wassererlebnisweg 'Zugspitzi am Gaisbach'.
Once again, there are countless options, these are just a few examples from the areas that we visited.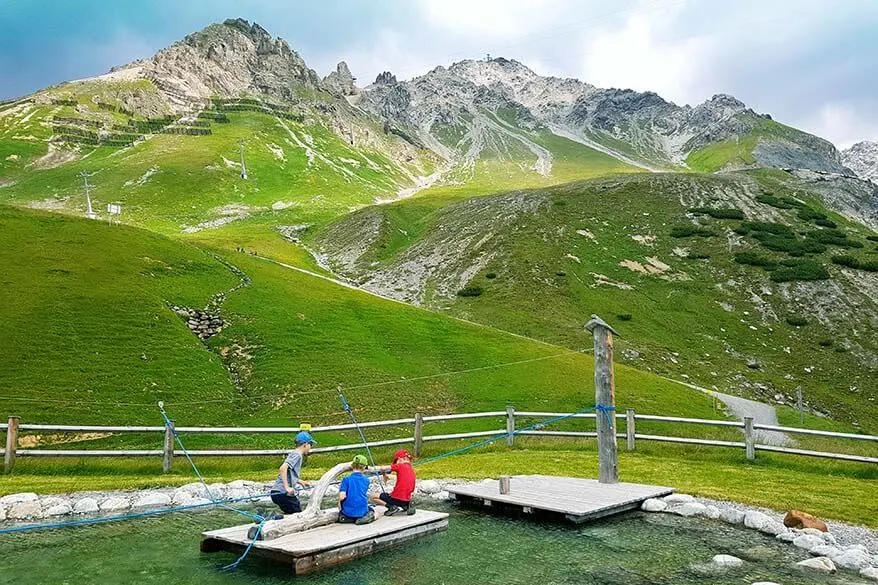 9. Hiking in Tirol with Kids
One of our favorite things to do in the mountains is, of course, hiking to some of the most beautiful places that are not accessible otherwise. And Tyrol is a real hiker's paradise!
The good news is that there are many truly beautiful hiking trails that you can do with children as well. I suggest hiking to a nice lake – water is always a big success with kids. And it just gets better if you find a nice playground or even some ducks there.
Who knows, maybe you'll even find some snow along the way. It's always special to find snow in summer and our kids can never pass it without organizing a snowball fight. Luckily it's usually aimed towards their dad rather than me…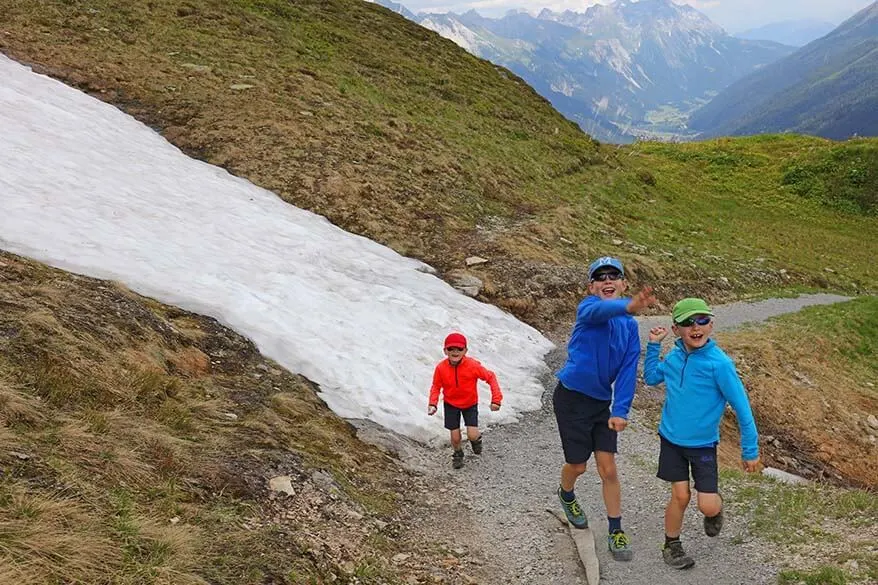 The most beautiful hike we did in Tyrol was Seebensee near Erhwald in Tiroler Zugspitz Arena.
It's a relatively easy and family-friendly mountain hike to one of the most beautiful lakes of Tyrol. It took us about 3,5 hrs in total because we didn't stay long due to the very unstable weather with lots of rain.
The good news was that we did get just enough sunshine to be able to experience the stunning colors of the lake against a truly spectacular backdrop.
We had the lake practically all to ourselves, which will not be the case if you come on a sunny day. But don't let it stop you! Pack a picnic and make an unforgettable day of it!
Update: We went back to Ehrwald two years after our first visit and hiked to Seebensee lake again. We also hiked to the nearby Drachensee lake and WOW – it was absolutely worth going back for it. Via the link below, you can read our complete guide to this stunning and family-friendly hike.
LEARN MORE: Seebensee Drachensee Hike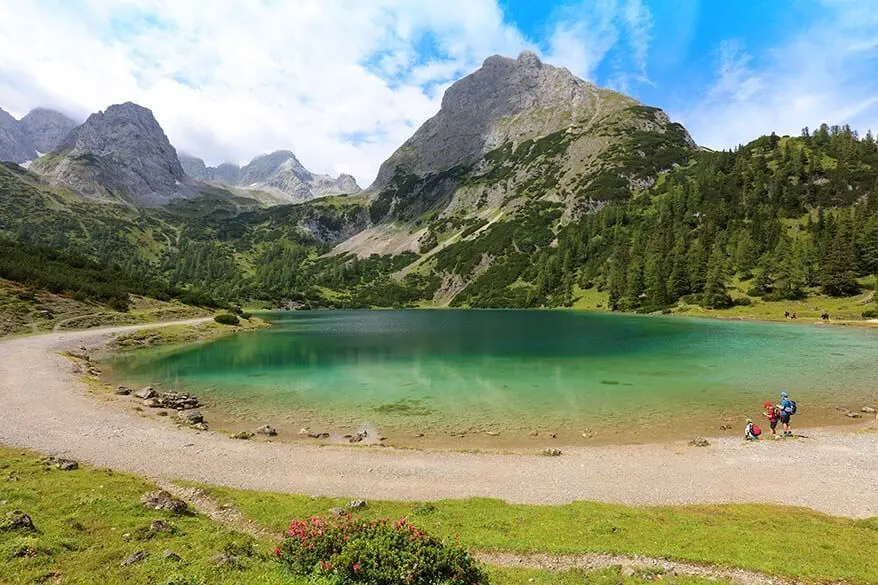 We also did more hiking on our other trips in Tyrol with children. Some of our other favorites are the Nature Trail from Kreuzjoch Summit Station to Schlickeralm at Schlick 2000 in Stubai Valley.
Another truly amazing hike is a hike to Olpererhütte from Schlegeis reservoir in Zillertal Valley. You can read all about it via the link below.
LEARN MORE: Olpererhütte Hike
Tyrol also has many beautiful gorges that you can easily explore with children. The hikes are usually not very long and relatively flat, so it's easy to do as a family.
On one of the trips, I visited Kaiserklamm – a beautiful mountain river gorge you can easily visit with kids. Here you can read more about it and find all my suggestions for a wonderful family-friendly day exploring this area.
LEARN MORE: Kaiserklamm and Kaiserhaus in Tirol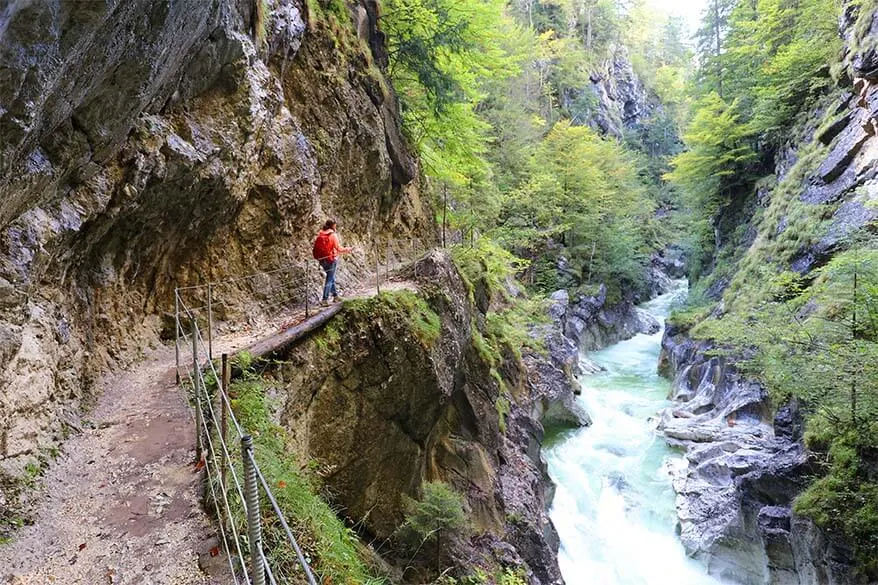 10. Mountain Peaks
If your kids are too young for a longer hike in the mountains, there are easier ways to enjoy the majestic scenery of the Austrian Alps. Take the kids on a gondola ride to the top of the highest mountain in the region that you are visiting. It's such an easy way to enjoy the beautiful mountains and kids always love going high above the clouds.
We visited two mountain peaks with kids in Tyrol this summer: Zugspitze in Ehrwald and Valluga in St. Anton am Arlberg.
Zugspitze
Zugspitze mountain is Germany's highest mountain and can be accessed from both, Austria and Germany. In fact, it's quite an extraordinary place to visit as you cross the Austrian – German border on top of the mountain. You actually pass an old border control post, where in the past skiers had to show their passports in order to access the ski slopes on the German side of the mountain.
There are several viewing platforms on top of Zugspitze and on a clear day, you can see 4 countries and even see up to Munich that is 130km away. There is also a small museum showing the construction of Tyrol's first cable car some 100 years ago. You can also watch a beautiful 3D movie that will inspire you to come back to the beautiful Tiroler Zugspitz Arena area in every possible season.
The peak of Zugspitze was partially covered in the clouds when we visited (despite having sunshine in the valley), so we couldn't see the whole view, but it was a very enjoyable visit nonetheless.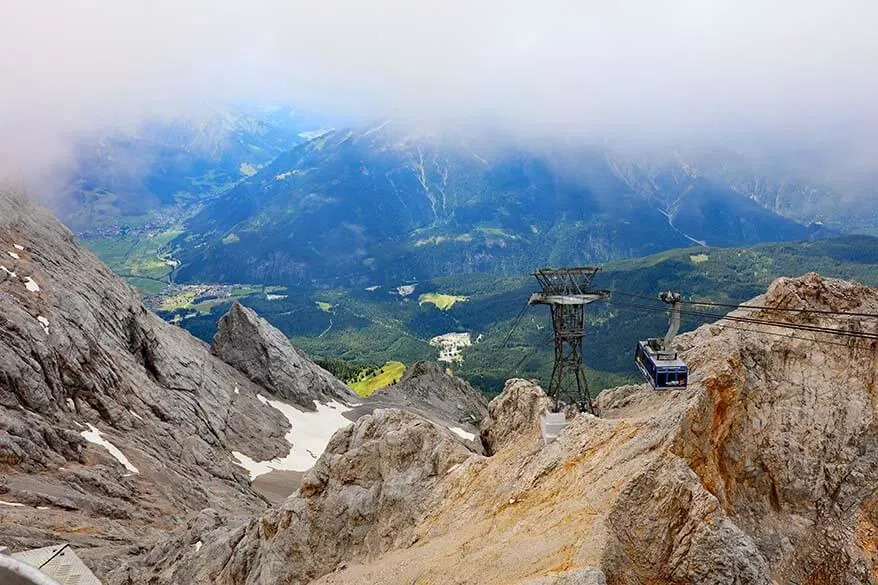 Top of Tyrol
One of the most iconic mountain destinations in Tirol is the Top of Tyrol viewing platform at Stubai Glacier. It's located at the end of Stubai Valley, just south of Innsbruck, and is one of the easiest places to visit in the region.
Top of Tyrol is located at 3,210m (10,531 ft) and offers unparalleled views of the surroundings. On a clear day, you can see more than 100 mountains that are higher than 3000 meters from here.
In addition, there is an ice tunnel, a cool Mammoth playground, and lots of waterfalls in the area. All this makes Top of Tyrol one of the best mountain destinations in Tyrol for families with kids!
LEARN MORE: Stubai Glacier – Top of Tyrol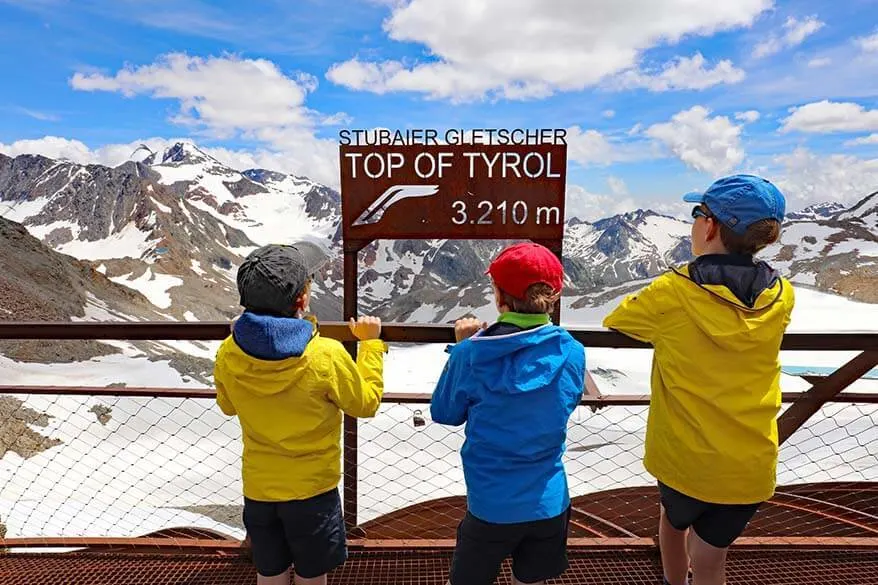 Valluga
The other peak we visited was Valluga mountain in St. Anton am Arlberg. It takes 3 cable car rides to reach the top of this 2,811m (9,222 ft) mountain from where you have 360° views over the Alps. On a clear day, you can see 5 different countries from here: Austria, Italy, Switzerland, Liechtenstein, and Germany.
The last gondola to the top of Valluga is really tiny – it only takes 5 people at a time, so it's an attraction in itself. Once on top, you can stay on the panoramic deck where you can find binoculars and informational panels with the names and the heights of all the bigger mountains you can see from here.
You can also take a short but very steep walk down to a wooden bridge; it's just too beautiful not to do it. We were lucky to visit Valluga on a sunny summer day and it was one of the highlights of our family holiday in Tyrol.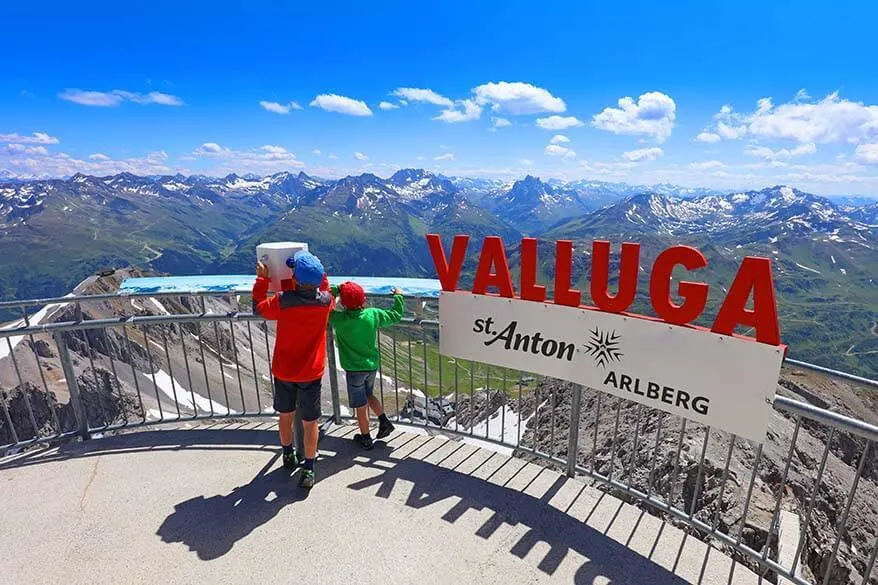 Stubaiblick
Stubaiblick is another easy-to-visit viewing platform in the Tyrolean mountains. It's not as high as Valluga or Zugspitze, but the views are great and the Schlick 2000 area where it's located has so many family-friendly activities. Well worth it!
If you like hiking, you can take a very nice and easy downhill hike. Along the way, there are educational panels, fun activities, and playgrounds for kids. But even if you don't hike, Stubaiblick is worth it in itself.
LEARN MORE: Schlick 2000 in Summer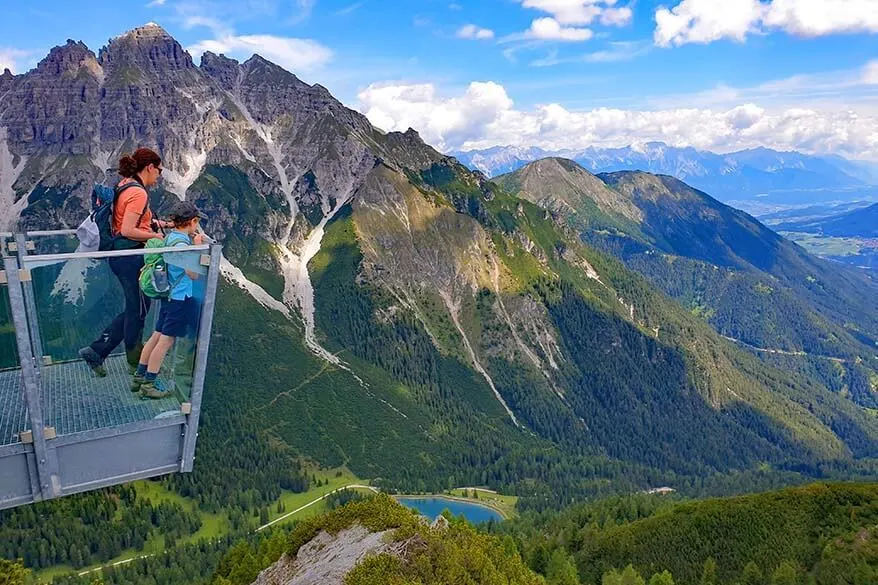 TIP: Gondola rides, especially the ones that bring you to the most famous mountain peaks like Zugspitze or Valluga are quite expensive, especially if you are visiting with a big family. However, most places in Tyrol have regional guest cards that offer discounts for gondola rides, public transportation, and many activities in the area.
It is therefore always better to stay in one region for at least several days – that way you can take advantage of all the discounts and make your family trip to Tyrol affordable.
For example, in St. Anton we used St. Anton summer card. The basic card is offered to everyone who stays at one of the hotels in the region. Or you can buy a premium card that includes more activities and unlimited cable car rides. It's really worth it if you are staying here for several days.
In Tiroler Zugspitz Arena they have a similar system with a basic guest card that offers discounts for local attractions, but also a premium version, z-ticket, that includes cable car rides and many activities in the region.
The same in Stubai, where we received the Stubai Super Card from our accommodation. It's such a great value!
11. Mountain Biking
Tyrol is a beautiful region to explore by bike. There are many biking trails that are easy enough to do with children and you can rent bicycles in every bigger town in the mountains.
If you want to try e-biking with children, you should know that it is not legally allowed for kids under 10 years to ride an e-bike in Austria. However, you can easily rent simple mountain bikes and there are many guided tours available for families as well.
If you are looking for some inspiration, you can read all about my e-biking experience in Alpbachtal.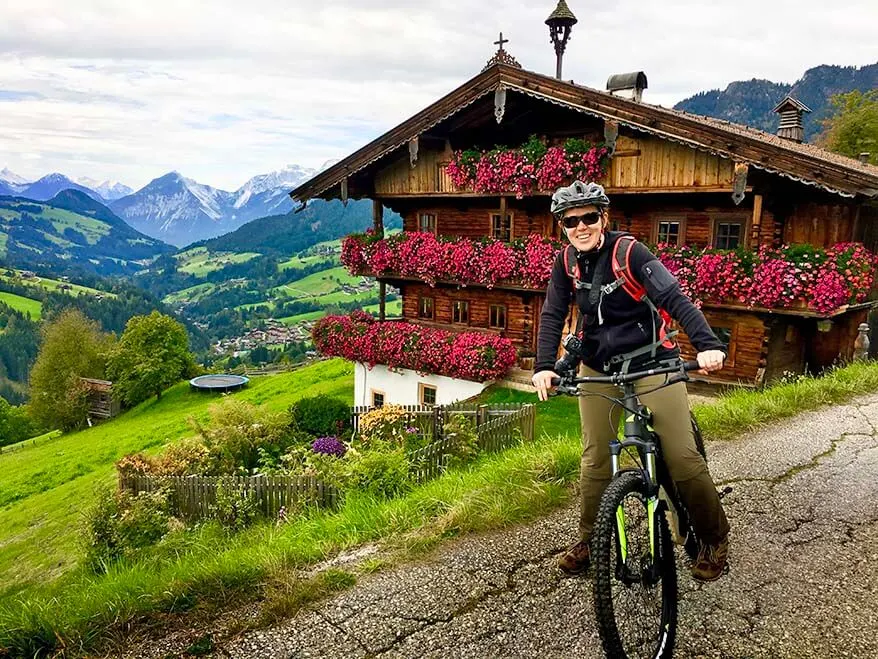 12. Swimming in Lakes or Swimming Pools
There are many lakes in Tyrol where you can safely swim in the summer. Your best bet would be to ask locals for the best spots in the area.
In Tiroler Zugspitz Arena, we stumbled upon a beautiful mountain lake Blindsee where you could go swimming. We were there in the late afternoon, so we just walked around the lake a bit, but we saw many people sunbathing and swimming.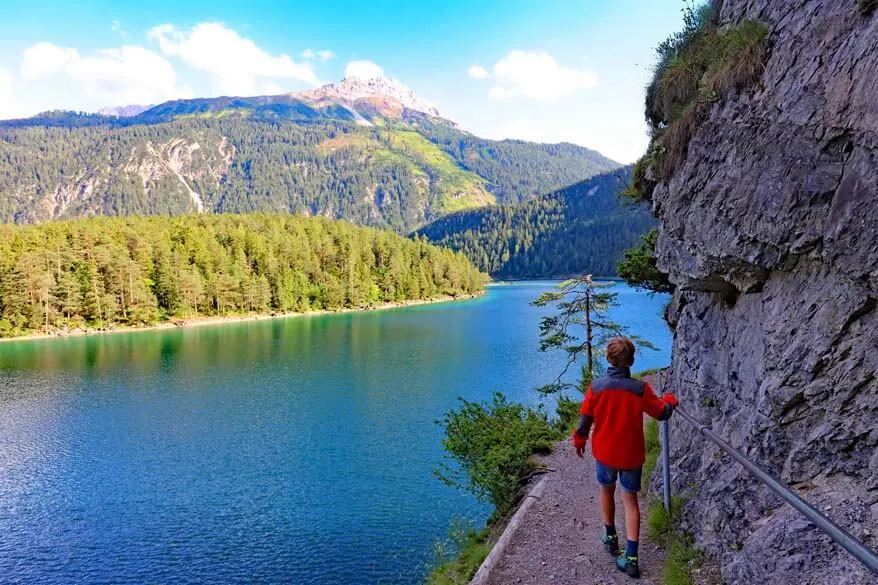 The nearby Heiterwanger See is a very popular place for swimming, boating, and paddleboarding as well.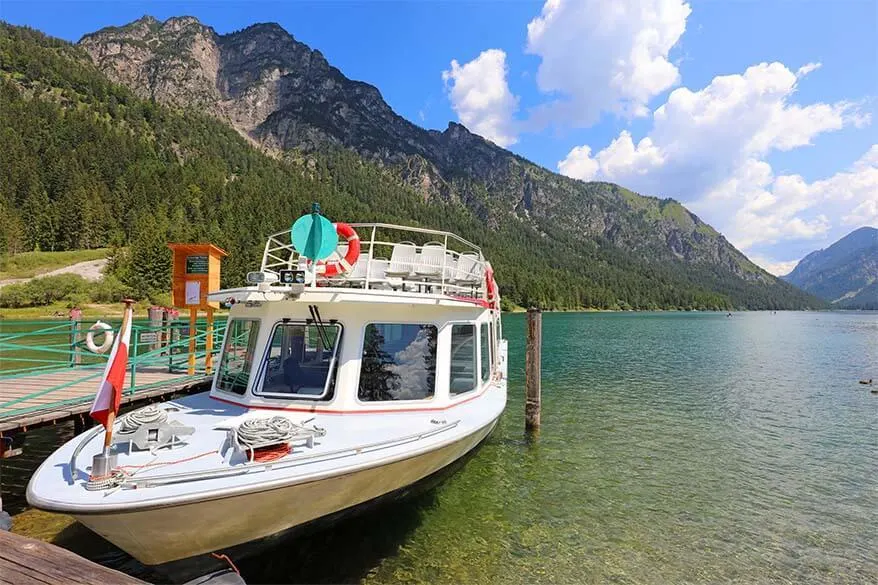 Also in Bichlbach Sports and Recreation Park, there is a small natural lake that is very popular with families. At the same location, you can also find kids' rafting, mini-golf, tennis, and the earlier mentioned adventure park. It's a place where you can easily spend the whole day with kids! More info about Bichlbach Recreation Park here.
There are also many swimming pools, wellness areas, and even water parks in Tyrol. It looks as if every bigger town has a swimming pool in Tyrol and every pool we visited was really nice.
The swimming pool in St. Anton is really great for kids – it has an outdoor pool, a small slide, and also a water playground.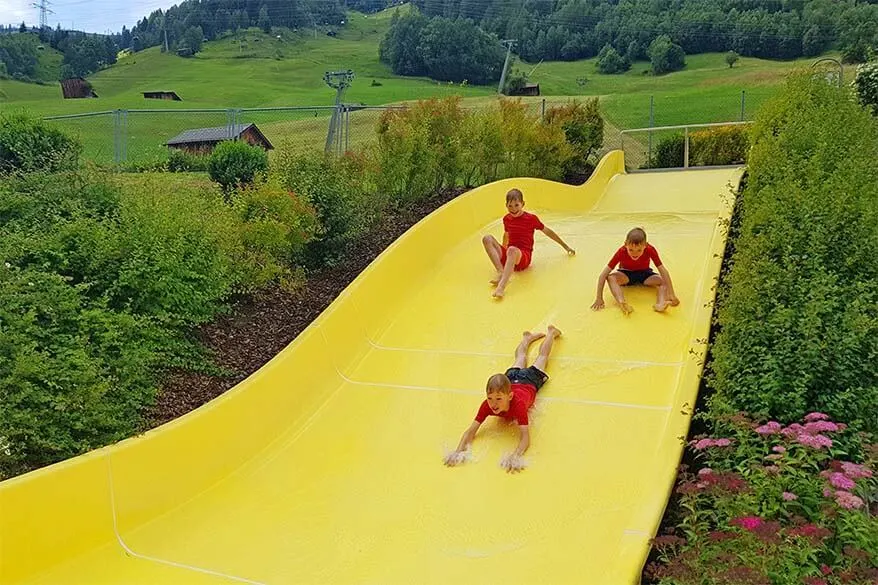 13. Local Festivals and Celebrations
Summertime is the perfect season to attend a traditional celebration or a local event in Tyrol. There is so much going on everywhere!
When we visited St. Anton in July, we happened to be there for an annual village party. It was fun to see all the locals in their traditional lederhosen and dirndls, try traditional Tyrolean food, and just enjoy the easy-going atmosphere of the festivities.
My top tip for families with kids would be to try to attend Almabtrieb if visiting Tyrol towards the end of August – mid September.
Almabtrieb is an annual cattle drive at the end of the summer that you can experience in many villages all over Tyrol region. Here you can find more information about Almabtrieb in Tirol, Austria.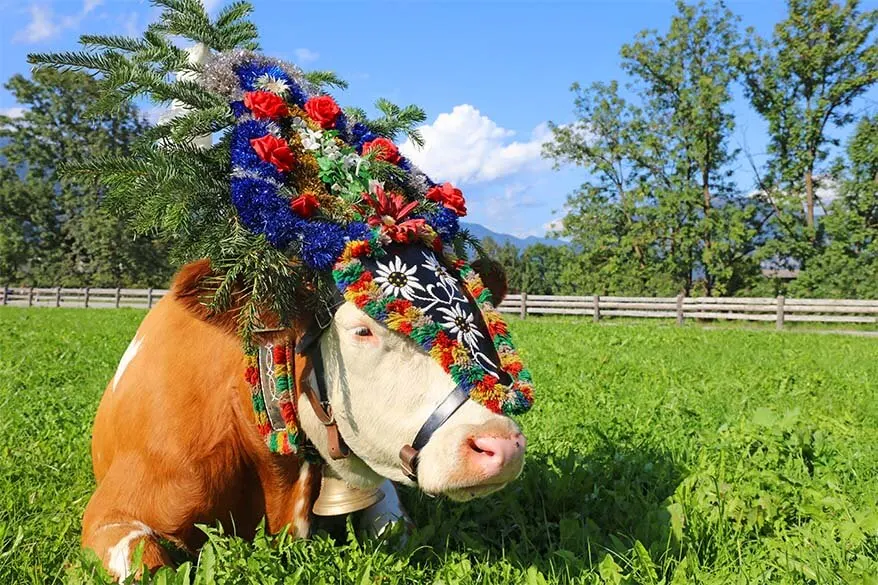 14. Family Resorts in Tyrol
Tyrol is famous for its family-oriented hotels and resorts. If your budget allows it, I can strongly recommend staying at a family-oriented hotel when visiting Tirol.
We stayed at a beautiful Zugspitz Resort in Ehrwald and loved every minute of it. It's one of the most kid-oriented hotels we have ever been to. They have big family rooms, indoor and outdoor playgrounds, and several indoor and outdoor swimming pools. There is also a special kids' menu at the restaurant. And you can borrow any equipment you may need when traveling with a baby or a toddler (including strollers for mountain walks). There is also a kids club with a variety of activities for all ages.
If you want a relaxing vacation that your whole family will truly love, look for a nice hotel like this and you'll love your family vacation in Tyrol even more.
The only drawback is that many resorts like this only accept weekly (Saturday to Saturday) bookings in high season, but sometimes there are last-minute deals or shorter stays available as well. So definitely check it out!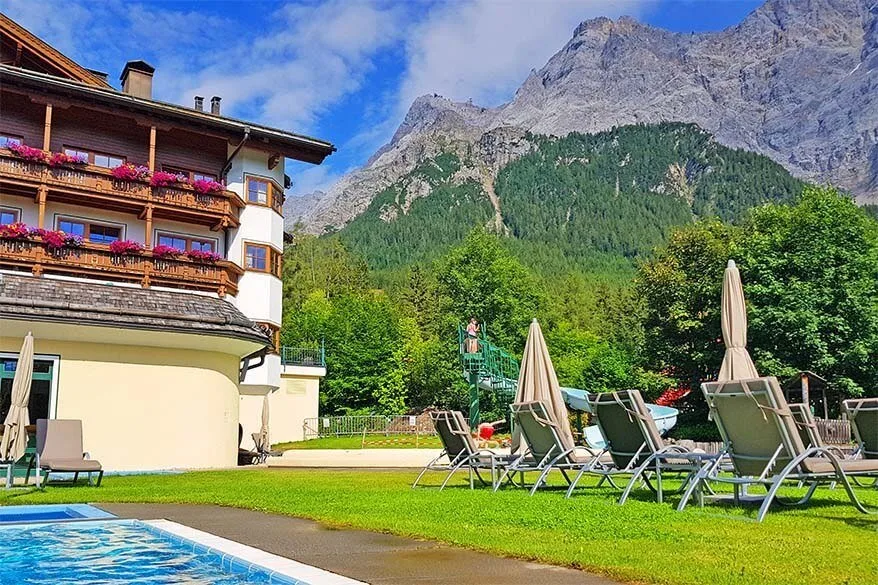 Map of the Best Things to Do in Tyrol with Kids
To make your trip planning a bit easier I indicated all the places that I mentioned in this article on the map. It should help you to get a better idea of where everything is located and plan a fun family summer trip in Tirol.
How to use this map: Use your computer mouse (or fingers) to zoom in or out. Click on the icons to get more information about each place. Click the arrow on the top left corner for the index. Click the star next to the map's title to add it to your Google Maps account. To view the saved map on your smartphone or PC, open Google Maps, click the menu and go to 'Your Places'/'Maps'. If you want to print the map or see it in a bigger window, click on 'View larger map' in the top right corner.
So, this is our guide to visiting Tyrol region in Austria with kids. If you are planning a trip and have any questions, feel free to leave a reply below and we'll try to help.
More family travel inspiration for Austria:
If you found this post helpful, don't forget to bookmark it and share it with your friends. Are you on Pinterest? Pin this image!