Thinking of visiting Salzburg in Austria for a few days and wondering what to see and how to best plan your time? In this guide, we share a suggested 2-days Salzburg itinerary that covers all the main sights in the city, including tour recommendations, places to eat, and useful tips for your visit. Find out!
Salzburg is one of the most beautiful cities in Austria, world-known as the birthplace of Mozart and the backdrop of the iconic movie 'The Sound of Music'. But there's so much more to the city than that! It's a lovely town with a great atmosphere, and there's a lot to see and do in town and in the area.
Good to know: We start with the detailed recommendations of what to see in Salzburg in two days. At the bottom of this article, you can find a short overview of this itinerary and the approximate time indications you need for each attraction. We also include a map indicating all the places mentioned in our guide.
With so much to see and do in Salzburg, you can probably imagine that there are countless different ways to spend 2 days in Salzburg. Depending on your interests or the time of the year when you visit, you may want to plan a (half) day tour outside the city as well. Or you can stay in the city and spend two full days in Salzburg and still not see everything.
This itinerary is just one of the many possibilities for how you could plan your Salzburg 2-day itinerary. It's based on our personal experience visiting Salzburg. We focus mostly on the top sights in the city, but we also include additional recommendations nearby (such as the Sound of Music tour, Hellbrunn Palace, or a half-day trip to Hallstatt).
I hope that this guide will help you plan a fun and memorable city trip to Salzburg. Take a look!
READ ALSO: One Day in Salzburg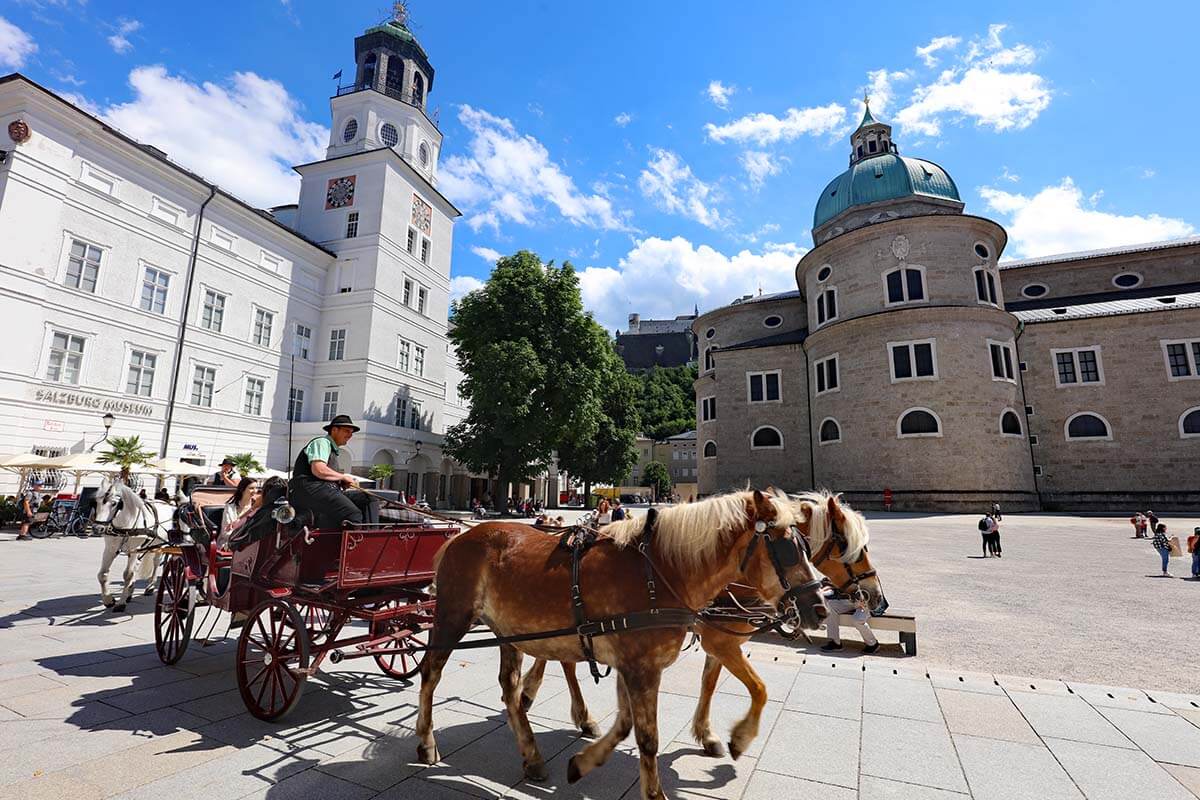 PRO TIP: Be sure to get the Salzburg Card for your visit. It includes public transport and so many attractions in and near the city. It offers excellent value that pays off even if you just visit 3-4 sights.
Depending on what you decide to see and if you plan any tours outside the city, for this itinerary, you could get either a 24-hour card or one for 48 hours. Its validity starts from the first use and is indeed counted per hour, not by calendar day.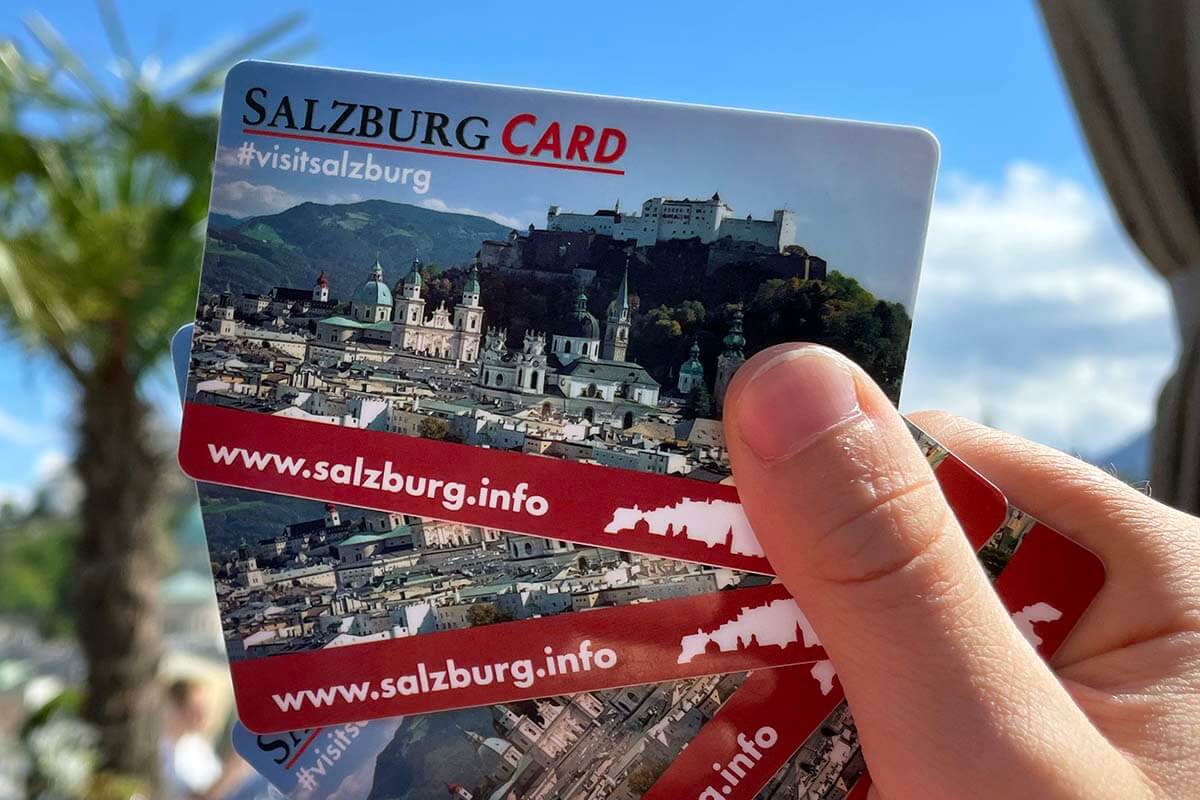 Here's what your Salzburg itinerary for 2 days could look like:
DAY 1
Old Town: Alter Markt, Residenzplatz, Mozartplatz
Start your visit with a short walk through the historic old town of Salzburg. You'll pass many nice areas in the city center later on in this itinerary as well, but one of the best places to start is probably the area around Mozartplatz and Residenzplatz.
Alter Markt (the Old Market) is the most picturesque of them and is absolutely not to be missed. You could also stop for a cup of coffee or breakfast at the historic Café Tomaselli. Be sure to also check out Goldgasse, a pretty little street that gets its name from the goldsmiths who used to have shops here.
There are several big town squares in the old town and even though they all have different names, they are interconnected and you basically just walk from one to the other. If you come here early, it's not too busy yet and you can admire the beautiful architecture without having to navigate the big crowds that flock to this area later in the morning.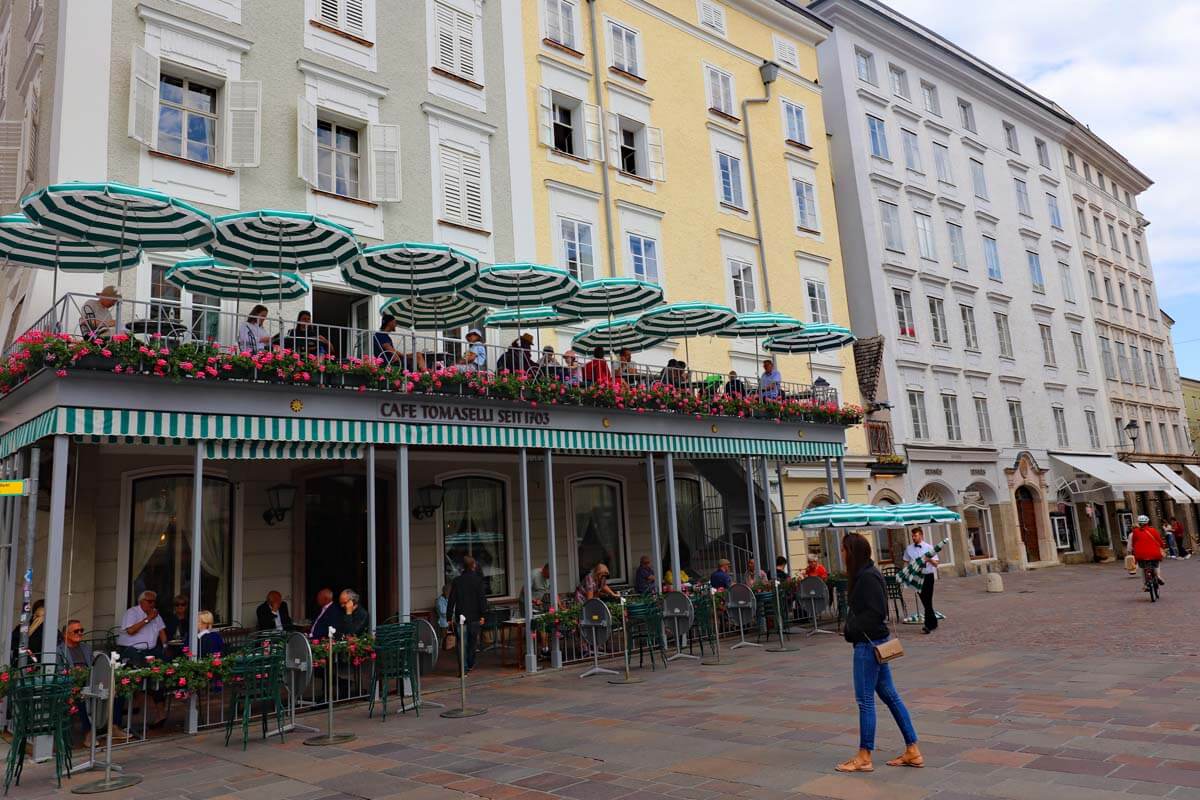 Next, make a quick stop at the Tourism Information center on Mozartplatz where you can pick up your Salzburg Card. Normally, it's open daily from 9 am and ideally, you get here as soon as it opens.
Check out the Mozart Statue on Mozartplatz and walk to the adjacent Residenzplatz. Here, you can see the Salzburger Glockenspiel (the Salzburg Carillon), an impressive bell tower with 35 bells that play different songs three times a day (normally at 7 am, 11 am, and 6 pm).
There are several museums on Residenzplatz including Salzburg Museum, Panorama Museum, Christmas Museum, and DomQuartier Salzburg. All of these are free with the city card, so – depending on your interests – you could quickly check them out. However, we found that one of them – DomQuartier Salzburg – is worth it so much more than all the others. So under the motto 'less is more' we recommend visiting here – see further below.
However, DomQuartier Salzburg only opens at 10 am. So in the morning, we recommend making a tiny detour and visiting one of Salzburg's must-sees first.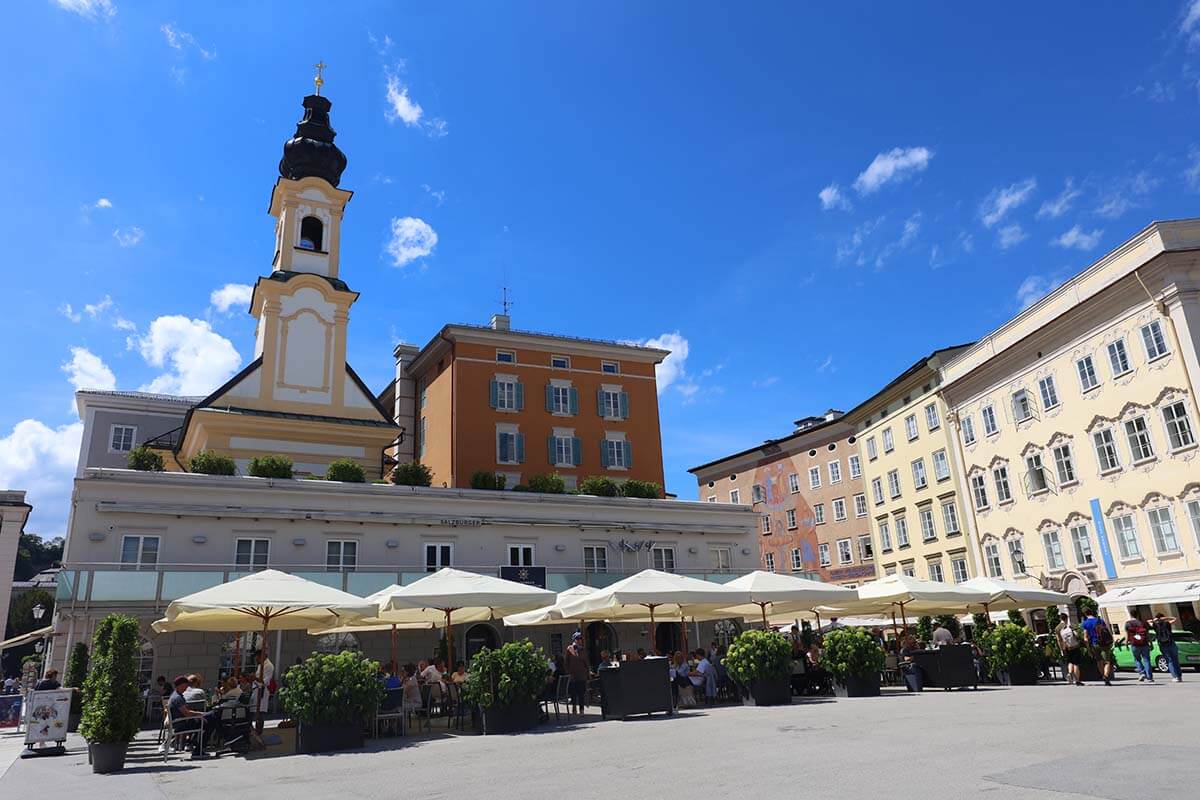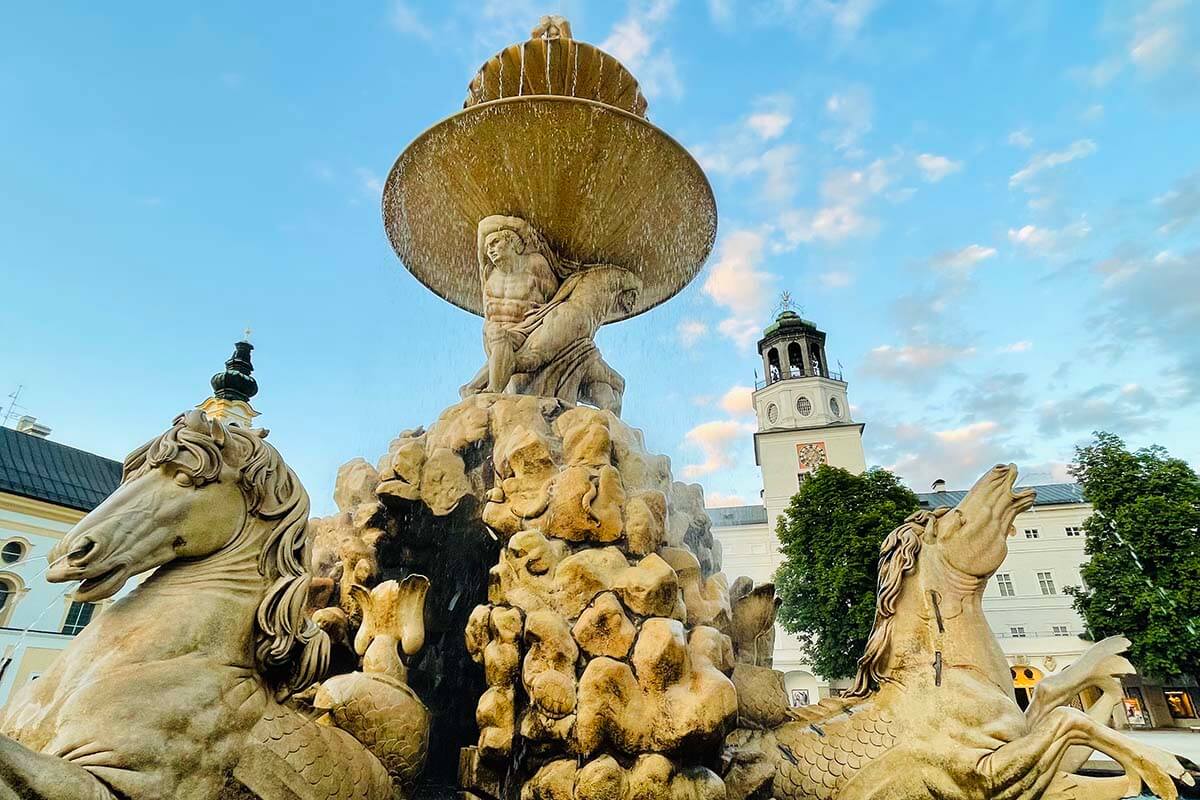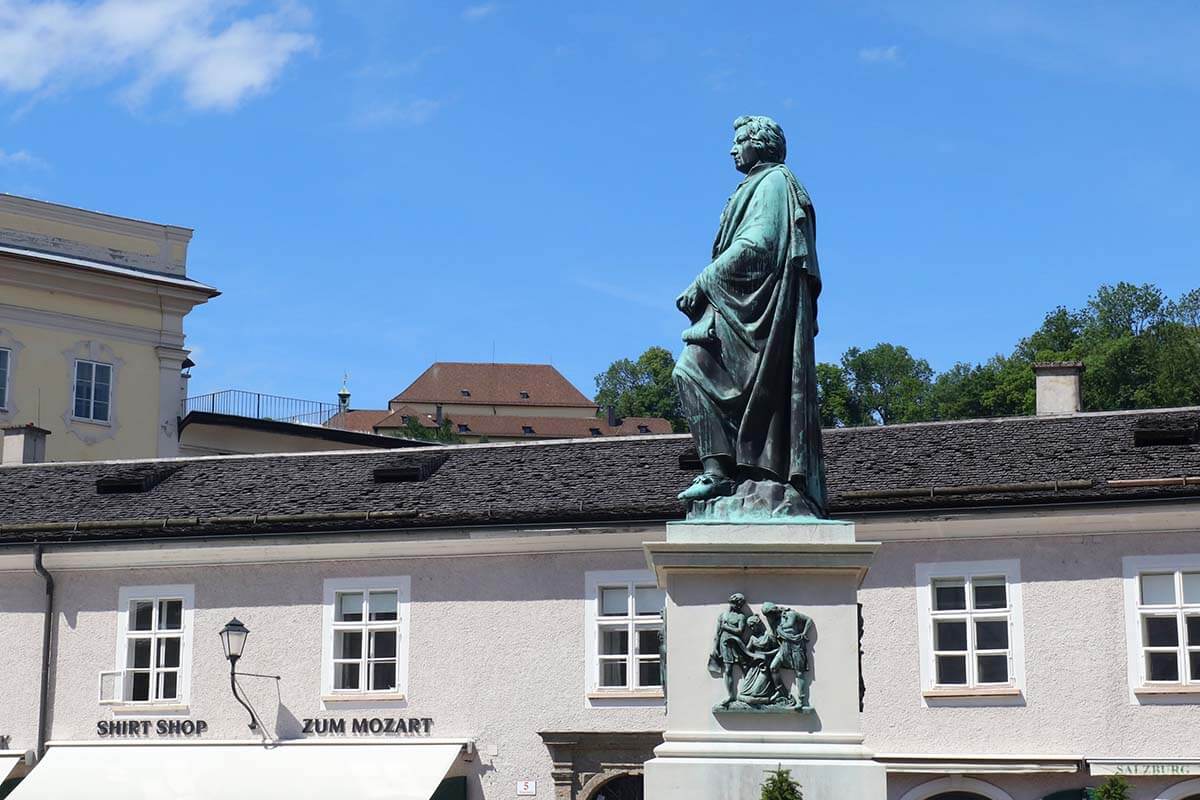 Mozart's Birthplace
If there's one place that you really can't miss when visiting Salzburg, it's Mozart's Birthplace. The bright yellow building at Getreidegasse 9 is one of the most popular tourist attractions in the city.
It will come as no surprise that this place gets very busy, so it's best to come here early in the morning before the tour groups arrive. It's just 5 minutes walk from the Tourist Information Center and the places mentioned above, so you could easily beat the biggest crowds by arriving here early.
It is in this house that Wolfgang Amadeus Mozart was born on 27 January 1756. Nowadays, the ground floor of the building houses a supermarket while the upper floors serve as a museum. Inside, you can see the room where Mozart was born and the apartments where he spent his childhood and youth.
Inside, you can see a kitchen and several rooms that feature some furniture from that period. There are also some paintings and other artifacts, including some hair that supposedly belonged to W.A. Mozart. You can also learn more about the Mozart family and the early life of the famous composer.
Good to know: The museum is quite small and the expositions are limited. So don't expect much from it. But just being here and reading all the stories gave me goosebumps – it's not every day you get to visit such a special place. We find that it's an absolute must in Salzburg.
Practical information: Mozart's Birthplace is open daily from 9 am, and the entrance is free with the Salzburg Card. Taking into account that a single ticket here costs almost half of the 24hr card price, you'll quickly realize that the card is more than worth it! We spent about 30 minutes inside.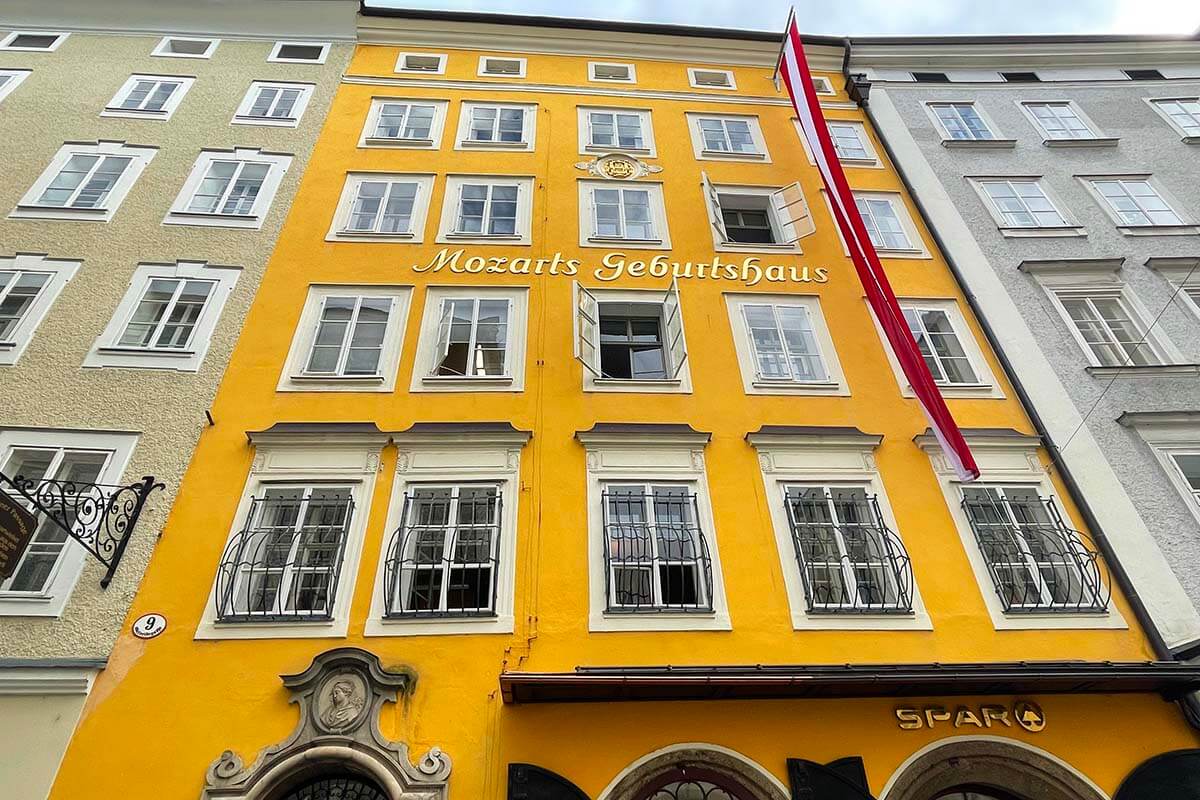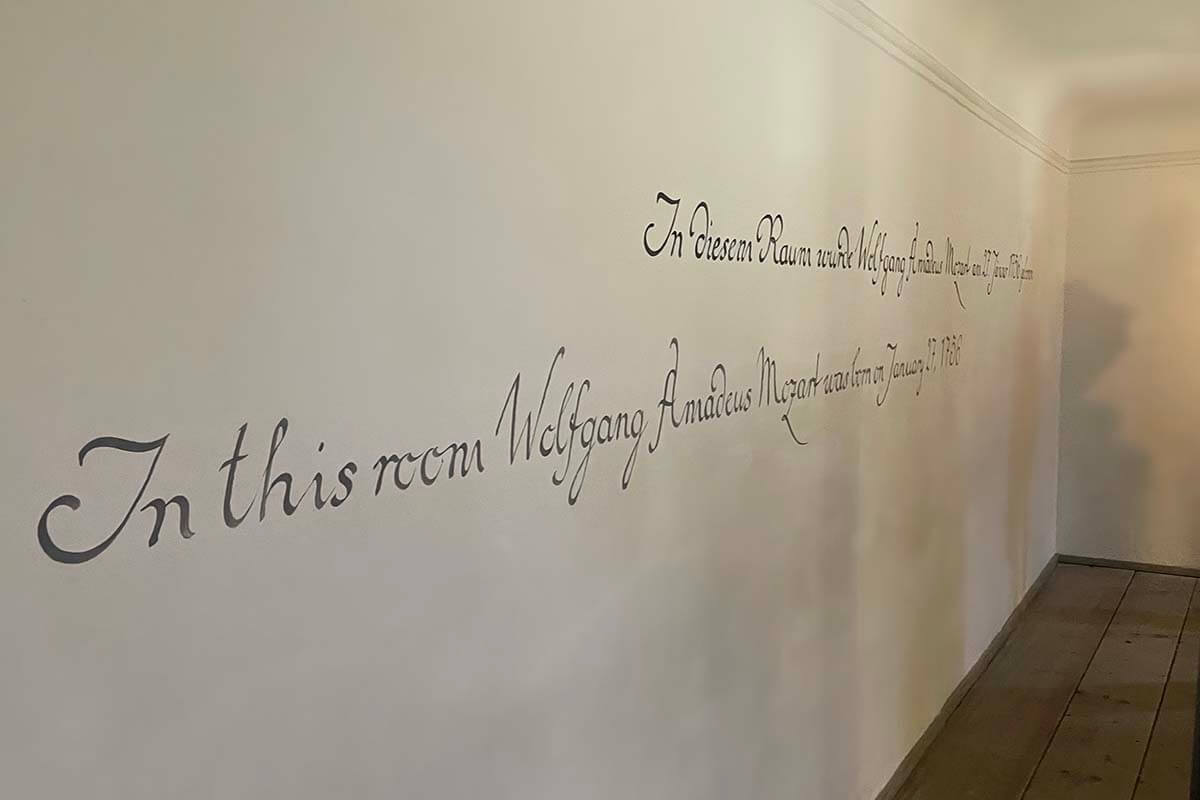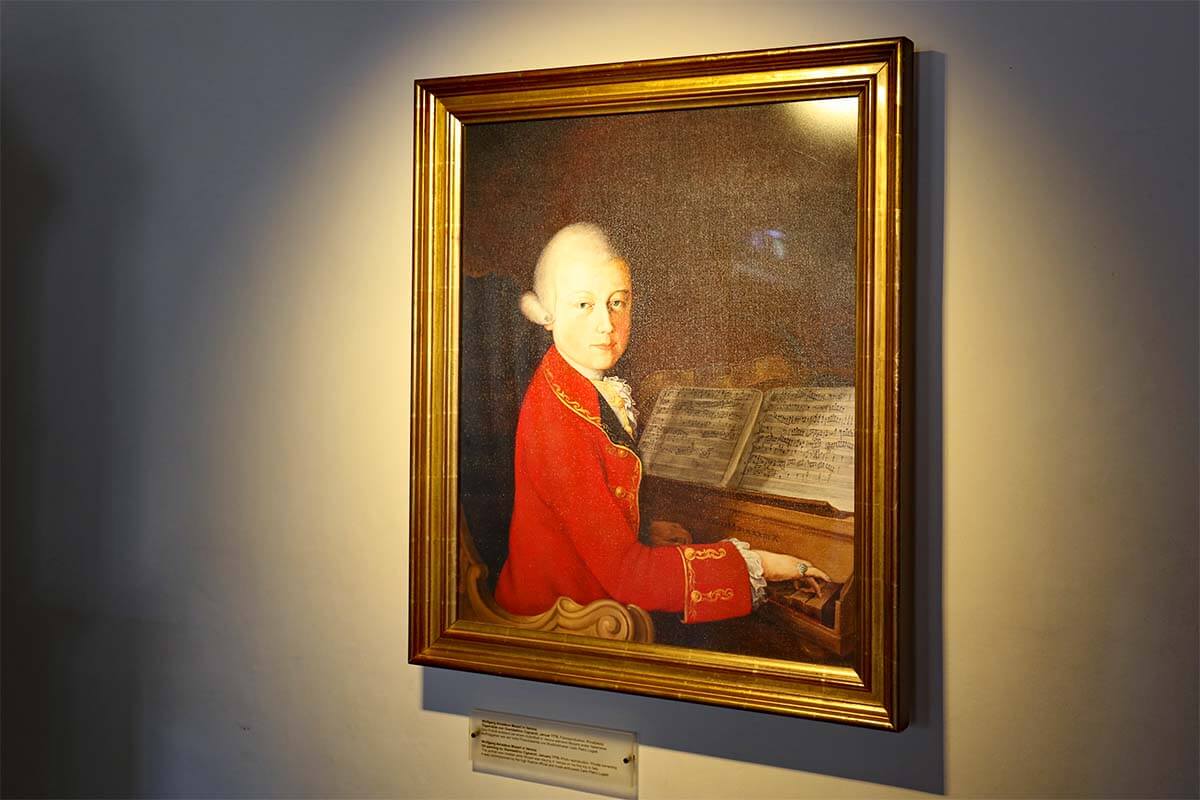 DomQuartier Salzburg
DomQuartier Salzburg presents itself under the slogan 'more than a museum', and it sure is. Set inside a former residence of the Prince – Archbishops that ruled over Salzburg, this is one of the most interesting museums in the city.
The impressive complex of baroque buildings constructed around three courtyards dates from the early 17th century and is a UNESCO World Heritage Site. It has 180 rooms and halls, decorated by the best Austrian baroque masters of the 17-18th centuries.
Today, there are three museums inside, included in one ticket. They are all interconnected, so you walk from one to the other in a circle. You see the impressive staterooms and an art gallery with some masterpieces by painters such as Rembrandt or Rubens. In addition, you visit the Cathedral Museum and see the impressive Cathedral itself from the upper inside terrace, as well as the Museum of St. Peter's Abbey.
Good to know: The museum is quite big and you could easily spend 2-3 hours here. But you can also just quickly walk through in about 1 hour. They have audio guides in different languages and you can learn a bit more about the rooms/ paintings that interest you the most.
Practical information: The museum is open daily, except Tuesdays from 10 am. A visit here is included with the Salzburg Card. You can find more practical information on their website.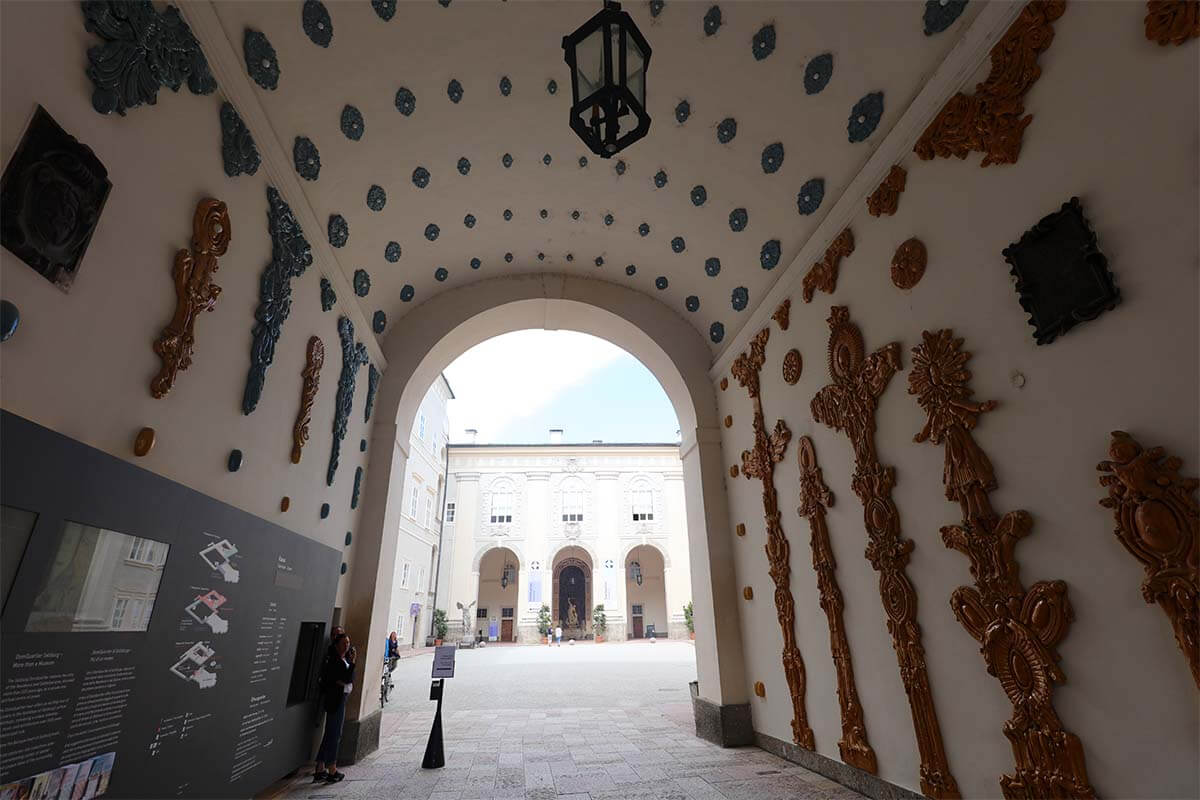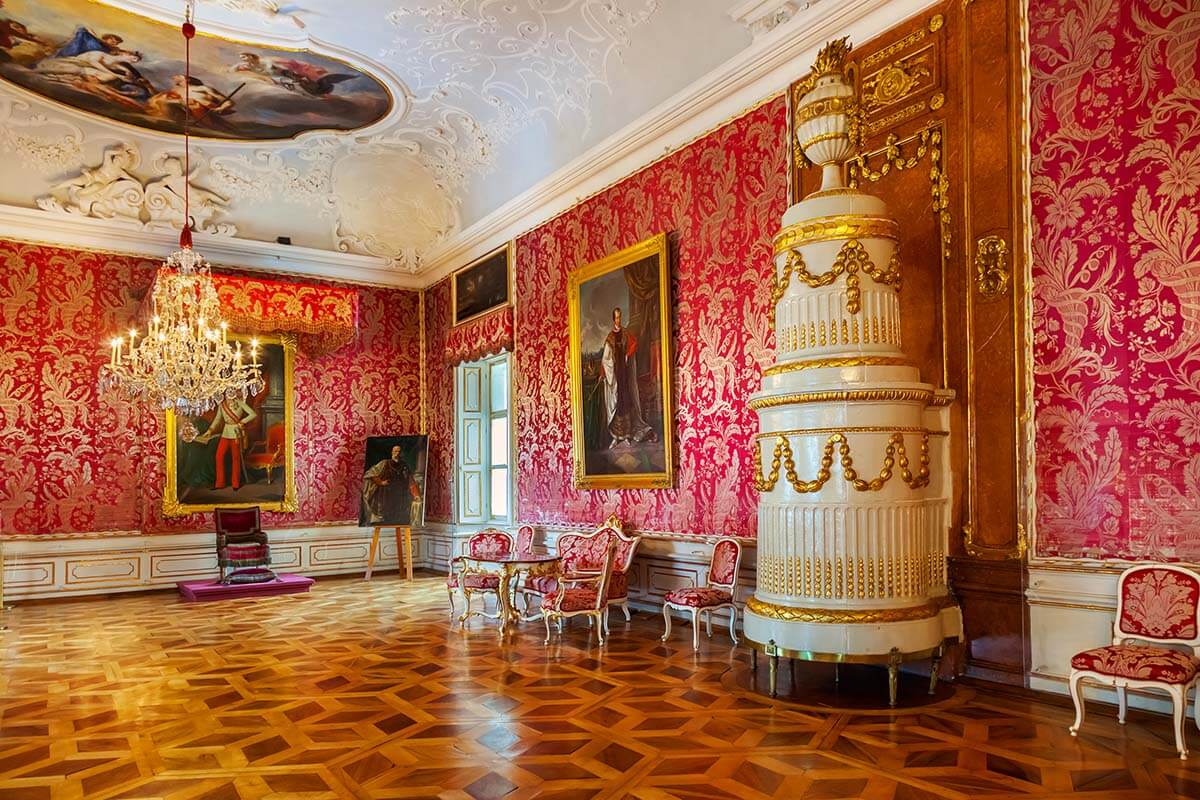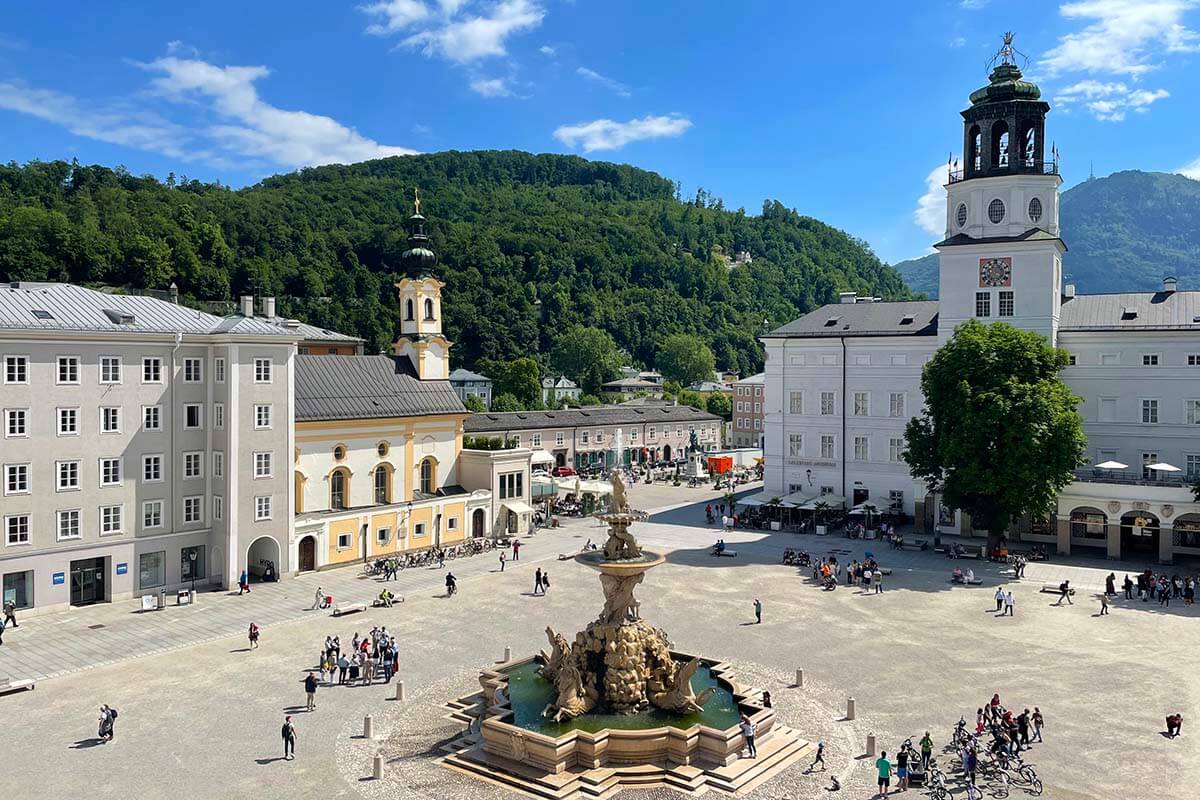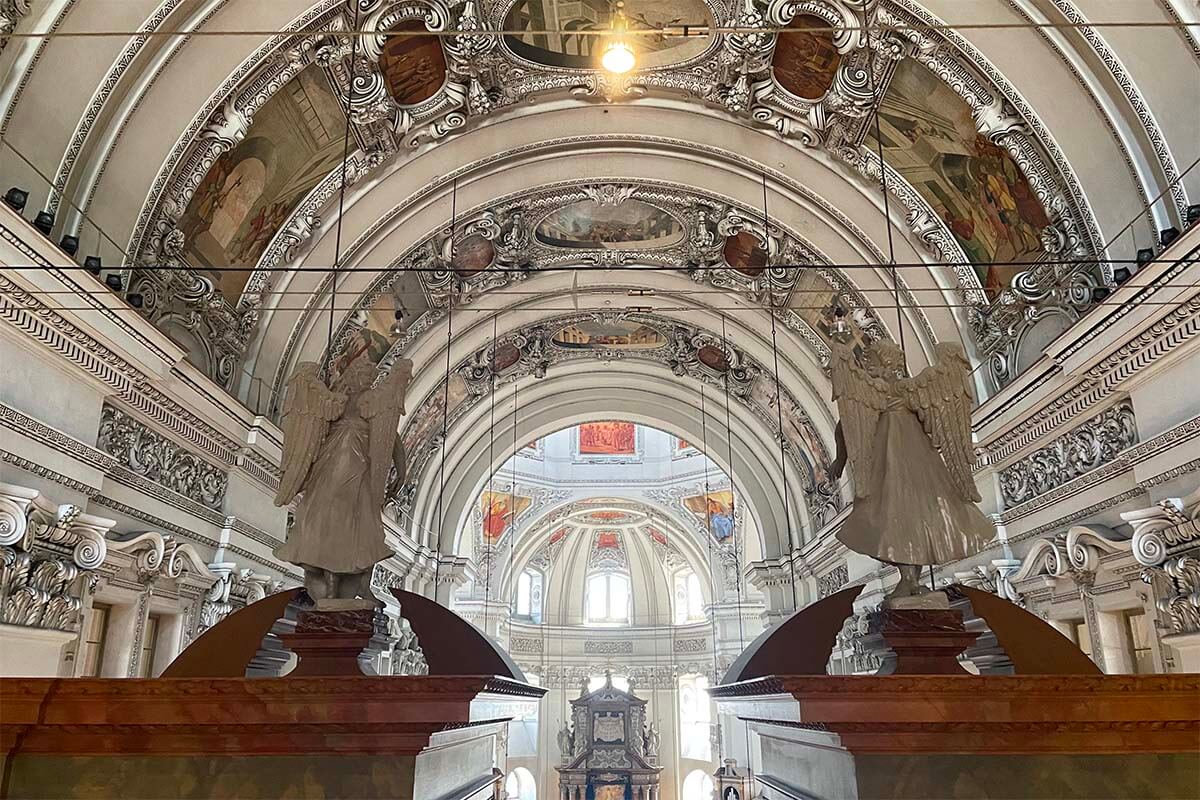 St. Peter's Abbey, Cemetery, and Catacombs
Just next door to DomQuartier is the Abbey of St. Peter with an old cemetery and a small gothic St. Mary's Chapel in the center. You can't visit the abbey itself here, but you can see the interior of the "Long Gallery" as part of your visit to the above-mentioned DomQuartier.
Just as you enter the abbey site, on the left side, you can see an old water wheel used to power the monastery mill. Salzburg's oldest bakery – Stiftsbäckerei St Peter – is located here, and the smell of freshly baked bread is hard to resist…
But the main reason to come to the old site of St. Peter's Abbey is the cemetery and St. Peter's Catacombs. The cemetery is very tranquil and – as strange as it may sound – is a nice place to walk around. You can see lots of old burial vaults and graves, including those of famous citizens of Salzburg, artists, and scholars. Mozart's sister Nannerl, and her husband Michael Haydn are buried here too.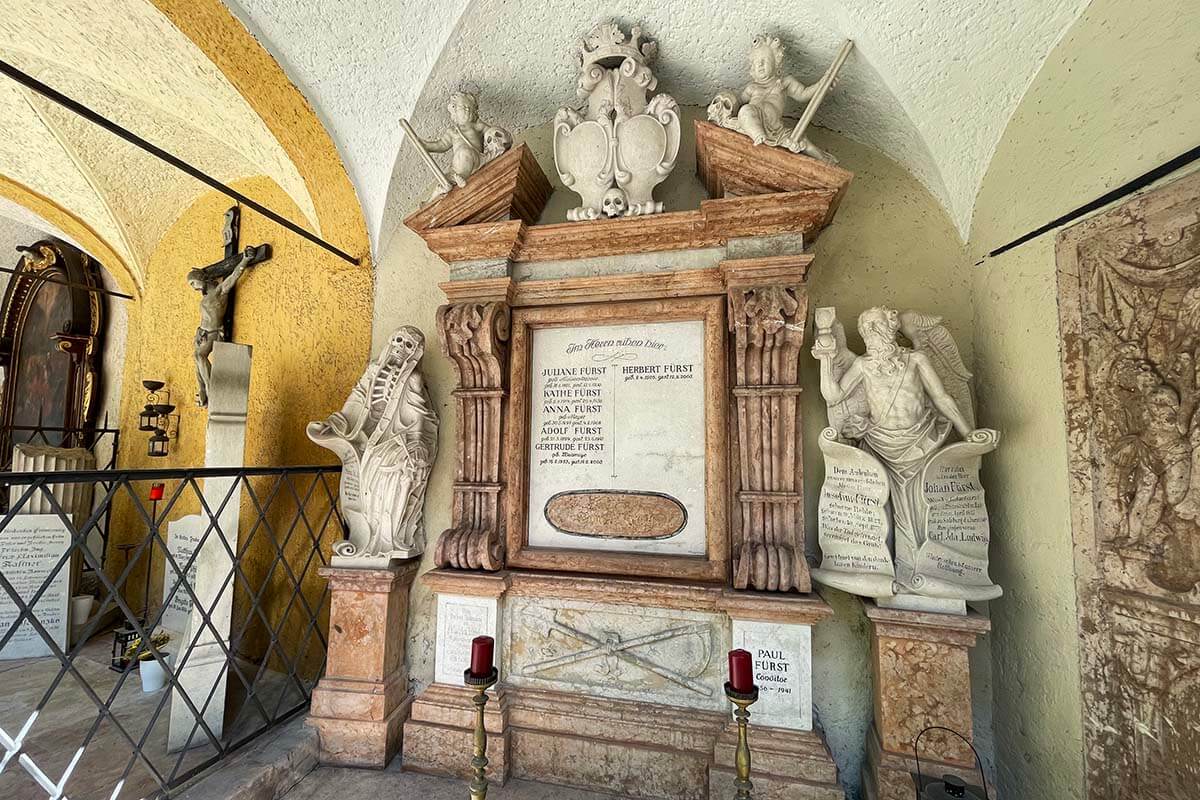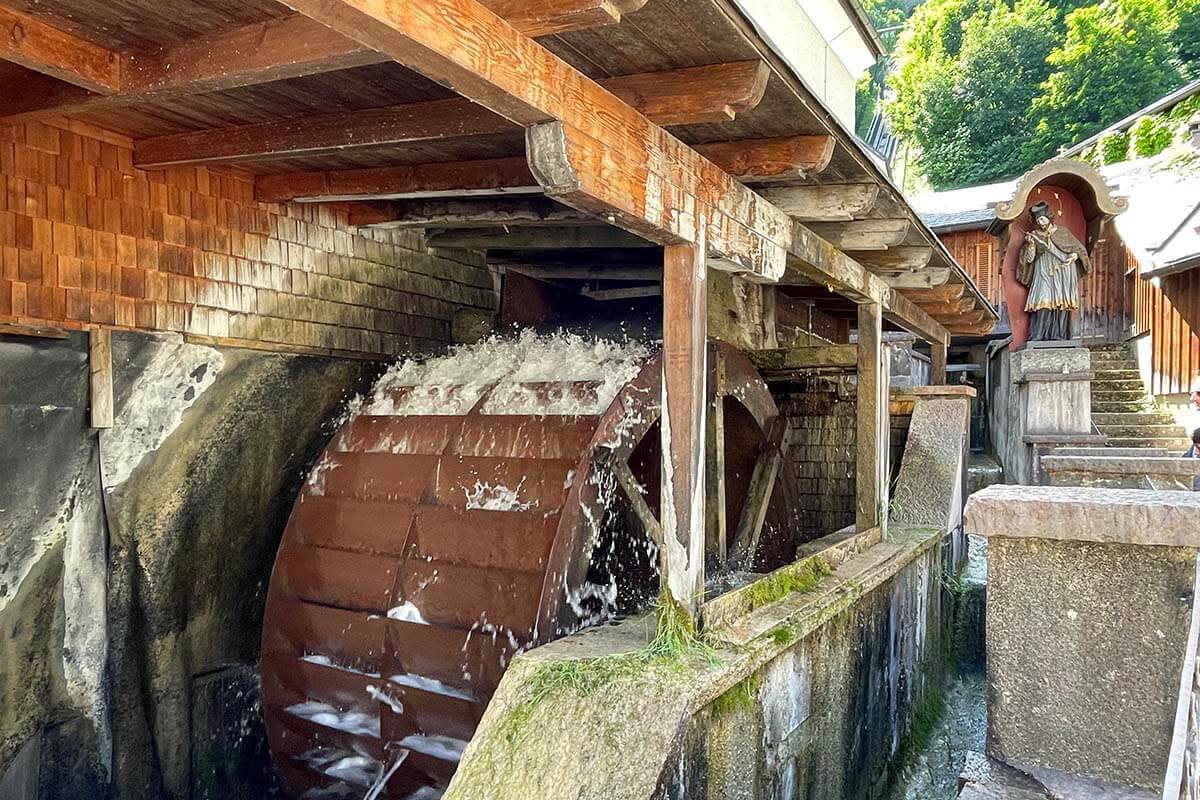 Interesting to know: You may recognize the cemetery from the film 'The Sound of Music'. One of the final scenes of the movie – the von Trapp family's escape from the National Socialists – was filmed here.
Just behind the 'modern' cemetery, you can find the Early Christian catacombs, hewn out of the rock of the Mönchsberg mountain. This part requires a ticket (free with Salzburg Card) and you can visit the catacombs, a 12th-century 'Gertrauden Chapel', and an ancient 'Maximus Chapel'.
It's just a small site and you have to climb some stairs, but it's really interesting to see. Also the views from a small viewing platform about halfway down the stairs are really nice.
Good to know: The Catacombs are open daily except for some public holidays. They usually close for half an hour between 12.30 and 1 pm, so – for this itinerary – it's best to come here before noon.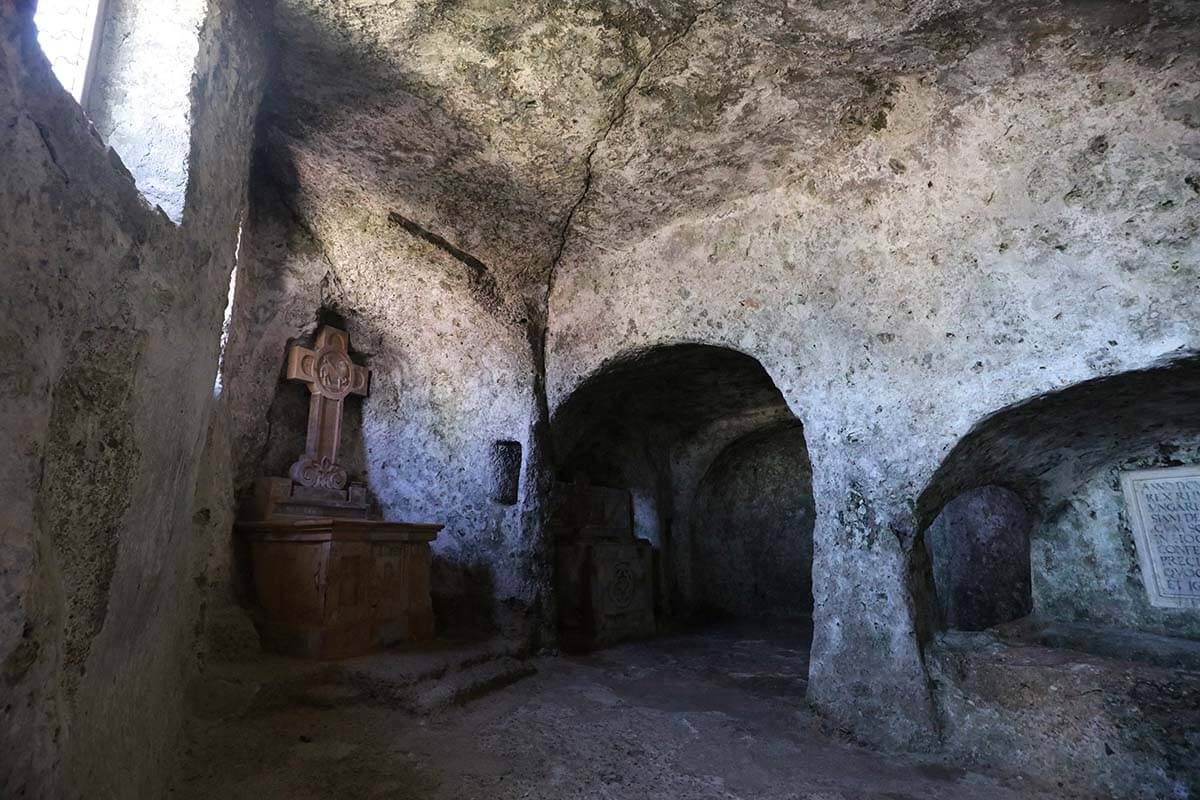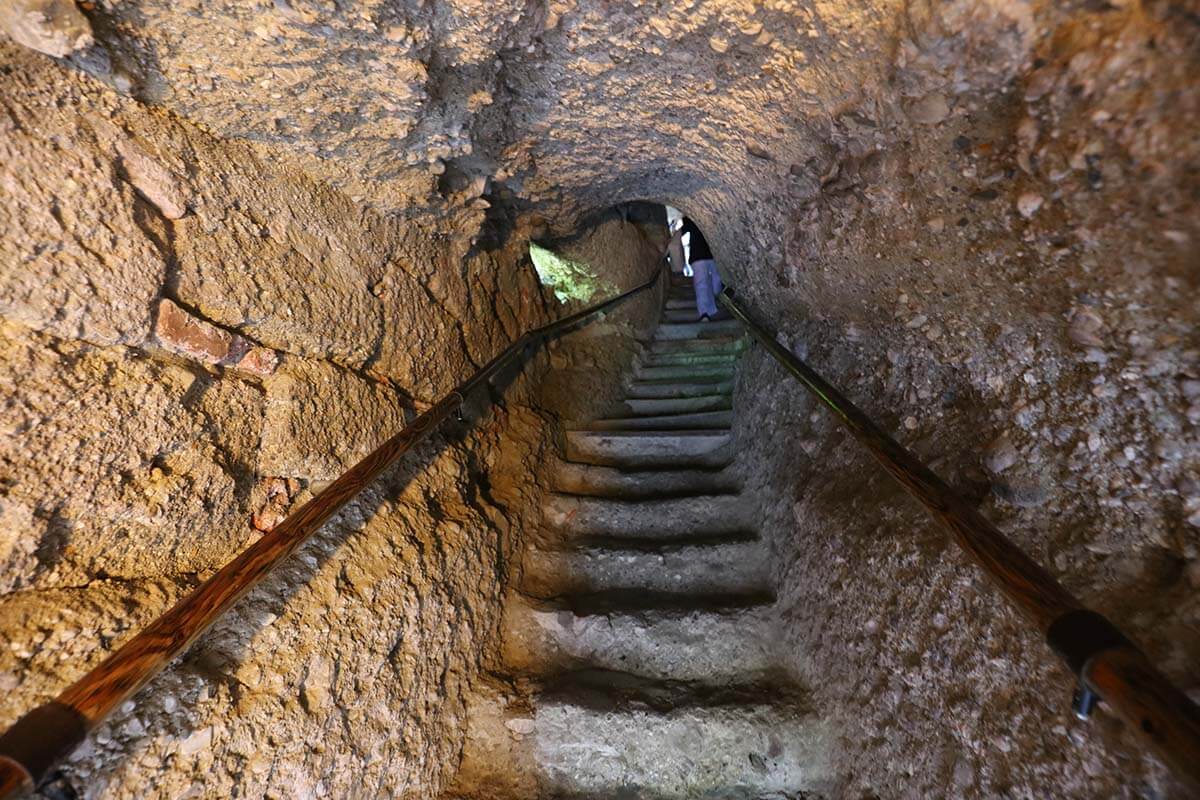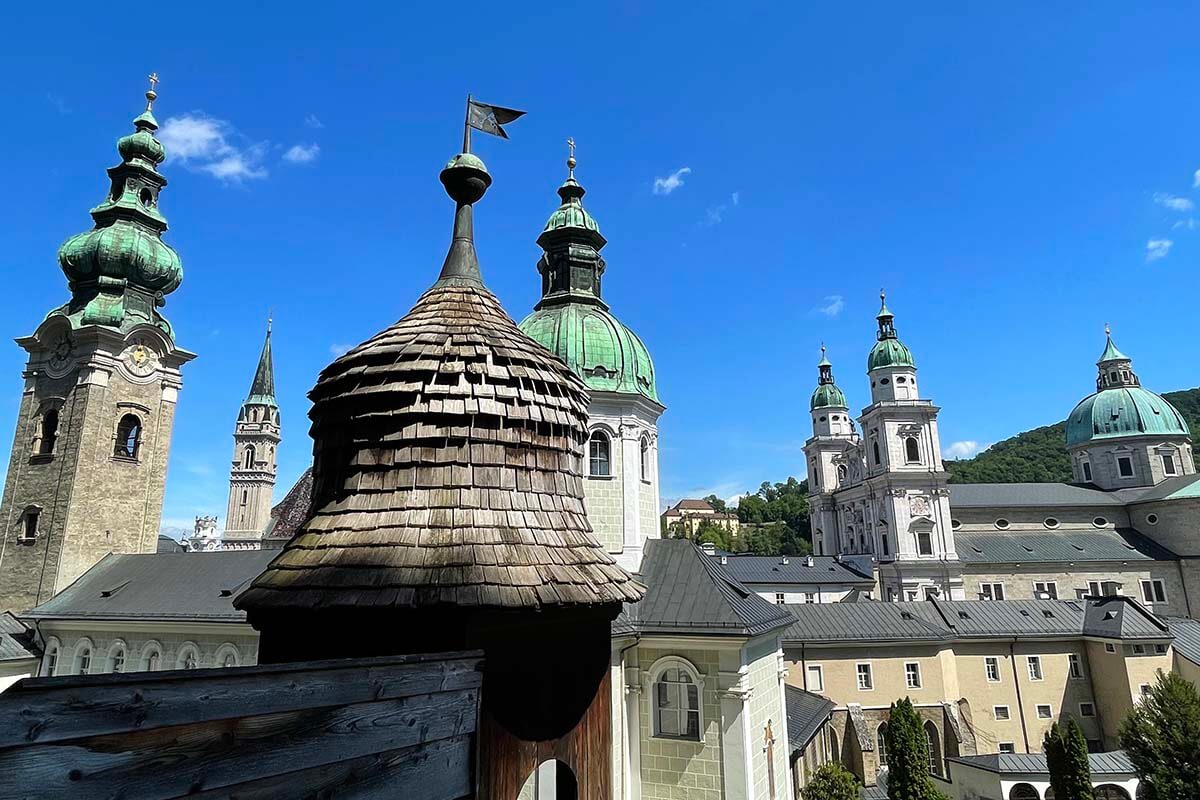 Salzburg Cathedral
Next stop – Salzburg Cathedral. The baroque masterpiece is quite impressive from the outside already, with a big green dome and two towers, but it's well worth taking a look inside as well.
If you visit the DomQuartier Salzburg mentioned earlier, you'll already have seen the Cathedral from the inside from the upper floor, where you can also see its impressive organ from close by. So it's not really a must to come back and visit the church unless you want to take a deeper look at the interior.
Good to know: To visit the Cathedral, you'll have to get a separate ticket. This is one of the few places that is not included with the Salzburg Card, but you get a small discount.
TIP: You can also attend an organ concert at the Cathedral. This allows you to see the Cathedral at the same time too. Concerts run at noon daily except on Sundays and take just about half an hour. You can find more information and get the tickets here. If it's not too busy, you should be able to get a ticket on the spot as well.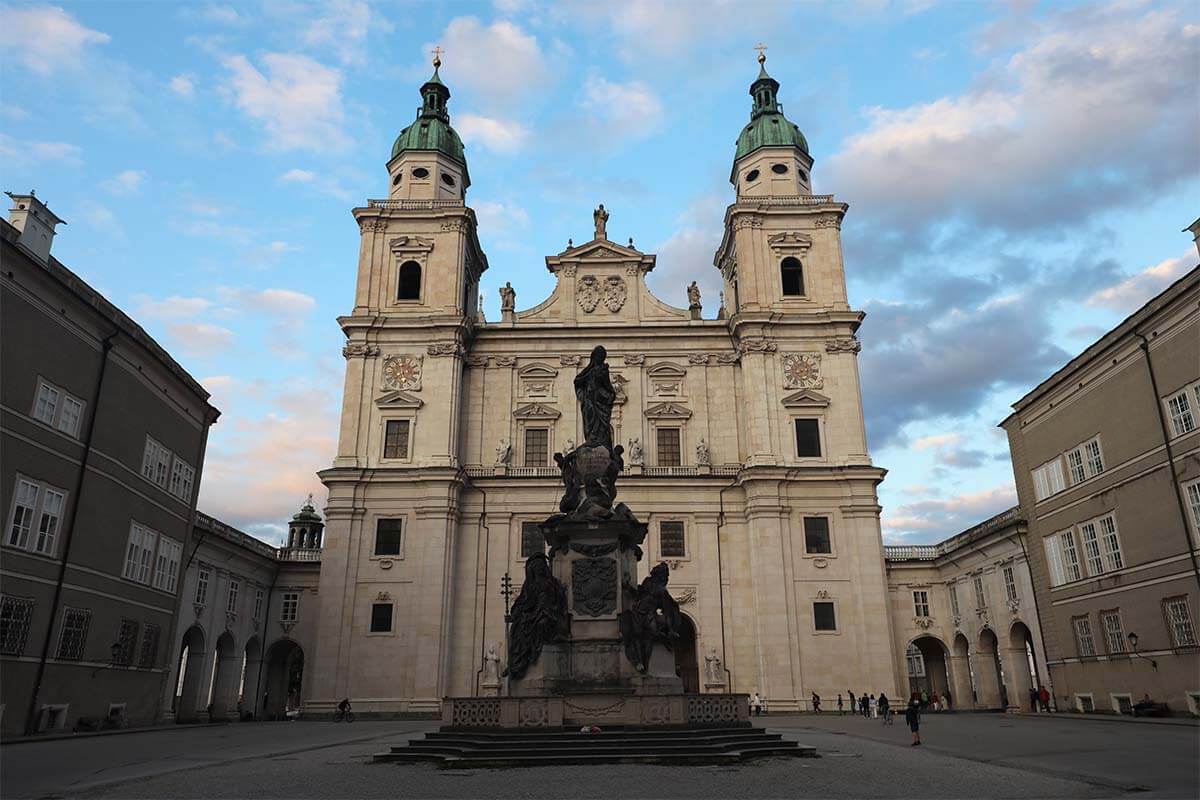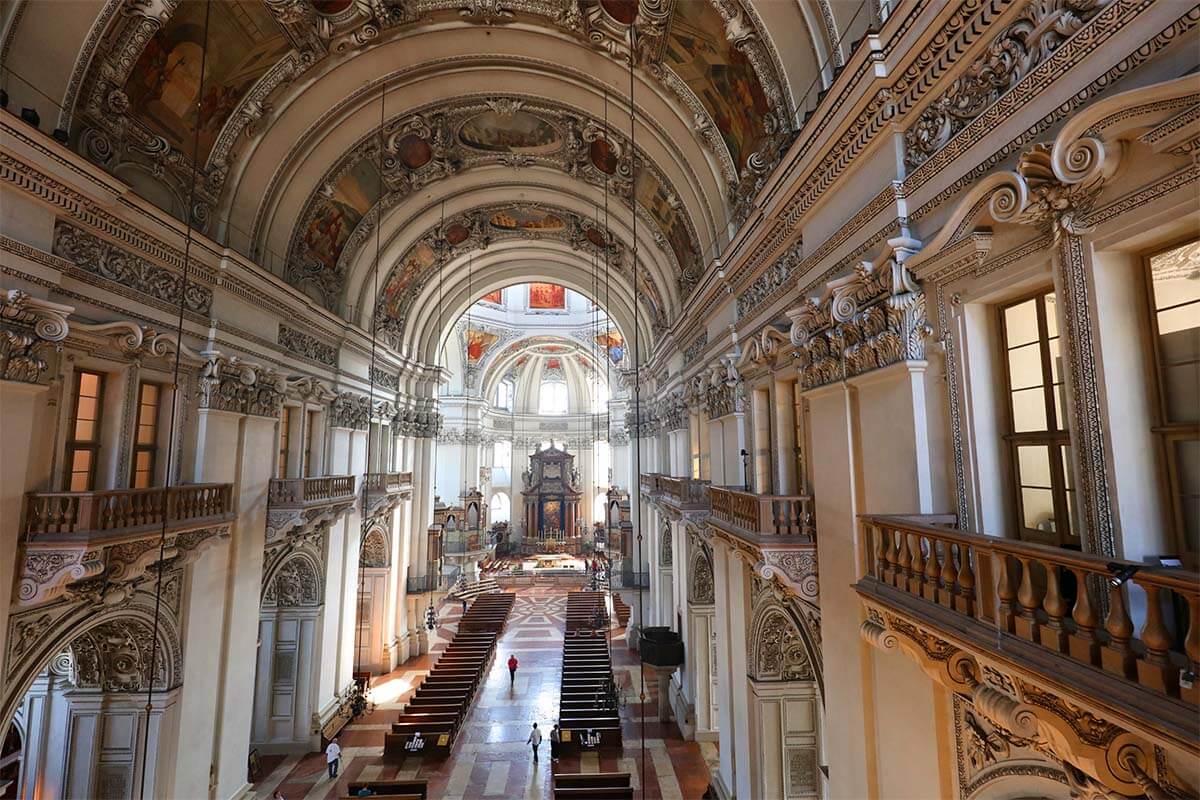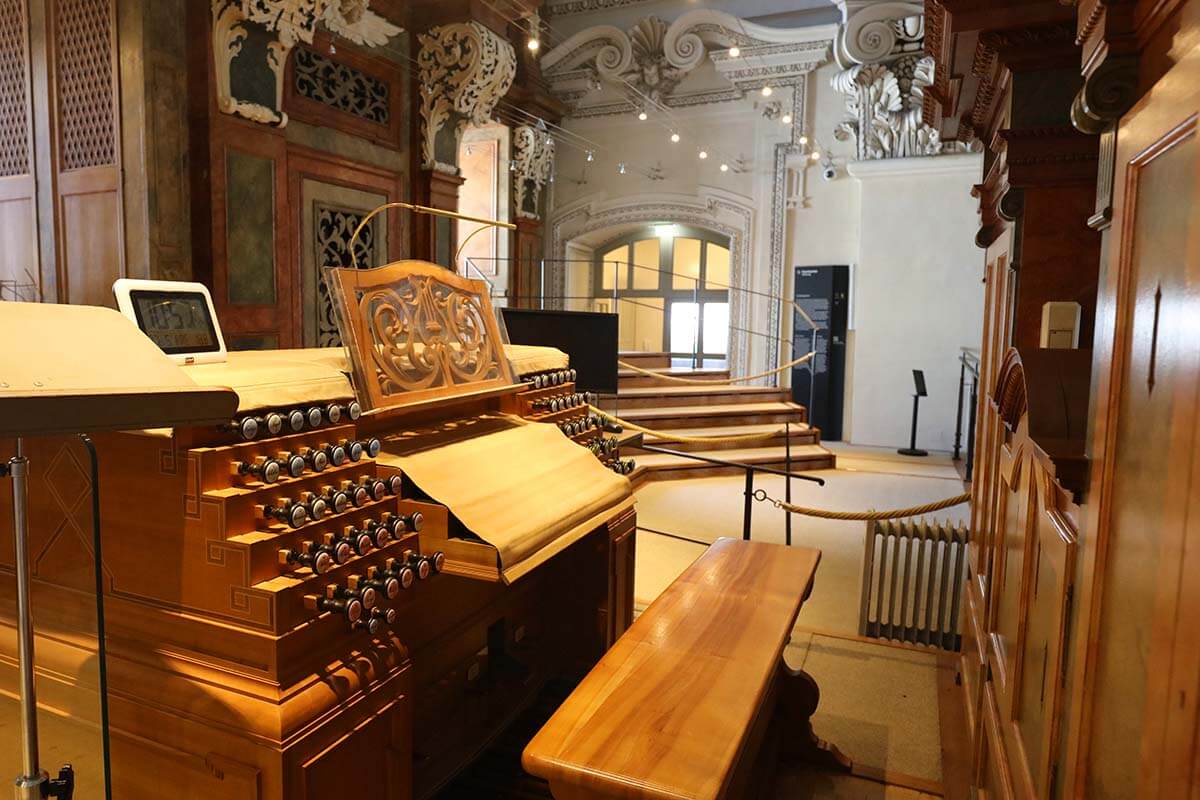 Kapitelplatz
As you exit the Cathedral and turn in the direction of the Hohensalzburg Fortress, you'll walk past another big town square, Kapitelplatz.
Here you'll see a giant golden sphere with a sculpture of a man on top of it, a popular photo spot in Salzburg. There's also a big chessboard and a big fountain here as well.
As you walk through all these squares in the center of Salzburg, it feels like you are visiting some outdoor museum – there's something to see around every corner…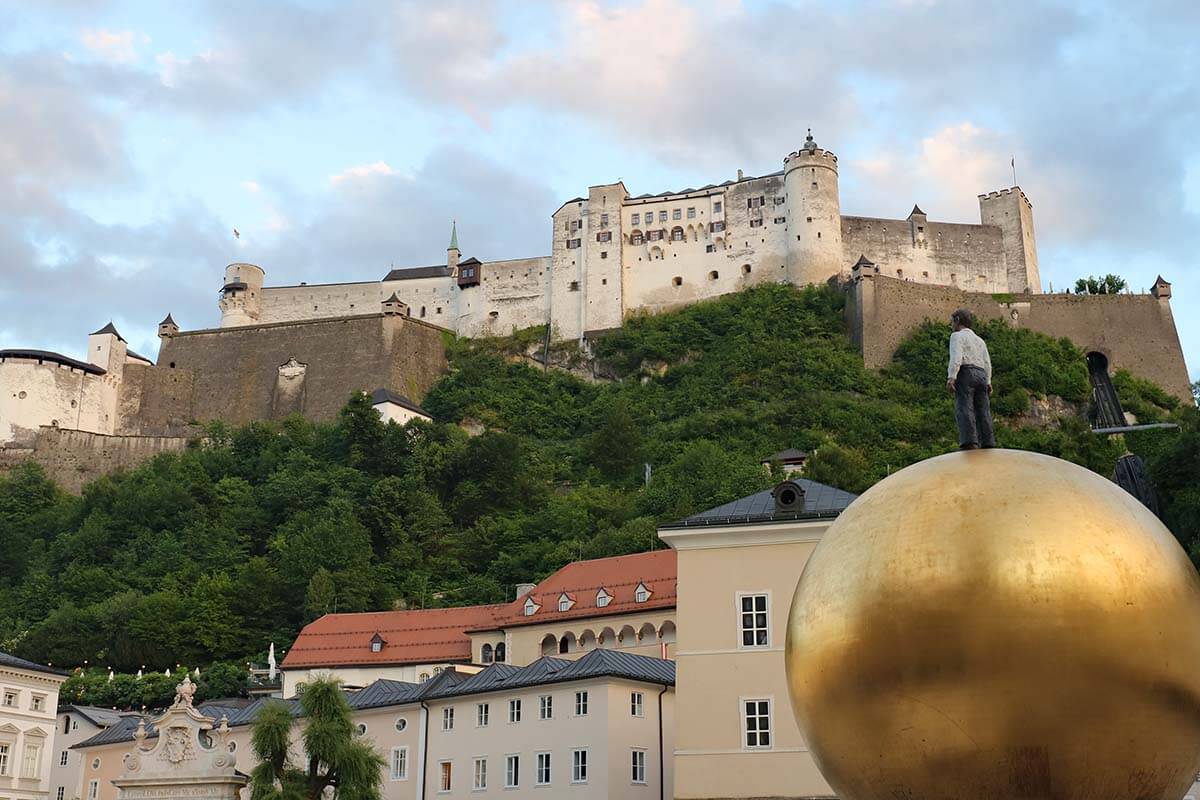 Funicular & Lunch at Hohensalzburg Fortress
Next on this itinerary is a visit to Hohensalzburg Fortress. To get there, you can either walk up the hill, or – much easier and quicker – take a funicular.
The funicular is located just next to St. Peter's Cemetery and is also free with the Salzburg Card. Also, with this card, you don't have to stand in line in order to get a ticket and can just go straight to the funicular. Funiculars run constantly and the ride takes just a minute or so.
The Hohensalzburg Fortress is huge and there's a lot to see and do inside. So before you start exploring, you may want to have a quick lunch. While there are lots of restaurants in the center, if the weather is nice, I highly recommend you have lunch at the top. The views from here are amazing!
We stopped at the first restaurant that you see when you exit the funicular in the direction of the viewing platform. I think it's called Panorama Restaurant. It has a beautiful outdoor terrace overlooking the city center on one side and the mountains on the other. There's also another restaurant with a big terrace at the back side of the fortress.
Of course, these restaurants are touristy, but they serve all kinds of traditional Austrian specialties and everything we tried was really good. The service was quick and friendly too – nothing to fault. And those views were so beautiful that we never wanted to leave…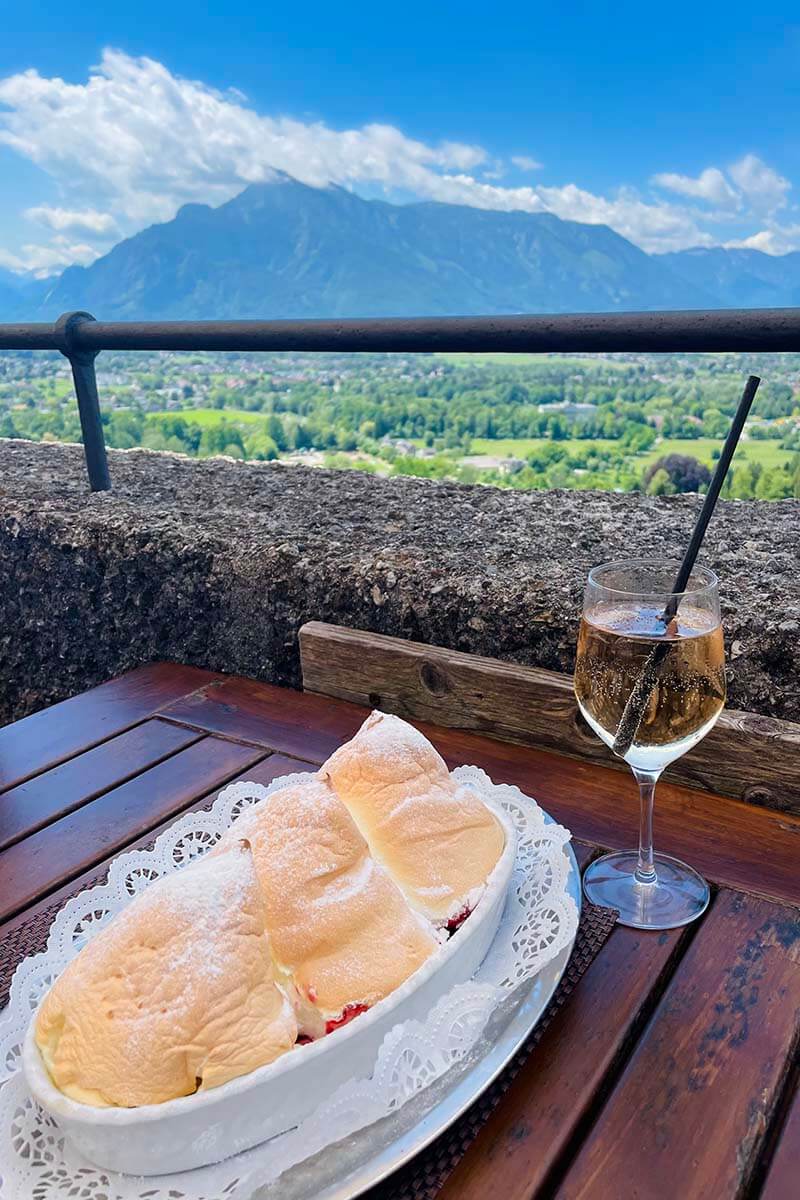 Hohensalzburg Fortress
Sitting high on the hill, Hohensalzburg Fortress is one of Europe's largest completely preserved fortresses. It dates from the 11th century!
One of the reasons to come here is, of course, the amazing views over Salzburg. But you can also visit several museums inside. As a minimum, do the 'Panorama tour' – that way you see a bit of the interior of the fort as well. But I also recommend the Fortress Museum where you also have separate access to the impressive staterooms that consist of the Princes' Hall, the Golden Chamber, and the Golden Hall.
These Princes' Chambers are probably the most interesting part of the fortress. The furnishings inside are original from the early 1500s!
Our kids especially enjoyed the Arsenal building with several interactive games for the entire family. If you are visiting Salzburg with kids, check out that part as well.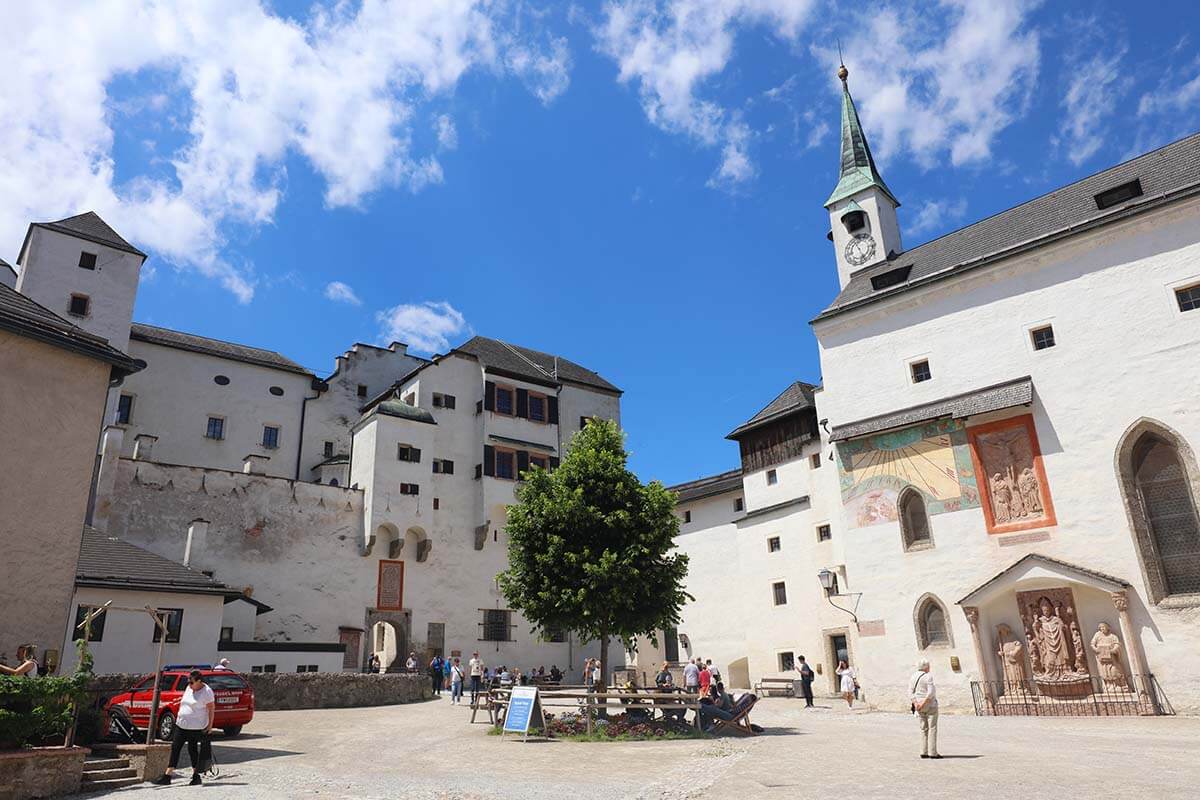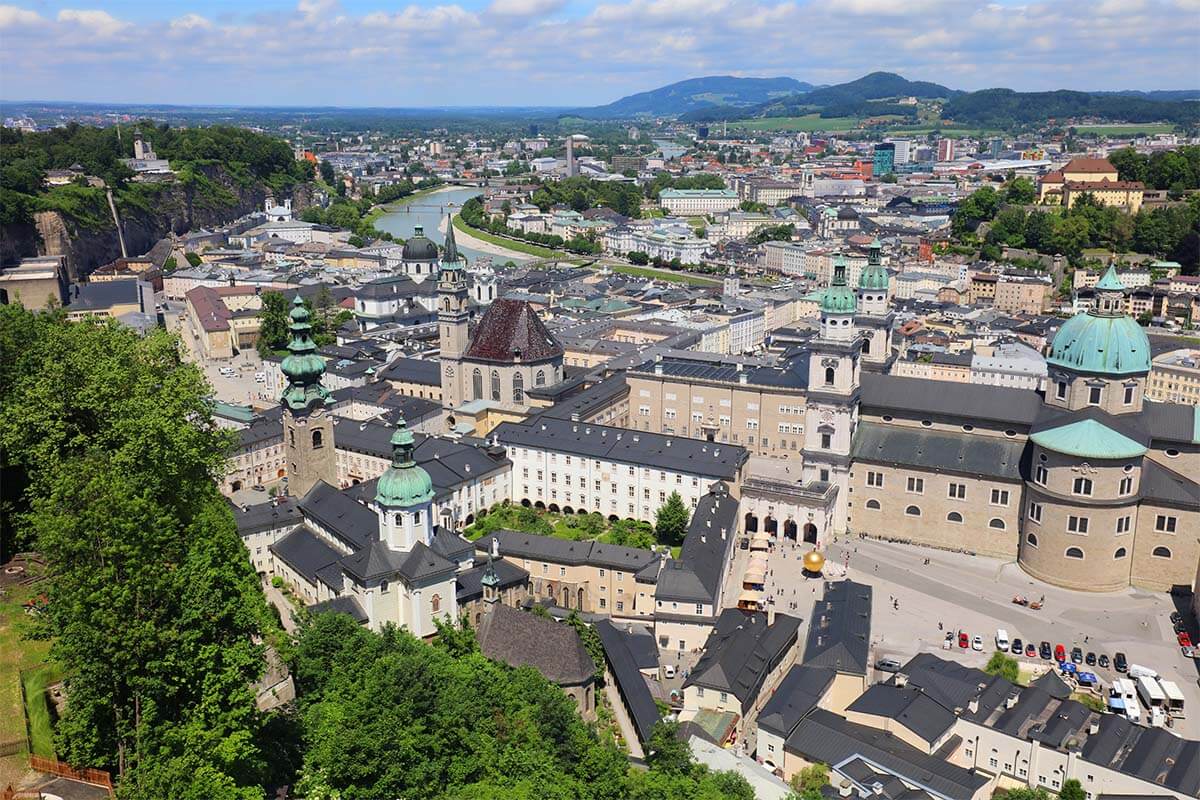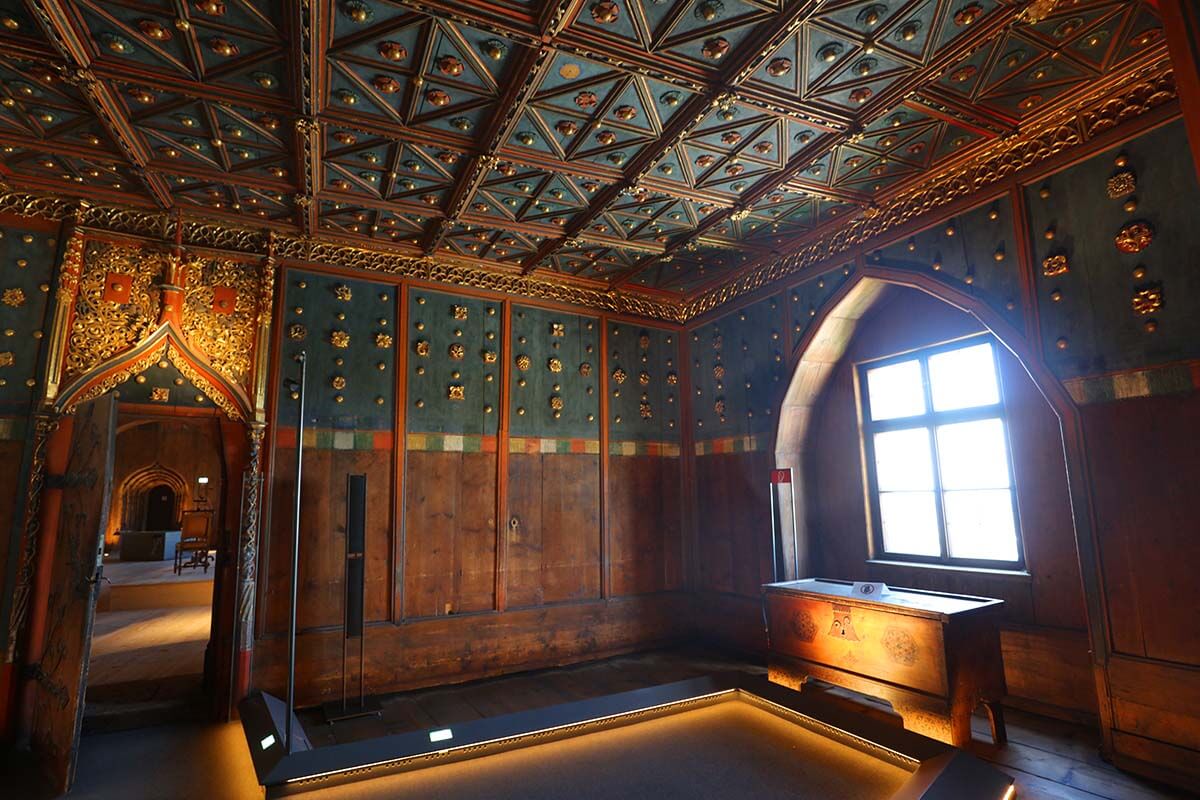 Good to know: Almost everything you can visit here is included with the Salzburg Card, except for the state rooms, where there's a small extra fee. This part is also included if you visit before 11 am, but I wouldn't necessarily change the entire itinerary for that.
On the other hand, if you want to explore the fortress without the crowds, you could easily start here early morning and visit the other places afterward. Everything is so close by that it's very simple to switch things around and adjust this itinerary to your liking.
Practical information: Hohensalzburg Fortress is open daily. In summer (May – September), it's open from 9 am to 8 pm, the rest of the year – from 9.30 am to 5 pm. You can spend 2-3 hours here, depending on what you visit inside. For a quick visit, count at least an hour.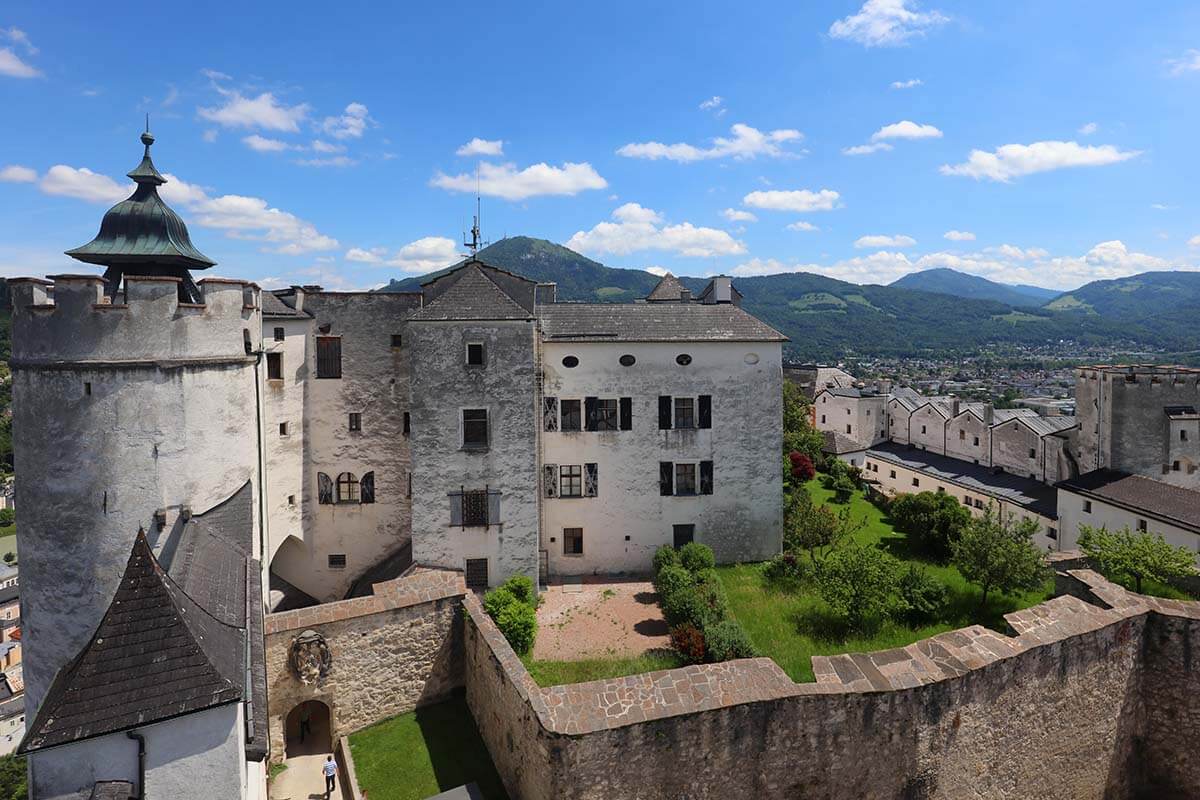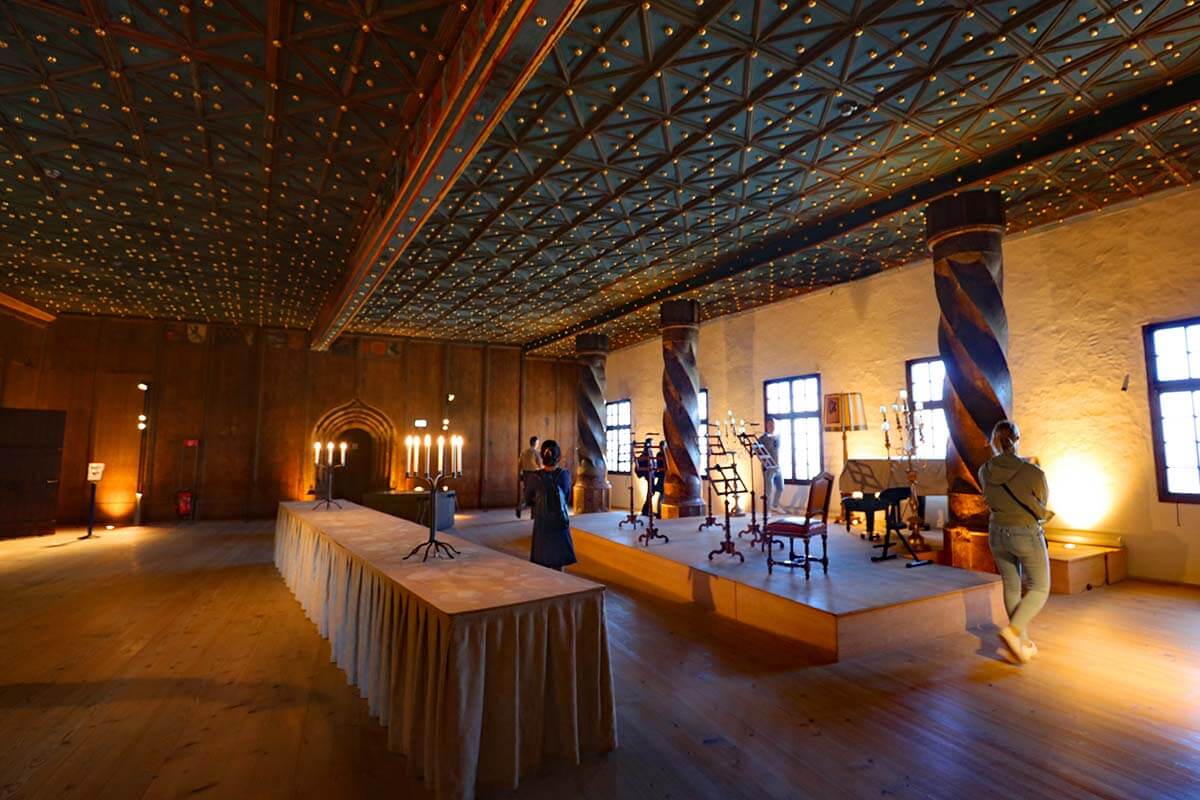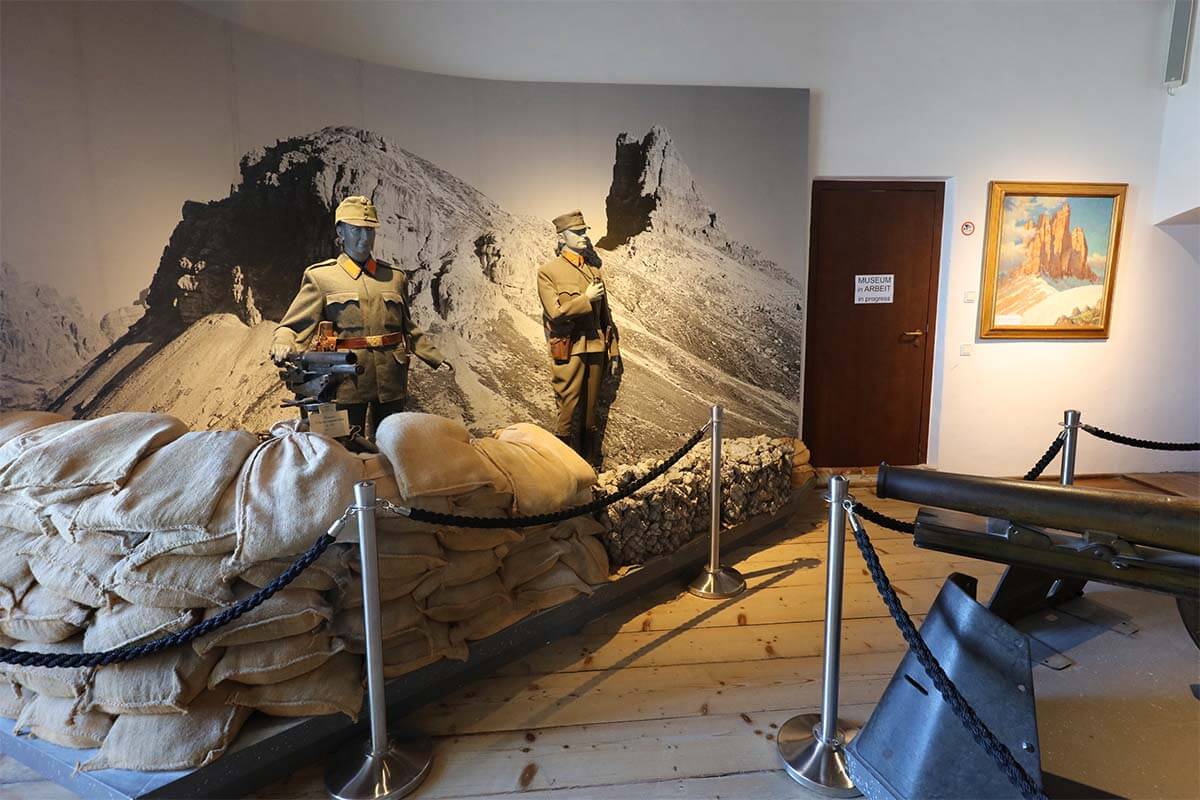 City Center: Nonnberg Abbey, Franciscan Abbey, Pferdeschwemme, Getreidegasse…
After visiting the fortress, get back down to the city center. You can either take the funicular or walk.
If you walk, you could also stop at Nonnberg Abbey (located a bit uphill from the city center). The monastery is best known for its gate that was featured in 'The Sound of Music', so if you plan on taking a tour on the second day of this itinerary, you'll likely come here at that time.
Once back in the city center, you could head straight to the main shopping street Getreidegasse. It's a very picturesque street that is not to be missed in Salzburg. In fact, Mozart's Birthplace that you visit first thing in the morning is located on this street. However, if you want to experience the real atmosphere (= crazy busy), you have to walk through this street during the day too.
Alternatively, turn left at the Domplatz (a big square in front of the cathedral), take the Franziskanergasse street, walk past the Franciscan Monastery. You could take a quick look at the church – its gothic interior is very impressive.
Next, walk to Marstallschwemme – Pferdeschwemme a bit further west following the same street. This is one of the two preserved 'horse baths' in the old town of Salzburg. The fountain with big murals depicting horses stands at the base of Mönchsberg, with the steep cliffs of the mountain right behind it. In the middle, you'll see a large sculpture of a horse. This is one of those places that's not a must-see, but it's just a small detour, so I recommend checking it out.
From here, you can turn back towards the center and walk the entire length of the above-mentioned Getreidegasse. Be sure to check out at least a few of the side alleys of this main pedestrian street as well. You could also get a pretzel or some ice cream and enjoy it while walking around.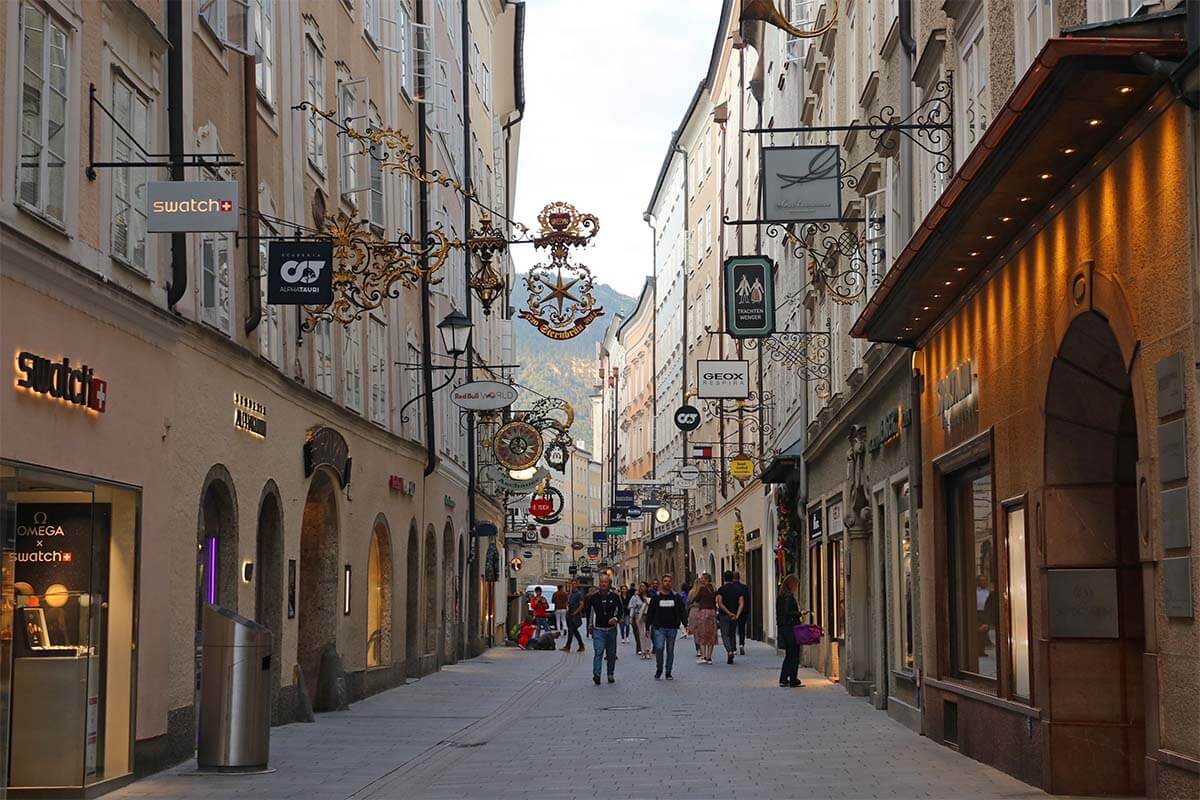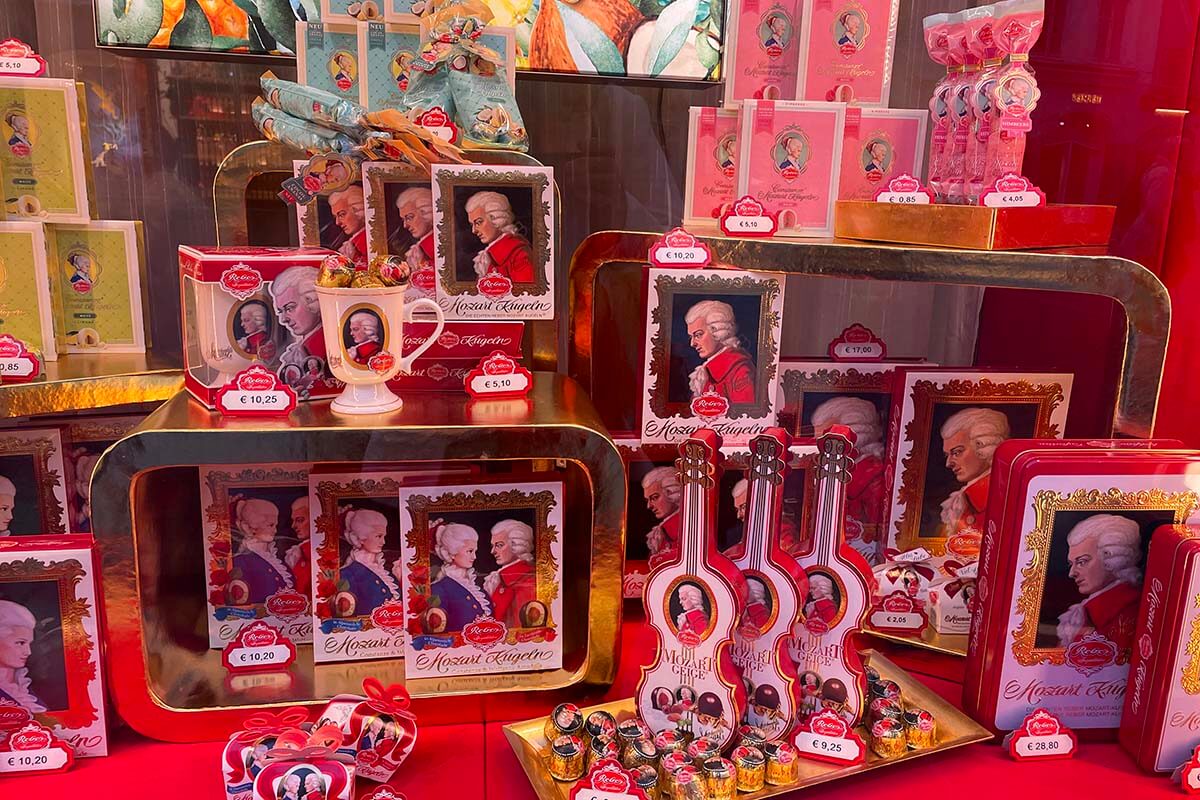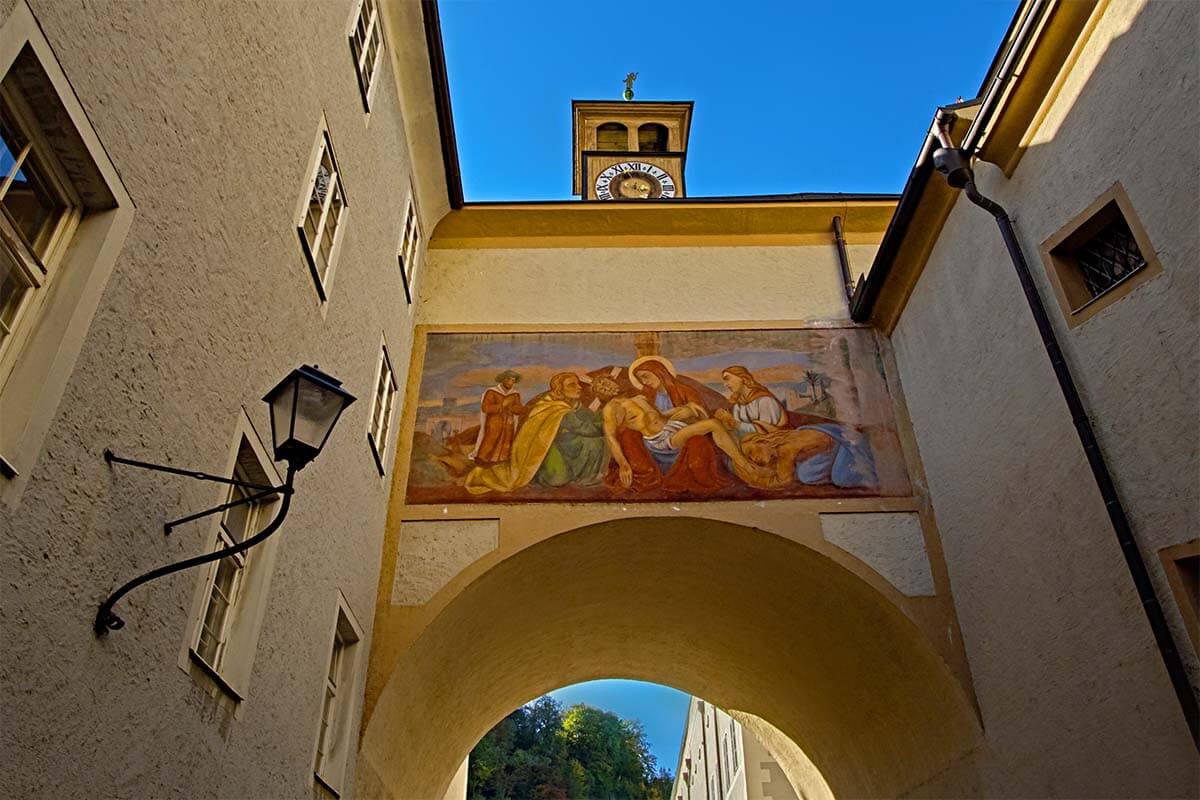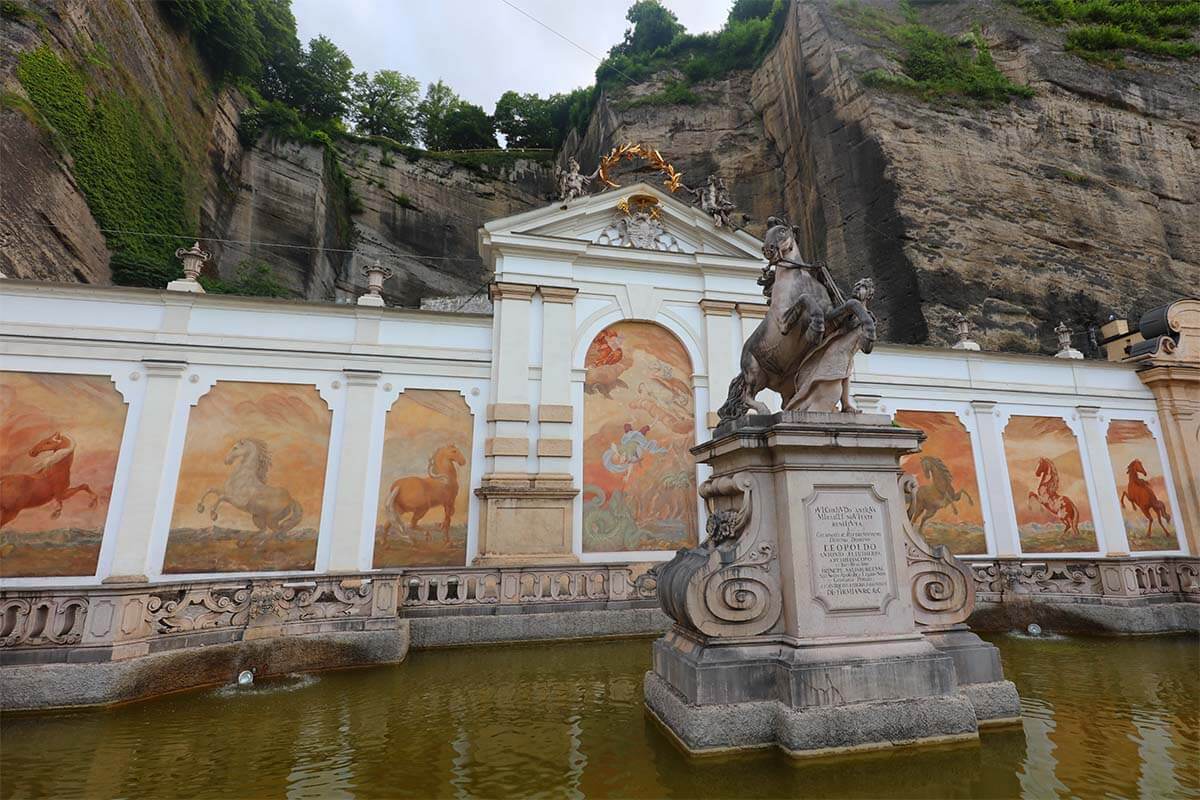 Rooftop Views
After all that walking and sightseeing, you definitely deserve another break by now. There are many places where you could get a drink all over the city, but for a special experience, why not head to a rooftop bar with the best views in Salzburg.
Cross the river via Staatsbrücke bridge and you'll immediately see Hotel Stein on your right. This 4* hotel has a beautiful rooftop bar & restaurant and the views are unparalleled. In fact, if you are traveling without kids (the hotel is adults-only), this could be a really nice place to stay in the city. With kids, we stayed at the Imlauer Hotel Pitter which also has a very beautiful rooftop restaurant (the views aren't comparable, but the hotel is amazing and the staff – much friendlier).
Anyway, back to the rooftop bar Steinterrasse. You don't have to be a guest at the hotel to come here, and the views are definitely worth it. If you'd want to come here for dinner, it's best to reserve in advance, but for a drink in the late afternoon, you should be able to find a table without a reservation (I'm not even sure they take reservations during the day).
The prices are a bit on the higher side and we found that some staff were a bit arrogant (some others were extremely friendly too). I was wondering if it had to do with the fact that we came here with our kids (teens), but some reviews on the internet seem to share this experience… Anyway, the drinks were good and our kids ordered some dessert which was delicious as well. And yes, the views make it all more than worth it!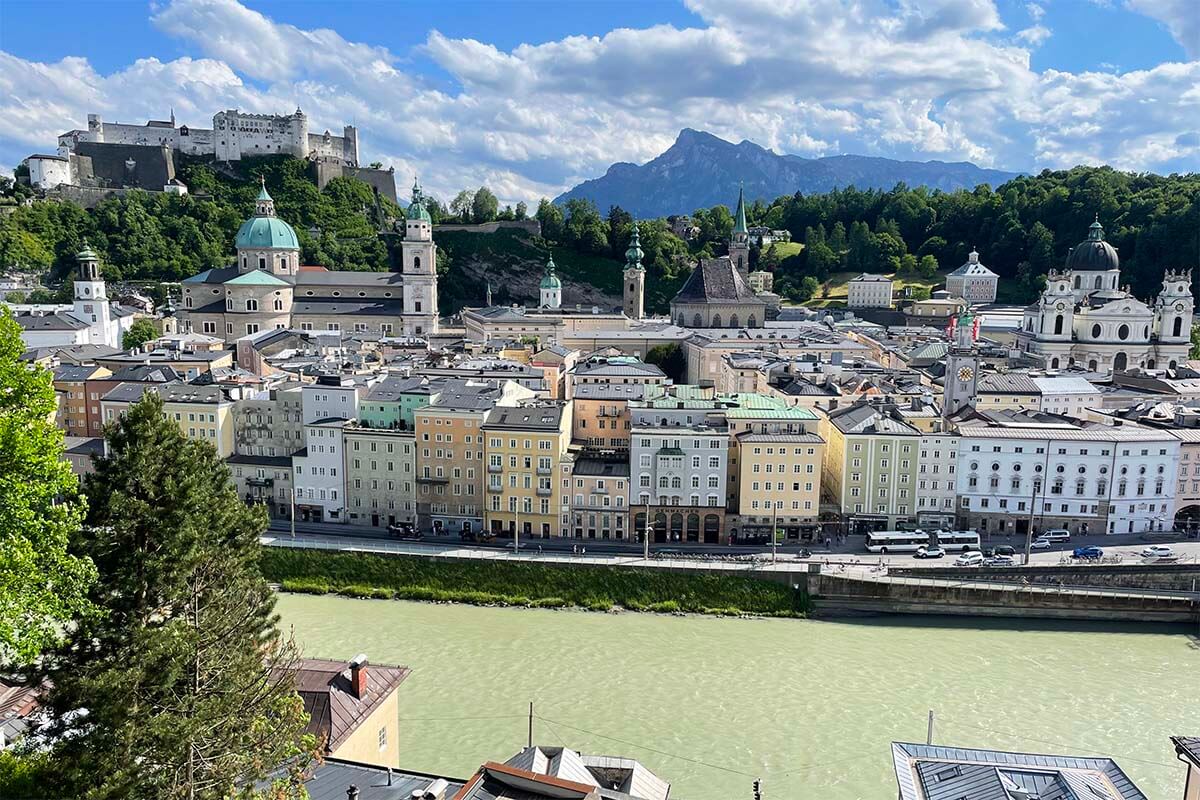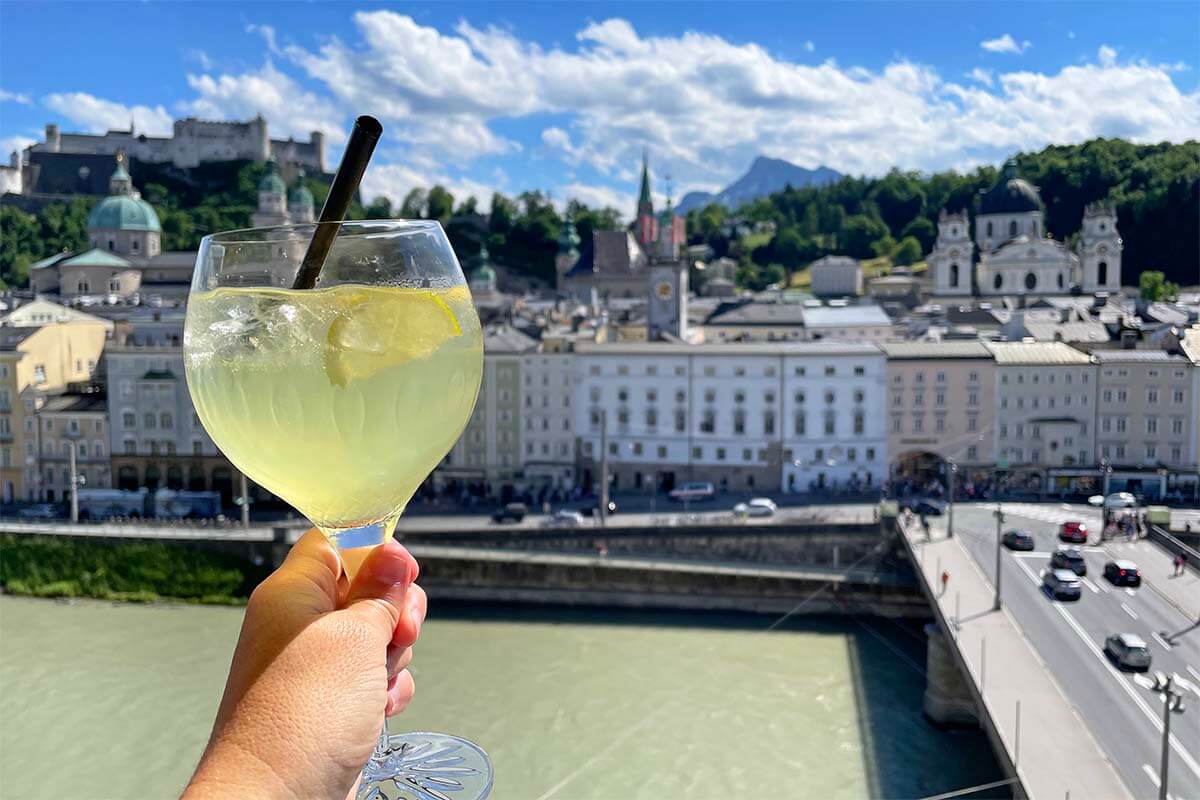 Mozart Concert & Dinner
End your first day in Salzburg with a Mozart concert and dinner. You can do the two separately and just head to a concert while dining somewhere else, or you can also opt for an all-in experience that includes a concert and a nice dinner.
I cannot comment on any of these from personal experience. There was no way our kids would sit still through an experience like that, so we didn't do it. But we researched all the different options and – frankly – some of them really looked amazing.
So if you are looking for a special experience in Salzburg, you may want to plan this for your first evening in the city.
Here are some of the best experiences based on the research I did for our trip: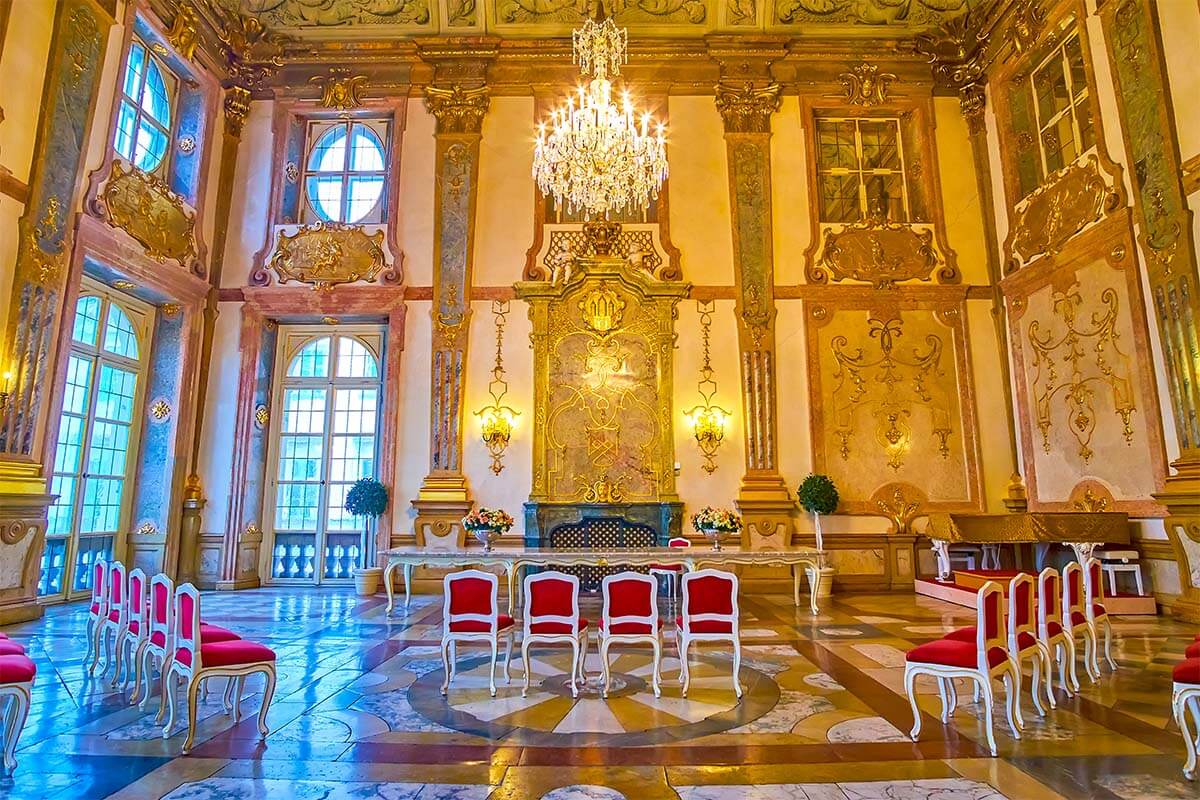 DAY 2
On your second day in Salzburg, you could opt for a half-day tour outside the city and some more sightseeing in the center. Depending on your interests, some of the best tour options include The Sound of Music tour (4 hours, morning or afternoon), River Cruise + Hellbrunn Palace (2.5 hours, afternoon), or a half-day trip to Hallstatt (5.5 – 6 hours, afternoon).
For this itinerary, we recommend 'The Sound of Music' tour. But if you decide on one of the other two options, you can easily adjust the rest of the itinerary to suit your schedule as well. Hellbrunn Palace can also easily be visited by public transport – it's just a 12-15 minutes drive from the center.
Here is what your second day in Salzburg could look like:
Sound of Music Tour
Start your day with the Sound of Music tour. Even if you are not a fan of the movie, it's just a really nice experience since you get to see so many nice places just outside the city.
There are various tour options, by bus or by bike as well. However, bus tours will take you to more locations (and also further away), whereas the bike tours will be more focused on the places in the city (and you'll see many of them on your own anyway).
This is one of the most popular (and highly rated) Sound of Music bus tours. It runs daily throughout the year and the morning tour usually starts at around 9 am and takes about 4 hours. This makes it easy to plan the rest of the day. But you can also opt for the afternoon tour if you prefer (in that case, switch the order in which you visit the other sights in this itinerary).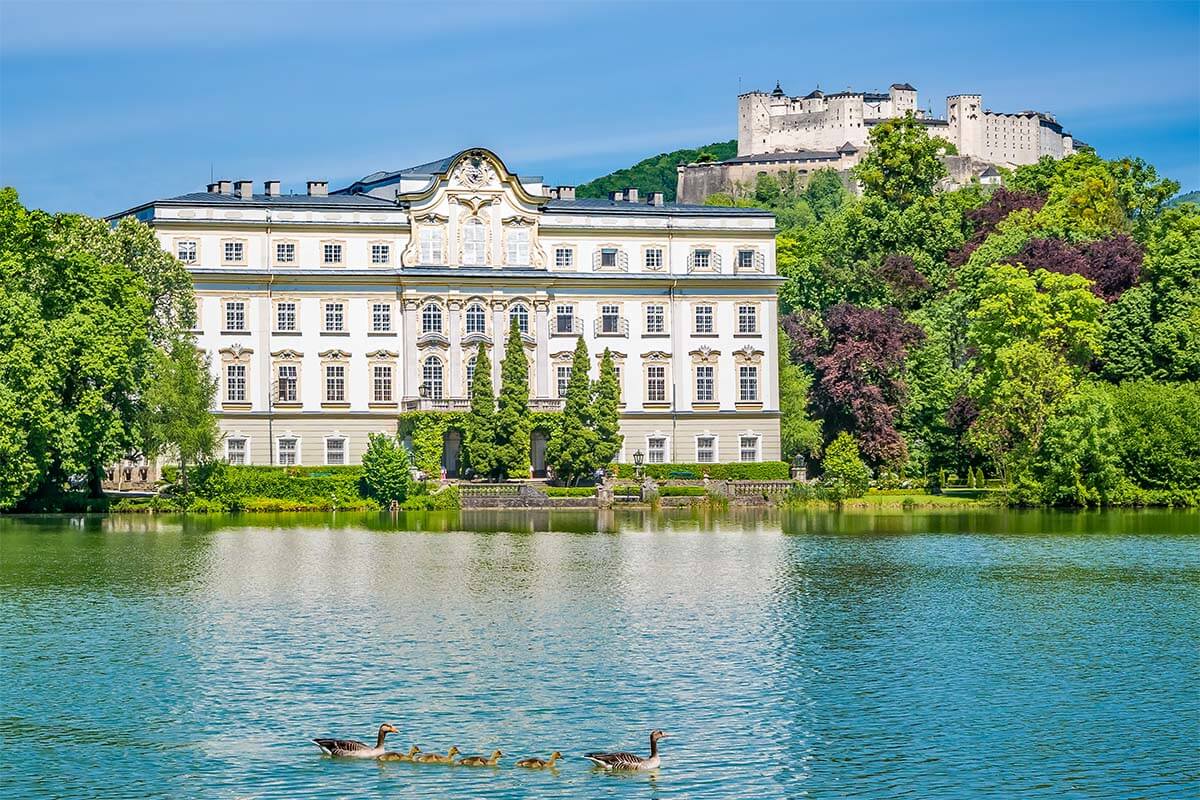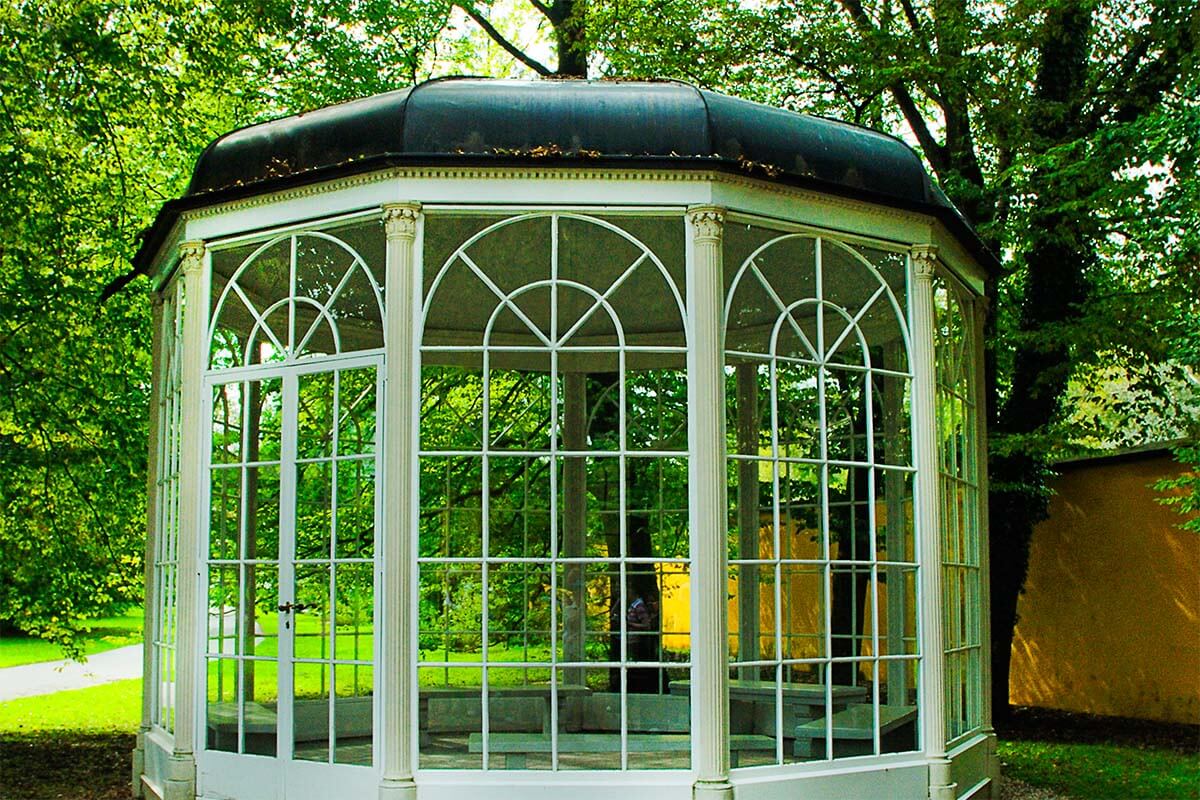 Mirabell Palace & Gardens
The tours usually start and end at Mirabell Palace (which is actually another Sound of Music filming location). So after you are back in the city, be sure to visit here.
The nicest place to see is undoubtedly Mirabell Gardens, and definitely, if you are visiting Salzburg in the warmest months when everything is blooming. The gardens are so beautiful, with fountains and sculptures, rose gardens, and other flowers all around you.
Our hotel was located nearby, so we passed here at least twice a day every day and I just couldn't get enough of this place. So pretty!
Good to know: Normally, you can visit Mirabell Palace inside and the admission is free. Mirabell Palace and Angel Staircase are open daily from 8 am to 6 pm and the Marble Hall is open from 8 am to 4 pm on Monday, Wednesday, and Thursday, and from 1 pm to 4 pm on Tuesday and Friday.
However, it sometimes closes for special events and we had bad luck that it was closed for visits every time when we passed by. If you want to be sure to see the interior, the best way to do it is by coming here for a Mozart concert in the evening, as mentioned earlier.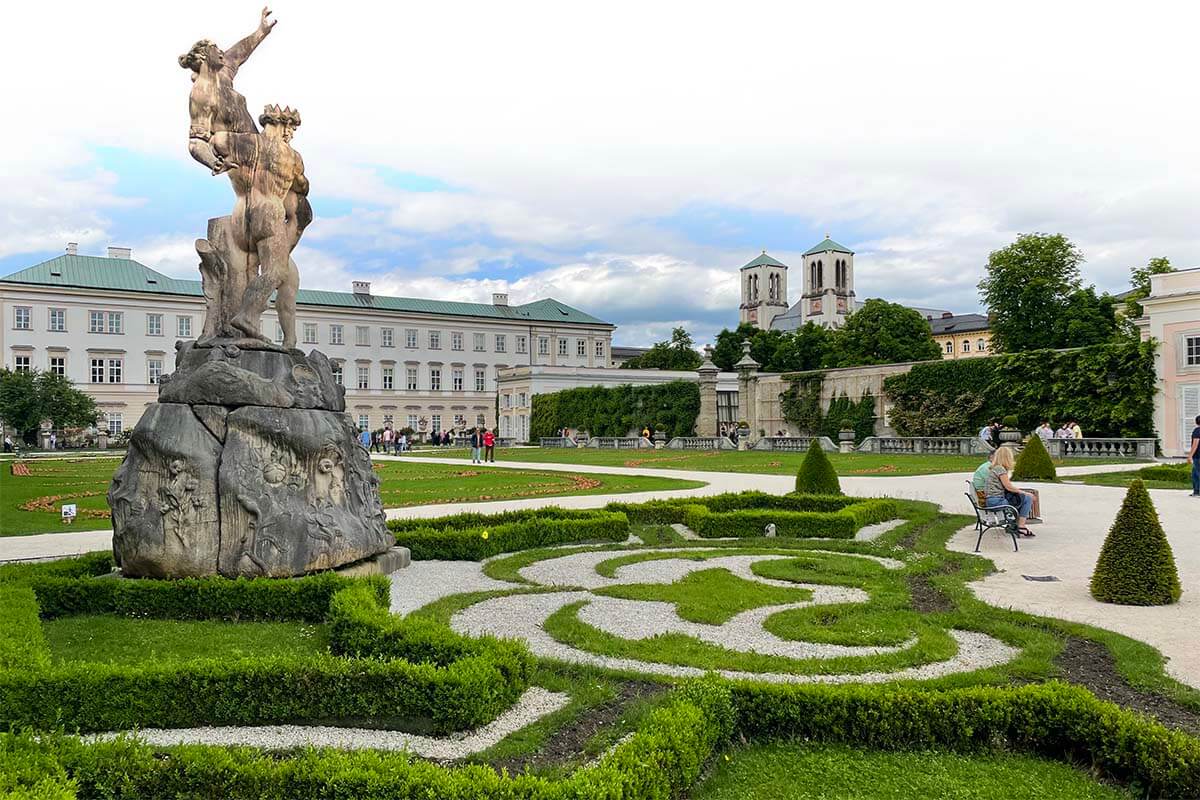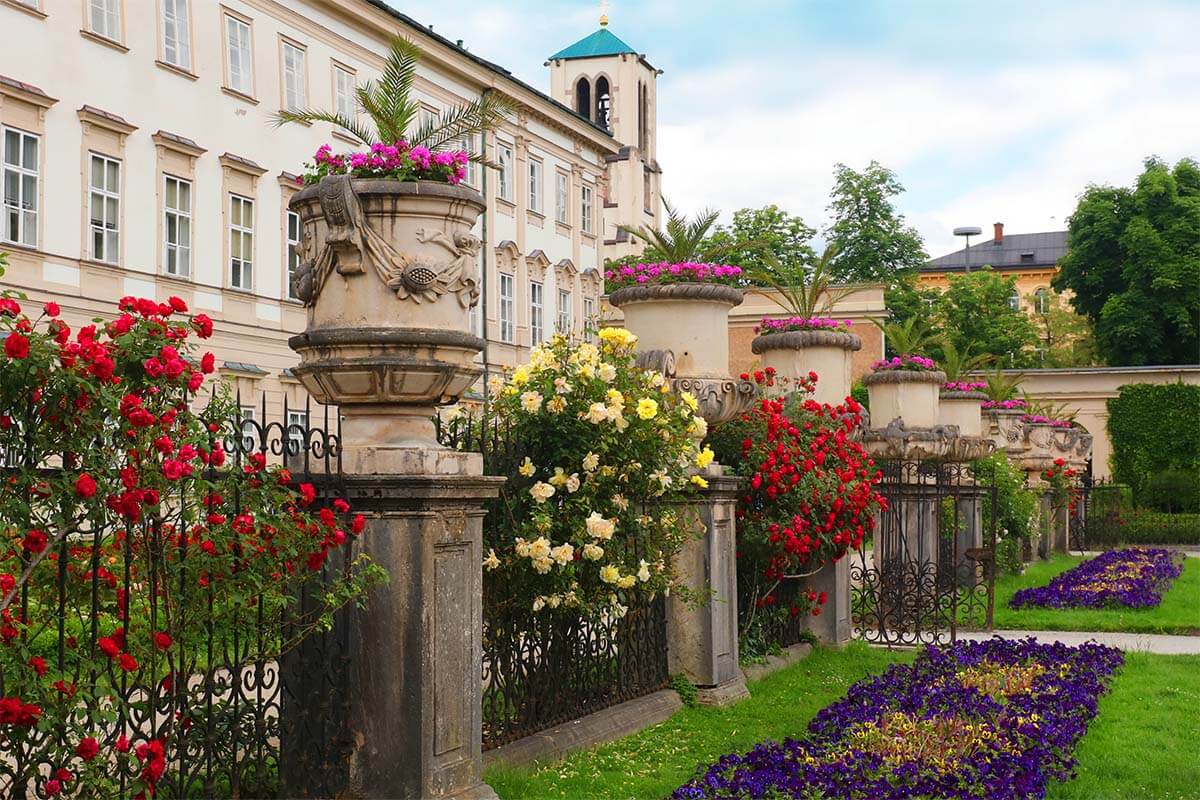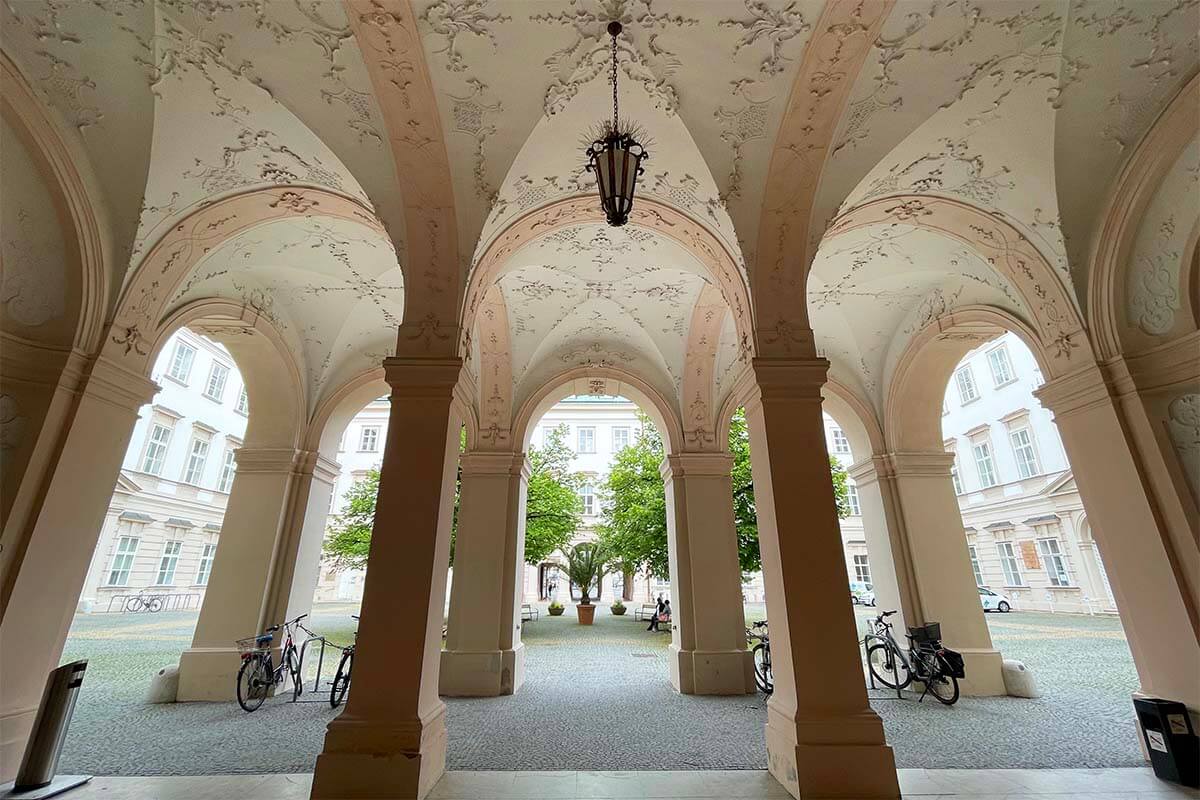 Lunch
Time for lunch! In fact, if you are hungry, you can also have lunch first and then visit the Mirabell Gardens afterward.
There are quite a lot of restaurants in the area north of Mirabell Palace, or you can also walk in the direction of the city center, and you'll find plenty of options there as well.
TIP: If you are looking for another special experience, you may want to check out the rooftop restaurant Imlauer Sky-Bar at Imlauer Hotel Pitter, just a few minutes walk from Mirabell Palace. We stayed at this hotel and had lunch here once and it was excellent. On a pricier side, but truly good food that comes with some nice views.
Alternatively, you can also simply get some pretzels (Brezen) at one of the many bakeries in town. Austrians seem to eat them at any time of the day – for breakfast, lunch, dinner, or anything in between…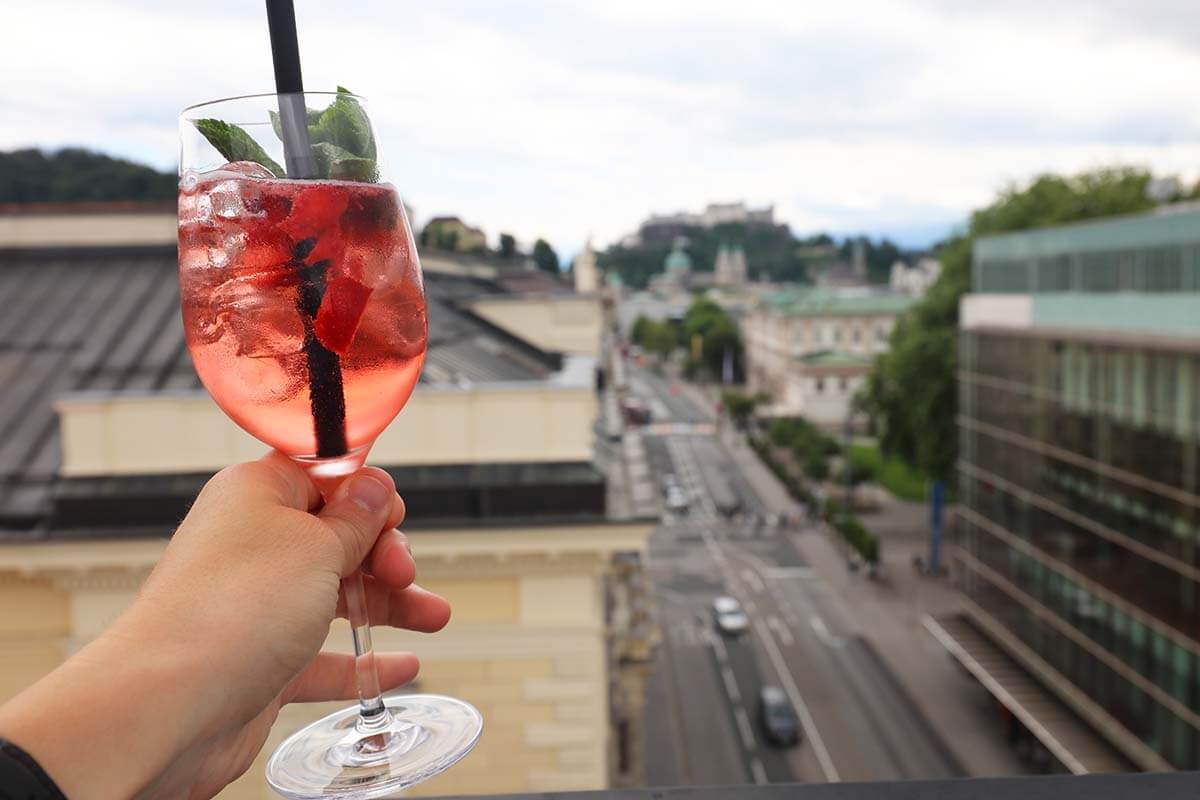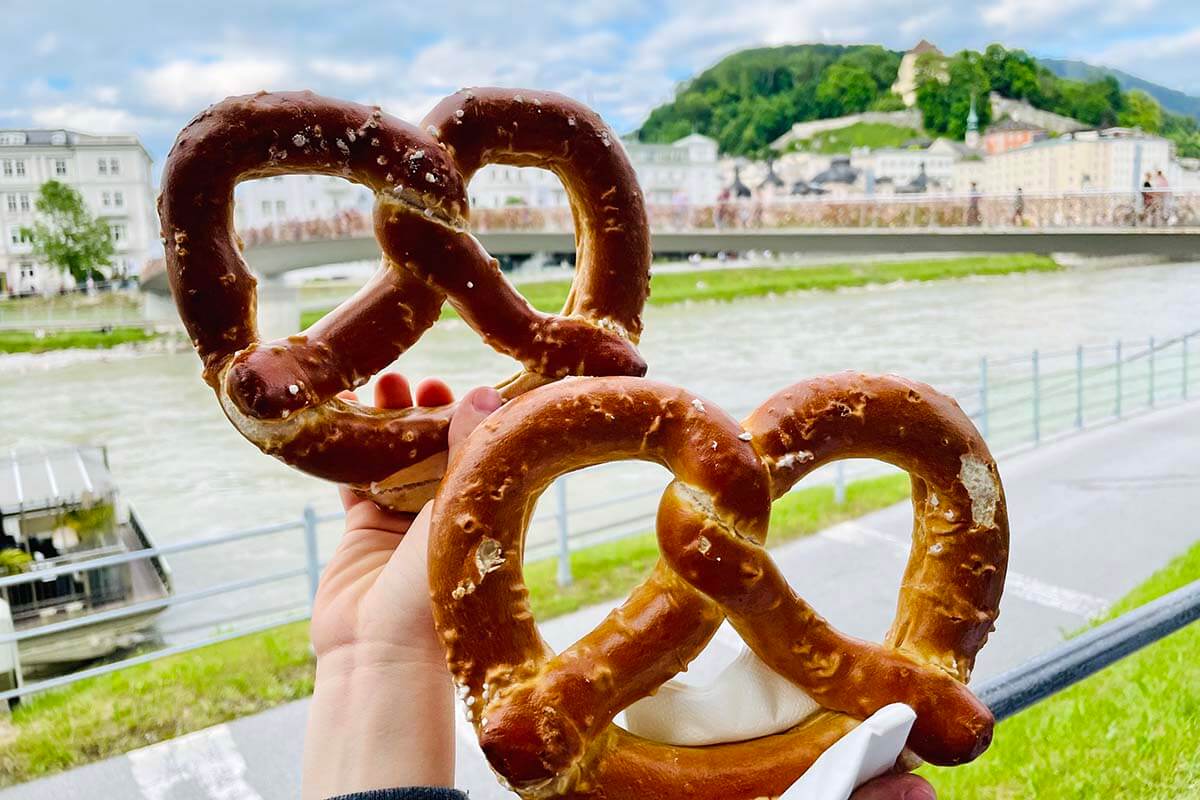 Mozart Residence
In addition to Mozart's Birthplace which we recommend visiting on the first day of this itinerary, there's also another house where Mozart's family lived, Mozart Residence.
It's located just outside the southern end of the Mirabell Gardens, so it's probably best to visit here on the second day (it's nice to spread all the info too so that it doesn't get too overwhelming).
Mozart Residence is a big house where Mozart's family moved when he was 17 years old. He himself only lived here for a few years, before moving to Vienna. Currently a museum, a visit here gives you a deeper insight into the life of the family of the famous composer.
In the large ballroom, you can see a portrait of the Mozart family. It's considered to be one of the best and most accurate images of Wolfgang Amadeus Mozart. In this same room, you can also see Mozart's original piano. Each room inside the house tells a story of a different member of the family (be sure to pick up an audio guide) – it's really interesting.
Good to know: Mozart Residence is normally open daily from 9 am to 5.30 pm. In July and August, it's open from 8.30 am to 7 pm. The entrance here is also free with Salzburg Card. Count 30-45 minutes for a visit.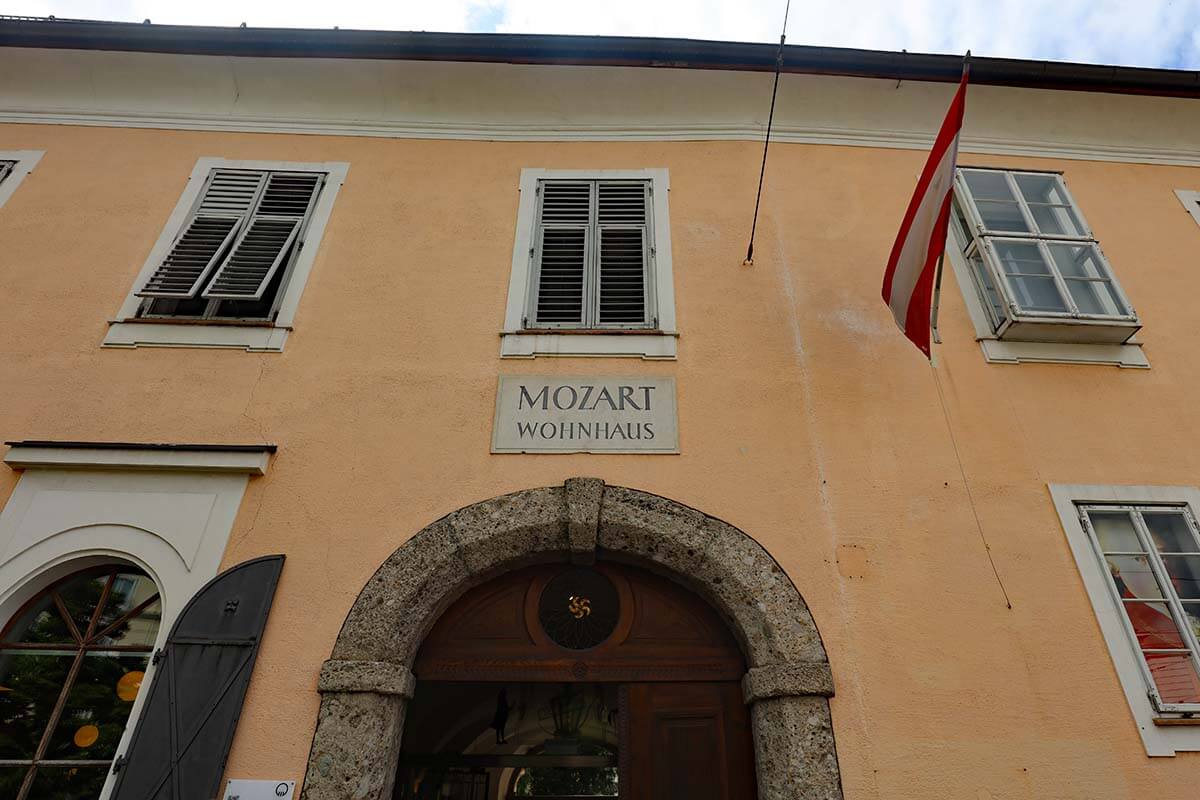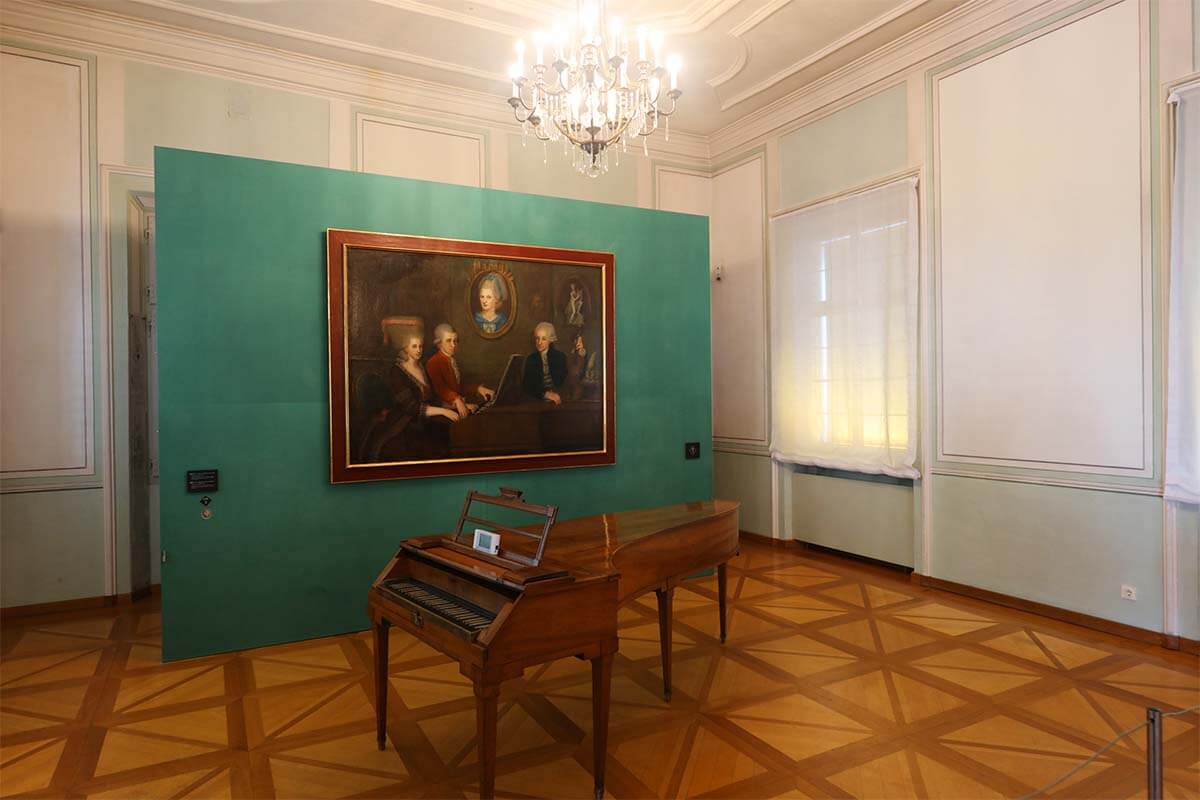 View from Kapuzinerberg
After visiting Mozart Residence, you could make a short detour to the viewpoint at Kapuzinerberg. There's a monastery on top of this hill and a small church that you can visit. But indeed, the main reason to come here is the view.
The views from Kapuzinerberg are nice, but you have very similar views from the rooftop bar that I recommended visiting on day 1 of this itinerary.
So I'll let you decide if it's worth it. The uphill climb is pretty steep but short. If you take the road with the Kapuzinerberg Stations of the Cross up and the stairs down, it's really not that tiring. To help you orient, I indicated both – the recommended starting point of the climb and the stairs – on our map further below.
It took me less than 5 minutes to get to the top, a few minutes to visit the church and enjoy the views from the two terraces (the best view is from the terrace that's a bit further away – more in the direction of the river), and then 5 minutes to get back down the stairs. All in all, maybe 15-20 minutes for a quick visit. I found that it was worth it, but my family decided to get some ice cream and wait for me at the bottom.
The Kapuzinerberg viewpoint is one of the best places to see the sunset in Salzburg, so you could also come here later.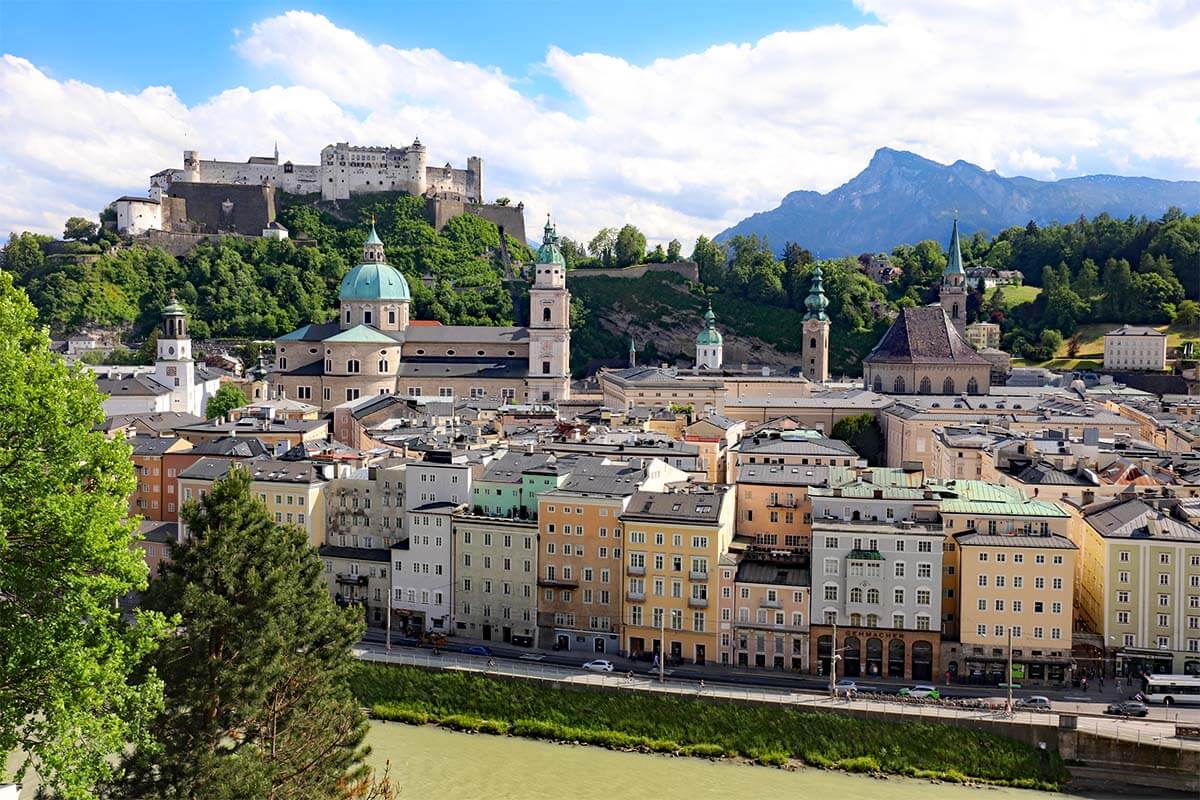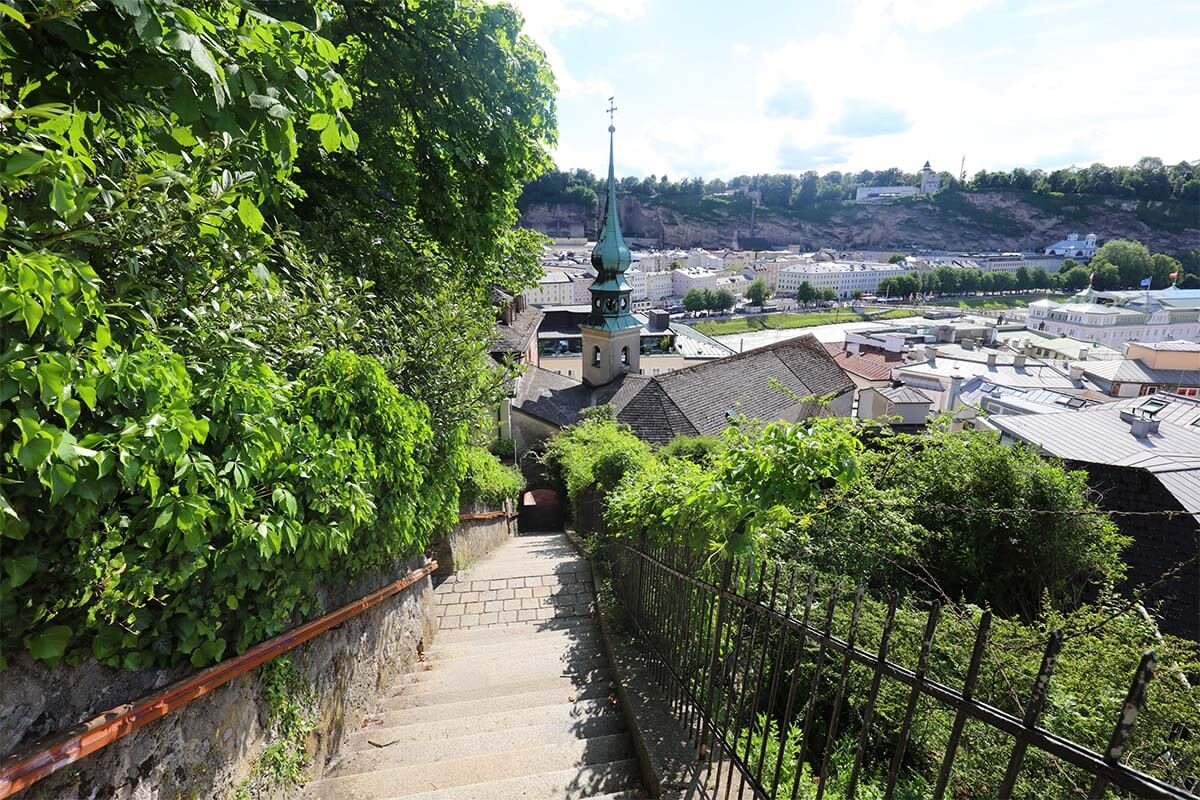 River Cruise
Next, make your way to the city center on the other side of the river (5 minutes walk). It's probably best to walk to the pedestrian bridge – Marko-Feingold-Steg – and cross the river here. You have really nice city views from this bridge too.
Just next to the bridge, on the right side, there's a stop of the Salzach River cruises. A regular boat ride takes about 40-50 minutes and the standard ticket is free with Salzburg Card. The only issue is that – if it's busy – you may not be able to find a spot for the next available cruise.
So if you absolutely want to do this cruise, you could stop at the ticket office on the first day of this itinerary and reserve a spot for 5 pm on day 2. Alternatively, you can also get timed tickets for the cruise in advance, but you'll have to pay full price.
The cruise takes you on a slow ride on the Salzach River a bit outside the city. There's a commentary in German and in English, so you learn a bit about the places you pass by. The boat then turns around and comes back the same way (much faster since it goes downstream this time), and the captain performs a little 'dance' with the boat at the end of the tour.
All in all, it's a nice experience for the whole family and it's also good to rest your legs a bit, but I wouldn't consider it an absolute must.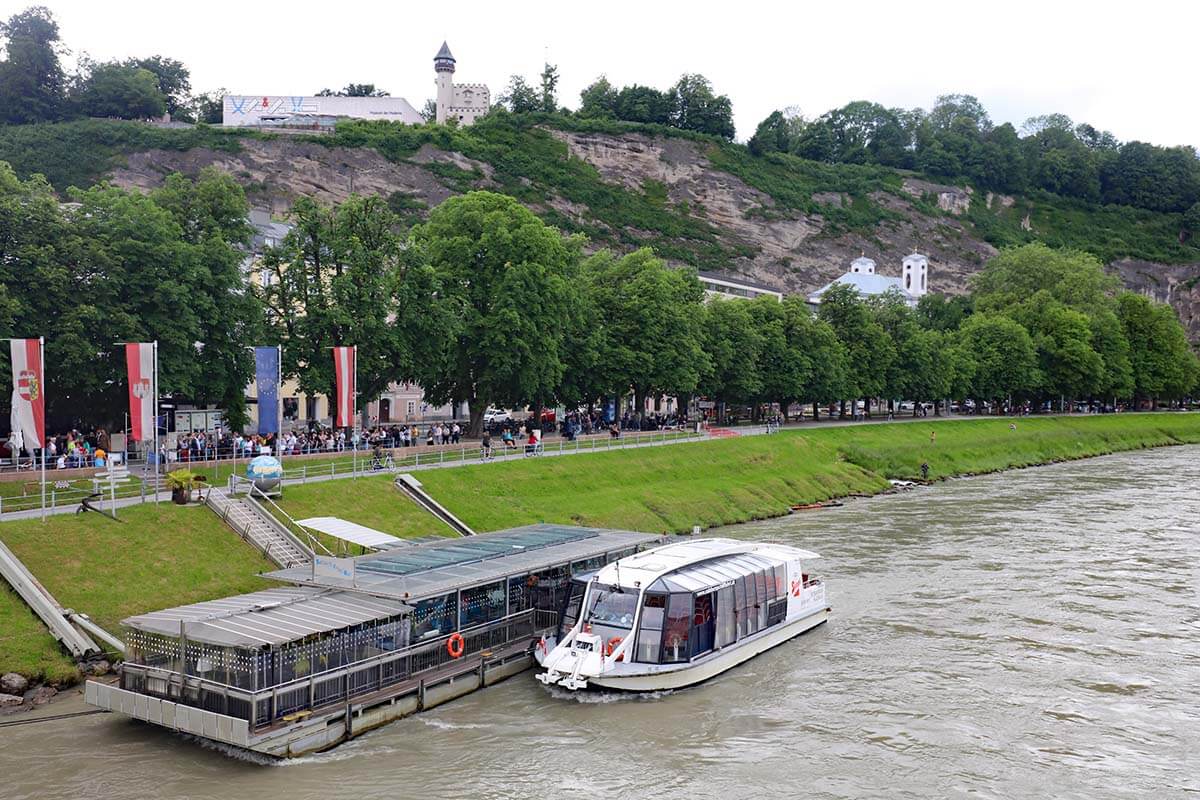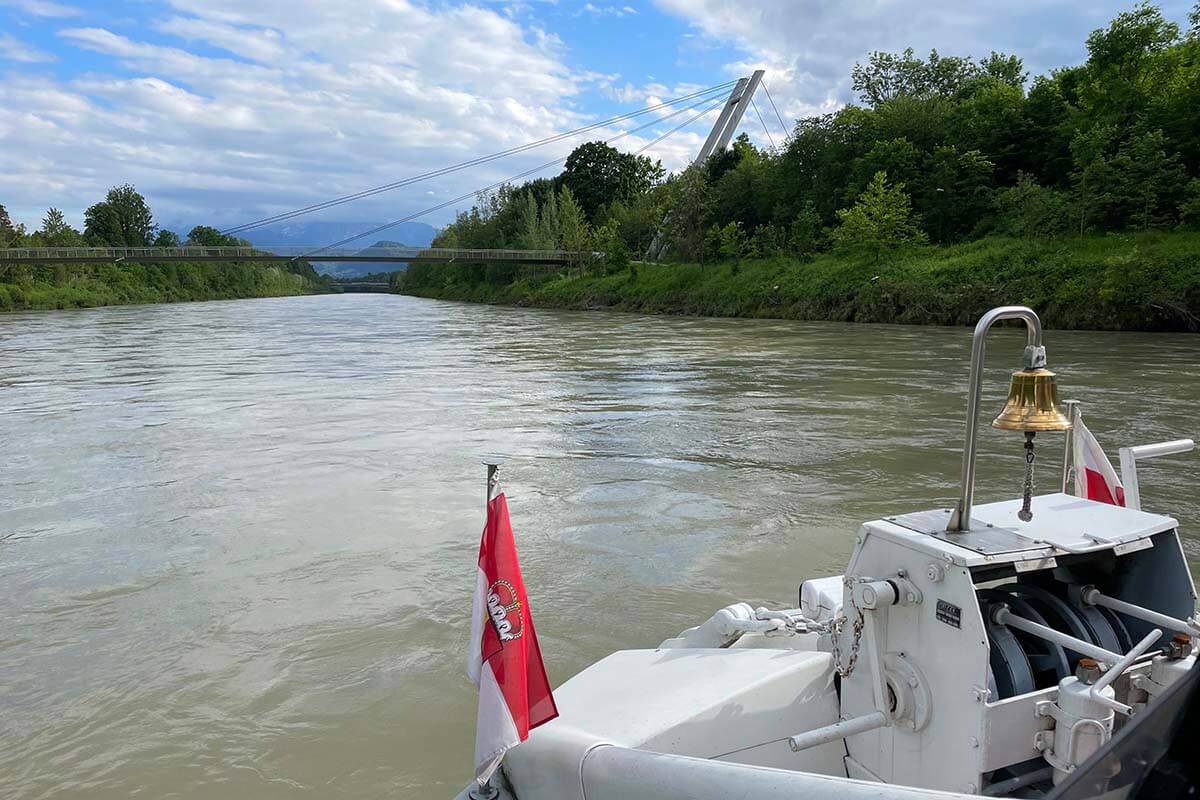 Views from Mönchsberg
Just a few minutes walk from the river, you can find an elevator to Mönchsberg. This is one of the many hills in Salzburg center, offering amazing views of the city. The elevator is also included with the Salzburg Card and the ride takes just a few seconds – absolutely worth it.
There is a museum of modern art on top of Mönchsberg and a restaurant with a panoramic outdoor terrace, and you can also explore the area on many walking trails here as well. But the nicest viewpoint doesn't require much walking at all – it's right at the elevator.
We also walked to the nearby Humboldtterrasse and the views are also very nice here. However, this is a +-10 min walk on a dirt path. If you want to do it, you'll find signs to this viewpoint behind the museum building or behind the tower next to the museum.
As mentioned, there is a restaurant here and it looks like a beautiful place for dinner. But the reviews aren't great and so if you are looking for good food and a more traditional experience, head back to the city center for dinner. You could try and get a drink here, but – depending on the time and how busy it is – they may not be keen on just serving drinks.
TIP: Mönchsberg could also be a nice place to visit around sunset. But this will depend on the season when you visit and when the sun sets, of course. In summer, you could also come here after dinner – the elevator runs until late in the evening. On the other hand, the sun would be behind you and so if you want those amazing sunset views, you're probably better off on the other side of the river or at the top of the fortress where you have views in that direction as well.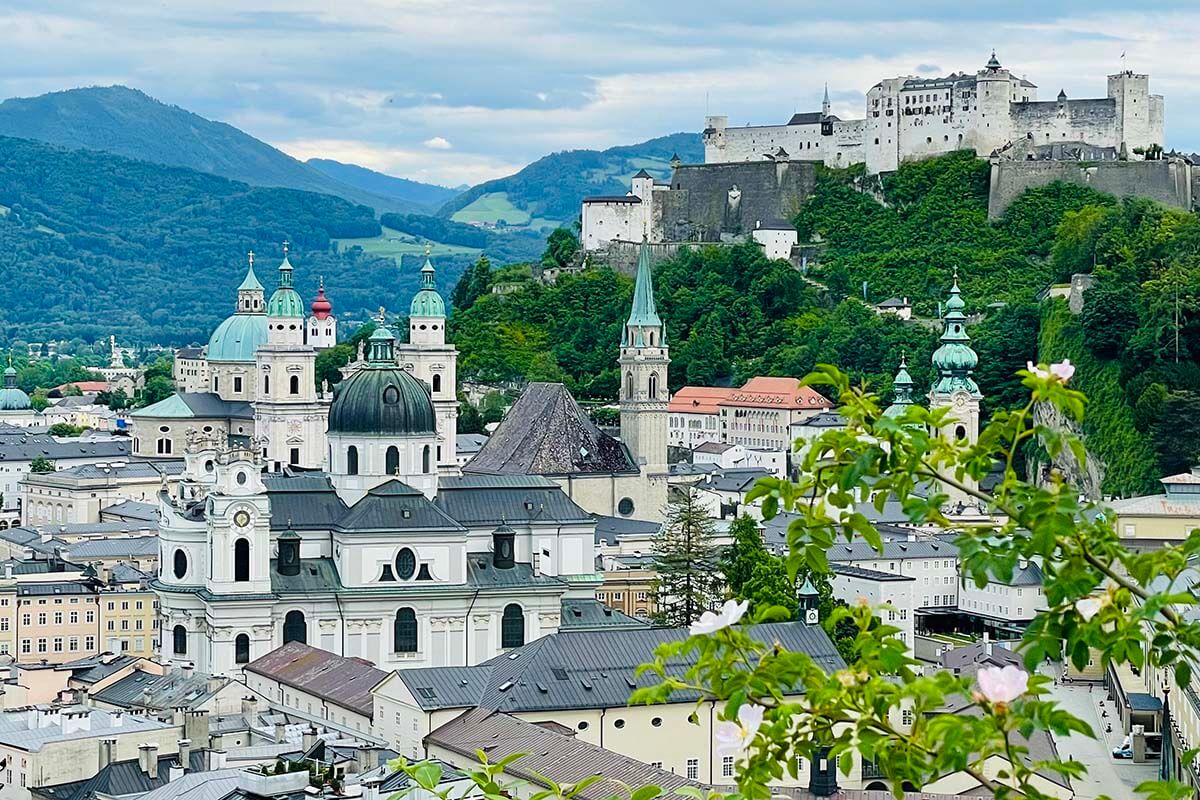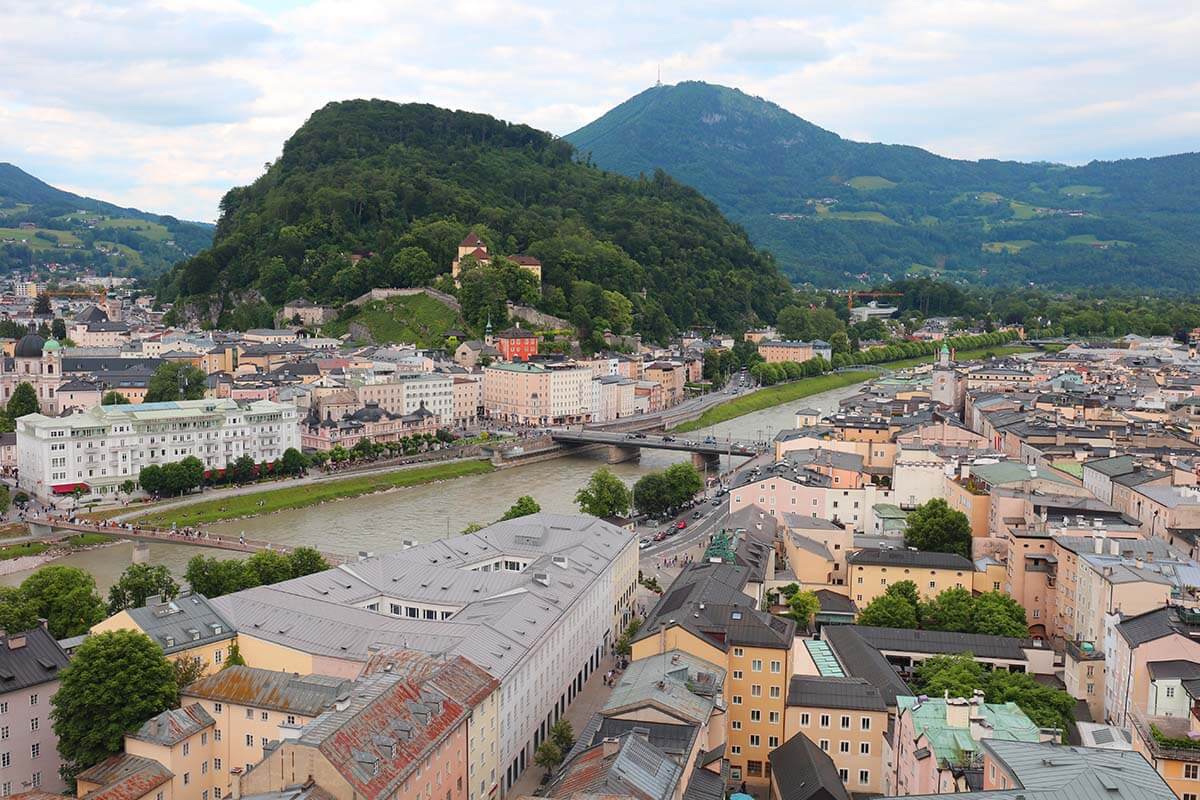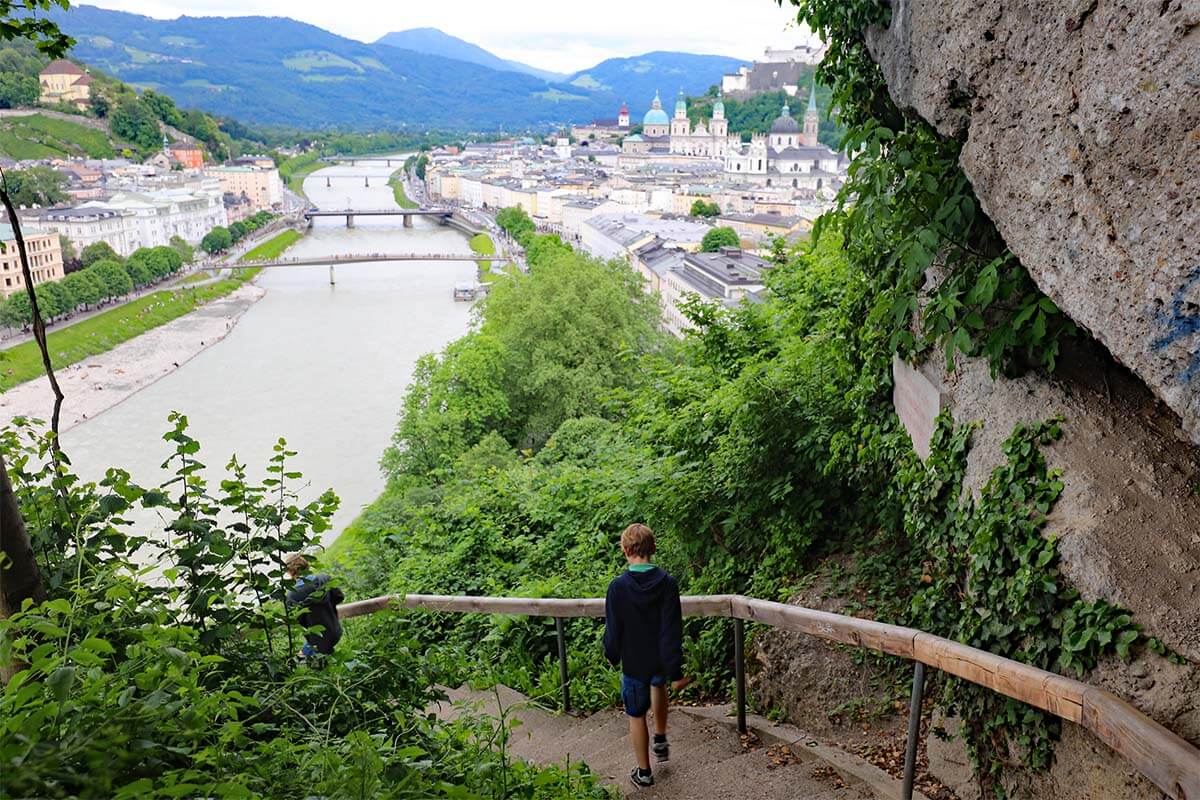 Dinner at a Traditional Beer Garden
We recommend visiting at least one traditional beer garden during your time in Salzburg. For the best beer garden experience in the center of Salzburg, head to Sternbräu.
This beer garden is located in a beautiful courtyard with chestnut trees, the ground is covered with small white pebbles, there are old wooden tables and benches, and it's self-service too. So it has all the 'ingredients' of a traditional beer garden.
This place can get really busy on a nice sunny evening, especially on the summer weekends. So you may need some patience and luck to find a table. The best way to secure one is to arrive a bit earlier than the standard dinner time.
Alternatively (and if you don't like an idea of a self-service dinner), you can also reserve a table at their indoor restaurant or try the Italian restaurant Trattoria La Stella which is located in the same courtyard.
Or you can have dinner somewhere else and just come here for some beer and pretzels some other time during your visit. As you'll see on the map further below, this restaurant is very centrally located and so you can easily plan to visit here during the day as well.
Alternative restaurant suggestion for dinner: Restaurant Pitter Keller at Hotel Imlauer Pitter. This restaurant serves traditional Austrian food in a really nice setting (a traditional-style beer basement, very common in Austria and Germany).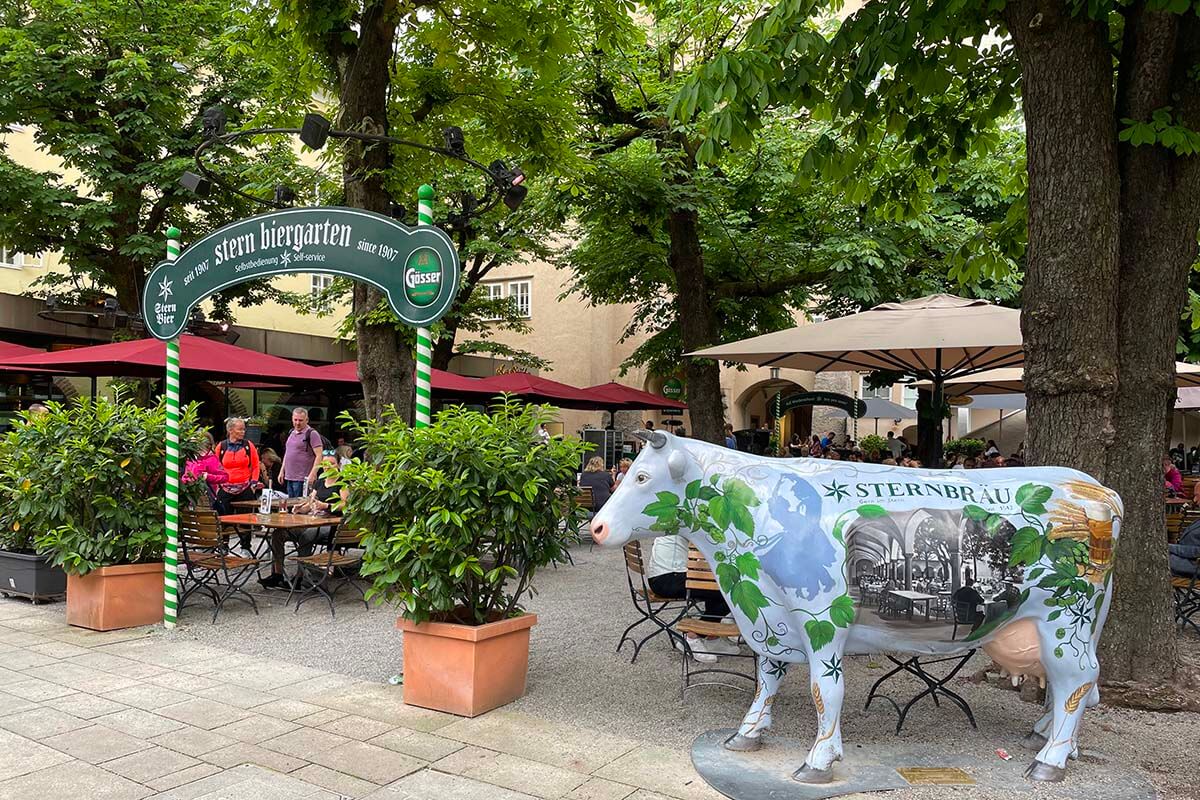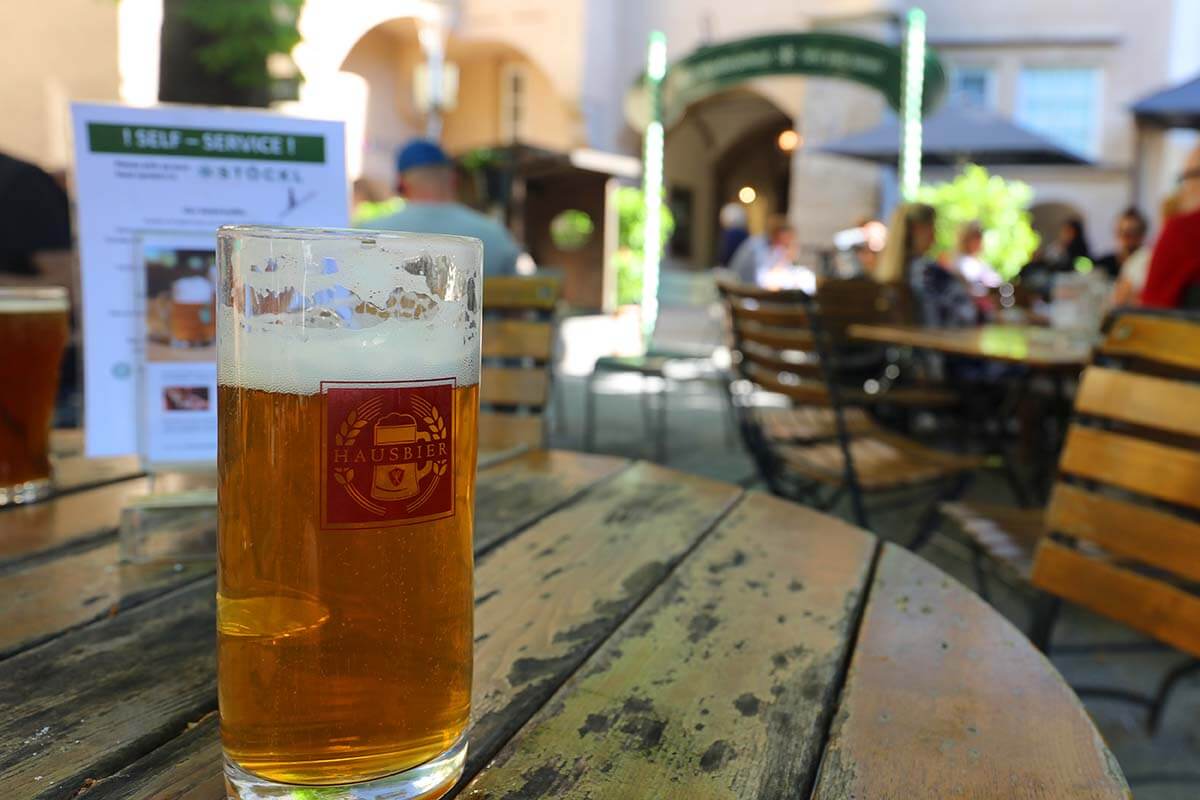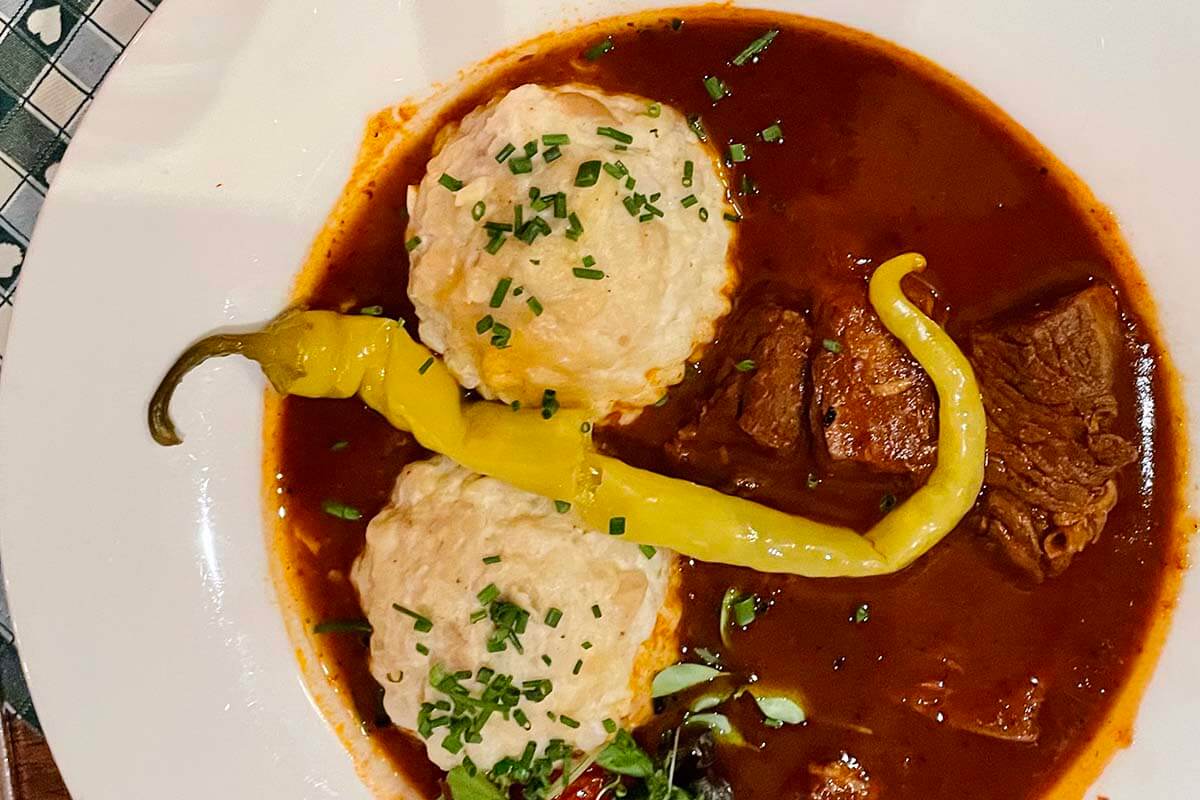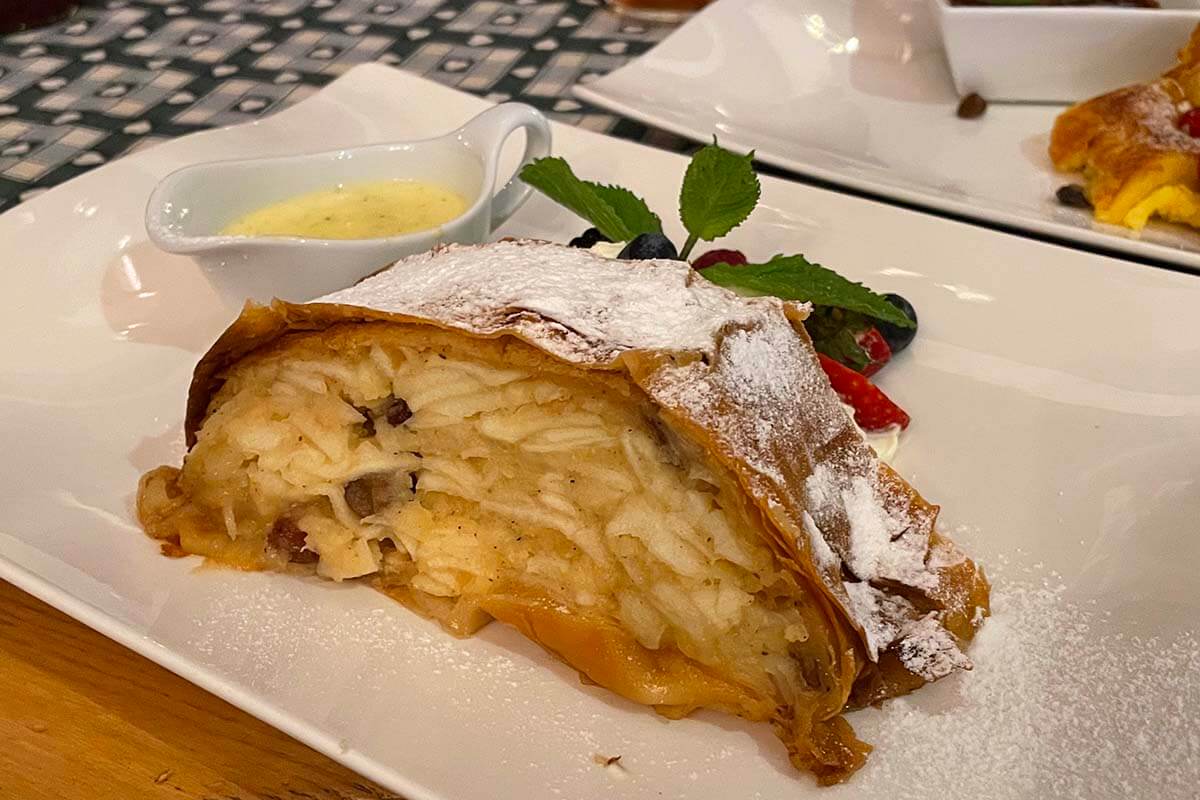 Salzburg 2-day Itinerary – OVERVIEW & MAP
As promised, here is an overview of the suggested itinerary. Please note that the hours are just indicated for your reference, to give you a better idea of what can be done and how to plan your time.
2 days in Salzburg:
DAY 1:
DAY 2:
To help you plan your visit, here's a map indicating all the places mentioned in this 2-day Salzburg itinerary.
Please note that we are not affiliated with any of the restaurants, hotels, or activities mentioned here; these are all recommendations based on our personal experience. You'll find plenty of other restaurants, bars, and cafes in the city, so choose the places that appeal to you the most. Just one tip – if you want to have dinner at a specific restaurant (and especially if visiting on a weekend), it's best to reserve in advance.
How to Use This Map: Use your computer mouse (or fingers) to zoom in or out. Click on the icons to get more information about each place. Click the arrow on the left top corner for the index. Click the star next to the title of the map to add this map to your Google Maps account. To view the saved map on your smartphone or PC, open Google Maps, click the menu button, and go to 'Your Places'/'Maps'.
Where to Stay
Salzburg city center is really compact, so I recommend staying in the center. That way, you can just walk to all the main sights. If you are arriving by train, you may want to stay closer to the station. And if you are visiting by car, be sure that your hotel offers car parking.
One of the most convenient areas to stay in Salzburg for sightseeing is the area north of the river and south of the railway station (around the Mirabell Palace).
This is also where we stayed – at IMLAUER HOTEL PITTER. The location is excellent for everything – the hotel is close to the station and just a short walk from all the main sights. Furthermore, it has a private underground parking, a really nice traditional restaurant, and a fantastic rooftop terrace. Having breakfast at such an amazing terrace already makes your day perfect, before you even set off for the day… I can't recommend this hotel highly enough – we loved it.
Here are some of the best-rated hotels in Salzburg city center for various budgets (but this is really just a tiny selection – be sure to check here for the best options for your travel dates):
The following hotels are close to the station, about 20 minutes walk from the old town, and offer an excellent price-quality ratio on a lower budget. Just be sure to note if breakfast is included when comparing the prices.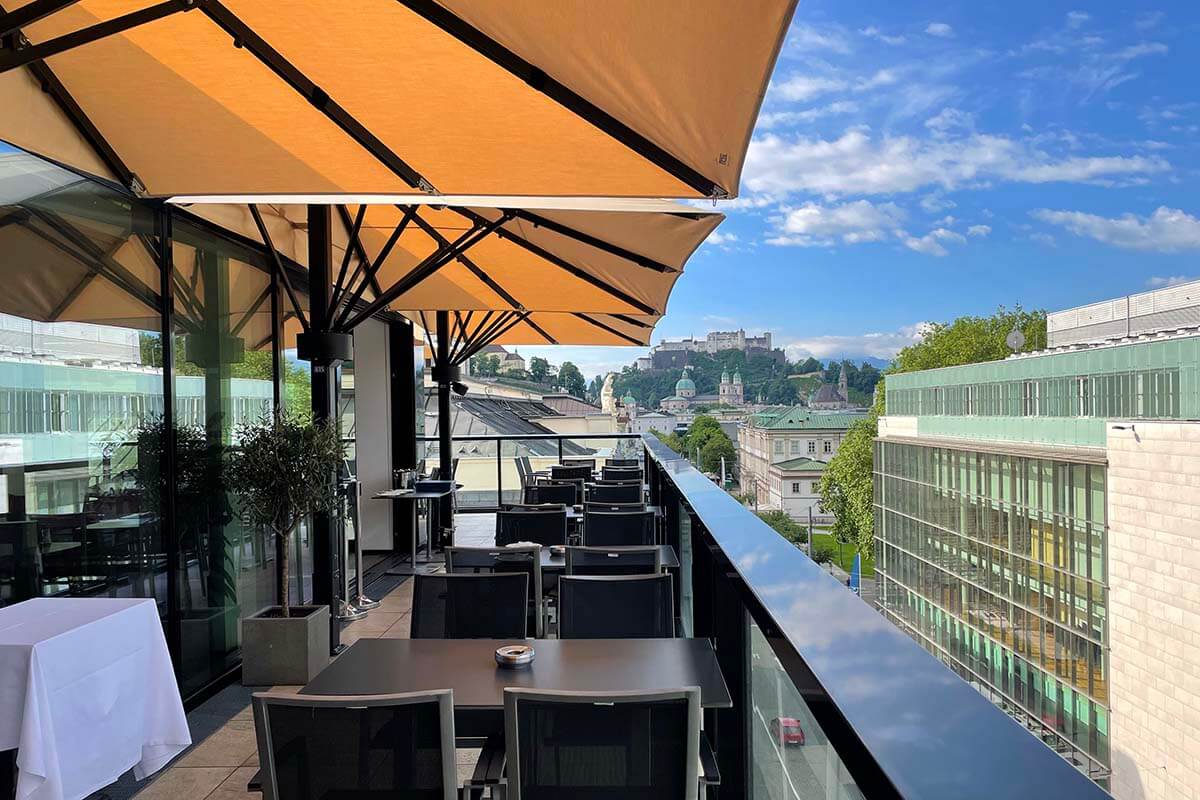 So, these are our recommendations for 2 days in Salzburg. I hope that this guide and itinerary help you plan an amazing visit to this beautiful city.
Have a great trip!
READ ALSO: Best Things to Do in Salzburg & 1-day Salzburg Itinerary
More travel inspiration for Austria:
If you found this post useful, don't forget to bookmark it and share it with your friends. Are you on Pinterest? Pin these images!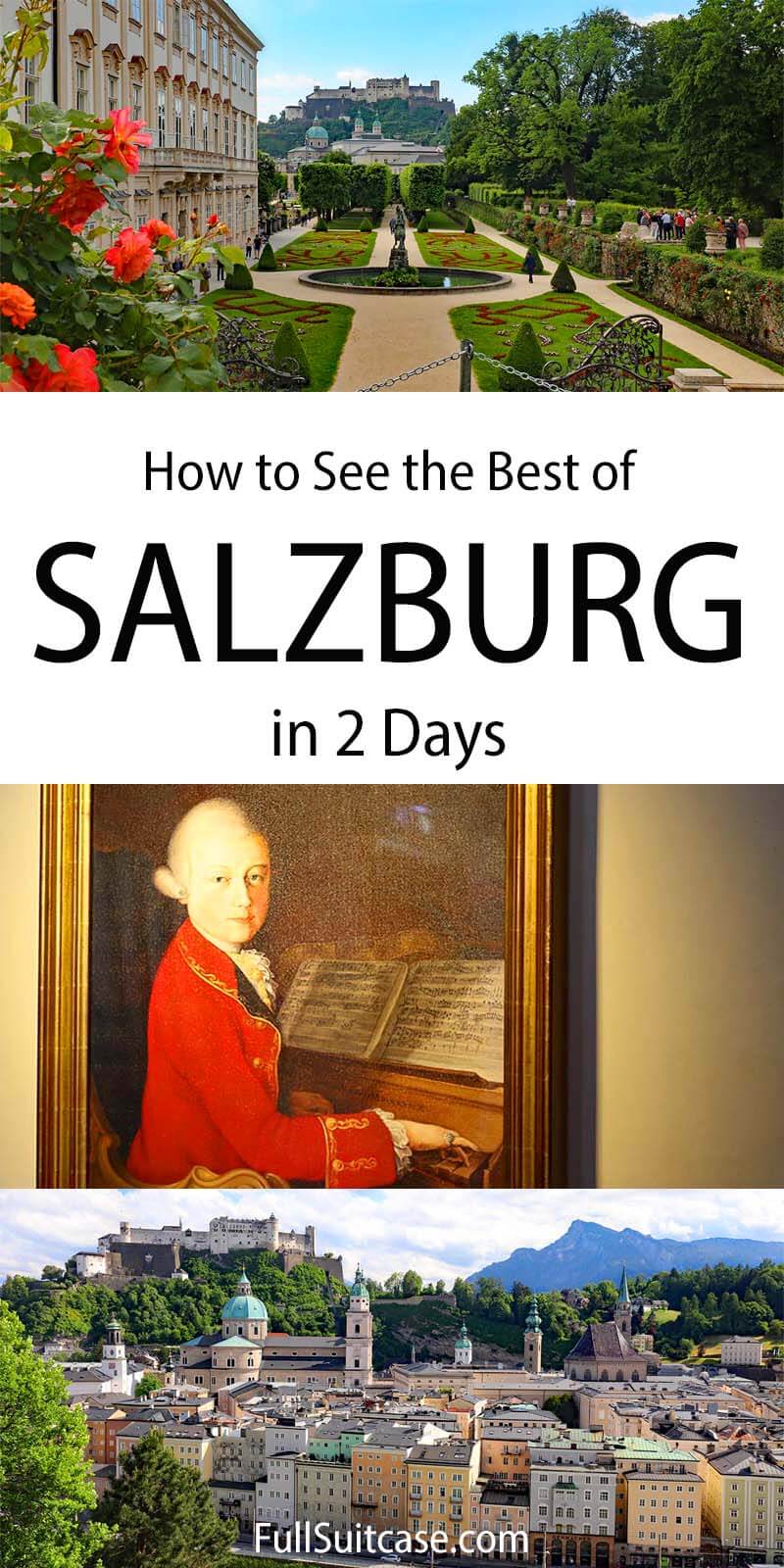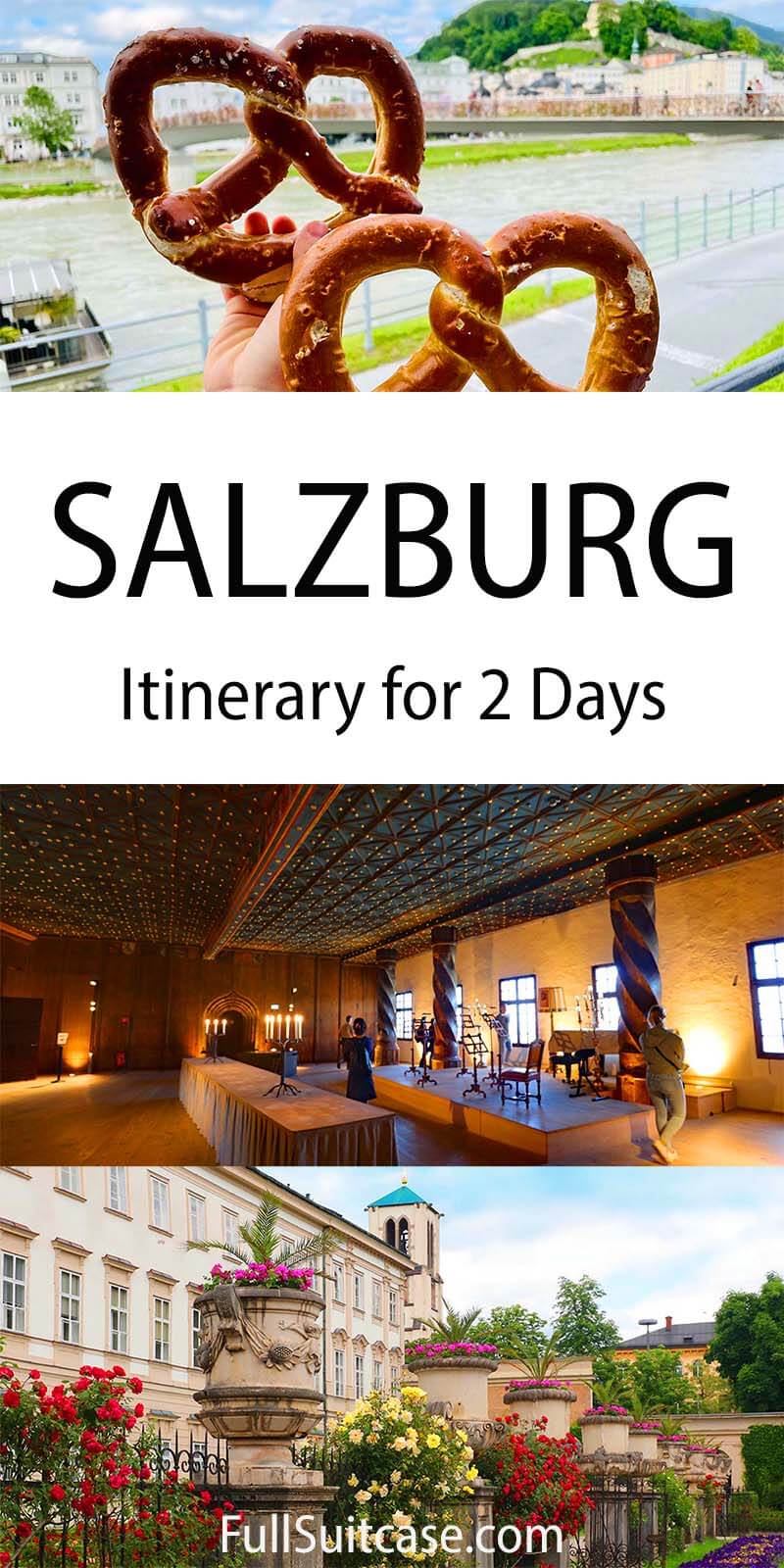 European cities – itineraries: