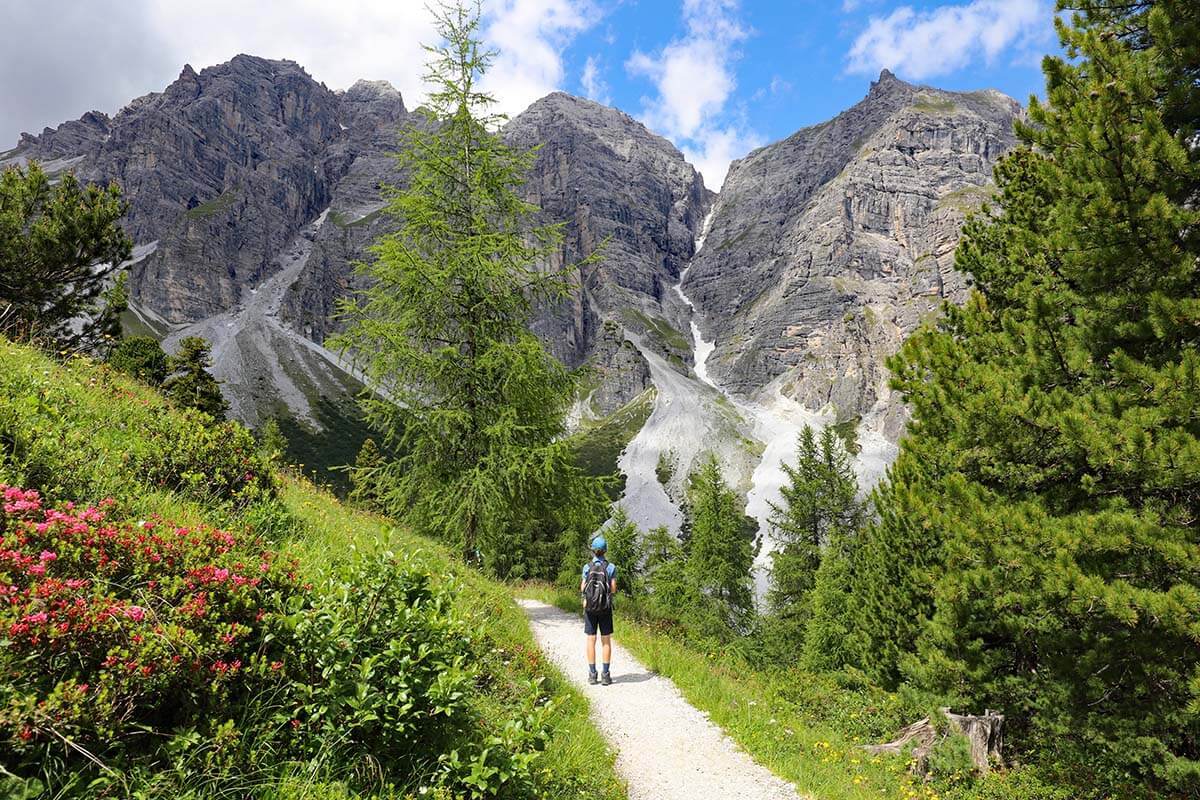 Stubai Valley south of Innsbruck in Austria was a real unexpected surprise to us. And one of the most beautiful places to visit in Stubai is the Schlick 2000 area. In winter, this is a paradise for skiers. But also in summer, this is such a nice place to visit. It completely blew us away. From the most spectacular viewpoints and family-friendly hikes with fantastic scenery to some of the coolest activities for children… Schlick2000 truly has it all!
In this article, you can find a suggested one-day itinerary for visiting Schlick 2000 in summer.
It includes all the ingredients for a perfect summer day in the mountains: phenomenal views, easy rewarding hikes, a picturesque mountain lake, lots of things to do for the kids, and plenty of places to rest or take a break or try some local specialties.
With a bit of luck, you'll also see some sheep or cows, and the ringing of their bells will add that final touch to a perfect day in one of the most authentic areas of Austria's Tyrol region.
We visited Schlick 2000 without knowing what to expect. And WOW, what a day it was! So I really want to share this beautiful gem with you, our readers. Because I'm certain that you will not be disappointed if you decide to visit this place. Even if you're coming from the other side of the world and want to make an absolute most of every day of your trip, Schlick 2000 is absolutely worth it. Find out!
READ ALSO: Stubai Valley in Summer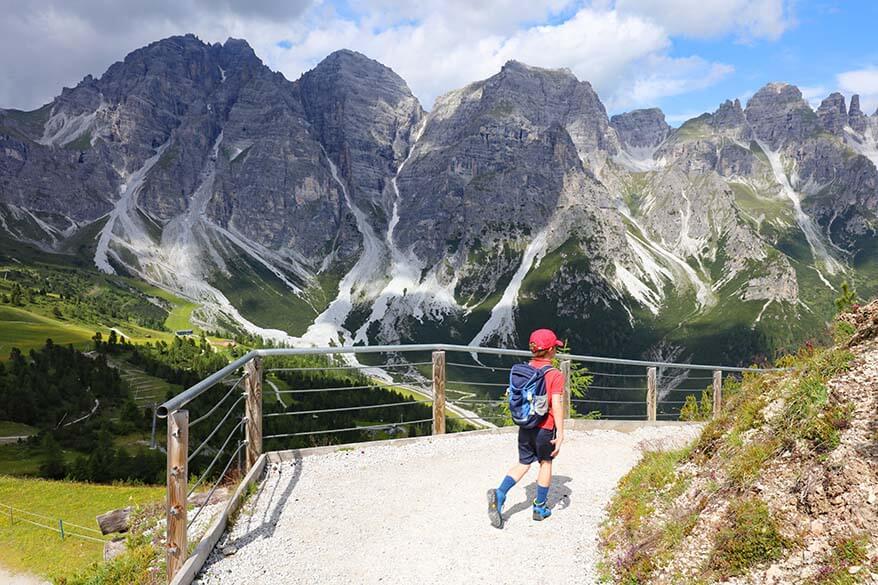 Visiting Schlick 2000 in Summer: Overview & Map
Park your car at the Schlick 2000 valley station in Fulpmes village (map) and take the cable car (Kreuzjochbahn) all the way to the top to Kreuzjoch (2.136 m).
Once at Kruzjoch, walk to the viewing platform 'Stubaiblick' (sometimes also called Aussichtsplattform Schlick). Count about 30 minutes to visit this viewing platform.
Afterwards, take a panorama nature trail from Kreuzjoch to Schlickeralm (1.643 m). This hike will take you about 1.5 – 2 hours.
From there, hike to Panorama Lake and via Scheibenweg down to Froneben Middle Station (1.350 m). This hike will take about 1.5 hours. Here you can take a cable car down to where you started in the morning or hike down (see below).
If you are visiting with kids, you can opt to do the Tree House Trail ('Baumhausweg') and hike back down all the way to the valley (at 1.000m altitude). If you hike all the way down to Fulpmes village, count another 1.5 – 2 hours.
TIP: This is a long hike, but the trail is easy and it goes downhill all the time. I suggest stopping at Froneben Middle Station. That way, you'll have seen the most beautiful scenery on an easy rewarding hike of about 4-4.5 hours.
Good to know: There are several nice mountain huts with restaurants along this route, so you can make a really nice relaxing day out of this walk.
Below, you can find all the details and our experience when visiting the Schlick 2000 area in Stubai, together with lots of pictures that will give you a better idea of what to expect. And here is a summer map of the Schlick 2000 area that will give you a better idea of where everything is. Read on!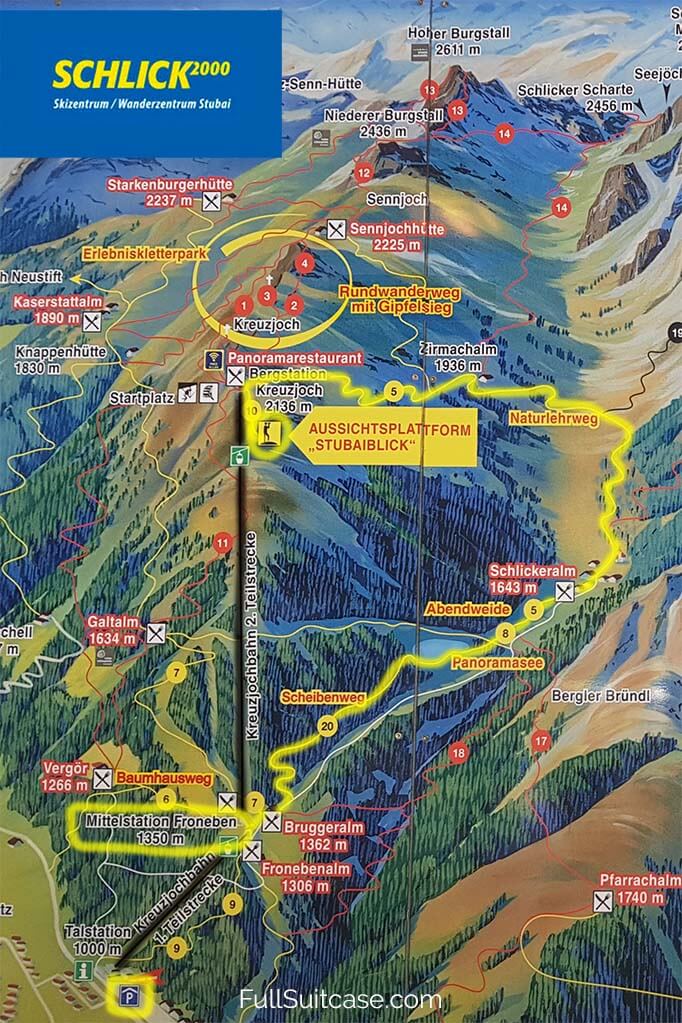 Kreuzjoch Summit Station
Kreuzjoch Summit Station (2.136 m) is the highest place at the Schlick 2000 area that you can reach by cable car in summer.
There is a Panorama-Restaurant Kreuzjoch here and bathroom facilities. Many hiking trails start at Kreuzjoch mountain station and it's also a popular launching place for paragliders.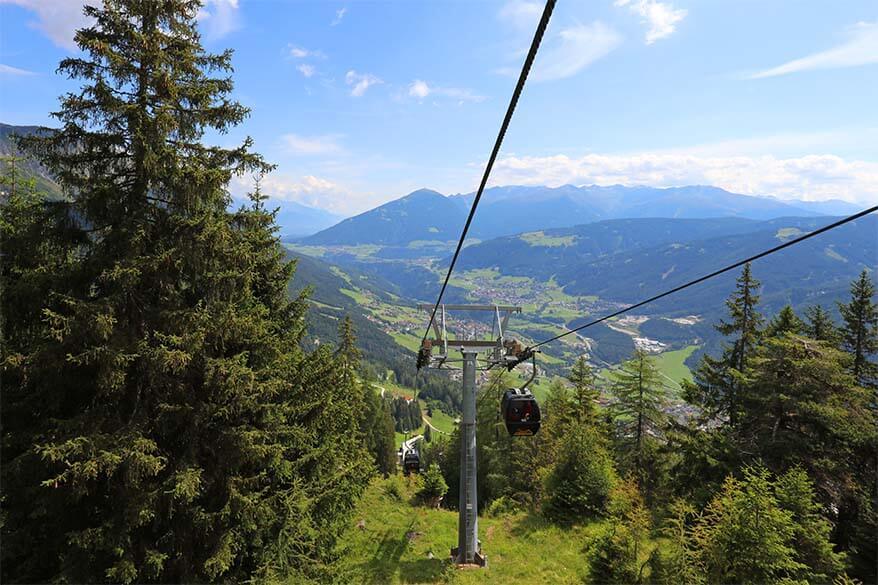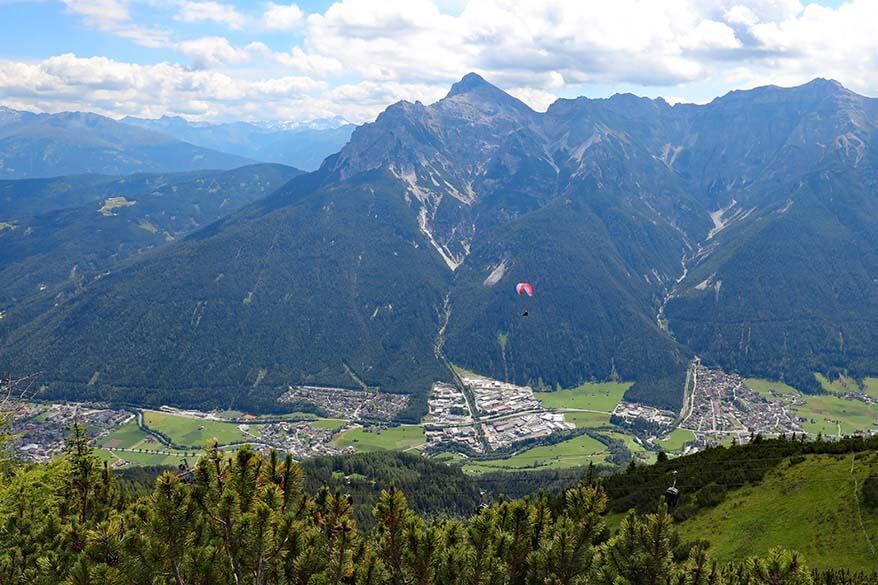 Stubaiblick
Located just a short walk from the Kreuzjoch mountain station (take the Stubaiblick Panorama Trail), the Stubaiblick Viewing Platform offers incredible 360° views of the surroundings.
On one side, you can see the Stubai valley below. On the other side, you have an incredible view of the most beautiful mountain scenery with the famous 7 summits of Stubai. You'll also find informational panels with different stories and local legends about these mountain peaks.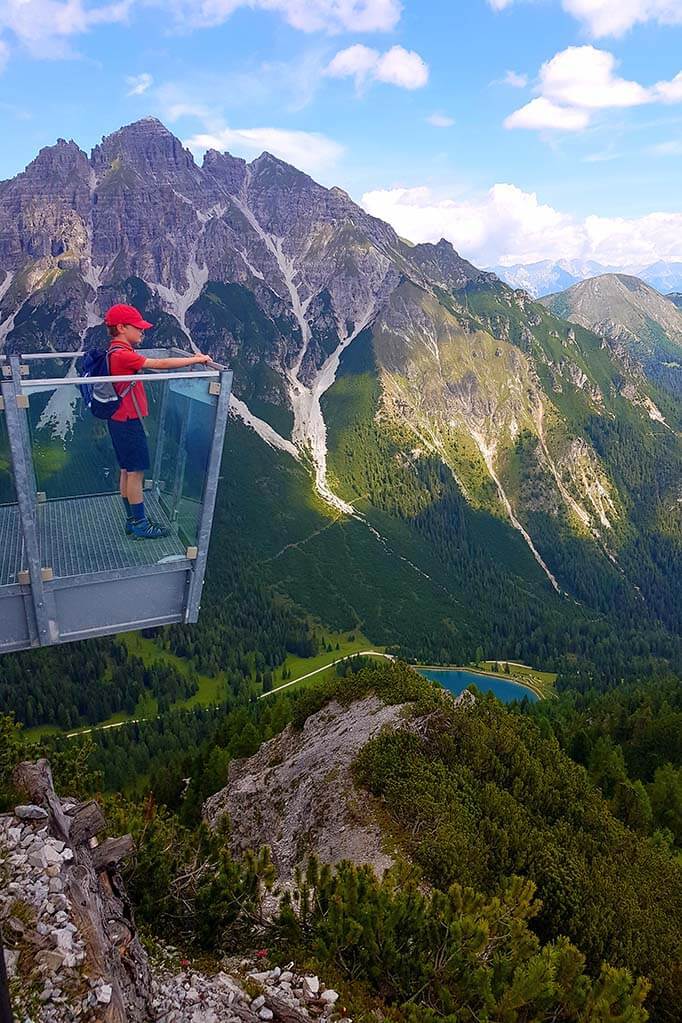 When we walked to this viewing platform, I thought it would be just like so many other similar viewpoints in the mountains. I'm happy to say that I was wrong. This viewing platform is quite special, its construction is very unique, and the views here are truly jaw-dropping. It's well worth a short hike (10-15 min one way) from the cable car station.
Furthermore, along this short route, you'll find some very special benches designed by different artists. These benches and chairs are not just nice places to sit and rest, but also make the walk more fun. You never know what kind of a seat you'll find next. Our kids tried them all! But in order not to ruin a surprise for you, I'm only sharing a few pictures of these cool benches.
After visiting the viewing platform, take the same path back to Kreuzjoch mountain station. From there, start your hike downhill all the way to the middle station Froneben.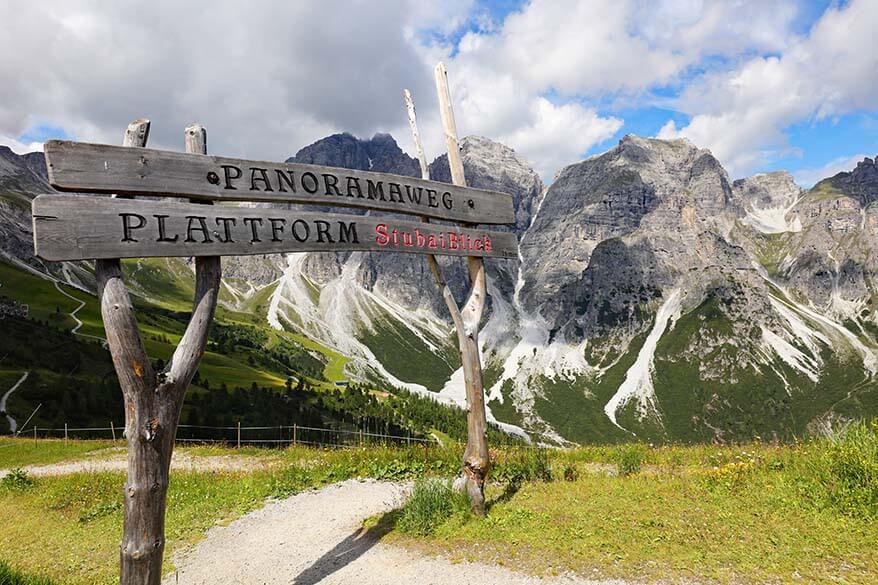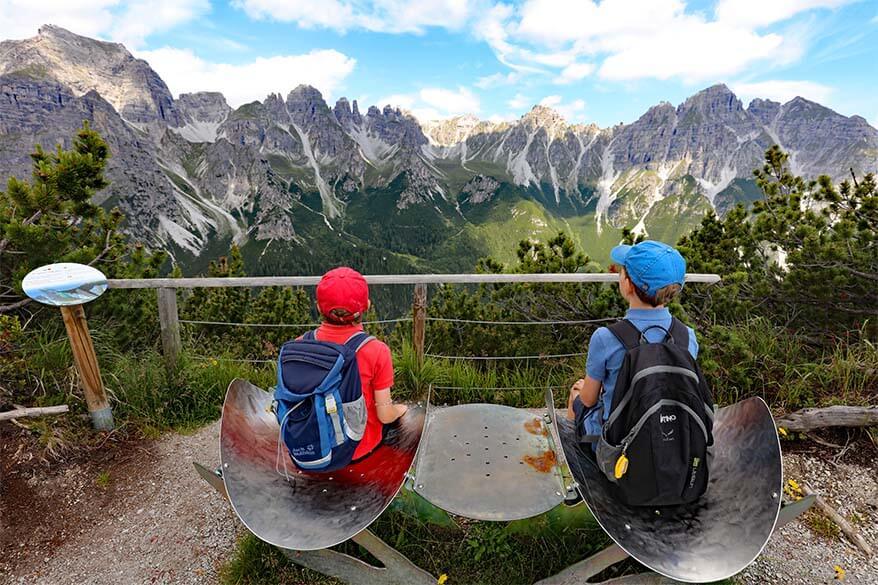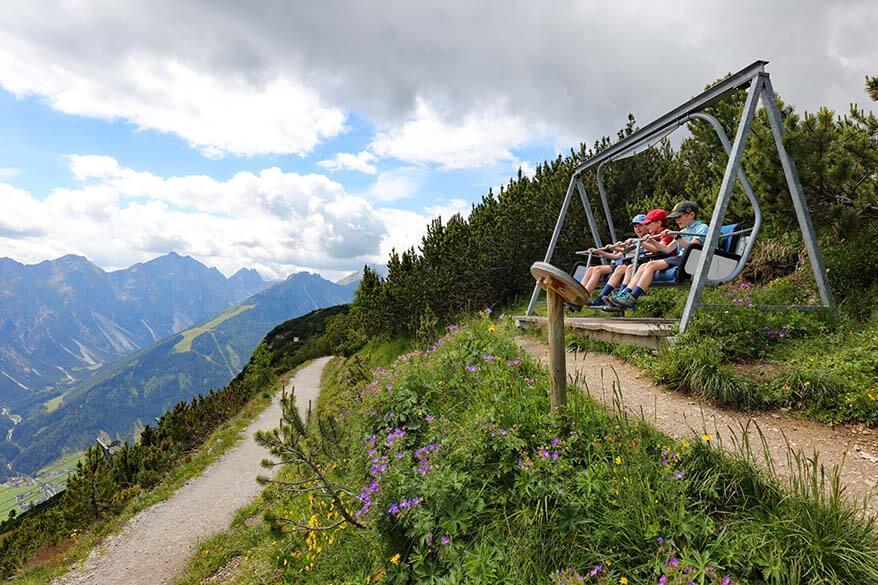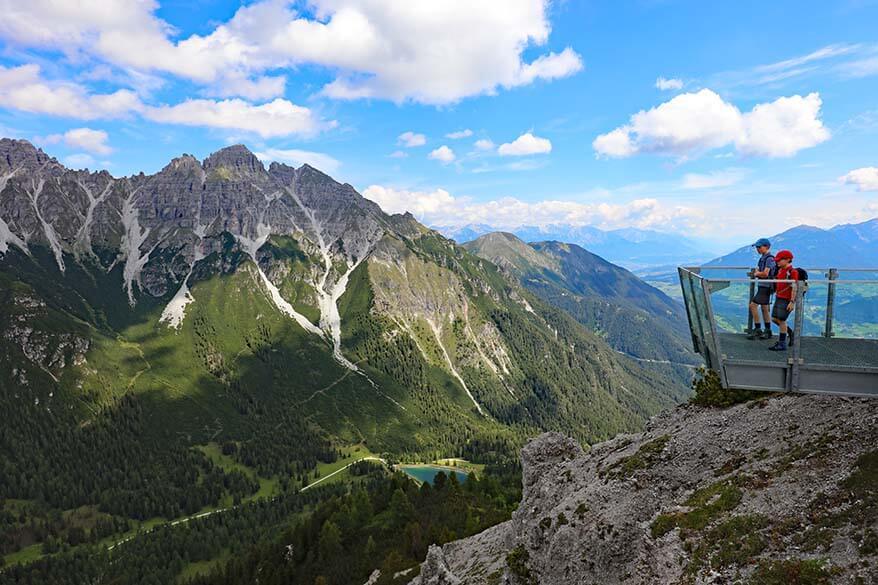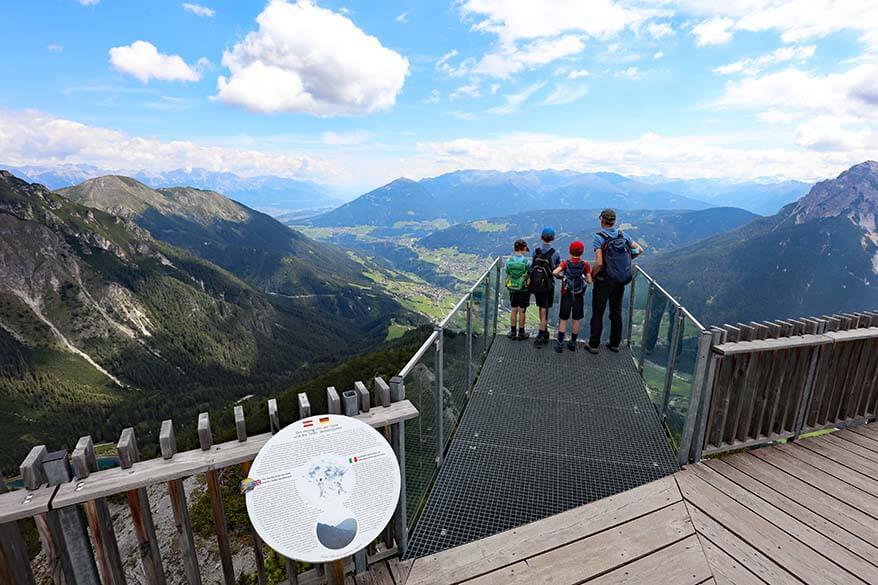 Hike from Kreuzjoch Summit Station to Schlickeralm
There are many hiking possibilities at the Kreuzjoch mountain station (see the map above). But if you are looking for rewarding views and an easy hike, the very best option is the so-called Nature Trail, also indicated as the Panorama Trail.
This is an easy downhill hike that passes through alpine meadows full of wildflowers and offers great views of the famous seven summits of Stubai. The trail is gravel and it's even suitable for strollers (with big wheels). We saw quite a few families hiking here with young kids in a stroller.
But don't let this mislead you in any way. The fact that this trail is easy doesn't necessarily mean that it's not as nice as the more difficult alpine hikes in the area! This hiking trail proves that you don't always need to 'earn' the views. It's easy, it's fun, and it's very rewarding.
The path splits several times, but indications are quite good. Just follow the signs for 'Panorama Trail' or 'Panoramasee' (Panorama Lake). As you hike, you can recognize places where ski runs would be located in winter. It looks like a stunning area to go skiing – wide runs and fantastic views!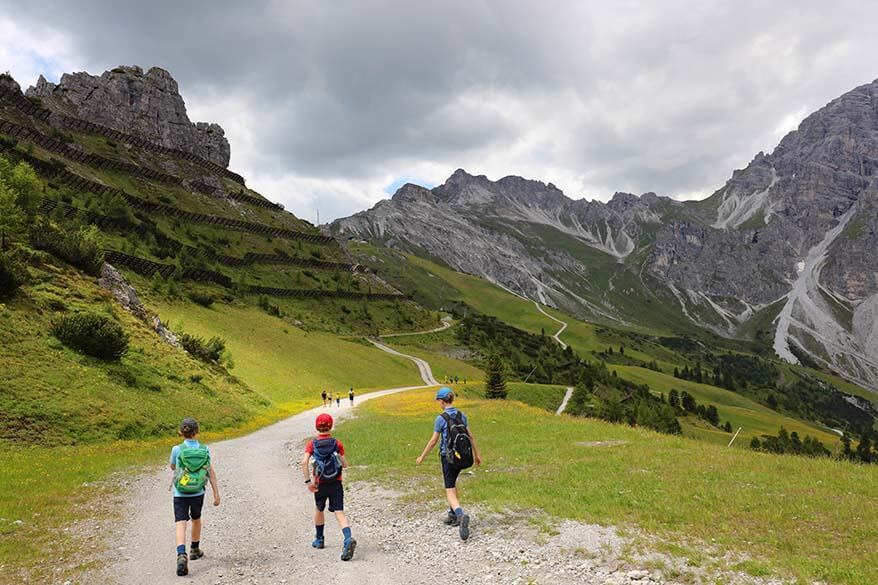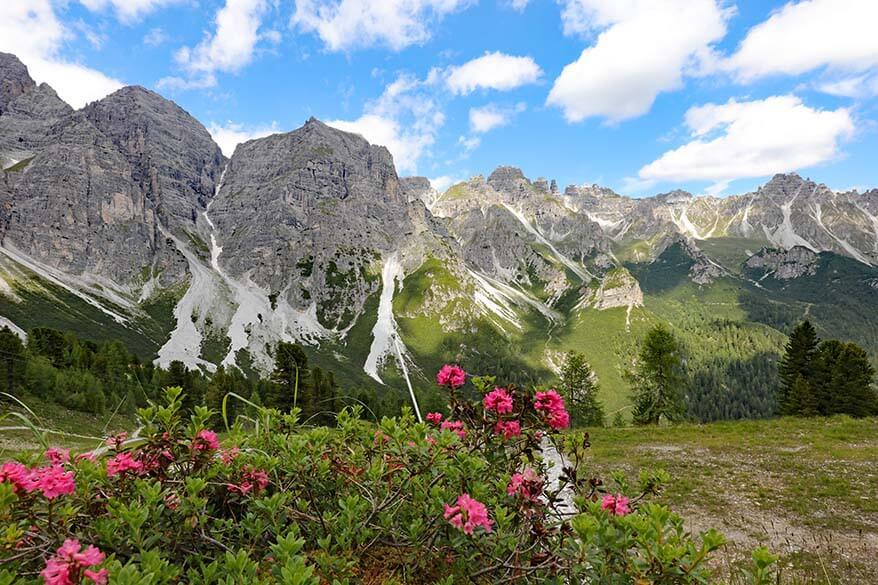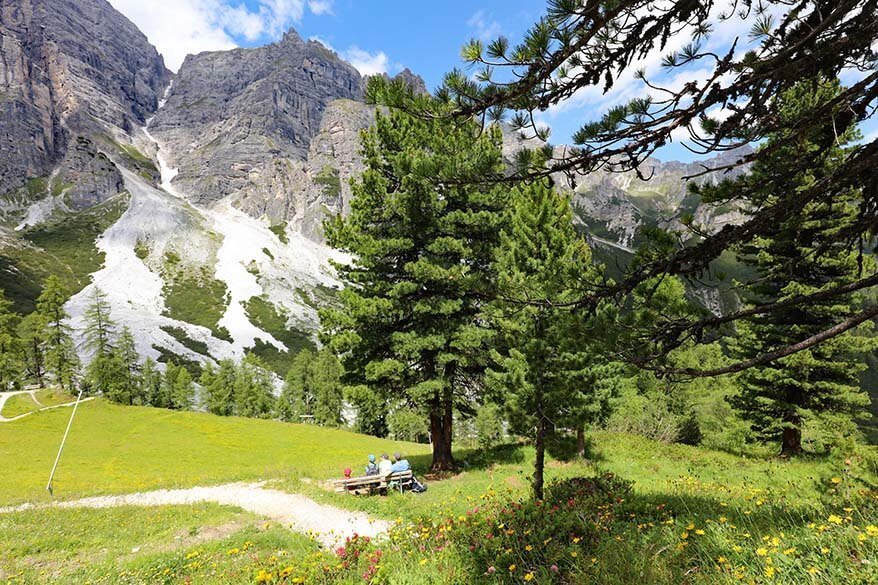 This hike is called Nature Trail for a reason – along the way, there are many informational panels explaining more about the flora and fauna of the Austrian Alps. It's fun for the kids, but also quite informative for the adults.
There are also lots of benches along this route, some explicitly 'reserved for children'. So take your time to sit down and enjoy the stunning surroundings! If you bring your own picnic, pick a bench with the best views and enjoy it! Alternatively, you'll find several mountain huts where you can have the best Tyrolean specialties for lunch.
Good to know: As already mentioned in the overview, this first part of the hike, from the Kreuzjoch mountain gondola station to Schlickeralm mountain hut will take you about 1.5 – 2 hours. We had a picnic lunch and made many photo stops along the way and did about 1.5 hours for this part.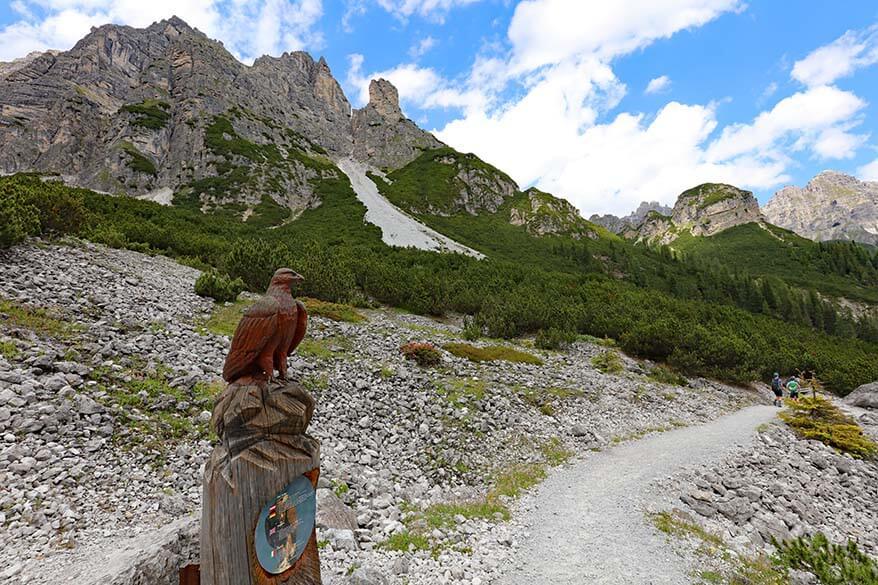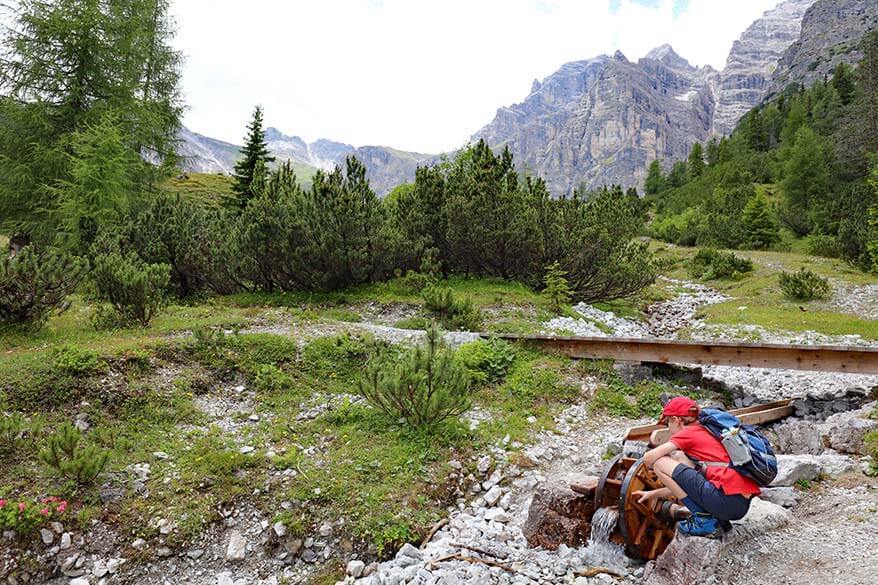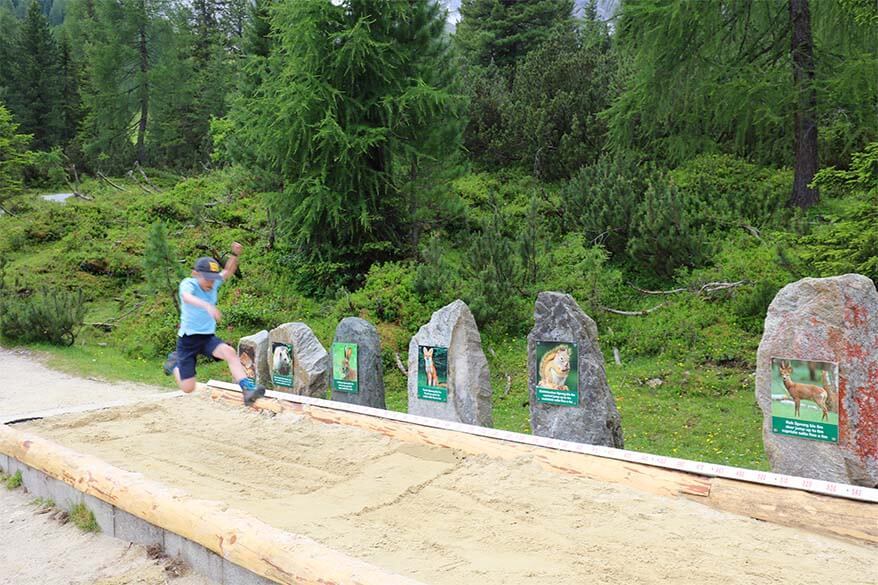 Schlickeralm
At Schlickeralm, you'll find a mountain hotel and restaurant and a nice little chapel that you can visit. Just past the hotel you will find a small playground for kids and also some farm animals. There are also quite some cows in this area – a typical Alps scene.
A bit further down the road after you pass the restaurant, there is a zip-line for kids. It's on the left side of the road, just before the road splits to Abendweide. Don't miss it if you are hiking at Schlick 2000 with kids.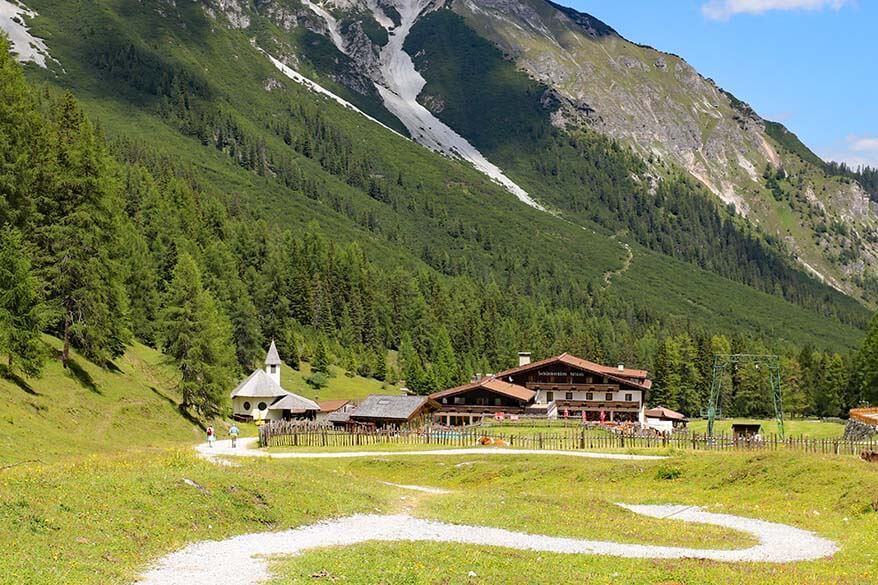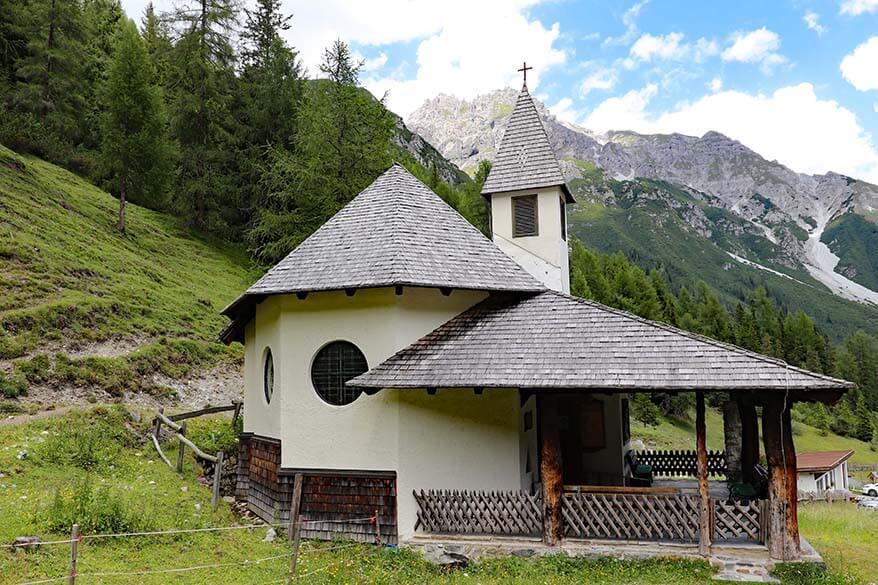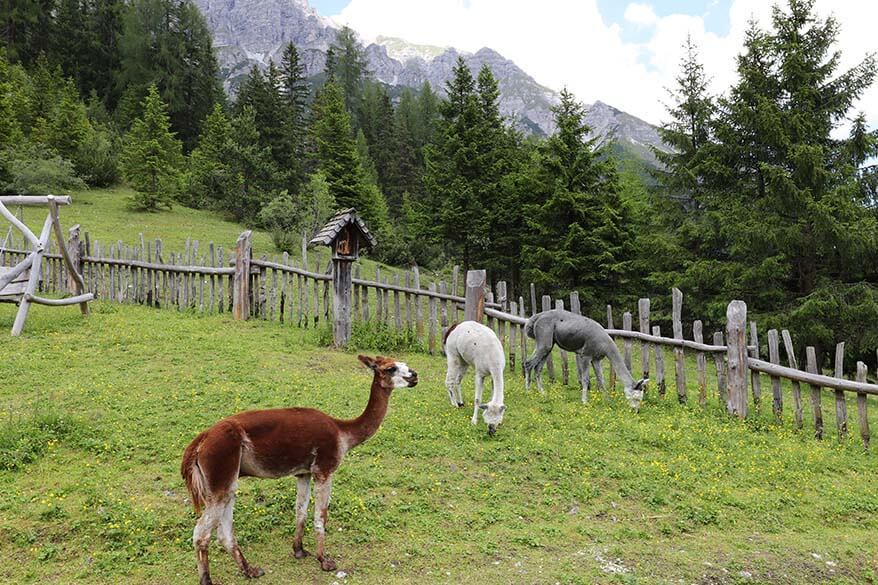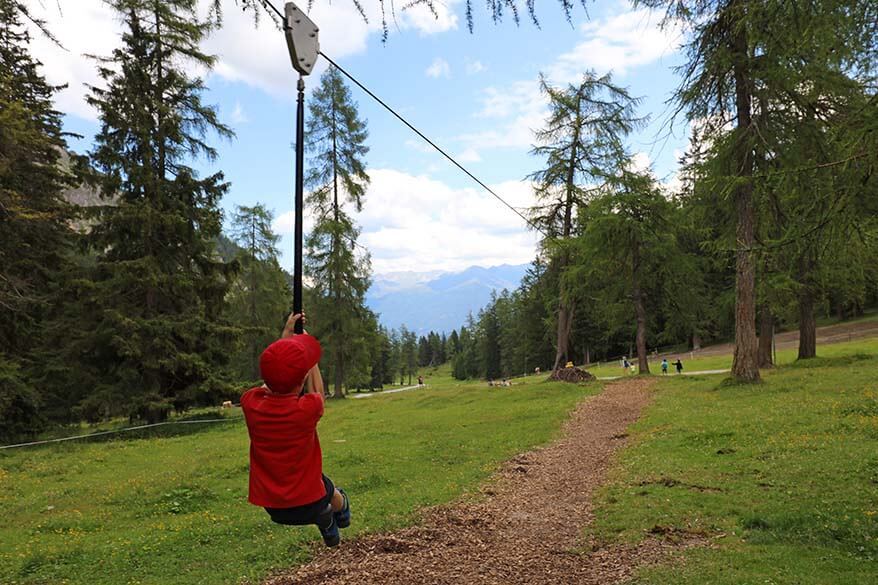 Abendweide
Just past the zipline, the road splits. You can either take the wide gravel road straight or turn off to the right to the Abendweide – Wed der Sinne hiking trail.
This is another educational trail for families with kids where they can learn more about senses. It's just a very short detour and well worth it.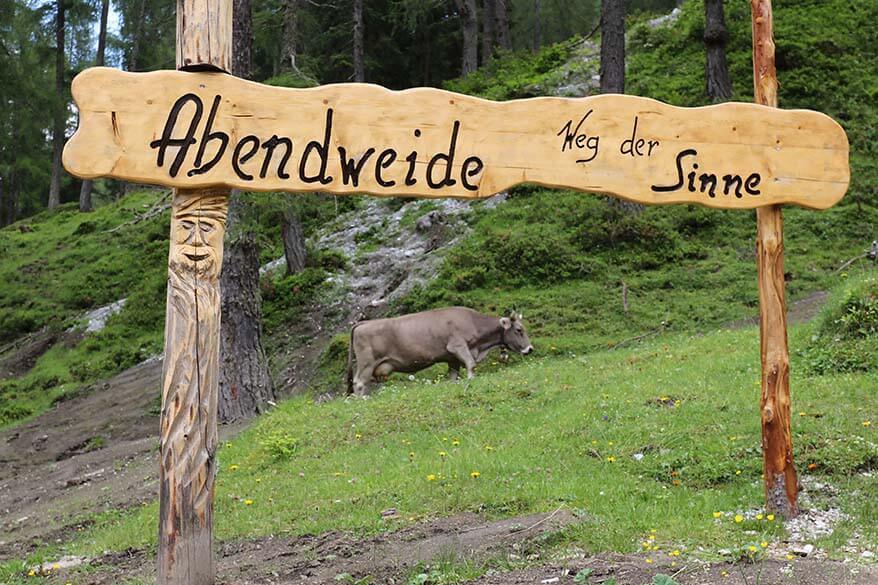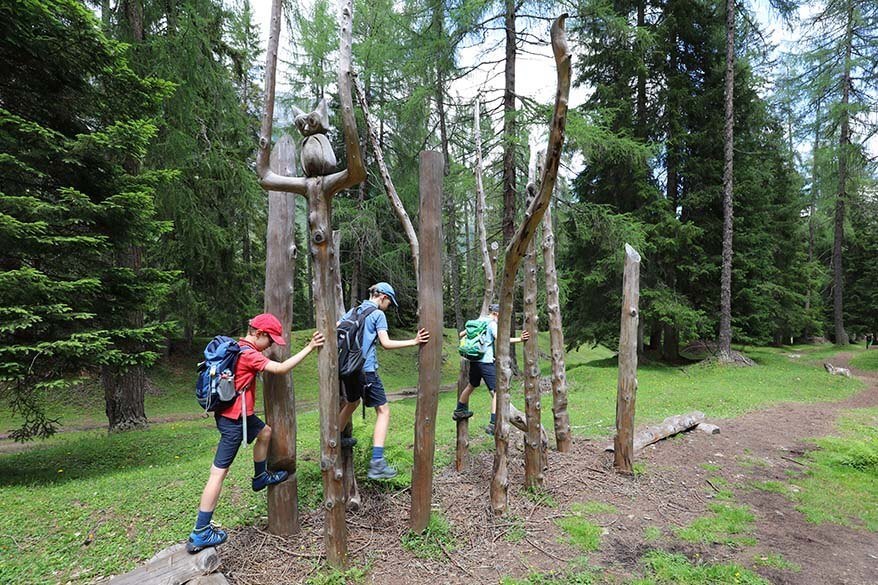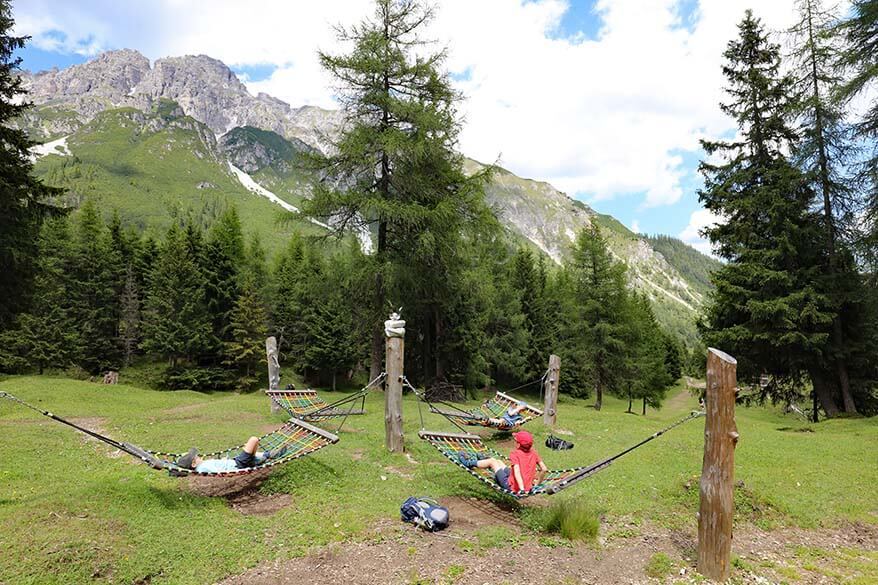 Panorama Lake and Scheibenweg
As you walk further, you'll reach Panorama Lake (Panoramasee). It's a small lake that you can easily hike around in a matter of just a few minutes. The reflections here are stunning!
After Panorama Lake, the trail leads downhill through the forest. This is the so-called Scheibenweg. We didn't know this in advance, but you can borrow wooden disks at the cable car ticket office, and use them along this trail. It looked like so much fun for the kids!
TIP: If you are hiking at Schlick 2000 with children, make sure to ask for these wooden disks ('scheiben') before you take the cable car up.
Good to know: The hiking trail from Schlickeralm to the Kreuzjochbahn middle station Froneben takes about 1-1.5 hours, depending on how many stops you make along the way.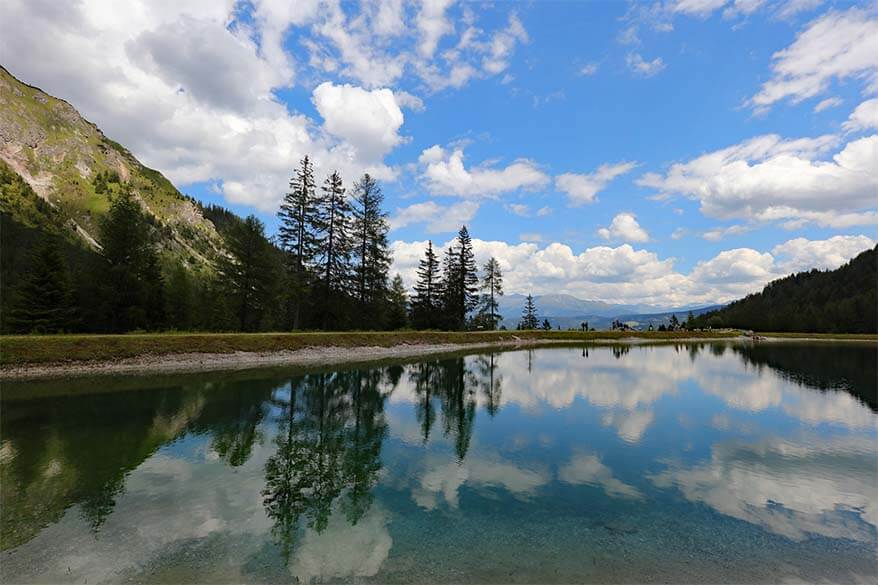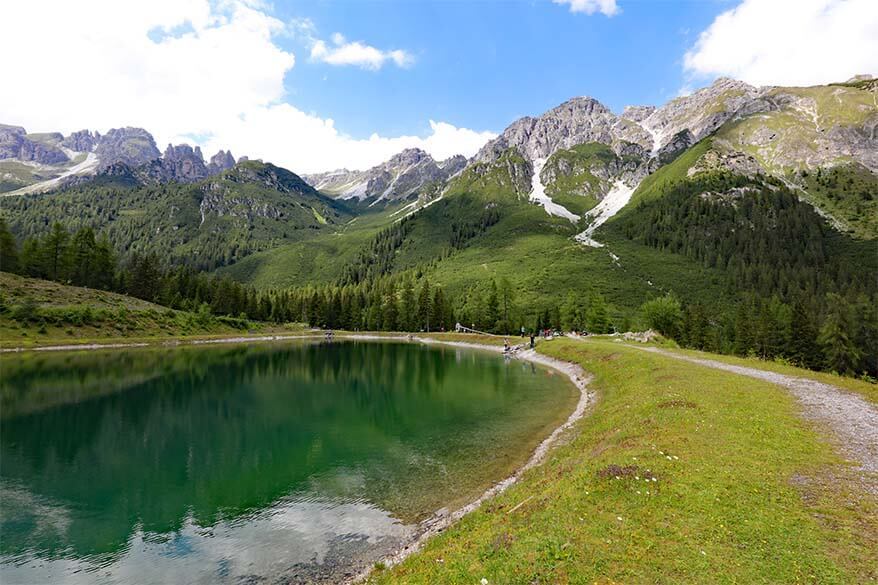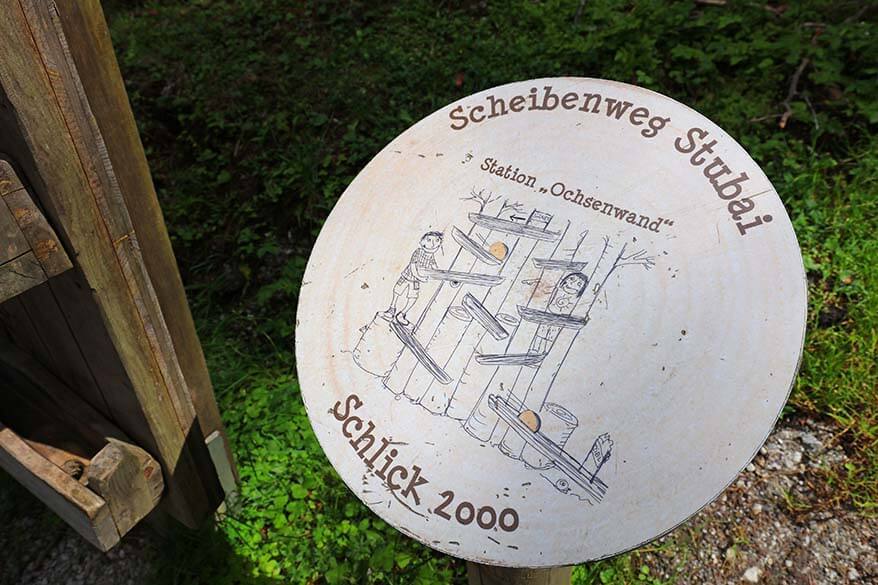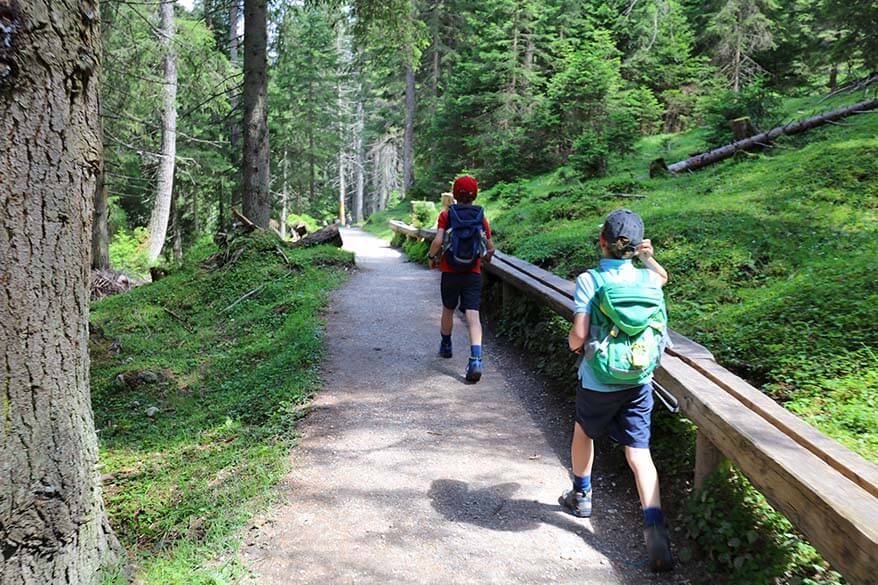 Bruggeralm
At the end of the Scheibenweg, you'll reach the Kreuzjoch middle cable car station Froneben. There is a mountain hut/ restaurant Bruggeralm here.
If you walk a bit further down, you'll find another restaurant Fronebenalm.
We found that this was a great place to rest after a long hike and stopped at Bruggeralm for some drinks, ice cream, and Kaiserschmarrn.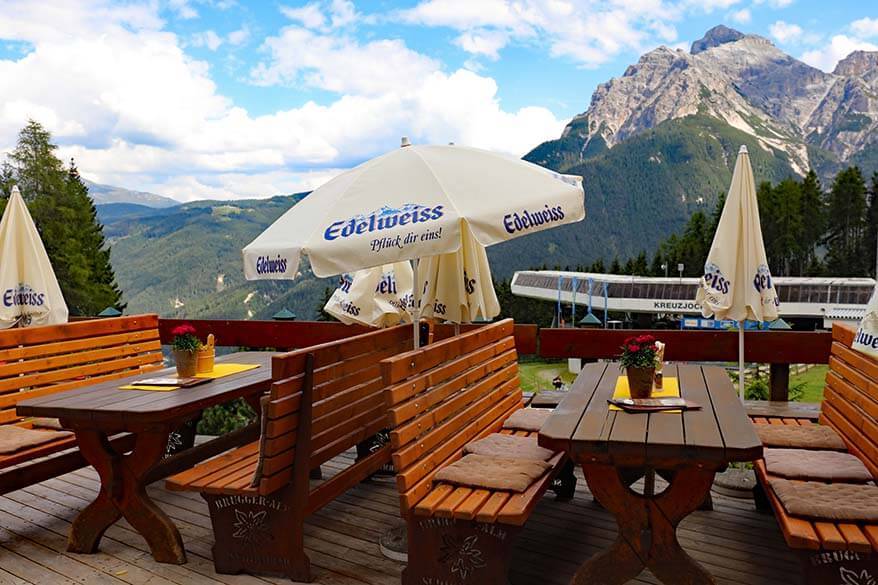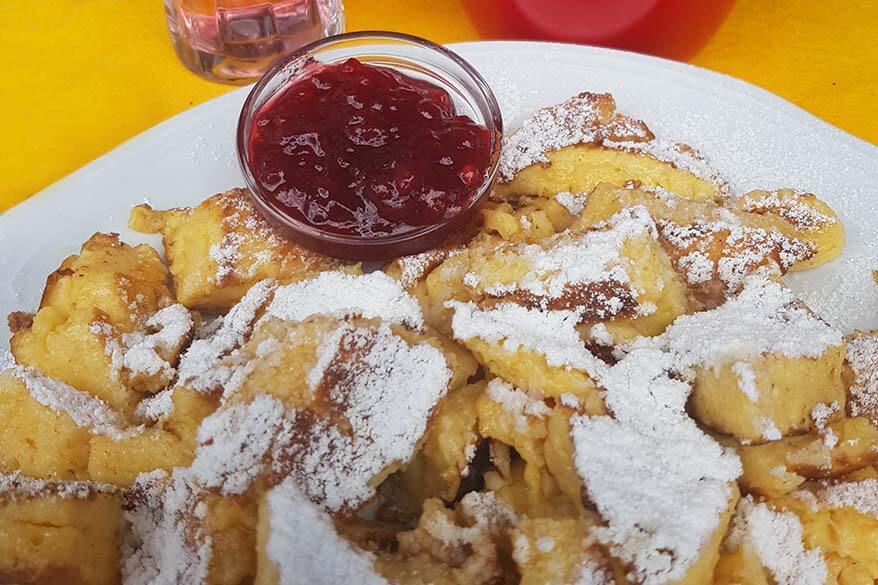 Stubai Tree House Trail
After this break, we went to check out the Stubai Tree House Trail at Schlick 2000. This hiking path has several really nice wooden playgrounds/ tree houses that are great fun for the kids.
However, the entire trail would take about 1 hour hiking time (plus playtime for kids), and it ends at the Vergör mountain hut about 100 meters lower than the middle cable car station and about 260 meters higher than the valley station. So doing this trail would mean that you either have to hike back up to the cable car at Froneben or hike down to Fulpmes village below.
Either way, it would add about 2 hours to your day at Schlick 2000. That's why we only did a small part of this trail and then walked back up to the cable car for a ride back down to the valley. But if you have no other plans for the day, it's absolutely possible to do this.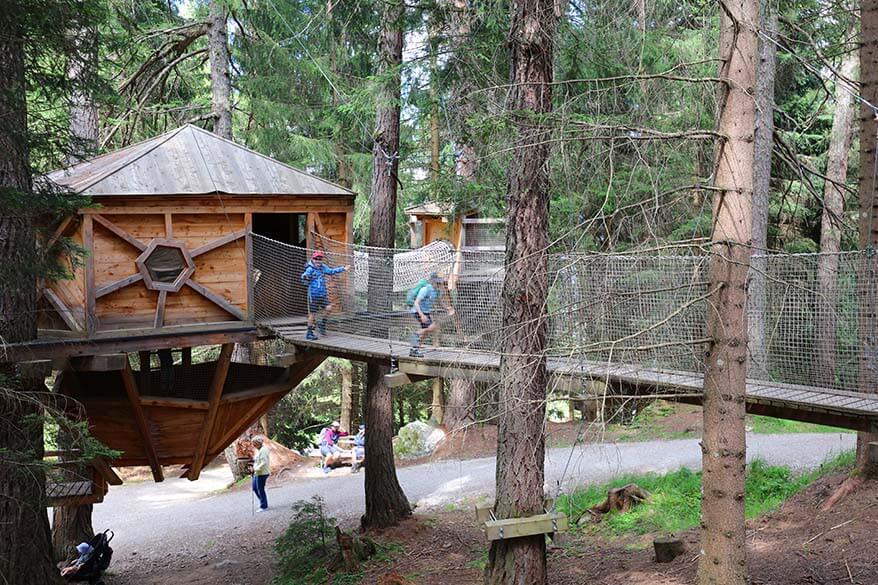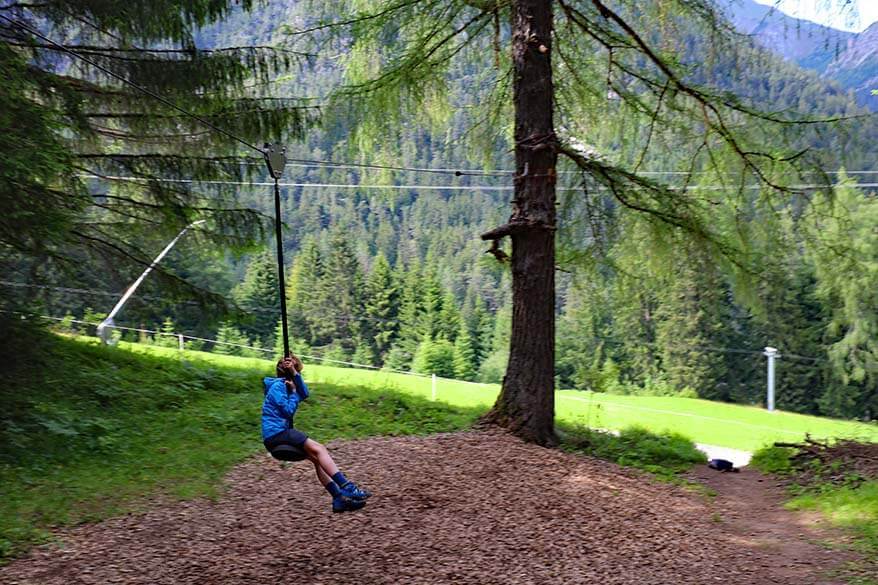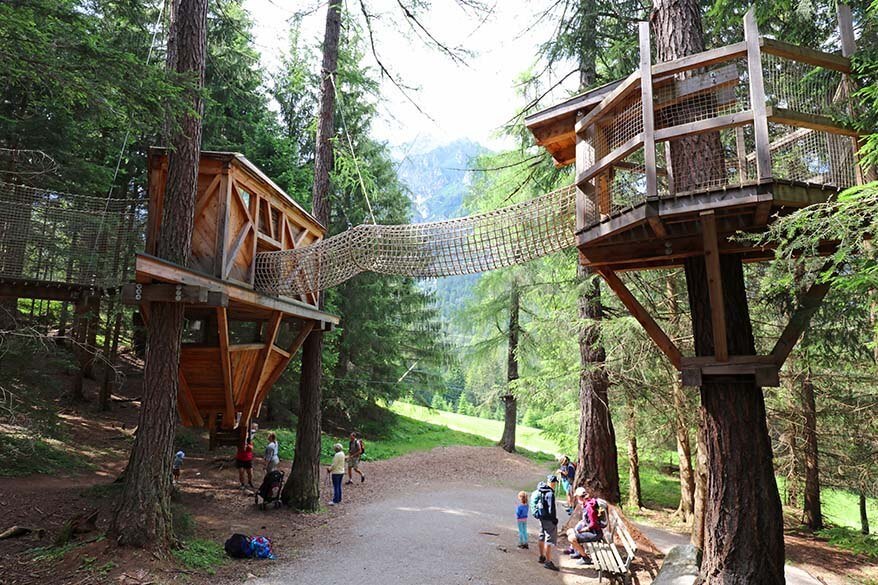 So, this is our guide to Schlick 2000. This area has everything for a fun summer day in the mountains – jaw-dropping views, beautiful hikes, and plenty of great activities. It was one of the nicest days of our summer vacation in Tirol.
If you have any questions about visiting Schlick 2000 in summer, feel free to leave a reply below and I'll try to help.
Make sure to also check our guide to Stubai in summer and our article about visiting Stubai Glacier – Top of Tyrol, which is a must-see in this area!
More travel inspiration for Tyrol:
If you found this post useful, don't forget to bookmark it and share it with your friends. Are you on Pinterest? Pin these images!