When researching the nicest hikes in Zermatt, Switzerland, you'll likely stumble upon the 5 Lakes Hike. But what exactly to expect and is this hike worth your time? This guide and photos will give you a good idea of the scenery you get to see along the 5 Lakes Trail in Zermatt and what the trail is like.
The 5 Lakes Hike (5 Seenweg) is a very popular hiking trail in Zermatt. Just as the name suggests, the 5 Lakes Walk takes you to five mountain lakes: Stellisee, Grinjisee, Grünsee, Moosjisee, and Leisee.
Each lake is very different in size and color and also the scenery around them. One thing is constant throughout the entire hike – the most amazing views of the surrounding mountains and the Matterhorn. In addition, you can also go for a swim at two of these lakes and turn this hike into a fun and relaxing day excursion.
However, it's also quite a long hike and it does have a few somewhat steeper sections. And when your time is limited and you have to choose from so many great things to do in Zermatt, you might wonder if it's actually worth it…
In this guide, you can find all the practical information about this hike, a map, lots of photos, and our experience-based tips and useful info you should know before you start. Find out!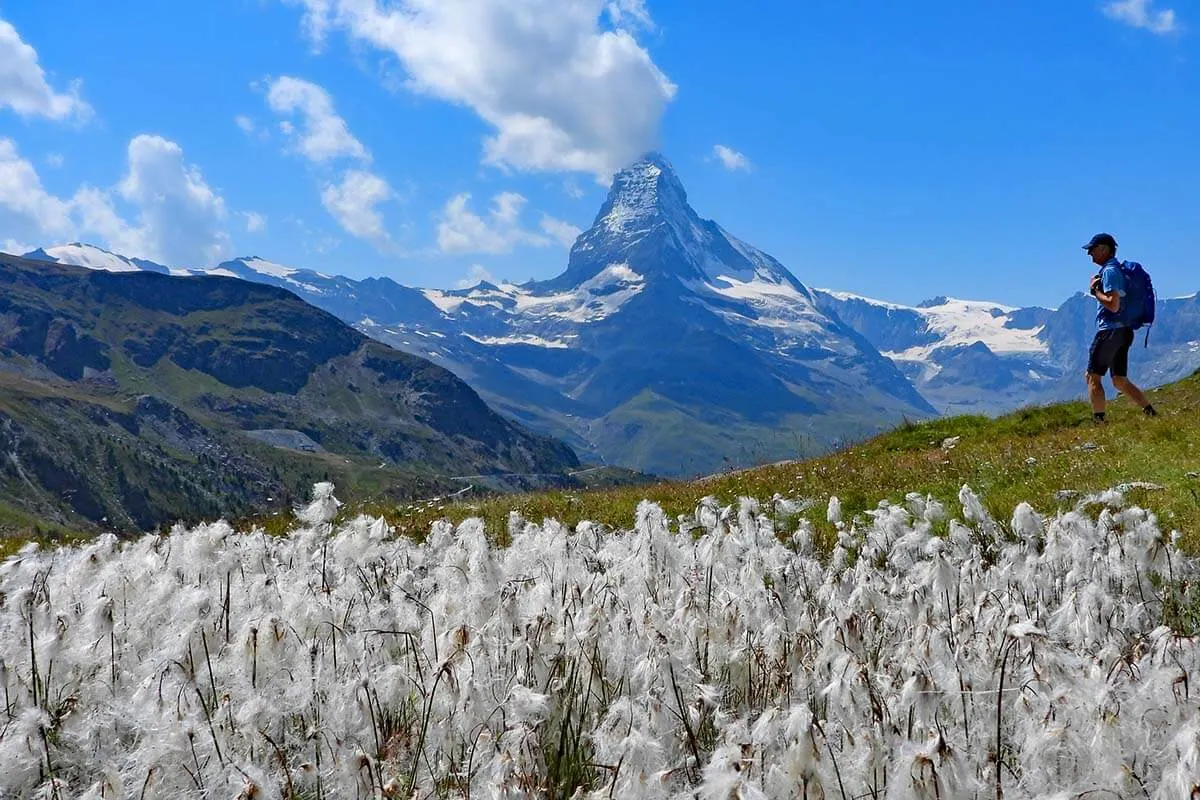 5 Lakes Hike in Zermatt – Overview: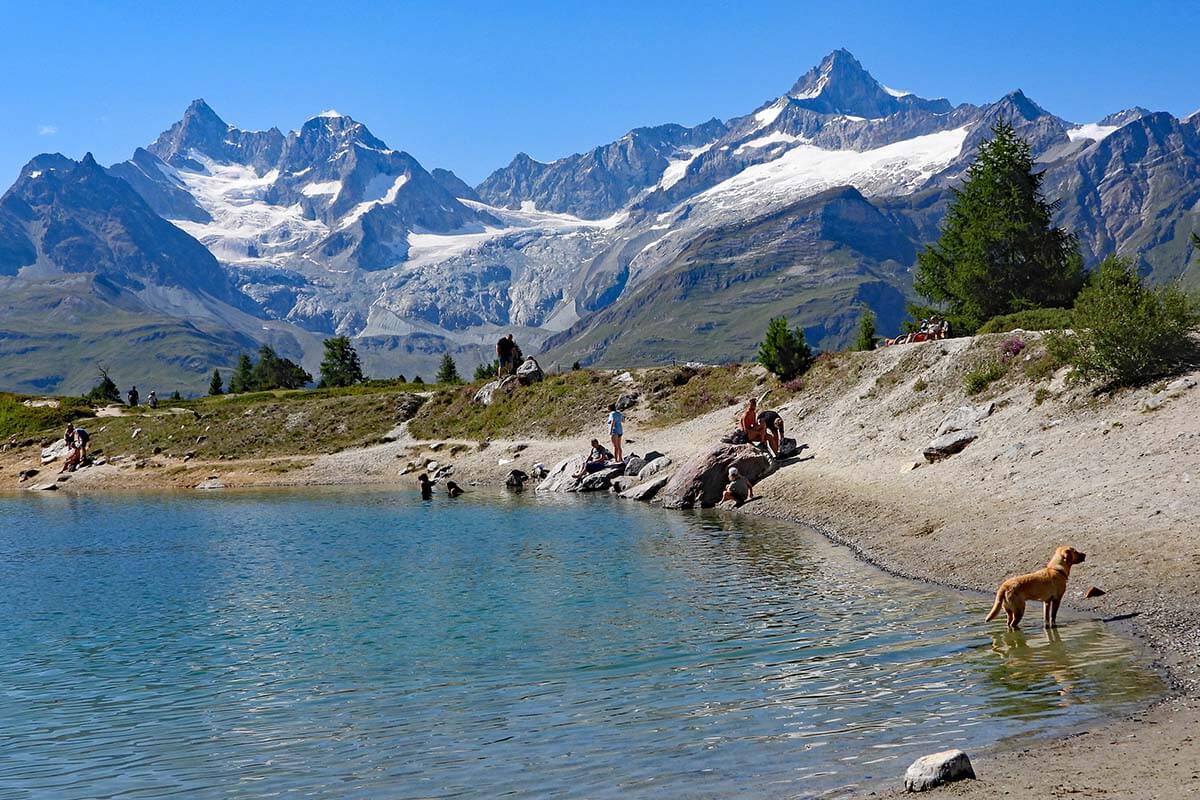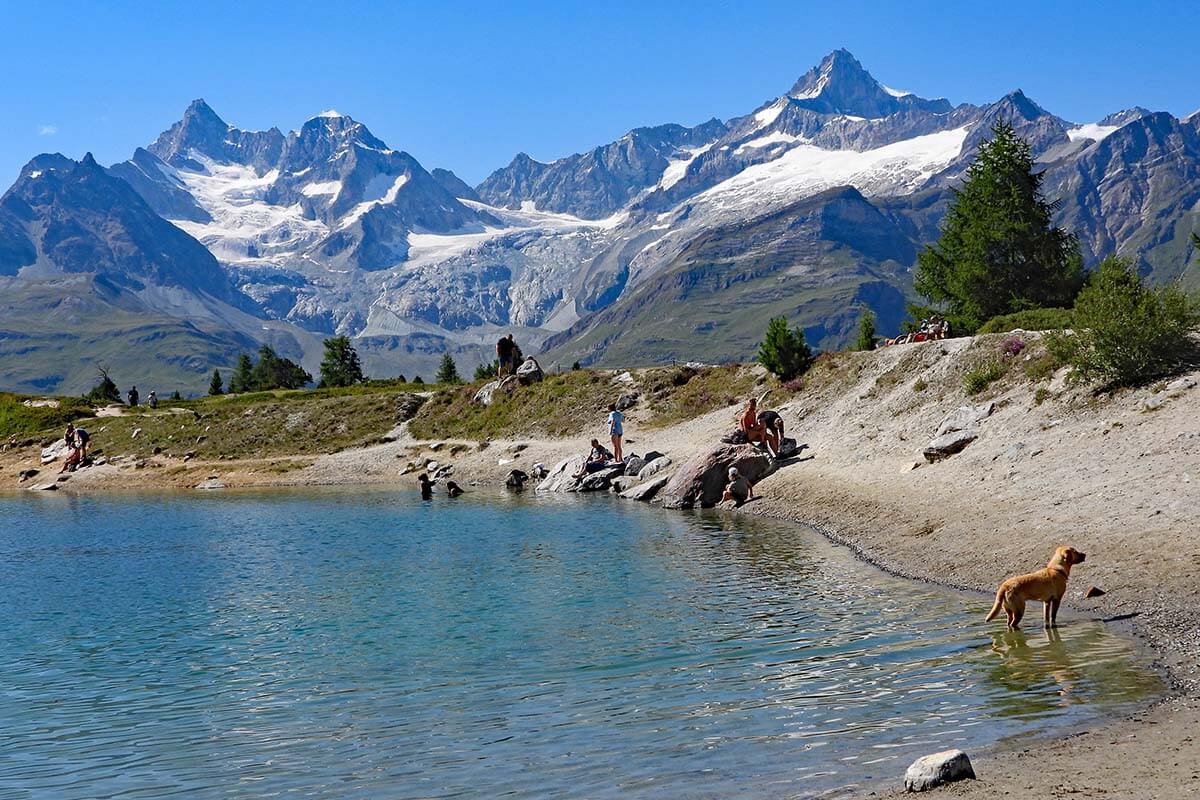 How to Get There & Map
The Five Lakes hiking trail starts at Blauherd cable car station (Rothorn area in Zermatt). You can reach it by taking an underground funicular from Zermatt to Sunnegga, followed by a gondola from Sunnega to Blauherd.
Below, you can see the map of the 5 Lakes Hike. It's indicated with a red line and no. 11. The yellow line indicates the Crystal Trail (hike no. 7) that you could do in addition to this trail if you have more time. You can find some additional info about this hike at the bottom of this article.
You can't see it very well on the map, but there are lots of hiking trails and also gravel roads in this area. This makes it quite easy to expand or shorten this hike.
We did the hike pretty much exactly as indicated by the hiking signs, but cut one corner at the end. There are several other places where you can do this and save some time while still visiting most of the lakes.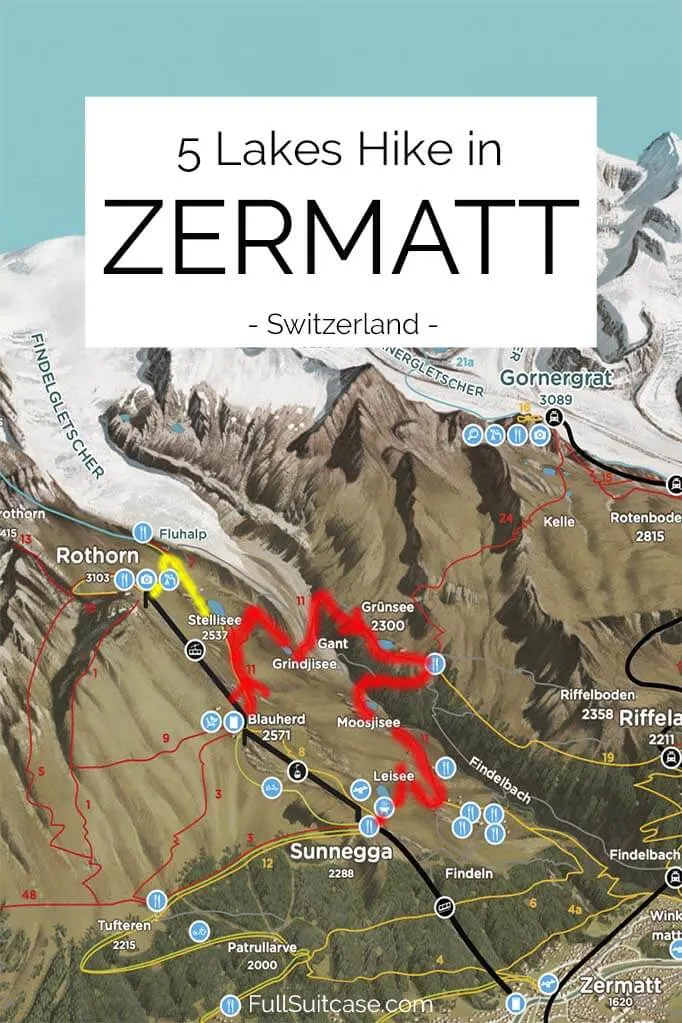 Best Time to Visit
Keep in mind that due to the high altitude, you can only do the 5 Lakes hike in summer; weather permitting from around June through September.
Without any doubt, the best time to do the 5 Lakes trail is early in the morning, preferably on a sunny summer's day! That's when the water of the lakes is usually calm and you can see the most beautiful reflections of the Matterhorn and the other mountains.
There will also be fewer people here in the morning increasing your chances to see wildlife (mostly marmots).
Our experience: Because of the less-than-favorable weather forecast for the next days of our visit, we did the 5 Lakes hike in the afternoon. We got here quite late – at 2 pm – after visiting Gornergrat (including hiking the Gornergrat Scenic Trail + Riffelsee) and going to Rothorn peak first.
It was still nice and we enjoyed the hike and the scenery, but it was definitely not ideal. Because we had to be sure not to miss the last funicular to Zermatt, the hike felt quite rushed. Also, in the afternoon, the light was really bad for pictures, not even to mention the reflections (none, of course) and the crowds (busy, obviously).
Of course, you can't be everywhere at the best possible time, so you just make the best of the situation. But if you can choose when to do this hike, try to come here as early in the morning as possible. The funicular to Sunnegga from Zermatt starts running at 8-8.30 am depending on the season. On the other hand, if you want to go swimming, it will be much warmer later in the day than in the morning.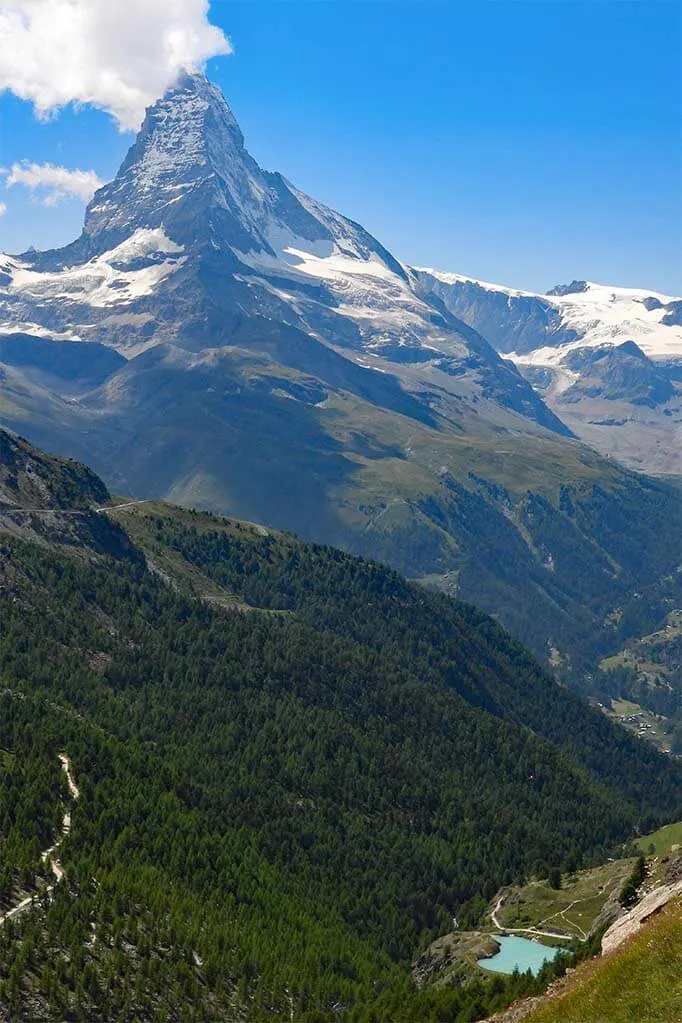 5 Lakes Hike in Zermatt: Description & Photos
The 5 Lakes Trail starts at the Blauherd cable car station. This is the one before the last station on the Sunnegga – Rothorn gondola line. If you have a ticket that allows you to visit Rothorn, you can head there first before starting this hike. A visit to the peak only requires 10-20 minutes, so it's something you can easily do in addition to the hike.
Anyway, back to 5 Lakes Hike.
Once you exit the cable car at Blauherd, walk in the direction of Fluhalp (the opposite side of the Matterhorn). There are yellow signs indicating '5 Seenweg' everywhere along the trail, so you can't really go wrong.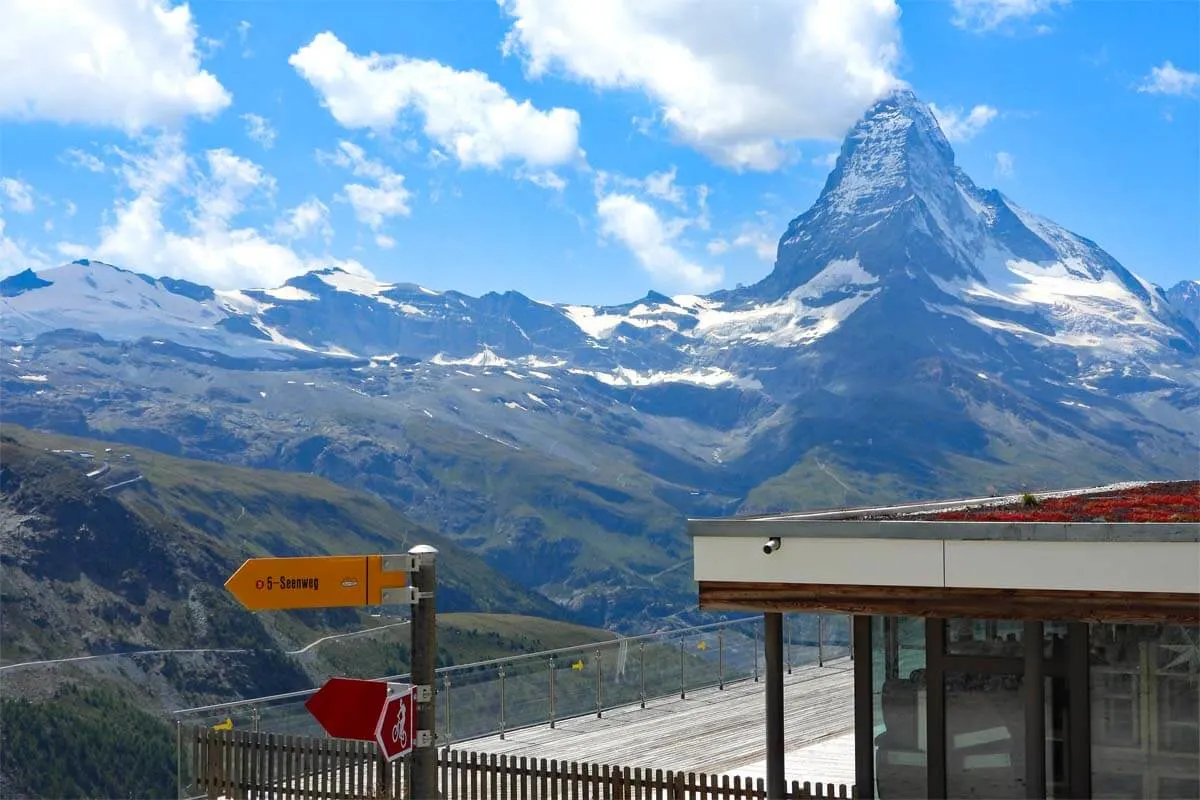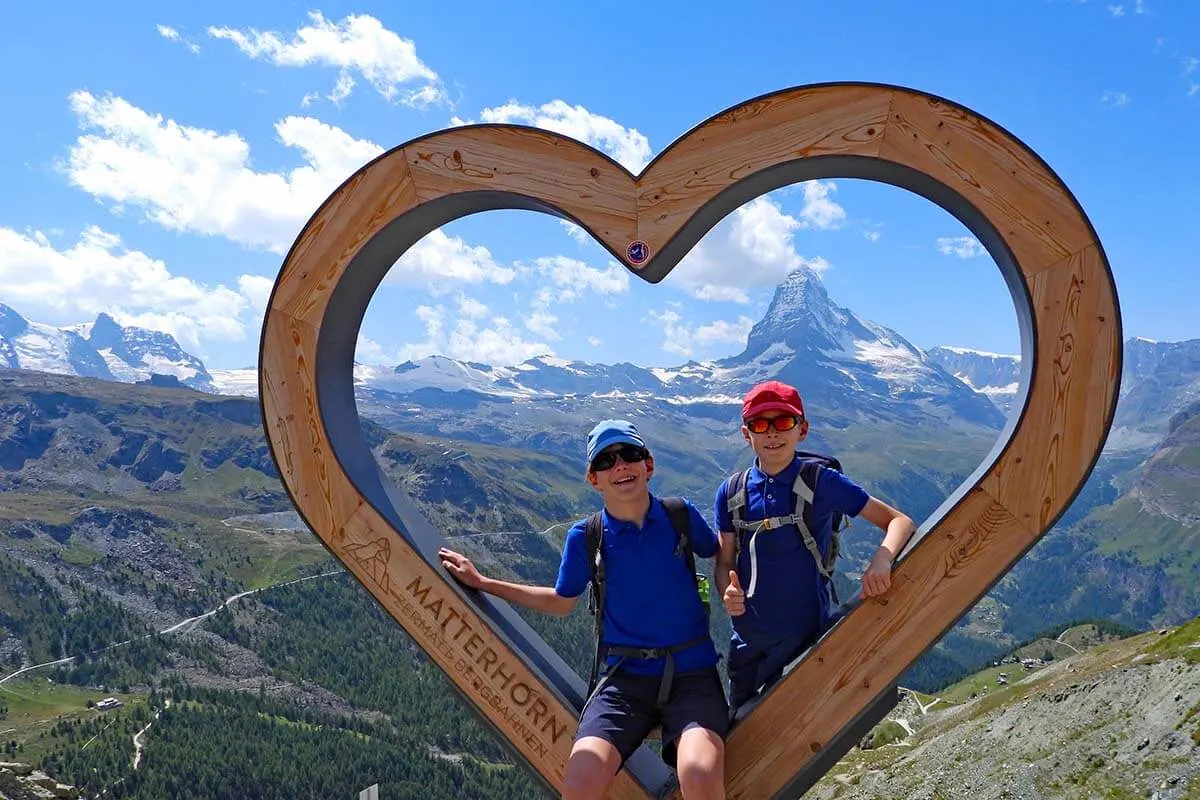 Blauherd to Stellisee
Even though the 5 Lakes Trail is mostly a downhill hike, the first section actually takes you a bit higher than you started. In about 15-20 minutes, you reach the first lake of this hike, Stellisee.
Stellisee is probably the most photographed of all the five lakes. The reason is quite simple – you can often see the most beautiful mirror images of the Matterhorn here AND it's just a short walk from the cable car. So if you can get to just one lake for the reflections in the morning, make it this one.
Good to know: Leisee can also have nice reflections and it's also close to the cable car station (at Sunnegga), but it's not as picturesque as Stellisee.
The first part of the trail is really easy and mostly flat. Once you reach the lake, you can take some time to walk around it (the best view of the Matterhorn can be seen from the other side). Here, you could also opt for a detour to the Fluhalp mountain hut. It looks really picturesque and they have a nice restaurant and a terrace where you can have cake with a view of the Matterhorn. However, this detour is not part of the 'official' 5 Lakes trail and so it will add quite some time to the total duration of your hike.
We didn't do this, and just followed the official route, so I can't comment on how much longer the hike would be if you first go to the hut, but from the way it looked, I think it would likely be 45-60 minutes extra hiking time. The good thing is that you don't have to come back the same way and can reconnect with the 5 Lakes trail further down the road.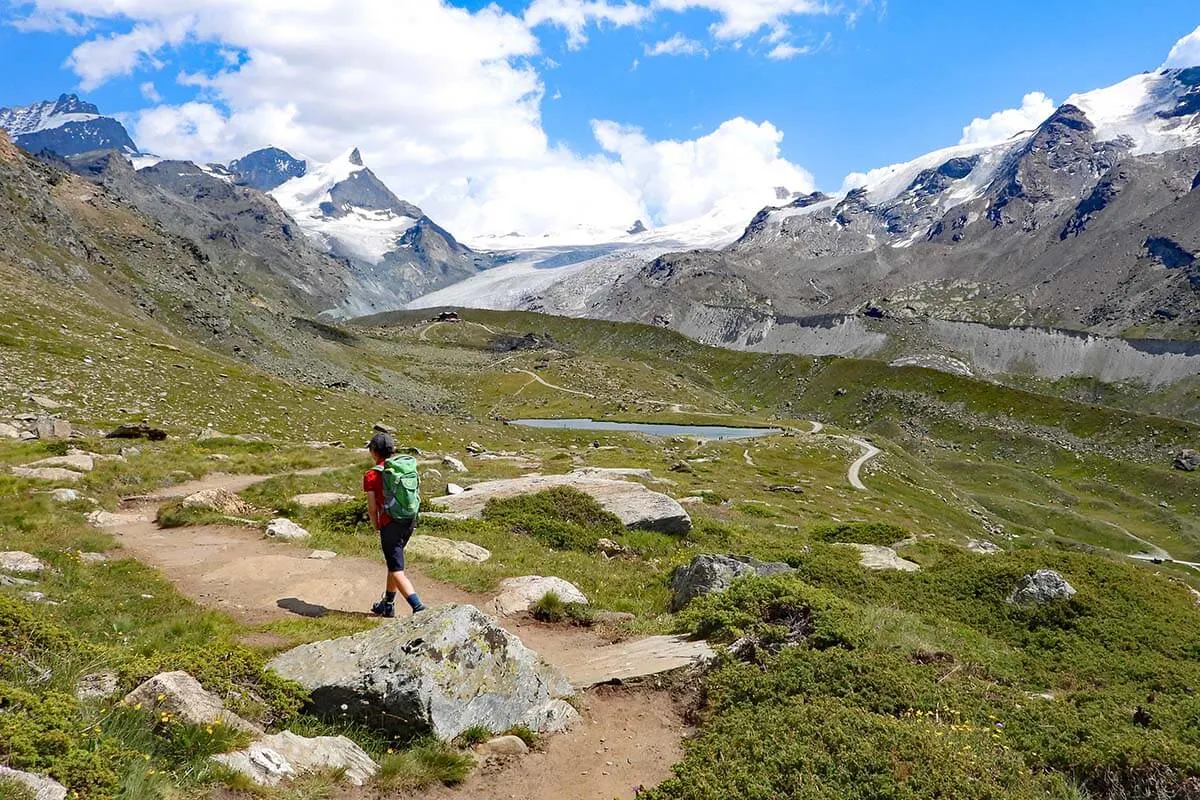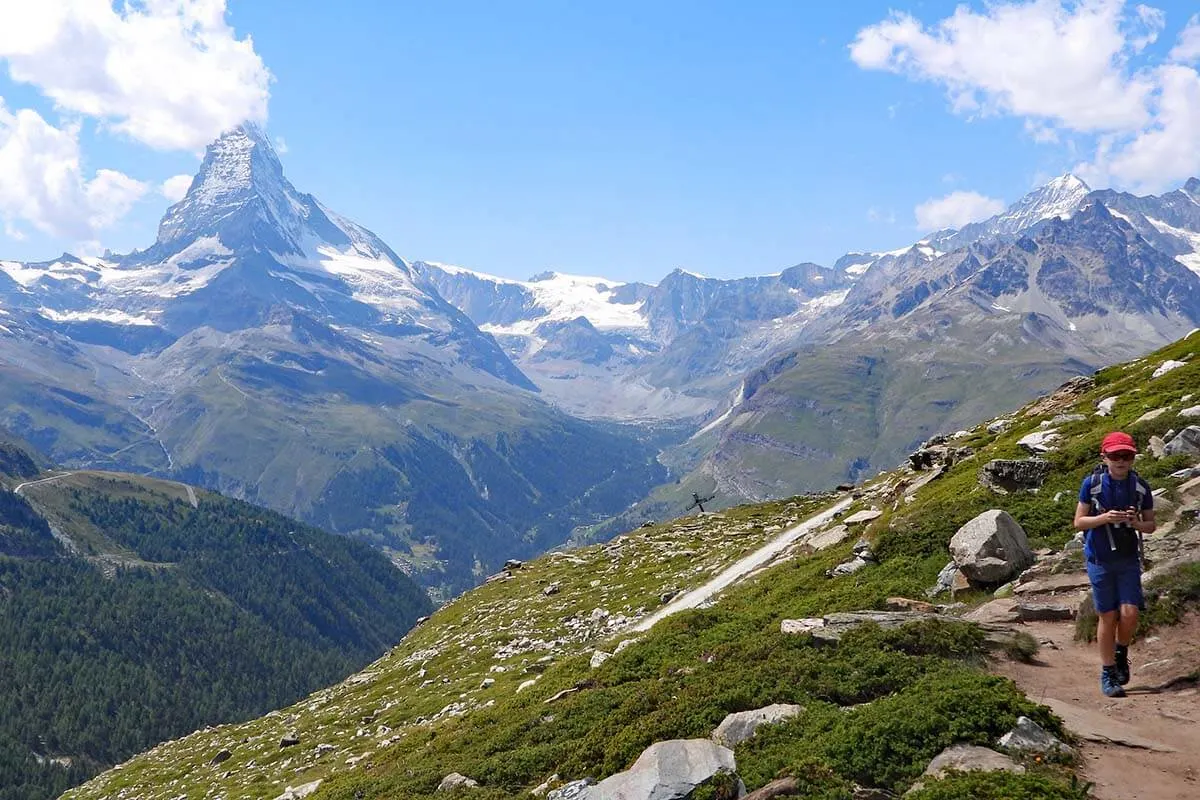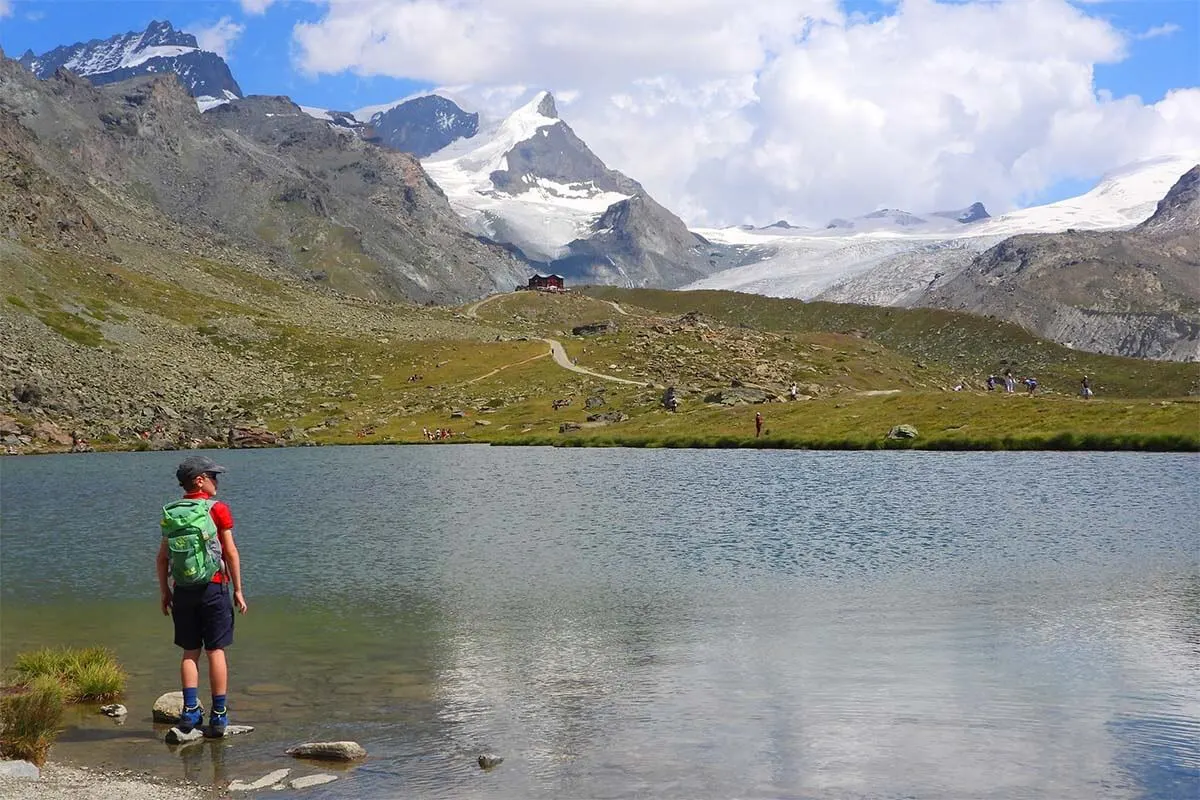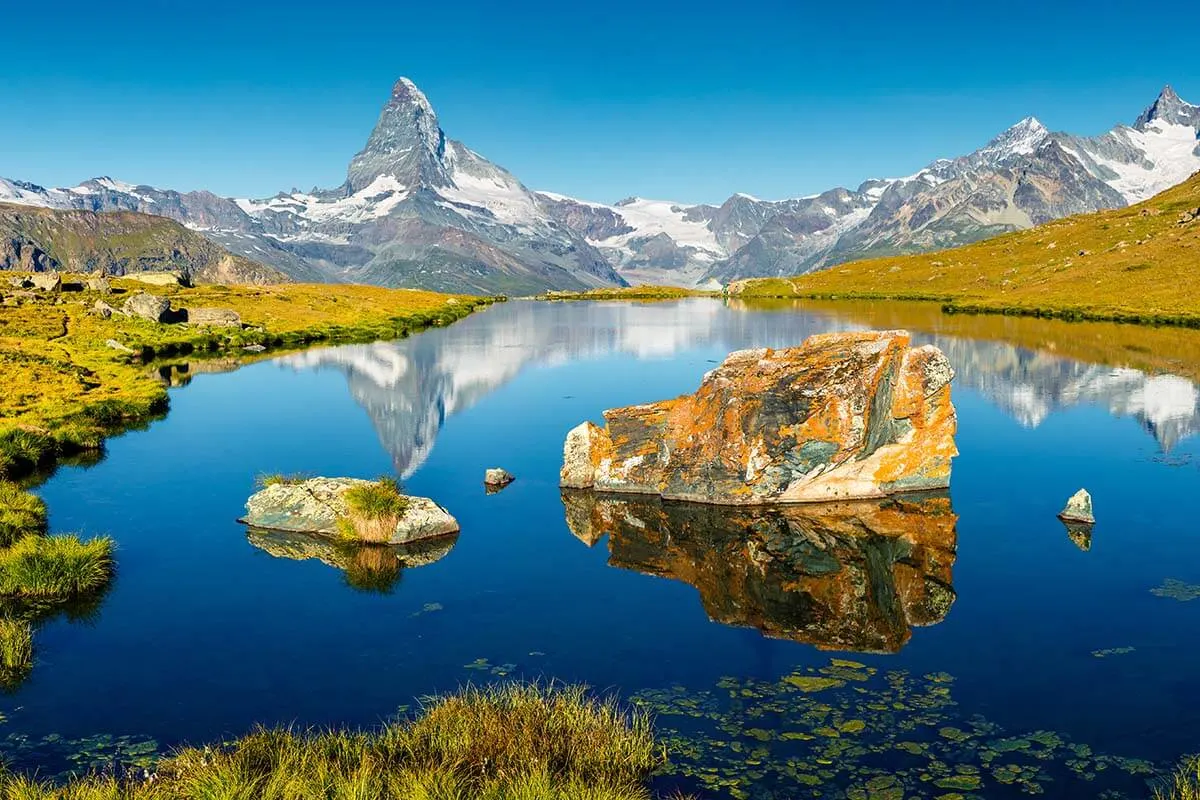 Stellisee to Grindjisee
After visiting Stellisee, the trail turns backward. This time, you'll be hiking towards the Matterhorn.
Also here, the dirt trail is quite easy and relatively flat, a hike that pretty much everyone could do. Almost parallel to the walking trail, there's also a wide gravel road that is mostly used by mountain bikes, but you can also hike on it if you prefer.
In fact, if you want to, you can follow this gravel road pretty much for the entire duration of the hike and you'll also see most of the lakes. That road is mainly used by bikes and avoids steeper sections that the alpine hiking trail does. It also cuts quite a few longer detours a few times.
So if you are in a hurry or if you are looking for an easier way to do this hike, you may consider walking (parts of the hike) on the gravel road instead of following the signs for the Five Lakes Hike. We opted for the official hiking route, but we saw lots of people walking on that road as well.
It took us almost 50 minutes to hike from Stellisee to Grinjisee lake. We saw the lake below us all the time, but the trail just kept on going on high above it before it made a turn. If you opt for the bike route here, you can probably save quite some time for this section (but miss all the scenery along the narrow alpine track).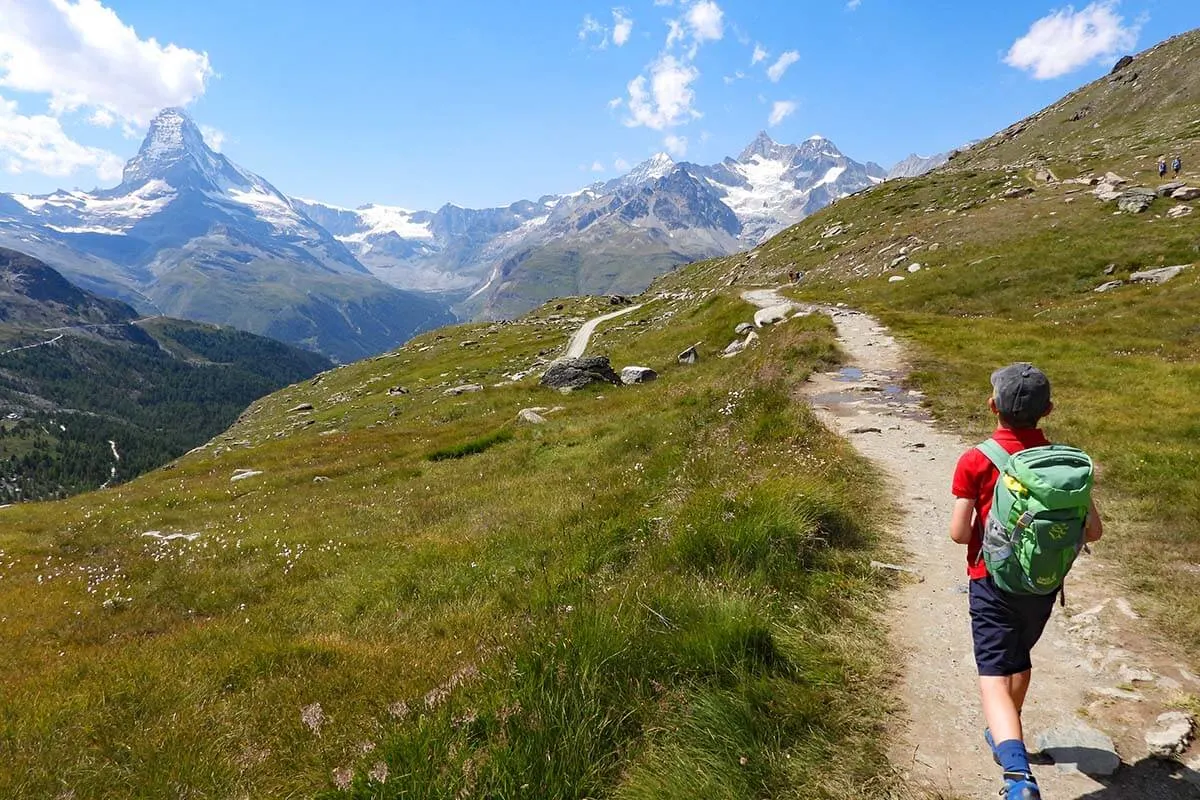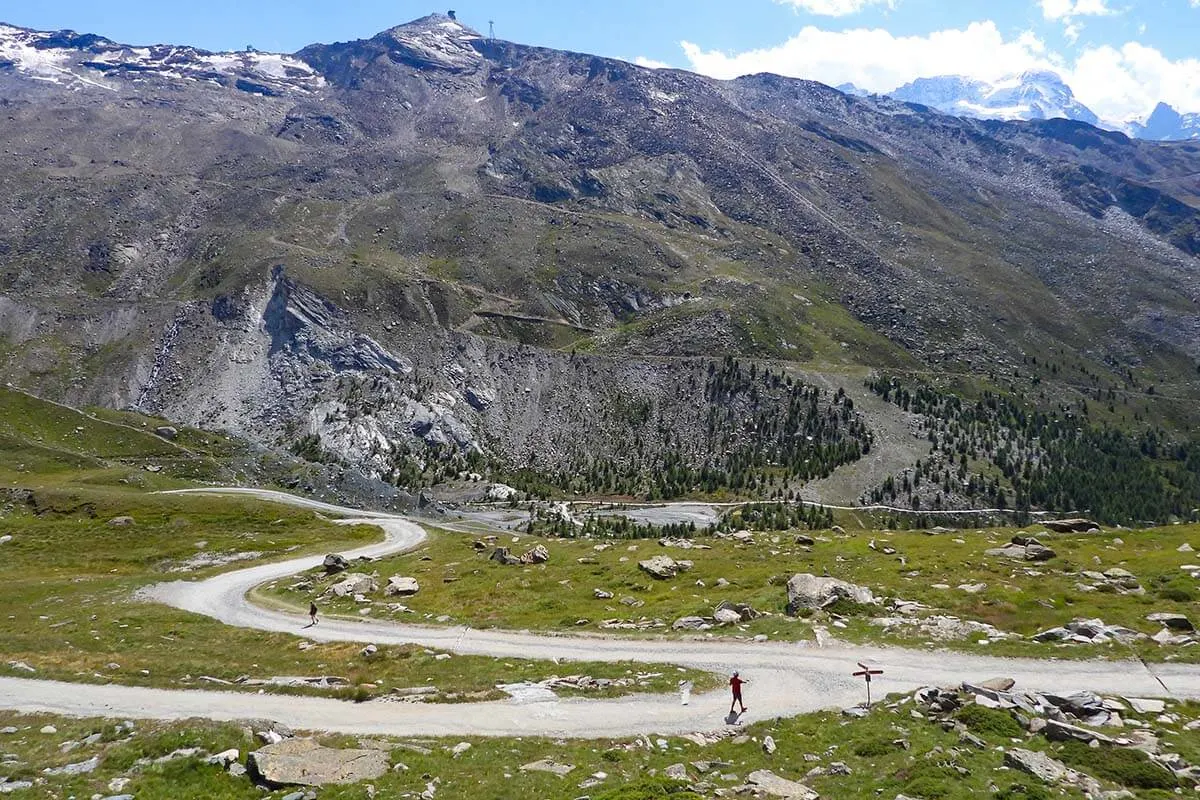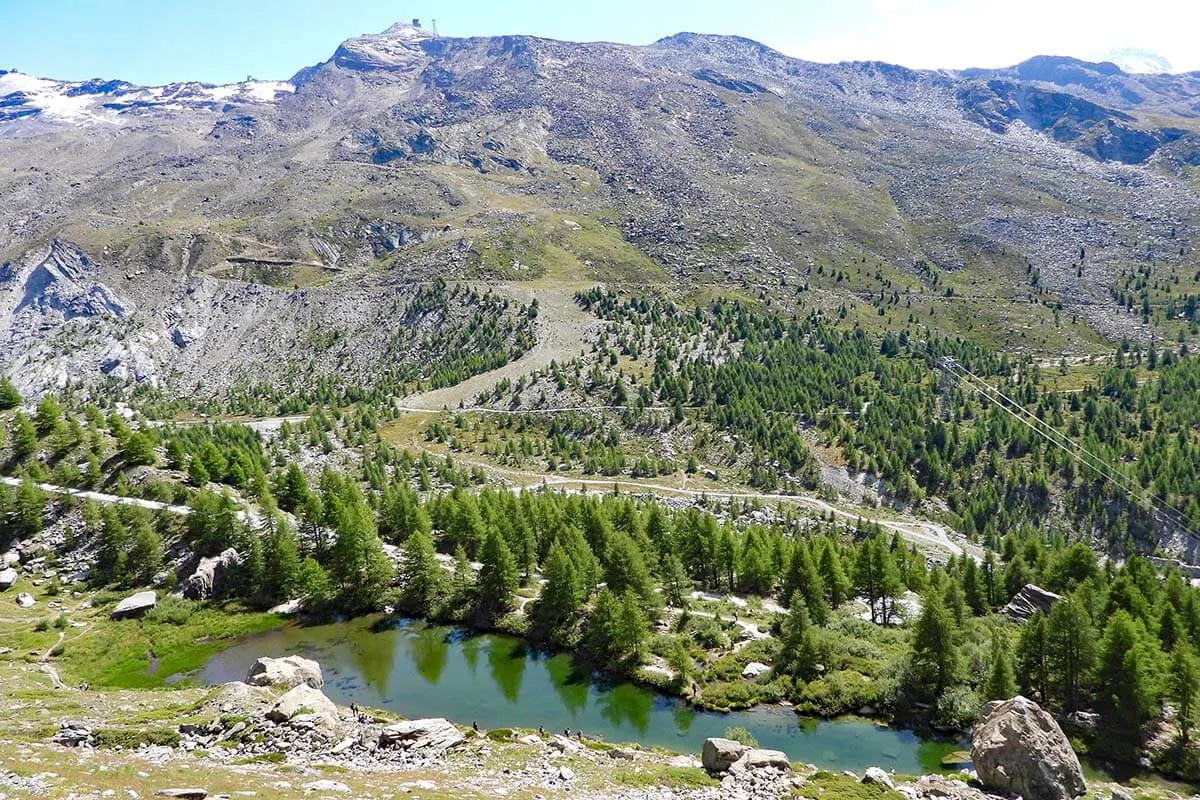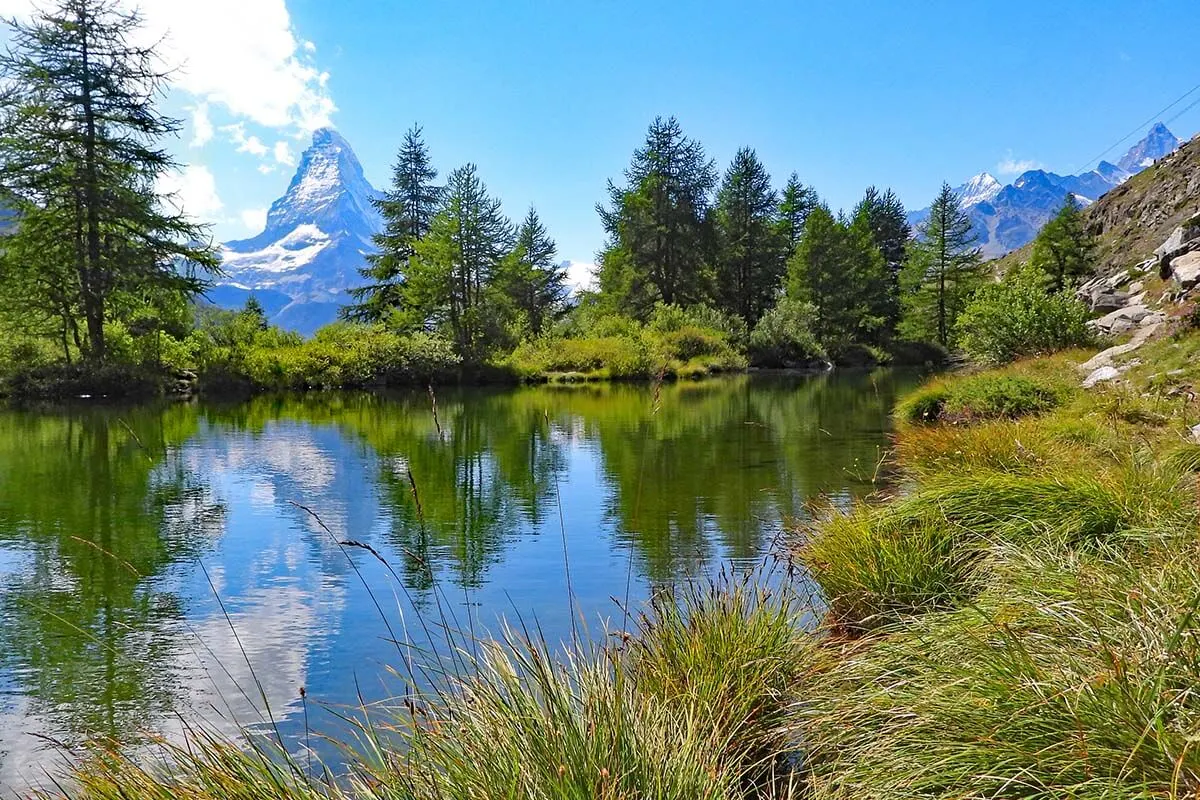 Grindjisee to Grünsee
After visiting the small lake of Grindjisee, the trail quickly turns backward and you'll be walking away from the Matterhorn again. Also here, there are some shortcuts you could take, but I'm not sure if you'd not skip the next lake if you do that.
For the biggest part, you'll be walking on a wide gravel road here. Compared to the previous section where you walk on the narrow and steep track, this is a walk in the park. It took us about 30 minutes to walk from Grindjisee to Grünsee.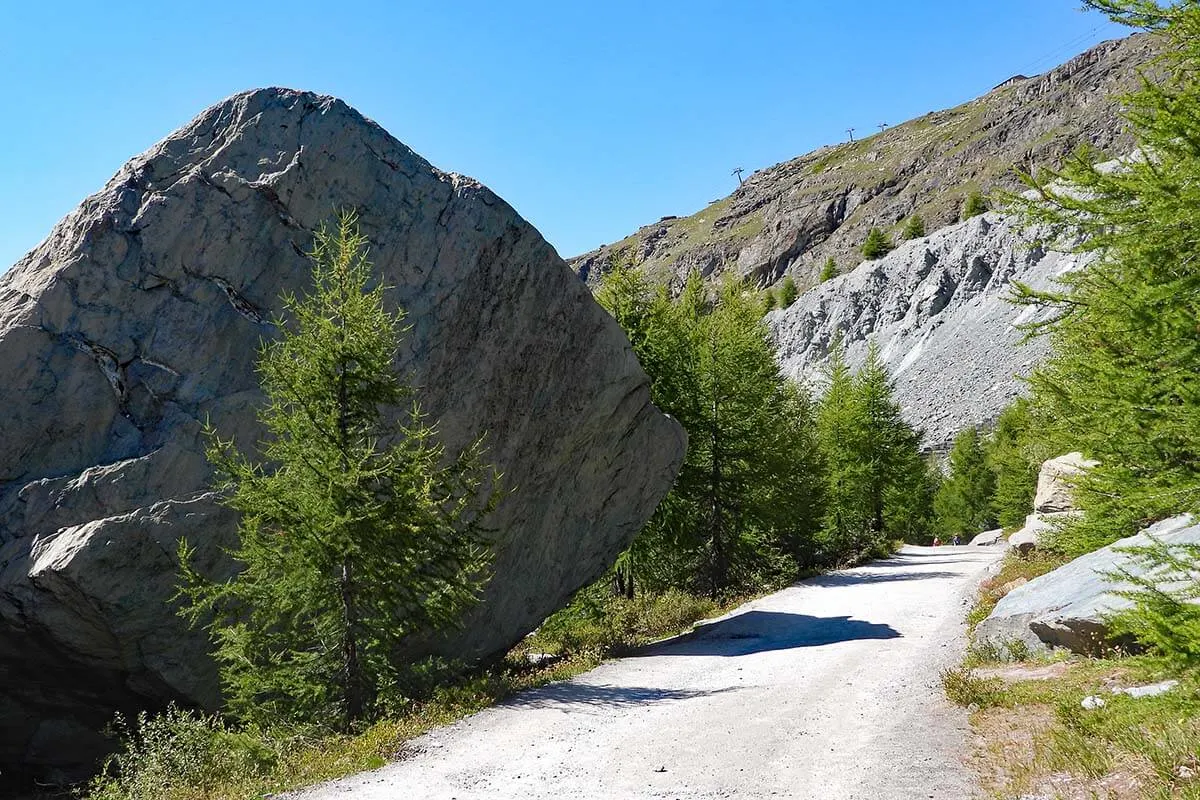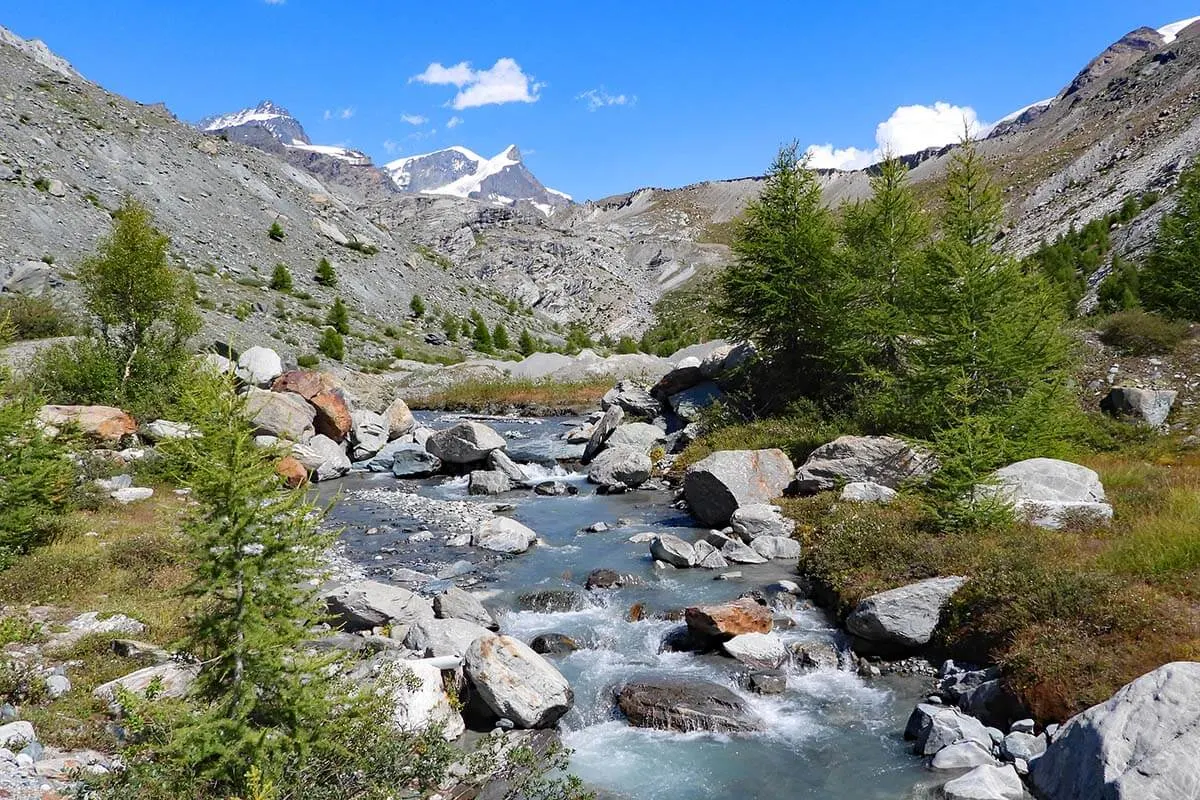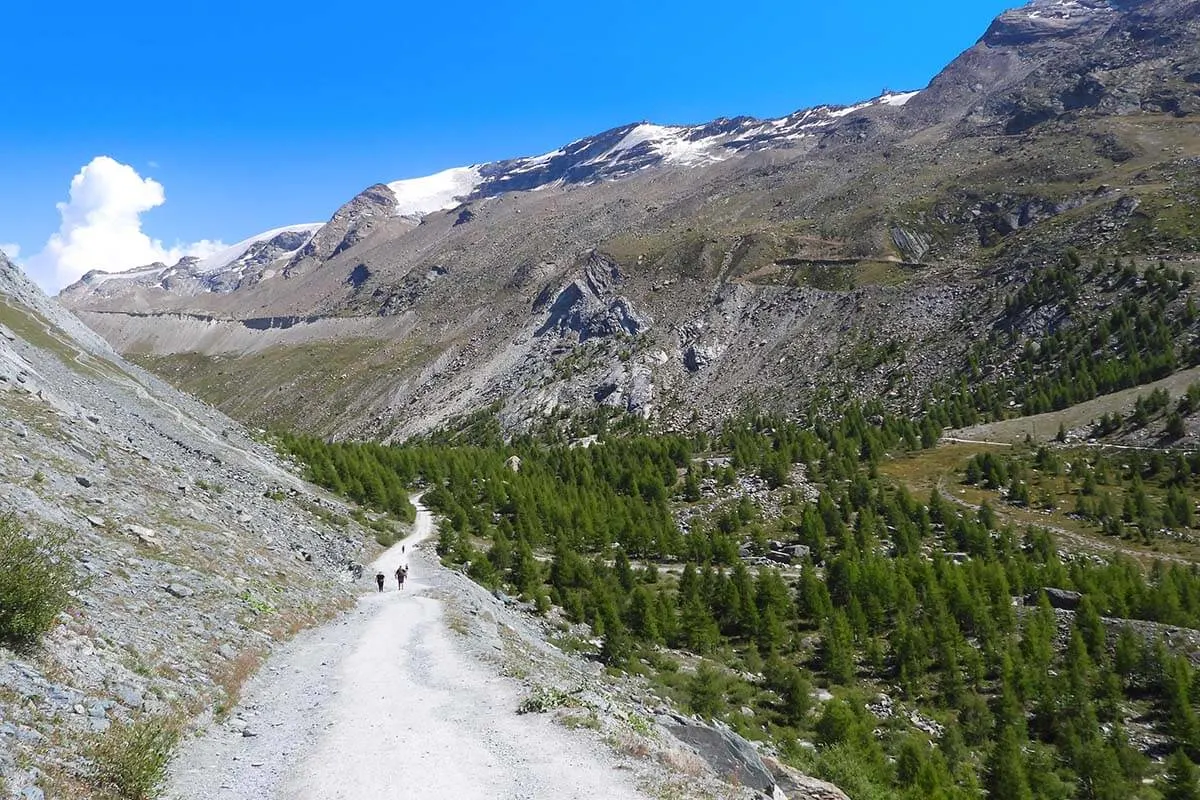 Grünsee is one of the two lakes along this hike where you can go swimming. It looked more inviting to us than Leisee – probably because of its more remote setting, but also the views are really nice.
We were here in the afternoon on a warm sunny day in August and it was really busy at the lake. The majority of people were sunbathing, but we also quite saw some people swimming. The water is cold, but definitely doable, especially if you have been walking for a few hours before you get here.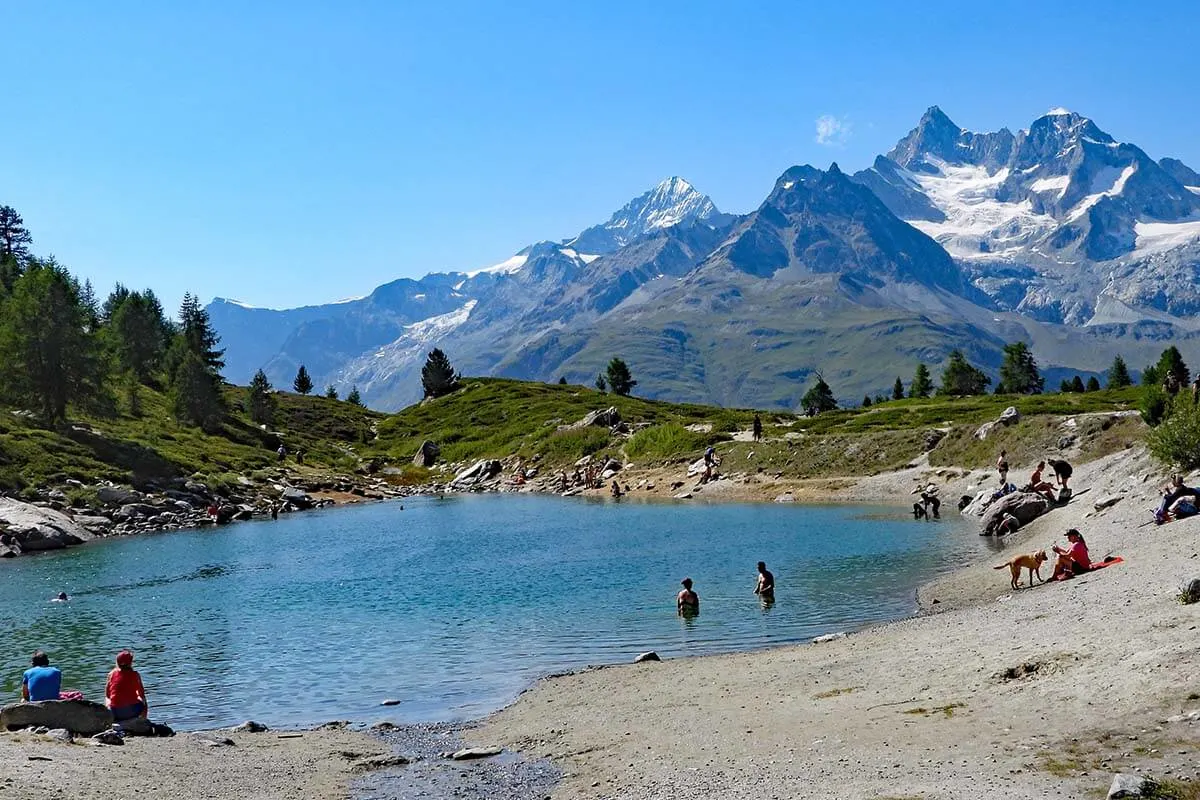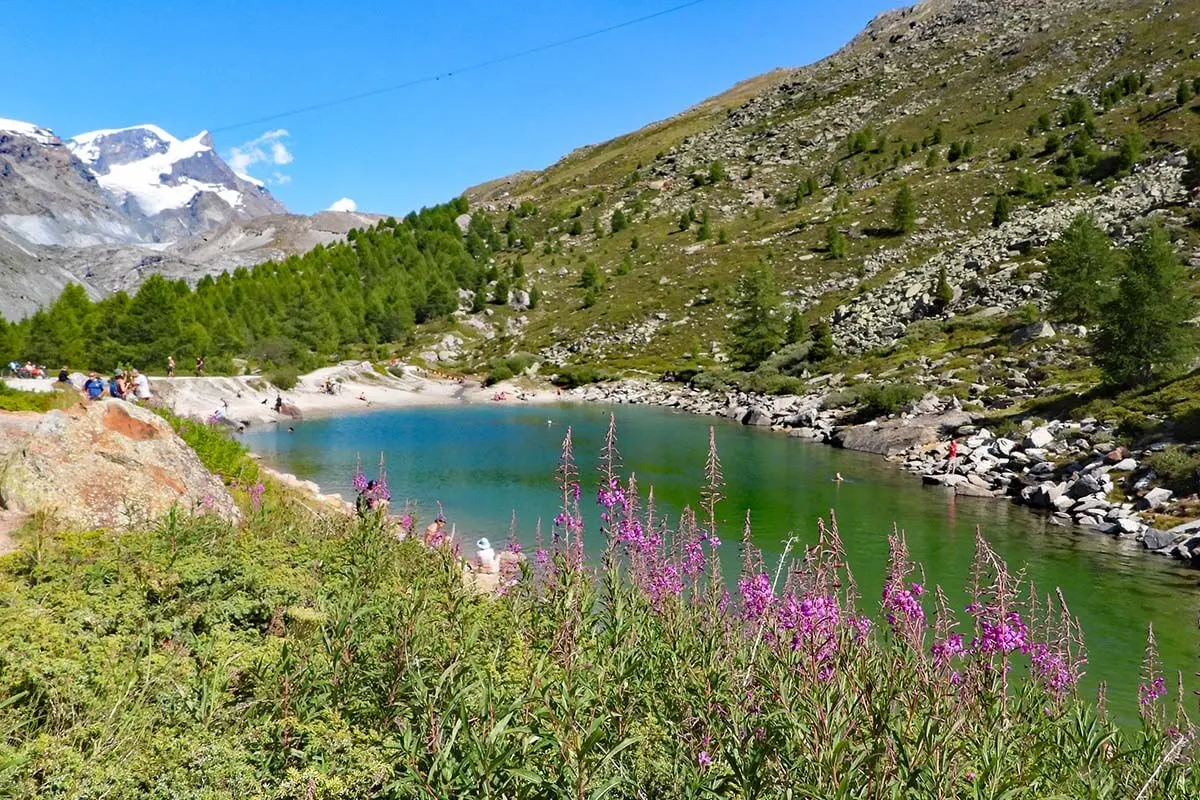 Grünsee to Moosjisee
The fourth lake along the hike is a small artificial lake called Moosjisee (for some reason indicated as Mosjesee on Google Maps).
Moosjisee lake has a very bright green/jade color and overlooks the Matterhorn, just as the other lakes on this trail. However, since it's used for power generation and is surrounded by some concrete constructions, Moosjisee is not as picturesque as the other lakes along the hike. In winter, they use the water from this lake for snowmaking for the nearby ski runs.
It took us about 30 minutes to hike from Grünsee to Moosjisee, including a stop for some ice cream at the Mountain Lodge Ze Seewjinu along the way.
By the way, the people working at this mountain hut are some of the friendliest we encountered when hiking in Zermatt. So definitely stop here! If you do this hike in the morning, this would be the perfect place for lunch!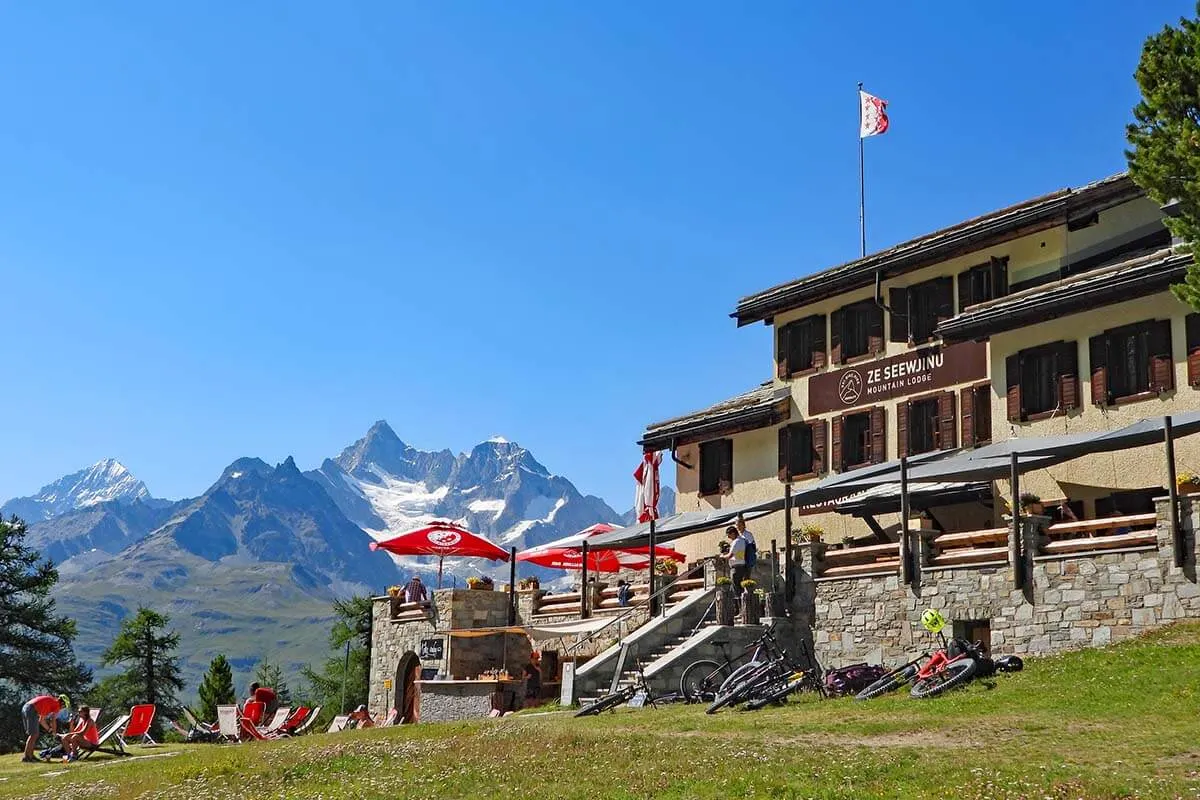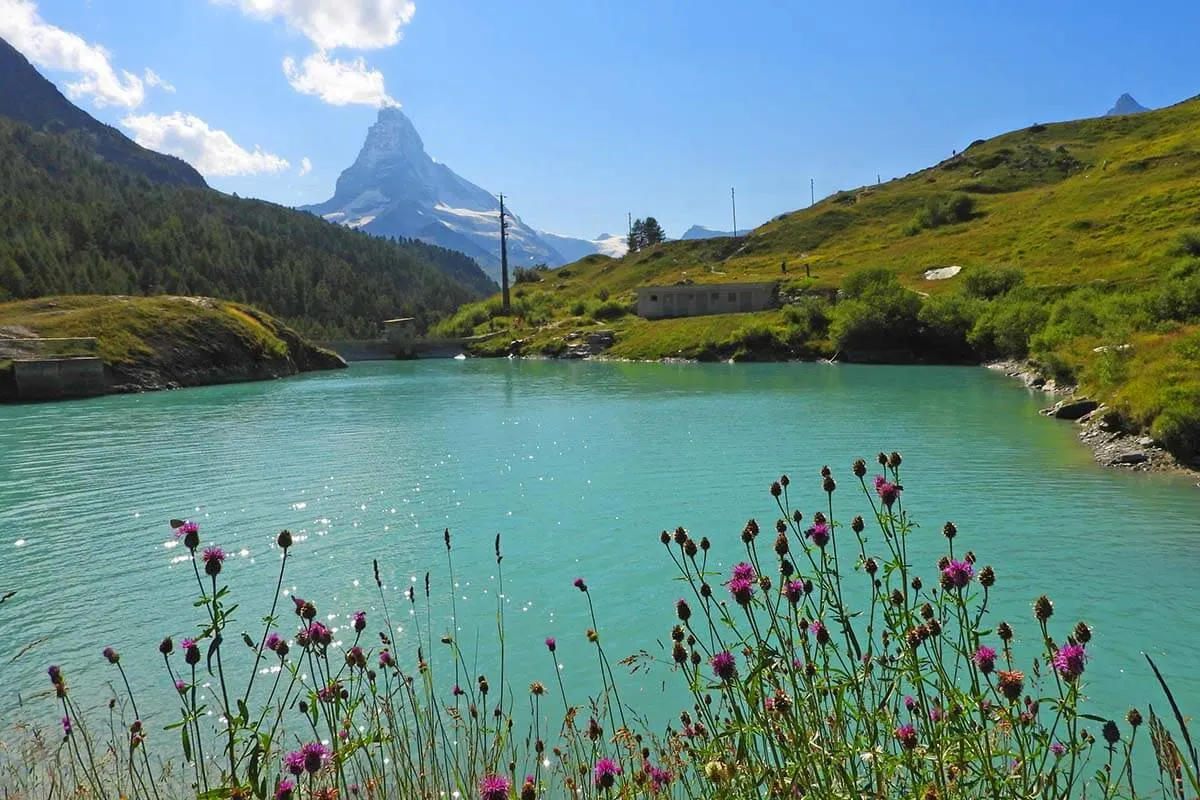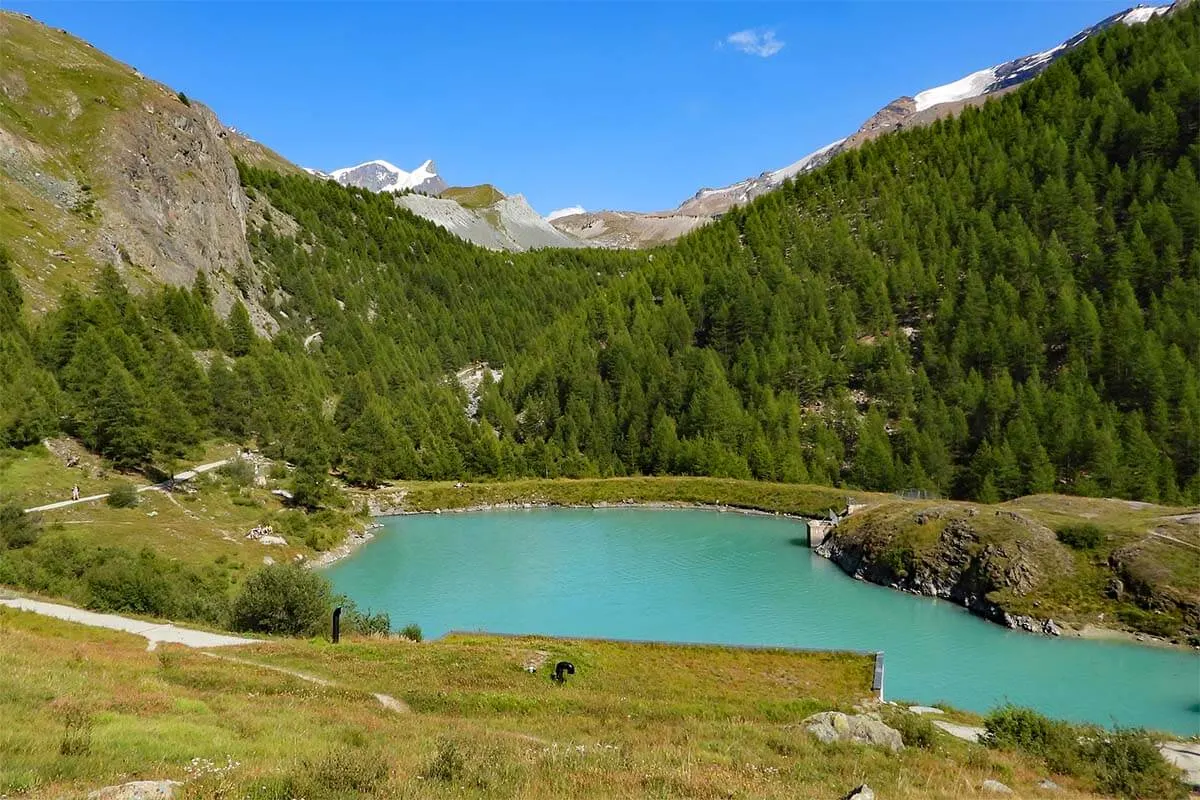 Moosjisee to Leisee
The last part of the hike is rather steep and there are several different trails that lead from Moosjisee to Leisee. Immediately after leaving the lake, on the other side, there's a sign to the right pointing to 'Leisee – Sunnegga'. (35 minutes to Leisee or 45 minutes to Sunnegga). Whereas the official '5 Lakes Trail' is indicated straight, following the main track. The time for this trail wasn't indicated.
This is one of the places where we decided to take a shortcut. We opted for the short pain – the last steep climb towards Leisee, following the uphill path instead of the main route.
We could afterwards see where the official trail was and it was quite a serious detour indeed. It looked like the scenery was nice as well, but we felt that we didn't miss much. And it was high time to get back to Sunnegga because it was getting late already.
In fact, we reached Leisee quicker than expected (it took us just 15 minutes to hike from Moosjisee to Leisee), so this was indeed a much shorter way.
This gave us some time to enjoy the scenery around the lake a bit longer. The kids even went on a pull-raft on the lake. We saw lots of families with younger kids here and lots of kids were swimming and playing in the lake. On a sunny day in August, the water felt quite warm to be enjoyable indeed.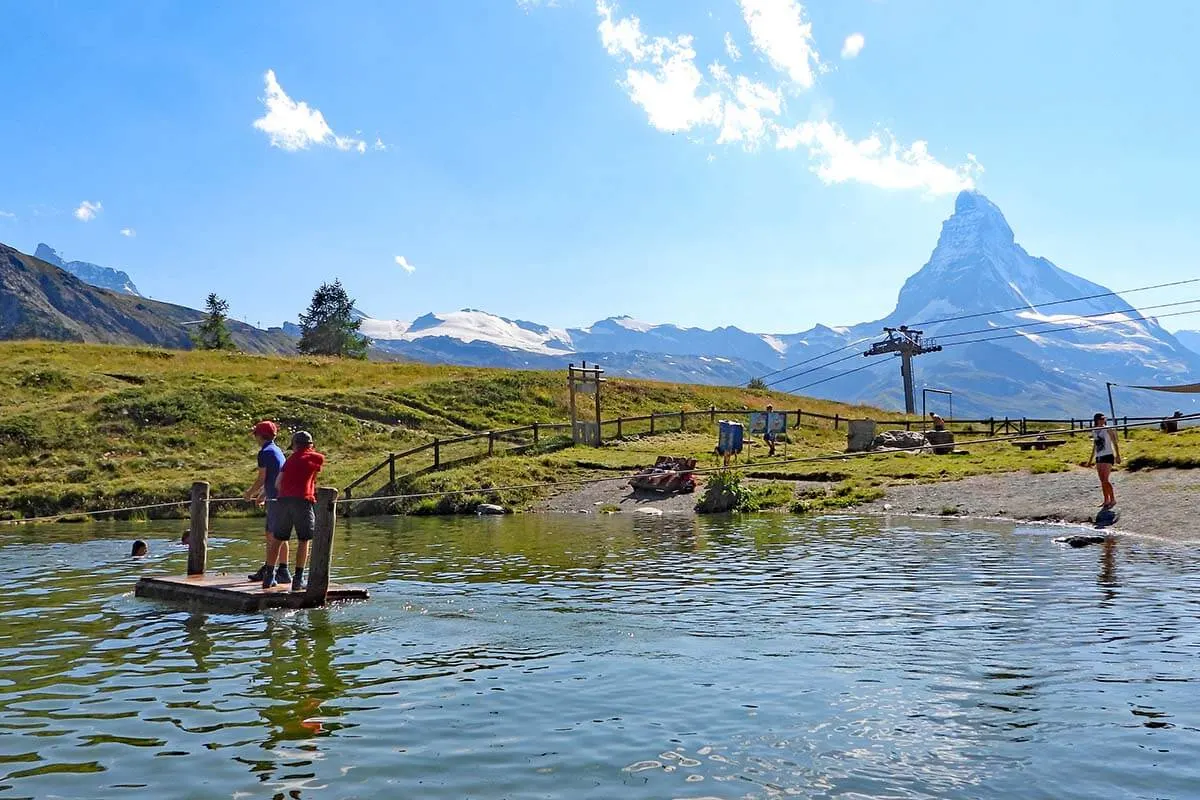 Leisee to Sunnegga
After visiting Leisee, you can take a small gondola/lift to Sunnegga. The lake is much lower than the adjacent cable car station, so you'll appreciate this easy way to get there after such a long hike.
From Sunnegga, you take a funicular back to Zermatt.
From start to finish, the 5 Lakes Hike took us almost 3 hours. This includes all the stops at the lake, a quick stop for ice cream, and some extra time for kids to play at Leisee playground. We took one detour to shorten the hike a bit and probably saved some 15-20 minutes by doing that. So all in all, the official indication for this hike – 2.5 hours of hiking time – is indeed about correct.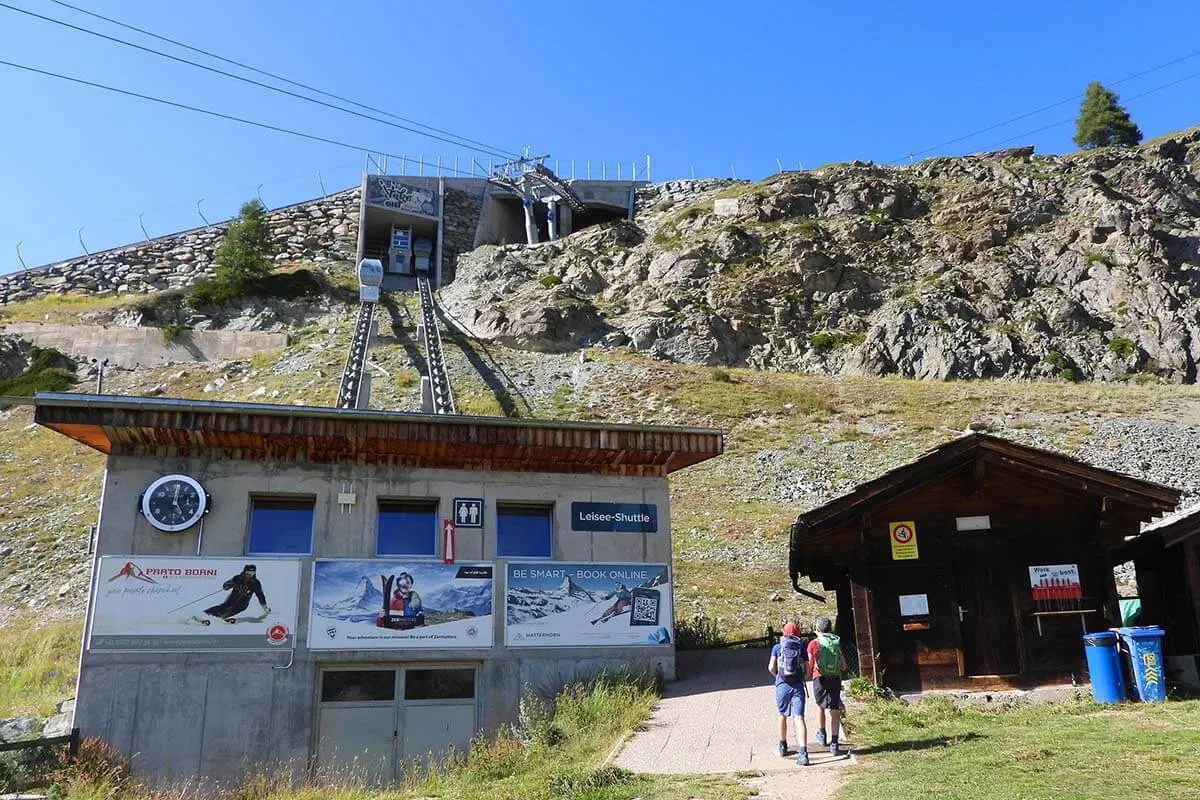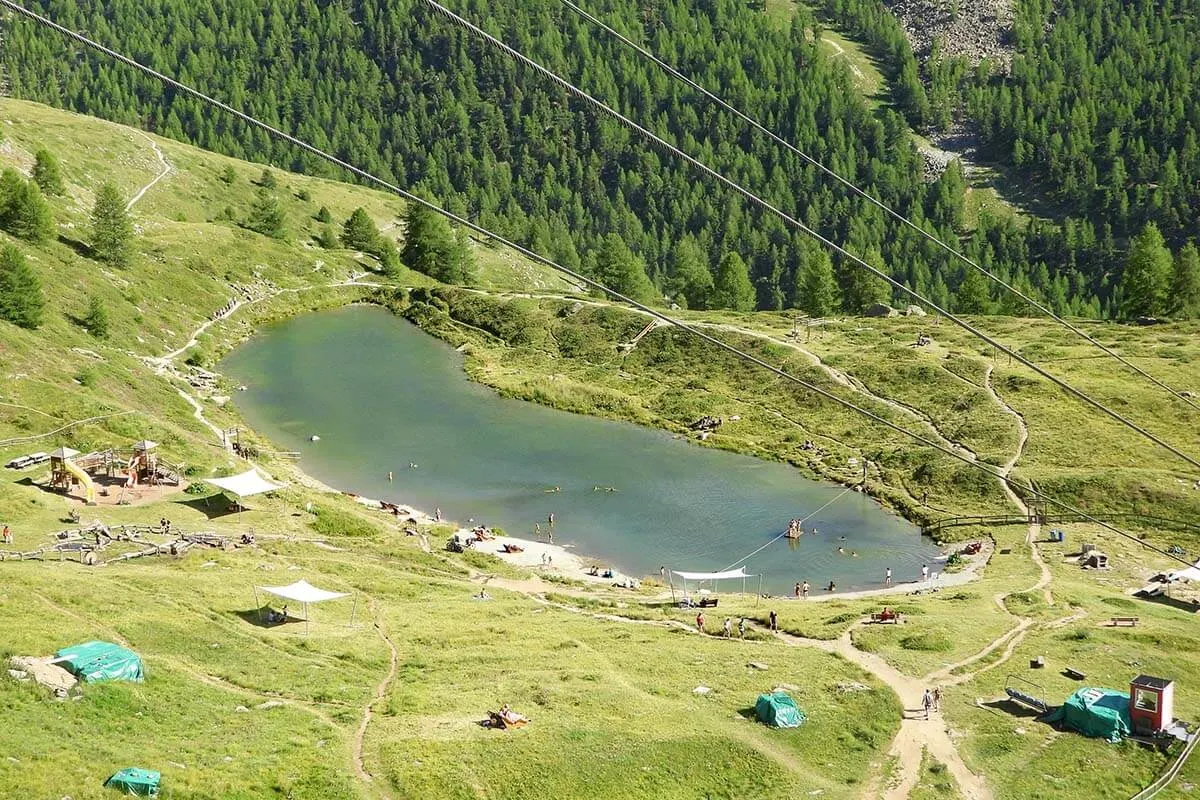 5 Lakes Hike with Kids
The 5 Lakes walk is a family-friendly hike that you can do with kids from about the age of 6. If you find some sections too steep, you could also follow the gravel road instead.
We did this hike with our 10-12-year old children and it was well-suitable for that age. Also, there is enough variation to keep the kids interested. Plus, you can go swimming at one of the two lakes, and there's a playground at Leisee, at the very end of this hike.
If you are visiting Zermatt with younger kids, I wouldn't recommend doing the entire 5 Lakes Trail – it feels quite long for younger kids to enjoy. Instead, you could just see two lakes – Stelisee that's just a short walk from Blauherd gondola station, and Leisee near Sunnegga. You can take the cable car between the two places.
Leisee is perfect for families with young children and you can spend some time at the playground or even go for a swim here.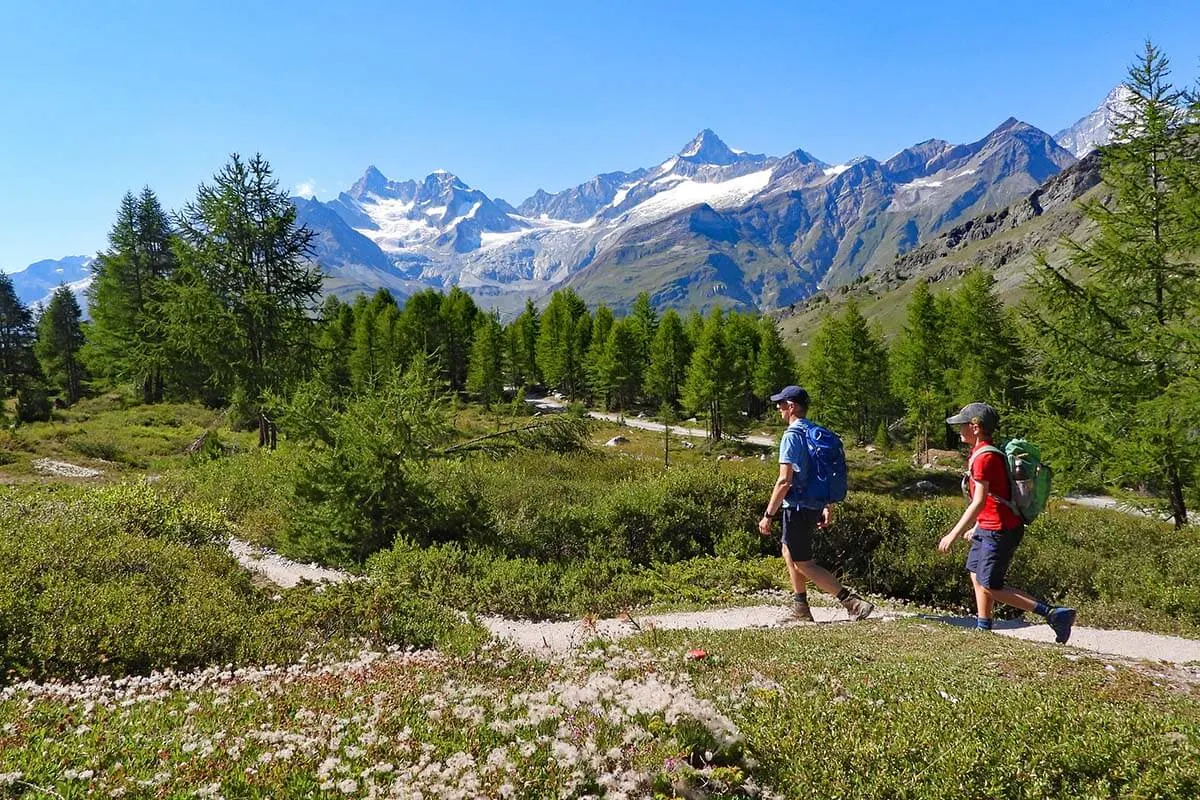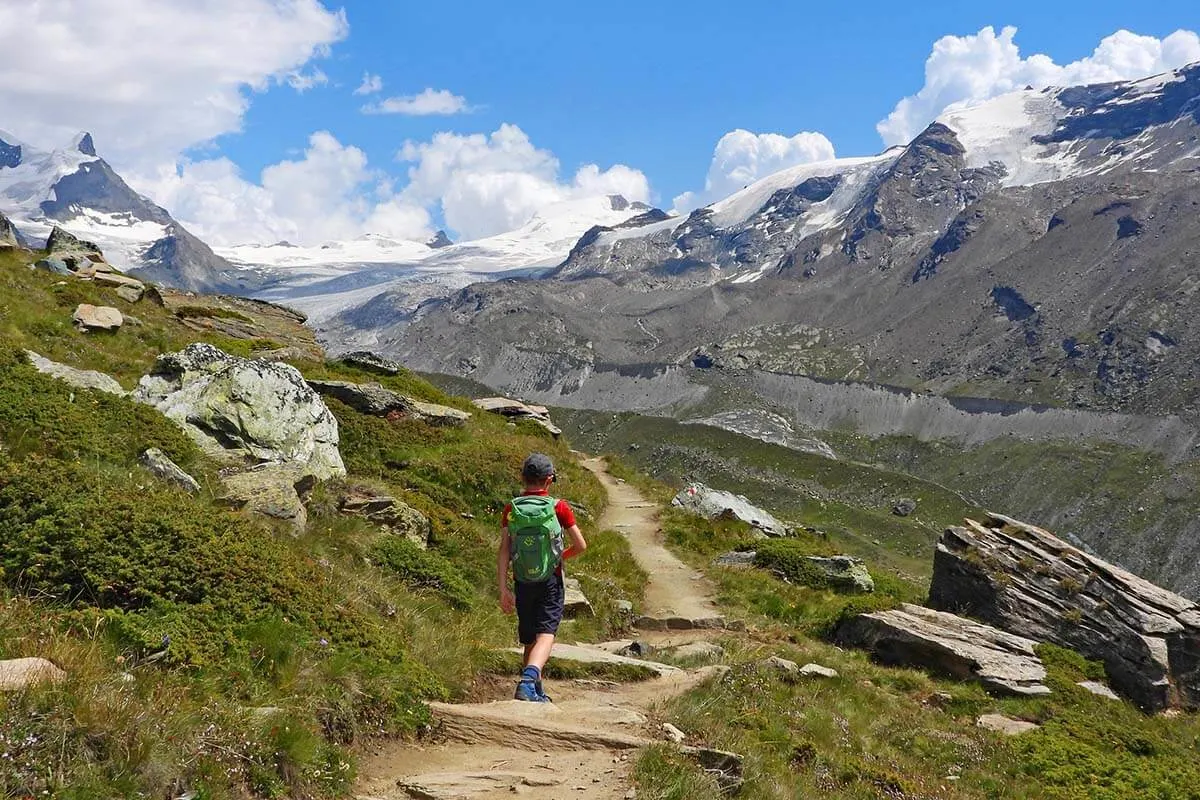 Is 5 Lakes Walk in Zermatt worth it?
You may be wondering if the Five Lakes hike in Zermatt is worth your time. The answer will depend mainly on how much time you have in Zermatt and how the weather is.
If you only have 1 or 2 days in Zermatt, then no, the 5 Lakes Hike is probably not worth it. There are more impressive places to see in Zermatt – such as Matterhorn Glacier Paradise or Gornergrat – and better hikes to do – such as Matterhorn Glacier Trail, Gornergrat Scenic Trail, and Riffelsee Lake Trail.
But if you have at least 3-4 days in Zermatt and the weather is nice, then yes, 5 Lakes Walk is well worth considering. Despite being quite long, this hike is not too difficult you can see some amazing scenery: mountain lakes and streams, Alpine flowers, snow-capped mountains, and the ever-changing view of the Matterhorn. Furthermore, you can also go swimming.
In addition, be sure to visit Rothorn peak, and potentially also extend the hike by adding the Crystal Trail (more info below).
Our experience: We had really high expectations of this hike (often mentioned as the best hike in Zermatt). But – in all honesty – we were a bit disappointed with it. I think it was mostly due to the fact that we came here rather late and couldn't relax at the lakes and enjoy everything that it has to offer. It didn't help that the light was really bad for photography and there were no reflections to be found on any of the lakes in the late afternoon.
It's a hike I'd give a second chance though. But next time, I'd go early in the morning and would make a day trip out of it including the extension mentioned below.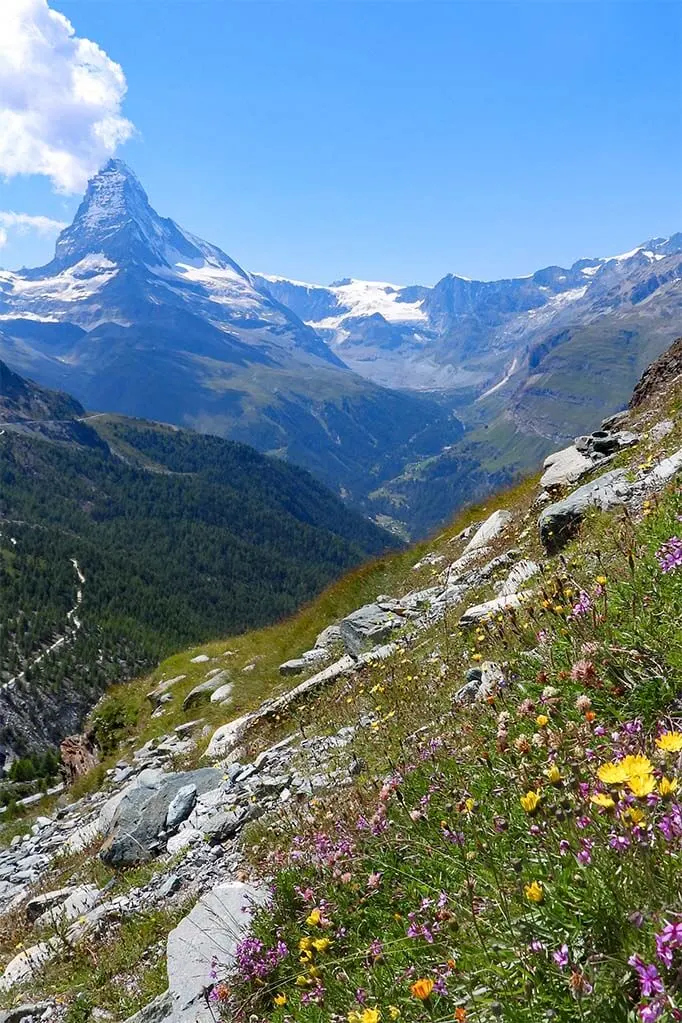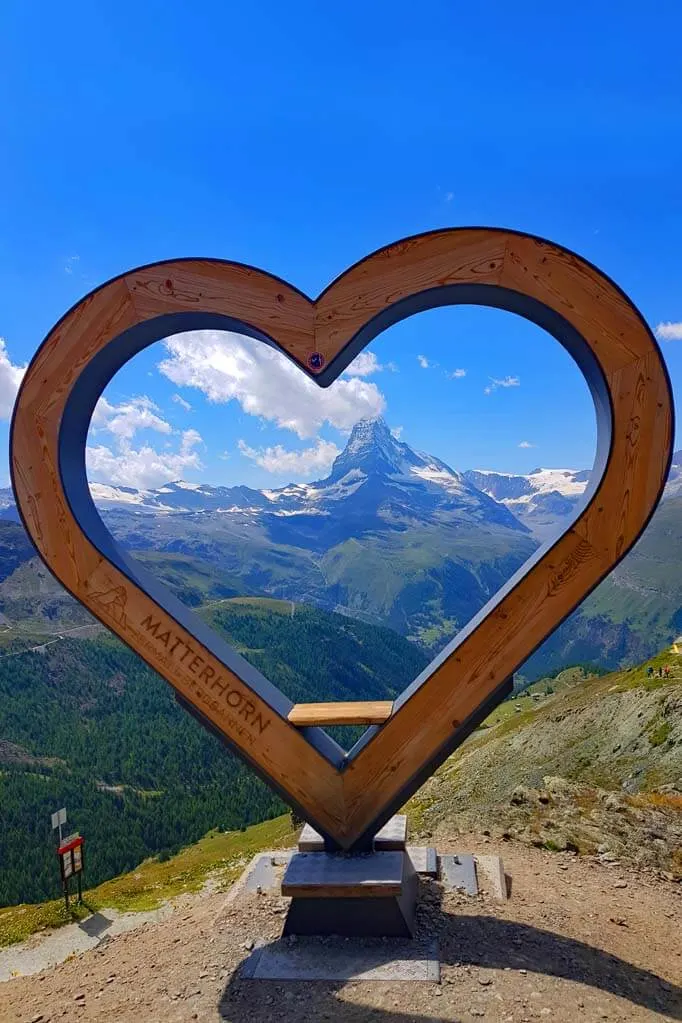 Additional hiking suggestion: Crystal Trail
If you have an entire day to explore this area, you could extend the 5 Lakes Hike by doing the Crystal Trail (Zermatt hike nr. 7) as well.
In that case, you'd start at Rothorn, one gondola station higher, and connect to the 5 Lakes Trail at Stellisee lake (the first lake of this hike).
Keep in mind that doing the Crystal Trail first will add about 1.5-2 hours to your total hiking time, so count at least 4 hours of hiking time (not including any stops) if you decide to do both hikes. You can find more info about the Crystal Trail here.
We didn't do this hike so I cannot comment on it from first-hand experience, but it looked like it would have been worth it if you have more time.
READ ALSO: Zermatt must-sees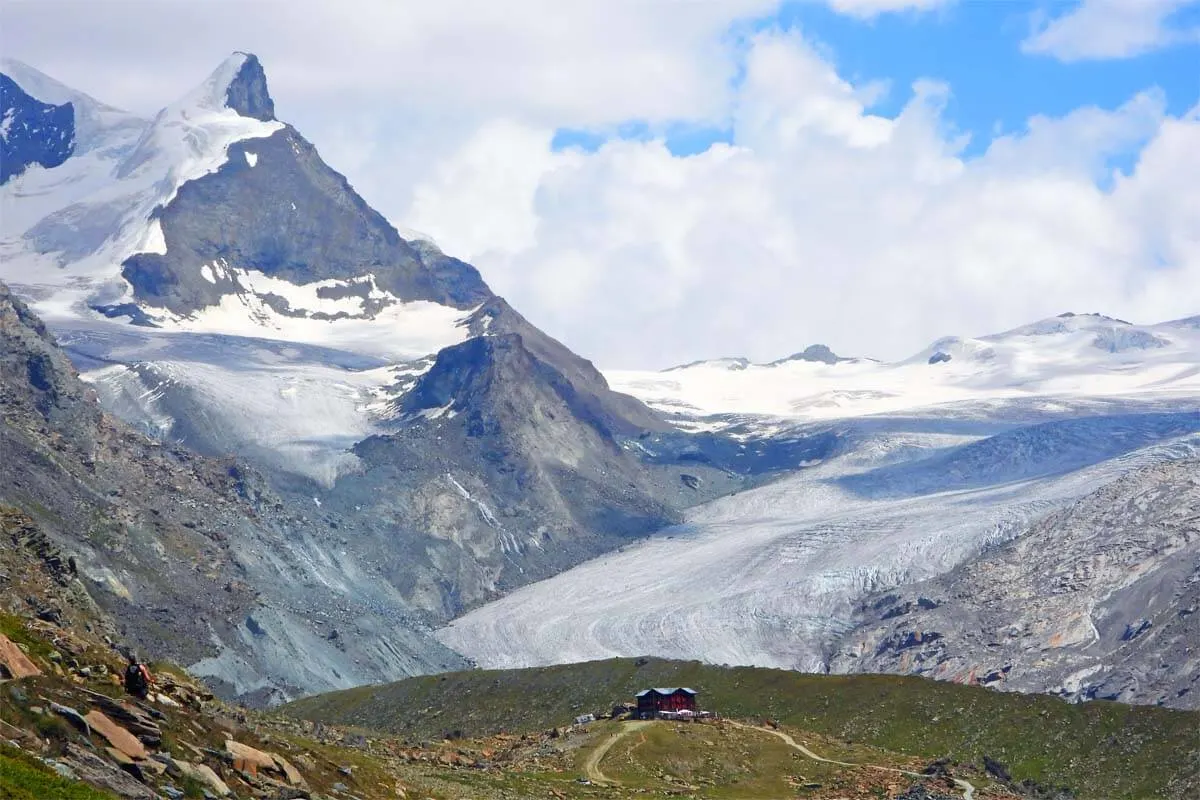 So, this is our guide to the 5 Lakes Hike (5 Seenweg), one of the most popular longer hikes in Zermatt. I hope that it gives you a better idea of what to expect and decide if it's worth your time.
If you are looking for more hiking inspiration in Zermatt, take a look at our selection of the best hikes below!
Best hikes in Zermatt:
More travel inspiration and information for visiting Zermatt:
If you found this post useful, don't forget to bookmark it and share it with your friends. Are you on Pinterest? Pin this image!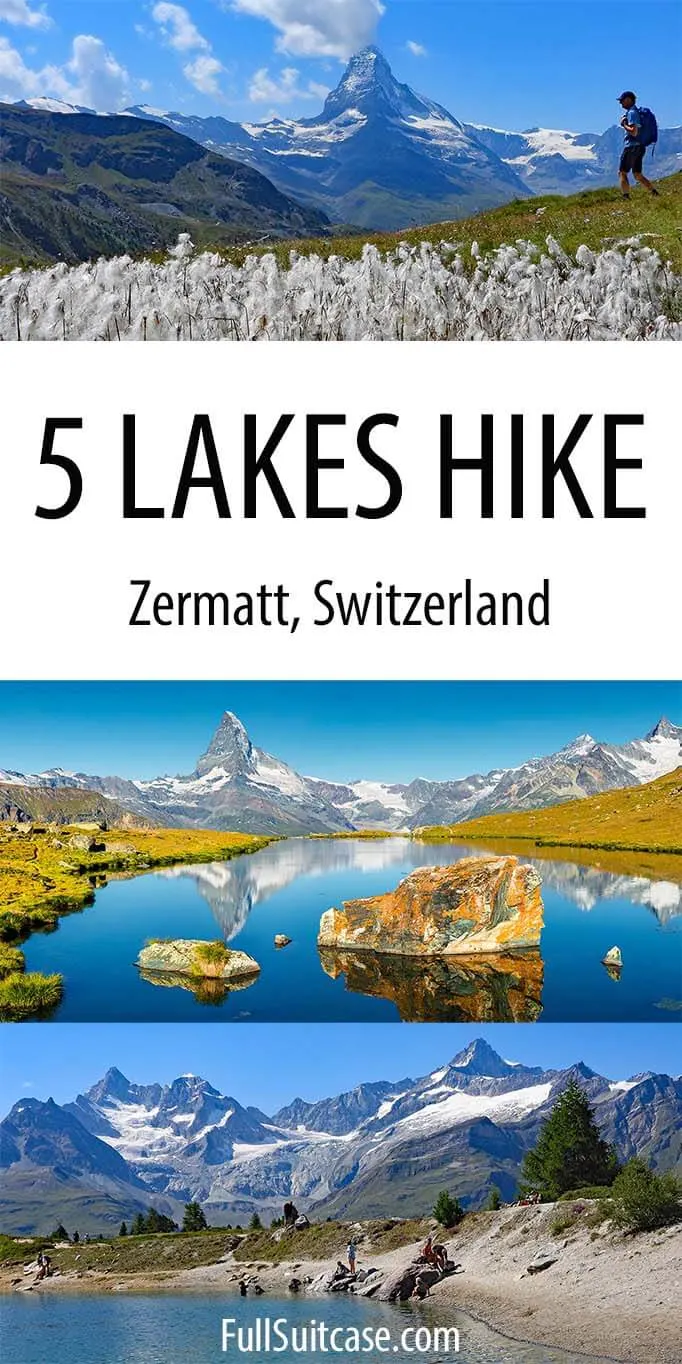 Some of our favorite places in Switzerland: