Thinking of visiting Oeschinen Lake (Oeschinensee) in Switzerland and wondering what to expect? Or maybe you are looking for information for the best hike in the area – Oeschinensee Panorama Hike? This guide should answer all your questions and give you a good idea of what to expect. Find out!
On one of our first trips to the Swiss mountains, we went hiking at Oeschinen Lake. For years, we remembered it as the most beautiful hike ever. More than 12 years after our first trip, we went back to Oeschinen Lake with kids. We wondering if we would still feel this way now, after so many years of traveling all over the world and having seen so many beautiful mountain lakes…
At the end of the day, we all agreed that Oeschinen Lake is truly as good as it gets!
The Panorama Hike at Oeschinensee UNESCO World Heritage Site is still the most beautiful hike we have ever done.
In this article, you can find all the information for visiting Oeschinensee, as well as hiking the most beautiful mountain trail overlooking Oeschinen Lake. Read on!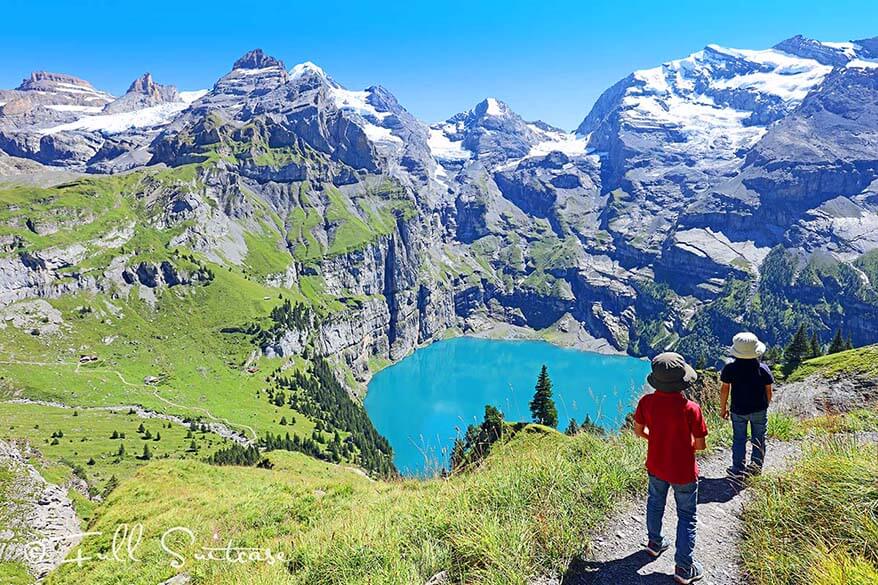 Oeschinen Lake – the hidden gem of Switzerland
We accidentally stumbled upon Oeschinen Lake years ago when we were looking for a place to stay in the Berner Oberland region in Switzerland. We found that staying in Kandersteg was one of the best options price/quality wise and we figured that we could drive to the other must-see places from there.
Berner Oberland is probably Switzerland's best-known region with places like Interlaken, Grindelwald, Mürren, Lauterbrunnen, Schynige Platte, and Wengen high on the top-destinations-list among tourists from all over the world. But Kandersteg is hardly known as a tourist destination, not only outside Switzerland but among the Swiss themselves.
When our Swiss friends heard that we were going to Kandersteg they just shrugged their shoulders and said that it's only known for the car-train connecting Kandersteg to Goppenstein on the other side of the mountains, on the way to Zermatt.
But our Michelin guidebook showed this 3-star place nearby. And they only give three stars to the most exceptional places. So we decided to check it out. And wow, so glad we did. It quickly became one of our favorite places in Switzerland. And that says it all.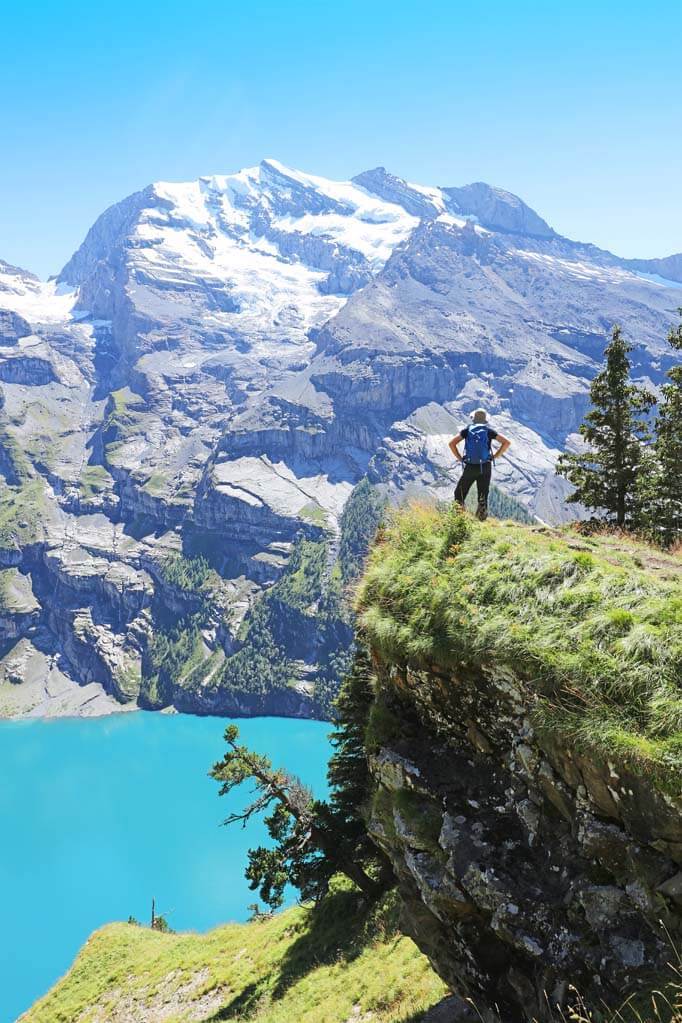 So why have you never heard of Oeschinen Lake?
It must be one of those places that just has the bad luck of being in the neighborhood of so many other amazing places that it gets forgotten.
The tourism boards of Interlaken and Jungfrau Region are just more successful at promoting their place than the tourism board in Kandersteg. Or the Swiss really want to keep it to themselves… Almost everyone we met hiking at Oeschinensee was Swiss.
Update: As I'm updating this article a few years after it was written (and some 15 years after our first trip), I have to say that things have changed. Instagram-tourism hasn't spared Oeschinen Lake and it has become more popular than before. Still, because the most beautiful views require a hike, it's not as busy on the trails as it is at the lake itself.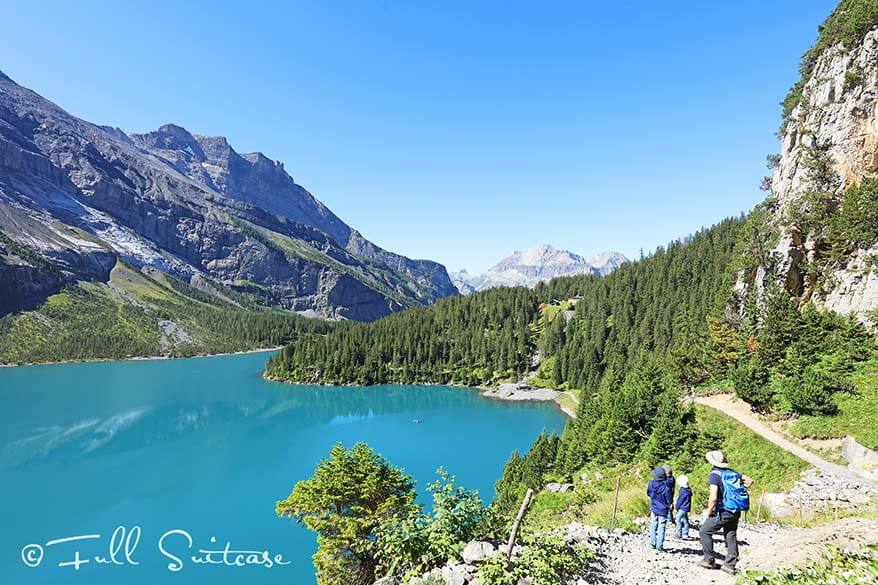 How to get to Oeschinen Lake
Oeschinen Lake can be reached by a cable car from Kandersteg. Kandersteg is a small town in the heart of Berner Oberland region in Switzerland and you can easily get there by train or by car.
I strongly suggest you take the cable car and not hike to the lake – you'll save at least 1-2 hours each way and the hike is really steep. Better spend the time and the energy hiking where it's most beautiful.
Return ticket for the gondola: 30 CHF for adults and 15 CHF for kids of 6 and older. Here you can find the most up-to-date information with rates and opening times.
TIP: If you stay in Kandersteg, ask for a 'guest card' at your hotel – it gives you a small discount for the cable car ride.
There is a little electric bus that runs from the top cable car station to Oeschinen Lake. It's quite expensive and the walk is only 20 minutes, so we skipped it. It is, however, a great way for people with restricted mobility to visit Oeschinen Lake.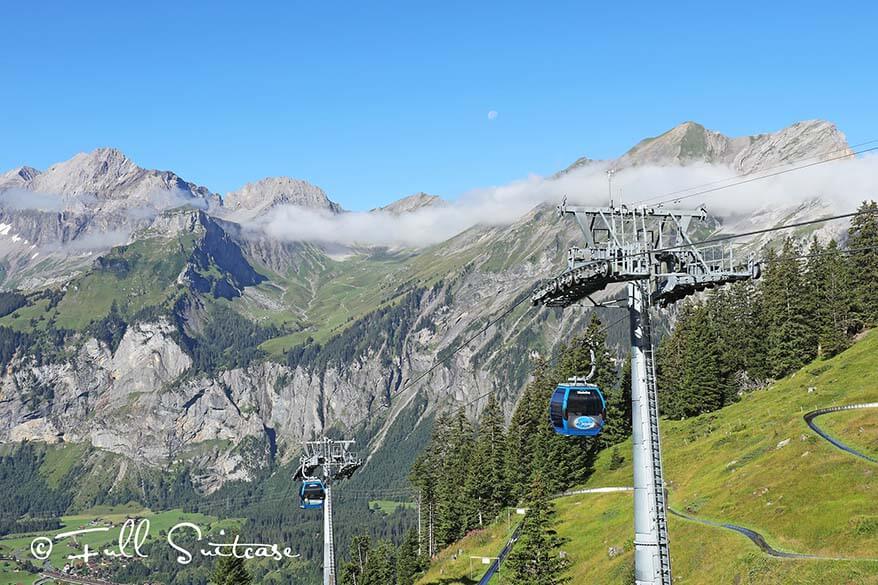 What to do at Oeschinen Lake
Oeschinen Lake is one of those places that everyone can visit, because it's easy to get to. So you can simply walk along the shores of the lake, rent a rowing boat, or have a drink at one of the restaurants enjoying the most spectacular views around you.
At the gondola, there is also an Alpine coaster (summer toboggan). More about it further below.
But if you can, be sure to also go hiking at Oeschinen Lake. Even if you just do a part of the trail, you'll get to see the lake and the surroundings from a higher perspective. The scenery here is phenomenal!
Further below, you can find all the information for hiking at Oeschinensee. Which hike to do and what to expect. Read on!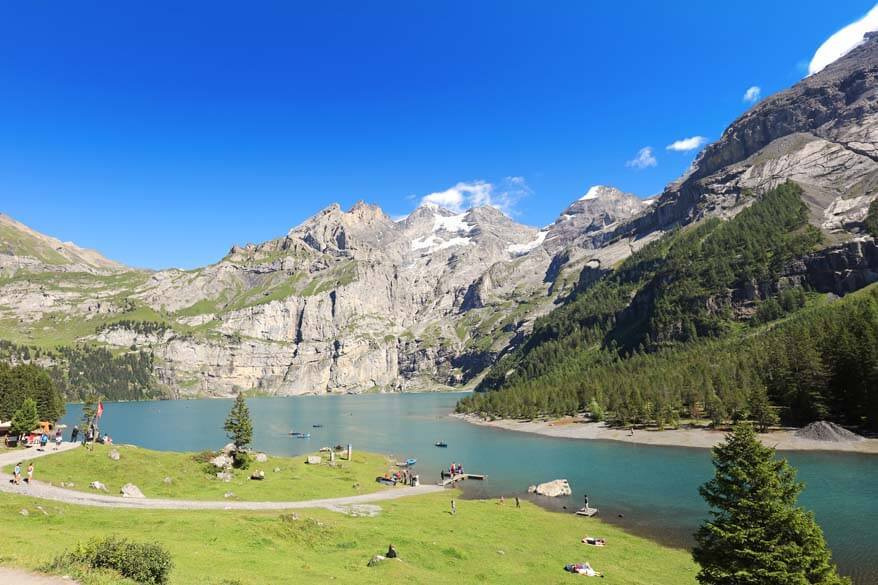 Hiking at Oeschinen Lake, also with kids
There are several options when it comes to hiking to and around Oeschinensee. I'm going to tell you about the hike we did, twice: 12 years ago and then again this summer. It's also by far the most beautiful hike you can do at Oeschinen Lake. So if you only have a day in the area, look no further!
Also referred to as Oeschinensee Panorama Hike, the Oeschinensee – Oberbärgli – Heuberg is not an easy hike, but it's absolutely spectacular! It's also not overly hard, so you can even hike at Oeschinen Lake with kids if they have some hiking experience.
We had been hiking quite a lot this summer (here you can read more about our summer adventures), including a pretty difficult hike to the Delicate Arch in Utah, a hike to Inspiration Point at Grand Teton National Park, and the Four Lakes Hike in Engelberg Switzerland, but this hike at Oeschinensee was the most strenuous walk we did with kids so far.
Our boys of 5, 5, and 7 managed just fine, yet I don't think they could have done it a year ago. Also, it's a pretty steep climb, the path is very narrow at places and you have to negotiate some mountain streams and big rocks along the way.
I think that 5-6 years is about the minimum age for this walk, unless you only do the lower part of the walk and go back the same way (see more information in the 'practical tips' section below).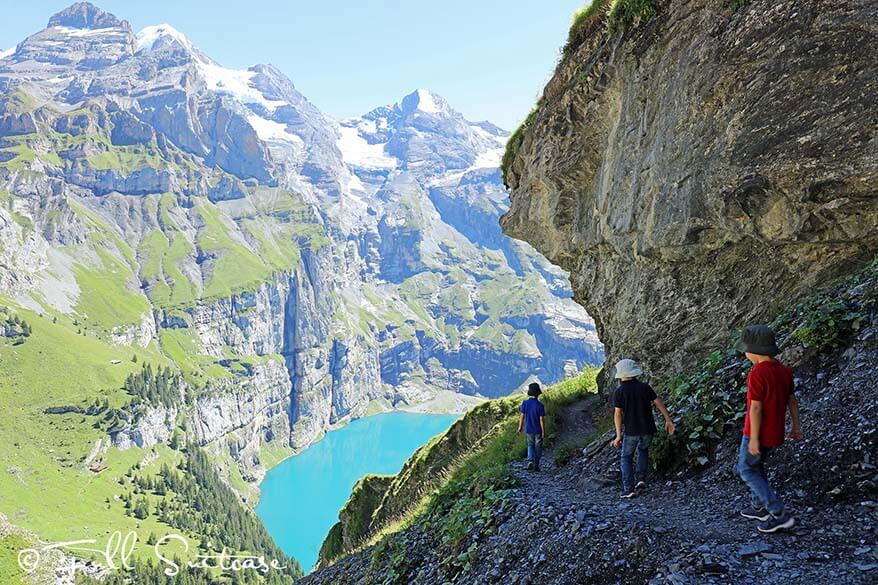 Oeschinensee Hike: map and itinerary
I prepared this map to help you plan your trip. The walk we did is described below, but it can be done in the opposite direction as well – more explanation below.
Part I: Kandersteg gondola to Oeschinensee
We started our day around 10 AM by taking the cable car from Kandersteg to the top of the mountain.
Once at the top, it took us about half an hour to reach the Oeschinen Lake, our first stop. It could have been 10 minutes less if we had spent less time admiring the Swiss cows – the first ones during this trip.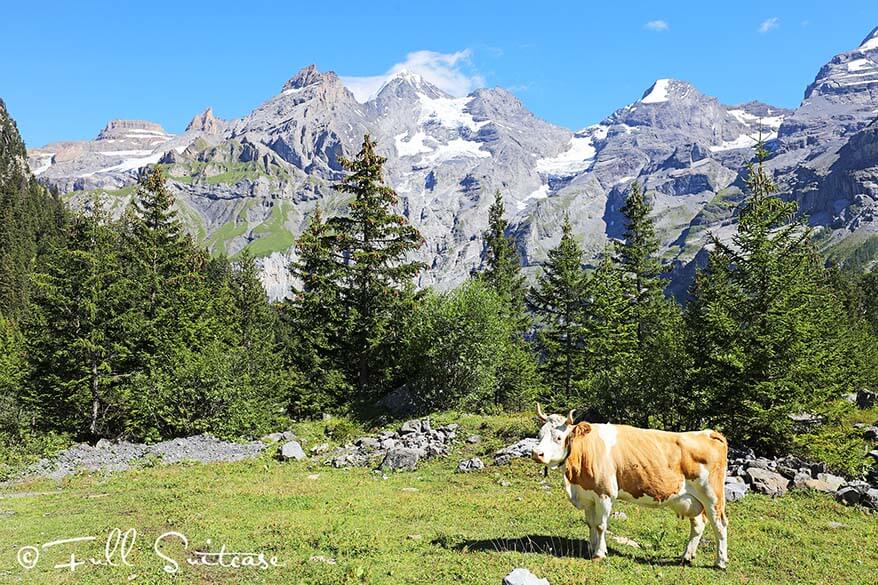 There were only a few people around the lake in the morning. But we saw quite a few cows that were finishing up their breakfast with a sip of fresh water from the lake. Boats were standing empty waiting for the day tourists to arrive and we even contemplated renting one, but then decided to move on as we had a long walk ahead of us.
If for whatever reason you cannot or do not want to walk any further, the view of the Oeschinen Lake is worth the trip by itself!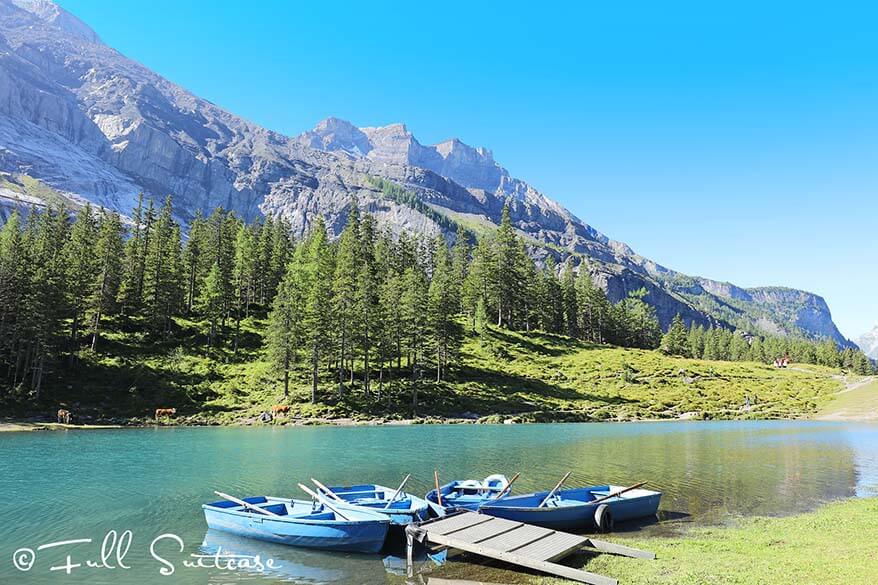 Part II: Oeschinensee – Unterbärgli
The walk from Oeschinensee to Unterbärgli starts on the left side of the lake. With all the stops we made, it was 11 AM by the time we started the actual walk. And, almost immediately we had to stop again – the kids saw some little fish in the water and were trying to catch them. And we tried to convince them to carry on before they would get soaking wet.
Just before entering the forest, there was an exposition of wooden artworks by the lake, quite impressive actually.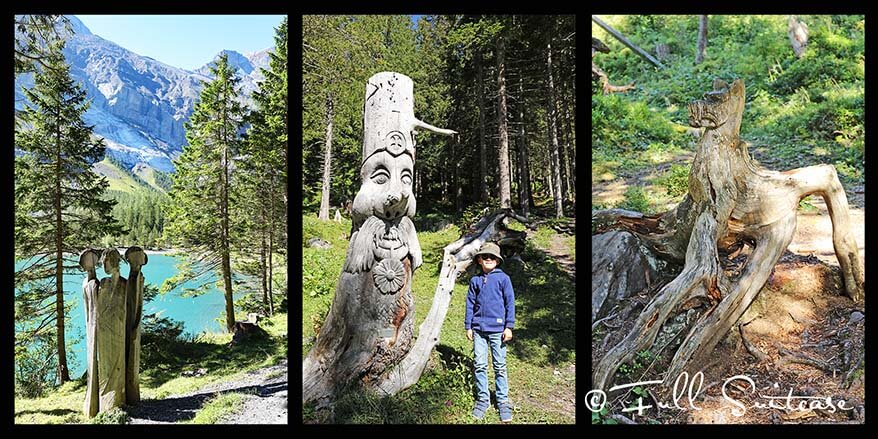 After just a few minutes the path became steeper and we had to stop once in a while to catch our breath and enjoy the views. The kids were chasing butterflies all the time, so for every step we took, they took at least two. No wonder they started asking if it was still far! Yes, it was – we only just started.
We passed a few minor water streams and the higher we climbed the more beautiful it became. Some parts of this walk are steep, but there are benches where you can rest along the way.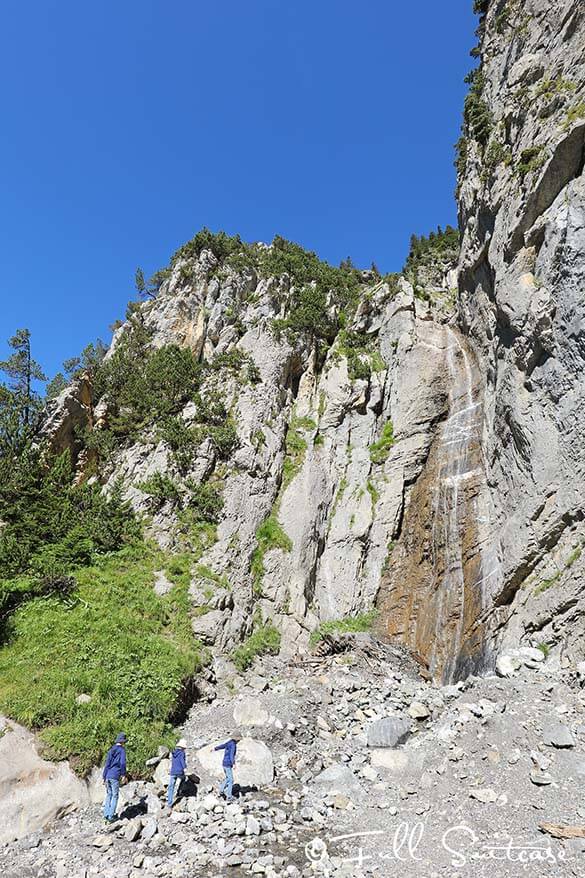 What makes the walk at Oeschinensee to Oberbärgli and Heuberg so special is that you are surrounded by the most spectacular landscape all the time.
It's not one of those walks where you have to walk for hours in a forest with nothing to see hoping for a big reward at the end. At Oeschinensee, the whole walk is one big reward – you climb a bit higher and the view is even better than before.
And when you think it cannot get better, it does again, and again, and again.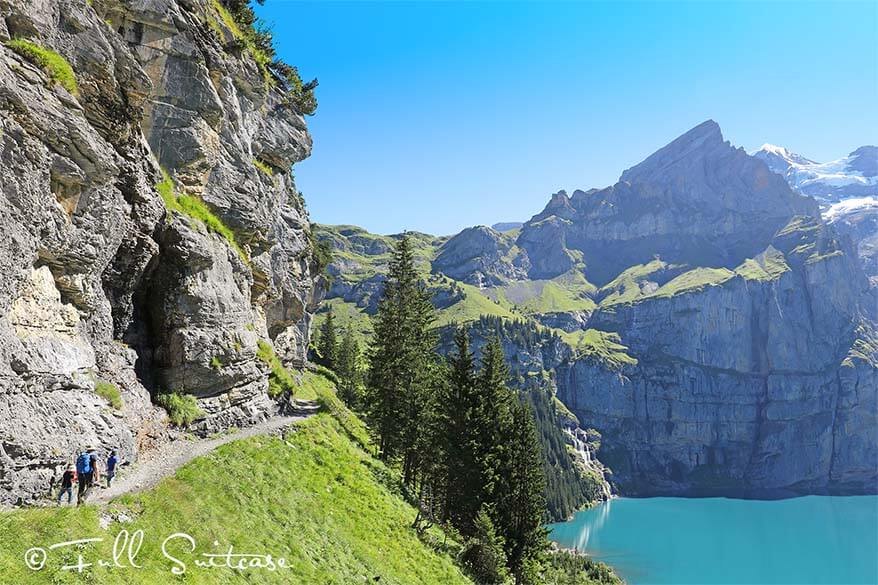 Just before we reached Unterbärgli, at noon, we had a picnic by one of the many streams with amazing views all around us.
This is a beautiful relaxing part of the walk – it's not as steep and there are beautiful mountain flowers all over the place while cowbells are ringing all around – it's the Swiss Mountains at their best. I read that cows and sheep have been grazing in this area since the 14th century.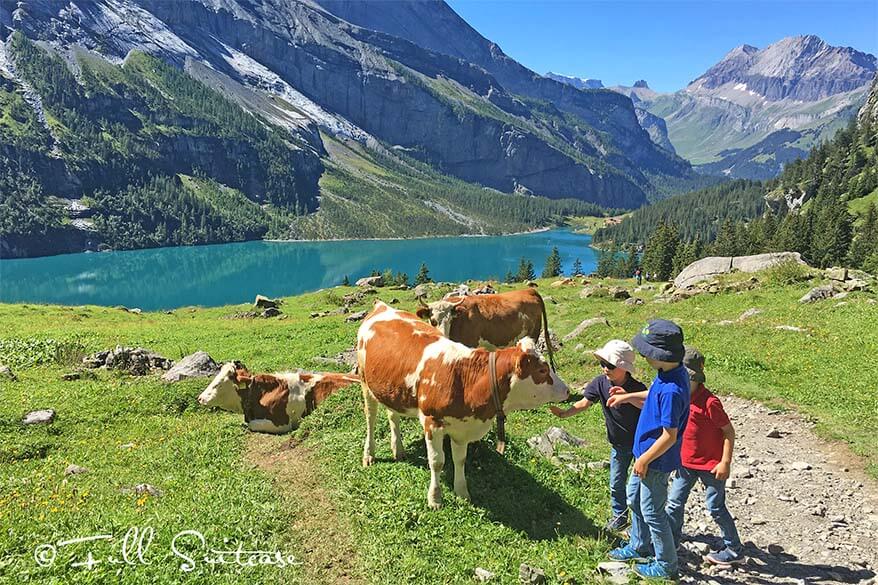 At Unterbärgli we decided to stop for a drink (Rivella, of course) at the mountain restaurant and two mountain goats joined us at the table. The boys didn't get a chance to get bored yet!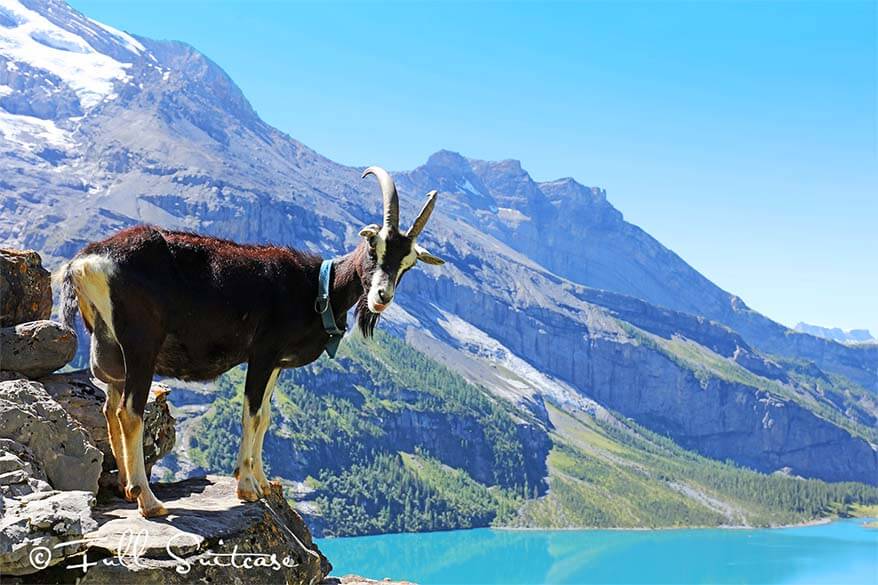 Part III: Unterbärgli – Oberbärgli
The climb between Unterbärgli and Oberbärgli is probably the most strenuous part of the hike – it's really steep.
12 years ago we had to use chains to safely cross some sections here. We were glad to see that the chains had been replaced by a proper path – so much easier and safer with young kids.
We started the climb at around 1 PM and reached Oberbärgli half an hour later.
We all had to take quite a few short breaks before we reached the top, but I wouldn't say that kids had any more difficulties than us. In fact, often we had difficulties trying to keep up with them!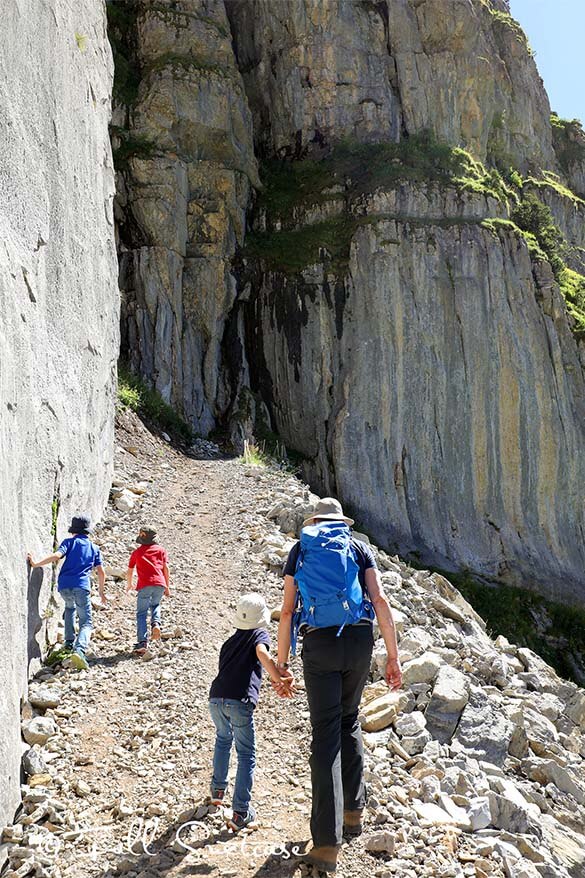 Part IV: Oberbärgli – Kandersteg cable car
At Oberbärgli the path splits. You can continue to the right, towards the Blüemlisalphütte for even more amazing views of the glacier and another, smaller lake.
If you are planning to add this section of the walk to your itinerary, you should probably leave very early in the morning, as it will be at least 2-3 hours there and back.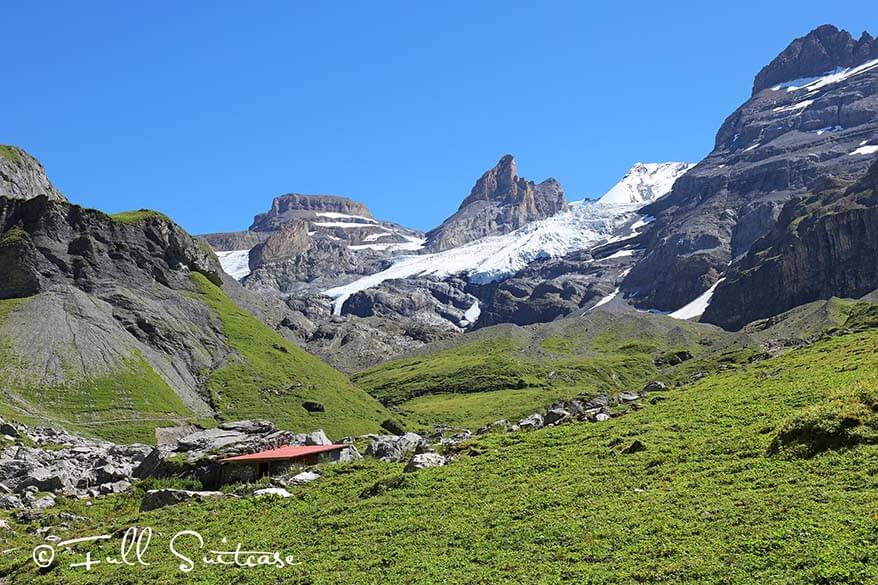 We went left, back towards the cable car that would bring us back to Kandersteg. It sounds as if we were almost done; nothing could be more true. By this point we did just a bit over half of the walk and had been walking for 3,5 hours.
The good thing is that the walk became much more flat and our heart rate could get back to normal again. The less good news was that some sections of the path were very narrow and with the kids walking way ahead of us, it was not the most relaxing part of the hike.
Everyone was getting a bit tired, but we had something to look forward to – the most amazing panorama of Oeschinensee was still waiting ahead of us.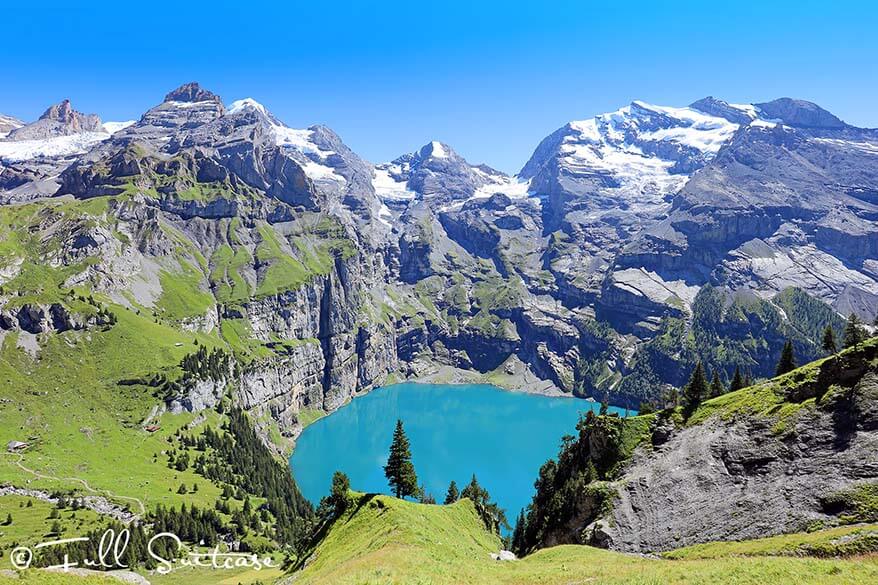 The last part of the walk was the most difficult for us. It was a steep descent on a narrow path with lots of small stones and a big risk of slipping. We had to hold our kids by their hand all the time here.
There was also a rather steep section with a waterfall to negotiate, but everyone did just fine. It's these most challenging parts of the walk that the kids enjoyed the most!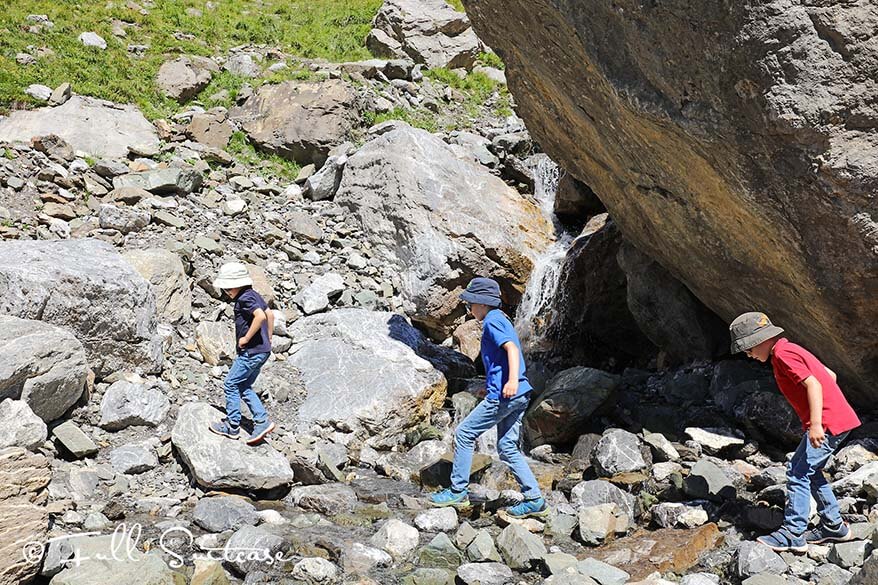 At 3 PM we were back at approximately cable car level and the path split. I chose to walk back to the Oeschinen Lake, while my husband and the kids continued straight to the cable car. It took them another 20 minutes – so about 5,5 hours for this walk in total.
It took me about 20 minutes to get back down to the lake and then another 20 minutes to reach the cable car from there. I have to admit that I liked the lake more in the morning – it was much busier in the afternoon and the light was not as nice. On top of that, I still had a steep climb back to the cable car. Why in the world didn't I just go back with the rest of my family?!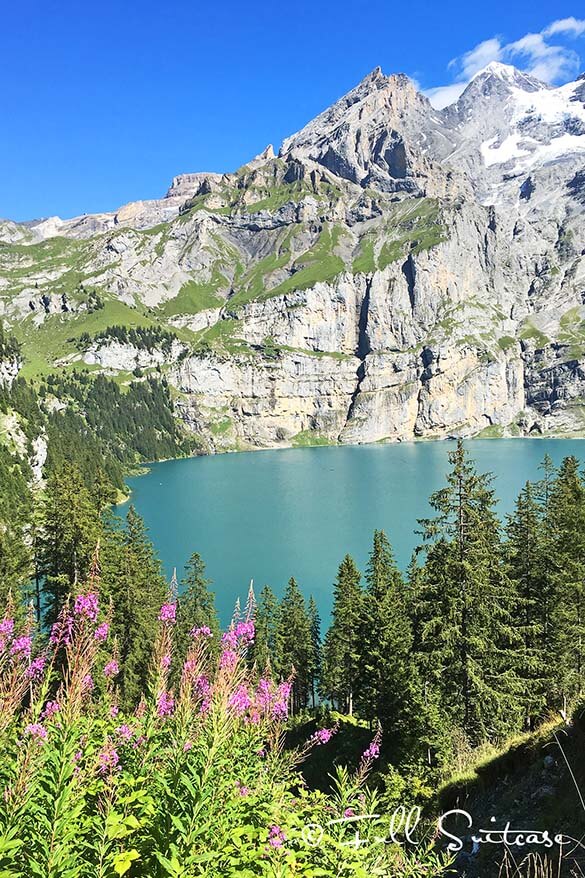 Part V: Kandersteg summer toboggan run
Located near the gondola rail, summer toboggan was the cherry on the cake at the end of the beautiful day for our kids. They were looking forward to it all day and I think it was the main motivation that kept them going through the difficult parts of the hike.
It was the first time we tried the summer toboggan and it was quite fun. The kids loved it. Ok, I liked it too – it was fun.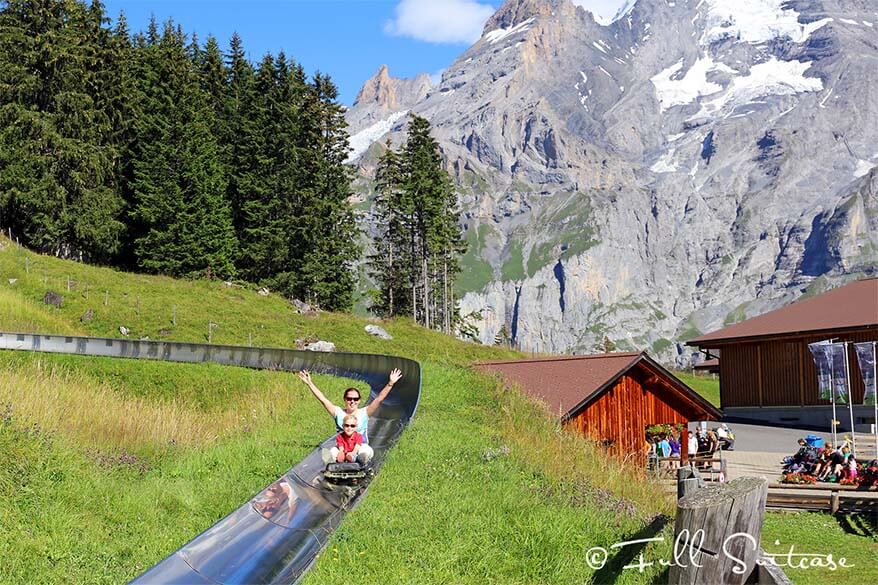 Practical info for hiking at Oeschinen Lake
Below, you can find some practical information for hiking at Oeschinensee. Take a look!
How long is the Oeschinensee walk and which direction is best
The walk at Oeschinen Lake can be done in two directions. We walked counterclockwise and started at the lake, then climbing up for the best views before heading back down. If you go clockwise, you will have a steep climb in the beginning, but it will be easier afterwards. If you choose to go this way, you will first see the Oeschinen Lake from above and end your walk at the lake itself.
I really don't know which direction is better – we saw people doing both. I think clockwise has a bit less climbing as you start higher already and afterwards it's mainly down all the way until you reach the lake, so it's probably easier that way. On top of that, you can end your day sitting by the lake, rent a boat, etc. But you have to wait longer for the nicest views and it will probably be busy by the time you reach the lake in the afternoon.
We started our walk at the lake and it was really beautiful and tranquil in the morning. It got much busier during the day and in the afternoon it was pretty busy (not like Vatican-busy, but busy like in all the chairs at the restaurant and all the rowing boats were taken).
This walk is described as a 3,5 hour walk Heuberg – Oberbärgli – Oeschinensee. It's some 8 km round trip with some 480m change in elevation. Note that the 3 hours is an actual hiking time (without any stops) for very experienced hikers. It took us 5,5 hours with kids, but we took many breaks, picnic- and photo stops.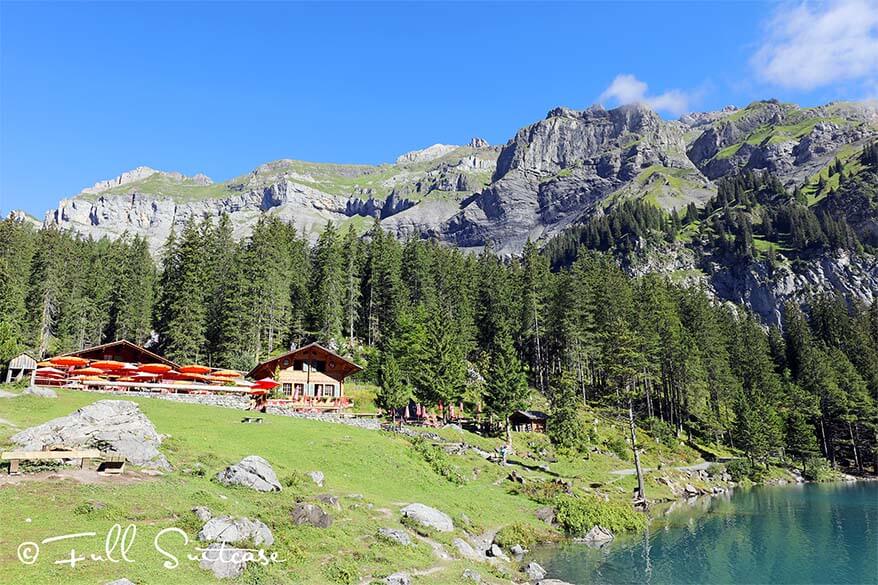 Oeschinen Lake with young kids
If you have very young kids, you can still visit Oeschinensee. The road from the cable car to the lake is gravel but can be easily done with a stroller.
If your kids can hike a little bit, but you are not sure if the long walk is for them, you can opt for a shorter and less steep version of the walk.
Start by the lake, walk to Unterbärgli and return back the same way (parts I and II in my description above). It's not an easy walk either as you have to climb quite a bit, but the views are amazing and I'd say it's a family-friendly walk.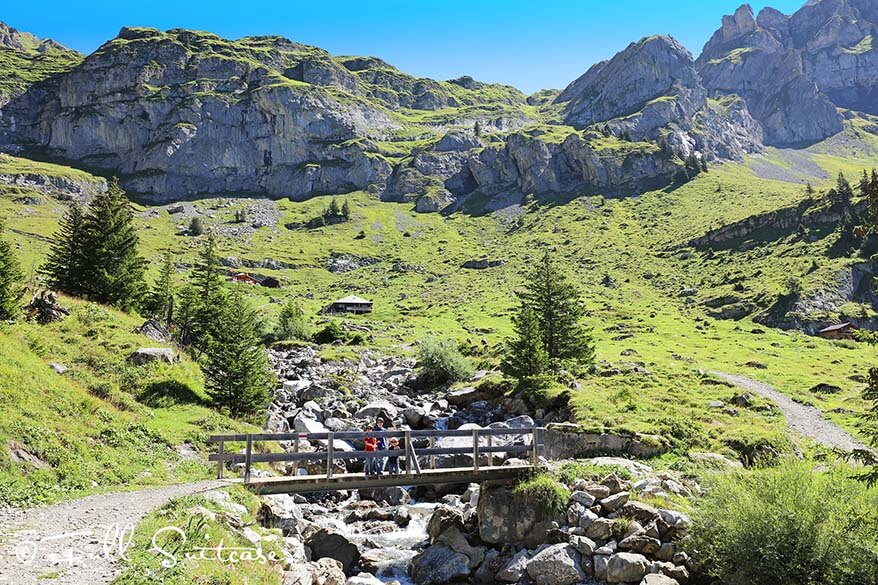 Prepare for your hike at Oeschinensee
This is a summer hike: June – September +- a couple of weeks, depending on the weather.
Don't attempt this walk when it's wet.
The walk is not suitable for hikers with a strong fear of heights.
Wear sturdy hiking shoes (we now have these hiking boots and they are the best).
If the weather forecast says 16°C and sunny, you're ok in shorts and t-shirts. With temperatures higher than 20°C it will be hot. We were a bit doubtful as it felt cold in the morning (6°C), but we really could have left all our sweaters and long pants in the hotel room – 16°C felt warm enough for this hike.
Sun hat and sunscreen are a must – there is hardly any shade.
Take plenty of water (hint: take a reusable water bottle and refill it along the way – tap water is good in Switzerland). Carry a picnic for more flexibility.
There are dining and bathroom facilities at the top cable car station, at Oeschinen lake itself, and at Unterbergli.
Where to stay for visiting Oeschinen Lake
The best option is to stay in Kandersteg for at least two nights. That way you have one full day to truly enjoy this beautiful hike at Oeschinen Lake. Here you can find the best deals for Kandersteg accommodation.
Kandersteg is actually pretty close to Interlaken, Wengen, and Grindelwald so you can use it as a 'home base' and explore the rest of the area from there. As I said, Kandersteg is not very well-known among the tourists and the accommodation prices are generally lower than in the other nearby towns in Berner Oberland.
We stayed at a beautiful Belle Epoque Hotel Victoria. It's a charming hotel with lots of history, beautiful common areas, an indoor swimming pool and several play areas for the kids. They also have several family rooms and the food was excellent – what more can you wish.
TIP: Using the map below, you can also compare hotels, apartments, and short-term rental accommodations in Kandersteg. Simply insert your travel dates and group size, and you'll see the best deals for your stay. Check it out!
Update: For many years, we considered the Oeschinensee hike to be the best in Switzerland. Indeed, it is amazing! However, recently we discovered another really special hike in Switzerland – Oberberghorn Panorama Trail at Schynige Platte.
I won't say it's better than Oeschinensee, but it's definitely just as nice (and easier). So if you are visiting this part of Switzerland, make sure to check out the best hikes of Schynige Platte as well!
And if you like panorama hikes with amazing mountain and lake views, you may also want to check out Stoos Ridge Hike. It's close to Lucerne and Zurich and is a locals' favorite.
Oeschinensee FAQ
Can you drive to Oeschinen Lake?
Oeschinen Lake is located high on the mountain and is not accessible by car for tourists. You have to leave your car in Kandersteg and take a gondola. From the gondola top station, you can walk to the lake in 20-30 minutes. In high season, there is a shuttle bus here as well.
How do you get to Oeschinen Lake?
In order to get to Oeschinen Lake, you have to get to Kandersteg town in Berner Oberland in Central Switzerland. You can reach Kandersteg by car or by train. From Kandersteg, you can take a gondola, followed by a short easy walk to Oeschinensee. You could also hike to Oeschinen Lake from Kandersteg town, but it's a long uphill hike.
Can you swim in Oeschinensee?
While you can swim in Oeschinen Lake, remember that it's a glacial lake. So even on a warm summer day, the water here is freezing cold. We visited Oeschinen Lake several times and I never saw anyone swim there. Instead, rent a rowing boat and enjoy the scenery – it will be much more enjoyable!
When is the best time to visit Oeschinen Lake?
The best time to visit Oeschinen Lake is in summer, between July and mid-September. That's when there's no snow at the lake and you can enjoy the beautiful hiking trails nearby. During the summer season, Oeschinensee gondola normally runs from around mid-June to mid-October. Avoid summer weekends as it can get very busy at the lake.
Can you visit Oeschinen Lake in winter?
Oeschinensee gondola is normally open during the winter ski season, from the 3rd weekend of December to the 3rd weekend of March. So yes, you can visit Oeschinensee in winter, but it will be covered in ice and snow. Alpine hiking trails will be closed. You'll likely need snowshoes in order to reach the lake from the gondola. Cross-country skiing is also popular.
More tips for your trip to Switzerland:
Some of our favorite hikes in Switzerland:
If you found this post useful, don't forget to bookmark it and share it with your friends. Are you on Pinterest? Pin these images!