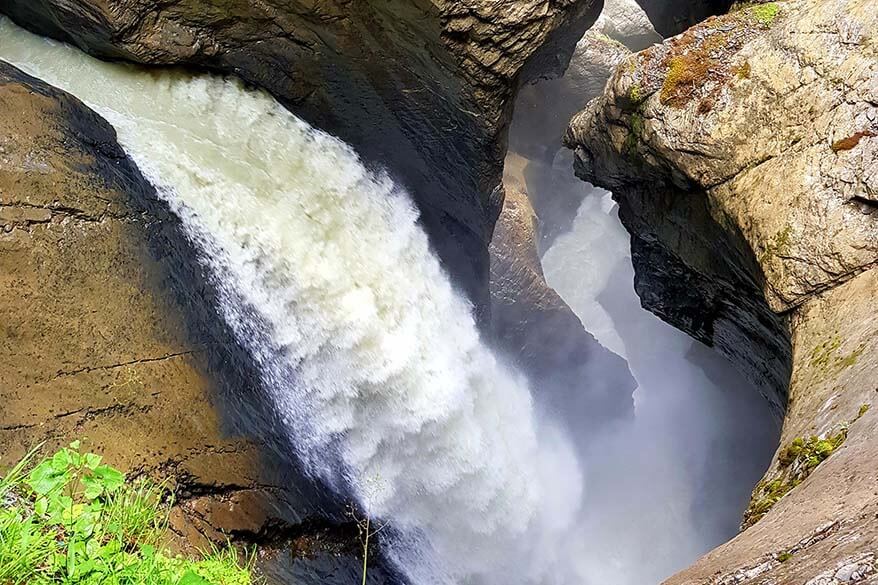 A UNESCO World Heritage site, Trümmelbach Falls in the Lauterbrunnen Valley of Switzerland may be one of the most awe-inspiring natural attractions you will ever visit! With its series of 10 waterfalls thundering down inside a mountain, nothing can quite prepare you for witnessing the sheer power of Mother Nature at work.
If you are wondering whether Trummelbach Falls are worth a visit, how to get there, and what to expect, then read on. This article should answer all your questions and give you a better idea of what this unique site is about.
We also included our tips for an easy hike from Lauterbrunnen to Trummelbach Falls via Staubbach Falls. Find out!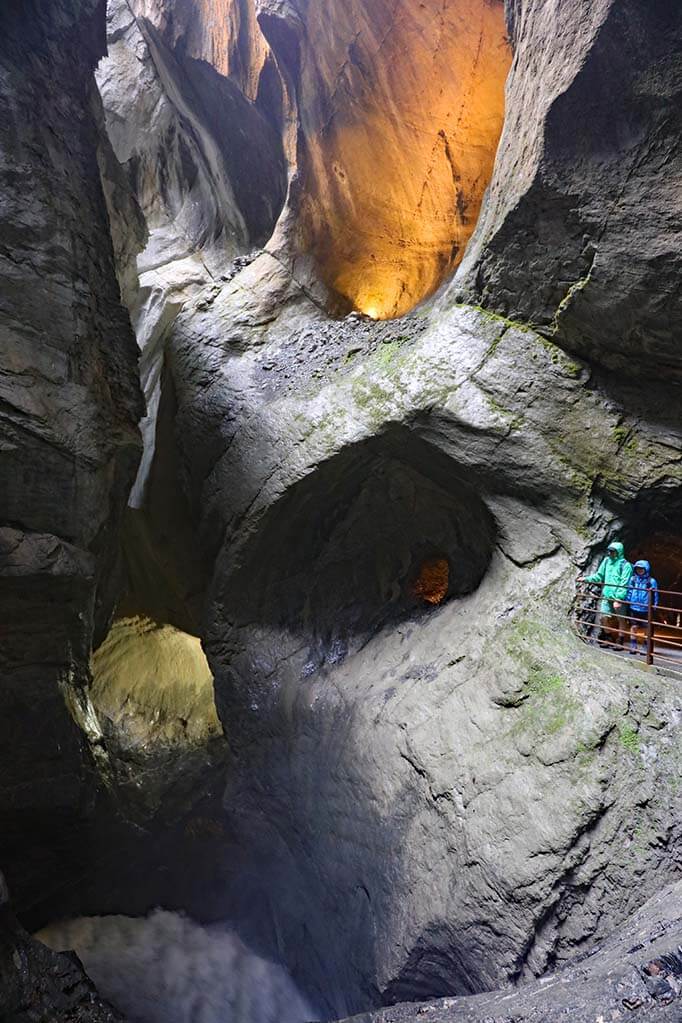 Trummelbach Falls – Introduction
Trummelbach Falls are Europe's largest subterranean waterfalls and the only underground falls that are easily accessible to the public. These waterfalls are part of Lauterbrunnen's 'Valley of 72 Waterfalls', which is probably best-known for Staubbach Falls that you see in all the pictures of Lauterbrunnen. However, Trummelbach Falls are a thousand times more impressive than Staubbach Falls!
Trümmelbach is fed by the meltwater from the glaciers of the Eiger (3,970m), Mönck (4,099m) and Jungfrau (4,158m) and carries a jaw-dropping 20,000 liters of water per second down to the valley!
This water carries an additional 20,000+ tons of scree and boulders per year, all contributing to the falls' breathtaking power. The highest fall is 290m (950 ft) and the total drop is 400 m (1300 ft), with a drainage area of 24 km².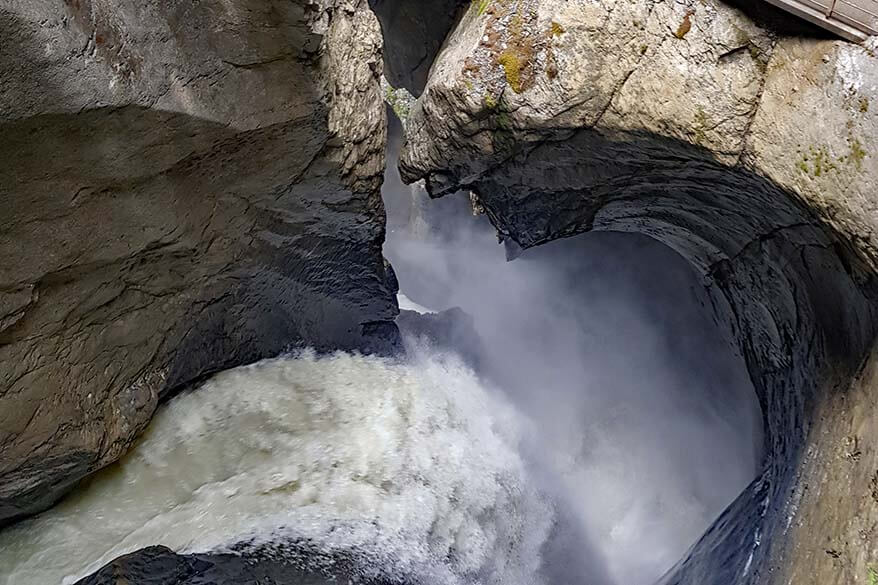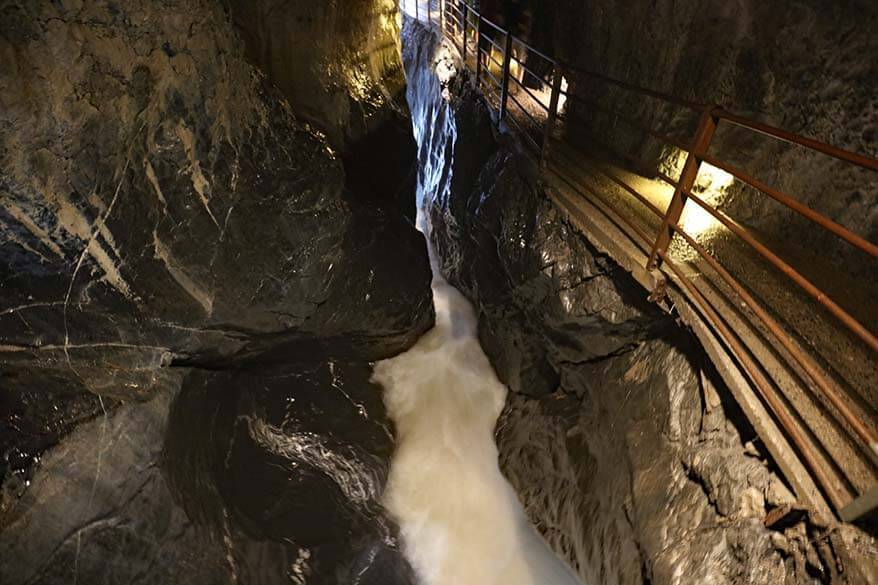 Constant erosion has created incredible rock formations, with layers of rock chiseled away by the violently crashing water over millennia.
Perhaps the biggest indication of the power of these falls is the noise. You could try to compare the sound of the rushing water to that of a freight train, which quite literally vibrates through the mountain itself! But even that is an understatement. You just have to stand there and feel the power of the water in order to truly appreciate what it's like.
TIP: If possible, try to video some of the views rather than photograph them. Pictures simply cannot do these waterfalls justice! Even the video can't portray what it's like, but it gives you a somewhat better idea of what to expect. Also, it's extremely difficult to take any pictures at the upper falls because it's very dark there and the water is really close to you and splashing everywhere.
Below is a short video of Trümmelbach Falls that I put together. Check it out! It will give you a somewhat better idea of what to expect. Still, it's nothing compared to how it is in reality. The power of the water that splashes you and everything around you, the deafening noise… You just have to experience it!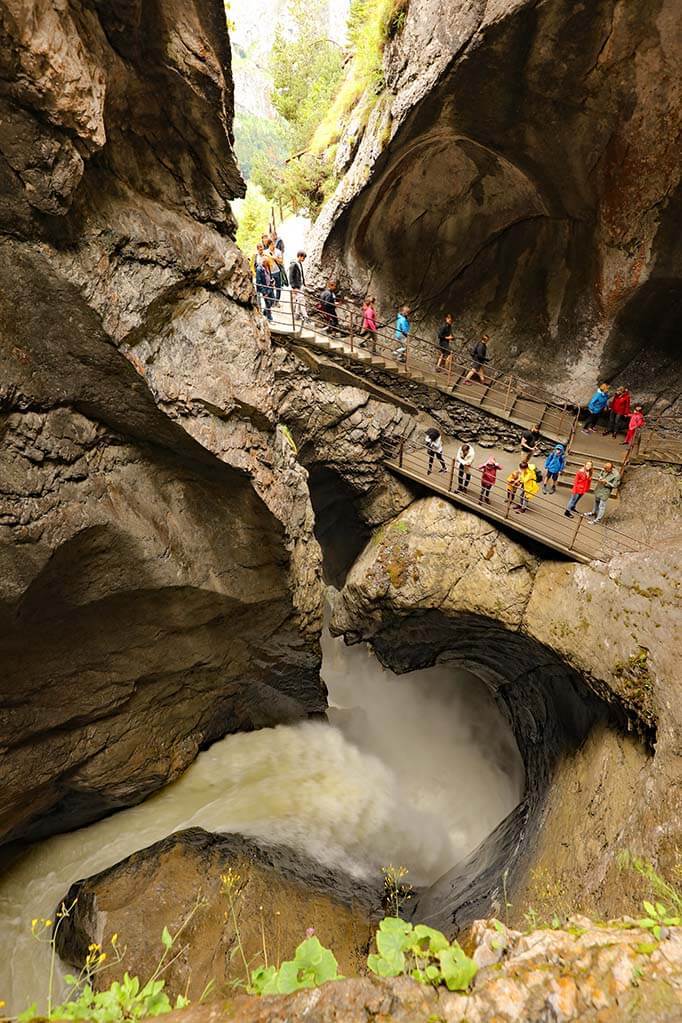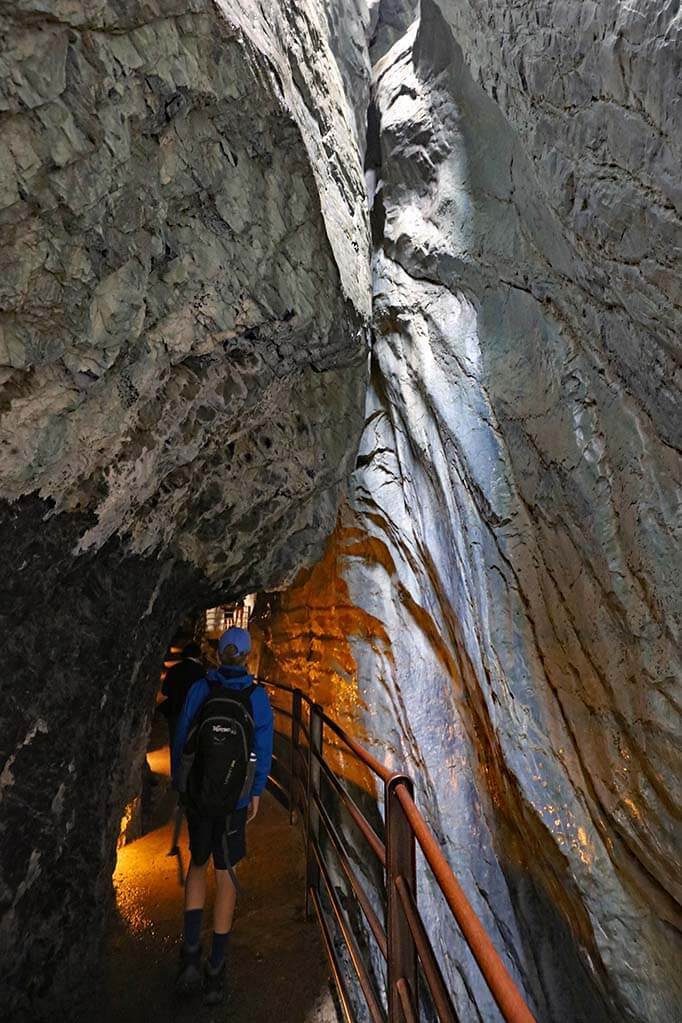 How to Visit
10 glacier-waterfalls are accessible via an ingenious network of walkways, tunnels, galleries, and overlooks leading into and through the mountain. These are the only waterfalls in the world that can be viewed this way. It is incredible to be able to see them from so many different perspectives.
There are many steps to negotiate at Trummelbach and do you have to be in reasonable physical shape in order to visit. You can either take the stairs or use the funicular elevator – included in the cost of entry – which takes you up part of the way. Either way, you'll have to do at least some stairs in order to visit the best viewpoints of the falls.
A trip with the elevator – built in the mountain in 1913 – is an experience in itself. This lift takes you up from the valley to the point between the 6th and the 7th waterfalls. From there, you can either walk up to see the upper falls (7-10) or walk down back to the valley, passing the lower falls (6-1) along the way. See the image below in order to better understand how it works.
I recommend taking the elevator up and visiting the upper section which gives the most spectacular views. After that, you can either take the elevator back down (perfect for those with limited mobility) or walk all the way down to the ground level (recommended).
If you are fit enough, I recommend walking down instead of taking an elevator. That way you can see all the 10 waterfalls and get a complete picture of what Trummelbach is like. As you walk down, you'll also have some lovely views across the valley to Aegertenbach Falls, north to the Staubbach Falls and down to the Murrenbach Falls to the south.
If you don't want to waste time waiting for the elevator, you can also use the steps to walk all the way to the top (level 10), then walk back down to the elevator (level 6-7) and take it down the rest of the way. Or you can walk up and down – the choice is yours.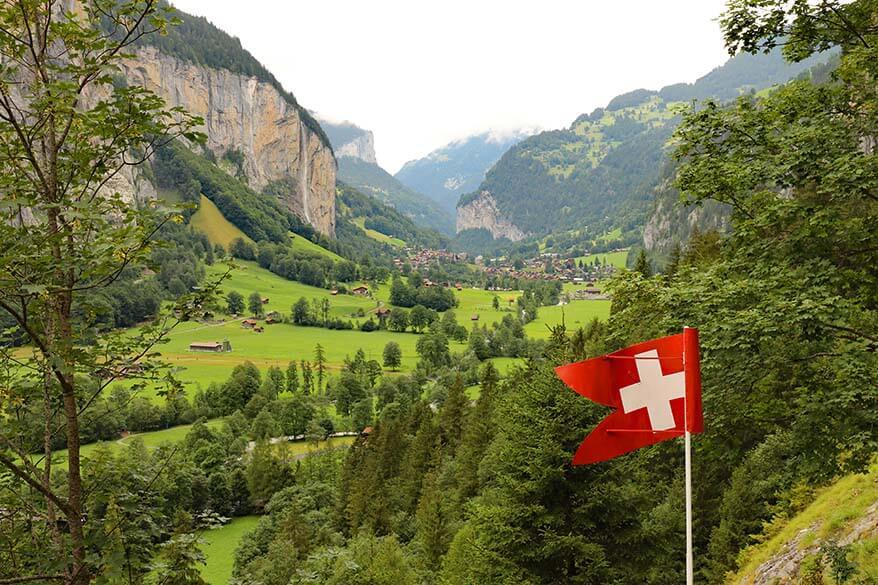 Are Trummelbach Falls Worth It?
Trummelbach Falls are the only glacier-waterfalls in Europe that are located inside a mountain and still easily accessible. They are the most unique waterfalls we have ever seen, anywhere in the world. So yes, I think that the Trummelbach Falls are absolutely worth a visit.
I've been here three times, with about 10 years in between each visit. Still, every time, I 'm amazed at how powerful this waterfall is. It's impossible to describe the sheer power of water that is tumbling down through the underground tunnels or how it feels to stand next to such a huge mass of roaring water. It's just something you have to experience!
A visit to Trummelbach waterfalls doesn't cost much, doesn't require much time, and can easily be combined with so many other amazing natural attractions of the Jungfrau Region. So don't miss it!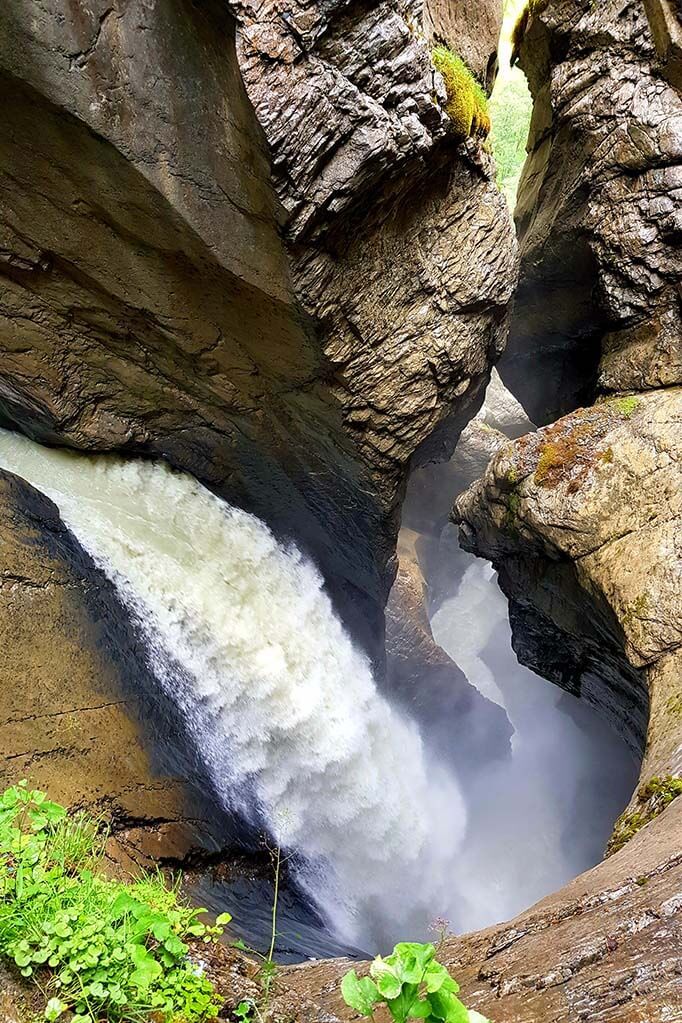 Best Time to Visit
The most spectacular time to visit Trummelbach Falls is in the summer when the snow melts and the volume of water gushing down increases. Try to go early in the day before the tour groups arrive.
TIP: Trummelbach Falls is a great rainy day activity and the waterfall is even more powerful when it rains. However, if the weather gets really bad, the falls may be closed. So it's a good idea to check ahead.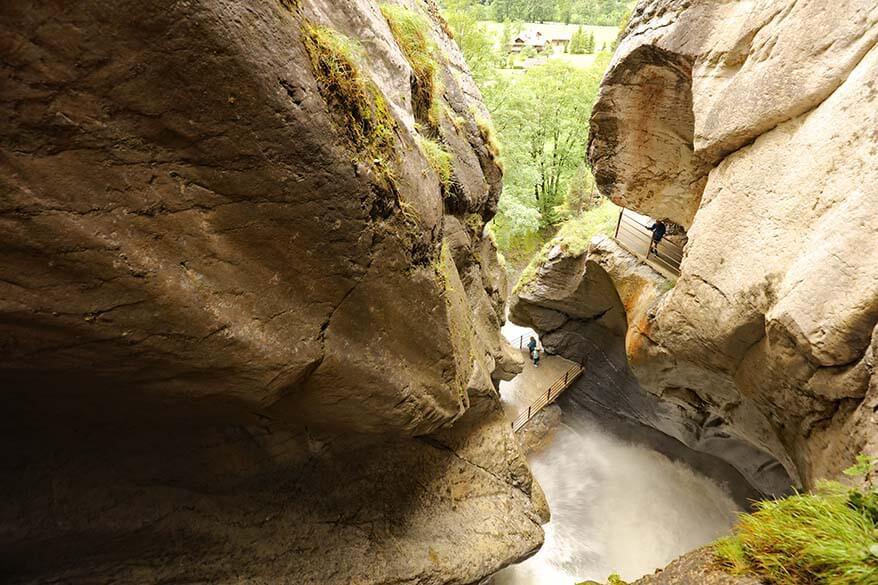 How Much Time Do You Need
Depending on how busy it is, you'll need 1-2 hours to visit Trummelbach Falls. That's if you want to visit all the viewing points and also take some time to enjoy them, take pictures, etc.
Our experience: We visited Trummelbach on a rainy morning at the end of July and spent about 25 minutes waiting for the elevator. After that, we spent a bit less than an hour visiting the falls (we visited all 10 of them). Our total visit time was 1h20 – with plenty of time to enjoy everything.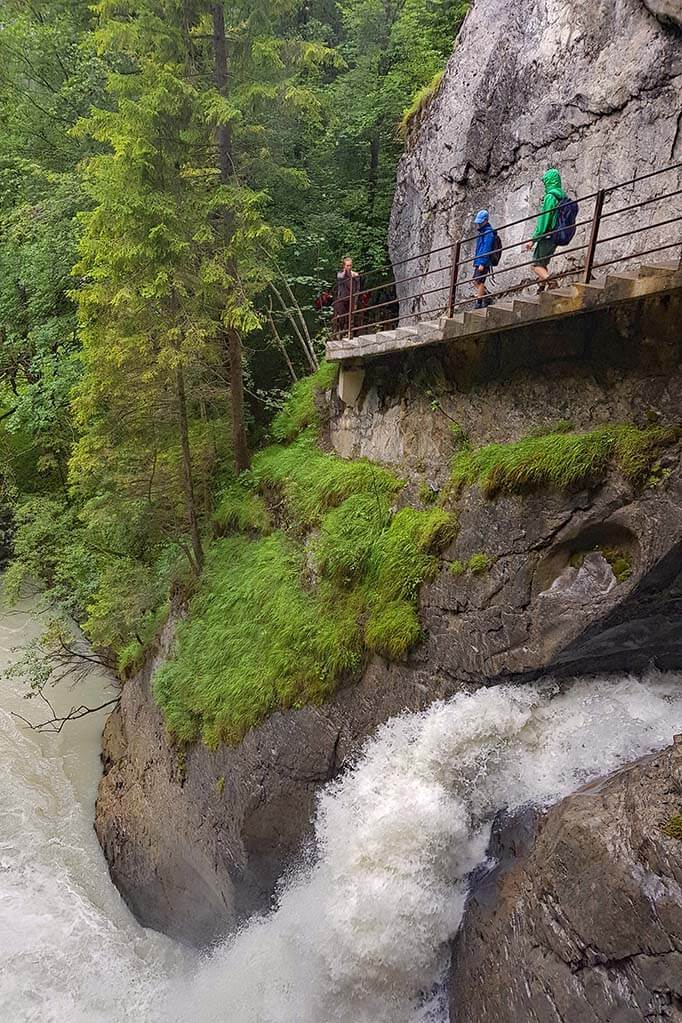 Cost & Opening Times
Trummelbach Falls are open from 9 AM to 5 PM daily from the beginning of April to the beginning of November, and from 8.30 AM to 6 PM daily in July and August.
The cost of visiting the Falls is 11 CHF for adults and 4 CHF for children (CHF is (roughly) about the same value as USD and Euro). You can only buy tickets upon arrival and pay cash or by credit card. I read somewhere that credit cards are not accepted, but I guess that has changed because we could pay by card.
The Trummelbach site is privately owned. There are no discounts at Trummelbach with either Swisspass or Eurailpass. We had the Jungfrau Region Travel Card, which only gave us 1 CHF discount per adult. That being said, Trummelbach Falls are well worth the entrance fee, so don't let this stop you.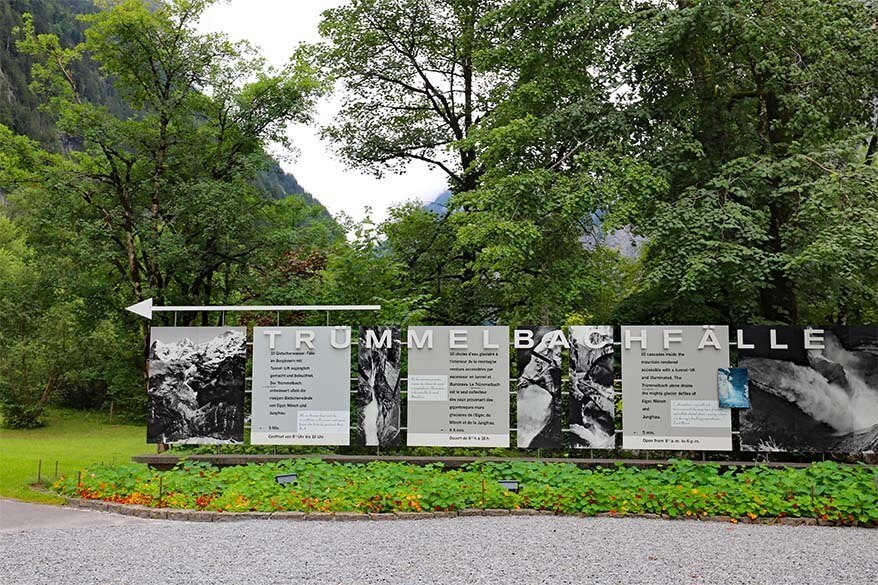 Trummelbach Falls with Kids
Please note that children under the age of 4 are not allowed to visit the Trummelbach Falls for safety reasons. When you see the place, you'll understand why.
The darkness of some of the passages and sheer volume of the thundering water can be alarming for some older children as well, so this is something to consider before visiting. On a reassuring note, the railings at the viewpoints are high and secure, although children should be kept close by you at all times.
We visited with our oldest son who was 10 at that time (our twins preferred to stay at the kids club of our hotel nearby). He was really impressed by the power of these falls and loved the visit. But there were moments when we preferred to hold his hand and keep him at a safe distance from the railings.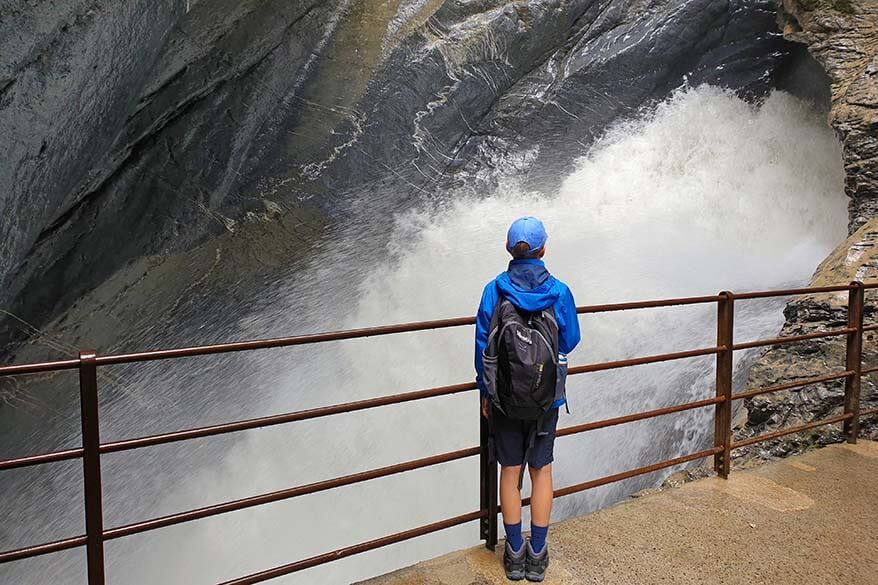 Practical Tips
Trummlebach Falls are not wheelchair accessible. The steps are not particularly steep and they do have a metal handrail. However, you still need to be reasonably fit in order to climb to the uppermost viewing areas.
Sensible footwear is a must! The stone steps inside the mountain can be quite slick, so wear shoes with a good grip. Hiking shoes are the best. Sandals, flip-flops, and heels are not just unsuitable, they can be dangerous and you can be turned away for wearing them.
Prepare to get wet, even if you don't walk right up to the edge of the viewing areas. The significant sprayback leaves a constant fine mist in the air that stealthily soaks into everything! If you want to protect your head, use a hood, not an umbrella. Some of the tight paths and overhangs make using an umbrella impossible. You might also want to consider buying a rain cover for your backpack if it isn't waterproof.
It's also a good idea to wear a rain jacket, also in summer. The temperature inside can be very cool, even during the middle of summer. In a colder season, you may want to consider gloves. The metal handrail for the steps is always wet and it can start to feel very cold if you need to use it often.
There is a cafe with outdoor seating (and great views!) beside the car park. You'll also find a small souvenir shop. There is also a bathroom, but it's important to note that there are no bathroom facilities once you enter the falls.
One last thing, dogs are not allowed at Trummelbach Falls.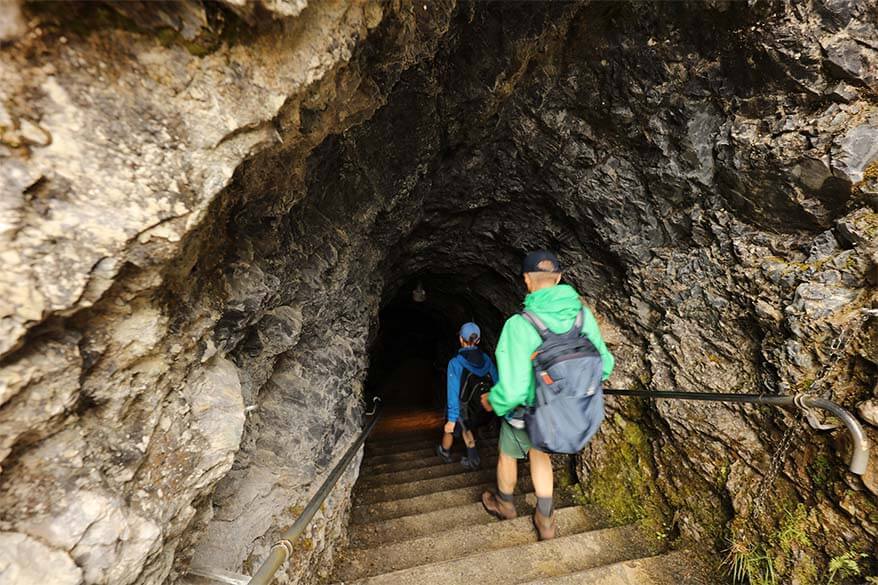 How to Get to Trummelbach Falls
The Trummelbach Falls are located about 3km south from Lauterbrunnen Village and approximately 16 km from Interlaken. If you don't have a car, you can take a train from Interlaken Ost to Lauterbrunnen. The train from Interlaken to Lauterbrunnen only takes about 20 minutes.
Once in Lauterbrunnen, you'll need to either take a bus, a bike or walk to Trummelbach Falls. Below are all the options:
By Bus
To get to Trummelbach Falls from Lauterbrunnen, you can take bus #141 from outside the train station. It runs hourly and takes around 10 minutes to reach the falls. Cost 2-3 CHF.
TIP: Returning to Lauterbrunnen after visiting the Falls, you might like to take the Staubbach Falls Trail. It's a beautiful 50-60-minute walk along a relatively flat valley floor beside the river. See below for more information.
By Car
You can also drive to Trummelbach from Lauterbrunnen, taking the main road up to the valley, towards Stechelberg. It takes around 5 minutes and there is a free car park close to the falls.
By Bike
You can rent a bike in Lauterbrunnen and drive to Trummelbach Falls by bike. It's a rather flat route and there are indicated paths you can follow. However, I would only suggest doing this if you are planning to spend more time biking in the valley. It seems to me that it's not worth renting a bike for such a short route to the falls.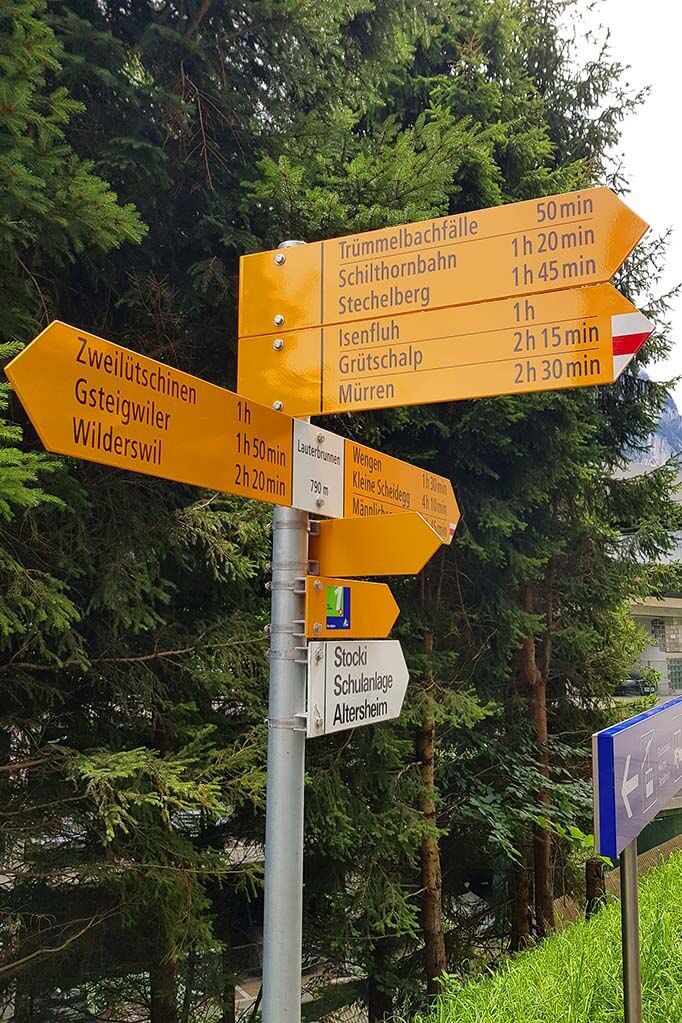 Hike from Lauterbrunnen to Trummelbach Falls
We chose to walk to Trummelbach Falls from Lauterbrunnen and also back. It's an easy pleasant hike of about 3,5km (2,2 mi) and takes about 50 minutes one way. As you leave the train station in Lauterbrunnen, you see signs indicating various hiking trails, including Trummelbach.
I suggest that instead of going straight to Trummelbach Falls, you first visit the Staubbach Falls along the way. It's just a short detour (5-10 minutes), is free to visit, and definitely worth it.
At Staubbach Falls, you can climb up and walk a bit behind the waterfall. If you do this, make sure to use the free hiking poles available at the entrance. Count at least 15-20 minutes extra to climb up to the lower part of the waterfall. You can also visit Staubbach waterfall on your way back, after visiting Trümmelbach waterfalls. Here you can see this hike indicated on a map.
The Trummelbach Falls trail via the Staubbach Falls is on a quiet road for the biggest part of the way. This is a flat, stroller-friendly walk that passes a playground, and it's something nice to do with kids as well. The views here are really nice and you can enjoy the scenery of alpine peaks and flowering meadows along the way.
You can do this hike in both directions, or take a bus for one part of the journey. Since the bus schedule isn't very flexible and the wait for the next bus might take you longer than walking, I suggest that you do this hike at least in one direction.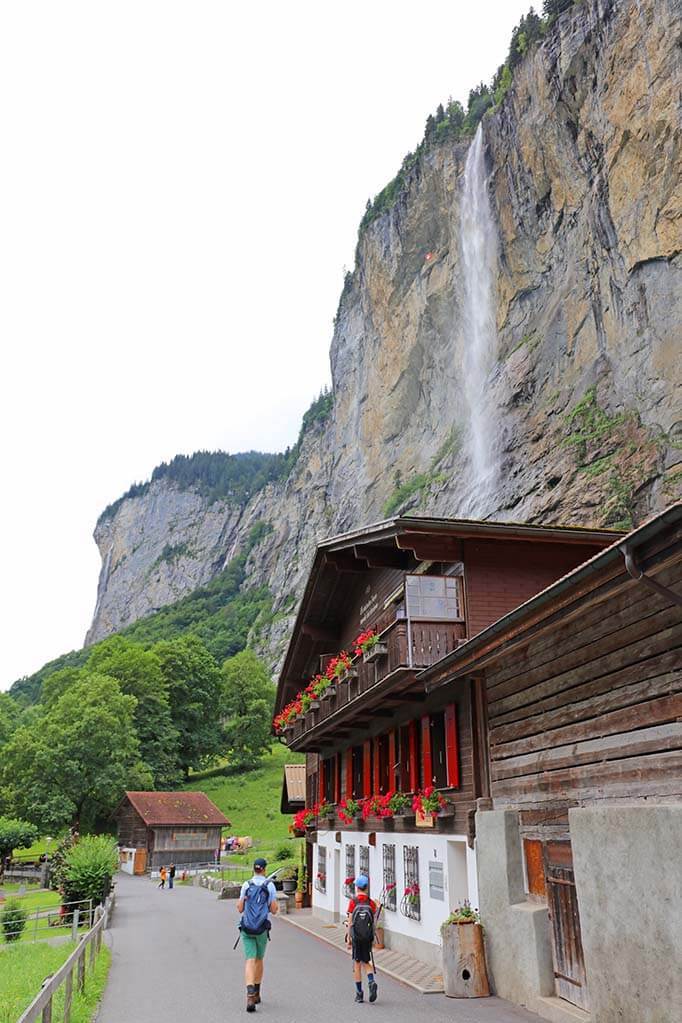 Trummelbach Waterfall is a very popular spot to visit in the Jungfrau Region, but it's just one of the many amazing places you can see here. On the blog, you can find more blog posts about a few of our other favorite places near Lauterbrunnen.
So if you are looking for more ideas for what to see and do in the Jungfrau Region, please check our other guides below:
FAQ
How to get to Trummelbach Falls?
You can reach Trummelbach Falls by car, by bus 141 from the Lauterbrunnen railway station, by bike, or on foot. If you walk, count about 50 minutes from Lauterbrunnen one way. It's a flat easy walk of about 3.5 km (2.2 mi).
How much time do you need for Trummelbach Falls?
You should count 1 to 2 hours for Trümmelbach Falls. Your visit time will depend on how busy it is and whether you walk both ways or take an elevator. We spent a bit less than 1,5 hours and it was plenty of time to visit all the viewing points at a leisurely pace.
Is Trummelbach Falls open in winter?
Trummelbach Falls is open from April to the beginning of November. It is closed in the winter months.
Can you visit Trummelbach Falls with kids?
You can visit Trummelbach Falls with kids of 4 years and older. Younger kids are not allowed for safety reasons. Even with older kids, make sure to hold on to their hand at all times.
If you found this post useful, don't forget to bookmark it and share it with your friends. Are you on Pinterest? Pin this image!