Wondering where to go in September? September is one of the best months to visit some of the most popular National Parks in the U.S. The summer crowds are gone, it's less hot, wildlife is more active, and everything is still open. In some places, you can also experience the amazing colors of the fall…
But what to expect when visiting one or the other park and what are the best National Parks to visit in September?
In this article, we feature a selection of some amazing American National Parks with tips for visiting them in September. Why go at this time of the year, what kind of weather to expect, and what to know.
We included some of the best-known and popular names, but also some lesser-known parks that see fewer crowds and are great in the early fall.
Spoiler alert – for the biggest majority of the National Parks featured here, September is one of the absolute best months to visit. So if your travel dates are flexible, this might just be one of the best times of the year to plan that National Parks trip that you've been dreaming of.
And while it can still be quite busy, all these parks are perfect for the Labor Day weekend getaway.
Good to know: For this inspirational post for where to go in September, we asked opinions of fellow travel bloggers who agreed to share their favorite National Parks they visited this time of the year and offer some experience-based tips for your visit. We also included some of our suggestions, National Parks that are at their best in September. Take a look!
READ ALSO: Where to Go in October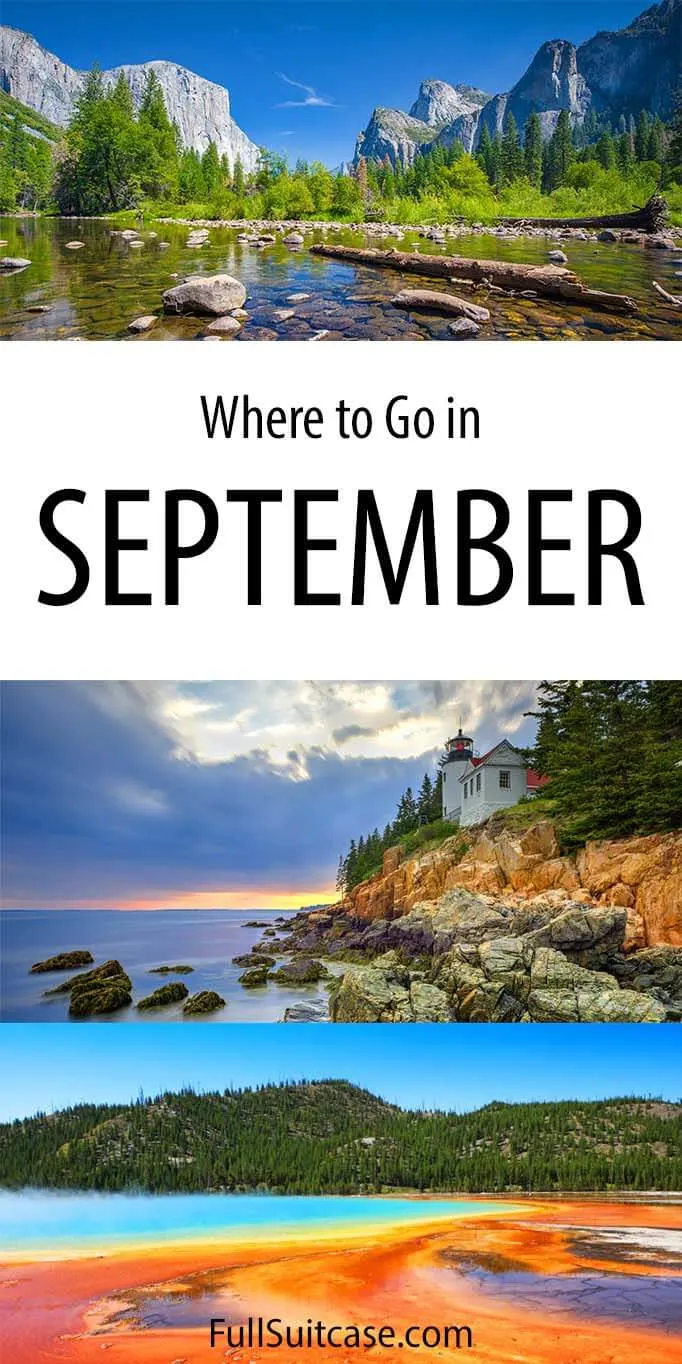 PRO TIP: If you are planning to visit several National Parks, get an annual pass. It's called America the Beautiful Pass and costs 80 USD for the whole family traveling in the same vehicle. It is valid in all National Parks and 2,000 federal recreation sites across the United States for one year from the month of purchase.
These are some of the best American National Parks to visit in September:
1. Glacier National Park
In our opinion the BEST month to visit Glacier National Park is September!
In September, the Going To The Sun Road will be open – which is the highlight of Glacier National Park – and sometimes doesn't open until mid July. Also, there are fewer tourists since school is back in session.
September weather is a little cooler than in August, but it is still warm enough to go hiking in shorts and t-shirts most days. Which means it is perfect hiking- and exploring weather!
You can expect average high daytime temperatures at around 50-60°F (10-15°C) and it's generally much warmer in the beginning of the month than at the end.
If you are lucky, you may even get a gorgeous snow day in September as well, which will make the landscape look really magical. But never fear – if it does snow in September it usually melts the next day. If you want to be safe, we would recommend visiting Glacier NP in the first or the second week in September since there is a better chance that the weather will be ideal for exploring.
In September, everything should be open in Glacier NP and all the hiking trails are generally accessible. Be aware that some trails can be closed due to grizzly bear activity, but that is the case at any time of year.
We stayed in the Glacier National Park area for 5 weeks and talked with locals there and they agreed that September is the perfect month to explore Glacier National Park! Here you can find suggestions for what to do in the park.
LEARN MORE: Glacier National Park Itinerary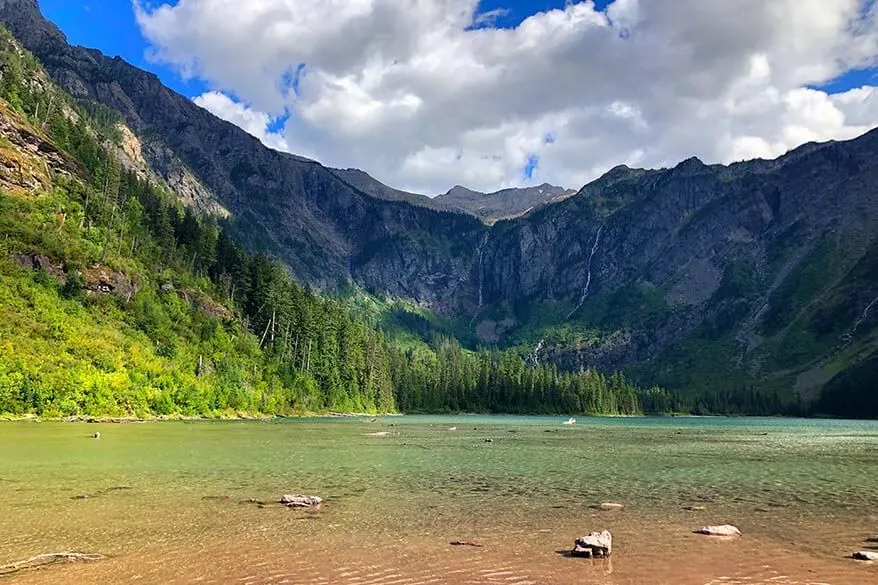 2. Yellowstone National Park
Yellowstone National Park is one of the most fascinating national parks in the USA. It's home to over 60 % of all the world's geysers and about 10,000 other geothermal features! You will be amazed to see all these colorful hot springs, erupting geysers, bubbling mud pots, fumaroles, and steam coming out of the earth. This park is a true natural wonderland!
Yellowstone is also a home to bison, bears, coyotes, wolfs, and elks.
Don't miss the Grand Prismatic – the most famous and 3rd largest hot spring in the world, the monumental Grand Canyon of Yellowstone or the Old Faithful Geyser. There are so many amazing things to do in Yellowstone National Park that you really have to plan at least 3-4 days here. But even if you only have one day in Yellowstone, it is well worth a visit!
September is a truly spectacular time to visit Yellowstone. It's less crowded than in the summer months, but – most importantly – it's wildlife's mating season. So you have higher chances of seeing wildlife in most areas of the park. September is also a great time to enjoy the fall colors in Yellowstone.
Because of the milder temperatures, it's also a wonderful month for hiking and camping in the backcountry. Permits are easy to obtain and you won't meet many people. Just remember that you are in bear country so always follow the bear safety rules!
While Yellowstone might start to feel a bit wintery towards the end of September, the temperatures are generally very good for outdoor activities. Be prepared for warm days and chilly nights. On average, it only rains for about 5 days in September in Yellowstone.
TIP: If you are planning a visit, make sure to check our suggested Yellowstone itinerary for any trip from 1 to 5 days.
LEARN MORE: Best Things to Do & Top Places to See in Yellowstone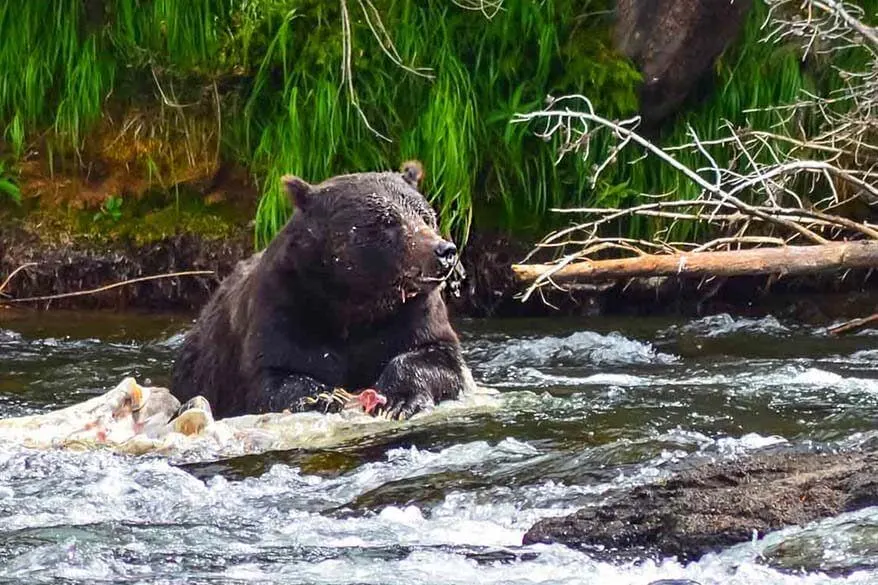 3. Grand Teton National Park
The impressive landscape of Grand Teton National Park is spectacular at any time of year, but September is a particularly great time to visit. The park is fully open unless there has been an early winter storm, which is quite unlikely in September.
Not only have the crowds started to slow after the rush of summer, there is also plenty of wildlife. And Grand Teton is also known for its amazing foliage in September. Changing colors dot the hillsides with oranges and yellows that pop among the swaths of evergreens.
If you come in the second half of the month, you should be able to see the most colorful foliage. Rumor has it that the 3rd week of September is usually the most magical time to visit Grand Teton NP.
Mid-September high daytime temperatures are typically around 70°F (20°C). And even if it's cooler, the weather is usually perfect for exploring the outdoors.
Whether you only have one day in Grand Teton National Park or can spend a week, there are plenty of things to do in the park.
One of the grandest ways to start your day in the park is with a sunrise and a cup of coffee at Schwabacher's Landing on the east shore of the Snake River (see map). Not much can compare with the spectacular sight of the morning glow on the mountains, reflecting in the water below. It is a memorable scene that you're sure to remember, even if the morning isn't perfectly clear.
Other stops worth visiting are Antelope Flats and Mormon Row. The iconic T.A. Moultan Barn rests against the backdrop of the majestic Tetons, while nearby Mormon Row gives you a little taste of early settler life in Wyoming.
Be sure to build in some time to explore Jenny Lake, String Lake, and the surrounding areas. You can take a scenic boat cruise, rent a canoe or kayak, or venture out on a hike.
TIP: Combine two parks in one trip! Check out our itinerary suggestions for both parks via the link below.
LEARN MORE: Grand Teton and Yellowstone itinerary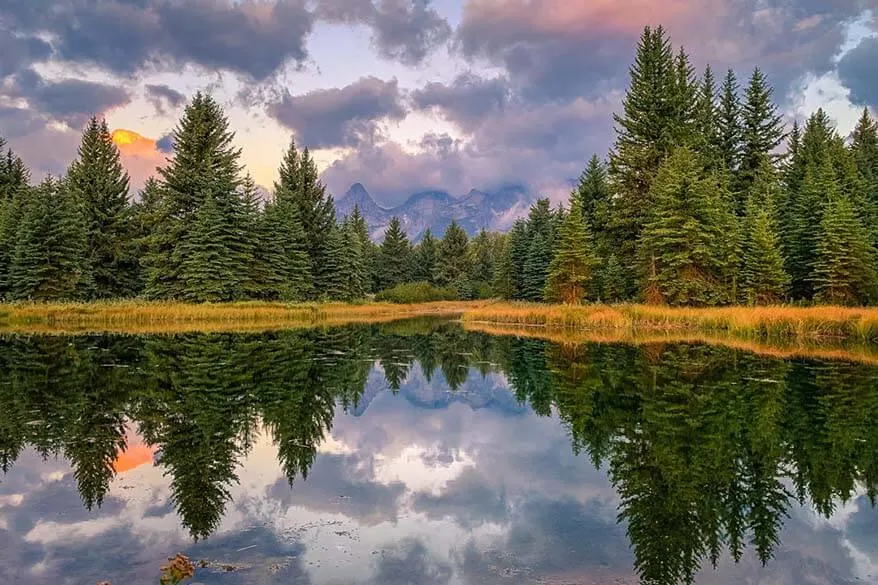 4. Rocky Mountain National Park
Located in north-central Colorado, Rocky Mountain National Park is a major tourist attraction in the fall. September is a fantastic time to visit! There are fewer visitors than in summer and the main roads and trails are still open at this time of year.
Mid-September is usually when the elk rutting season begins in the Rocky Mountain NP. You may get lucky to see elk go head to head and hear them bugle in competition for mates.
September is also the peak time to see the bright yellow aspen trees. As they start losing their leaves, the beautiful scenery is even more striking. However, keep in mind that many people come to Rocky Mountain NP from Denver during weekends in September, so try to plan your visit during the weekdays if you can.
Rocky Mountain NP has something to offer for folks who don't want to stray far from their car, for day hikers, as well as serious backpackers. Make sure to check out one of the glacier-fed lakes, go wildlife spotting for moose and bears, and drive up to the highest altitude visitor center in the country, atop the famous Trail Ridge Road.
The weather in the Rocky Mountain NP in September can vary wildly. But the average daytime temperatures are in the high 50s (10-15°C) and average lows are in the high 30's (0-4°C). Snow in September isn't unheard of either, but this is typically the last month that all the major roads in the park are open.
Trail Ridge Road which connects the east and west sides of the park is reliably open in September. This is also the last time of year that the thrilling Old Fall River Road is open.
TIP: If you are planning to visit, via the link below, you can find our suggested Rocky Mountain NP itinerary.
Additional suggestion: While not part of the national parks system, the mountains around Aspen, Colorado are also exceptionally beautiful in September. Maroon Bells are well worth a trip and can be easily combined with a visit to the Rocky Mountain NP!
LEARN MORE: Rocky Mountain National Park Itinerary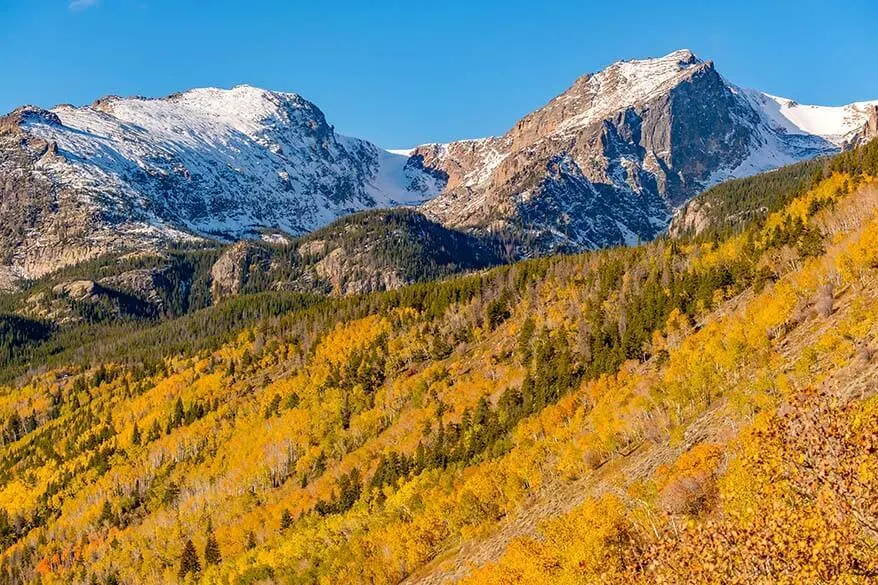 5. Acadia National Park
Location: Maine.
Our suggestion.
Where to stay: Bar Harbor.
Acadia National Park is one of the most-visited National Parks in the United States. Situated in the far northeastern corner of the USA, Acadia is a combination of stunning coastal landscapes, dreamy rugged beaches, endless forests, and beautiful lakes. In other words, it has everything for everyone.
While the park's peak season is summer, early fall is considered the best time to visit Acadia. After Labor Day weekend, the crowds disappear and the weather is very pleasant for hiking and often warm enough for a swim in one of the lakes. Fall foliage that attracts many 'leaf peepers' doesn't start till October, so September is a great shoulder month with summer-like weather and low season-like crowds.
September weather in Acadia NP is generally mild with average daytime temperatures in the high 60s (around 20°C). Locals consider this the best time to be in Acadia.
Drive up to Cadillac Mountain for some of the best panoramic views of the area. Park Loop Road is a must as well! There are so many hiking trails and beautiful spots to explore that you really have to plan at least a couple of days or even a week here. Make sure to stay within the park grounds, so that you can explore this beautiful park to the fullest without having to waste your time driving up and down.
Via the link below you can find more tips for visiting Acadia National Park and itinerary suggestions for planning your trip. Check it out!
LEARN MORE: Acadia National Park Itinerary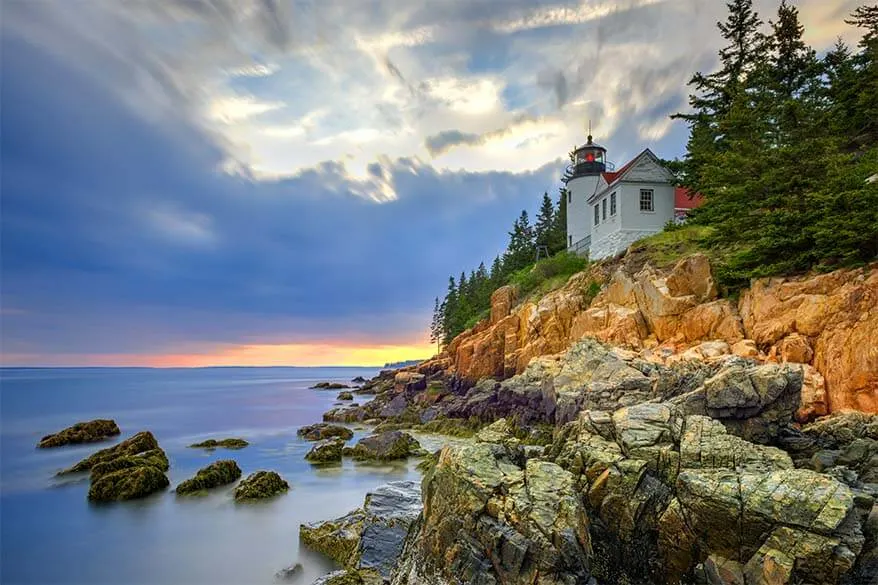 6. Yosemite National Park
Location: California.
Suggestion by Isabel from Bel Around The World.
Where to stay: Yosemite Valley.
Yosemite National Park is one of the most visited National Parks in the United States, with most people coming in the summer months. While September is somewhat less busy than July or August, you should still expect the crowds.
September weather in Yosemite is lovely as it's just nearing the end of summer. Daytime temperatures are generally in the high 70s-80s (25-30°C), with clear blue skies and little to no rain. The sun is shining and the park is in its full glory – it's a tank and shorts kind of weather.
This weather begs for the best camping opportunities – warm in the day and cool at night. Over 95% of Yosemite is wilderness, giving you endless opportunities for hiking, rock climbing, waterfall-hunting and floating down the river. Beyond Yosemite village, Pinecrest Lake and Hetch Hetchy Reservoir are also worth a visit or trek. This just means you need to spend more than a day in Yosemite Village!
Wildlife come and go, enjoying the last of the warm weather, and the park is alive with flora and fauna. Another perk to visiting this time of year is that all of the areas of the park are open, giving countless possibilities for hiking and backpacking.
September is generally too early for colorful autumn foliage in Yosemite. For that, mid-October is a better bet. Even though most of the trees in Yosemite are evergreen, there are some opportunities to see the changing colors.
TIP: If it's very busy, it might be rather difficult to find car parking in Yosemite. A hot tip for parking is to find campgrounds to park instead of looking for parking at popular tourist stops. That way, you can also discover the best of Yosemite's views from a different angle instead of taking the same pictures as everyone else. Alternatively, make use of the shuttle service along major trails.
LEARN MORE: First-Timer's Guide to Visiting Yosemite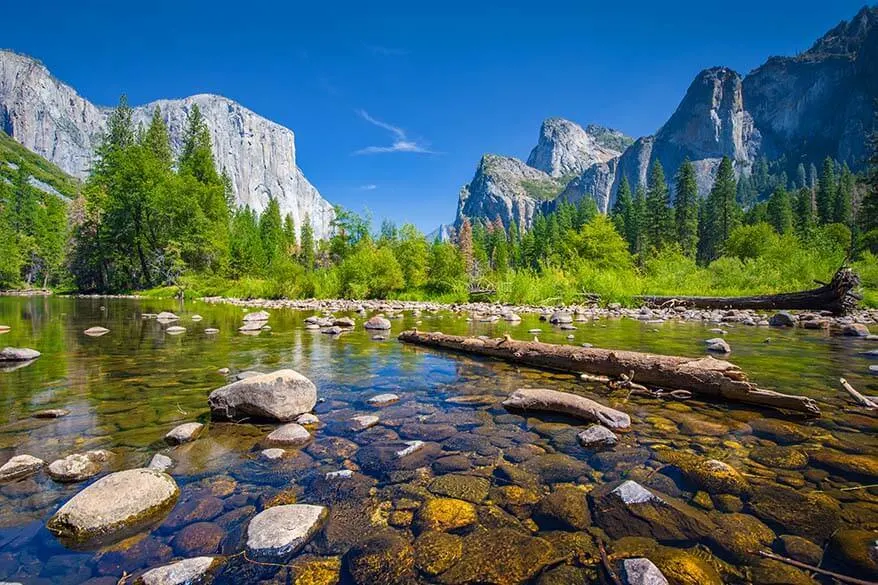 7. Mount Rainier National Park
Mount Rainier National Park, just 60 miles south of Seattle, is a paradise for everyone who loves nature. The most popular time to visit this park is in the summer, but the shoulder month of September is one of the best times to be here for those who want to explore the park to the fullest, but without the summer crowds.
The weather in Mount Rainier NP in September is usually quite mild and perfect for outdoor activities. Temperatures highly depend on elevation. For example, average high temperatures in Ohanapecosh (1,950 ft) are around 72°F (22°C), compared to just around 57°F (14°C) in Paradise (5,400 ft).
Average low temperatures vary as well but normally remain well above freezing point throughout September. It rains quite a lot, but that's the case here in any season, so make sure to pack a rain jacket.
September is usually snow-free and all the facilities in Mount Rainier NP are open. Sunrise Road usually remains open at least till mid-September and Chinook Pass is usually open until November. All the hiking trails are normally open as well.
If you do just one hike at Mount Rainier National Park, make it the Skyline Trail, especially if it's sunny and the mountain is well visible. This is a moderate 5,4 miles loop trail that takes about 4 hours and is reliably open throughout September.
Those looking for a short and easy, family-friendly hike, will like Nisqually Vista Trail (2,2 miles loop). This hike is usually open until mid September. Here you can find a complete overview of all the hikes that are open this time of the year.
If you are looking for fall foliage, plan to visit Mt Rainier NP towards the end of September or in October. Fall colors depend highly on the type of plants and elevation, so you might have to make some effort to find the best displays, but it's really worth it.
TIP: September weekends can get crowded at Mt Rainier. For the best experience, try visiting during the week or start very early in the morning. Try to stay inside the park (National Park Inn or Paradise Inn) or near the park so that you can beat the crowds. This historic lodge is a great choice price/location/quality-wise.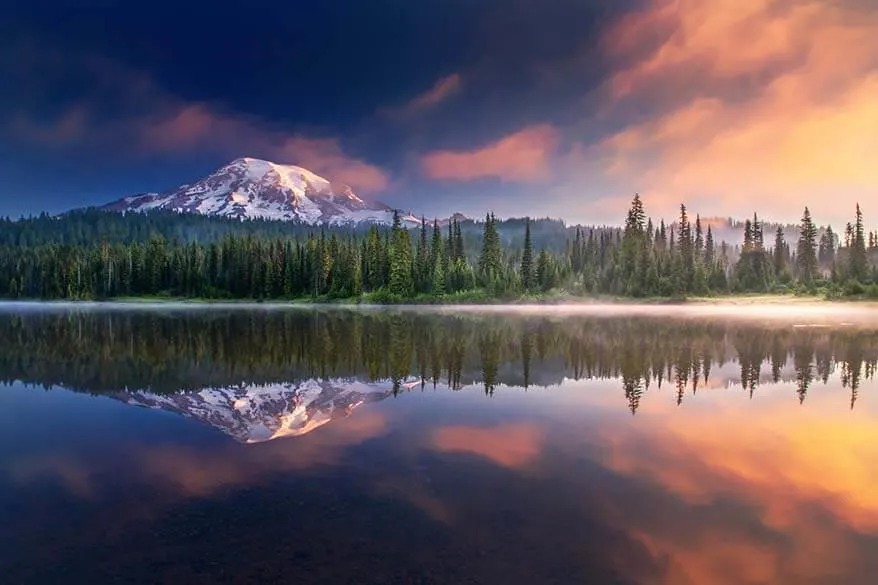 8. Olympic National Park
Situated in Washington's North West, Olympic National Park is a truly incredible natural wonderland. Spread across almost a million acres, the landscape features soaring mountains, dense rainforest, and a dramatic coastline. Olympic NP is very diverse.
While the park can get very busy in July and August and can be quite wet for the rest of the year, September is probably one of the best months to visit Olympic NP. There are fewer crowds, no traffic, and fewer bugs.
The special thing about visiting the Olympic NP in September is the sightings of wildlife and birds. We saw many black bear footprints as it is berry season during that period. Furthermore, the landscape and the colors start to change coming into the fall, especially in the second half of September.
September temperature is perfect, making hikes bearable, especially under the canopy of the rainforest. We visited at the beginning of the month and had beautiful summer-like weather.
Swimming in the cool river beneath rope swing bridges and picnicking with the most magnificent landscape, was a once in a lifetime memory we will never forget.
TIP: While most people stay in Port Angeles or in Sequim, I recommend staying in Union town. It's a small town full of friendly locals and great food, and has to be one of the most amazing places I've ever stayed. Union is located on a fjord that looks like a river when you are sitting on the jetty in the evening watching orca swimming past.
We stayed here and spent our evenings watching the sunset over the fjords and our days hiking in the park. Olympic National Park has a tonne of hikes for all levels and many of them are easily accessible from Union.
LEARN MORE: Olympic National Park Itinerary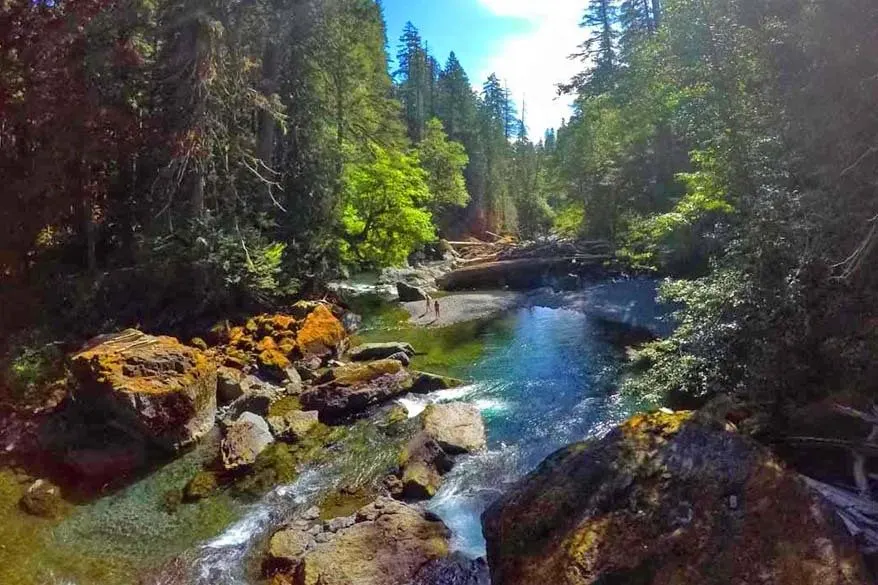 9. North Cascades National Park
Location: Washington.
Suggestion by Hannah from That Adventurer Blog.
Where to stay: See here.
September is the perfect time to visit the North Cascades National in Northern Washington State. By the end of the summer, the snowfall from the previous winter has completely melted away and the summer crowds dispersed, allowing you to enjoy everything this beautiful park has to offer.
In September, you can usually still hike on the higher elevations before the new snowfall arrives.
The North Cascades Highway, an incredibly scenic drive along a mountain pass, is usually open in September as well. Driving this road is one of the best things to do in the North Cascades NP, so don't miss it!
September also means cooler temperatures, with daytime temperatures averaging at around 60°F (16°C). This is perfect for hiking.
There are some beautiful day hikes and backpacking trips you can do in the North Cascades! One of the best North Cascades hikes is the Cascade Pass Trail. It offers stunning views of some of the park's glaciers and peaks. As you reach the pass, you'll be rewarded with views of Eldorado, Johannesburg, Magic, Mixup, and McGregor.
If you visit North Cascades towards the end of September, you're in for a treat as the larches turn a golden yellow color. These trees look similar to pine trees only they're not evergreen. The golden larch season only lasts a few weeks at most every year. The end of September is the best time to try and spot them. In addition to some trees changing color, the landscape colors in orange and red tints as well. It's a beautiful time to visit!
LEARN MORE: North Cascades Day Trip from Seattle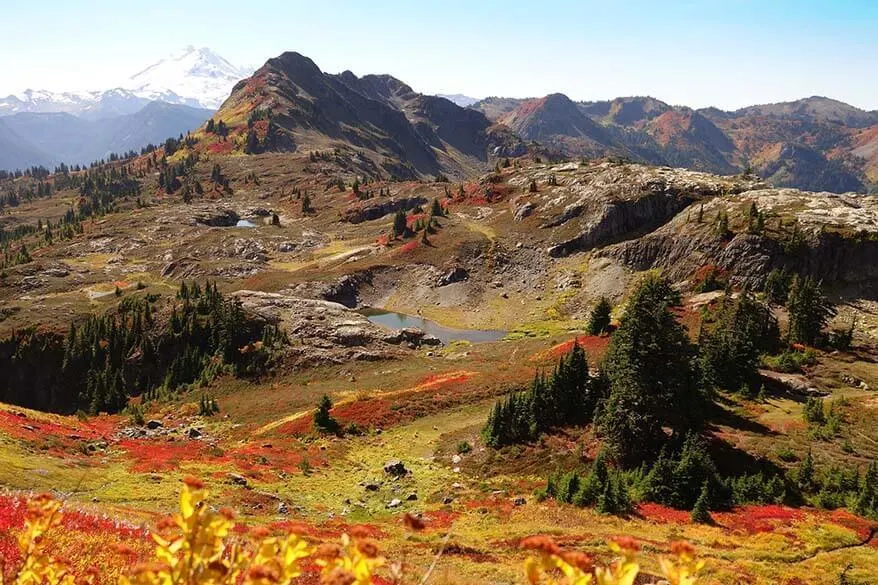 10. Sequoia National Park
Sequoia National Park and the adjacent Kings Canyon National Park (see below) in California are home to the largest sequoia trees in existence, which are in turn, the largest trees on earth. The biggest trees have been given names such as President's Tree, General Grant Tree, and Chief Sequoya Tree. The sequoia trees are truly awe-inspiring!
There are several hiking trails in the park, but the Congress Trail is my favorite. It starts at the General Sherman Tree (the largest tree on the planet) and goes past several named individual trees and small groves.
Another highlight of Sequoia NP is the Big Trees Trail. The best time to hike here is at dusk when black bears can often be seen coming out of the surrounding woods to feed on fallen logs on the meadow that the trail encircles. Just make sure that you follow bear safety rules! The Giant Forest Museum is small but has interesting insights and so worth a quick visit as well.
While the park is open and can be visited the whole year, September is one of the best months to visit Sequoia NP. The weather is cooler, the summer crowds have left, and the winter snow has not yet come to block the roads.
The first half of September tends to be quite busy, especially around Labor Day weekend. But later in the month, the crowds are much smaller and the weather is still very pleasant.
The main lodge of Sequoia NP, Wuksachi Lodge, is open all year round. Several of the most popular campgrounds take reservations in peak season, which ends the last week of September. After that, campgrounds become first-come, first-served.
One thing worth noting is that if you are in an RV, you can't use the south entrance to the park. The road south of the main Lodgepole area is too narrow to accommodate RVs.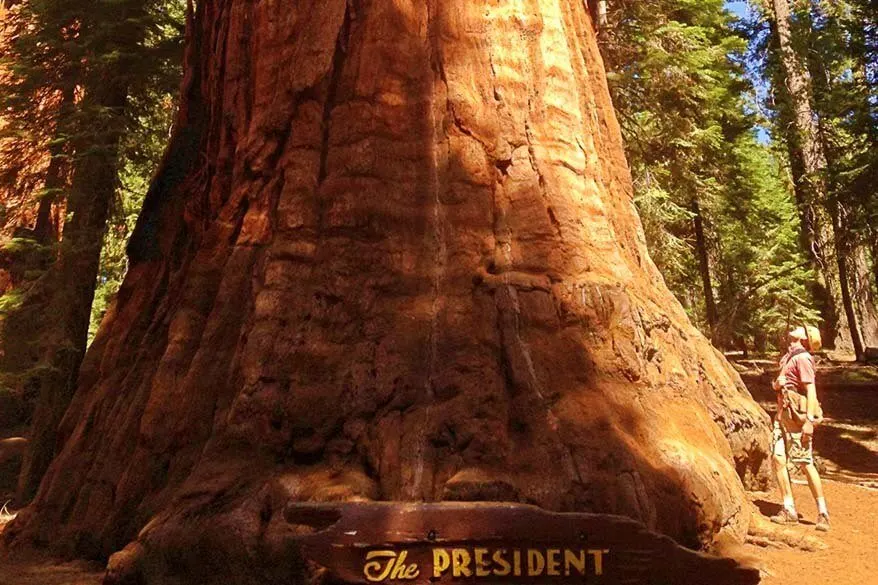 11. Kings Canyon National Park
Location: California.
Suggestion by Andy Couch from Sleep in the Woods.
Where to stay: Cedar Grove Lodge (basic). See also accommodation suggestions for Sequoia NP above.
Kings Canyon National Park is probably best known for its huge sequoia trees, granite canyon walls of Cedar Grove, and some amazing wildlife including bears and cougars. Adjacent to the better-known Sequoia NP (see above), this park is somewhat less visited. It is, therefore, a perfect place to get away from the crowds while still enjoying some amazing scenery.
Drive past the Grant Grove section to the Cedar Grove section to see a completely different side to Kings Canyon. Away from the big trees, you can enjoy sweeping views, rocky cliffs, and hardly any other people.
Kings Canyon has hiking trails of various levels. Zumwalt Meadow Walk is a flat, easy hike that takes you through the woods, alongside a small river, and around a big meadow. Mist Falls Trail has some steeper sections but still isn't hard.
Kings Canyon's trails feel less formal than in other national parks, yet still easy to follow. This gives the park a peaceful feeling.
September (and especially the second half of the month), is a great time to visit Kings Canyon National Park. While the nights can get quite chilly, it's still warm during the day. Average high temperatures in Kings Canyon NP in September are in the very pleasant lower 70s range (20-22°C). It's also one of the driest months in the park.
We visited in late September and the Cedar Grove Visitor Center was already closed, but Grant Grove Visitor Center was open. Sentinel Campground, where we stayed, was not taking reservations at that time of the year, but there were plenty of open campsites to choose from upon arrival.
The Cedar Grove area also has a hotel and small cabins if camping isn't your thing. The Cedar Grove Lodge is rather basic and has a general store and a cafe.
We really enjoyed Kings Canyon in September because of its beauty as well as the lack of people. It felt like we had the park to ourselves, and we wished we could've stayed longer than two nights.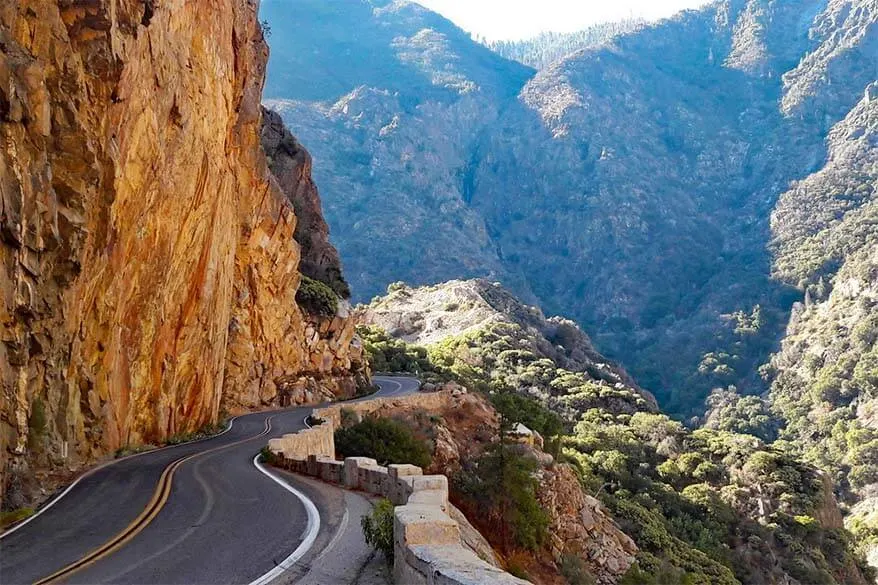 12. Redwood National and State Parks
Redwood National Park along Northern California's coast is surprisingly underappreciated. Aside from the peak months of summer, the Redwood NP is usually void of large crowds or heavy traffic. However, winter months often make the park undesirable with cold rain and dense fog. That is why the shoulder month of September is the perfect month to visit!
Summer visitors have dissipated and the sun still lingers through the treetops a few hours longer allowing for a good amount of daylight to explore this vast park. Plus, September brings beautiful orange, red, and yellow fall foliage to the numerous trails and hillsides.
All services throughout the park are still open in September as well. The weather is usually warm in the mornings but can get a bit chillier in the afternoons. You can expect high daytime temperatures in the 70s (20-25°C). It usually remains pretty dry throughout the month.
The Redwoods are very large and spread out, but there aren't any direct shuttles or bus services from major "nearby" cities. So, the most convenient way to visit is by your own car or with a tour from San Francisco.
If you are only visiting Redwoods for a day trip, then you should follow the 'Avenue of the Giants' path. It's a road that winds through the tallest Redwood trees and passes historic restaurants, cafes, and gift shops within the area.
If you would like to stay overnight, there are many hotels and cabins along the highway that offer a scenic view of California's coast!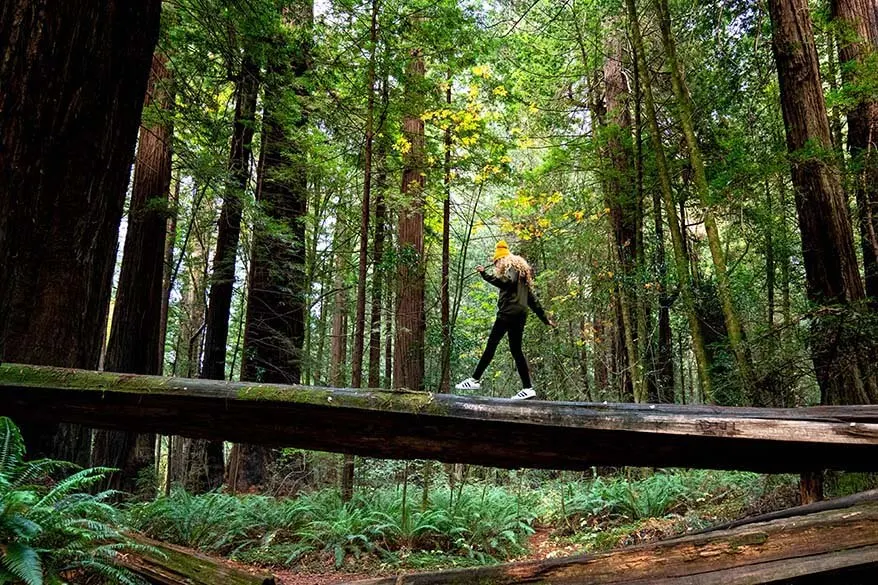 13. Joshua Tree National Park
Location: California.
Suggestion by Nadine from Le Long Weekend.
Where to stay: 29 Palms, just outside the north entrance.
Visiting Joshua Tree National Park is a treat at any time of the year, but traveling in September is an even more special experience. Although technically still summer, September in Southern California sees temperatures start to dip from searing hot to tolerably hot. Especially towards the end of the month.
Still, daytime temperatures in Joshua Tree National Park in September are generally in the high 80's (30-35°C), rarely falling under 75°F (24°C). So be sure to pack lots of water, good walking shoes, and sun protection so you don't get caught out.
However, it's at this time when summer holidays are over and schools have resumed, that the park is at its quietest. It's easy to find a quiet place to hike, camp, and experience this unique natural habitat at its best. Also, if you plan on camping at Joshua Tree National Park, it's easier to get a reservation for September than later in the fall, when temperatures dip and visitor numbers climb.
I recommend starting your visit at one of the visitor centers. They can give you valuable advice for your visit and suggest key sights and attractions.
Be sure to add a few day hikes to your itinerary. We recommend the Hidden Valley Trail, Barker Dam Trail, and the Skull Rock Nature Trail – all quite easy hikes, even when it's dry and very hot.
A visit to the Cholla Cactus Garden to take in the 'teddy bear' cacti, and to the Keys view lookout point for views over the Coachella Valley and Mount San Jacinto are also not to be missed.
TIP: Keep an eye on the weather forecast and plan accordingly. If it's very hot, make sure to start your hikes early in the morning so that you're back by 10-11 AM.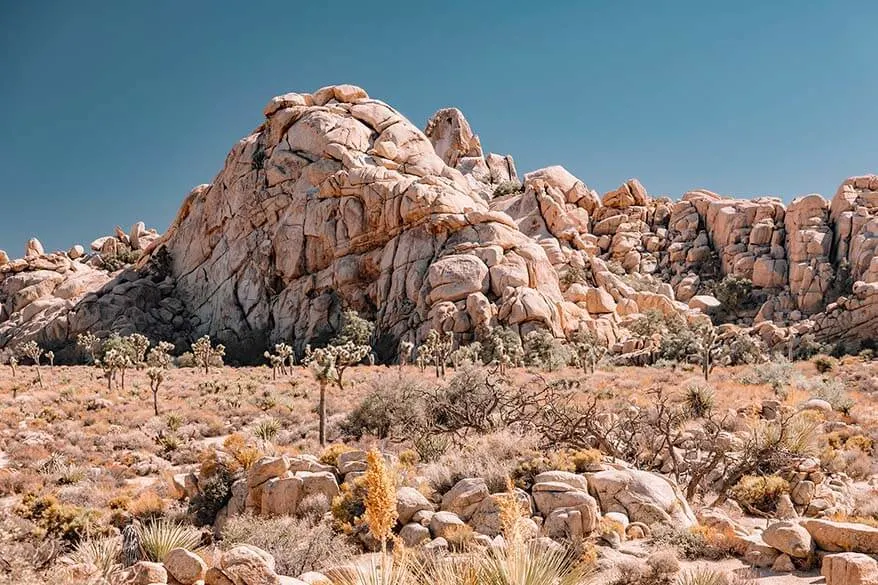 14. Canyonlands National Park
Canyonlands National Park is one of the Mighty 5 National Parks in Utah. It is often overlooked for the more popular Arches National Park but I think Canyonlands has a lot to offer and it definitely deserves a visit!
Canyonlands is made up of three different areas – Island in the Sky, The Needles, and The Maze. The most popular area is the Island in the Sky, located about 30 minutes from the entrance of Arches NP and about 45 minutes' drive from Moab. In fact, you can easily visit Canyonlands and Arches in one day.
Island in the Sky is extremely popular in summer, but it's also so hot that it's hard to explore much. That's why I think it is better to visit Canyonlands in September or later in the fall as there are fewer people in the park and the weather is much cooler as well. There isn't a lot of shade in Canyonlands and visiting in the heat of the summer can be quite hard especially if you want to go hiking.
One of my favorite hikes in Canyonlands is Mesa Arch. I highly recommend visiting this iconic arch at sunset to see it in its full glory. The hike is only a half a mile long and is easy enough for most people including families with kids. The trail is unpaved and can be a little tricky if you are going for sunrise as you will be leaving in the dark. So make sure you have a good flashlight. Alternatively, come during the day – it's just as impressive.
Other highlights of the Island in the Sky district of Canyonlands include the Green River Overlook and Grand View Point. Both have the most amazing views that are just as beautiful as at the Grand Canyon.
September is still quite warm in Canyonlands, with the average daytime temperatures at around 80°F (27°C). But if you visit in the morning or late in the afternoon, you'll find the perfect weather for exploring the park. Come here after Labor Day and enjoy the very best that this park has to offer without the crowds.
LEARN MORE: Best Things to Do in Canyonlands National Park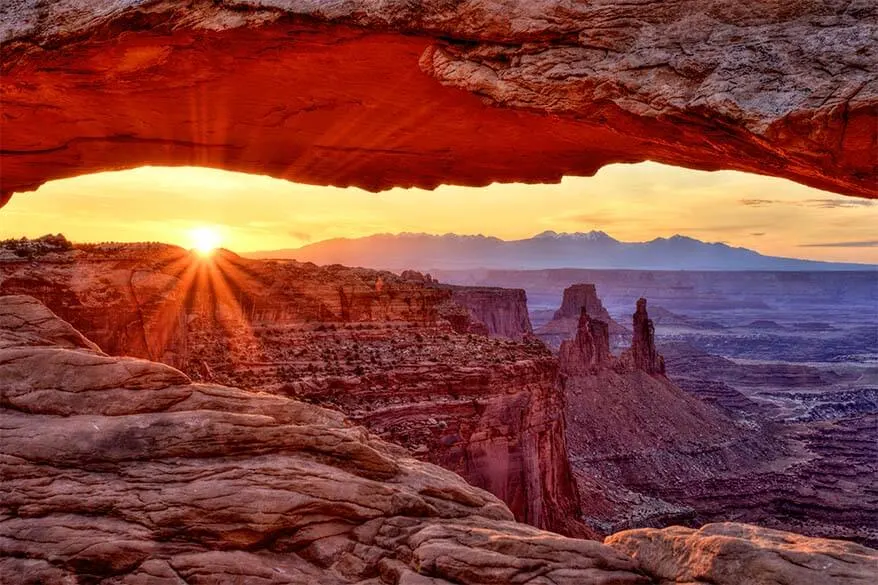 15. Indiana Dunes National Park
Location: Indiana, close to Chicago, IL.
Suggestion by Kirsten from Kids Are A Trip.
Where to stay: Michigan City, IN nearby or visit from Chicago.
One of our favorite National Parks to visit in September is Indiana Dunes National Park on the shores of Lake Michigan.
Indiana Dunes is one of the newest National Parks, and it's only 1 hour drive from Chicago. September weather is often the best weather all year, with warm breezes, and only occasional rain showers.
If you come at the end of the month, you may be able to see the leaves changing colors signaling the beginning of fall. We would recommend packing a light rain jacket just in case.
Head to the visitor center first and grab a map of the park as it spans over 15,000 acres, both along the shoreline and into the forest. There's the main parking lot once you pass through the gate, and several trail options leave from this area.
If you are looking for accessible trails, it's best to head to the area known as Portage Lakefront and Riverwalk Trail with a paved walking path, viewing platform, accessible fishing pier, and even a ramp down to the beach.
We like starting on the Dune Ridge Trail and then branching off on other loops in the forest. There are trails for all levels of hiking along the dunes, the marsh, and the lake. Here you can find more ideas for things to do in and near Indiana Dunes NP.
Choose a home base in nearby Michigan City, IN, or spend the night in downtown Chicago and you will be able to enjoy one of the most beautiful spots in the Midwest.
READ ALSO: How to See the Best of Chicago in 2 Days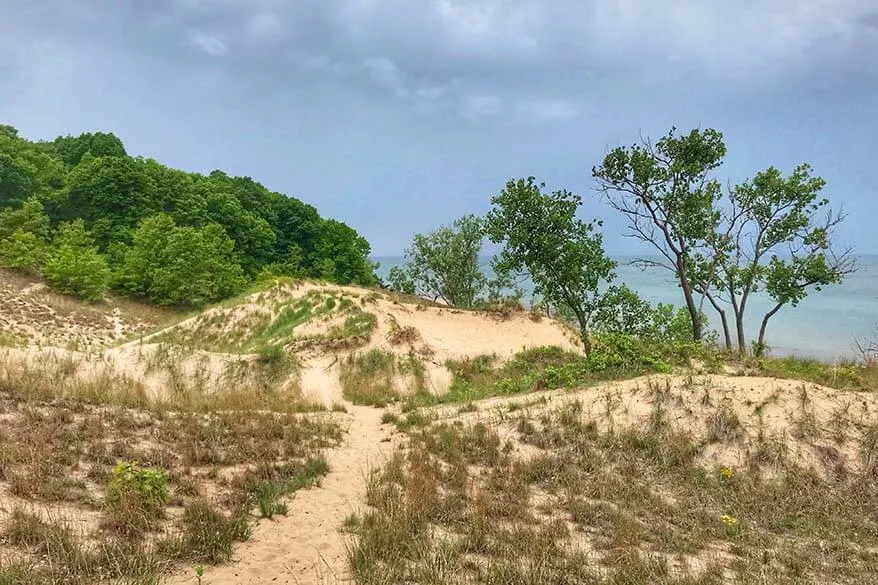 So, this is our selection with suggestions for some of the best National Parks to visit in September. What's your favorite American National Park in September? Please leave a comment below and tell us all about it!
EXTRA TIP: While not National Parks, Custer State Park and Mount Rushmore in South Dakota are also great places to visit in September. It's one of the best times for that area – nice weather and fewer crowds. Check it out!
More National Parks travel inspiration:
If you found this post helpful, don't forget to bookmark it and share it with your friends. Are you on Pinterest? Pin this image!