Thinking of visiting Yellowstone National Park in the U.S., but have limited time and wondering what you can see and do in Yellowstone in one day? Whether you are visiting Yellowstone in one day from West Entrance or are driving to Yellowstone from Jackson Hole via the South Entrance, this itinerary will bring you to the best places that you can easily see in Yellowstone in 1 day. Find out!
While one day in Yellowstone is just enough to scratch the surface, it is still possible to see some of the main landmarks of America's oldest National Park. Even if you just have a day, you can see the Old Faithful, the Grand Prismatic Spring, the Grand Canyon of Yellowstone, as well as some wildlife.
If you have more time in the park, please check our Yellowstone itinerary suggestions – it contains tips for longer trips as well.
In this article, we share our best suggestions for how to best spend one day in Yellowstone National Park. This is a Lower Loop itinerary that covers all the main sights that you can see in a day. To make your travel planning easier, we also included a map and some practical tips for your visit. Find out!
READ ALSO: Yellowstone South Loop – all the best places to see
PRO TIP: If you want to see the highlights of Yellowstone but don't want to worry about planning a trip or figuring out where to go, you can also join guided tours. Experienced local guides will make sure that you get the absolute most out of your day in Yellowstone.
Here's the best 1-day tour with departure from Jackson, WY or Teton Village. And here is the best-rated tour from West Yellowstone.
For more day trip suggestions from other locations nearby, please check our guide to the best Yellowstone tours.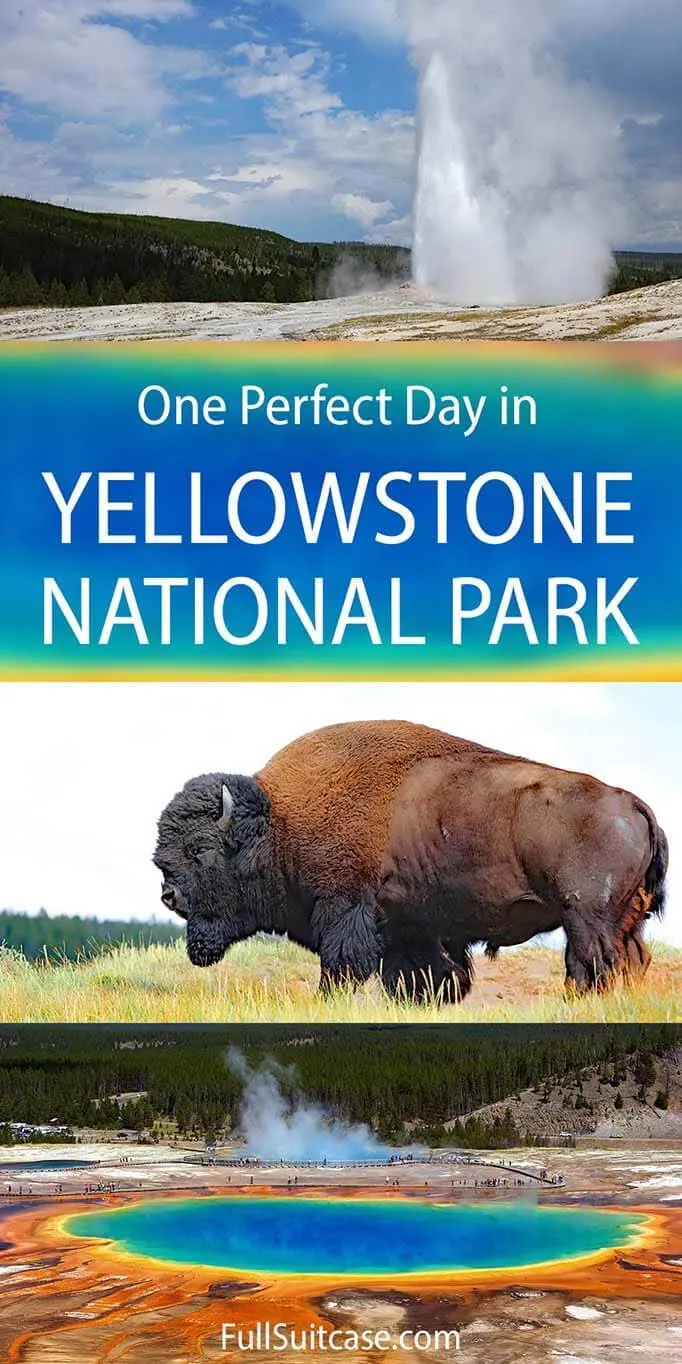 One Day in Yellowstone National Park – Overview
Here is an overview of the main places you can see in Yellowstone in one day. Please note that this itinerary covers the lower loop of Yellowstone, as that is where most of the must-see places are located (see the map below).
Driving Yellowstone's lower loop allows you to get the most out of your short visit. So if you have 1 day in Yellowstone and you want to see the 'musts', this is the area you should focus on.
Good to know: Because this is a circular itinerary, you can easily adapt it no matter where you are coming from: Yellowstone West, Jackson Hole, or Cody. See also our guide to the best hotels to stay near Yellowstone – it has recommendations for all of these towns.
Suggested Yellowstone one day itinerary:
Old Faithful Area
Grand Prismatic Spring Area
Grand Prismatic Overlook Trail (optional)
Grand Canyon of the Yellowstone
Hayden Valley
Yellowstone Lake
West Thumb Geyser Basin
Further below, you can find more details for each place and a map of the suggested lower loop itinerary covering all of the above. Read on!
Good to know: This is a summer itinerary that can be done from mid-May to mid-October when all the roads in Yellowstone are open. For more information about different seasons, please check our guide to the best time to visit Yellowstone.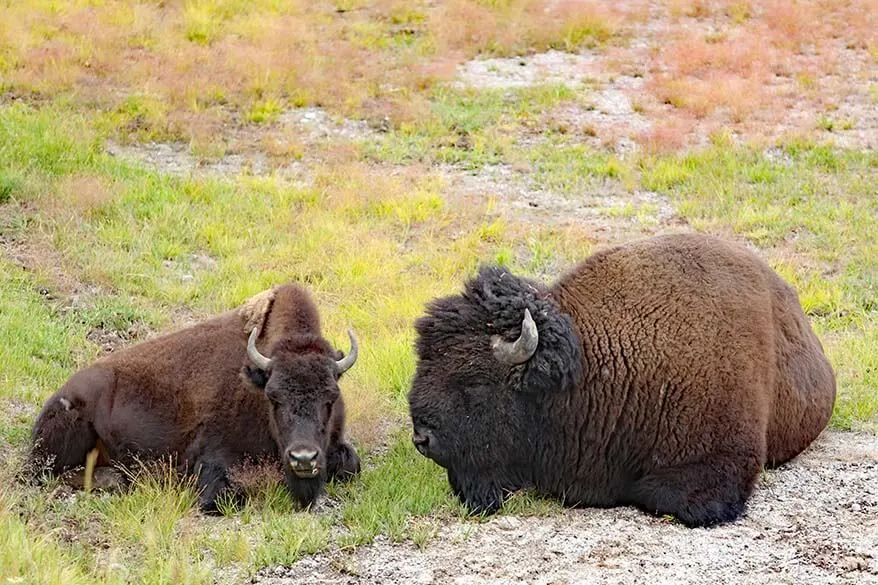 Yellowstone Lower Loop Itinerary Map
To make it easier to plan your time, I created this map indicating all the places that you should be able to see in Yellowstone in one day.
You can do this trip arriving via the South Entrance (coming from Jackson/Grand Teton NP), via the East Entrance (coming from Cody), or via the West Entrance (coming from Bozeman/ West Yellowstone).
Depending on where you enter and leave the park, you'll have to adjust this itinerary a bit. But it gives you a good idea of what can be done in Yellowstone in a day. Note that you can do the loop in either direction and it doesn't matter much where exactly you start or finish.
How to use this map: Use your computer mouse (or fingers) to zoom in or out. Click on the icons to get more information about each place. Click the arrow on the top left corner for the index. Click the star next to the map's title to add it to your Google Maps account. To view the saved map on your smartphone or PC, open Google Maps, click the menu and go to 'Your Places'/'Maps'. If you want to print the map or see it in a bigger window, click on 'View larger map' in the top right corner.
What to See in Yellowstone in One Day
Here's what you should try to see in Yellowstone in 1 day:
Old Faithful Area
The Old Faithful area is the most popular place to be in Yellowstone. So even if you have just limited time in the park, make sure to include it in your itinerary.
It's home to the historic Old Faithful Inn lodge and the biggest best-predictable geyser in the park, the Old Faithful Geyser. This geyser erupts at pretty regular intervals of about 90 minutes and no visit to Yellowstone would be complete without seeing it in action.
READ MORE: Old Faithful Geyser
Depending on when the next predicted Old Faithful eruption is, you might need up to 2 hours in this area. So if you have some extra time, I strongly suggest that you explore a bit more of the Upper Geyser Basin, beyond the Old Faithful.
Upper Geyser Basin has the largest concentration of geysers and geothermal features in the world and is well worth visiting. You can see so many other geysers here and also mud pools, fumaroles, and colorful geothermal springs, such as the Morning Glory Pool.
With just one day in Yellowstone, you shouldn't spend more than 2-3 hours in the Old Faithful area (or you won't have enough time left for the rest). But try to make at least a short walk in the Upper Geyser Basin and see a few other geysers and geothermal features while, for example, waiting for the Old Faithful to erupt.
READ MORE: Upper Geyser Basin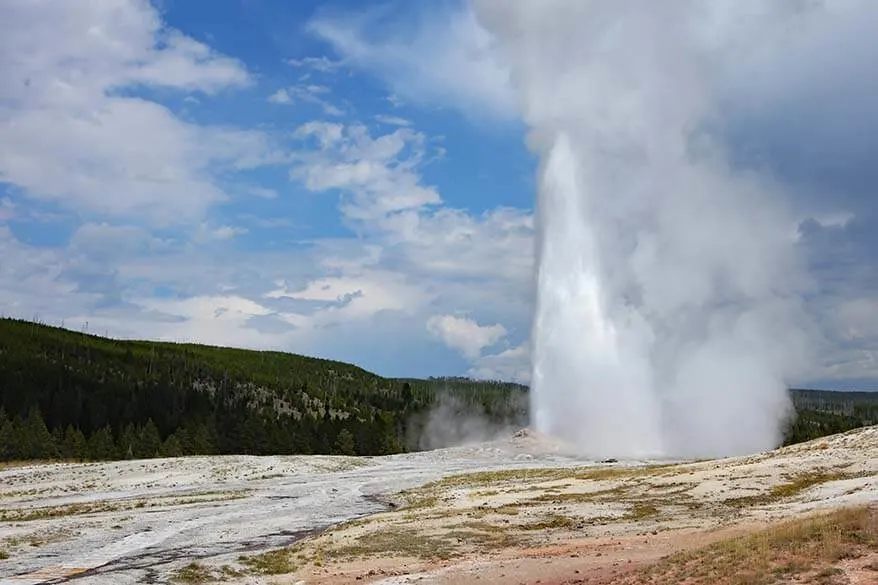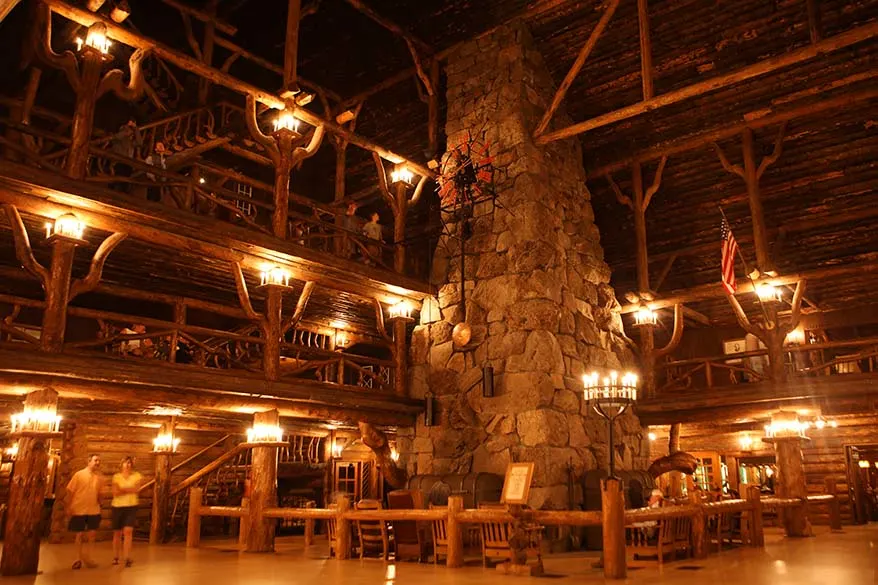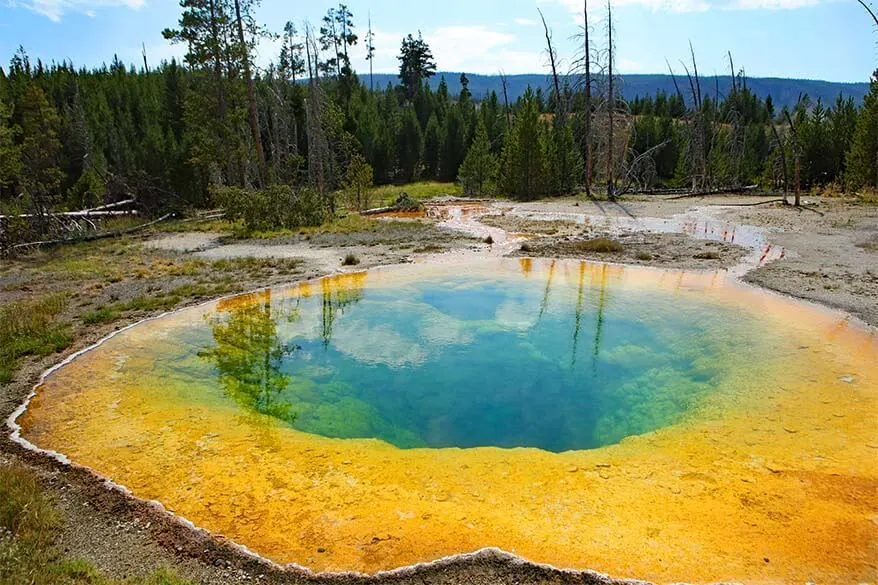 Grand Prismatic Spring
Grand Prismatic is the largest hot spring in the United States, best known for its incredible colors. It's a highlight of any trip to Yellowstone and a place that should be in every itinerary, even if you only have a day. In my opinion, this is one of the few places that you absolutely have to see.
You need about half an hour to visit the Midway Geyser Basin. A boardwalk passes all the main features, including the Grand Prismatic Spring, Excelsior Geyser Crater, Opal Pool, and Turquoise Pool. However, if it's really busy and the car parking is full, it might take you an hour or even longer.
TIP: If you have at least half an hour to spare, consider hiking the Grand Prismatic Overlook trail. This short easy hike brings you to a higher elevation point from which you can see the Grand Prismatic Spring from above.
READ MORE: Grand Prismatic Spring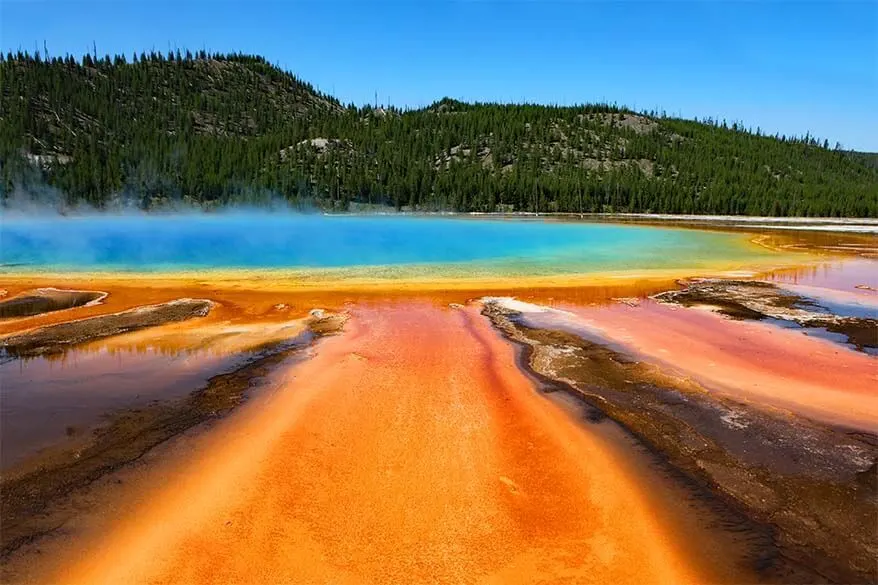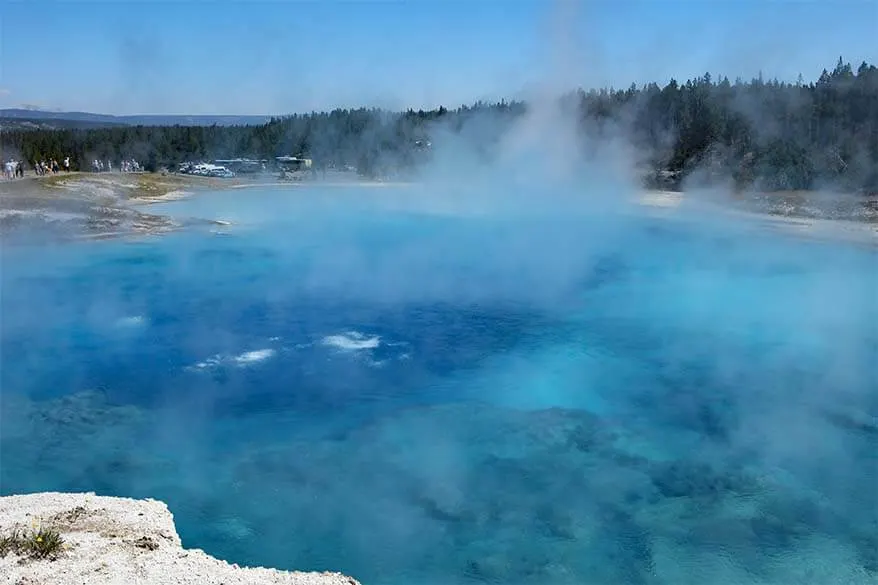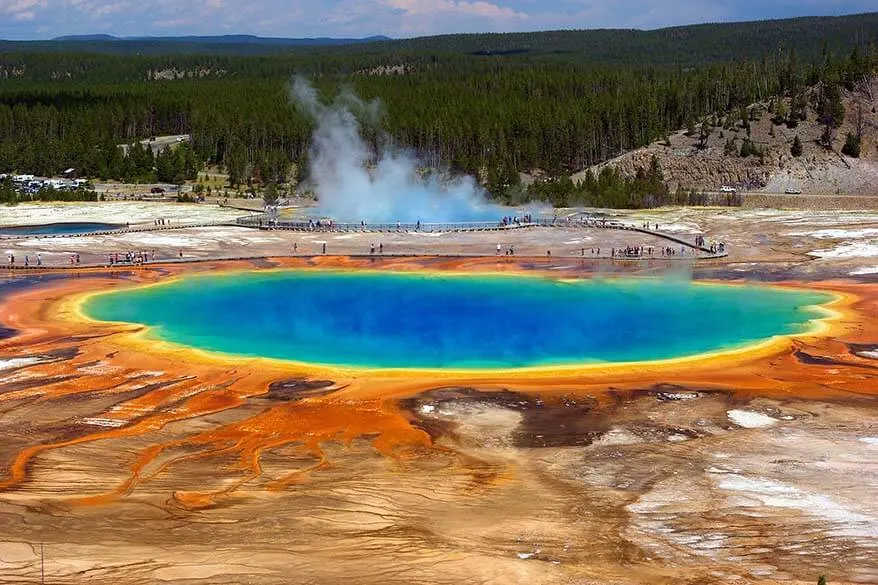 Grand Canyon of the Yellowstone
The Grand Canyon of the Yellowstone River is another place you should try to see when visiting Yellowstone for a day. This impressive canyon can best be admired from several viewpoints along both rims. There are lots of hiking trails in this area, but with limited time, I suggest you just drive from one viewpoint to another.
The most impressive views over the Grand Canyon of the Yellowstone is from the Artist Point. So if you have time for just one stop here, make it this one. It's located at the end of South Rim Drive.
If you have a bit more time, make sure to also drive the North Rim Drive and stop at several viewpoints along that side of the canyon. Our personal favorite stops here were the Brink of the Upper Falls and Lookout Point. Inspiration Point and Grand View are also well worth a quick stop if you have time.
Good to know: It's hard to say how much you'll be able to do here and how long it will take to visit. So much depends on the traffic and how busy it is in the car parking areas. If you are visiting in the shoulder season, you might be able to drive to all the viewpoints in 1,5 hours, whereas on a busy day, you might need almost an hour just for the Artist Point…
READ MORE: Grand Canyon of the Yellowstone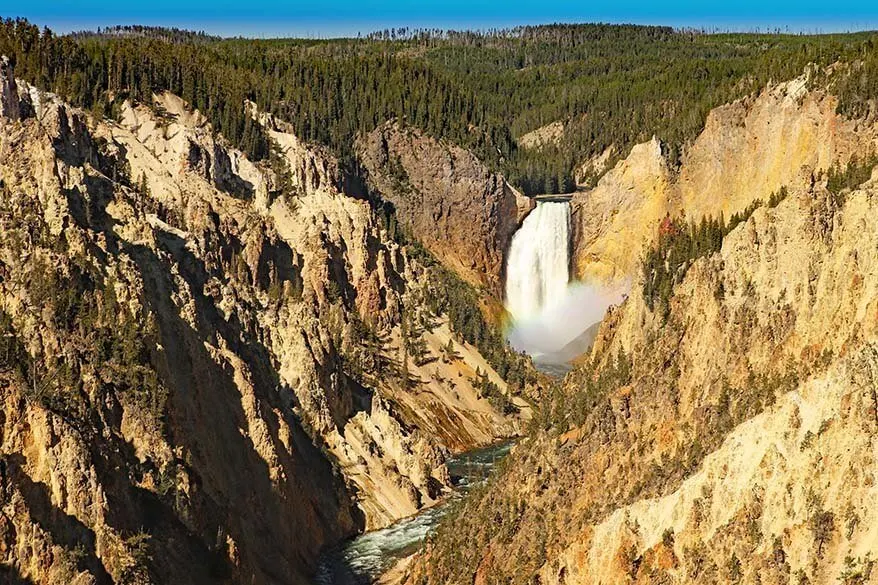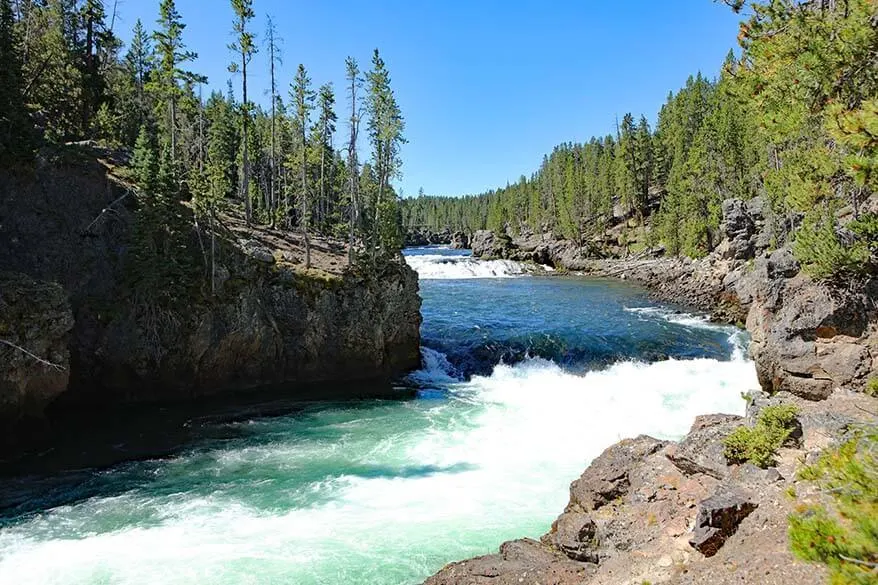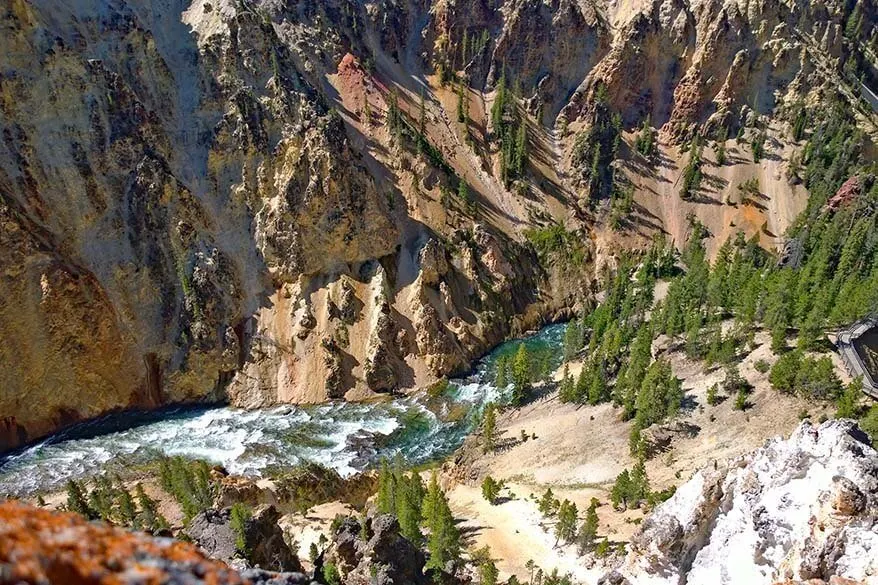 Hayden Valley
Hayden Valley is one of the best places to see wildlife in Yellowstone. Since the lower Yellowstone loop road passes right through the valley, it's really easy to add it to your one-day itinerary.
The best time to see wildlife is early in the morning or around sunset. But even if you come here during the day, you're likely to see lots of bison in Hayden Valley.
Good to know: Bison traffic jams are very common in Hayden Valley. That gives you a great opportunity to watch these incredible animals from the safety of your car. But it also means that you need to foresee some extra time to drive through the valley.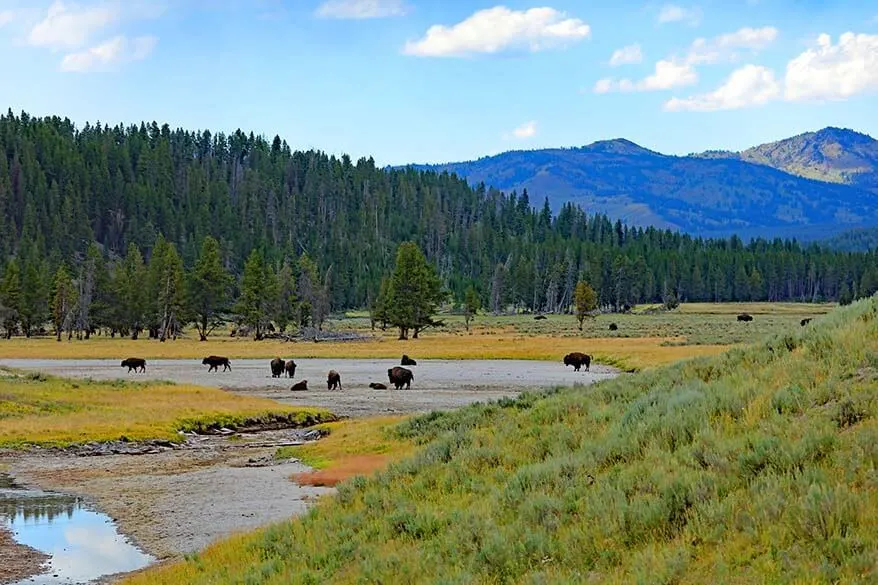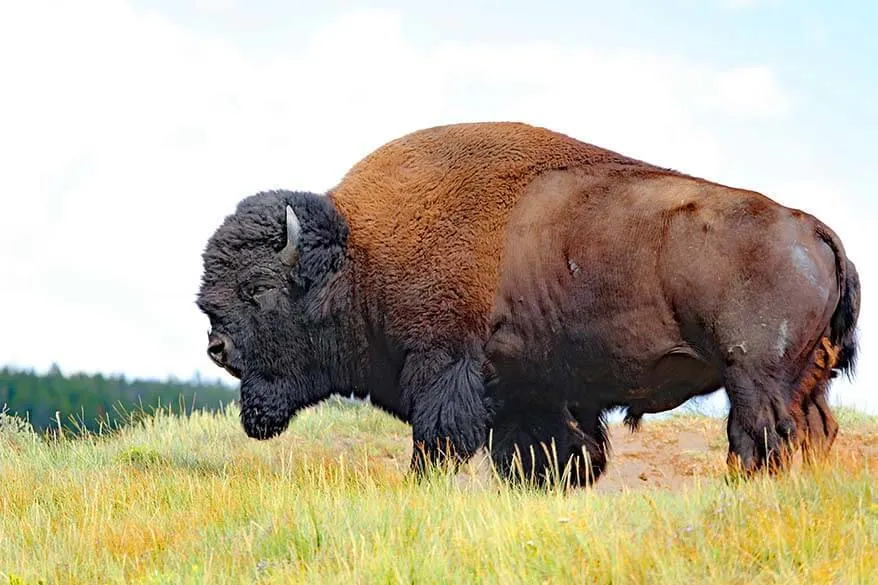 Yellowstone Lake – West Thumb Geyser Basin
Yellowstone Lake is huge, but with just a day in the park, you won't have much time to explore it by boat or hiking along its shores. One of the best things to do if you are short on time is to visit the West Thumb Geyser Basin, just along the shores of the lake.
Located on the west side of Yellowstone Lake, West Thumb Geyser Basin is one of the smallest geothermal areas of Yellowstone. But it's also very colorful and easy to visit. Some of its thermal features are located in the lake, the others just along the shore.
You can explore this entire area in less than half an hour, via a flat wheelchair-accessible boardwalk. If you are passing by here, it's an interesting place to visit and can easily fit in any Yellowstone itinerary. It's not an absolute must, but a really nice stop along the way.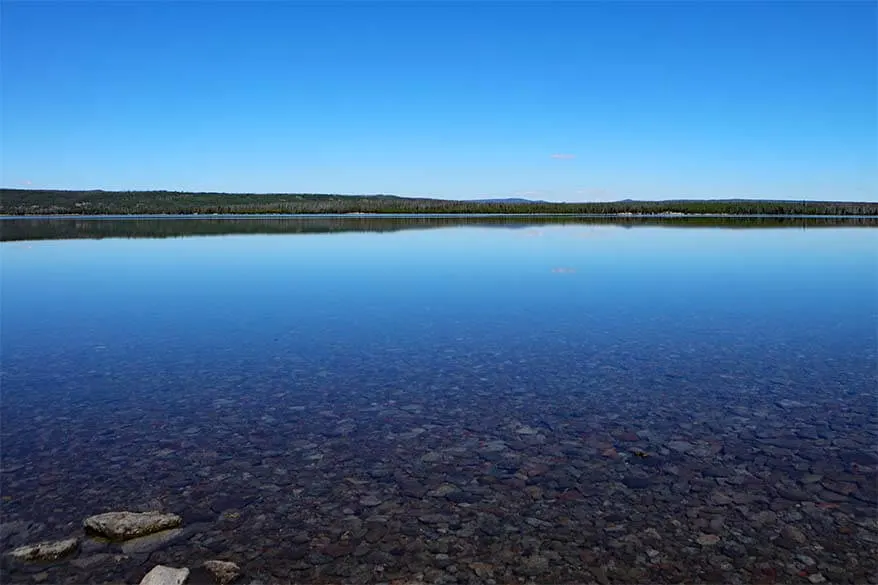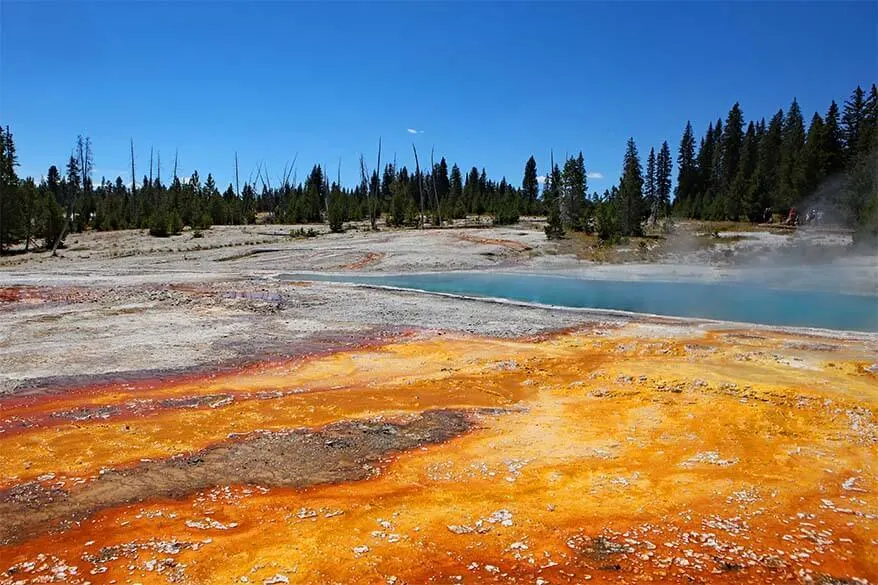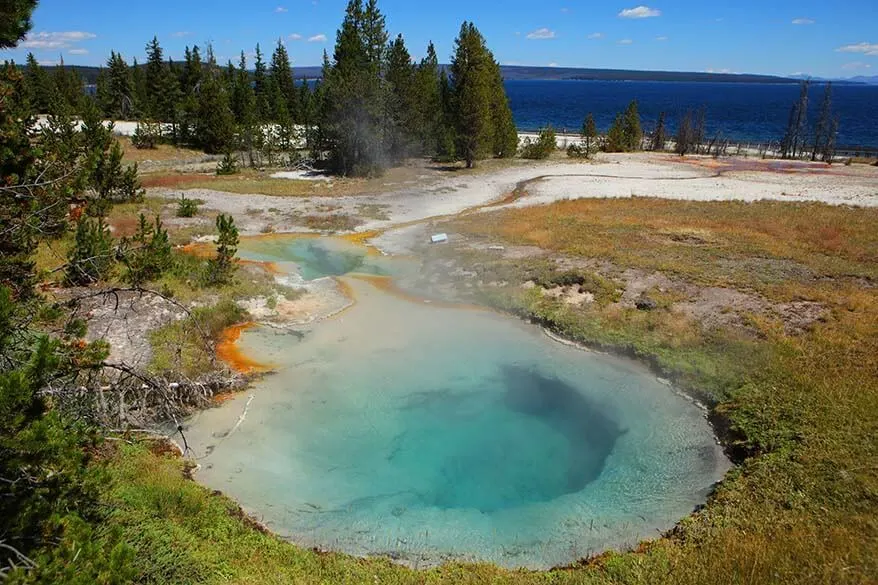 Tips for Better Experience
With just 1 day in Yellowstone, it's important to make the most of it! Here are some tips that will help you out!
Start your day as early as possible! Driving distances in Yellowstone National Park are big and speed limits are low. Furthermore, wildlife traffic jams are common and car parking areas at the main landmarks can get really busy during the day.
Pack a picnic lunch and plenty of water so that you don't have to waste time looking for a place to eat during the day.
Be flexible and adjust your itinerary during the day. If you notice that you have plenty of time and are running ahead of schedule, explore a bit deeper (places marked as 'optional' in our overview above). Whereas if it's really busy everywhere and you are running out of time, concentrate on the main landmarks only.
Don't try to plan every minute of your day. You simply can't prepare for everything – it's nature after all. Foresee some extra time for unexpected wildlife encounters, erupting geysers, and beautiful viewpoints along the way.
Stay close to the park or inside the park if possible. The closer you are to the lower Yellowstone loop, the more you'll be able to see during your short visit. Here you can find our tips and detailed guide on where to stay in and near Yellowstone. One of the best places to stay for this 1-day itinerary is West Yellowstone, just near the West entrance of the park. Alternatively, you can also visit Yellowstone in one day from Jackson Hole.
TIP: Using the map below, you can compare hotels and short-term rental accommodations in West Yellowstone. Simply insert your travel dates and group size, and you'll see the best deals for your stay. Check it out!
FAQ – Yellowstone in 1 Day
Is one day enough for Yellowstone?
Yellowstone National Park is huge, so one day is not enough to see everything that Yellowstone has to offer. However, if you plan well, you can still see a lot in a day. With a good itinerary, it is possible to visit the main landmarks of Yellowstone in 1 day.
What should I do if I have one day in Yellowstone?
Here are the best places that we suggest visiting if you are visiting Yellowstone for one day: Old Faithful Geyser and Upper Geyser Basin, Grand Prismatic Spring, Yellowstone Canyon, Hayden Valley, Yellowstone Lake, and West Thumb Geyser Basin.
How long does it take to drive the loop in Yellowstone?
It would take at least 4-5 hours to drive the Grand Loop of Yellowstone in summer, not counting road works, wildlife traffic jams, or any stops for sightseeing. We don't recommend driving the entire loop if you only have one day in Yellowstone. Instead, visit the main landmarks along the Lower Loop.
Can you drive through Yellowstone?
In summer, when all the roads are open, you can drive through Yellowstone. However, don't just drive thru – try to see at least some of the best places! If you are crossing Yellowstone from south to north, as a minimum, try to stop at the Old Faithful, Grand Prismatic Spring, and Mammoth Hot Springs.
How much does it cost to visit Yellowstone?
Just as in all National Parks, you have to pay an entrance fee when entering Yellowstone. There are no day passes in Yellowstone. The cheapest entrance ticket is 35 USD per private vehicle and it remains valid for 7 days. If you are visiting by motorcycle, you pay 30 USD, on foot or by bike – 20 USD. Once inside the park, you can visit all the landmarks free of charge.
More information for your trip to Yellowstone:
Is Yellowstone part of a bigger road trip? Take a look at these guides as well:
If you found this post helpful, don't forget to bookmark it and share it with your friends. Are you on Pinterest? Pin this image!