The Upper Geyser Basin is the most visited area of Yellowstone National Park. Yet most visitors rarely see more than the Old Faithful and perhaps one or two other geothermal features nearby… However, there is so much more to explore in this area! From eerily beautiful hot springs to a variety of spectacular geysers, named for their unique quirks or appearances!
In our previous article, we shared all the tips and tricks for visiting Old Faithful. In this guide, you can learn about the main Upper Geyser Basin attractions – the best things to do at Old Faithful.
In addition, you can find a printable Upper Geyser Basin map and practical tips that will help you plan your visit to this area. Read on!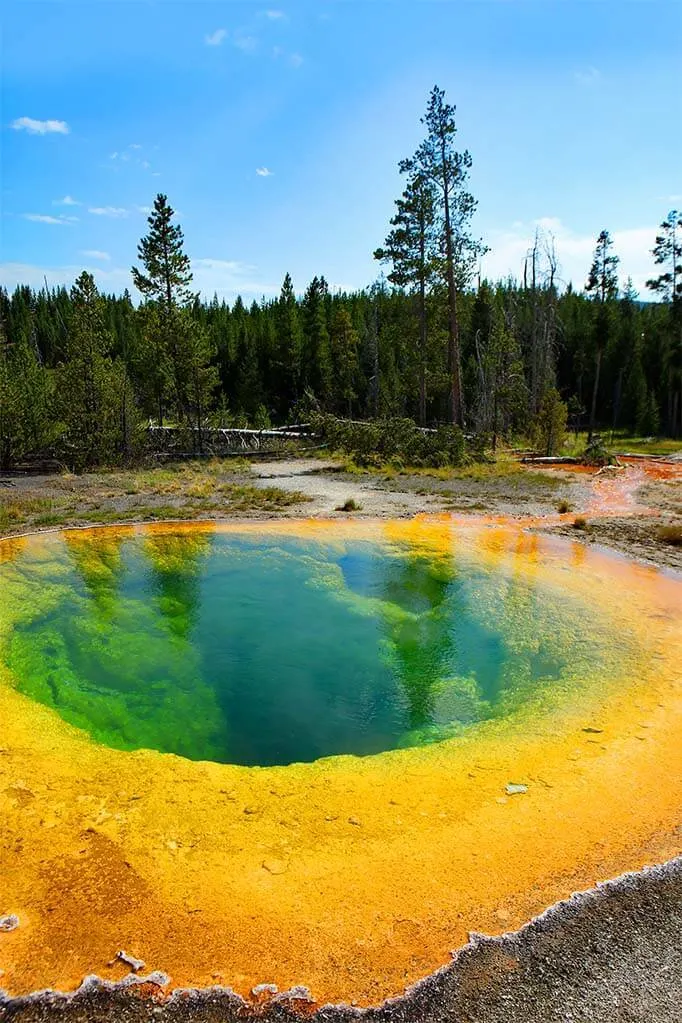 Upper Geyser Basin – Introduction
Located between the Old Faithful area and the Biscuit Basin Road, Upper Geyser Basin is only around 1 square mile in size. But don't let this mislead you. This small area has the largest concentration of geysers and geothermal features in the world! Furthermore, the geysers here are also among the world's largest and most powerful.
So if you are wondering if the Upper Geyser Basin is worth a visit, yes, it certainly is! There's so much more to see here than just the Old Faithful!
The area couldn't be better for sightseeing, as the majority of the geothermal features are within a few hundred feet of the Firehole River. You can easily explore Upper Geyser Basin in a relatively short time. Furthermore, most paths here are accessible for everyone, also people with limited mobility.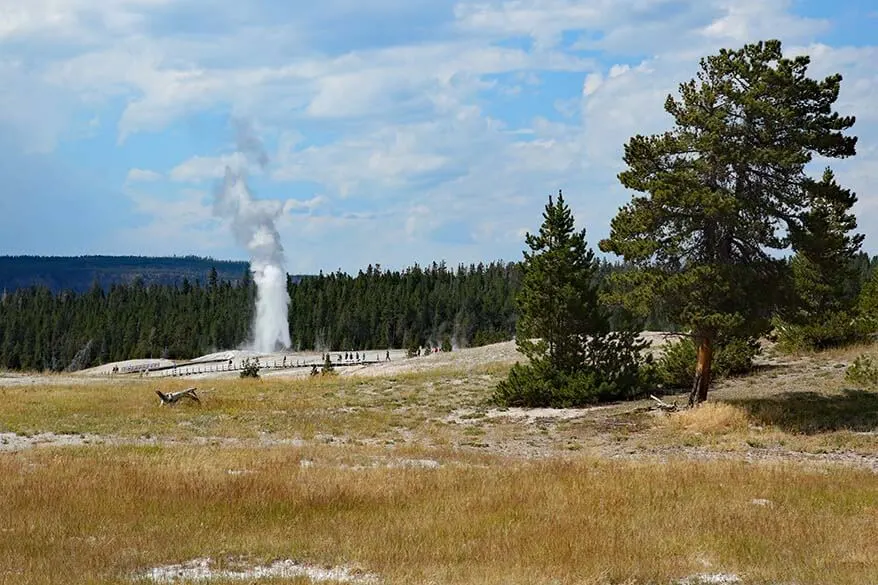 Why Visit
Old Faithful geyser – the main landmark of the Upper Geyser Basin and one of the best things to see in Yellowstone – tends to get the most attention. It's absolutely not to be missed.
However… The other geysers in the area are at least just as impressive, if not more. If you can, try to see at least a few other geysers of Yellowstone in action. Each geyser is so different and interesting in its own way.
While many of the geysers in the Upper Geyser Basin area are erratic and inconsistent in their behavior, 5 of them are more reliable and somewhat predictable. Park Rangers are able to predict an eruption with a relatively good degree of accuracy for the following geysers: Old Faithful Geyser, Riverside Geyser, Castle Geyser, Daisy Geyser, and Grand Geyser.
But even if you don't get to see many big geysers in action, Upper Geyser Basin is worth visiting. You can see lots of smaller geysers with frequent eruptions, hot springs and colorful pools surrounding them, as well as many other unique geological features of the area.
The surrounding landscape is also quite impressive. The hills around the Upper Geyser Basin are formed from flows of silica-rich lava. This gives them an interesting appearance that some people compare to stiff bread dough.
Further below, you can find more details about the most interesting geothermal features of the Upper Geyser Basin. But first – some practical information and tips to get the most out of your visit to this part of Yellowstone. Take a look!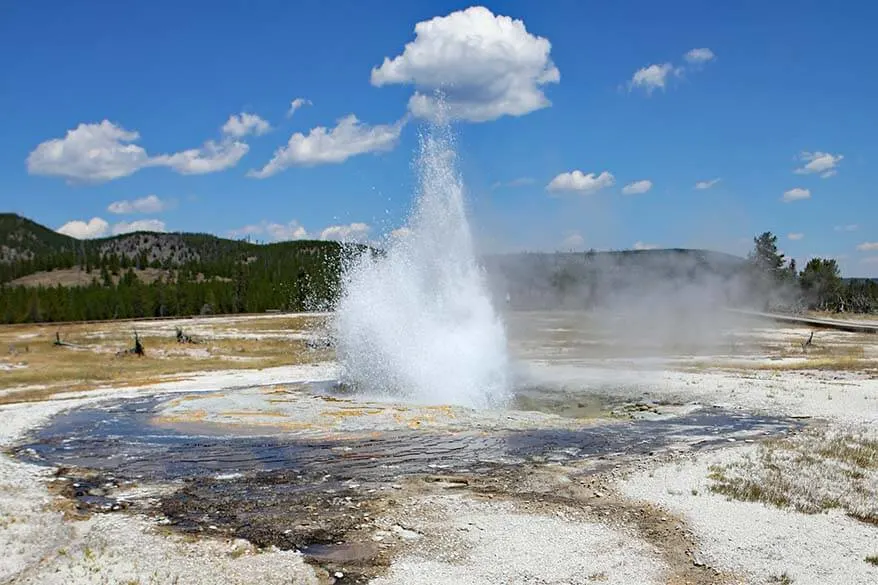 Best Way to Explore the Upper Geyser Basin
The best way to explore the Upper Geyser Basin is on foot. But don't set off just yet! Make sure to start your visit at the Old Faithful Visitor Center. Inside, you can find predicted eruption times for the biggest most-predictable geysers of the area. That will give you a better idea of which geysers are worth keeping an eye on, where to head first, and what to leave for later.
Ideally, you can then plan your tour of the rest of the Basin around those times. However, it's not as simple as it looks. It's still hard to estimate when to be at each geyser as it might erupt 1 to 3 hours around the predicted time, sometimes even more…
Still, checking the predicted eruption times gives you an idea of what you could potentially expect. Because we did this, we were lucky to see four big geysers in action during the few hours that we spent at the Upper Geyser Basin.
You might want to consider taking part in a Ranger-led walk to ensure you don't miss anything. But it's really not essential. With a map of the area and by following marked trails, you can easily easy explore the Upper Geyser Basin by yourself!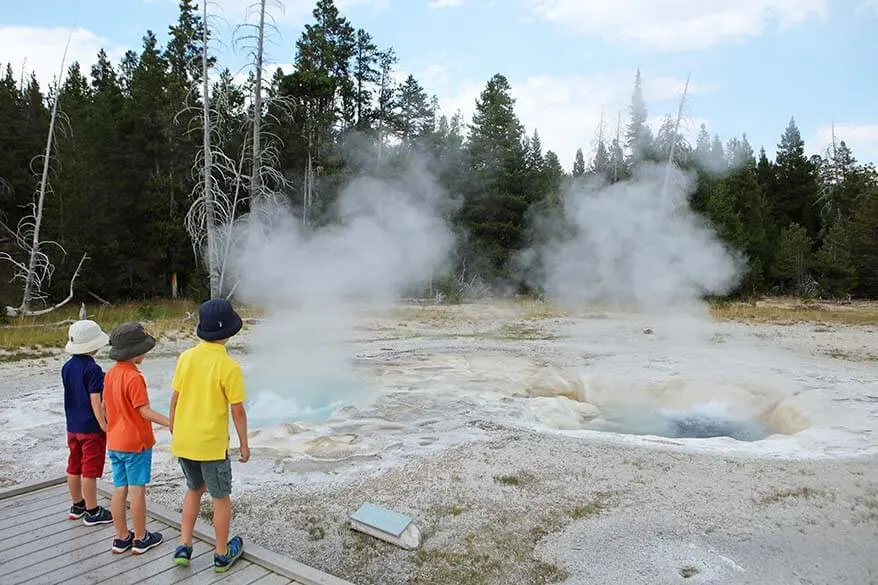 TIP: Don't worry too much about seeing specific geysers in action. It's something that's really hard to plan for unless you have unlimited time and are prepared to wait for hours. Just walk around, enjoy the beautiful surroundings, and there will always be at least some smaller geysers spouting and steaming. They are really worth seeing! If you also get to see some big geysers erupt, it will just be the cherry on the cake.
Good to know: Most trails of the Upper Geyser Basin are flat and easily accessible with strollers or wheelchairs. There are many trails and walking paths in the area and they are interconnected. So you can easily choose which parts to explore, turn around when you had enough, and make your tour as long or as short as you want.
Further below, you can find more practical information for your visit. First, let's take a look at the map and what there is to see at the Upper Geyser Basin. Read on!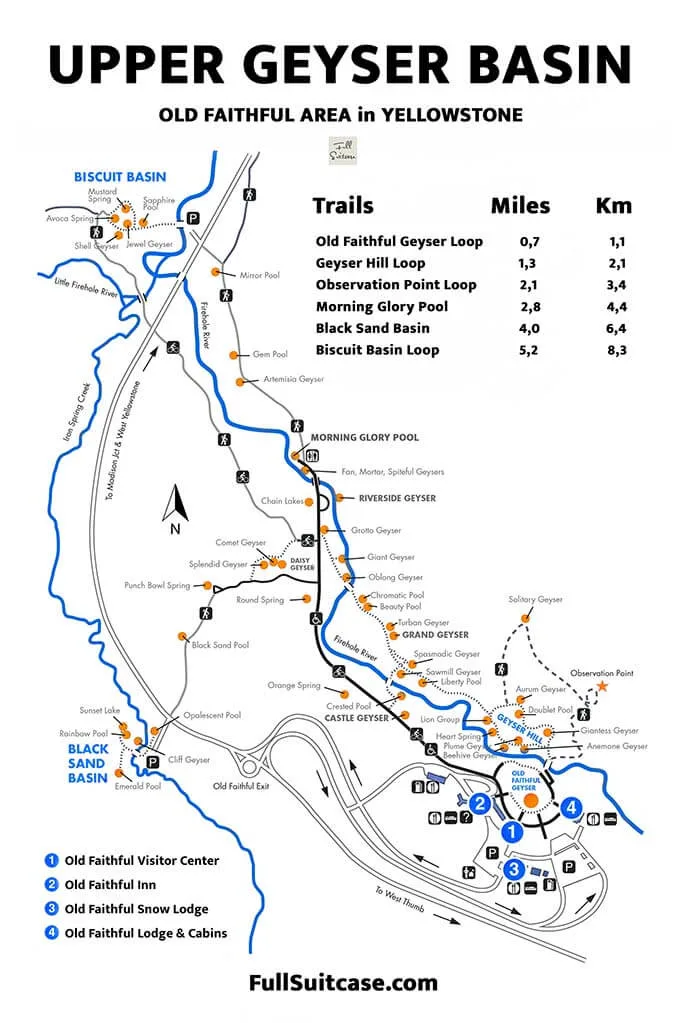 What to See
The geysers of the Upper Geyser Basin are arranged in different geyser groups, starting from Old Faithful and continuing in a thin band on either side of the Firehole River. These are the Geyser Hill area, Castle and Grand Geysers group, Giant Grotto group, Daisy Grotto group, and Morning Glory and Riverside Geyser group.
Furthermore, the Upper Geyser Basin includes two other small groups – Biscuit Basin (also along the Firehole River but a bit further north) and Black Sand Basin, which is located beside Iron Spring Creek.
Just seeing all these names might sound complicated. But once you get there, you'll see that the area really isn't that big and most geysers are very close to each other. You can easily see most of the highlights of the Upper Geyser Basin in just a couple of hours or even quicker (depending on your interests).
TIP: If you don't have the time to see everything and don't know where to start, I highly recommend the following. Walk the boardwalks of the Geyser Hill area, past the Grand Geyser and Riverside Geyser areas, and all the way to the Morning Glory Pool. This way you'll see most of the nicest features of the Upper Geyser Basin. And, of course, don't miss the Old Faithful, but don't limit your visit just to it!
Good to know: The further you get from the Old Faithful Visitor Center, the fewer other visitors you'll meet. So go for a walk and enjoy some of the most incredible geothermal features without the crowds.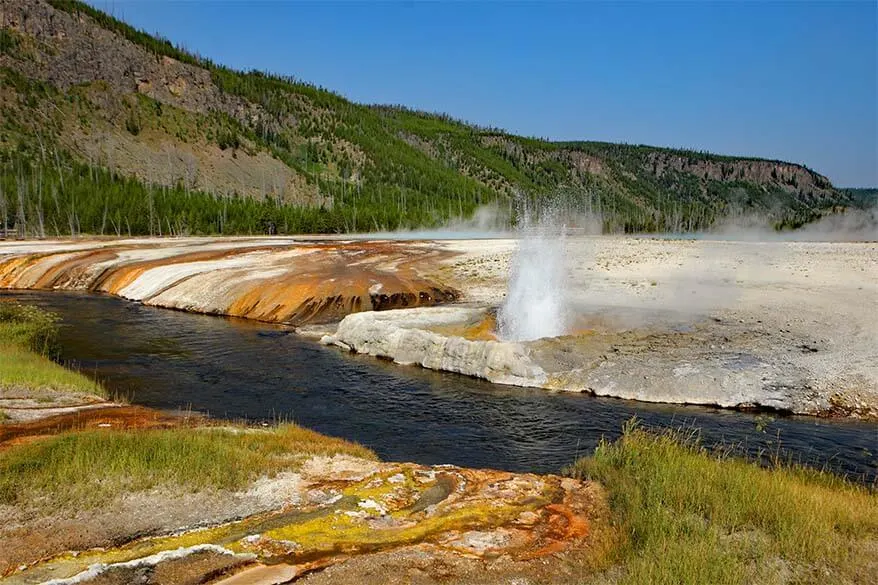 The following is a list of the main groups of geysers in the Upper Geyser Basin area. We included a short description of what you can expect at each of them. Take a look!
Old Faithful
Old Faithful Geyser is the main attraction of the Upper Geyser Basin and is absolutely not to be missed. It's the largest regularly erupting geyser of Yellowstone, attracting huge crowds.
Because it's such a popular attraction and so many of our readers were asking questions about it, we created a separate guide to the Old Faithful. It's dedicated solely to visiting the Old Faithful Geyser, the Old Faithful Inn, and its immediate surroundings. It's also filled with interesting information and facts about this world-famous geyser. Take a look below!
LEARN MORE: Complete Guide for Visiting the Old Faithful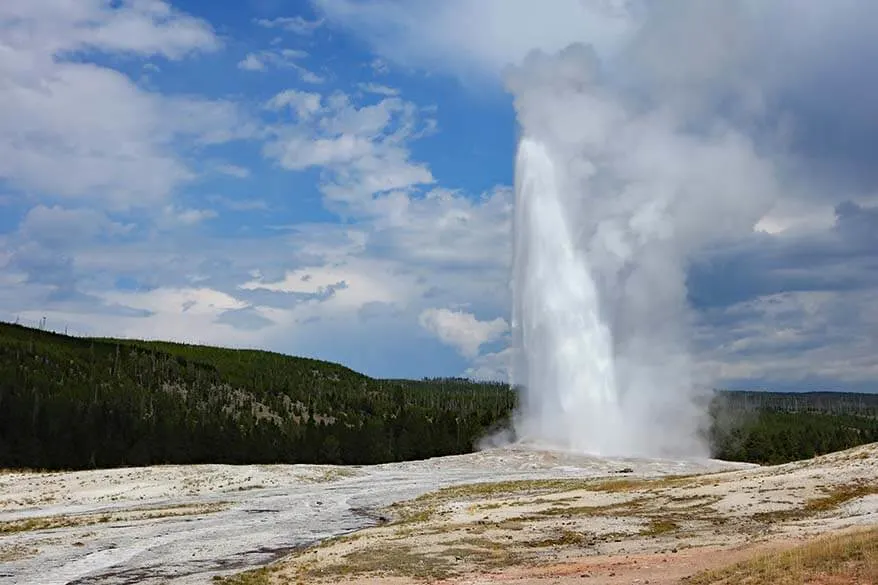 Geyser Hill
Geyser Hill is just a short walk north from Old Faithful. It's home to a variety of vents, pools and more than 40 geysers! The elevation here provides unbeatable views of the valley and is worth visiting for that reason alone, although there is so much more to enjoy…
You can take a short hike to the Observation Point. Or you can also just opt to stay on the boardwalks and see most of the geysers from there.
Beehive Geyser. The Beehive and the Giantess (below) are the largest geysers on Geyser Hill. Beehive is also one of the most beautiful geysers with a white 4 ft high symmetrical cone. Its regular eruptions can be quite dramatic, noisily shooting a narrow jet of water up to 200 ft in the air.
Giantess Geyser. This geyser is majestic in size, which accounts for the name given to it by explorers in 1870. Unfortunately, it rarely erupts. But when it does, the sight is spectacular with a combination of steam and boiling water reaching heights of over 200 ft.
Solitary Geyser. Originally known as Solitary Spring, this feature located in a woodland clearing did not start erupting until recently. Surrounded by mineral deposits in a spectrum of colors, the Solitary Geyser now erupts every 4 to 8 minutes, shooting water to a maximum of around 6 feet. This is the only geyser in this group that you can't see from the boardwalk. So you'd have to take a short detour in the direction of Observation Point if you want to see it.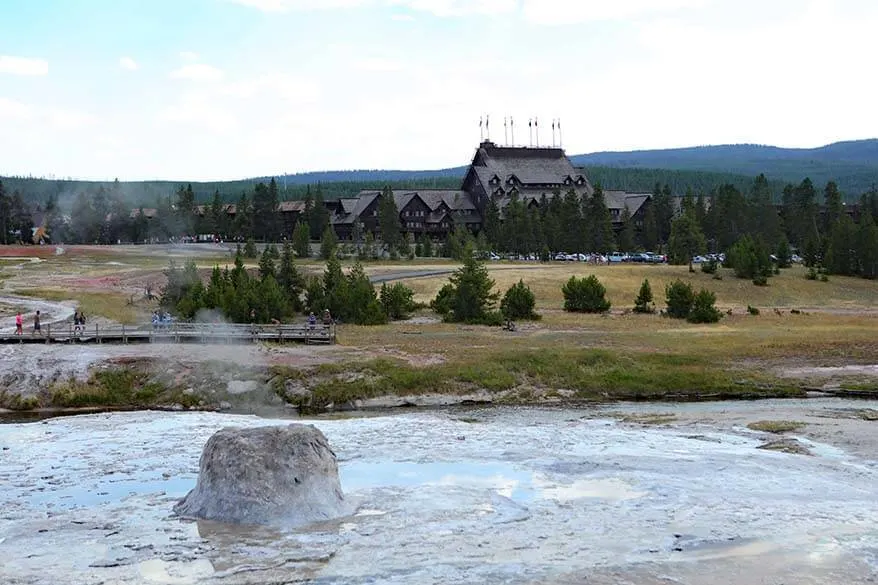 Anemone Geyser. Erupting roughly every 10 minutes to a height of 10 ft, this geyser has subtle formations of sinter surrounding its main opening, with two vents situated just 10 ft apart.
Doublet Pool. One of the most beautiful in the Basin, this pool is encircled by even terraces and filled with deep blue waters. There are 2 smaller springs nearby.
Lion Group. The largest geyser in this group is the Lion – the smaller ones are known as Lioness, Big Cub and Little Cub. Little Cub is the only one still active, for between 1 to 7 minutes every day. If you're lucky enough to be there for an eruption, listen out for the roaring sound that gave the group its name!
Aurum Geyser. This pretty little geyser is named after its golden tint, which is caused by iron oxide. Since 1983 it has erupted every 3 to 10 hours, shooting water anywhere from 15 to 30 ft high.
Pump. With its colorful, semi-circular vent, Pump was named after the dull thumping noise it makes when it erupts. In fact, this geyser is in an almost continuous state of eruption, with the water constantly simmering and splashing.
Plume. Plume has an irregular appearance and was formed following an explosion in 1922. It can go days or sometimes weeks without erupting, but it is usually more active, spouting as often as every 30 to 60 minutes.
Sponge. Made of sinter, Sponge's bumpy appearance gave rise to its name! It is small but very active, often sending water 1 to 2 feet into the air for a minute at a time.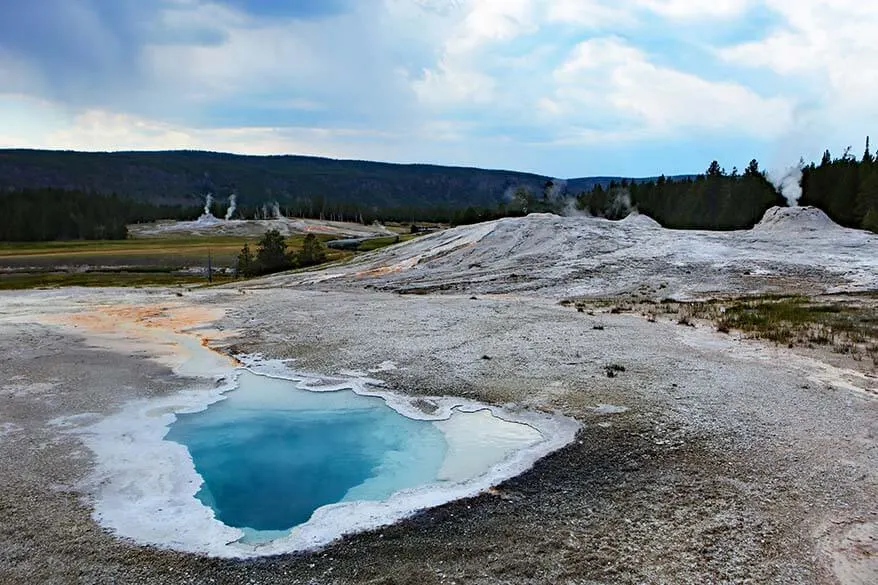 Castle & Grand Geysers Group
This group contains the Grand Geyser, the tallest geyser on Earth and undoubtedly the highlight of the Upper Geyser Basin.
Grand Geyser. If you are lucky enough to see the Grand Geyser in action, prepare to be awed by the spectacle of a fountain of steam and water shooting up to 200 ft in the air! Eruptions – which come every 7 to 15 hours and are somewhat predictable – last for around 10 minutes.
Turban and Vent Geysers. These geysers are connected to the Grand and can usually be seen spouting both before and after the Grand's spectacular eruption.
Spasmodic Geyser. As its name suggests, this geyser is unpredictable and erupts to various heights in displays lasting from 10 minutes to a few hours. Spasmodic has two underwater vents and its pools are encircled by beautiful sinter formations that look almost like coral.
Castle Geyser. This geyser is believed to be the oldest in the Upper Geyser Basin, a fact which is determined by the size of its 10 ft white cone. One of the five geysers whose eruptions times are predicted by Rangers, the Castle puts on a dramatic show every 10 hours or so. It's a great eruption to watch if you get the chance, producing a steady plume of hot water for around 20 minutes, shooting 90 ft into the air. And once the main event is over, there is a 'stream' phase, which lasts for around half an hour. We saw it in action and it was our favorite geyser in Yellowstone!
You can also see two stunning hot springs in this area – Crested Pool and Twilight Spring. Crested Pool is the most beautfiul in the entire Upper Basin and – at 40 ft deep and 20 ft across – one of the largest. It is also the hottest and is constantly boiling, continuously sending hot water several feet into the air.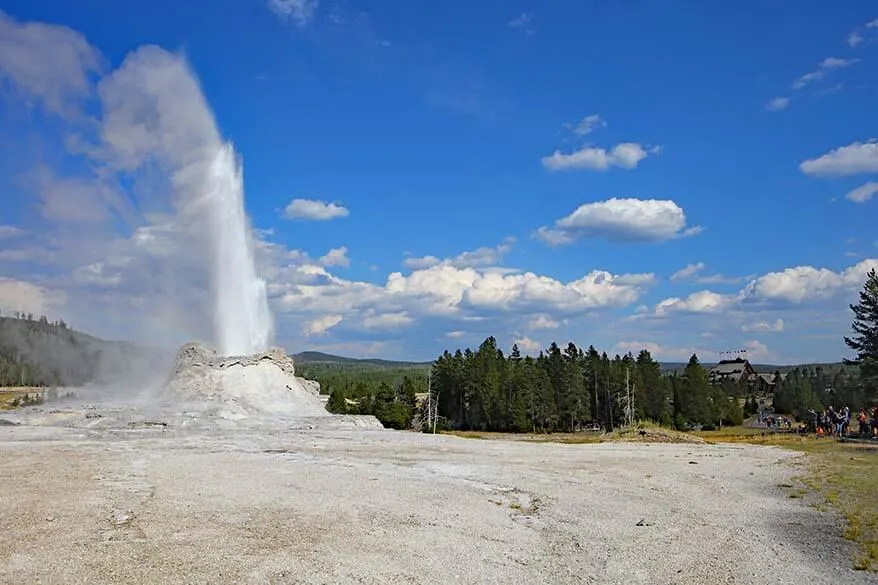 Giant Grotto Group
This group is made up of a small collection of geysers that are located on either side of the Firehole River.
Grotto Geyser. With its strangely shaped, 6 ft cone that seems to be in separate pieces – and a few calcified trees standing guard around the vent – this geyser has an interesting appearance! It's very unpredictable. Eruptions can be as little as one hour apart, or as long as two days apart! But if you are lucky enough to see it, it's quite a spectacle, with some forceful eruptions lasting for up to 10 hours.
Spa and Rocket Geysers. These geysers are connected to the Grotto underground.
Giant Geyser. Giant's broad, impressive 12 ft cone is the largest in the Upper Basin. It can shoot water up to 250 ft into the air when it spouts, although eruptions are unpredictable and can be as frequent as twice weekly, or as rare as once a year!
Oblong Geyser. Because the trail stays well back from this geyser on the west bank of the Firehole River, it's hard to see the oblong shape that gave it its name. But there is a good reason that the trail doesn't go closer – this is a geyser with a very broad and powerful plume that is known for very vigorous eruptions!
Beauty Pool. With 60 ft in diameter, this is one of the largest pools in the Upper Geyser Basin. Its water is very clear and aquamarine in color, with a wide border of orange/brown cyanobacteria. It is connected underground to the Chromatic Pool.
Chromatic Pool. It's possible to get some wonderful photos of the Chromatic Pool because the trail takes you right up beside it. Lying 150 ft to the west of the Beauty Pool, Chromatic is shallow and greenish-blue at the center, with bands of colorful cyanobacteria.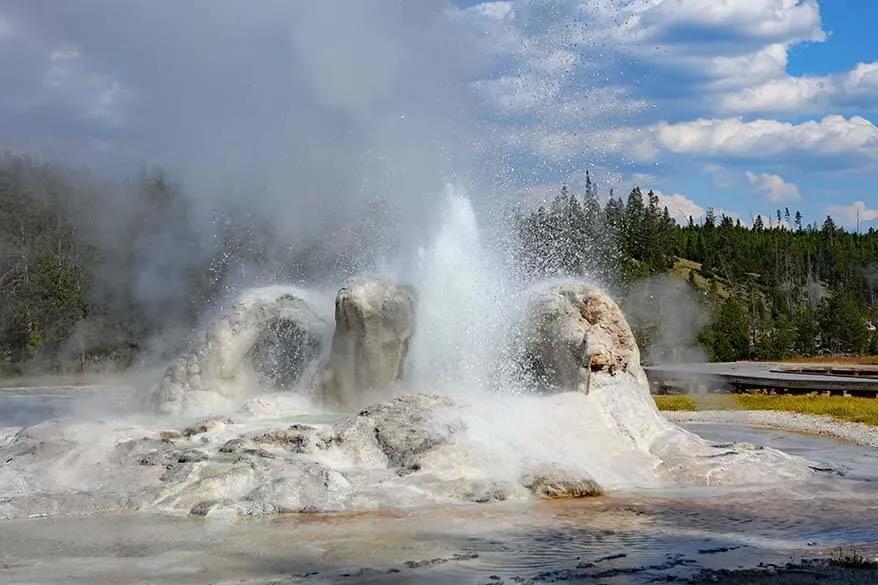 Daisy Geyser Group
This group is located to the west of the main track through the Basin, further away from the Firehole River, and has a wooded boardwalk. Its main attraction is Daisy Geyser, which is located on a mineralized plain that includes Splendid and Comet geysers.
Daisy Geyser. Daisy is one of the Upper Geyser Basin's five predictable geysers. It's a spectacular sight, particularly on windy days when it produces a steamy curtain of whitewater. The vent is angled around 20 degrees off vertical, so the eruptions look quite different from those of the other geysers. Daisy erupts roughly every 2 to 4 hours and shoots water to heights of up to 100ft.
Splendid Geyser. You can get great views of this geyser from the loop trail that runs to the north and south. Eruptions are some of the highest in Yellowstone Park and can reach 200 ft, but Splendid doesn't spout very often. The exception is when a storm is rapidly approaching – the sudden change in air pressure can trigger activity, which can last for 1 to 10 minutes.
Comet Geyser. This geyser is set quite far back from the path so it's hard to get a good look at it and its eruptions are small.
Punch Bowl Spring. This famous pool bubbles away constantly at temperatures of 200°F, although experts believe it has never erupted. It is surrounded by a raised edge of 'geyserite', a kind of opal that typically builds up from deposits around hot springs. You can reach the spring by taking the trail that leads west from the Daisy group.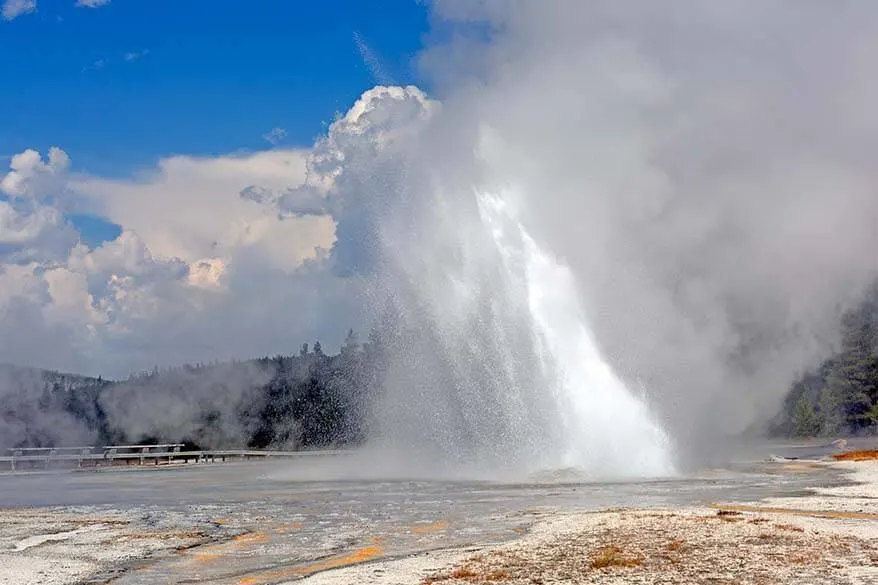 Morning Glory & Riverside Geyser Group
You'll find this group to the east of the river at the northernmost point. It is popular for its famous hot spring – the Morning Glory, that's situated about 1,4 miles – 2,2 km from the Old Faithful. With less than 3 miles round trip on flat easy trails, it's surprising how few people actually walk this far… Make an effort – it's really worth it!
Morning Glory Pool. Many people consider this to be the most beautiful hot spring in the entire Upper Geyser Basin and I have to agree. It was one of our favorites too! This pool is 23 ft deep and has a very clear, dark blue center, surrounded by an edge with hues of green, brown and yellow.
Sadly, however, the Morning Glory has been the victim of careless tourists who – by tossing various debris into the pool – have caused the vent to become blocked. This has reduced the pool's temperature, subsequently dulling its vibrant colors.
Nevertheless, it's still a spectacular sight, which you can view from the raised boardwalk that runs halfway around it. From this vantage point, it's possible to appreciate its symmetry – and to see why it was named after the beautiful Morning Glory flower in 1883.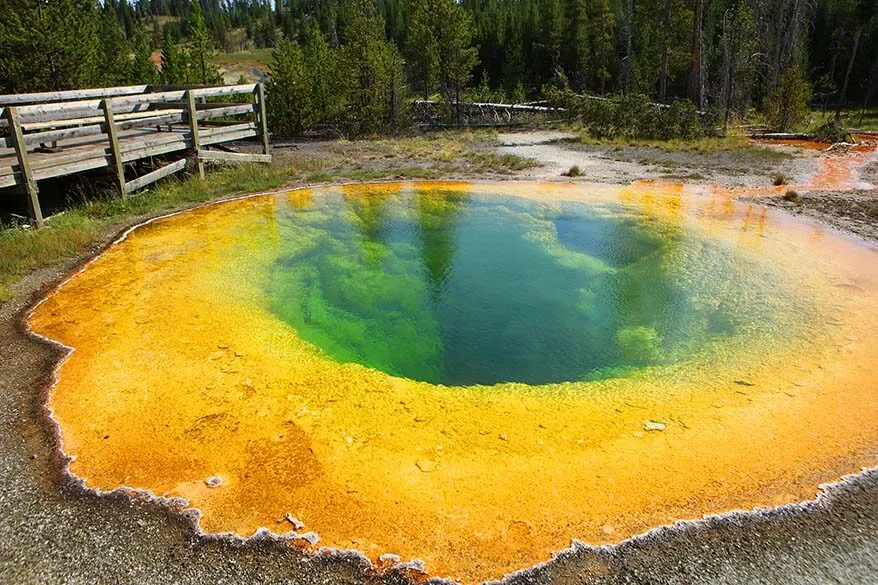 Fan and Mortar Geysers. These geysers are linked to the Spiteful (below). They consist of several vents (not all of which you can see from the path) and water comes through all of them simultaneously when they erupt. The right and left angles of the vents give the eruptions a spectacular, fan-like appearance. Sadly, though, they spout irregularly, with intervals of days, several weeks or even up to a year.
Spiteful Geyser. This geyser is located in a diamond-shaped pool filled with clear water that boils continuously. It is easy to view as it lies close to the trail, but eruptions are rare and Spiteful has been known to be inactive for up to 4 years.
Riverside Geyser. Another of the five geysers in the park whose eruptions are predicted by Rangers, the Riverside doesn't have a trail of its own. It can only be viewed from a spur on the west bank of the river. With its scenic location surrounded by trees and the river, it provides a great photo opportunity, particularly on sunny days when you may even spy a rainbow in its mist!
It is believed to have been active for a very long time, which is indicated by its thick cone that sits right on the river bank. It erupts every 6 hours or so, sending boiling water up to 75 ft into the air.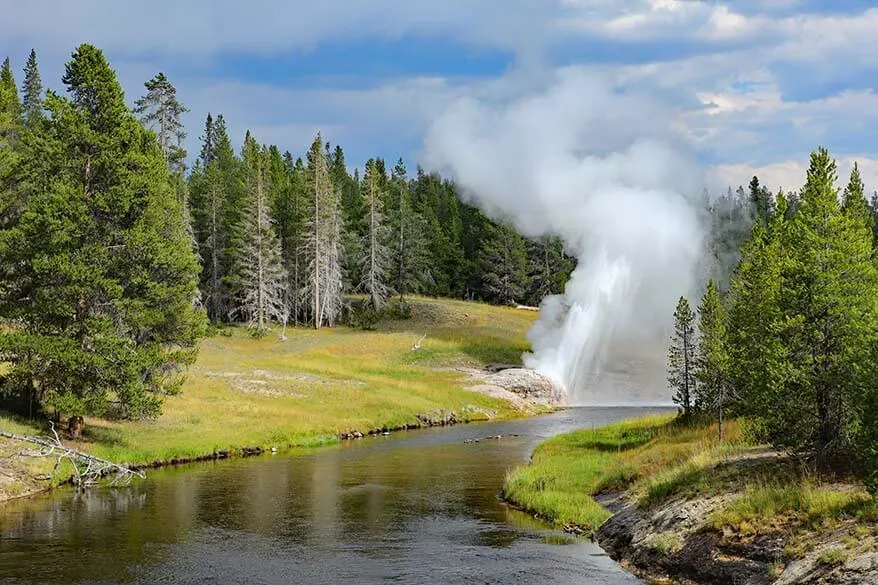 Biscuit Basin
A short loop trail on wooden boardwalks allows you to see all the main sights of the Biscuit Basin, which is situated to the west of the Firehole River. These include the clear blue water of Sapphire Pool and the colorful mineral deposits surrounding Mustard Spring – a boiling vent encircled by rocks.
There are three main geysers in Biscuit Basin – Rusty, Shell, and Jewel.
Good to know: Biscuit Basin can be reached on foot or by bike from the Old Faithful area (5,2 miles – 8,3 km round trip), but you can also drive there by car. When we visited at the beginning of August, the Biscuit Basin parking lot wasn't crowded and there were hardly any people here.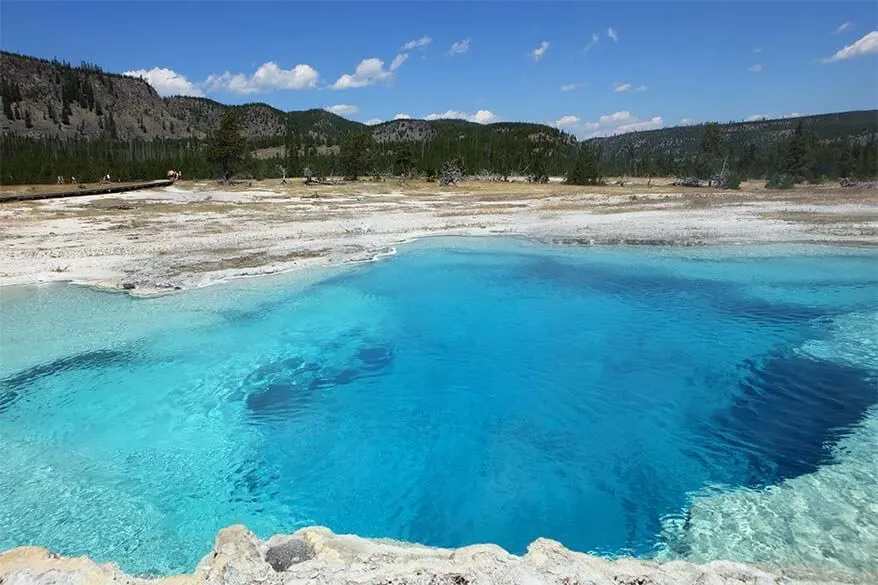 Black Sand Basin
Black Sand Basin area is named for its patches of fine black sand, which were produced by the erosion of obsidian.
With just 5 features and a location 1 mile to the west of Old Faithful, you may be tempted to give it a miss. However, it's definitely worth a visit, if only to admire its beautiful Opalescent Pool. This deep blue pond contrasts dramatically with the colorful algae surrounding it and the dead white silicified trees that stand just beyond it.
The Black Sand Basin also contains Sunset Lake Pool. However, it's quite hard to see it as it's often covered with a curtain of steam. There are two springs – Emerald Pool and Rainbow Pool – both of which are as pretty as they sound. And there is also one geyser – Cliff Geyser – which has a circular vent and is known for its regular, noisy eruptions!
Good to know: Black Sand Basin can be reached on foot from the Old Faithful (4 miles – 6,4 km round trip), or you can drive there.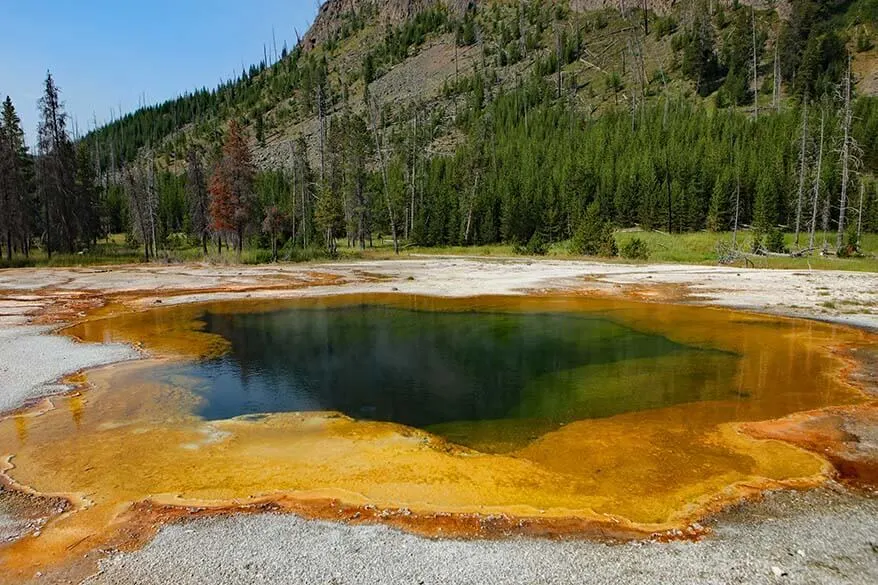 Accessibility
Visiting the many attractions of the Upper Geyser Basin is easy due to a good network of accessible paths.
There is a broad, wheelchair-accessible asphalt track that runs all the way from the Old Faithful Visitor Center to the Morning Glory Pool. Many smaller paths take you off to specific geysers and features on the way.
There are also boardwalks that make it easy to explore Geyser Hill and the other geyser groups in this area.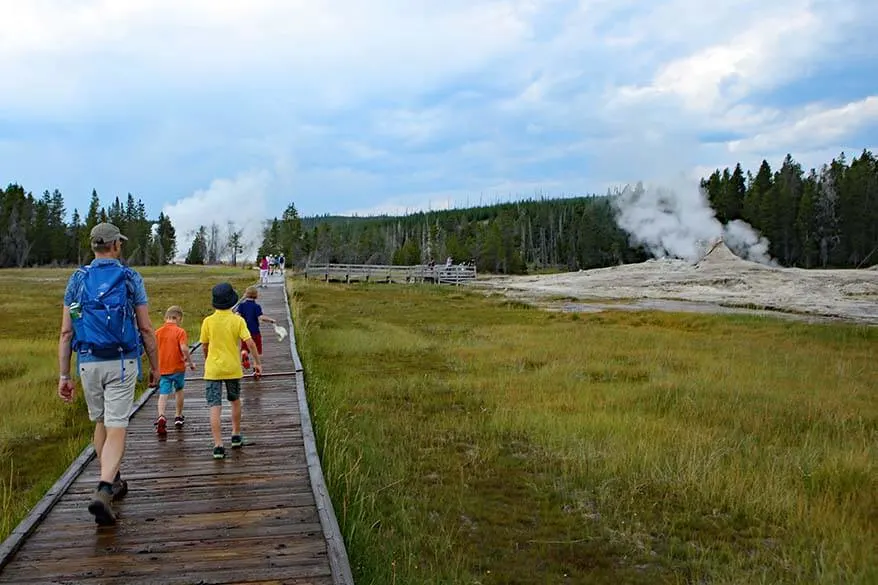 How Much Time Do You Need
While it's possible to walk from one end of the Upper Geyser Basin to the other in around 2 hours, there is so much to see that you can easily spend the whole day here.
Realistically, I would say you need at least 4-5 hours for the Upper Geyser Basin. This should be sufficient to see all the highlights of the area including a visit to the Old Faithful and a quick lunch.
You'll probably need an entire day if you also walk to the Black Sand Basin and the Biscuit Basin. If you drive to those areas, count additional 1-1.5 hrs.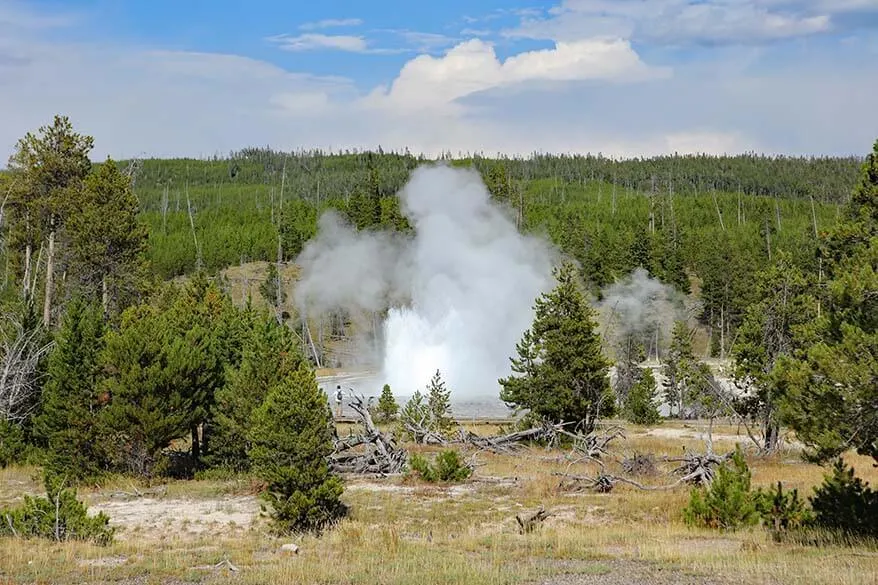 So, this is our guide with tips for visiting the Upper Geyser Basin in Yellowstone. In addition to this, make sure to also read our detailed guide for visiting Old Faithful, the main attraction of this area.
Planning a trip to Yellowstone and looking for more information? You may want to check our other guides that will help you get the most of your trip. Take a look below.
More tips for your trip to Yellowstone:
If you found this post useful, don't forget to bookmark it and share it with your friends. Are you on Pinterest? Pin these images!