Few places in the world can compare to the majestic Ilulissat Icefjord in Greenland. It's one of the most special natural wonders of our planet!
If you are wondering what makes the Ilulissat Icefjord so special or how to visit it, this article should give you a good idea of what to expect and how to get the most out of your visit. Find out!
Good to know: Ilulissat Icefjord is ever-changing and so you never really know what you'll find till you get there, but one thing is for sure – it will be one of the most unique places you've ever seen. A place so special that no words, images, or videos can do it justice. You just have to experience it!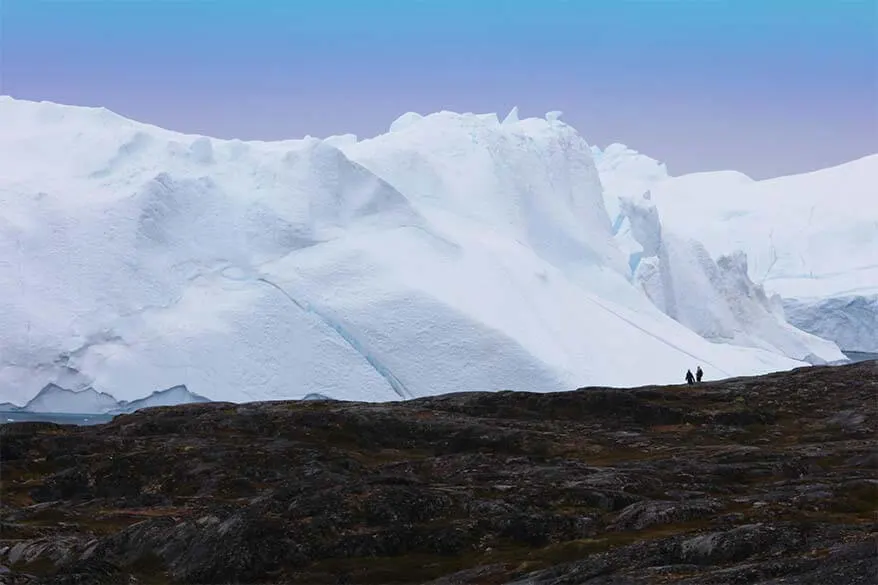 Kangia – Ilulissat Icefjord – Introduction
Kangia – Ilulissat Icefjord in Greenland is one of the most important glacial sites in the world. Both in terms of its staggering beauty and enormous appeal to tourists, as well as its significance in providing research opportunities and crucial information about climate change.
Covered in brash – small, floating chunks of ice – this tidal fjord is located near Ilulissat on the west coast of Greenland, 250 km north of the Arctic Circle. The fjord is 70 km long!
Its local town is Ilulissat, which means 'icebergs' in the Greenlandic language. When you see the surroundings of Ilulissat, you'll understand where the name comes from…
Ilulissat has a population of just around 5,000 people, making it the 3rd largest town in Greenland. It's the most visited tourist destination in the country and its popularity has everything to do with Ilulissat Icefjord and the adjacent Disko Bay. Disko Bay is filled with huge floating icebergs that come from the calving glacier at Ilulissat Icefjord. A truly majestic sight!
The beauty of the region remains unspoiled, despite Ilulissat's growing tourist numbers. Ilulissat Icefjord is a UNESCO World Heritage Site and is highly protected. There are no roads in the area, mining is prohibited, and no permanent settlement is allowed. The land in the reserve is state-owned and any construction nearby is strictly controlled.
Good to know: The narrow part of the Ilulissat Icefjord, just where the glacier meets the Arctic Sea, is also called Kangia Icefjord. For the sake of simplicity, in this article, we refer to the entire area as Ilulissat Icefjord or Kangia, both meaning the same place. The word Kangia means 'easterly'. It refers to the glacier's location in relation to the nearby settlements.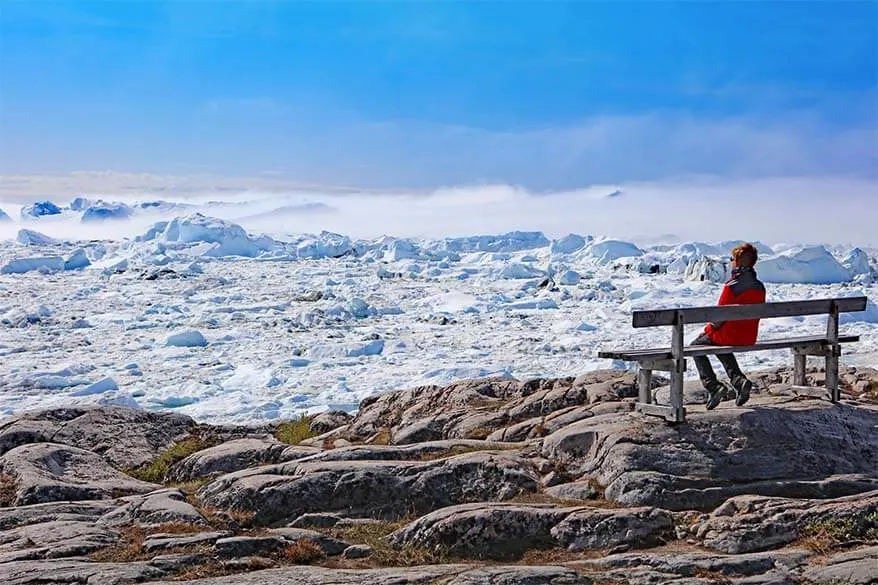 What's So Special about Ilulissat Icefjord
Ilulissat Icefjord is the sea mouth of Sermeq Kujalleq – an outlet glacier through which Greenland's gigantic ice cap reaches the sea. This glacier is extremely active and – at 40 meters per day – one of the fastest moving glaciers in the world.
Huge chunks of ice regularly break off from Sermeq Kujalleq in a process known as 'calving'. 45 km³ of icebergs are produced by the glacier each year – enough to cover all the water consumption of the USA for 1 year. Some of these icebergs are so big that even a huge cruise ship looks tiny next to them…
Interesting to know: The biggest icebergs that calve from Ilulissat Icefjord can reach 2 km in length with 120 m above sea level (which is higher than the Statue of Liberty in New York (93 m) or Big Ben in London (96 m)).
Ilulissat Icefjord's combination of a vast ice sheet and a rapidly moving glacial stream calving into the sea is truly unique. Due to this, the scenery here changes all the time. No matter how many times you've seen Ilulissat Icefjord, it will never be the same as before.
We were in Ilulissat twice during our trip, with just 3 days in between the visits, and the Icefjord changed so drastically in those few days that we could hardly believe it was the same place…
Greenland's ice cap is significant as the Northern Hemisphere's only remnant of continental ice sheets from the Quaternary Period. Experts are able to learn about changes in the climate and atmospheric conditions from the past by studying the ice in the region, some of which is believed to be around 250,000 years old. No wonder that Ilulissat Icefjord has been the focus of scientific studies into glaciology and the climate for over two centuries.
Ilulissat Icefjord is the first place in the Arctic that was added to the UNESCO World Heritage Sites list.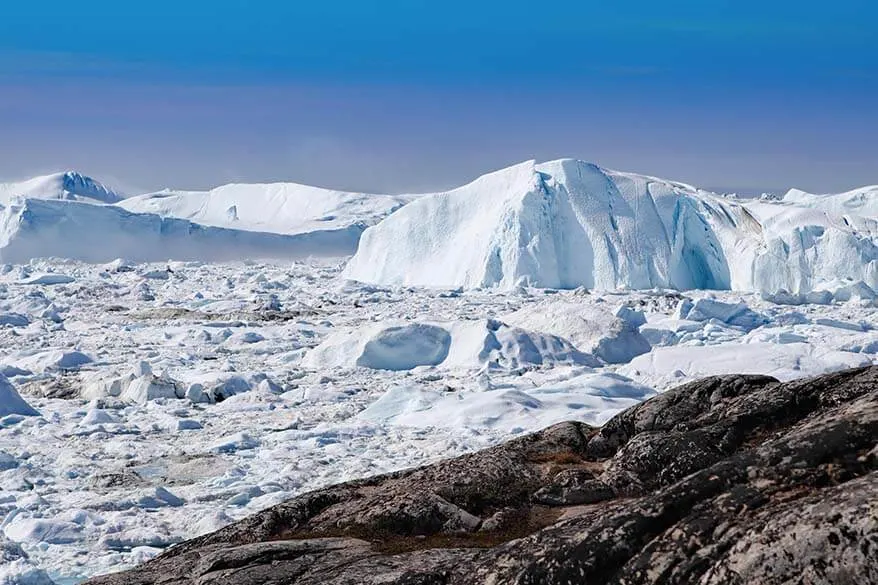 Why Visit Kangia Icefjord
Ilulissat Icefjord is one of the most unique places in the world! The panoramic views of the glacier, the icebergs, and the surroundings are breathtakingly beautiful. The scenery here is so vast and truly majestic that it makes you feel tiny and appreciate the power of nature even more!
Often, you can also see the ice move and also hear the dramatic sounds of the calving process, which gives rise to unique creaks, cracks, and groans.
The nearby Disko Bay attracts a variety of seals and whales. In fact, it is considered to be one of Greenland's best places for whale-watching. Every time we went for a walk along the Icefjord, we saw whales from the shore! We also saw whales from our hotel room and hotel restaurant in Ilulissat. Simply incredible!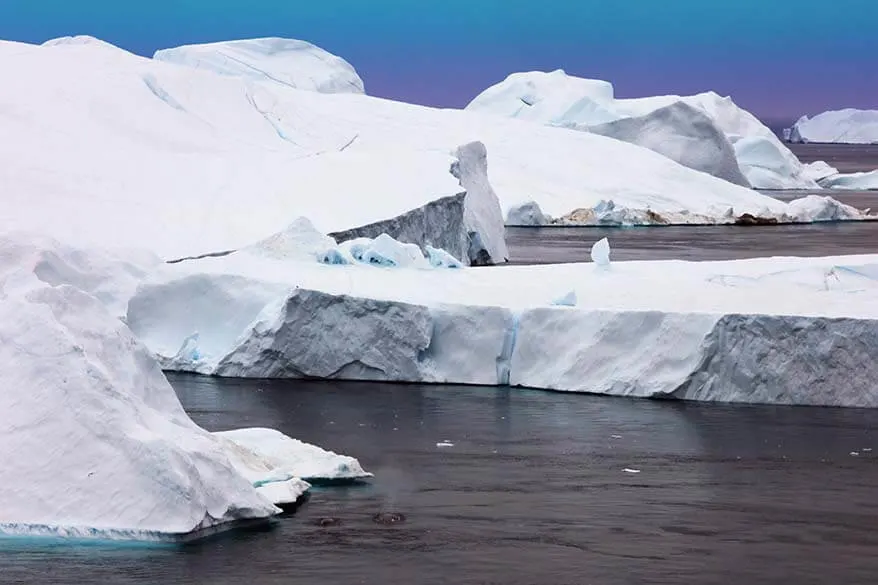 Where Is Ilulissat Icefjord & How to Visit
There are few other locations in the world where it is so easy to access such a spectacular natural wonder as Ilulissat Icefjord. It's located just near Ilulissat town and you can easily walk there on your own and explore the area via several hiking trails.
Ilulissat Icefjord's wild and rugged landscape can be admired from a distance, but you cannot walk on the ice itself. Nevertheless, there are several ways to experience the beauty of the site. In addition to hiking, you can take a boat tour, go kayaking, or see the Icefjord from the air. If possible, it is worth doing them all to truly appreciate the scenery and the majestic scale of the area.
Below, you can find more details about all the different ways to visit Ilulissat Icefjord. Take a look!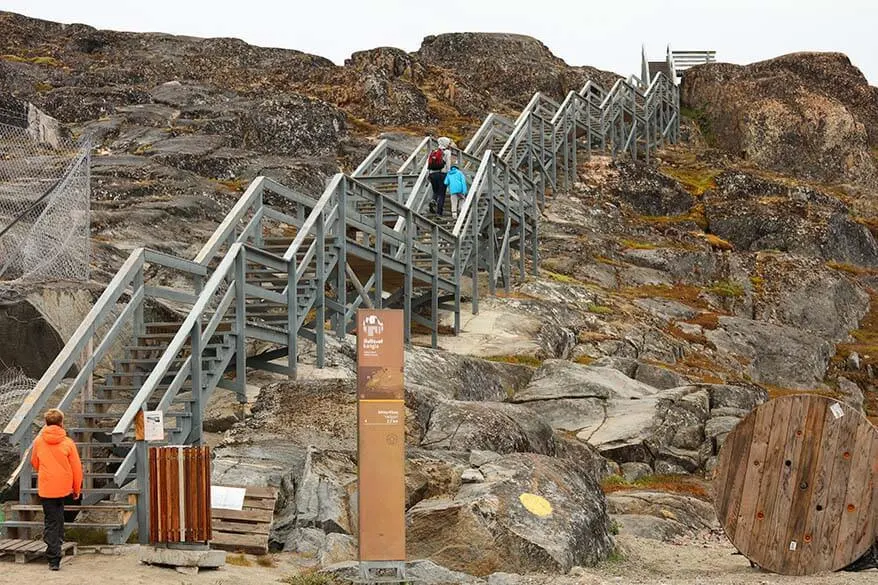 Hiking in Ilulissat + Map
There are many hiking possibilities around Ilulissat, with the most popular trails leading to the Kangia Icefjord and along its shores.
Hiking through the peaceful, untouched wilderness with so many Arctic flowers all around you – it's a magical place! We were visiting Ilulissat in July (the busiest tourist season), but we hardly met any people when hiking near the Icefjord.
If you visit this area in winter, you'll probably need snowshoes in order to hike here. The wooden boardwalk of the World Heritage Trail is the best-accessible trail towards the Icefjord in any season.
There is a hiking trail suitable for everyone around here, from accomplished long-distance hikers to those looking for a less demanding, low elevation route for the day. Below is an overview of the main hiking trails at the Ilulissat Icefjord.
Maps of this hiking area are available at most hotels, tour offices, and some shops. There are also informational panels with maps and practical info at the Old Heliport.
To make it somewhat easier for you to understand where everything is, I include a picture that I took with the area's hiking trails.
Good to know: You are free to hike where you please since there is no privately owned land in the area, but please be respectful to nature and warning signs. A big area next to the World Heritage Trail is a no-hiking zone. This has two reasons. First, the area is a protected archeological zone. Second, it's located lower and there is a big tsunami risk in case a big iceberg collapses. It can happen very quickly, so obey the signs and don't go there.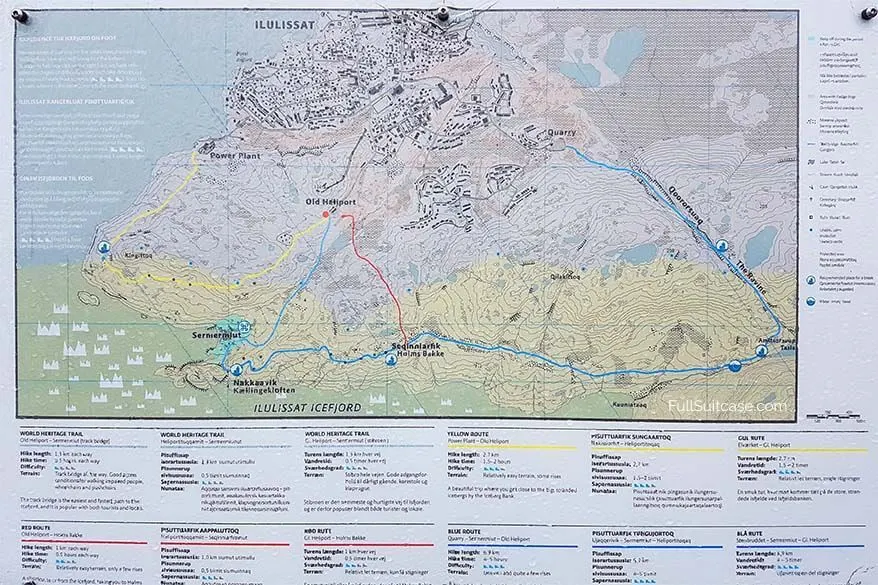 World Heritage Trail to Sermermiut
The easiest and must-do trail is the so-called World Heritage Trail. It's a 2,6 km round trip between the new Ilulissat Icefjord Center to the Icefjord, past the Sermermiut archaeological zone.
Good to know: The Ilulissat Icefjord Center is new and was just being built when we visited. It stands at the location of the 'Old Heliport' indicated on the map above.
Sermermiut is a former Inuit settlement that has been inhabited by three different Inuit cultures in the period 2000 BC to 1850 AD. With about 200 inhabitants, this was one of the largest settlements in Greenland and it has a big archeological value. Nowadays, only vague outlines of peat house ruins remain. This area is protected and you are not allowed to leave the wooden boardwalk.
The hiking route to Sermermiut is indicated in a dotted light blue line on the map above and can be enjoyed via an easily accessible wooden boardwalk.
With exceptional views on the valley, glaciers, and icebergs, this is something everyone can do. Even if you only have a short amount of time to visit the Ilulissat Icefjord, don't miss this!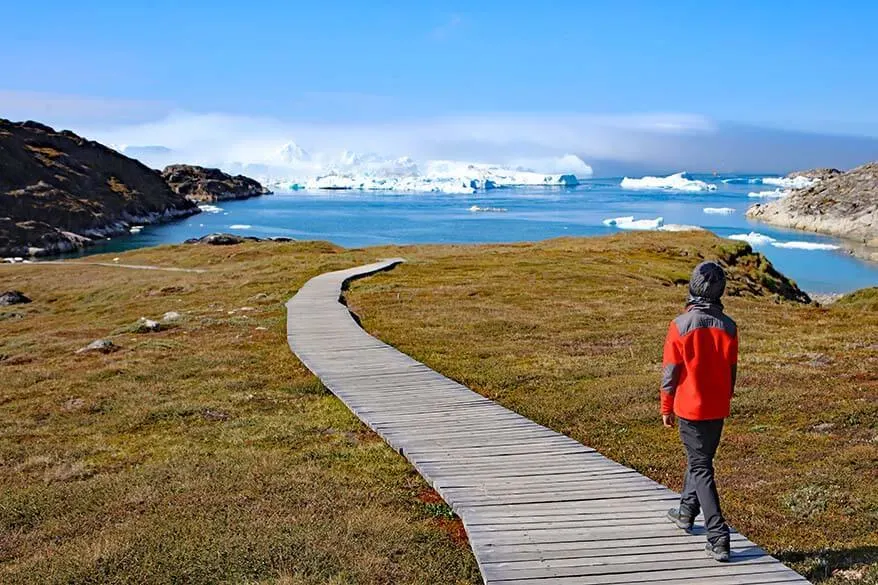 Yellow Route
Our personal favorite was the 2,7km Yellow Route (1,5-2hrs). We started by the Power Plant and it was an amazing hike with jaw-dropping views the whole time.
The Icefjord had a huge iceberg stuck there that day and it was an incredible sight. We also saw many whales and had fun watching how whale-watching boats were circling around smaller icebergs trying to spot whales. It was as if they were playing hide and seek. By the time the boat got to the other side, the whales were somewhere else again…
TIP: If you do this hike, I think it's indeed nicer to do it in the same direction as we did – starting at the Power Plant and ending by the new Ilulissat Icefjord Center (previously Old Heliport). That way you are walking towards the Icefjord and have the best views all the time. Once you reach the Icefjord Center, you should also take the earlier-mentioned World Heritage Trail to Sermermiut.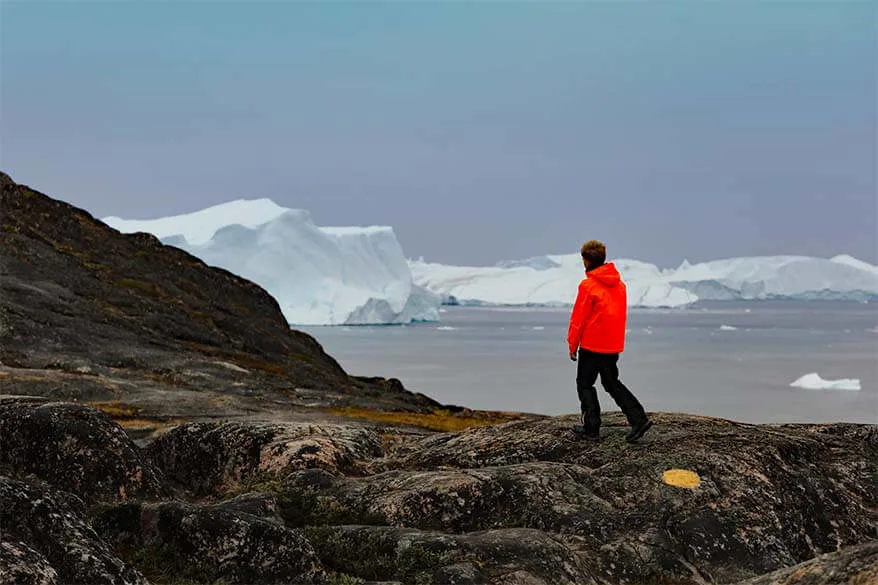 Blue Route & Red Route
In the same area, there are a couple of other somewhat longer hiking trails. The Blue Route continues past Sermermiut to Seqiniarfik (Holms Bakke) and Qoororsuaq (The Ravine).
This hiking route is the longest in this area – 6,9 km – and will take about 4-5 hours to complete. Alternatively, you can also hike part of it and take the Red Route back to Ilulissat Icefjord Center and make it somewhat shorter that way.
Due to limited time, we didn't hike the Blue Route in its entirety. We did the part up to the Red Route and took that way back to town. It was a nice trail, but nothing compared to the Yellow Route (see below).
We met some people who did the Blue Route till the end and they said it was nice, but none of them had done the yellow route and so couldn't compare the two. Our kayak guide also said that the Yellow Route was his favorite.
I'd say, do all the trails if you have an entire day and really like hiking. Otherwise, just do the Sermermiut hike and the Yellow Route. It's shorter than the Blue Route, the views are amazing, and it's really worth it!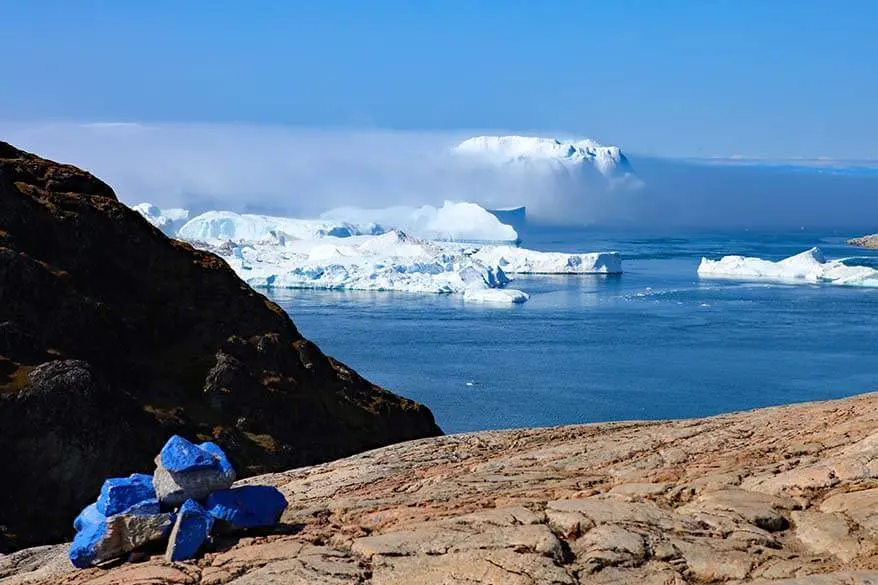 See Ilulissat Icefjord from the Air
The birds-eye view you get from the plane as you fly into Ilulissat is the cheapest way to see the Ilulissat Icefjord from the air. It may just be one of the best views from an airplane window you'll ever see, so try to get a window seat for your flight to or out of Ilulissat!
Nevertheless, booking a sightseeing flight on a fixed-wing plane or helicopter is a very different experience! These tours will fly right up to the glacier wall at a lower altitude and at a slower speed, giving you a true perspective of the size of the glaciers, icebergs, and mountains.
If you don't have much time to visit the Ilulissat Icefjord, then a 'flightseeing' tour is a must! There simply isn't time to experience on foot all that you can see during a short flight.
That being said, airplane and helicopter tours in Ilulissat are extremely expensive. Count 4,000 DKK (535 EUR) per person for a 2-hour helicopter tour or at least 3,000 DKK (400 EUR) for a 1,5hrs airplane tour. Per person.
There were no helicopter or airplane trips possible on the days/times that suited us when we were in Ilulissat. So that made the decision easier, but I'm just not sure if I could have justified these prices otherwise… On the other hand, it's a once-in-a-lifetime experience and everything else is also very expensive in Ilulissat… So I'll leave it up to you to decide whether it's worth it…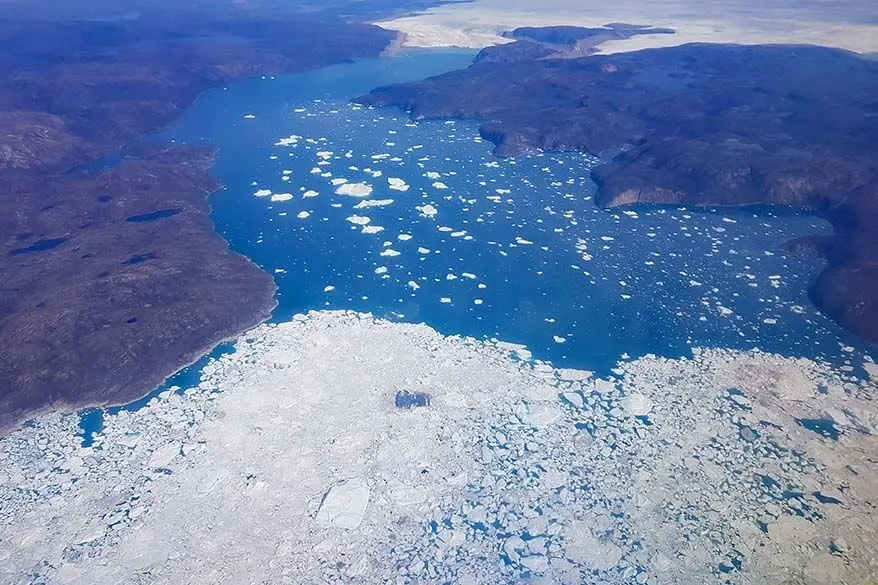 Ilulissat Icefjord Boat Tours
Another way to truly appreciate the scale of the Icefjord's glaciers is to book a boat tour in Ilulissat. Small boats take tourists as close to the glaciers as safely possible. You cannot help but feel dwarfed by your surroundings as your boat navigates the channels between icebergs.
This is the easiest way to explore the magical Ilulissat Icefjord from close by. It's also the most popular and the most affordable tour that you can take in Ilulissat.
In the summer, a midnight cruise is highly recommended – after all, this is the land of the midnight sun! Late in the evening is the 'golden hour' when the sun hits the glaciers and their colors change from shades of blue to warm pinks, reds, and oranges.
Other, interest-specific boat tours are available, including photography, fishing, and seasonal whale-watching excursions. Just keep in mind that the more 'special' the tour, the more expensive it is. But you don't necessarily get to see more. If you want to see the icebergs from close by, it's best to just take a regular boat tour like this. They bring you closest to the ice.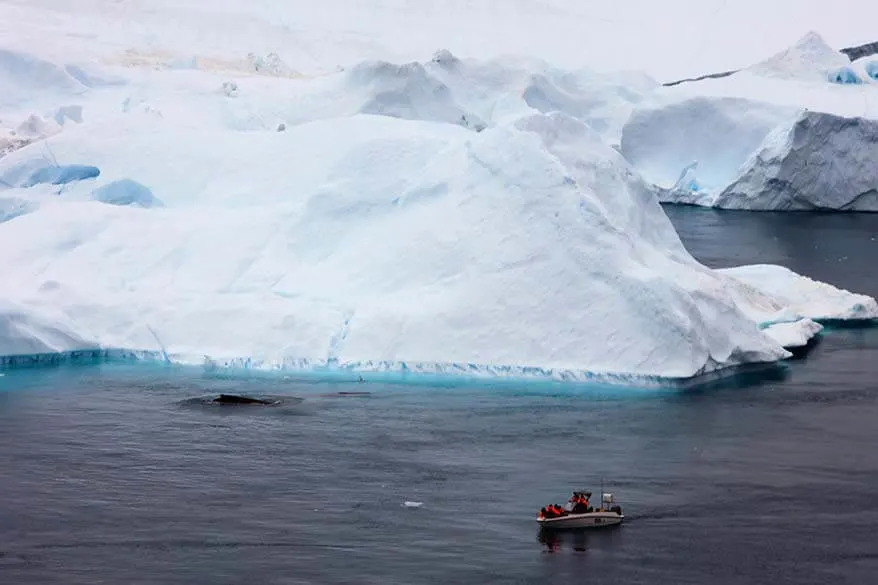 Kayaking in Ilulissat
Kayak tours to Ilulissat Icefjord are also available, with no previous experience required. Kayaking beside a towering iceberg is an experience not to be missed, especially if you take part in a late evening tour when the colors are at their best.
This was my bucket-list thing to do in Ilulissat, but we were extremely unlucky with the weather. We only had one day when we could do this tour and it was raining. The only rainy evening of the month… You have to do it… Nevertheless, it was a magical experience. But I can just imagine how much more special it would have been under the midnight sun, as planned…
Good to know: Kayak tours cost 1250 – 1500 DKK (170-200 EUR) and book-up fast. Most companies have a minimum age requirement of 12 years. We found one kayak tour that allowed kids from 150cm height, despite the age, and so I could go kayaking with my 10-year old son. He loved it!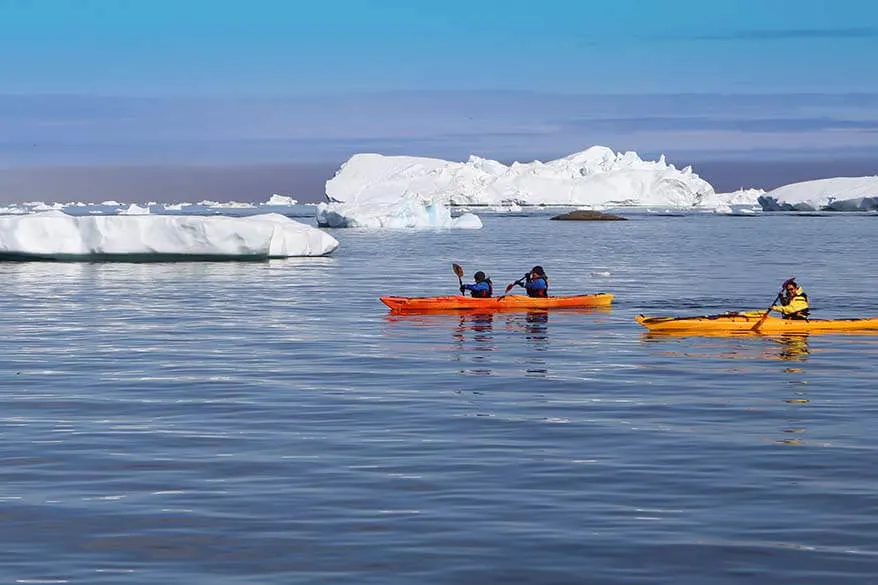 Best Time to Visit
I don't think there is a bad time to visit Ilulissat Icefjord. It's magical in every season and at every time of day.
That being said, the most popular time to visit Ilulissat (and so also the Kangia Icefjord) is in summer, from June to September. Because the sun never sets from mid May to mid July, you can also visit the Icefjord at night. As already mentioned, midnight boat tours are extremely popular.
TIP: If you can visit Ilulissat Icefjord several times during your trip. Go hiking, take a boat tour or go kayaking, and try to see this unique site on different days and at various times of the day. No matter how many times you'll see it, it will be different every single time.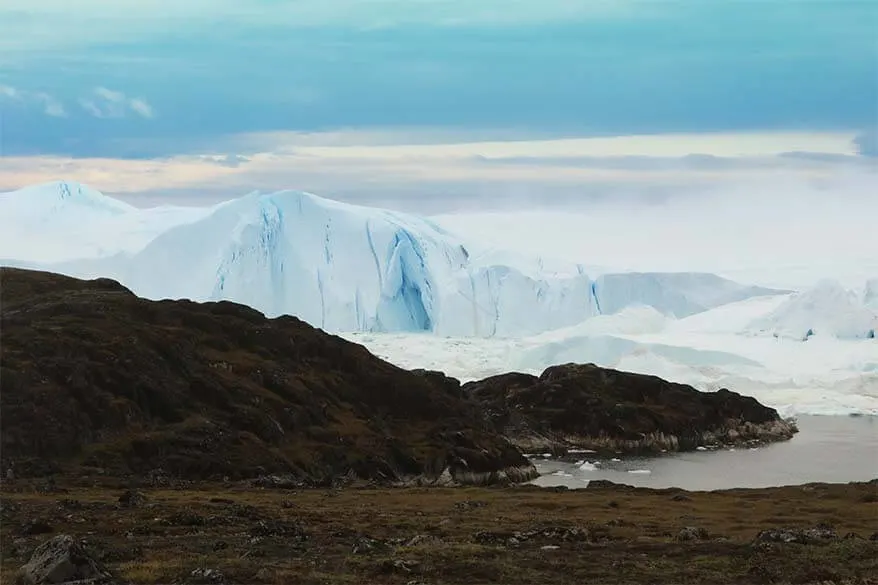 Practical Tips
Follow the indicated hiking trails so that you don't get lost in this vast area. Trails are marked with different color paint (blue, yellow, or red – depending on the route you take) on the stones and there are just very few signs.
Take some water and snacks/ a picnic with you if you go hiking. The trails take longer than you'd expect. Also, the distance from town to the trailheads is already quite big, so anticipate that when planning your time.
Wear sturdy hiking boots when visiting Ilulissat Icefjord.
Make sure that you're prepared for any weather as it can change quickly. Layers are best. A waterproof jacket is a must.
If you want to visit the Ilulissat Icefjord Center, be sure to check their opening times and book your tickets online in advance.
In summer, pack a mosquito head net.
For more tips, please check our guide on what to wear in Greenland in summer.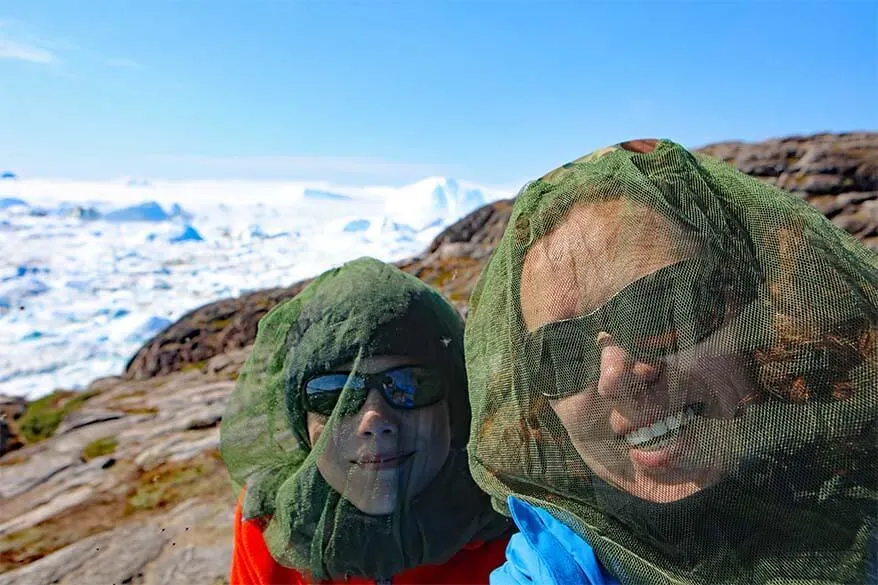 So, this is our guide to visiting Ilulissat Icefjord. If you are looking for more information and ideas for visiting this part of Greenland, make sure to check our other articles as well. Take a look below!
More tips for your trip to Greenland:
If you found this post helpful, don't forget to bookmark it and share it with your friends. Are you on Pinterest? Pin this image!