Visiting Greenland in summer and wondering what to wear and what to pack? This guide should help you decide what to take with you and what to leave at home. Find out!
When planning any trip to the Nordics, one of the most difficult questions is 'what to pack'. Traveling to the Arctic region in the summer is even more challenging because you may experience the most extreme temperatures – from freezing cold to pleasantly warm – in a matter of a couple of hours…
If I'd have to summarize all our packing tips for Greenland in summer in just one word, it would be LAYERS. Without knowing what kind of weather to expect, that's exactly what we packed – a bit of everything. In the end, we used most of our clothing, but there were moments when we wished we packed something else instead. Read on!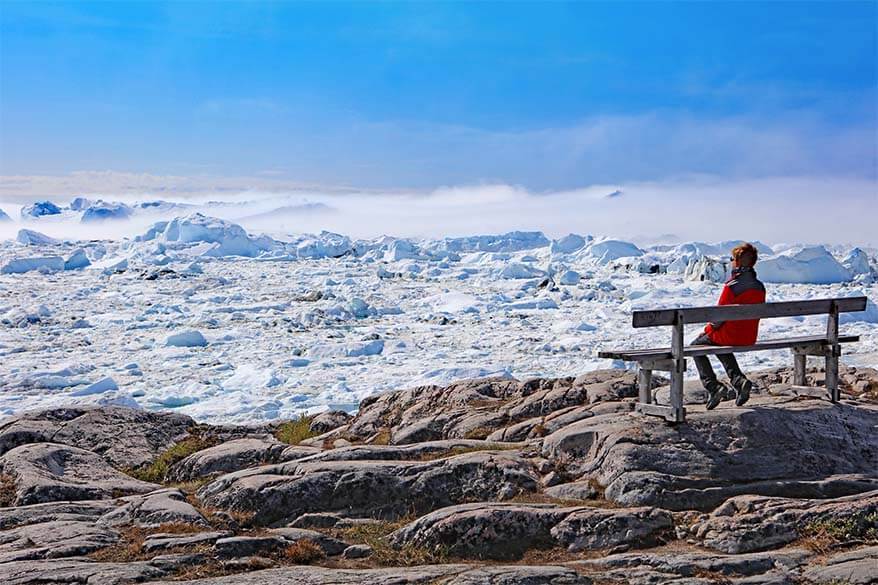 How's the Weather Like in Greenland in Summer
If you have seen the huge white island on the map, you already know that Greenland is pretty much covered with ice. However, summer temperatures in Greenland are quite a bit warmer than you'd expect (and getting warmer every year).
Summer in Greenland is very short – June to August. And there are obviously big differences in temperature between the temperatures at the beginning of June or the end of August and mid July.
Another thing to take into account is that Greenland is huge. The weather varies a lot per region and can also change very quickly. The strange thing is that because of the midnight sun, temperatures do not change much over the course of the day, so it can be just as warm at night as it is during the day.
That being said, in general, you can expect summer temperatures in Greenland to be in the range between 0°C and 16°C (32-60 F), but most likely around 5-12°C (41-54 F). It does happen that temperatures in South Greenland rise as high as 20°-25°C (68-77 F) or even higher, but I wouldn't count on that when considering what to pack…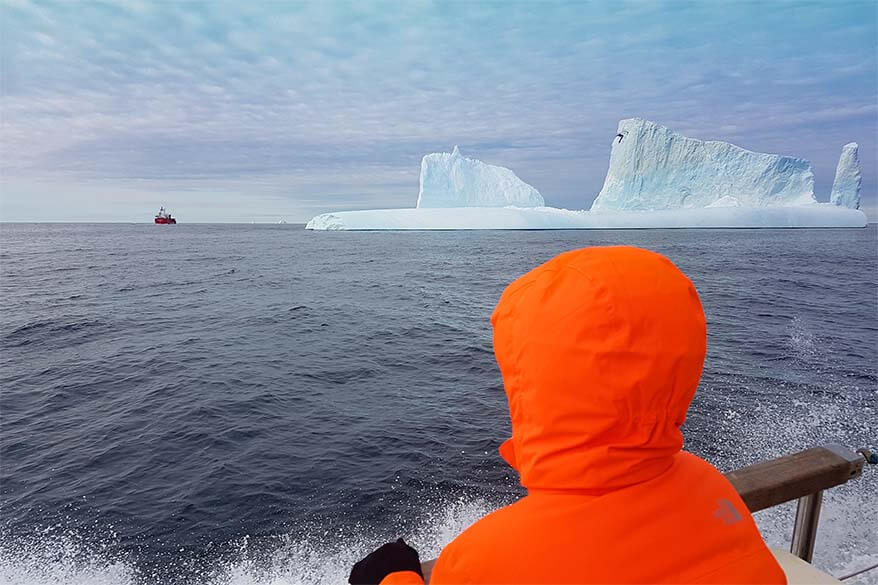 While Greenland is much drier than e.g. Iceland, you should always be prepared for rain and wind. It can be sunny for days in a row, but the weather can also change five times in just a couple of hours…
As you can see, there is no one straightforward answer to what kind of weather you can expect in Greenland in summer. You really have to be prepared for (almost) everything.
Our experience: We visited Greenland in the third week of July, which is pretty much the warmest time of the year. However, we stayed in Ilulissat and Qeqertarsuaq, which are probably some of the coldest places you can visit in the summer… We had a mix of warm and cold weather, sunshine and rain, and temperatures ranging from about 3°C to 15°C. (38-59 F).
That's pretty much the kind of weather that you can expect anywhere in Greenland in the summer months, so I think that our packing list is quite accurate for any trip from June to August. Below, you can find our complete packing list for Greenland. Take a look!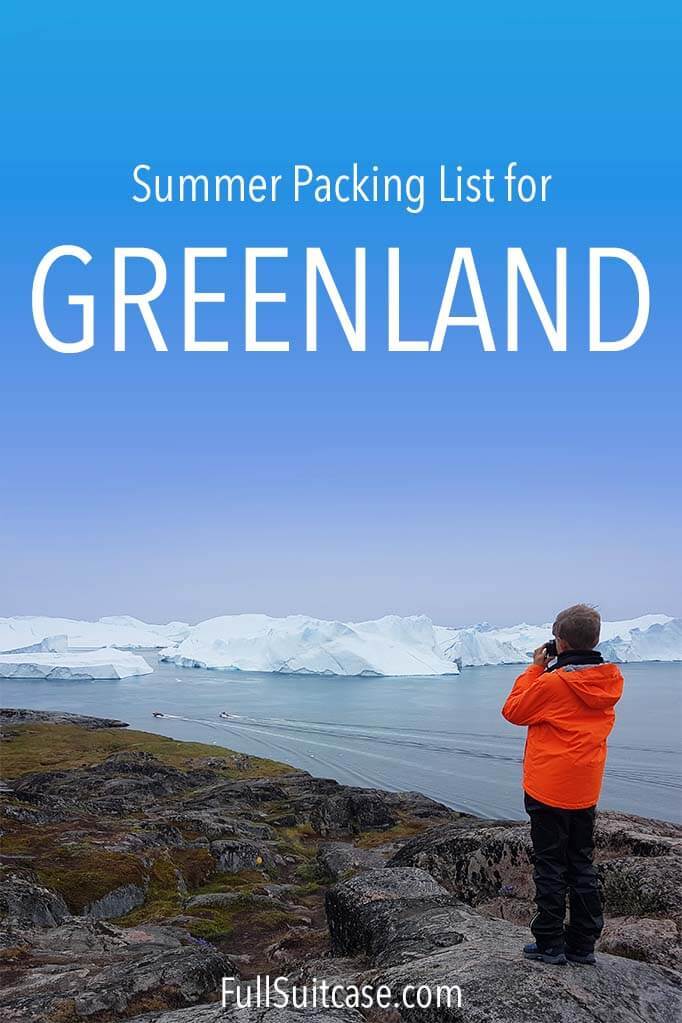 Greenland Packing List
As we established above, you really have to be prepared for all kinds of weather when traveling to the Arctic region in summer. While you may be wearing a t-shirt at one moment, you may need a warm sweater and a jacket just an hour later. So make sure that you pack layers and are prepared for everything!
Here is the list of essential clothing and other items that you should pack for Greenland in summer:
Windproof and waterproof rain jacket with some insulation
Lightweight packable down jacket
Windproof and waterproof rain pants
Hiking pants
Jeans or other pants and a blouse or two (to wear at the hotel/ restaurant)
Waterproof hiking boots (for outdoor activities)
Sneakers or light shoes (to wear indoors or let your feet rest in the evening)
Hiking socks (that dry fast) – at least 2-3 pairs
Thermal underwear (both – t-shirts and pants)
T-Shirts and long-sleeved shirts (merino wool is great)
Warm sweater (ideally wool or fleece) – at least 2
Pajamas, underwear, socks (for indoor shoes)
Warm hat
Warm gloves
Buff or scarf
Sunglasses
Sunscreen lotion
Lip balm
Moisturizing face cream and hand cream
Day backpack with rain cover
Reusable water bottle
Thermos (not a must, but so nice to have)
Powerbank and extra batteries
Camera, smartphone, cables
European travel adapter
Binoculars
Hiking poles (useful, not a must)
Mosquito head net and mosquito spray
Sleeping mask !!! (that's if you want to sleep at all)
Swimwear (if your hotel has a hot tub)
Duffel bag/backpack as your main luggage
Paper tissues
Small snacks (nuts, energy bars, etc.)
This list includes everything you need in Greenland in summer and I strongly encourage that you consider each of the items listed very carefully. Forgetting something essential like a sleeping mask or a head net might ruin your whole trip.
If you want to know more about some of the items from this list, below you can find some more background as to what and why. Read on!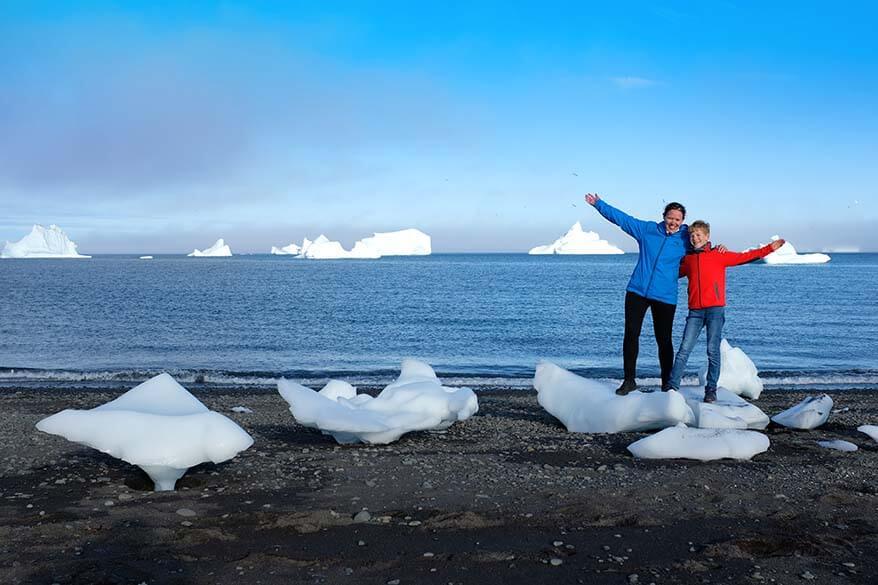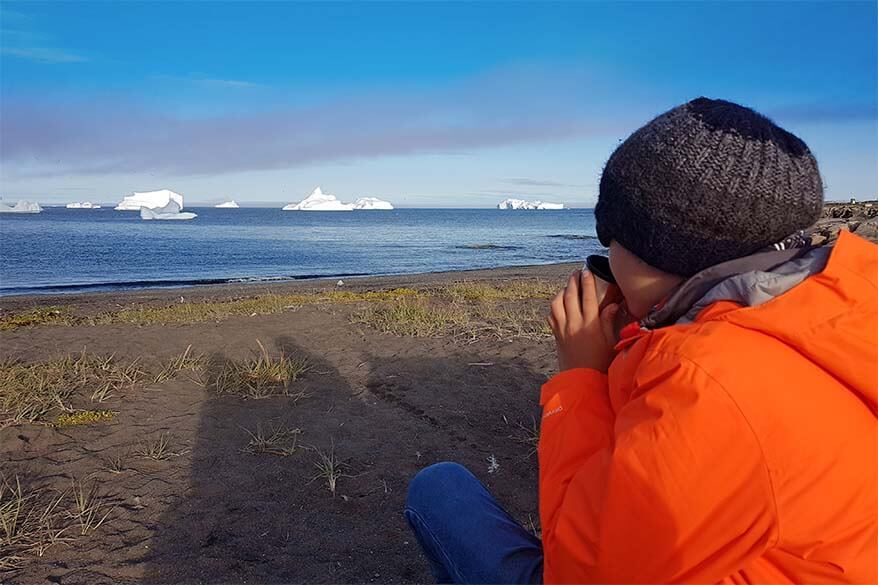 More Details on What to Wear and What to Pack
The above list will give you a good overview of what to wear and what to pack for Greenland, but I'd like to give you a bit more background for each item so that you know why it's essential. I also include some links to specific products so that you know exactly what we packed or recommend packing. Take a look!
Clothing
It's essential to pack a wind- and waterproof outer layer and always carry it in your backpack. Rain pants are great not only when it rains, but also to stop the wind. Same counts for the jacket.
We wore somewhat thicker insulated rain jackets like this one. It was perfect when it was really cold, but there were moments when it was actually too warm (yet we still needed a jacket for the wind) and I wish we had also packed a light down jacket. An insulated rain jacket is ok for colder or rainy summer days in Greenland, but the light down jacket would have been more comfortable for those sunny dry days in July.
I packed one wool sweater and two fleeces and only wore fleeces during the entire trip. On the other hand, as I said, it was July and we had mostly sunny weather (except for one day). So I'd still pack a woolen sweater for Greenland in summer, especially if you are visiting in June or August.
Hiking pants are a must and that's what we wore every single day. They are light to pack, comfortable to wear, and they are easy to wash and dry quickly.
We only wore jeans at the hotel or when we went out to dinner. It was actually nice to wear 'regular' clothes after being in the outdoor clothing an entire day. It was also nice to wear a lighter casual sweater to dinner.
I packed a thin wool sweater to Greenland and also a couple of fleeces that I could layer if needed. There was a time when I wore four layers plus my insulated rain jacket, but there were also times when just one sweater was sufficient. We never really experienced t-shirt weather, but I know people who traveled to the south of Greenland in July and they were wearing t-shirts on several occasions.
A warm hat that covers your ears, warm gloves, and a scarf are a must in Greenland in any season. In fact, we never pack scarfs for these kinds of trips, but use buffs instead.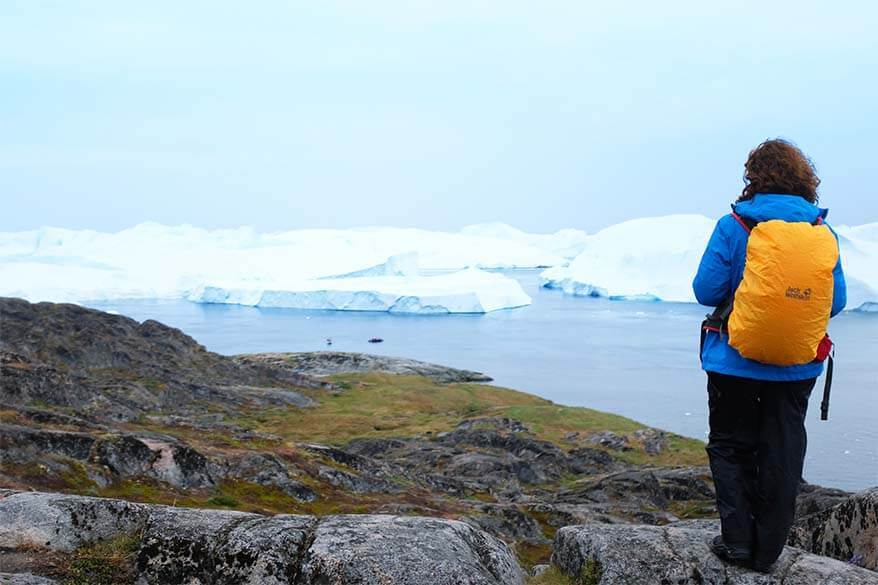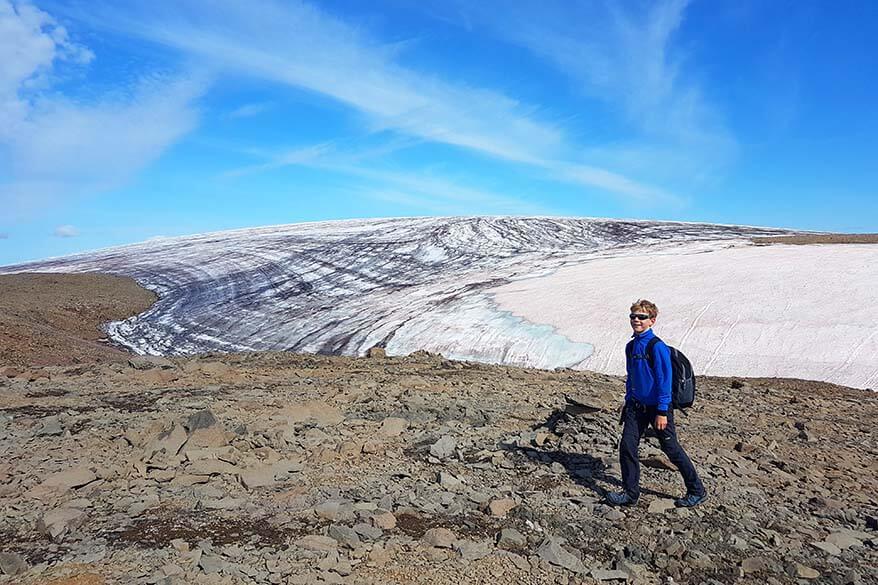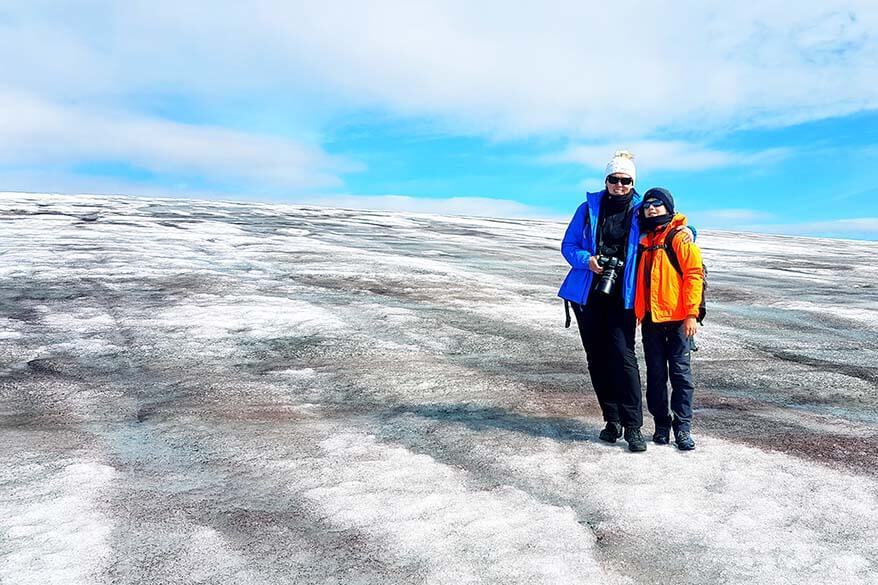 Shoes
One thing we did exactly right is choosing which shoes to pack. We took the best waterproof hiking boots that we own and they were perfect for everything we did in Greenland – from walking in town to hiking on a very steep mountain trail, walking on a glacier, or hiking through a very wet meadow, etc.
We own quite a few different pairs of waterproof and water-resistant hiking boots. For Greenland, I packed my Lowa Renegade GTX boots and they were just perfect. My feet were dry and warm in all conditions. I also recently wore those same boots in Iceland and in Switzerland, and they are now my all-time favorite hiking boots and first choice for any non-winter trip that involves outdoor adventures.
It's also essential that you pack a pair of lighter shoes (we took sneakers) to wear at your hotel or to breakfast/ dinner. It's good to let your feet rest after a long day of walking.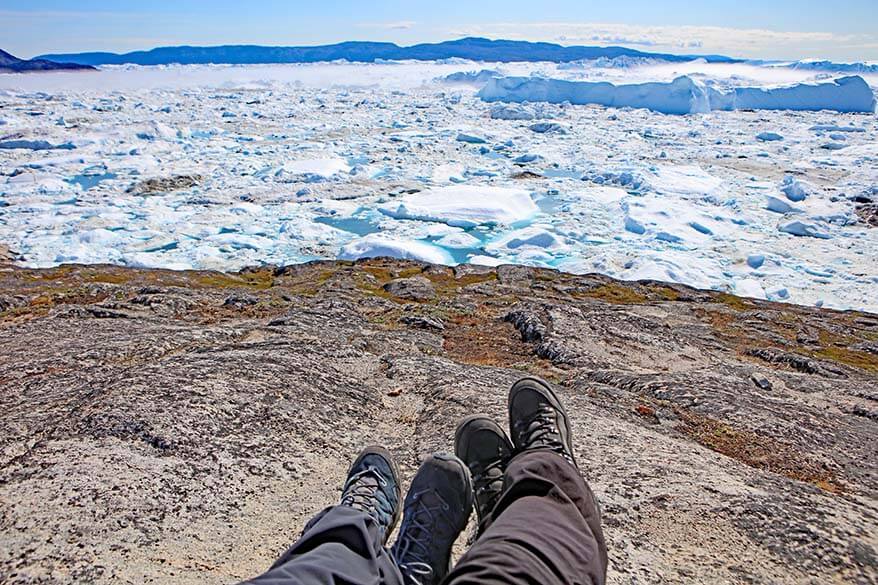 Underwear & Socks
Cotton is pretty much the worst material to pack for places like Greenland. It gets moist and takes forever to dry. So whether it's socks, t-shirts, or leggings, avoid cotton and pack wool or technical clothing instead.
We packed our Merino underwear, but long-sleeved shirts were often too warm, and we only used leggings once. Merino t-shirts were a much better choice and perfect for layering. You can also consider technical sports t-shirts instead, but merino wool is a better choice.
We wore our hiking socks during the entire trip, except when we wore sneakers (in that case, regular cotton socks were ok).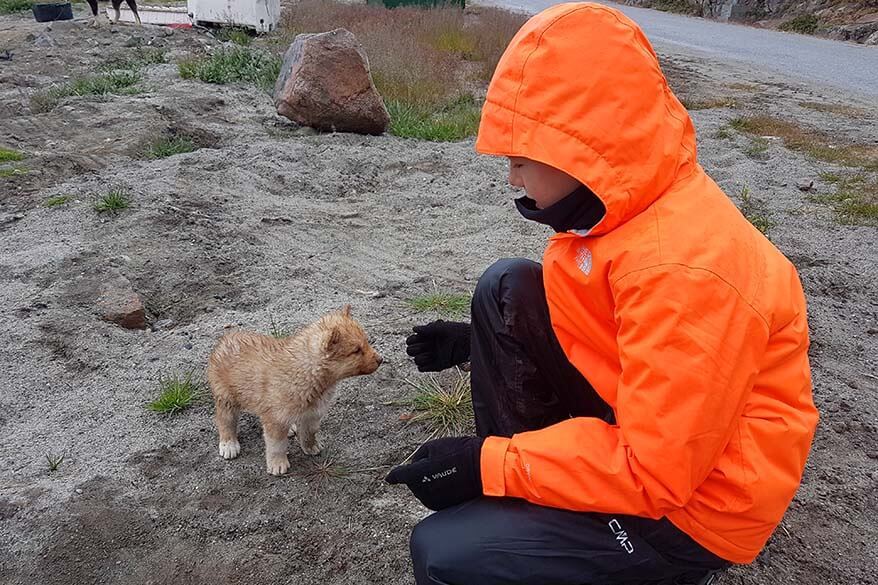 Sleeping Mask !!!
If there is one tiny little thing that can make your Arctic summer experience fun is a sleeping mask. Ever since our first (sleepless) trip to Iceland in May-June over 15 years ago, we always pack a sleeping mask when traveling to the Nordic countries in summer.
Midnight sun is beautiful and it's an incredible feeling to experience it, but it also means that your brain is completely confused as to what time of day or night it is. Since hotels in the Arctic don't believe in blackout curtains, it's always light in your room. Take my word for it, a sleeping mask is one thing that you really don't want to forget to pack for Greenland in summer!
There are hundreds of sleeping masks to choose from and it's a bit of personal preference. But make sure you get a really good one that actually stays on your nose and covers your eyes completely. Cheap sleeping masks that you sometimes get on long-haul flights aren't made to be used for longer than one night…
I bought two of these sleeping masks for our Greenland trip – one for myself and one for my son. We both used them every night and they were great – dark, comfortable to wear, and they didn't feel too warm or irritating. In fact, I'm just about to order more of these for the rest of the family for our upcoming trip to Northern Norway in summer.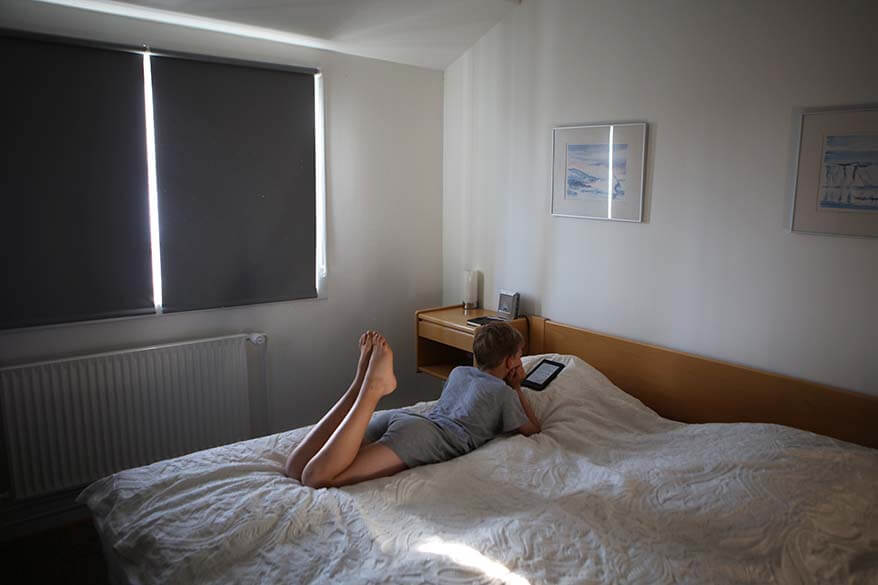 Moisturizers
It's important to know that dry cold air of the Arctic can be harsh for your skin. Take some simple moisturizing face cream with you and remember to pack a good lip balm and also some hand cream.
Sunglasses
With eternal sunshine that lasts 24-hours a day, sunglasses are a must in the Arctic in summer!
Mosquito Head Net
Greenland is a paradise for little flies and mosquitoes during certain periods in summer. They buzz around your head, into your nose, your mouth or your ears and it can get extremely annoying.
Because you never know when or where you may encounter them, it's essential to pack a mosquito head net with you. Keep it in your pocket or inside your backpack during the entire trip!
We didn't need ours for four days and then all of a sudden, there were thousands of these little flies. This was at Ilulissat Icefjord, a place that we had safely visited just three days before that. In a matter of seconds, mosquitoes were everywhere around us. We sure were glad that we had packed our head nets with us!
I'm not sure if these mosquitos/ flies bite, but from what I understood, some of them do. So it's probably wise to pack a mosquito spray as well. We used ours just out of precaution.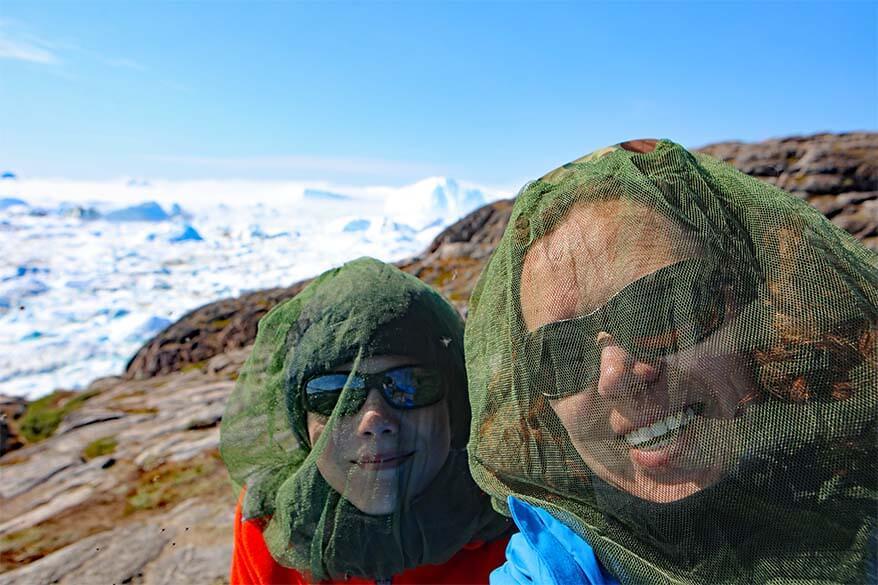 Luggage
When considering what type of luggage to pack for Greenland, make sure to take a look at the requirements of your airline. In any case, medium-size soft duffel bags or backpacks are recommended over hard-shell luggage with wheels.
However, it really depends on your trip. If you are just staying at one hotel during the entire trip and get a shuttle to the airport and back, it doesn't matter that much. Whereas if you are visiting different towns and settlements, you may want to pack lighter and not use wheeled luggage.
We packed our Thule Subterra duffel with wheels and it was perfect for our trip.
Make sure to also pack a small day backpack to carry on day trips and excursions. You'll need a bag to store extra layers of clothing, a camera, a water bottle, and some snacks. Backpack rain cover is a must!
I took this 30L day backpack to Greenland. It comes with an integrated rain cover. I've used it for so many trips for over five years already and it looks really worn, but it still my favorite that I pack for every outdoor adventure.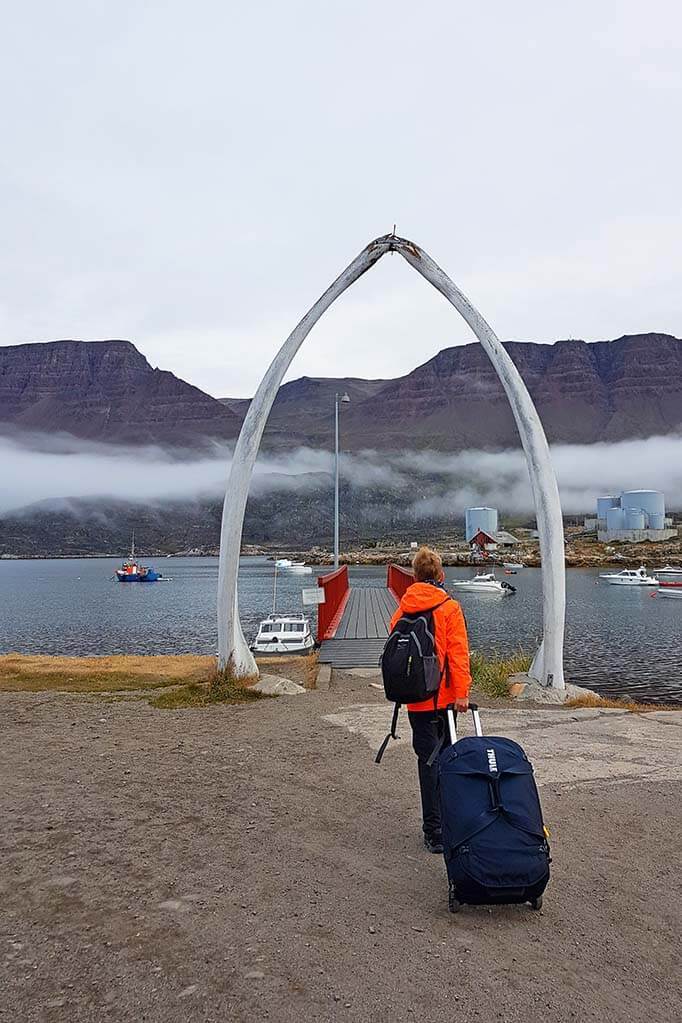 Other Essentials
Don't forget to pack a travel adaptor with you. Greenland uses type C European plugs.
Powerbank is another must-have when traveling to remote places. When the air temperatures are lower, batteries tend to run empty faster. If you are using your smartphone for taking pictures or videos, you'll definitely want to charge it during the day. Don't forget the right cables, of course! Extra batteries for your camera are also a must!
Binoculars are really nice to have because you can often see whales from shore. If you have binoculars with image stabilization, then definitely pack those. Otherwise, any binoculars are better than none.
Hiking poles might be nice to have if you are planning to do any strenuous hiking. We could have definitely used them on a steep hike to the glacier on Disko Island, but we didn't think to pack our hiking poles. We own these lightweight foldable hiking poles that are ideal for long-distance travel.
A reusable water bottle is also a must and we were also glad that we packed our travel thermos flask. All the hotels had tea and coffee making facilities in the room and it was nice to have a warm drink for our picnic lunch.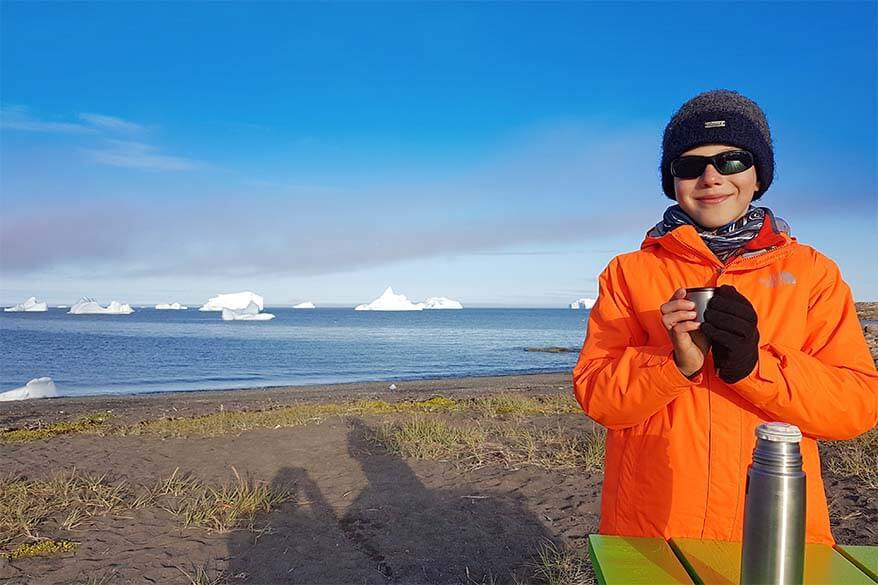 So, these are our suggestions for what to pack and what to wear in Greenland in summer. I hope that this helps you prepare for your trip and have a fun and unforgettable adventure. As they say, good preparation is the key to success. This definitely applies to packing for Greenland! Enjoy your trip!
If you have any questions about packing for Greenland, feel free to leave a reply below and I'll try to help.
More information for visiting Greenland:
If you found this post useful, don't forget to bookmark it and share it with your friends. Are you on Pinterest? Pin this image!