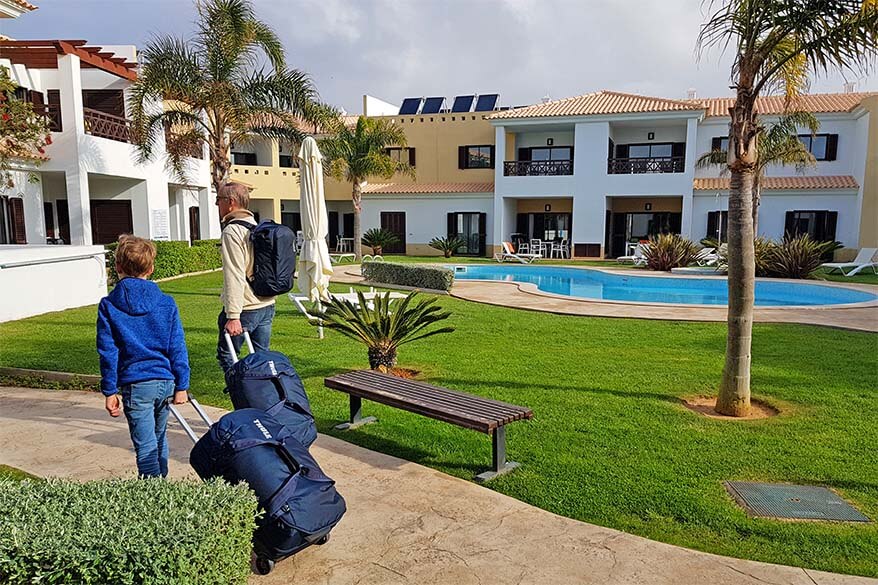 Looking for good travel luggage or wondering what kind of suitcases frequent travelers use? In this article, you can read about our experience and find Thule luggage review from the Thule Subterra collection.
In almost 20 years of intense traveling all over the world, we have used countless travel bags and suitcases. From backpacks and rucksacks to hardshell spinner suitcases and everything in between – we've tried them all.
But it was not before we started traveling with 3 young kids that we really paid attention to the practical side of our travel bags. We couldn't just pack one suitcase each and throw them in the trunk of the car as we did before…
That's when we gave up hardshell suitcases and big impossible-to-find-anything-inside rucksacks and started using rolling duffels and light travel backpacks.
Our luggage has to be light yet sturdy, big enough to pack all we need for a 2-3 week trip for the whole family. At the same time, it has to fit in a trunk of a regular rental car, often in combination with strollers, backpacks, and other items.
We quickly learned that there is an immense difference in quality between different travel bags. Some broke after the first trip while others lasted several years… We learned the importance of good wheels, quality zippers, and sturdy weather-resistant materials. So now when we see a quality bag, we recognize it from far.
Before Thule offered to sponsor the new suitcases of Full Suitcase in exchange for this review, we had never even heard of Thule luggage. To us, Thule has always been the brand of quality rooftop cargo boxes that half the world uses for their family trips… This Swedish brand stands for innovation and quality, so we were thrilled to try the Thule Subterra luggage.
The modern sleek design is nice-to-have (after all who doesn't want to look stylish when traveling). However, the most important to us is the durability and easiness of use of our luggage. Our travel bags have to survive very intense use during countless family road trips, short city trips, and also business trips. And I'm happy to say that Thule luggage didn't disappoint.
We used the various Thule bags on two separate trips when I wrote this review. As I'm updating this article, we have this Thule luggage for 3 years and have used different bags on countless trips. So this is a genuine review based on our experience actually using the Thule luggage (intensively) and not just based on the looks. Read on to find out what we like about them!
Thule Subterra Luggage
Thule Subterra travel collection offers a variety of luggage, duffel bags, backpacks, and more. It is stylish, practical, versatile, and clearly built to last.
We own the following Thule luggage:
So in this review, we will focus on these three bags. Find out!
Thule Subterra rolling duffels
Since we travel with three kids and usually rent a car overseas, we can't afford to pack one suitcase for each family member. We need spacious luggage that can fit all we need in a maximum of three large travel bags. Thule 70cm/28″ 75L rolling duffel was therefore our first choice for longer family trips.
At first, I was a bit concerned with the size of the rolling duffels as they are smaller than the luggage we owned before. But it turns out that the bags are more spacious than they look at first sight. On top of that, every bag is divided into two separate compartments making it extremely easy to stay organized and quickly find what you are looking for.
We could pack all we need for a two-week vacation (5x: hiking boots, 14 t-shirts, 2 fleece sweaters, 2 pairs of pants, shorts, a rain jacket, and swimwear, as well as hiking poles, a tripod, etc.) for the 5 of us in three Thule rolling duffels. And we could easily fit all three bags side by side in the trunk of the average size station wagon that we rented during our recent road trip in Portugal.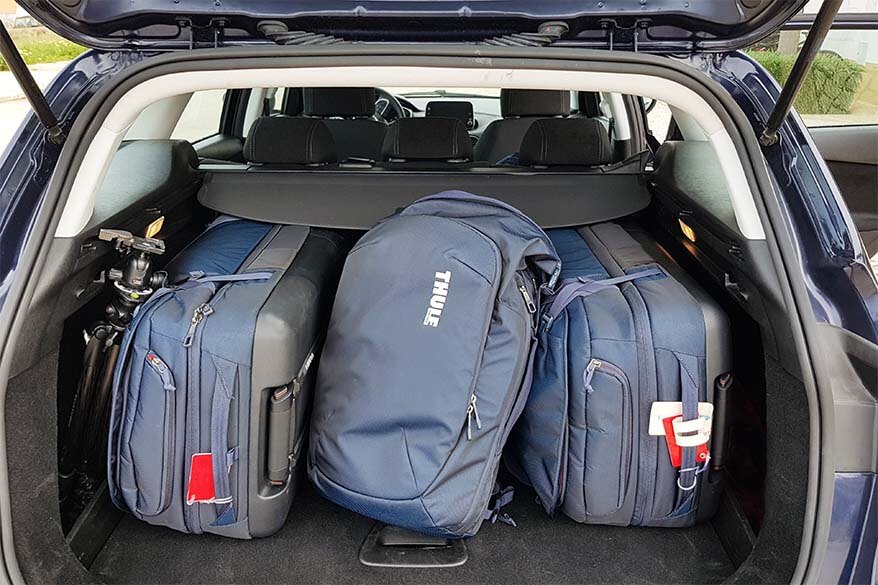 I also used this rolling duffel bag for my recent winter trip to Tromsø in Norway. Not only did it fit all the layers of winter clothing, winter boots, and camera gear, but the bag proved that it's made to withstand the toughest travel conditions and the weather as well.
Big wheels rolled smoothly on icy pavements and the 800D Nylon material kept everything nice and dry even after waiting for a bus in a snow storm for over half an hour.
What we love about Thule rolling duffel:
Big wheels roll easily
Quality materials, yet light
Elegant look
Easy to stack 3 bags in a trunk of a rental car
Two separate compartments to separate shoes and heavier items from clothing
Top and side grab handles
Here you can read customer reviews and check prices for Thule rolling duffel.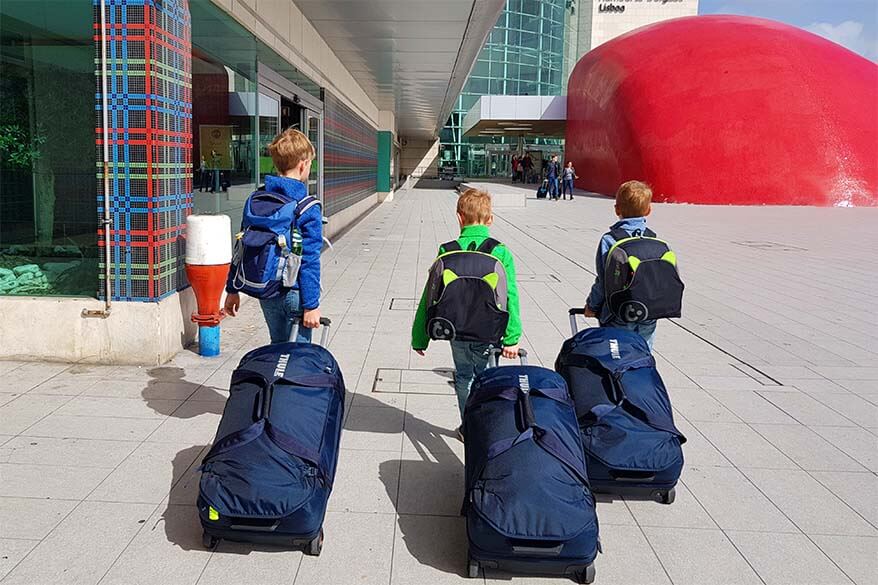 Thule Subterra 55cm 22″ carry-on luggage with wheels
One of the most important criteria for carry-on luggage for me is to make sure that it's spacious enough to pack for a long weekend. It also has to comply with the carry-on luggage requirements of most European airlines we fly with for short business trips and weekend escapes.
The Thule Subterra 55cm/ 22″ carry-on suitcase not only fits all these criteria, but it also has all kinds of extra features that make it a perfect travel bag for short, hand luggage-only trips.
Separate compartments to keep clean clothes apart from dirty ones, internal compression panel to help you maximize the use of available space, oversized wheels and sturdy telescopic handles, smaller pocket for items you need to quickly access during the trip, built-in ID slot… These are just some main features of this quality carry-on luggage.
One thing that concerns me a bit (but that's a very common issue with most quality carry-on bags) is the weight of the bag itself. Thule Subterra carry-on weighs 3.2 kg (7 pounds). And while it's very light for a quality carry-on suitcase, it's a significant factor to consider when flying carry-on only.
Some European airlines will only let you take 8 kg (17.6 pounds) of hand luggage, so it may not be the perfect bag if you are flying with a low-cost carrier with the strictest hand luggage policy.
Luckily, the biggest companies have less strict rules; for example Ryanair allows 10kg (22 pounds) hand-luggage and Easy Jet doesn't have weight limit as long as your bag doesn't exceed the maximum size requirements.
What we love about Thule carry-on:
Big wheels roll easily
Quality materials
Elegant look
Internal compression panel helps to pack more and to separate clean clothes from dirty ones
Easy-to-access pocket for small travel items (e.g. carry-on liquids, phone charger, etc.)
Here you can read customer reviews and buy Thule Subterra carry-on.
Thule Subterra travel backpack 34L
Thule backpack is a bag that surprised me the most. With lots of pockets and separate compartments, this 34L bag looks like a nice backpack for a business traveler going on a short overnight trip. But it's so much more than that! It's an extremely versatile carry-on backpack that I wish someone had invented 20 years earlier.
It is made of the same quality materials and attention to detail as the rest of the Thule Subterra collection. It also has many features to make it perfect carry-on luggage.
However, there is one feature that I've never seen in a backpack before and it's a real life-changer. A side zipper allows you to quickly access any part of the backpack with minimum effort. Gone are the days when you had to unload all the contents of the backpack in order to find something squeezed at the very bottom.
Furthermore, a small side pocket is really handy to hold small carry-on liquids and a separate laptop compartment accessible with yet another side zipper makes the airport security check a breeze.
This backpack can handle a lot of weight too. We used it to store our camera gear including a semi-pro DSLR body with three big professional camera lenses, a GoPro camera with its accessories, iPad pro, 5 Kindle e-readers, as well as all the electronic chargers and cables. There was plenty of space left for a travel guide, documents, and many other small items we take in our carry-on.
I can honestly tell you that I am totally in love with the Thule travel backpack! I cannot imagine going on any trip without it ever again.
What we love about the Thule backpack:
Side zippers (you have to take my word for it – it's a real life changer!)
Dedicated side pocket for a tablet (e-books, laptop, etc.) is super handy at the airport security check
Wide opening on top
Removable packing cube for clothing
Expandable side pocket with zipper is great for small travel items
Quality materials
Elegant look
Here you can read customer reviews and buy Thule Subterra travel backpack.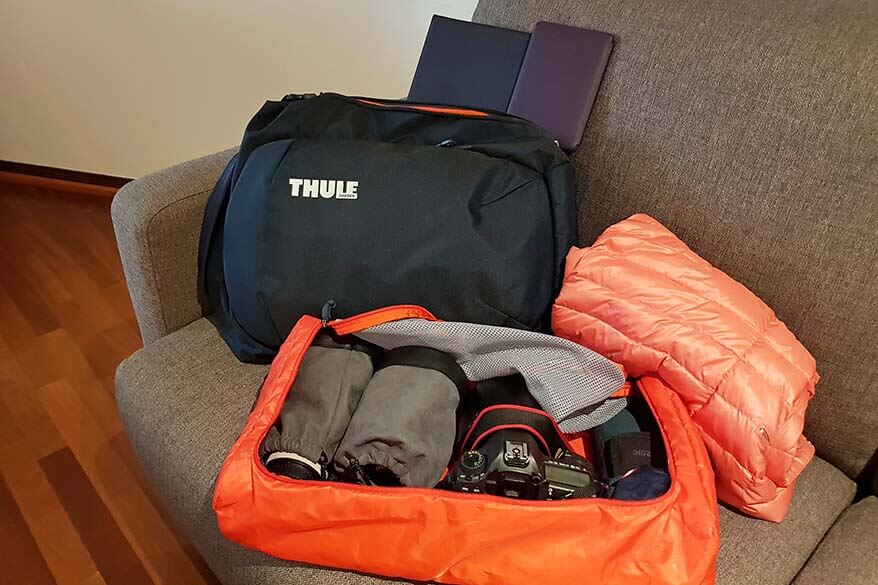 Thule Subterra bags – conclusion
Thule Subterra luggage is not cheap and I realize that it's not for everyone. But if you travel a lot and require versatile and easy to use quality bags that will last for many trips, then I really recommend looking into these bags.
I especially like the Thule travel backpack and the rolling duffels – these are the bags we use the most. After intensive use of more than three years, all the bags look as good as new. I expect them to last for many trips to come.
Disclaimer: As already mentioned above, Thule sponsored our luggage, but all opinions are my own. Our family is very impressed with the quality of Thule bags and we wouldn't doubt to recommend them to a friend.
If you are wondering what other travel gear we use, here you can find an overview of our favorite items. These are all things that we use for every trip.
READ ALSO: Best Travel Bags for Kids
If you found this post useful, don't forget to bookmark it and share it with your friends. Are you on Pinterest? Pin this image!