Are you planning a trip to Africa and wondering what's the best camera for safari or what lens to get for safari photography? In this post, you can read some suggestions for camera equipment to take on safari in Africa.
We cover some of the best cameras and lenses for safari photography. In addition, you can find some general tips for safari photography. Find out!
There are so many cameras and lenses that you can use for safari photography; it's impossible to cover them all. In this post, I am sharing some general tips that you should know when choosing a camera and lenses for your safari trip.
At the bottom of the post, you can also find my personal recommendations for the best cameras, lenses, and also tripods for wildlife photography. Find out!
TIP: If you are looking for more general practical information about taking pictures, please check our guide with the best travel photography tips.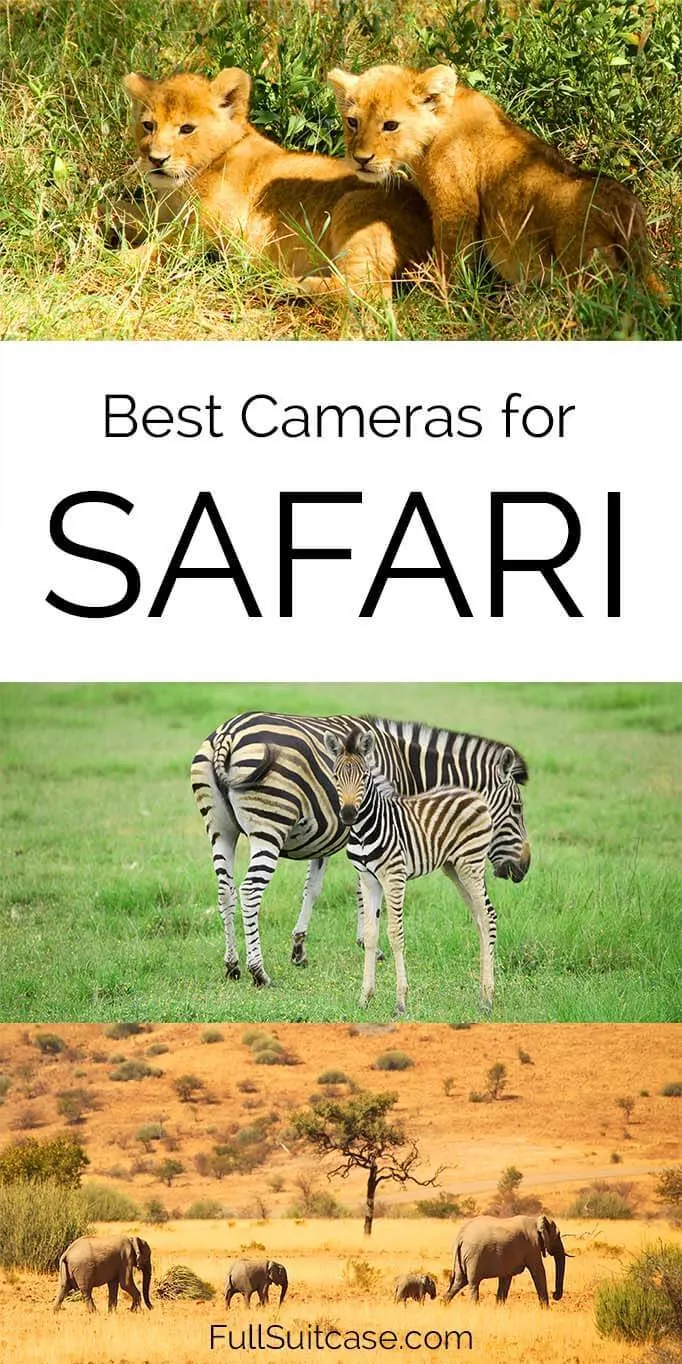 Best camera and lens for safari
We visited Africa several times and have been on numerous safaris. Watching other tourists taking pictures of the animals is often more entertaining than the safari ride itself.
People use every imaginable type of camera on safari. You see smartphones, tablets, but also 10kg half a meter long lenses which are impossible to hold still and are therefore pretty much useless on safari rides…
If you are a professional photographer going to Africa in order to photograph animals, then this post is not for you. If you don't care about the pictures and only go on safari for the experience – then this article is not for you either.
This post is for hobby photographers who are going on safari and hoping to take at least a couple of decent quality pictures to bring home as a memory of this amazing experience.
Before I continue with what kind of camera equipment you best take on safari in Africa, there are a couple of things you should know. Read on!
What to know about taking pictures of animals on safari
You cannot take good safari pictures with a smartphone, a tablet or a pocket camera. You can take ok pictures with the newest smartphones, but it's incomparable with the quality you get with a DSLR camera.
The chances of you getting a National Geographic – like close-up high-quality image of a hunting leopard in action are close to zero.
You can take good quality pictures of safari animals even if you are not a pro. But you'll need good equipment and it helps if you can learn a few basic photography techniques. As a minimum, you need one of the two, so if you don't know much about photography, you definitely need a good camera and a decent lens.
If you don't own a good camera yet, a trip to Africa is the perfect excuse to get one. Come on, you are going to spend thousands of dollars to go on a once-in-a-lifetime safari trip to Africa and take a pocket camera with you? Really? You'll regret it the first day, take my word for it.
And no, your latest iPhone won't do the job either. You may use it to photograph landscapes or a herd of zebras in a distance, but it will be completely useless for photographing moving animals (and they do move, they always do).
TIP: If you don't feel like getting a DSLR camera for safari and having to change lenses, take a look at some of the best point-and-shoot cameras available at the moment. Technology doesn't stand still and there are some really good cameras with amazing zoom possibilities that might be perfect for your needs. We ourselves just bought Nikon Coolpix P1000 and I'm quite impressed with this camera, the zoom, and image stabilization. For the price and the ease of use, I'm not sure I'll ever want to take my DSLR & lenses on many trips anymore. For more budget-friendly alternatives with decent zoom, take a look at Panasonic Lumix FZ300 or the previous model of the camera we bought – Nikon Coolpix P900.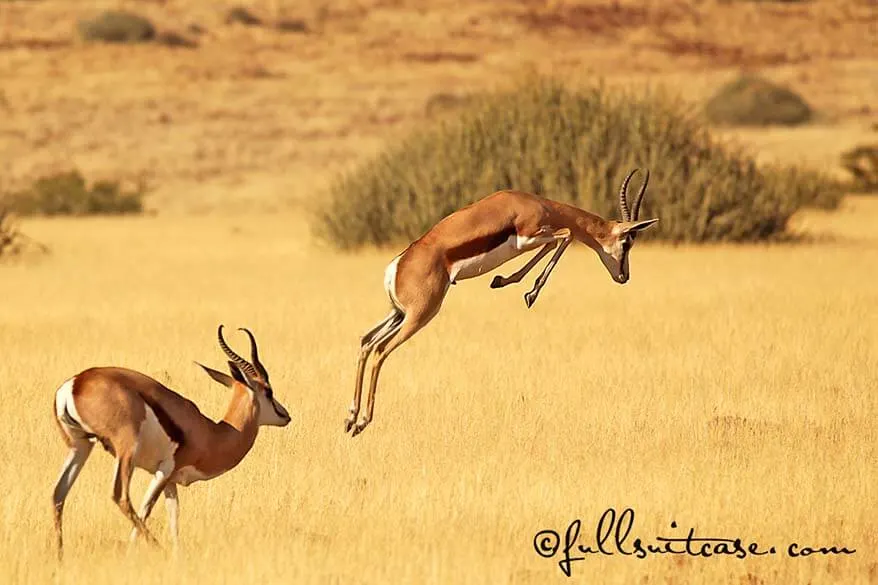 Tips for choosing the best camera and lens for safari
I'm not going to go into too much detail about all kinds of different camera brands and models as there are so many of them available with new ones coming out all the time. You can find a few suggestions based on your budget below, but this is what you definitely should know about the best camera for a safari in Africa.
You need a digital SRL camera or a very good, newest point-and-shoot to take on safari in Africa. What you need, basically, is a camera that focuses fast and takes a picture the moment you press the shutter and not a second later.
You need a good telephoto zoom lens with a reach of at least 200mm to photograph safari animals. There will be moments you wish you had a 500mm with you, but in my view, it's just not worth the price and the weight to carry a lens like that if you are not a professional photographer. Unless you get one of the point-and-shoot cameras that sometimes have a zoom that goes to 2000-3000mm – more about it below.
You need a wider lens for photographing landscapes, which are often just as interesting as the animals. I use 24-70mm f2.8 as my main lens when we travel, also in Africa. If you like really wide landscape pictures, you may want an even wider lens, like 16-35mm (my new favorite). If you have a regular DSRL camera without the full-frame sensor, you'll probably need a lens of at least 18-55mm for regular landscape shots and one of 10-18mm for wide-angle photography.
You may want to take a second (cheaper) camera for photographing landscapes so that you don't have to change lenses all the time when you are on safari. Or simply use your smartphone for that.
Consider taking a tripod to photograph animals in low-light conditions (morning or evening) at the waterholes. More about it further below.
Take enough batteries and memory cards when traveling to Africa – at least twice as much as for a regular trip. Charging batteries might not always be possible (certainly if you are camping) and you won't find many places selling batteries or memory cards in the middle of the Kruger National Park or the Kalahari desert.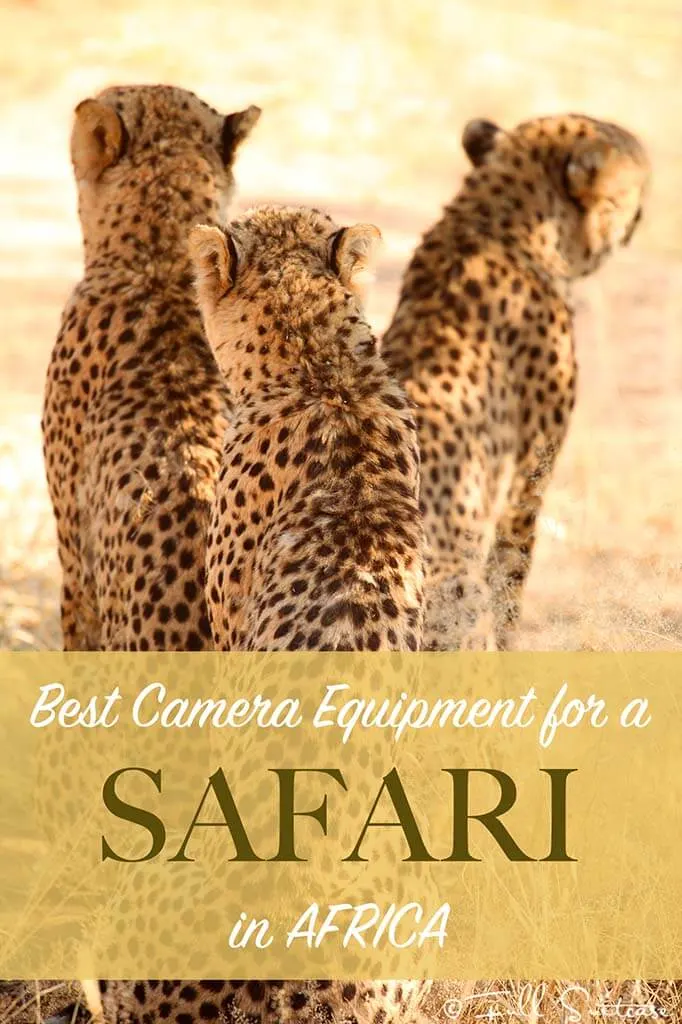 What camera to pack for safari
As I said before, this post is not for professional photographers, but rather for regular tourists. Also for photography enthusiasts traveling to Africa and hoping to get a few decent shots of safari animals.
Below you'll find a few suggestions on what camera and lenses to take on safari.
I'm going to focus on Canon cameras and lenses as this is what I use and know best.
Best-buy cameras for safari in Africa
If you are looking for a decent camera for your trips, but don't want to spend a fortune on it, you should consider the cheapest DSLR cameras available.
At Canon, it would be the Canon EOS Rebel series. Often you can get a kit (camera + lenses + accessories) for around 500-600 USD. If you don't know much about photography and just want good pictures without too much effort this camera is just right for you.
Why not just buy a point-and-shoot camera? As already said, you do need fast autofocus and a good lens in order to get decent pictures of safari animals. This DSLR camera will take care of that. But as I'm updating this article, I have to say that there are now also very good point-and-shoot cameras that could do the job just as well. In this price range, we recommend something like Nikon Coolpix P900.
Mid-price range safari camera
If you are looking for more possibilities and even better pictures and don't mind spending a bit more money, Canon EOS REBEL SL3 and similar series might be a good option for you. This kind of camera is great for photography enthusiasts looking for a good price-quality camera to improve their photography skills.
Higher-price/ semi-pro quality camera
Probably the best price/quality DSLR cameras for those who are serious about travel photography are Canon EOS 6DII and similar series. If you want great quality pictures and use your camera on a very regular basis, then these cameras won't disappoint you. However, we now have an even better recommendation at a lower price – see below.
The perfect camera for safari and general travel photography
TIP – our newest recommendation: In the mid-price range, but with an amazing lens included, so actually cheaper than most other cameras, you can also get a point-and-shoot camera Nikon Coolpix P1000. This is the camera we recently bought and I really don't think anything else compares to it in terms of possibilities/ flexibility/ price/ quality.
This all-in-one camera has an insane optical zoom of up to 3000mm, but you can also shoot wide landscapes with it. If you don't want to change lenses but still want good picture quality and the best zoom range on the market, you really can't go wrong with it.
In all honesty, I think it can compete with one of the latest models of the semi-pro Canon EOS 5D that I own (and that costs about 3-4 times more, not even to mention the lenses). It may not have all the possibilities of a professional camera, but for 99% of people looking for the best camera for safari (and travel in general), it will give you all you could ever wish for. At the moment of the latest update to this article, this is my personal favorite camera and I can highly recommend it to anyone!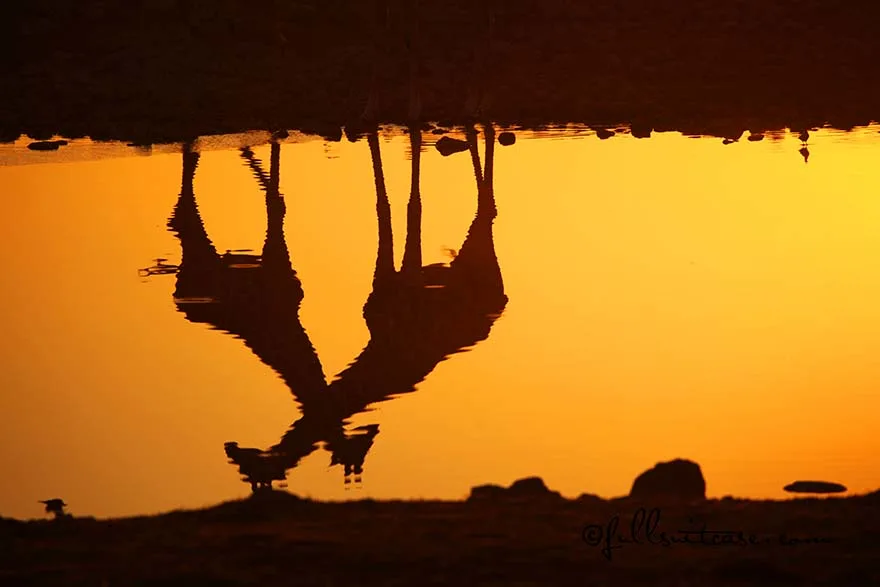 Best lenses for safari
Consider investing in one or two really good lenses if you are somewhat serious about photography.
Standard EFS lenses from Canon are ok with the cheapest DSLR cameras and will do the job for occasional travel photography, but if you can afford it, get the best lens you can and rather save on the camera.
I started out with the cheapest DSLR some 10 years ago, but immediately bought two very good lenses (Canon L 24-70 f2.8 and Canon L 70-200 f4 IS USM). I've switched 4 cameras by now, but these two lenses still do the perfect job and are my most used lenses. I couldn't have used the cheaper EFS lenses on the cameras I owned later…
It's a big investment in the beginning, but the quality is worth it. On top of that, the good lenses keep their value and you can usually resell them at a good price later if you decide that photography is not for you.
As already mentioned, you need a good telephoto lens with a reach of at least 200mm in order to photograph safari animals. Preferably 300mm or even more if you can justify the cost and the weight. I use the Canon L series lenses, but there are plenty of cheaper alternatives from Canon, but also from Sigma or Tamron.
Just make sure they fit the camera you have as these brands have the same range of lenses for many different brands, including Canon and Nikon.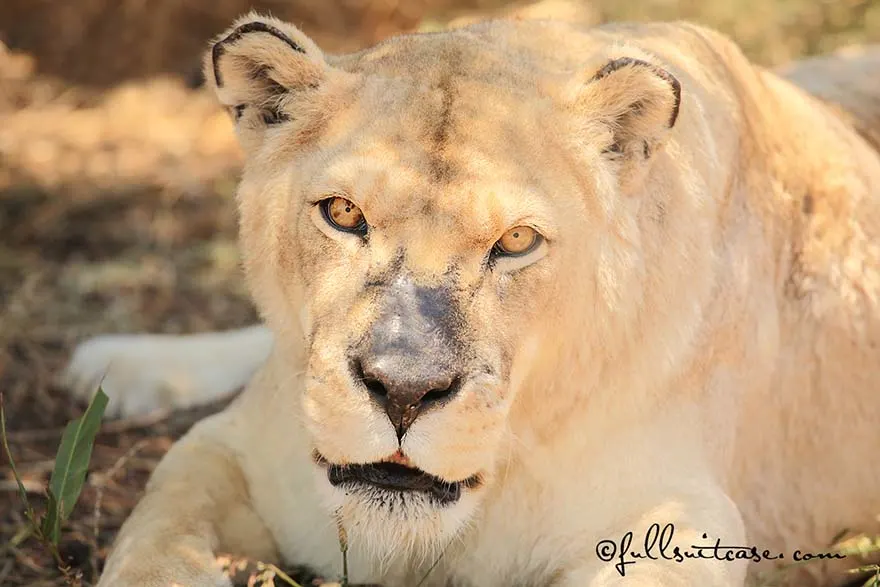 Best budget lens for safari
You can buy a good beginner's lens for wildlife photography for $100-200. Canon has a 75-300mm f/4-5.6 or you can get a similar lens from Tamron – AF 75-300mm f/4-5.6.
Mid-range safari lens
There is a lot of choice of good telephoto lenses for safari in the mid-range budget. Some good examples are Canon EF 70-300mm f/4-5.6 IS II USM or Canon EF 70-200mm f/4L USM.
You can even choose a 2-in-1 solution – a lens that is wide enough for landscapes, but also has a telephoto zoom for animals. Here are a couple of good examples: Canon EF-S 18-200mm f/3.5-5.6 IS or Tamron 28-300mm F/3.5-6.3.
Best quality lenses for safari photography
The best lenses for wildlife photography will quickly cost you over $1000. As I said, it's an investment and these lenses will do a great job for many years. However, if you only need a camera and tele lenses for this one safari trip to Africa, then it's a really expensive choice.
Probably one of the best safari lenses from Canon is the Canon EF 70-200mm f/2.8L IS II USM. I personally find it a bit too heavy and too expensive to justify this purchase, but I still have to meet a photographer who doesn't love this lens. I use a bit cheaper and lighter version – Canon EF 70-200mm f/4 L IS USM.
A good alternative with a bit more reach is Canon EF 70-300mm f/4-5.6L IS USM. I have to admit that I had one of these, but didn't love it. Maybe it was just one bad lens, because the reviews are really great.
Best tripods for safari trip
If you only have the smallest DSLR and don't want to spend too much money, remember that any tripod is better than none. As long as it can hold the camera without falling over, of course. Otherwise, you better don't use any. You can get a tripod for under $50 and it will probably do the job.
If you have a heavier camera and/or lens, the cheapest tripod is not going to be good enough. I use and recommend Manfrotto tripods, depending on the camera/ lens weight and your needs.
For travelers, I recommend Manfrotto carbon tripods since they weigh much less and are therefore more suitable when traveling. They are not cheap, but worth every cent. I had two different tripods before I got this one 6 years ago, and none of the previous ones lasted even two years. Manfrotto is in constant use and it's still as good as new.
For traveling, I bought Manfrotto 494RC2 ball head since it's so small and takes less space in my luggage. I now actually use this ball head at home too.
So, this is our guide to the best safari cameras and lenses. I hope that it helps you decide what camera and lens to pack for your trip to Africa and get some really good pictures on safari.
For the best safari experience, make sure to also check our top tips for your first safari experience in Africa. Click the link below to read more!
READ ALSO: Africa Safari Tips
If you found this post helpful, don't forget to bookmark it and share it with your friends. Are you on Pinterest? Pin this image!