Going on safari for the first time you probably have many questions. There are hundreds of guides telling you where and when to go, so I'm not going to go into this. This post is intended to give you all kinds of practical tips which will help you prepare for an African safari no matter where or when you go.
From safari dos and don'ts, choosing between organized or self-drive game rides to safari packing tips. This post should answer all your African safari questions. Find out!
What you need to know before your first African safari
No matter how many pictures you have seen or what expectations you have, the very first moment you see African animals in the wild will be unforgettable.
I still remember ours as if it was yesterday. It was 10 years ago, on the very first day we arrived in South Africa. We landed in Johannesburg in the morning and drove straight to Kruger National Park. In the evening a couple of hippos showed up at the river, just meters away from the terrace where we were having dinner. It was such an amazing experience!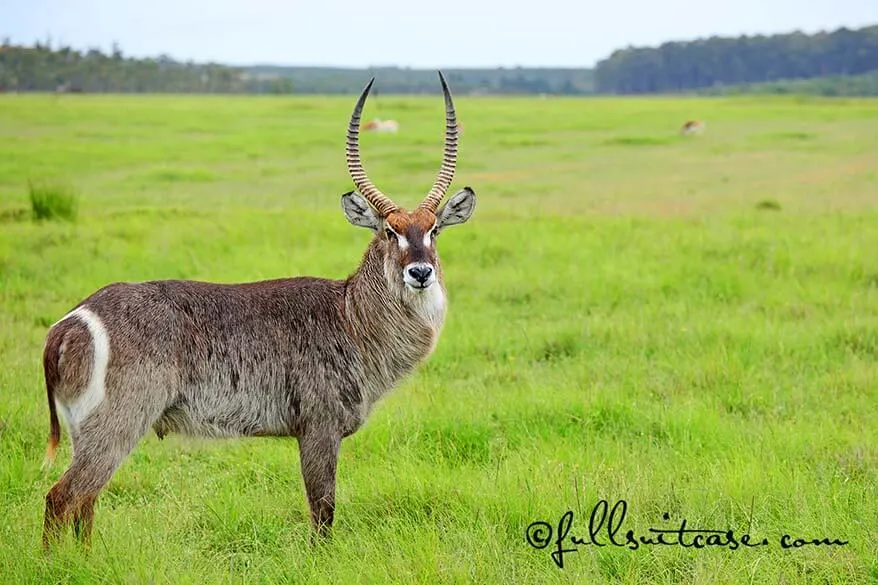 Now that I told you how great it is, I also feel obliged to tell you that not every moment of every safari will be the highlight of your trip. Far from that! You might be driving for hours and hours with not much to see. But then you will, you always do, and it will all be worth it!
Oh, and back to the amazing part. You WILL want to stay longer. Take my word for it, you will. Book a few nights extra. Flying to Africa is not cheap, so get the most out of your trip!
If you are traveling to Africa with kids, make sure to read this post as well: Everything You May Want To Know Before Taking Kids on Safari in Africa.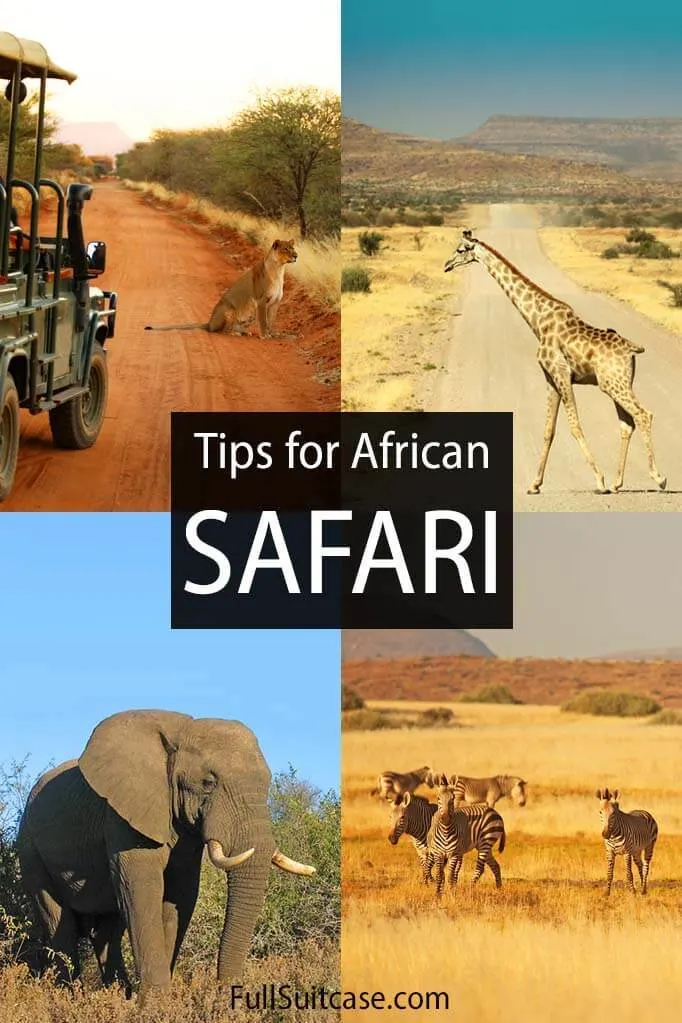 Safari Tips
1. Be open-minded and flexible
Every safari drive is unique and therefore unpredictable, so try not to stress about the things you cannot control. Sometimes you won't see much, sometimes you'll see a lot, sometimes the ride will take longer than expected, and sometimes it will be tougher than expected.
Be prepared for warm and for cold, for wind or sun, for mosquitoes and flies, and mostly for a rough ride.
While most of the time you will be driving on gravel or sand roads, sometimes the driver might decide to cross a river, drive through the bush, or cross a stone field… We did all of this when following a herd of desert elephants in Namibia and it was an amazing experience!
2. Follow the rules and stay safe
Stay in your car at all times, the rules are there for a good reason. Animals are very well camouflaged and often you don't see them until it's too late.
Don't approach the elephants too closely, don't make noise, keep your hands and your camera inside the car near the cats, and never stand between the hippo and the water. In fact, hippos are very aggressive and are the most dangerous African animals after mosquitos, so you don't want to get them upset.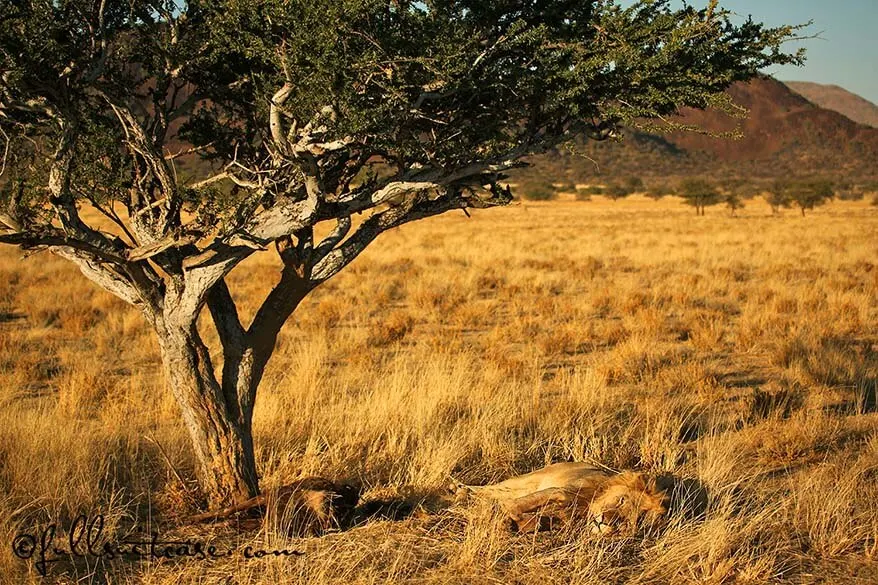 3. Ask questions
Most safari guides are very knowledgeable and you can learn a lot about animals and their behavior.
4. Ask to stop
You think you see something in the distance, but are not sure, or you want to take yet another picture of a zebra? Don't be afraid to ask to stop the vehicle. The guides are there to give you the best safari experience.
5. Take lots of pictures
The first time you see a zebra you'll probably take 25 pictures of it, the next time – 10, and by the end of the week you'll hardly notice it. You can always delete the pictures afterwards and only keep the best, but take pictures when you can because you may not get a chance for a better shot.
Sometimes, you might get extremely lucky and see some incredible wildlife on the very first game drive. Don't think that it will always be like that! Make sure to take pictures of everything you see because you never know if you'll have another opportunity.
READ ALSO:
Best cameras and lenses for safari
Travel photography tips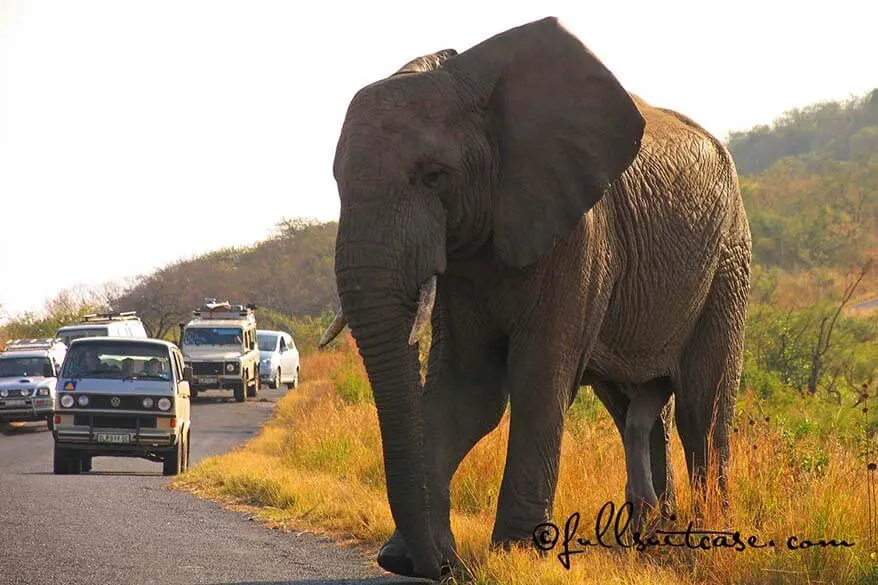 Guided safari tours vs. self-drive safari
Depending on the country and the place you are visiting, you don't necessarily need to partake in an organized tour in order to see African animals in the wild. Kruger National Park in South Africa, Etosha National Park in Namibia – these are just a couple of examples of the parks you can easily visit on your own. Often you will see animals just next to the road, outside the parks.
We have been on numerous safaris in South Africa and in Namibia, and we have done both – safari rides with a guide as well as on our own. My advice for you is to do both. None of these formulas guarantee that you will see more animals; you just have to be lucky.
The first time we were in Kruger NP, we saw Africa's Big-5 (elephant, rhino, lion, leopard, and buffalo) on the very first day. While we saw lots of different animals during a guided tour in the morning, we encountered 3 out of Big-5 later during the day when driving in our own car.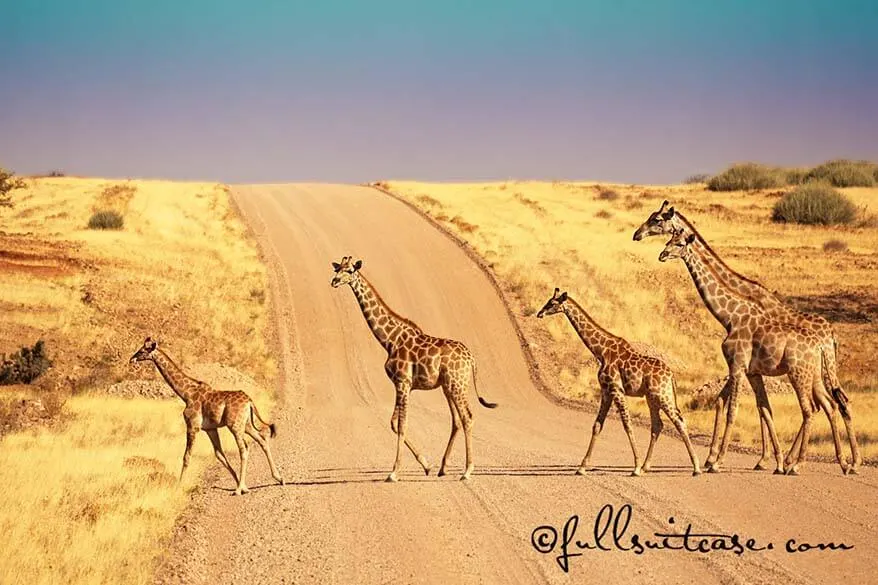 Advantages of guided safari tours:
No driving. You don't have to drive and concentrate on the road, so it's much more relaxing.
Better visibility. You sit higher, there are no windows and so you see everything better.
Knowledge. You can learn a lot about African animals from the safari guides. You quickly feel like an expert by being able to tell the difference between all different sorts of antelopes.
Expertise. The guides have lots of experience. They know where and when to look for certain animals and they often see them long before you do…
Communication. Safari guides constantly communicate with their colleagues and exchange information so they can bring you to the centre of the action in no time.
Accessibility. In some parks, private vehicles are only allowed to drive on certain roads while guided tours have fewer restrictions.
Kids are more engaged. It's easier to get the children engaged and interested in the whole safari experience on an open jeep safari ride than when driving in your own car. Don't listen to the people who tell you that young kids don't appreciate safari. They do. You just have to find ways to get them interested and engaged. Get your kids a good pair of binoculars and play a game of who sees a certain animal first, and you are all set.
Picnic in African savannah and sundowners. Some of the very best memories of safari experiences we had were the ones where we had breakfast, picnic lunch, or a sundowner drink in the middle of an African savannah. It's just something you have to experience at least once.
Night drives. You cannot go on a self-drive safari at night. You are not allowed to drive at night in the parks and it's not a good idea to drive in the dark in Africa anyway. If you want to hear lions roar or see them hunt at night, you'll have to book a night drive. I still have to meet the first person who actually thinks that night drives are worth it, but it's a very unique experience. Don't expect to take any pictures at night, just enjoy the ride and hope that you get to see some action.
It pays to travel to Africa with a big family or a group of friends. You pay for a regular safari ride and end up with a private driver and a whole big jeep for yourself because they don't necessarily fill the jeep if they already have 4-6 places sold.
Very often, young kids are free of charge or get a discount as well. It's not always the case however, so don't count on it. If you want to be certain that you will be on your own, you have to ask for it and probably pay much more.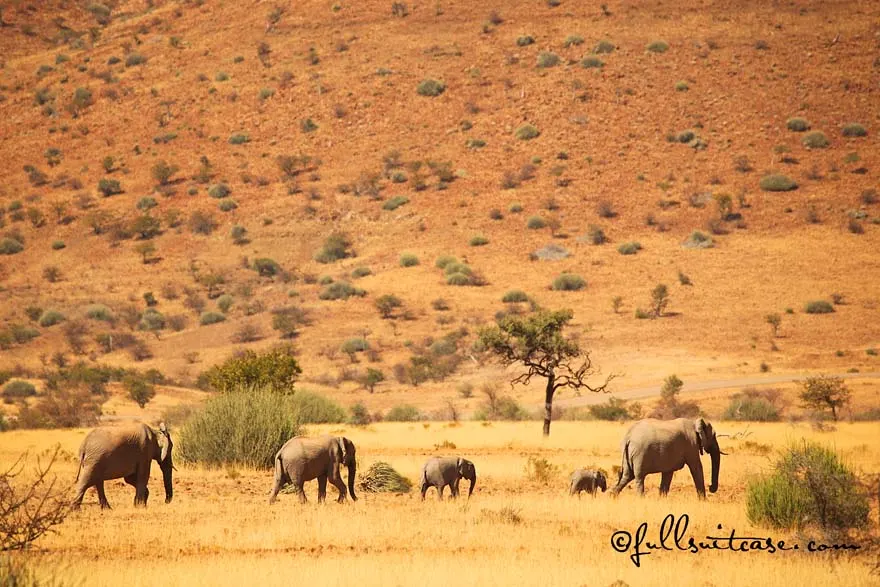 Advantages of a self-drive safari:
Flexibility. You can decide where you want to go and how long you want to spend at a certain place and don't have to worry about being stuck with a group of 10 other people who take 101 pictures of a giraffe in all possible angles and still complain when the driver wants to go on. OR you can stay longer, follow and watch the animals as long as it suits you without having to worry about other people or a schedule.
Better pictures. Usually, you will have better chances to take pictures of the animals if you don't have to compete for the best spot with the other people in the same vehicle.
Cost. Needless to say, a self-drive safari is much cheaper than an organized ride. Safari rides, especially private ones, can be very expensive. Sometimes it might be cheaper to stay at a luxury lodge with all-in formula (food and safari rides included) than having to pay for a hotel and safari rides separately.
Heating and air-conditioning. This might seem irrelevant, but wait till you sit in the open jeep driving 40 miles an hour before sunrise or after sunset. Or when you find yourself in an open savannah in the heat of the day with no shade whatsoever.
Children's age is not an issue. Some safari rides will not permit children under a certain age, usually under 6. This is mainly because of the safety concerns in the proximity of predators. In your own car, you can take children of any age on a safari ride and you stop as close to the lions or leopards as you wish. Just try to limit the noise and keep the windows closed.
Kids entertainment. If you are traveling with very young children, they might not have much patience during long safari rides. It might be easier to keep the kids entertained in your own car. I rather have my kids watching the animals than playing games on a tablet, but we often listened to some children's music during safari rides as it kept the kids quieter.
Some things to consider when booking a game drive
Duration of the ride. Make sure you are well informed about the duration of the ride. Some will only last an hour or two, while some others can take the whole day.
Time of the day. The very best time to watch animals is usually early in the morning or in the evening around sunset. This doesn't mean you won't see animals during the day. We saw lions with cubs, rhinos, elephants, leopards, cheetahs, and many other animals in the heat of the day.
So my advice would be to go looking for the animals whenever you have a chance. After all, that's the reason you go to Africa, isn't it? You may even want to consider a night drive, but don't expect too much from it.
Size of the group. If you have a choice, always go for a smaller vehicle and a smaller group.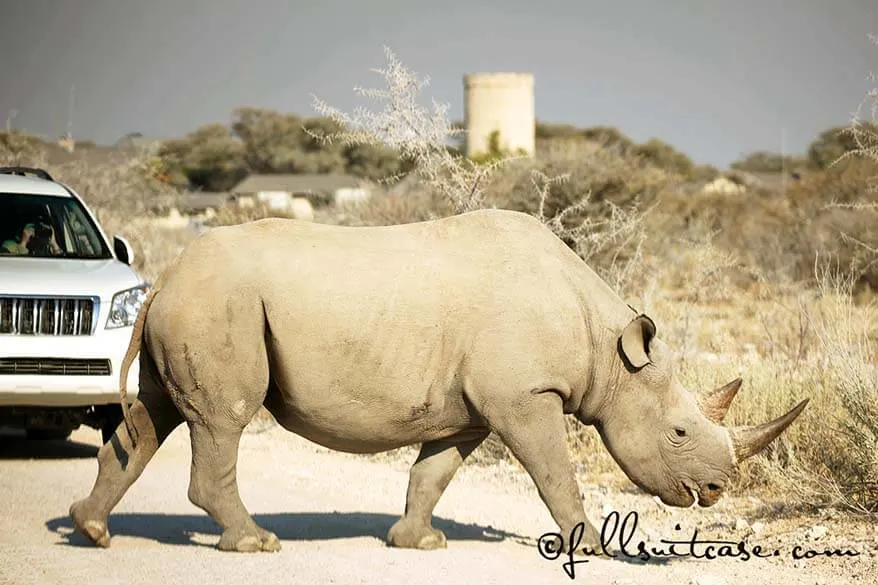 What to pack for an African safari
Soft-sided travel bags. Whether you are planning on taking a small plane in Africa or joining an organized tour, you better pack light and take a soft-sided duffel bag. Don't take hard-shell suitcases to Africa, they are not allowed if you need to take a small plane or a group tour.
Here you can read about the type of travel bags that we use for our trips. Also, your bags WILL get dirty, so don't feel embarrassed to take old luggage on a trip to Africa. Nobody cares.
Camera equipment. Take the very best camera you have and the best telephoto lens you can afford. 200mm is a minimum. You can take some pictures of the animals with your smartphone, but you can't compare the quality of those pictures.
Pack at least 50% more memory cards than for the other trips of a similar duration. Always have extra batteries and charge them every time you can. Don't forget a tripod. It will be of no use during safari rides, but you'll see animals at the waterholes and other places as well. Here you can find more advice in regards to the best camera equipment for safari photography.
Electrical adapters. There is not one standard electrical adapter in Africa, so you should check which one you need depending on where you are going. Here is a list of a couple of popular African safari destinations and the plugs they use: South Africa and Namibia type D/M. Kenya and Uganda type G. Botswana, Zimbabwe, and Tanzania one of the previous two – type D or type G.
Binoculars. You cannot go on safari without binoculars. Well, you can, but it's more fun if you have a pair. As a minimum make sure that children have their own binoculars.
Mosquito repellant with DEET.
Sunscreen and sunglasses
Small backpack is very handy to store all your belongings during long safari rides. Make sure it closes well, otherwise you'll have sand over everything.
Drinking water and light snacks. You should always have some drinking water with you. Organized safari rides will often provide water and other drinks and sometimes snacks as well, but you might need to wait till they stop somewhere, so it might be more convenient if you have your own, especially if traveling with children.
Flashlight (always) and/or a headlamp (if camping). You will use a flashlight all the time and a headlamp is extremely helpful when camping.
First-aid kit, medication and a good travel insurance are essential for any trip to Africa. If you are prone to car sickness, you may want to take some medication with you. African roads can be really bumpy. Always take medication against diarrhea when you go to Africa and make sure you are ok with all the vaccinations. Depending on the area, you may need to take malaria pills as well.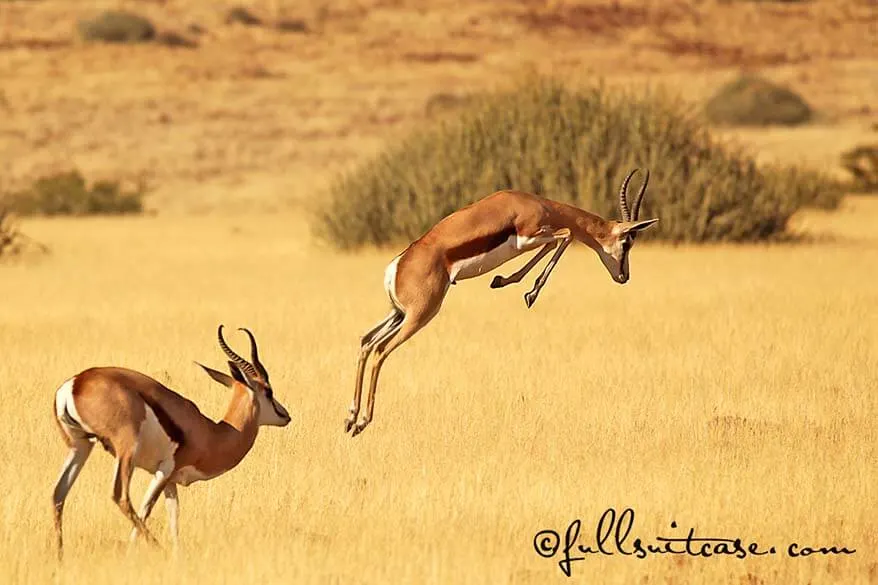 What to wear on safari and colors of clothing
Don't pack too many clothes and don't bother with brand new or special safari-style clothing. In Africa, you can wear pretty much anything. Whatever you wear, it will get dirty very quickly. You'll get used to it.
It can get very cold or hot on safari, so make sure you are well prepared for both. Every time. It's not because it's hot when you leave for a ride at 3 pm that you will not be freezing cold on the way back after sunset.
Always dress in layers. I advise wearing closed shoes. Otherwise, your feet will be freezing cold in an open vehicle in the morning or in the evening. Most safari tours foresee warm blankets in the car, so don't be afraid to ask for one if you are cold.
You don't necessarily need to dress in khaki or light brown tints. Camouflage clothing should be avoided altogether as it's considered military and is forbidden in some African countries. Wear comfortable clothes, preferably in neutral colors. But, as already said in my post about packing for Namibia, don't worry about the colors too much, especially for the jackets as you'll usually only wear them when it's dark.
If you have to buy something new for your trip to Africa, then go for the neutral tints. Otherwise just pack what you have.
I saw people in pink, bright red, white, orange, and green jackets and sweaters on safari rides. In fact, I also wore a red jacket on safari in Namibia several times. It just happened to be the lightest jacket I own and I only wore it on safari when it was cold (=dark) so the color didn't matter at all.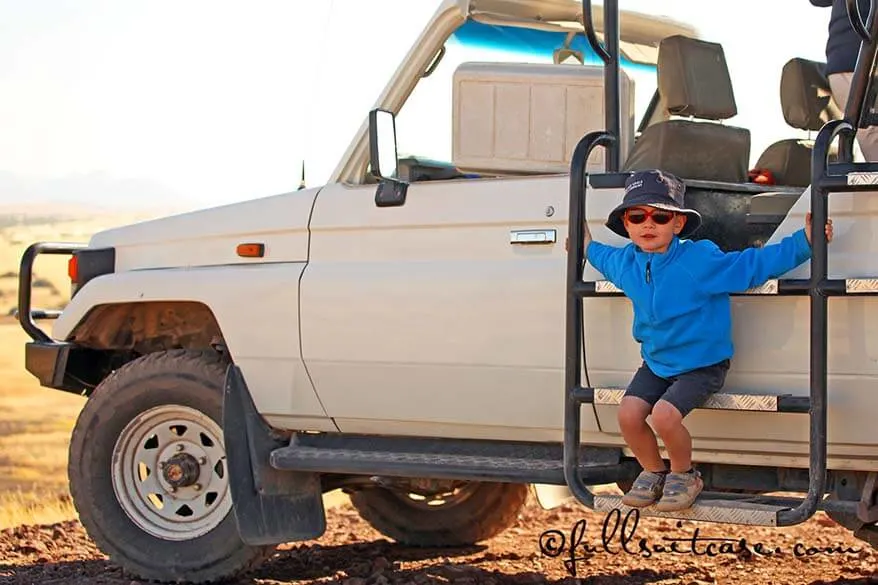 Safari clothing packing list
Windproof jacket
One or two (fleece) sweaters
A pair of long pants, trekking pants are best, but jeans will do too
1-2 pairs of shorts or convertible pants as they give you more flexibility
T-shirts or shirts for 7-10 days
Sun hat
Closed shoes
Swimming gear
You may want to pack one smart outfit to wear for dinner, but it's not really necessary in Africa. We stayed at a couple of luxury lodges during our trip and usually just wore jeans and a shirt, a blouse or a light sweater in the evening.
So, these are our safari tips for your first safari experience.
One last tip. Go on every single safari ride you can and make the very best of your trip. If I had hadn't joined the very last ride the night before we flew home, I would have missed the rare opportunity of seeing a pangolin and a couple of lions with their prey.

More travel inspiration & tips for Africa:
If you found this post helpful, don't forget to bookmark it and share it with your friends. Are you on Pinterest? Pin this image!