Traveling to Namibia and wondering what to expect? This article contains all the information that I wish I knew before our trip – our experience-based Namibia travel tips. Find out!
There are so many things I wish I had known before traveling to Namibia! Is it doable and a good idea to road trip in Namibia? How are the road conditions and why do some people say that you cannot do a self-drive tour? Should we start our trip with Etosha or should we end there? Do I need closed shoes in the Namibian desert? Etc.
I strongly believe that you enjoy any trip more if you are well prepared and know what to expect. It is especially the case when you travel with children or when you visit remote areas where good preparation is vital.
I spent lots of time looking for all kinds of information for our family trip to Namibia. However, I never found all the answers to my questions in one place. Therefore I put this extensive guide with many practical tips to help you prepare your trip to Namibia. Take a look!
Namibia travel tips:
1. Book Well in Advance
Many places in Namibia are very remote and accommodation can be limited. Family rooms are very hard to find, so it's really advisable to book well in advance if you are traveling with children or if your dates are not flexible.
This is especially the case in Etosha where travel agencies block lots of rooms a year in advance and so they can get practically inaccessible to individuals. It's often easier to book this type of accommodation through a travel agent.
We booked our trip almost a year in advance and still had to look for alternative places/dates for some accommodations.
2. Prepare a Good Itinerary
There is a lot to see in Namibia and the distances are big, so you have to do some thorough research before booking your trip.
If you are self-driving and covering a fair bit of the country, make sure you know exactly what you expect to see and do each day. Good planning is essential so that you don't spend too many hours driving and have enough time to see all those incredible places.
Make sure that you always have some spare time for unforeseen circumstances or just to be able to stop and smell the roses along the way. This is figurative, of course, you will not see roses in the Namibian desert. But you will see plenty of wildlife and amazing landscapes, and you will regret having to pass on it because of the time pressure.
Sometimes long driving days are unavoidable if you want to see a lot of different places in one trip. Just make sure your that the whole trip is not spent sitting in the car.
LEARN MORE: Namibia Itinerary
3. Plan Your Driving Times Well
Days are rather short in Namibia and you really cannot travel in the dark so plan your driving times accordingly. 4-5 hours driving time is about the maximum you should plan in one day.
Also, take into account that you cannot drive fast on gravel roads. 80km/h is about the maximum speed. However, often you will have to drive much slower than that. You can never know in advance how it will go as a lot depends on the condition of gravel.
It's also good to know that most lodges organize all kinds of activities like safari rides and sundowners in the late afternoon. So make sure you reach your next lodge in time if you want to join one of the rides.
You can contact your lodge in advance to check what's available and if there is any special activity that you are interested in. But generally, they will not leave for the evening safari before 3 pm, and most sundowners start even a bit later.
4. Visit Etosha NP at the End of Your Trip (North-Bound Itinerary)
We were told that it's best to plan your Namibia trip in such a way that you visit Etosha National Park towards the end of the trip. I have to agree with this.
You'll appreciate all the other places much more if you haven't first been spoiled by the Etosha safari experience.
So if you are just starting out with your Namibia itinerary planning, see if you can end in Etosha rather than start there. If your trip is already fixed and you are going to Etosha first, don't worry – you'll love it either way!
5. Don't Drive Fast and Don't Drive in the Dark
Driving in Namibia is done on the left side of the road. Namibian roads are mainly gravel, but there are quite a few tar roads as well. Main gravel roads are regularly maintained and in good condition.
You might have read that driving in Namibia can be dangerous. I wouldn't say it's any more dangerous than anywhere else in the world. It's just different.
There are just two main rules: don't drive too fast on gravel roads and don't drive at night.
Driving in the dark is dangerous, mainly because of wild animals. The roads are not marked well either, so driving in the dark outside the cities is really out of the question. You will also see that most rental companies only allow driving during daytime hours.
6. Check if You Need an International Driver's License
You'll need an international driver's license in Namibia if your driver's license is not in English or if you stay in the country longer than 90 days.
7. Rent a 4×4
If you only travel from Windhoek to Swakopmund or from Windhoek to Etosha National Park, you can do it with a regular car. Etosha roads are gravel, but you can – in principle – drive there with a regular vehicle (just make sure to check with the car rental company first).
However, you will be missing a lot of Namibia if you decide to stay on tar roads only. Actually, you will be missing the most beautiful places. So don't make this mistake.
If you are serious about exploring Namibia, you will need a 4×4. Here are a few examples of the famous places you cannot get to without a 4×4 vehicle (or a plane, but I assume you are driving): Sossusvlei, Damaraland and UNESCO site of Twyfelfontein, Fish River Canyon,…
Renting a camper is not recommended in Namibia. It will take you a very very very long time to get to places. The roads are really meant for 4×4. If you want to camp, you should rent a 4×4 camper vehicle with a tent you can put up on the roof. It sleeps 2 to 4 people and can be a good choice for a couple or a smaller family.
8. Take Full Insurance for Your Car
I always recommend getting complete insurance coverage when renting a car. In Namibia, it's really a must! You never know what happens on those gravel roads. Not even talking about wildlife crossing the roads…
Our experience. We got a crack in the windshield of our car when a stone hit it. It was not our fault and there was no way we could have avoided it either. Because we had full insurance, we didn't have to deal with any of the formalities and the car rental company took care of everything.
TIP: We now rent all our cars via this car hire website when traveling anywhere in the world. They give you the option to select full insurance and we always do it. It's always much cheaper than at the counter. We once had to make a claim and it was all handled online with a few clicks, and the money was reimbursed to us in less than a week.
9. Get Two Spare Tires
Tire punctures are very common in Namibia. So if you do one of the most popular road trips that include Etosha, Damaraland, Sossusvlei, and/or Fish River Canyon, you should reserve a second spare tire for your car! Most car rental companies offer this as an option. And even though it costs a bit more, it's really a must.
Some people are so unlucky that they have two or even three flat tires in one day when driving in rural Namibia. Some others – like us – spend weeks and drive thousands of kilometers without any problems whatsoever. But you better be safe than sorry. Otherwise, you can get really stuck and it's not something you want to experience in the middle of nowhere.
If you travel through even more remote areas (e.g. North of Palmwag, or the coast between Luderitz and Waalvisbaai) you may want to take three spare tires with you and also a couple of extra fuel cans.
Leaving regular tourist roads is probably not the best idea for individual travelers. I would advise traveling in a group of at least 2-3 vehicles or booking a guided tour if you want to visit truly remote places.
10. Keep Your Gas Tank Full
During your road trip through Namibia, make sure to fill up your car whenever you can. Most maps of Namibia indicate where the petrol stations are located, but keep in mind that this information is not always up-to-date. We have experienced this several times.
So never rely on this information and make sure that you get gas whenever you can. This is especially the case when driving in more remote areas far from the main cities.
Namibia is really not a place where you want to risk running without gas.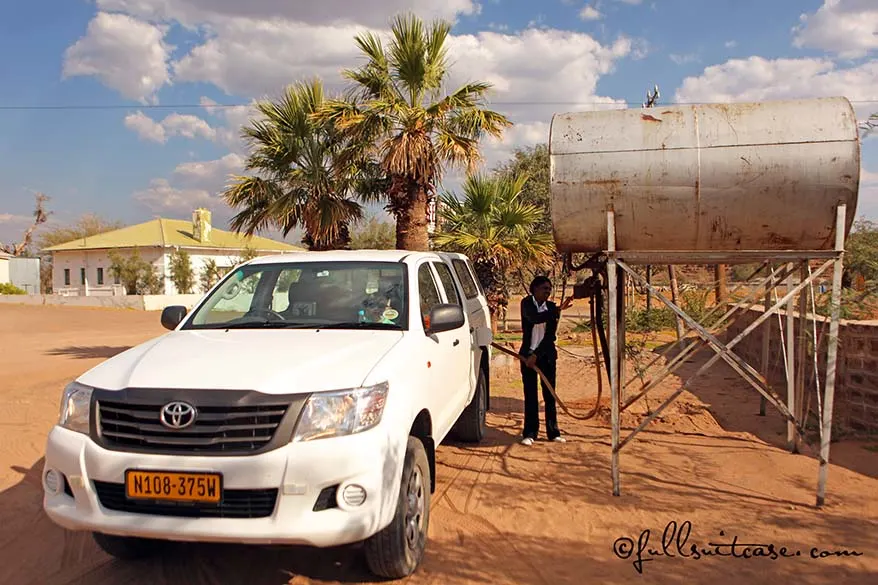 11. Pack a Travel Booster Seat if Traveling with Kids
While children's car seats are not required in Namibia, they are highly recommended. Renting children's car seats is not very expensive, but you have to reserve them in advance.
Alternatively, you can take your own booster seat with you. I highly recommend that you do that because the quality of car seats we saw at the car hire places is really questionable.
We took our own booster seats for all three kids. It's helpful if the booster is quite high – that way the kids sit higher than in a regular booster seat, and they can see the animals better.
LEARN MORE: Best Travel Booster Seats
12. Don't Be Afraid to Travel to Namibia with Kids
Before our trip, we were wondering if it's a good idea to travel to Namibia with young children. My answer is yes, absolutely!
We took our 4, 4, and 6-year-old kids for a month to Namibia and had a great time there. It was one of the most special road trips we ever did and I'd go back in a heartbeat!
I think that Namibia is a perfect family destination with children of any age. You can read more about it in our other articles and find out why we think Namibia is the best African country for a family trip.
LEARN MORE: Namibia with Kids & Safari with Kids
13. Check Medical Info & Get Good Travel Insurance
It's essential to check medical information when traveling to Namibia! We use and recommend the website of the Institute of Tropical Medicine in Belgium for any medical travel advice.
You'll be glad to know that there is practically no malaria in Namibia (except in the very North of the country). If you travel to Namibia in the dry season (April-November) and don't go further North than Etosha, you don't really need to worry about malaria. You don't need a Yellow Fever vaccination either.
Make sure to check for the most up-to-date situation before you travel and talk to your doctor if you have any questions. Also, make sure that you are ok with the regular immunizations (tetanus, diphtheria, pertussis, measles, polio, hepatitis…).
In Namibia, you will often be at least half a day's driving distance from the nearest doctor or pharmacy, so travel well-prepared. Most lodges are foreseen to provide first aid if needed, but it's wise to carry any medication you think you might need with you. Also, make sure to take a basic first-aid kit with you.
Good travel insurance (in case you need to be repatriated by plane) will give you peace of mind too.
14. Pick the Right Season to Travel to Namibia
The best months to visit Namibia are probably September and October. It's dry season, there are no mosquitoes, no malaria, and animal viewing is very good. However, it's also the most popular and the most expensive time.
Summer school holidays – July and August – are also very good months to travel to Namibia, but it's much colder.
Don't expect to go swimming if you are traveling in June, July, or August as swimming pools are not heated in Namibia and the water is really too cold to swim. Our kids went swimming on several occasions despite the cold, but it's not something you should expect to do a lot.
May and June are also very good months and there are significantly fewer tourists in that period.
The wet season (November to April) is not the best time to visit Namibia as it can get really hot and some roads might get flooded if it rains. On top of that, game viewing can be really limited in this period. However, it still rarely rains and if you get lucky, this might be a good time to visit Namibia on a lower budget and no crowds.
15. Know That Namibia is One of the Safest Countries in Africa
Is Namibia safe? This is one of the main questions I get from our readers. Namibia is one of the safest African countries!
We never ever felt unsafe in Namibia – not in towns and not in the rural areas.
You should worry more about driving safely or about wild animals than about crime. Of course, use common sense and be careful, lock up your car, and don't leave valuables unlocked in your hotel room, but that counts for anywhere you travel.
16. Pack Warm Clothes if Traveling in Namibia in July or August
July and August are winter months. And while the days are generally very warm, it can get really cold at night in winter in Namibia. So you definitely need to pack a windproof jacket and a sweater.
We had freezing temperatures at night in Southern Namibia in July. During the day shorts and t-shirts are sufficient, but you will need a sweater and long pants the moment the sun goes down (and before it rises). Don't forget sunglasses, a sun hat, and sun cream.
Dress even warmer if you are going camping in Namibia, especially in the Southern part of the country. Pack a warm sleeping bag, a warm jacket, dress in layers, and don't forget gloves, a scarf, and a shawl.
You will need warm clothing (including a cap and gloves) if you go on a whale-watching tour as well.
LEARN MORE: What to Pack for Namibia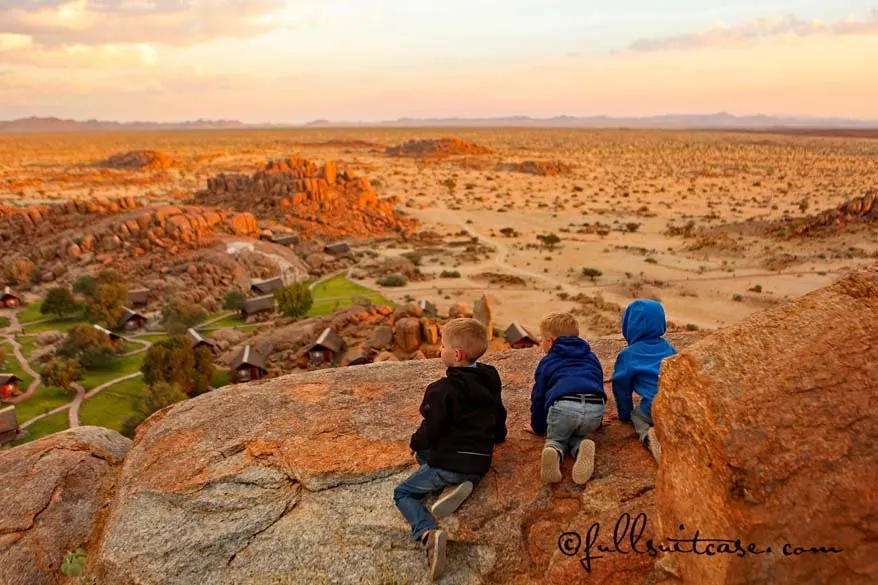 17. Pack Closed Shoes
It's best to wear closed shoes in Namibia, even if it's warm. That way you don't have to worry about stepping on some dangerous animals in the desert (the chances are pretty slim), but that's not the only reason. You'll be walking on stones and sand all the time. So your feet will suffer a lot if you don't wear closed shoes.
You don't really need hiking shoes, but sturdy walking shoes are advisable. We only wore sandals on a few occasions in Namibia in July. So if you want to travel really light, you'll be glad to hear you can do pretty well with just one pair of shoes.
If you plan to climb the dunes, you'll quickly realize that it's easiest without shoes. You may want to wear socks though as sand can get really hot in the desert. ideally, you pack a pair of old socks with you for walking on hot sand.
18. Enjoy the Food
The food in Namibia is absolutely delicious. If you are worried about the safety or quality of the food in hotels and restaurants, you really don't have anything to worry about. Every single meal we had in Namibia was really good. They have a European-influenced cuisine with an African touch and it's amazing that you can find such fine cuisine in such remote areas.
All the lodges where we stayed made an effort to prepare special meals for the children as well. Furthermore, there were usually many more options than the usual spaghetti or fries.
Most hotels in Namibia have breakfast and dinner included, so you only have to worry about lunch. As you can imagine, there are not many places where you can eat during the day when traveling in remote areas.
It's wise to always carry drinking water and some food with you.
Most lodges offer to prepare a lunch pack for you upon request. But often you have to ask for it in the evening before, so don't forget.
Alternatively, stop at the supermarket before you leave the town and stock up on water and some food that stays good for a couple of days. Taking a travel cooler (12V) with you will give you lots of flexibility on the road. Of course, you have to also pack it on the plane…
19. Take Cash for Tipping
Namibia uses the same currency as South Africa so you can pay in South African Rand or in Namibian Rand. 200 Rand (+-12 EUR) is considered a lot of money, so make sure you have smaller banknotes with you as well.
You can use credit cards in most lodges and restaurants, but you do need to carry some cash as well.
Tipping is expected everywhere so make sure you always have some small notes on you. When you park your car in the city, at the campaigns, and some other areas, often you will see men asking for some change in order to guard your car. It's a normal practice in Namibia (and in South Africa) so don't be greedy.
Food and activities are relatively cheap in Namibia, especially outside the lodges.
20. Pack an Electrical Adapter & a Power Bank
Namibia uses type D/M electrical plugs. You can probably borrow one in the hotel, but it's easier if you take a few type M travel adapters with you.
Note that some lodges switch off their electricity generators at night, so it's wise to charge your appliances the moment you get to the lodge.
I also recommend packing a power bank, especially if you are planning to use your smartphone camera a lot. In addition, take a small USB-charger to use in the car, and at least a few spare cables to charge your phone. I recently had a cable break during a trip, and was so glad to have packed two, just in case!
21. Prepare for No Wi-Fi and Bad Mobile Network Coverage
One of the nicest things about a vacation in truly remote areas is that you can disconnect from the rest of the world. No emails distracting your attention, no Facebook feeds, no tweets…
Namibia is not that remote and you will find enough opportunities to check your email, but don't expect to have an Internet connection every day. Most high-end lodges and hotels will probably have Wi-Fi available, but you shouldn't count on it. Furthermore, Wi-Fi connection is often pretty slow and unreliable.
You will be able to send an email once in a while, but don't expect to download or upload lots of data like pictures or videos. Most state NRW hotels (in Etosha or Sossusvlei) don't have Wi-Fi, and even where they do, it usually doesn't work.
If you go camping, you will probably be offline during the whole trip, except during your stay in Windhoek or Swakopmund.
Cell phone coverage is good in some places and nonexistent in the others, so you cannot count on it either.
22. Do Your Laundry in Namibia
If you go on a long trip to Namibia and want to travel light, you will need to do your laundry there. Most lodges in Namibia offer laundry service, but it might take some time, so don't do it if you only stay somewhere for one night.
Also, it can be cheap or quite expensive, depending on the lodge you are staying at. Some people recommend asking one of the maids at the hotel as they usually agree to do your laundry for a minimal fee, but we never tried this.
We didn't feel like doing much laundry on our vacation, but it's inevitable on a 4-week road trip. We packed enough clothes for two weeks and did the laundry only once in our hotel in Swakopmund which was just about in the middle of our trip. We booked a self-catering apartment (owned and operated by Cornerstone Guesthouse) with all the facilities and it was really convenient when traveling with the family.
23. Prepare for Lots of Sand
When you travel in Namibia, sand is everywhere. It really makes no sense to worry about it because you really cannot avoid it. But you can prepare for it a bit.
All the baggage stowed in the trunk of your car will quickly be covered by sand when you drive on gravel roads. So do not take your newest suitcases on this trip!
If you want to avoid sand getting inside your bags, you can place your luggage in a big disposable plastic bag (think plastic trash bags) or at least cover it up a bit. Alternatively, carry a brush to dust off the bags.
Your shoes will be covered with red sand as well, so it's probably not the best idea to wear a new pair of white sneakers to Namibia.
24. Pack Good Camera Equipment
For most of us, Namibia is really a once-in-a-lifetime bucket list trip. So make sure you pack the best camera that you have! If you don't have one, get it! I know you'll regret it if you don't.
You will need two types of photo lenses in Namibia – a wide lens for landscapes and telelenses for wildlife. I took 24-70mm and 70-300mm lenses with me and it was sufficient. But if you are really serious about photography and don't mind the extra weight, you should probably take several lenses that cover 10-400 mm range.
Alternatively, get a good point-and-shoot camera with a strong zoom lens (like, for example, this budget-friendly camera).
Don't forget the extra batteries and a battery charger, sufficient memory cards, and a tripod. Buying batteries outside the cities seems to be a big issue in Namibia, so make sure you stock up on batteries in advance.
READ ALSO:
Best Cameras and Lenses for Safari
Travel Photography Tips
25. Don't Stay (Long) in Windhoek
You don't need much time to visit Windhoek. Half a day is sufficient. Better spend the first and the last nights of your trip at one of the many lodges outside the city. You will be glad you did!
26. Stay in Swakopmund
Many first-time travelers to Namibia are wondering whether they should stay in Walvis Bay or in Swakopmund. The two places are just a short ride from each other, and so I would advise visiting Walvis Bay, but staying in Swakopmund.
Walvis Bay has a big colony of wild flamingos and the whale-watching trips also depart from there, but it's more a town to live in than to visit.
How should I put it? Swakopmund is more touristic, has a nice downtown area, beautiful buildings, lots of restaurants and hotels, a nice beach… It just feels more like a vacation place. For me, it's by far the nicest town in Namibia.
Swakopmund is the perfect base for various day trips and excursions. If you don't mind the budget, you can stay in town for a week or two and see half of Namibia just by doing day trips (sometimes by plane) from Swakopmund.
As a part of a road trip, I would plan at least 3 nights in Swakopmund. That gives you time to do a couple of day trips in the area. Also, staying in a town with all kinds of facilities is a welcome break from traveling in the desert for days in a row. There are plenty of dining options, many shops, banks, doctors… For us, it felt a bit like an oasis in the desert.
27. Be Generous
There are many poor people in Africa, so try to help local communities in small ways. Buy something small from a street vendor, leave a tip for the cleaning staff, and be generous when tipping hotel staff and tour guides. Often, the amounts are really insignificant compared to the cost of your trip, but they can make a huge difference to the local people.
Do you have some old clothing or shoes that you plan to throw away after the trip? Don't. Give them away instead!
I know some friends of mine who buy cheap t-shirts and other clothing to take on their trips to Africa. They give it all away at the end of the trip. You will be amazed how grateful people can be for something which seemingly has no value to us.
More travel tips for visiting Namibia:
If you found this post helpful, don't forget to bookmark it and share it with your friends. Are you on Pinterest? Pin this image!