Namibia is one of the most beautiful African countries. It is world-famous for its red sand dune landscapes and Etosha National Park, but has much more to offer than that! It's not easy to choose just 10 photos from a 4-week trip, but I'll try anyway.
Here are some of our favorite pictures from Namibia:
1. Deadvlei at sunrise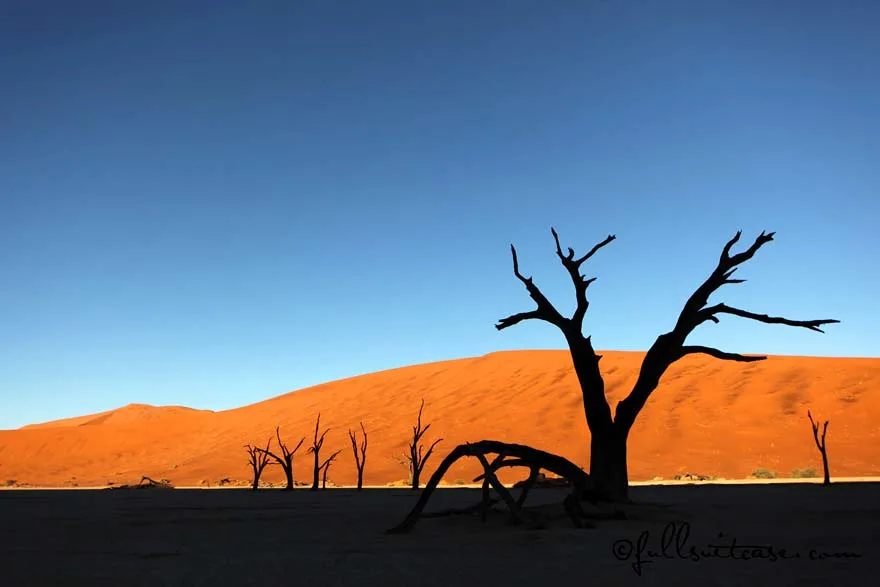 If you go to Namibia, Sossusvlei will certainly be on your top 3 of the places to visit list in Namibia. And the best time to be there is at sunrise!
The only way to reach Deadvlei and Sossusvlei before sunrise is if you actually stay in the park. We did that, got the kids out of bed before 4 am, and drove on a 4×4 sand road in order to get to Deadvlei in time.
We were prepared for the cold, but it was freezing cold at night in July. So despite all the layers of warm clothing, the kids were so cold and they just refused to climb the dunes. There was no way we could carry them up the hill, so we walked to the Deadvlei instead.
Sunrise was still spectacular in the valley and I was able to take some beautiful pictures as the sand dunes colored bright red with the first rays of the rising sun. We were the only people out there and it was an experience of a lifetime being part of this majestic nature spectacle.
2. Kolmanskop Ghost Town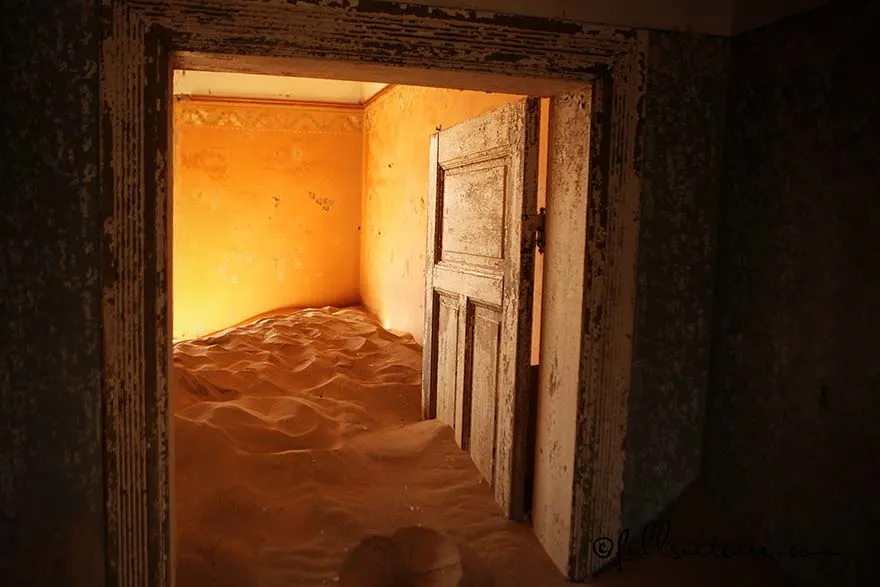 Kolmanskop Ghost Town near Luderitz town in Southern Namibia is a real photographer's paradise!
This long-abandoned diamond miners' town is now only visited by snakes, scorpions, and tourists.
You find old buildings filled with sand and colorful rooms lit by beautiful sunlight… I think I took at least a hundred pictures, so the choice for this selection was tough.
3. Children rolling down the dunes in Sossusvlei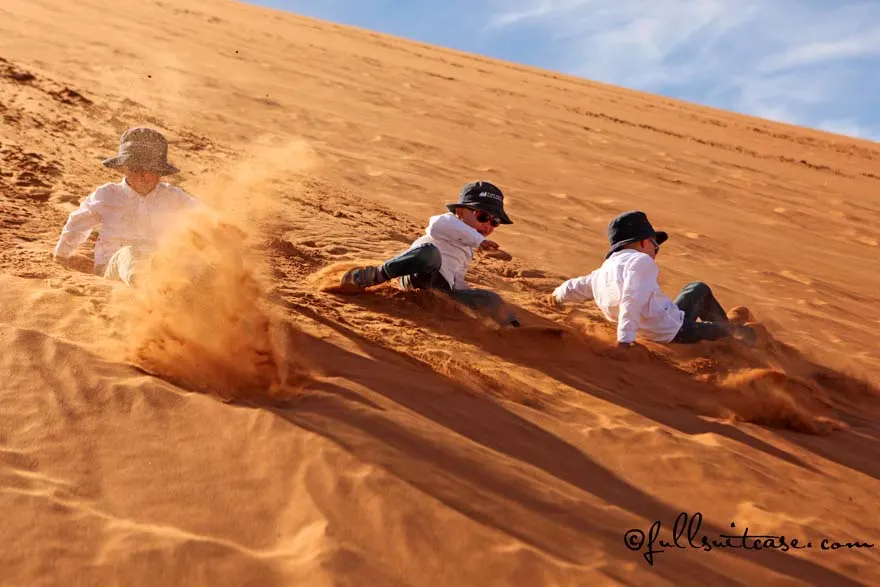 I chose this picture not for the way it looks, but because it puts a smile on my face every time I see it.
It's the emotions and the laughter of the kids that I remember when I look at it. And the great time we had as a family when we were all five of us running down that dune.
4. Namibian sky at night
African nights cannot be easily described or compared to anything else. Complete darkness, an occasional sound of a wild animal in the distance, and millions and millions of stars…
This was my first try at night photography and I couldn't have wished for a better place for that. Isn't that sky amazing?!
5. Spitzkoppe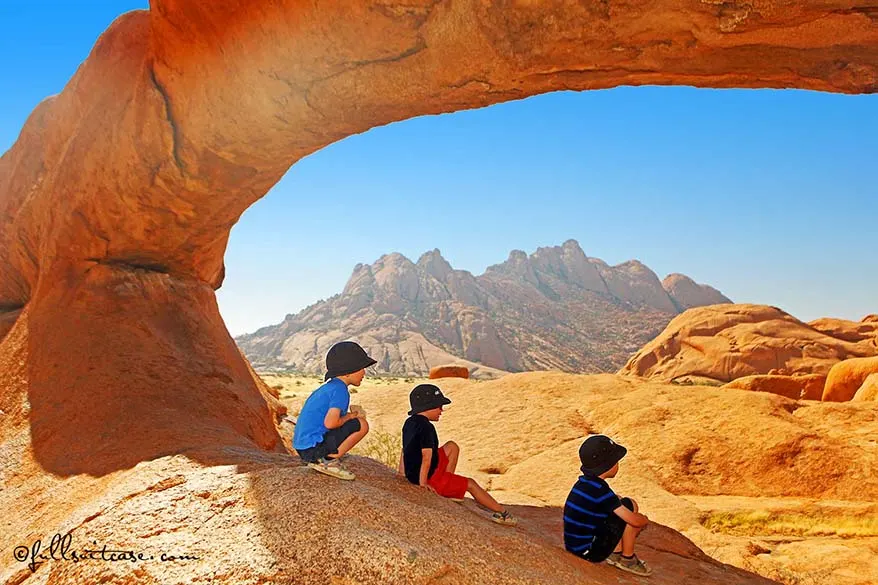 Could you choose any better location for a picnic lunch than this natural arch at Spitzkoppe?!
That's what I love about road trips: you can drive to the most remote areas, spend hours exploring the place and not meet a single human being, then find a perfect spot with the most magnificent view for your picnic.
No restaurant with the finest food and a nice view can even try to compare to this! Spitzkoppe is a fascinating place. Absolute silence and the beauty of nature.
6. Elephants in the desert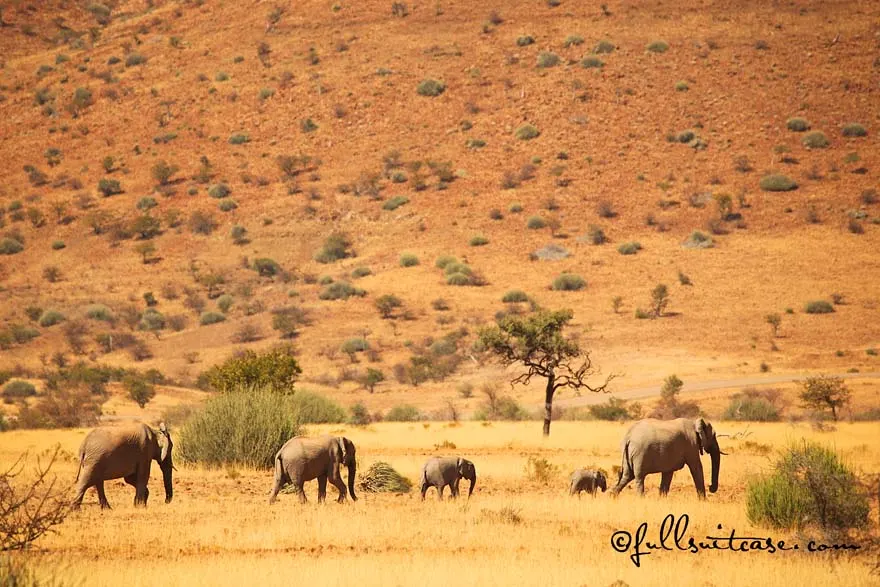 We saw a herd of desert elephants in the distance when visiting a Himba village near Palmwag in Northern Namibia. But by the time we left the village, they were gone.
It's amazing how a group of such big animals can just disappear into the landscape…. They were nowhere to be found.
That day, we were on a private tour with a local guide who knew the area pretty well. He left the main road and we crossed the river and drove at a pace of a turtle over a very rough terrain trying to find where the elephants went. Then all of a sudden our oldest son said 'Look, here they are'! And indeed, the whole group appeared out of nowhere from over a hill just steps away from our jeep.
7. Okaukuejo waterhole in Etosha National Park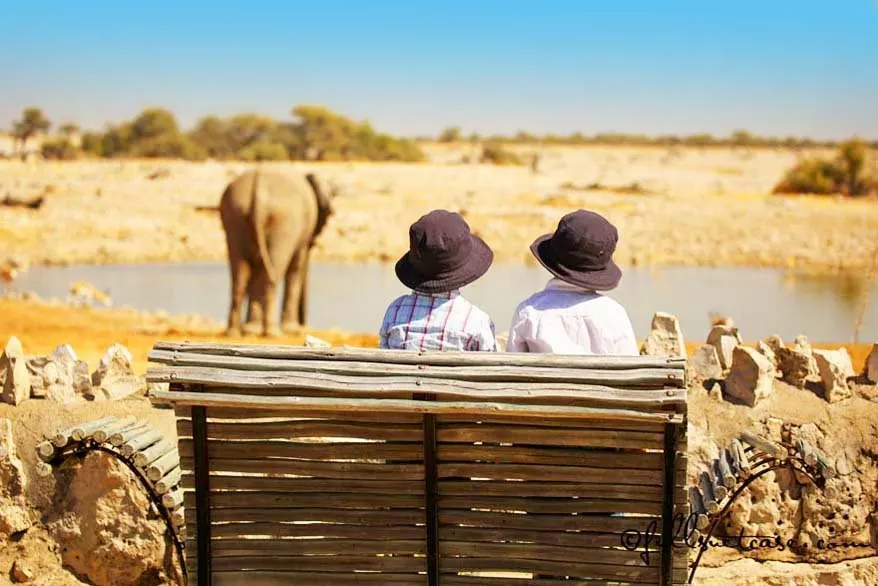 I could have chosen any of the few hundred photos I took at Okaukuejo waterhole in Etosha National Park and they would fit well in this selection of our favorite photos from Namibia…
There were 27 elephants drinking there at the same time, three lions just before sunrise, hundreds of zebras running away in panic, some black rhinos drinking at night…
But somehow this picture of our boys watching the elephants captures what Okaukejo waterhole in Etosha is all about.
It's a great place to see wild animals. No, Okaukuejo is the best place to see safari animals in Etosha. You can just sit at the waterhole day and night and there is always something happening. We spent hours and hours sitting on a bench, we would read a book, have a picnic, go and get some ice cream from a camp store, come back…
It's unbelievable how much wildlife you can experience at such close proximity with no effort whatsoever.
READ ALSO: Best Places to Stay in Etosha National Park
8. Giraffes at sunset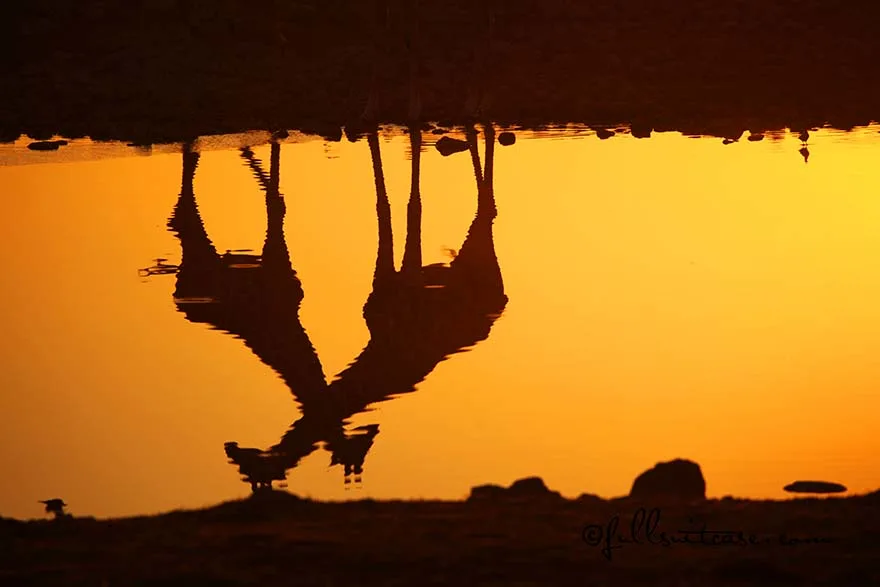 This is a picture of two giraffes at Okaukuejo waterhole. Yes, it's a second picture from the same place, but I just couldn't leave it.
As I was photographing giraffes and elephants at sunset, I realized that there were the most amazing reflections visible in the water.
African sunsets and the bright colors of the sky cannot be easily compared to anywhere else in the world. This is definitely one of my personal favorite pictures from Namibia.
9. The San people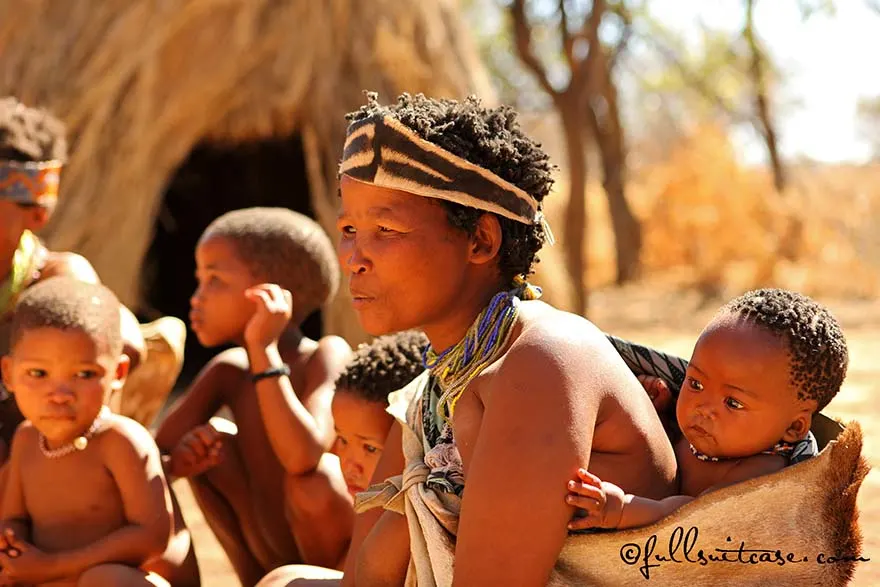 There are lots of different indigenous tribes living in Namibia, and the San people are one of them. I was allowed to take some beautiful portrait pictures of the villagers and especially the children.
This image of a mother with her baby is one of my favorites.
10. The San hunter on a lookout for wildlife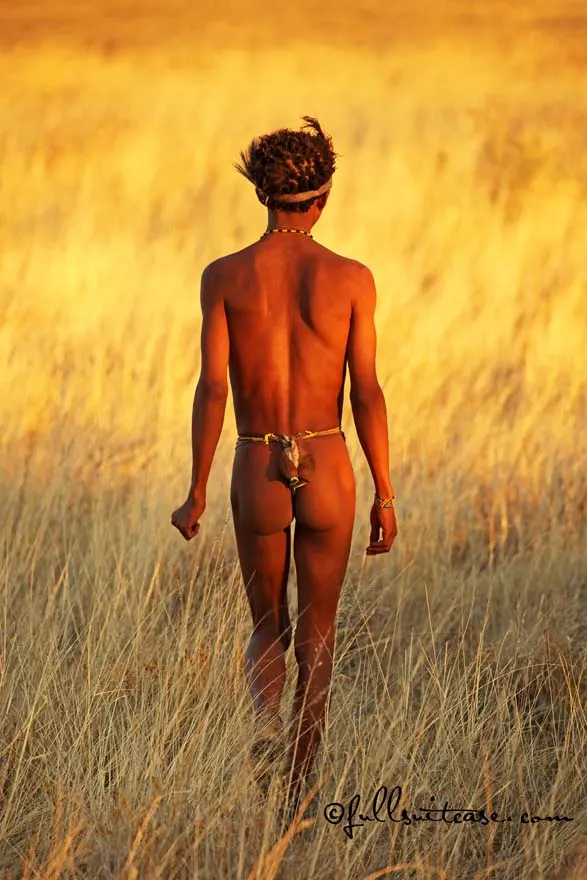 One evening, I went on the sundowner safari ride organized by our hotel. Two San hunters from a nearby village accompanied us to help search for wild animals.
I took this picture when the man jumped out of the jeep and went to look for a pangolin he saw from afar. It's this combination that captures real San lifestyle, beautiful African savannah, and the perfect lighting at sunset that makes this my absolute favorite of all our Namibian pictures.
READ ALSO: Our Top Tips & Tricks for Better Travel Photos
I hope you enjoyed the pictures and the stories behind them just as much as I enjoyed writing this. Maybe I could inspire you to put Namibia on your 'places to visit' list.
If you are looking for more inspiration, take a look at our small selection of favorite pictures from South Africa. For more information about visiting Namibia, take a look at the selection of some of our articles below.
More inspiration and information for visiting Namibia: