Are you thinking of visiting the Red Center of Australia and are not sure where to start? This article features a simple itinerary from Alice Springs to Uluru and back and the most beautiful places to see along the way. Find out!
Planning a family trip to outback Australia was not an easy task. We wanted to see a lot but had to take into account that we were traveling with the three young children. Nevertheless, we prepared our Alice Springs Uluru itinerary in such a way that it would bring us to all the nicest places in the region.
Despite the young age of our children and the extreme November temperatures of over 40°C (100°F), we saw all the highlights of the Red Center. In fact, we did more than expected. In this article, you can find our 6-day Australia Red Center road trip itinerary: from Alice Springs to Uluru and all the best places in between. I also included a map to make it easier to plan your trip.
If you want to see all the best places between Alice Springs and Uluru, then look no further – this road trip itinerary brings you to all the nicest places in Central Australia. If you are on a tight budget, scroll all the way to the bottom for some suggestions for a budget trip to Uluru. Find out!
Australia Red Centre itinerary – OVERVIEW
MAP of Alice Springs – Uluru Itinerary
To make your travel planning easier, I created this map showing all of the places mentioned in this post, as well as our driving route.
Below, you can find all the details of this trip. Read on!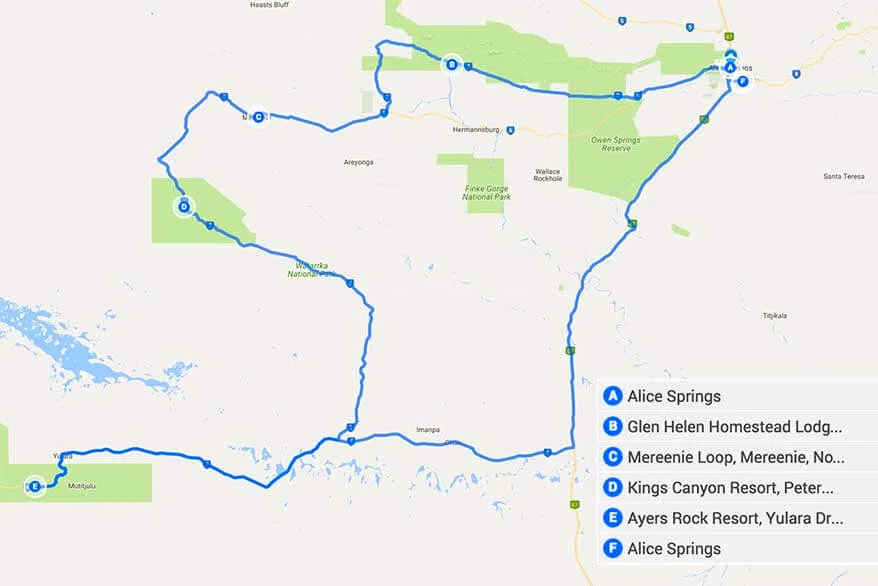 Here's our recommended Alice Springs – Uluru itinerary:
Day 1: Alice Springs
We left Sydney in the morning and after a very scenic flight of less than three hours, we landed in a whole other world – Alice Springs.
It was 2,5 hours earlier in Alice Springs (and we were still dealing with jet lag coming from Europe) and at least 10°C warmer than in Sydney. We quickly threw away the last apples and bananas from our hand luggage in the quarantine bins (for more info check our practical tips for traveling to Australia) and headed to the car rental stands.
We rented a 4×4 vehicle and the one they gave us was full of scratches and had a dented roof. This didn't look promising! They explained to us that it was not the best idea to enjoy the sunset at Ayers Rock from the roof of your car as the previous renters did, and we were set to go.
In principle, you don't need a 4WD vehicle in Australia's Red Centre, since most of the main roads are paved. So if you are driving to Uluru (Ayers Rock) only, you can do it with any regular car as well. We rented a 4WD because we were planning to drive the gravel Mereenie Loop Road – read further for more info.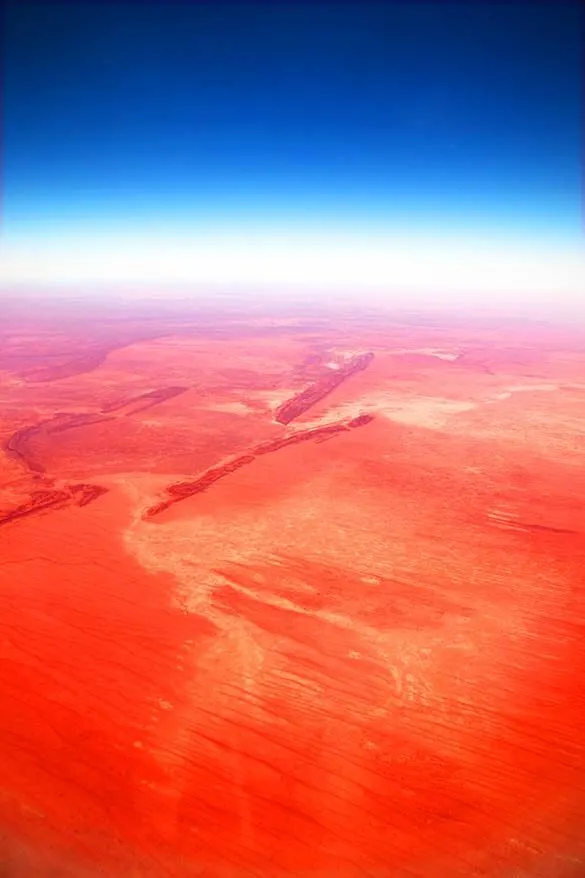 Now back to Alice Springs…
We checked in at our hotel and then headed to the town center which was completely deserted! No wonder, with temperatures around 36°C… And it was only spring – we visited the Red Center in early November.
After a while, we found an air-conditioned shopping mall. It looked like the whole town was there, escaping the heat, just like us… We stocked up on water and food supplies for the next couple of days (there are not many shops in the outback, so it's really a must!). Since there was not much exciting to do downtown, we headed back to our hotel where we spent the rest of the afternoon by the pool.
I still don't understand how it's possible, but all the swimming pools in Australia's Red Centre were freezing cold! The kids went swimming anyway, but we found it too cold and stayed on the side. 32°C in the shadow and the water too cold to swim – you have to experience it to believe it!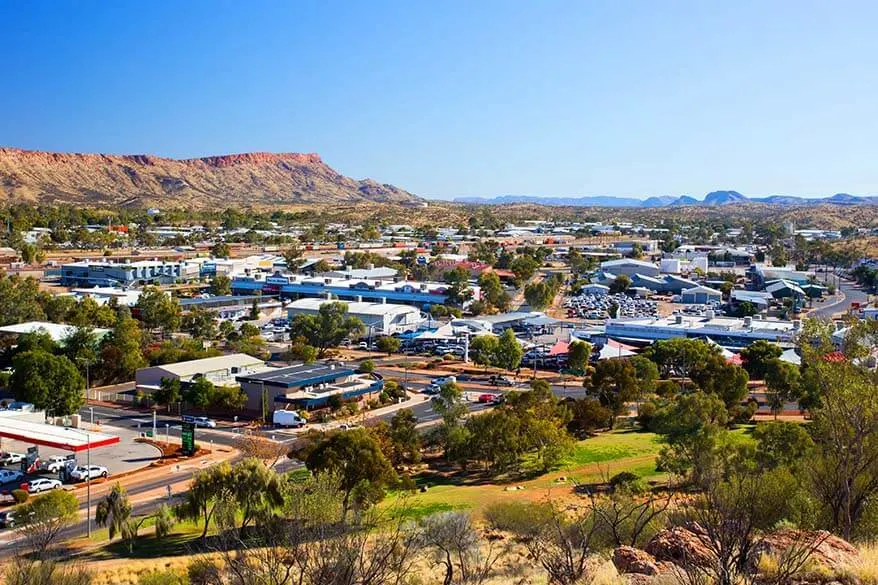 What to See and Do in Alice Springs
While the town itself isn't that impressive, there are quite some activities you can do in Alice Springs. The nicest things to do are nature and wildlife – outside of town.
Here are a few suggestions for things to do in Alice Springs:
Rainbow Valley Conservation Reserve is well worth visiting, especially at sunset. But you do need a 4X4 for driving in the outback.
One of the best organized day tours from Alice Springs is a 4×4 tour to the Palm Valley. It's a place that's not very easy to visit on your own, so if you want to see it, consider a tour.
TIP: Depending on how much you want to see and do in and around Alice Springs, you might want to add an extra day to your itinerary.
Where to Stay in Alice Springs
There are many accommodation options in Alice Springs. We stayed in Alice on Todd self-catering apartments and it was ideal for a family.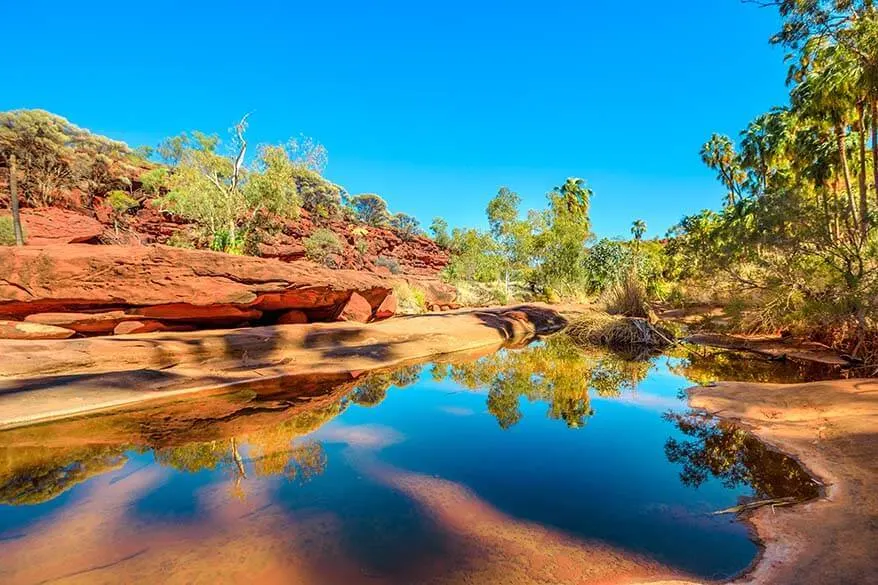 Day 2: Alice Springs – West MacDonnell Ranges – Glen Helen
While you could simply drive from Alice Springs to Uluru, we highly recommend that you include West MacDonnell Ranges (and also Kings Canyon – more info below) in your Uluru itinerary! It will make your trip so much more special!
The drive from Alice Springs to Glen Helen is only 130km and the road is paved. However, there is a lot to see and do in the area, so we took an early start before it got too hot to do anything.
Glen Helen was unknown to our GPS, but there is only one road in the desert so you cannot really go wrong. We followed Larapinta Drive and then Namatjira Drive towards Glen Helen and visited West MacDonnell Ranges along the way.
West MacDonnell Ranges
The West MacDonnell Ranges are simply stunning! There are hiking trails, beautiful gorges, and waterholes where you can swim…
We visited Simpsons Gap, Standley Chasm, Ormiston Gorge, Glen Helen Gorge on the first day, and the Redbank Gorge on the second day, on our way to Kings Canyon. Don't miss this incredible place if traveling to Australia's Red Centre!
LEARN MORE: West MacDonnell Ranges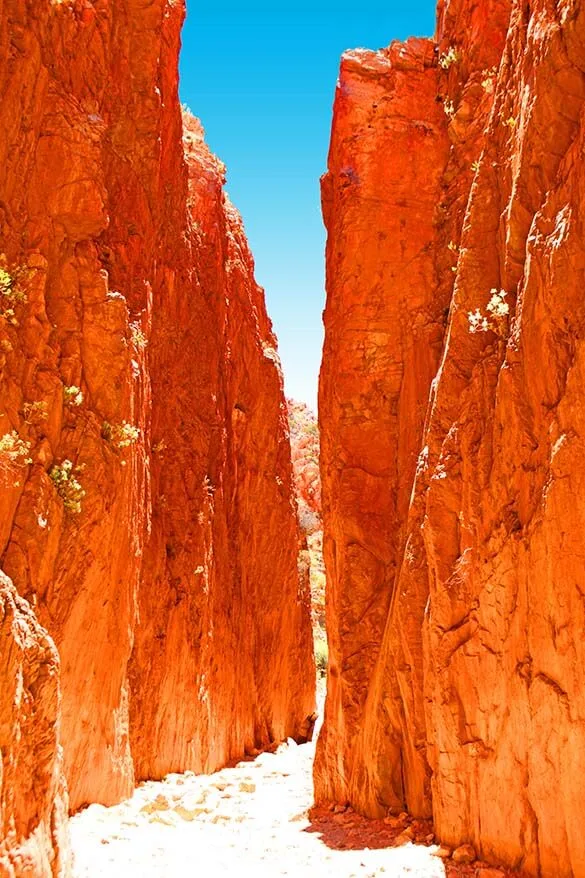 Glen Helen
Accommodation. We stayed at Glen Helen Homestead Lodge for one night. It's a very basic accommodation, but there is really no other option here unless you return to Alice Springs.
I have to add that the food was very good and the location near the Glen Helen Gorge – simply spectacular. If we were to go back to Australia's Northern Territory, I would book at least two nights at Glen Helen and take an extra day to explore the beautiful gorges of West MacDonnell Ranges.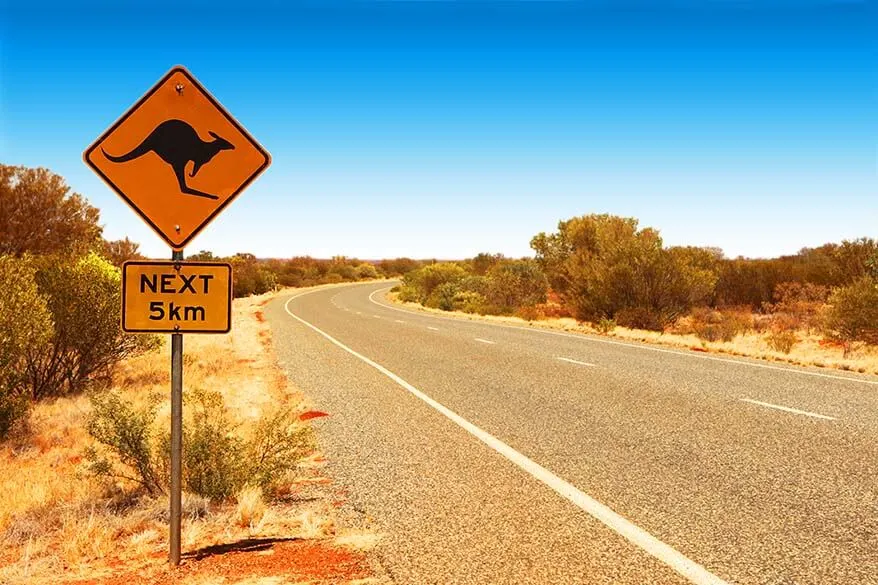 Day 3: Glen Helen – Kings Canyon
There are two ways to reach Kings Canyon – Watarrka National Park.
One is on the sealed road from Alice Springs, Stuart Hwy, Lasseter and Luritja Road. This would take you 6 hours from Alice Springs and about 8 hours from Glen Helen.
The shorter road – the Mereenie Loop Road – is a gravel road through the real outback of Australia. We took this road. See below!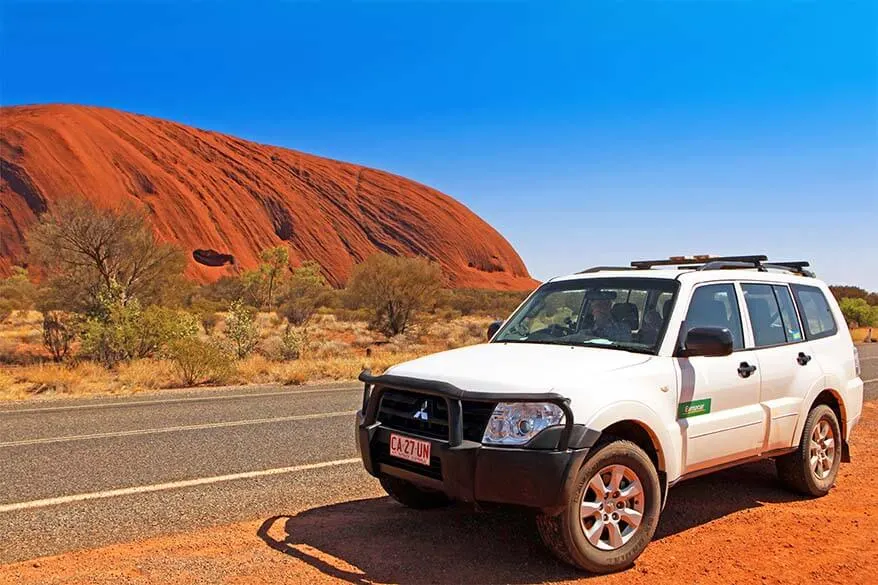 Mereenie Loop Road
We took the Mereenie Loop Road and it took us about 3hrs to get to Kings Canyon from Glen Helen. Three rather stressful hours, I have to say. You're literally in the middle of nowhere: no houses, no shadow, only a handful of other cars and a desert as far as you can see.
Please note that the Mereenie Loop Road is recommended for 4×4 vehicles only. You really shouldn't attempt this road in a standard vehicle. We passed one and they drove so slowly that I don't think they got there by dark. In any case, you cannot do this road with a rented car if it's not a 4×4.
You also need to buy a Mereenie loop permit in order to drive this road (you can get it in your hotel in Glen Helen).
The biggest part of the Mereenie Loop Road is gravel and it was in a pretty bad state when we visited. We found that driving faster made the ride smoother (go figure), but at 80km/h you just have to hope you don't have to stop quickly as that would be practically impossible.
The landscape was somewhat uninspiring along the road, but we got to see a wild camel crossing the road. Somehow I never realized that there were wild camels in Australia. How cool is that! We saw two other animals – a snake and a lizard. But no exotic lizards and no Red Kangaroo (remember Kangaroo Jack?) that we so much hoped to see in the outback…
Fuel is available at Glen Helen and at Kings Canyon, so fill up before driving the Mereenie loop road. It's also a good idea to have water and some snacks with you. Petrol prices were 30% higher at Glen Helen than in Alice Springs and about double of Sydney prices. That's the price to pay for traveling in the outback.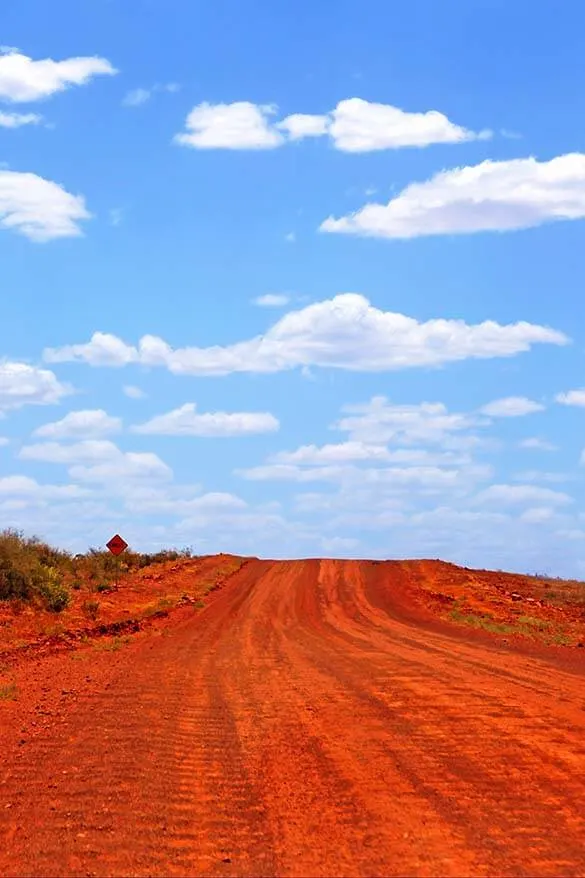 Palm Valley
One place we had heard about but didn't visit was the Palm Valley in the Finke National Park. It's home to the world's oldest river, the Finke River and the Red Cabbage Palm, which is only found here.
You need a 4WD to access Palm Valley (which we had), but it's also such a long drive that you'd either need to spend a night camping there or be prepared to drive for 10-12 hours through the Australian outback in one day. Again, it's not something for a family with very young kids. But I read that some people visit Palm Valley on the way from Glen Helen to Kings Canyon and so apparently it is doable.
Another option would be to spend an extra night in Glen Helen and visit the Palm Valley as a day trip from there. As already mentioned, a good alternative stress-free way to visit Palm Valley is by booking this organized day tour from Alice Springs.
Kings Canyon Resort
Accommodation. Kings Canyon Resort where we stayed for the night was a luxury oasis in the desert! We had two big deluxe rooms with a terrace and a whirlpool with a view over the mountains… What a difference compared to the hotel at Glen Helen! The swimming pool was also cold, but it was bearable and we spent the rest of the afternoon at the pool.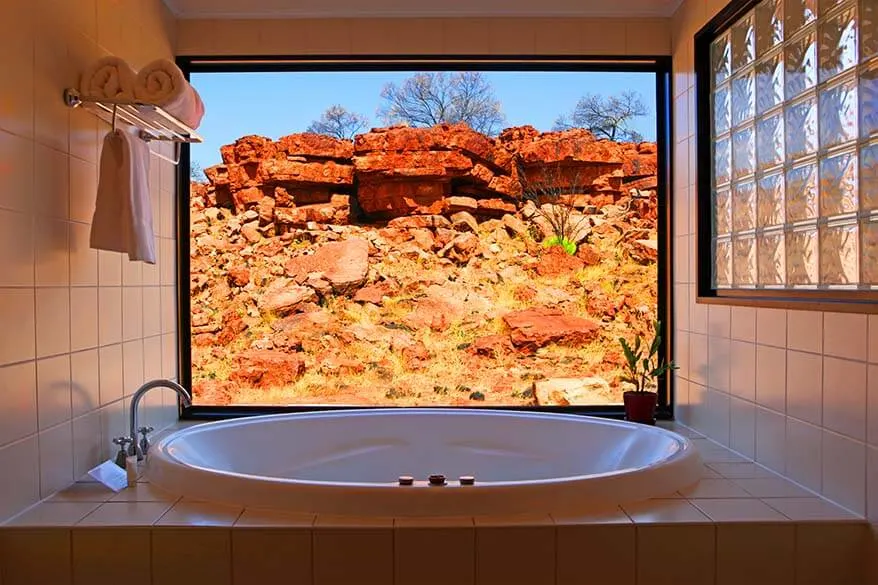 Day 4: Kings Canyon & Driving to Uluru – Kata Tjuta National Park
Kings Canyon – Watarrka National Park
The most beautiful walk at Kings Canyon is the Kings Canyon Rim Walk. It's a 3-4 hour strenuous hike and you have to take a very early start if you intend to do it. It's recommended to start at sunrise, at 6-7 AM and on a hot day they close the starting point of the walk by 9 AM.
With pain in our hearts, we decided not to do KingsCanyon Rim Walk with our kids. The 5-year-old could have probably done it without too many problems, but we just didn't want to take the risk of taking three little kids up there on such a hot day. Temperatures reached 43°C by noon! We could have carried one or even two children if need be, but there is no way we could do this with three kids…
We chose to do the shorter walk at the bottom of the Kings Canyon instead – the Kings Creek Walk. It's an easy yet spectacular walk between the red sheer walls of the canyon. Even the kids were impressed with the beauty around us.

 If you can, try to do both of these walks at Kings Canyon: the Rim Walk first thing in the morning and the Kings Creek Walk when you're back down.
Afterwards we made a short walk at Kathleen Springs. This walk is easily accessible with a stroller, but not very spectacular. It's ok if you are looking to fill your time here, but if you only do one walk, you better go for the Kings Canyon Rim Walk or Kings Creek Walk and skip Kathleen Springs altogether.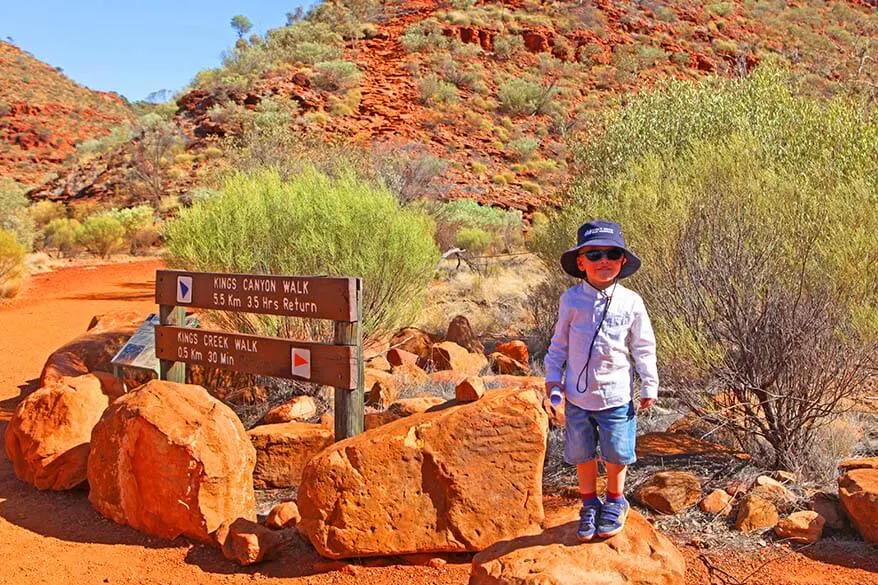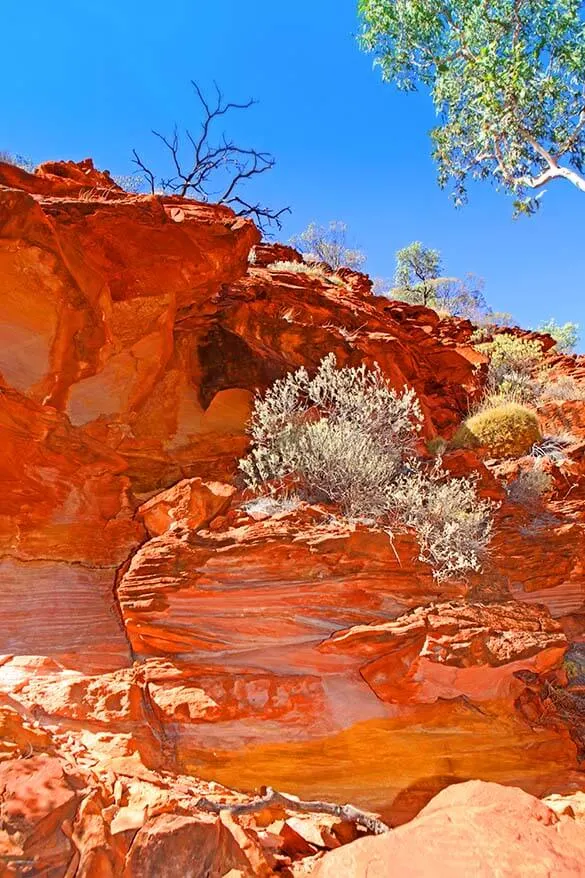 Kings Canyon to Ayers Rock Resort
In the afternoon we left the Kings Canyon and headed towards the Uluru – Kata Tjuta National Park.
The road from Kings Canyon to Uluru (Ayers Rock) is sealed. What a relief after yesterday!
On the way to Ayers Rock Resort, we stopped at Mt Conner outlook. The landscape is very impressive with bright orange/red sand all around you, Mt Connor in the distance, and an endless dried salt lake on the other side of the hill.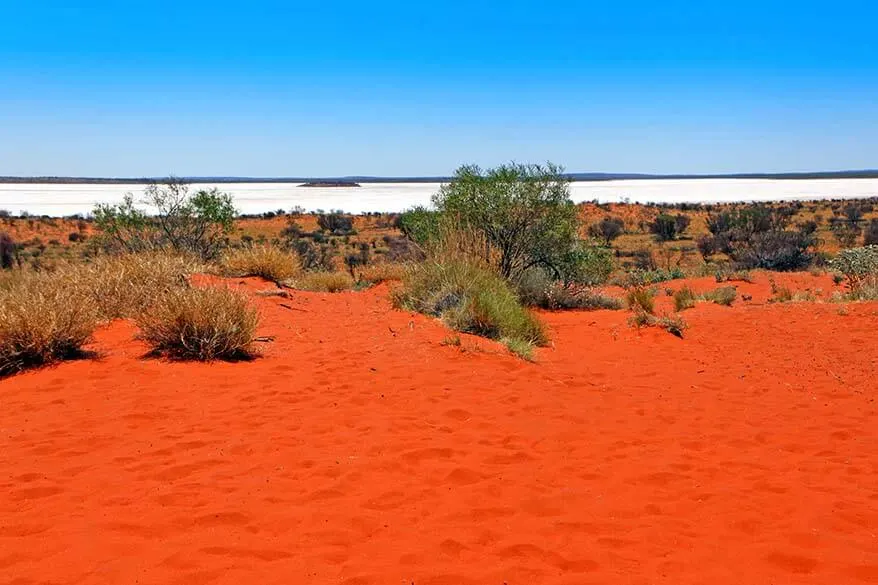 Yulara – Ayers Rock Resort
After a long drive through the beautiful red sand dunes landscape, we finally reached Yulara with Ayers Rock Resort.
Located only 15km from Uluru (Ayers Rock), the resort looks more like a little village with several hotels and other accommodation, a swimming pool, a petrol station, several shops, restaurants, and a small supermarket.
There are several accommodation options at the Ayers Rock Resort:
We stayed at Emu Walk Apartments for 2 nights. This self-catering accommodation is ideal for families with children.
The most luxury hotel at Ayer's Rock is the 5* Sails in The Desert
A bit cheaper 4* accommodation – Desert Gardens Hotel
The best-priced hotel at Ayers Rock is probably the Outback Pioneer Hotel
If all of the above are above your budget, the only other option is the Ayers Rock campground.
Sunset at Uluru – Ayers Rock
We decided to visit Uluru at sunset. There are just a few areas where you are allowed to park and watch the sunset, so we headed to one of them.
We found a huge car park that was full of cars and tourists. Some people were cooking dinner, some others were sitting on the roof of their cars (not a good idea, remember? :)) having a drink, somebody was singing… We counted almost 50 tripods and at least a hundred camping chairs. Unbelievable! It reminded me of those images you see on the news when thousands of people gather together expecting the end of the world… What a circus!
And as it often goes when expectations are this high, the reality disappoints. If you are looking for a romantic sunset experience at Uluru-Kata Tjuta, you may want to go somewhere else than the designated 'sunset parking'.
The Olgas (Kata Tjuta) looked much nicer from afar, so that might be a good place or the base of Uluru itself. It will definitely be quieter.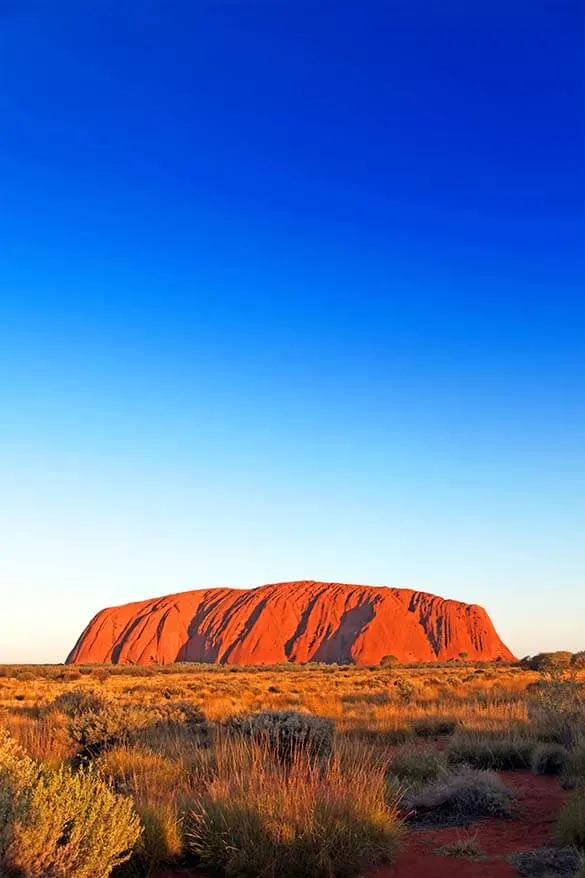 Day 5: Uluru – Kata Tjuta National Park
The highlight of any Uluru itinerary is a visit to the Uluru – Kata Tjuta National Park itself. If you don't plan to hike much and the weather is not too hot, you could easily see everything here in just a day. We split our sightseeing over two mornings and could see everything we wanted and even do some hiking.
It was really hot when we visited Uluru. So we started the day early again because we wanted to try to do as much as we could in the morning before it got too hot to even be outside. Daytime temperatures were simply not human in November!
As if that was not enough, there were a lot of flies here. Swarms of flies EVERYWHERE. They were on your face, the lips, inside your nose, and your ears. That's something you don't see on the postcards or in promotional movies…
If I could give you one piece of advice it would be to bring a mosquito head net with you. They sell them in the area too, at about six times the regular price, but by the time you realize you need one, you are nowhere near the shops…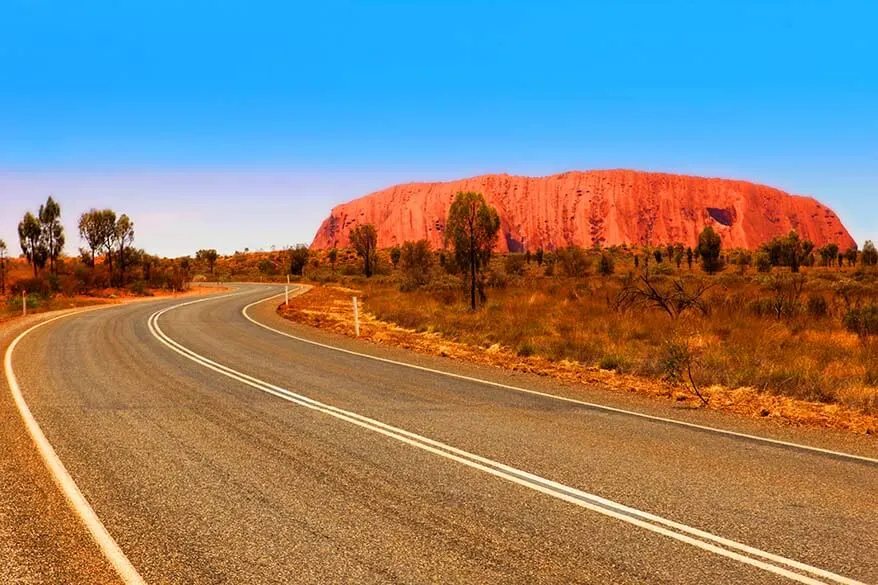 Hiking at Kata Tjuta (The Olgas)
The Olgas, or Kata Tjuta, are extremely spectacular, in a way more special and maybe even more impressive than the Ayers Rock. They are bright red in the midday sun and the view changes constantly as you approach these amazing rocks.
Our first stop was at the Kata Tjuta Dune Viewing Area. It's only a short walk from the car (wheelchair accessible) and definitely worth a stop. Millions of flies though, so once again a head net would have been really useful!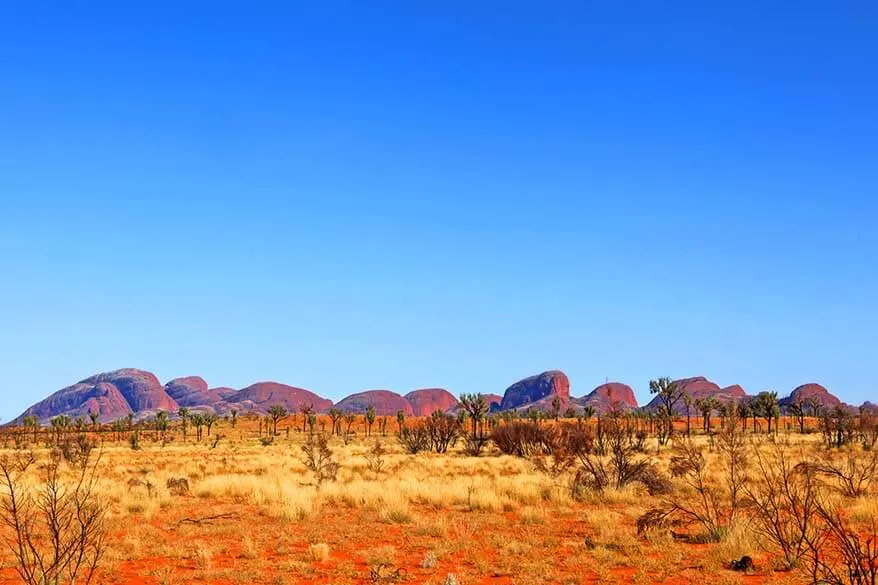 There are lots of beautiful hikes at Kata Tjuta and while not strenuous, they can become practically not doable in the desert heat, with or without kids. Some walks get closed at 9 AM because of the heat, so if you plan to do any hiking, start very early.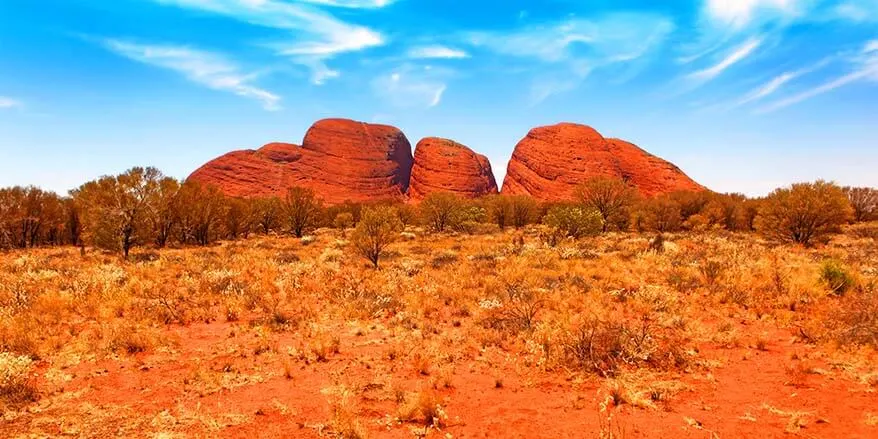 Walpa Gorge Walk at Kata Tjuta
We chose the Walpa Gorge walk since it was an easy short walk (2,6km, 1hr return) and we simply loved it! Phenomenal views along the way! If you are planning a trip to Uluru, make sure to visit Kata Tjuta as well!
LEARN MORE: Walpa Gorge Hike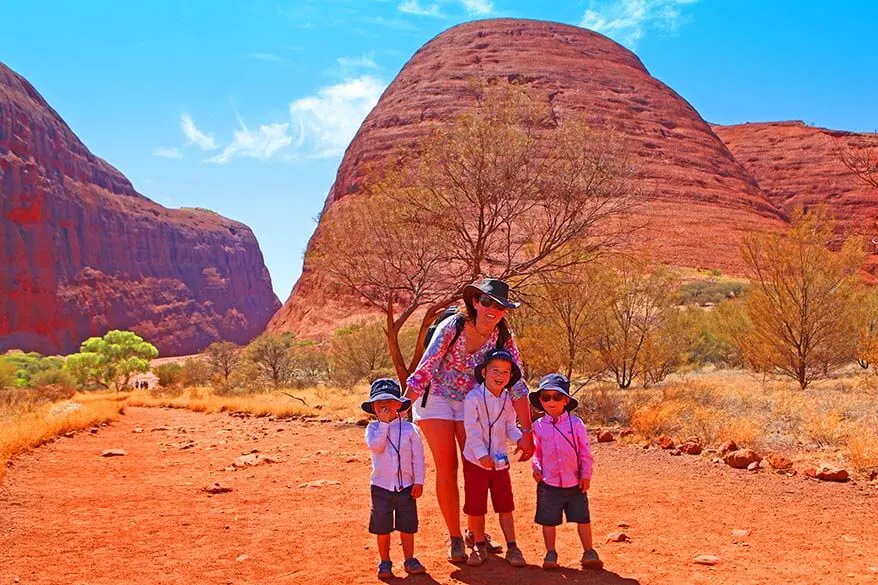 The Valley of the Winds
The Valley of the Winds Walk is said to be the most beautiful walk of Kata Tjuta. It's a strenuous long walk (7,5km, 4hrs round) and it's definitely not for everyone, certainly not in high temperatures. We didn't even consider it.
However, you can easily do a part of the walk up to the Karu lookout point (2,2km, 1 hr return). I went on my own (my family decided to have a picnic in the air-conditioned car instead) and it took me half an hour return (I do walk fast). It was definitely worth the walk!
More Things to Do in Uluru
Hiking is not the only way to experience the Uluru – Kata Tjuta National Park.
Here is a short overview of some amazing things to do at the Ayers Rock: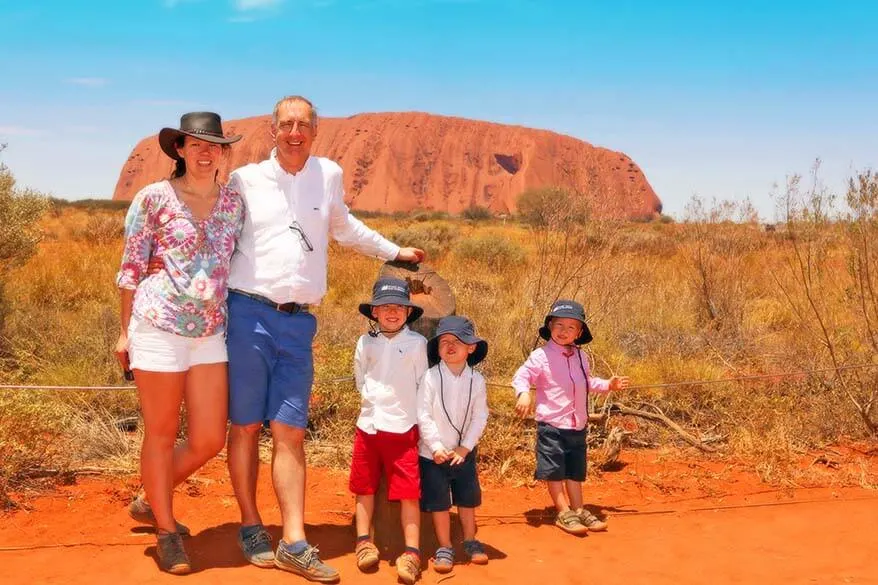 Day 6: Uluru (Ayers Rock) and back to Alice Springs
We had seen Uluru from a distance several times already – the classic view you see in all holiday brochures. But on our last day, we drove to the base of Uluru in order to explore it from close-by.
We found that it is so much more impressive from close by than it is from a distance!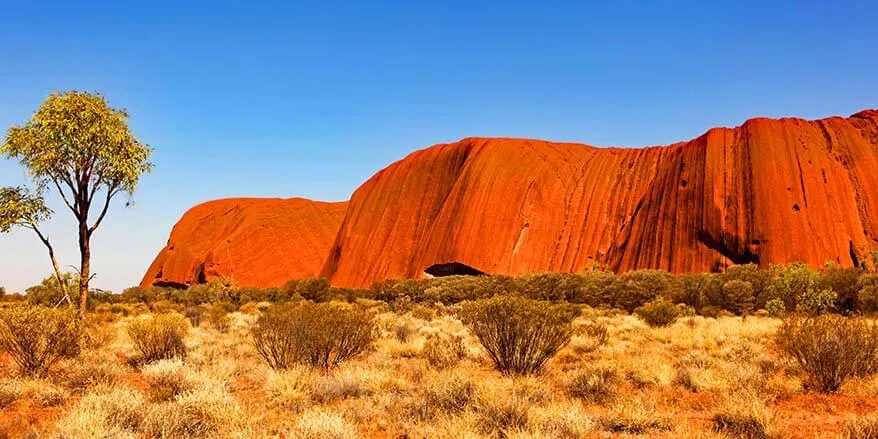 Climbing Uluru
There are several walks you can do at Uluru. You can opt for the Uluru Base Walk (10,6km, 3-4 hrs) that goes all the way around Ayers Rock, or you can choose one of the shorter options – sections of the long walk.
All the walks at Uluru are easy as the terrain is flat. When we visited, it was possible to climb Uluru, but Uluru is a sacred aboriginal site, so we chose not to do it. Nowadays, it's forbidden to climb Uluru and I strongly urge you to respect this.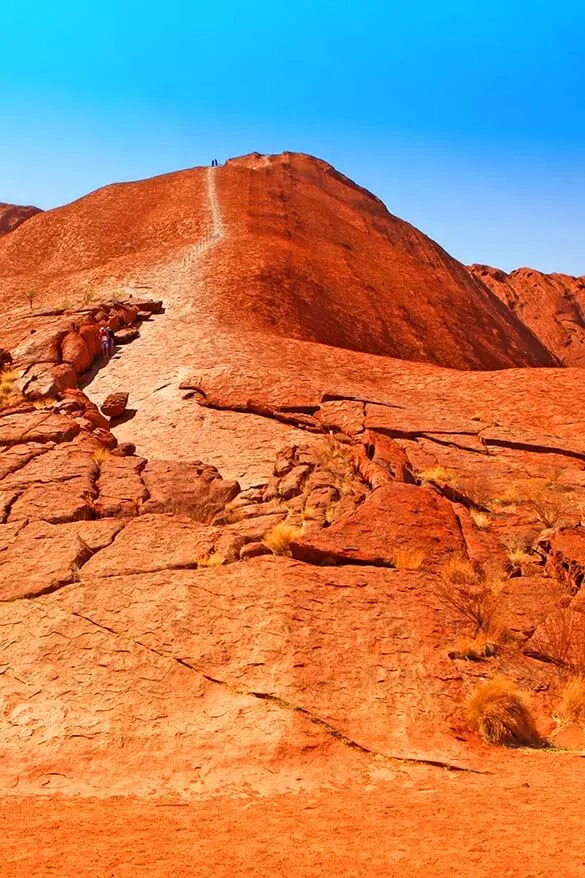 Uluru Base Walk
Uluru Base Walk is one of the best hikes you can do at Uluru. However, it's a long hike of over 10km and takes at least 3,5-4 hours to complete.
It looked very nice, but it's too long for a family with three young kids visiting in the summer. Instead, we decided to drive around by car and stop at some places to experience Uluru from close by. Of course, it's not the same, but it's definitely worth the short drive and it is a good alternative if for whatever reason you cannot do the long base walk.
If you like to get to know the aboriginal culture a bit more, make sure to visit the Aboriginal Cultural Centre as well. It's a bit busy though as this is where all the tour busses stop. But this is also the only place where it is busy in Australia's Red Centre. You'll see no busses at Kata Tjuta, and you won't meet groups of tourists on any of the walks.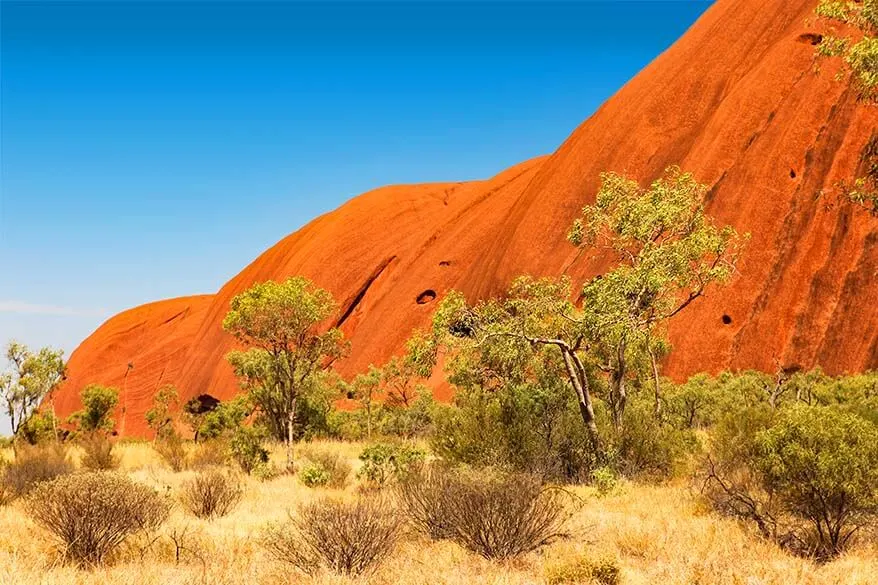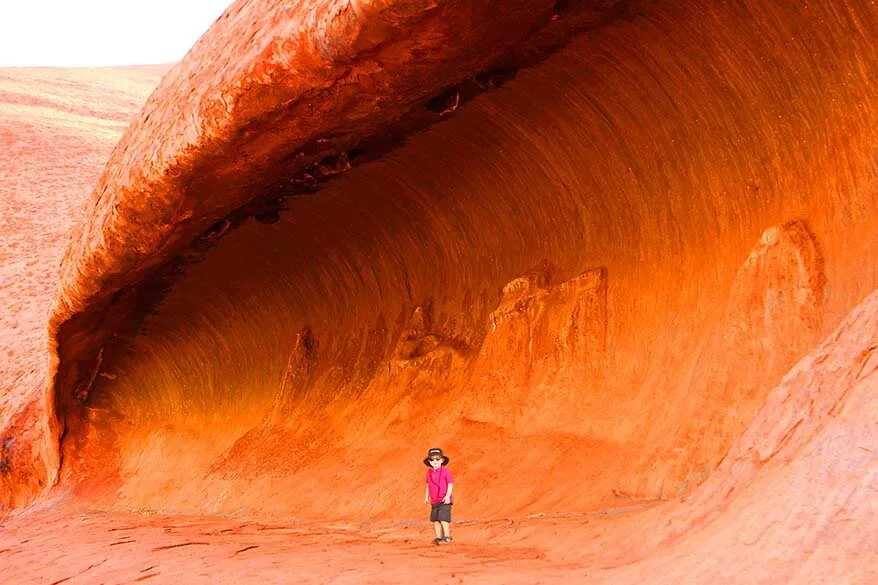 Mala Walk to Kantju Gorge
Based on some recommendations we found before our trip, we opted to do the Mala Walk to Kantju Gorge (2km, 1,5hr return, wheelchair accessible) and it didn't disappoint! Magnificent scenery all around!
You have to see Uluru from close by to truly appreciate how special it is! It's not 'just a rock' as someone told us before the trip. I would go back all the way to Australia to see it again and to explore this extraordinary region more in-depth.
The Mala Walk takes you to the profoundly peaceful Kantju Gorge. Sheer vertical walls and aboriginal rock paintings (Anangu rock art) make this walk really special. The kids enjoyed it a lot, and so did we.
Practical info: the Mala walk is flat and completely accessible for wheelchairs or strollers. This walk is partially in the shadow, so it can be done even when it's really hot. Once a day (at 8 AM or 10 AM, depending on the season) you can join a free ranger-guided Mala walk, but the place was so peaceful that we definitely wouldn't have wanted to share this experience with a group.
You can find more info in regards to Uluru and Kata Tjuta walks on the official website of Parks Australia.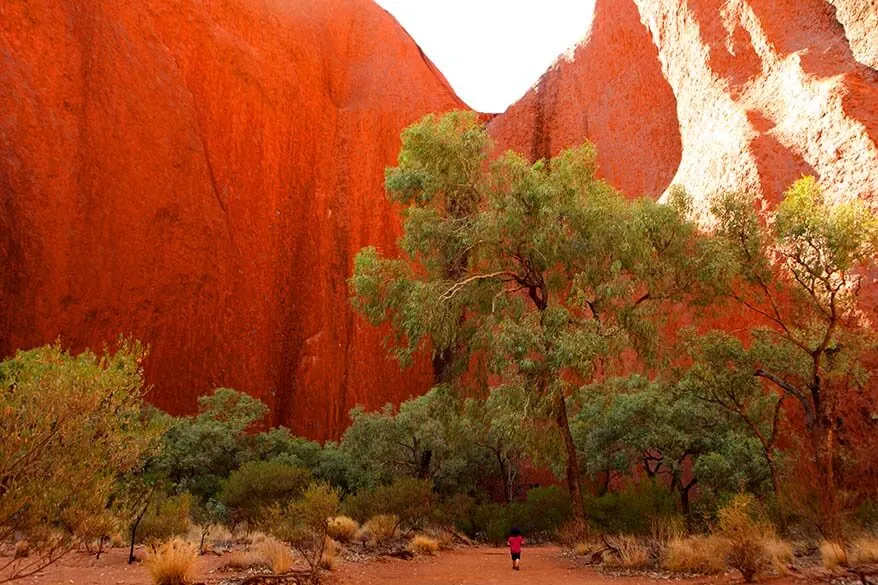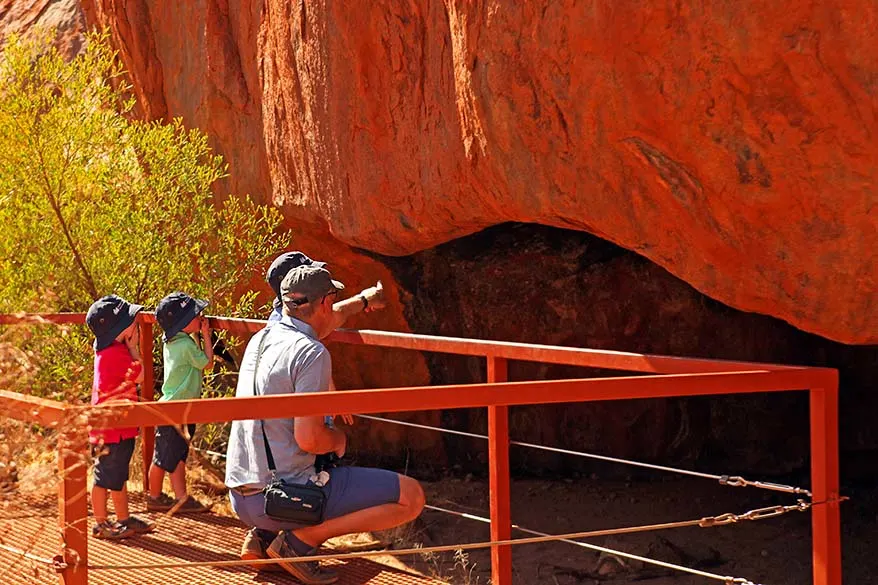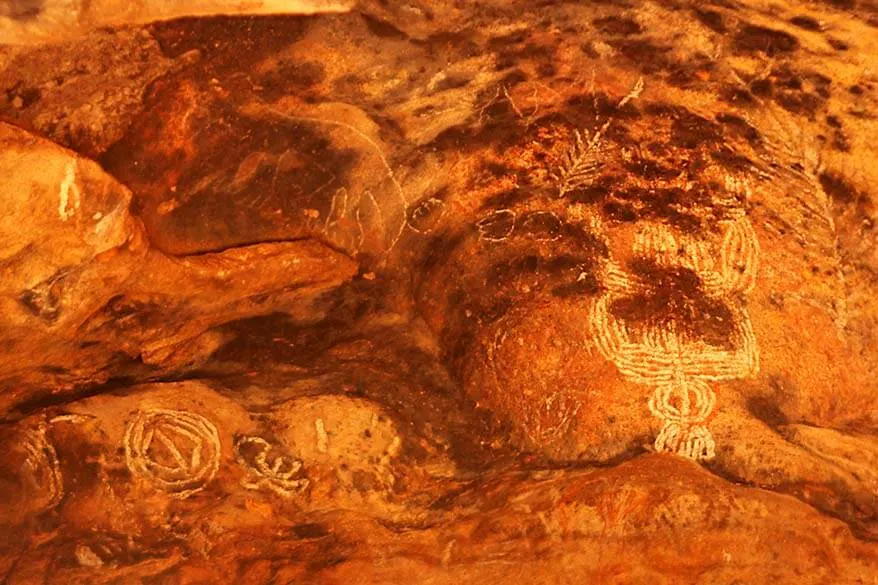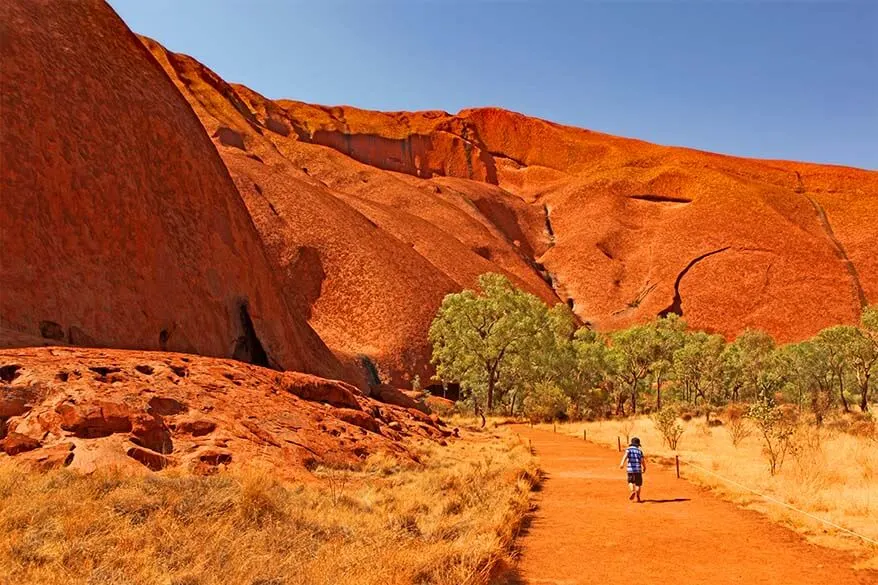 Uluru to Alice Springs
In the afternoon we left the Uluru – Kata Tjuta National Park for a long drive to Alice Springs. The road from Uluru to Alice Springs is sealed all the way. The driving distance is about 470km and it takes at least 5 hours. It took us 6 hours, photo stops included.
There is not much to see along the way, so we didn't plan any stops. However, the first section of the highway has amazing scenery. You drive through a spectacular landscape with red sand dunes as far as the eye can see. A truly phenomenal sight!
At this point, we realized that we didn't take any pictures of the red sand, and so we made a short photo stop in the desert. It was over 45°C and my family proclaimed me mad for getting out of the car to photograph sand, but as far as I'm concerned, I would do it again!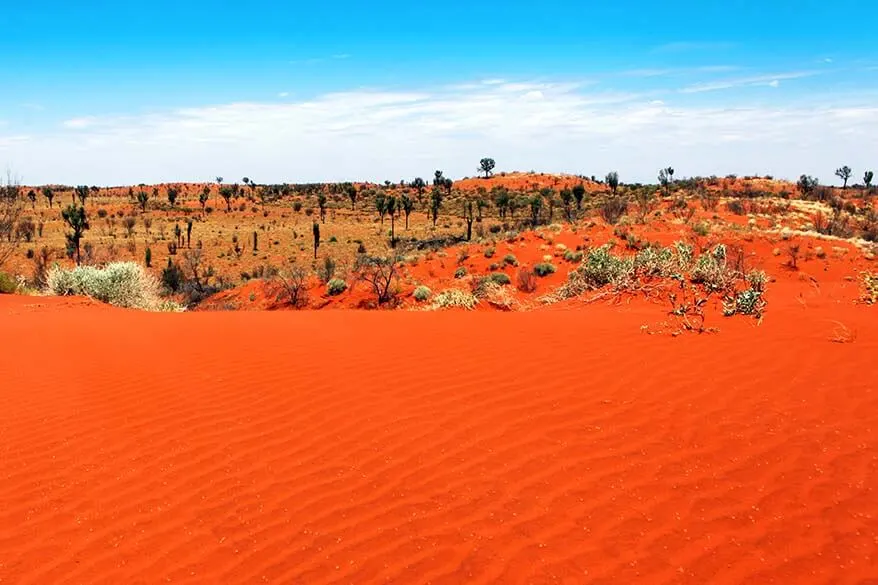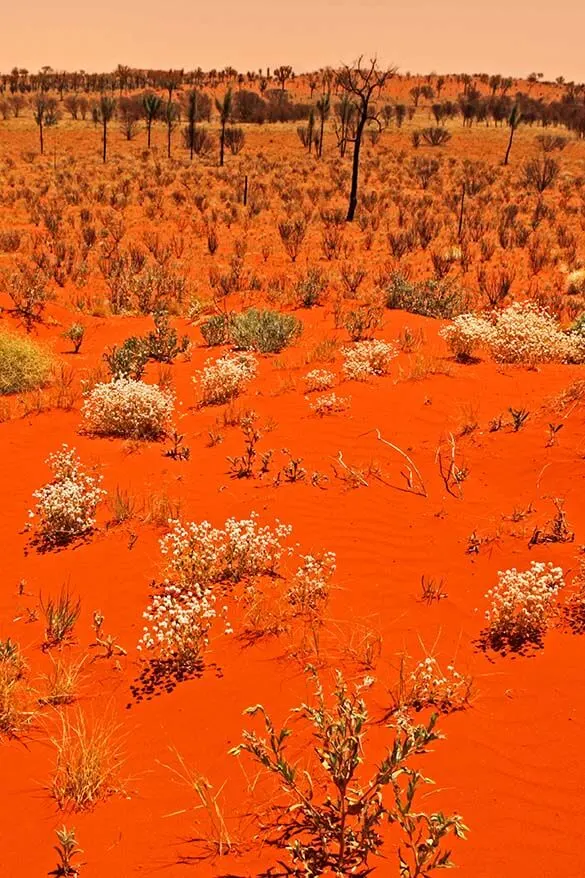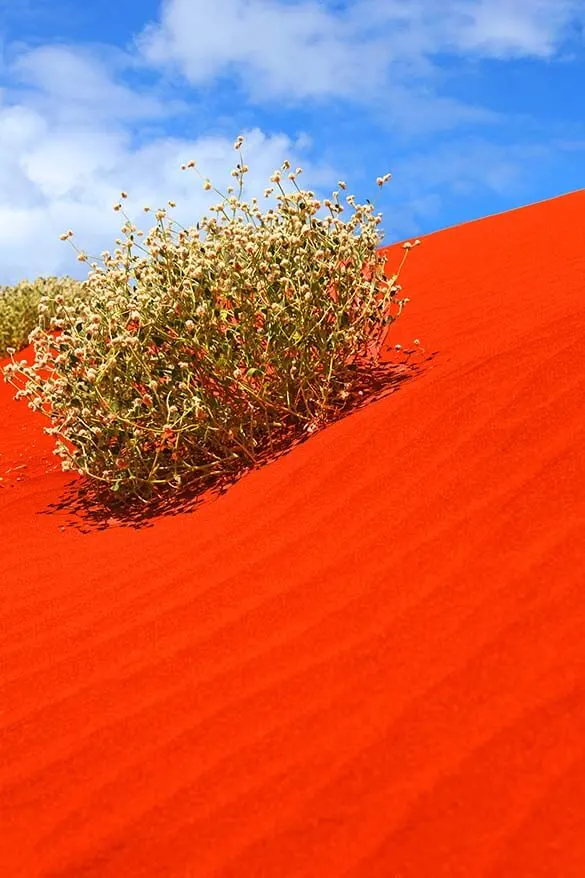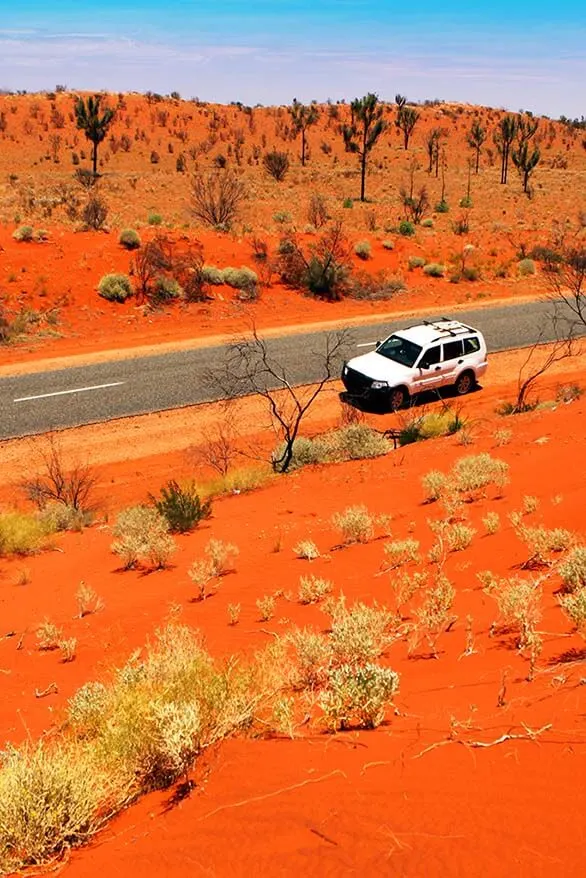 Back in Alice Springs
In Alice Springs we stayed at the same hotel as on the first night of our trip in the Red Centre – Alice on Todd. It felt like coming home.
The next day we flew to Adelaide from where we continued our Australian trip with a visit to Kangaroo Island, Great Ocean Road, and later also Tasmania. It was 20°C colder in Kangaroo Island than in Alice Springs and it probably made the whole Red Centre experience even more special.
Australia is so big and there is so much to see that we are definitely planning to return one day. If there is one place I would definitely want to visit again, it's the Red Centre!
Below are those Red Centre trip suggestions I promised for budget travelers. Take a look!
Australia's Red Centre on a Budget
If you have a limited budget and don't want to spend money on expensive resorts and 4WD rental, there are several multi-day camping tours available in the Red Centre.
Most of them start and end in Alice Springs, which saves a lot of money and time. It might look not so cheap in the beginning, but if you consider the cost of a 4WD rental car, hotels, and food, it is. Especially if you're traveling solo or just with two people.
Here is the best highly-rated budget-friendly Australia's Red Centre camping tour that I found – the 3-Day Uluru – Kata Tjuta – Kings Canyon Camping Tour.
So, this is our Uluru itinerary starting and ending in Alice Springs.
As you can see, in 6 days, you can see all the highlights of Australia's Red Center. If the temperatures are cooler when you travel, you could do much more hiking and explore most of the places deeper, or you could do a similar trip in 4-5 days as well. It's really a matter of planning well and using the best hours of the day wisely.
Enjoy your trip!
More travel tips for Australia:
If you found this post helpful, don't forget to bookmark it and share it with your friends. Are you on Pinterest? Pin this image!