Planning a one day trip to Melbourne and looking for tips on how to see the best of Melbourne in one day? Wondering what are the best things to do in Melbourne or how to best plan your time? This article with insider tips and recommendations should help you make the most of your short time in the city. Read on!
Melbourne is one of Australia's most lively and vibrant cities and there is plenty to see and do! Known as a foodie destination, but also for its colorful street art and stunning architecture, Melbourne also has some excellent museums, as well as sporting and cultural events…
With so many awesome things to do in Melbourne for the whole family, you could easily spend a week or more in the city and doing day trips nearby. However, if you're just passing through and want to see the best of Melbourne in a day, then this guide should help you do just that.
In this article, we cover the best things to do on your first trip to Melbourne, focusing on the main highlights. In addition, you can find a map, tips for getting around the city, and recommendations for the best places to stay. We also included a suggested one day Melbourne itinerary. Find out!
The author of this guide is Melissa who is the writer behind Thrifty Family Travels and Queensland Camping. She lives in Queensland, Australia, and has visited Melbourne many, many times. So this one day Melbourne itinerary is filled with insider tips that should help you make the most of your short trip to this bustling city.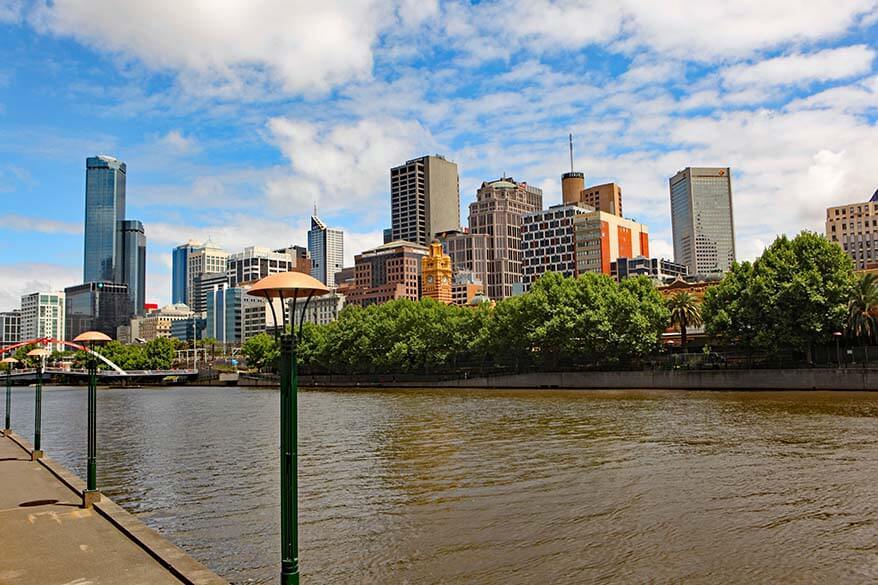 Getting Around Melbourne
First things first. The easiest way to get around the Melbourne city center (aka Melbourne CBD) is on foot and by tram. The next thing you need to know is that Melbourne has an awesome City Circle Tram system that is FREE of charge.
This free tram route operates in a circle and you can travel in both directions (here you can download the tram map). With trams running every 12 minutes, this is a very convenient way to get around the city center.
If you happen to stray a little bit too far from the City Circle Tram route, you can use rideshares like Uber or DiDi. That way you don't waste too much time.
Hop-on hop-off sightseeing bus is also a good option for those who want to see as much as possible in a day. The bus is not really necessary if you are only planning to stay in the city center. But if you want to see more of Melbourne and visit places that are a bit further away, then this is probably the best way to do it in just a day.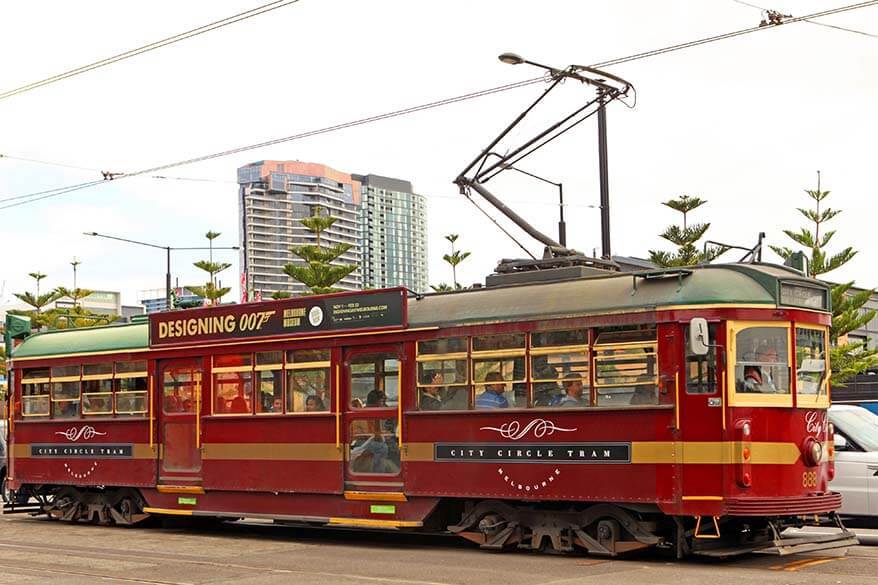 Map
The actual CBD of Melbourne is not overly big, so you can see quite a lot in a day. To help you work out where everything is, I've put together this map so you can easily make your way around the city.
You can easily walk between many of the attractions and take a tram for the places that are somewhat further away.
How to Use This Map: Use your computer mouse (or fingers) to zoom in or out. Click on the icons to get more information about each place. Click the arrow on the left top corner for the index. Click the star next to the title of the map to add this map to your Google Maps account. To view the saved map on your smartphone or PC, open Google Maps, click the menu button, and go to 'Your Places'/'Maps'.
Now that you know how best to get around the city and where everything is, let's take a look in detail at what you can see and do in Melbourne in a day.
Things to Do in Melbourne in 1 Day
Flinders Street Railway Station
Flinders Street Train Station is one of the main train stations in Melbourne. The building that houses the station is over 100 years old and pretty impressive. It's an iconic landmark and one of the places to see in Melbourne.
The art nouveau style building backs onto the Yarra River and has a prominent dome, arched entrance, tower, and numerous clocks. If locals tell you "let's meet under the clocks", you'll find them here. The building is exquisite both inside and out and well worth a few minutes of your time.
Here's an interesting fact. Not only is the building impressive, but the railway station is also home to Australia's longest train platform. With 708 meters (0,44 miles), it is also the 4th longest platform in the world!
The pedestrian crossing outside the station is one of the busiest in all of Melbourne. It's an experience in itself. Crossing the road here is something that you really should do when visiting the city; just be careful!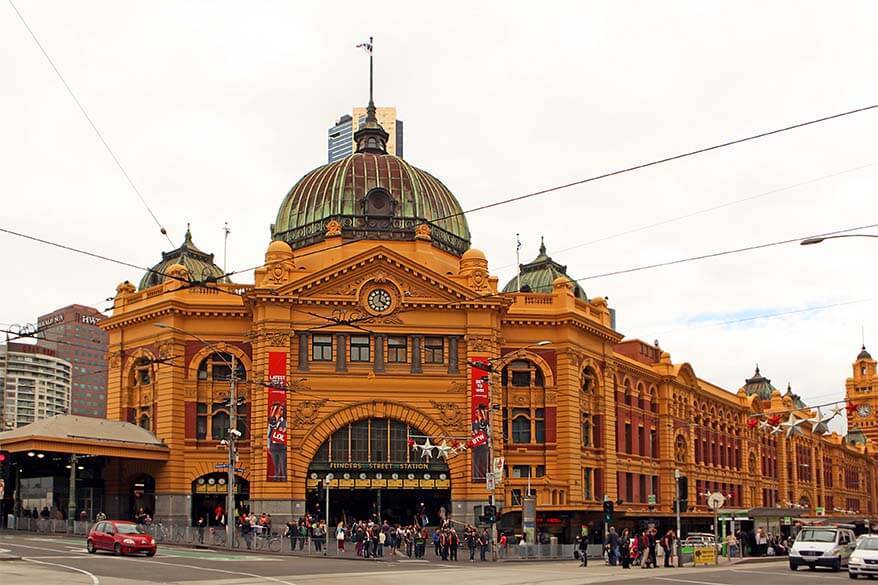 Federation Square
As you walk across the road from Flinders Street Train Station, you'll arrive at Federation Square. It's a bustling heart of the city with restaurants, bars, and a few shops. It's also a very popular venue for various events. There always appears to be something going here!
The square holds around 2000 events each year such as New Year Eve celebrations, the Melbourne Festival, the Melbourne Food & Wine Festival. It is also the site for various public rallies. You can check their official website to see what's happening there on the day of your visit.
If there is nothing happening on the day you visit, you could spend an hour or so at the Australian Centre for the Moving Image (ACMI) which is located here. The exhibition is free and is an interesting showcase of how TV, film, and other forms of entertainment has evolved over time in Australia. Often, they also have other exhibitions as well.
TIP: While you're here make sure you pop on over to the steps of St Paul's Cathedral for a great view of the area.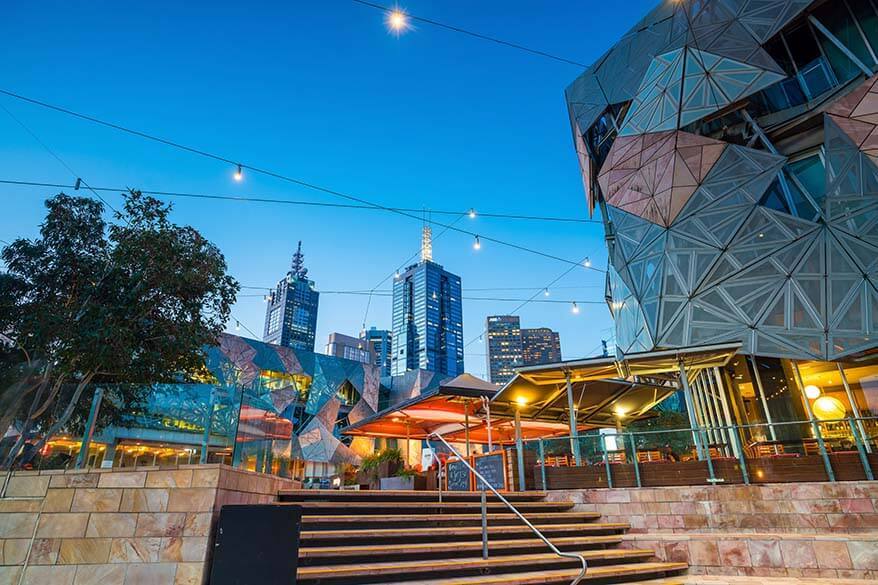 Street Art & Melbourne Laneways
Melbourne is a hip city. Its famous narrow laneways are lined with trendy cafes and colorful street art is one of the city's most popular attractions.
If you like looking for street art, I recommend downloading this Melbourne street art map. It will save you time and you'll be able to see the best places.
Alternatively, just head to Hosier Lane. That's where the most famous artwork is located. As you find your way there, peer down the various narrow laneways and side streets. If you see a group of people standing around, chances are big that there is some great street art here.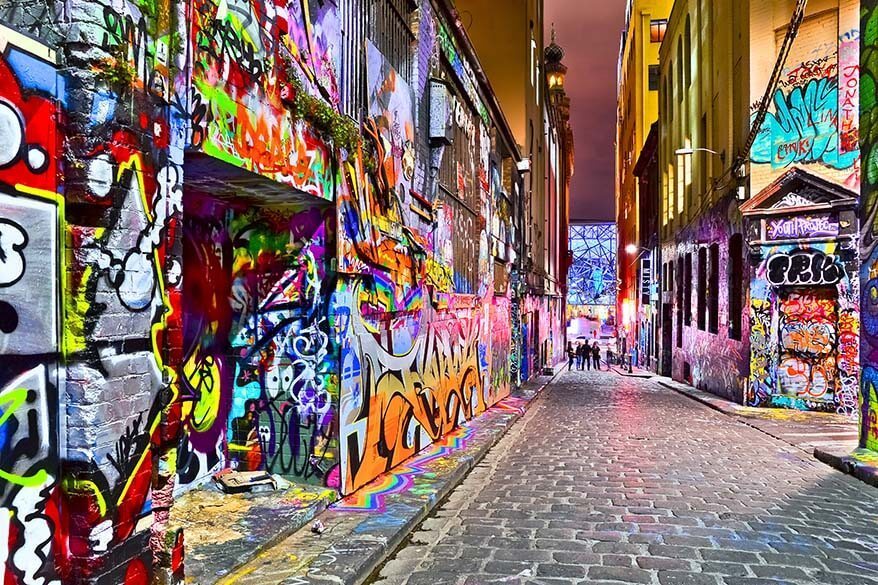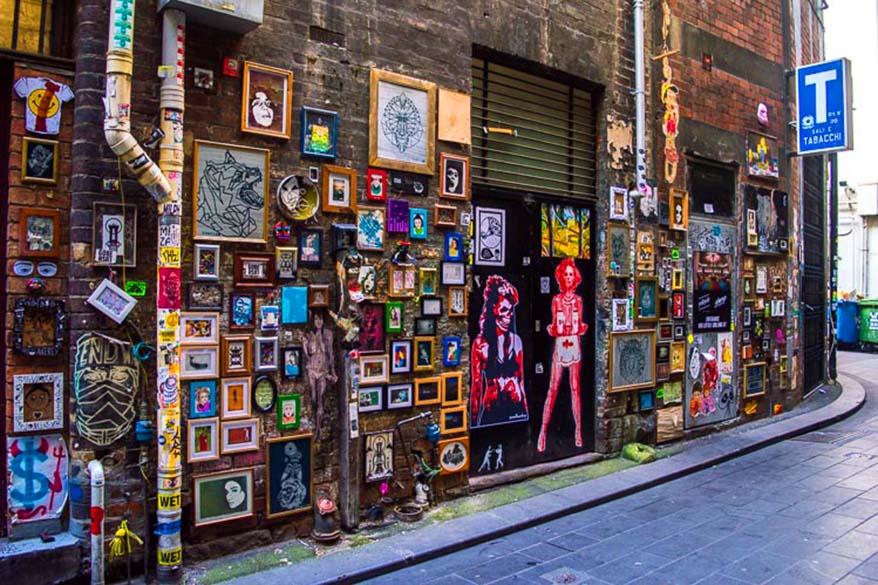 Coffee & Shopping Arcades
Supposedly Melbourne has the highest density of cafes and restaurants per capita than anywhere else in the world!
As you stroll around in this area, you'll come across many excellent little cafes hidden away. It might be a good time to stop for a morning coffee or a brunch. If you can't find anything that you like, then head to Degraves Street. Here, you'll find lots of cafes with outdoor seating.
If you're into your shopping you'll also find a range of super cute boutiques in the area too. Or head to one of Melbourne's shopping arcades. Even if you are not planning to do any shopping, some of these historic arcades are well worth seeing. Check out the Royal Arcade and the Walk Arcade (both on Bourke Street), and also the Block Arcade on Collins Street.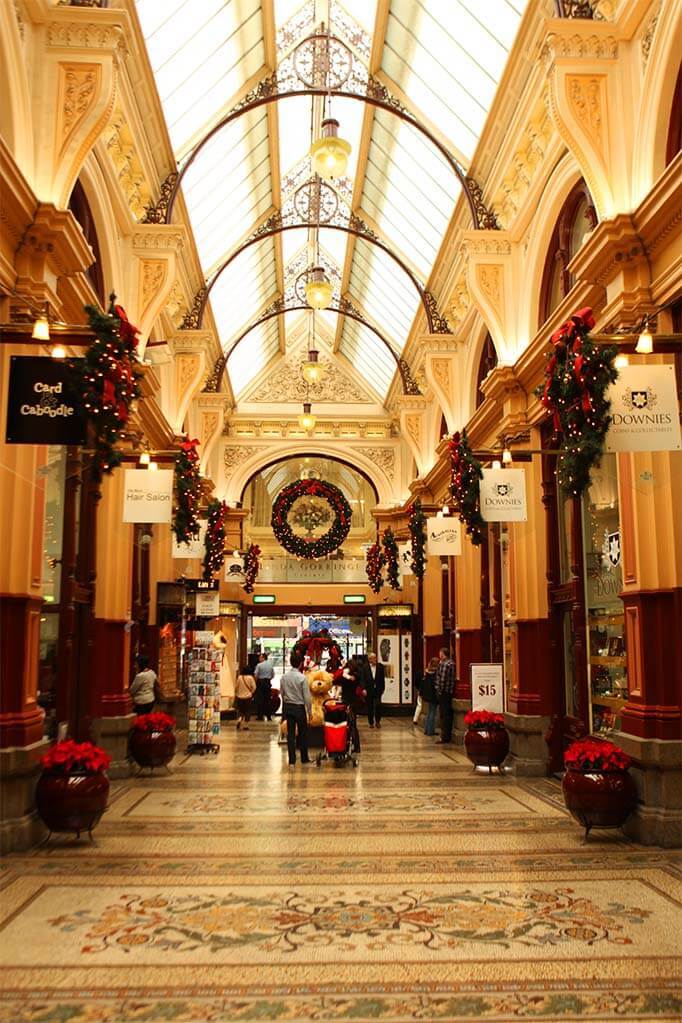 Eureka Skydeck
Next, head back out towards the Yarra River and take the footbridge to the other side. The area on the other side of the bridge is called Southbank. It's home to a range of restaurants, the Crown Casino and the Eureka Skydeck.
The Eureka Skydeck is the tallest viewing platform in the Southern Hemisphere. It's a great place to get 360-degree views across the city. The Skydeck is located on the 88th floor, but you wouldn't know it because the elevator ride takes just a few seconds.
If you have no fear of heights, you may want to try the "Edge Experience". This is the Southern Hemisphere's highest viewing platform, a glass cube that sticks 3 meters out from the side of the building offering amazing views. It's a truly exhilarating experience.
TIP: With just a day in Melbourne and limited time, it's best to get the entry tickets in advance. On busy days, it can save you quite some time.
Good to know: You don't need more than 15-20 minutes at the Eureka Skydeck. So it's something that you can easily add to your one-day itinerary in Melbourne.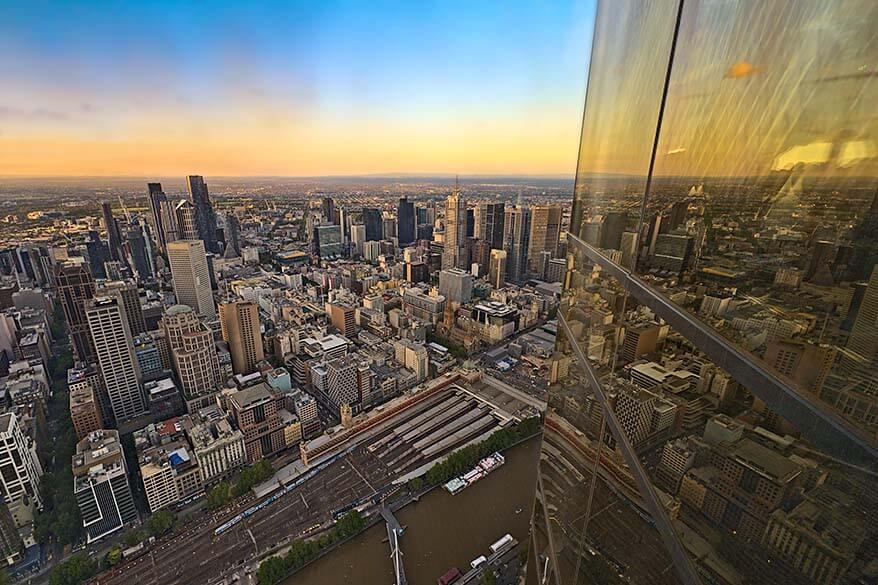 Cruise on the Yarra River
If you're up for it and time permits, why not take a Yarra River Cruise. It's a great way to get a different perspective of the city and see many different areas, especially for those who only have limited time. During the cruise, you can sit back and relax as you take in the various city landmarks. It's also a good way to rest your legs from all the walking.
Some of the highlights of the river cruise include seeing the West Gate Bridge, a 19th-century sailing ship, the Polly Woodside, Docklands Crown Entertainment Complex, Princes Bridge, Melbourne Cricket Ground (MCG), Government House, Olympic Park, Herring Island, the Royal Botanic Gardens, and many more.
There are a variety of river cruises available from either the Southbank side of the river or by the Federation Square. So, depending on which side you take your cruise from, you can either do this before or after visiting the Eureka Skydeck.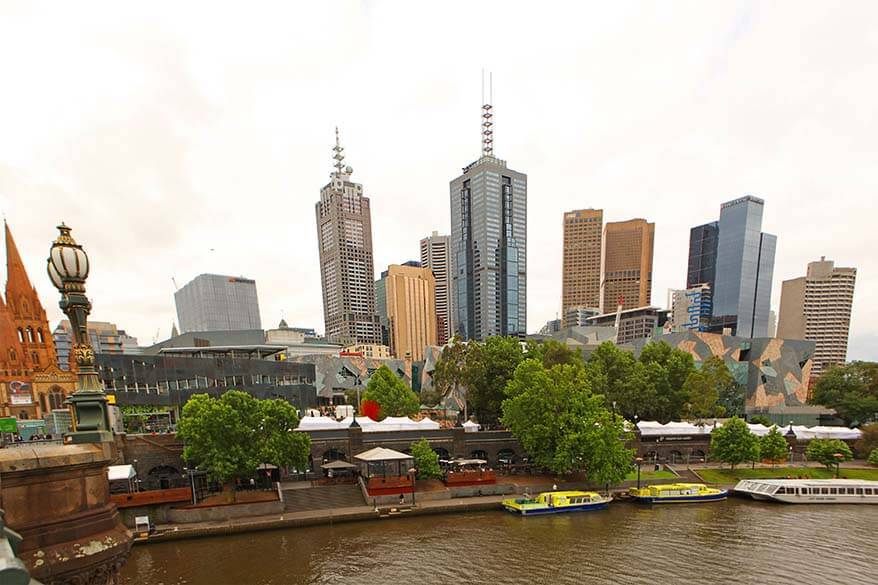 Queen Victoria Market
No doubt by now you've well and truly worked up an appetite. So head on over to the Queen Victora Market for lunch. This is the largest open-air market in the Southern Hemisphere and features some of Melbourne's most delicious food!
This place is huge! Any food you can think of, you will find it here. From delicious cheeses from around the world, smoked and cured meats, locally produced wines, freshly cooked donuts, and loads more… So make sure you come with a healthy appetite.
As well as unbelievable food and fresh produce, Queen Victoria Market also houses some great stores selling clothes, antiques, and Aboriginal arts and souvenirs.
Good to know: Queen Victoria Market is open daily except for Mondays and Wednesdays. It closes at 3 PM on weekdays and at 4 PM on Saturday and Sunday. It's located a bit further away from the previously mentioned attractions, so you may want to take a free tram to get here faster.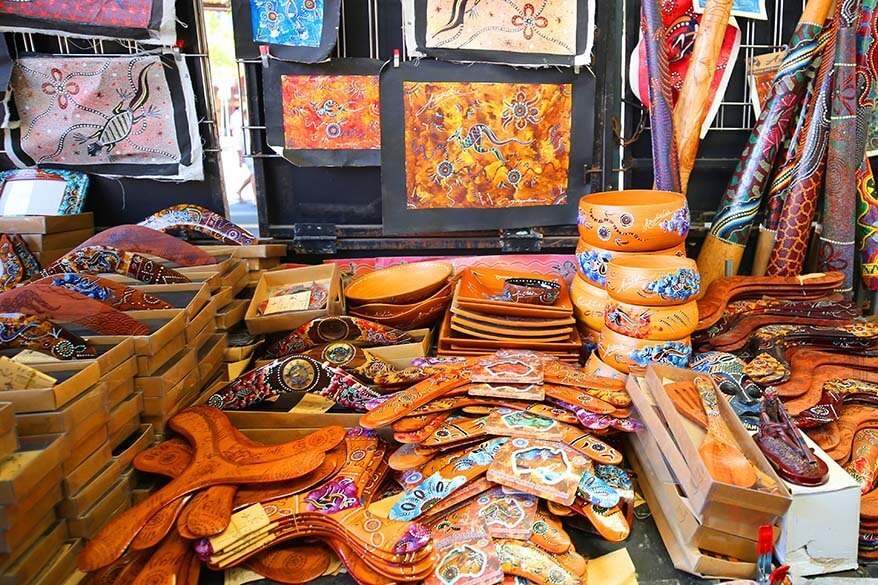 Visit one of the Melbourne Museums
In the afternoon, check out one of the city's various museums in Melbourne. Depending on your interests, there are loads of options to choose from. With just one day in the city, I suggest you pick just one of the places mentioned below.
A few blocks from Queen Victoria Market is the Melbourne Museum, the largest museum in the Southern Hemisphere. This is a natural history museum where you can see various local historical and cultural artifacts. Here you can learn about the origin of life in Victoria dating back to 600 million years ago, see prehistoric creatures, or learn about Indigenous Culture.
One of my personal favorites is Old Melbourne Gaol. It's a former jail that has been turned into a museum. For 87 years, this gaol was the home for both minor offenders as well as notorious criminals. It was here that the infamous Australian bushranger Ned Kelly was executed saying the words "such is life". Wandering through this old prison is a fascinating experience!
This is a good museum to visit as you only need 1-1,5 hours for it. Here you can book entrance tickets and find more information for your visit.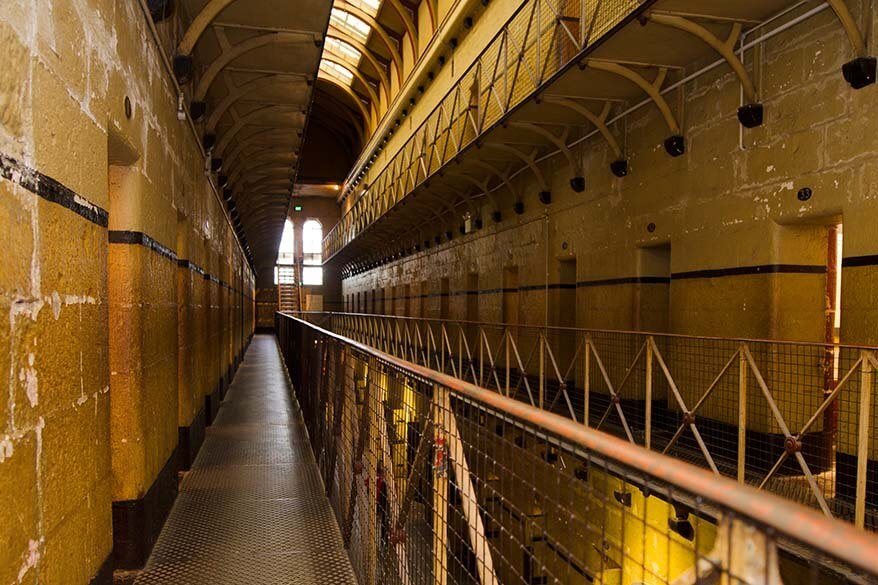 Another good option is the Immigration Museum. It's a fantastic place to learn about the past of the Australian people. This museum is located in the Old Customs House and displays a range of interesting immigrant stories.
Alternatively, you may want to check out the State Library Victoria. The La Trobe Reading Room is spectacular and worth a visit in itself! This impressive reading room has a round shape and is located under a majestic dome. It has become popular with those looking for the best Instagrammable spots in Melbourne.
Other interesting museums to explore include Sceinceworks, the National Sports Museum, the Medical History Museum and many others. But with just one day in Melbourne, I think you'll find plenty of better things to do.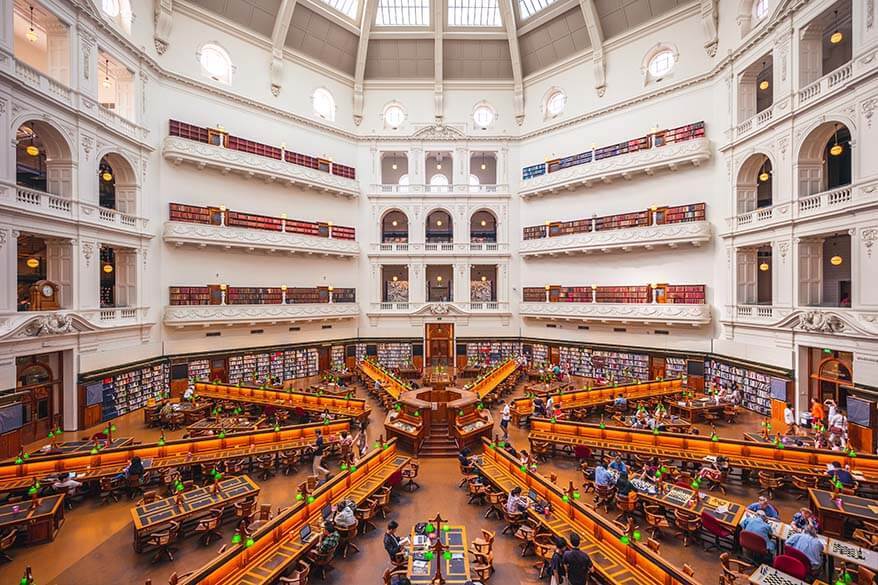 Fitzroy Gardens
Historic Fitzroy Gardens is one of the most beautiful parks in Melbourne. It has a model Tudor village, ornamental shrub, several fountains, lots of flowers, and tree-lined walking paths. There is also a cafe and a playground for kids.
This is not an absolute must in the city, but really nice to see, especially if you are visiting Melbourne with kids. Don't miss the Cooks' Cottage and the Conservatory. Kids will love the Dolphin Fountain and the Fairies Tree.
Interesting to know: Captain Cook's Cottage is an original house of Captain Cook who mapped the east coast of Australia in 1770. The house that originally stood in England, was shipped to Australia in 1934 and re-erected in Fitzroy Gardens.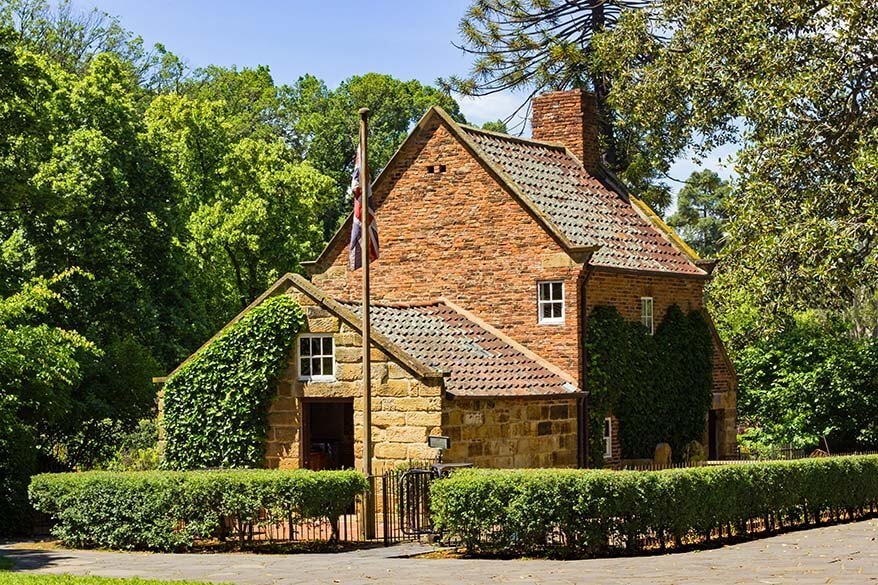 Melbourne Cricket Ground
Melbourne is a great city for sports fans, especially if you happen to be in town on a Friday or Saturday night. One of the best places to be is the Melbourne Cricket Ground, also known as MCG.
If you enjoy cricket, you may even be able to see a game (check the MCG events calendar).
But you can also visit Australia's favorite stadium even if there is no game. They have an interesting museum and offer behind-the-scenes tours.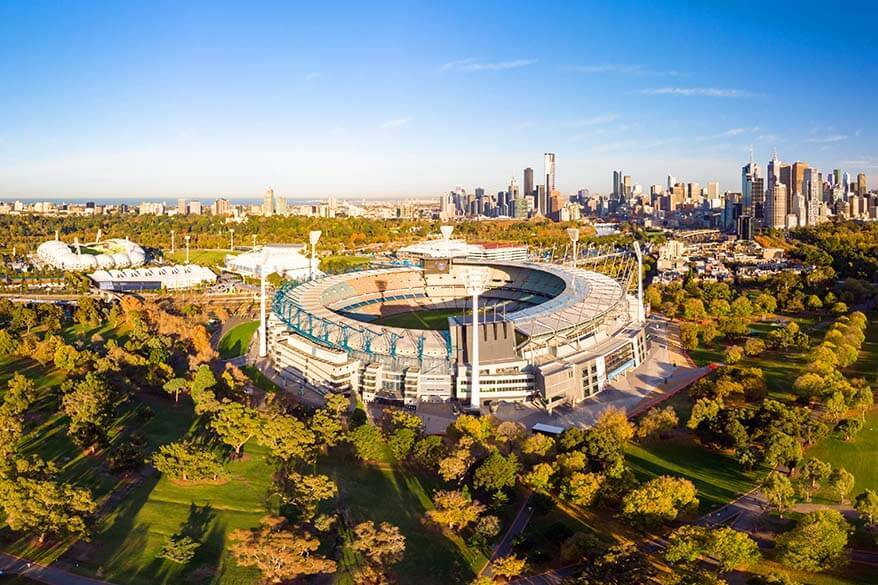 Catch a Show
If you're not the sporty type, then how about seeing a theatre production in the evening? Melbourne has some great performances throughout the year at both the Regent Theatre or Princess Theatre.
Some of the shows are so popular that people often fly down to see them from other east coast cities. One the website of the city of Melbourne, you can find a calendar with all the theater performances and shows.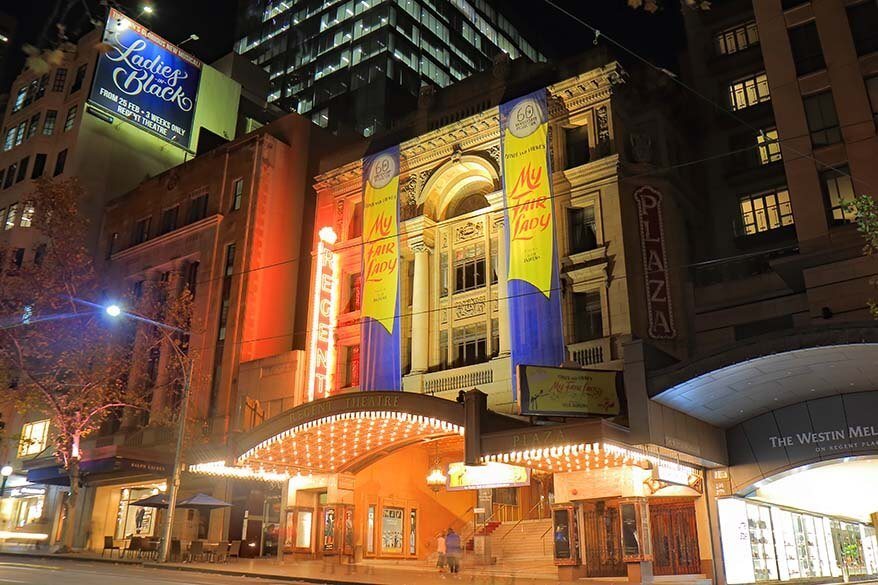 Dinner in Chinatown
There are numerous wonderful places for dinner in Melbourne such as Southbank along the Yarra River or in Lygon Street. But one of the best places for dinner is Melbourne's Chinatown.
The most popular dish to eat in Chinatown is dumplings! But of course, you'll find all sorts of Asia cuisines including Thai food, ramen, yum cha and more.
There is a range of great places to eat. Just follow your nose or better yet, if you find a place with a long line then you know it's going to be good. Some popular places include Shanghai Village, ShanDong Mama, Longrain, Mr Ramen San, or Secret Kitchen. I indicated all of these in the map above.
Melbourne's Chinatown is located in the area between Little Bourke Street, from Swanston Street to Spring Street. Be sure to wander down all the little arcades throughout the area as this is where you'll often find some of the best places.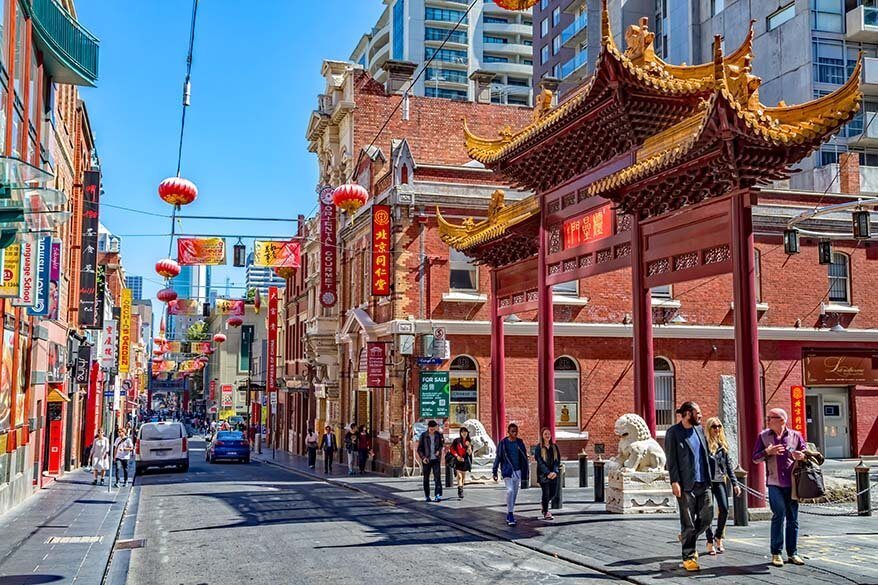 One Day Melbourne Itinerary
So there you have it, the best things to do on a one day trip in Melbourne. Below, you can find an overview of a perfect Melbourne itinerary for 1 day, following our suggestions above.
Here's how your day in Melbourne could look like:
Start your morning at Flinders Street Train Station.
Head across to Federation Square and see what's on, if there is nothing on of interest to you, consider checking out the ACMI.
Check out Melbourne's famous street art and grab yourself a coffee from one of the cafes in the narrow laneways.
Cross the Yarra River and check out the city views from the Eureka Skydeck.
If time permits take a cruise down the Yarra River.
Head to Queen Victoria Market for some lunch.
After lunch, check out one of Melbourne's great museums and/or check out Fitzroy Gardens.
In the evening, watch a game, go to the theatre, or take a pub-crawl tour if that's more your thing.
Have dinner in Chinatown.
If you find this itinerary too busy and rather have a more relaxing day instead of trying to see everything, skip one or two places that don't interest you much. Also, if there is something that you absolutely want to see, you may want to do it first to ensure that you don't run out of time.
TIP: If you want to see all the highlights of Melbourne in a short time or if you rather go discover some hidden gems in the city, you can also consider a walking tour with a local guide. There are various tours available and they usually don't take more than a few hours. So you can easily incorporate a tour like that in your one-day itinerary.
If You Have More Time
If you have two or three days in Melbourne, consider taking a day trip to see some of the stunning nature nearby. As nice as Melbourne is, it would be a shame not to explore more of its surroundings.
The most popular day trips from Melbourne are the famous Great Ocean Road (must do!), the Grampians National Park (our personal favorite in the area), and Phillip Island, where, among others, you can expect to see koalas and penguins.
Where to Stay in Melbourne
No matter what your budget is, there are plenty of good accommodation options in Melbourne. If you have just one day in Melbourne, I suggest staying very centrally. That way, you can make the most of your time.
Here are some of my personal recommendations for places to stay in Melbourne city center, depending on your budget:
Grand Hyatt. This centrally located 5* hotel is one of the top picks in Melbourne. Located within easy walking distance from most of the above-mentioned attractions, the hotel features rooms in different sizes, including big family rooms for up to 6 people.
The Victoria Hotel. This is an excellent lower-mid budget hotel just a short walk from Federation Square. Very centrally located and has thousands of great customer reviews.
Space Hotel. This is a very popular budget hotel with great facilities (including a movie theatre, rooftop bar, and a gym). It has various room types (most with shared bathrooms), but there are also double and family rooms with private bathrooms.
TIP: Using the map below, you can compare hotels and short-term rental accommodations in Melbourne. Simply insert your travel dates and group size, and you'll see the best deals for your stay. Check it out!
More travel tips for Australia:
If you found this post useful, don't forget to bookmark it and share it with your friends. Are you on Pinterest? Pin this image!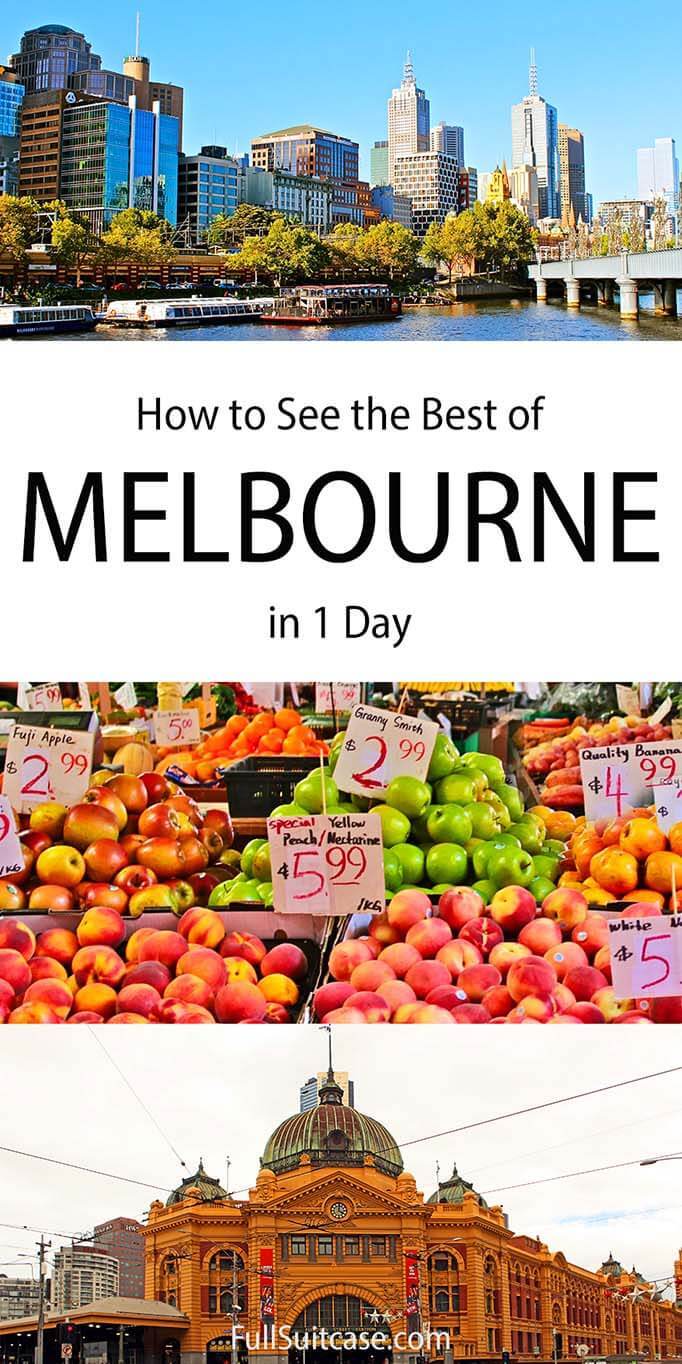 IMAGE CREDITS: Featured image – fotfritz/Depositphotos.com// Federation Square – f11photo/Depositphotos.com// Hosier Lane – Javen/Depositphotos.com// Melbourne street art – ThriftyFamilyTravels.com// Aboriginal art at Queen Victoria Market -zhukovsky/Depositphotos.com// Old Melbourne Gaol – lucidwaters/Depositphotos.com// La Trobe Reading Room – richie0730/Depositphotos.com// Regent Theater – TKKurikawa/Depositphotos.com// Melbourne Chinatown- dbajurin/Depositphotos.com