Planning a trip to Australia, but not sure where to start with the preparations for your dream vacation? This article is for you!
Australia is one of those countries that everybody dreams of going to one day. But then the day is finally there and you have not the slightest idea on where to start. Don't rush to the travel agency just yet! First, figure out what YOU want so that your dream trip becomes a reality!
Below you can find some advice on how to plan Australia trip and make a good trip itinerary. Find out!
How to Plan a Trip to Australia – Our Experience & Tips
We were lucky to have had an opportunity to travel to Australia twice: once as a couple, and ten years later, with our three kids of 3, 3, and 5 years old.
Our first trip to Australia and New Zealand ten years ago was also our first road trip, and there were lots of things we didn't know. We just booked the most popular road trip itinerary and relied on the road book we got from our travel agent. We saw many amazing places, yet we were disappointed. We went to New Zealand on the same trip as well, and we loved every single day there. So what went wrong in Australia?
We knew that Australia is huge and that driving times can be very long. What we didn't know is that it is really boring on the road most of the time. Often, there is not much to see in between the places which are well worth visiting.
We saw so many dead kangaroos on the road and black, burned forests that it was even depressing with moments… We visited quite some towns along the Eastern Coast which were really not worth it – at least not for someone who only has 3 weeks in Australia.
So when we were preparing our second Australia trip with kids, we knew that we had to make an itinerary in such a way that it would be fun for the whole family. We were not going to make the same mistake twice!
So here are some general tips and recommendations to help you plan your dream Australia vacation. Read on!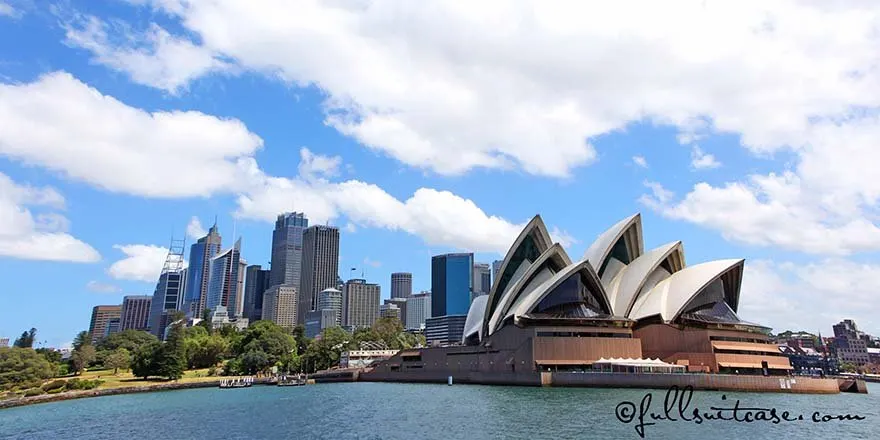 Planning Australia trip – what you need to know in advance
Below you can find some essential tips that will help you plan a trip to Australia. Not just any trip, but a really well-thought-of bucket-list trip that you always dreamt of. Take a look!
How to prepare a good travel plan for Australia
Before you start planning your Australian trip itinerary, you have to figure out the following:
What are your INTERESTS? If traveling with kids, make sure to take their interests into account as well.
WHEN do you want to go?
HOW MUCH TIME do you have?
WHERE – which places do you definitely want to see?
1. What do you want to see and do in Australia
The very first thing you have to figure out is what you expect from your trip to Australia. Do you want to see the beaches, go diving or snorkeling? Do you want to visit some cities, or maybe none at all? Or maybe you are mostly interested in beautiful nature and diverse wildlife?
For most people, it's a combination of all. Still, you have to set priorities.
When we were preparing our trip to Australia with children, we were also struggling to come up with a good plan. We wanted to see as much as possible, but also had to try to estimate how much sightseeing a three- or a five-year-old can actually handle.
In the end, we chose nature destinations and limited city visits to just two days in Sydney and one day in Melbourne. Wildlife and nature are the most important factors for us when traveling with kids, and so we added Kangaroo Island, Tasmania, Great Ocean Road, and some other locations to our itinerary.
We also visited a few wildlife sanctuaries so that the kids could cuddle a koala, feed a kangaroo, and touch a Tasmanian Devil. We didn't go to a zoo or a theme park as it was not in our interest and also didn't fit our itinerary. But it might be something you as a family wants to consider, especially if you are passing near such a place anyway.
You are the one who knows your family and their interests best. So make sure that your Australia vacation is fun for everybody!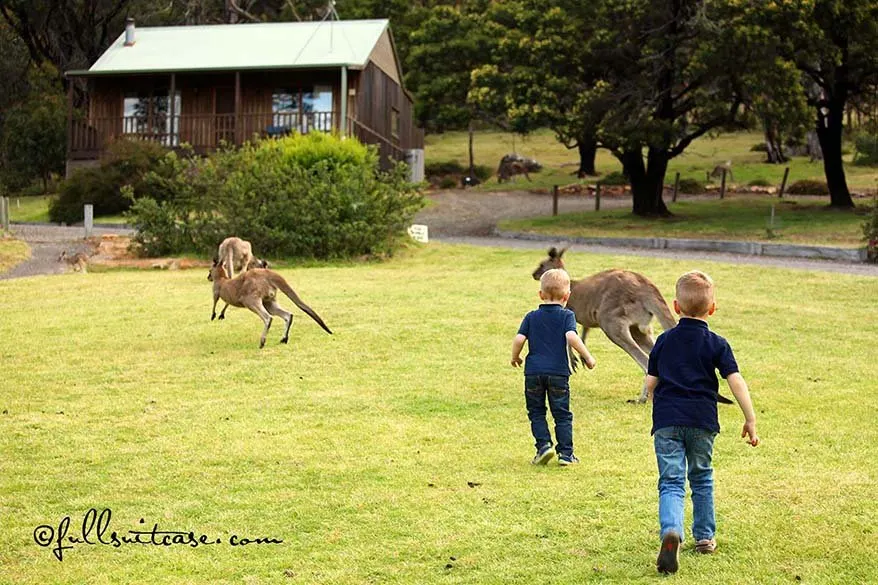 2. What is the best time to travel to Australia?
You can travel to Australia at any time of the year as long as you choose the right places in the right season. You can either decide on what you want to see and then find out when it's the best time to go there OR you can select the places to fit your holidays. Just do some research before you book!
Remember that the best times are also the busiest times, so book early and be prepared to pay more. If possible, avoid Christmas and Easter vacations.
Here is a short destination guide to help you decide where to go in Australia and when:
Sydney can be visited all year round.
North Australia (Darwin area) is not a good idea in Australian summer as it is also the wet season and the roads are often impassible. The best time to visit is May to October. Here you can find our suggested Darwin itinerary.
Southern Australia (Melbourne area, Adelaide, Great Ocean Road, Kangaroo Island…) is probably best visited in the warmer months. By the way, we absolutely loved Kangaroo Island! Here you can read more about our visit to Kangaroo Island.
Tasmania is a summer destination unless you don't mind the cold and the wind, or want to go skiing. The best time to visit Tasmania is between November and March. Here you can find more info about things to do in Hobart, Tasmania.
Red Centre (Alice Springs, Uluru) – can be visited all year round, but it's VERY HOT and can be very wet in the Australian summer months. It's a good destination in winter when Europe and the US have long summer holidays, but it will be much busier as well. Here you can find more information about visiting Australia's Red Centre. The best time to visit the Red Center is from May to September.
Queensland (The Great Barrier Reef and the East coast between Cairns and Brisbane) is warm all year round, but the summer months are also the wettest. Tropics can be beautiful when it rains. The best time to travel to Queensland is from May to October.
South-Western Australia (Perth area) is probably best in spring or autumn. Summers are hot and winters – wet. Locals say that August and September are the best months to visit Perth.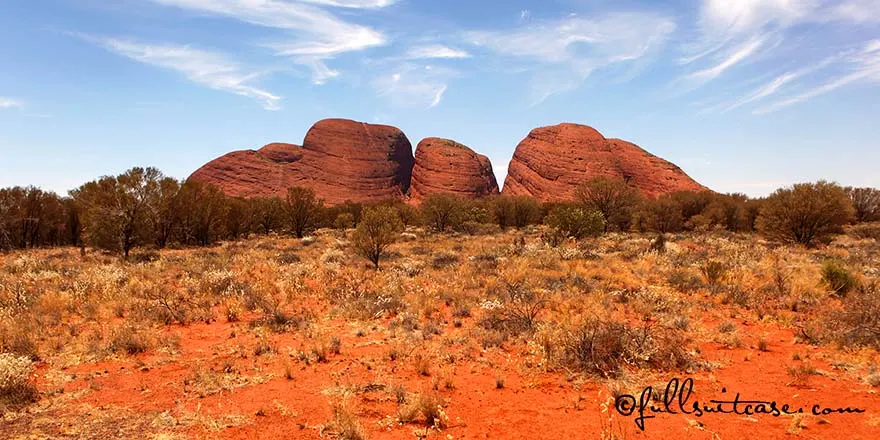 3. How much time do you need in Australia?
It's very important to understand that you cannot see everything in Australia unless you have unlimited time and budget. So be selective when you choose where to go.
The first time we traveled to Australia we had 3,5 weeks and we did a road trip from Cairns to Sydney. Despite the fact that this tour is presented as the most popular way to see Australia by most of the travel agencies, I wouldn't do it again. I know more people who had a similar trip itinerary and they were all disappointed. Driving time is much too long on this trip, you spend hours in the car, and it's not like you see the most amazing landscapes or landmarks every day.
In 3-4 weeks time, you can see the Great Barrier Reef, some of the Eastern coast, Sydney and the Blue Mountains, plus some other places like, for example, the Red Centre or the Great Ocean Road. That means you have to fly instead of driving, and that you have to be more selective as to where you go.
TIP: Domestic flights are not necessarily the more expensive option. In fact, it can be cheaper to fly than to spend days on the road. The costs of car rental, fuel, accommodation, and food for the extra days will quickly add up, not to mention the precious time you save.
When you travel to the other side of the world for just a few weeks and you want to actually see some of this diverse continent, you better go to fewer places that are really worth it than to many places which are not as worthwhile. Spend fewer hours driving and more sightseeing!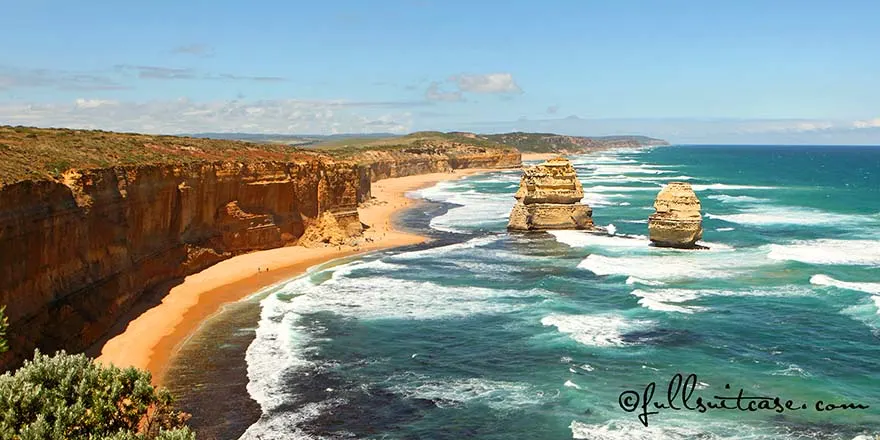 4. Top places you shouldn't miss in Australia
In my opinion, you really should try to see Sydney, the Great Barrier Reef, Uluru (Ayers Rock), and the Great Ocean Road. These are the very best places to keep in mind when planning a trip to Australia.
However, these places are also very far from each other. So it's not really feasible to see them all if you only have a week or two. Try to pick at least two of these top spots – that way you at least get a taste of what Australia has to offer.
If I had to choose just one place to go to in Australia, I would recommend the Red Centre (Uluru-Kata Tjuta National Park, the Kings Canyon, West MacDonnell Ranges…). It is so very different from all the rest and it's also what makes Australia so unique. Of course, it's just my personal opinion, but you really have to experience it in order to understand how special it is. Uluru is not 'just a rock'.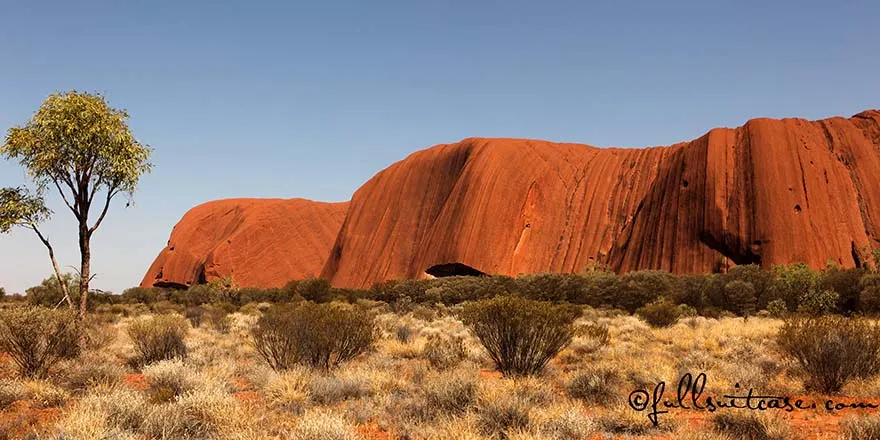 So, these are our main tips for planning a trip to Australia. To summarize: good trip itinerary stands or falls with these four factors: WHAT, WHEN, HOW LONG, and WHERE. Once you figure that out, the rest is easy.
It goes without saying that the budget is a very important factor as well, but leave the money worries for later, after you figure out your trip itinerary.
Whether you'll love Australia depends so much on how well you'll prepare your trip. This is the most important step, so take your time and plan well!
TIP: If you are looking for ideas on where to go in Australia, check this post with our 5-week Australia itinerary. It covers some of the most beautiful regions, some of the must-see places in Australia. Even if you don't have as much time in Australia, you will get a good idea of what there is to see and how much time you need for each region.
TIP: If you are planning to visit Australia with a family, check out our tips for traveling to Australia with kids.
READ ALSO: Top Places to See on the Great Ocean Road
If you found this post helpful, don't forget to bookmark it and share it with your friends. Are you on Pinterest? Pin this image!