The beautiful area of Kata Tjuta and its rock formations is often overlooked by many visitors to the Uluru-Kata Tjuta National Park in Australia's Red Center. However, don't limit your visit to just Uluru!
In this article, you can read more about visiting Kata Tjuta – why go and what to see and do. Find out all about visiting Kata Tjuta, Walpa Gorge Walk, The Valley of the Winds, and other popular things to do in Kata Tjuta.
Good to know: We visited the Uluru – Kata Tjuta National Park with young kids (3-5 years old at that time) and during Australian summer. So it was difficult to assess in advance what we could do in Kata Tjuta with such young kids in the heat.
In the end, we managed to see and do quite a lot. And so I hope that this article will not only inspire you to visit but also helo families visiting Kata Tjuta with kids.
We also visited West MacDonnell Ranges during this trip and also Kings Canyon and, of course, the famous Uluru. All stunning places! But if I had to pick just one absolute favorite place in Australia's Red Center, it would be Kata Tjuta.
READ ALSO: How to Plan A Trip to Australia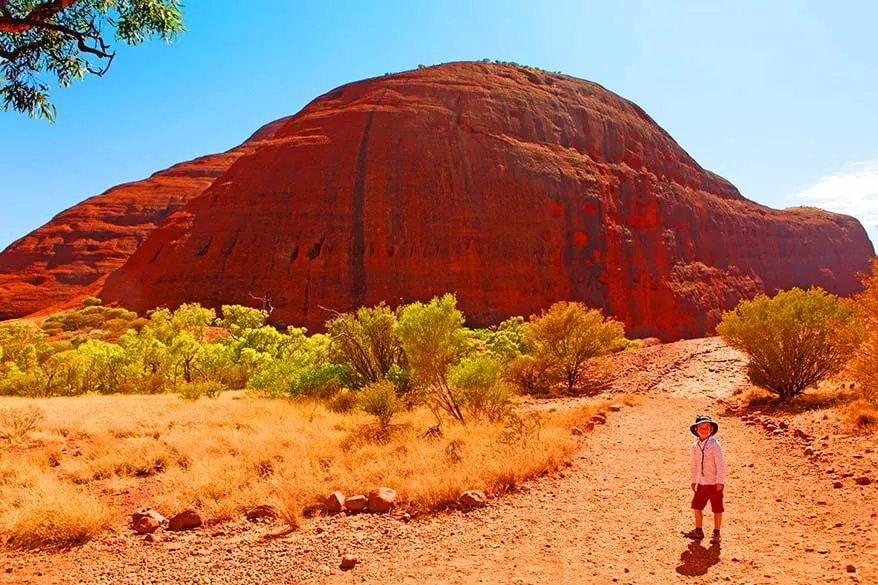 Probably the best way to explore Australia's Red Centre is hiking. What you see from the road and the parking areas is just a small part of the real beauty which is hidden deeper inside the gorges.
We couldn't go hiking in Kata Tjuta as much as we would have wanted, but it was more related to the heat than to the fact that we were traveling with young children.
Our little boys proved that you can take your kids anywhere in the world and explore beyond what you ever thought was possible!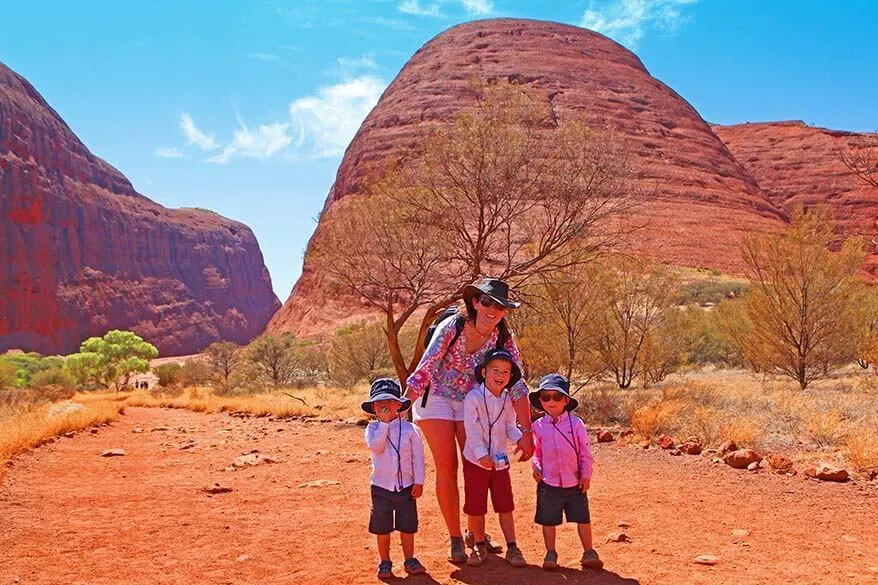 Why Visit Kata Tjuta
While Uluru, previously known as Ayers Rock, is one of the most recognizable natural landmarks in the world, only very few people have ever heard of Kata Tjuta.
Also known as the Olgas, Kata Tjuta are spectacular rock formations in Uluru-Kata Tjuta National Park, just 45 minutes drive from Uluru. They are less known and less visited but in a way, they are more special and more impressive.
The Olgas are a group of large domed rock formations that color bright red in the midday sun. The view changes constantly as you approach these amazing rocks and the color depends on the sun. They look so different from far than from close-by!
Come here for the impressive red rocks and stunning desert landscapes that are just like nowhere else in the world.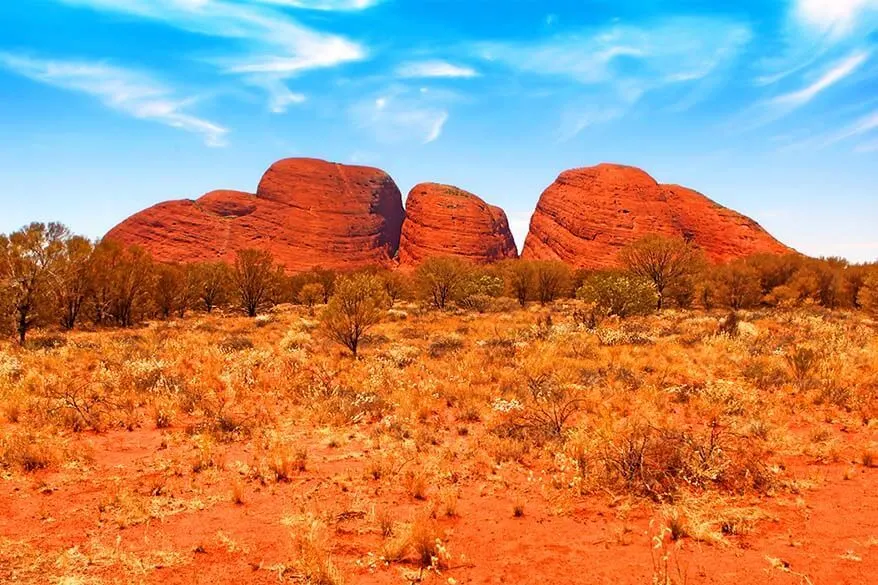 What to See & Do
There are lots of beautiful hikes at Kata Tjuta. And while most of them aren't strenuous at all, they can become practically not doable in the desert heat, with or without kids.
During the warmest months, the starting points of some of the walks get closed by park authorities at 9-10 AM already. So if you want to hike at Kata Tjuta, you have to start very early in the morning.
Here are some of the best places to see and things to do in Kata Tjuta:
Kata Tjuta Dune Viewing Area
We started our day at Kata Tjuta dune viewing area. It's located halfway along the road from Uluru to Kata Tjuta, right next to the road. This short easy wheelchair-accessible walk offers magnificent panoramic views of the Olgas.
This is one of the best places to see sunrise early in the morning.
We were there in the morning and the views were amazing. But there were also millions of flies that made a visit much less relaxing and less enjoyable. Was it not for the flies, we would have lingered here longer – so beautiful!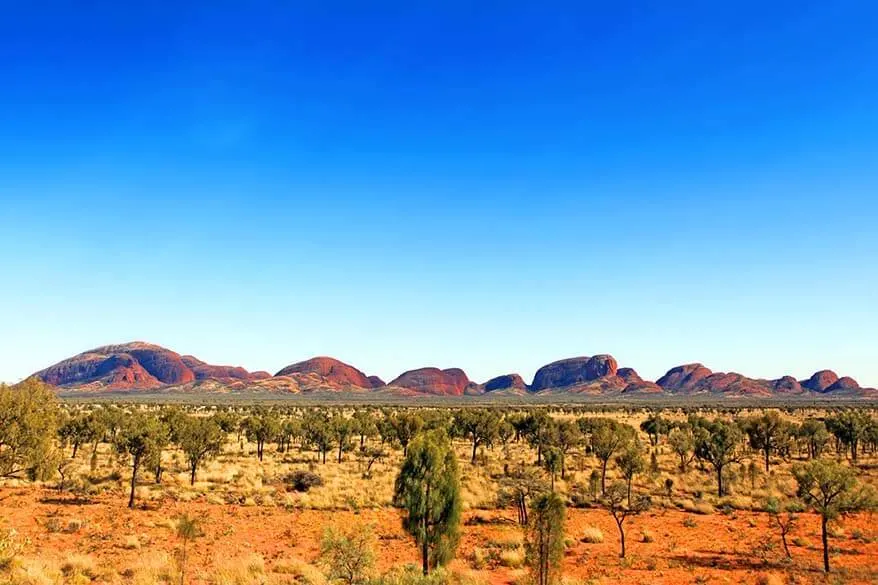 Walpa Gorge Walk
We opted to do Walpa Gorge walk because it's one of the most impressive places in the area. It's also one of the easiest hikes at Kata Tjuta.
Walpa Gorge walk practical info: This is an easy 2,6 km walk that takes about 1 hour in total (so about half an hour there and the same way back). It took us exactly one hour indeed and we made lots of photo stops. So the hiking time indications are really generous in Australia's Red Center.
I'll never forget walking within the sheer walls of these giant rocks and feeling so tiny in this colossal landscape! No pictures can portray the feeling you get here. It's a surreal place, well worth visiting.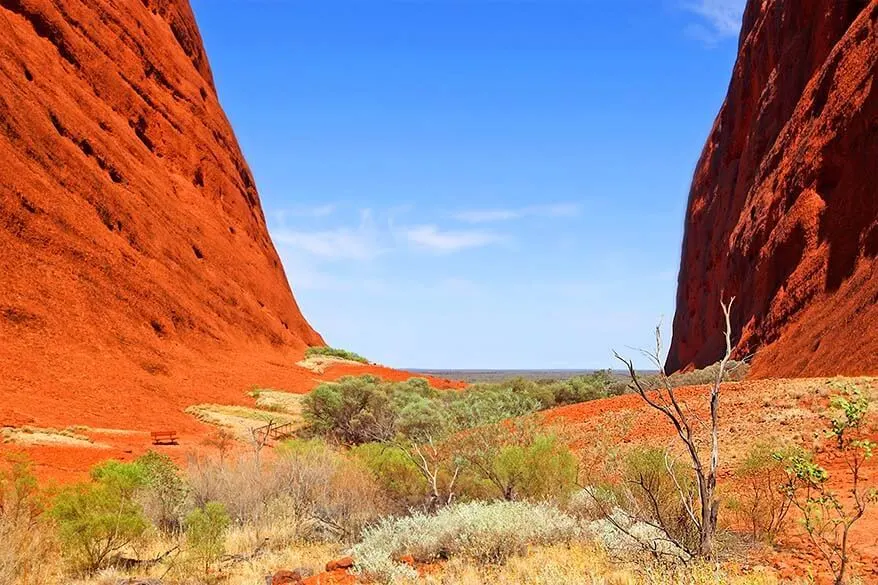 Also our kids really enjoyed this walk. After a while, we had difficulties trying to keep up with them. Luckily, you can't really go wrong here, so we didn't have to worry too much about losing the boys out of sight.
Even though the hike was easy, we were prepared to carry the kids at some point. But it wasn't necessary – they could do the Walpa Gorge walk all by themselves.
So if you are wondering whether this hike is for you, don't worry. If a couple of 3-year-olds can do it in the summer heat, it's really an easy walk.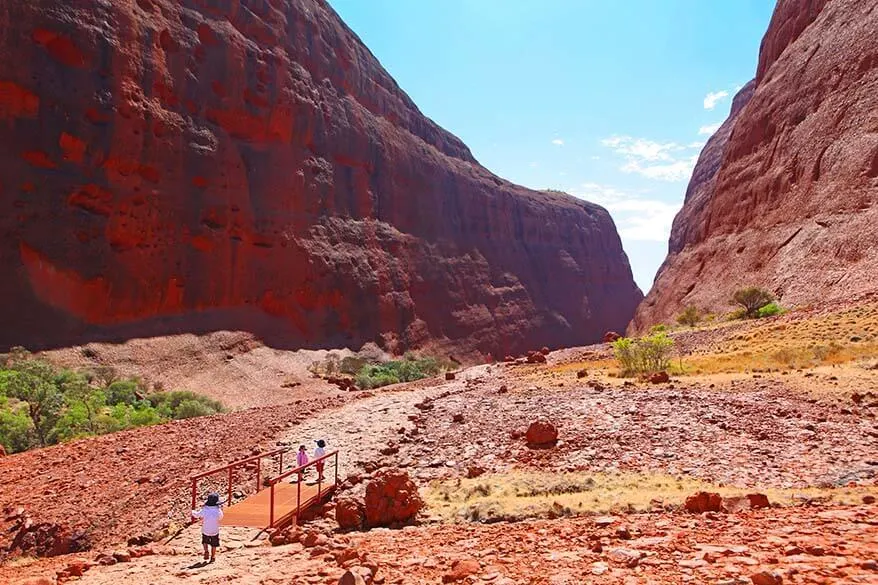 The Valley of the Winds Hike
The Valley of the Winds Walk is considered the most beautiful hike in Uluru – Kata Tjuta National Park. So if you are up for it, get here early, and give it a try. The scenery is phenomenal!
The Valley of the Winds Walk practical info: The whole hike is a circular walk of 7 km and takes about 4 hours. If you don't want to do the entire walk (or if the part of it is closed due to the heat), you can opt to hike up to Karu Lookout, which is just 2,2km (1 hour return). I did this short walk on my own in about half an hour.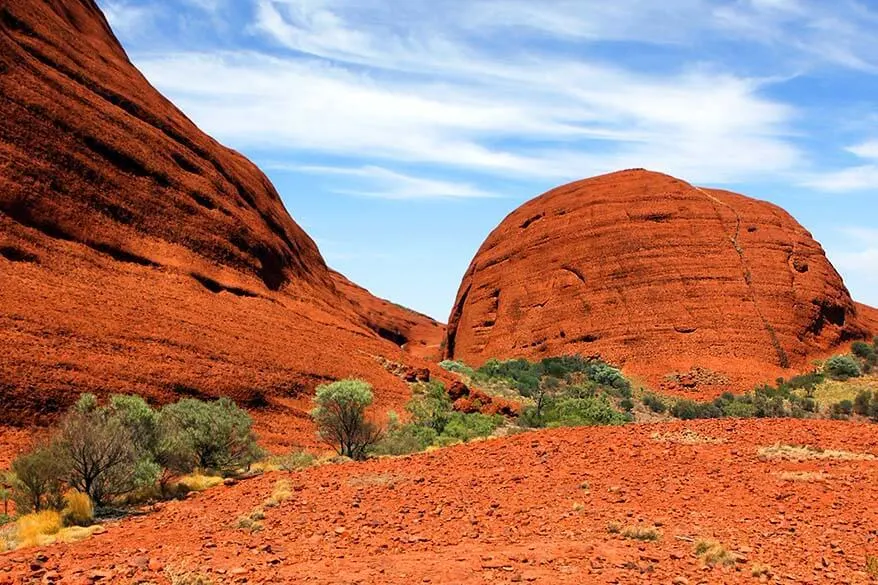 It's not a very difficult walk, but it's rather long. Also, the section behind Karu Lookout gets closed at around 9-10 AM on the very hot days (which was also the case when we visited).
By the time we got to the starting place for this hike, the temperatures were unbearable and we decided that the kids had done enough hiking for the day. So my husband stayed in the airconditioned car where the four of them had lunch, and I decided to do a part of the walk, up to Karu Lookout.
The views at the end of this walk were absolutely breathtaking and really worth the little effort. So even if you cannot do the entire hike, still try to at least hike this first part.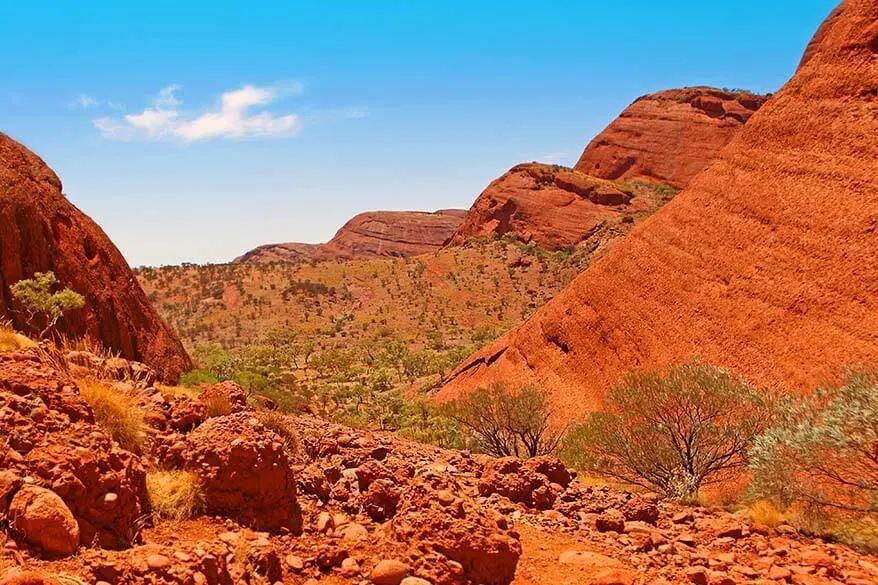 Sunset viewing area at Kata Tjuta
This is another nice area to see at Kata Tjuta. It's also the perfect place for a picnic any time of the day or to watch the sunset in the evening.
You can find bathroom facilities and drinking water here as well.
Practical tips and advice
First, some background information. We were visiting Australia's Red Center with kids in the first week of November. It was exceptionally hot in Uluru-Kata Tjuta NP. Daytime temperatures exceeded 40°C (104°F) and sightseeing was only possible early in the morning.
Second, there were swarms of flies. They were everywhere: on your face, your lips, inside your nose, and even inside your ears. That's something you don't see on postcards or in the travel brochures…
So here are some of our experience-based tips for visiting Uluru-Kata Tjuta:
Go as early in the morning as you possibly can. All you can do in the afternoon is lay by the pool.
Bring a mosquito head net with you. You can buy them in the area too, at about six times the regular price. Furthermore, by the time you realize that you need one of these, you are nowhere near the living world… So better take one from home. We didn't know this in advance and so we didn't have a head net with us. I can tell you it was really unbearable with moments.
Bring lots and lots and lots of water and some snacks. You should count at least one liter of water per person per hour when visiting Australia's Red Center. If you go hiking, you'll probably need even more water.
TIP: We found a great way to keep the water cold during the day in extreme temperatures. In the evening, we placed plastic water bottles inside the freezer in our hotel room. So the water was frozen by the time we left our hotel in the morning. The water would gradually defrost during the day and we always had some cold refreshing water with us.
Make sure you are well-protected against the sun. You should wear long-sleeved shirts, a sun hat, and sunglasses and don't forget sunscreen SPF 50+.
Closed sturdy footwear is recommended as you will have to negotiate some loose rocks when hiking in the area.
Where to stay. There are a few hotels, shops, and restaurants in Yulara at the entrance of the National Park.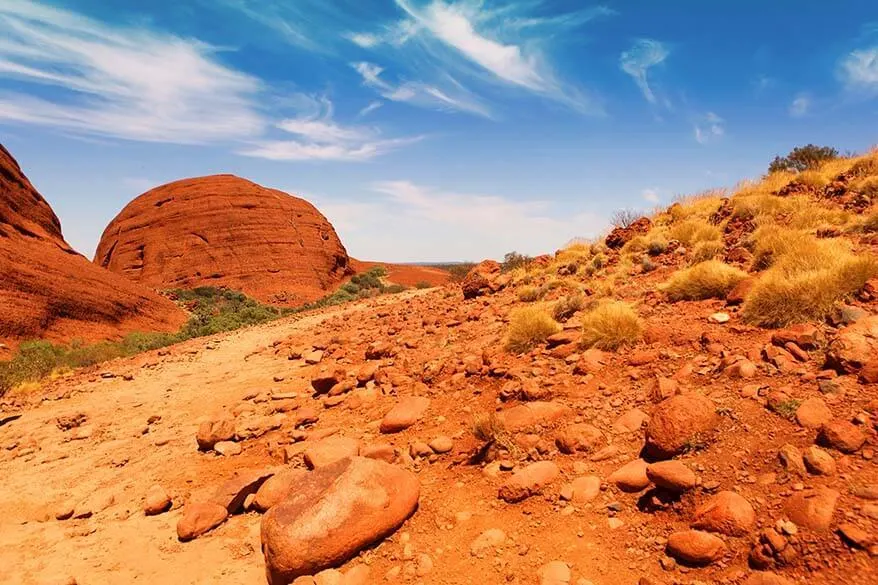 So, this is our short guide to Kata Tjuta. If you have any questions, feel free to leave a reply below and I'll try to help.
For more detailed information about this trip, please check our Alice Springs to Uluru itinerary.
More travel tips for Australia:
If you enjoyed reading this post, don't forget to bookmark it and share it with your friends. Are you on Pinterest? Pin this image!