Visiting Sydney, Australia, for just a day and wondering how to plan your short visit so that you can see the very best of the city in a short time? In this guide, we lay out a detailed 1-day Sydney itinerary that brings you to all the main sights and attractions in the most time-effective way. Find out!
Sydney is a large, spread-out city, so you'll only be able to cover some of the sights in a day (which means a return trip is in order!)… But with smart and strategic planning, you can certainly see many of the 'musts'.
This itinerary brings you to the Sydney Opera House, Bondi Beach, The Rocks, the Royal Botanic Garden, and some of the best views the city has to offer.
This itinerary is created with the help of a fellow travel writer Casey from Cloud Jumper. He has family in Sydney and visits the city multiple times a year, so this guide also features inside tips and recommendations for places to eat and the best ways to navigate the main landmarks. You'll go from morning to night and not miss a beat!
While a day in Sydney might seem quick, with the right itinerary and some advance planning, you can accomplish a lot.
For those unfamiliar with Sydney's pace and size, we've included some practical tips to make your trip smooth. This itinerary also takes into account the location and opening times of each spot so that you can plan and optimize your day in the most efficient way. You'll also find a map indicating all the places mentioned in this guide.
Without further ado, let's take a look at how you could plan your time in order to see many of the top sights in Sydney in just a day!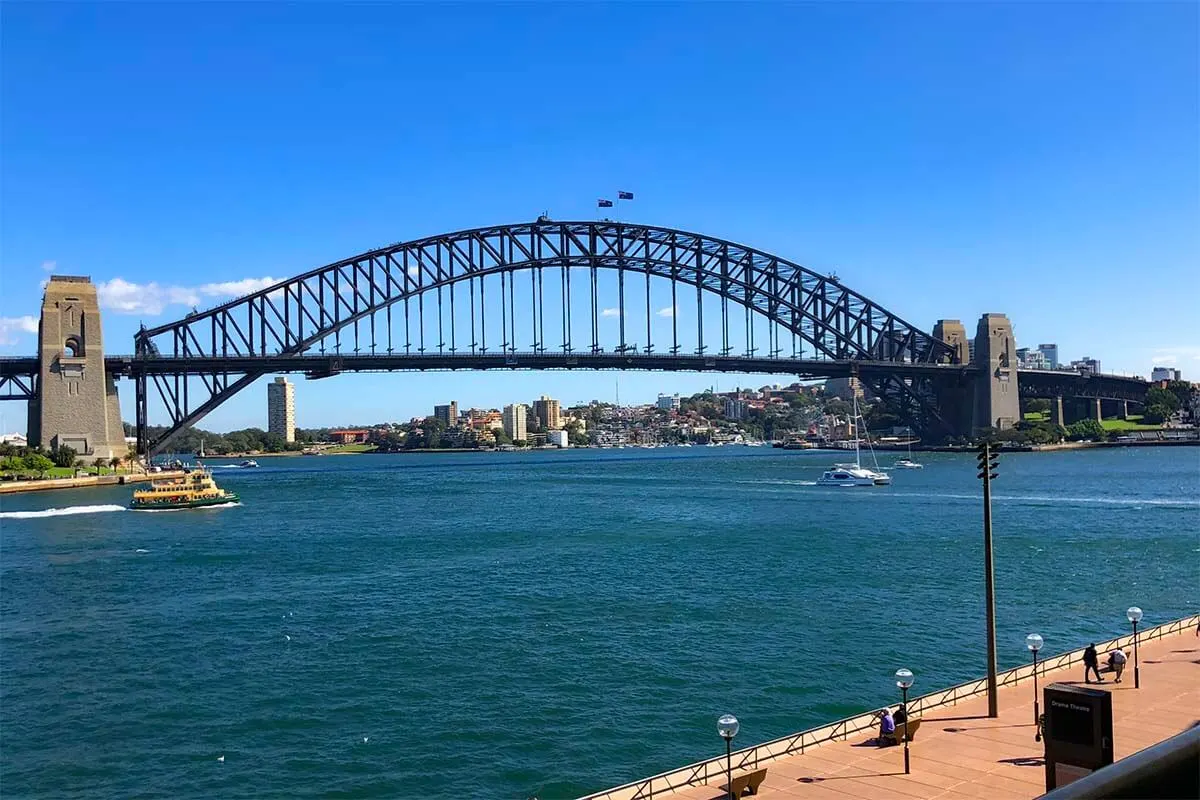 1-Day Sydney Itinerary & Walking Map
Here is our recommended one-day Sydney itinerary in a nutshell:
8 – 8.30 AM: Bondi Beach (optional).
8.30 – 9.15 AM: Bondi to Bronte Coastal Walk (optional).
Make your way to the city center.
10 – 11 AM: Sydney Tower Eye.
11 AM – 12 PM. Queen Victoria Building.
12 – 12.30 PM: Hyde Park.
12.30 – 12.45 PM: St Mary's Cathedral.
1 – 2 PM: Art Gallery of New South Wales (optional).
2 – 2.45 PM: Royal Botanic Gardens.
2.45 – 3.45 PM: Sydney Opera House (optional interior tour).
4 – 6 PM: Harbor Cruise OR Manly Beach OR Luna Park.
6 – 7 PM: The Rocks & Harbour Bridge.
EVENING: Dinner & Sydney Opera House Theater (optional – opera performance tickets).
TIP: If you have one more day in the Sydney area, visit the Blue Mountains as well! This is the most popular day trip that you really shouldn't miss!
Please note that the hours in our itinerary are only indicated for your reference, to give you a better idea of how much time you need everywhere. The same with the walking route on the map below – use it just as an indication of where to go.
Good to know: The first part of the day takes you to the nicest beaches and neighborhoods outside Sydney city center. If you are not renting a car, the best way to get there is by Uber/taxi, or bus and train. Once you are in the city center (starting at The Sydney Tower), you can easily walk everywhere. If you decide to visit Manly Beach or Luna Park, you can take a ferry.
How to use this map: Use your computer mouse (or fingers) to zoom in or out. Click on the icons to get more information about each place. Click the arrow on the top left corner for the index. Click the star next to the map's title to add it to your Google Maps account. To view the saved map on your smartphone or PC, open Google Maps, click the menu and go to 'Your Places'/'Maps'. If you want to print the map or see it in a bigger window, click on 'View larger map' in the top right corner.
Here is what you could do in Sydney in one day:
Bondi Beach
8 – 8.30 AM (OPTIONAL).
Bondi is an oceanfront suburb of Sydney. The neighborhood's centerpiece is Bondi Beach, one of the top tourist sights in Sydney (and all of Australia). In a city full of beaches, Bondi is easily the most popular.
As the sun comes out and the day begins to warm, Bondi becomes more crowded. To make the most of all the neighborhood has to offer without the crowds, it's smart to start your day in Bondi. And the best part is that you'll miss the traffic!
Considered one of the best surfing spots in the city, this sandy beach is great for sunbathing or walking along the water. It's also the filming location for the TV show Bondi Rescue, so you may even find yourself in the background of a reality show!
Its scenic promenade is lined with cafes, shops, and restaurants. One of the best things you can do in the morning is to grab a takeaway coffee or breakfast and find a seat that looks out to the ocean. It's a great place to start your day in Sydney, outside the hustle and bustle of the city center.
If you want to dine in, check out either Lamrock Cafe or Porch and Parlour (we indicated these and other suggestions on the map).
TIP: The Bondi Icebergs Club, located at the southern end of the beach, has a public saltwater pool where you can swim laps right up against the ocean. It opens very early in the morning, so if you want to start your day in Sydney as locals do, you may want to check it out! But we have an even better suggestion further below.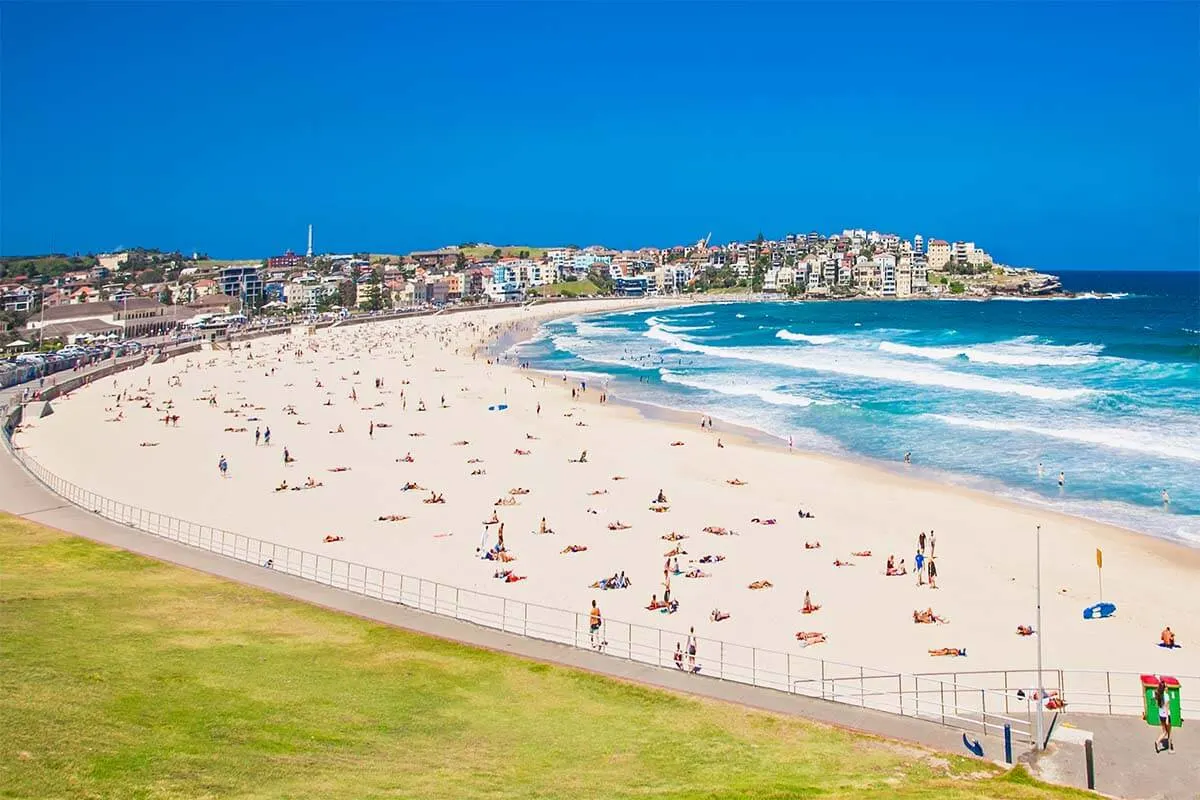 Bondi to Bronte Coastal Walk
8.30 – 9.15 AM (OPTIONAL).
The walk from Bondi to Bronte is the crown jewel in Sydney's long list of coastal walks. Perfect for a casual morning walk (before the heat hits), the 2-kilometer trail hugs the ocean, so you'll get fantastic Pacific views the entire way.
The trail changes from paved paths to wooden boardwalks and rock formations. It takes about 30 minutes not counting the stops, or about 45 minutes at a more relaxed pace.
Coastal walks in Sydney are a great way to spot whales and dolphins, and the elevated cliffs on the Bondi to Bronte walk are known as one of the best places for whale watching in Sydney. Just remember that the whale season here is only from May to November.
On the way, you'll also pass Tamarama Beach (aka 'Glamarama'), a tiny, somewhat hidden sliver of sand popular for "trendy" crowds.
When you get to Bronte, you'll find another promenade of cafes and shops, including shady green areas to relax in.
TIP: At the end of the walk, you'll see the Bronte Baths, a public rock pool. These are more spacious and less crowded than the Bondi public pool, so if you want to swim, we recommend skipping Bondi for these. If you are planning on going swimming, you'll need to adjust the timing of this itinerary (likely add an hour).
Next, make your way to the CBD area. It's about 15-20 minutes drive/taxi or about 40 minutes by public transport.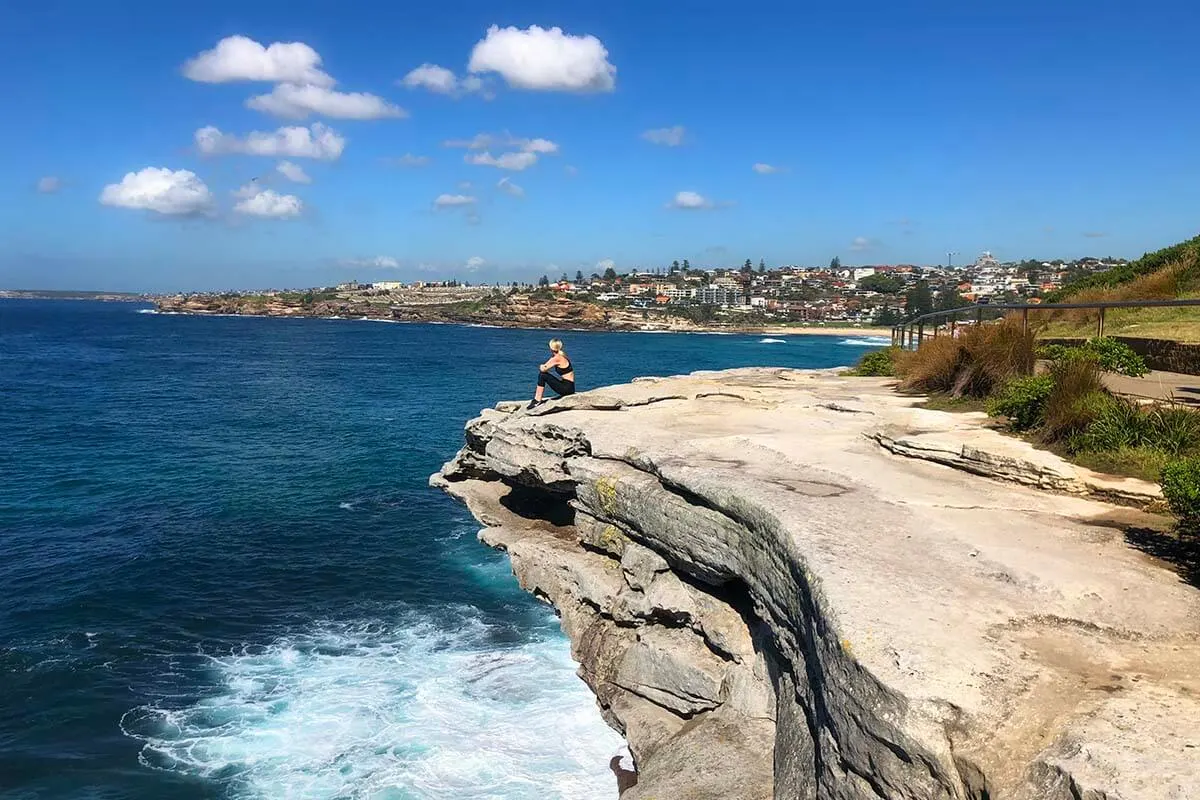 Sydney Tower Eye
10 – 11 AM.
The most distinct building on the city's skyline, the Sydney Tower Eye is the tallest structure in the city. It also has the best views!
The observation deck at 250 meters (820 feet) gives you an incredible 360-degree aerial view of the entire city. You'll see the Opera House, Harbour Bridge, and many Sydney beaches. On a clear day, you can even see the Blue Mountains, some 60- 80 kilometers away!
Inside, there is also a 4D cinema with even more amazing views of Sydney. Don't miss it!
If you're feeling brave, you can also opt for a SKYWALK experience where you can step out over the city onto a glass-floored platform (at 268m (880 ft)). Keep in mind that the regular tickets don't include this option, so you have to decide (and book) upfront. Also, the SKYWALK tour takes about an hour.
Good to know: Sydney Tower Eye is one of the most popular tourist attractions in Sydney, so booking a time slot in advance is essential or you'll waste too much of your precious time. The Tower is open from 10 AM, so ideally, you reserve one of the first time slots.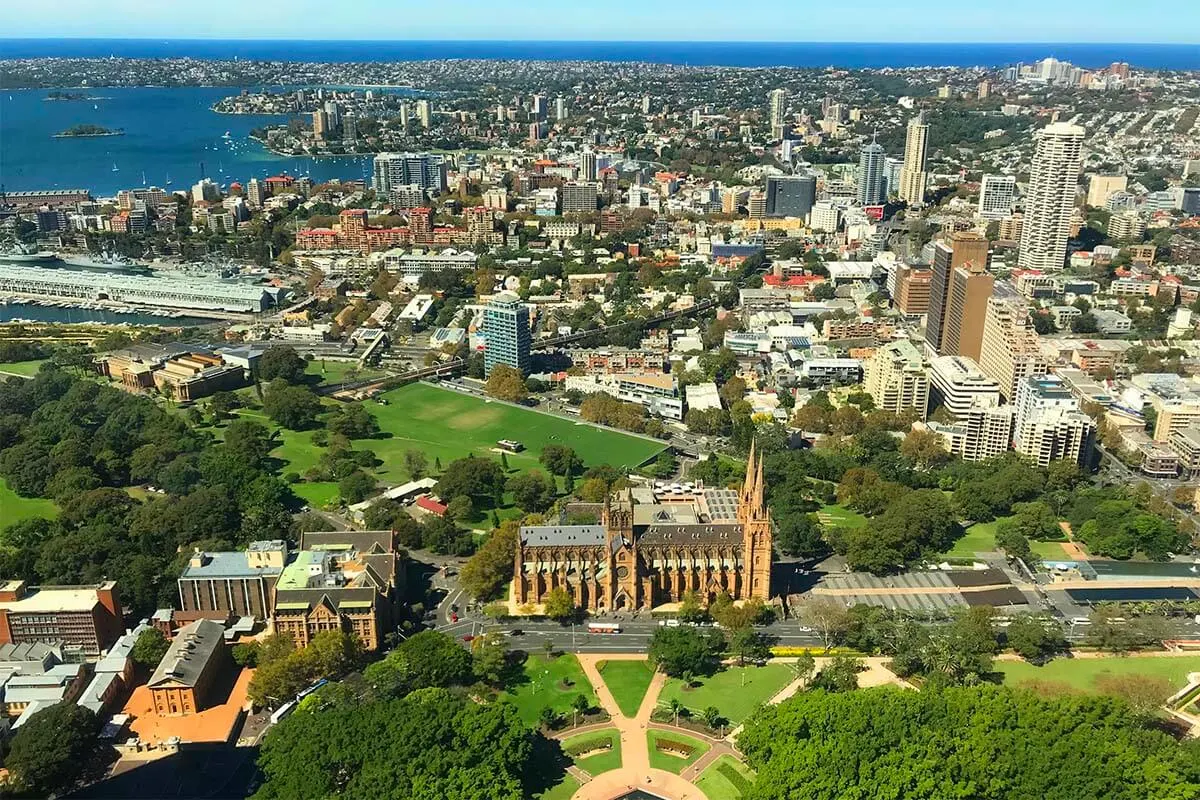 Queen Victoria Building
11 AM – 12 PM.
The Queen Victoria Building (QVB) is the ultimate shopping and dining location with a unique aesthetic. It's located on George Street in the center of the Sydney CBD, just 5 minutes walk from the Sydney Tower.
The Romanesque-style 19th-century building is a must-see landmark in itself. It has stained glass windows, intricate tiling, and an expansive overhead dome. There's also a clock hanging over the walkway – the "Great Australian Clock" or the "Royal Clock" – which is a spectacle in its own right.
The huge shopping mall features a wide variety of stores and an array of dining options. This could be a good place for an early lunch. We recommend Yama for sushi or the Tea Room for sandwiches and a wide variety of tea.
TIP: If you want to transfer to another location in Sydney, an underground walkway connects the QVB to the Town Hall train station. But if you follow this itinerary further, you can simply walk everywhere.
After leaving the Queen Victoria Building, head south toward Sydney City Hall, and then turn east to Hyde Park. It's less than 10 minutes walk.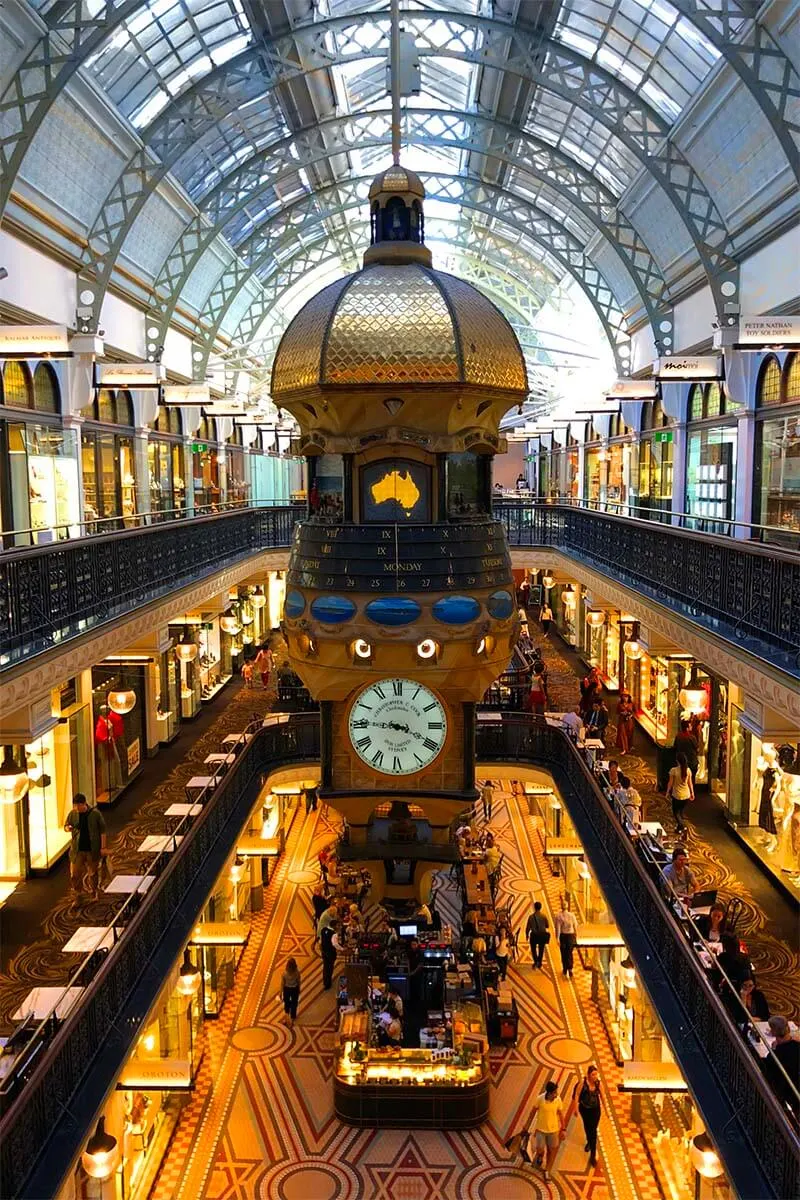 Hyde Park
12 – 12.30 PM.
Next, check out Sydney's Hyde Park, a green oasis in the downtown area. There is no shortage of calming nature in Sydney, and this park is a perfect example of a nice escape from busy city life.
It's a clean, relaxing park with historic fig trees and flowers. Locals often come here to relax, picnic, or listen to live music.
The two main sites we recommend here pertain to World War I: The Archibald Fountain, an extravagant water display symbolizing French-Australian relations, and the Anzac Memorial, a war tribute with a large reflecting pool.
TIP: From the park, you also have a great view of the downtown skyline.
A visit to Hyde Park won't take long – walking from one end to the other only takes about 10-15 minutes.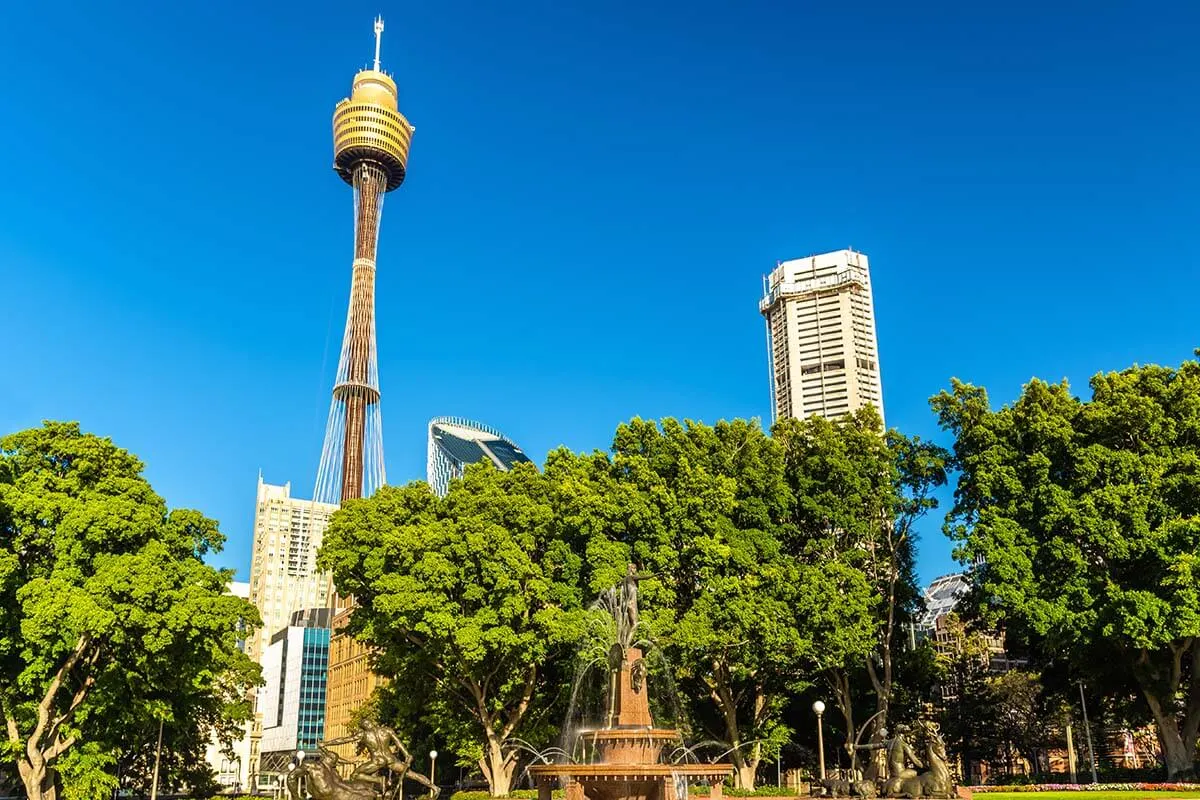 St Mary's Cathedral
12.30 – 12.45 PM.
St Mary's Cathedral may not be a must-see in Sydney, but it's literally just across the street from Hyde Park and on the way to the next place on this itinerary, so you'll pass it anyway.
Built at the end of the 19th – beginning of the 20th century, the Gothic-style Cathedral has a certain grandeur that you usually only find at the most famous churches in Europe. The stained glass windows are well worth seeing too.
A visit here is free of charge and only takes a few minutes. Check it out!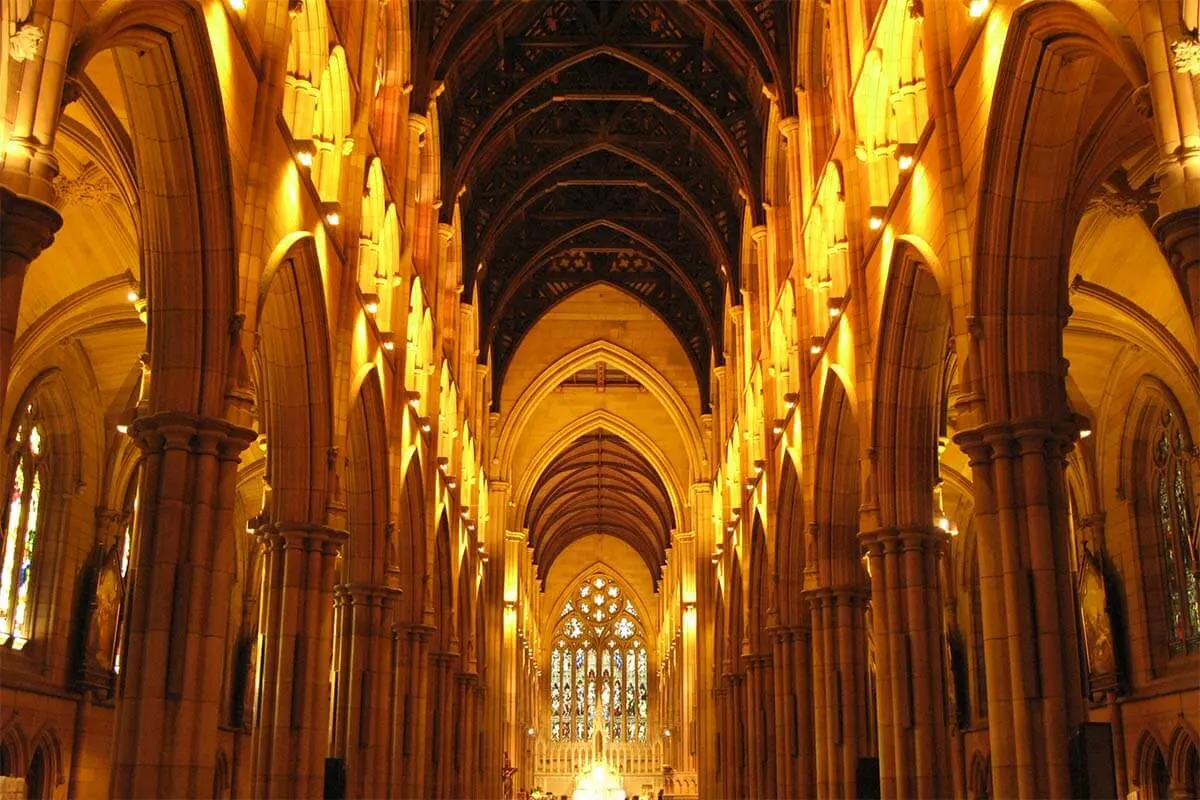 Art Gallery of New South Wales
1 – 2 PM (OPTIONAL).
Within a quick walk from the Cathedral, you'll find the Art Gallery of New South Wales, the best museum in Sydney.
The museum contains pieces that span a wide collection of art: Asian, European, Indigenous Australian, modern, and much more. Basically, it has everything! Alongside that permanent collection, the gallery also has temporary exhibitions from famous international artists.
Good to know: Admission to the museum is free, although those special exhibitions may charge a fee.
TIP: After seeing the artwork, the gallery's cafe is a great place to relax and enjoy a fantastic view, with windows overlooking the botanic gardens and harbour.
Remember that your time in Sydney is short, so if you opt for this museum, we recommend going through it quickly. A condensed walkthrough should take you about an hour. Otherwise, just check out the buildings and the views and move on.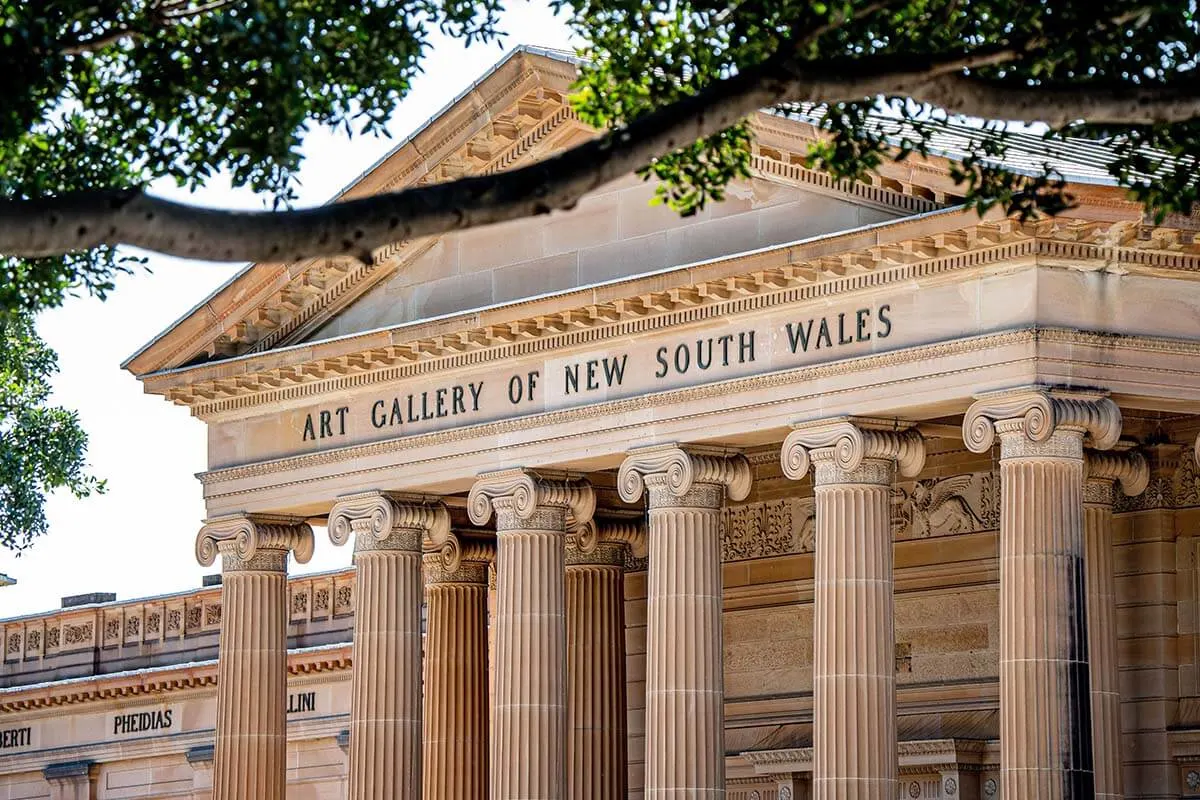 Royal Botanic Gardens
2 – 2.45 PM.
Next, walk through the Royal Botanic Gardens to the Opera House. This is a very relaxing and scenic way to get from the CBD to the Opera House, and the walk is just about 20 minutes.
The Botanic Garden is a fantastic place to visit and you could spend a few hours here if you wanted. But with just a day in Sydney and limited time, simply walk through and check out several themed areas that you pass along the way (such as the Fernery, the Rose Garden, and the Palm Grove).
The must-see is the Calyx; it contains an incredibly designed green wall, decorative flower displays, and futuristic architecture.
TIP: If you want to see the gardens and the harbour, a walkway stretches along the water to give you the best of both worlds.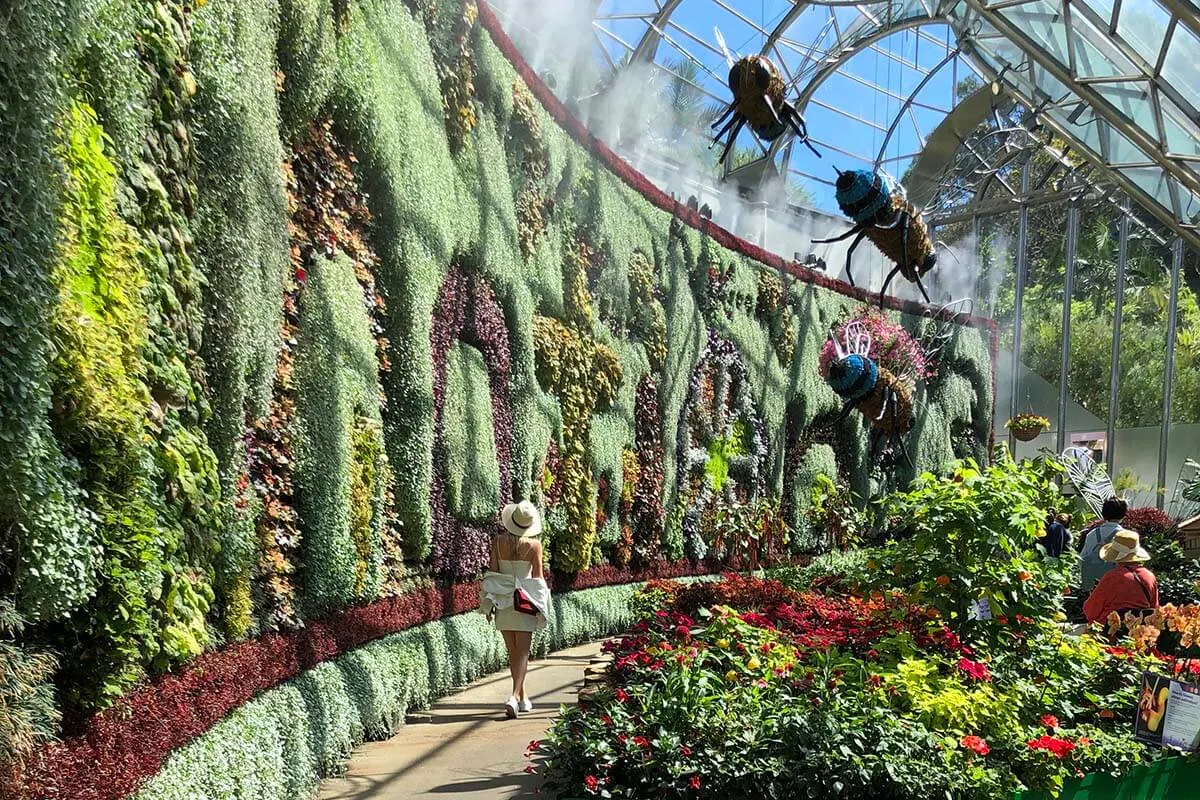 Sydney Opera House
2.45 – 3.45 PM.
The Sydney Opera House needs no introduction. It's one of the most recognizable buildings in the world and an absolute must-see for anyone visiting Sydney.
To witness the sail-like shell roof up close and personal is one of the highlights of a visit to Sydney. And with the wraparound walkway, you can view the Opera House and its distinct glass from all angles.
Good to know: If you want to go inside, tours run most days and last about an hour. Spots fill up quickly, so booking in advance is highly recommended.
TIP: Surrounding the Opera House, you'll find a few dining options with breathtaking views. It's a nice place to sit down for a drink (or late lunch), enjoy the views, and do some people-watching.
We recommend going to House Canteen or Opera Bar, the all-day restaurants below the Opera House. Opera Bar is more upscale, while House Canteen is casual Asian food. At either, you can eat and drink while enjoying a front-row seat to the harbour and the bridge.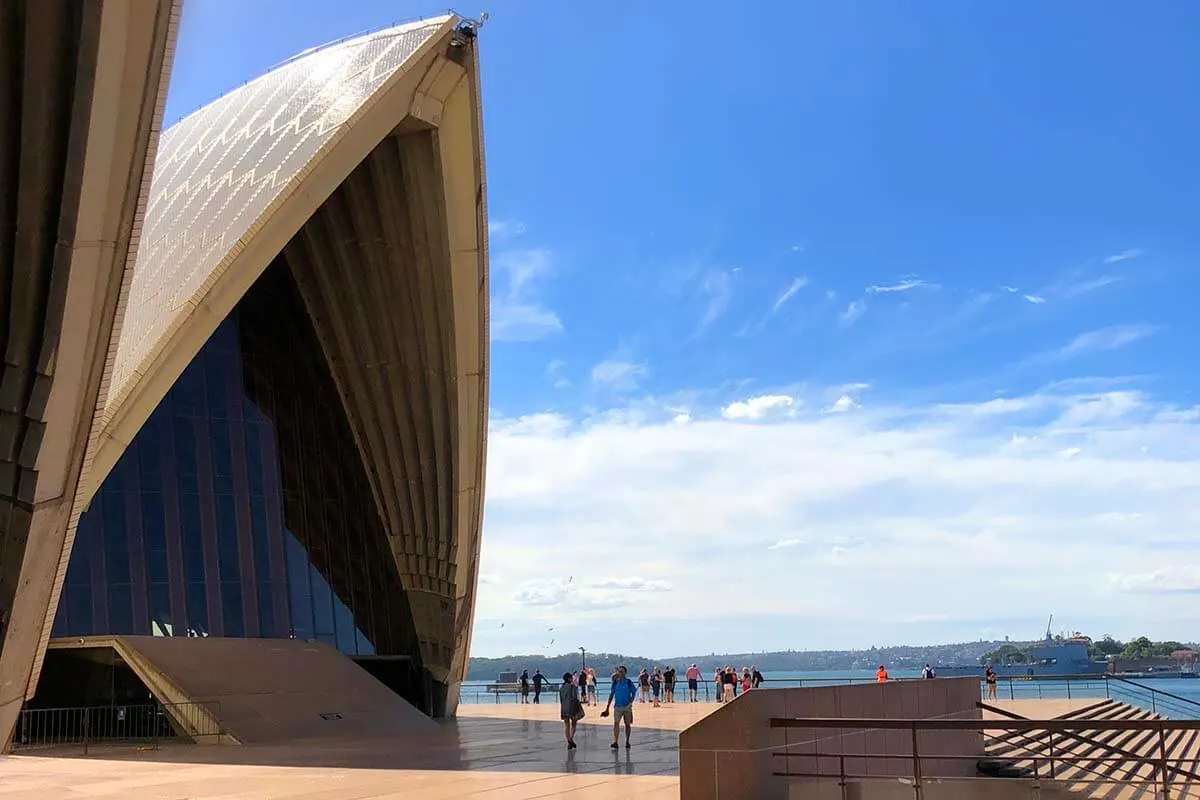 Sydney Harbor Cruise OR Manly OR Luna Park
4 – 6 PM.
As you can imagine, there is a lot more to see and do in Sydney than you could possibly squeeze in a day. So for the late afternoon, we have a couple of recommendations for you to choose from based on your interests:
OPTION 1: Sydney Harbor Cruise (1.5 – 2 hours).
OPTION 2: Manly Ferry Ride and Manly Beach (2-3 hours).
OPTION 3: Luna Park (1.5 – 2 hours).
You can find more information about each of these options below.
Sydney Harbor Cruise (Option 1)
For the best views of the Sydney Harbor, you have to see it from the water! Seeing the skyline from the water is an unforgettable view, so we highly recommend it.
There are several ways to do that including simply taking a ferry to one of the other places nearby (see also options 2-3 below). But ferries just go from point A to B, so the best way to truly enjoy the views is by booking one of the Sydney Harbor Cruises. There are various options and different types of boats, and tours typically take about 1.5 -2 hours.
You will pass by many of Sydney's most iconic landmarks, including the Sydney Harbour Bridge, Sydney Opera House, Royal Botanical Gardens, and many more.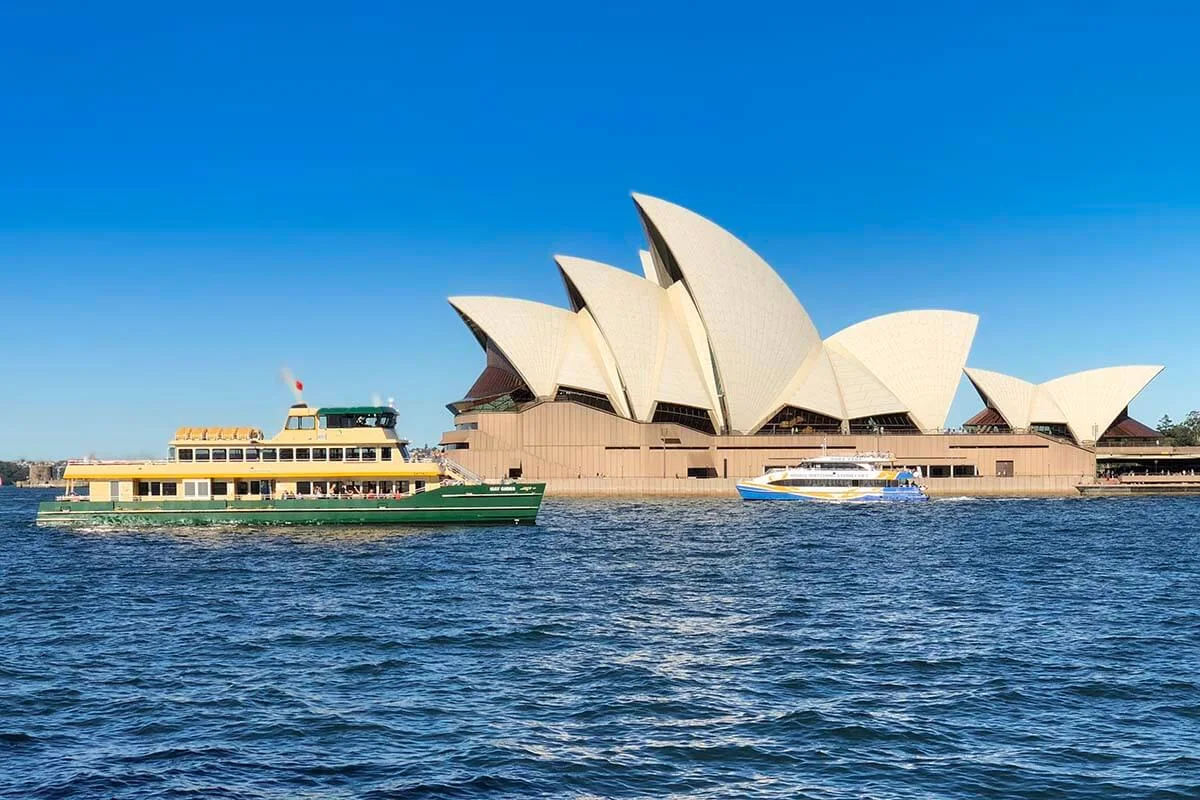 Manly Ferry Ride + Manly Beach (Option 2)
If you want to see one more local area in Sydney, take a ferry to Manly Beach. The boat journey will also give you an outstanding alternative view of the Sydney Harbour.
The ferry departs from Circular Quay and takes 30 minutes (or 20 minutes on the fast ferry) to reach Manly, a beach community on the northern side of Sydney. Along the way, the ferry passes the Opera House, Harbour Bridge, and other northern suburbs.
Once the ferry stops in Manly, you'll take a short walk to Manly Beach, the (less famous) sister to Bondi Beach, and see a long stretch of sand and a row of pine trees.
Next to the beach is The Corso, a pedestrian-only shopping area with dining and shops.
The suburb of Manly has a family-friendly vibe that feels more laid-back than other areas in the main section of Sydney.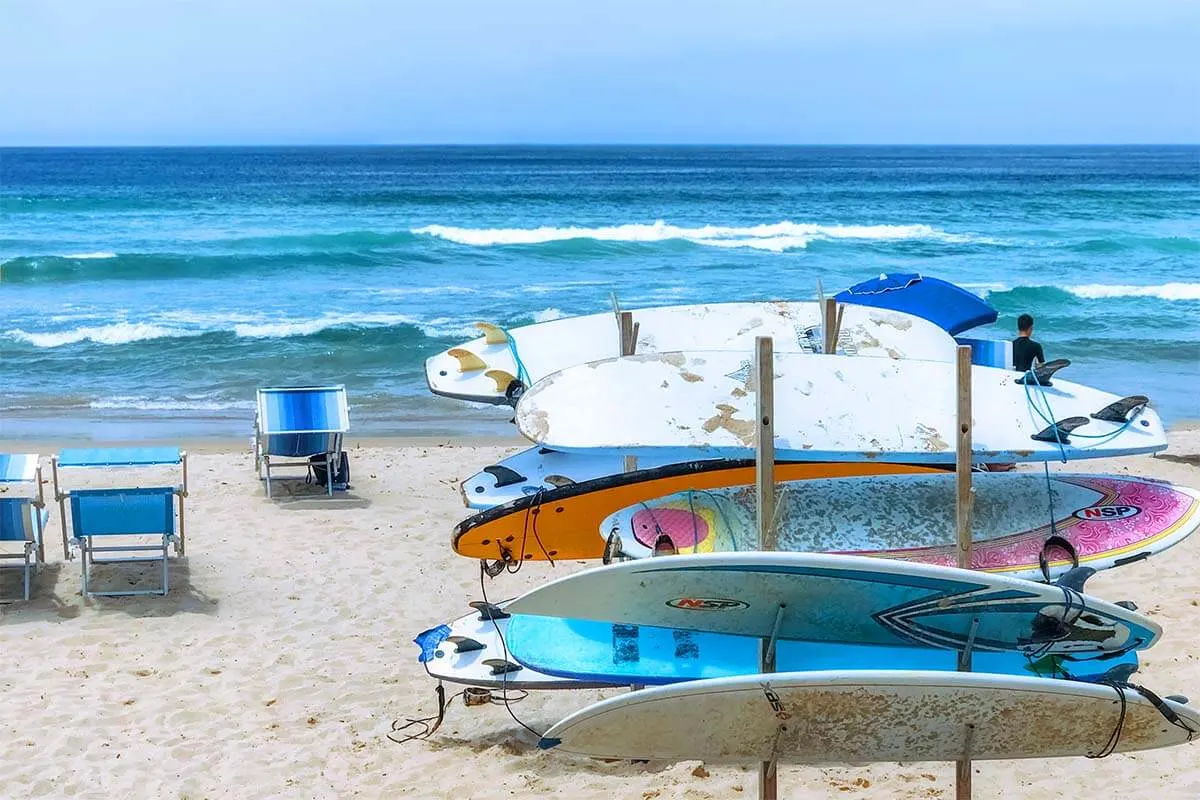 Luna Park (Option 3)
Sydney's Luna Park is an amusement park located on the northern shore of the harbour. So you'll need to get across the water via the bridge, tunnel, or ferry.
The giant smiling face that greets you as you enter Luna Park is one of the trademark images of Sydney. This is a very family-friendly activity, with various rides and games for people of all ages.
If you're not interested in roller coasters, there's a great atmosphere and energy in simply walking around the park. Grab some fairy floss while you do it!
TIP: Given its prime location at the water's edge, the park also has stunning views of the Opera House and Harbour Bridge. For the best 360° harbour views, ride on the Ferris wheel.
Good to know: The park closes at 6 PM and you need about 1-2 hours to make the most of it.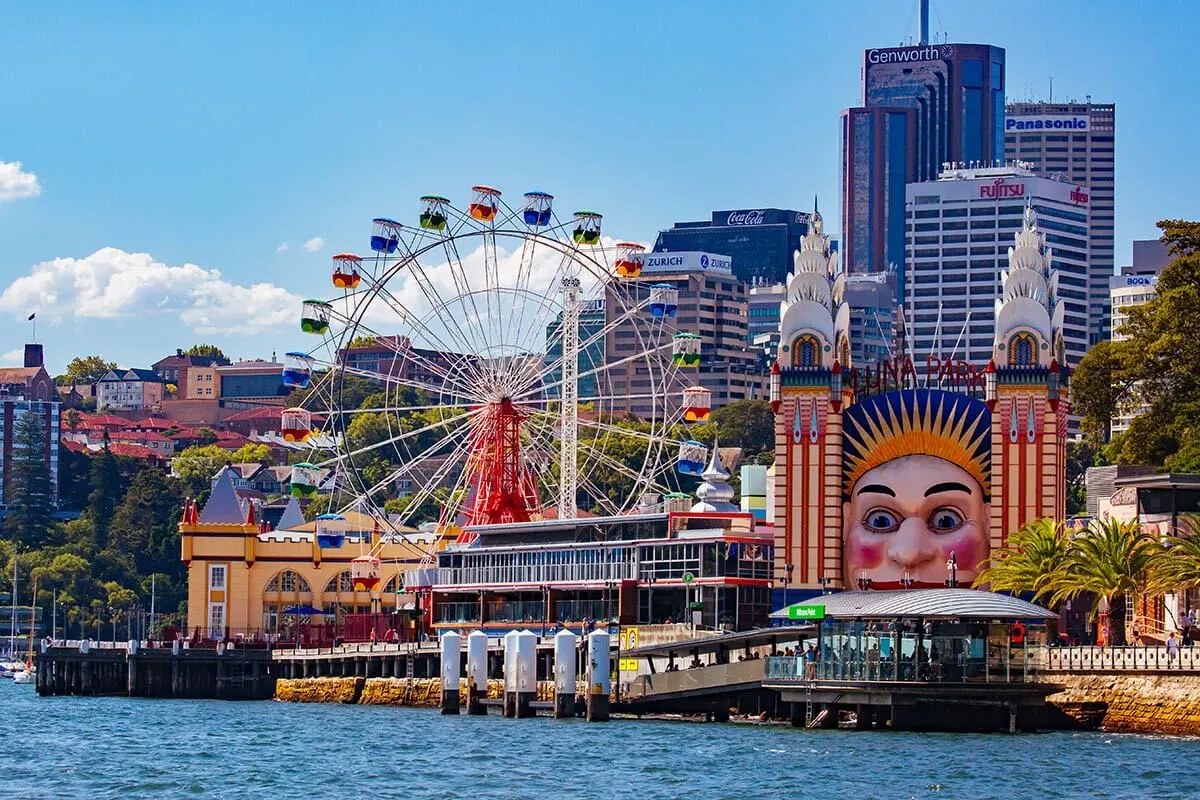 The Rocks & Sydney Harbour Bridge
6 – 7 PM.
The Rocks is a quirky waterfront neighborhood right next to the famous Sydney Harbor Bridge, about 15-20 minutes walk from the Opera (on the other side of Circular Quay).
This historic area has old brick buildings, cobbled streets, and a totally different vibe than the rest of the city. Here, you'll see heritage sites, art galleries, and boutique shops. There is also a popular bar scene, containing Sydney's oldest pubs, where you can sample local beer.
Walking in this area you'll also get yet a different view of the famous sites including the Opera House and the Harbour Bridge.
TIP: If you're interested in the area's history, guided walking tours are available. These tours tell you about the early days of Sydney and the transformation of The Rocks over the years. For a slightly different perspective, there's a pub tour too ;).
The Rocks Markets, held every Saturday and Sunday (10 AM – 5 PM), have stalls of beer, unique art pieces, and a variety of foods.
Good to know: If you have time (and aren't afraid of heights!), the meetup point for the iconic Sydney Harbour Bridge Climb is also located in this area, so you could include this unique activity in your 1-day Sydney itinerary as well. Just keep in mind that you absolutely have to pre-book the climb well in advance, and you need to count 2.5-3.5 hours for it.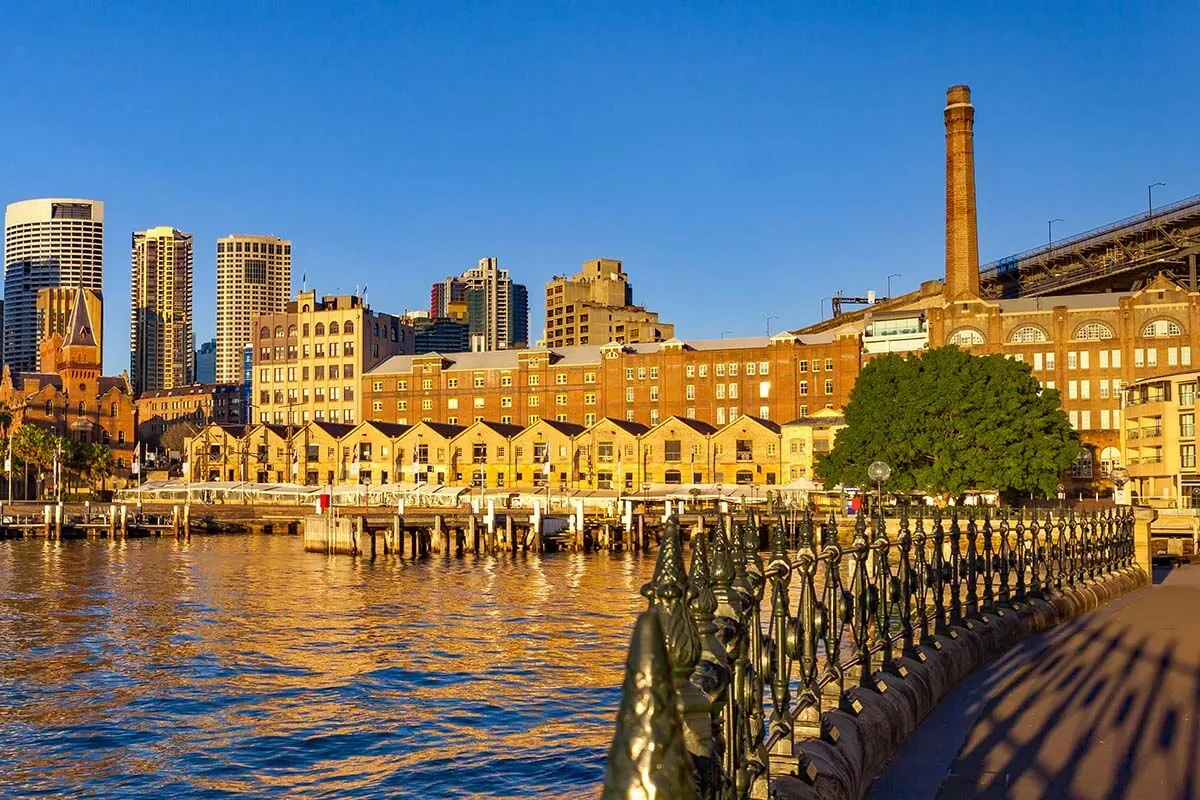 Dinner & Sydney Opera House Theater
EVENING (THEATER OPTIONAL/IF AVAILABLE).
There is no shortage of nice restaurants for dinner in Sydney. There is an option for any cuisine preference, so you won't have much trouble!
Just note that many of them require reservations, so if you absolutely want to dine at a specific place, book ahead. Otherwise, there are also lots of hole-in-the-walls and casual spots where you can simply walk in.
TIP: Opting for a restaurant by the water will give you sunset/night harbour views. For example, 6HEAD or Harbourfront Seafood Restaurant (both at The Rocks) have amazing views and great food. But there are tons of other options!
A highlight of Sydney is seeing a performance at the Opera House. They take place around the year, so check the schedule to see what's on during your visit. A quick way to check if there's an opera planned on your travel dates is via this website; simply click 'select date' and you'll see if there's a performance.
TIP: If it's available for your travel dates, we highly recommend attending Opera on the Harbour. This is an open-air show where the stage and seats are placed along the harbour, so you watch a performance with a backdrop of the Opera House and Harbour Bridge.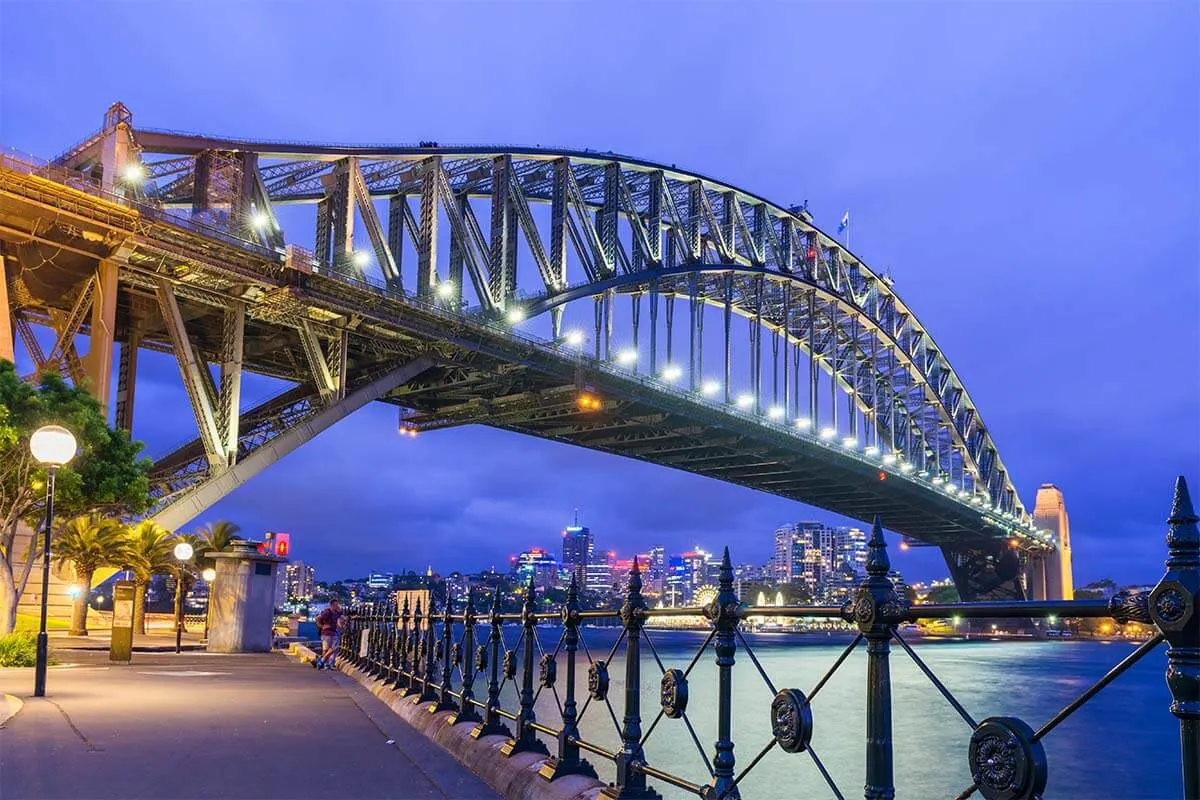 Practical Info & Planning Tips
Here is some additional information for your visit to Sydney:
Starting the day in Bondi is the best way to check off the eastern beaches from your list so that you can make your way to the heart of the city, with more sights. If, however, you are not interested in the beaches and just want to see the city, you can just skip this part. That will make your day more relaxing and will give you more time to enjoy other sites. On the other hand, most places in the center don't open before 10 AM anyway.
Even though Sydney is a large city, fortunately, many major attractions are located near each other. All the places in this itinerary except for the beaches) are within easy walking distance from each other. That said, it's important to wear comfortable shoes!
Because Bondi and The Rocks are the starting and finishing points for the day, you can decide if you want to stay in one of those two locations. Of course, you can also stay in the CBD, ideally not too far from the Opera House. Here are some of our recommendations:
Most likely, you are traveling to Sydney for more than a day, so in addition to covering all the musts in the city, be sure to plan at least one day trip outside the city as well. The Blue Mountains is the most popular option with tons of great tours that can bring you there if you are not renting a car. Highly recommended!
In addition, you may want to check out some of the other amazing experiences in Sydney such as WILD LIFE Sydney, SEA LIFE Sydney, or Taronga Zoo. It's a great chance to see some Australian wildlife and it's definitely not just for families with kids.
TIP: Depending on your interests and the places you want to visit in Sydney, consider a multi-attractions pass – it can save you a lot of money. These passes include the Sydney Tower Eye and one or several other popular attractions in the city.
So, this sums up our itinerary for your one-day visit to Sydney. As you can see, there is plenty to see and do in the city, and with good planning you can do a lot in a day! But by all means, stay a bit longer if you can – Sydney has so much to offer!
Have a great trip!
More travel guides for Australia:
If you found this post useful, don't forget to bookmark it and share it with your friends. Are you on Pinterest? Pin these images!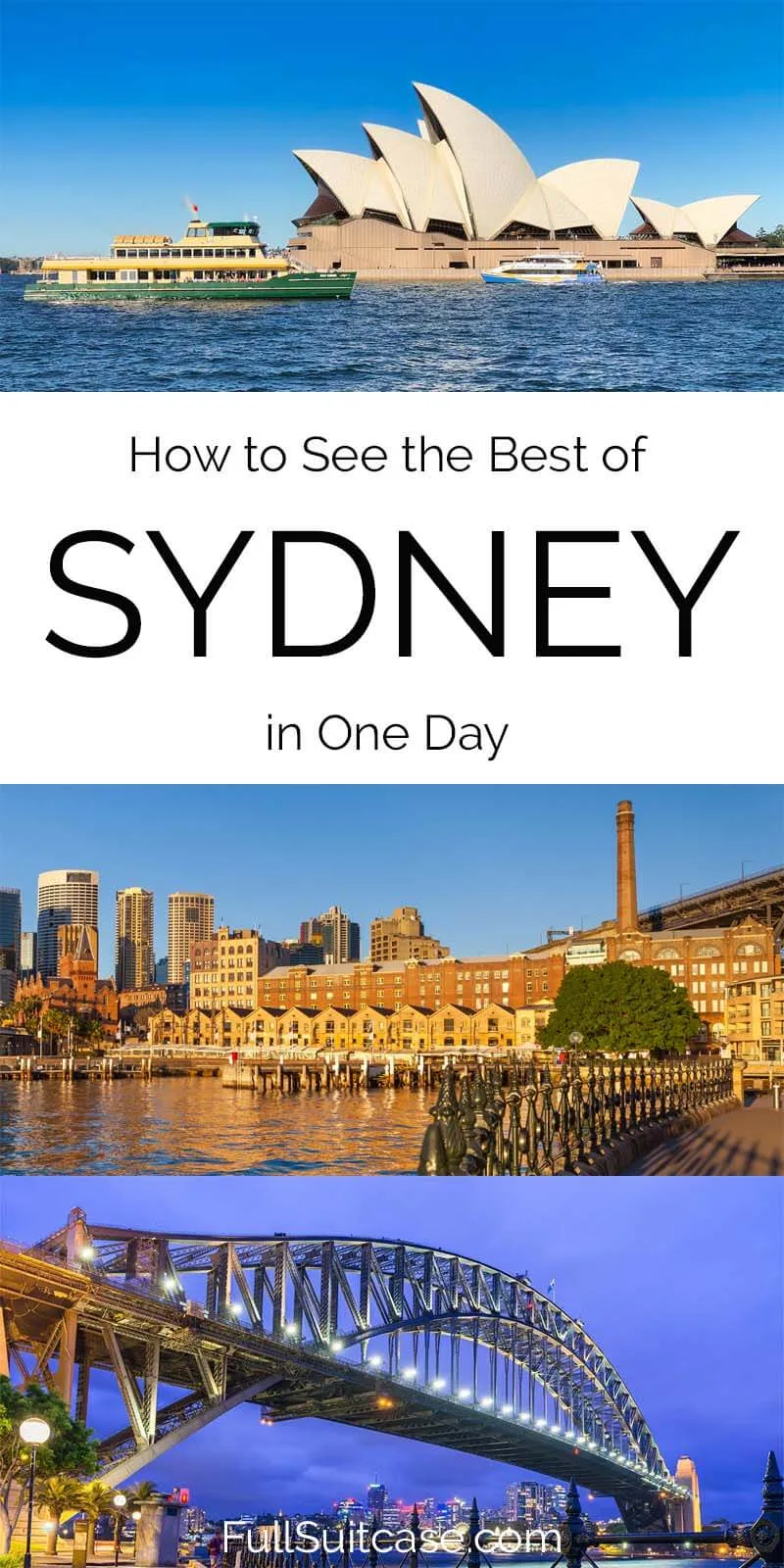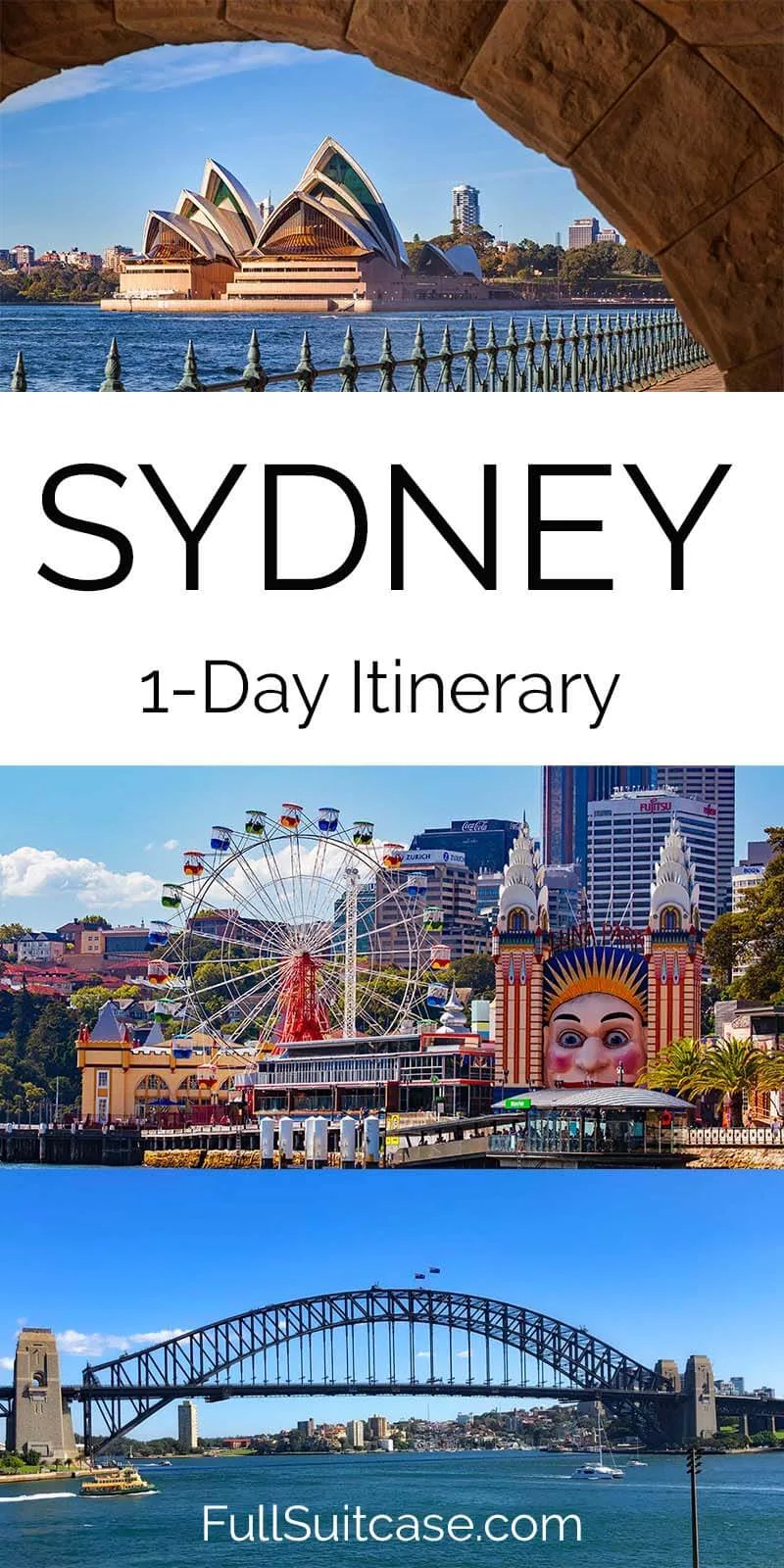 Images: Casey Gleason/CloudJumper// Maurizio De Mattei/Depositphotos.com// Leonid_Andronov/Depositphotos.com// wirestock_creators/Depositphotos.com// /Depositphotos.com// filedimage/Depositphotos.com//