Are you planning to visit Darwin in Northern Australia and are looking for ideas on how to plan the best Darwin itinerary? This article, written by someone who lived in Darwin for several years, should help you plan the best trip to the Darwin area.
This 7-day Darwin itinerary includes all the highlights of the Top End in the Northern Territory. This itinerary covers Darwin, Kakadu National Park, Katherine Gorge, Litchfield National Park, but also many other amazing places that will make your Darwin trip more memorable.
To make your trip planning easier, we created a map indicating all the places mentioned in this article. You can find it at the bottom of this article.
If you have less time in the Darwin area, you can also just choose to visit the main highlights. In that case, you can also use our tips to create your own custom itinerary for the Darwin area in Australia's Top End. At the bottom of this article, you can find our suggestions on how to best plan your Darwin itinerary for 3, 4 or 5 days.
Our guest writer Daniel from Destinationless Travel lived in Darwin for two years and knows the area around Darwin as a local. He took every opportunity to explore the Northern Territory and in this itinerary, he shares all the best places to see near Darwin and the best way to do it. Furthermore, this Darwin trip itinerary is filled with insider tips and practical information for travelers visiting the Darwin area for the first time. Find out!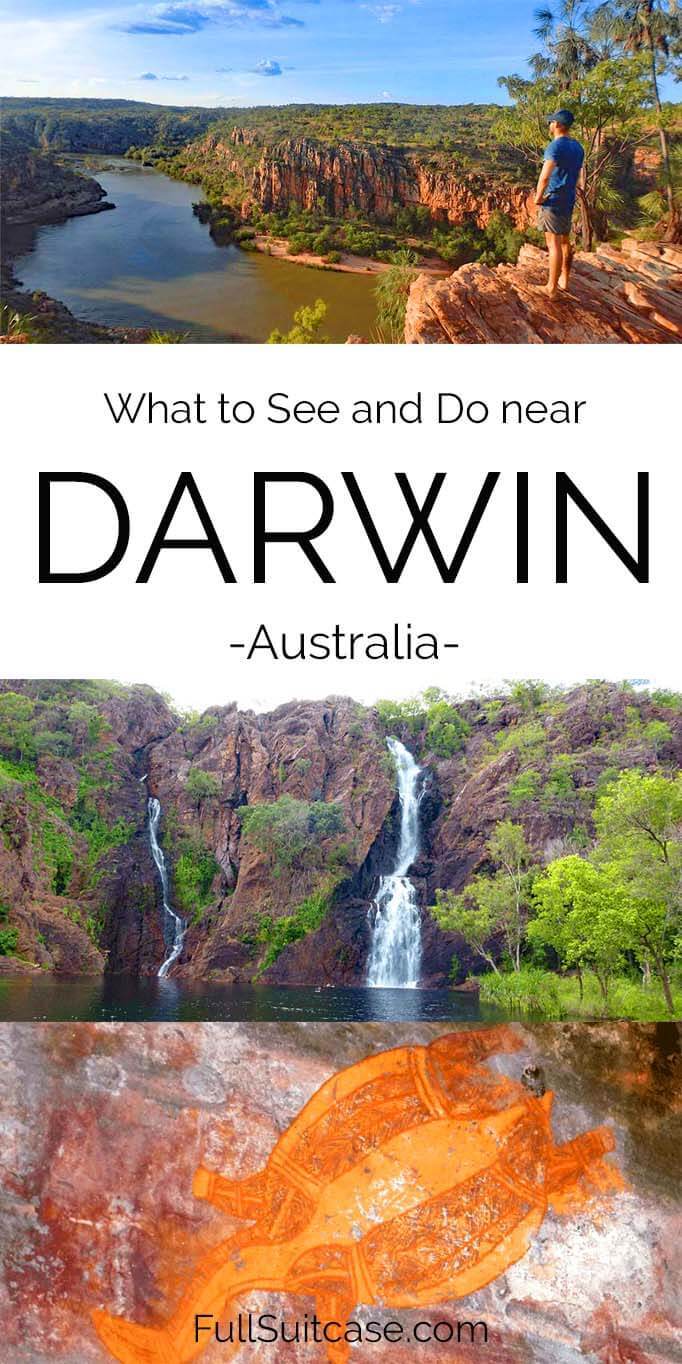 Darwin Itinerary with Tips by a Local
Darwin, Australia's "top end," is one of the most interesting and exciting places to explore in the entire country – well, in my opinion at least. I may be biased as Darwin is where I called home for two years and in that time, I grew to know and love this tropical paradise.
It isn't just the city of Darwin that is impressive though. It is all of the nearby national parks, wildlife, culture, and just overall unique experiences that make visiting Darwin really special.
When I was living in Darwin, I got out and visited nearly all of the attractions in the area. And while they all were fun, there are a few that stand out above the rest. There are certain experiences that I think everyone must include in their trip itinerary when visiting Australia's top end.
So, in this 7-day Darwin self-drive road trip itinerary, I've outlined the absolute best places to see and things to do when visiting Darwin and the surrounding area. You can also find lots of practical tips on how to best plan your trip, including where to stay and how to get around the Darwin area. Take a look!
TIP: If you rather not drive, there are quite a few other possibilities to explore the Top End. You can join one of the multi-day tours from Darwin or simply book day trips to the most popular places that you really should see in the Darwin area. In fact, the best places mentioned in this itinerary, are really easy to visit as a day trip from Darwin. Here you can find the best Darwin day trips. Take a look!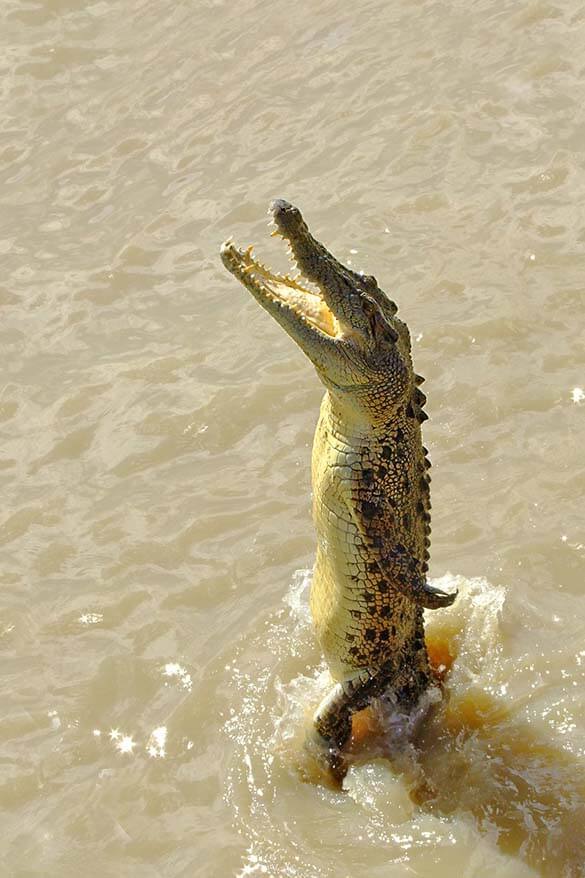 Here's our suggested Darwin itinerary:
Day 1 – Explore Darwin City
I suggest spending your first day in the Darwin area exploring Darwin city itself. Although small, Darwin is the capital city of the Northern Territory and is rich in history, culture, and offers a big variety of things to do. The vibe in the city is relaxed, the weather is warm, and the charm is undeniable – chances are that you will love Darwin!
In all honesty, one day might not be enough to see Darwin, but with our tips below, you are sure to cover the main highlights. If you do have extra time to spare, turn this 7-day Darwin area itinerary into 8 or 9 days by extending your stay in the city. You can easily keep yourself entertained with all of the things to do in Darwin or simply just by relaxing poolside, swimming at the waterfront, enjoying live music at a local pub, or going fishing!
Anyway, if you have just one day in Darwin, make sure to check off the following activities. In my opinion, these are an absolute must. Find out!
Darwin City Tour
The easiest way to really get to know Darwin quickly is on a half-day city tour. Since Darwin isn't huge, you can easily get around to some of the best sights in only a few hours. And with a guide, you'll learn all about Darwin's interesting history and the challenges the city has overcome.
Below is a list of some of the main places you should see in Darwin:
Museum of the Northern Territory. This FREE museum in the scenic location in the Fannie Bay in Darwin has it all: from aboriginal art, an exhibit on Cyclone Tracy, to heaps of Australian wildlife and a giant stuffed crocodile 'Sweetheart'. This 5-meter crocodile was responsible for a series of attacks on boats in the seventies and is considered to be the most famous crocodile in Australia.
Cullen Bay Marina. Nice waterfront area with some bars and restaurants. It's is a nice place to go for lunch.
Darwin Military Museum. Good place to get to know more of Darwin's history, especially around the WWII.
Doctor's Gully. This is a peculiar attraction in Darwin – at high tide, hundreds of fish gather in the area for feeding at Aquascene. If you want to hand-feed wild fish, this is your chance! Just make sure to check the feeding times (tide-dependant) before you go.
George Brown Darwin Botanic Gardens. These botanical gardens have a great display of plants from Northern Australia and other tropical areas from all over the world. It's a nice tranquil place to spend an hour or two when in Darwin.
WWII Tunnels. A visit to these oil storage tunnels gives a good insight into Darwin's strategic position in WWII. It's a unique place in the Darwin area – something you probably wouldn't even expect to find in Australia.
The organized tours usually cover all the musts, but you can also explore Darwin on your own using the Hop-On Hop-Off city bus.
Alternatively, pick up your rental car immediately upon arrival in Darwin and just drive to all the main landmarks of the city yourself (parking in Darwin is usually not a problem).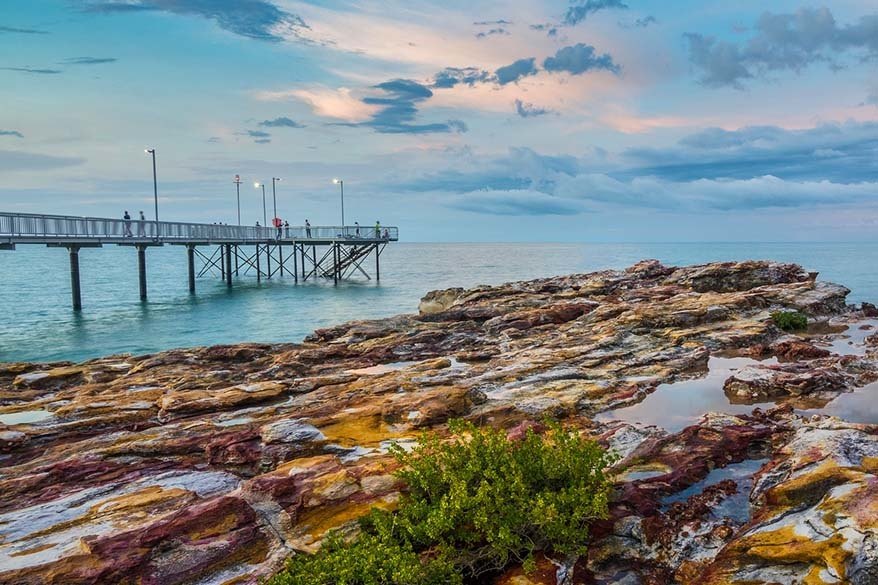 Crocosaurus Cove and Swimming with the Crocs
After you're done exploring Darwin it's time to hit up Mitchell Street right in the city center. Here, you can grab a bite to eat before going to Crocosaurus Cove, a wildlife experience right in the heart of the city.
At Crocosaurus Cove, you can find the world's largest display of Australian reptiles, visit a turtle sanctuary, or interact with baby crocodiles. Of course, you can also see big crocodiles and attend a scheduled feeding.
The main highlight of any visit to Darwin's Crocodile Cove is the Cage of Death. That's right, you can jump in a cage in the water with saltwater crocodiles – the most dangerous breed in the entire world! Would you dare?!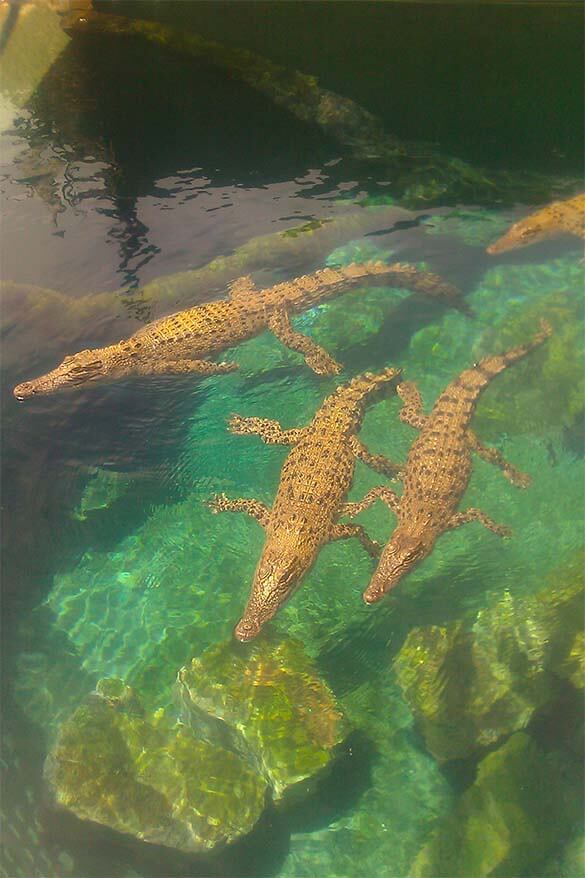 Sunset at Mindil Beach or a Sunset Cruise
Darwin is famous for the most amazing sunsets. Practically every night as the sun goes down the sky glows! You have two choices for enjoying the sunset: either go to the Mindil Markets or join a sunset cruise.
On Thursday and Sunday nights during the months of April to October, you can head to Mindil Beach. Here, they have markets where you can buy a bite to eat or go shopping before watching the sunset on the sand. If you're in town on the right day, going to the Mindil Markets is a must. Don't miss!
If you're not in Darwin when the Mindil Markets are on, go on a sunset cruise instead! Some cruises offer dinner whereas some are more about views or having a couple of drinks. It doesn't matter which cruise you choose though, they all offer the best seats around for watching the magical Darwin sunset! You can book a Darwin sunset cruise here.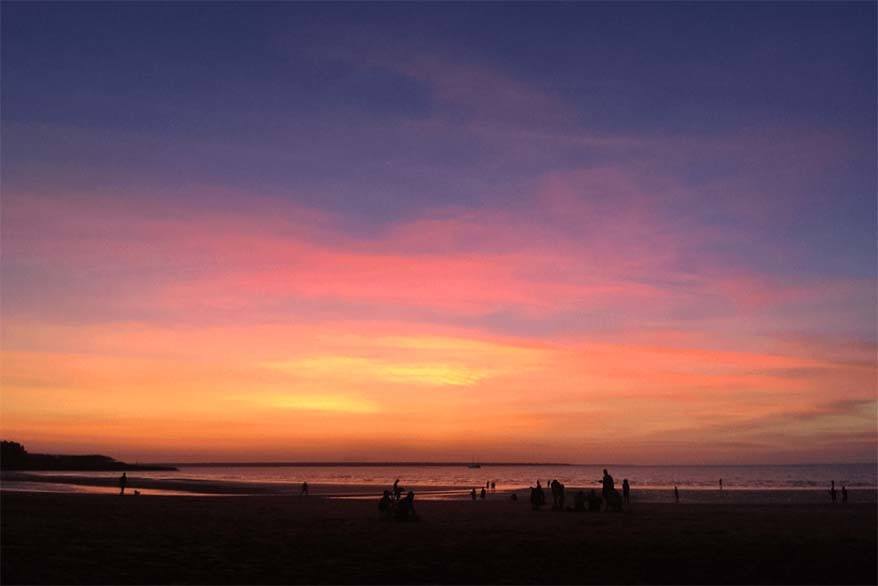 Where to Stay in Darwin City
For your first night, I advise staying somewhere centrally located in Darwin. There are many different accommodation options to choose from in the city. However, there are three really nice hotels that offer an excellent price/quality ratio that I particularly recommend. Take a look!
Budget. H on Smith Hotel is a really nice hotel walking distance from everything in the city center. They have nice modern rooms, a beautiful outdoor pool, and a good restaurant.
Mid-range. Mantra on the Esplanade is located right on Darwin Harbor and offers amazing sea views. It is only a 2-minute walk from Mitchell Street and has a large outdoor pool.
Luxury. Mindil Beach Casino and Resort is set on a private beach a bit outside the city center. This 5-star resort is one of the most luxurious hotels in Darwin and is a perfect place to see those gorgeous sunsets of Mindil Beach. And it's quite affordable too!
TIP: Using the map below, you can compare hotels and short-term rental accommodations in Darwin. Simply insert your travel dates and group size, and you'll see the best deals for your stay. Check it out!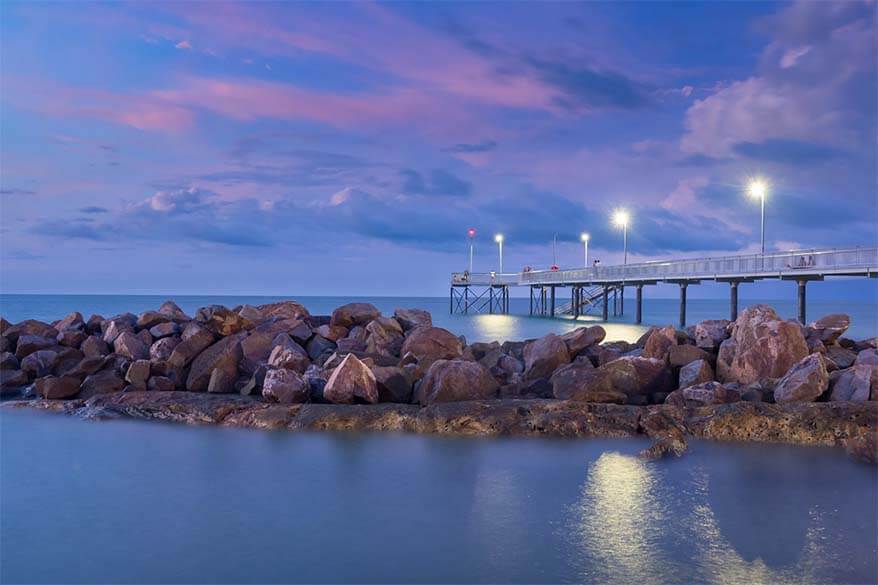 Day 2 – Berry Springs and Litchfield National Park
If not done yet, pick up your rental vehicle for the rest of this trip in Australia's Top End. You're going to need a car if you want to get around to the best places near Darwin without a tour. For more information about renting a car for a Darwin trip, please see the practical tips section at the bottom of this article.
Berry Springs
Only about a 40-minute drive from Darwin is Berry Springs Waterhole. This is your first swimming spot of the day!
I personally always really enjoy Berry Springs as it is a natural warm water spring in the tropics. It isn't somewhere you need to spend a lot of time, but it is free, it is fun, and it's what traveling in Northern Australia is about.
Berry Springs is well worth a stop on your way out of the city when driving towards Litchfield National Park.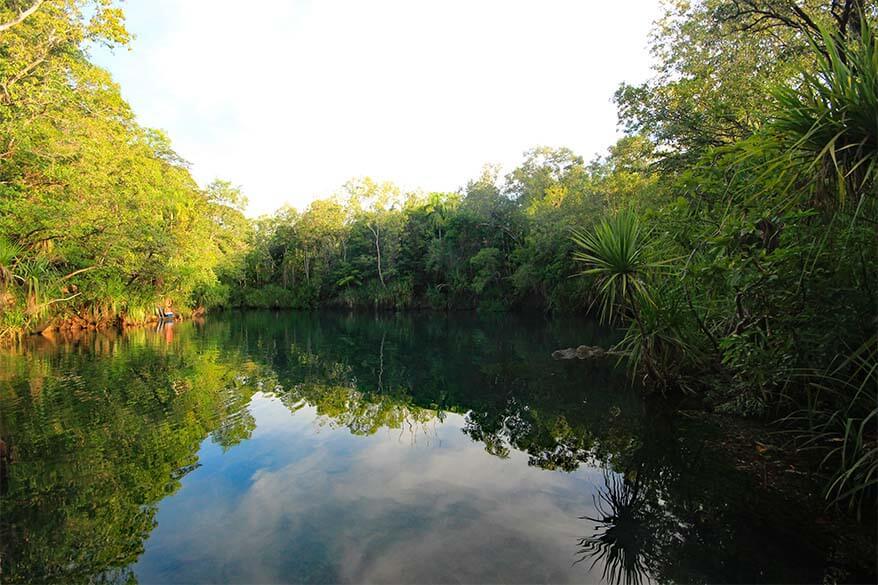 Litchfield National Park
You'll spend the majority of this day in Litchfield National Park. Located only about an hour from Darwin, this national park has tons of waterfalls to explore and is a must-do on any Darwin trip!
In fact, many people who just visit Darwin city, go on a day trip out to Litchfield returning back to Darwin in the evening. That's a good option for those who rather base themselves in the city and not worry about renting a car or driving in the Australian Outback. But if you are doing a self-drive trip in Darwin area, Litchfield is on your way out to many other amazing places, as you'll see further in this Australia's Top End itinerary.
There is a lot to see and do in Litchfield National Park. The good thing is that you can see most of the highlights in a day. Below is a list of the nicest places you really shouldn't miss in Litchfield National Park:
Wangi Falls. This massive waterfall is beautiful! You can swim in the bottom plunge pool or take a short (but steep) hike up to the top for a view of the park.
Florence Falls. This is my personal favorite place in Litchfield! Florence falls is not one, but two waterfalls going into one pool that is perfect for swimming. The falls are located at the end of a short walk through the park. The walk is nothing short of stunning.
Buley Rock Pools (Buley Rockhole). These pools are perfect for relaxing and a great place to cool off during the day. Buley Rock Pools are open all year round.
Magnetic Termite Mounds. Have you ever seen termite mounds as tall as yourself? Well, if you haven't, be sure to stop here in the park and see some! It is just a quick stop but it's totally worth it and it's an interesting place to see. Some termite hills are over 12 feet high!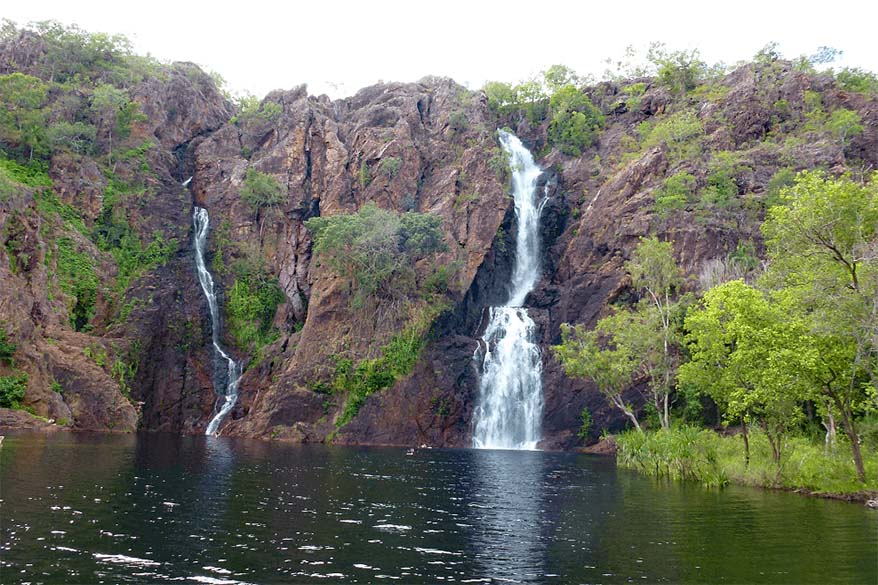 Where to Stay near Litchfield NP
if you want to stay inside Litchfield National Park, you'll have to camp. Alternatively, stay in a hotel in Batchelor town, which is just on the outskirts of Litchfield NP. You can also opt to drive back to Darwin and stay there. This just means you'll have a little more driving to do.
Camping in Litchfield. You can actually camp inside Litchfield National Park. There are paid campgrounds at both Florence Falls and Wangi Falls. They cost $6.60 per person and have bathroom faculties and as well as fire pits for cooking. The campsites are first come first serve and you just pay the ranger in cash.
Accommodation in Batchelor. In Batchelor, I recommend staying at the Batchelor Butterfly Farm. It is a small family-run bed and breakfast right in Batchelor town. They offer home-cooked meals and have a beautiful garden complete with plenty of butterflies! It is a fun place to stay that offers good value for your money.
There are several other accommodation options in Batchelor, but the choice is really limited. So if you are exploring the Darwin area on a self-drive trip and want to save some driving, make sure to book your lodging in advance!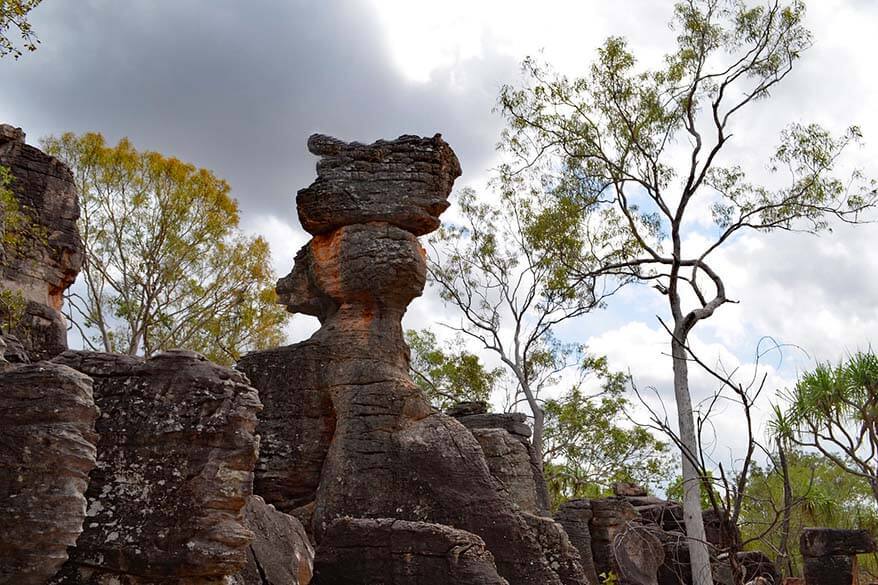 Day 3 – Drive to Katherine, Edith Falls, and Katherine Gorge
Katherine is a town many people miss when they visit Darwin and the Northern Territory (which is unfortunate.) It is small, but there are actually a couple of awesome attractions. In fact, when I lived in Darwin, I visited Katherine on several occasions and absolutely loved it!
Good to know: Just as Litchfield, Katherine Gorge and Edith Falls can be visited as a day trip from Darwin.
Edith Falls
Your first stop of the day should be Edith Falls. Edith Falls is on the way between Batchelor and Katherine. From Batchelor, the drive to Edith Falls should take you about 2 hours, and then from there, it's a 40-minute drive to Katherine.
At Edith Falls you can explore the different levels of plunge pools. Spend an hour or two here before heading towards the town of Katherine. In Katherine, you can stop for lunch before visiting the Katherine Gorge.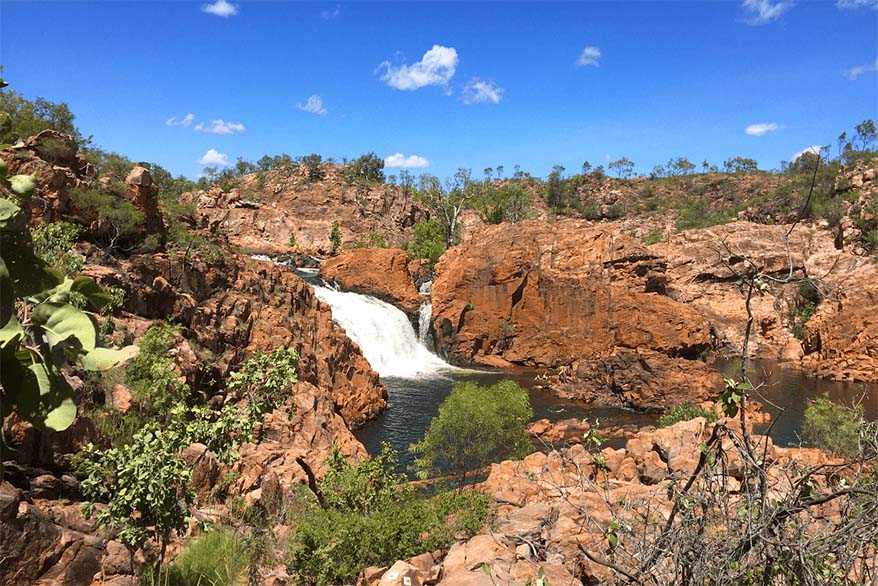 Katherine Gorge – Nitmiluk Gorge
The Katherine Gorge (also known as Nitmiluk Gorge) is the biggest attraction in Katherine. This deep, water-filled gorge has been featured on many different movies due to its large dramatic cliff faces.
The best way to enjoy the Katherine Gorge is on a boat cruise. The gorge itself is full of crocodiles so it's not recommended to go swimming here! But from the safety of a boat, you can see the full scale and beauty of the Katherine Gorge.
Nitmiluk Tours offers a range of different boat cruises at Katherine Gorge. Most tours go for 2-3 hours allowing you to spend your afternoon here before heading back to Katherine town for dinner. Alternatively, you can opt for the sunset dinner boat cruise.
TIP: Katherine Gorge cruises are very popular, so be sure to book in advance though to make sure you don't miss out! You can find all the options and book your Nitimiluk Gorge boat cruise here.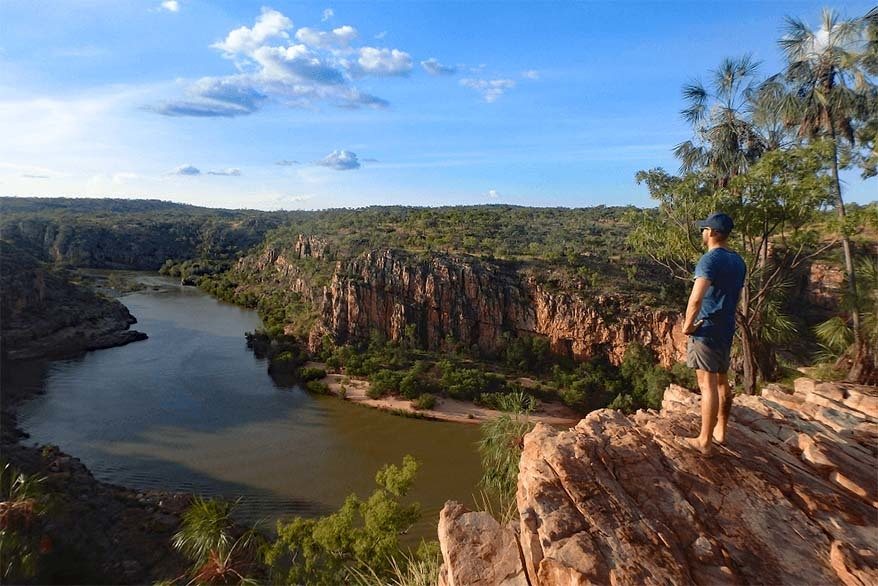 Katherine Hot Springs
If you still have some time when you get back to Katherine town, I recommend going for a swim in Katherine Hot Springs. The water is lovely and warm – it's a great place to end your day in the Katherine area.
Where to Stay in Katherine
There are several accommodation options in Katherine, most on the lower to mid-budget range. There is also one really nice luxury accommodation that will make you want to stay longer. Take a look.
Pine Tree Motel. A great budget Motel right in the middle of town. It's not fancy but has a pool and everything else you could need.
Katherine River Lodge. A simple motel with big rooms that can accommodate 4 people. It has a swimming pool, a restaurant, and kids' play area.
Knotts Crossing Resort. Good mid-range accommodation in Katherine town center. It offers cottages and rooms for different group sizes, has a pool and a restaurant.
Cicada Lodge. Located about 20km from town and just next to Katherine Gorge, this lodge is simply stunning. This is also the only luxury lodging option in Katherine. It's all about getting out into the stunning landscape and enjoy beautiful sunsets surrounded by nature! If you can afford it, this is by far the nicest place to stay near Katherine. It's one of those hotels that make your entire trip so much more memorable.
TIP: While finding a place to stay in Katherine shouldn't be a problem, it's still Australian Outback and options are rather limited. Therefore we do recommend booking your Katherine accommodation in advance.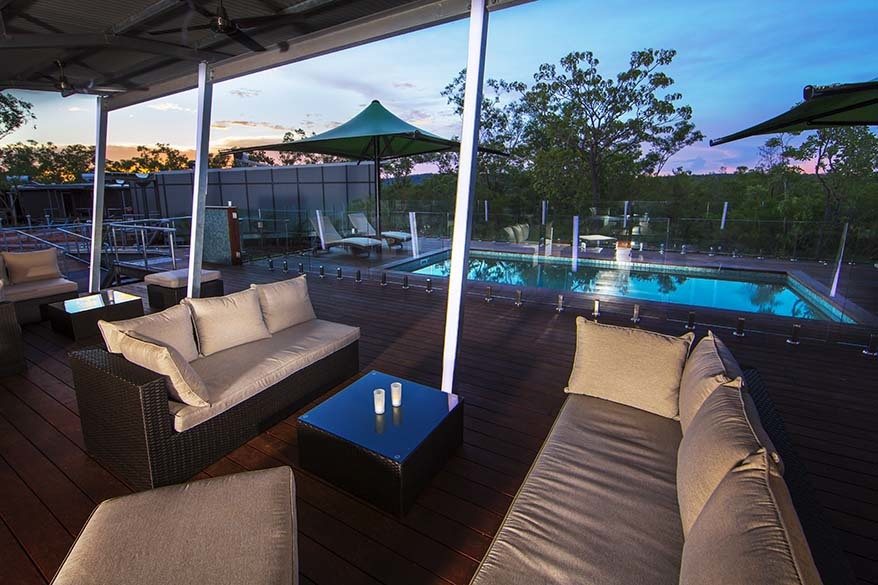 Day 4 – Kakadu National Park: Gunlom Falls and Maguk
Kakadu National Park is one of my absolute favorite parks in all of Australia. It is beautiful and full of culture to learn about. This is an absolute must-visit place in the Top End!
While you could easily spend a week in Kakadu (I have visited for several days on numerous occasions and never got bored), below you can find the very best spots for the sake of this shorter itinerary. If you have more time to spare, I recommend extending your stay in Kakadu, so that you can really take your time enjoying everything it has to offer.
TIP: Be sure to have breakfast before you leave and stop at a grocery store in Katherine in case you plan on camping and cooking your own food for the next two days. Even if you are not camping, you'll want to take some picnic lunch with you.
Gunlom Falls – Gunlom Waterfall Creek
From Katherine, it will take about 3.5 hours to get to Gunlom Falls. This drive, although long, is gorgeous and much of it is spent driving through Kakadu National Park.
Gunlom Falls is a huge waterfall and while swimming in the bottom plunge pool is nice, the highlight of these falls is climbing to the top! At the top, you'll find a natural "infinity pool" where you can swim and enjoy the views!
At the bottom of Gunlom Falls, there are picnic facilities, so you can have a picnic lunch here as well.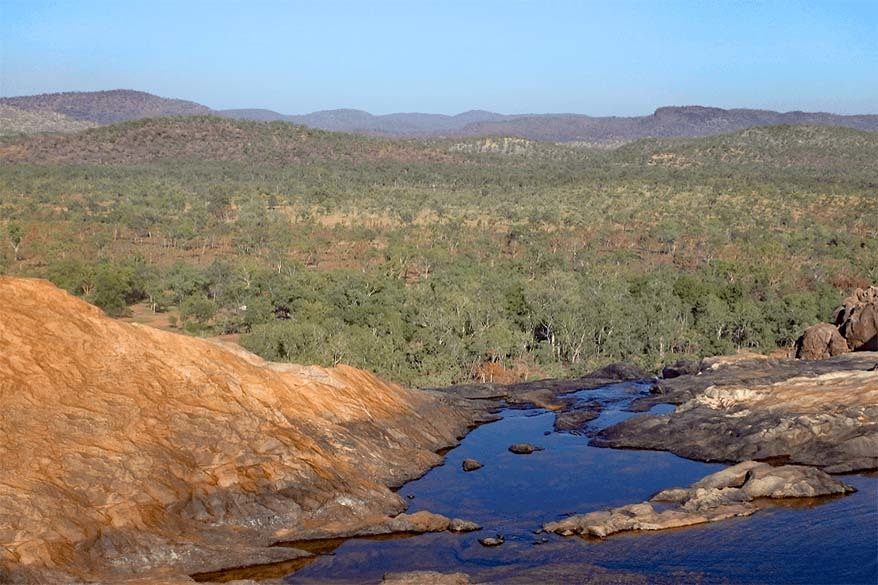 Barramundi Gorge – Maguk
Maguk (also known as Barramundi Gorge) is your last stop for the day. From Gunlom Falls it'll take about 2.5 hours to get to Maguk. Yes, there is a lot of driving today but it is totally worth it.
Maguk offers plenty of natural pools and underwater caves to explore. There is also a waterfall. It's a really beautiful swimming hole and a great place to relax.
Where to Stay in Kakadu National Park
I love camping at Maguk. This means no more driving for the day and you can relax in the natural pools (also take a dip in the pools the next morning). Maguk campground costs just a few AUD and is a first come first serve basis. You'll find toilet facilities, picnic tables, and fire pits.
If you are not camping, then the best place to stay is Cooinda Lodge Kakadu, which is just a 1-hour drive from Maguk. If it's fully booked, try Jabiru town, which is about 1.5-hour drive. In Jabiru there are two accommodation options – Mercure Kakadu Crocodile and Kakadu Lodge.
TIP: Make sure to book your Kakadu NP lodging well in advance because they often book up!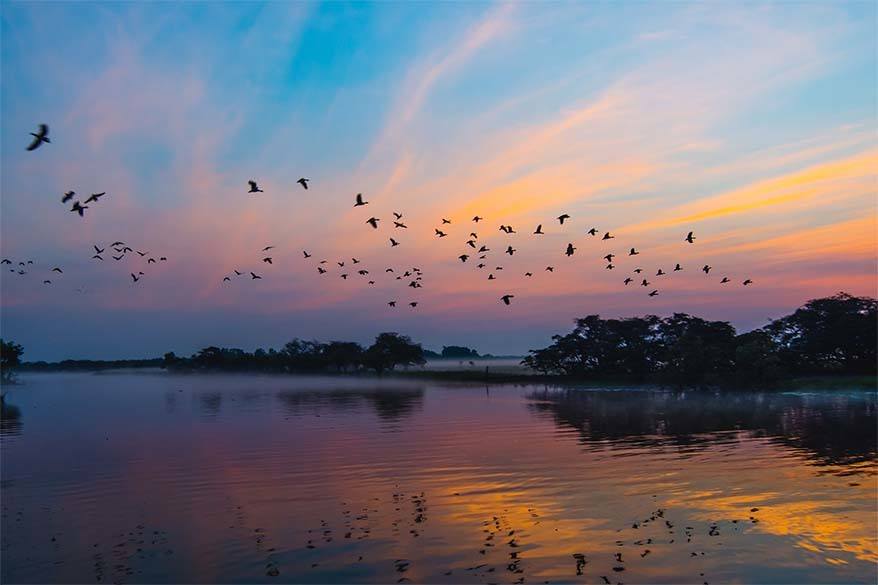 *Optional Additional Day. You can turn this 7-day itinerary into 8 days by adding on one extra day in Kakadu National Park. You'll definitely need a 4wd if you decide to do this! Drive out for 3 hours to Jim Jim Falls and then visit Twin Falls. If you are camping, you can spend the night here. Jim Jim Falls is one of my favorite falls in the park and stands at over 200m high! These places are beautiful to visit but are only open during certain weather conditions. Be sure to check that they are open before you go and be prepared for a few extra hours of driving!
Day 5 – Kakadu NP: Ubirr, Cahills Crossing, Bowali Visitor Center in Jabiru
Your second day in Kakadu National Park is less about waterfalls (by now you'll have seen plenty of them) and more about culture! The indigenous culture in Kakadu is strong and worthwhile learning about. No trip to the Northern Territory is complete without educating yourself on the indigenous people who called Australia home long before anyone else did.
Ubirr Rock Art Sites
After breakfast head out to Ubirr. Depending on where you spend the night, the drive can be just 40 minutes (from Jabiru) or about 2 hours (from Maguk). You will pass through the small town of Jabiru on the way. Here you can stock up on fuel or groceries before continuing on to Ubirr.
Once you're at Ubirr, park your vehicle and get on your walking shoes. The Ubirr Rock Art Sites Walk is a 1-kilometer trail that takes you past ancient rock art. Some of the rock art sites at Ubirr are some 40,000 years old, and you'll find lots of informational panels along the way. You should also climb up 250m to a viewpoint over the Nadab floodplain – it is gorgeous.
TIP: If you want even more information on the artwork and history of the land, I recommend going on a guided ranger walk. You'll need to check the official NP website in advance to make sure you know when the guided walk for that day takes place.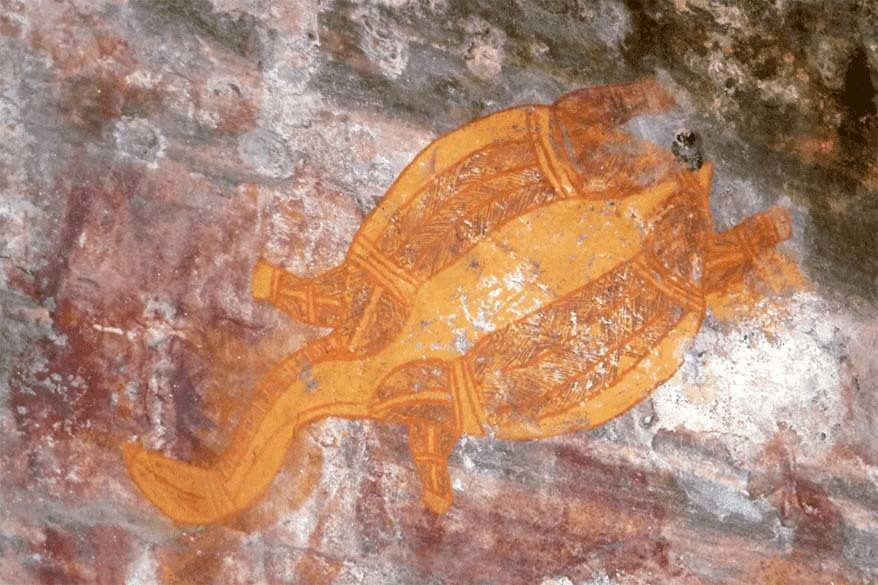 Cahills Crossing
Have you ever wanted to see a saltwater crocodile in the wild? Well, you are almost guaranteed to see one at Cahills Crossing. This is an actual river crossing for 4wd's across a croc-infested river to Arnhem Land.
You cannot cross into Arnhem Land without a permit obtained by the Northern Land Council. However, you can walk along the river to a viewpoint and try to spot crocodiles.
This is actually the most crocodile populated area in Australia. Around 30 crocodiles live in this tiny area, so you'll definitely get to see some.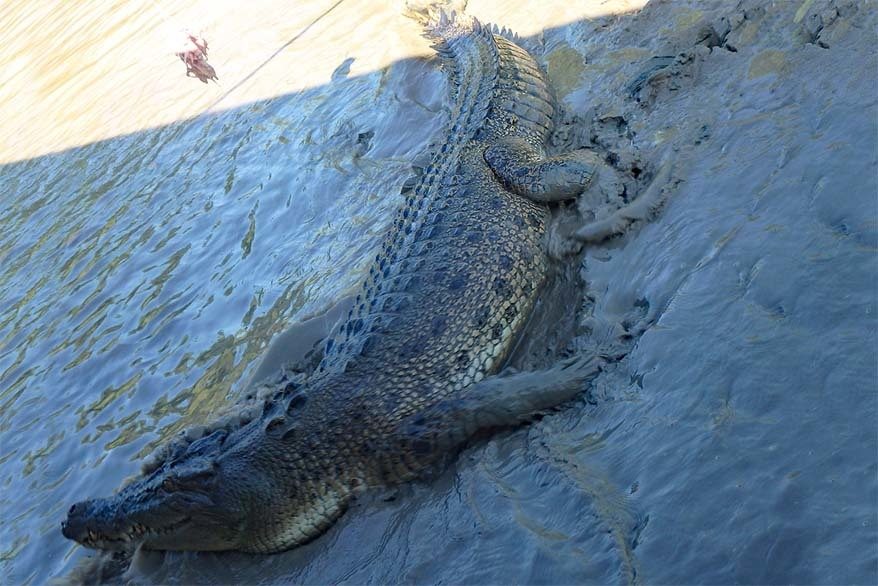 Bowali Visitor Center
After you've seen a few crocs, drive back to Jabiru and visit the Bowali Visitor Center. Here you can check out their many displays and learn more about Kakadu and the park. It is actually very interesting and you can easily spend an hour here.
This is your last attraction for the day so feel free to take your time!
Where to Stay in Jabiru
Tonight, it's best to stay in Jabiru. This is the only "town" in Kakadu National Park. It is very small but there are hotels, restaurants, and small shops. Once again, you can choose to camp or stay in a hotel.
Camping. The Kakadu Lodge (that also has bungalows with shared- or private bathrooms) has over 200 campsites. This is a proper holiday park with many facilities and even a huge outdoor pool! After roughing it for a night this will definitely be a luxurious camping experience!
Hotel. The Mercure Kakadu Crocodile is a beautiful hotel offering a comfortable stay right in the heart of Jabiru. All rooms have air conditioning and there is a large pool on site along with a bar and restaurant.
TIP: While not easy to see everything in a day, it is possible to visit Kakadu National Park as a day trip from Darwin. Here is the best-rated and most complete Kakadu day trip I was able to find.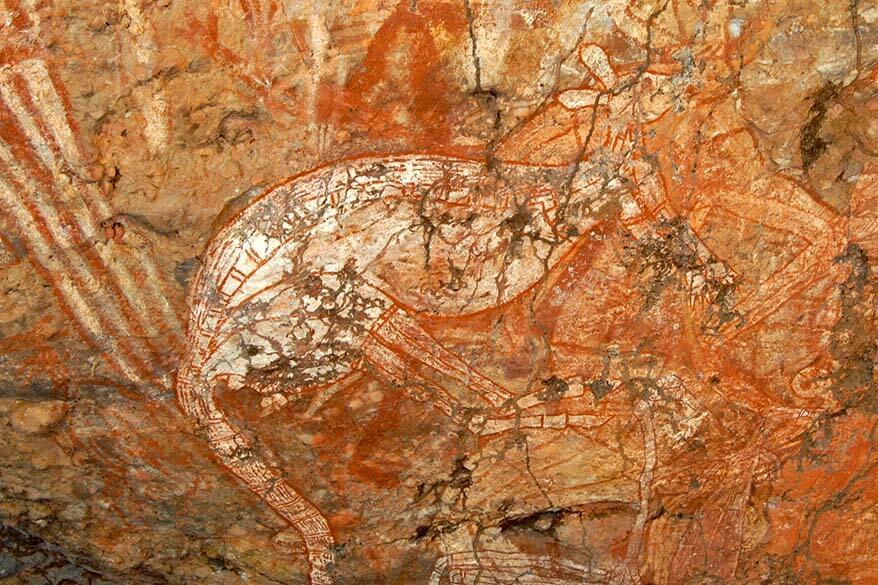 Day 6 – Jumping Crocs Cruise, Humpty Doo
This morning you can relax and sleep in for a bit. The last couple of days have been busy, so enjoy a nice breakfast in Jabiru and maybe even a morning swim before hitting the road again!
Jumping Croc Cruise
Depart from Jabiru and head to Adelaide River. Here, you can jump on a boat for a "jumping croc cruise!" From Jabiru to the departure points for the cruises, it is about a 2-hour drive along the Arnhem Highway.
But what is a jumping croc cruise? Well, it is a boat cruise out on a saltwater crocodile-infested river. The guide will use chicken to lure crocs up to the boat. The crocs use their tails and power to jump out of the water to get the chicken – it is amazing!
There is no other experience in the world where you can get so close to such a dangerous, yet amazing, creature. Seeing these crocodiles only feet away from the boat attack the chicken carcass is a unique experience I guarantee you'll remember for a lifetime.
TIP: Be sure to book your jumping croc cruise in advance to avoid it filling up. There are a few different companies to choose from. Just be sure to book one later on in the day to allow yourself enough time to get there. If you are not driving, this is also something you can easily do with an organized day tour from Darwin.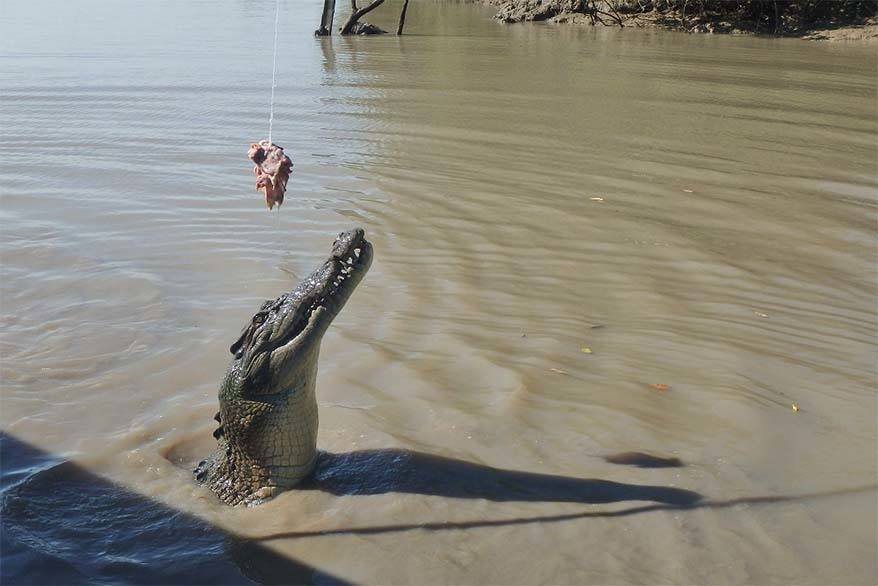 Humpty Doo Tavern
For dinner, make the short drive (+-30min) to the Humpty Doo Hotel and Pub. This iconic pub is known for serving the best buffalo, crocodile, and barramundi burgers around. Sounds weird right? Well, it might be, but they are delicious!
Also, if you ever wanted to have a conversation with a real-life "Crocodile Dundee-type", then the pub is your chance to do so. Expect a crowd of locals who live in the Australian outback, live music, and maybe even dancing on tables!
Where to Stay
If you want to spend an evening with the locals in the Australian outback, then this is your chance. The Humpty Doo Pub is also a hotel, and although not the fanciest, it will do the trick for somewhere to rest your head for the night. There are also a few other lodging options nearby.
Otherwise, you can get back to Darwin and spend the night there. The Humpty Doo Hotel is only about a 30-minute drive from Darwin City Center and staying in town will give you the possibility to make a really special day trip on your last day of this itinerary (recommended). See below.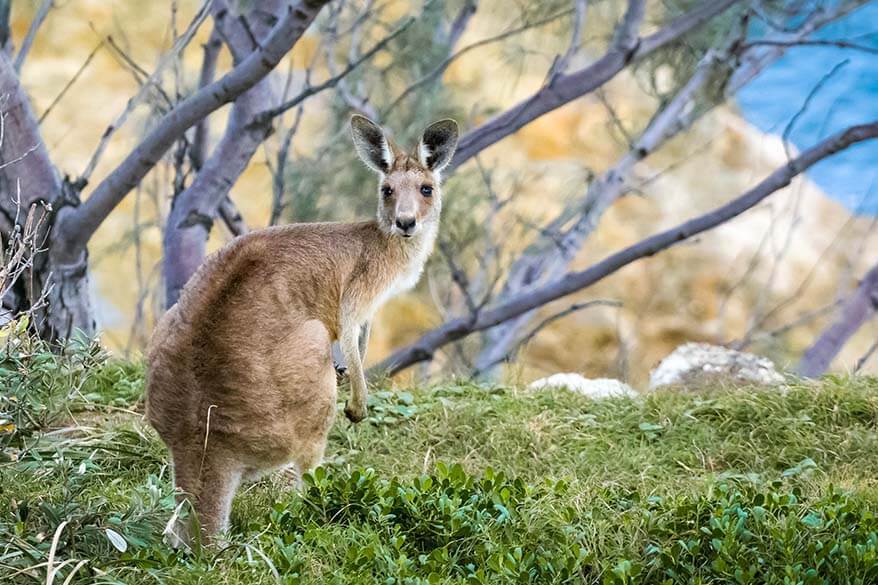 Day 7 – Back to Darwin & Tiwi Islands Day Trip
Today is the last day of this 7-day Darwin trip. If not done the previous night, it's time to head back to the city. The short drive allows enough time to catch a flight or if you want, stay another night in Darwin and see some of the places you might have missed at the beginning of your trip.
If you have the whole day free, consider doing something really special and join this highly-rated Tiwi Islands cultural day tour. You'll experience a traditional Tiwi welcome smoking ceremony, meet the locals, explore the art center, museum, and Catholic mission precinct with a local guide. You can even make your own Tiwi-style art piece or get some authentic souvenirs.
This is your chance to get to know the local Aboriginal culture and do something truly unique that will make your trip to Darwin unforgettable.
For places to stay in Darwin, please check our suggestions on day 1 of this itinerary.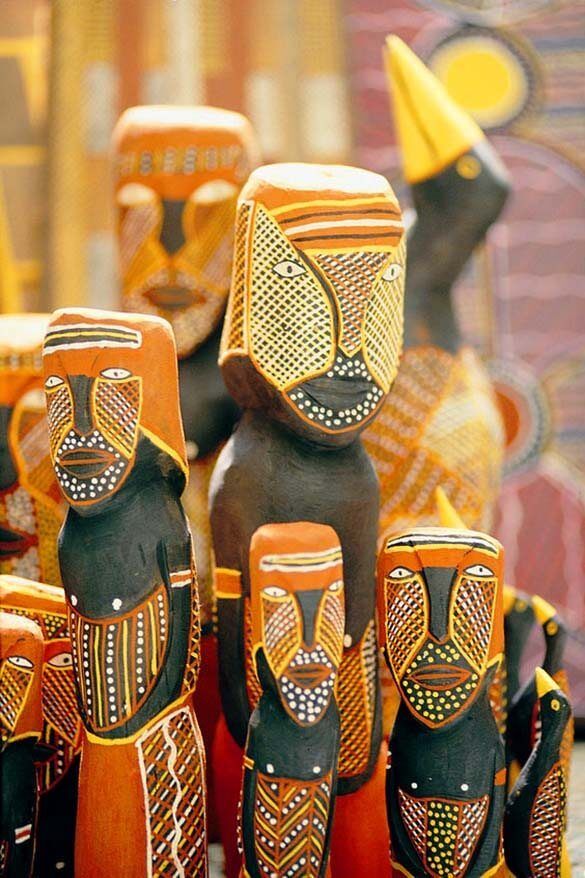 Darwin Itinerary Map
To make your Darwin trip planning easier, I created this map indicating all the places mentioned in this article.
As you can see, it's a circular trip, so it would also be possible to turn it around so that you start with Kakadu National Park and end in Litchfield (although, we do suggest leaving the best for last).
How to Use This Map: Use your computer mouse (or fingers) to zoom in or out. Click on the icons to get more information about each place. Click the arrow on the left top corner for the index. Click the star next to the title of the map to add this map to your Google Maps account. To view the saved map on your smartphone or PC, open Google Maps, click the menu button, and go to 'Your Places'/'Maps'.
So, this is our suggested Darwin and Darwin area itinerary that covers all the best places in Australia's Top End in one week. You will see wildlife, learn about indigenous culture, camp, swim under waterfalls, and of course, explore some of the Northern Territory's most interesting towns.
It is a side of Australia that many people miss, but it is incredible and typically Australian. Darwin area is well worth a trip if you want to experience the more local and traditional side of Australia. I hope you'll enjoy Darwin just as much as I did!
Darwin Area Itinerary Suggestions for 3, 4, or 5 Days
While we suggest spending at least one week in Darwin in order to see all the main highlights of Australia's Top End, we understand that not everyone has that much time. Therefore we also have some suggestions for shorter trips if you have less time in Darwin. Take a look!
If you have three days in Darwin, visit Darwin city, Litchfield NP and take a day trip to either Kakadu or Katherine Gorge.
With four days in Darwin, do all of the above: visit Darwin and take day trips to Litchfield, Kakadu, and Katherine Gorge. It's probably easiest to just base yourself in the city and take day trips (unless you're ok with full sightseeing days AND doing lots of driving yourself).
If you have five days in Darwin, you can pretty much follow our itinerary suggestions from day 1 to day 5 and drive back to Darwin from Jabiru.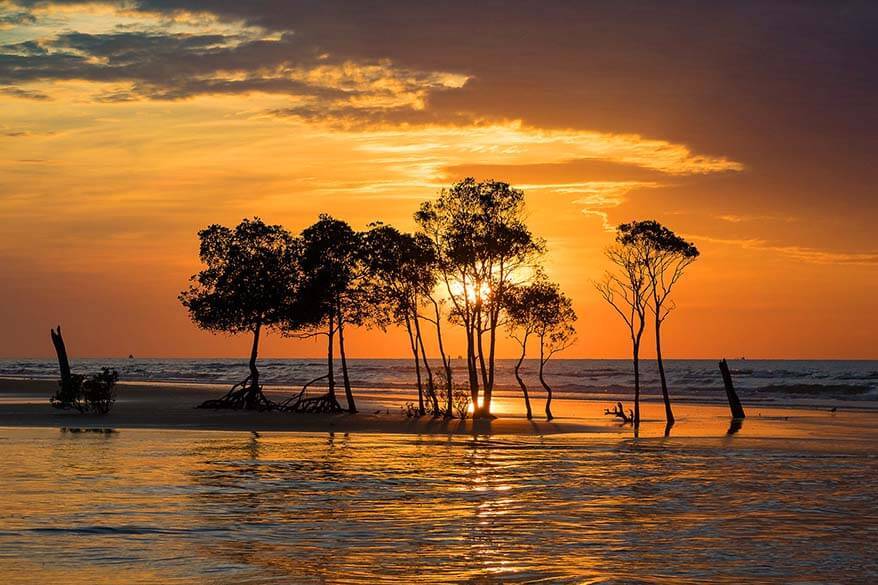 Practical Tips for Your Darwin Trip
The best time to visit Darwin is the dry season from April/May until September/October. If you are planning to travel in the rainy season, you should know that some roads may get inaccessible.
You will need a rental car if you decide to visit the Darwin area on a self-drive road trip instead of taking organized tours. You can find some of the best deals for car rental here.
It's best to rent a 4wd as many of the roads inside the National Parks are gravel and suitable for 4wd cars only. The biggest part of this itinerary is on paved roads, but there are also some parts, like for example, Gunlom Falls and Maguk that are best visited in a 4wd.
Some car rental companies offer to rent camping equipment (sleeping bags, mats, and a tent) as well. If you want to save on accommodation, this could be a good idea and you'll have plenty of opportunities to camp! Alternatively, hire a 4wd with a pop-up tent on the top – it would be perfect for this trip! If you don't camp, don't worry. As you can see, there are accommodation options for each place mentioned in this itinerary.
TIP: Make sure your rental vehicle is allowed on gravel roads if you are planning to drive them. Cars that aren't allowed, have signs on them offering rewards (around $100) to people who can take a photo and report you to the rental company!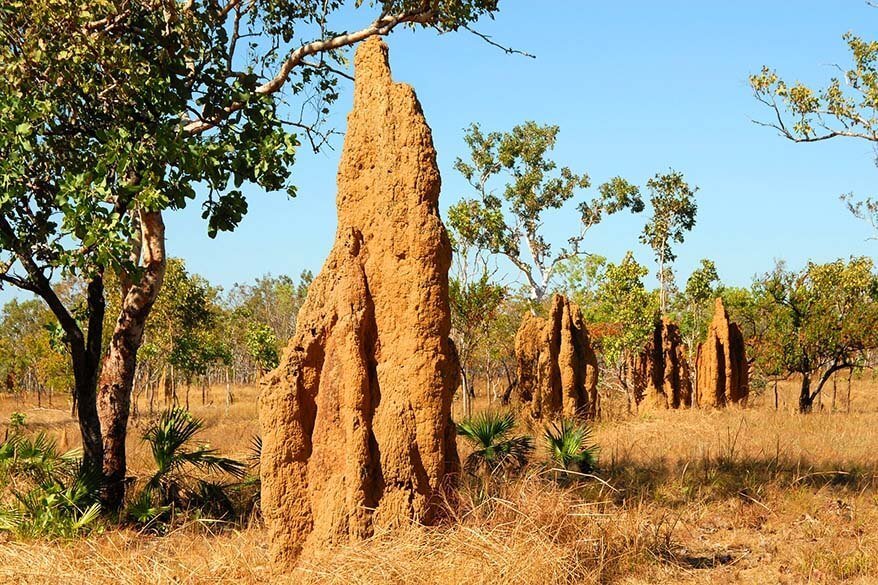 Thanks again to our guest writer Daniel for these wonderful tips for visiting the Darwin area. Even though we have visited Australia twice, we still haven't been to the Top End. This article left me googling flights to Darwin…
About the author. Daniel is a professional photographer, skydiver, and travel blogger. He uses travel as a way to fulfill his need for adventure and excitement. Daniel is now a full-time traveler exploring the world continually and enjoying the journey along the way. With his partner Bailey, the two write about all of their travels on their blog, Destinationless Travel!
TIP: If you are visiting Australia, make sure to check our tips for planning Australia trip, as well as our Australia itinerary, and articles about some of our favorite places including the Red Center, Kangaroo Island, Melbourne, or Hobart, to name just a few. Check it out!
READ ALSO: Best Stops on the Great Ocean Road, Australia
If you found this post useful, don't forget to bookmark it and share it with your friends. Are you on Pinterest? Pin this image!