Thinking of visiting South Africa with kids and wondering if it's a good idea, what to expect, or where to go? This guide is for you!
In case you doubt if you can travel to South Africa with kids, let me tell you that South Africa is a great choice for a family trip. It was the first destination that came to mind when we decided that our kids were old enough for a long-haul flight and a non-European trip, and it was an amazing trip!
I understand if you are hesitant and worried to travel to South Africa with kids. Hence this post – to share our experience and to tell you to go for it. South Africa is a beautiful destination for a family holiday and I'm sure you and your kids will love it!
Don't immediately think that we are irresponsible parents for taking our 2-year-old twins and a 4-year-old on a family trip to South Africa. It's true that it's not the safest country in the world (is yours?), but it's also one of the most beautiful ones.
Ask anyone who's traveled to South Africa and they will all tell you that they fell in love with the country. And so did we, years ago when we spent two weeks exploring the best of South Africa. If you know us a bit, you know that we practically never travel to the same place twice, but we would make an exception for South Africa at any time!
In this post, I share our day-to-day itinerary for the South Africa trip with kids, tips for family-friendly activities, and accommodation advice. It turned out longer than expected, but it has all information you might need in order to prepare for your family trip to South Africa with kids. Read on!
Why Visit South Africa with Kids
Here are the main reasons why we think that South Africa is a great country for a family trip:
South Africa is one of the most beautiful and unique destinations in the whole world.
There is a lot to see and do in South Africa for and with kids.
You can see a lot without having to cover huge distances and sit in a car for hours every day.
South Africa is relatively cheap and also family-friendly.
South Africa is in the same time zone as Europe.
You don't need extra vaccinations or malaria pills in the Southern part of the country.
Where to go & what to consider when visiting South Africa with kids
We recommend Cape Town, Cape Peninsula, and the Garden Route for your first trip to South Africa with children.
That's what we did for our 2-week family trip to South Africa and there are good reasons for it. When preparing a road trip itinerary to South Africa with kids, we adjusted it to our little travel companions. That meant skipping all the malaria areas and avoiding big distances to drive every day.
We stayed at only three hotels over a 2-week period. But because we chose our locations well, we still visited so many amazing places! We had such a good time during this trip that we are planning to repeat the exact same trip again.
There is so much to see and do in the area around Cape Town or the Garden Route that you can stay at one place for a week or even two and not get bored for a second! You don't have to travel long distances or change hotels every night in order to see a lot. So the Southern part of South Africa is an ideal destination for traveling families.
Furthermore, Western Cape is malaria-free, yet there are plenty of possibilities to watch wildlife. On top of that, Cape Town is one of the most beautiful cities in the world with enough to do for young and old. Add the most magnificent landscapes, good food, some of the world's best wines, nice weather, and you have a perfect destination for a family vacation.
READ ALSO: Best Places to Visit in South Africa
We chose November for our visit as it's springtime in South Africa (and it's wet and cold in Europe). We had days with 18°C (64°F) as well as 30°C (86°F) in the two week period, but most of the time the weather was very pleasant.
We flew from Europe to Cape Town and this was our South Africa trip itinerary with kids: 3 nights in Cape Town, 7 nights in Knysna (Garden Route), 4 nights in Cape Town. See the day-to-day itinerary below.
Traveling with three children under 5 makes it difficult to plan and foresee everything, so we kept our schedule completely flexible. We had a good idea of what we wanted to see and do on this trip, but we didn't plan anything in advance. We rented a car and booked the hotels before we left and that was it.
We ended up doing a lot more than expected, but there were also some activities that we passed because we realized that it would be too difficult for young kids.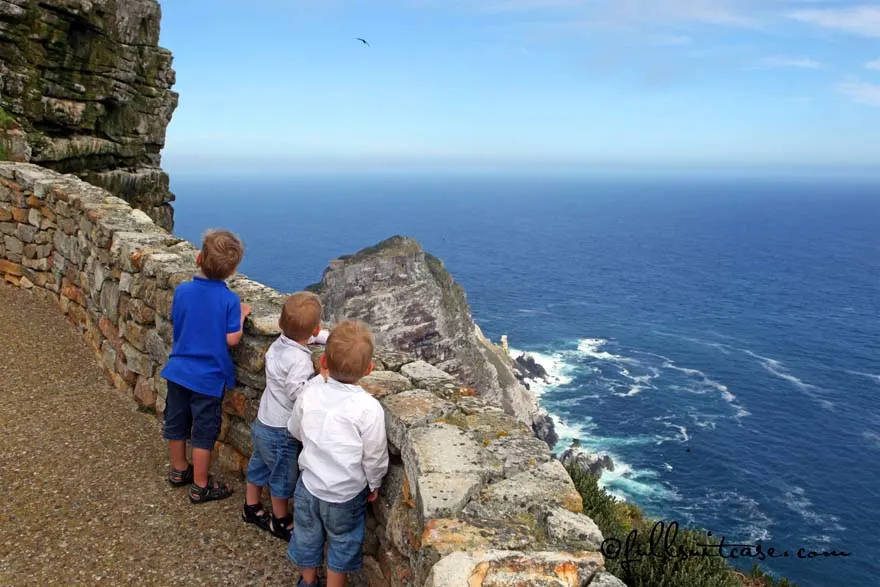 Cape Peninsula and Garden Route Family Trip Itinerary
Here is our day-to-day itinerary of what we actually did in South Africa with kids. If we could do this trip with three kids under 5, then it's something any family can do!
Actually, you can do much more than this if your children are older as they can cope with longer driving times, more strenuous hikes, stay up longer, etc.
TIP: Rent a car when visiting Cape Town with kids. It's a big city and most landmarks and attractions are outside of the city center. Renting a car is much cheaper than going on organized tours and it gives you more flexibility, certainly when traveling with children. Here you can find the best deals for car rental.
DAY 1: Cape Town – Table Mountain and Signal Hill
We arrived in Cape Town in the morning and drove to our hotel. As the time zone is practically the same in South Africa as it is in Europe and we had a good night's sleep on the plane, we were all surprisingly awake. We let the children play in the garden of our hotel and then decided to go and do some sightseeing.
The weather was good and we could see that the Table Mountain Aerial Cableway was open, so we headed there.
TIP: Table Mountain is not always easy to visit and you can't really plan this in advance. This is because the top of the mountain is often hidden in the clouds or the wind is too strong and the gondola doesn't run in bad weather. So if you are in Cape Town for just a few days, you should keep an eye on the mountain and go there as soon as you get the chance.
You can hike to the top of Table Mountain (3-4hrs) or take a gondola as we did (hiking is not really an option for young kids). There are several viewpoints on top, as well as a restaurant and bathroom facilities. Some pathways on top of the mountain are accessible by a stroller, the rest we did on foot. Our boys loved running around, climbing on the rocks, and chasing rock badgers.
TIP: Buy Table Mountain gondola tickets online for better prices and faster access. Here is the link to the official Table Mountain website. Alternatively, you can also book this hop-on-hop-off bus deal that also includes Table Mountain gondola tickets.
After our visit to Table Mountain, we drove all the way up to the nearby Signal Hill where we enjoyed wonderful views of the city at sunset.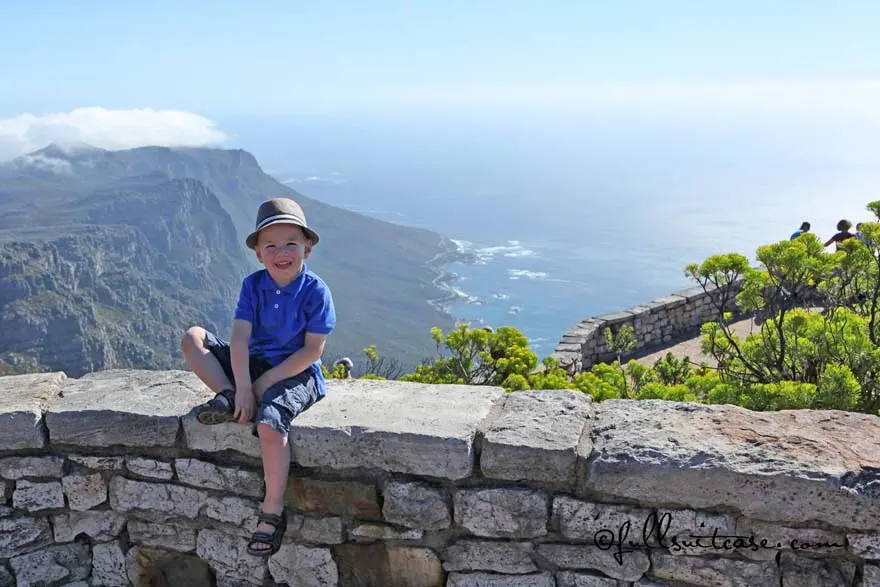 DAY 2: Simon's Town Penguin Colony, Cape Peninsula and Cape of Good Hope, Chapman's Peak Drive
We started our day with a visit to the Simon's Town penguin colony at Boulders Beach.
A large group of penguins live here all year round and you can admire them from very close for just a small entrance fee. Seeing penguins in the wild while wearing t-shirts and shorts is not an experience you will quickly forget. This is a must-do in Cape Town and certainly with children!
TIP: Simon's Town is a popular destination that's also included in the most popular organized day tours to Cape Peninsula. So you may want to arrive here first thing in the morning.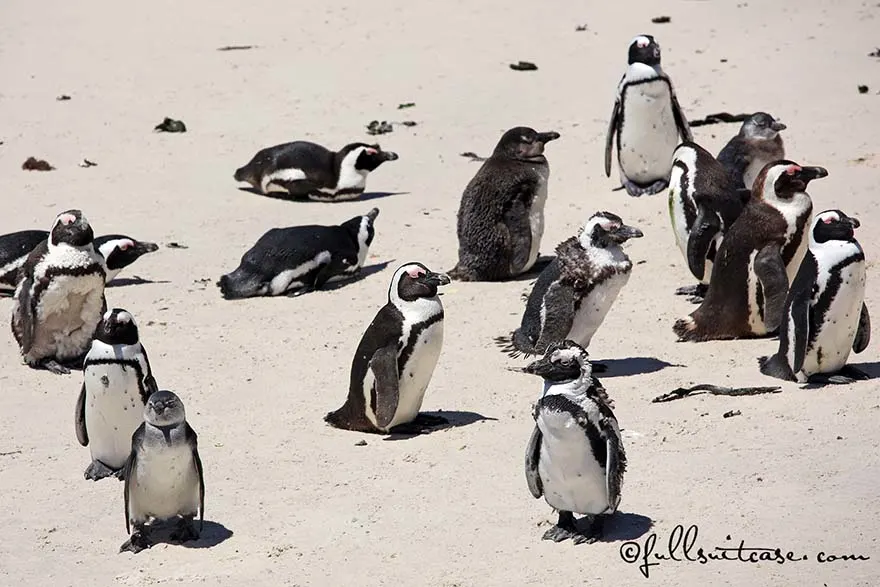 After this short visit, we headed towards the Cape of Good Hope.
On the way there, we stopped at several viewpoints and had our first picnic of this trip with the most beautiful view. Our kids love to picnic and picnics have become an unmissable part of all our road trips ever since.
At the end of the Cape Peninsula, you have two main points of interest – the Cape of Good Hope and the Cape Point, a short distance from each other.
We first went to the Cape of Good Hope where we took some pictures with the sign (a must!) and made a short walk up the hill. The views were just amazing and we also saw a couple of rock badgers. While the landscape doesn't say much to the kids, wildlife is always a big success with them. They also loved watching the big waves hit the cliffs.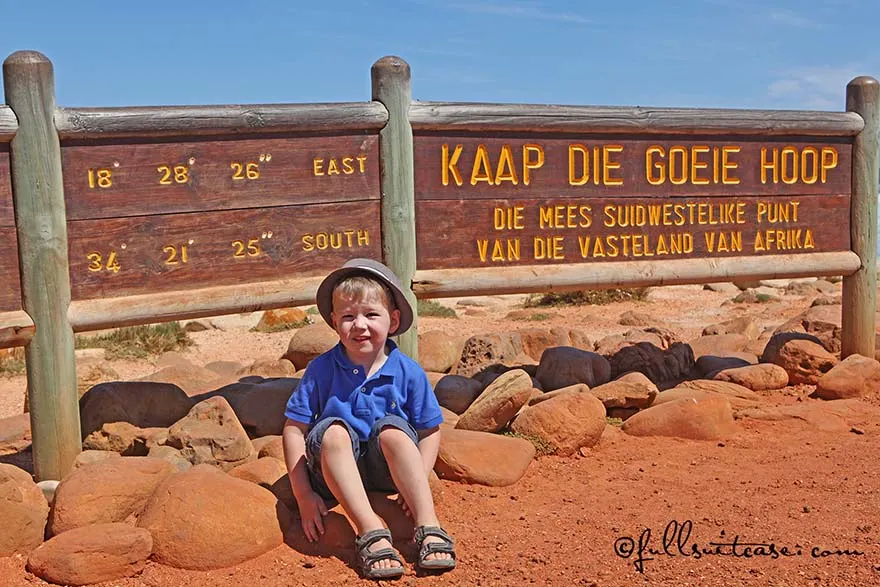 Our last stop today was Cape Point. Standing here, you truly feel like you reached the end of the world.
You leave the car at the car park from where you can either walk up to the lighthouse or take the Flying Dutchman Funicular. We took the funicular up and walked down. All three children could do this walk without any problems. Great experience and wonderful views!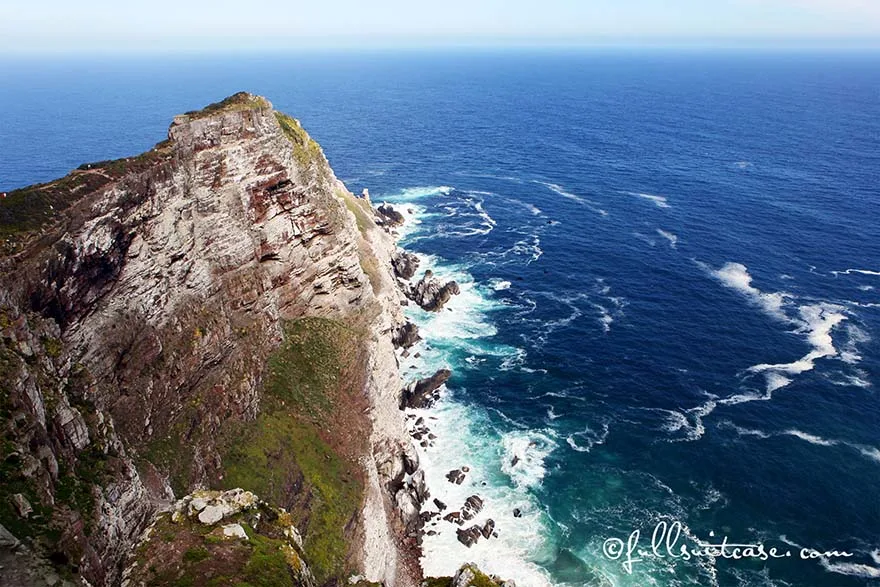 On the way back to Cape Town we took the scenic route – Chapman's Peak Drive, for the most amazing views. It was even more spectacular because we were there at sunset.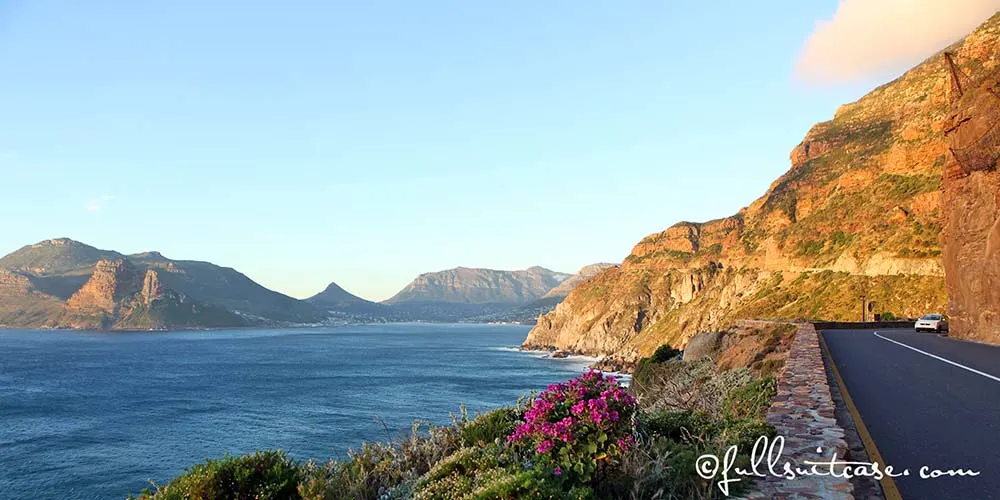 DAY 3: Drakenstein Lion Park, Franschhoek and Stellenbosch wineries
We started our day with a visit to Drakenstein Lion Park near Cape Town. Please note that this is not a safari park and lions live in closed areas, a bit like at a large zoo. It's definitely not a must-visit, we only went here because it was along the way and we thought that it was easy for kids to see animals from close-by.
There are more than 30 lions in the park, but we hardly saw any as they all seemed to be either sleeping or too far away from the side.
It was a hot day and the children got tired and bored with nothing very spectacular to see. Just when we were about to leave, one of the people working at the park came up to us and said she could take us closer to a lion. She just saw one near the area where (in principle) only overnight guests could come.
And indeed, a few minutes later we stood within a hand's reach of an old lioness. We've never been this close to a lion so it was a very special experience, and not just for the children!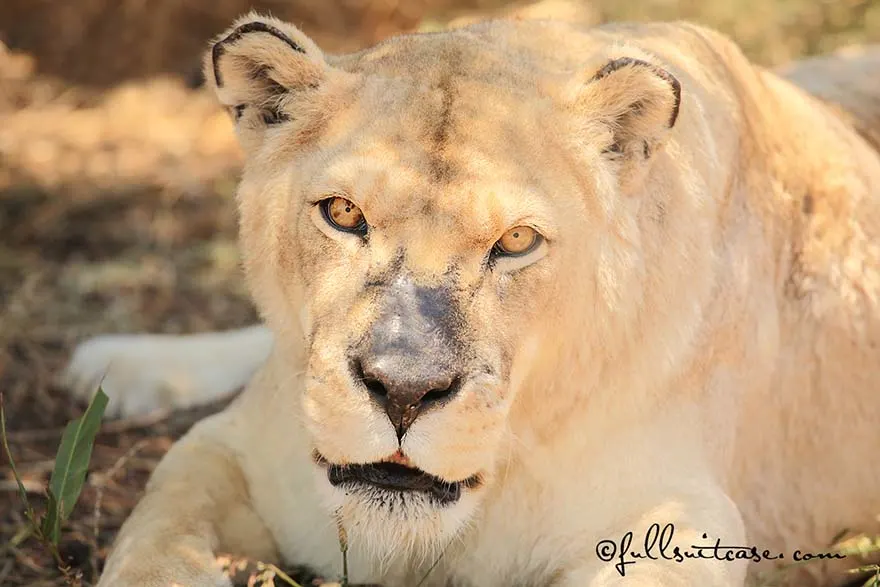 After this short visit, we continued to South Africa's most famous wine region – Franschhoek and Stellenbosch.
We really liked the little village of Franschhoek and the surroundings. We also stopped at an old winery in the Stellenbosch area and bought some wine to take with us. We never made it to the town of Stellenbosch itself, somehow the part we saw didn't look very inviting so we drove by.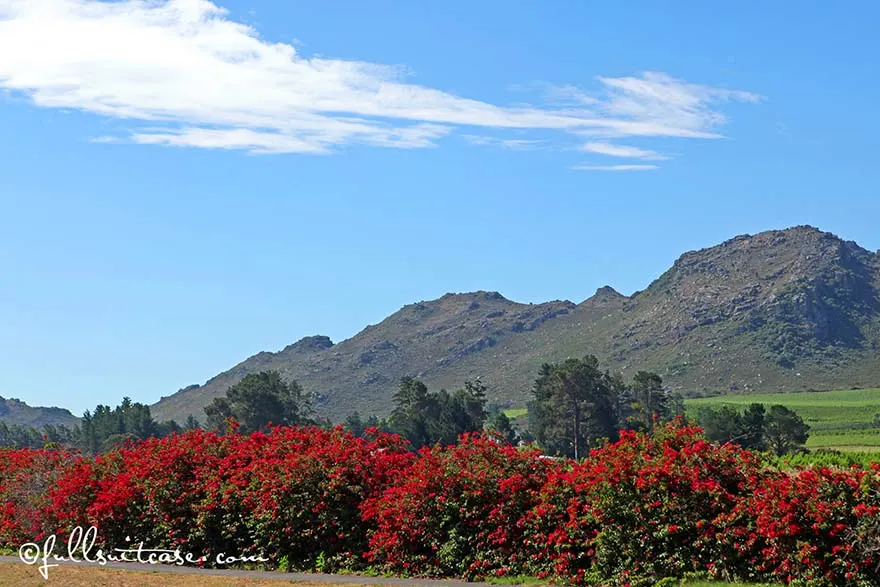 DAY 4: Cape Town to Knysna and Bontebok National Park
This was one of the two long driving days in our itinerary. We had to cover more than 5 hours driving distance between Cape Town and Knysna. We took an entire day for this drive and stopped a couple of times as there is a lot to see on the way.
We contemplated going all the way to Cape Agulhas along the way as we did on our previous trip in South Africa. However, it was such a long detour that in the end we decided against it – we have been there before, and for the kids, the drive would be too long.
Instead, we stopped at Bontebok National Park where we had a picnic lunch, made a couple of short walks, and saw some bontebok antelopes. We also stopped at Sir Lowry's Pass and a few other places just to break the long ride.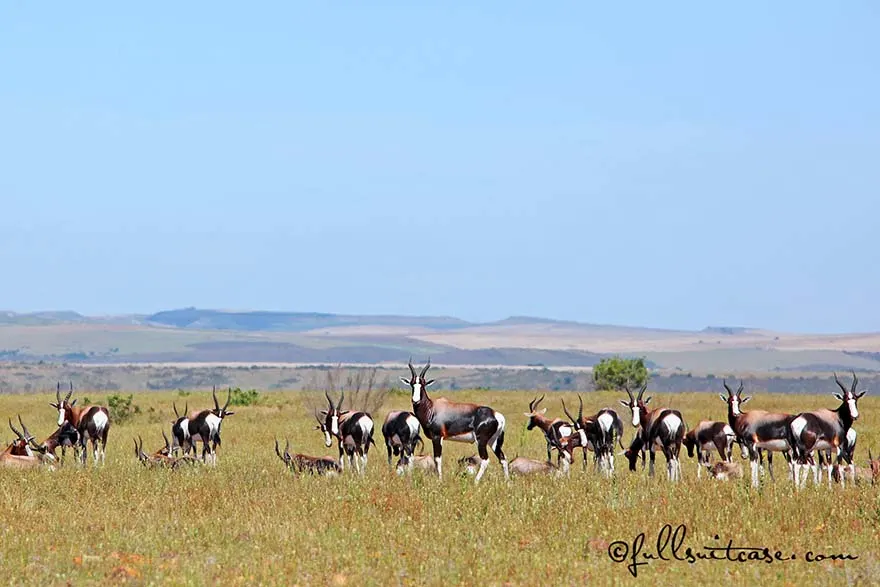 DAY 5: Knysna
We spent most of the day at the playground of our hotel and went to the center of Knysna for dinner where kids could not resist trying some oysters. They were at that age when they ate everything – now they wouldn't touch an oyster from afar.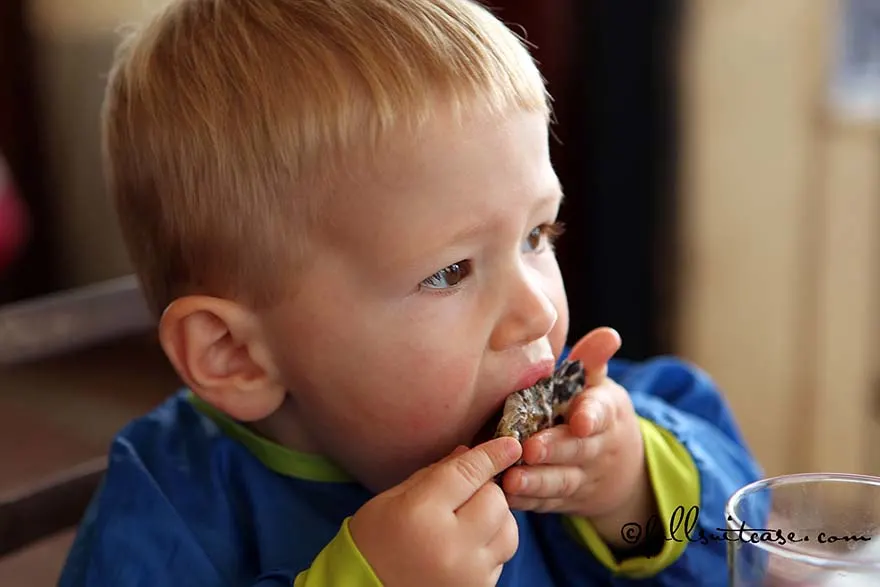 DAY 6: Knysna Elephant Park and Tsitsikamma National Park
Knysna Elephant Park was the highlight of our trip to South Africa for the kids! Today they got to feed the elephants! How cool is that!
It turns out that our youngest could be a good elephant whisperer as one of the elephants went to lay on the ground allowing to pet him! The guides said it hardly ever happens!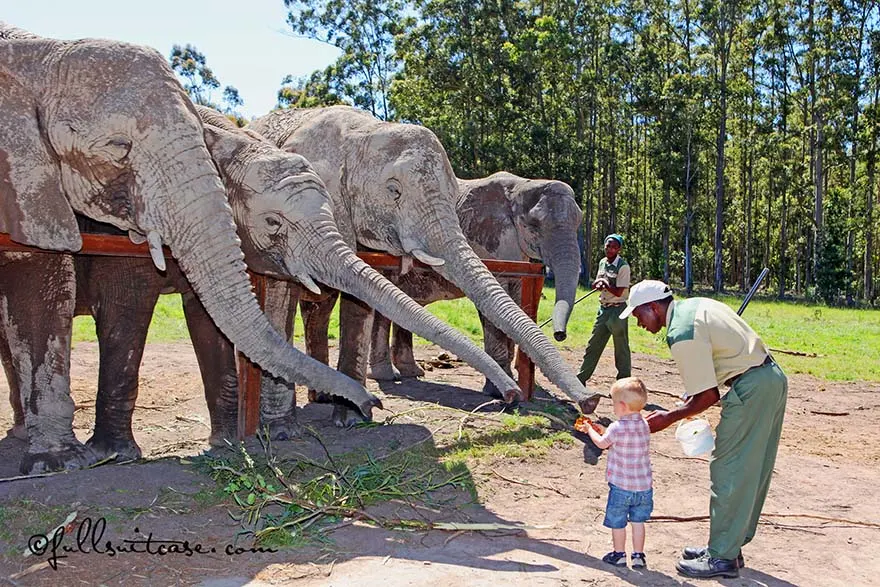 We spent the rest of the day at Tsitsikamma National Park. We had a picnic at the beautiful coast amongst various wildflowers and even saw some whales in the distance.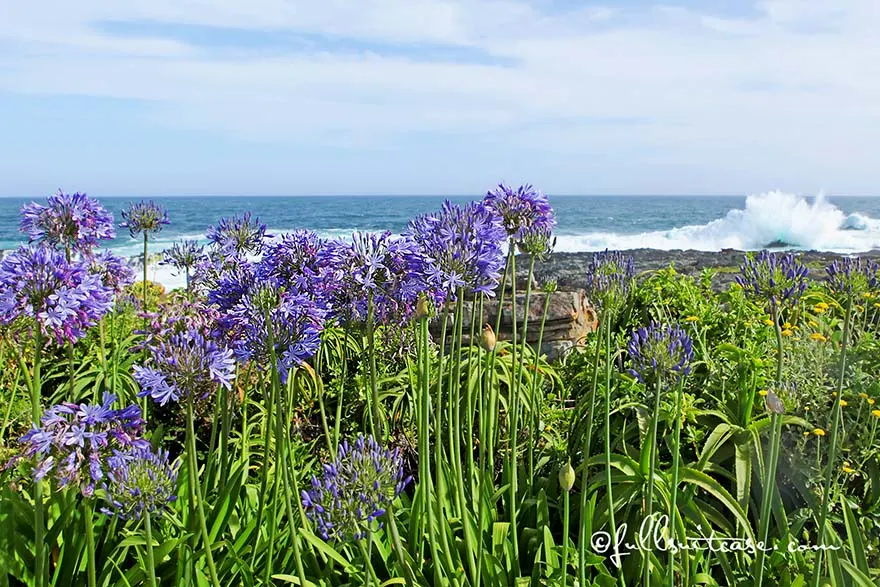 Afterwards, we made our first long walk of the trip – a 2km hike to the mouth of the Storm River. It's a pretty easy walk, but there are some stairs involved, which made it all even more fun for the kids.
The walk leads to several suspension bridges. Very impressive, but also dangerous for young children because of the way they are made. We were certainly not at ease here and made sure we didn't let our boys' hands loose for a second. Apart from that, an amazing experience, just watch your kids!
After the walk, we bought some ice cream and the kids played at the beach. We could have stayed much longer here as it was so beautiful. On the other hand, there were not many more walking trails in Tsitsikamma which were suitable for young children.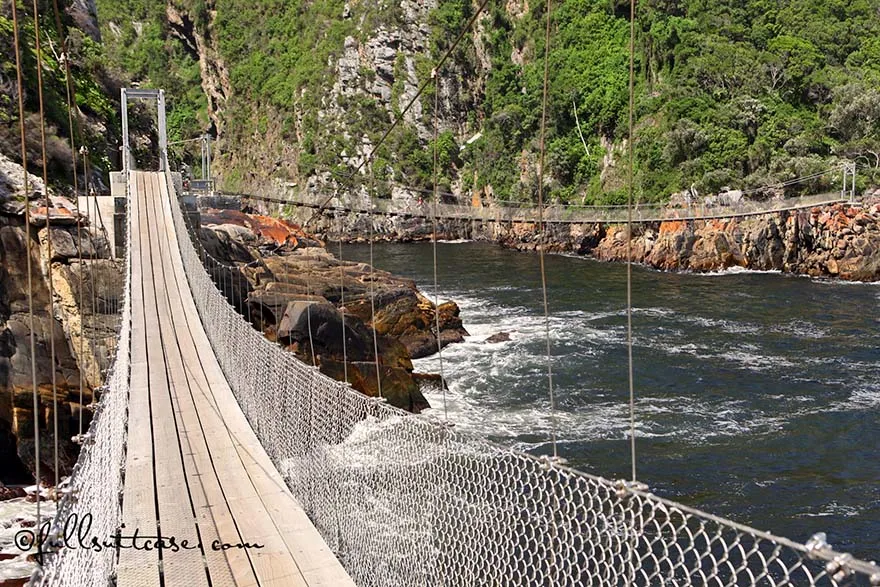 DAY 7: Noetzie Beach and Knysna Heads
We had read about this secluded beach area famous for its castles along the coast and decided to pay a visit to the beautiful Noetzie Beach, just outside Knysna.
The road to the beach leads through a township and it felt really strange – the contrast between the villas, the castles, and the poverty next door was tremendous. You see that more in South Africa, but here it struck us more than ever before.
There were some steep stairs to negotiate from the parking lot down to the Noetzie beach, but it was totally worth it. It was too cold to swim (I'm not even sure if you can swim here), but the coastline was just gorgeous and we spent a few hours walking along the coast.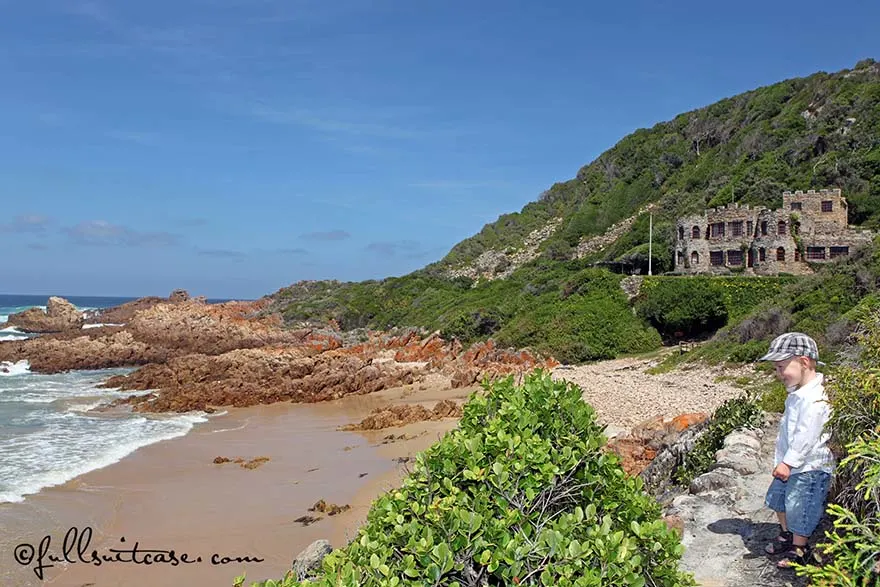 Afterward, we went for lunch at Knysna Heads and made a short walk there in the afternoon.
We considered visiting Featherhead Nature Reserve which we really liked on our previous trip, but decided that the beautiful walk there would be just a bit too difficult for our boys.
But if you are traveling with older kids (or fewer kids), definitely check it out!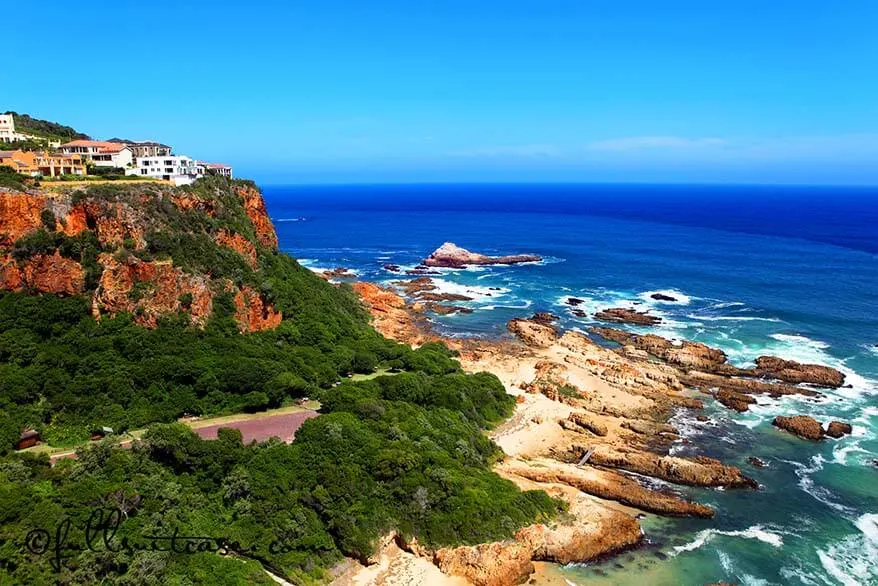 DAY 8: Monkeyland and Birds of Eden, Plettenberg Bay and Brenton Beach
Another highlight of the trip for the children was a visit to Monkeyland Primate Sanctuary and the free-flight bird sanctuary Birds of Eden.
The two places are just next to each other and they are both worth a visit. It's not a zoo – the animals and the birds roam free in the park and you can get really close to an amazing variety of monkeys, birds, even turtles. Highly recommended for any age, not just families exploring Garden Route with kids!
Update: Since our trip, a new attraction has opened in this area – Jukani Wildlife Sanctuary. It's a shelter for big cats, with a no-touch, no-breed policy.
TIP: Here you can find more info, read reviews, and get tickets for one, two, or all three of these attractions. Kids between 3 and 12 pay half the price.
At the end of the day, we made a short stop at Brenton Beach where we made a short walk and enjoyed a beautiful sunset.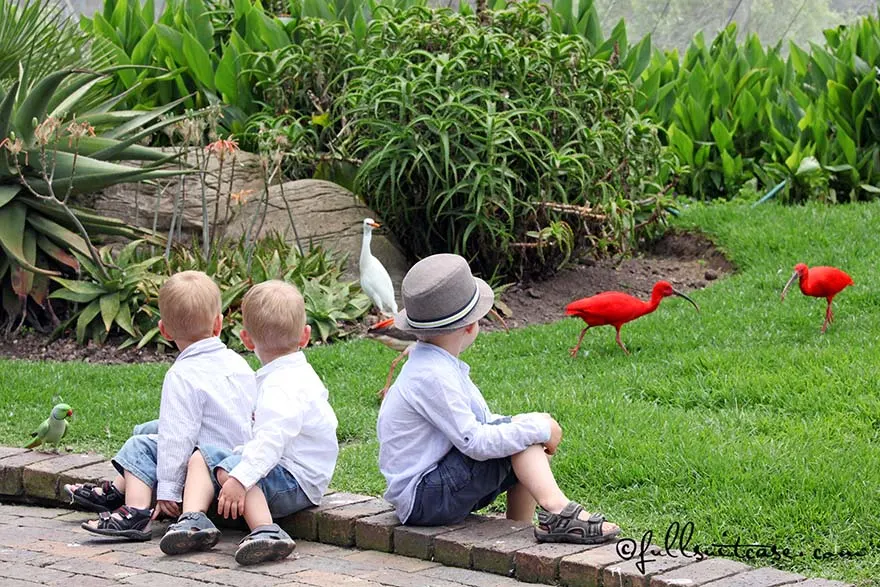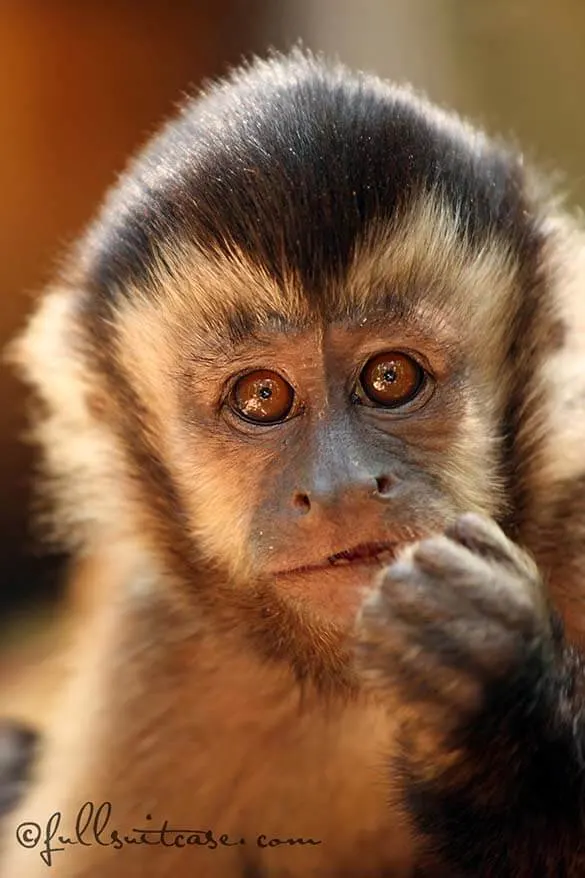 DAY 9: Plettenberg Bay Game Reserve
Today we took our kids on a safari ride in Plettenberg Bay Game Reserve and really enjoyed our time there. It was a very cold and rainy day and we were worried about sitting in an open jeep, but the kids handled it well and at the end of the drive we could all warm up at a giant fireplace and some warm drinks at the reception.
We saw quite a big variety of animals in this game reserve. Some animals were close enough to keep young children interested. Despite that, they all fell asleep after an hour on the bumpy ride and we had to wake them up when we finally got to the lions and rhinos. 🙂
Going on safari rides with very young kids is not the best use of your time and money. However, if your kids are at least 5-6 years old, they should be able to handle longer drives much better already.
TIP: Want to learn more about taking young kids on safari? Read this post: Safari With Kids: All Your Questions Answered.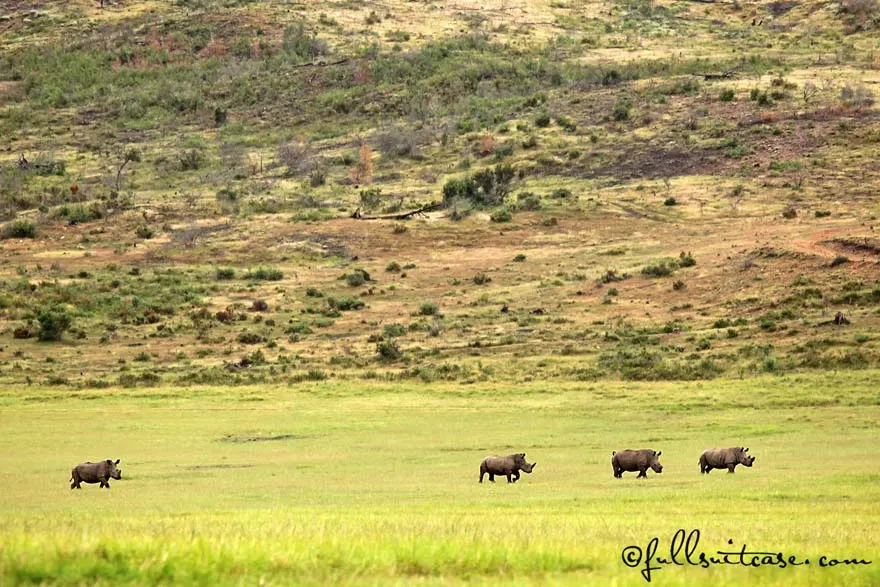 DAY 10: Map of Africa Lookout, Wilderness and Knysna Downtown
A very relaxing day in our itinerary today. You need a couple of those 'rest days' when traveling with kids!
We drove to the Map of Africa lookout in Wilderness town and stayed there for hours watching groups of paragliders.
In the afternoon, we went for some tapas on Thesen Island in Knysna. There was a playground for the kids there as well and so at the end we stayed much longer than planned. A really nice place!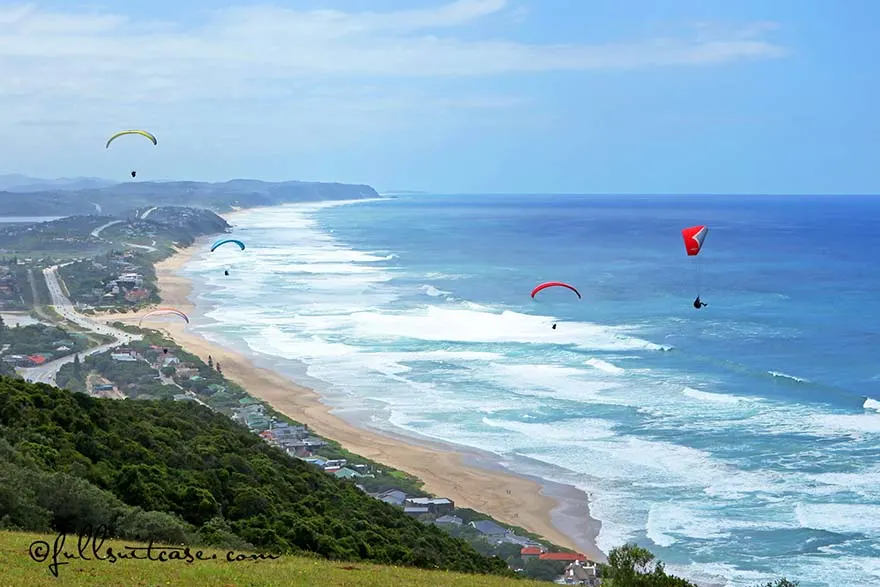 DAY 11: Knysna to Cape Town
Today was another long drive back to Cape Town (but that meant staying at fewer accommodations and that worked out well for us).
This time, we limited the stops to one or two (to watch ostriches) and spent the quiet evening in the area of our hotel in Sea Point, in Cape Town.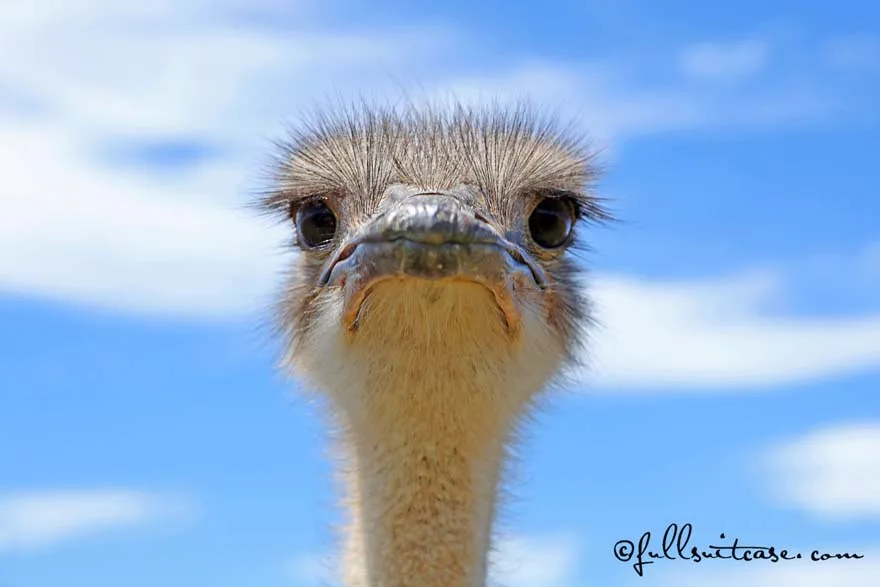 DAY 12: Victoria & Alfred Waterfront and The Two Oceans Aquarium, Cape Town
For the first time during this trip, we left our car at the hotel for a day.
The hotel shuttle dropped us off at The Victoria & Alfred Waterfront.
You can easily spend a day here and not get bored: there are plenty of shopping and dining options, a crafts market, a playground, and of course the Two Oceans Aquarium – one of the best places to visit in Cape Town with kids.
There are also many day trips and short excursions available: scenic flights above Cape Peninsula, boat tours to Robben Island, but the majority of these activities aren't ideal with very young children.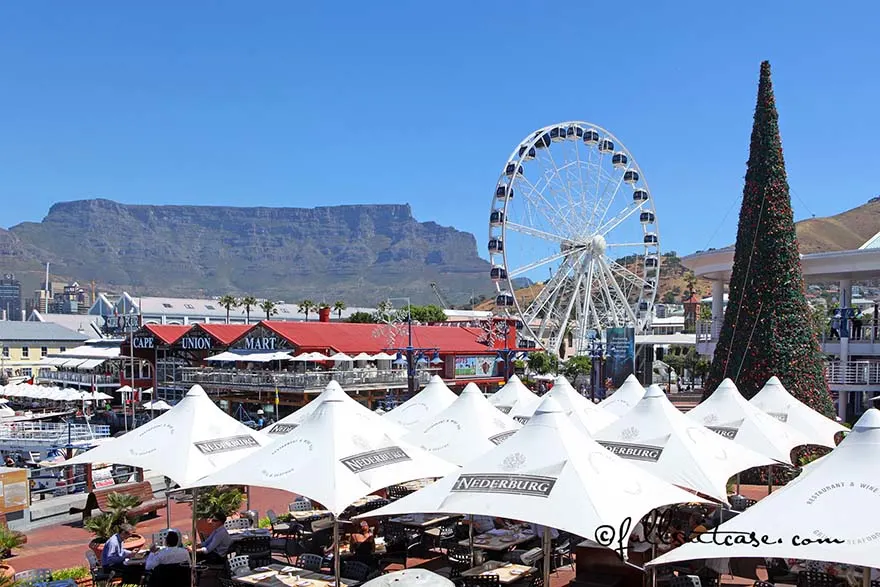 DAY 13: Hout Bay, Kirstenbosch Botanical Gardens, and Camps Bay
Hout Bay is a very scenic place, and so is the drive from Cape Town to Hout Bay. There are some restaurants and a crafts market at the harbor where you can take a boat to the seal island. It's a very affordable short trip and it's totally worth it.
Another pleasant surprise of this trip was the Kirstenbosch Botanical Gardens. What a great place to spend a day! We saw a great variety of the most exotic plants and flowers, but also birds and even owls! There are three restaurants in the park and plenty of places to picnic and you will see many locals doing just that. Great way to escape the heat of the city.
TIP: Kirstenbosch Botanical Gardens are on the hop-on hop-off bus route. So if you want to take it easy and not have to drive, it might be a good option for exploring the area.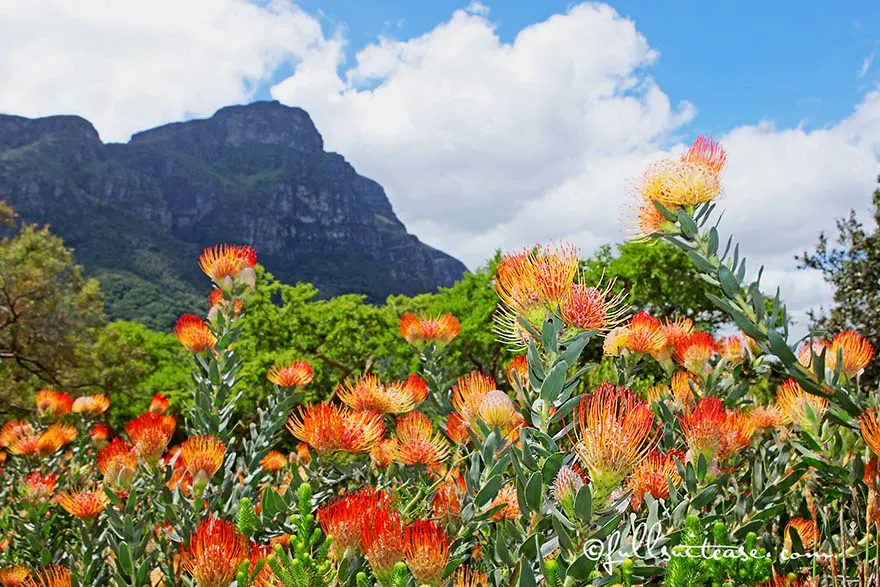 On the way back to our hotel, we took a scenic drive along the coast, passing the Twelve Apostles and Camps Bay.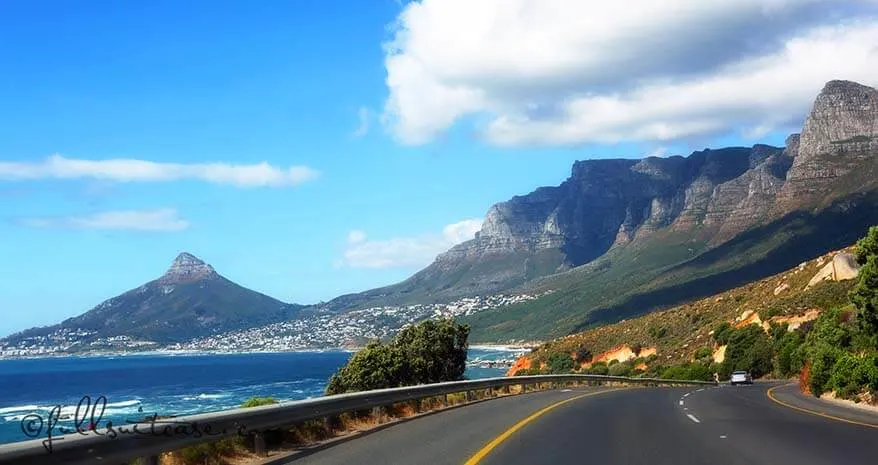 DAY 14: Whale Watching in Hermanus
Hermanus is known as one of the best places in the world to see whales.
We didn't book a tour in advance because we were not sure if we could do it with such young kids (there was little info available online at that time). But there was a tour available and the kids could go on the boat too, so we decided to try.
TIP: Book your whale-watching tour in Hermanus in advance if you want to be certain that you can do it. We were there in a low season and availability was very limited. In high season, it's often fully booked!
Unfortunately, I forgot to take motion sickness medicine and got really sick on board. You're warned – the seas are rough here!
Despite that, it was one of the best whale-watching tours we have ever been on! We saw plenty of whales, most of them very close by, and also some seals and dolphins. The kids didn't show much interest in the whales which were jumping just next to the boat. I think they were also feeling a bit sick, so maybe this wasn't such a good idea with young kids after all. I could hardly take any pictures of the whales too. Feeling sick and having to take care of three little kids on a boat is about as much as one can handle…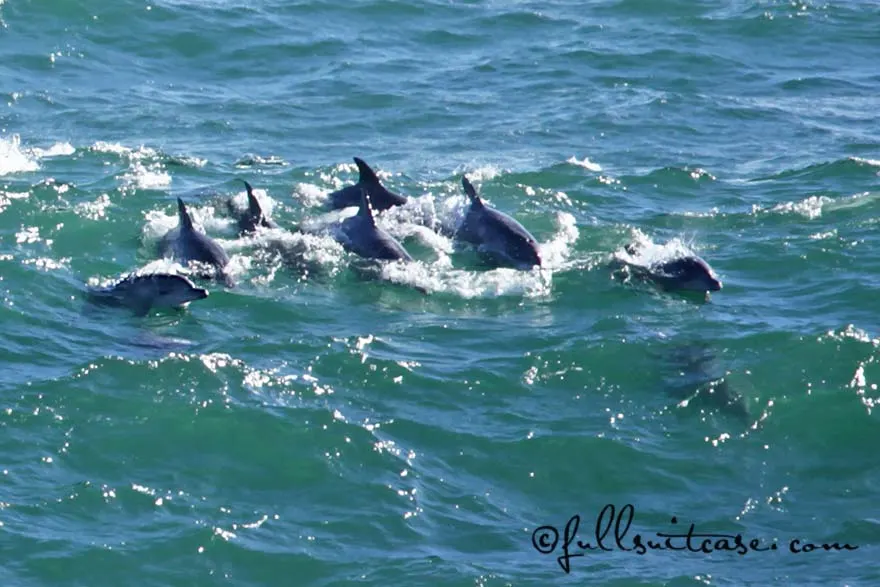 After the boat ride, we took our picnic lunch and walked along the coast of Hermanus. I still remember this as one of the most beautiful experiences of our trip.
Hermanus is a really nice place, the coastline is spectacular, and you can see whales and dolphins straight from the shore. Not as close as from the boat, but close enough. We didn't want to leave! Next time we would definitely plan to stay a night or two in Hermanus.
TIP: If you don't mind switching hotels more often, stay in Hermanus for at least 1 night. You can find the best deals for Hermanus accommodation here.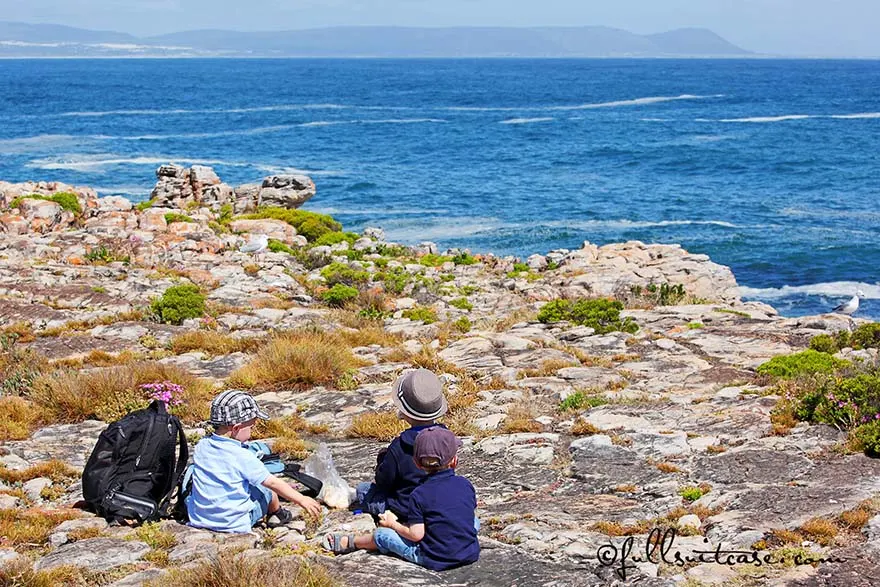 DAY 15: Cape Town Waterfront, going home, and the adventures of traveling with kids
We spent our last day in Cape Town with a short walk downtown and ended our trip at the Belgian restaurant at the waterfront. My husband had missed Belgian beer and the kids were more than happy with Belgian fries with mayo… And in the evening we would board the plane back home…
Our South African adventure almost got extended as one of our younger sons sprained his arm at the airport and they almost sent us to hospital. Paramedics were called (they were not allowed to do anything, btw, they couldn't even give a painkiller!), our suitcases were unloaded from the plane and the captain was hesitant to let us board.
Luckily, we had some pain relief medicine with us and after a few minutes our son felt a bit better. So at the very last moment, we were allowed to board the plane. When we went to the hospital in Belgium the next morning, the doctor said that his arm was completely in order again.
Once you are ready to go home, the very last thing you expect is having to look for a hospital and a hotel in the middle of the night in a strange country, having to change your flights, etc. And that with all the baggage and three tired toddlers. I still get anxious when I think of it… So yes, traveling with kids is not all moonlight and roses. Needless to say, we had many more similar experiences over the years, luckily most of them at home.
More family-friendly activities in Cape Town and Garden Route with kids
We had such a great time in South Africa with kids and that's why I wanted to share our experience with you! There are many more places to visit and family-friendly activities in the area which we didn't get the chance to do during this trip.
Here are a few other ideas of what to see and do in Cape Town Peninsula and on the Garden Route with kids: visit an ostrich farm in Oudtshoorn, go on safari in Addo Elephant Park near Port Elizabeth, meet the big cats at Tenikwa Rehabilitation Centre, see old shipwrecks on Cape Peninsula, go hiking in Robberg Nature Reserve, do water sports, or simply spend a relaxing day on the beach… You can spend a week in this area, but you can easily fill a month if you want to.
If you haven't been to South Africa yet, then the province of Western Cape is a good place to start.
Where to stay in Cape Town with kids
The best place to stay for visiting the Cape Peninsula is of course the Cape Town itself. Here is the list of our hand-picked Cape Town accommodations for families:
Where to stay on the Garden Route with kids
Knysna area is by far the best place to stay on the Garden Route. Knysna is a nice lively town with lots of cafes and restaurants and it's very well-located for day trips and excursions on the Garden Route.
Here are some of the best accommodations in Knysna for families:
So, this is our guide and itinerary based on our trip to South Africa with young kids. Of course, you should adjust it for your family and interests, but it should give you a good idea of how child-friendly South Africa is and how much there is to see and do with kids.
Africa, in general, might not be the most obvious choice for a family trip, but if you travel well prepared and know what to expect you will have an experience of a lifetime!
If you are still doubting about which African destination to choose for a family trip, make sure to also check our post about traveling in Namibia with kids.
More travel inspiration for South Africa:
Do you have any questions about traveling in South Africa with kids? Don't hesitate to leave a comment or ask a question in the comments below.
If you found this post helpful, don't forget to bookmark it and share it with your friends. Are you on Pinterest? Pin this image!