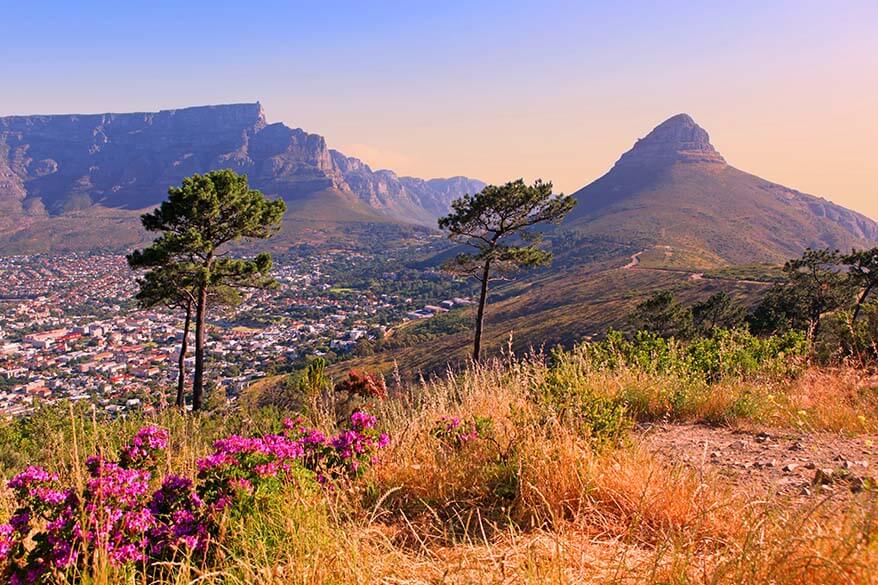 On our first evening of a 2-week road trip in South Africa a hippo walked into the garden of our hotel and quietly grazed by the river as we were having dinner just a few steps away. It was at this moment that we fell in love with Africa. The next day we stood at the Three Rondavels viewpoint of the Panorama Route and my husband said 'just when I thought we had seen it all, South Africa proved me wrong…'.
South Africa captured our hearts forever and years later it was the first far destination that we visited with our kids, followed by a trip to nearby Namibia and hopefully many more trips to Africa in the future. But it all started with this first trip and so today I want to share our 2-week itinerary for the best of South Africa.
When we first visited South Africa, we only had 15 days to see the best of the country. It's a big country and, of course, you cannot see everything in just two weeks. But if you are visiting South Africa for the first time and want to see the very best this beautiful country has to offer, then look no further.
This itinerary covers all the main highlights of South Africa, including Kruger Park safari, and shows you the amazing diversity of the Rainbow Nation.
For your convenience, I made a map with our South Africa trip itinerary and also included driving distances/times as well as some tips to help you plan your trip to South Africa. At the bottom of this post, you can also find some practical information for your self-drive trip.
How to Use This Map: Use your computer mouse (or fingers) to zoom in or out. Click on the icons to get more information about each place. Click the arrow on the left top corner for the index. Click the star next to the title of the map to add this map to your Google Maps account. To view the saved map on your smartphone or PC, open Google Maps, click the menu button, and go to 'Your Places'/'Maps'.
We booked this holiday inspired by a travel brochure where the trip was called 'The World in One Country'. And so it was!
If you visit South Africa it will be very difficult to find a destination to match it afterwards. It's one of the most beautiful and diverse countries you can visit in the world. And if you are looking for an unforgettable trip, then this is as good as it gets!
Without further ado, here's our two week complete South Africa road trip itinerary starting in Johannesburg and ending in Cape Town. There are many ways to spend two weeks in South Africa and this is just one of them. There is no one best itinerary for South Africa, but if you want to see the best places in South Africa on a two-week vacation, then this comes pretty close. Read on!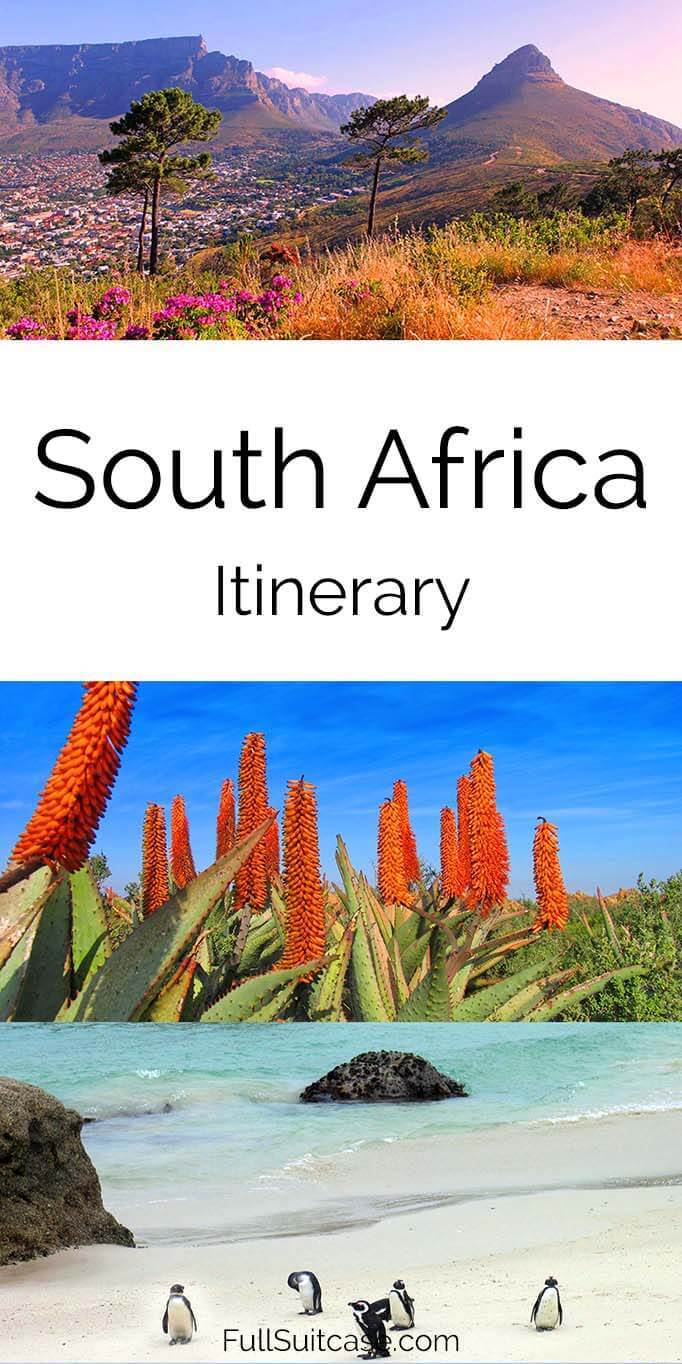 Day 1: Arrival in Johannesburg and drive to Kruger NP
We arrived in Johannesburg early in the morning where we picked-up our rental car. At first, we were planning to visit the city of Pretoria, but after some consideration we decided to head straight to our accommodation next to Kruger National Park.
On the way to Kruger we stopped at Ndebele cultural village in Botshabelo. It's just a small village-museum where you can visit a few colorful houses and get acquainted with the small Ndbele tribe community. It's definitely worth a short stop and is a great way to break a long drive.
In the evening we had dinner at our hotel in Hazyview and met our first African wildlife. The hotel is not called Hippo Hollow for nothing… Unforgettable experience!
Driving distance: 424 km – 263 miles – 5 hrs
Accommodation: We stayed 2 nights at the Hippo Hollow Country Estate in Hazyview, just outside Kruger NP. Hazyview is a good base for exploring Panorama Route and Kruger NP and there is a wide range of accommodation available.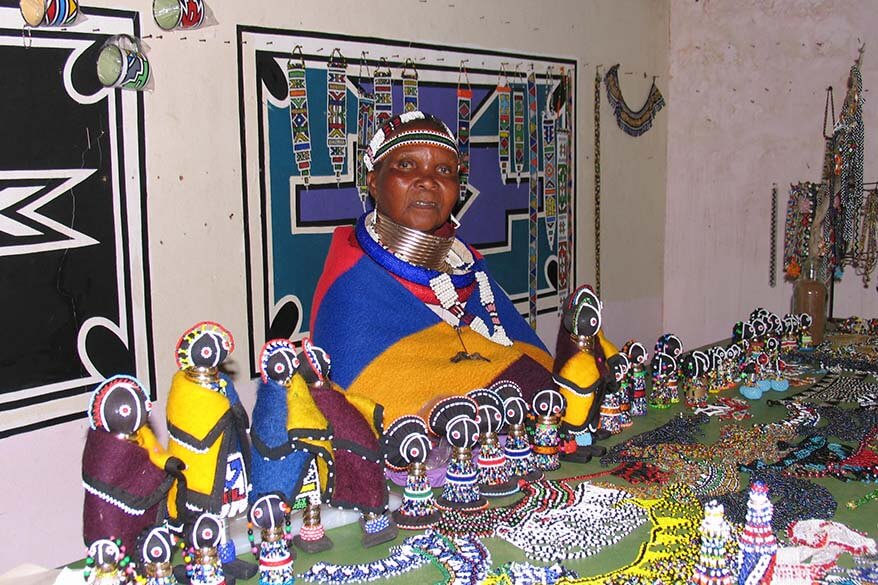 Day 2: Panorama Route
If you come to Kruger, don't miss the Panorama Route. It's a beautiful area that you can easily explore by car on your own. The main highlights include The Pinnacle, God's Window, Bourke's Luck Potholes, and Blyde River Canyon with World's End and the Three Rondavels.
Make sure to stop for pancakes at Harrie's Pancake Bar in Graskop. The nearby Pilgrim's Rest is a nice small town, former gold mining village that you could check out as well. Alternatively you can visit Shangana Cultural Village near Hazyview.
TIP: If you rather not drive yourself, you can book a guided tour of Blyde River Canyon.
Driving distance: 185 km – 115 miles – 3 hrs + stops (count the whole day)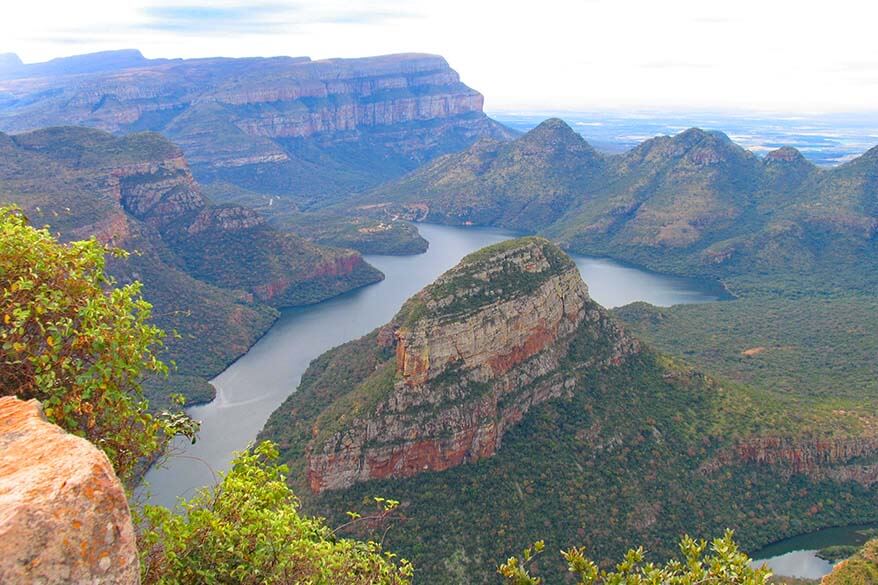 Day 3: Kruger National Park
In order to enjoy a real safari experience in Kruger National Park, we left our car at the hotel and booked a 4×4 guided half-day safari tour of Kruger NP.
It was nice not to have to drive and just enjoy the wildlife and nature around us. The local guide brought us to places that are inaccessible to private vehicles. On top of that, the guides communicate with each other so they know where the animals are.
Despite booking a group tour, we had the whole jeep to ourselves and it was a great first safari experience. We saw four out of the Big 5 of Africa (lion, leopard, rhino, elephant; later on we also saw the Cape buffalo), and lots of other animals including giraffes, baboons, antelopes, crocodiles, hippos, impalas, kudus, wildebeests, hyenas, zebras, etc.
TIP: It is freezing cold on a safari drive early in the morning, so dress accordingly. We visited in July (winter in South Africa), so we wore warm jackets and we also used the blankets provided by the tour guide. By noon, it was warm enough to just wear a shirt. But even if you visit in summer, the warmth comes and goes together with the sun, so you still need warm clothes for morning safari rides.
LEARN MORE: Safari Tips
We returned to Hazyview for lunch. After that we picked up our car and drove to Kruger NP ourselves. Kruger is quite easy to explore individually, but you have to stay on the main roads and make sure to not leave your car at any time. We ran into a whole family of lions with cubs, saw an elephant just next to the road, and many other wild animals.
Driving distance: morning safari +- 100km – 60 miles – 2-5 hours depending on the stops to watch wildlife.
Accommodation: We stayed 1 night at an accommodation inside Kruger NP (I don't remember the name of the lodge anymore). It was at the southern part of Kruger, close to Malelane or Marloth Park and fit very well with this itinerary.
TIP: If you have more time in the area consider staying at least 2-3 nights in Kruger National Park. There are many lodges inside the park, from basic camps to high-end luxury accommodation. Here you can find the best deals for accommodation in different areas inside Kruger NP: Hectorspruit, Skukuza, Sabi Sand Game Reserve, and Marloth Park.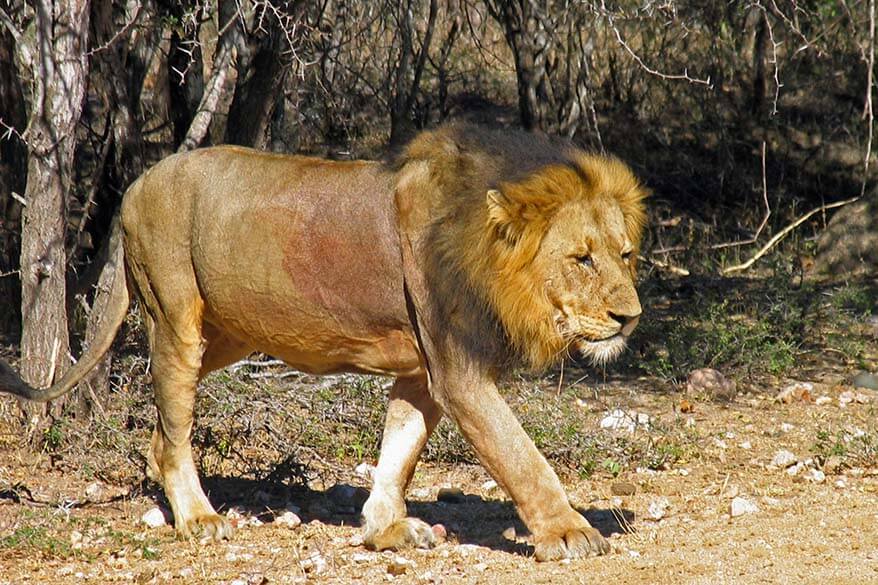 Day 4: Kruger NP – Swaziland – Saint Lucia
We left early in the morning hoping to see some wildlife before leaving Kruger for a long drive towards St Lucia. And we were very lucky again – we saw a group of leopards hunting for breakfast and a herd of elephants pulling out and eating entire bushes…
We then drove in the direction of the border with Swaziland (the shortest route towards Saint Lucia). The passport control/immigration at the Swaziland border took us a bit longer than expected and after seeing all kinds of warning signs (for cholera, AIDS, and signs like 'do not open windows or door') we decided to just drive through without stopping anywhere. The country is beautiful, but also very poor and many places reminded us of things we saw in India's poorer regions.
After a long drive through this smallest country in the Southern hemisphere we re-entered South Africa again on our way to Saint Lucia.
Driving distance: 440 km – 275 miles – 6 hours
Accommodation: We stayed 2 nights in St Lucia.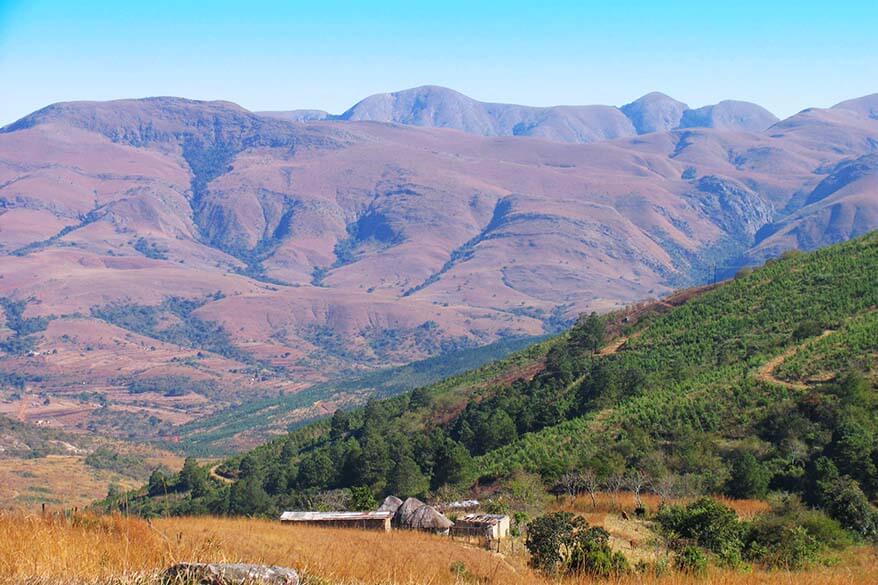 Day 5: St. Lucia and Hluhluwe–Imfolozi Park
In the morning we again took a guided safari drive to the nearby Hluhluwe–Imfolozi Park. It's not as busy as Kruger and we saw fewer animals here, but it was a nice experience with some unforgettable animal encounters.
At one moment we stood eye-to-eye with a huge elephant bull who wanted us to know that we were in his territory. Our big 4WD looked minuscule next to this animal so our driver quietly obeyed and drove back… and back… until the elephant put his foot back on the ground signaling that he wasn't going to turn our car into a matchbox…
You can also visit this park with your own car, but sometimes it's really nice not to have to drive and just look for the animals.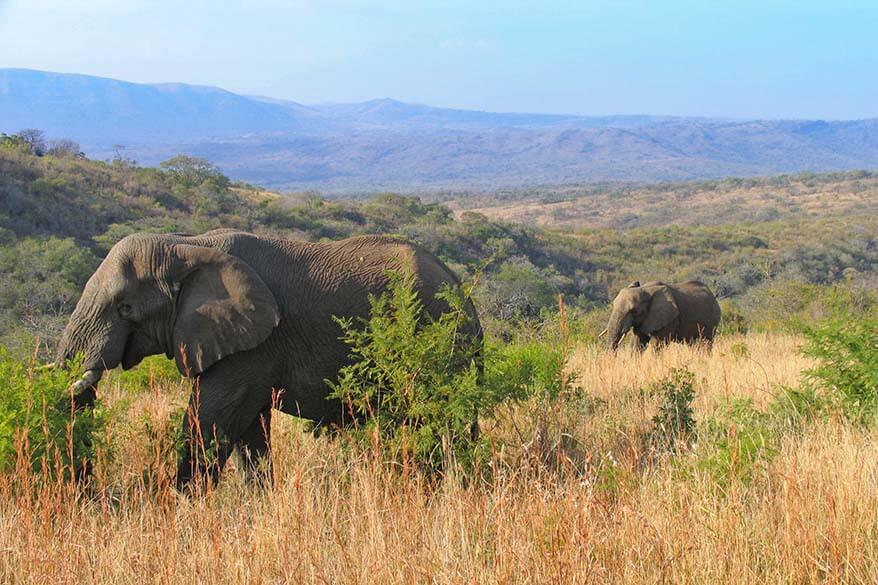 We spent the afternoon at the pool of our hotel. In the late afternoon we took a boat trip on St. Lucia Lake where we saw hundreds of hippos and crocodiles. We decided not to go for a swim here.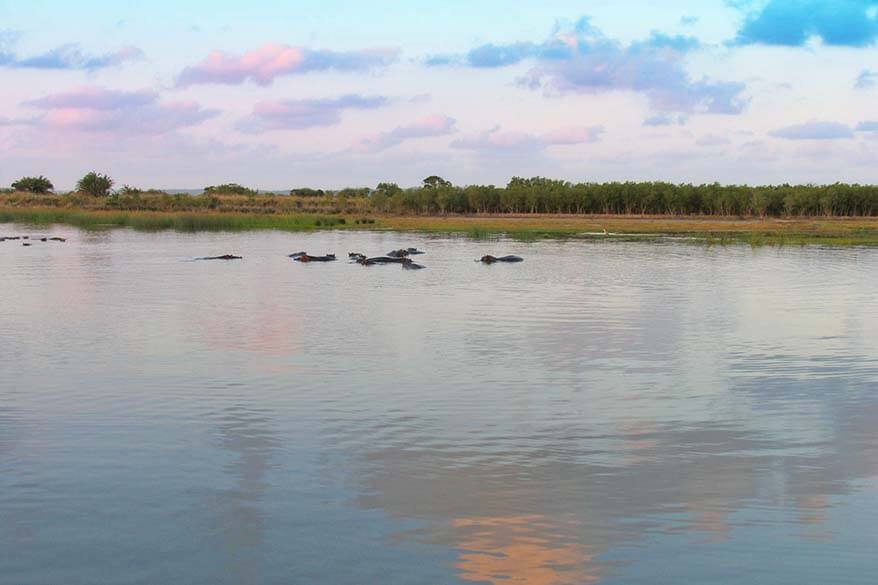 Day 6: St. Lucia – Durban
We left Saint Lucia and drove to Durban where we explored the city. The waterfront area of Durban reminded us of Australia's Surfer's Paradise: big waves and hundreds of surfers on the beach. Other things to do in Durban include Golden Mile, Indian area, Victoria Street Market, UShaka Marine World...
Driving distance: 245 km – 150 miles – 3 hours
Accommodation: We stayed in Durban (Blue Waters Hotel) for 1 night. Since we are not big fans of cities, we felt that we could have easily skipped Durban altogether and go straight to the Drakensberg Mountains. On the other hand, the distance would be a bit big meaning you'd spend the whole day in the car. Alternatively, you can also stay at a nearby Umhlanga, a nice holiday town just outside of Durban.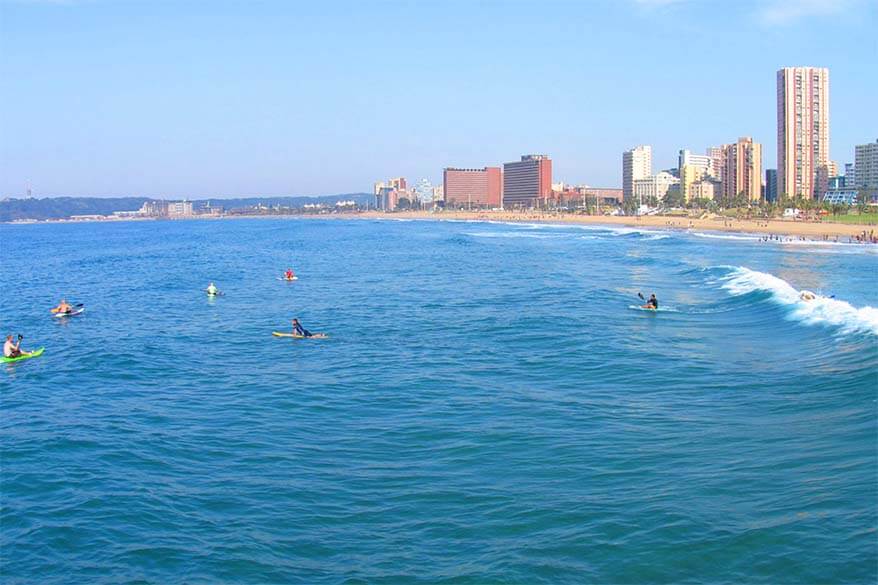 Day 7: Durban – Drakensberg Mountains
Our first stop was Pietermaritzburg, known as the place where Gandhi was thrown of the train because he dared to travel first class as a non-white person. A visit to the city of Pietermaritzburg is an interesting experience. It was the first time we were in a South African city which was not that touristy.
The drive to Drakensbergen is worth a trip in itself – so beautiful. On the road we also stopped at Howick waterfall.
In the afternoon we made a short sunset walk in the mountains, just next to our hotel. Apart from the fantastic scenery we also encountered a group of baboons.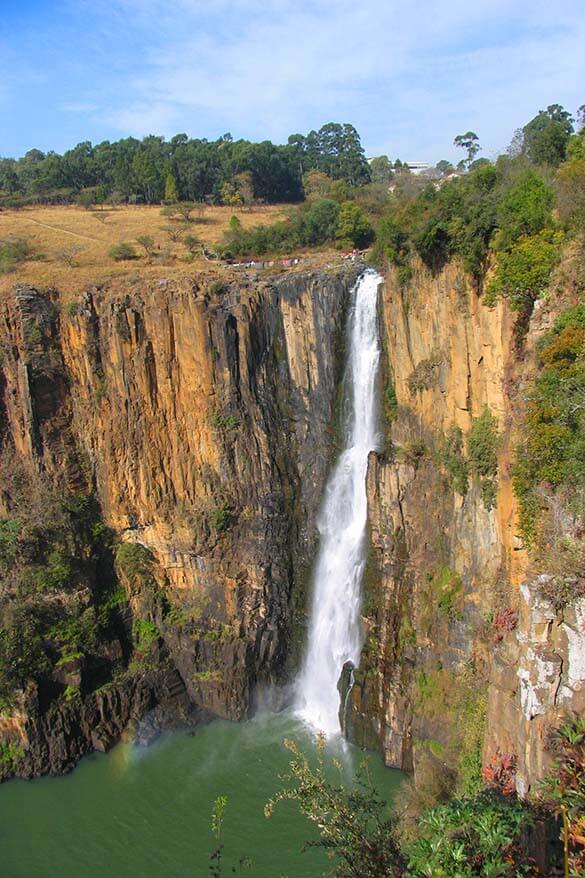 Day 8: Drakensberg Mountains
This was the most relaxing day of the whole trip. We spent the whole day in the proximity of our hotel. We went for a nice walk in the mountains, went horse riding, played some mini-golf, etc.
Alternatively you could make a day trip to the nearby Kingdom of Lesotho.
TIP: If you decide to visit Lesotho, you may want to do it with a local guide who knows the region well and has a 4×4 vehicle. Here is a popular Lesotho day tour from Underberg.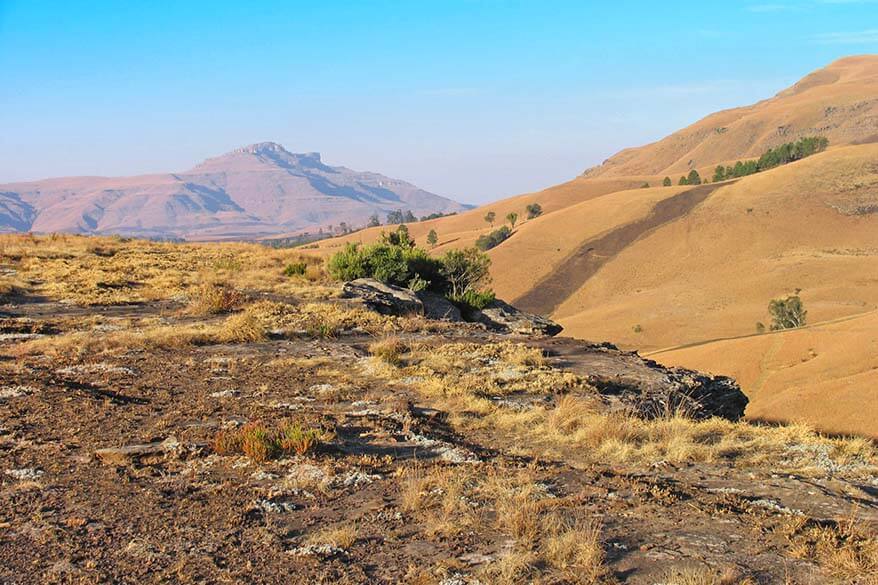 Day 9: Drakensberg Mountains to Durban. Flight to Port Elizabeth and Garden Route to Knysna
After a relaxing day yesterday, this day was filled with traveling. We left our hotel in the Drakensberg mountains early in the morning (5AM) in order to catch a flight to Port Elizabeth.
Undredal is not next door to Durban, so it's quite a far drive of 235 km that takes about 3 hours. If you prefer not to have to drive that far before taking a flight, you may want to stay in Durban one more night.
It was freezing cold this early in the morning: -7°C (19F). Whereas the previous day in Durban it was 23°C (73F). That's typically Africa – the sun goes down and it gets really cold, no matter the season.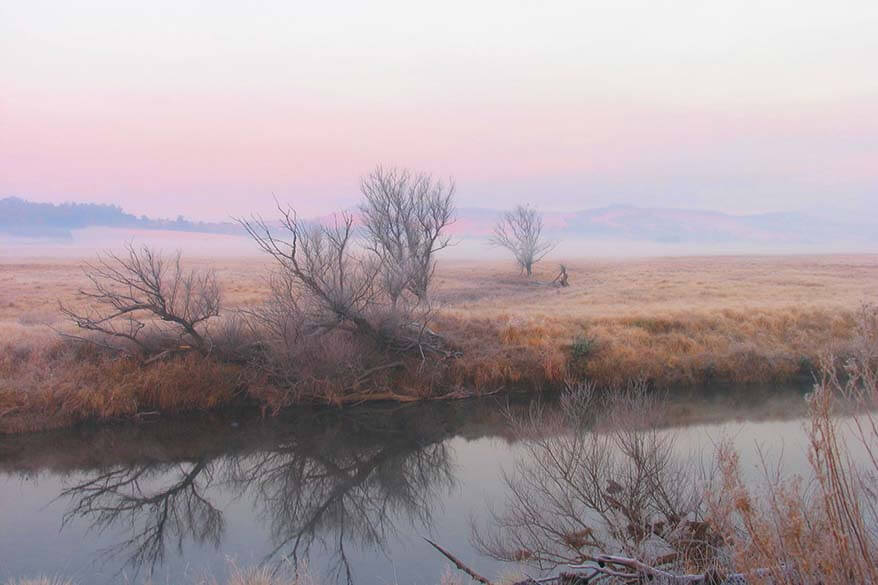 We flew to Port Elizabeth where we picked up another rental car and drove part of the Garden Route to Knysna. We didn't have much time for sightseeing because we had to reach Knysna before the dark which is around 5.30P M in July. So we only made a short stop at the Storms Point along the way.
Driving distance: 270 km – 170 miles – 3,5 hours to Durban plus 270 km – 170 miles – 3 hours to Knysna.
Accommodation: We stayed in Knysna for 3 nights. Knysna is our favorite place along the Garden Route and on our next trip to South Africa we spent a week there (even contemplating if we shouldn't move to live here). There is so much to see and do in the area and the town itself is really nice too. If you want to add some days to your South African itinerary, consider staying here longer.
TIP: You could skip Drakensberg Mountains if you are short on time or add a day to your itinerary if you don't want to fly. In that case count two days to drive from Durban to Port Elizabeth. Sleep in the East London area along the way.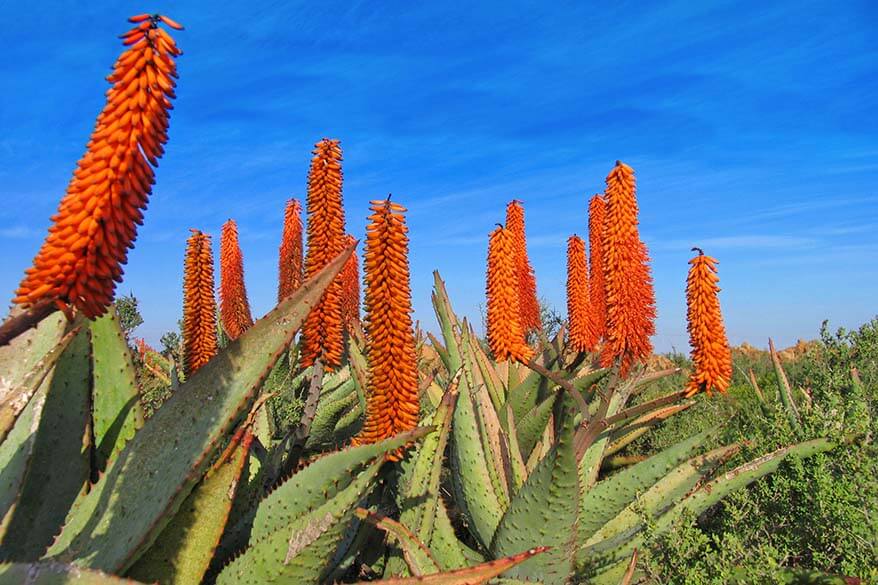 Day 10: Garden Route
As already mentioned, there is a lot to see and do in and near Knysna. On our first day on the Garden Route we decided to stay close to town.
In the morning we took a boat to the Featherbed Nature Reserve (must do!). In the afternoon we visited Knysna Elephant Park where we could feed the elephants (also a must in Knysna). In the evening we had dinner at one of the many restaurants at Knysna Waterfront.
TIP: One of the nicest things to do in Knysna is to take a boat tour along the beautiful coast. Here you can find a nice selection of boat tours in Knysna.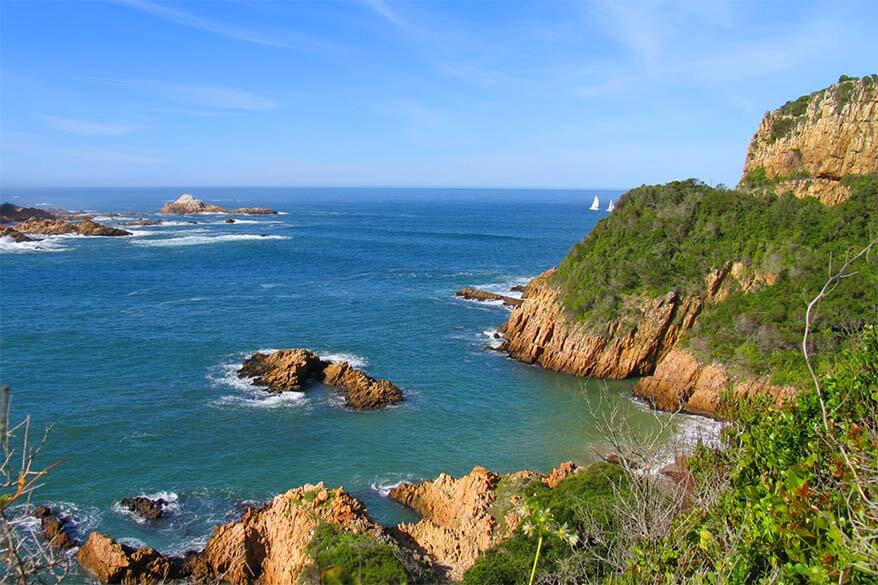 Day 11: Garden Route
There are many ways to spend an extra day on the Garden Route. On this first trip in South Africa we visited an ostrich farm in Oudtshoorn (there are many farms there, some more touristy than others), followed by a visit to the Cango Caves.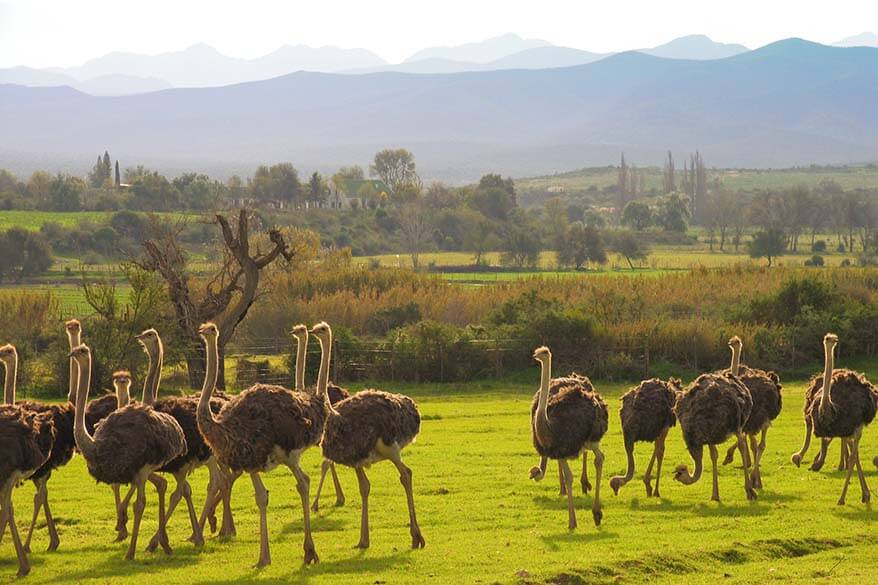 Alternative things to do along the Garden Route would be visiting Tsitsikamma National Park (beautiful place), Robberg Nature Reserve (spectacular hiking along the coast), or places like Monkeyland (walk among the monkeys in a forest – great for families!) and Birds of Eden (also great for families), etc.
You can go to the beach, make a safari ride in a private game reserve, watch whales and dolphins, or find a really nice restaurant serving the famous Knysna oysters and South African wine… Whatever your interests, you'll love the diversity of the Garden Route!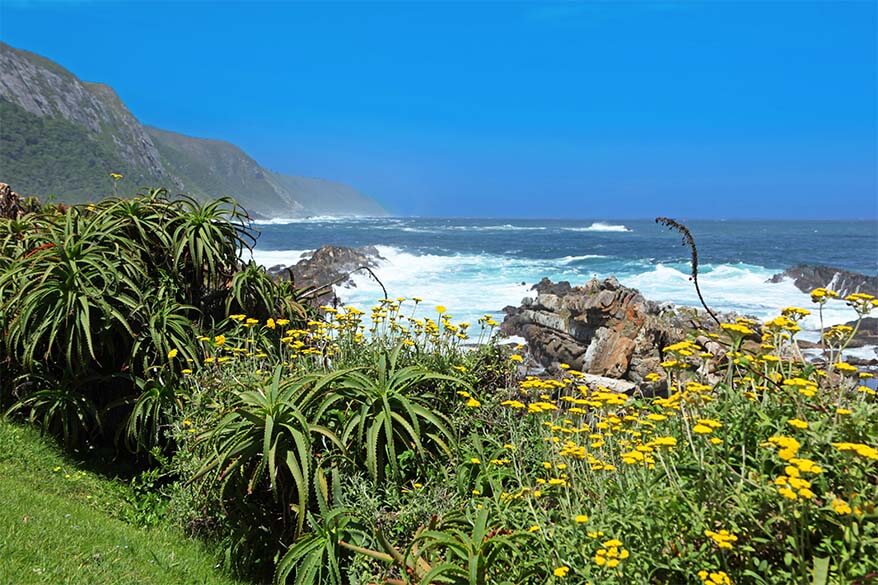 Day 12: Knysna to Cape Town via Cape Agulhas and Hermanus
A very long but beautiful drive from Knysna to Cape Town with a few stops today.
We chose to visit Cape Agulhas, the place where the Indian Ocean meets the Atlantic Ocean. It's a big detour and a long drive to get here. It felt a bit like being at the end of the world, but we loved it!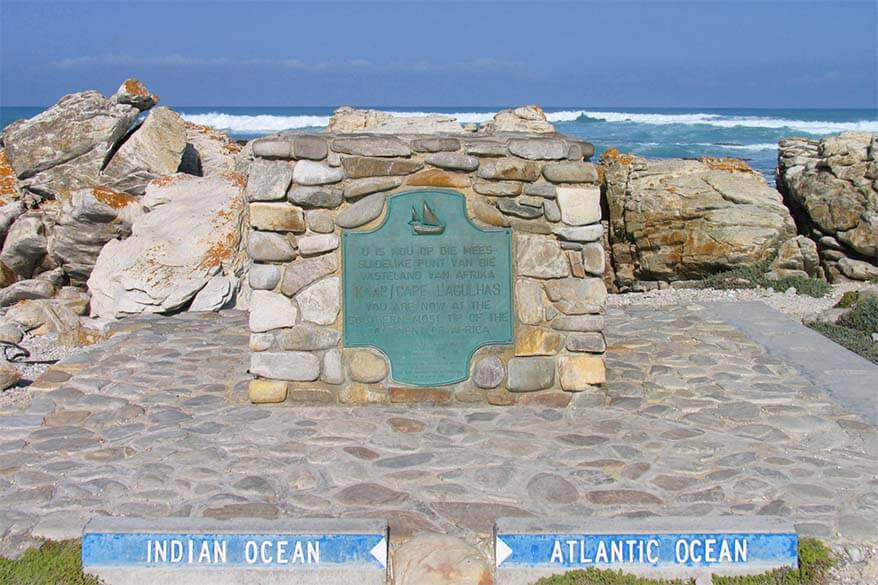 Our next stop was Hermanus – the best place for whale watching in South Africa. You can go on the boat and see whales and dolphins up close (we did it on another occasion), but usually you can see some of them from ashore as well.
If you can fit it in your itinerary, make sure to do a whale-watching boat trip. Just book in advance, definitely in high season July through November.
Driving distance: 500 km – 310 miles – 6 hours to Hermanus. Add another 120 km – 75 miles – 1,5 hrs to Cape Town.
Accommodation: We spent 3 nights in Cape Town. If I recall well, it was Cape Town Lodge Hotel on this specific trip, but there are so many great accommodation options.
TIP: If I were to do this itinerary again, I would opt to spend a night in Hermanus rather than rushing to Cape Town. It's a long day as it is and Hermanus definitely deserves more time than just a short stop.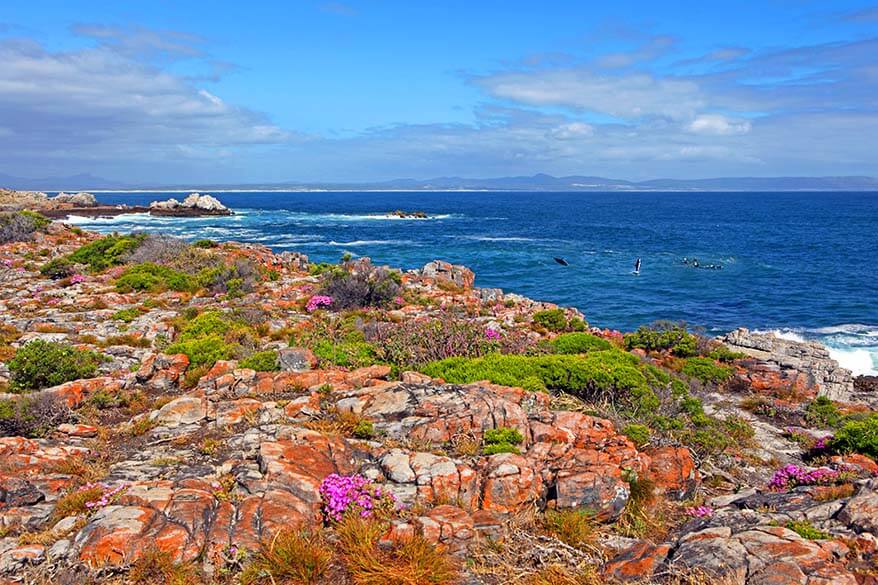 Day 13: Cape Peninsula
Cape Peninsula deserves more than a few days! But if you have just one day to explore the area near Cape Town visit the Boulders Beach penguin colony in Simon's Town, the Cape of Good Hope Nature Reserve, drive the scenic Chapman's Peak road, and take a boat to the seal colony near Hout Bay. This is a lot for one day, but it's feasible.
TIP: If you are staying in the city center and want to return your rental car earlier, you can also visit these places with a guided Cape Point tour from Cape Town.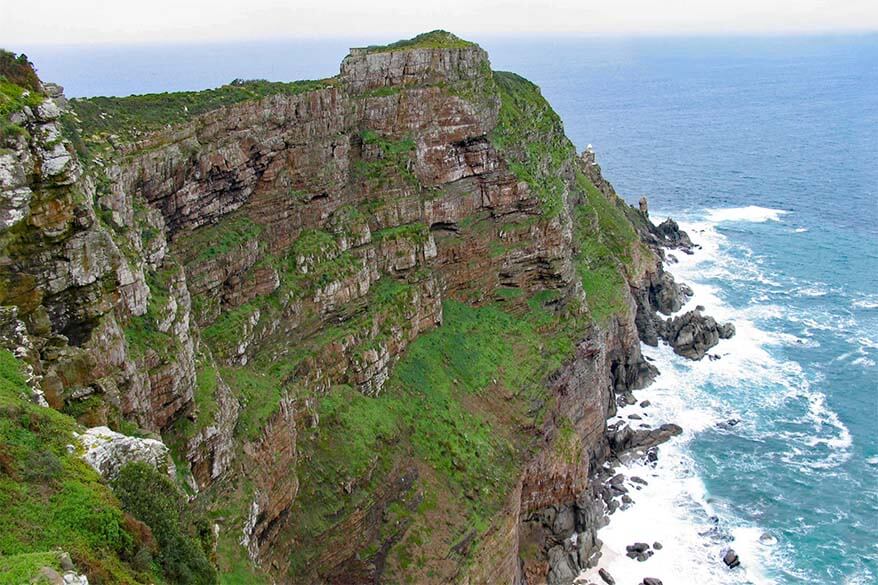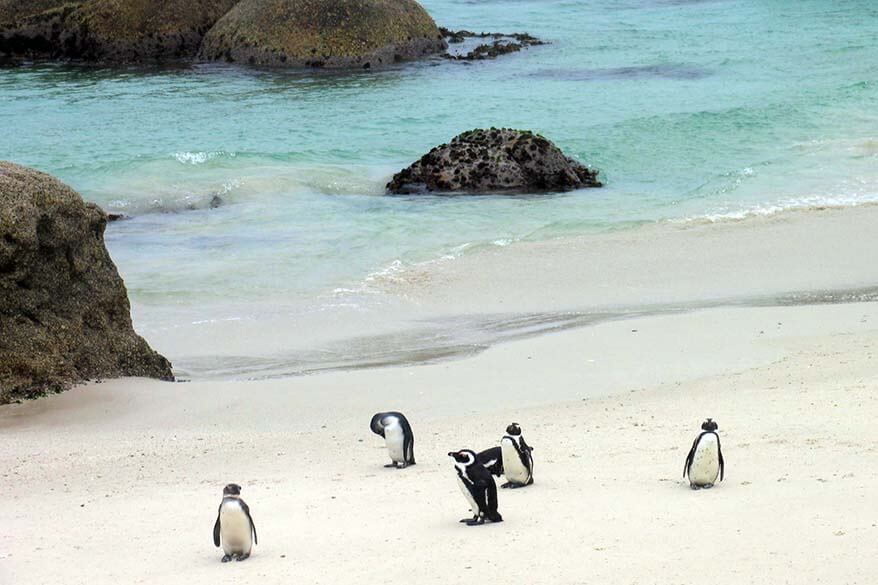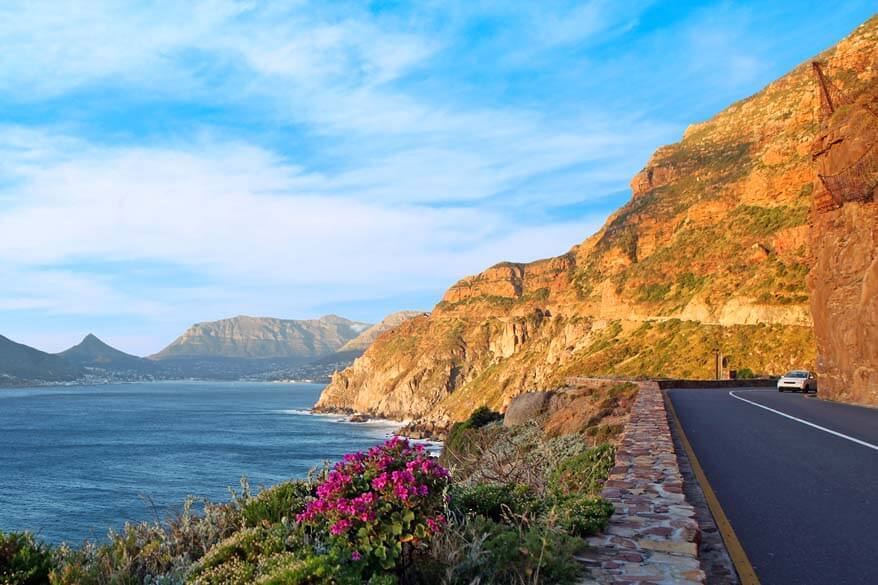 Day 14: Cape Town
One day in Cape Town is really short. Here are the highlights that you should try to visit even if you only have a day: Table Mountain, Signal Hill, Victoria & Alfred Waterfront area, colorful houses of Bo-Kaap, and also the city center.
If you have time, take a boat to nearby Robben Island. It's the place where Nelson Mandela was imprisoned for many years.
TIP: Consider leaving your car and taking a hop-on hop-off bus to explore the city. It's one of the most convenient and cheapest ways to travel around Cape Town. Car parking is not easy to find in town and distances are quite big.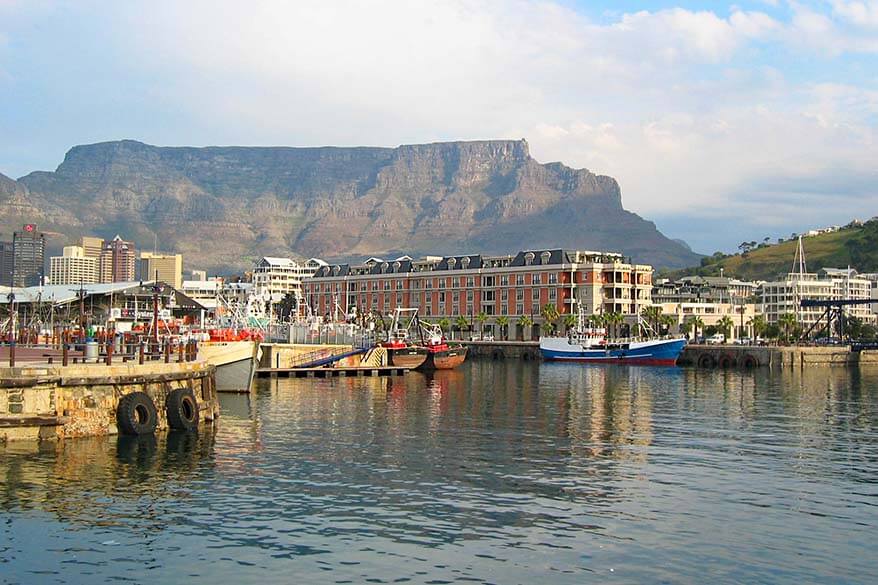 Day 15: Cape Town and departure
Depending on your departure time you could visit some of the places that you didn't manage to see the previous days. There is so much to see and do in Cape Town!
We loved the Kirstenbosch Botanical Gardens just outside the city. A visit to the Stellenbosh wine region is also a popular (half-)day trip from Cape Town.
Here you can also find the most popular and best-rated day trips from Cape Town: Cape Winelands and wine tasting tour or private wine tasting tour visiting Franschhoek, Paarl, and Stellenbosch areas.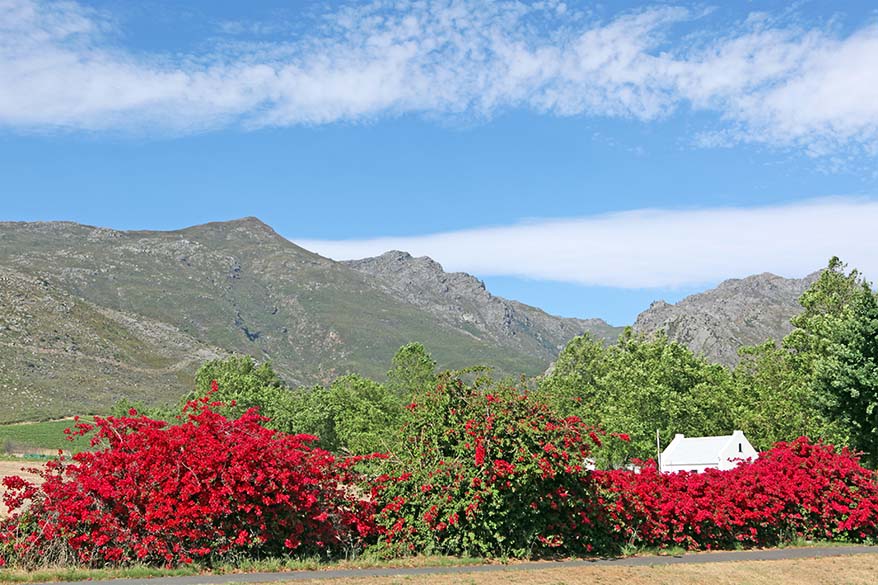 Practical information for a self-drive road trip in South Africa
You can easily rent a car and explore South Africa individually. Here you can find the best deals for car rental.
You don't need a 4WD for South Africa as the main roads are all paved and generally in very good condition.
At the time of writing, you can drive in South Africa with any driver's license that is printed in English. Otherwise, you should obtain an International Driver's License before your trip.
You can make this trip in any season. We traveled in July when it was winter in South Africa.
Consider that the distances are big and if you are really short on time it's probably better to fly from the north of the country to the south.
Is it safe to travel in South Africa on your own? While not the safest country in the world, South Africa can easily be explored on your own. Just use your common sense, read the signs, avoid township areas, and don't drive at night.
When we first traveled, our rental contract said it was forbidden to drive a rental car in South Africa in the dark. It had more to do with the wild animals crossing the roads and people walking around next to the road than with crime.
If you have any questions that I forgot to cover, please leave a comment below and I'll do my best to help.
So, this was our itinerary visiting the best places of South Africa in two weeks. There are many ways to spend your vacation in this beautiful country, but this gives you a good idea of what can be done in a relatively short time.
Note that this trip is quite rushed, so you will not see everything. One thing for sure – it will definitely leave you wanting to return. But then you get acquainted with so many different regions of South Africa in a short time and when you go back you can choose to explore certain areas deeper.
As for us, we went back to South Africa after this trip and spent two weeks just in the South part of the country (Garden Route and Cape Peninsula). You can find this family-friendly South Africa trip description in our article South Africa with kids and here you can find some of our favorite photos from South Africa. We cannot wait to return again!
READ ALSO: Best Places to Visit in South Africa
If you found this post useful, don't forget to bookmark it and share it with your friends. Are you on Pinterest? Pin this image!