South Africa is our favorite travel destination. We hardly ever travel to the same place twice, but we gladly made an exception for this beautiful country when we took our kids there for our first big family trip. And we are certainly planning to return again!
Sometimes we even contemplate moving to live there… and one day we might. For now, it's just a dream that grows bigger every time I look at the pictures from our trips to South Africa.
It's not so much about the pictures themselves – it's not an easy task to produce good quality images when traveling with young children. It's about how amazingly unique South Africa is.
Below is a small selection of our favorite South Africa pictures from one of our trips in South Africa with kids. Take a look!
1. Table Mountain and Signal Hill in Cape Town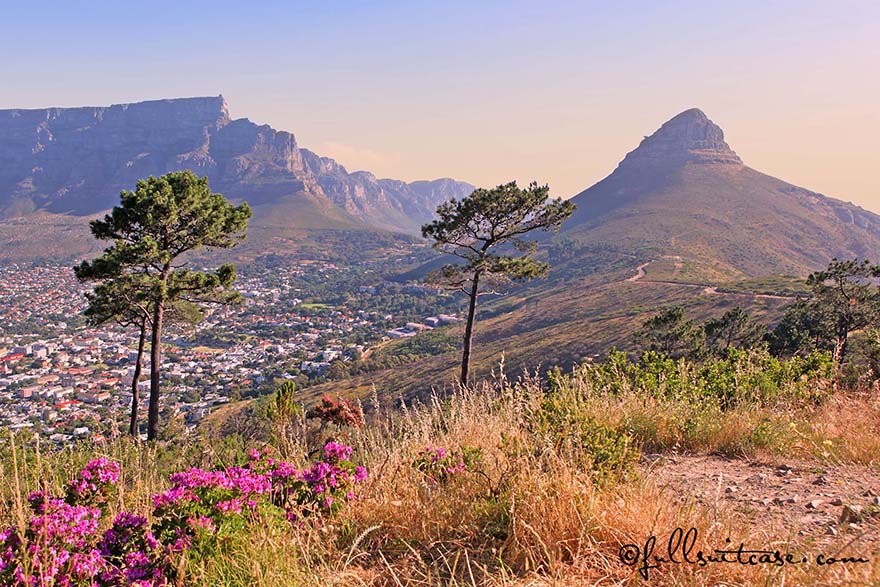 This picture was taken on our first day in Cape Town. We left Belgium just the evening before. We were somewhat anxious about the trip traveling to the other side of the globe with our three little boys for the first time…
But all the worries were forgotten and gone once we were there! The children have adapted to the new place very well and their willingness to explore new places exceeded all our expectations on the first day already.
During the two weeks we spent in Cape Town and along the Garden Route, we have done much more sightseeing than we ever thought would be possible with our 2-year-old twins. It was then that we decided we could try visiting Australia with kids as well…
2. Cape Point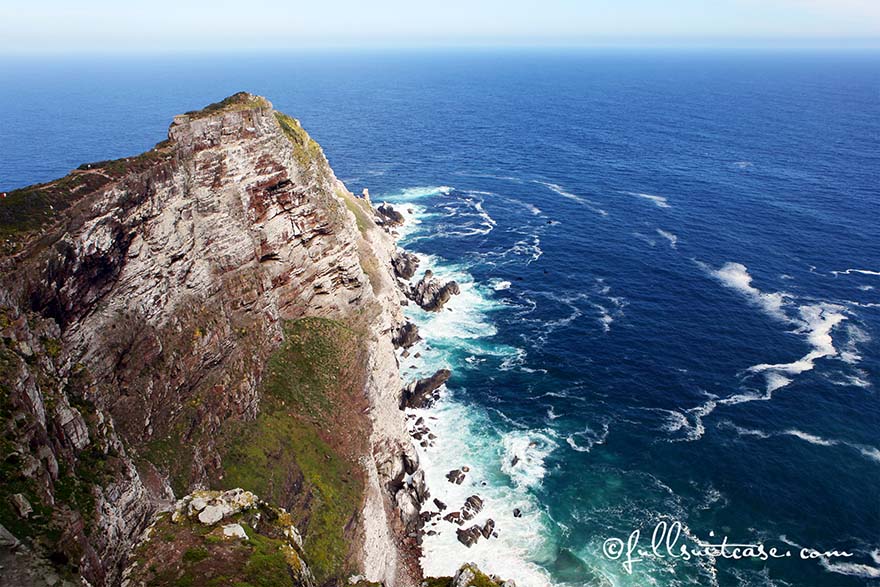 This is not the famous Cape of Good Hope at the end of Cape Peninsula, but the Cape Point just next to it. Standing here and looking at the endless ocean, you truly feel that you are at the end of the world.
This is one of the most unique places in South Africa. An experience that will stay with you for a long time…
3. Knysna Elephant Park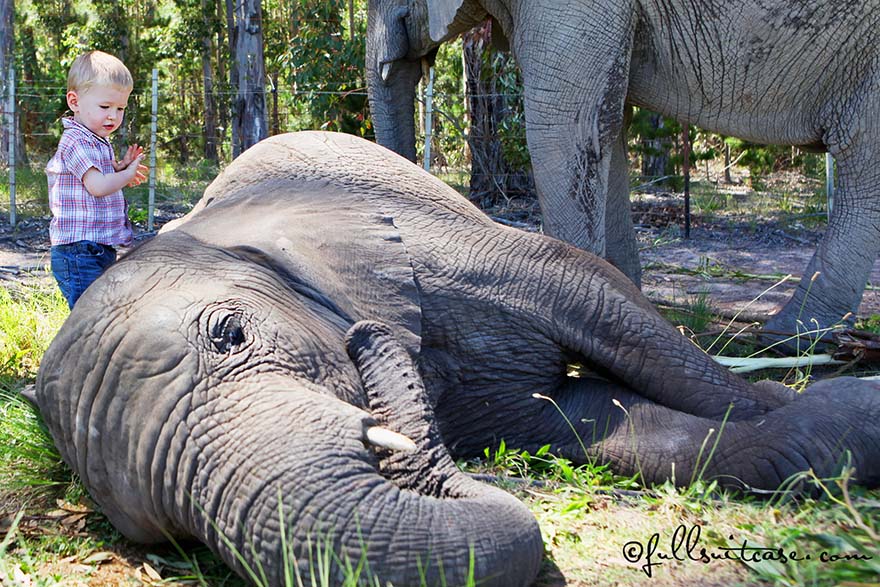 Knysna Elephant Park was one of the first places we took our boys to on the Garden Route. We thought the kids would like to feed the elephants and we could take some nice pictures with them.
What nobody expected was that our 2-year-old son would be the most at ease with these colossal animals. Somehow the elephants felt it too – one of them even went to lay on the ground and let him pet it. It's something that – according to the people working there – only happens very rarely and only when the elephants feel very much at ease.
4. Knysna Loerie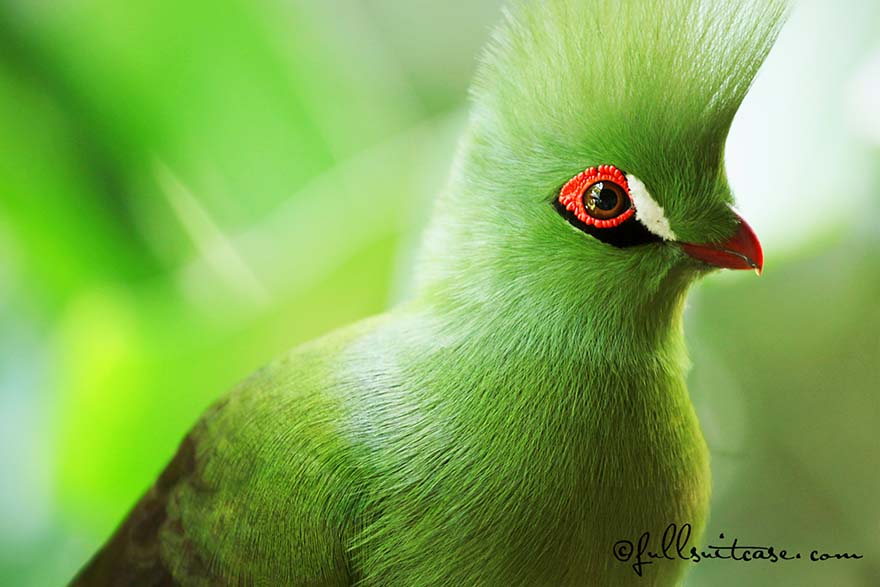 South Africa is all about nature, plants, and animals, and we saw a great variety of them. But from all the wildlife images, this is one of my favorites!
I just love this picture of Knysna Loerie (Turaco). Not just because it's a really nice image, but also because it's a bird I have never seen anywhere else before or after this trip.
5. Tortoises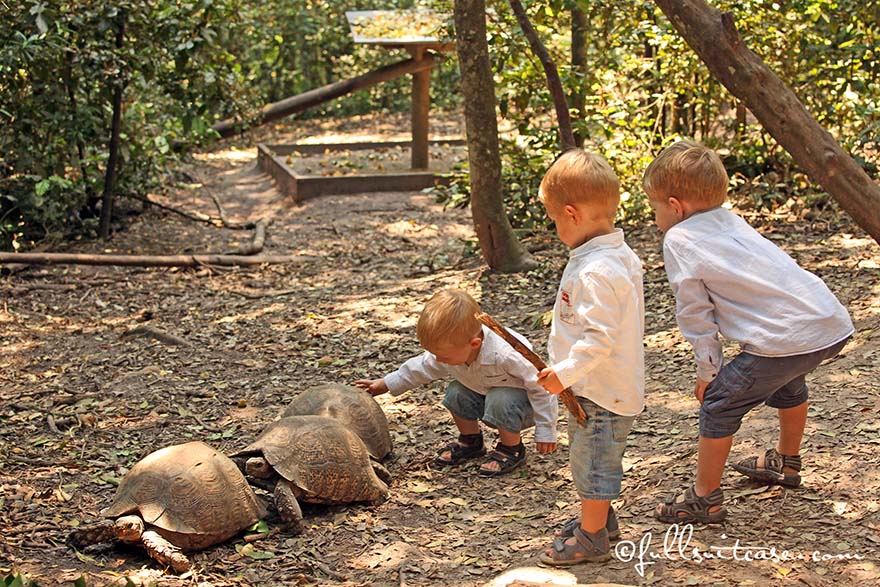 This picture always puts a smile on my face – three tortoises walking in a row and our three boys running behind them. I took it in Monkeyland Primate Sanctuary in The Crags, near Plettenberg Bay.
This game of three boys walking behind three tortoises lasted quite a long time. We even started to feel sorry for the poor animals… But then a monkey came along, our kids' attention was somewhere else, and the tortoises were saved…
6. Tsitsikamma National Park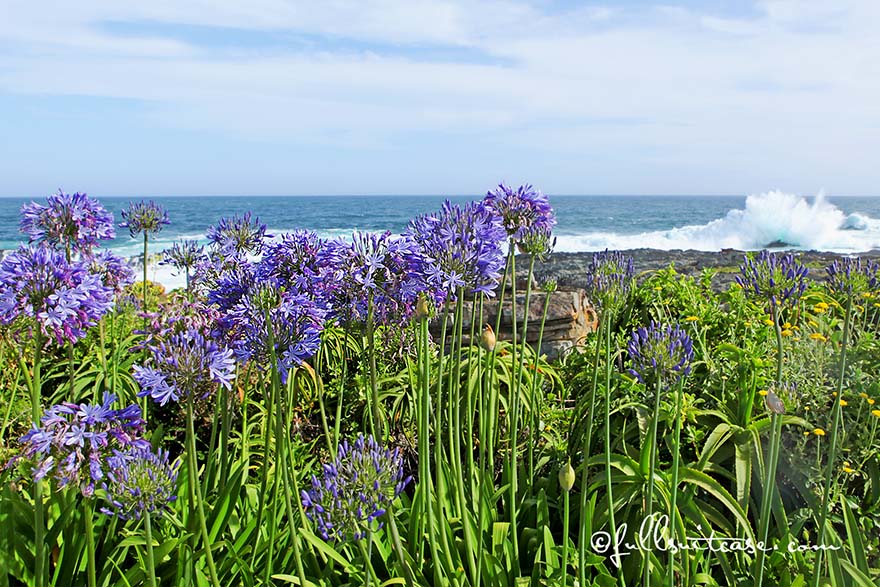 This was our first time in Tsitsikamma National Park and we didn't really know what to expect. What we found was this beautiful coastline with wildflowers and whales jumping in the distance (they are not in the picture – in case you are already looking for a magnifying glass…).
We even managed to do one of the short walks (2km Storms River Mouth Hike) and our little hikers did just fine. This was the very first hike for them.
7. Lioness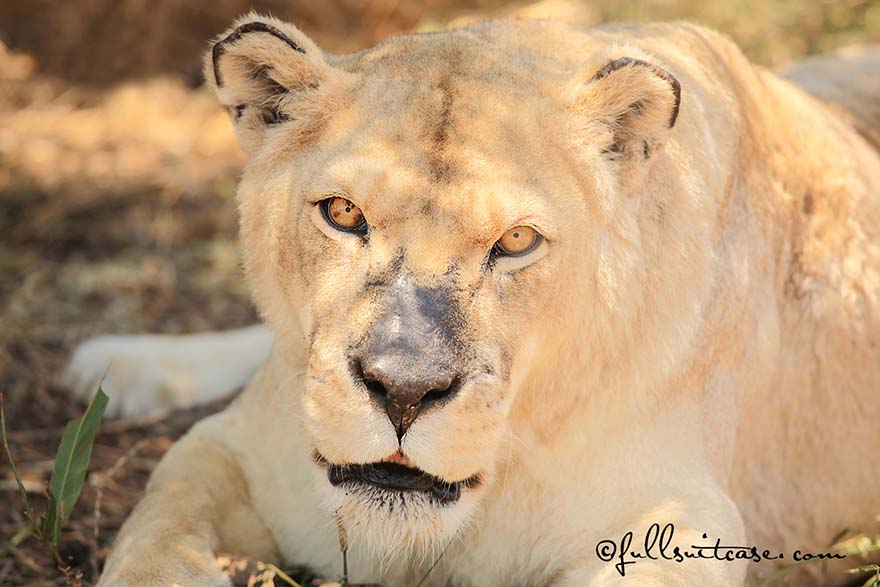 South Africa is the country of the Big 5. The term 'Big 5' refers to the lion, leopard, rhino, elephant and African buffalo. And you can see all these (and many more) animals in South Africa.
Even though we didn't go to Kruger National Park on this trip, we found plenty of other opportunities to watch animals. We even took the kids on a safari ride at Plettenberg Bay Game Reserve.
This lioness is not photographed on a safari, but at a lion park near Cape Town. This is the closest I've ever been to a lion, within just a hand's reach and the wire between us, of course.
8. Dolphins in Hermanus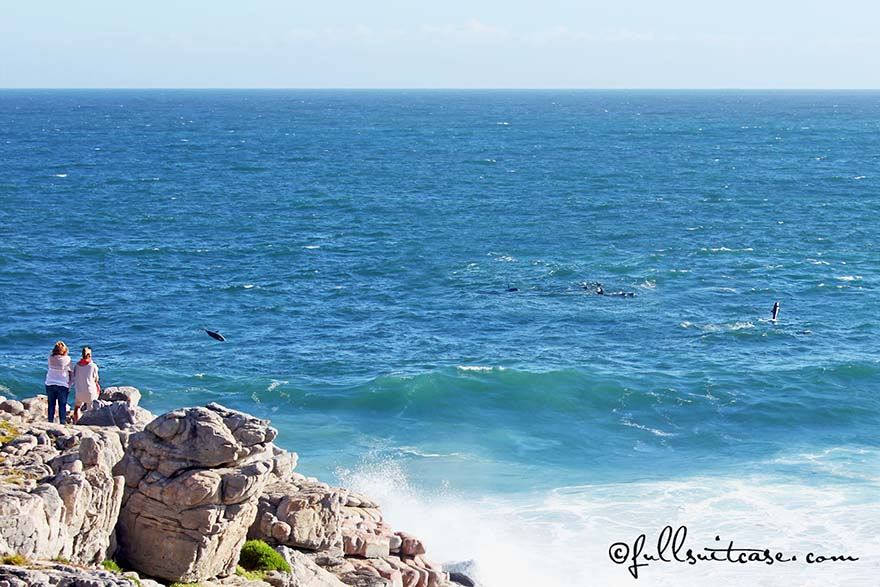 Now you can get that magnifying glass and try to count dolphins in this picture! This image is from one of our favorite places in South Africa, Hermanus.
There are many places in the world where you can see dolphins and whales, but none of them compares to Hermanus. Never before (or after this) have we seen so many dolphins and whales just standing ashore.
There was a huge group of dolphins, hundreds of them, and we just walked along the coast and watched them for hours. I have nice close-up pictures of the dolphins as well, but this one is about the experience.
9. Cape Town Aquarium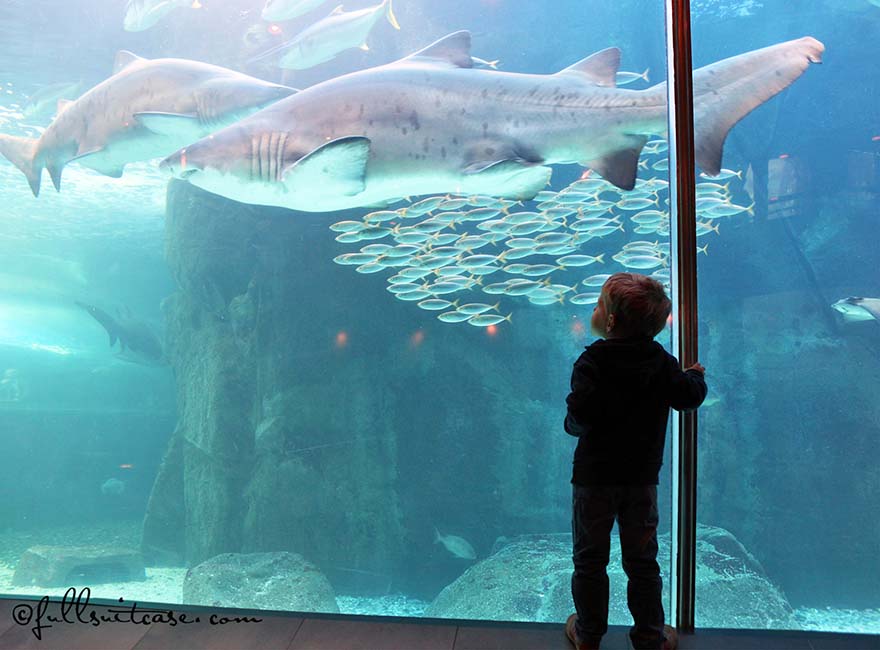 A visit to Cape Town Aquarium was another great experience for the whole family. This is one of my favorite photos.
10. Hermanus Coastline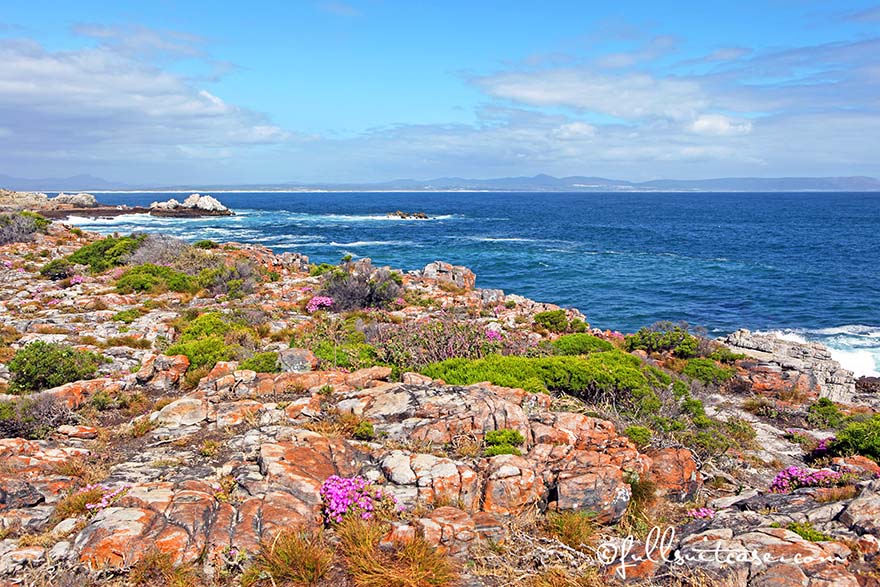 A second picture from the same place, Hermanus coastline. But as I said, Hermanus is simply one of our favorite places in South Africa!
We visited Hermanus twice and each time we hated to have to leave. As I write this, I am looking for a good excuse to return. Not that my husband needs convincing. If there is one place in the world that I don't have to convince him about, it's South Africa. And that's for someone who thought I was out of my mind when we booked our first trip there 10 years ago!
We'll definitely return again. And I hope that these pictures have inspired you to visit as well!
For more pictures from the North of South Africa and inspiration for your trip, check our South Africa trip itinerary. It covers all the main highlights of the country in just 2 weeks.
READ ALSO: Best Places to Visit in South Africa