Are you thinking of traveling to Australia with kids, but are not sure what to expect? In this article, you can read about our experience visiting Australia with young children. We also included some practical tips for traveling Australia with kids. Find out!
We made a 35-day long trip to Australia with our three children. Our oldest son turned 5 the day we arrived in Sydney, and his twin brothers were just 3. Many people said we were completely out of our minds taking kids for such a long trip on the other side of the world, some others wished us courage…
If you are wondering whether you can travel to Australia with kids, and in particular with young kids, my answer is yes, absolutely! There are some places and some trips which you better postpone until the children are older, but Australia is a perfect choice when it comes to family travel. The country is so diverse that you can easily choose your destinations and activities in such a way that it would fit your family's interests.
Before we jump to the practical tips for traveling to Australia with kids, I want to share a short story – what happened just before our family trip to Australia and what we learned from it. Read on!
Australia with kids – we also had our concerns before the trip
A few days before our trip, the biggest bushfires in 50 years were raging through the Blue Mountains – our first destination of the 5-week Australia trip with children.
We were glued to our TV and were seriously starting to wonder if it was a good idea to travel to Australia with toddlers. But just the day before we left, there was some good news at last: the fire was somewhat contained and the place where we were heading to in the Blue Mountains would be open for tourists…
That was not the only worry we had before the trip. The morning before our flight, one of our 3-year old twins woke up with a high fever. But as it often goes with children, he got much better after taking some medicine, and so we packed some antibiotics with us and left for the airport… With a 28-hour travel time ahead of us. The fact that he was sick was actually a blessing because he slept a lot and that made the flight so much easier for everyone. By the time we got to Australia, he was completely healthy again.
I'm only telling this so that you know that all kinds of things can happen when you travel. Just as anything can happen at home. Also, there is always a good excuse not to travel with kids. But as long as you keep an open mind and are prepared to deal with whatever comes your way, you have nothing to fear when visiting Australia with children.
Australia is an amazing destination and it's perfect for a family trip! Find out!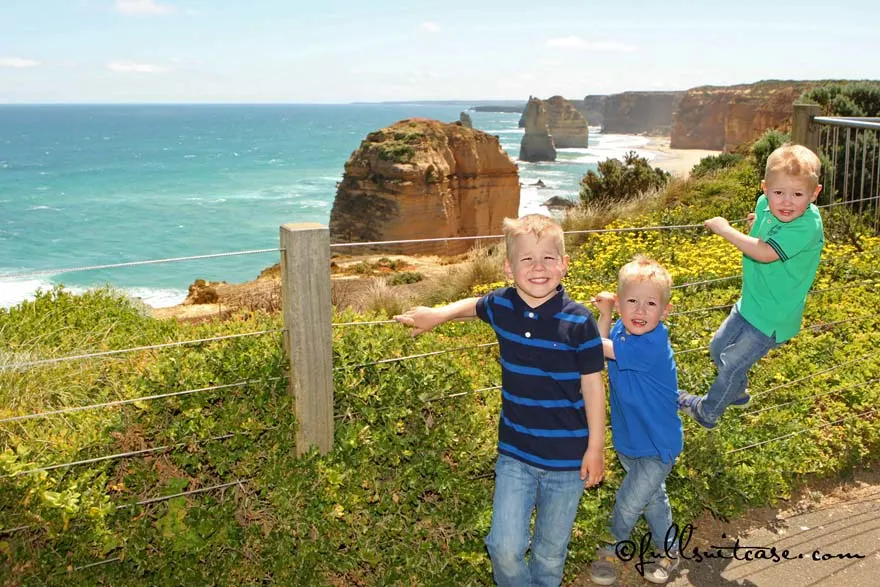 Practical information and tips for a family trip to Australia
Below you can find some experience-based tips and practical information for traveling to and around Australia with kids.
Long flight to Australia with kids
Depending on where you are coming from, traveling time to Australia can be extremely long. We chose to fly without any stopovers (apart from technical stops). It resulted in a total traveling time of more than 28 hours.
When it comes to flying, we always prefer to keep the journey as short as possible. I rather have a day or two extra in the beginning of the trip at our destination than all the hassle of a 1-night stopover.
Of course, we could have chosen for a longer stopover somewhere in the Middle East or Asia, but then we would have had less time in Australia. If you decide to make a stopover, I can really recommend Dubai. It's a great place for families with kids. Here you can read more about how to make the most of your Dubai stopover.
You can read more about flying with young children in my previous post. Our flights to Australia were not very different from our other flights, and the kids handled long hours on the plane very well.
Dealing with jet lag when traveling to Australia with kids
The only thing we did on this trip that we have never done before, was taking some melatonin pills with us (melatonin is known to aid in reducing the effects of jet lag). We took the medicine on the last flight from Dubai to Sydney at the time when it was evening in Australia. That helped us and the kids to get some sleep, but of course, we were still exhausted when we landed in Sydney early in the morning.
We paid for an upgrade to a bigger room at the hotel just to be able to go to sleep as soon as possible (as it often happens, only the biggest suites were ready…). Later that day we forced ourselves and the kids out of bed and went to dinner, even though all we wanted to do was sleep…
We took melatonin for two more days at bedtime and that was it – none of us really had any serious difficulty adjusting to the 9-hour time difference. Here you can read more about how to beat jet lag.
Bringing food to Australia
There are lots of customs regulations in Australia, but here I'll just mention one which everyone who is traveling to Australia should know. You are not allowed to bring ANY fresh food with you when you arrive in Australia (infant formula is ok).
On top of that, some states and territories prohibit the entry of fresh fruit from other parts of Australia.
There are quarantine bins provided at the airports where you can dispose of any food left in your hand luggage. Use them as the penalties can be harsh, even if you just have one apple with you. Here you can find some more official customs information on what you can or cannot bring to Australia.
Safety in Australia
Australia is a pretty safe country, as long as you don't go swimming with crocodiles, go looking for snakes, or drive through a bushfire. Recently we saw a documentary about Australian wildlife and all the dangerous species which we never knew existed. My husband said something like, 'It's a good thing I didn't see this one before we went to Australia, or I would have been terribly worried in the outback'.
The truth is, we never felt unsafe in Australia with kids – not in the city, and not in the outback.
We never saw a single dangerous animal (except for that one snake that happened to be crossing the road as we drove by). Now that I think of it, the only wild animals we saw in the Red Center, was a camel and a rock wallaby. But it's wise to wear covered shoes in the outback rather than sandals – just in case.
One thing you should be very careful with in Australia is the sun. Sun is very dangerous Down Under and you can get burned in no time. The warmer it is, the more covered your body should be.
SPF50 sunscreen is essential, as are sunglasses and a sunhat. I advise wearing long sleeve shirts, maybe even long trousers if you stay outdoors for a longer period of time.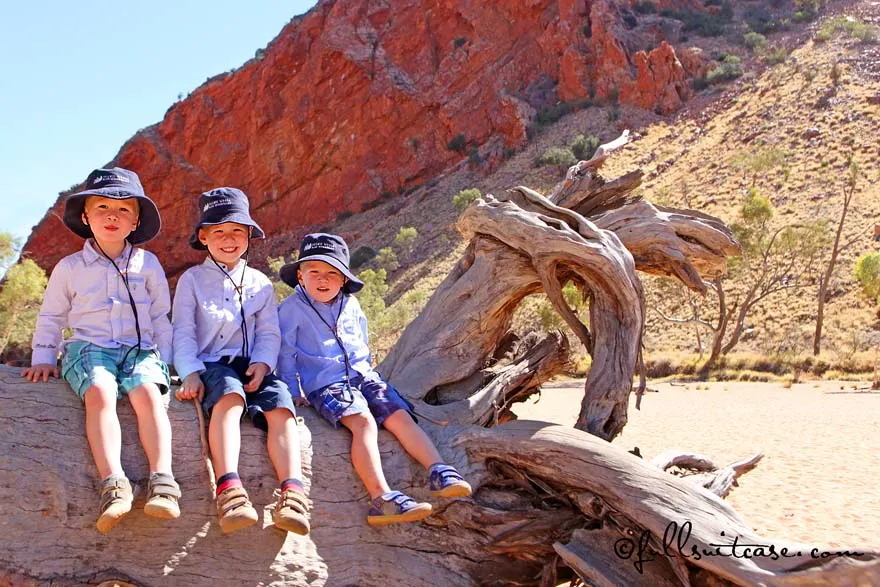 Medical assistance
Medical infrastructure is supposedly very good, there is even the Royal Flying Doctor Service in the outback. Of course, that's something you hope you'll never need.
We were lucky and didn't need any medical help during our trip, but it didn't take us very long to find a pharmacy when we needed some medicine for the kids in Tasmania.
TIP: Make sure you have good travel insurance when traveling to Australia with kids. Some places are so remote that it will cost you a fortune if something were to happen!
Buying baby products when traveling in Australia with a baby
You can buy infant formula, baby food, and diapers pretty much anywhere in Australia. Of course, you should check in advance in case your baby has any specific needs.
It goes without saying that you shouldn't count on finding everything you need in the outback, so stock up in bigger towns.
Food
The food choices are plentiful in Australia and we never had any problems finding something the kids would like to eat, even in the most remote places.
In fact, our kids often preferred kangaroo steak to spaghetti (this is not something they would do at home – traveling does that to children).
None of us experienced any stomach problems or anything like that. So there is nothing to worry about when it comes to food when traveling in Australia with children.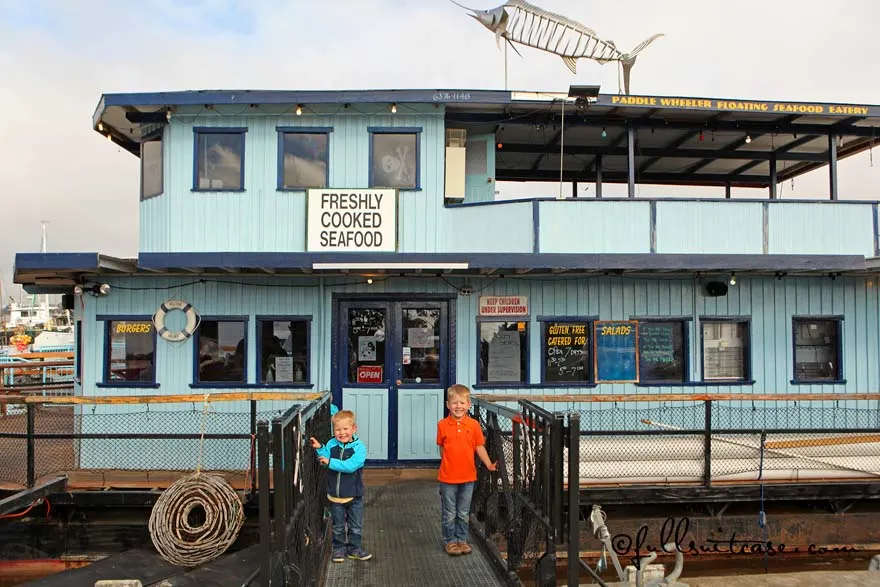 Family accommodation in Australia
Australia has a lot of choices when it comes to family accommodation, so look for hotels with family apartments rather than regular hotel rooms. It's not necessarily more expensive. Actually, it can be much cheaper to stay at a family-friendly hotel with 1-3 bedroom suites than in a big business hotel with regular rooms where you hardly have space to move.
There are several advantages of staying in an apartment. First, you usually have your own kitchen which can save you lots of time and money. Most hotels in Australia don't have breakfast included in the rate or they simply have no breakfast at all. So it's easier if you can get some food at a supermarket the evening before.
Second, you have some you time in the evening when the children are in bed since you are not cramped in a hotel room with the whole family. On top of that, the kids have more space to move and play.
Another advantage is that many apartments have a washing machine and a laundry dryer which is something you will appreciate a lot when traveling with the family for a longer time.
Most hotels in Australia have free laundry facilities, but it's much easier if you can do your laundry without having to leave your room. Don't forget to buy some washing detergent at a local supermarket as it's not always provided.
Here are some examples of the family-friendly accommodation we stayed at during our trip to Australia with kids: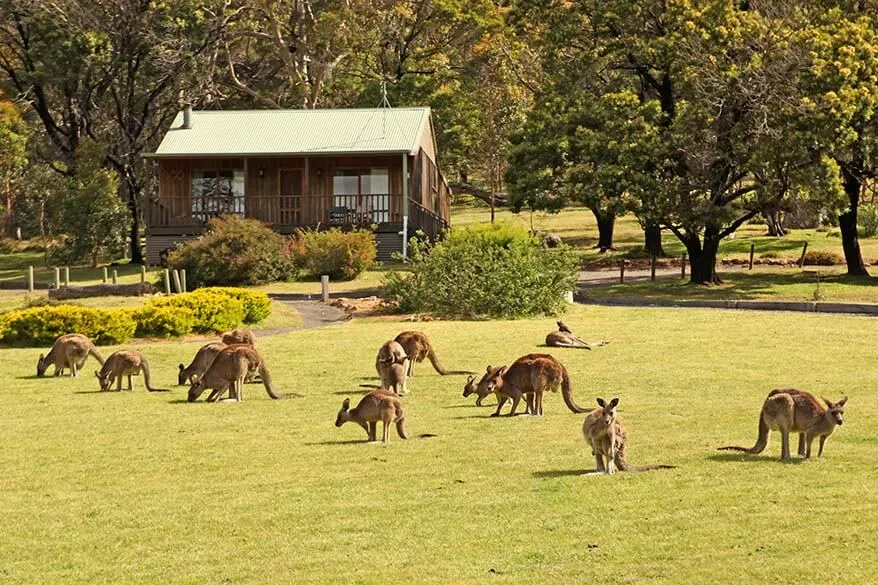 Playgrounds and swimming pools in Australia
There are plenty of playgrounds in most places throughout Australia, and a lot of hotels have swimming pools.
Furthermore, there are also beaches, public swimming pools, and even some natural waterholes where it's safe to swim. Australia is great for kids!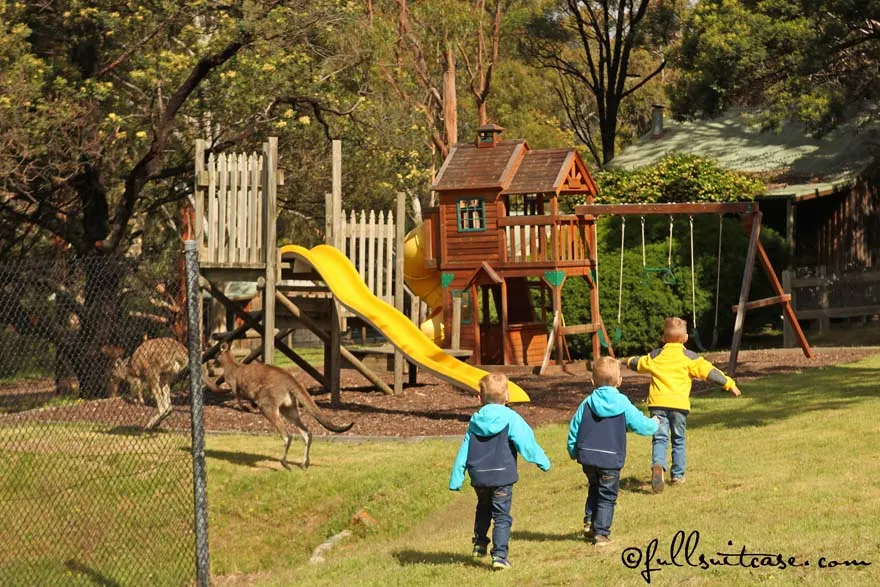 TIP: Limit driving times – Australia is huge
Australia is bigger than you think and if you are not careful in planning your itinerary, you may find yourself driving 400 – 500km (250-320 miles) a day.
That's ok when you are just trying to get from one place to another, but don't do this every day. Not with the kids, and not on your own.
If you have to drive longer for a few days in a row, consider flying instead. It will be easier and probably even cheaper in the end.
Child car seat requirements in Australia
You can find more detailed information online, but here is a summary of child car seat requirements you should know when renting a car in Australia with kids (this information was accurate at the time of writing, but may have changed, so double-check):
0 to 6 months: Approved rearward-facing baby seat.
6 months to 4 years old: Rearward-facing or forward-facing child car seat with an inbuilt harness. We rented car seats for our 3-year-old twins as it was too much trouble taking them with us from home. That's a very expensive option if you fly between destinations as you have to pay for the car seat every time you rent a car (otherwise there is a maximum fee of 7 or 10 days, no matter how long you use them).
4 to 7 years old: Forward-facing approved child seat with an inbuilt harness or an approved booster seat. We took our own travel booster for our 5 year old and it saved us lots of money.
7 to 16 years old: Children who are too small to be restrained by a seatbelt properly adjusted should use a booster seat.
If your child is too large for the child's car seat specified for their age, they may move to the next level.
Children under 4 years old are not allowed to travel in the front seat of a car with two or more rows unless all other back seats are occupied by children younger than seven years in an approved child restraint or booster seat.
Australian wildlife is what makes Australia great for kids
For us, Australian wildlife was one of the most important deciding factors when we chose a destination to go to with young children. In Australia, there are so many places where you can visit a zoo or a wildlife sanctuary where you can feed kangaroos or cuddle a koala or even a Tasmanian devil.
One of our favorites was Featherdale Wildlife Park near Sydney and the Blue Mountains.
But that's not all, of course.
No zoo can compare to seeing animals in the wild. Our kids loved running behind kangaroos, feeding the parrots, touching an echidna (Ouch, that was sharp!). We saw so much wildlife in Australia! It was great fun for the whole family and one of the best experiences of visiting Australia for kids.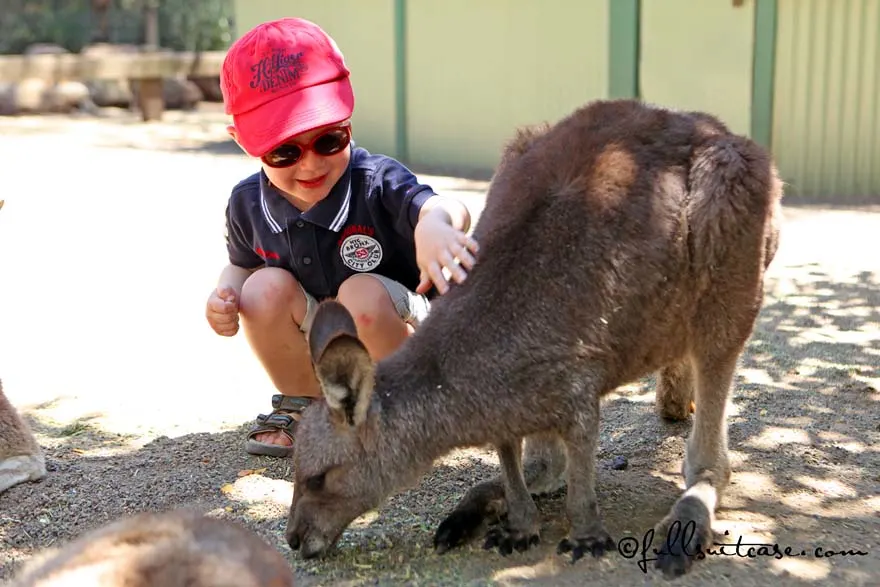 It might be a good idea to check which species can be approached safely and which not. If you are not sure, better keep a safe distance.
For example, our kids were very enthusiastic when they saw a wombat for the first time, but were warned by the locals that these animals can bite if they feel threatened.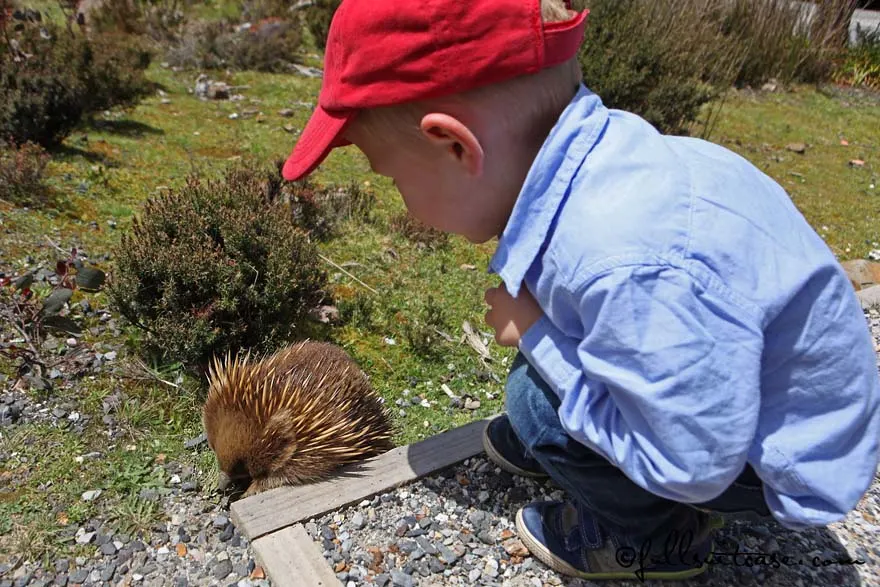 So, this is our experience when traveling in Australia with kids and practical tips for your trip. I hope this information will help you prepare for your family trip to Australia and reassure you that traveling Down Under is something that can be done with children of any age.
We have many more articles about our trip, so make sure to check them for more inspiration. Here you can find our Australia itinerary and here you can find practical tips for planning a trip to Australia.
Here you can read more about some of our favorite places when visiting Australia with kids:
If you found this post helpful, don't forget to bookmark it and share it with your friends. Are you on Pinterest? Pin this image!