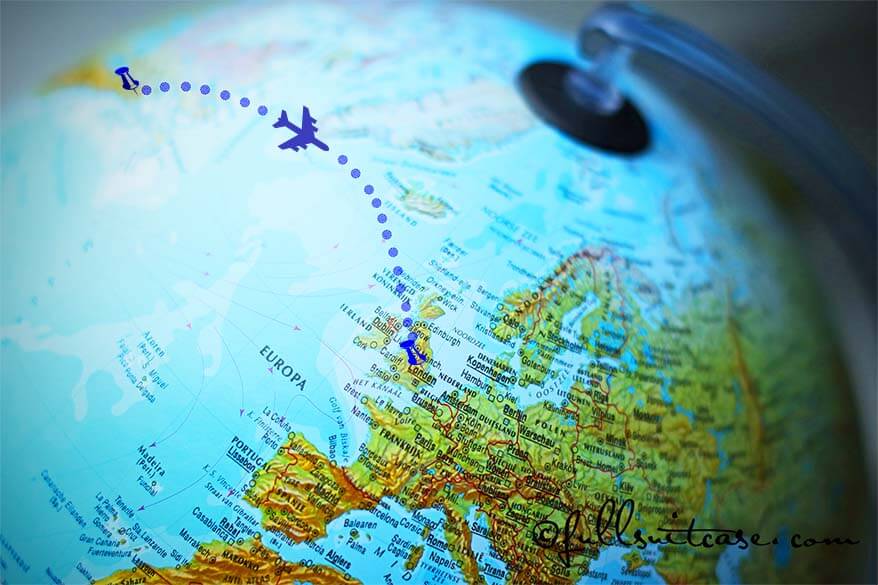 Are you looking for advice on how to avoid jet lag or how to overcome jetlag? This article might just be what you need!
Stop worrying and take a look at the simple tips that help us to overcome jetlag when we travel. No secret formulas or scientific explanations, just stupid simple common sense that will help you deal with jet lag on every trip. Find out!
If you google 'how to avoid jet lag', you get more than a billion results… There is so much advice out there, thousands of articles, suggestions… There are even jet lag apps that, supposedly, can help you deal with jet lag by telling you when to sleep, what and when to eat, when to go outside and when to avoid daylight… So why write another article? Good question…
Because, in my opinion, jet lag is overrated, over-worried (is this even the right word?) and too theoretical.
During all the years of extensive traveling through many different time zones we never really paid much attention to jet lag. We just followed our bodies, slept when we felt like, ate at strange hours, went to sleep in the morning and went out in the evening…
Listening to our bodies rather than following 'scientific' advice has proven to be the easiest method to get rid of jet lag quickly.
Below you can find some experience-based examples of what we do to overcome jetlag. We have tips for dealing with jetlag when flying East or West. At the bottom of the article, you can also find 9 simple tips on how to avoid jet lag. Read on!
How to Beat Jet Lag – OVERVIEW: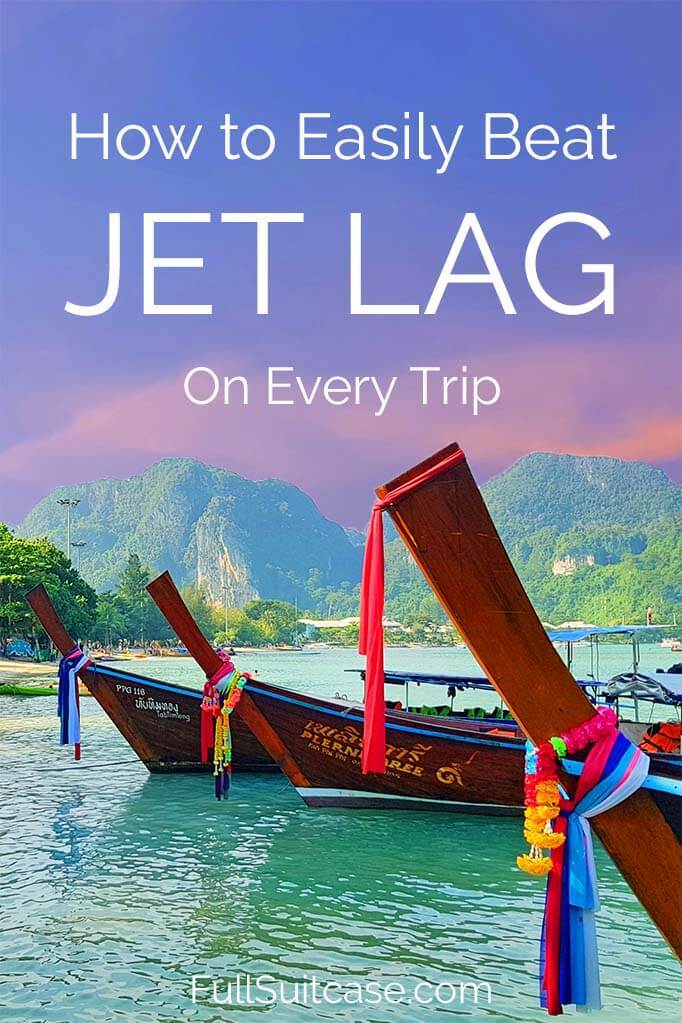 How to Avoid Jet Lag when Flying East
We don't have a jet lag plan, no apps, no specific rules or tricks. As I said, we follow what our body tells us. Let me share a few examples of how we deal with jet lag. This has become a rather usual routine for us, actually.
When traveling Eastwards to the destination that is 3 to 9 hours ahead of you, you'll usually arrive there early in the morning. This means that it's middle of the night back home. Ideally, you try to get some sleep on the plane. But even if you succeed, chances are high that you'll still be exhausted when you land…
The sun is shining and, according to the jet lag specialists, you should stay outside the whole morning. They tell you to go and have breakfast, then lunch, then dinner, and only go to bed in the evening. That's more than 12 hours before you're allowed to sleep! The worst thing is that if you do this, you're likely to wake up at 3-4 AM and not be able to get to sleep again…
Furthermore, while adults can still force themselves to follow this advice, no way you can keep young kids to stay awake the whole day… So ever since we sarted traveling with kids, we had to look for our own ways to deal with jet lag that actually work.
So what do we do? Take a look below!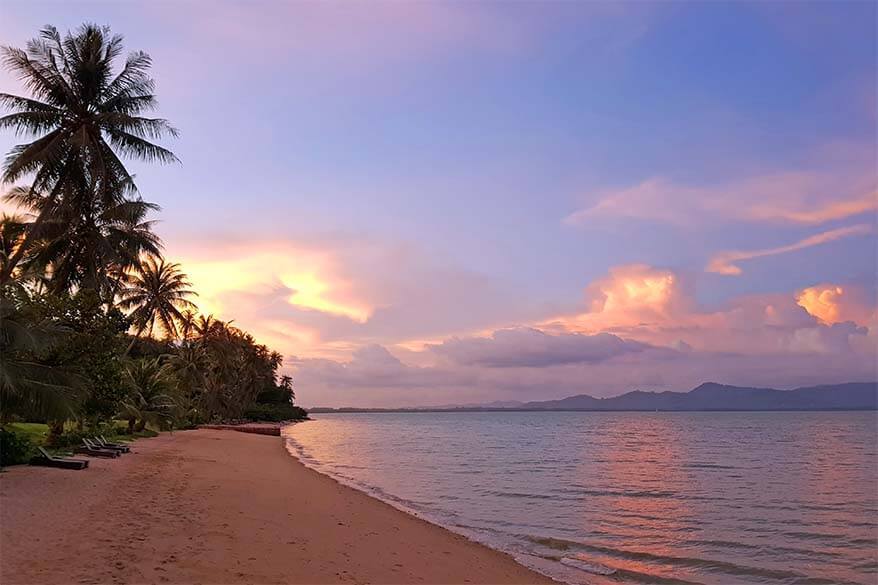 Our experience dealing with jet lag when traveling East
When we travel East and arrive at our destination in the morning, we go to our hotel and do whatever it takes to get a room as soon as possible.
Usually, the room isn't ready and somehow they never seem to have any vacancies… If that's the case, we wait, get a drink (no food – who can eat in the middle of the night!).
We make sure to stay in the neighborhood of the reception so that we can get the room the moment it becomes available. Once we even paid for an upgrade to a bigger room, just to be able to go to bed sooner.
Here's how our 1st day looks like following our personal 'jet lag plan'
The moment the room becomes available we all go to sleep. But not before setting an alarm clock to wake us up in the afternoon (around 3-4-5pm, depending on the time difference).
When the alarm clock rings, everyone is usually still really tired, but we make an effort to get up. A shower does wonder too.
By the time we leave our hotel room, it's usually about dinner time. By then, we are all starving, and so we look for a nice restaurant. After dinner, we walk around a bit, explore the new place, and go to bed at around 11 pm.
We also try to find a grocery store and buy some snacks and drinks before heading back to the hotel (this one is important – you'll see why later).
Usually, none of us have any trouble falling asleep after such a long day and we sleep pretty much through the night. So when we wake up the next morning, we are already partially adapted to the new time zone. Sometimes it's too early for breakfast and we are hungry. That's why it's handy to have some fruit or cookies in your hotel room.
We used this tactic when we traveled from Europe to Australia (9 hours difference), from Europe to Asia (7 hours time difference), and also to the Middle East (4 hours time difference).
One day is all it took us to adjust to the new time zone in Thailand and Dubai. It took us about 2-3 days to adjust to it in Australia, but that was mainly because our kids were really young at that time, and they still woke up at night too often (at home too).
For Australia, we used melatonin pills. For such a big time difference, I'd do it again. It was the perfect way to make sure that our three kids would go to sleep at the same time and we could get some rest too. The last thing you want after a 28-hour trip and 9 hours of time difference, is having to deal with three toddlers who wake up and sleep at different times…
Anyway, let's take a look at how our jet lag experience would have been if we had followed a 'scientifically proven' plan.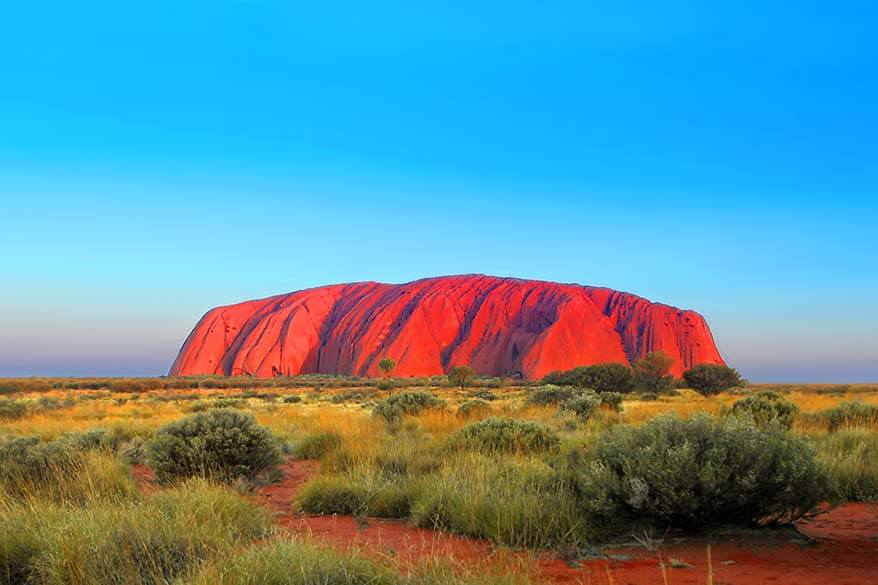 Here's how your 1st day would look like, following jet lag expert advice
I tested a couple of jet lag plans that are available online and they give you the whole schedule telling you what to do.
The first thing they tell you is to already start adjusting to a new time zone at home. Now, be honest with yourself – the last days before traveling are hectic. Changing your schedule will just make the whole trip preparation even more stressful. It's much better that you are well-rested before you travel!
Then you arrive at your destination. Following the jet lag tips, here is how our 1st day would have looked like in Thailand.
We arrive at 7 am, force ourselves to eat breakfast at 9am and go for a walk outside (seek daylight). By 11 am the kids are grumpy and impossible to deal with, and we try to find a place for lunch. Which none of us finishes because nobody is hungry…
We have trouble staying awake. We do our best and stretch the day as long as we possibly can, get angry at the kids for being impossible, and eventually give up the fight and head to bed at 6 pm without dinner.
This is not according to the plan, but no way can we stay awake till 9 pm. To be honest with you, there is a big chance that kids won't even make it to 6 pm…
We get our 8 hours of sleep and wake up at 2 am hungry. The whole family is wide awake in the middle of the night. Needless to say, everyone is exhausted the next morning…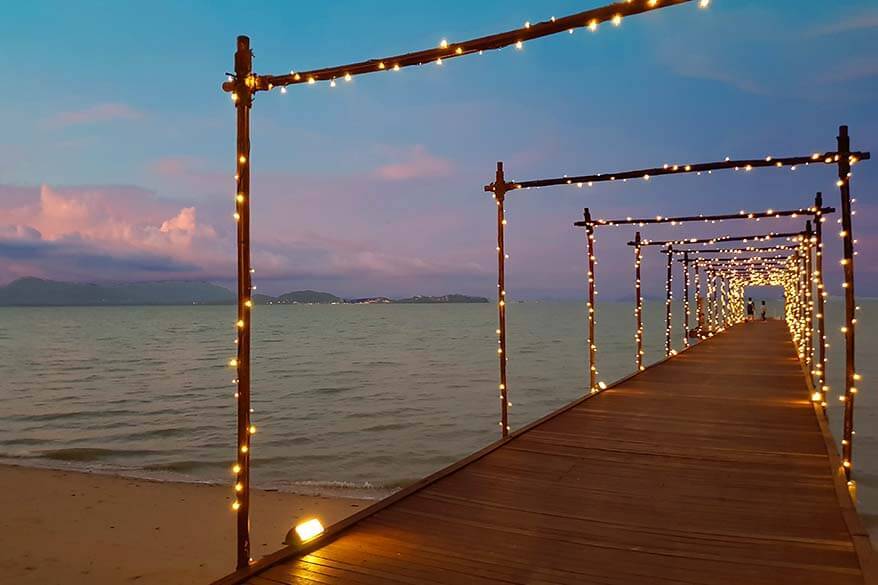 Here's how our 2nd day looks like following our bodies to deal with jet lag
Here is how our second day looks like when we let our bodies tell us when to sleep and when to eat. We wake up early but well-rested. We might even be early enough to catch a sunrise. We do nothing special with regards to the jet lag and have a regular vacation day doing regular activities. We try to eat at regular times, do some sightseeing and don't go to bed before the evening.
The second day can sometimes get a bit tiring, especially towards the evening and even more so for the children. So we might have an early dinner and go to bed a bit earlier than usual. We try to make sure it's not before 7 pm for the kids and 9 pm for us. We can stretch the time a bit by taking a long bath or reading stories to the kids before going to bed…
If we don't have any snacks left, we make sure to buy some more to have in the hotel room for the next couple of days. It often happens that one (or all) of us wake up after having slept a few hours feeling hungry. We once ate sandwiches with chocolate spread at midnight in Australia… And then we went back to bed. This would be a big no-no according to the jet lag plan, but try telling that to a hungry child. Forget about the rules – eat when you're hungry.
I have no idea how our second or third day would be like following the jet lag plan, but I can just imagine that we would probably be waking up too early and be too tired to enjoy our vacation during the day…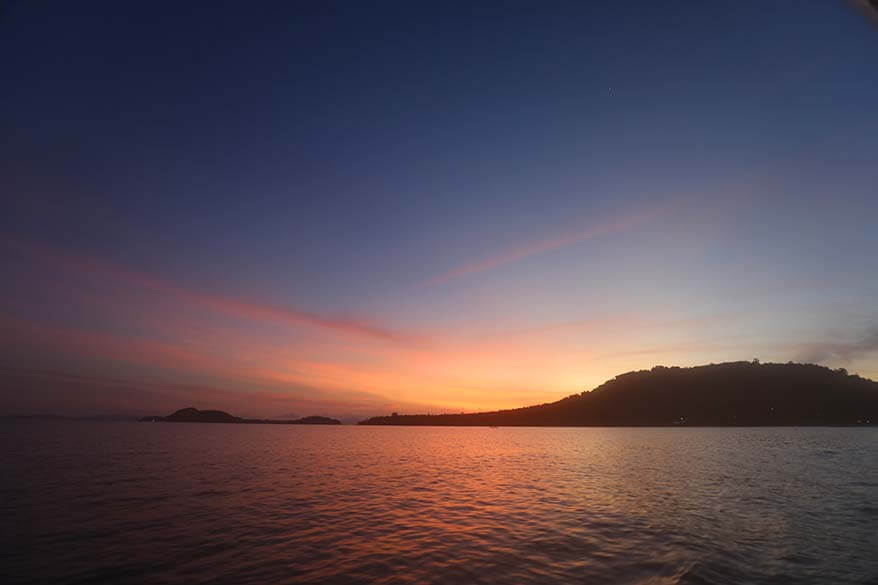 How to Overcome Jet Lag when Traveling West
It is much easier to deal with jet lag if you are traveling Westwards. Our personal experience shows that it's extremely easy to adjust to a new time zone when flying West and you don't need to do anything really special to 'beat the jet lag'.
We never had any significant problems adjusting to the new time zone when traveling from East to West. I still remember that everyone was surprised to see our kids at school the day after we were back from Australia. But the kids felt just fine… They slept on the plane and went to bed a bit earlier than usual at night, and the next morning they were completely adjusted to the time zone at home.
When we fly Westwards, we do the same as going Eastwards – try to sleep on the plane if it's night time at our destination.
If we arrive at our destination early in the morning, we go to bed during the day (and get up in the afternoon). If we arrive in the afternoon or early evening, we stay up as long as we can. It usually means that we get up at around 5-6 AM the next morning. In that case, we just start our day early – perfect for visiting some really popular landmarks without the crowds.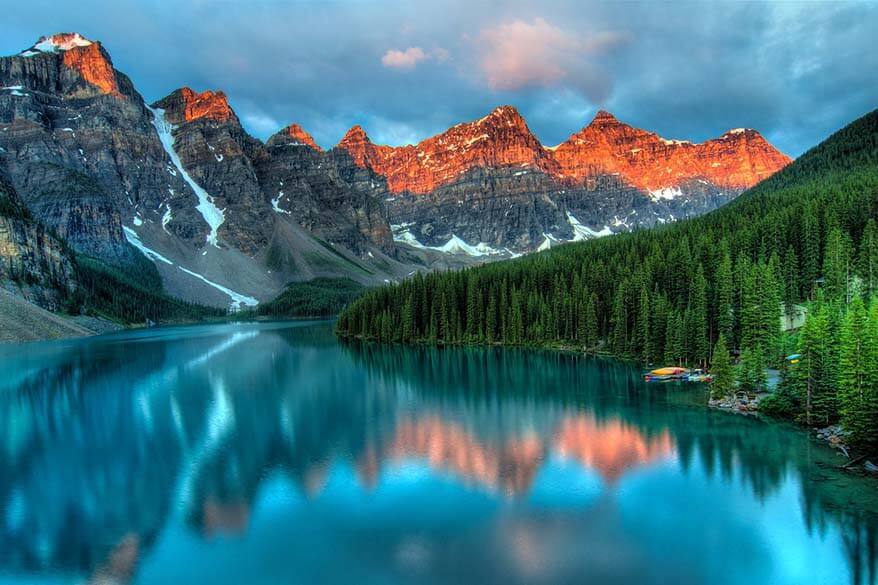 Now that you know how we beat the jet lag by simply following our bodies, let me summarize. Below you can find 9 easy tips for how to avoid jet lag. Take a look!
Our 9 Simple Tips for Avoiding Jet Lag
Don't be proactive by trying to change your schedule before leaving home. Make sure you start your trip well-rested.
Try to get some sleep on the plane, but only at the time when it's night at your destination.
Drink lots of water during the flight. You may want to take it easy on alcoholic drinks and caffeine.
Don't try to stay awake the whole day if you arrive early in the morning. Better get some sleep, get up in the afternoon and make it a long evening than try to stay awake, exhaust yourself, and end up in bed much too early.
Don't eat when you don't feel like it. Eat when you are hungry. So what if you only have two meals during the day, eat lunch at 3 pm or dinner at 5 pm or 11 pm, or treat yourself to some snacks at midnight? We won't tell anybody!
If you are traveling through multiple time zones and have certain commitments (business meeting or three kids that need your attention), then melatonin is something to consider. Ask your doctor for advice, of course.
If you are traveling with kids, try to sleep when they sleep.
For those of you who want something more specific, here is some information I found in a book today. By the way, the book is called 'Why don't spiders stick to their webs?'. It's full of all kinds of interesting and trivial (scientific) facts, including this one in regards to avoiding jet lag. If you have the choice, try to book a flight that leaves between 8 am and noon and arrives between 6 pm and 10 pm. According to this book, flights that leave late at night (10 pm-1 am) and arrive in the morning (8 am to noon) give a much bigger risk for jet lag.
Don't worry, follow what your body tells you, and enjoy your vacation!
How do you beat jet lag? Do you follow a strict plan, have some secret advice, or just go with the flow? Feel free to share your experience.
Read also:
Simple Tips for Flying with Young Kids
How to Travel Cheaper
Tips and Tricks for Traveling with Children
If you found this post useful, don't forget to bookmark it and share it with your friends. Are you on Pinterest? Pin this image!