Going on a day trip to Manchester and wondering what to see and do and how to plan your time? In this guide, we share a suggested Manchester itinerary for one day. This guide includes recommendations on what to see, plus a detailed 1-day itinerary as well as suggestions on where to eat, tips for getting around, and more. Take a look!
As the unofficial capital of the north of England and one of the UK's biggest cities, Manchester is packed with cool things to see and do. It is also one of the most friendly and welcoming places to visit in England!
Its people are rightly proud of their city's industrial history, along with its influence on the music scene. Manchester was where world-famous bands like Oasis, The Chemical Brothers, The Smiths, and Stone Roses all started out.
And as any sporting enthusiast will know, Manchester is also renowned for its contributions to football. Home to two world-class stadiums and some of the best football teams in Europe, it is where the world's first professional football league was established in 1888.
If you only have one day in Manchester, you may be wondering just how to spend it in order to make the most of your time and see the very best the city has to offer.
In this guide, you'll discover Manchester's most popular attractions and which ones you should visit if you only have a day in the city. We also include practical tips and some insider recommendations, as well as a detailed 1-day itinerary and a map indicating all the sights mentioned in this article. Take a look!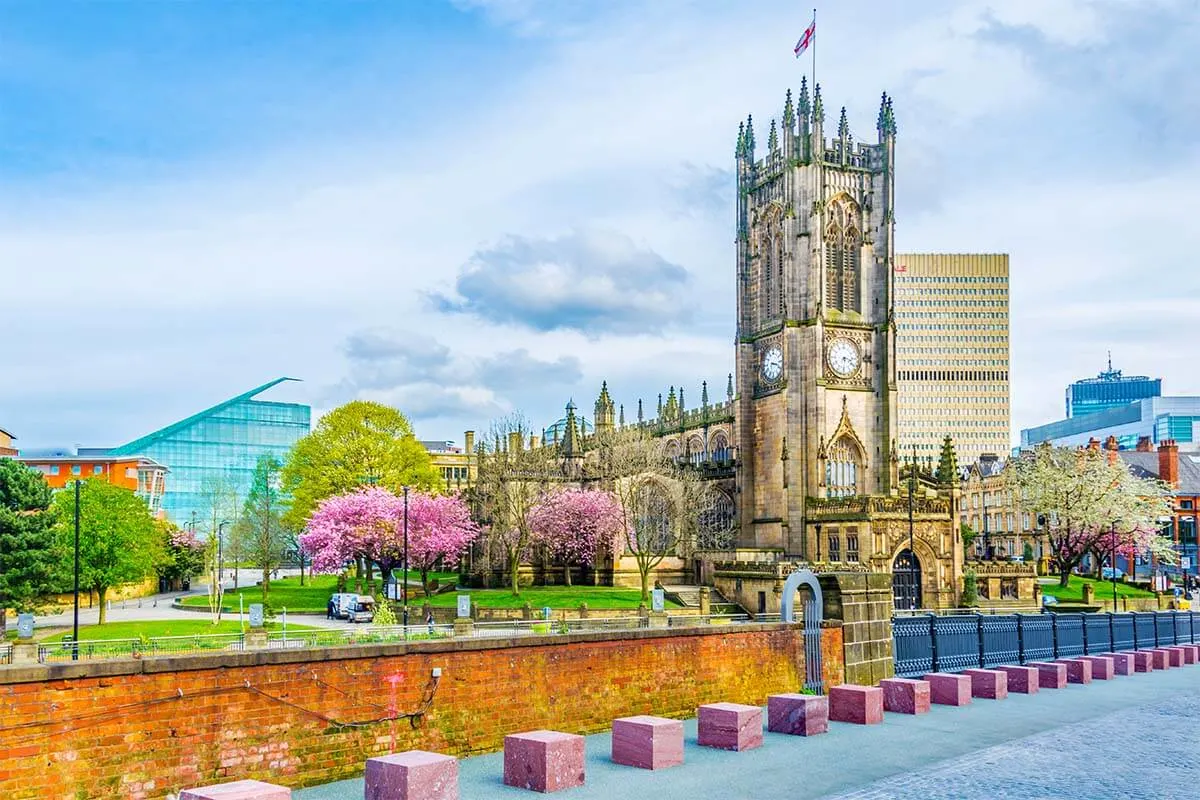 1 DAY IN MANCHESTER – OVERVIEW:
What to see in Manchester in One Day
Further below, you can find a detailed 1-day Manchester itinerary with our recommendations on how to plan your time.
But first, a bit more on the main sights and attractions you could visit in Manchester in a day:
Football Stadiums & Museums
If you are a big football fan and only have one day to spend in Manchester, you will need to choose between its 3 main football-related attractions. At best, you could visit two places – one stadium plus the museum in the city center.
First, pick one of the stadiums of the city's two premier league football clubs – Manchester United (at Old Trafford) and Manchester City (at the Etihad Stadium). Both allow you to do fun things like walk through the player's tunnel, walk next to the pitch, visit the changing rooms, and have virtual conversations with the clubs' managers. They also give you plenty of opportunities to learn more about their history, with trophy and kit displays.
Unless you have an allegiance to one particular club, you might prefer to visit the Etihad Stadium on a short visit to Manchester as it is closer to the city center. On the other hand, Old Trafford is closer to the Quays where river cruises run. So – depending on your overall interests – pick one of them, but be sure to do at least one stadium tour!
Good to know: Stadium tours last around 1.5-2 hours and have to be booked in advance. Here you can book a tour of the Etihad Stadium (Manchester City), and here – a tour of Old Trafford (Manchester United).
Alternatively – or in addition – pay a visit to The National Football Museum, located right in the city center. Not just devoted to Manchester's football clubs, the museum has exhibits from lots of different men's and women's teams, plus lots of interactive games for children to enjoy.
Good to know: You can visit The National Football Museum in about an hour, but if you want to see (and do) everything, you'd probably need 1.5 – 2 hours as well. Also here, prebook your tickets in advance.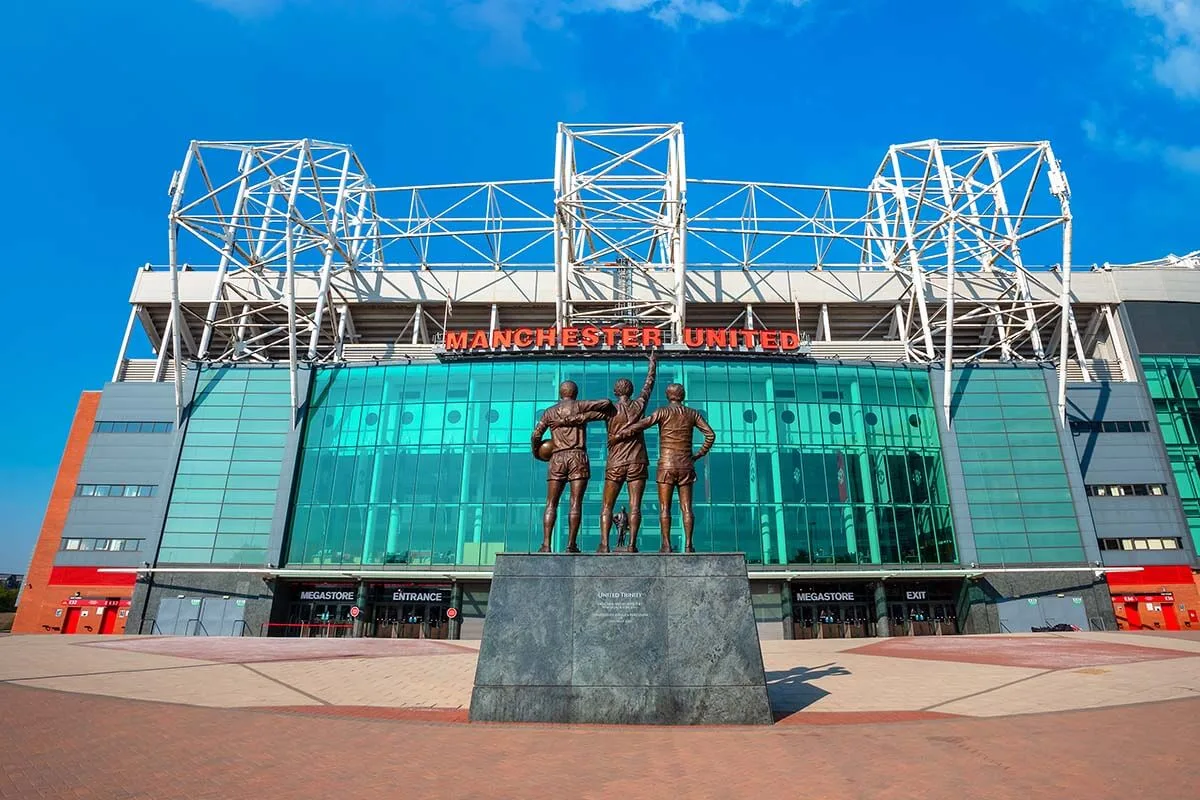 Manchester's Best Libraries
There are two beautiful libraries to visit in Manchester – Manchester Central Library and John Rylands Library. But if you only have time for one, then it has to be The John Rylands Library at Deansgate.
John Ryland made his fortune through the textile industry and was Manchester's first multi-millionaire. After he died in 1888, his widow opened the library in his honor. One of the city's most beautiful buildings, this library has high windows and an exquisite vaulted roof that make it look more like a cathedral than a library.
Part of the University of Manchester, John Rylands Library contains historically important items such as the 1476 William Caxton edition of Chaucer's Canterbury Tales and the oldest known piece of the New Testament. You are welcome to read here for a while, or take a self-guided tour of the building and the exhibits describing its interesting history.
TIP: Be sure to check out the toilets during your visit – they date back to Victorian times and have not been altered since 1900.
If you get time to see Manchester's Central Library, it's also worth a visit – even if only to admire the building from the outside. This Grade II Listed Building is located in St Peter's Square and is instantly recognizable by its unique domed architecture, a little reminiscent of Rome's Pantheon. It has lots of interesting exhibits inside detailing the city's history, plus a 'Secret Garden' for kids.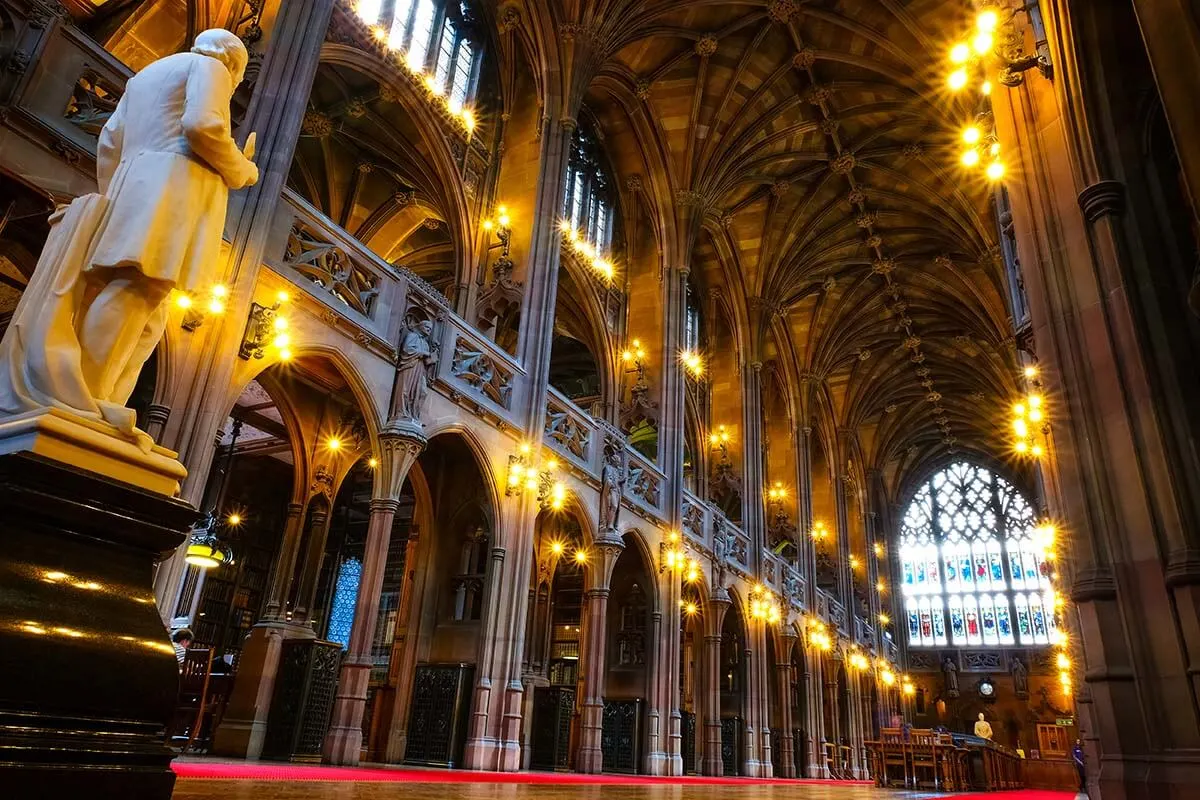 Manchester Cathedral
Manchester Cathedral may be one of England's smaller cathedrals, but it is exceptionally beautiful! With impressive stained glass windows, ornate medieval woodwork, and the widest nave of any cathedral in England, it's one of the must-sees in Manchester!
The Cathedral also happens to provide a little haven of tranquility, right in one of the city's busiest areas close to Victoria Station.
The cathedral often hosts orchestral performances, ballets, and craft markets, so you may find something fun going on here during your visit!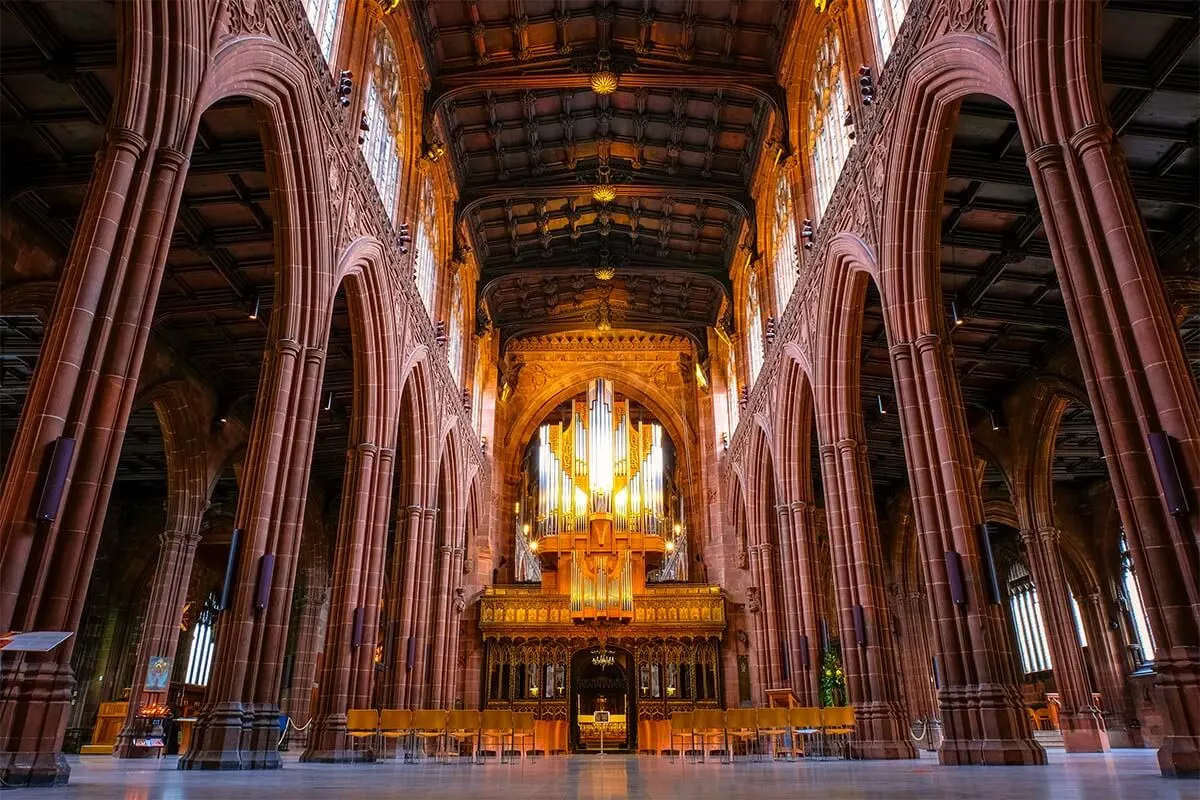 Historic City Center
In addition to all the museums, libraries, and the Cathedral, there's more to see in the city center, of course. And even if you have just a day in Manchester, be sure to take a walk through the historic city center, to get a better idea of what the city is all about.
Don't miss Albert Square with the impressive City Hall building, and Albert Memorial. Check out Piccadilly Gardens and its fountains. Walk through Chinatown or explore Castlefield Conservation Area, go shopping at Afflecks indoor market, or spend some time at Arndale shopping center…
TIP: One of the best ways to see the best of Manchester in a short time is by taking a walking tour with a local. This popular afternoon walking tour of the city highlights is one of the very best options. Further below – in our detailed 1 day Manchester itinerary – you can see our suggestions on how to plan your day so that you could include this tour as well.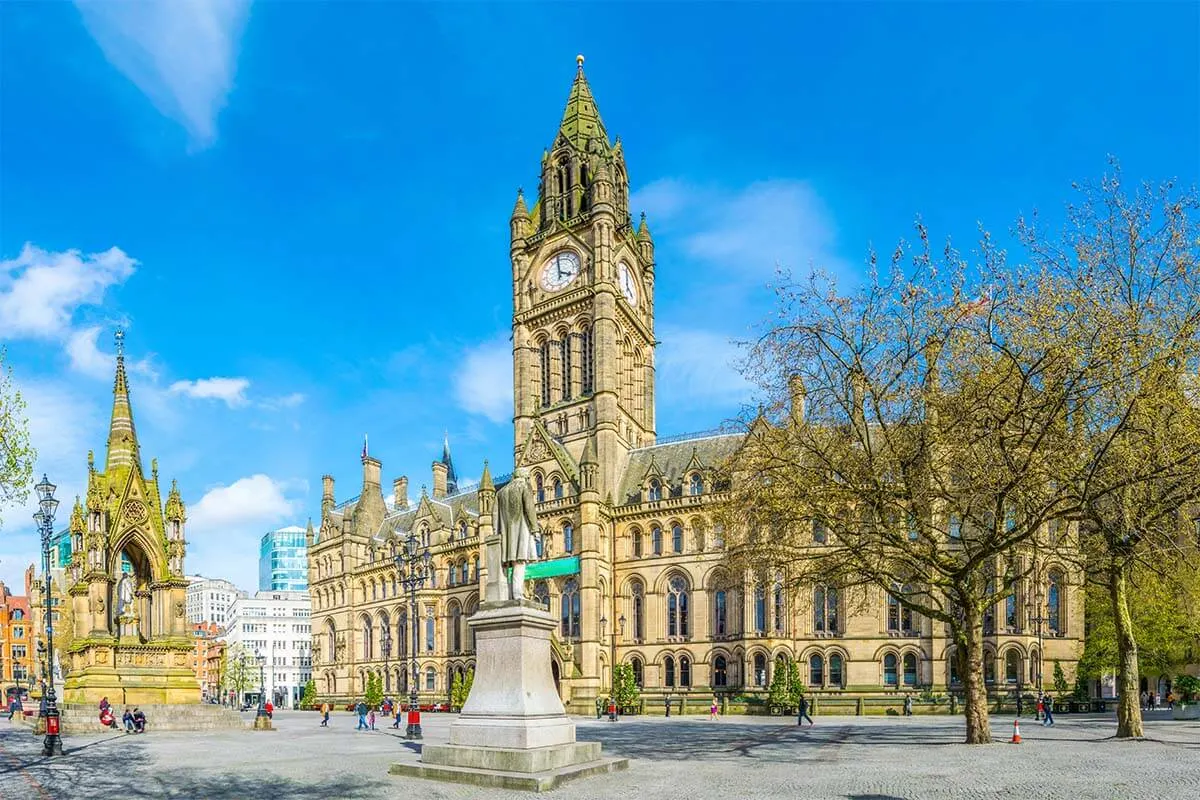 River Cruises
If you're visiting Manchester between April and September, a river cruise is a lovely way to see the city from a whole new perspective! Cruises operate from Salford Quays, which you can get to by tram from the city center in just 15 minutes. It's also close to Imperial War Museum North.
River cruises range in length and there are different options depending on the time of the year, but the regular 1-2 hours sightseeing cruises only run in the warm season. The 1-hour sightseeing cruise would be the best option if you are short on time. It's a quick and enjoyable way to take in famous landmarks like the Victoria & Albert Hotel, George Stephenson's 1830 Railway bridge, and the studios of BBC TV, plus the commentary is very informative.
Good to know: The top deck of the river cruise is open to enjoy the views. But there is also a fully enclosed lower deck to which you can retreat if the heavens decide to open!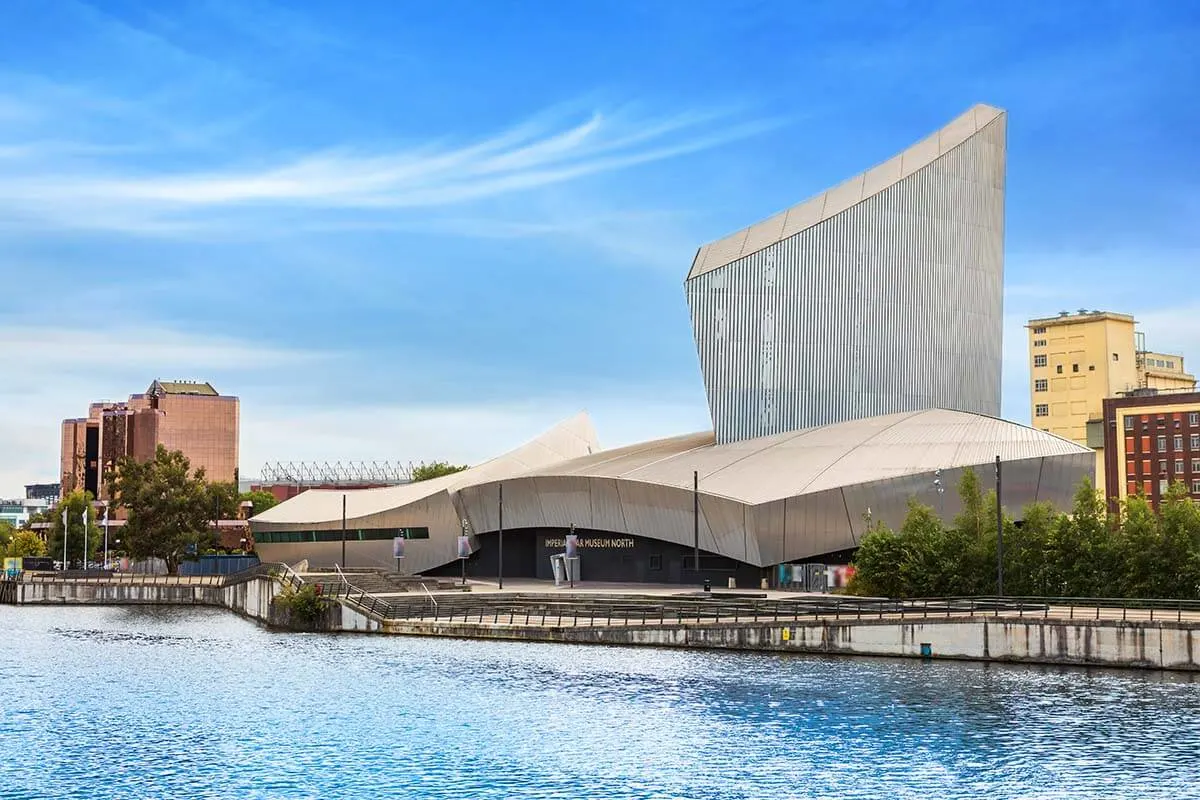 Manchester Museums
There are several excellent museums in Manchester that are well worth a visit. However, if you only have one day then the very best two to visit are the Science and Industry Museum or the Imperial War Museum.
Both museums are free of charge and open from 10 AM to 5 PM, Wednesday to Sunday, plus during school holidays.
The Science and Industry Museum celebrates Manchester's leading role in the Industrial Revolutions through a variety of exhibits, galleries, and hands-on activities. There are also fully operational vintage steam-powered machines that are regularly fired up to allow you to appreciate their scale and power. You also get the opportunity to get a feel for how life was for the residents of the city at that time.
The historic railway and transport exhibits are fascinating, but the highlight for children has to be the 'Experiment' gallery. Here they can learn all about science through a series of fun and interactive games.
TIP: This museum can get very busy at weekends, particularly in the afternoons. It's usually at its quietest from 10 to 11 in the morning, or late in the afternoon. Plan to spend around 1 to 2 hours here.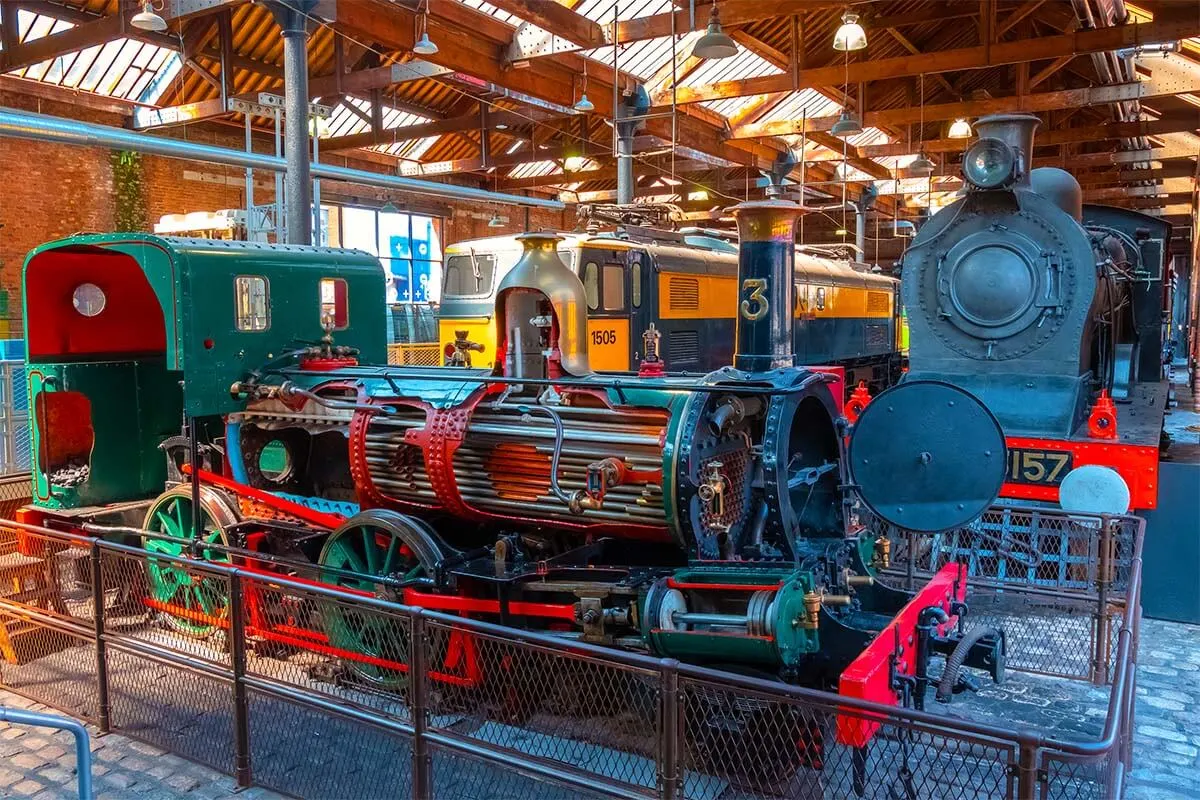 The Imperial War Museum is located outside the city center at The Quays and contains more than 2,000 exhibits connected to the worldwide conflict. Not only does the building have a very contemporary, eye-catching design, but the way in which information is presented to visitors is both unique and effective. Immersive, 360-degree cinematic Big Picture Shows bring to life the stories of people who have either fought in – or been victims of – war, from WWI until the present day.
This is a large museum, so you need a few hours to fully appreciate it.
Good to know: The displays and shows here are aimed at children from around 10 years plus. There are few interactive exhibits or activities for younger children.
As an alternative to either the Science and Industry or Imperial War Museums, you can also visit the People's History Museum. It's incredibly interesting for both adults and children. Concepts like racism and social justice are explored via engaging and thought-provoking exhibits that can lead to some very interesting family discussions. This museum is also free to visit and there is enough to see and do to keep you occupied for several hours.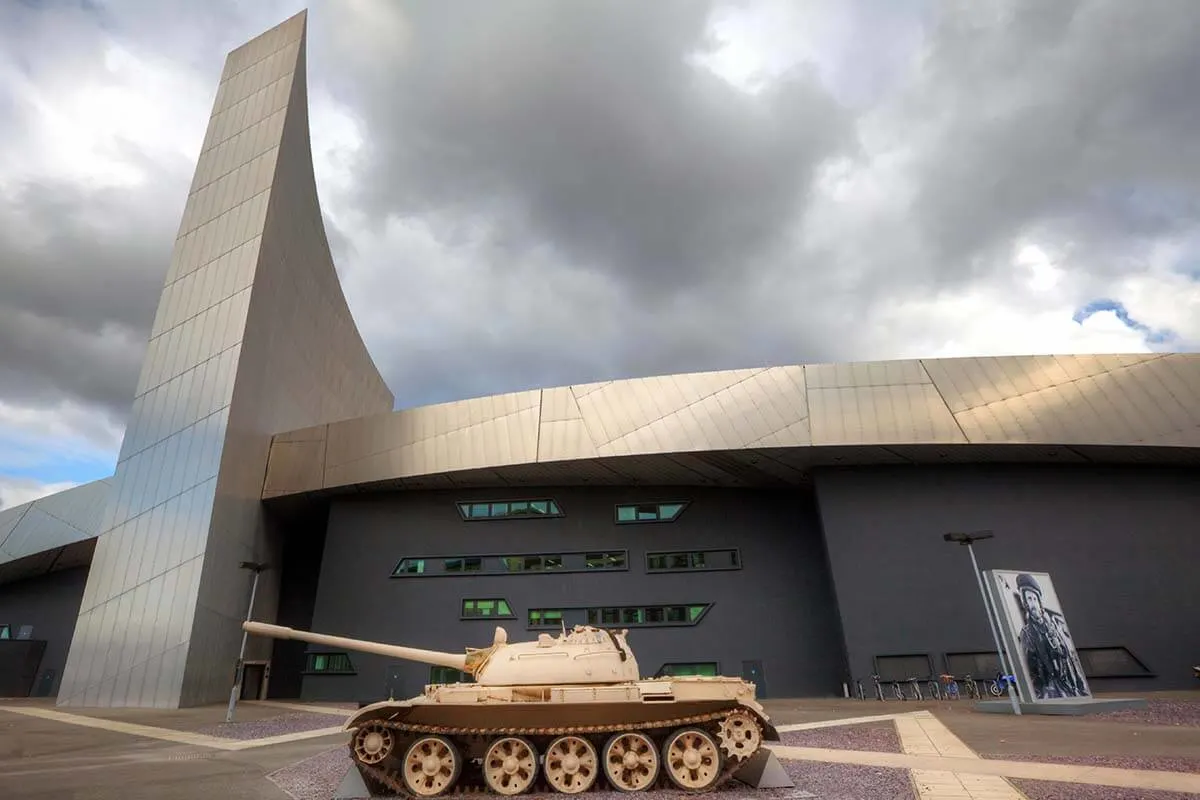 Shopping
Manchester is a mecca for shoppers and you'll find everything here from independent stores to high street names.
One of the best shopping malls in Manchester is the Trafford Centre, outside the city center. However, with just a day in Manchester, it's not the best option, especially if you are also interested in sightseeing.
If you don't want to travel quite so far to shop, then check out the Arndale Centre right in the heart of the city center. The shops here are actually much bigger than those in the Trafford Centre – and it's located right opposite Selfridge's and Harvey Nichols. But it doesn't have the restaurants and leisure facilities of the Trafford Centre, nor is it so beautifully designed.
For shopping of a completely different kind, try Afflecks indoor market in the Northern Quarter. Here, you'll find an eclectic collection of everything from vintage clothing to pop art, plus quirky eateries and coffee shops. Even if you don't want to buy anything, it's a fascinating place to just wander around.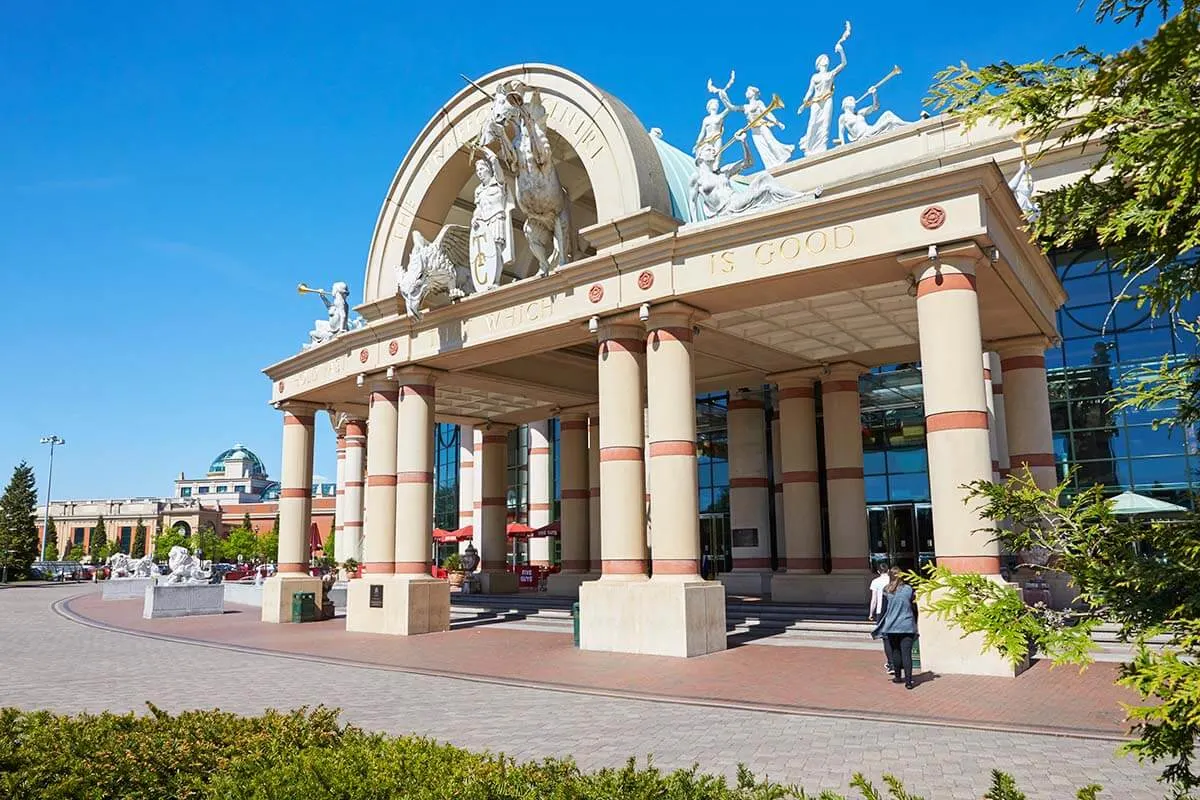 1-day Manchester Itinerary
Below are our suggestions for how you could spend a day in Manchester (with hours indicated just for your reference).
TIP: We recommend starting your day with a stadium tour since it's easier to plan your itinerary that way. Also, the city center is livelier and more enjoyable in the afternoon.
Here's how your 1-day Manchester itinerary could look like:
8.30 AM: Start the day with breakfast in the city center (see 'Where to Eat' section below).
9.15 AM: Make your way to one of the football stadiums. Old Trafford can be reached by the hop-on hop-off bus, which also allows you to see more of the city, but you can simply take a tram as well. Our itinerary below is planned around this stadium, but you can easily adapt it and visit Etihad Stadium instead. Etihad Stadium tours usually run daily, so it can also be a great alternative if the other stadium tour is not available on the day of your visit.
Time permitting (and if interested), visit the Imperial War Museum (IWM) North which is located on the same side of the river as the Old Trafford stadium. Keep in mind that it's a very big museum so you need a few hours.
Afterwards, take the pedestrian Millennium Bridge to the Quays, on the other side of the river. Here, you'll find lots of nice restaurants for lunch and also river cruises (best from April – September).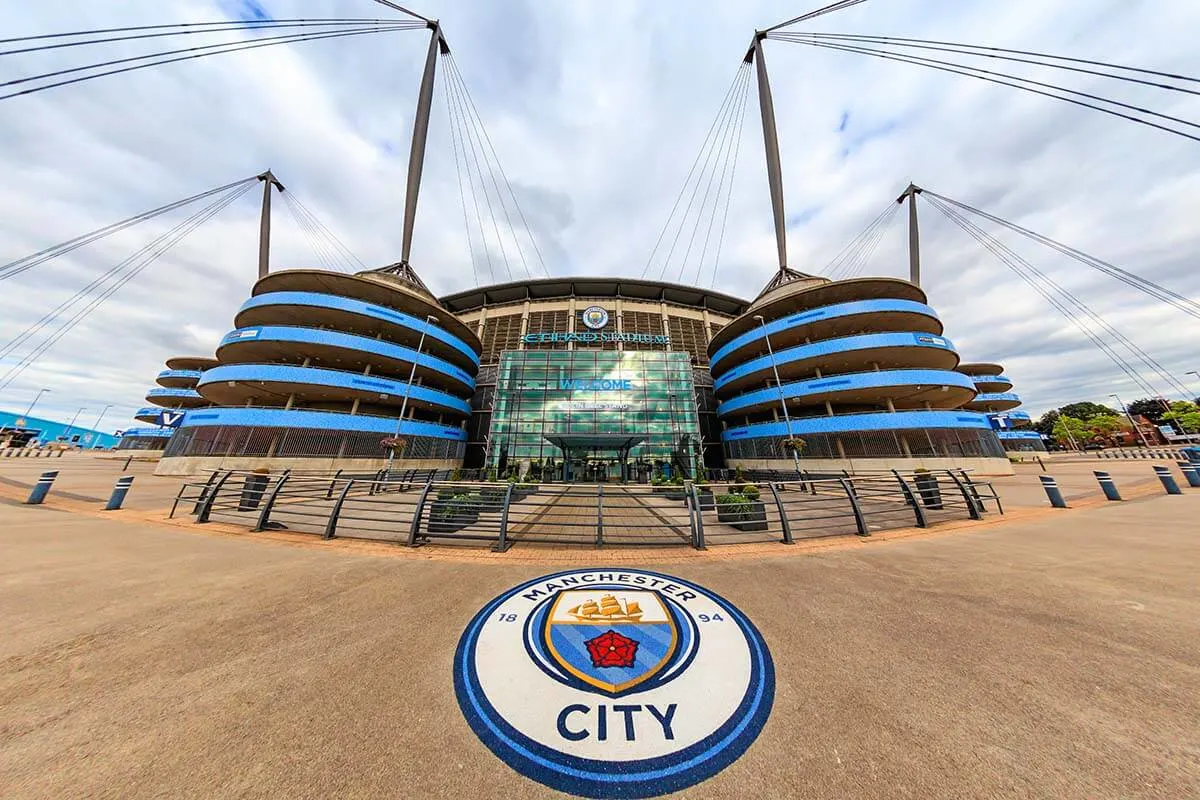 Next, make your way back to the city center. If you take a tram, count about 20-30 minutes.
2 PM – walking tour (optional): If you don't visit the IWM or take a river cruise, you could easily be back in the city center by this time. In that case, check out this highly-rated afternoon walking tour of the main attractions of Manchester city center. This tour starts at Manchester Central Library and covers all the best places in about 2.5 hours. If you don't go with a tour, you can also get back to the city center a bit later. See our recommendations on what to see below.
Visit St Peter's Square and check out Central Library. From here, it's an easy 10-minute walk on to the John Ryland's Library. On the way, check out Albert Square and the City Hall.
3.30 PM: Visit either Science and Industry Museum OR National Football Museum. It can be busy here and these museums usually close at 5 PM. So if you want to visit, be sure to come here at least 1.5 hours before the closing time. For the Football Museum, you can book your tickets online; Science & Industry Museum is free to enter. ALTERNATIVELY, you can also opt to visit the People's History Museum. But – with just a day in Manchester – you'll have time for just one of them at best (depends on your other choices, of course).
Afterwards, pop in to see the Manchester Cathedral, which is practically next door to the National Football Museum. Just behind the cathedral, check out the picturesque Shambles Square. There are lots of restaurants and pubs in this area as well.
5.15 PM: Pop over to Afflecks indoor market and have a look around its independent stalls and boutiques.
5.45 PM: Take a walk to check out the fountains at Piccadilly Gardens. There's a lively atmosphere here – locals come to hang out and there are often public speakers or street entertainers. It's a great place to get a real feel for the city.
6 PM: Chinatown, shopping, etc.
Evening: Dinner and drinks. See suggestions below.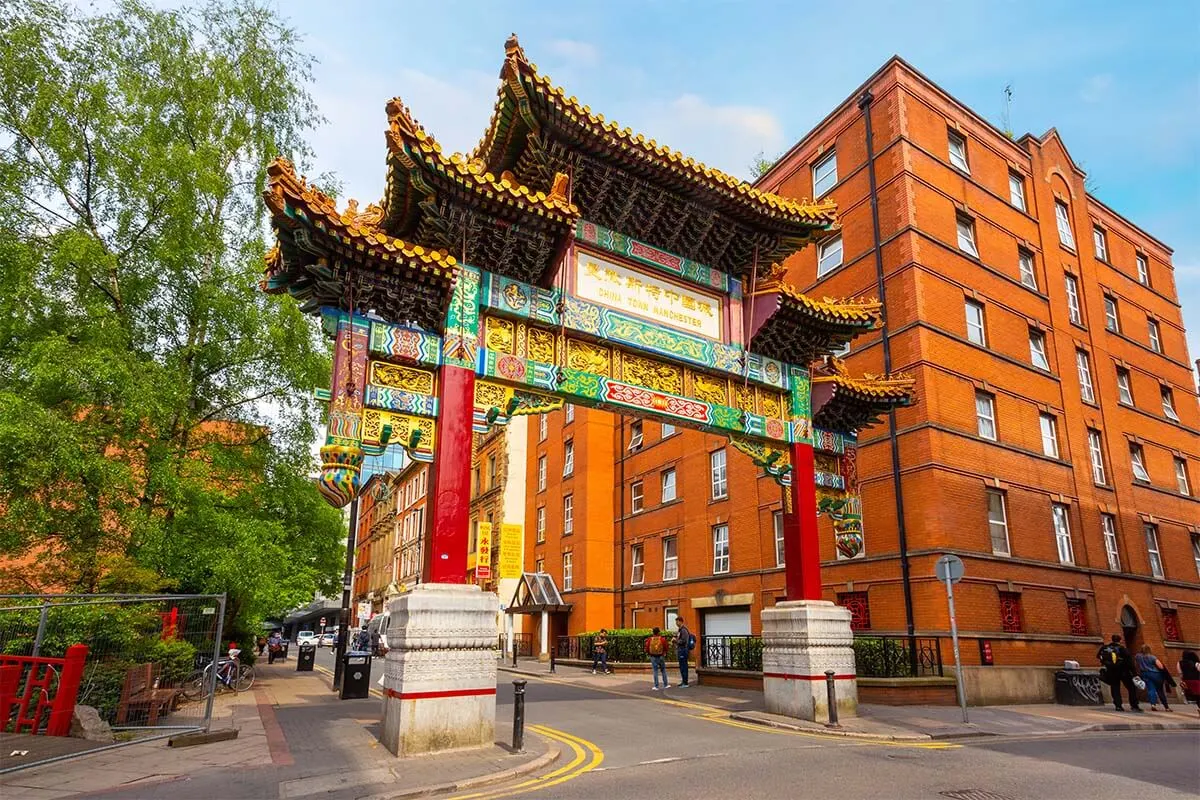 Map
Here you can see the map indicating all the places mentioned in this article. From the must-sees and alternative suggestions to recommended restaurants – this will give you a better idea of where everything is and help you plan your day trip to Manchester.
How to use this map: Use your computer mouse (or fingers) to zoom in or out. Click on the icons to get more information about each place. Click the arrow on the top left corner for the index. Click the star next to the map's title to add it to your Google Maps account. To view the saved map on your smartphone or PC, open Google Maps, click the menu and go to 'Your Places'/'Maps'. If you want to print the map or see it in a bigger window, click on 'View larger map' in the top right corner.
Getting Around
Getting around Manchester is very easy and very inexpensive. Bright yellow trams of the Metrolink service connect the entire city, and there are also frequent, cheap buses. If you plan to use them throughout the day, then you can usually get a 24-hour pass to cut costs. You'll find more details here.
Even better is the 'free bus' – a service with 3 lines that links the main rail stations with the car parks, shopping areas and businesses. You can learn more about the routes and timetables here.
Manchester city is very bike-friendly too, with plenty of dedicated cycle routes and bike rental shops if you feel like going that route.
In addition, there's also a very affordable hop-on hop-off bus too, but it's probably a better option if you have at least 2 days in Manchester. On the other hand, it can be an excellent option for those who want to get a taste of what Manchester is like without having to walk much.
But the easiest option to see the main sights is to go on foot. Many of Manchester's main attractions are clustered in its city center so you can walk from one to the other. This is something I recommend doing if you have the time – there always seems to be something going on in the city and lots of interesting sights to catch your eye during your journey!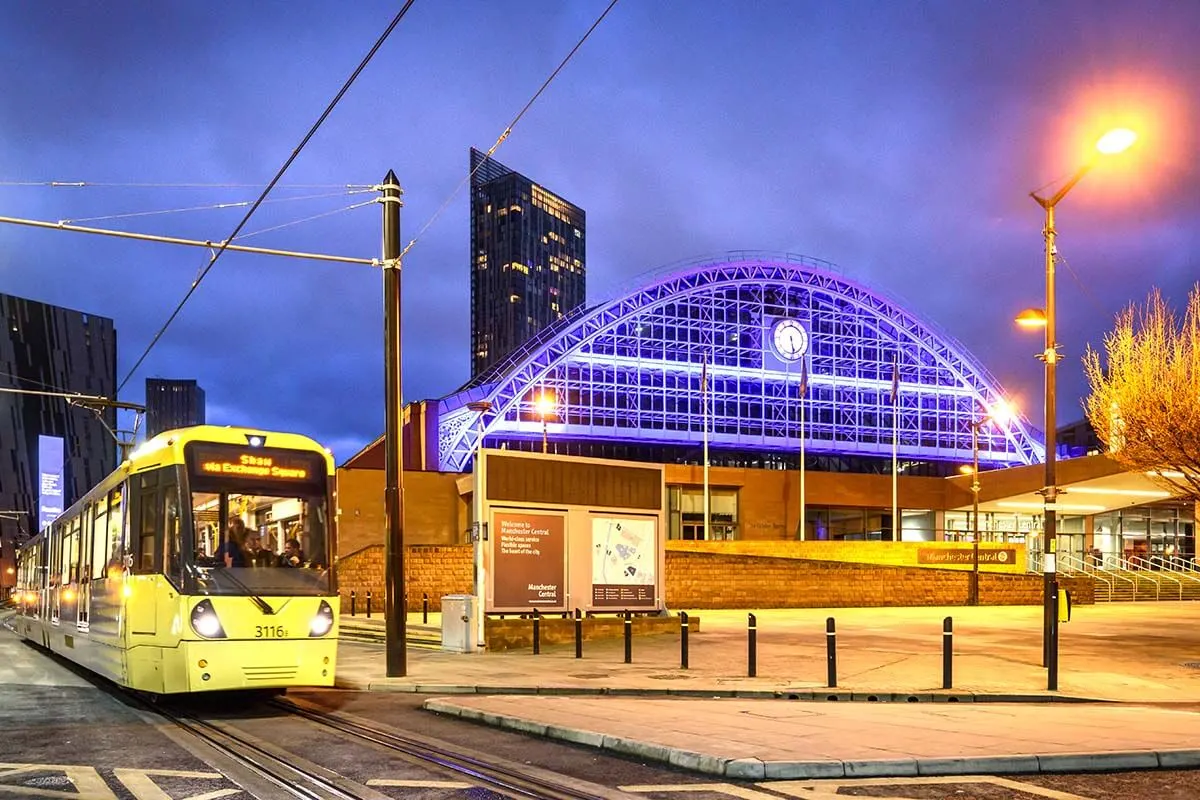 Where to Eat
Manchester has to be one of the best cities in the UK for good food! No matter which type of international cuisine is your favorite, you'll find it all here. Also, from street food to fine dining, the options for where to eat in Manchester are endless.
Below are just a few recommendations – more than you'll be able to try in a day! We also indicated all these places on our map, so you can see what fits your itinerary best.
Good to know: In Manchester, lunch is commonly referred to as 'dinner'. And dinner is known as 'tea'. This can certainly be confusing for visitors, although many restaurants tend to stick with the more traditional usage of the words!
BREAKFAST or LUNCH in the city center:
The Koffee Pot. This simple cafe has the tastiest – and best value – 'fry ups' in the city, plus American pancakes, the 'Manc Muffin brekkie burger', and veggie/vegan options.
Bill's at Spinningfields – a slightly more sophisticated vibe. Here you can enjoy a healthy breakfast served alongside nutritious smoothies and cold-pressed juices.
Wilson's Social is a great spot for lunch. Its menu is quite small but the food is absolutely delicious and very reasonably priced.
Mr. Thomas's Chop House. Set in a historic building that first opened as a pub in 1870, this is a gorgeous venue serving hearty and traditional British food, ranging from pub snacks to full meals. Don't miss the rustic bread served with beef dripping – it might not be the healthiest option but it tastes incredible!
LUNCH at The Quays:
The Alchemist MediaCity. If the weather is nice, don't look any further. The views here are amazing, and they serve simple meals and great cocktails.
Pier Eight Restaurant. Modern British cuisine with nice views.
DINNER:
There are so many options for a great dinner, from the excellent oriental restaurants scattered throughout Chinatown (just behind the town hall) to The Curry Mile on Wilmslow Road (South Manchester, quite far from the city center). Here, you'll find the biggest concentration of south-Asian restaurants outside of Asia!
The area around Shambles Square, just next to the Cathedral, is another nice area with restaurants and pubs. Here, you'll also find the Corn Exchange Manchester food court with lots of nice restaurants.
Alternatively, enjoy dinner (and potentially catch a movie) at the Printworks, just across the street from the National Football Museum. This old refurbished warehouse is home to numerous restaurants including the Hard Rock Cafe, Wagamama, and the sushi bar Wasabi, plus a cinema and mini-golf. For the Hard Rock Cafe, you can best reserve priority seating (+ a meal) in advance.
DRINKS:
Don't miss! Close to St Peter's Square is The Temple, possibly Manchester's quirkiest venue. This cool underground pub – which has its own jukebox and a great atmosphere – was actually built in an old Victorian toilet!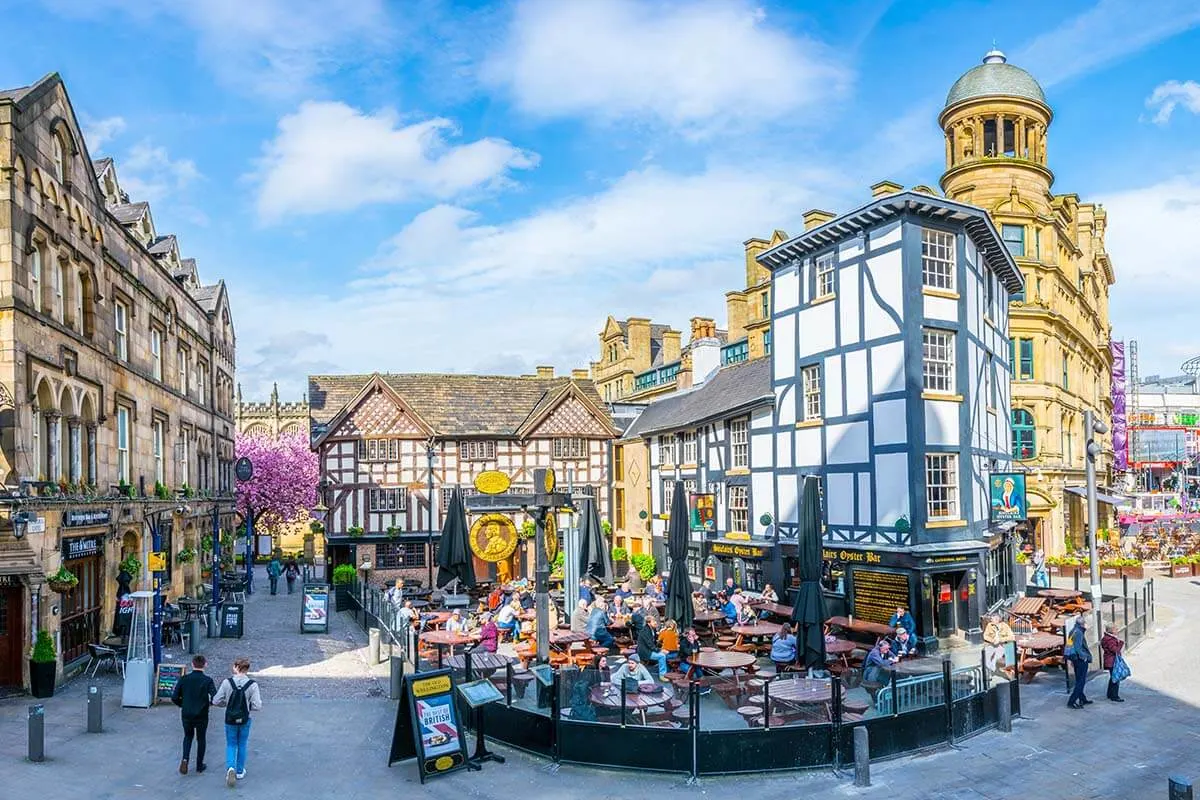 Where to Stay
For sightseeing, we recommend staying in the heart of the city center. That way – even with just 1 day in Manchester – you can make the most of your visit.
Ideally, you spend at least two nights in Manchester so that you can make the most of your day, and maybe also visit one or two places on the day of the arrival or before you leave.
Here are some of the best-rated hotels in this area for all budgets:
TIP: If you like something a bit less traditional, check out the bright, colorful, and quirky YOTEL Manchester Deansgate. This highly-rated 4* hotel has an excellent location and that something bit extra to make your Manchester getaway a bit more special.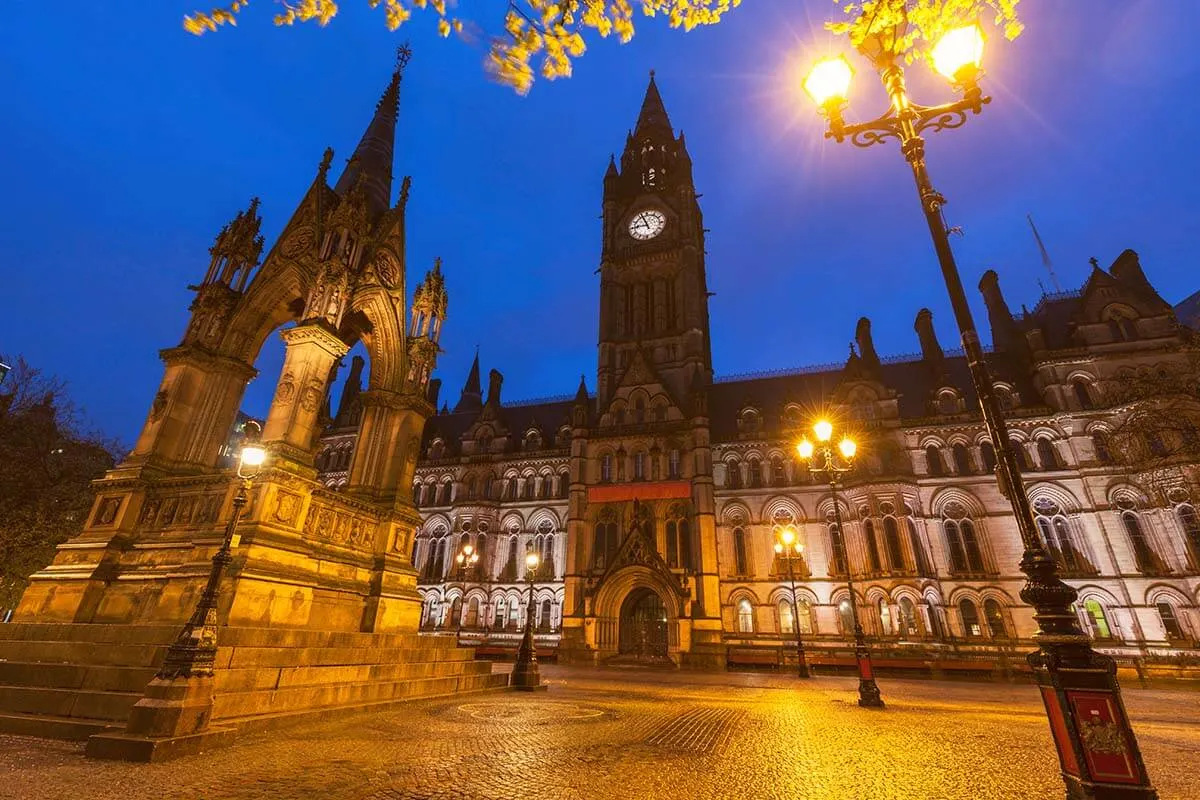 So, these are our suggestions for things to do on a day trip to Manchester.
I hope that this guide and the recommended Manchester 1-day itinerary helps you plan your time and decide on the things you want to see the most. And maybe it even inspires you to spend more time in the city!
READ ALSO: Best Things to Do in Manchester
Have a great trip!
More Travel Inspiration for the UK:
London:
Nearby:
Yorkshire:
Cornwall:
Liverpool:
Blackpool:
Scotland:
…For more travel inspiration for these and other destinations, take a look at our UK travel guide.
If you found this post useful, don't forget to bookmark it and share it with your friends. Are you on Pinterest? Pin these images!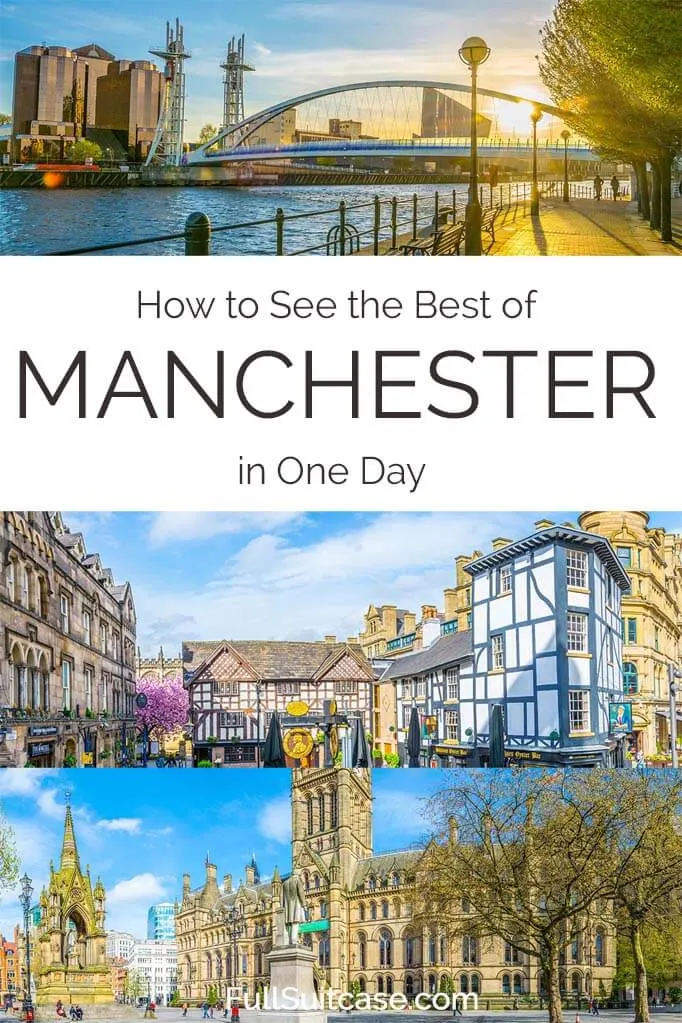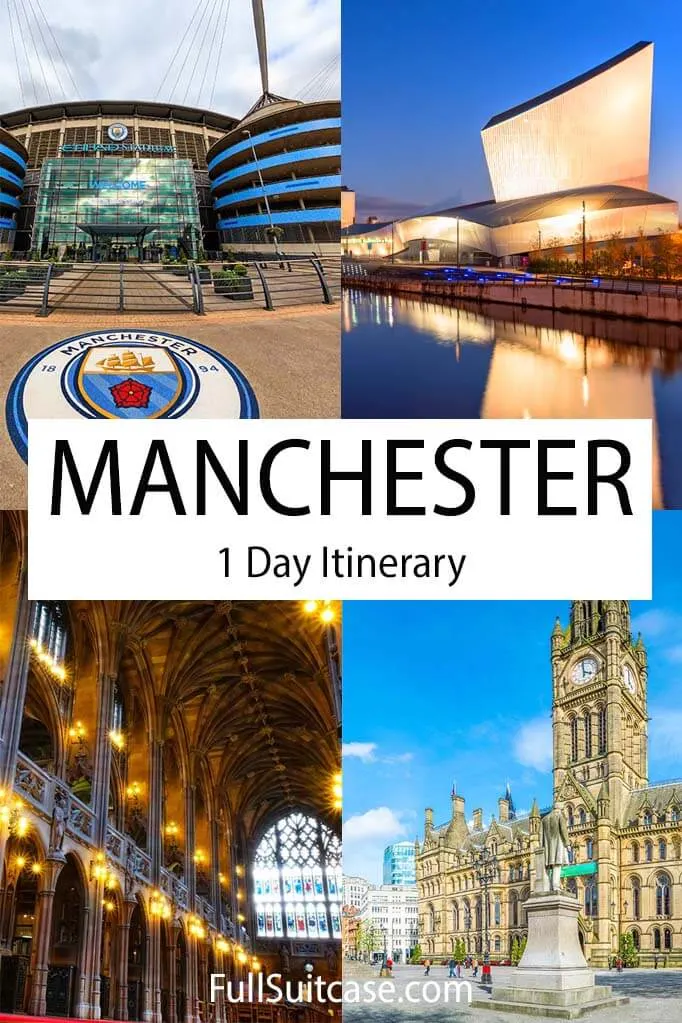 Image credits: cowardlion/Depositphotos.com// Debu55y/Depositphotos.com// monkeybusiness/Depositphotos.com// Dudlajzov/Depositphotos.com//