Are you thinking of traveling to the Baltics, want to see all three countries – Lithuania, Latvia, and Estonia – but are not sure how to plan your itinerary? Do you want to know how much time to spend in each country and what not to miss? This guide will help you plan an unforgettable trip to the Baltic region – find out!
In this article, we share a two-week Baltics trip itinerary that allows you to see the highlights of Estonia, Latvia, and Lithuania. You will get to explore a good mixture of vibrant cities and rural areas, go hiking, relax by the beach and discover the food scene of each country.
This Baltics trip includes the famous capital cities Tallinn, Riga, and Vilnius, where you discover a bustling lifestyle and admire charming historic city centers and beautiful architecture. In addition, it also takes you to the lesser-known areas of each country. You get to spend two nights on Saaremaa, Estonia's biggest island, explore the castles of Sigulda, Latvia, and climb the impressive sand dunes in the Curonian Spit in Lithuania.
Even though two weeks are not enough time to see everything the Baltics have to offer, this itinerary will help you make the most of your time and be sure that you don't miss any of the 'musts'.
Good to know: The best way to visit the Baltics is by renting a car and doing a self-drive road trip. But this trip is also doable without a car – there are excellent bus/train connections (and buses are reliable and comfortable) and for some popular places nearby, you can also take day tours from the capital cities. This itinerary is structured as a self-drive Baltics road trip but it also includes all the tips and suggestions for those who are using public transport. Take a look!
Baltics Travel Itinerary – OVERVIEW:
Good to know: This Baltics travel itinerary starts in Tallinn, Estonia, and ends in Vilnius, Lithuania, but you can easily do it the other way around – from Vilnius to Tallinn. There's really not much difference which way you travel, and both cities have very good flight connections to various European countries.
Here's our suggested Baltics travel itinerary:
Days 1-2: Tallinn, Estonia
Start your Baltics trip in Tallinn. Estonia's capital is famous for its medieval Old Town, and during the next two days, you'll have the chance to wander through narrow cobblestone alleys, climb the city walls and sample Estonian food.
Here are some highlights of Tallinn you should check out:
Town Hall Square
While walking through the Old Town, you will eventually end up at Town Hall Square. Here, you can discover lots of traditional old houses and a great atmosphere.
At one end of Town Hall Square, you can see the City Hall. In summer, you have the chance to climb to the top of the tower and enjoy the view. This is also the perfect place if you want to try Estonian food. Head to the III Draakon, a tavern in the town hall building, where you can sample elk soup, elk pastries, or lingonberry juice.
Almost opposite the town hall, you can find the Raeapteek. The Town Council Pharmacy is the oldest continuously operating pharmacy in Europe. If you go inside, you can visit a small exhibition or try claret, a wine produced here since 1467.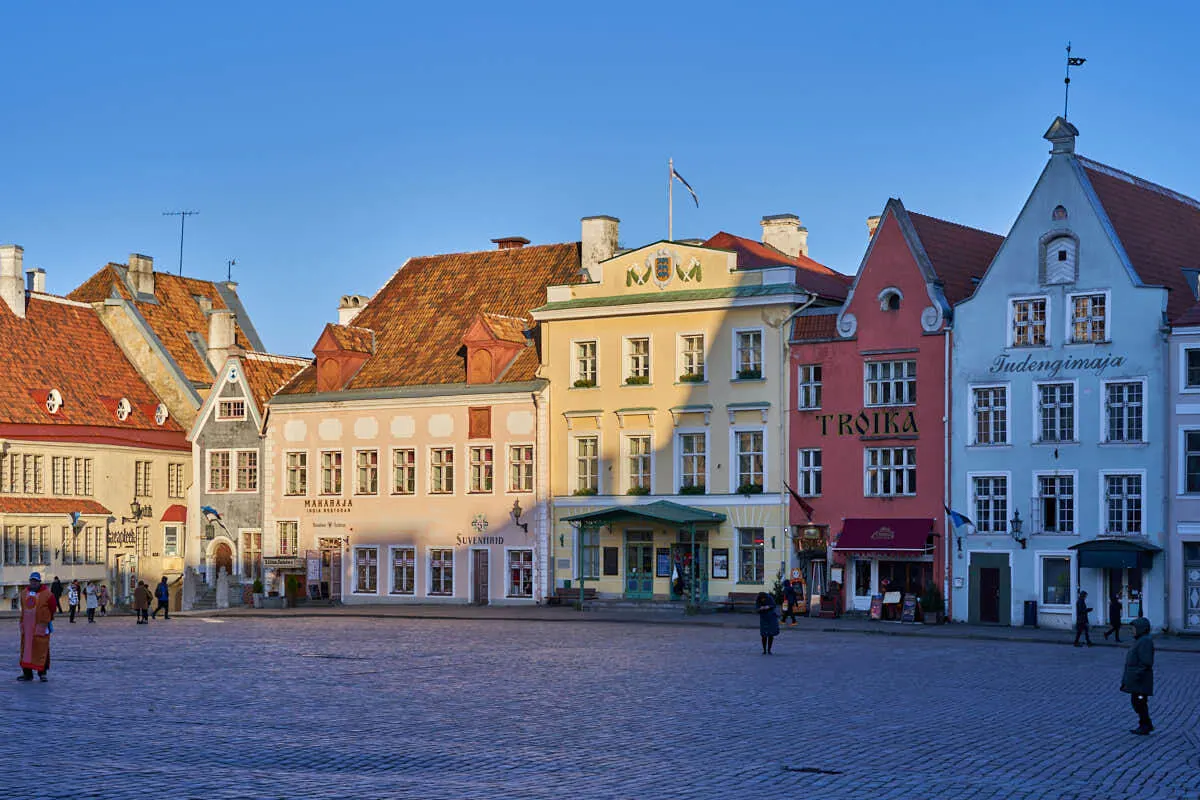 Toompea Hill
If you want to see Tallinn from above, you should head to Toompea Hill. Up here, you can find multiple viewing platforms that will offer fantastic views of the Old Town's red roofs.
The Kohtuotsa lookout is the most famous platform, but it can get very busy. If you want to avoid the crowds, head to the Patkuli viewing platform instead, where you'll run into fewer tourists. On clear days, you can even see the Baltic Sea from up here.
While up on Toompea Hill, make sure to check out the Alexander Nevsky Cathedral. The Russian Orthodox Cathedral is one of Tallinn's most beautiful churches.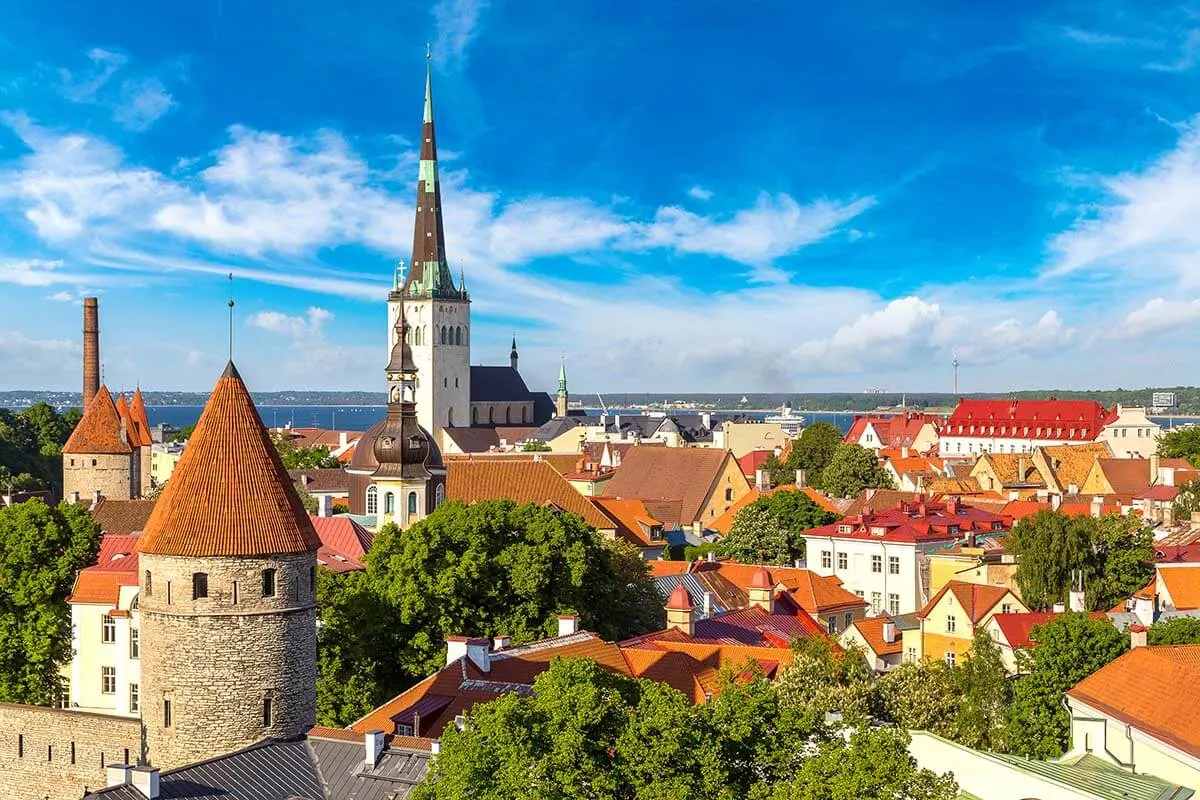 Tallinn's City Walls
Some parts of the city wall that once surrounded all of Tallinn are still intact, and you have the opportunity to climb them in multiple places.
The first entrance is at Hellemann Tower. Here, you can walk on a piece of wall that is around 200 meters long. You have the chance to climb up into the watchtowers, too, to enjoy a very different viewpoint compared to Toompea Hill.
Up on Toompea Hill, you can find Kiek in de Kök Tower. Up here, you can also get on top of the city wall, and you can even enjoy a drink in the cafe on the wall. Your entrance ticket also gives you access to the tower. On each of the six floors, you can visit an exhibition about Tallinn, its city wall, and its history.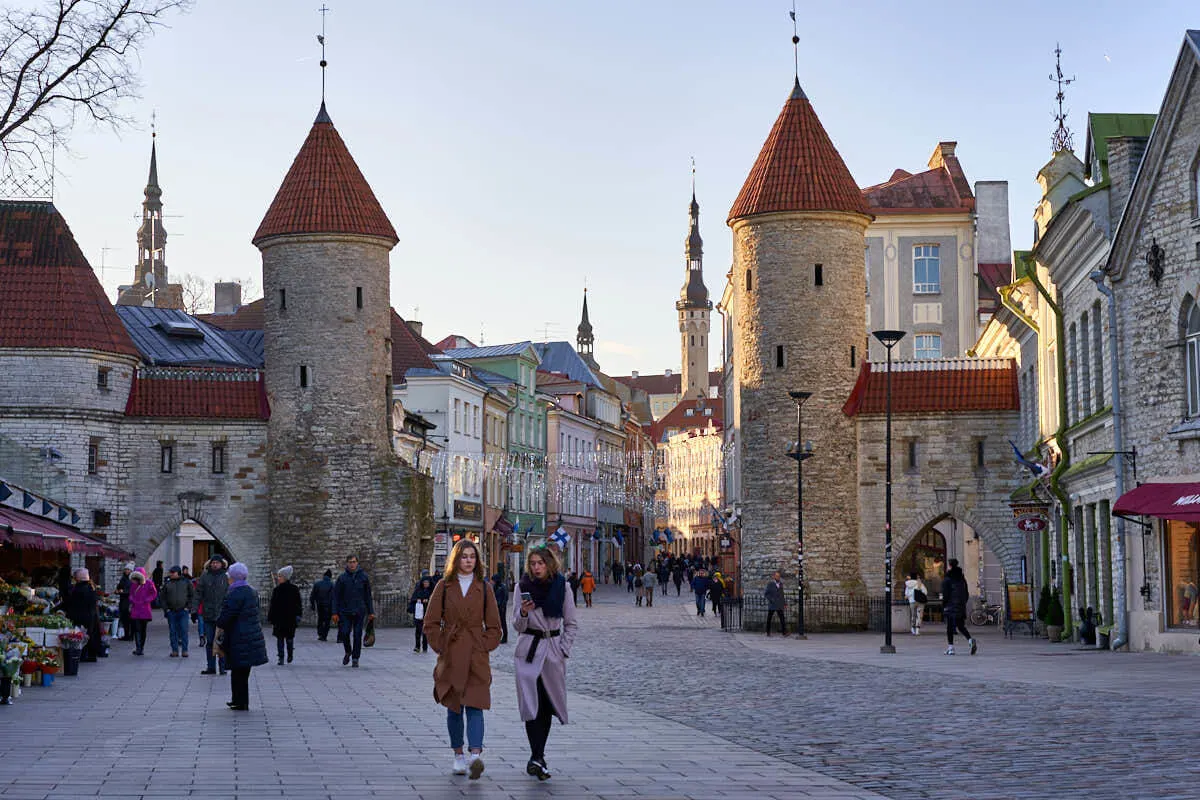 Additional recommendations
If you would like to learn more about the city, you can opt for this popular private walking tour with a local.
If you want to get the most of your stay and see more of Estonia, consider taking a half-day trip to Jägala Waterfall and Harju County. This area is east of Tallinn and you won't be passing here when continuing your trip.
Where to Stay in Tallinn
For the best experience, stay in the old city center. There are many nice accommodations for all budgets here. We recommend Hestia Hotel Kentmanni.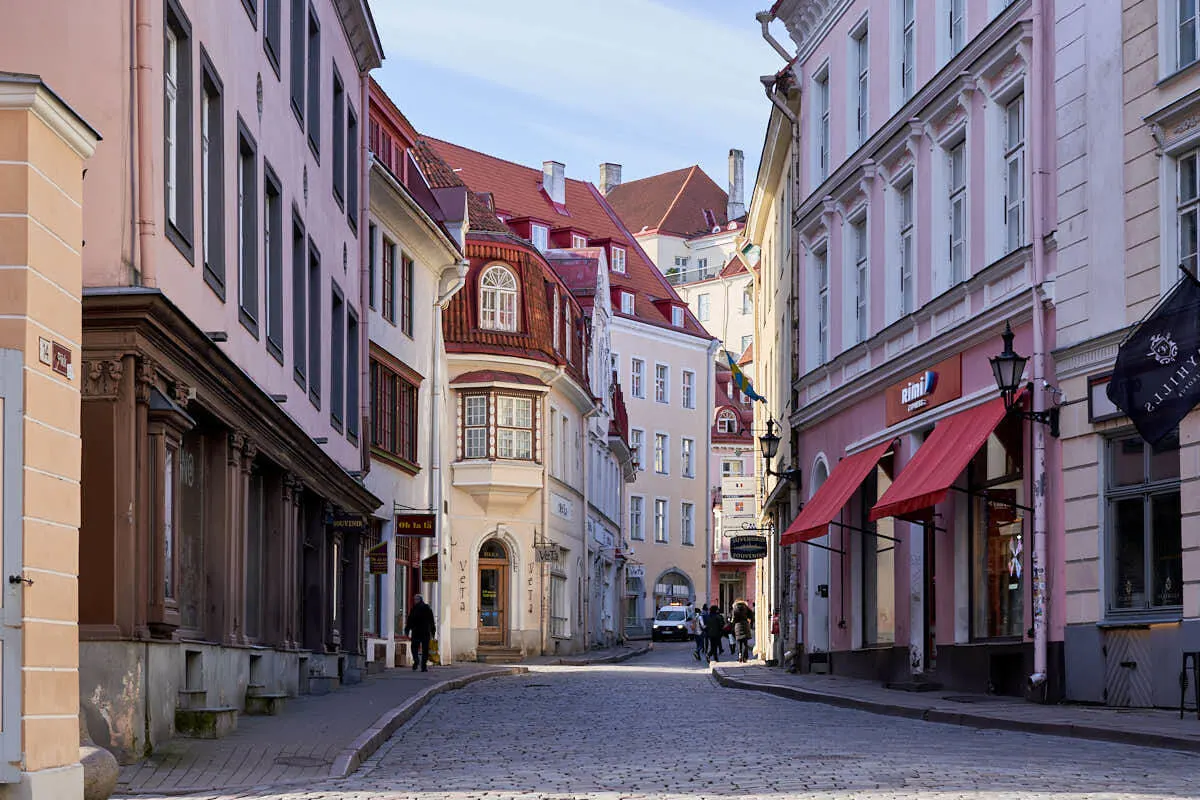 Days 3-4: Kuressaare
If you are planning a self-drive road trip through the Baltics, it's best to rent a car from this day on. Here you can find some of the best deals for car rental in Tallinn.
After leaving the city, travel to Saaremaa, Estonia's biggest island. The journey takes around 4 hours, including a half-hour ferry ride. If you are driving, make sure to arrive at the Virtsu ferry port at least 15 minutes before departure (if you take a bus, you don't have to worry about that). Here you can find the ferry schedule and more practical info (you need a ferry from Virtsu to Kuivatsu).
Without a car: There are regular bus connections between Tallinn and Kuressaare, the biggest town on Saaremaa.
On Saaremaa Island, base yourself in Kuressaare, where you can find most of the island's attractions. Make sure to stroll through the Old Town to discover the historic buildings and traditional architecture.
Afterwards, head to the Kuressaare Episcopal Castle. The castle dates back to the 14th century, and it takes at least an hour or two to explore the exhibitions inside. Be careful to follow the arrows, as it's easy to get lost in the maze of corridors. During your visit, you have the chance of climbing the towers. From up there, you have a fantastic view of the star-shaped moat that surrounds the fortifications.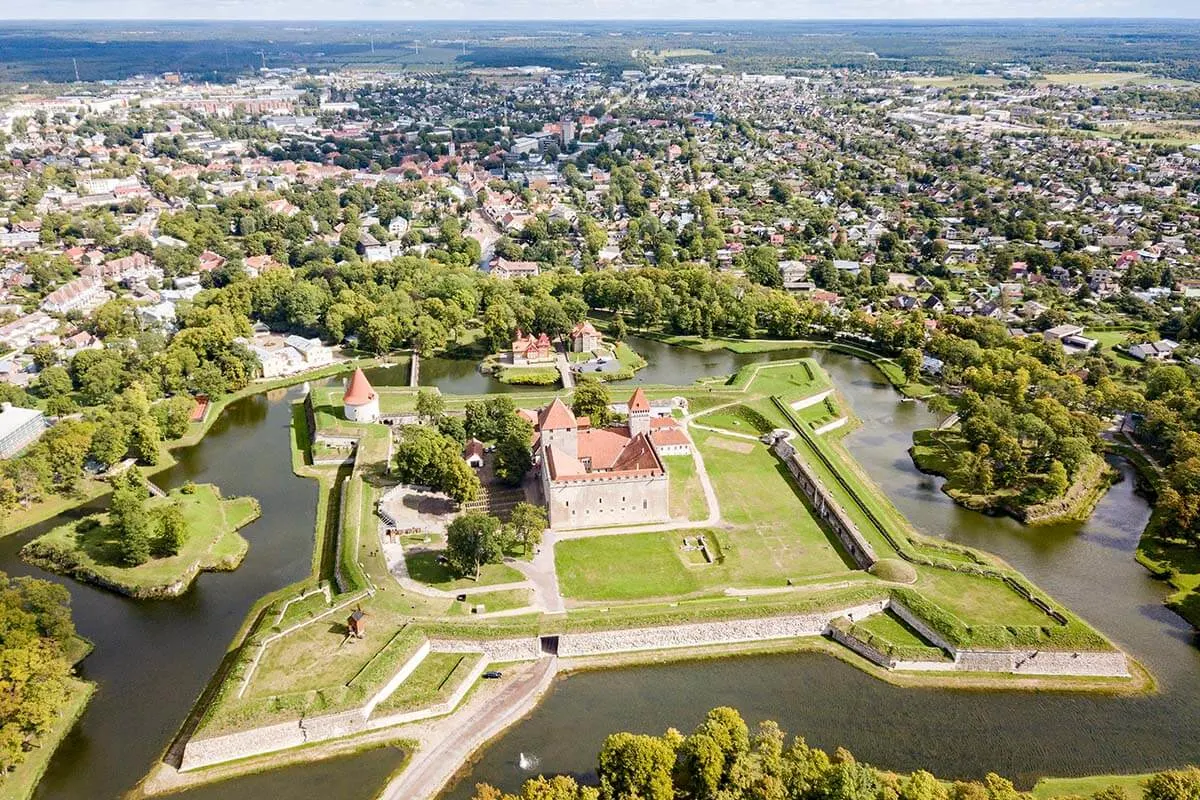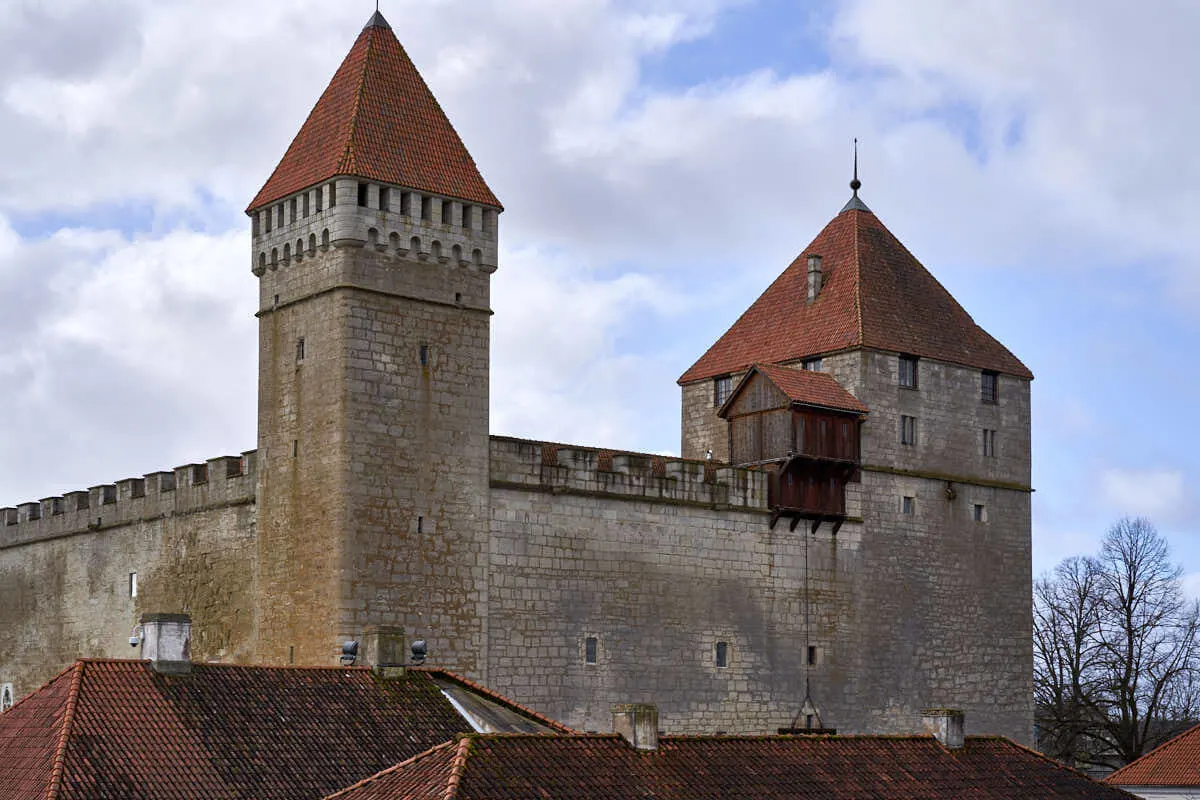 Another highlight of Saaremaa are the Kaali Meteor Craters, which you can visit in the village of Kaali. Scientists believe that the impact happened anywhere between 6,400 and 400 BCE, and it had the same explosive force as the Hiroshima bomb blast. All trees in a radius of six kilometers burned.
If you'd rather take it slow, head to the beach or find a spa to relax. Kuressaare is famous for its spas, and many Estonians come here to unwind for a few days. So why not join them and experience some traditional Estonian sauna culture!
Where to Stay in Kuressaare
There is a big choice of accommodations in Kuressaare, but since it's a popular resort town, be sure to book well in advance, especially if traveling during summer or popular holidays. We recommend Johan Design & SPA Hotel, or – on a slightly higher budget Arensburg Boutique Hotel & Spa.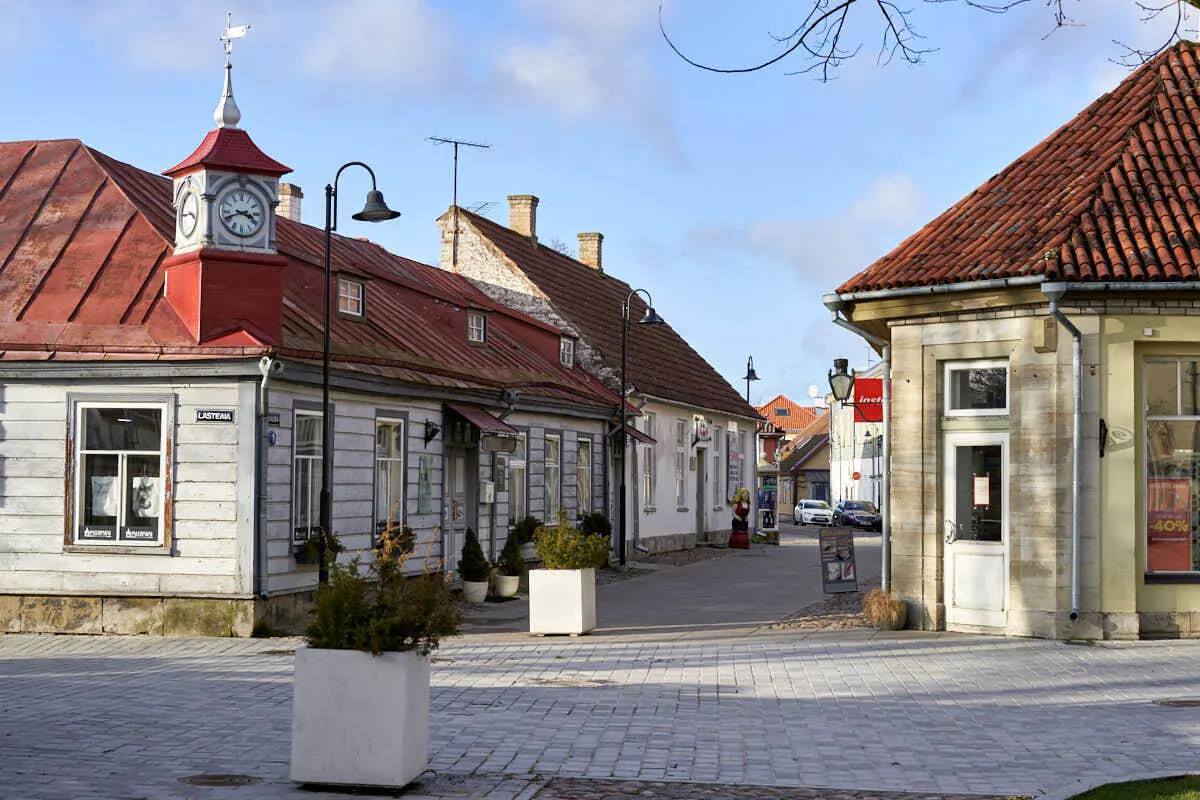 Day 5: Tartu
Today, you have a long drive ahead of you. It takes almost 6 hours to get to Tartu from Kuresaare by car and a little longer if you use public transport. Therefore, make sure to leave Kuressaare as early as possible, so you can enjoy the afternoon in Tartu.
Tartu is a cute town in Southern Estonia that is famous for its university. While here, check out the University Museums. On top of Toome Hill, you can find the University of Tartu Museum as well as the Old Observatory. Both are worth visiting, but if you only have time for one, head to the Observatory.
In the 19th century, Friedrich Georg Wilhelm von Struve measured the length of a meridian and eventually became the first person to accurately determine the shape and size of Earth. He conducted much of his work from this observatory, which is why it is now part of a UNESCO World Heritage Site. In the observatory, you can learn more about Struve's work and see astronomical instruments from that time period.
While in Tartu, make sure to go for a walk through the Old Town. Town Hall Square is famous for its Kissing Students fountain, and you can discover many historic buildings around the square. Take some time to walk through the cobblestone streets and admire the architecture of Tartu. Be sure to check out the restored ruins of the Tartu Cathedral (Toomkirik). You can also climb the tower for some nice views over the city.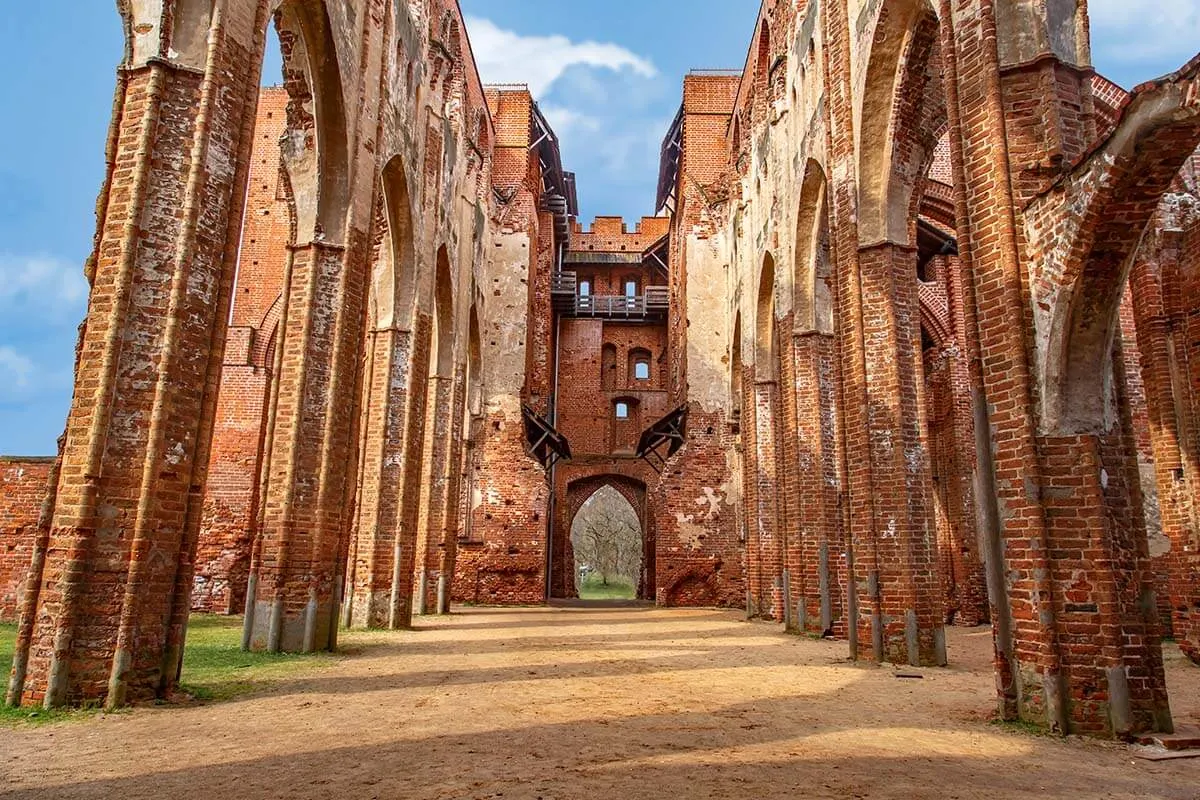 TIP: If you have a car and some time to spare, you could also visit Alatskivi Castle about 30-40 minutes drive north of Tartu. But if you only have half a day in the city, this will likely be too much.
Where to Stay in Tartu
Tartu is a popular tourist destination and you'll have no trouble finding good accommodation at reasonable prices. We recommend Lydia Hotel, however, their parking is quite expensive since it's in the heart of the city. A nice alternative (still very good location) if visiting by car is Art Hotel Pallas by Tartuhotels.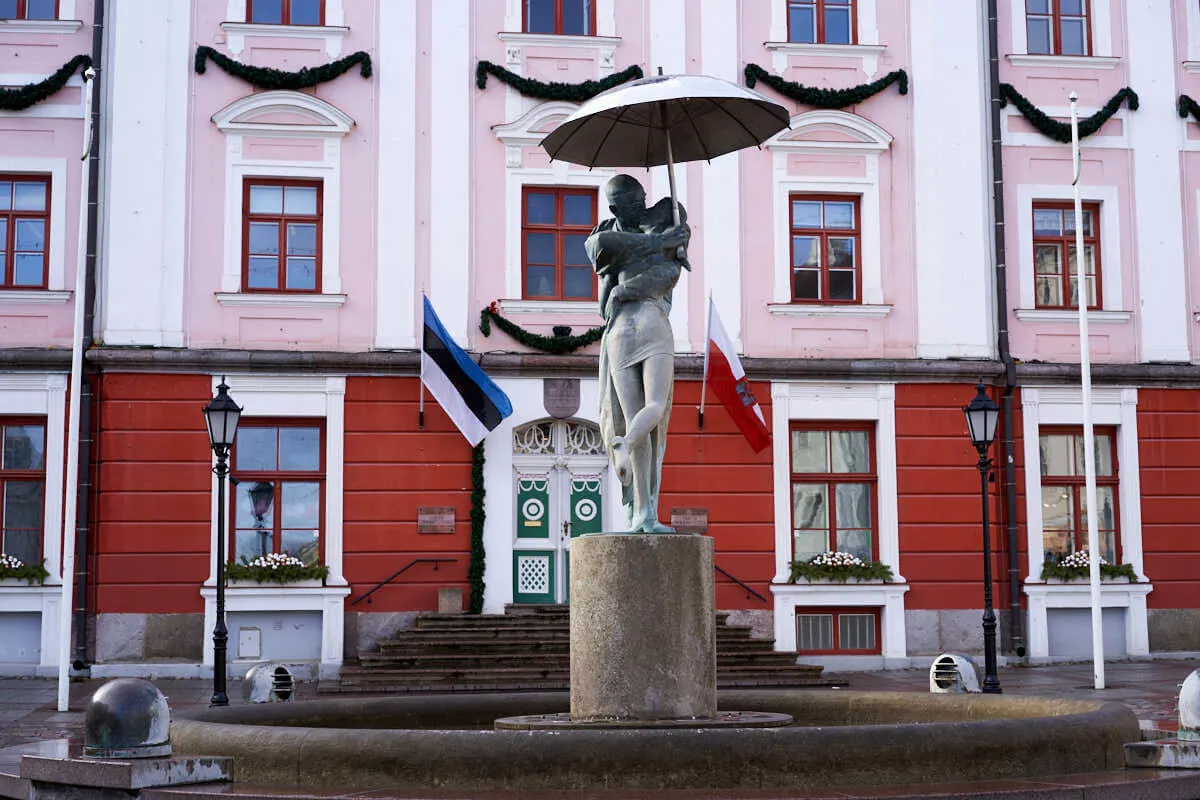 Day 6: Cēsis, Latvia
In the morning, drive from Tartu to Cesis in Latvia. The drive is about 2.5 hours and if you leave early enough, you have plenty of time to explore Cesis on this day.
Without a car: If you are traveling without a car, it's easier to take a bus from Tartu to Riga, stay in Riga for 3 or 4 nights in total, and make day trips from there to Cesis and to Sigulda. There are also tours that visit these places from Riga in one day.
Cesis is a cute medieval town known for its two castles. You can get a combination ticket that includes entrance to both the Medieval Castle and the museum in the New Castle. As there are no electric lights in the old castle, you will need to carry a lantern. Exploring the ruins with a candle in your hand is an incredible experience you'll remember for a long time.
After visiting both castles, take some time to stroll through Castle Park. At the edge of the park, you can see the remains of the oldest brewery in Northern Europe. Cesus Ale, the owner, has since moved the beer production to a more modern building on the outskirts of Cesis, but you can still see the old brewery.
Where to Stay
You could stay in Cesis for a night, but we suggest driving to Sigulda – the next town on this itinerary, about 30 minutes drive further. There is a bigger accommodation choice in Sigulda and much nicer hotels and you could stay here for two nights. We recommend Hotel Sigulda – it's a nice hotel with great facilities, easy parking, and they have a very good restaurant.
Good to know: If you are really in a hurry, you could see just the main highlights of Cesis and Sigulda on the same day.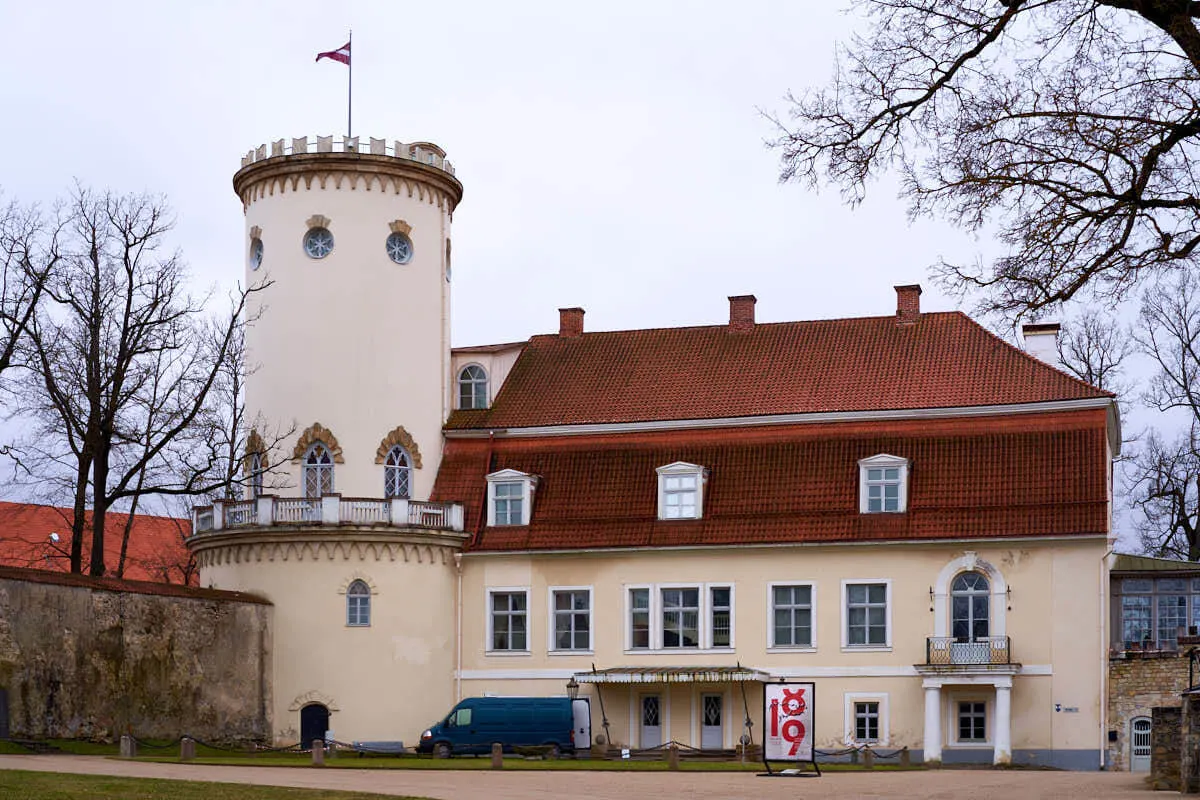 Day 7: Sigulda
Today, spend a day in one of Latvia's most beautiful destinations – Sigulda in the Gauja National Park. Sigulda has multiple sights and attractions to keep you busy all day. You can find several castles in the area, which are all different and exciting to visit.
If you visit just one castle in Sigulda, make it Turaida Castle, a red-brick castle a few kilometers away from town. It houses a museum, and it's part of the Turaida Museum Reserve, where you can also visit traditional houses from the area. This is the most-visited museum in Latvia!
Sigulda Medieval Castle (Castle Of The Livonian Order in Sigulda) is also nice to see. You can climb to the top of the Northern Tower from where you have a fantastic view of the valley. Just next to it, you can see the recently renovated Sigulda New Castle (Siguldas Jaunā pils) which used to serve as a city council and is now a museum.
Another place worth checking out is Krimulda Medieval Castle, which is the ruins of the 13th castle. Here, you'll also find the beautiful viewpoint 'Bellevue', with great views of the bends of the Gauja River. Please note that this castle ruin is not to be confused with Krimulda Manor, which is a sort of rehabilitation center/ hotel.
TIP: One of the best ways to see the main castles is to go for a hike, from Sigulda Medieval Castle to Krimulda Castle (take the cable car to cross the valley) and then onwards to Turaida Castle. Don't miss Gutmanis Cave, which you can find between Krimulda and Turaida. Locals have left graffiti here for centuries, and the oldest inscriptions date back to the 17th century.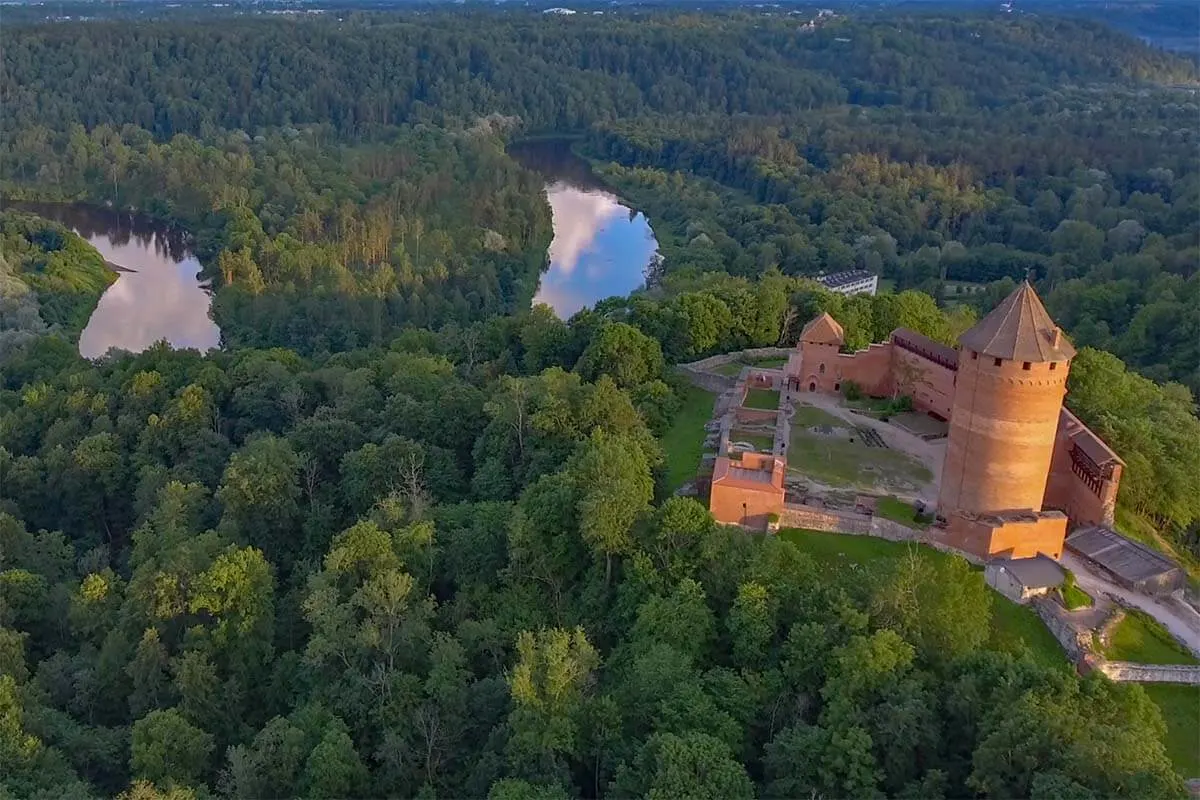 Where to Stay
If you want to take it easy, stay in the same hotel in Sigulda as the previous night. As already said, Hotel Sigulda is one of the best options here. Alternatively, you could continue to Riga already, which is about a 1-hour drive.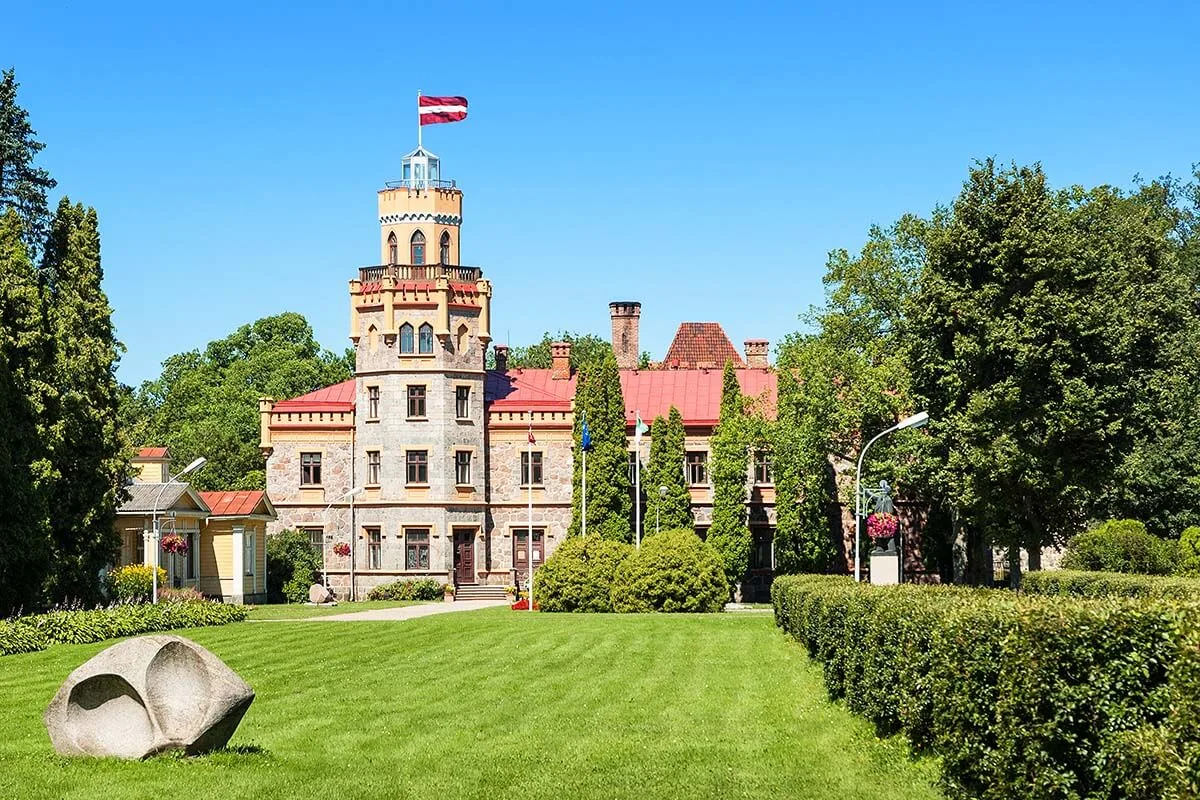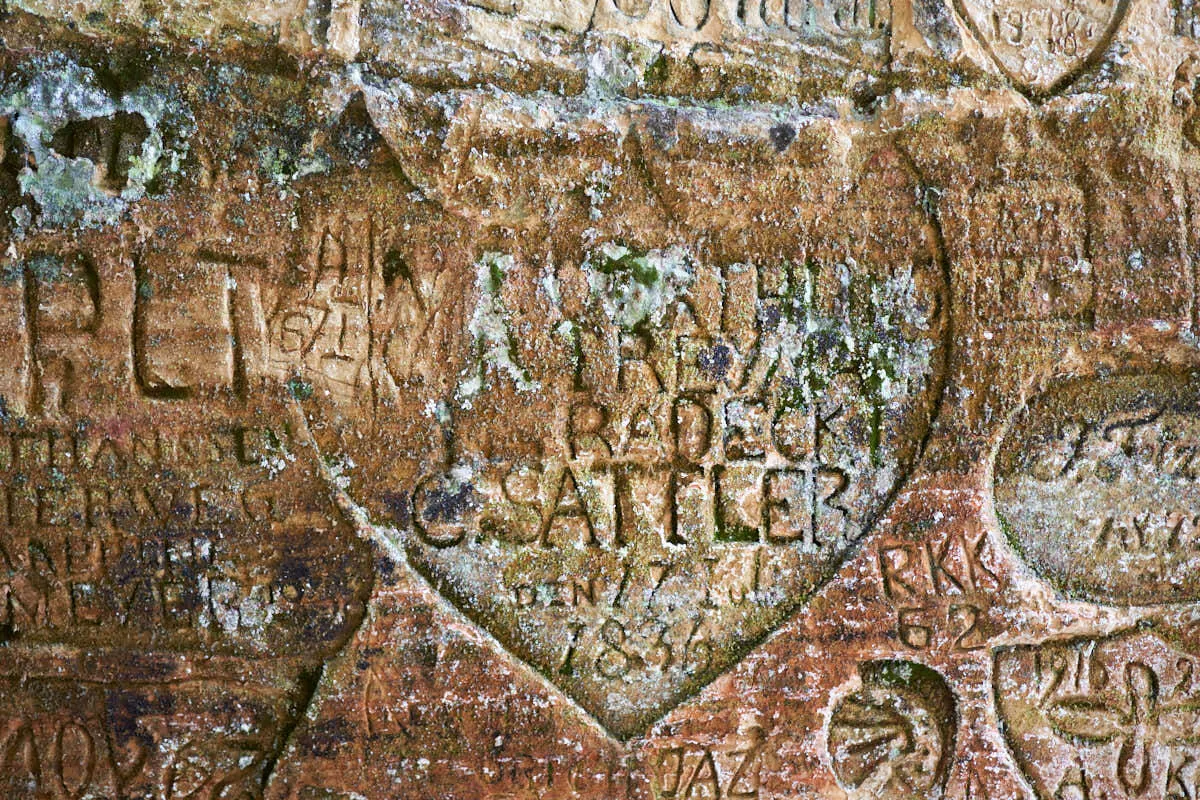 Days 8-9: Riga
In the morning, drive to Riga (about a 1-hour drive). With its location in the center of the country, Riga is also the perfect base for day trips to places like Cesis and Sigulda mentioned above. As already mentioned, if you are traveling without a car, it's best to come here from Tartu (so on day 6 of this itinerary). In that case, stay in the city for 3-4 nights and make day trips either by public transport or by taking tours.
For the next two days, you have the chance of exploring Riga. Be sure not to miss the following highlights:
Riga Old Town
It's easy to get lost in Riga's cobblestone streets and to spend hours wandering through the Old Town. Along your way, you should pass the Three Brothers, a famous landmark in the city. All three houses belonged to men from the same family but date back to different time periods, so this is a fantastic place to see how architecture in Riga evolved over the centuries.
If you want to see the Old Town from above, stop by St Peter's Church. The tower rises high above the houses, so from its top, you have a fantastic view of Riga.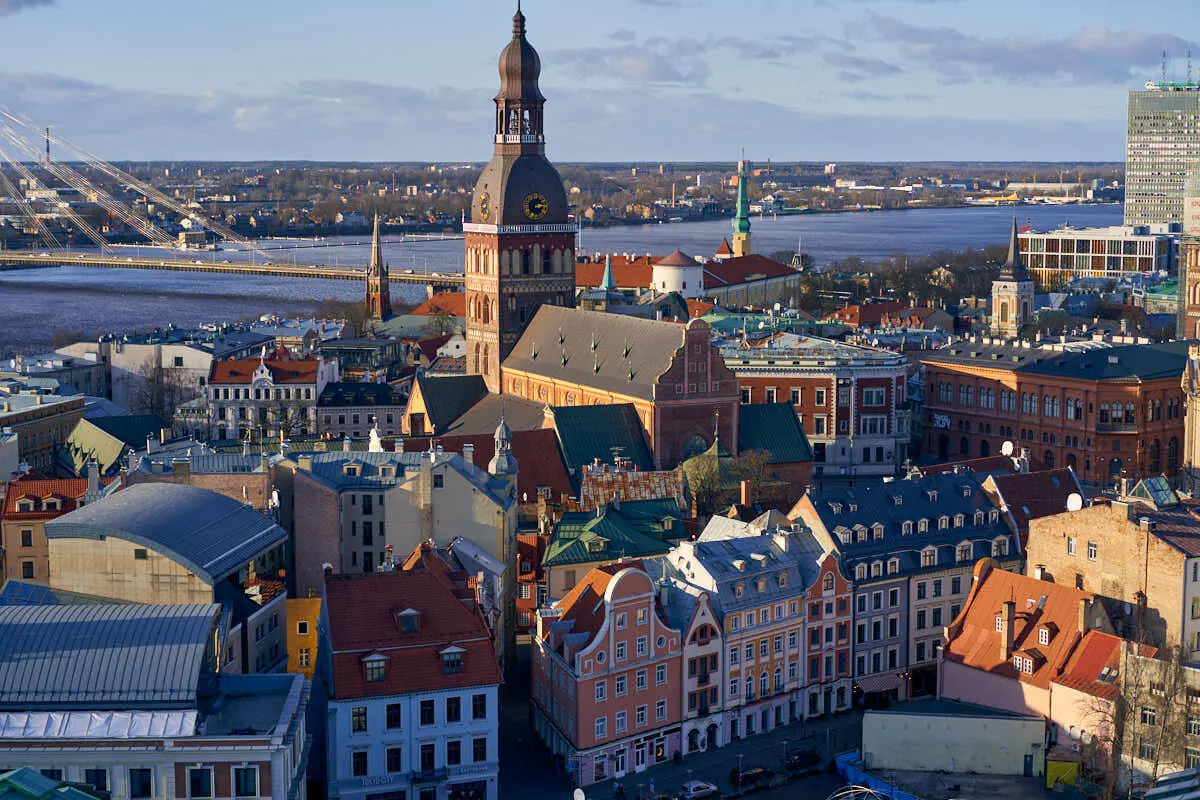 House of the Blackheads
If you only visit one museum in Riga, it should be the House of the Blackheads. You'll notice the extensively decorated building while walking through the Old Town, and if you go inside, you can learn more about the Brotherhood of the Blackheads.
This guild was an organization of merchants and craftsmen, and in Latvia, they came together in the House of the Blackheads for meetings and social gatherings. They even erected the first Christmas Tree in Europe, though it is unclear if it was in Riga or Tallinn.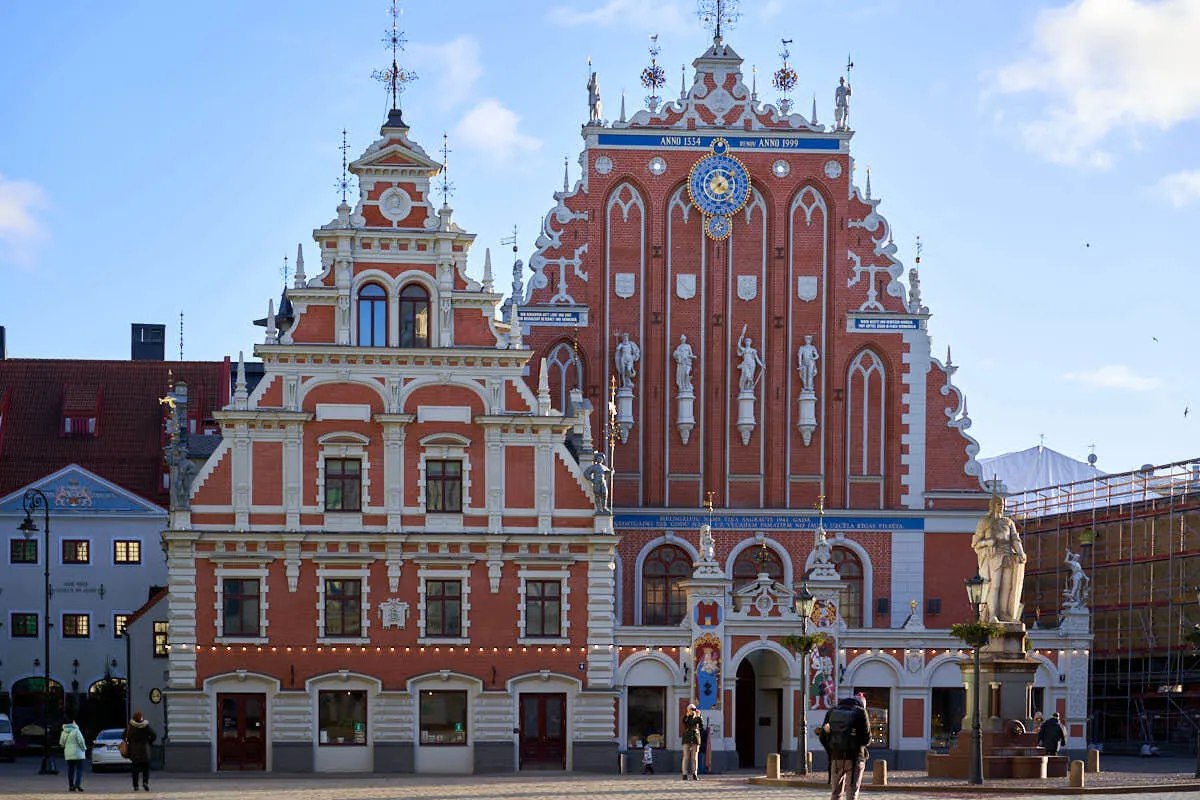 Ethnographic Open-Air Museum of Latvia
If you want to see a different side of Latvia, head to the Ethnographic Open-Air Museum of Latvia, which you can find on the outskirts of Riga. Buses 1, 28, or 19 can take you here if you don't have a car, and you'll have the chance of seeing more than 100 traditional buildings from all over the country.
The museum grouped these houses by region, and you'll be surprised to learn how different building styles and rural life were, depending on the area. Don't miss the giant windmill in the middle of the park, and make sure to go inside the houses. Some are open, and in summer, you might see weavers and blacksmiths perform their craft.
Practical information: The museum is open the whole year round, but opening days and times vary per season. Check their website for more information. You could easily spend an entire day here. As a minimum, count half a day.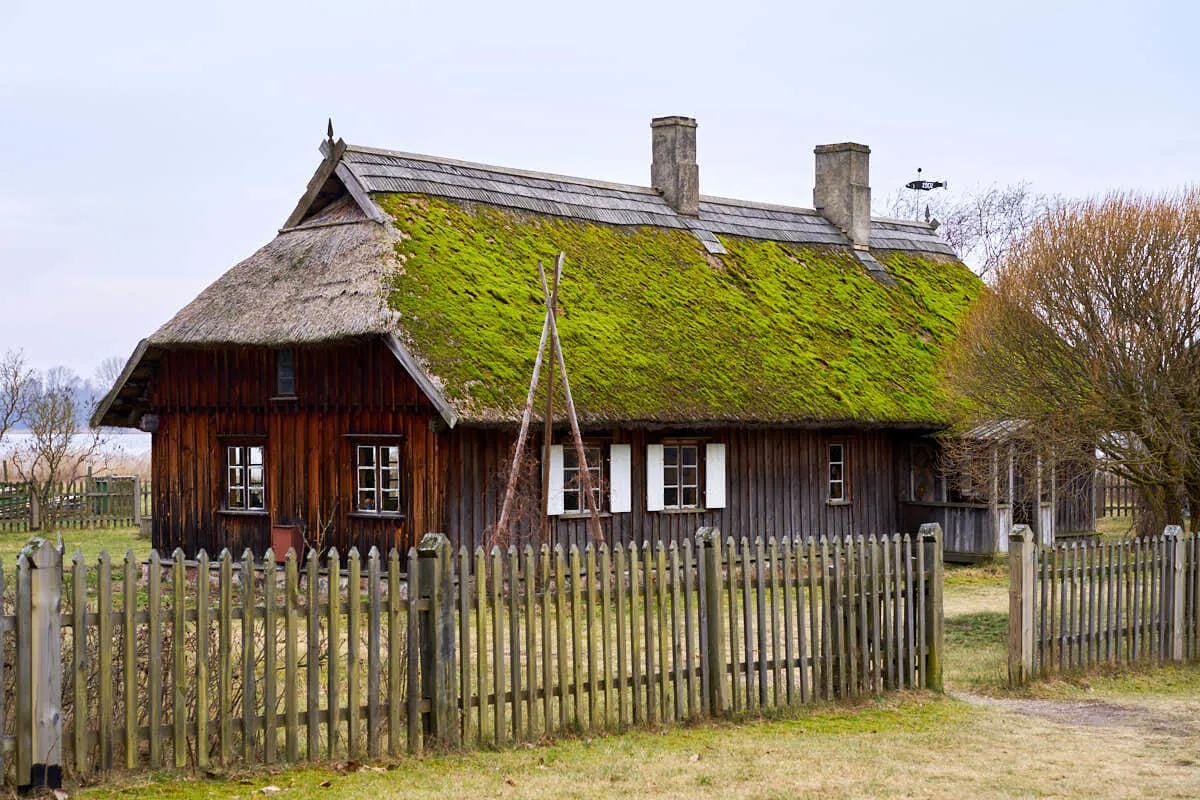 Where to Stay in Riga
Riga is a big city and there is no shortage of accommodations for all budgets. For the best experience, we recommend staying close to the city center. If you are traveling by car, be sure to check that the hotel has parking available! We recommend Wellton Riverside SPA Hotel.
Day 10: Hill of Crosses & Klaipėda, Lithuania
After leaving Riga, cross the border to Lithuania and head to Klaipeda. The drive is about 4 hours, and you can stop at the famous Hill of Crosses near Šiauliai on your way. It's conveniently located for this itinerary, about 2 hours drive from Riga and about the same from Klaipeda, and a visit here doesn't require more than half an hour. Still, be sure to leave Riga early so that you can explore Klaipeda in the afternoon.
Without a car: If you are traveling by bus, there are direct bus connections from Riga to Klaipeda, and the trip takes around 4-5 hours. It will be difficult to visit the Hill of Crosses on this day, but you may still be able to come here on your way from Klaipėda to Vilnius two days later. See day 12 of this itinerary for more details.
The Hill of Crosses is one of the most unique places in Lithuania, and you can see hundreds of thousands of crosses on this hill. The sight is almost unreal, and as you walk around, you will notice hundreds of small crosses wedged into the ground between the larger ones. Here you can find our complete guide to visiting the Hill of Crosses.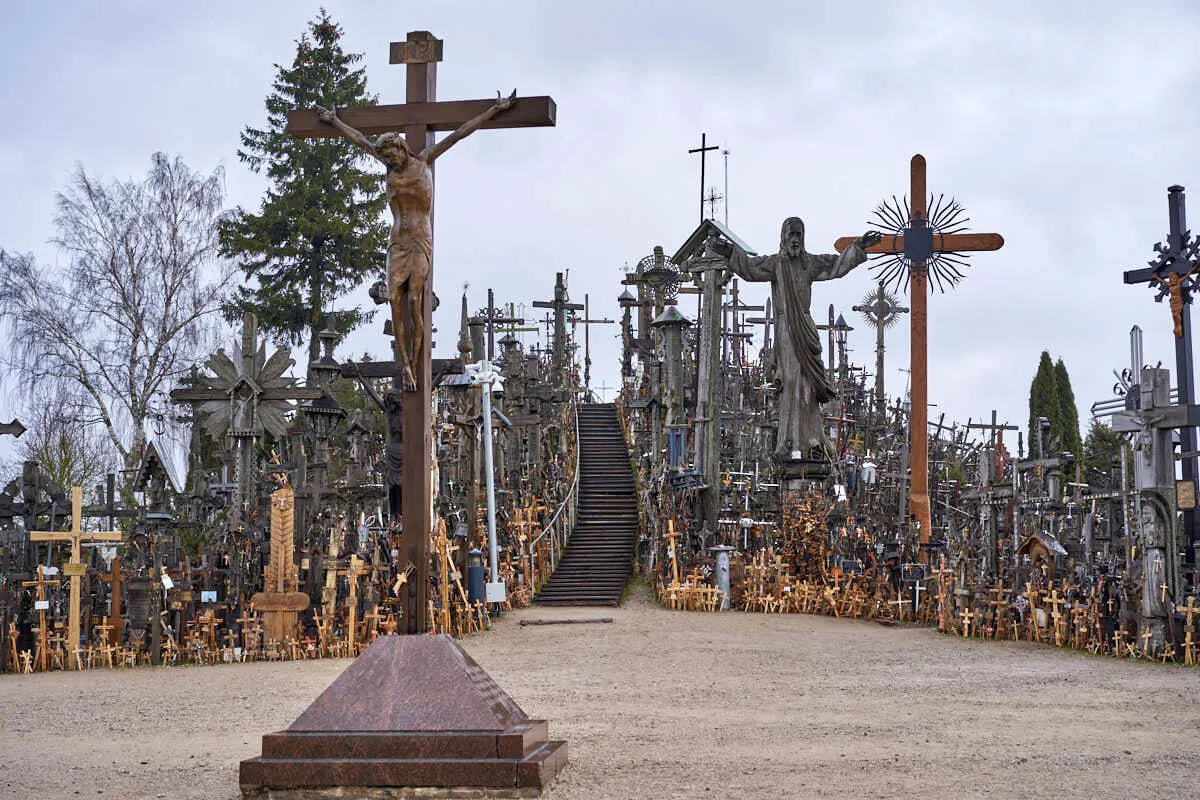 After spending time at the Hill of Crosses, continue to Klaipeda. You should arrive in the early afternoon, so still plenty of time to explore the city. While Klaipeda is Lithuania's third-largest city, its historic center isn't that big and you can see all the musts in half a day.
When you stroll through the Old Town of Klaipeda, you will notice that the architecture is different from anything else you've seen in the Baltics before, and some of it even looks German. That's because the area once belonged to Germany, and you can still see the influence in architecture today.
Make sure to visit the History Museum of Lithuania Minor if you want to learn more about the history of the region. Don't miss Theatre Square and be sure to check out the little hidden gem Fredericho Passage, where you can also find a restaurant serving local dishes.
Afterwards, head down to the riverside and to the harbor. The waterfront is one of the most pleasant areas to go for a walk in Klaipeda, especially in summer. During the warmer months, you can also rent kayaks or pedal boats to explore the city from a different angle.
Where to Stay in Klaipeda
Klaipeda is a harbor town and so it's nice if you can stay close to the water. We recommend either Old Mill Hotel or Michaelson Boutique Hotel – both near each other and both excellent choices, in beautiful historic buildings. There is big public parking just nearby (the fees aren't high) and the Old Town is within walking distance. Stay here for two nights.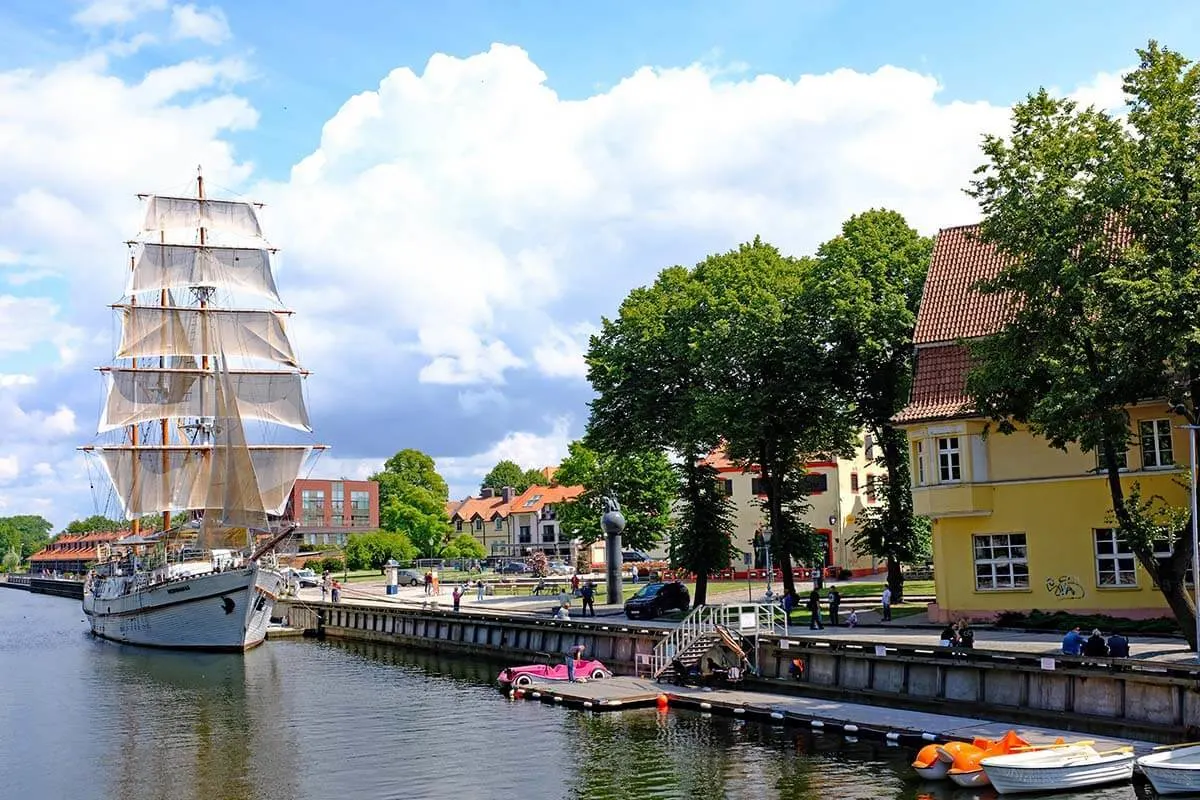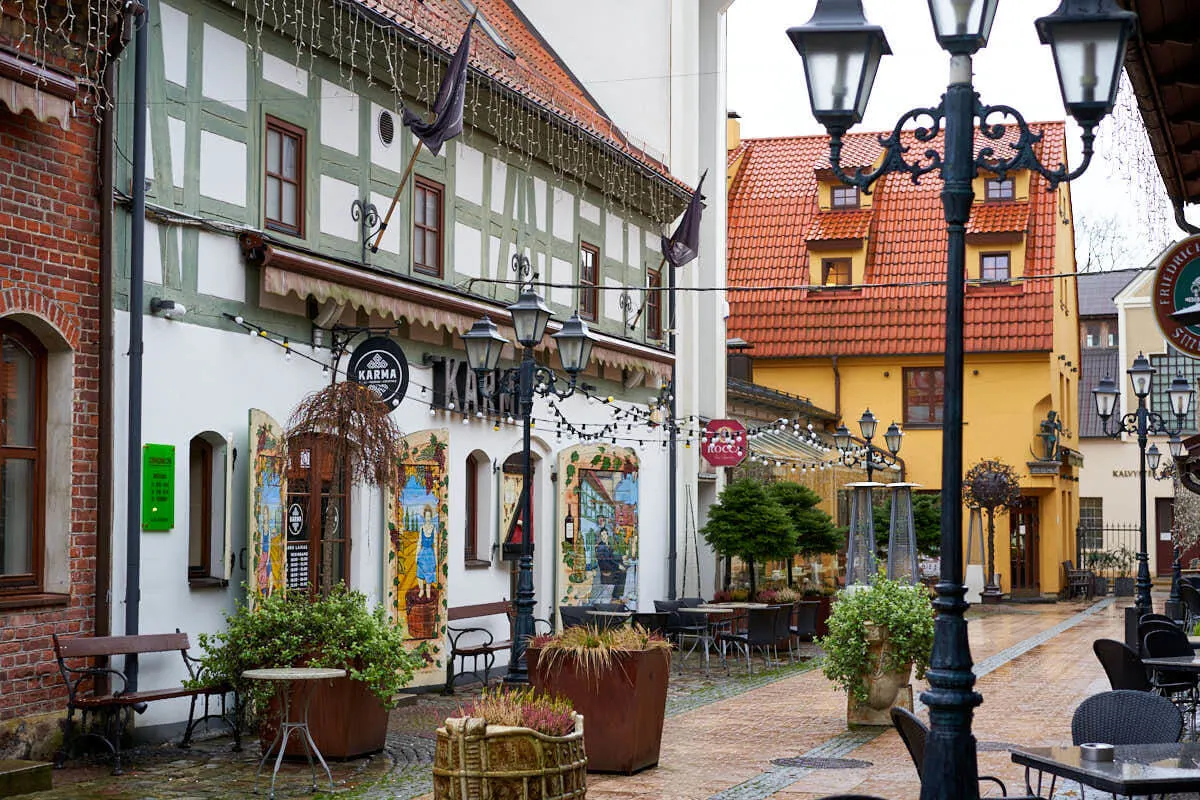 Day 11: Day trip to the Curonian Spit
Today, take a day trip to one of the most beautiful places in the Baltics, the Curonian Spit. This 98km-long narrow piece of land perched between the Curonian Lagoon and the Baltic Sea is a National Park and a UNESCO World Heritage Site.
Curonian Spit is famous for its wandering sand dunes. The biggest dune that you can climb is Parnidis Dune, just next to Nida. From here, you can see the lagoon on one side and the Baltic Sea on the other side. It might not look like it, but Parnidis is a wandering dune that moves a few centimeters every year. Over the past centuries, these dunes have even swallowed a few villages!
During your day trip, visit the nicest dunes and villages of the region, and be sure to go for a walk around Nida, the main town of the Curonian Spit. Here, you can see many traditional fishermen's houses, several museums, and a beautiful waterfront promenade. For more information, please see our complete guide to the best things to do in Nida.
But there's much more to see in the beautiful Curonian Spit National Park than just its biggest town! So if you are self-driving, check out our complete guide to the Curonian Spit in Lithuania. It also has all the details on how to get there by car.
Without a car: Curonian Spit is best explored by car since there are many beautiful places scattered all over the region. If you don't have a car, you can best opt for an organized tour – see this private day tour from Klaipeda. Alternatively, take a passenger ferry from the pier north of the city center (Senoji Perkėla), and once you reach the other side, you can take a bus to Nida. Nida is a nice day trip in itself, but you won't be able to see the rest of the area if you take a bus.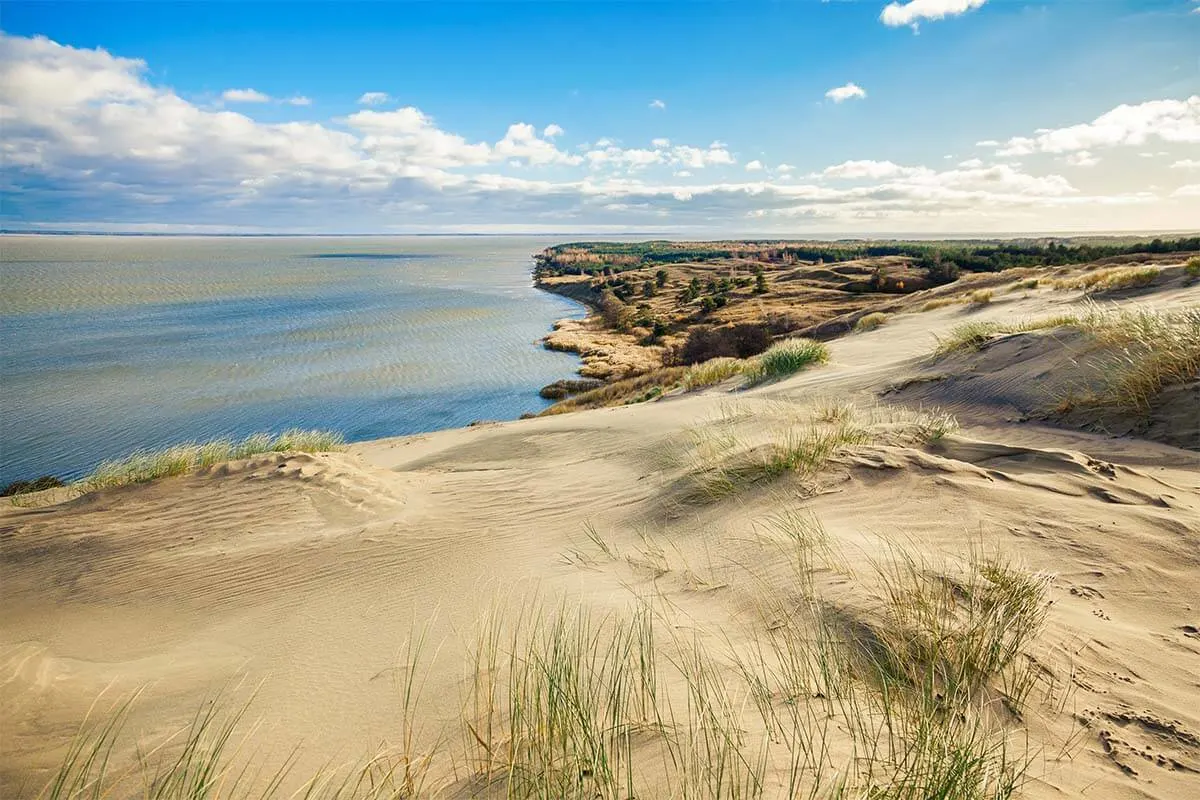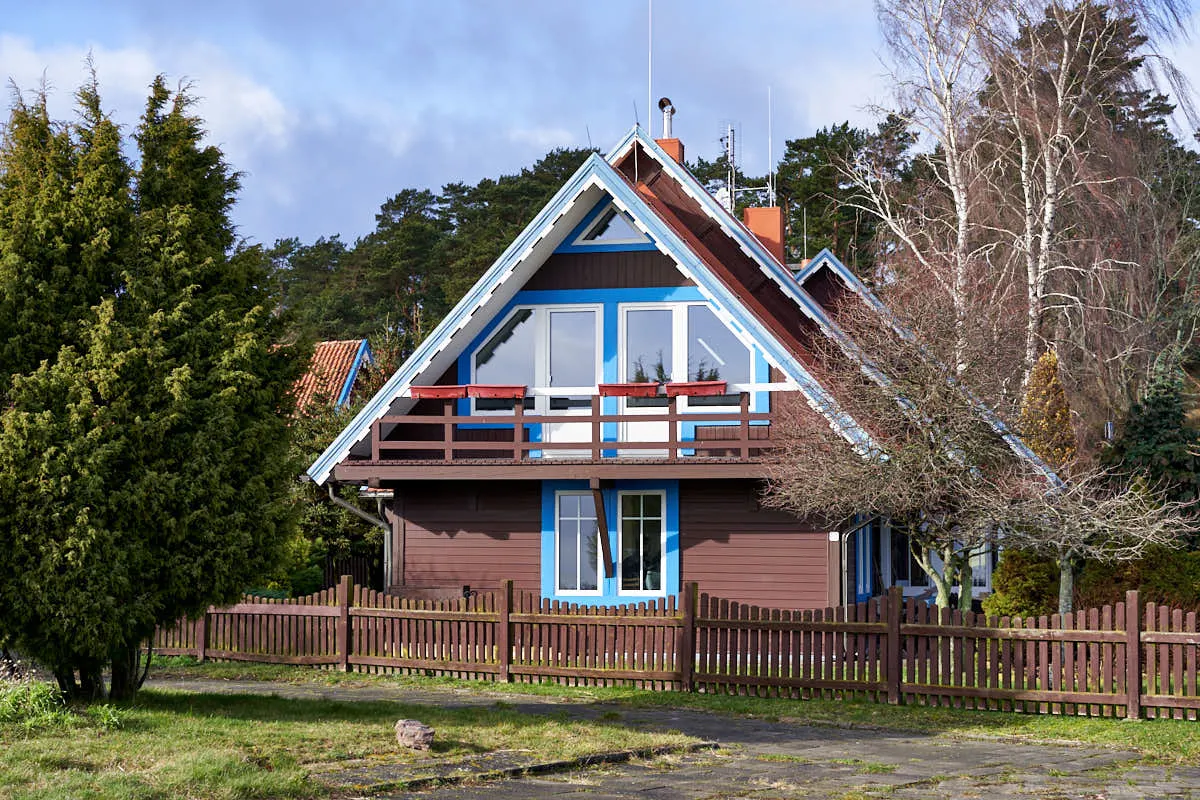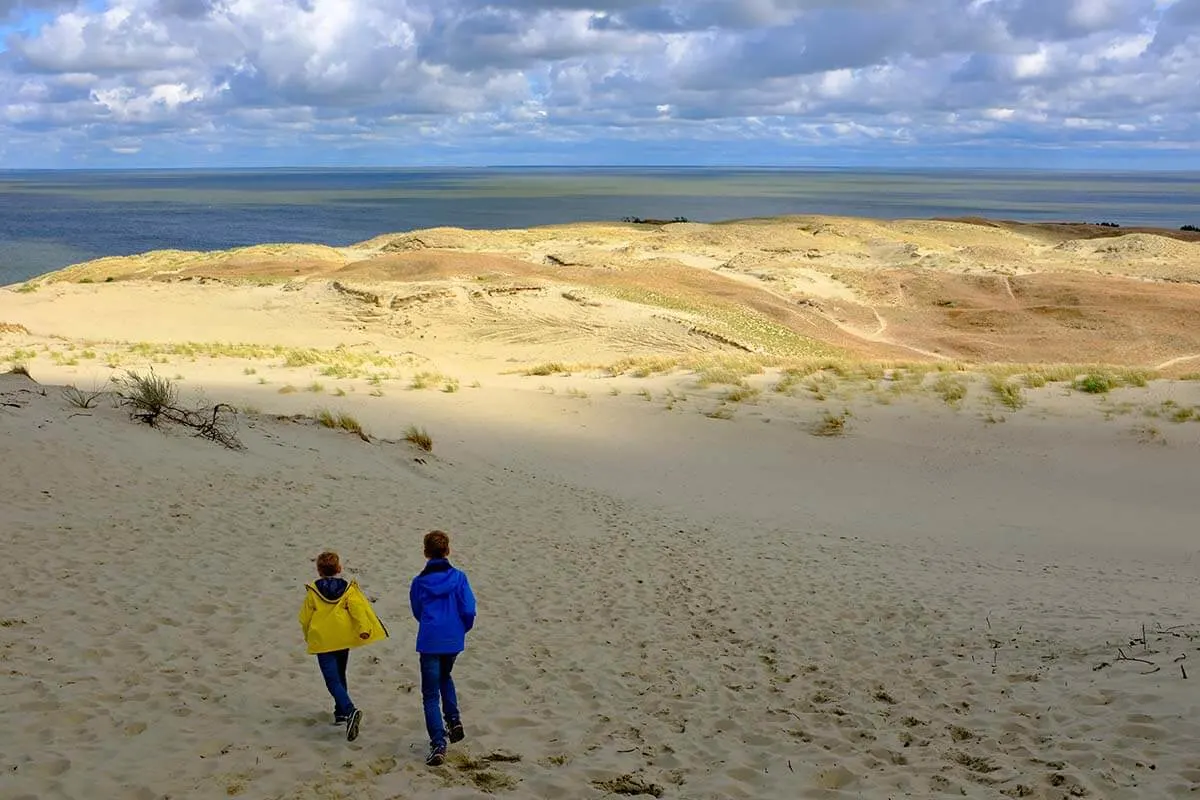 Day 12: Kaunas
Today, leave Klaipeda and head to Lithuania's second-largest city, Kaunas. If you are driving, it's a long but easy drive on a highway and takes about 2.5-3 hours, leaving you plenty of time to explore Kaunas.
Without a car: If you are traveling through the Baltics by public transport, it's easier to skip Kaunas and take a train from Klaipeda directly to Vilnius (with a stop in Šiauliai for a visit to the Hill of Crosses). In that case, take a train to Šiauliai and book a private tour to the Hill of Crosses (they can pick you up at the train station and the hours are flexible). Afterwards, continue your trip to Vilnius by train. If you decide to go to Kaunas from Klaipeda and skip the Hill of Crosses, then take a bus to Kaunas – it's much faster than by train.
There is enough to see and do in Kaunas to fill a few days, so you could easily add a night here if you have more time. But you can get a taste of the city and see some of the main highlights in half a day as well.
The best way to explore Kaunas on a short visit is by taking a walk through its main pedestrian streets that run through the entire city center – from Kaunas Castle and Cathedral in the Old Town via Vilniaus Street and all the way to St. Michael the Archangel's Church at the far eastern end of Laisvės alėja (Freedom Avenue). If you have the time to visit one museum, check out the M.K. Čiurlionis Museum of Art. If you are looking for something more unique that you won't find anywhere else, then don't miss the Devils' Museum.
Where to Stay in Kaunas
We recommend staying in the city center, close to the above-mentioned pedestrian streets. That way, you can leave your car at the hotel and explore Kaunas on foot. Check out BEST WESTERN Santakos Hotel – it's right in the middle between the Old Town and the popular pedestrian avenue Laisvės alėja and has free private parking. Here you can find more hotels and accommodations in Kaunas.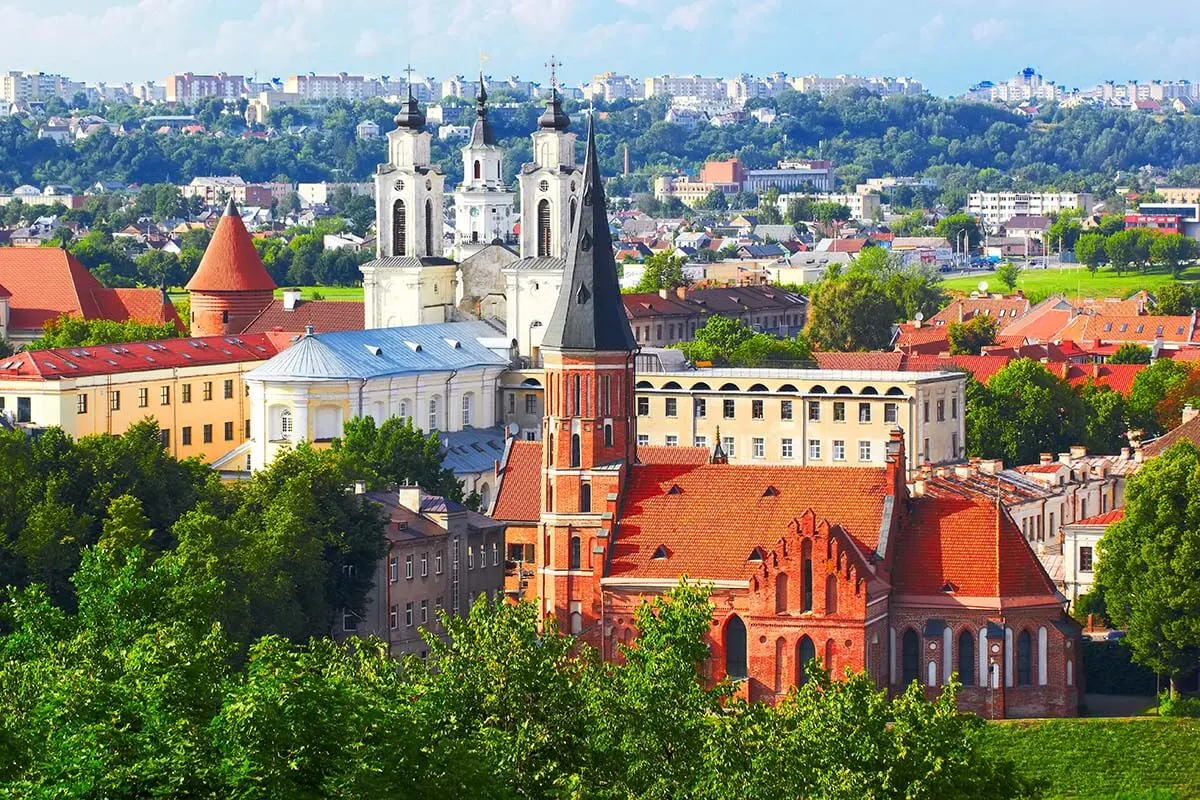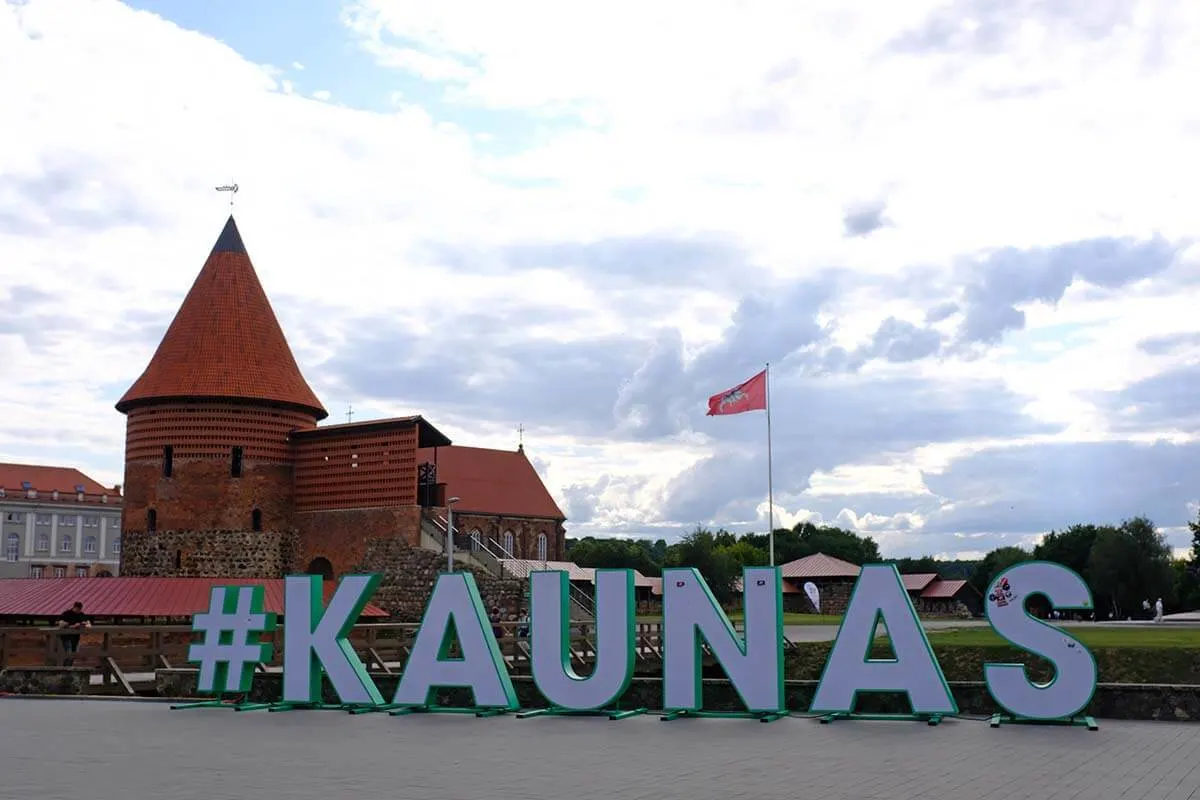 Day 13: Trakai & Vilnius
With two weeks in the Baltics, you'll have to make some tough choices and skip some places, so if you want to take it easy, today, we recommend that you drive to Trakai from Kaunas, and then head to Vilnius in the late afternoon.
However, if you have an entire next day to explore Vilnius and so if you find a day in the city sufficient, then you may want to visit a few other nice places between Kaunas and Vilnius. In that case, you could also visit Pažaislis Monastery and Lithuanian Folk Museum in Rumšiškės.
Both these places are just a small detour from the Kaunas – Vilnius highway and both are well worth your time. But don't try to squeeze too much in a day or you won't have much time to actually enjoy it.
Without a car: Take a train from Kaunas to Vilnius and spend a day in Vilnius. You can take a half-day tour to Trakai the next day. In summer, you can also opt for a full-day tour from Vilnius that visits the castle and includes canoeing on the lakes around it.
Anyway, if you are going from Kaunas to Trakai, it's an easy drive, mostly on the highway, and it takes a bit over 1 hour. From there, it's just a short drive to Vilnius (but can take an hour if traffic is busy), so you can spend as much time in Trakai as you like. This town is famous for its island castle, one of the must-see places in Lithuania.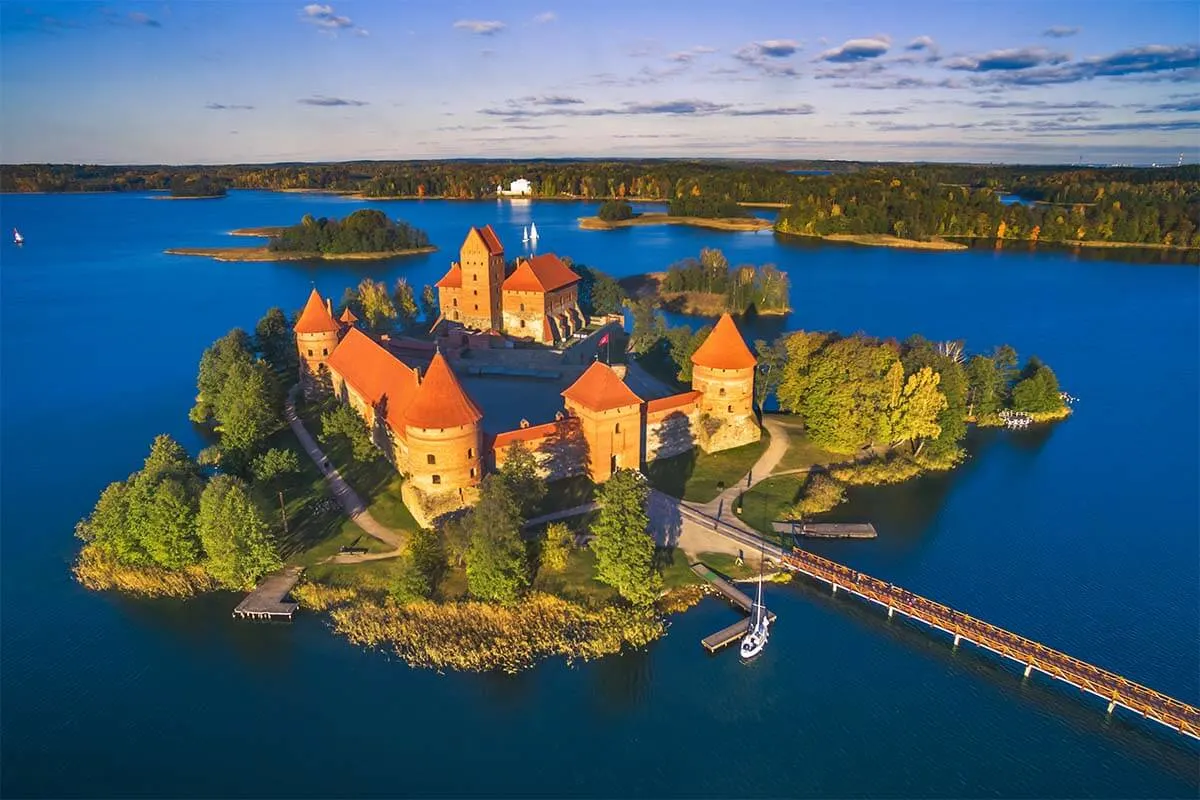 Trakai Castle dates back to the 14th century, a time when Trakai was an important town in Lithuania, and – for a few years – even the capital city. The Grand Duke of Lithuania often received important visitors here. The Castle was recently restored and is the most impressive castle you can visit in Lithuania these days. Its location on an island, surrounded by lakes and forests, makes it even more special. And don't worry, you won't have to swim to the island – there is a nice pedestrian bridge connecting it to town.
Inside the Castle, you can visit an exhibition about the history of Trakai, and you also have the chance to learn about the Karaites, a Turkic Jewish minority that lives in the area. Lithuanians call them Karaimai.
And speaking of them, when in Trakai, be sure to try Kybyns (LT: kibinai), traditional Lithuanian food of the Karaite ethnic minority. You can find them at most of the local restaurants in Trakai. This is the best place in Lithuania to try this traditional meat-and-onion pastry. You may also find it in Vilnius and a few other places in the region, but they are nowhere as good as in Trakai.
If the weather is nice, take a boat tour on the lake to see the castle from a different perspective. Afterwards, head to Vilnius, walk around the Old Town, and end your day with some typical Lithuanian food.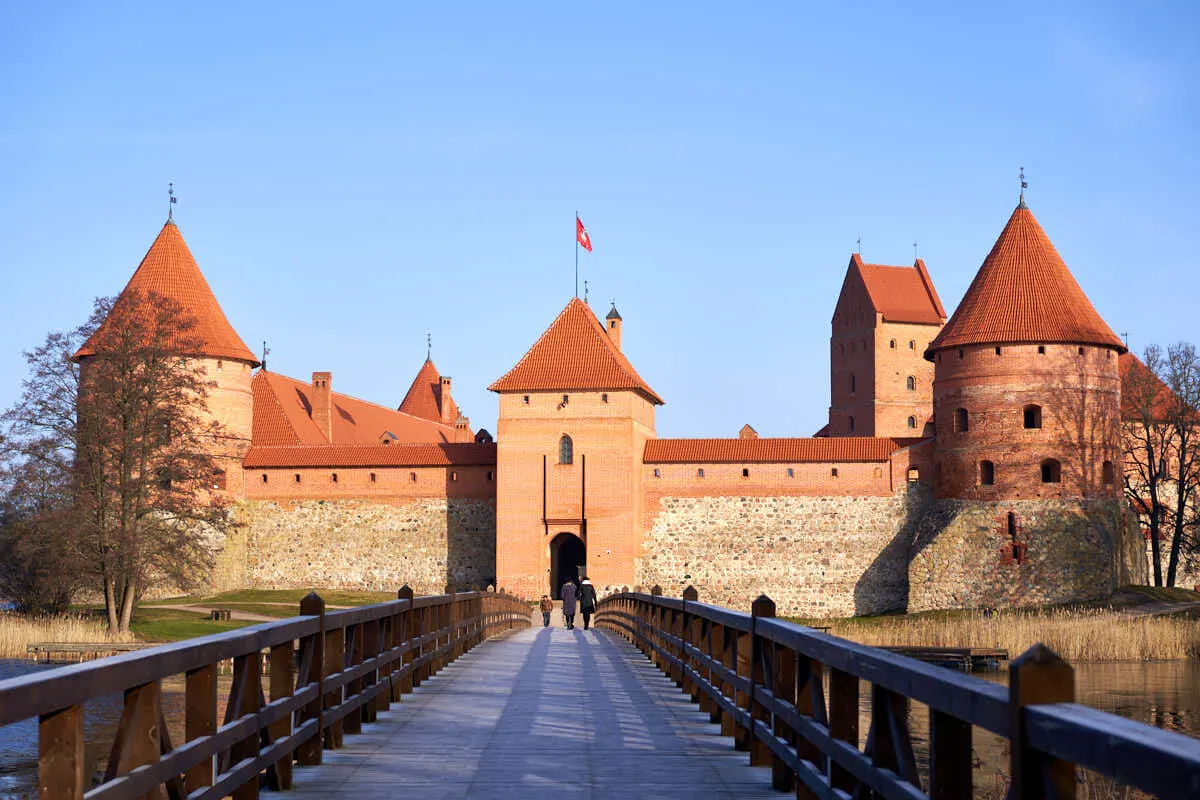 Day 14: Vilnius
Today, it's time to explore Vilnius. Lithuania's capital city has a lot to offer, but if you have just a day, be sure not to miss the following places:
Walk around the Old Town
Walking through the Old Town of Vilnius is the best way to get to know the city. It has such a great atmosphere and you'll find something nice behind every corner.
Don't miss the Town Hall Square (Rotušės aikštė), Vilnius University, Presidential Palace, and one of the must-see streets in Vilnius – Castle Street (Pilies gatvė). Also worth visiting is Literature Street (Literatų gatvė). This picturesque street is lined with plaques detailing names of authors who have either lived in Vilnius or written about the city.
Another must-see is the Gate of Dawn, a city gate that dates back to 1522 and was once part of the city wall. Inside, you'll find a religious artifact, an icon of the Blessed Virgin Mary Mother of Mercy, which still attracts pilgrims today.
Stiklių Street, in the vicinity of the Restaurant Lokys, is also worth passing by. They usually have some nice decorations hanging above the street and it's always worth seeing what kind of creations they come up with next. And the restaurant is very good too!
There are also lots of beautiful churches in the Old Town of Vilnius. They say there are 28 churches just in the Old Town… If you visit just one of them, don't miss St. Anne's Church – it's a stunning example of Gothic architecture.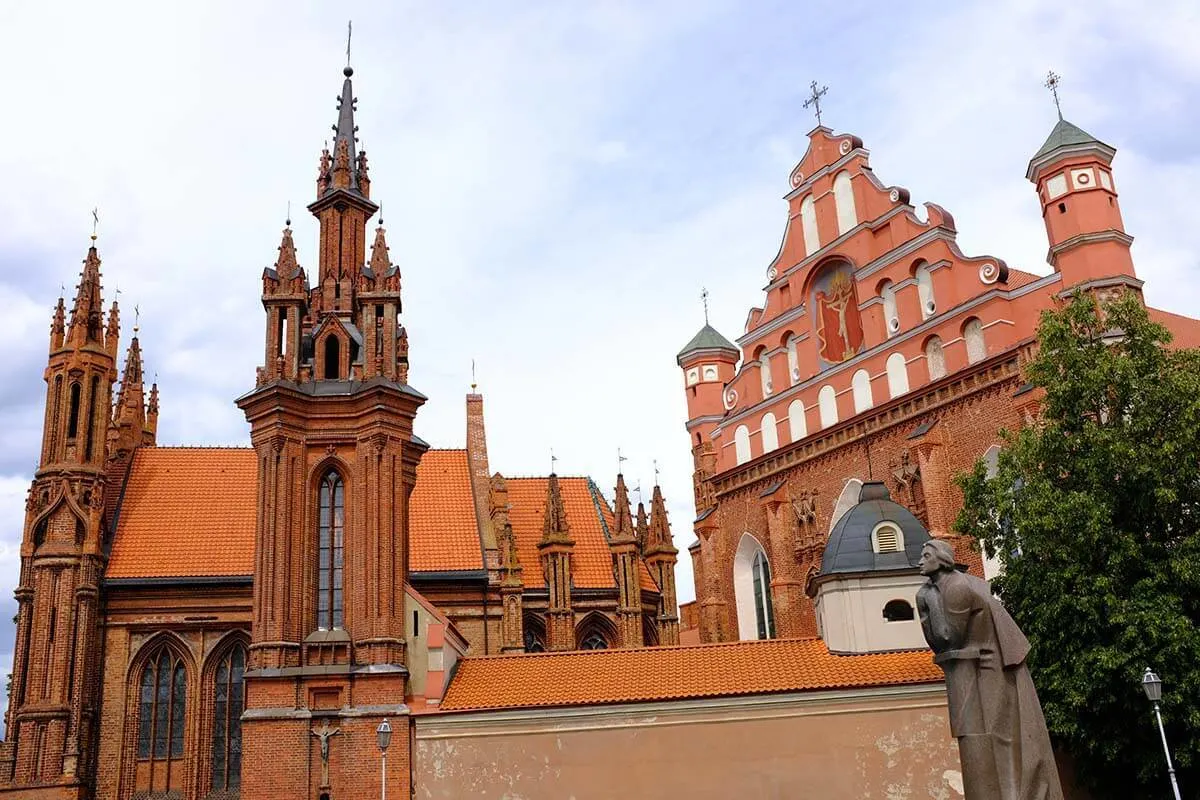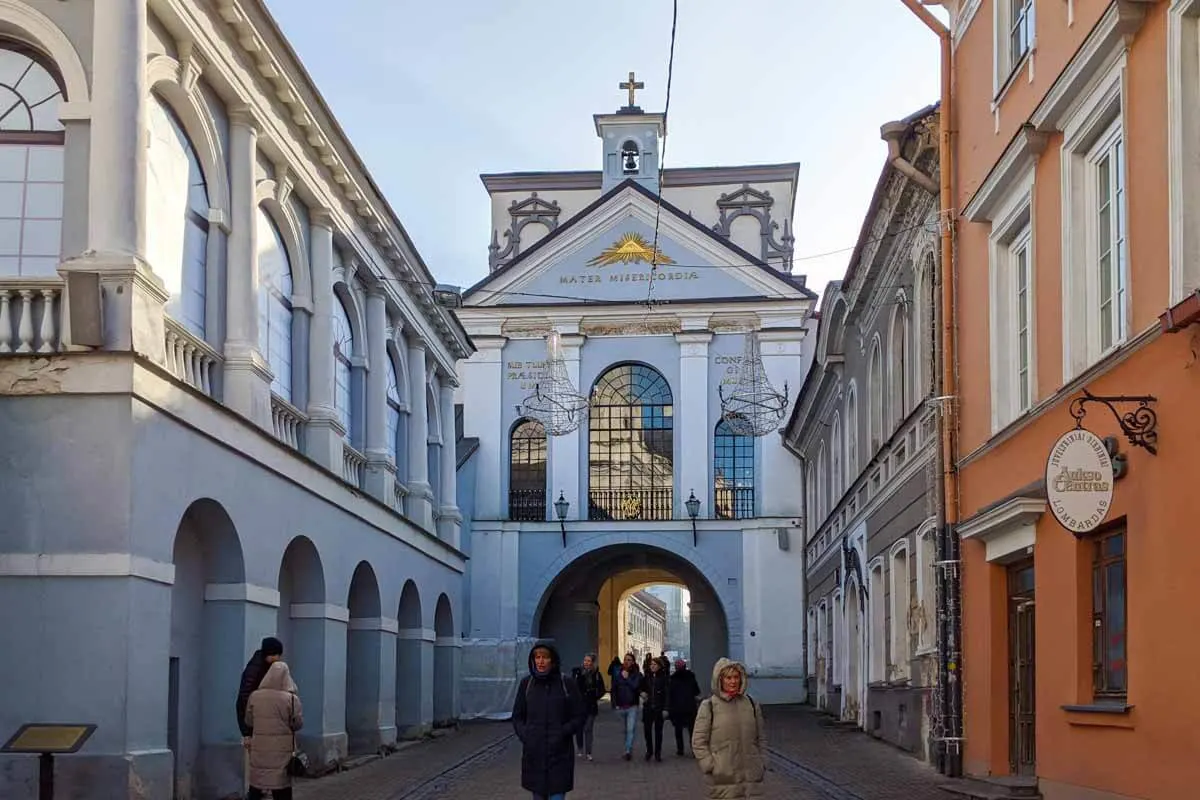 Cathedral Square, Gediminas Castle & Neris River
Cathedral Square is home to Vilnius Cathedral. With its many columns and a white Bell Tower, this building is one of the city's most famous landmarks.
Just next to it, you'll find one of the best museums in Vilnius – the Palace of the Grand Dukes of Lithuania. If you have at least an hour to spare, definitely check it out. The Virtual Reality 3D experience is so well done and gives you a good introduction to the history of Vilnius.
Behind the Cathedral, you'll see a hill with a tower on top. Head up there to discover Gediminas Castle Tower and to enjoy the fantastic view of Vilnius. You can walk up the hill or take a funicular which can be found on the other side of the hill, on the riverside. And once you are here, be sure to take a walk along the river.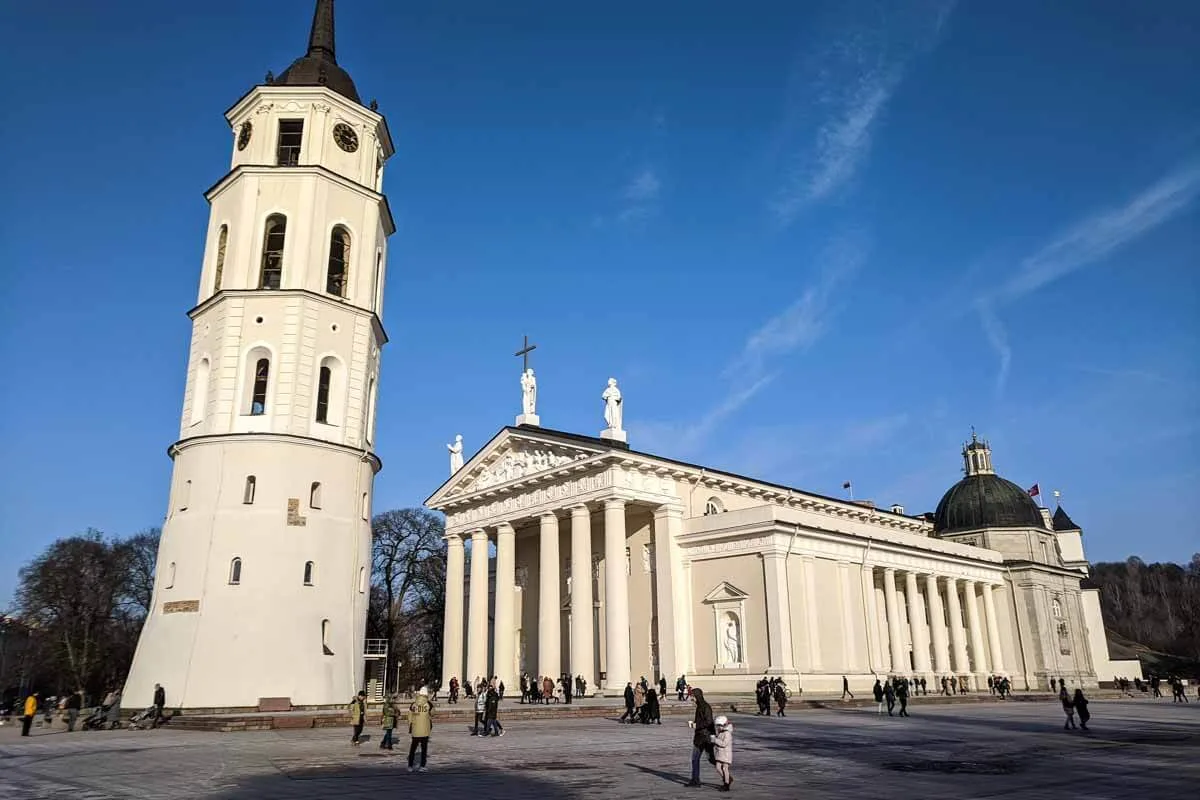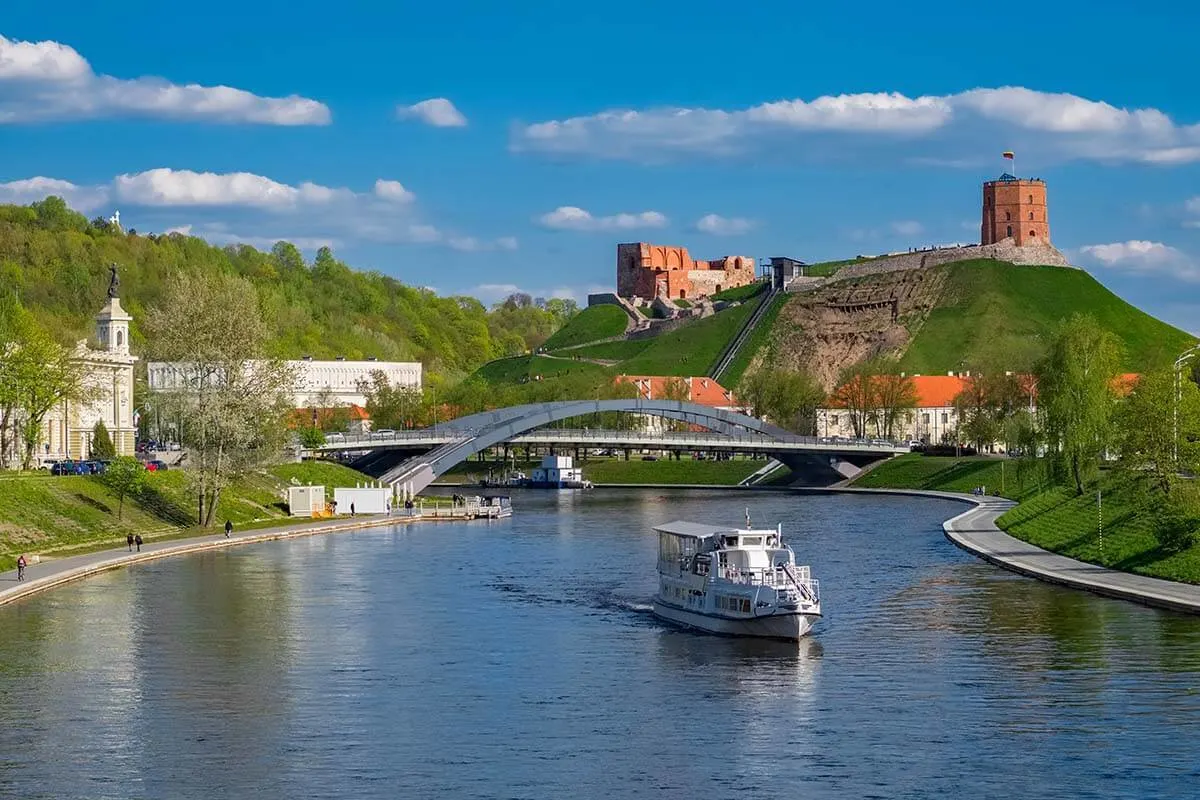 Gediminas Avenue & Museum of Occupations and Freedom Fights
Gediminas Avenue (Gedimino Prospektas) is one the main streets of Vilnius. This is the place where you'll find many shops, restaurants, theaters, etc.
Be sure to walk at least a part of this street, up to Lukiškės Square, the largest square in Vilnius. Here, you'll also find the former KGB building, now the Museum of Occupations and Freedom Fights.
It's a very interesting and eye-opening place where you can learn more about the way the Soviets treated innocent people. It will surely help you to better understand the not-so-distant history of Lithuania and the other Baltic States.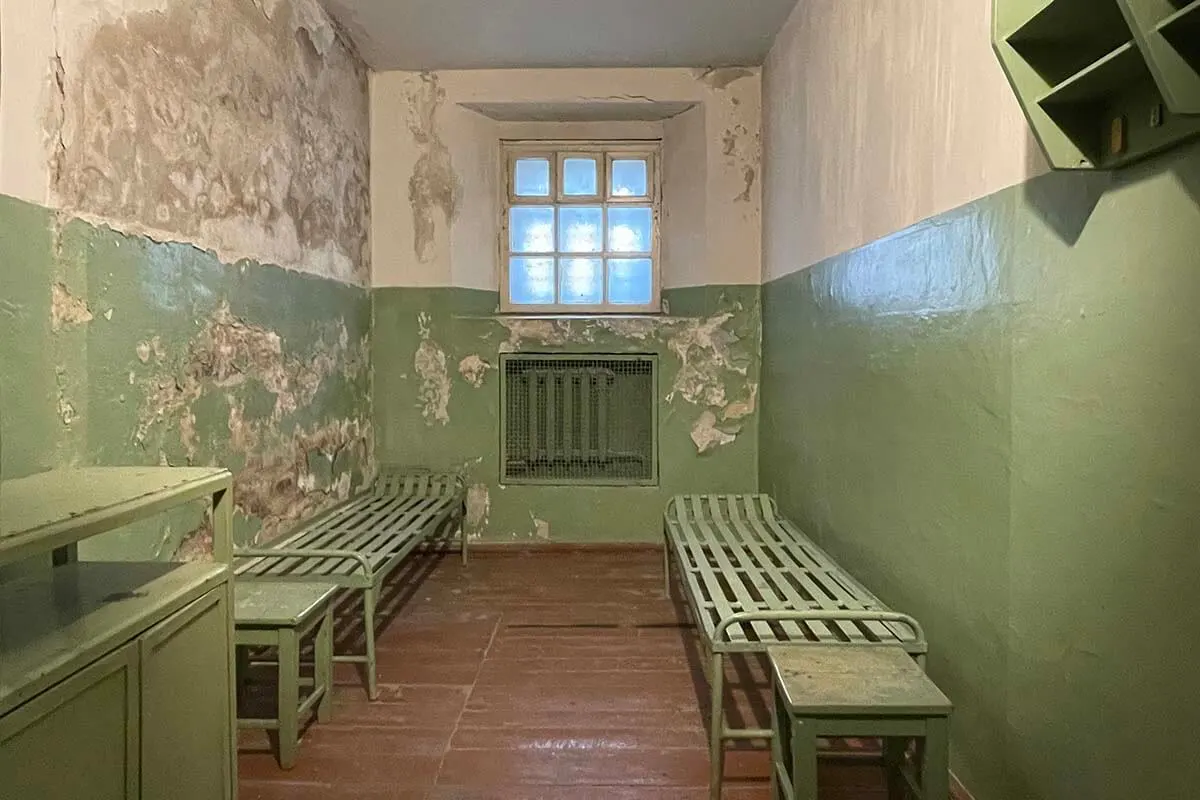 Republic of Užupis
One of the most curious neighborhoods to visit in Vilnius is Užupis (literal translation "behind the river").
This "republic" declared its independence in 1998 as a joke by local artists. Uzupis has its own parliament, border post (bring your passport if you would like a stamp), and even a constitution. Check out the Angel of Uzupis, a statue that represents the freedom of art and expression.
While nobody recognizes the independence of Uzupis, the neighborhood is a great place to discover art galleries and cafes. As you walk around, you can also find impressive street art, so keep your eyes open and don't forget to glance into the small alleys and sidestreets.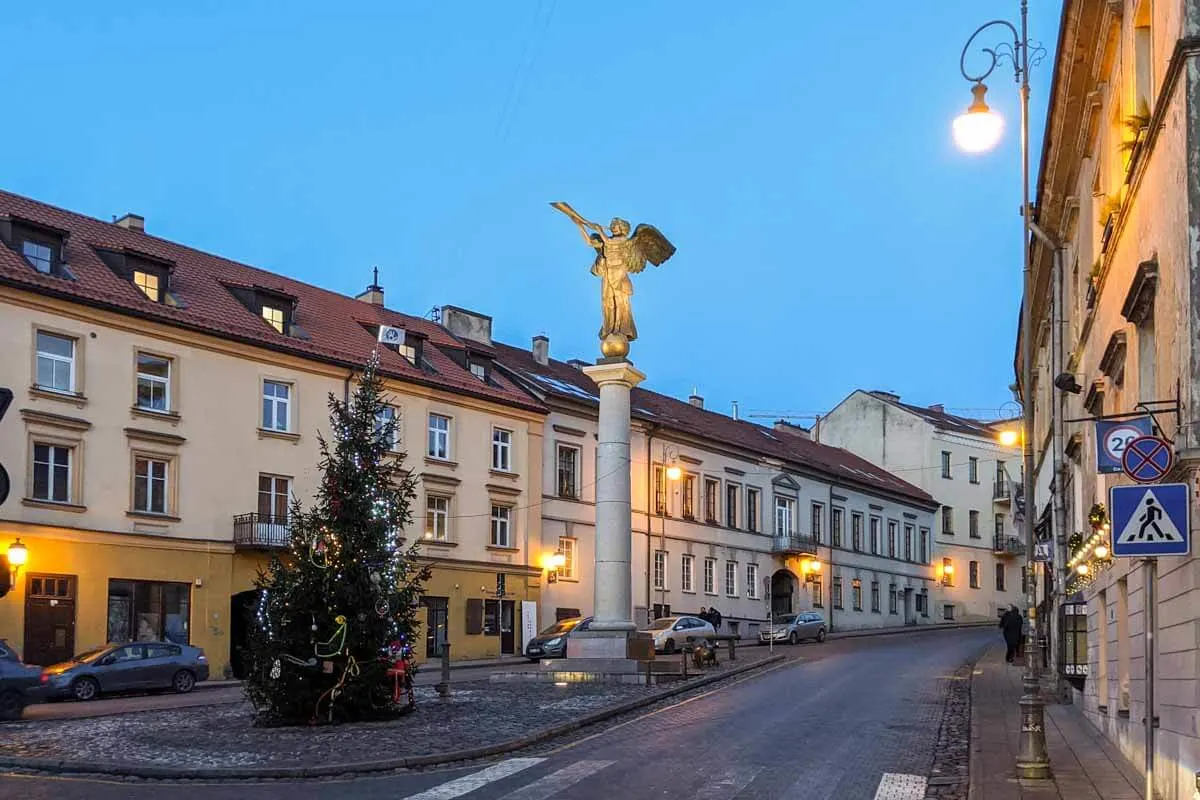 Where to Stay in Vilnius
There are lots of nice hotels and accommodations in Vilnius. Many people like to stay in the Old Town and if you already returned your rental car, it can be a good option. In any case, be sure to look for a hotel that has parking (or public parking nearby).
Radisson Blu Hotel Lietuva is a nice modern hotel by the river, on the other side from the Old Town, but you can easily get everywhere via a pedestrian bridge from here. It will also be easier to park here.
If you rather stay in the Old Town, take a look at NARUTIS Hotel. It's a great choice in the heart of the city and within short walking distance to everything. They also have free parking and an indoor pool. And, of course, there are many other options all over the city center, for all budgets.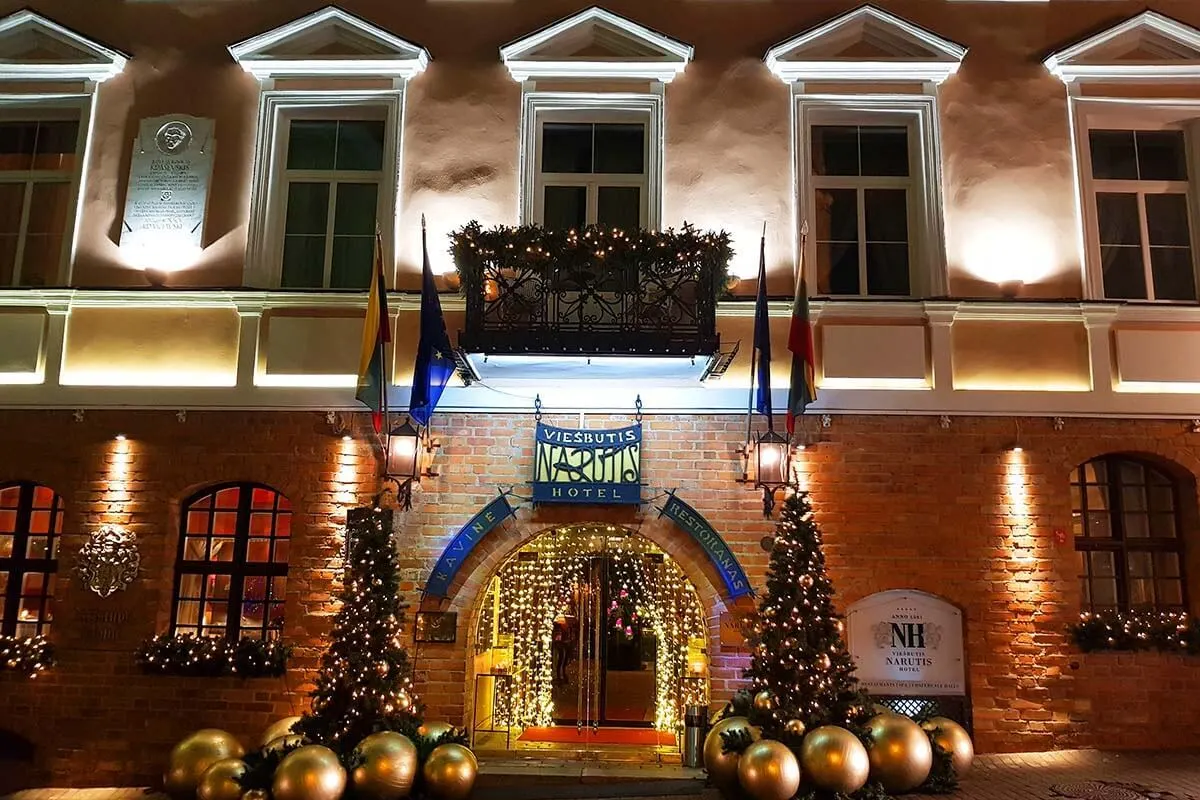 If you have a few more days in the Baltics…
Even though this itinerary is already packed with things to do in the Baltics, you can easily spend more time in the region – there are so many other nice places to see. If you have a few extra days, you can distribute them between the countries however you wish, and here are some additional suggestions:
In Estonia, consider visiting Pärnu, a relaxed beachside town, or head to Lahemaa National Park to go hiking for a day.
In Latvia, you could visit the seaside in Jurmala or go on a day trip to Rundale Palace.
In Lithuania, you could stay longer on the Curonian Spit, add a day in Kaunas, and also an extra day in Vilnius.
Map of this Baltic States Itinerary
To help you plan your trip to the Baltics, we created a map indicating all the main places that we recommend visiting in Estonia, Latvia, and Lithuania. This map is just an overview and doesn't contain all the details, but it will give you a better idea of where everything is and how you could adjust this itinerary if you have less or more time.
You can click on the picture below and see this map on Google Maps. The entire Baltic States road trip – as it is suggested in our itinerary and shown on the map – is about 1500 km over 14 days.
Some Practical Info for Planning Your Trip
Best time to visit
The best time to visit the Baltics is in the summer. The weather is generally very nice, the days are long, and there are lots of events and celebrations. As a downside, it's much busier in June, July, and August than the rest of the year and accommodation prices at the popular vacation destinations soar. For the best experience and fewer crowds, plan a trip to the Baltic states in May or in September.
The Baltics in the winter
If you want to avoid the crowds altogether, you can also travel to the Baltics in autumn or in winter. In some of the stops on this itinerary, you will barely see other travelers at all, and with a bit of luck, you'll experience snow. However, if you are planning a self-drive Baltics road trip, don't visit in winter if you are not used to driving in winter conditions.
If you are planning a trip in winter, then consider visiting in December. Vilnius, Riga, and Tallinn host wonderful Christmas markets! So if you visit in the winter, you'll enjoy a great Christmas atmosphere and much fewer people than at the most famous Christmas markets in Western Europe… Here you can read more about the Christmas Market in Vilnius, Lithuania – they have the most original Christmas Trees every year.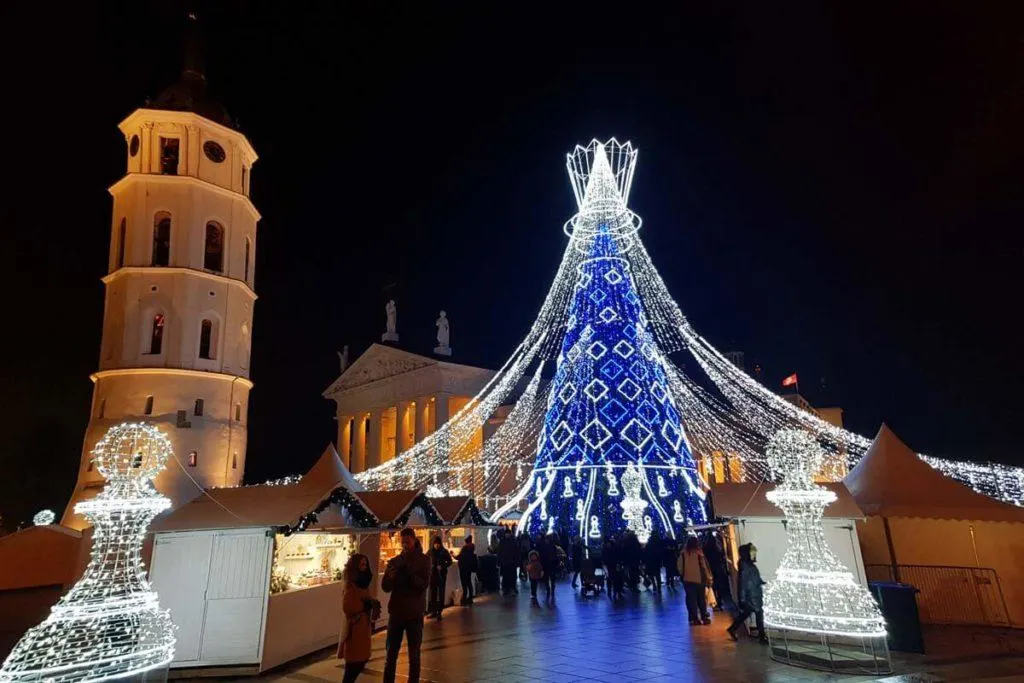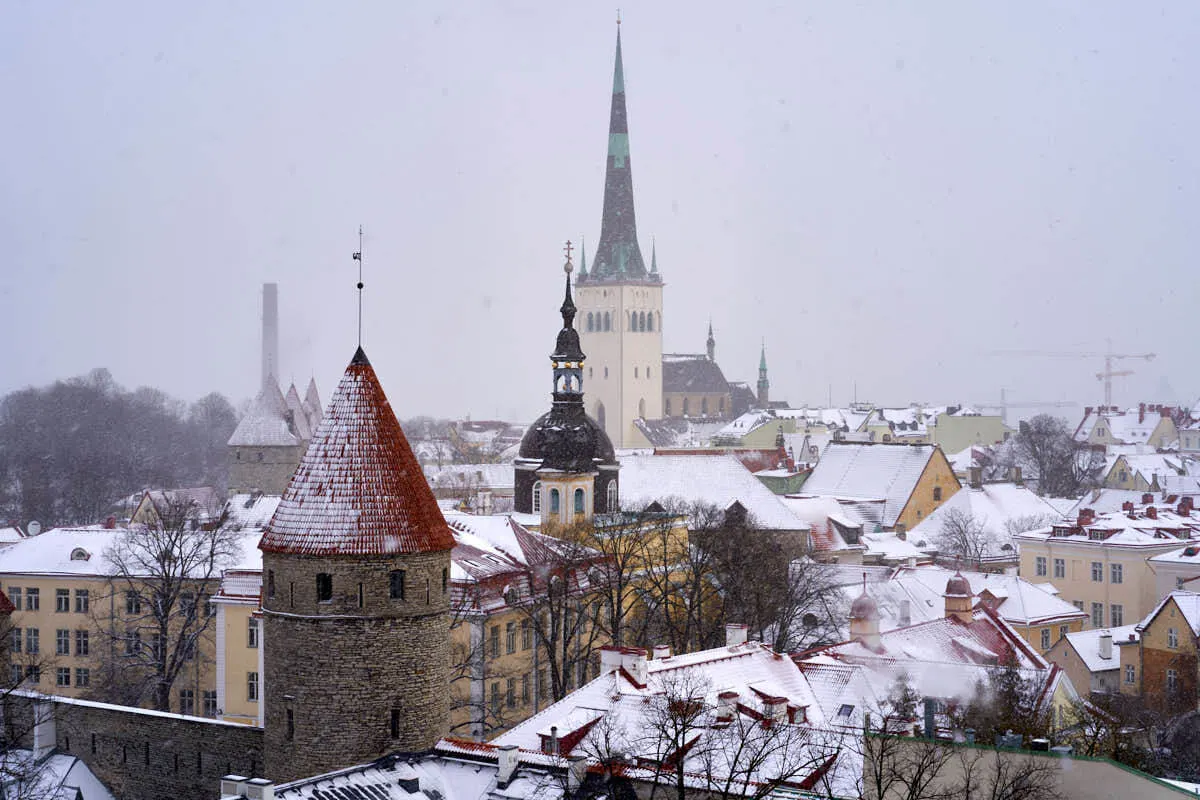 Renting a car vs. public transport
You can easily visit the Baltic states by car. The roads and infrastructure are good and comparable to any other EU country. Traffic can get very busy around the biggest cities and at the seaside on summer weekends, but apart from that, driving in the Baltics is quite relaxed. Just be sure to follow speed limits and other traffic rules since police controls are frequent.
If you prefer not to drive, you can also visit all three Baltic countries by public transport. There are good bus connections between all major cities, so if you are mostly interested in visiting the main towns, you can easily do that without a car as well. That being said, if you want to explore the Baltics a bit deeper, it's definitely better to rent a car.
Is it safe to travel to the Baltics?
Yes, traveling in the Baltics is safe and very comparable to the rest of the EU. In fact, you'll likely feel safer walking around Vilnius or Riga at night than you would in London, Paris, or Brussels… Just as everywhere, use common sense, but in general, there's nothing to worry about. If you are traveling to the Baltics in winter, you may encounter ice on the roads and on the pavements, so be careful.
Which is the best Baltic state to visit?
It's hard to compare three countries of the Baltics and say that one or the other is better. They are all different and each is worth a visit, and if you follow this itinerary, you can get a taste of all three countries and decide for yourself. That being said, if you have the time to visit just one country, then go to Lithuania. It has everything – nice towns with a great atmosphere, interesting museums and lots of cultural events, stunning nature, friendly people, and delicious Lithuanian food. And yes, I'm biased since Lithuania is my home country, but I haven't met one single person who didn't love it!
READ ALSO: Best places to see in Lithuania
So, this is our suggested Baltics itinerary for two weeks. We hope that this inspired you to visit this beautiful and still very little-discovered region in Eastern Europe. Have a great trip!
If you found this post useful, don't forget to bookmark it and share it with your friends. Are you on Pinterest? Pin these images!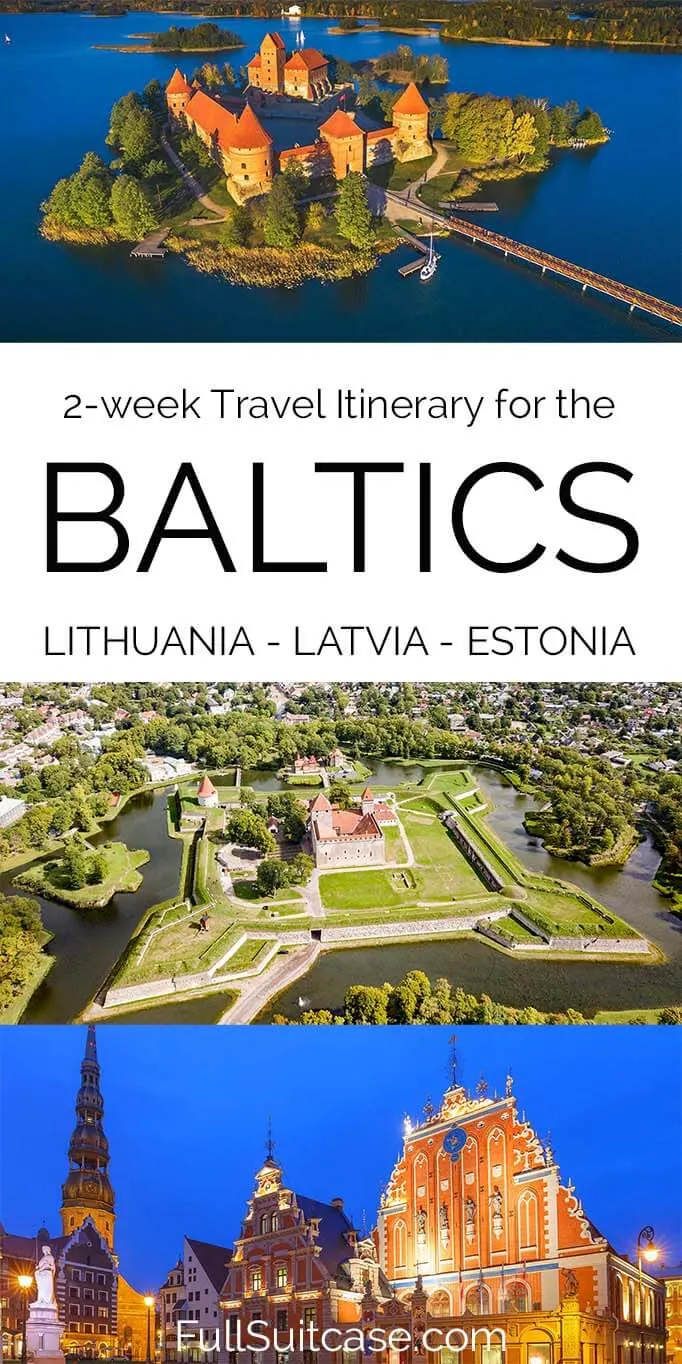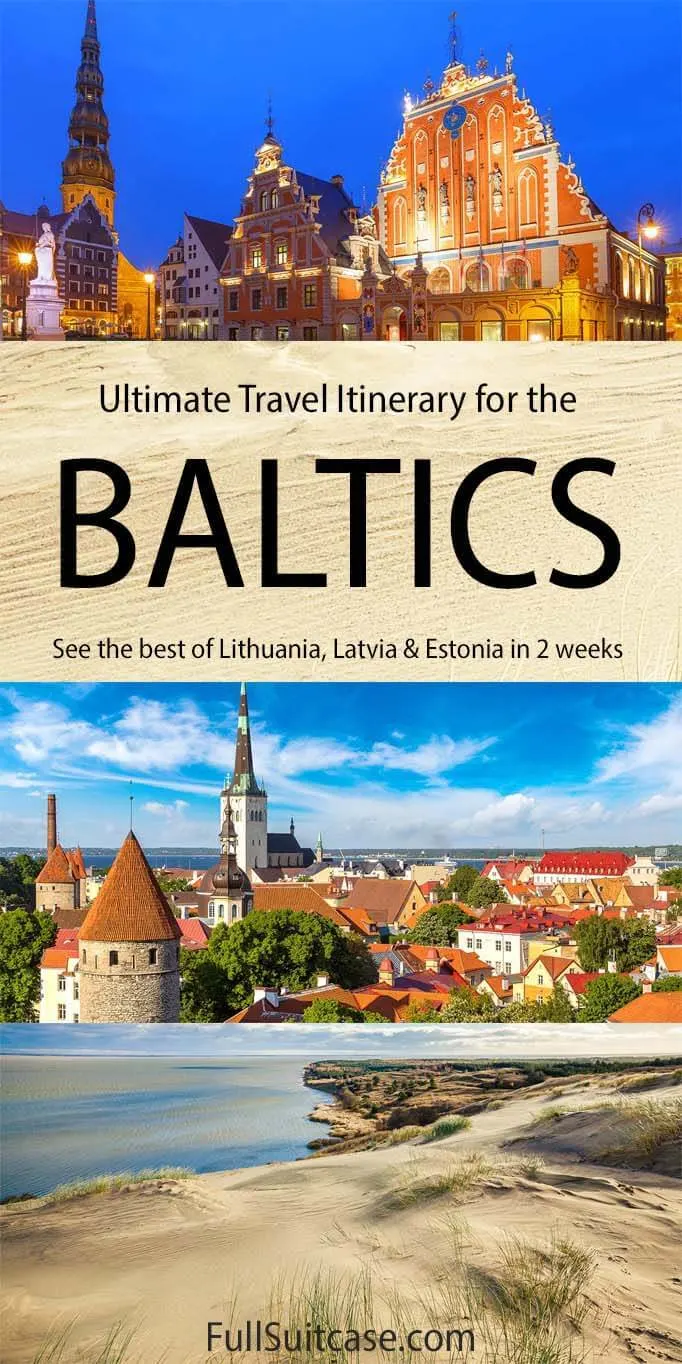 Image credits: personal collection, Toptravelsights.com, raigvi/Shutterstock.com, Wide Wings/Shutterstock.com, Chamille White/Shutterstock.com, and Depositphotos.com.