Are you looking for a somewhat lesser-known European Christmas market that's not overrun by huge crowds and wondering where to go? Or maybe you've already decided to visit the Vilnius Christmas market and are wondering what to expect and how it is to visit Lithuania in December? This article should answer all your questions and, hopefully, also inspire you to visit. Find out!
This guide should give you a good idea of what to expect when visiting Vilnius Christmas market. You can also find some practical information and pictures that will give you an even better idea of what Vilnius Christmas market is like. I've also included some additional tips for your visit to Vilnius in December.
Lithuania is my home country, but I have lived abroad for so many years that I sometimes feel like a tourist when I visit… This gives me a unique opportunity to write about it as a tourist, but at the same time, offer you some local insights and insider tips. I hope that this guide/ review will help you enjoy the Vilnius Christmas market even more. Read on!
* Disclaimer – prices and opening hours are correct at the time of writing, and are only meant for your reference.
READ ALSO: Best Lesser-Known Christmas Markets in Europe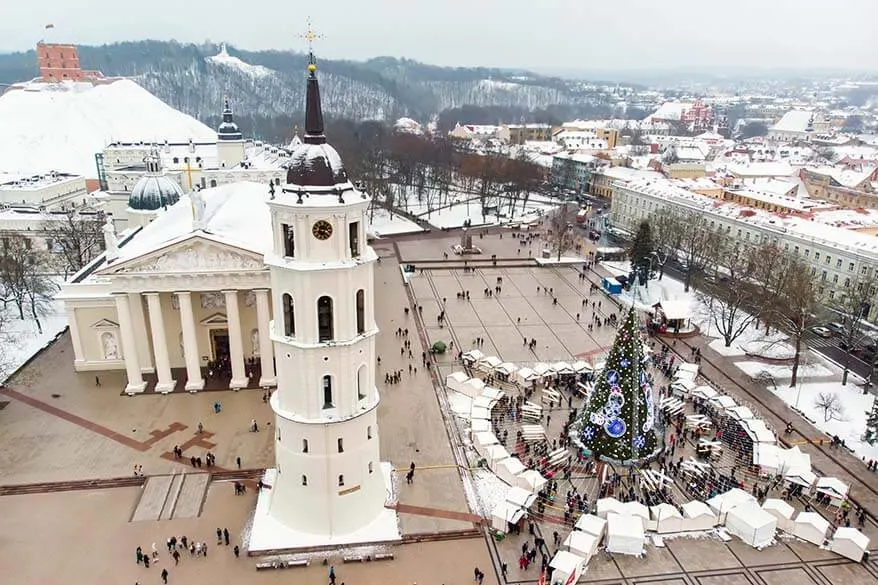 When is Vilnius Christmas Market Open
Vilnius Christmas market is normally open from the last weekend of November/first weekend of December until the first weekend of January.
This winter, the Vilnius Christmas Market will be open from December 1, 2023, to January 1, 2024. This is still not officially announced at the time of the last update to this article, but the city website in Lithuanian says that the market is 'planned' for those dates.
Vilnius Christmas Train runs during the entire duration of the Christmas market.
The ice skating rink in Vilnius is usually open the entire winter, from the beginning of December to the beginning of March. So if you're looking for something fun to do in Vilnius in winter, don't miss it! Especially if you're visiting with kids.
It's good to know that there are quite some other winter events in Vilnius, in addition to the Christmas market. Most of them also happen in the same period – in December and through the first week of January. For example, the annual Vilnius Christmas Run always takes place on a Sunday, in mid-December, and a 3D Christmas fairy tale/ light show is scheduled between Christmas and New Year.
There are many more events in Vilnius in winter; too many to list here, but they are usually advertised throughout the city, or you can check the winter event calendar here (the info should be available shortly before the Christmas market opens).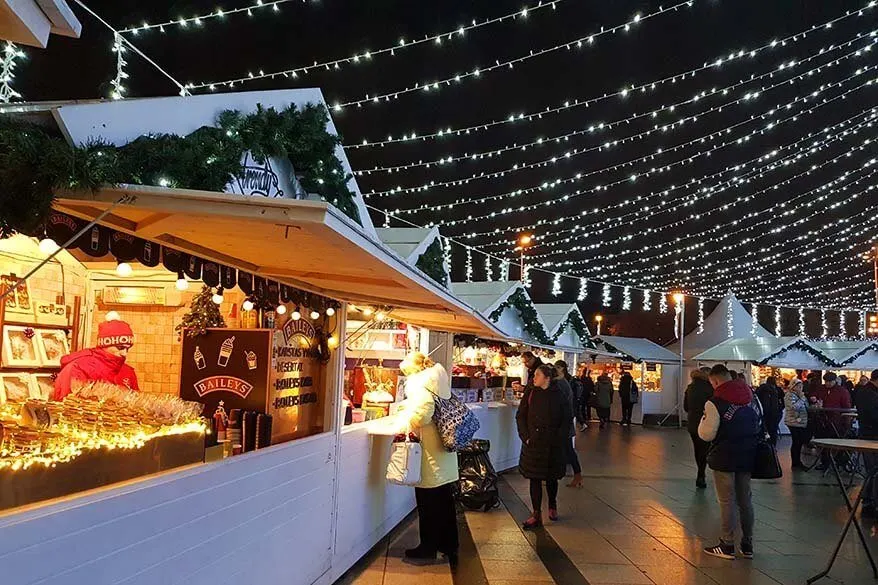 Where Does the Vilnius Christmas Market Take Place?
The Christmas market in Vilnius is not really big and is spread out over several smaller cozy areas in the city center. It is set on two main squares in the old town – the Cathedral Square (Katedros aikštė) and the Town Hall Square (Rotušės aikštė ).
There are also some market stalls on Vincas Kudirka Square (Vinco Kudirkos aikštė), along the main shopping street in Vilnius, Gediminas Avenue (Gedimino prospektas).
The Vilnius ice skating rink is located on Lukiškės Square (Lukiškių aikštė), which is also located along the main shopping street, Gediminas Av., just a bit further west.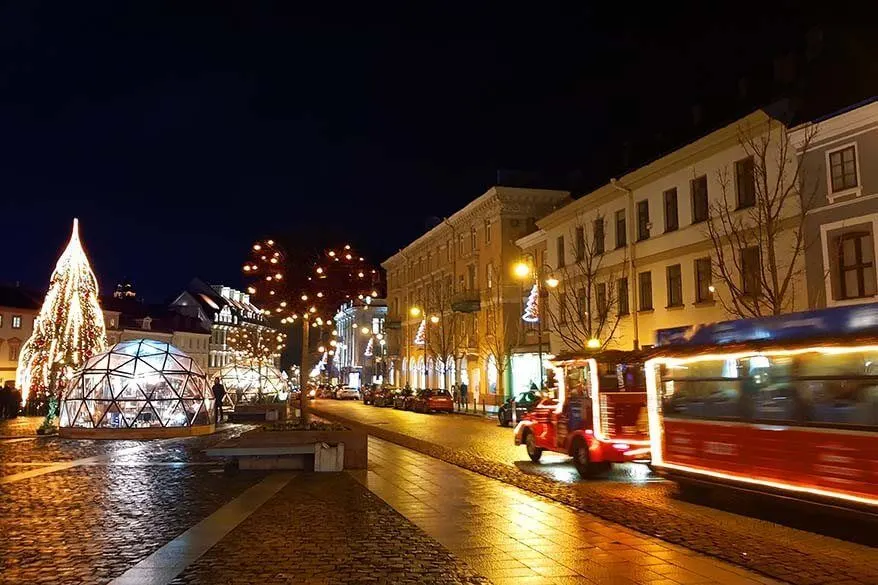 Vilnius Christmas Market – What to Expect
Christmas market tradition is rather new in Lithuania. When I was little, Lithuania had no Christmas markets like the ones in Western Europe… However, it's becoming more and more popular and Vilnius has been holding Christmas markets for quite a few years now.
That being said, the Vilnius Christmas market can't really be compared to those in the bigger cities in Germany, Austria, or Belgium… And that's a good thing! It's smaller and cozier and you can still find a true Christmas spirit here. That's why I like it so much and I truly hope it remains this way.
You can expect to find similar market stalls just like other European Christmas markets, just not as many. You will find mulled wine, local delicacies, crafts, and other products typically sold at the Christmas markets.
What you won't find are the crowds of thousands of tourists brushing shoulders trying to make their way through the market. Instead, it's a nice mix of tourists and local families enjoying the cozy winter atmosphere without having to worry about pickpockets or losing your kids in the crowd.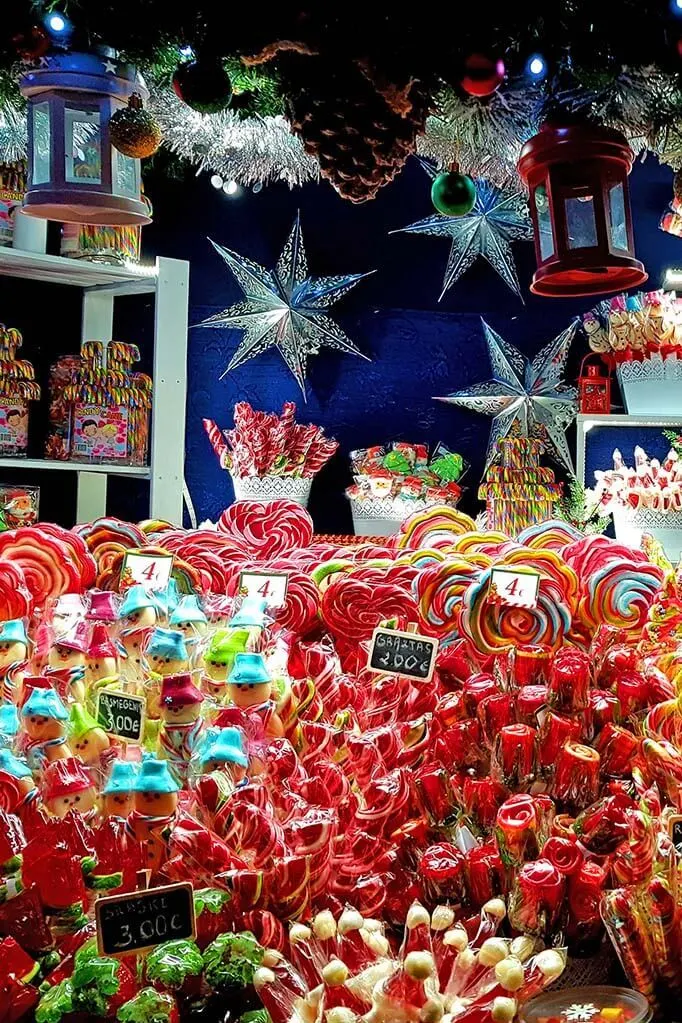 Usually, the market stalls on Cathedral Square are more traditional-type, i.e. wooden chalets. Whereas, the Christmas market at the Town Hall is more modern. There are no traditional market stalls here; instead, you'll find glass igloos, each with a different theme. Some igloos serve as small cafes, while some others sell crafts and presents… However, this changes every year.
Vilnius city center is quite walkable and you can visit all the places where the Christmas markets are being held on foot. If you don't want to walk, however, you can also hop on the Vilnius Christmas train that runs through the old town every holiday season. This little train is a must-do if you are visiting Vilnius Christmas markets with kids!
Every year, there is a Nativity scene on Cathedral Square. This year, it was quite special with camels, a bison, and some sheep. Fun to see, but quite an unusual choice for Lithuania.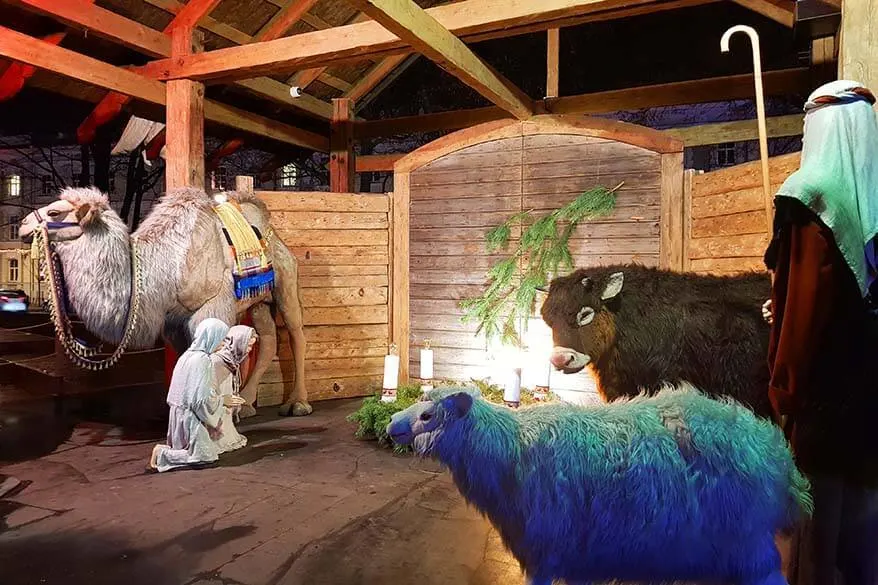 As already mentioned, there is usually an ice skating rink on Lukiškės Square. There is also a fountain on the same square that's often lit/decorated for the holiday season. It's always an incredible creation of water, light, and glass.
In addition to the market areas, the whole city center is nicely decorated for the holidays. Many shops, restaurants, hotels, and most streets in the old town have Christmas lights and decorations.
Don't miss the Presidential Palace – it's always beautifully lit during the holiday season. This year, there is also a big linkėjimai – greetings sign in front of the palace.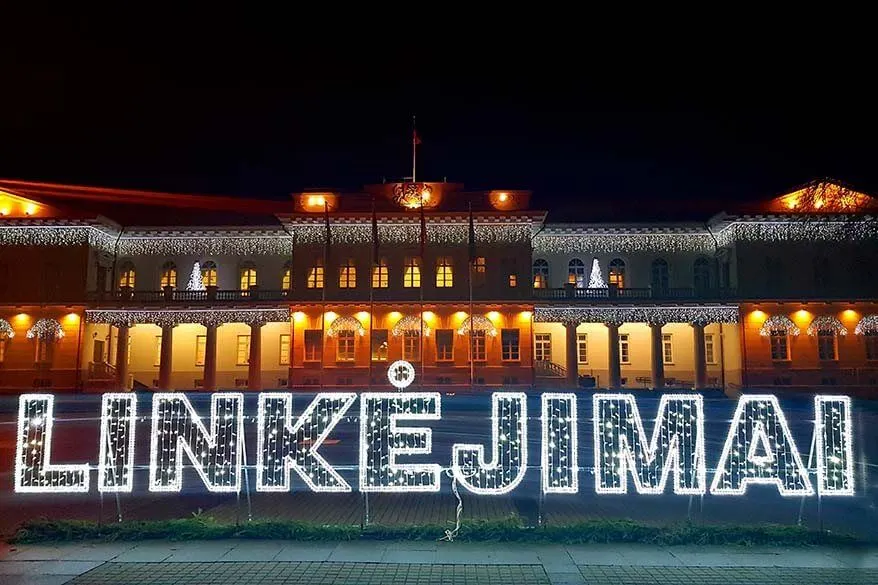 Vilnius Christmas Tree
Vilnius Christmas trees deserve a separate mention. Every year again they are very special and unique.
There are usually two big Christmas trees in Vilnius. If you're looking for a more traditional Christmas tree, you'll find it on Town Hall Square. Whereas the main, biggest, most impressive, and most creative Vilnius Christmas tree can be found on Cathedral Square.
Below you can see some pictures of Vilnius Christmas trees from past years – some from the Town Hall Square and others – from Cathedral Square. As you can see, no two trees are the same or even similar to each other. One thing is guaranteed every year – Vilnius Christmas tree will definitely surprise you.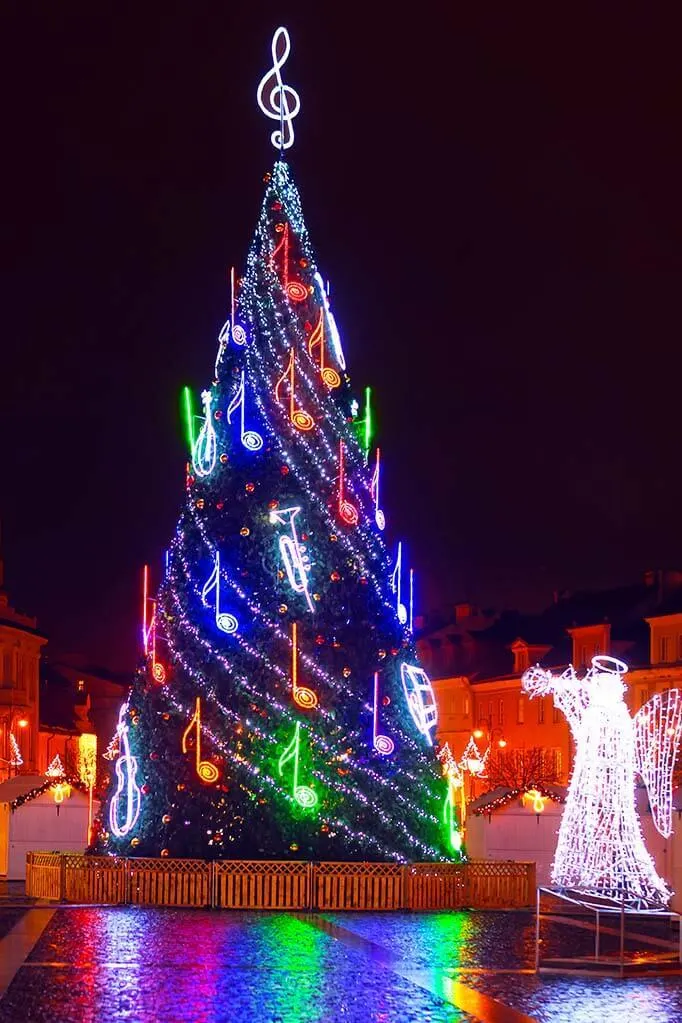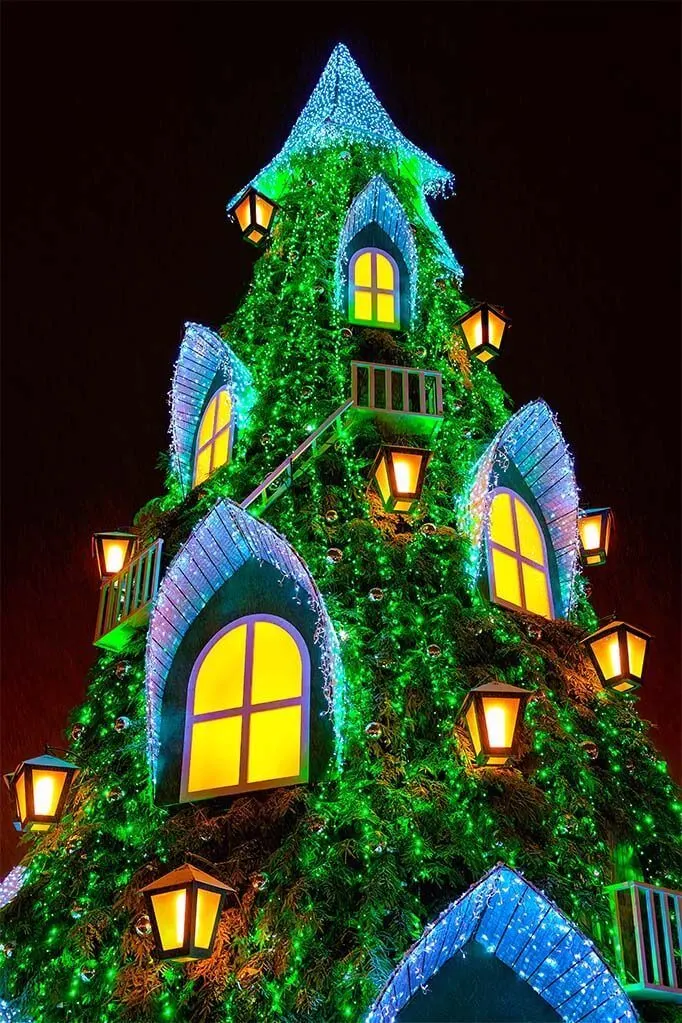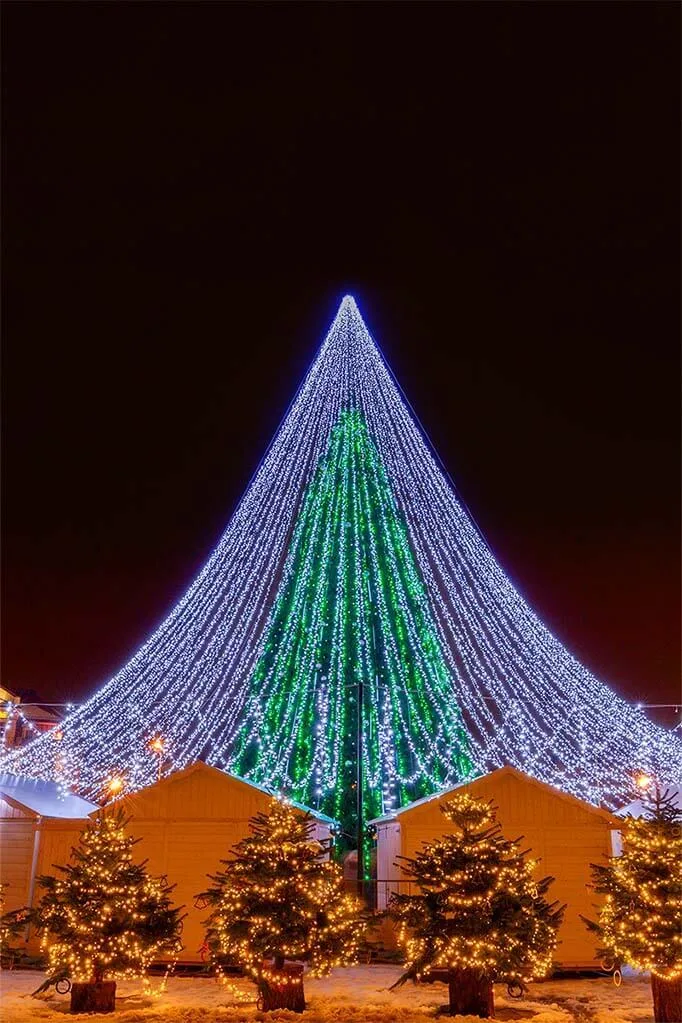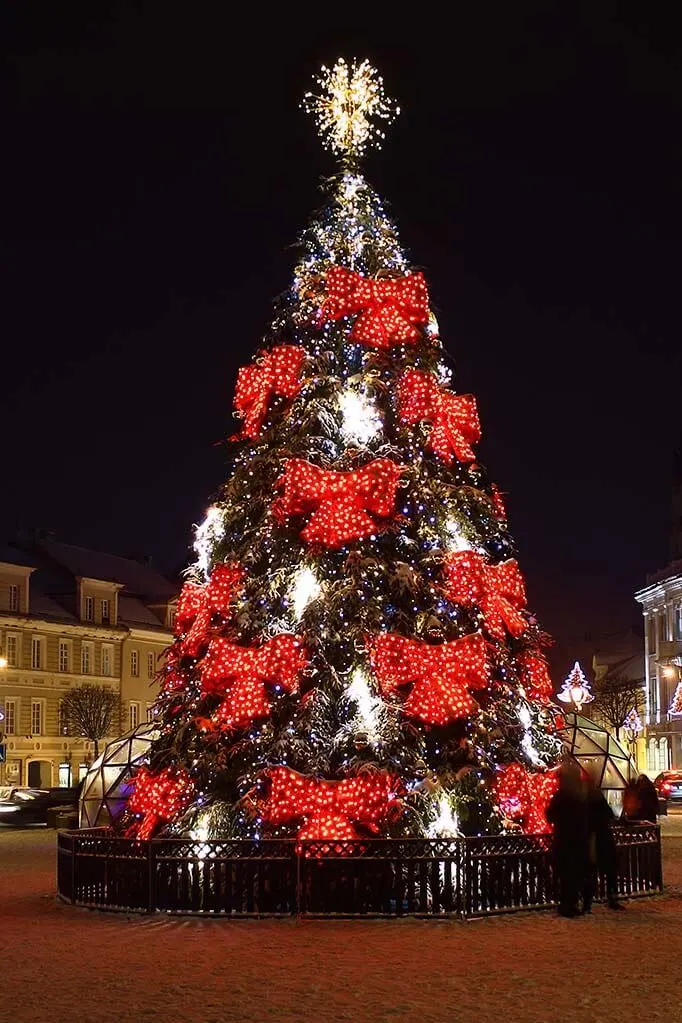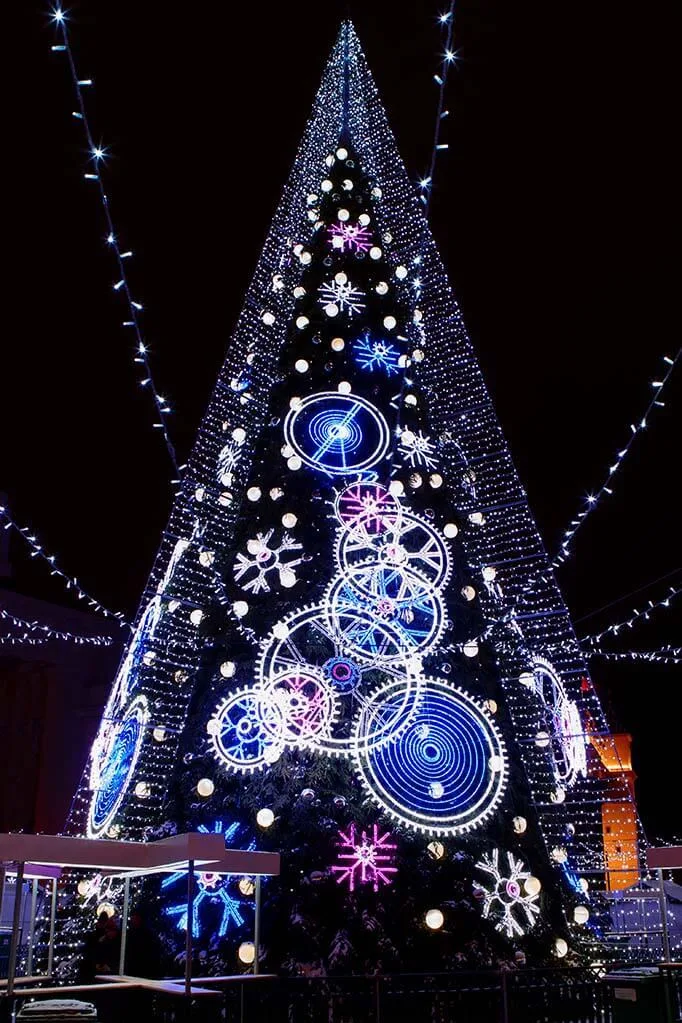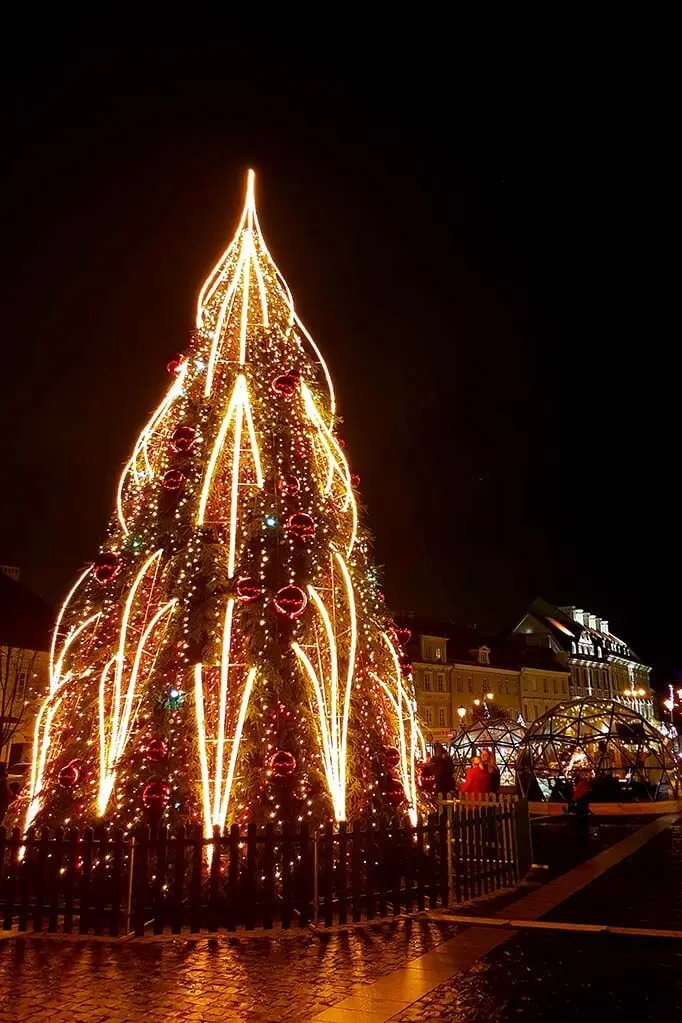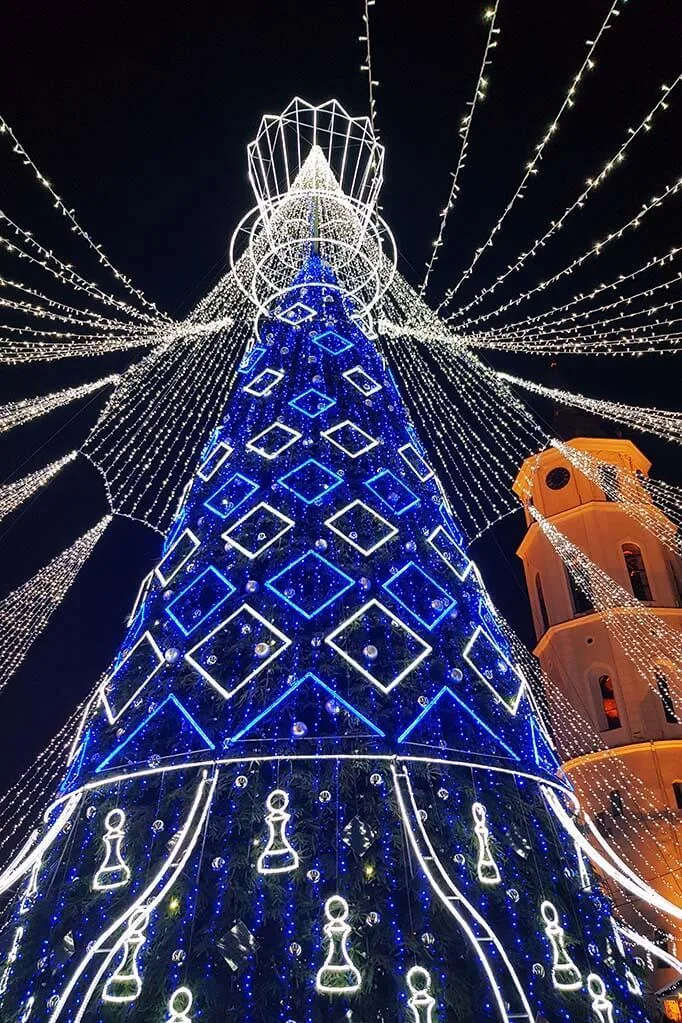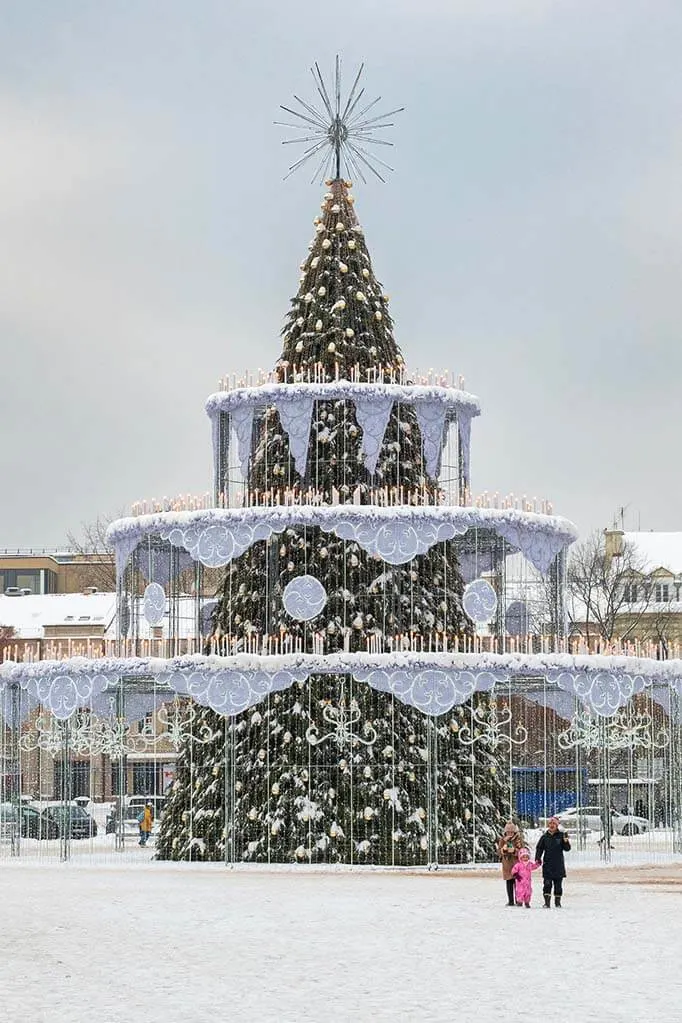 Vilnius Christmas Train
A small decorated Vilnius Christmas train has become a yearly tradition. It runs in the old town, between Cathedral Square and Town Hall Square, passing the picturesque Pilies street.
There are just two stops – the two main Christmas market locations – and you can get on and off the train at both of them.
At the moment, this little tourist train runs during the entire duration of the Vilnius Christmas market. It runs daily from approx. noon to 8 – 9 PM, depending on which day of the week it is. There are departures every 40 minutes.
You can get tickets from the driver and, at the moment, they cost 2 EUR (and the ride is free for kids under 3).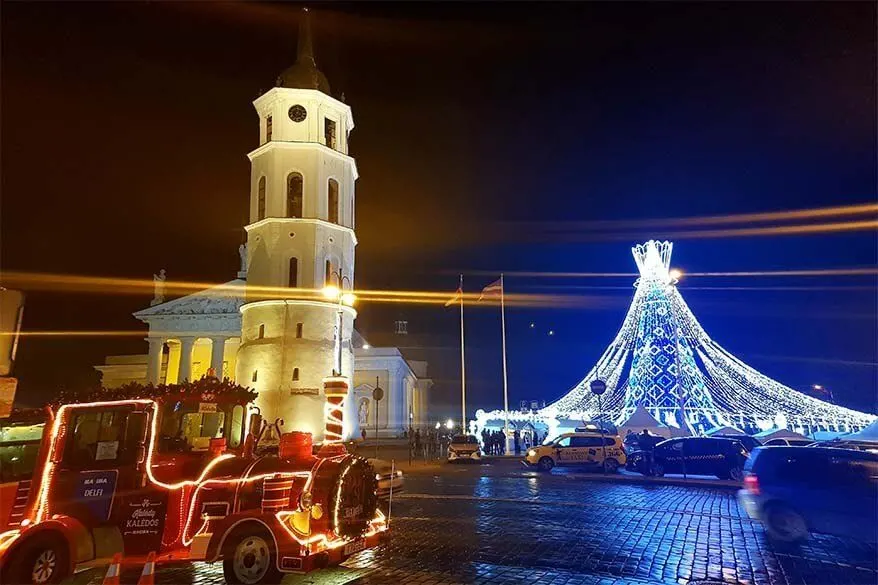 Is Vilnius Christmas Market Expensive?
While prices in Lithuania, in general, are quite a bit lower than those in Western Europe, I found that food and drink prices at the Vilnius Christmas market are quite comparable to those at the Belgian Christmas markets. Expect to pay 2-3 EUR for a warm non-alcoholic drink and 3,5-5 EUR for mulled wine or a warm snack.
Where you'll notice the biggest difference is in the pricing of crafts and souvenirs, and mostly – attractions. For example, ice skating (skate rental included) costs just 3 EUR; Vilnius Christmas train – just 2 EUR.
Good to know: If you visit Vilnius in winter, you'll find that prices for hotels are really affordable. A 2-person room with breakfast at a really nice 5-star hotel will cost you 100-200 EUR per night, 4-star hotel 60-100 EUR, and a 3-star hotel from around 40 EUR… You can find our suggestions for the best hotels to stay in further below.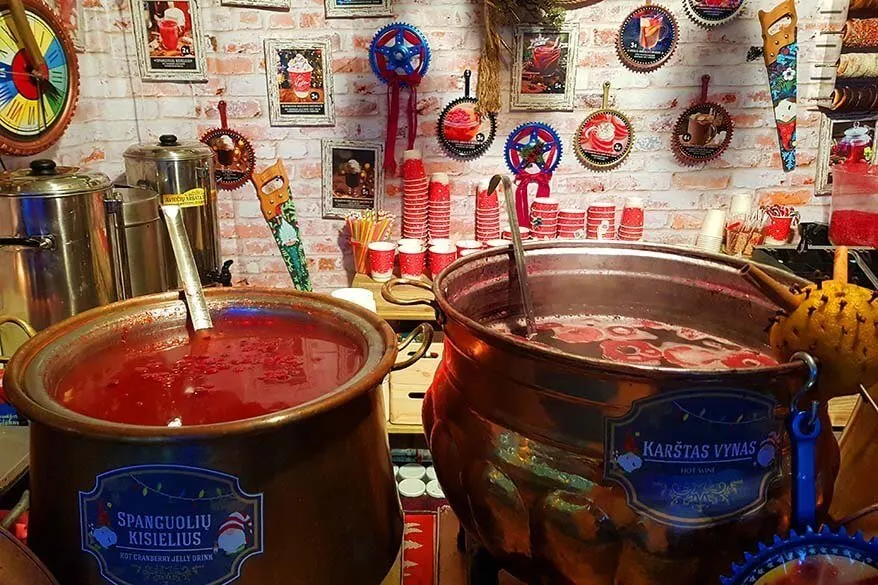 Is Vilnius Christmas Market Worth It?
As mentioned, Vilnius Christmas market is quite small, so if you decide to visit Vilnius in December just for its Christmas market, you'll probably be disappointed. However, there is so much more to see and do in and around Vilnius that the Christmas market is just the cherry on the cake.
If the weather is good, you can explore the city on foot, go ice skating (or even skiing – in Liepkalnis, just on the outskirts of Vilnius). If it's colder, you can visit museums, go shopping, or just hang around at one of the many cozy cafes or restaurants…
The Christmas market itself is probably nicest in the evening when all the lights make it looks really magical. It gets dark quite early (at around 4-4.30 PM in December), so the evenings are long, and going to a Christmas market is a nice way to fill them.
If you are looking for a really nice European city break in winter, a place that has a lot to offer, but is not yet overrun by tourists, then you'll love Vilnius in winter. Good thing is that Vilnius is still much more affordable than most other European capital cities, so you can truly enjoy your visit without having to break the bank.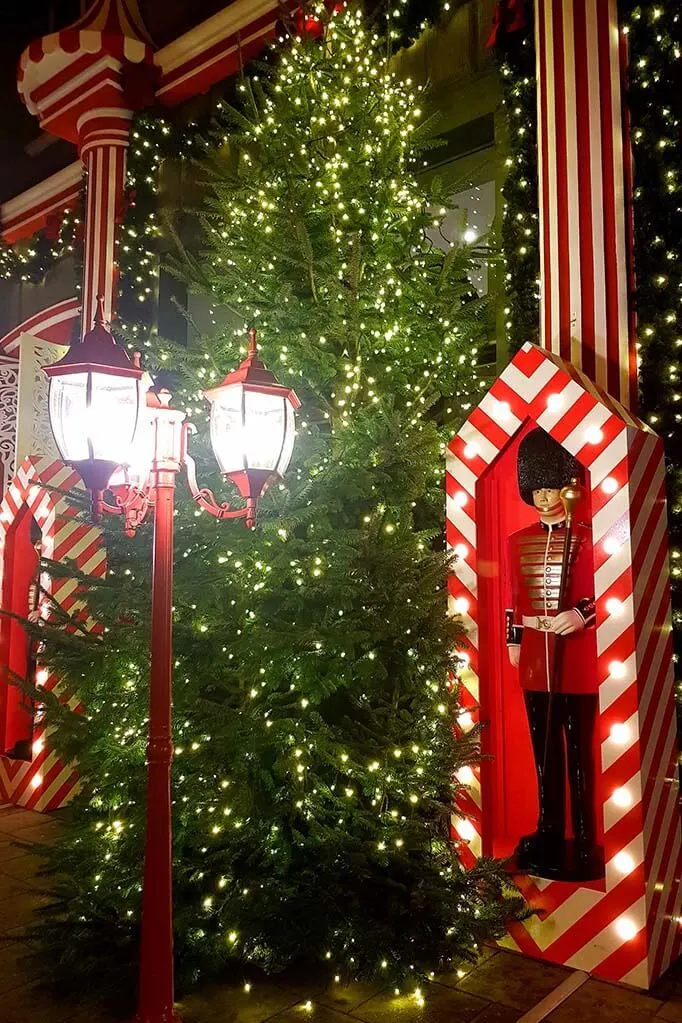 What is the Weather Like in Vilnius in December
In the past, Lithuania used to have really cold winters, but it's not the case anymore. Weather in Vilnius in December is nowadays quite mild, most likely you'll experience temperatures between -5°C and 10°C (23-50 F).
Vilnius does get snow in December, but there is more chance you'll get rain rather than snow. If you're lucky, you might experience a white Christmas in Lithuania, but you can't count on that anymore…
Also, don't let the temperatures scare you. 0°C in Vilnius feels warmer than 5°C in Belgium. I have no idea why; maybe because of humidity…
Good to know: While located quite far up North, Lithuania has plenty of daylight in winter. In December, it's light from around 8-8.30 AM till 4-4.30 PM. The shortest days around Christmas still have more than 7 hours of daylight.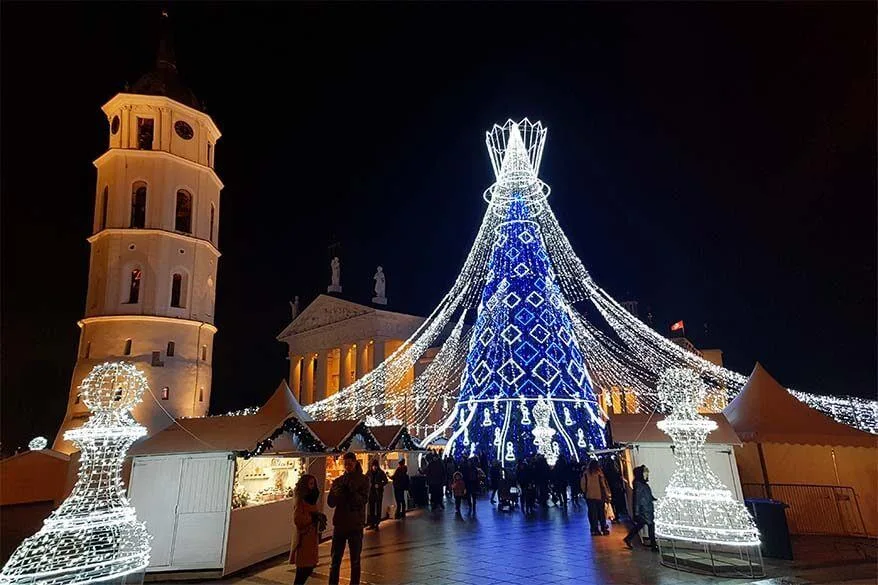 Tips for Visiting Vilnius in December
Dress warmly. A winter jacket, warm socks, warm shoes, gloves, a hat, and a shawl are a must.
Stay in the city center. There are many really good hotels in Vilnius city center and, in winter, they're a bargain. Staying in the old town means that you can walk everywhere and experience the great Christmas atmosphere every time you leave your hotel. Further below, you can find our recommendations on where exactly to stay in Vilnius.
Bring some cash (Lithuania uses euros). While all the shops and restaurants accept credit cards, you'll need some cash at the Christmas market.
Reserve restaurants for Christmas/ New Year in advance. If you are visiting Vilnius for Christmas or New Year, make sure to reserve a restaurant for dinner in advance. It's not necessary on other days, but I'd definitely make reservations for December 24, 25, and 31.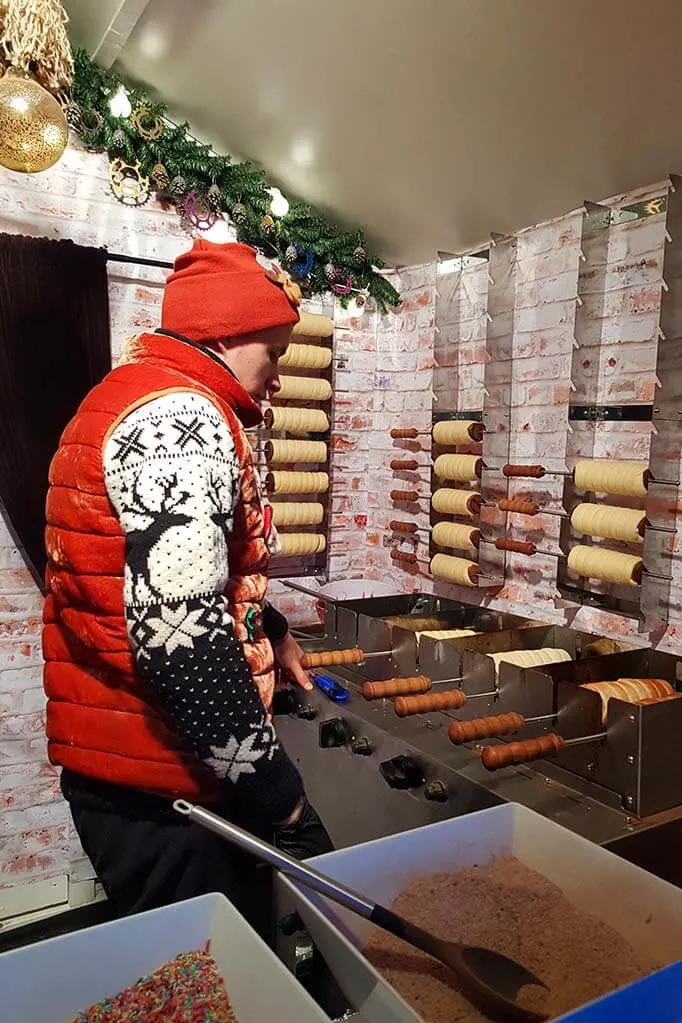 Try some local food and drinks at the Christmas market. While you can get mulled wine and waffles at the Vilnius Christmas market, I recommend that you try some local specialties as well. I love kisielius – it's a non-alcoholic warm jelly drink, usually made of cranberries (spanguolių kisielius). Also, make sure to try šližikai/ kūčiukai – it's a traditional pastry that every Lithuanian eats on Christmas Eve. Another delicacy you'll find at the Vilnius Christmas market is meduoliai – a sort of gingerbread that comes in all shapes and forms.
Try local food at the restaurants. There are many traditional Lithuanian dishes that you won't find anywhere else in the world, but the most famous ones are probably our potato dishes. Traditional Lithuanian food tends to be much cheaper than meat or fish dishes.
If you try just one Lithuanian dish, make it cepelinai, sort of oversized potato dumplings with meat or curd filling. Other favorites include kugelis, bulviniai blynai, vėdarai, and koldūnai.
LEARN MORE: Lithuanian Food
Explore beyond Vilnius. If you have half a day to spare, take a tour to the nearby Trakai castle. if you have an extra day, you can take a train and visit Kaunas – the second largest city in Lithuania. It always competes with Vilnius for the nicest Christmas tree, so definitely worth checking out!
Alternatively, this private tour allows you to see Trakai and Kaunas in one day.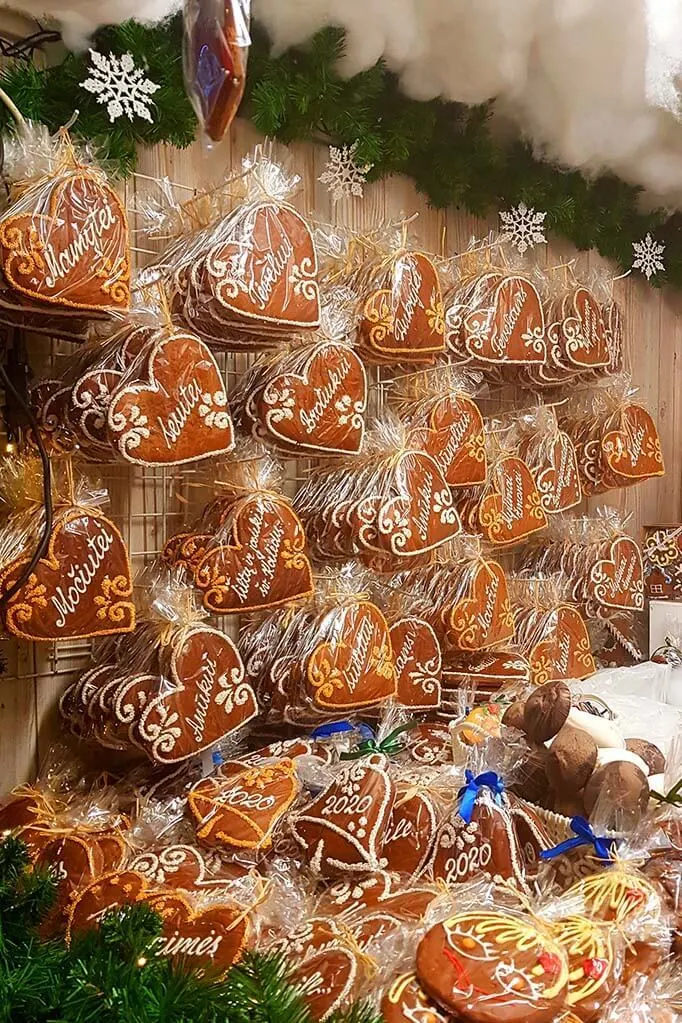 Where to Stay for Visiting Vilnius Christmas Market
There are many hotels in Vilnius center and it's quite easy to find something for every budget. As already mentioned, hotels in Vilnius in winter are really cheap.
There are also many privately-rented apartments and also AirBnb's available in Vilnius, but if you ever wanted to stay at a really nice hotel and couldn't justify the cost, this is your chance!
Below are some of the nicest hotels in Vilnius center for every budget. We only feature a few – the ones that have amazing reviews, great location, and excellent price/quality ratio. All of these hotels are well-located for sightseeing and for visiting Vilnius Christmas market.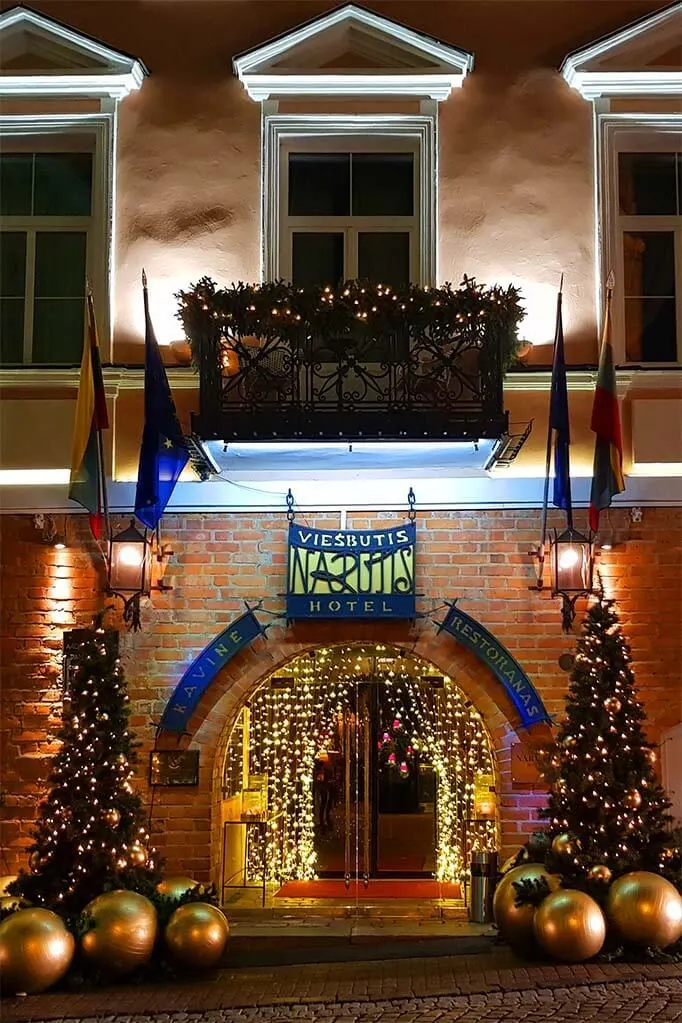 So, this is our guide/review of the Christmas market in Vilnius, Lithuania. I hope that it will give you a better idea of what to expect and inspire you to visit Vilnius in December – January. You'll absolutely love Vilnius!
READ ALSO: Best Things to Do in Lithuania & Baltics Travel Itinerary
If you found this post helpful, don't forget to bookmark it and share it with your friends. Are you on Pinterest? Pin this image!