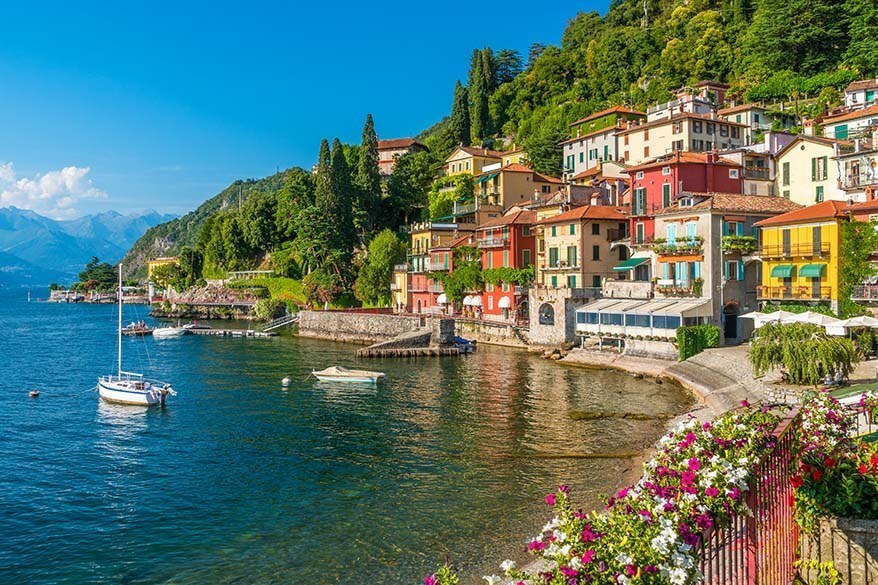 Planning a Lake Como holiday or a short visit, but not sure where to stay in Lake Como area or what the best Lake Como hotels are? To tell you the truth, there is not one straightforward answer. There are several things to consider before you choose which Lake Como town to stay in. And once you choose the town, you still have to pick the best hotel for your holiday.
This guide to Lake Como hotels and accommodations will help you do just that – choose the best place to stay in the Lake Como area.
In this article, you will find a list of the best towns to stay in Lake Como. We also created a map, indicating where each town is located. Also, for every place, we highlight what it is about it that makes it special and why it's (or isn't) a good place to stay at Lake Como.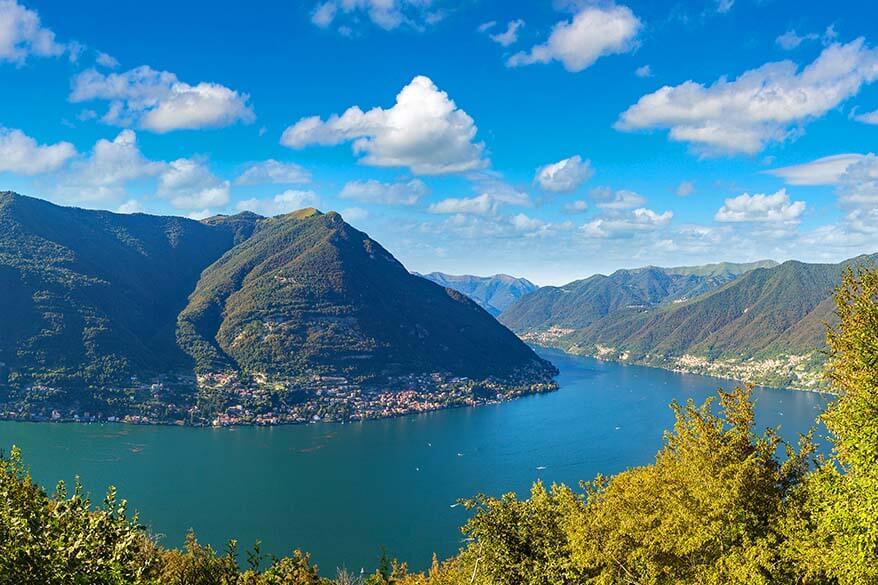 For each Lake Como town, we've listed some of the best highly-rated hotels that are suitable for a variety of budgets. We did extensive research and chose the very best hotels based on their location and customer reviews. No matter if it's a luxury hotel or a budget hostel, we only included those that have excellent customer ratings.
There are so many hotels in Lake Como that the choice can get truly overwhelming. So I sincerely hope that our tips and hand-picked hotel suggestions will make it easier for you to plan your trip to Lake Como.
Good to know: Our selection is solely focused on Lake Como hotels. We did not include any self-catering apartments in this article, because there is simply too much choice and offer changes all the time. If you are looking for self-catering accommodation in Lake Como, I still urge you to read our tips on where to stay in Lake Como. And when you choose the best Lake Como town for your holiday, you can then find a suitable apartment on Booking.com, our favorite website for all vacation accommodation bookings.
Read on!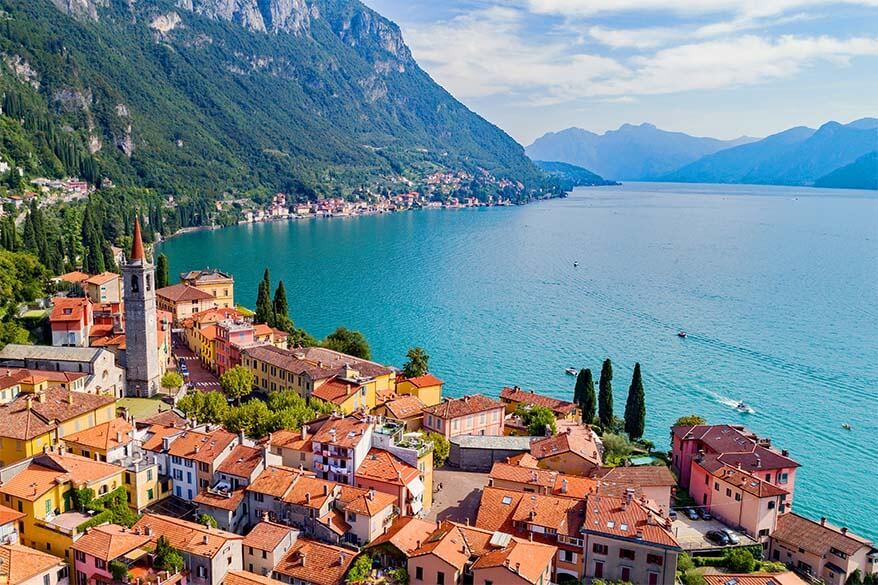 Lake Como Hotels – OVERVIEW
Why Visit Lake Como?
Located in the heart of the Italian Alps, Lake Como is the third largest of the Italian lakes and one of the most sought-after Italian destinations by tourists and locals alike.
It offers some of the most picturesque scenery in the world – a breathtaking and dramatic combination of snow-topped mountains, beautiful Italian architecture, and expansive, sparkling waters.
Along the perimeter of the lake sit quaint villages and bustling towns, each with their own unique beauty and charm. From the city of Como, filled with museums and historic attractions, to romantic Varenna with its lakeside 'Lovers' Path', to historic villas with the most beautiful gardens…
Lake Como is a fairytale region with countless incredible sights and experiences just waiting to be discovered.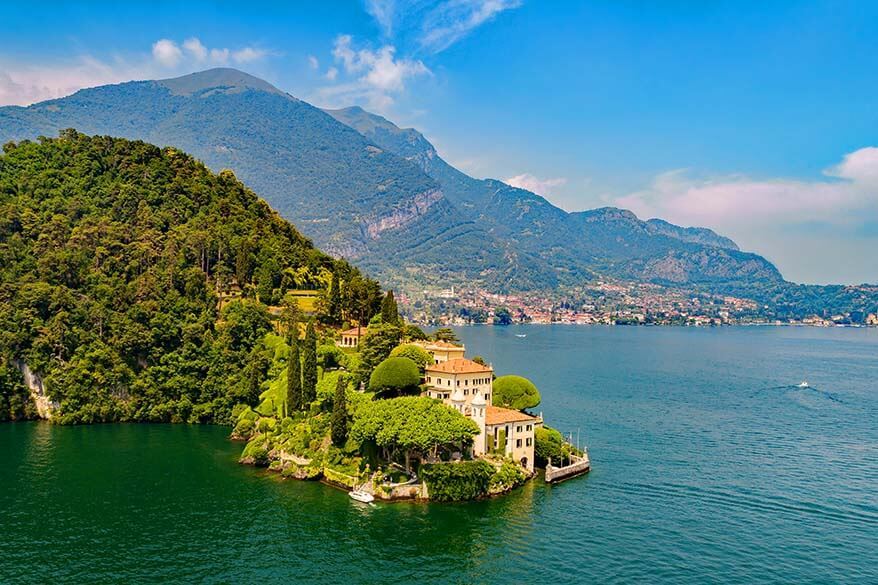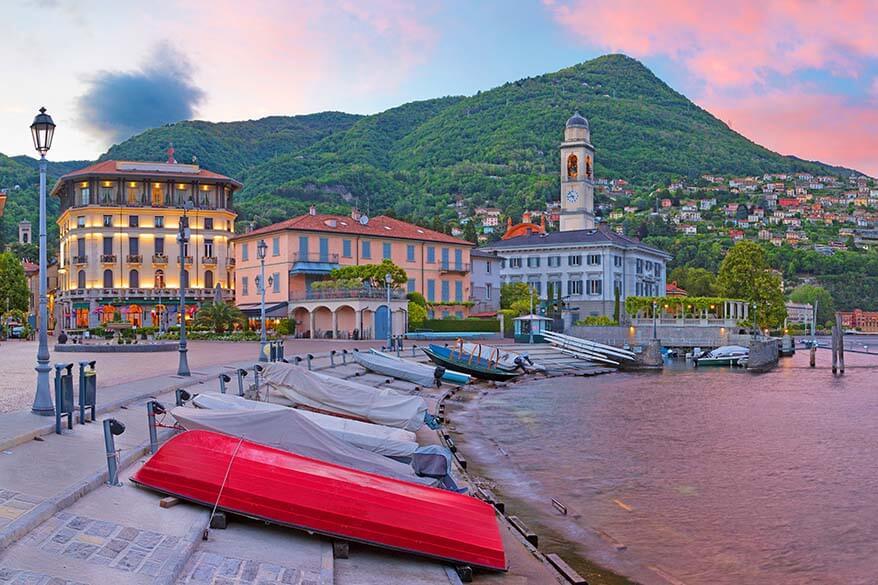 Lake Como with or without a Car?
To drive or not to drive… that's the question.
Driving around Lake Como gives you the flexibility to explore the region deeper, beyond the most popular tourist attractions. However, many roads are very narrow, totally congested in summer, and you have to share them with pedestrians, buses, and delivery trucks…
Furthermore, parking can be a complete nightmare. While most towns have some kind of parking, it is very limited in the smaller villages, and especially in summer.
If you visit in high season, you might be spending more time driving and looking for a parking spot than sightseeing… I honestly think that taking advantage of the many options for public transport will make your visit to Lake Como much more relaxing and enjoyable than driving.
A variety of bus, ferry and hydrofoil services make it easy to explore the entire Lake Como region without a car. And yes, some towns and villages have better transport connections than others, but if you're just visiting the most popular places along Lake Como, you should be able to see most of them just by taking a boat.
That being said, driving is also an option and car ferries make it easy to get from one shore of the lake to the other. In the low season, when there are fewer boats and buses, exploring Lake Como by car is a better option.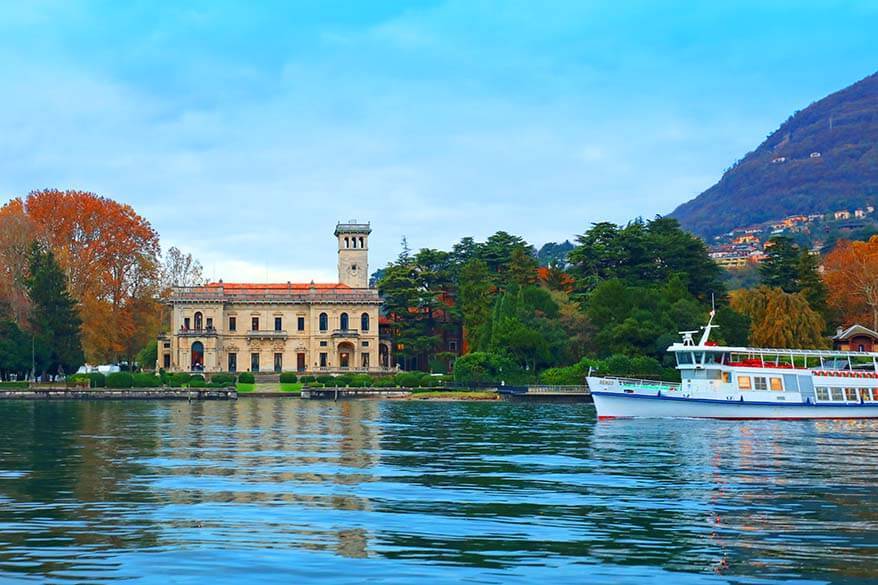 Where to Stay in Lake Como – Things to Consider
Before you start looking for Lake Como hotels, here are some things to consider.
When are you visiting. Many Lake Como hotels close during the low season and are only open between April and October – November. Many restaurants and shops in smaller towns might be closed too. If traveling in low season, it's probably best to just stay in Como town.
How long are you staying in Lake Como. If it's just a short visit, you may want to stay in town with the best transport connections. Whereas if you are at Lake Como for a holiday, you may want to stay in a quieter place by the water and look for a hotel with a swimming pool.
Which places are you planning to visit and how (by car or by boat). If you are planning to do lots of sightseeing by boat, staying in the middle part of the lake (Bellagio, Varenna, Menaggio) will make it easier to commute every day. You may want to take a look at the Lake Como boat map to get a better idea of how Lake Como commute looks like. If you are driving, you may want to stay at different hotels along Lake Como (make sure they have parking!) in order to avoid driving up and down all the time.
Are you driving to Lake Como or are you coming by train? If you are arriving by car, you can stay pretty much anywhere, as long as there is parking. Whereas traveling by train, you probably best stay in one of the towns that have a train station.
Once you figure out the best town to stay in Lake Como, you should also consider hotel facilities. Does the hotel have parking, a swimming pool, or lake views? Is there air conditioning (it's not really standard in Europe, despite the fact that it does get very hot in summer)? Is there a restaurant at the hotel or nearby? This is important if you're staying outside of the main towns where the hotel restaurant might be your only option.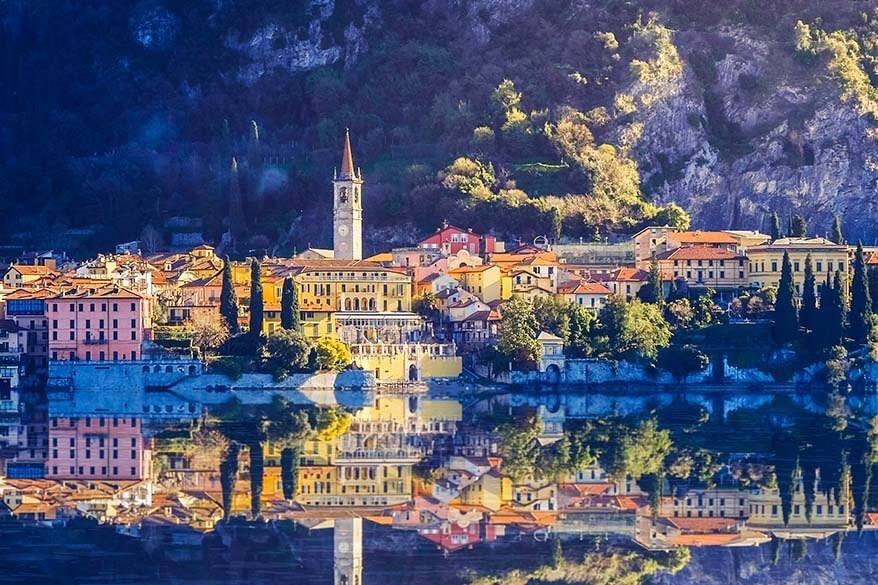 Best Towns to Stay & Best Lake Como Hotels for All Budgets
Now, let's take a look at the best towns to stay in Lake Como and the best Lake Como hotels and accommodation options in each of them.
To make it a bit easier for you, I created this map, indicating where each town is located.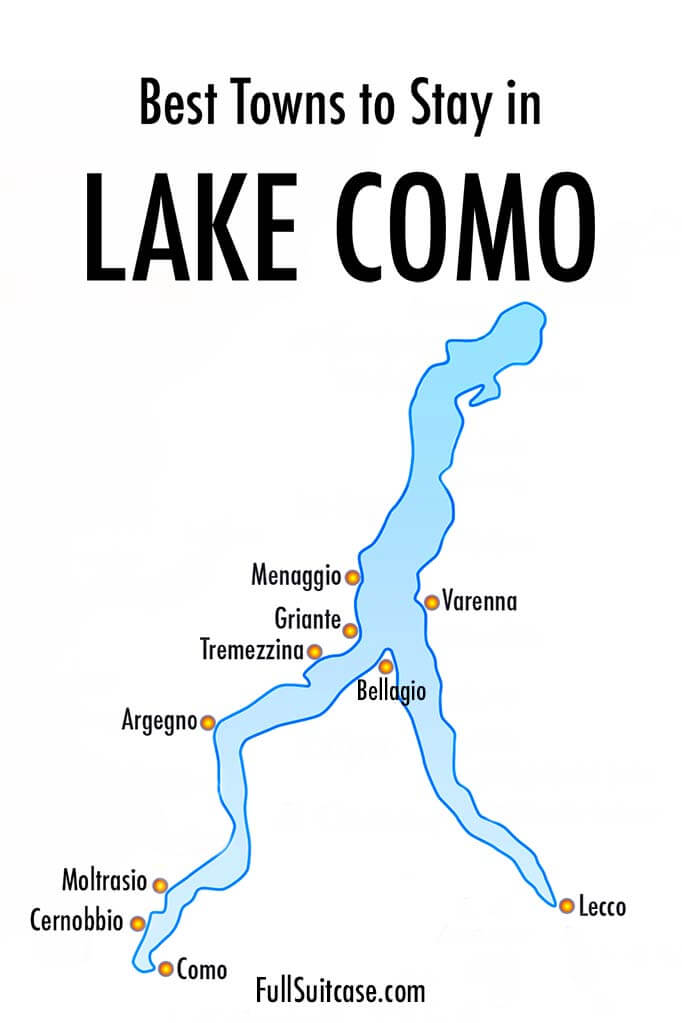 Como
Located at the southern end of Lake Como on the Italian-Swiss border is Como – a vibrant city surrounded by stunning natural beauty. The only destination on the western branch of the lake with a train station, Como is well connected to Milan, which is under an hour away. It is also a hub for ferries and buses, making it an ideal location from which to explore the entire Lake Como area.
Como town truly offers something for everyone! Historic attractions such as the spectacular Cathedral of Como (Duomo) with its Romanesque bell tower and gothic façade, art, museums… You can also go walking in the area, take the Brunate funicular up the mountain, stroll along the picturesque harbor, or hop on a boat and visit other towns and famous villas along the lake…
In addition, there are plenty of dining options throughout Como, from bustling cafes to fine Italian restaurants. The city also boasts a dynamic nightlife, with elegant bars and boutique breweries. And there is also shopping – from local produce and markets to clothing boutiques. Como is also world-famous for its silk and the most famous fashion designers buy their silk here.
Como is a destination in itself, but it's also a good base for exploring Lake Como.
Good to know: Because it's a bigger town, Como is somewhat cheaper to stay in than many of the other towns along Lake Como. It also tends to offer less expensive dining options. So it's a good choice if you're traveling on a budget. Transport connections are good, but the town is located at the far end of the lake, which means that it might take you several hours to get to some of the main sights of Lake Como.
TIP: If you're visiting Lake Como between November and March, Como is probably the best town to stay in. Because it's a bigger town that doesn't depend on tourism as much, life just goes on as usual here in winter as well. It also has a really nice Christmas market!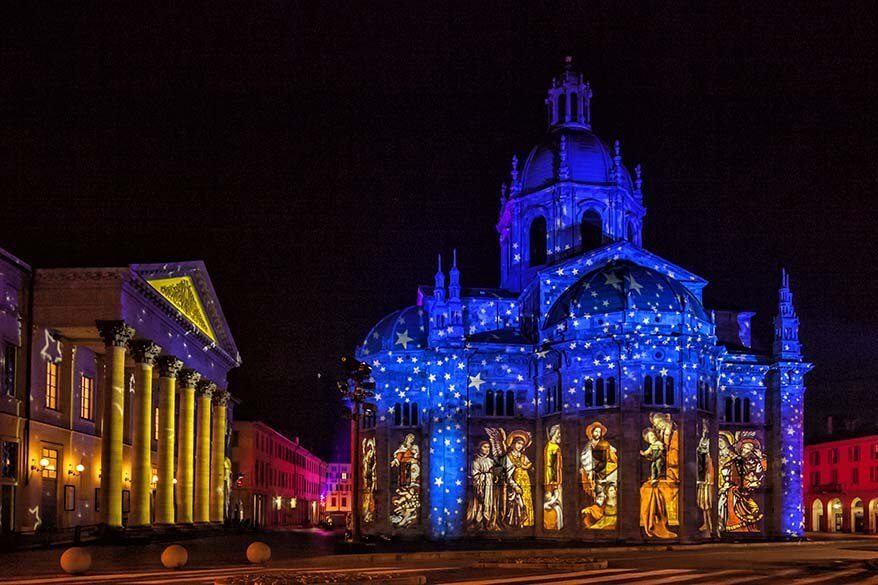 Como Hotels
The following is a list of some of the best-rated hotels in Como. These are the most popular Como hotels with excellent ratings (at least 8+ on Booking.com). We chose the very best options suitable for all budgets, from the most luxury Como hotels to budget hotels and hostels. Take a look!
Hilton Lake Como is a premier hotel for those who are looking for a more luxury holiday at Lake Como. The Hilton is great for families, who particularly enjoy the rooftop infinity pool and large rooms for up to 4 people. This luxury Como hotel is also a great choice for couples who can take advantage of the excellent facilities, including a fitness center, spa and health club with an indoor pool, a Finnish sauna, hot tub, and Turkish bath. Located just a bit outside of the town center, this hotel is within short walking distance to the restaurants, shops, and the harbor for lake excursions.
Hotel Villa Flori is a wonderful 4-star luxury lakeshore hotel beautifully located between Como and Cernobbio, and just near the Tavernola ferry terminal. This is a great choice for those who are looking for a luxury hotel at Lake Como, close enough to everything, but not in the middle of the action. Private parking is available and room rates include breakfast.
Hotel Barchetta Excelsior and Albergo Terminus are both excellent 4-star hotels for those on a higher budget. Great location, beautiful rooms (some with lake views), and rooms for single or double use only make it a great choice for affluent solo travelers or couples.
Hotel Metropole Suisse is probably one of the best places to stay in Como town for those on a mid-range budget. I stayed at this 4-star hotel once and its location simply cannot be beaten. With its beautiful, historic building and stunning lakeside position, this vintage hotel combines breathtaking views with the convenience of a central location and nearby ferry port. There is a variety of rooms and family suites available. There is some parking available, but you have to reserve it in advance.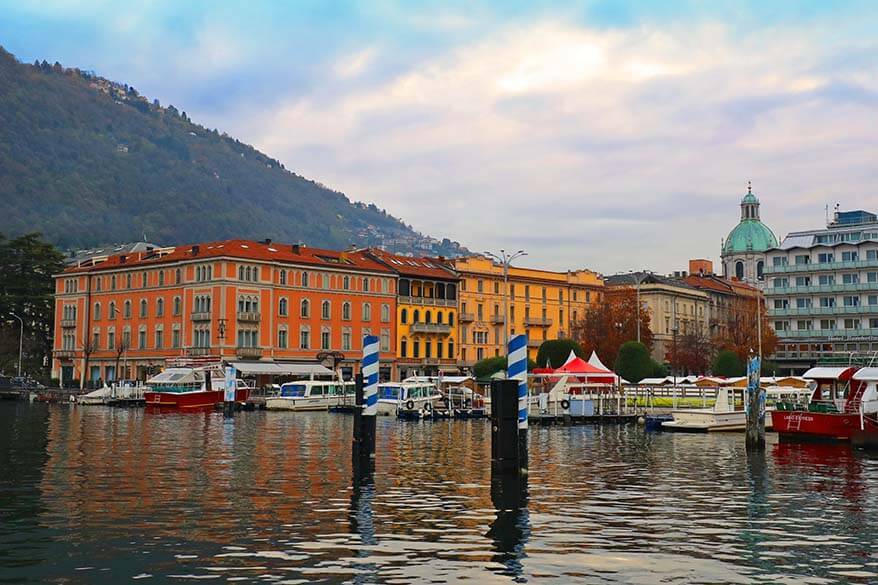 Hotel Como is another good mid-range choice for those who want to combine sightseeing with some relaxing time at the hotel. Featuring large modern rooms for singles, couples, and families for up to 5 people, this 4-star Como hotel also has a rooftop garden with a pool. The views of the surrounding hills are great and it's a quiet oasis in busy Como town.
Avenue Hotel is a beautiful centrally located 4-star hotel that has great rates for the location and the quality provided. It's a great choice for those who want more comfort and luxury without having to break the bank.
Hotel Marco's is a 3-star hotel ideally located right on the lake in a beautiful, historic building, near the Brunate funicular. A typical Italian breakfast is included in your stay at this family-run hotel. The rooms are rather simple, but some have lake views – probably the most affordable lakefront rooms in Como.
Ostello Bello Lake Como is a highly-rated Como hostel/ hotel with an excellent location. Breakfast is included. In addition to the hostel accommodation, it also has double, triple, and quadruple rooms with private bathrooms. Guests are raving about this property, so if you are looking for a really good affordable place to stay in Lake Como, this is a great option.
Hotel Il Loggiato Dei Serviti is an excellent budget hotel in Como with a great location. It's very close to Lake Como and just under a 10-minute walk from the main train station. It's easy to explore the nearby town on foot from the hotel and a good quality breakfast buffet is included in your stay.
TIP: Using the map below, you can compare hotels, B&Bs, and short-term rental accommodations in Como. Simply insert your travel dates and group size, and you'll see the best deals for your stay. You can also zoom out for the other locations around the lake, or read on for our hand-picked selection of the best hotels in other towns around Lake Como.
Cernobbio
Cernobbio offers you the best of both worlds when you visit Lake Como. It is close enough to Como town to enjoy all the attractions that it has to offer. At the same time, Cernobbio is far away enough from the bustle of Como to have a unique charm all of its own. From the beautiful lakeside promenade to its opulent and stunning villas, built by wealthy families and nobles who would spend their holidays in the region.
In general, accommodation prices are somewhat lower in Cernobbio than in Como. Furthermore, this small town has a good boat connection and is also served by Como taxis. So if you miss your ferry or bus back to Cernobbio, you will still be able to get back to your accommodation easily.
There are many paths from the town leading up into the hills, providing unparalleled views of the surroundings. There is also a 4-mile walk that connects Cernobbio to Como city, popular with runners and a great cycle route for the whole family.
The town square beside the lake offers a good mix of cafes and restaurants. Don't miss the bustling market, which takes place in the square every Wednesday. George Clooney's villa is not too far from here and rumor has it that he loves to come here to dine at his favorite restaurant in Cernobbio.
We stayed in Cernobbio once when passing by the area on our way to Cinque Terre and loved this little town. It was also easy enough to find a hotel with parking in Cernobbio at that time.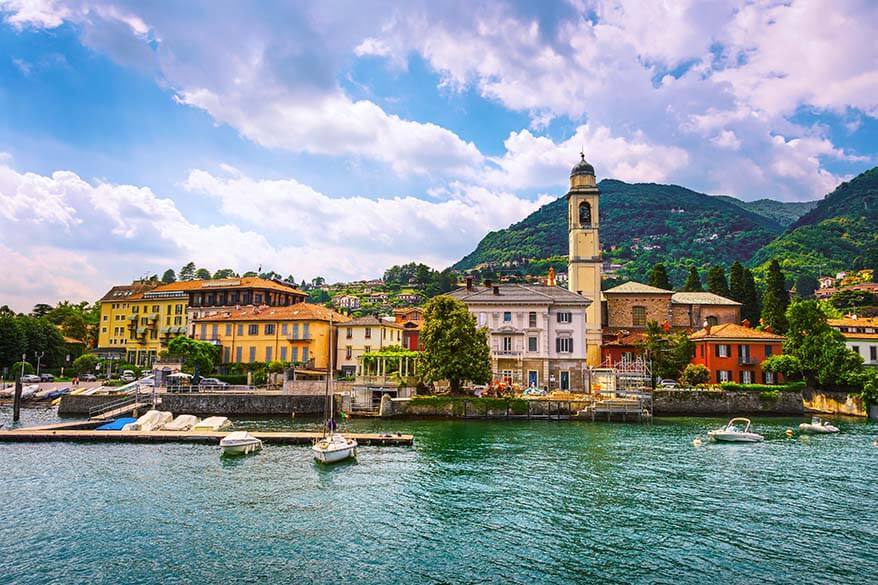 Cernobbio Hotels
Here is our selection of some of the best-rated hotels in Cernobbio for all budgets.
Villa d'Este is the most luxurious hotel in Cernobbio. It's so exclusive that (at the moment of writing) you can't book it or even see the prices on any popular internet booking sites; only directly with the hotel itself. If budget is not an issue and you're looking for a very luxurious 5-star hotel at Lake Como, this might be a good choice for you.
Hotel Miralago is a charming 4-star hotel perfectly located to enjoy the attractions of Cernobbio and Como. Just 50 yards from the lakeshore, the Hotel Miralago is within walking distance of the bus stops, from which you can travel to Como center in under 15 minutes. Single, double and family rooms are available, with some rooms overlooking the lake, others the square and some with a private balcony.
Hotel Asnigo is probably the best price-quality 4-star hotel in Cernobbio. The only hotel in this selection to offer a swimming pool, its elevated position also offers stunning views of the lake. It's quite far away from the lakeshore and the Cernobbio ferry and even though there is a bus stop just nearby, it's probably best for those who are visiting Lake Como by car. This hotel has private parking and all room rates include breakfast.
Hotel Centrale is a more affordable 4-star hotel located in Cernobbio town center. It's a great choice for cycling enthusiasts, offering free onsite bicycle storage, free use of bicycles (limited number) and even special sports menus for dinner and lunch! It also welcomes children and has a variety of family rooms available.
Trattoria Laghee con alloggio is a highly-rated B&B with an excellent location in Cernobbio town center. It's a great mid-range option in Cernobbio.
Albergo Della Torre is a budget hotel that offers excellent value for money. A free continental breakfast is included with your stay, which you can enjoy on the terrace with distant lake views. The Albergo Della Torre's restaurant is particularly popular, with a great selection of seasonal dishes. One drawback if you come here without a car – it's located a bit further away from the lake and the ferry.
Trattoria Albergo La Vignetta is another budget hotel in Cernobbio. It looks older but is somewhat closer to the lake than Albergo Della Torre. Local shops and restaurants are only a short walk away and wine lovers will be pleased to hear that local and Italian wines are available from the property's cellar. Rooms are basic but comfortable and the hotel features an onsite restaurant serving traditional Lombardy dishes.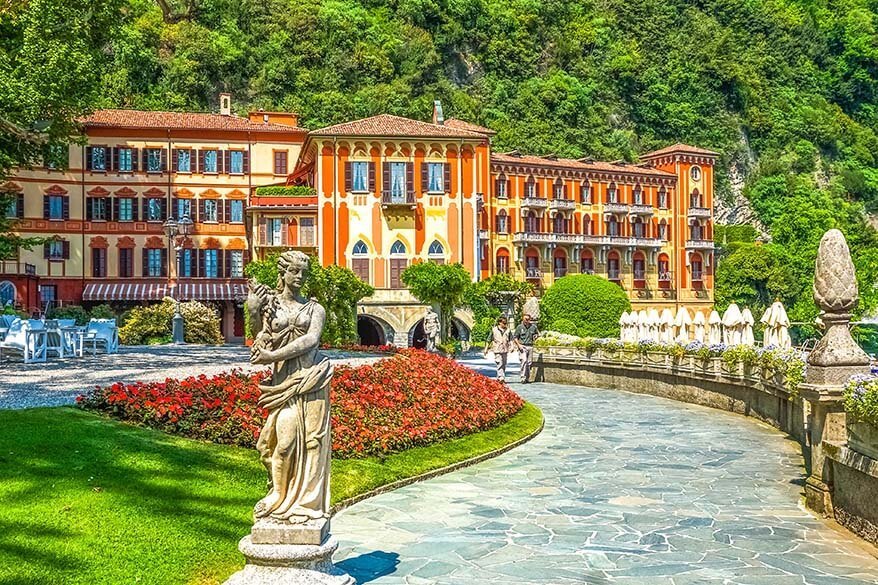 Moltrasio
Moltrasio is a small lakeside village, located just a bit further up north from Cernobbio. It's a small quiet Lake Como town that is well-connected to the other places along the lake by ferry.
Because it's not as widely known among tourists, accommodation prices here are quite reasonable. Moltrasio is a more local village and it's a perfect choice for those who want to stay outside of the hustle and bustle of the most popular Lake Como towns.
Moltrasio Hotels
There are just two Moltrasio hotels worth mentioning, both have excellent customer reviews.
Grand Hotel Imperiale Resort & SPA is the nicest hotel in this area. This 4-star resort has the most beautiful location directly on the shore of the lake and offers great value for money in this part of Lake Como. The hotel has a SPA, an indoor and outdoor pool, and beautiful big rooms and suites for up to 4 people. Some rooms and suites have amazing lake views, and the most luxurious suite has a lake view terrace with a private hot tub. You'll never want to leave!
Hotel Posta is a simple traditional 3-star hotel with double rooms. Located in the center of the village, right in front of the ferry stop, it's a great base for exploring Lake Como. The rates here are very affordable and breakfast is included, turning into excellent value for your money hotel in Lake Como.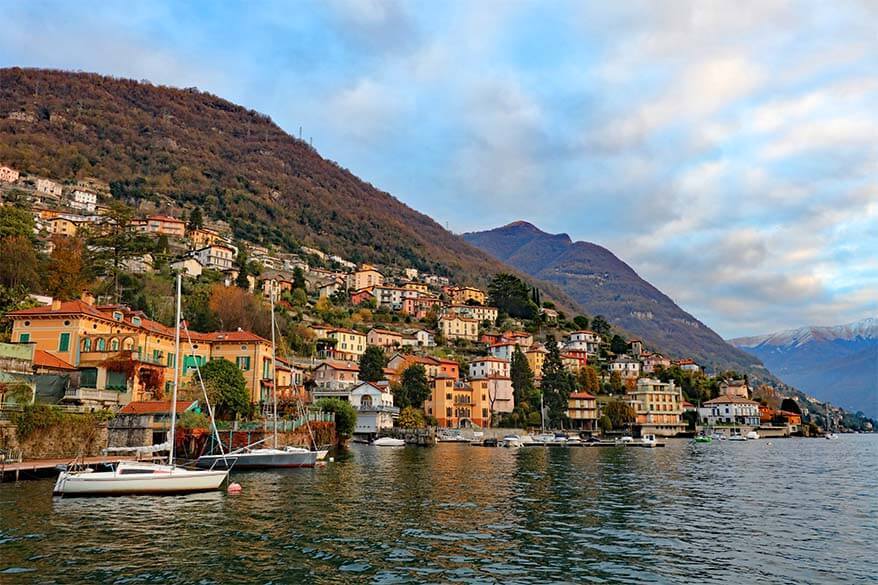 Bellagio
Possibly one of the most well-known Lake Como towns to international travelers, Bellagio is often referred to as the Pearl of Lake Como. And it is, indeed, very beautiful, with its narrow alleys, lakeside promenade, and picturesque town center. The town is famous for its excellent shopping, even amongst locals who come to buy arts and crafts and visit the designer boutiques.
Bellagio itself is quite small and it's not as easily accessible as Como or Cernobbio, but once you get there, its location is perfect for sightseeing. This is the main reason why I list Bellagio as one of the best places to stay in Lake Como.
Set right in the middle, at the point where Lake Como splits (the lake has a reversed Y shape), Bellagio is an ideal place from which to explore the entire area. A good network of passenger and car ferries provide easy access to all the other towns and villages of Lake Como.
TIP: For more information and tips on what to see and do in town, please refer to our guide to Bellagio.
LEARN MORE: Bellagio, Lake Como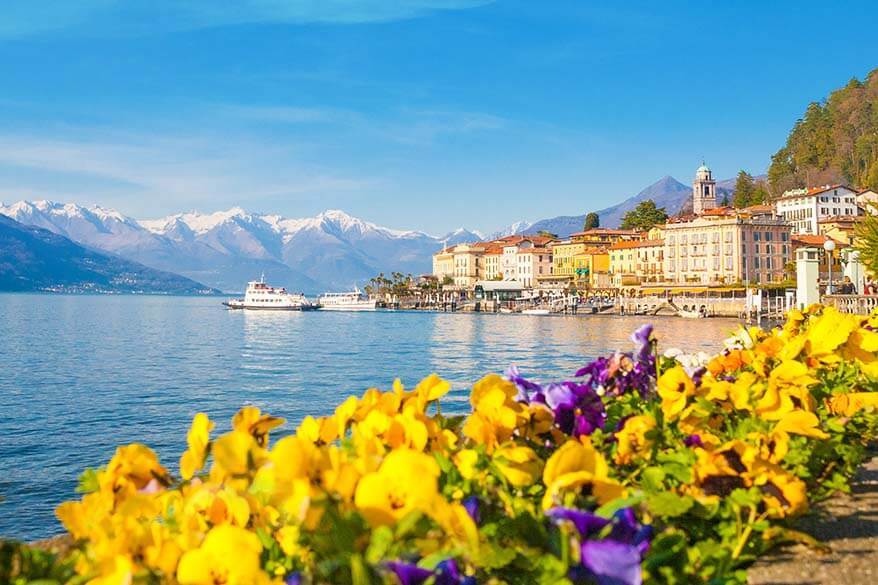 Bellagio Hotels
Below is a selection of the best hotels in Bellagio. Staying in Bellagio isn't cheap, but also here you can find hotels for different budgets.
Grand Hotel Villa Serbelloni is the only 5-star luxury hotel in Bellagio and Robert De Niro's favorite. Featuring indoor and outdoor swimming pools and a spa, this beautiful lakeside property boasts frescoed ceilings, beautiful sweeping staircases, and stunning Murano glass chandeliers. There are also two beautiful gardens which can be visited even if you are not a guest at the hotel.
Hotel Belvedere is an excellent 4-star Bellagio hotel for those looking for somewhat more affordable luxury. Just a short walk from town, this hillside hotel offers panoramic lake views. It has a swimming pool with a hot tub and a well-equipped spa, with a Turkish bath, sauna, and a relaxation area. Guests recommend rooms with a view over the east side of the lake, which looks particularly beautiful in the morning sunshine. With a big range of rooms and apartments, this hotel is a great choice for couples or families alike.
Hotel Du Lac is a highly-rated mid-range hotel offering excellent value for money. This 3-star hotel is located in the center, just across the street from the ferry terminal. It offers a complimentary buffet breakfast which you can enjoy on the rooftop terrace with magnificent lake views.
Hotel Florence is one of the best 3-star hotels in Bellagio with an excellent location close to the lake. This hotel with double rooms-only is best suited for couples. There is a good restaurant and a wellness area and its proximity to the ferry makes it a perfect hotel for sightseeing.
Hotel Centrale Bellagio is a traditional-style 3-star hotel located a bit up the hill, in the heart of Bellagio town. Guest reviews are amazing, making this a great choice for those who look for good value for the money.
Hotel Metropole is another excellent mid-range Bellagio hotel. It offers stunning lake views from EVERY room (with some rooms offering side views). It's ideally located very close to the ferry terminal and has an award-winning restaurant, with an outdoor terrace right on the water. This is a great price/quality/location hotel in Bellagio.
Borgo Le Terrazze is the only hotel located really far from Bellagio center in our selection. However, this is such a popular and highly rated Bellagio hotel that it is well worth considering. Its greater distance from the town centre means that the rooms are more affordable, but the outstanding features of the hotel – including stunning lake views from all rooms and a beautiful outdoor pool – make it excellent value for money. A free shuttle to Bellagio old town and garage parking more than compensate for the short journey into town. In high season, a minimum stay of at least 2 nights is required.
If you don't mind a further distance to town, you may also consider Hotel Fioroni or Albergo Ristorante Silvio – both 3-star hotels that offer good value for money and have very good customer reviews.
Hotel Bellagio is an excellent choice if you are on a budget. Customer reviews are amazing and the hotel has beautiful views, with many rooms overlooking the Lake. This 2-star hotel offers great value for your money. Accessed by 38 cobblestone steps from Bellagio's main square, its extra elevation gives a better view and a more tranquil atmosphere than some of the major lakeside hotels.
Hotel Suisse is one of the cheapest well-located hotels in Bellagio. Reviews are ok (not great), but its one of the best choices for those who travel on a tighter budget, yet want to stay at an excellent location.
Varenna
Varenna is a beautiful, unpretentious village facing Bellagio, and thus also perfectly located for exploring Lake Como. Furthermore, it has excellent connections with Milan, with direct trains to Milan Central Station.
Many consider Varenna to be the most romantic of all the Lake Como towns and villages, perhaps due to its south-facing panorama but also due to its picturesque and traditional architecture. The buildings may not be as grand as those to be found in other Lake Como towns, but the old fisherman's houses and tiny stone beach offer an authentic charm that is somewhat lacking in some of the more tourist-driven villages.
Despite its quaint charm, Varenna is quite busy, being the only major tourist town on the eastern shore. In its center, you will find the pedestrian-only Piazza San Giorgio, home to the 14th century Church of San Giorgio. If you plan to visit Varenna between March and November, then don't miss the botanical garden and museum Villa Monastero, a former monastery.
Good to know: Varenna town center is about 10-min walk away from the ferry or the train station. Keep this in mind, when choosing your Varenna hotel.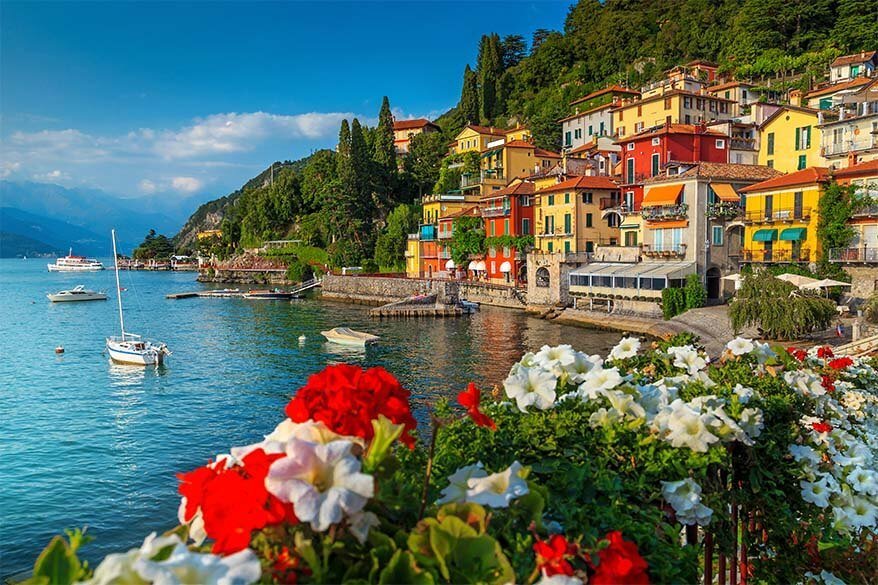 Varenna Hotels
There aren't that many hotels in Varenna. Below are the best options.
Hotel Royal Victoria – a 4-star luxury hotel in Varenna town center. You can truly experience the romance of Varenna in this beautiful 19th-century building, surrounded by lush gardens and situated by the lake in the heart of the village. Facilities include a swimming pool (open from May to September), sauna and steam bath.
Hotel Villa Cipressi is a fabulous choice and a much more affordable 4-star hotel in Varenna town center. This luxury hotel is located on the shores of Lake Como and is surrounded by exceptionally beautiful botanic gardens. Within walking distance of shops, restaurants, and the ferries, the hotel offers a range of stunning rooms and suites.
Hotel du Lac Varenna is a small 4-star hotel with just 16 rooms. Oozing rustic charm and overlooking Lake Como, its elegant, intimate atmosphere is perfect for couples.
Hotel Olivedo is a beautiful 3-star hotel and probably one of the best choices in the mid-range budget in Varenna. Just a 2-minute walk from the ferry and 5 minutes from the train station, this hotel has been owned by the same family for 4 generations. The impressive 19th-century building has quaint, beautiful rooms and a charming restaurant famed for its excellent cuisine.
Albergo Milano is a fabulous 3-star hotel in Varenna with an excellent location overlooking the lake, and about half-way in between the ferry and the town center. The hotel features rooms and apartments of various sizes and excellent customer reviews. It has just one drawback – a minimum stay requirement of at least 3-4 nights in certain periods.
Albergo Del Sole is a mid-range hotel in the heart of Varenna town center, facing the Piazza San Giorgio. It's a typical Italian hotel, as you see it in the movies. Expect to awake to the sound of the church bells and then settle down for an exceptional breakfast at one of the tables right on the town square.
Hotel Beretta and Hotel Montecodeno are lower budget Varenna hotels. Located close to Varenna train station and to the ferry, they both offer good value for money and are highly rated by its guests. The rooms are simple but comfortable, breakfast is included in your stay and the convenience of the location is exceptional.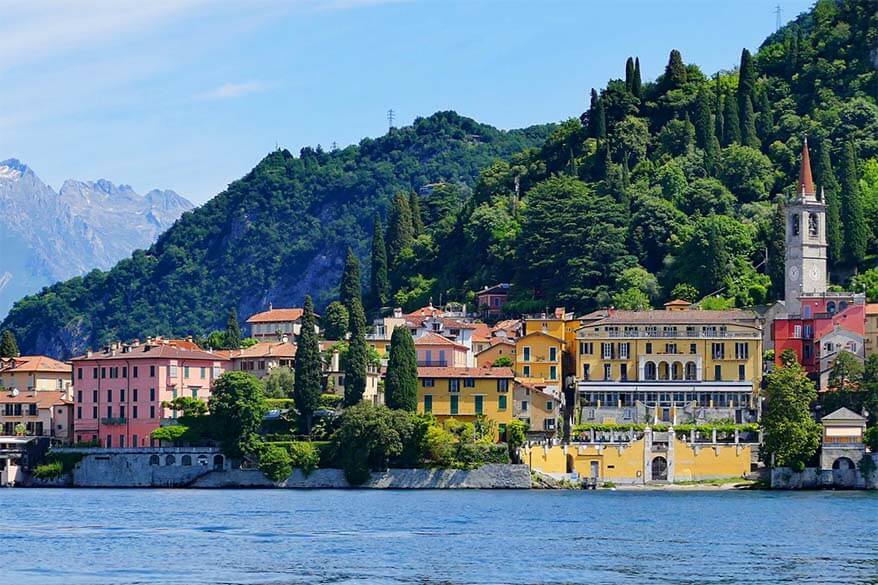 Menaggio
One of the largest towns on Lake Como, Menaggio is also one of the best-connected in terms of public transport, making it a great base if you plan to explore the region extensively. The high-speed hydrofoils stop here, as do all of the ferry services. What's more, it's very easy to travel between Switzerland and Menaggio via bus or car. Lake Lugano is also just a short bus ride away.
Menaggio is very busy and some visitors feel it lacks the romanticism of some of the other Lake Como towns. While it's true that the main part of town does not have the stairways and cobbled streets to be found elsewhere, some are still visible in the upper part of town, which is almost medieval in appearance. The flatter, central part of town is ideal for less able-bodied visitors, as there are few steps or slopes to contend with.
The lakeside promenade, with its colorful flowerbeds and homes, is well worth a visit. Just as the Villa Mylius Vigoni, a beautiful 19th-century building surrounded by a perfectly manicured English garden.
Good to know: Menaggio hotels tend to be much cheaper than those in Bellagio, and its central location on the lake is also very good for sightseeing.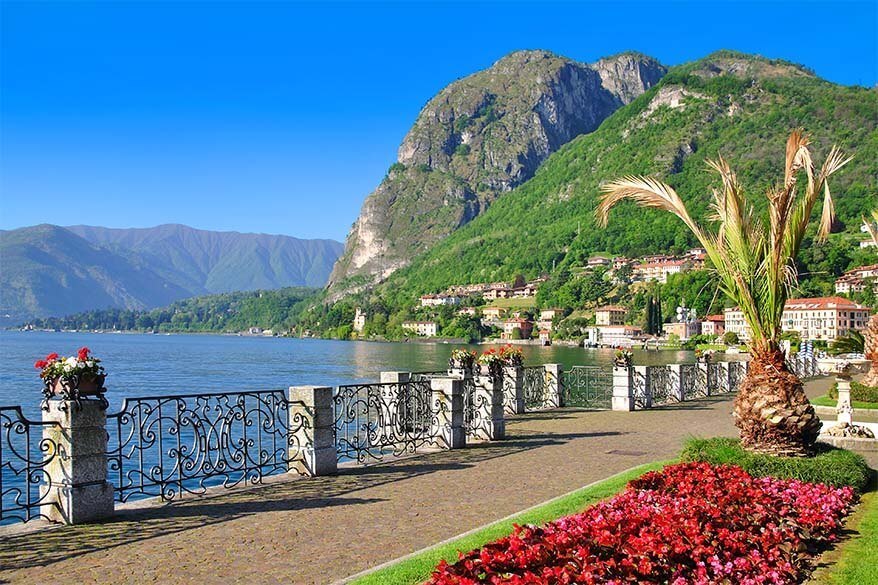 Menaggio Hotels
Here is a selection of the best-rated hotels in Menaggio, suitable for a range of budgets.
Grand Hotel Menaggio is a 4-star hotel, situated directly on the shore of Lake Como and beside the ferry terminal. This hotel has beautifully decorated double rooms with lake views, overlooking Bellagio in the distance. There is a swimming pool and the hotel has water sports equipment available for rent. In the evenings you can relax on the terrace to the sound of live piano music. All rates include breakfast and there is parking available as well.
Hotel Garni Corona is a recently renovated mid-range hotel. It's located in the pedestrian area in the main square of Menaggio with shops, restaurants, and bars just a few steps away. It is also close to the beautiful lakeside promenade and just a 5 minute walk away from the bus and ferry stops. Help planning your visit is always at hand, as the Tourist Office is right next door to the hotel!
Hotel Du Lac is a simple, mid-range hotel located close to the lake and also right in the heart of the town. Great transport links, shops, bars, and restaurants are all just steps away. Given its prime location, this hotel represents good value for money in Lake Como.
Hotel Adler is the only Menaggio hotel with family rooms. This mid-range hotel has lovely views of the lake and mountains and a good-sized swimming pool. The center of Menaggio is a 20-minute walk downhill from the hotel, but hotel has parking available. So it might be a good choice for those visiting Lake Como by car.
Hotel Loveno is a very highly-rated 2-star budget hotel in Menaggio. Popular with its guests and at a very affordable price, it's ideal for couples traveling on a budget. This is a small and intimate hotel, just 10 minutes' walk from the center of Menaggio. It has beautiful gardens, stunning views and many guests enjoy the pasta-making class. One drawback – many periods require at least 2 nights stay.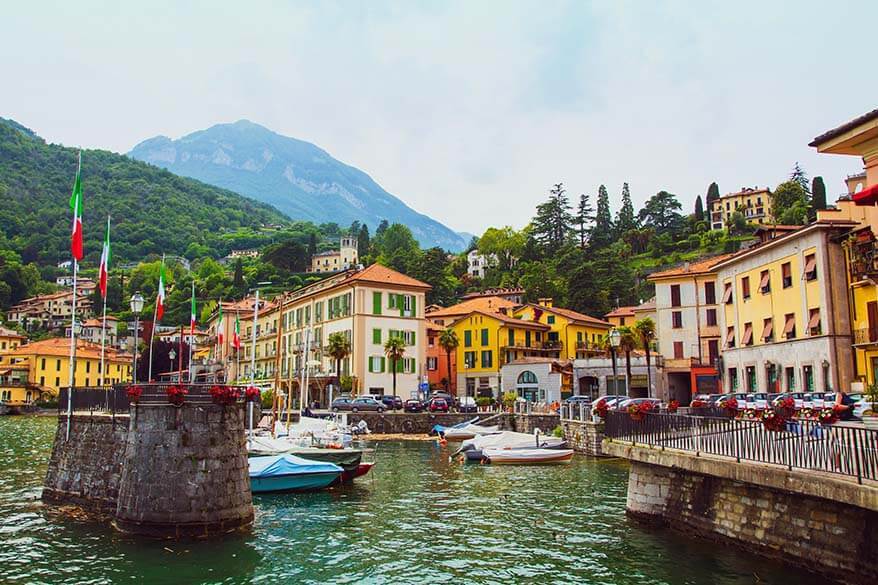 Tremezzina – Griante area
The central-western part of Lake Como is home to some of its most famous landmarks – Villa Carlotta in Tremezzina and Villa del Balbianello in Leno. Considered one of the most dramatic locations in the Lake Como area, Villa Balbianello was used to film scenes from Star Wars Episode 2 and the 2006 James Bond remake of Casino Royale.
The cost here is dotted with small, romantic villages like Leno, Tremezzina, Cadenabbia, etc.
The area is ideal for walkers, with easy access to the beautiful Greenway del Lago di Como. This 10.5 km walkway from Colonno to Cadenabbia brings you across gorgeous villas, Roman findings, charming restaurants, and breathtaking views.
A car ferry connects Griante to both Bellagio and Varenna. While smaller places like Lenno or Tremezzina are served by the Centre Lake shuttle ferry and the high-speed hydrofoil.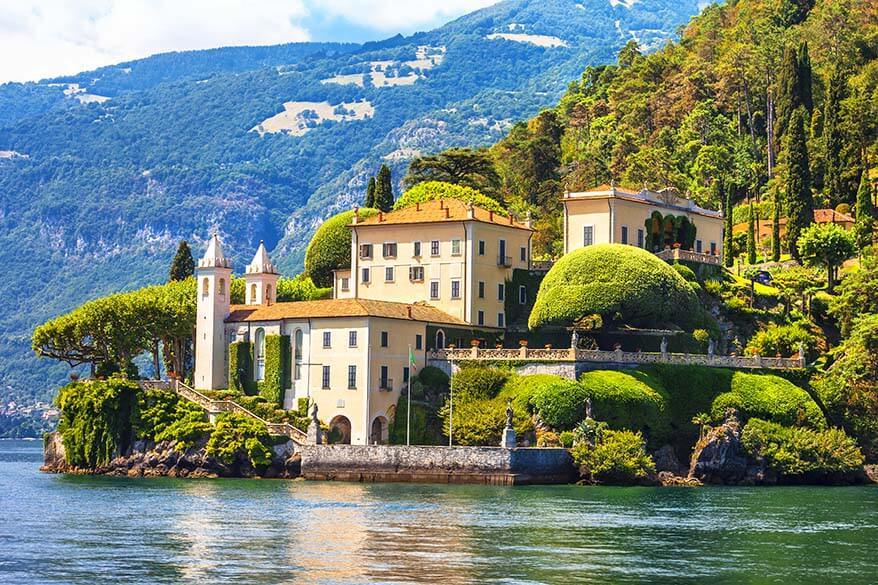 Tremezzina, Lenno, and Griante – Cadennabia Hotels
There are several nice hotels in this area and we selected the best options below.
Grand Hotel Tremezzo is a luxury 5-star hotel just near Villa Carlotta in Tremezzina. This is a big luxurious lakefront hotel featuring several restaurants, a wellness center, three swimming pools, and a private beach. Lake views are amazing and if you can afford a room with a view, you'll never want to leave.
Grand Hotel Cadenabbia is a 4-star hotel in Griante Cadennabia. Located directly on the lake, it's a short walk away from Villa Carlotta on one side and Lake Como ferry to the other. There is a nice pool and a restaurant. Free parking is available.
Hotel Lenno is a 4-star hotel in Lenno town with a beautiful location, directly on the shore of the lake. The Centre Lake ferry stops directly outside the hotel making it easy to explore the surrounding areas. The hotel provides a swimming pool and a sauna. There are no family rooms at this hotel, which is better suited to couples and solo travelers.
La Darsena is a nice 3-star hotel in Tremezzo. With superb reviews and great location close to a ferry stop, this mid-range hotel offers excellent value for money in this area.
Balbianino is a beautiful and very highly-rated B&B, just a stone's throw away from Villa Balbianell in Lenno. This is a mid-budget option and breakfast is included in all rates. Some rooms have lake views.
Hotel Riviera in Griante Cadennabia is a more budget-friendly 3-star hotel with an excellent location for exploring Lake Como. Buffet breakfast is included and customer ratings are very good.
B&B Selve di Rogaro is one of the best-rated budget accommodations in the Tremezzo area. It's located a bit further from the lake, but if you don't mind a 10-min walk and are looking for an affordable place to stay in this area, this popular B&B is a good choice.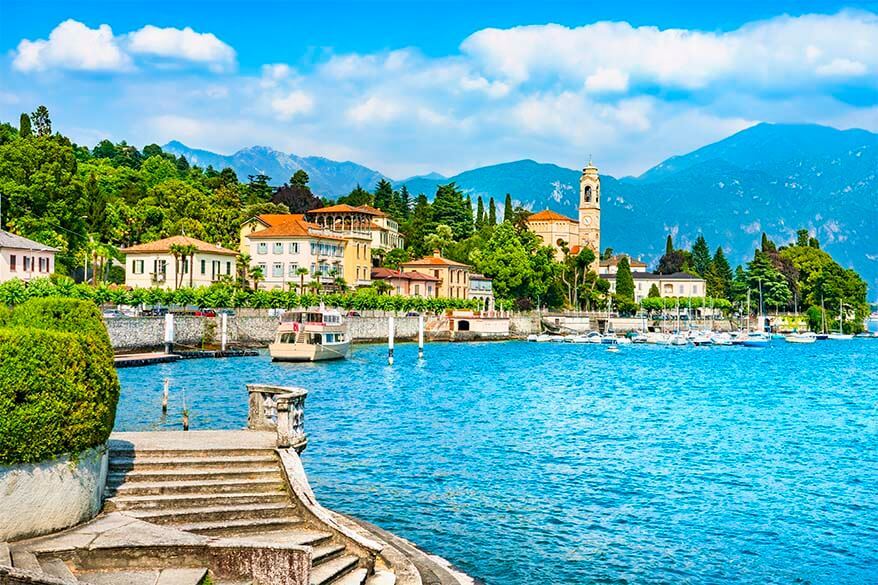 Argegno
Somewhat less popular with tourists than its grander neighbors – and therefore quieter and more authentically Italian – Argegno sits just as the point where the Lake curves.
While it may not be as popular as Como or Bellagio, there are many good reasons to visit Argegno nonetheless. It is the starting point for the beautiful D'Intelvi Valley, which is popular with cyclists and offers unrivaled views of the Alps and Switzerland.
It also has a cable car that takes you up to Pigna, a hillside town that's great for hiking. Non-hikers can simply enjoy the spectacular views on the ascent then stop to enjoy a meal at the cafe at the top. The main part of Argegno has a large number of cafes and high-end restaurants, mostly lakeside.
Argegno is relatively well connected to the other towns and villages surrounding Lake Como. The high-speed hydrofoils and long haul ferries stop here, although it is not a stop for the summer shuttle ferry for the southern basin of Central Lake.
Something to consider is that Argegno's north-facing position can make it quite cold in winter and also means that it doesn't receive much afternoon sunshine in summer.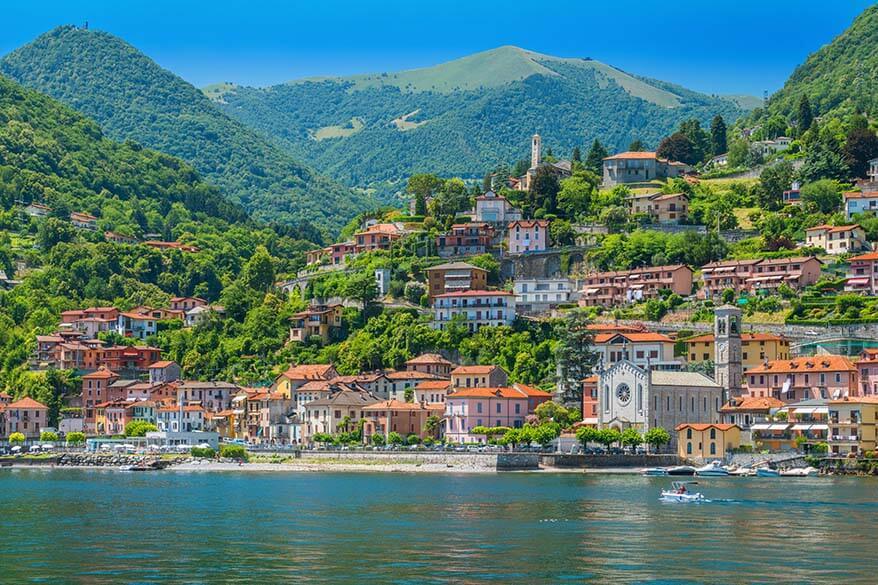 Argegno Hotels
If you choose to make Argegno your base during your visit to Lake Como, here is a selection of the best Argegno hotels.
Villa Belvedere Como Lake Relais is probably the best choice in Argegno – it has a great location by the lake and excellent value for the money. This mid-range hotel offers the best lake views, particularly from the terrace where you can enjoy the continental breakfast buffet. There are family rooms available and you can opt for mountain or lake views.
Hotel Argegno is a mid-range hotel located in the town center. It offers family rooms and is in a lovely location, with the Lake and the ferry terminal just across the road. Many rooms have balconies with exceptional lake views.
Locanda Sant' Anna is located outside the town center, and it's best for those who are visiting Lake Como with a car (parking is available too). This 3-star family-friendly inn is situated in the Valle D'Intelvi, with quaint rooms decorated in a vintage country style and idyllic gardens offering outstanding views. It has a popular restaurant serving national cuisine and local specialties, plus an impressive wine list.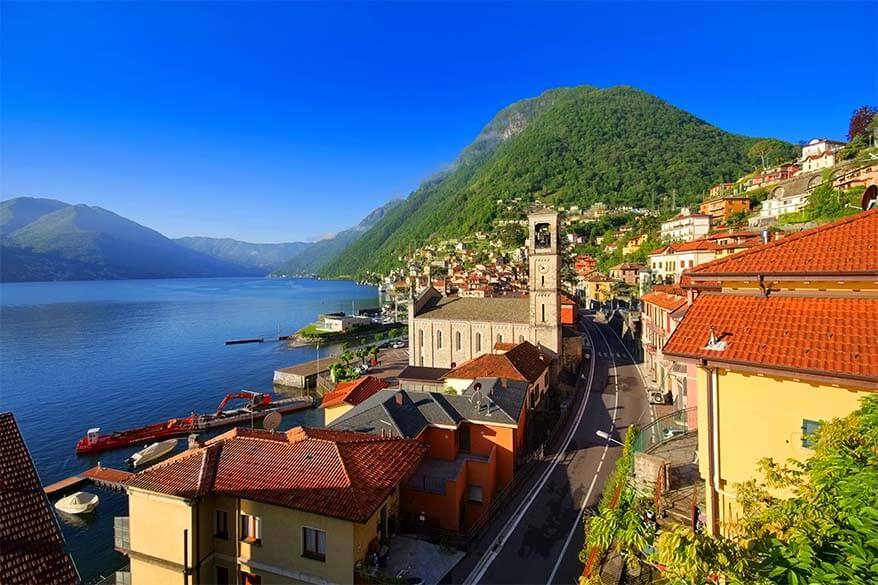 Lecco
Lecco is a somewhat bigger and more commercial town on the southeastern fork of Lake Como. Its isolated position in the less-visited corner of the lake can make exploring the area a little more difficult. Also, there is less to do within the town itself, which is focussed more on trade than tourism. Therefore, Lecco is less popular as a tourist resort than most other Lake Como towns.
Nevertheless, it is worth considering staying here, especially if you are visiting Lake Como on a lower budget. Hotel prices are considerably cheaper than in the more popular towns such as Bellagio and Varenna, yet those towns and many others are accessible from Lecco by ferry.
If you visit outside of peak season, however, you may need to take a train to Varenna and catch the ferry from there, because ferry services to and from Lecco are somewhat limited compared to the more popular towns.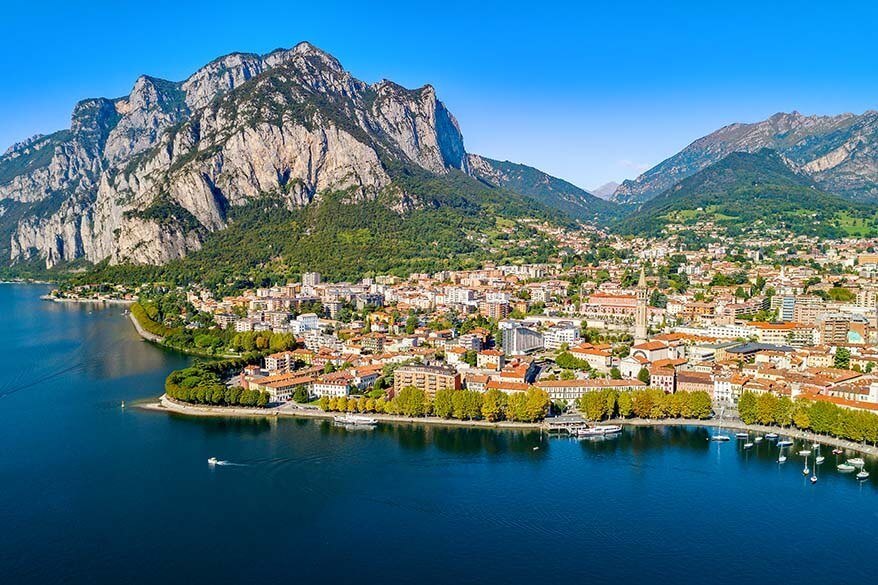 Lecco Hotels
If you do decide to stay in Lecco, here are a couple of good hotels to consider.
Clarion Collection Hotel Griso Lecco is one of the best hotels in the area. This 4-star hotel is located in Malgrate on the shores of Lake Como and a 10-15 minute walk to Lecco town center and 20min walk to the ferry. Many rooms offer stunning views of the lake, with the best view of all being from the rooftop jacuzzi! There is free parking available, so this hotel is also a great choice is you are traveling in Lake Como by car.
NH Lecco Pontevecchio is the best hotel in Lecco. This 4-star modern hotel is located just a short walk from the town center or the train station. This is a great value choice on Lake Como.
Hotel Alberi is a good 3-star hotel in Lecco town center. Rated 'superb' by its guests, this mid-range hotel is within walking distance of both the train and ferry stations. Some rooms offer panoramic lake views, whereas others face the mountains. Complimentary breakfast is included.
Hotel Don Abbondio is a good value 3-star hotel in a beautiful quiet riverside location. However, it's located a bit outside of Lecco town center and you'll either need a car or have to walk/ take a taxi in order to get to the Lecco ferry or train station. Family rooms for up to 4 people are available.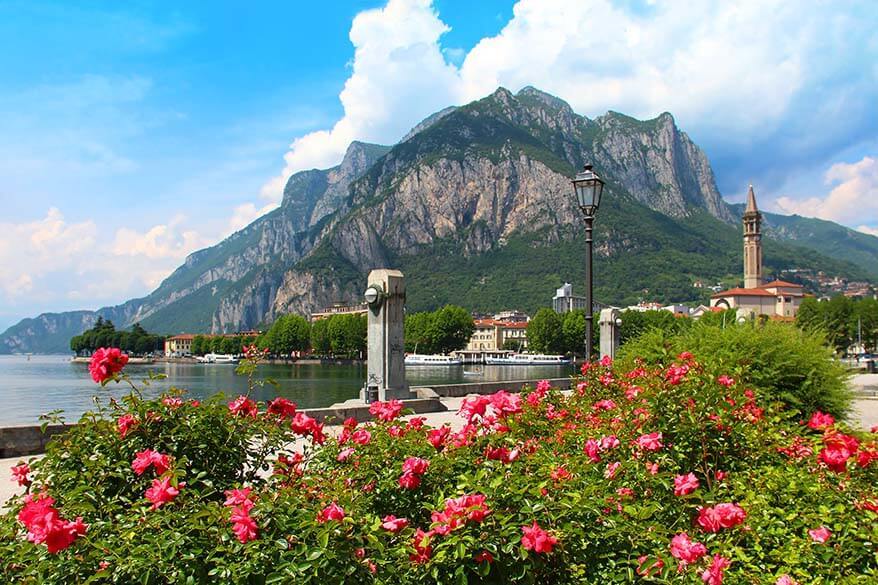 So, this is our guide to the best towns to stay in Lake Como and the very best Lake Como hotels. I hope that this will help you choose the best place to stay for your trip.
Remember that you don't have to pick just one town, but can easily hop around the different towns of Lake Como, staying at a different place every couple of nights.
If you do this, I'd probably start with the Como – Cernobbio area, then move on to the Tremezzina – Menaggio area, and then finally, end in Bellagio or Varenna, or potentially Lecco.
More tips for your trip to Northern Italy:
READ ALSO: Best Places to Visit in Italy
If you found this post useful, don't forget to bookmark it and share it with your friends. Are you on Pinterest? Pin these images!