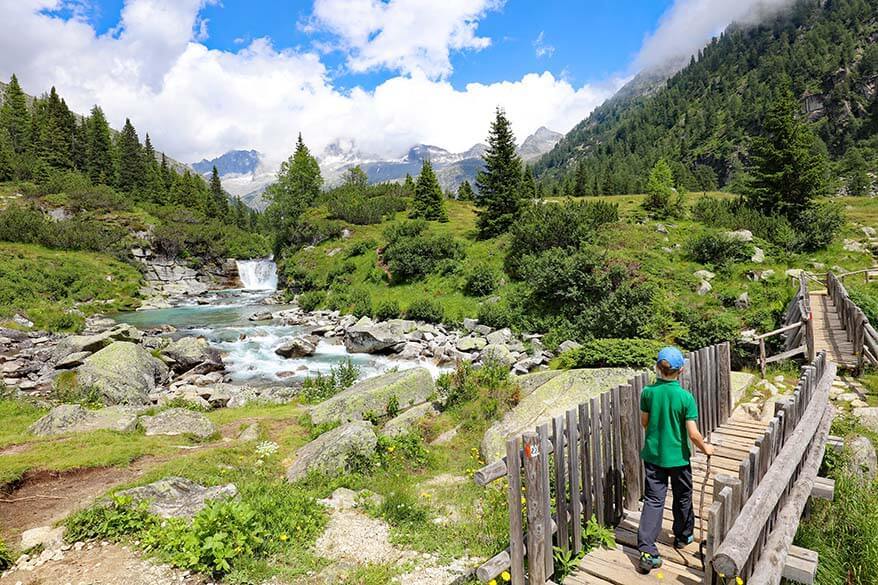 Hiking in Val di Fumo (aka The Valley of Smoke) was one of the highlights of our trip to the Trentino region in Italy. I already mentioned it in our post of all the amazing things we did in Trentino with kids, but this area is so beautiful that I think it deserves a dedicated article.
Val di Fumo is one of the most fascinating mountain valleys in Trentino. Known to few and visited mostly by the locals, this is a true hidden gem of the Italian mountains. Val di Fumo is just as impressive as the most iconic mountain destinations in Switzerland with an added bonus of much fewer people.
So here it is – travel inspiration and practical information for hiking to Rifugio Val di Fumo in Trentino, Italy. I hope that this post will inspire you to visit this beautiful and little known region. Find out!
READ ALSO: Best Hikes in the Italian Dolomites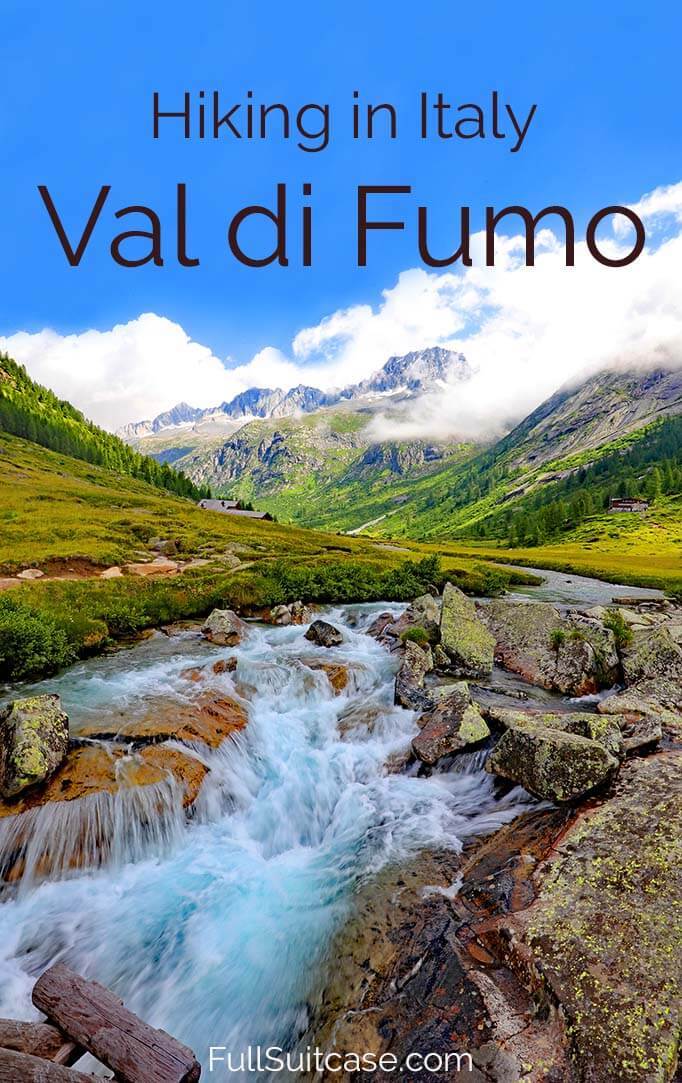 Val di Fumo
Val di Fumo is an extremely picturesque mountain valley in the Adamello Brenta Nature Park in Northern Italy. It's part of a bigger Daone Valley known for countless waterfalls in summer and ice climbing in winter.
Val di Fumo is characterized by the picture-perfect Alpine scenery with snowcapped mountains, wildflowers, mountain streams, and cows grazing in green meadows… it's like walking inside a postcard.
Valley of Smoke gets its name because it's often covered in the clouds, but the clouds can part just as quickly as they came. When we arrived, the whole area was grey and we thought we wouldn't see much. We started this hike with sweaters and rain jackets… Just half an hour later the clouds were gone and it was warm enough for a t-shirt.
The hike was already nice, but blue skies gave color to the landscape and turned it into the most beautiful painting. I find it difficult to describe this magical place as words don't do it justice. It's a simple beauty of nature at its best.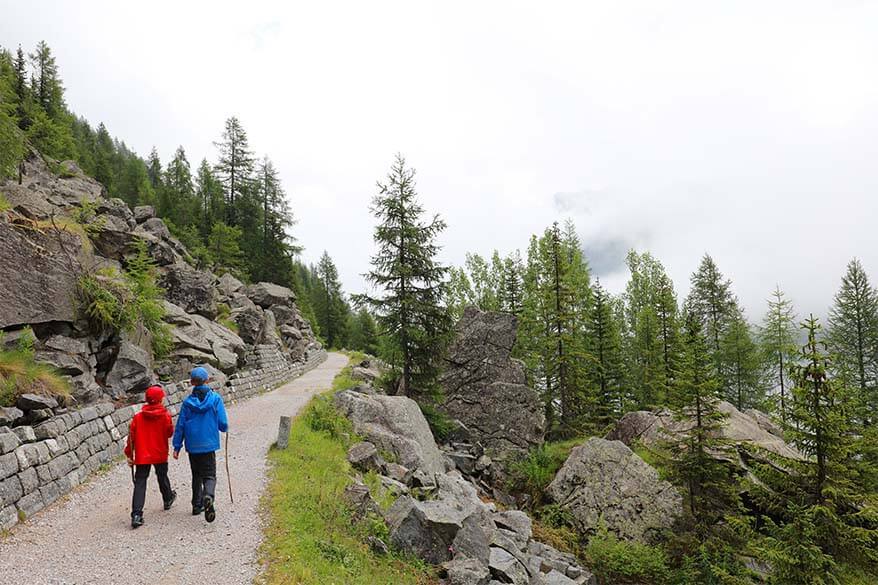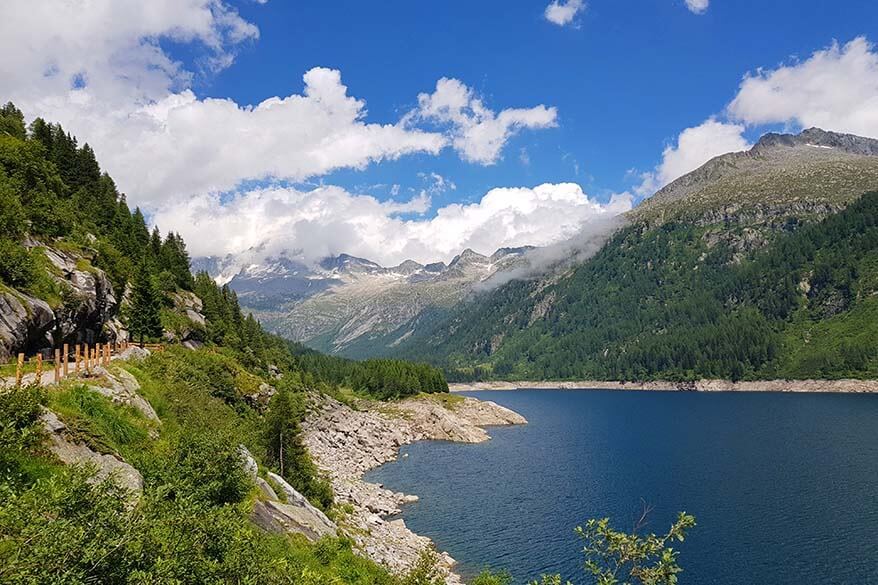 The 3463m Caro Alto mountain offers a fantastic backdrop to this already impressive scenery. This area is also completely different than the nearby famous Dolomite mountains – it's less steep and much greener.
Val di Fumo looks more like Tirol in Austria or the Berner Oberland region in Switzerland than any other place I know in Italy.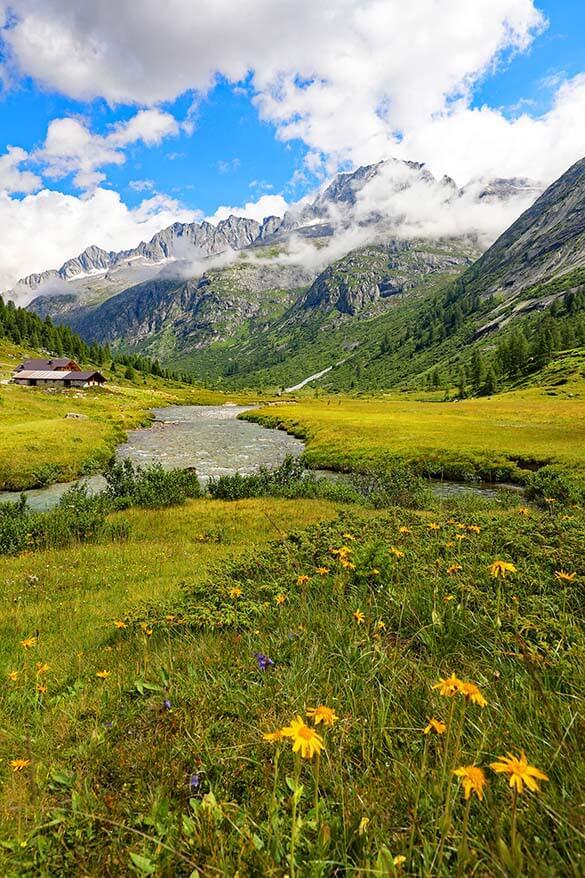 Adamello Brenta Nature Park is home to some wildlife, such as Roe deer, chamois (goat-antelope), marmots, wild rabbits, and even eagles. The rivers and the lakes are known for trout and Arctic Char.
The chances of running into any wildlife aren't big, however, especially if you are hiking with noisy kids as we did. The only animals we got to see were cows, horses, mountain goats, and a dog.
Val di Fumo is a starting point for a big number of hikes and you could hike in this area for days. However, the easiest, most rewarding, and the most popular day hike is to Rifugio Val di Fumo. This is the hike described in this article. Read on!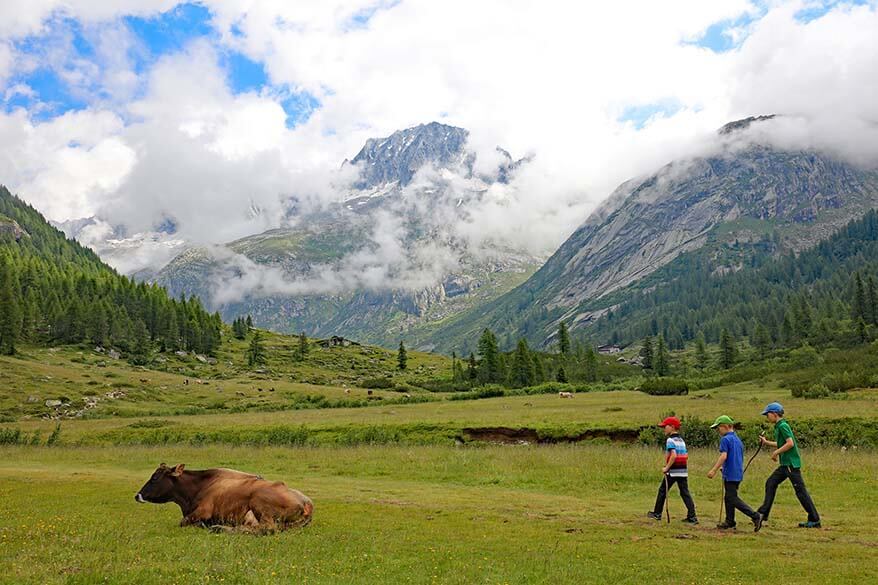 How to get to Val di Fumo
Val di Fumo is part of Daone valley that can be reached by a mountain road via Praso village. Follow signs for Val Daone and drive more than 20 km till the road stops at the big dam of Lago di Malga Bissina.
Just driving to the far end of the seemingly endless Daone valley feels like you're leaving civilization behind you. It's a journey deep into the mountains. At the end of the road, you reach the Bissina Dam where you'll see a car parking area and a small café. You really can't go wrong. Here you can see the exact location of the car parking for this hike on the map.
Seemingly in the middle of nowhere, Val di Fumo is located in between extremely popular tourist destinations like Madonna di Campiglio, Lago d'Idro, and Lake Garda. To give you an idea, the starting point of the hike is just 1,5 hr drive from Riva del Garda.
Oh, and don't worry about the road. It's a bit narrow just as most other roads in the mountains, but easily doable (in summer). Furthermore, even in the middle of summer when we visited, there were hardly any other cars on this road.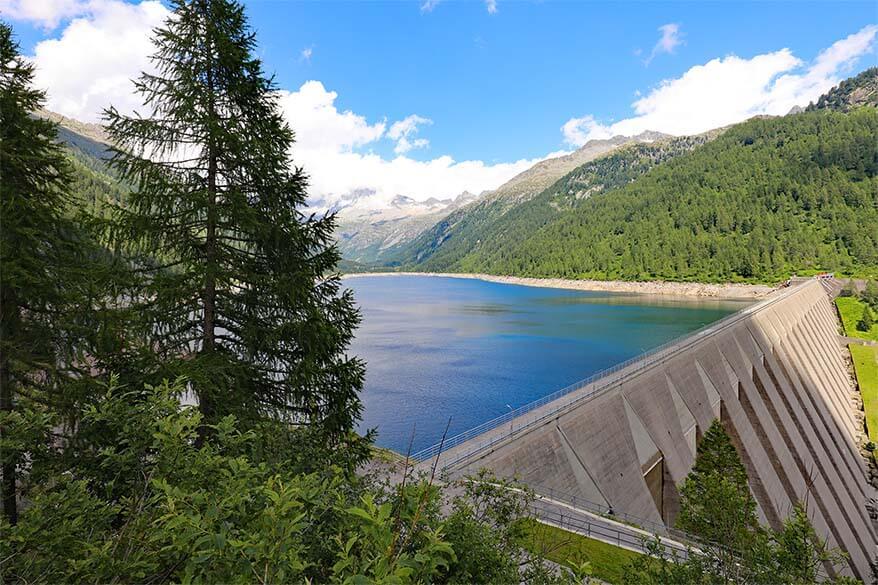 Hiking to Rifugio Val di Fumo – what to expect
Val di Fumo hike is a relatively easy hike with little elevation and is, therefore, something everyone in reasonable physical condition should be able to do. It's a family-friendly hike, also doable for families with young children (from +- 4 years and up).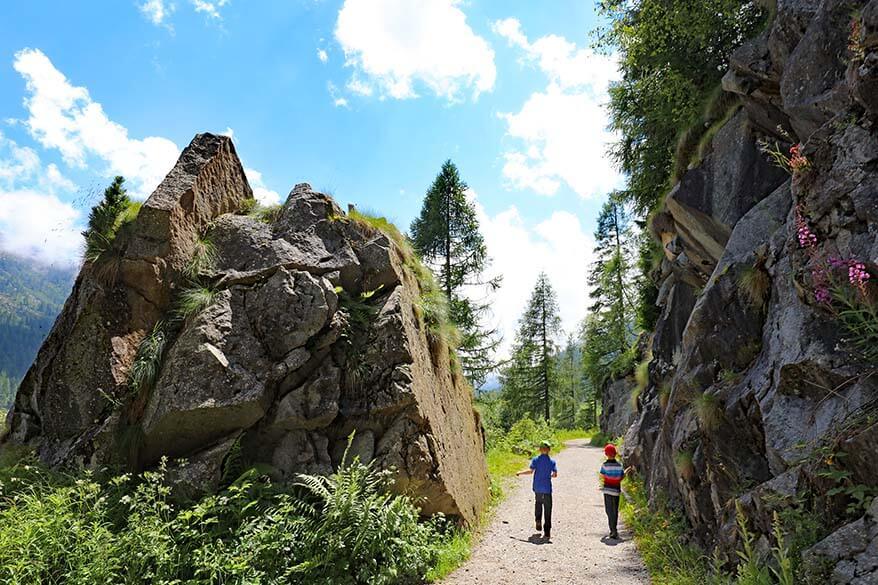 The hike starts at the Bissina Dam from where you follow a narrow service road along the left (western) side of Lago di Malga Bissina. The scenery here is already very nice and you pass quite a few waterfalls and mountain streams.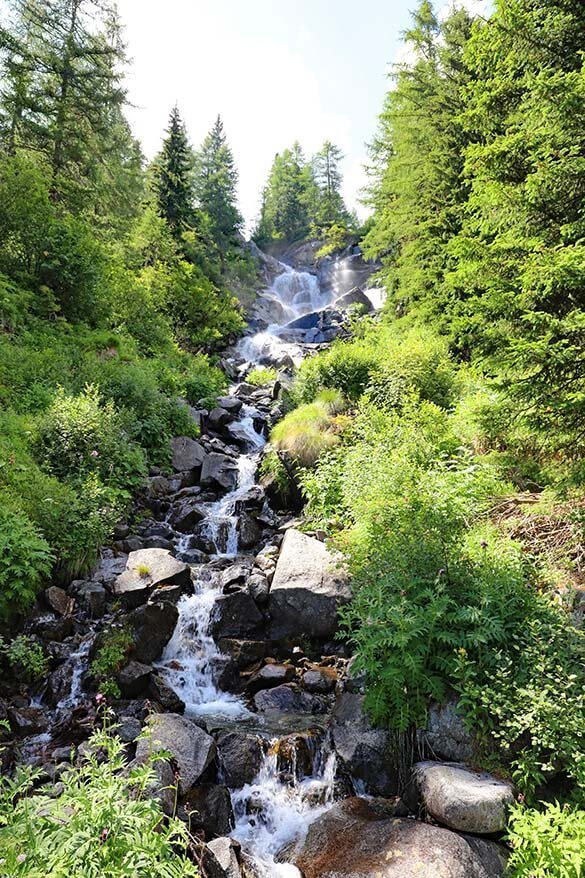 At Malga Breguzoo, the road changes into a mountain trail. From there the views just get better and better with every step that you take.
TIP: You could bike the 3,5 km to Malga Breguzzo and only hike the last (and the most scenic) part. If you come here with little kids, you could also cover this first part of the hike with a stroller.
After you pass Malga Breguzzo, follow the trail #240 and later #222 to Rifugio Val di Fumo – this mountain hut is your final destination. Pretty soon, just before the wooden bridge, you'll see a beautiful little waterfall. Make sure to stop here – it's one of the nicest places of this hike!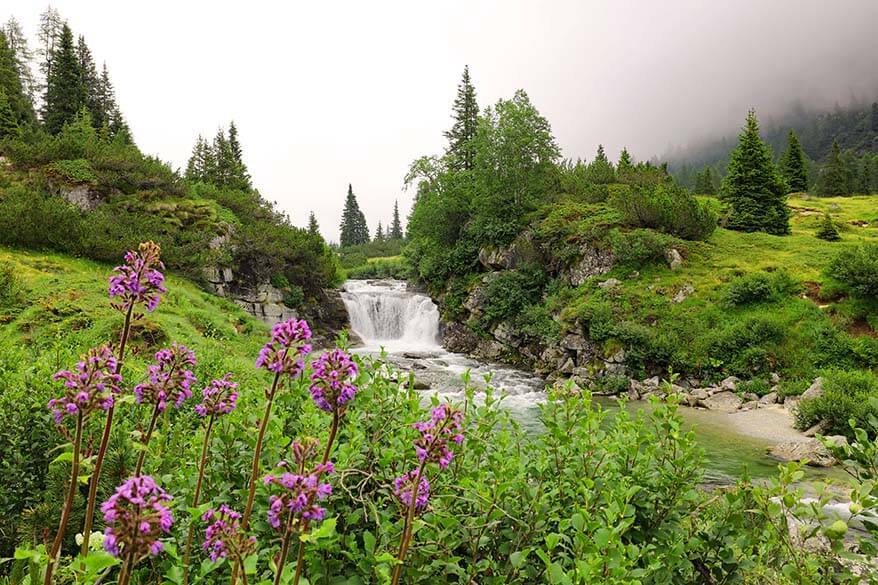 While you are busy admiring the scenery, make sure to check the signs for the right path. The road splits here and you can choose to walk on the left or on the ride side of the Chiese river. Both trails should lead you to the same place, but a local guide recommended to choose the trail on the left (and all the other people we met were doing the same).
So if you do the same as we did, there is no need to cross that picturesque bridge, unless for some beautiful pictures, of course.
From here on you'll be hiking inside a postcard-like scenery. The landscape is really that beautiful and no pictures do justice to this place. It's a lush green valley surrounded by high mountains; we never knew that a place like this existed in Italy. This just proves once again how incredibly diverse this country is. I've said it many times already – no matter which part of Itay you visit, it will blow your mind. This country is simply amazing!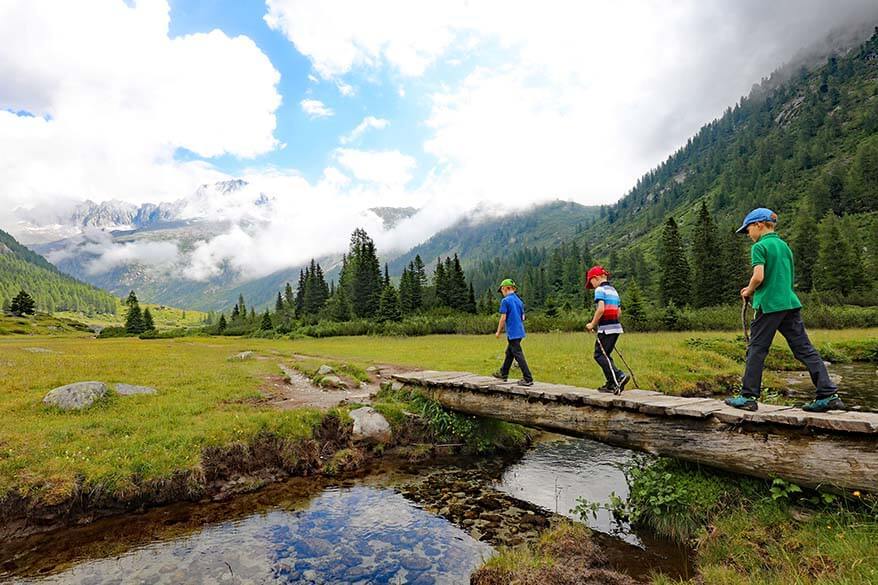 After a bit more than an hour hiking, we saw Rifugio Val di Fumo in the distance. It's located somewhat higher than the rest of the trail, so the last part requires some uphill walking. However, it's such a short part and the scenery is so nice that before you even realize that you're climbing, you already reach the mountain hut.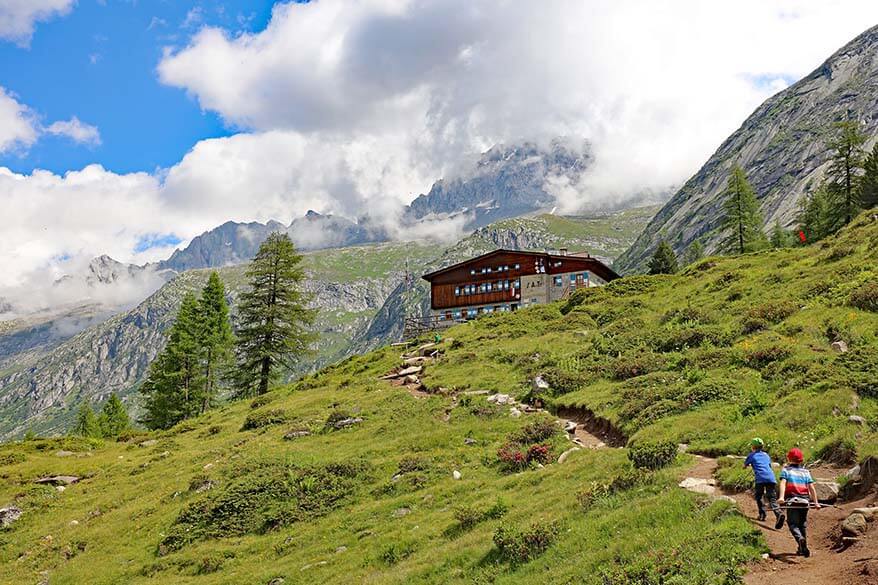 Rifugio Val di Fumo – Shelter Valley of Smoke
Opened back in the 1960's Rifugio Val di Fumo (Shelter of the Valley of Smoke or Val di Fumo mountain hut) is a simple mountain hut surrounded by the most spectacular landscape.
If you come here at the beginning of summer, you might be lucky to see this valley transform into a colorful flower garden. We visited in July and there were still quite some flowers in bloom around the hut. It's also here that we saw some cute mountain goats.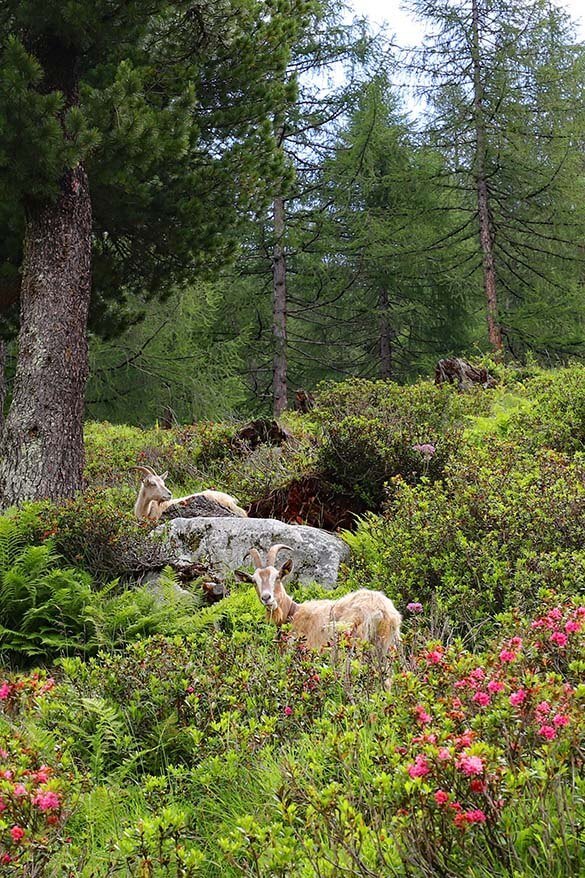 Val di Fumo mountain shelter is a place where multi-day hikers can stay for a night.
There are many hiking paths in this area, all quite demanding but extremely rewarding with magnificent views. The further you go, the more chance you have to run into some wildlife, mostly chamois and ibex.
So if you are fit and have more time to spare, you may want to explore this area a bit deeper. For us, our hike stopped here.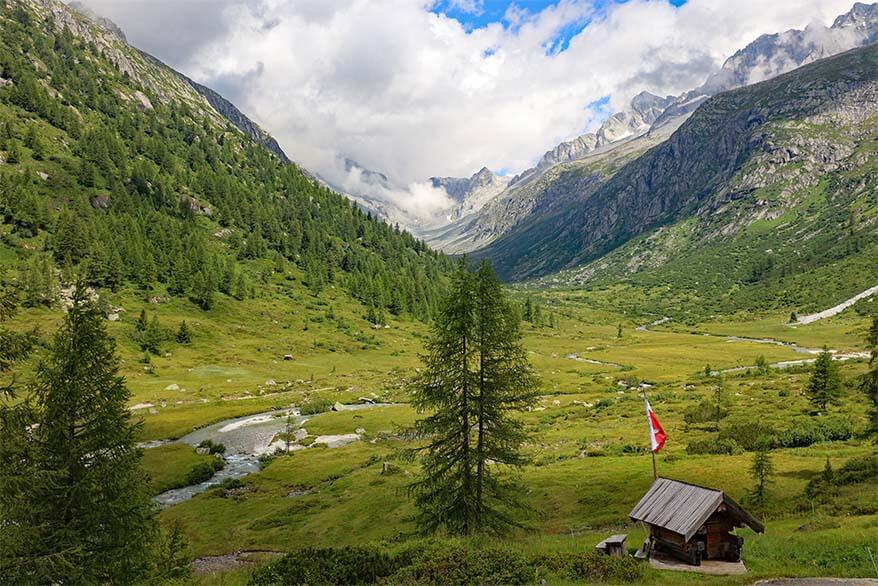 There is a small restaurant at Rifugio Val di Fumo that also caters to day visitors. They have to fly-in or carry their supplies, so the menu is a bit limited, but the food was absolutely delicious.
Normally, we would pack a picnic for a day trip like this, but we opted to have lunch there and it was such a special experience to eat a home-made traditional local meal in a real mountain hut. We thoroughly enjoyed it.
Even if you aren't planning to have lunch here, you can still get some cake or a drink and enjoy the scenery before you head back.
READ ALSO: Traditional Italian Food by Region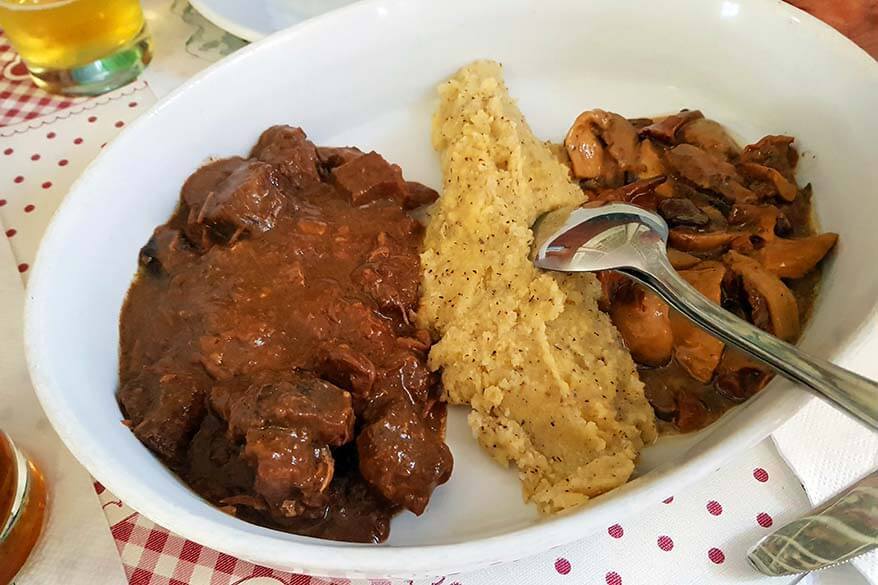 TIP: There is a horse stable at Malga di Fumo, just near Rifugio Val di Fumo. It's only 5 minutes walk, over a wooden bridge to the other side of the river.
We were planning to go horseback riding here, but they told us it was too early in the season and the horses weren't ready (don't ask me why). From late July through August you should be able to do some horse riding here or back down in Daone Valley. It's best to ask the locals about the specific location as it seems to vary depending on when you come.
Combine hiking with some horse riding and visiting Val di Fumo makes for a wonderful summer day trip in the Trentino region!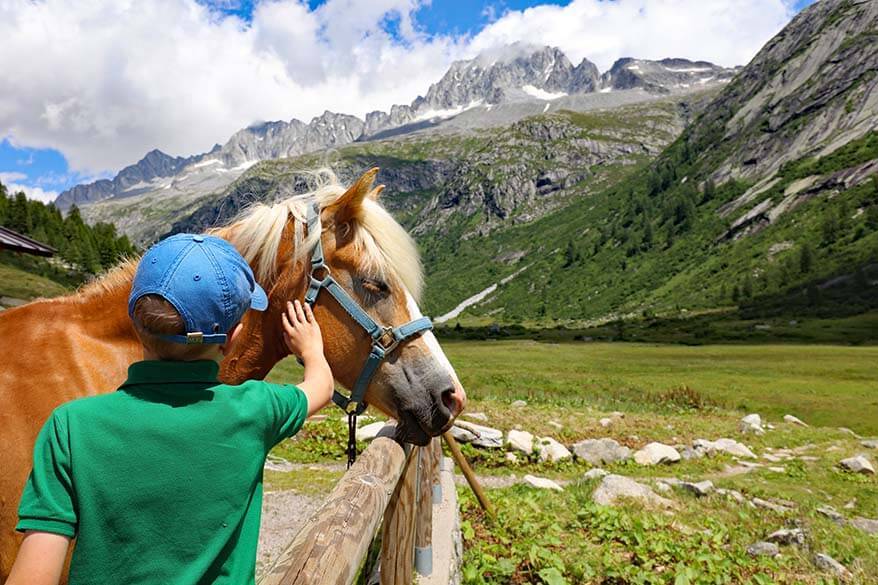 Val di Fumo hike practical information
The starting point is at the parking lot of Lago di Malga Bissina. The hike ends at the Refugio Val di Fumo. Here you can see the hike on the map (don't mind the distance – it's a bit shorter in reality).
Val di Fumo hike is not circular – you go to Val di Fumo mountain hut and back the same way. You can choose to take a different path for a small part of the hike between Malga Breguzzo and Rifugio Val di Fumo (see the picture below – the hiking trail is indicated in yellow).
Hiking distance is about 5,5 km one way (so 10-11 km total). It takes about 1,5-2 hours each way.
Elevation change is less than 200 m. You'll be hiking at an altitude of around 1800-1900 m.
There are restaurants and bathroom facilities at both ends of the trail.
Make sure to take plenty of drinking water with you.
Hiking shoes are a must. Even in summer, you should take a light sweater and a rain jacket.
A big part of the hike goes through a valley with no shade whatsoever, so sun protection is a must.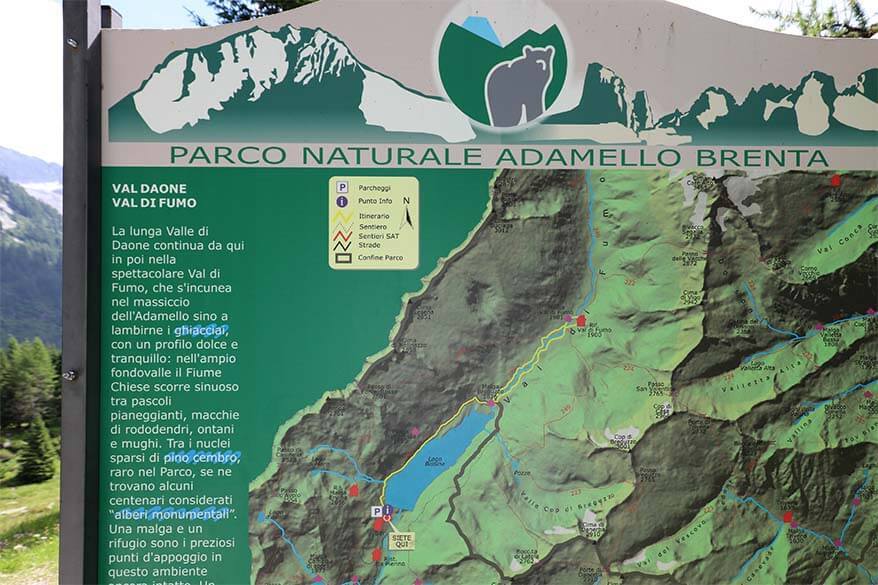 So, this was our experience hiking to Rifugio Val di Fumo – one of the most beautiful hikes in the Trentino region in Italy.
If you are looking for more ideas of things to do in this beautiful part of Italy, please check the following articles as well:
And here you can find more inspiration with some of our favorite hikes and lakes in the Italian mountains:
TIP: For more information on other popular tourist destinations in Italy, please also check our Italy travel guide.
If you found this post useful, don't forget to bookmark it for future reference and share it with your friends. Are you on Pinterest? Pin this image!