Traveling to Iceland in winter and wondering what are the best things to do in Iceland in winter? You'll find some inspiration in this article. Take a look!
Iceland is a magical place in winter. Watch the Northern Lights, visit the ice caves, or go hiking on a glacier…. These and other incredible experiences will make your winter trip to Iceland unforgettable. In this post, you can learn about the most incredible things to do in Iceland in winter that will get you booking a flight right away!
Sure, it is cold in Iceland in winter and you will have to face the elements if you decide to visit the Arctic during winter months, but it's definitely a once in a lifetime experience that I would recommend to everyone!
What makes Iceland so special and what can you expect of your winter trip? Here is my selection of the most unforgettable things to do in Iceland in winter. Find out!
READ ALSO: Iceland winter itinerary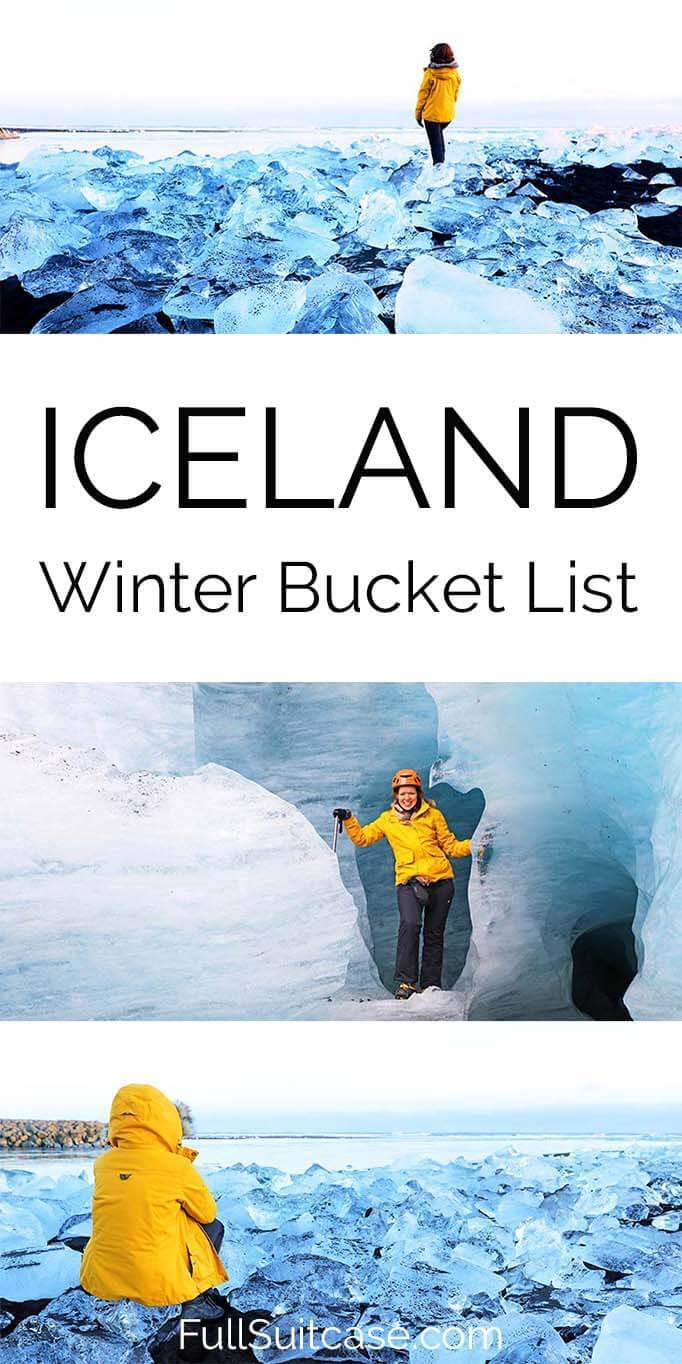 Bucket List Worthy Winter Activities in Iceland
Below is just a short list of the very best things to do in Iceland in winter. Some of these winter activities are unique to Iceland and each is a good reason to visit Iceland in winter in each own. Find out!
1. Watch the Northern Lights
The Northern Lights are one of nature's greatest displays. It's a dazzling experience that is difficult to describe in words, because it is so unique every time. No two aurora displays are ever the same and I don't think you could ever tire of watching it.
For many people, the chance of seeing Northern Lights is the prime reason to travel to Iceland in winter, despite the high cost and the cold. But as with all the natural phenomena, it can never be guaranteed…
With luck you will see the sky turn green and purple and it will be one of the most humbling experiences you could imagine, but don't get obsessed with auroras and don't let it spoil your vacation even if you don't see them. There are so many other exhilarating winter experiences that make a winter trip to Iceland worthwhile.
Good to know: You don't need to go on an organized tour in order to see the Northern Lights in Iceland, but knowledgeable guides and years of experience might come in handy when it comes to aurora hunting. The biggest advantage of going with a tour is that they really do their best to find places where conditions for aurora viewing are optimal for that specific night.
✓ Here you can book one of the best-rated small-group Northern Lights tours from Reykjavik.
LEARN MORE: Where, When & How to See the Northern Lights in Iceland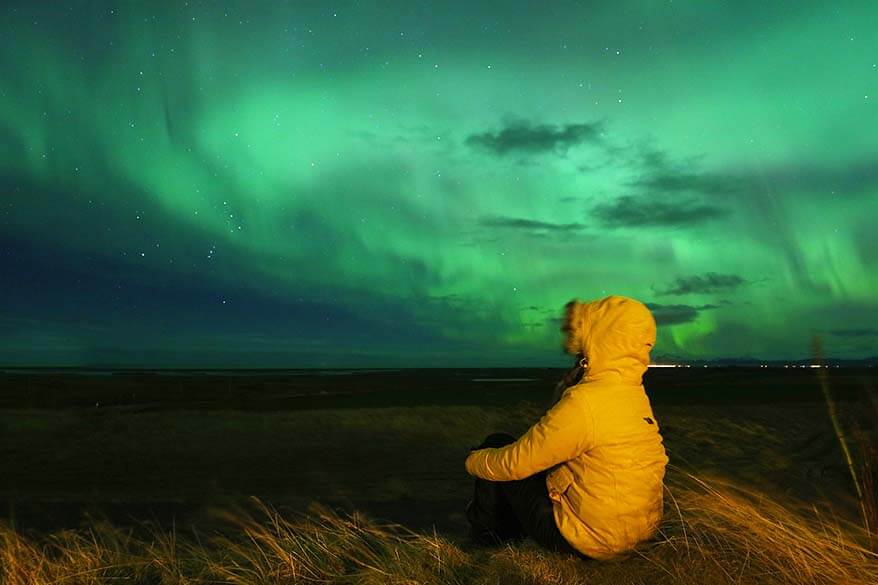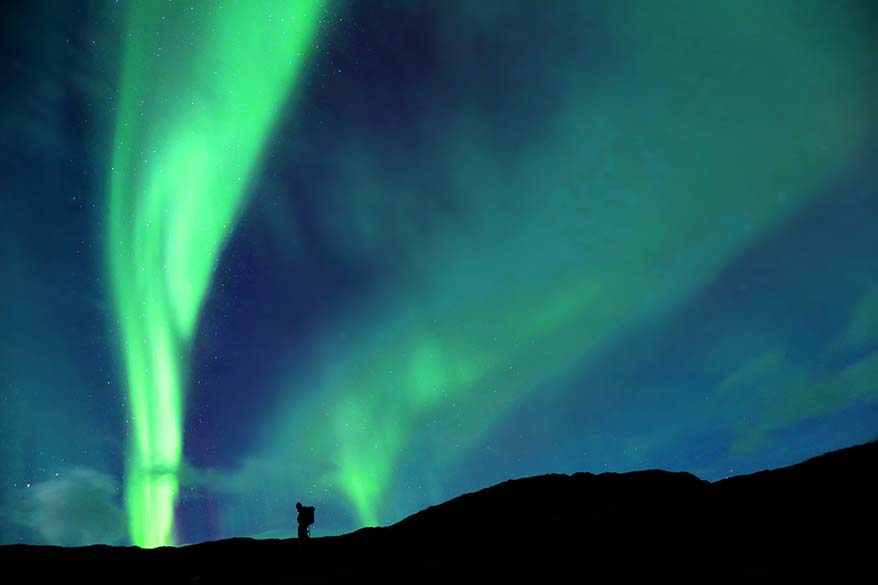 2. Experience a True Winter Wonderland – Jokulsarlon & Diamond Beach
The cold and the wind turns Iceland into a true winter wonderland, so when you travel to Iceland in winter, you're in for a real treat. Frozen waterfalls, icebergs, water that turns into ice as you watch…
Don't miss the black sand beach, also called Diamond beach, at Jokulsarlon Glacier Lagoon if visiting Iceland in winter! Diamond beach is located just across the road from the famous glacial lagoon. The scenery here changes all the time so make sure to check on both sides of the bridge. To me, this was the most special winter experience in Iceland. I could have stayed on that beach the whole day!
You can drive to Jokulsarlon glacier lagoon with a rental car, or take an organized tour. Note that Jokulsarlon is really far from Reykjavik and if you decide to visit Jokulsarlon from Reykjavik in one day, it will be a very long day in the car.
✓ Here you can find the best organized day tour from Reykjavik to Jokulsarlon glacier lagoon!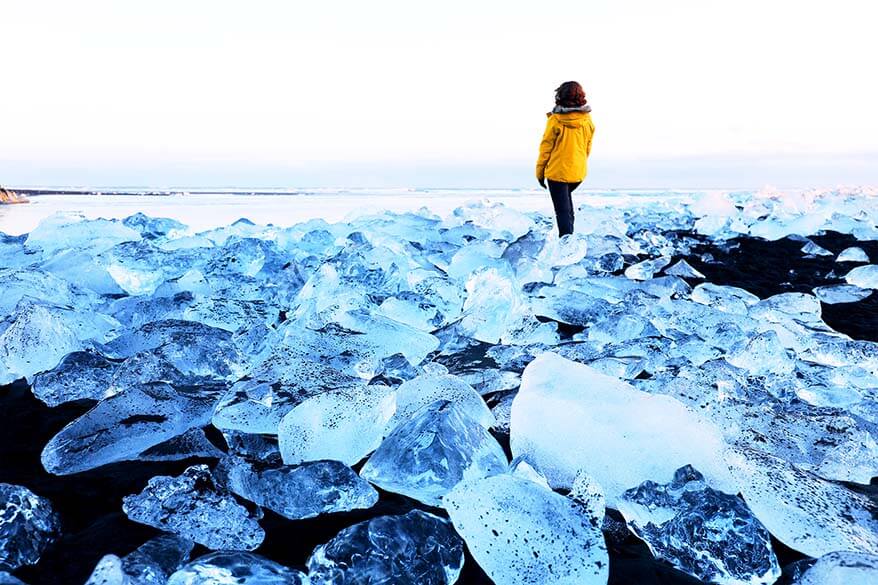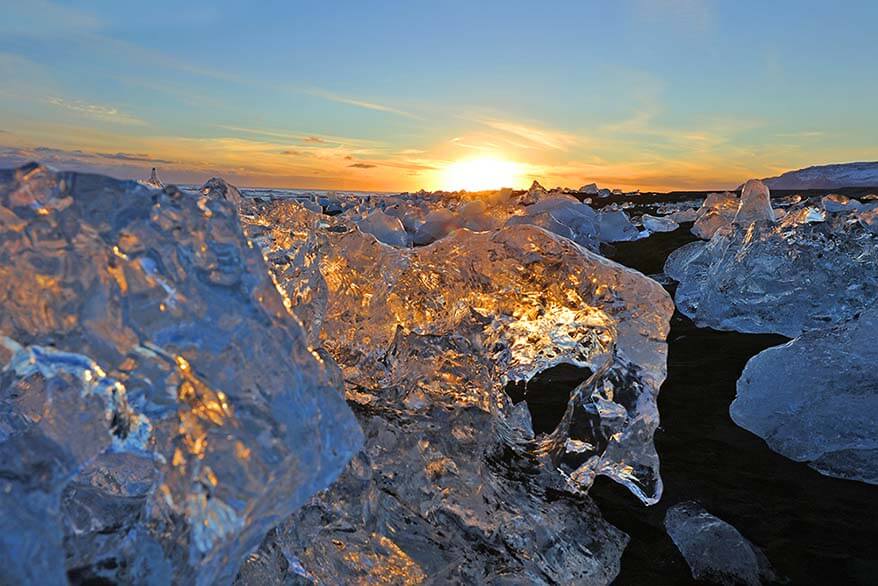 3. Discover the Ice Caves in Iceland
How amazing would it be to walk inside a glacier?! Visiting a natural ice cave is one of the winter-only experiences in Iceland, so don't miss it. Every ice cave is different and you never really know what you'll get to see before you go in, but they are a truly mesmerizing wonder of nature. Definitely a bucket list experience and undoubtedly, one of the best Iceland winter activities.
Ice caving is not something you can experience on your own, but no worries, there are knowledgeable guides that will take you on this epic journey under the blue ice.
There are several places in Iceland where you can do ice caving, the most popular tours to the natural ice caves go to Vatnajokull glacier in South East Iceland (see suggestions below). Langjokull glacier in South West Iceland has a man-made ice tunnel that you can visit the whole year-round.
TIP: Note that ice caving tours in Iceland are extremely popular and are often fully booked long in advance. So if you are traveling to Iceland in winter, this is one experience you definitely want to book beforehand.
✓ Don't miss this incredible experience in Iceland in winter! The best natural ice cave tours leave from Skaftafell or from Jokulsarlon – take a look at availability and book asap.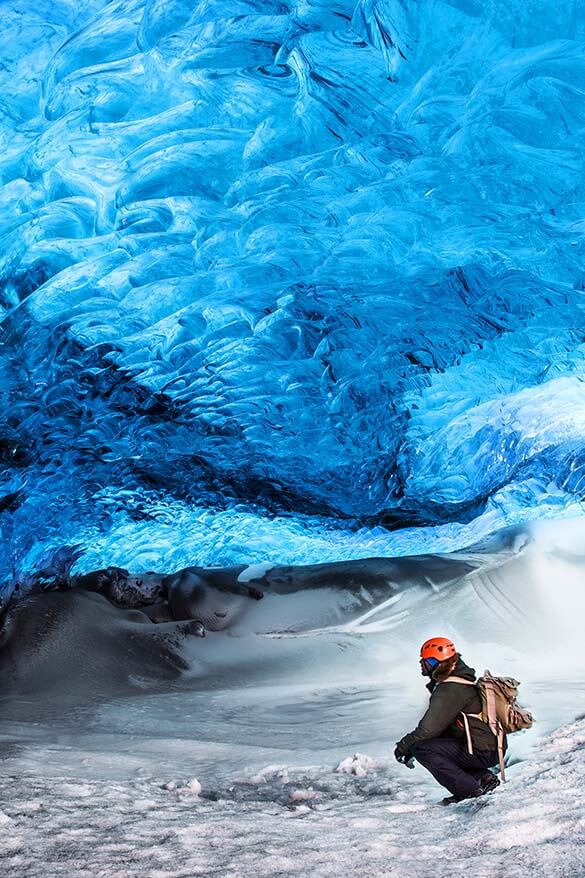 4. Go Glacier Hiking
For those who want to get up close and personal with the ice in Iceland, I can recommend glacier hiking. This is your chance to experience a truly surreal landscape with the most spectacular scenery!
Glacier hiking was one of my favorite activities in Iceland in winter. It's a humbling experience, one that makes you truly appreciate the vastness and the power of nature.
Glacier hiking is not strenuous, but don't attempt it on your own! You do need appropriate gear and a guide who is familiar with the area and the ice. Just as many other Iceland winter activities, glacier hiking is something you better book in advance.
✓ Here you can book your glacier hike in Iceland! It's also possible to go glacier hiking as a day trip from Reykjavik.
LEARN MORE: Glacier hiking in Iceland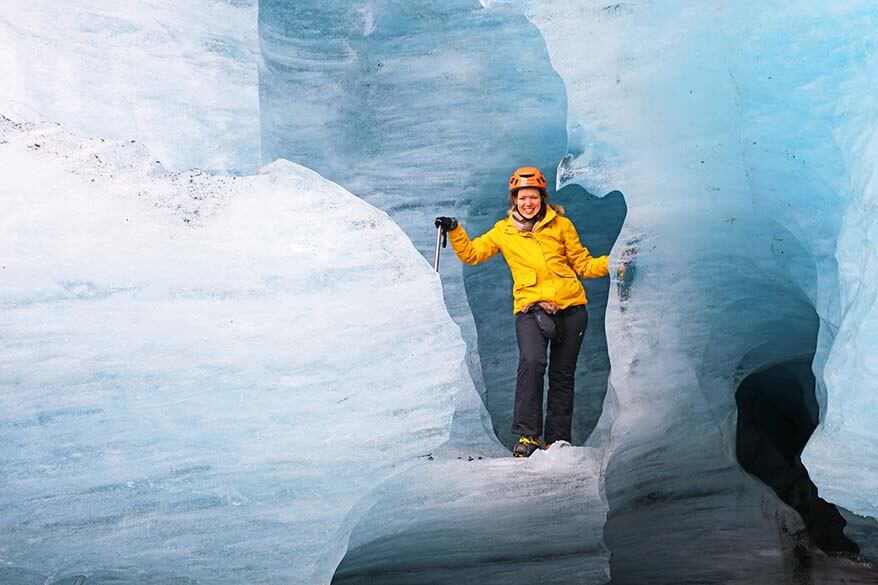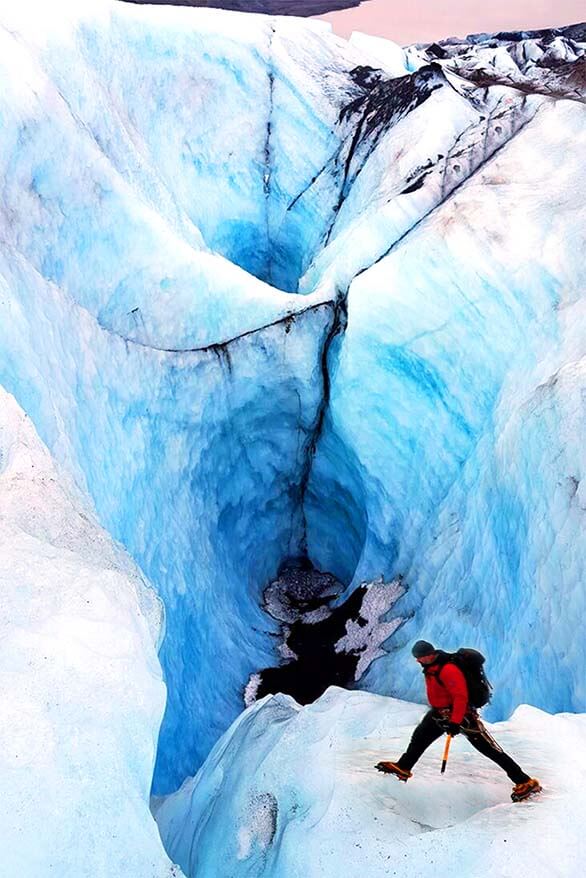 5. Bathe in Iceland's Geothermal Pools
Bathing in a hot geothermal heated pool in winter is definitely a bucket list experience. This is one of the most fun winter activities in Iceland that everyone can easily do.
There is no better way to end a day full of exhilarating winter activities than taking a dip in a hot pool on a cold winter evening.
The Blue Lagoon is a very popular option because of its proximity to the Keflavik airport and to Reykjavik. And the recently opened Sky Lagoon in Reykjavik is quickly gaining in popularity as well. But Iceland has many other natural geothermal pools all over the country!
Secret Lagoon and Fontana Wellness are both good options along the Golden Circle, and there are countless other geothermal pools all over Iceland.
In the North of Iceland, the most popular options include Myvatn Nature Baths, Geosea in Husavik, or our personal favorite, Sundlaugin á Hofsósi.
Good to know: Pretty much every town in Iceland has a swimming pool heated with geothermal energy, saunas, and hot tubs. These local pools offer great value for your money and going for a swim is one of the best things to do on cold dark winter evenings in Iceland!
TIP: Blue Lagoon, Sky Lagoon, Secret Lagoon, Fontana Wellness are all very popular and so it's best to book your tickets in advance.
✓ If you are in for a winter hike and a dip in a natural hot tub, you can also hike to Reykjadalur Valley that's famous for its hot spring.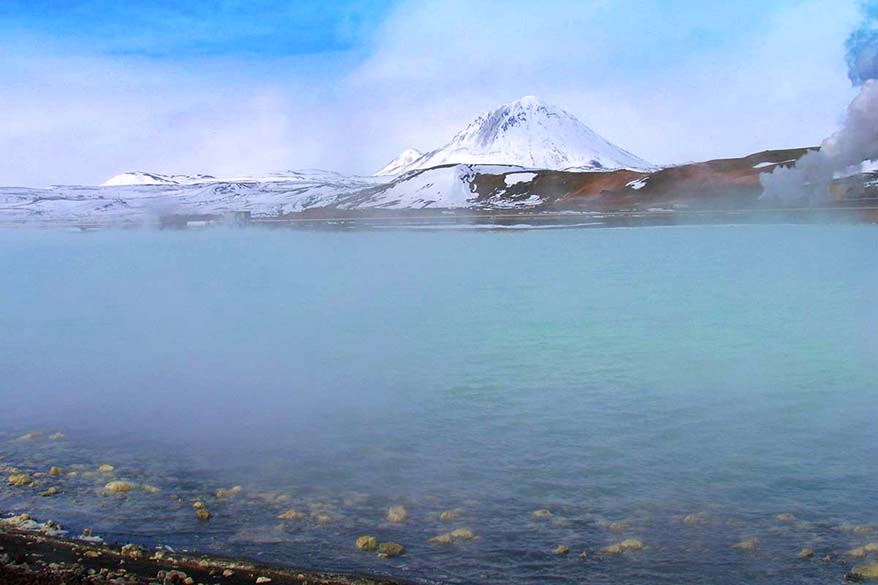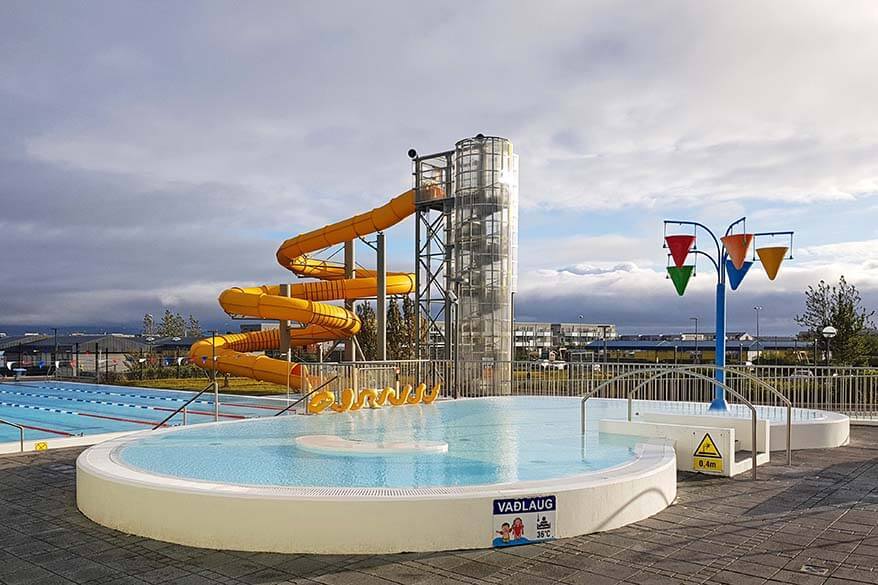 Other Great Winter Activities in Iceland
The five previously mentioned winter experiences in Iceland are each worth a trip to Iceland in winter. But of course, there are many more things to do and experience in Iceland in winter!
Here are some more ideas for fun winter activities in Iceland:
Also Reykjavik city has a lot to offer in winter, with interesting museums, great restaurants, and lots of fun tourist attractions. New Year's celebrations in Reykjavik are also well-known as the biggest party in town! So if you are visiting Iceland in winter, be sure to spend plenty of time in the city!
READ ALSO: Top Things to Do in Reykjavik
TIP: To make your Iceland trip truly enjoyable, you need to travel well prepared. Make sure to check our tips for packing for Iceland in winter.
More tips for your winter trip to Iceland:
READ ALSO: Iceland Travel Guide – all the info in one place
If you found this post useful, don't forget to bookmark it and share it with your friends. Are you on Pinterest? Pin this image!