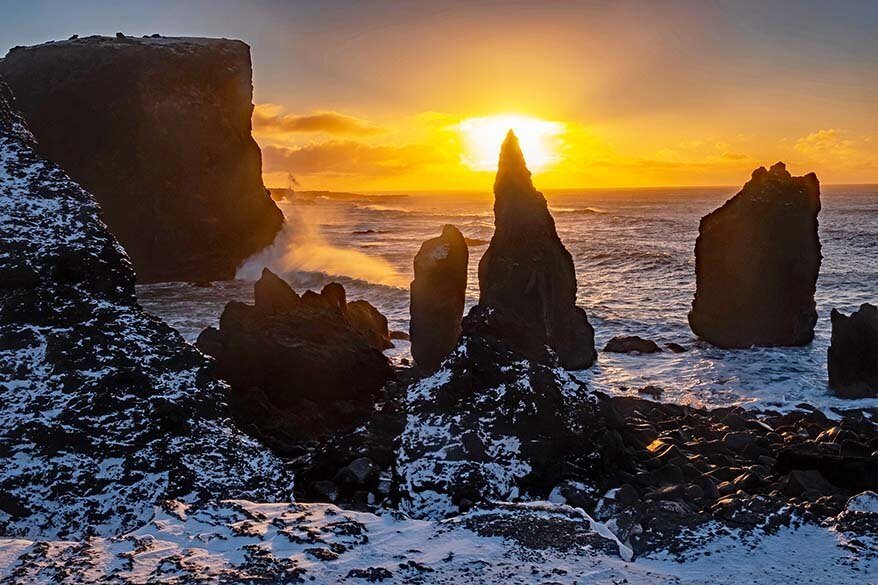 Visiting Reykjavik and looking for some great ways to see more of Iceland in a limited time? You came to the right place! In this guide, we are featuring the best half day tours from Reykjavik that are well worth your time.
Many people visiting Iceland for the first time, opt to just stay in Reykjavik, especially if they only have a day or two in the country. So we often get questions from our readers about how to spend half a day in the city and what are the best half day tours to take from Reykjavik. Thus this selection of the best excursions and short tours from Reykjavik.
Before we continue with the best half day tours from Reykjavik, you should know that most of the half-day tours in Iceland take at least 6 hours. Most of the tours start in the morning, but there are quite a lot of afternoon and evening tours in Reykjavik as well. I indicated as much information and options as possible so that you can always find a good short tour in Iceland that fits your schedule. Find out!
Good to know. We recommend booking your tours in Reykjavik via GetYourGuide – one of the world's leading tour booking companies. They have the best customer service and free cancelation up to 24 hours before the tour – something you won't find when booking with small tour companies directly.
Best half day tours from Reykjavik – overview:
TIP: While a bit longer than half a day, the newest best tour from Reykjavik in 2021 is hiking to an active Fagradalsfjall volcano! This volcano started erupting in March and is still going strong at the moment of the latest update in June. You can hike there on your own, but it's probably safer and easier and safer to go on a tour. There are various tours, and they all include pick-up in Reykjavik. The hike itself is about 45-60 minutes one way, but they usually walk around in the area a bit more, so count 2-3 hours of total hiking time. This is a must-do if visiting Iceland at this moment!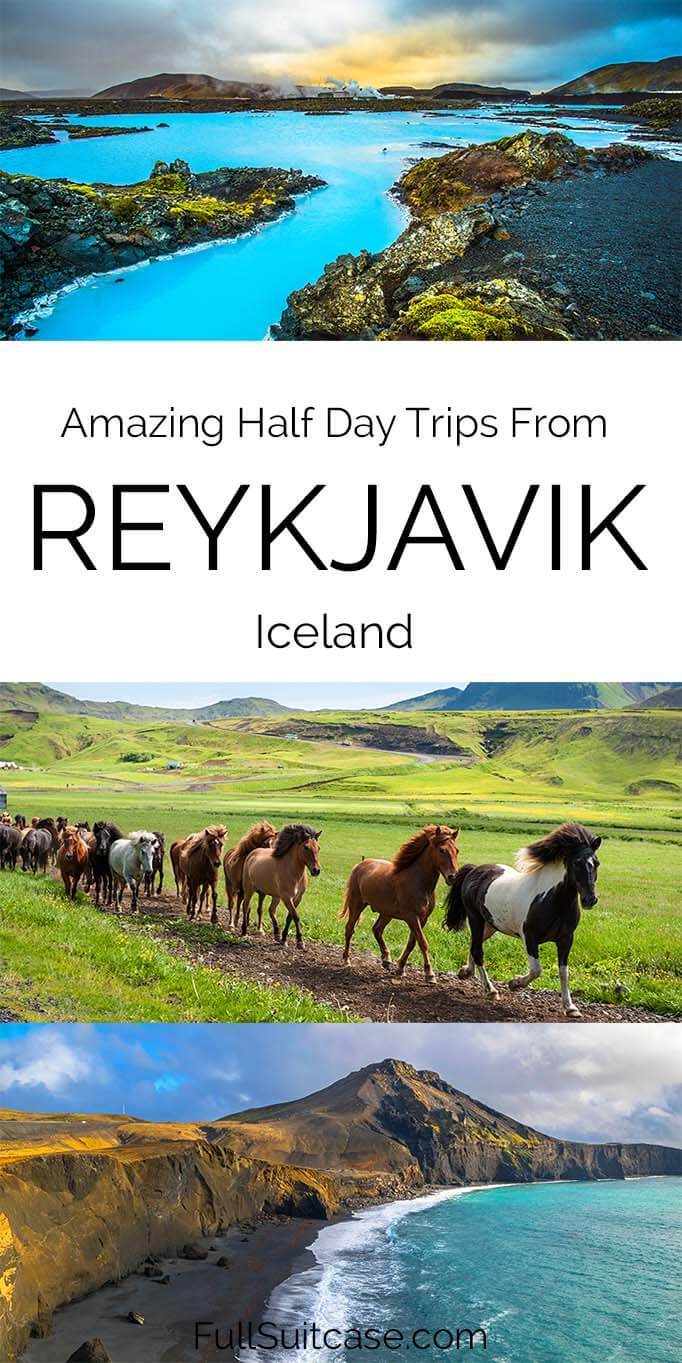 These are the very best (half) day tours from Reykjavik:
Golden Circle
The most popular tour from Reykjavik is visiting the famous Golden Circle. Since it's not too far from the city, it is possible to see the main highlights in just half a day, and therefore several companies offer Golden Circle afternoon tours from Reykjavik.
Golden Circle refers to three main landmarks: Thingvellir National Park, Geysir geothermal area, and Gullfoss waterfall. Full-day Golden Circle tours usually include several more stops, whereas half-day tours just concentrate on these three main landmarks.
The definition of a 'half day tour' is interpreted quite differently by the companies that run these tours. For example, the most popular Golden Circle afternoon tour starts at 10.30 AM and lasts 8 hours. There is a very similar tour that starts at noon and lasts 7,5 hours.
TIP: If your time in Reykjavik is really limited, I suggest you check this Golden Circle Express tour with a pick-up. It's by far the most flexible Golden Circle tour you can find, with varying departure times that you can choose. For example, in the summer months, you have six possible departure times every day: the first one is at 8.30 AM and the last one at 6 PM (it hardly gets dark in Iceland that time of the year). But also in other seasons, they offer the most flexible departure times from Reykjavik. This tour takes just 6,5 hours in total and covers all the musts.
Reykjanes Peninsula
In the past usually overlooked by most visitors to Iceland, Reykjanes Peninsula is quickly becoming a popular area to see near Reykjavik. It's well worth a visit. Located close to Keflavik airport, Reykjanes Peninsula makes a good half day tour from Reykjavik, but also a potential stopover tour in Iceland.
With dramatic coastal landscapes, geothermal features, lighthouses, and local villages, the Reykjanes Peninsula is a perfect introduction to Iceland. If you are looking for a more local experience, a place that's not yet overrun by tourists, then this area is an excellent choice for a half day tour from Reykjavik.
Here you can find Reykjanes Peninsula tours, but note that some of them do not start in Reykjavik. The most popular Reykjanes Peninsula half day tours from Reykjavik start at 10 AM and last 6 hours. Here's the best price/quality Reykjanes Peninsula tour from Reykjavik that I was able to find.
If you are looking for something a bit more special, take a look at this highly-rated Volcano Garden Reykjanes Peninsula Luxury Jeep Tour. It lasts 6 hours and starts at 9 AM with pick-up from either Reykjavik, Keflavik airport, or the Blue Lagoon. One drawback – this tour requires a minimum of 2 participants.
TIP: If you have even less time, then consider this adventurous ATV/Quad tour. This 4-hour tour runs in the morning and in the afternoon and pick-up in Reykjavik (as well as Reykjavik cruise port) is also possible.
Lava Tunnels
Iceland is a country of volcanos and so lava is all around you. However, visiting a lava tunnel is a very unique experience and definitely something to consider if you are looking for a nice way to spend half a day in Reykjavik.
Raufarhólshellir Lava Tunnel is located just half an hour drive from Reykjavik and makes a great half day trip in Iceland. Here you can find the most popular Raufarhólshellir Lava Tunnel tour from Reykjavik. It starts in the morning and takes about 3 hours. This tour is easy and suitable for most people.
Leiðarendi Lava Tube is another popular option, also about the same distance from the city. This small group lava tube tour starts very early in the morning and also takes 3 hours. keep in mind that this option is more adventurous and involves some crawling…
Northern Lights
If you are visiting Reykjavik from mid-September to mid-April, one of the best evening tours is to go hunting for the Northern Lights. While there is a chance to see auroras in Reykjavik, light pollution minimizes your chances. Not to mention that it's a completely different experience to see them surrounded by beautiful landscapes…
Another reason to book a Northern Lights tour is that you need a cloudless sky in order to see auroras. The tours check the weather forecast and radar information and always pick a location where they know the chances of seeing the Northern Lights are biggest for that specific night.
There are many Northern Lights tours from Reykjavik, but to save you time, I picked the very best ones:
READ ALSO: FAQ & Tips for Northern Lights in Iceland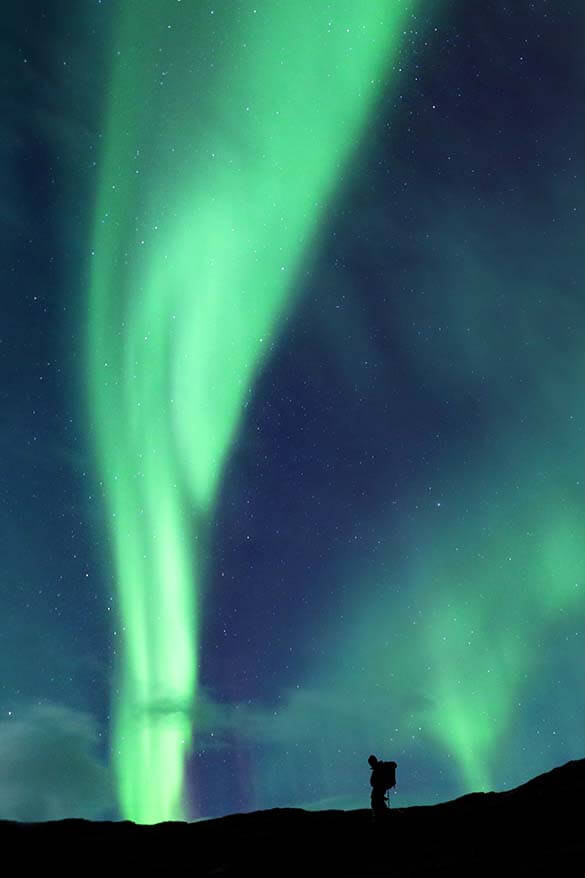 Blue Lagoon
The Blue Lagoon is Iceland's most popular tourist attraction and a good half-day trip from Reykjavik. If you haven't heard of it yet, it's basically a huge geothermal pool with a distinctive blue or milky blue color (the color depends on the light, etc.).
Since the Blue Lagoon doesn't allow other companies to sell tickets at the moment, there aren't any organized tours to the Blue Lagoon from Reykjavik. But you can easily visit the Blue Lagoon as a half-day tour from Reykjavik on your own. Here is how.
You'll need to book your Blue Lagoon tickets in advance because they limit the number of visitors and sell out all the time. You can then book your Blue Lagoon bus transfer from Reykjavik. It takes about an hour to get there and you will probably spend at least 2 hours in the water, so count at least 4 hours for this half-day trip from Reykjavik.
TIP: You can also visit the Blue Lagoon on your way to or from the airport. Bus transfers are available for Keflavik airport as well (use the same link as for Reykjavik transfers).
Secret Lagoon
Secret Lagoon is another geothermal swimming pool, about 1,5 hrs drive from Reykjavik. It's a much more low key and authentic experience in nature than the Blue Lagoon. You really can't compare them. The good news is that visiting the Secret Lagoon costs just a fraction of the Blue Lagoon.
Most people visit Secret Lagoon in combination with the Golden Circle as a full day tour from Reykjavik. If, however, your time is limited and you are looking for a short half day excursion from Reykjavik, then it's definitely something to consider.
Here you can book Secret Lagoon entrance tickets with bus transfers from Reykjavik. At the moment of writing, this excursion starts at 1 PM and takes about 5 hours.
Reykjavik city highlights
When researching half day tours from Reykjavik, you shouldn't forget that there are quite some nice and interesting ways to explore Reykjavik town itself. Further below you can find our suggestions for Reykjavik food tours. But first – a few suggestions for short city tours in Reykjavik. These are perfect if your time in Reykjavik is really limited. Find out!
Reykjavik isn't a big town and you don't need more than half a day to see the main highlights. You could easily do it on your own, but if you have no time to do any research and want to learn more about Reykjavik, I strongly suggest that you join a guided walking tour with a local.
Below you can find my hand-picked selection of three popular Reykjavik city tours:
TIP: If you have a couple of hours to fill in Reykjavik, you may want to check out Perlan – Wonders of Iceland. It's a sort of interactive museum where you can experience Iceland's natural wonders all in one place. You can see auroras and even walk in an ice tunnel! There is also a planetarium, a café, and an observation deck. You can book your ticket here; it includes a free shuttle from Harpan Music Hall in Reykjavik downtown.
Icelandic food tasting in Reykjavik
One of the most authentic ways to discover any country or city is through its food and drinks. Reykjavik in Iceland is no exception. There are serval popular food and beer tours in Reykjavik that only require a few hours of your time. It's a great way to see the city and taste some Icelandic specialties.
If you are interested in Icelandic food, check this highly rated half- day food tasting tour in Reykjavik. It runs several times a day and takes 4 hours.
If you are looking for an evening tour in Reykjavik and are over 20 years old, consider this popular Icelandic beer tasting and tapas-style local cuisine tour. It usually starts at 6 PM and takes 2 hours.
Whale watching
Some of the most popular short tours from Reykjavik are whale watching tours. The best season to see whales in Iceland is from April to September. However, there is always a chance to see whales in other seasons as well, so most tours run the whole year round. I would consider taking a whale watching tour in between March and October, but probably not in winter. Daylight hours are so scarce in Iceland in winter and there are better ways to use them than going on a tour in freezing cold and with little chance to see whales.
Anyway, if you are in Reykjavik in the warmer months, definitely consider whale watching. After all, Iceland is one of the best places in the world to see them.
Most whale watching tours from Reykjavik take 3-4 hours, but there are also express tours that take just 2 hours. Also, there are whale watching tours that run at any given time of the day, so whale watching is a perfect choice for a half day trip from Reykjavik.
There are many whale watching tours available, so I dug deeper to find out which ones are the best. Here are the best whale watching tours from Reykjavik:
Puffin watching tours
If you are visiting Reykjavik in the summer, you might be lucky enough to see puffins. There are several places where puffins nest not too far from Reykjavik, and so there are several boat tours available.
Most puffin watching tours only last a few hours, and often you have the chance to see whales as well.
This most popular puffin watching boat tour from Reykjavik takes just one hour and runs multiple times during the day. It's also one of the cheapest puffin tours from Reykjavik. This speedboat puffin tour also takes an hour and runs many times during the day, but since the boat is faster, you have more time for actual puffin watching.
If you have at least 5 hours and don't mind paying more, then you could consider a half-day whales and puffins combo tour.
Silfra Fissure snorkeling
Silfra Fissure snorkeling is a truly unique adventure that you can only find in Iceland. You can snorkel in the crystal clear waters of Silfra lava fissure between the American and European continents at Thingvellir Lake, just an hour drive from Reykjavik.
If you are looking for something truly special to do in Iceland, this is a great half day trip from Reykjavik for any season.
One of the best-rated Silfra lava fissure snorkeling tours offers a pick-up from Reykjavik, with several departures during the day. These tours run year-round and take about 5 hours with driving time from Reykjavik included.
There are more Silfra snorkeling tours (you can find the entire selection here), but the one I linked to above is one of the best options as a half day trip from Reykjavik. And don't worry, all snorkeling gear is included in the package.
Helicopter tour
One of the most amazing things you can do in Iceland is taking a helicopter tour. Icelandic highlands are incredibly beautiful and for the most part completely inaccessible. Seeing it from the air is a once in a lifetime experience!
The good news is that you can easily take a short helicopter tour from Reykjavik. So if you are looking for the most memorable way to spend your time in Iceland, this might be it. Most helicopter flights take 40 to 75 minutes and usually starting times are flexible, so it's a great short excursion that you can do in Reykjavik.
There are several possibilities when it comes to helicopter tours from Reykjavik. Here are some of the best options:
Icelandic horse riding
If you are looking for a more adventurous yet typically Icelandic half day tour from Reykjavik, you should check the Icelandic horse riding tours. And don't worry – these tours are meant for tourists, so all the riding gear is provided and, usually, you don't need any previous experience.
By far the most popular half day tour is this Icelandic Horse Riding Tour in Lava Fields. It runs twice a day and is perfect for anyone who wants to see some beautiful Icelandic landscapes and get acquainted with the Icelandic horses. Horse riding itself takes 2 hours, count 4 hours if you book it with pick-up and drop-off in Reykjavik.
Another nice option is this Horse Riding tour with a Spa Visit. It includes about 2 hours of horse riding, followed by a visit to a local spa in Reykjavik. This tour also runs from Reykjavik twice a day and takes about 5 hours.
Sea fishing
Another nice option for a morning or afternoon tour from Reykjavik is to go fishing. There are just a few companies running sea fishing tours from Reykjavik and they usually take 2,5-3 hours. Fishing tours usually run only in the summer months.
This is the best-rated Reykjavik sea fishing gourmet tour and it runs in the morning or in the early afternoon. If you are looking for a late afternoon-evening tour, then this sea fishing tour is the best option for you.
More half day tours from Reykjavik
The tours listed above are the best, most popular half day tours from Reykjavik or in the city itself. However, if you are looking for even more ideas, here are a few other options for half day excursions from Reykjavik.
Please note that the mentioned duration might not include transfer time from Reykjavik, but all of these tours shouldn't take longer than 5-6 hours.
So, this is our selection of the very best short excursions and half day tours from Reykjavik and in the city itself. Now you know that there is a lot to see and do even if you just have half a day in Reykjavik. The choice is yours. Have a great time in Iceland!
TIP: If you have more time in Reykjavik and are looking for day tours, here you can find our selection with the best winter day trips from Reykjavik and the best Iceland day tours and excursions for all seasons.
READ ALSO: Iceland South Coast Attractions – Must Visit!
More tips for your trip to Iceland:
If you found this post useful, don't forget to bookmark it and share it with your friends. Are you on Pinterest? Pin this image!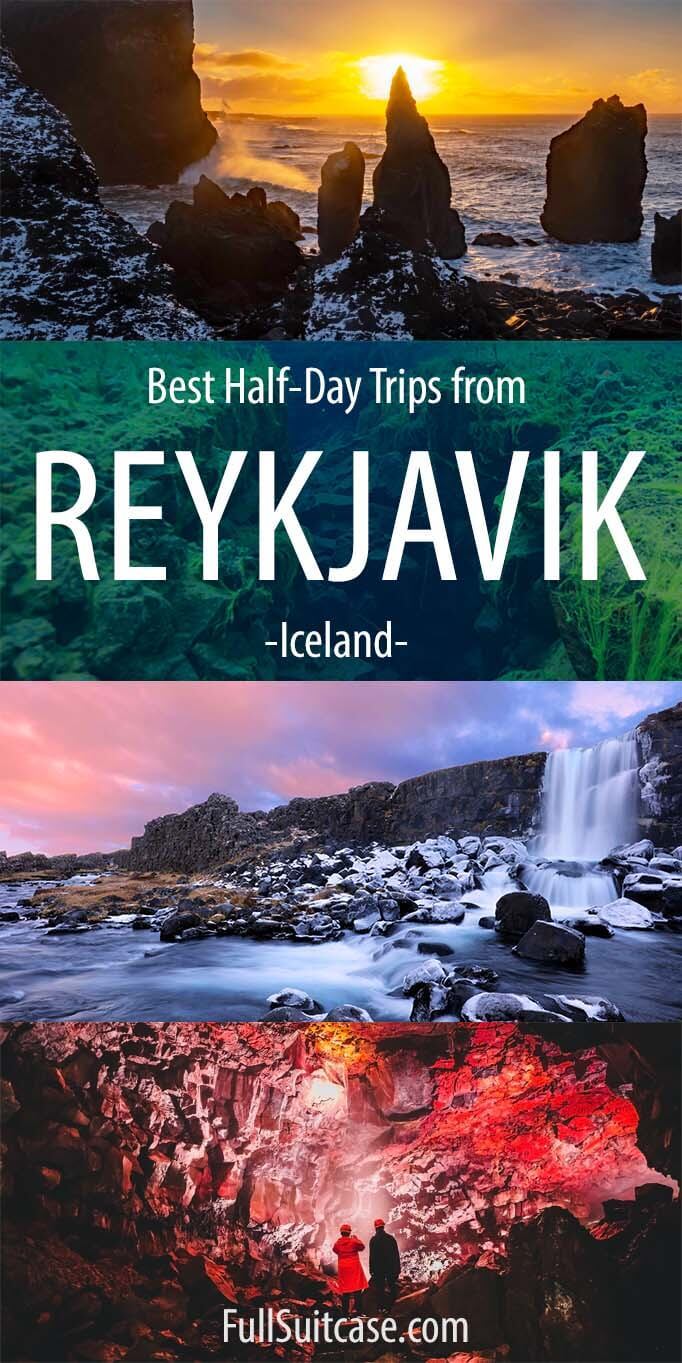 Image credits: private collection & Shutterstock.com