There is so much written about Iceland that it can get really overwhelming to figure out where exactly to go and what are the best places to visit in Iceland. In this article, we cover some of the most popular areas but also some lesser-known places that I think are worth visiting in Iceland the most. Find out!
Good to know: This article with top things to do in Iceland was initially published after our second trip to Iceland. In the meantime, we have visited Iceland 6 times, and so it was time to update it. I've now been to Iceland in all seasons and traveled in pretty much all regions. While there is still so much more to be explored, I feel that I can now give you a much better idea of the best areas to visit and the very best places to see in Iceland.
While the list now contains more than the initial top 10 places, it does not list every single attraction or landmark separately. We also didn't include all the details about everything that you can do in Iceland.
The aim of this article is to give you an overview of the most beautiful areas, the best things to do, and the nicest places in Iceland that are worth visiting the most. So that you have a good idea of where to travel in Iceland without getting too overwhelmed with all the details.
Find out!
TIP: If you are looking for more information about each area, please make sure to read the more detailed articles that we link to from this post. If you are looking for itinerary suggestions, please check our detailed 4-day South Coast itinerary, the best 7-day winter itinerary, our recommended one-week Iceland itinerary for summer months, the most complete Iceland Ring Road itinerary in 10 days, and an overview of Iceland itineraries for any duration.
BEST OF ICELAND IN A NUTSHELL:
* MUST-SEE: South Coast, Jokulsarlon Glacier Lagoon, Golden Circle, Reykjavik, Blue Lagoon and/or Sky Lagoon, Snaefellsnes Peninsula.
* FUN TO DO: Geothermal pools all over Iceland, glacier hiking, whale watching, Silfra snorkeling.
* WINTER: Ice caves and Northern lights.
* MUST TRY: Icelandic hot dog (pylsur), Skyr, lamb, fish stew (plokkfiskur).
* WHERE TO STAY: Where to stay in Iceland – Where to stay in Reykjavik – Where to stay in Snaefellsnes Peninsula.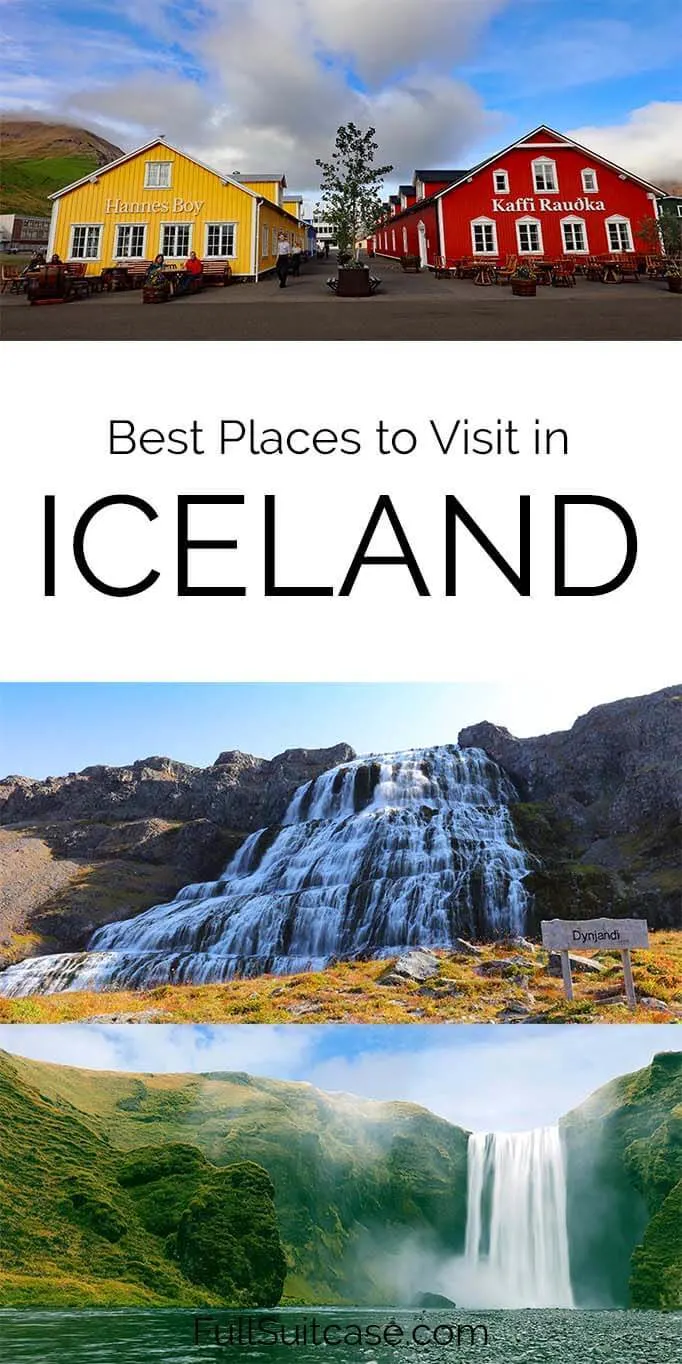 Without further ado, here is a list of the best places to visit in Iceland:
1. Jökulsárlón Glacier Lagoon
Jökulsárlón Glacier Lagoon is not coincidentally the first one mentioned on this list. If there is one place that you really don't want to miss in Iceland, then it's Jokulsarlon.
The glacier lagoon is just amazing and the scenery changes all the time. Icebergs move all the time and no two visits are ever the same. In addition to the lagoon itself, you should also visit the so-called Diamond Beach, just across the road. When the weather conditions are favorable, you can see the most extraordinary ice formations scattered all over the beach. Shining in the sunlight like huge diamonds…
For me, this beach is even more special than the lagoon itself. Especially on a sunny winter day or at sunset. Magical!
TIP: You may want to check out the nearby Fjalljökull glacial lagoon as well. It's smaller and less touristic than Jökulsárlón, and it's very nice too. Nearby Stokksnes headland is also well worth a visit.
How to visit: You can see the Jokulsarlon glacier lagoon from ashore, or take a boat tour (May-Oct) between the icebergs. You can choose between an amphibian boat or a zodiac tour.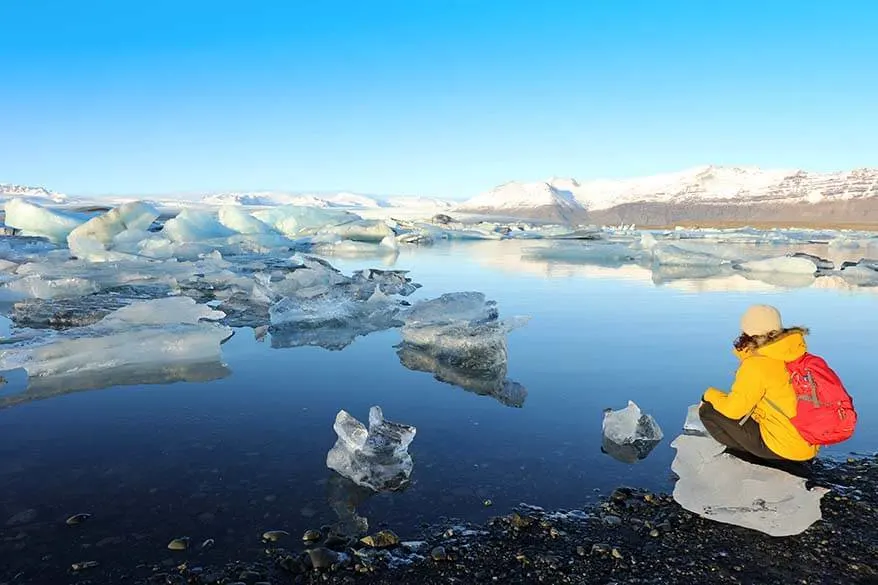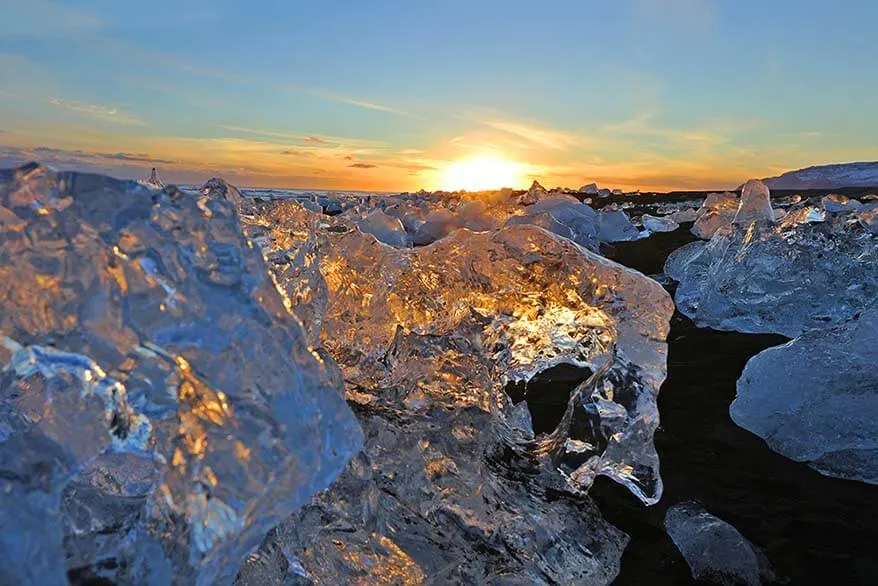 2. South Coast – Vík Beaches
Iceland's South Coast is one of the most visited areas in the country and rightly so. This area is simply stunning!
The picturesque village of Vik and the nearby Reynisfjara beach and the impressive coastline are well worth it in any season. Vik black sand beach was once ranked as one of the ten most beautiful non-tropical beaches in the world.
TIP: Don't miss the nearby Dyrhólaey Lighthouse and the stunning rock formations visible from there.
How to visit: There are several parking areas along the coast near Vik. You'll need a car to get here. Alternatively, you can visit with a South Coast tour from Reykjavik.
Important! Be VERY careful on this beach – the waves here are unpredictable and it's very dangerous to walk close to the water. Even if the water looks calm, stay as far away as you can. Under no circumstances go into the sea at Reynisfjara beach!
LEARN MORE: Best Stops & Attractions of Iceland's South Coast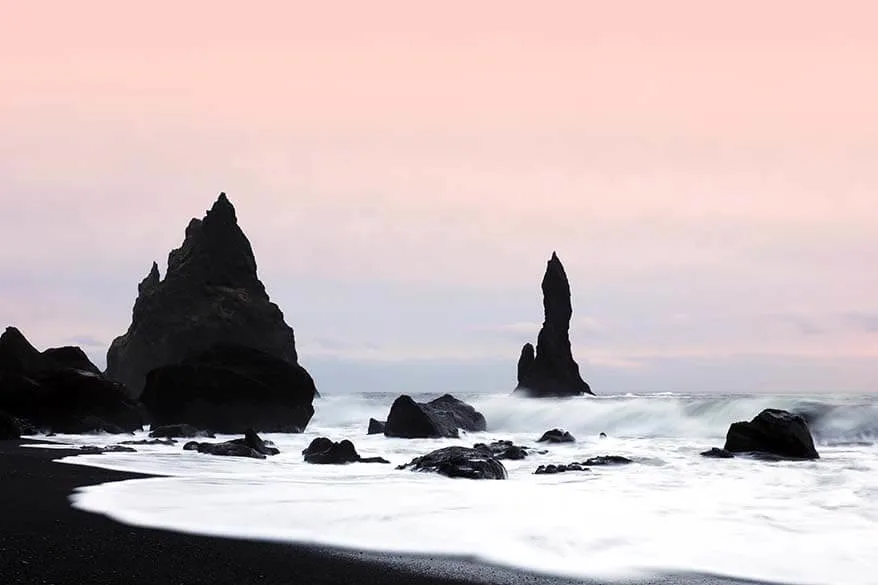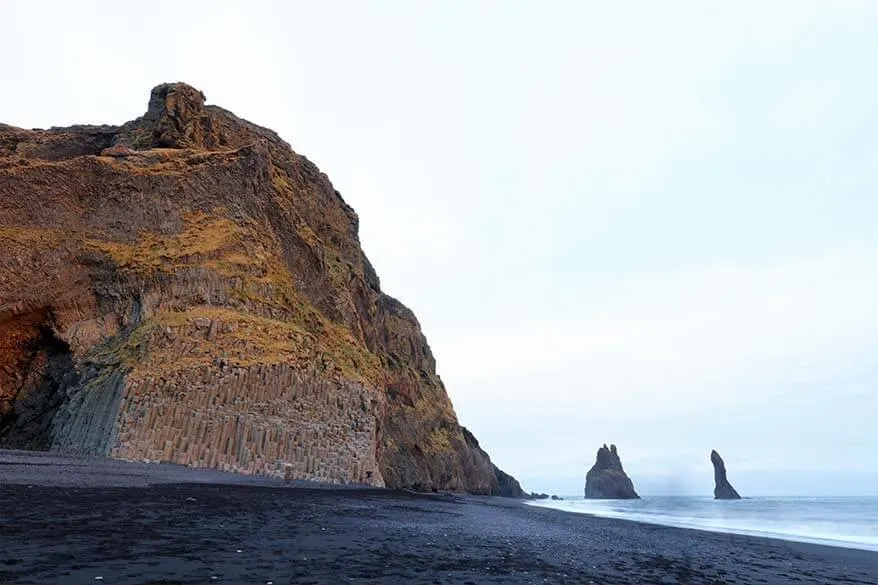 3. Golden Circle
By far the most popular place to visit in Iceland is the so-called Golden Circle. The Golden Circle, formerly also known as the Golden Triangle, refers to three main locations – Thingvellir National Park, Gullfoss waterfall, and Geysir area with a very active Strokkur geyser.
Thingvellir National Park is best known for its continental divide, the Mid Atlantic Ridge. It's a place where you can see the opening between the tectonic plates of Europe and North America. It's a beautiful area to explore on foot. Don't miss the somewhat hidden Öxarárfoss waterfall.
Gullfoss, or The Golden Waterfall, is one of the most beautiful waterfalls in Iceland. Must see!
You just cannot go to Iceland and not see a geyser erupt! Geysir area is a geothermal area where the mother of all geysers – Geysir – is located. While Geysir hasn't been active in a long time, there is a smaller geyser called Strokkur that erupts at regular intervals every 5-10 minutes. So you never have to wait long in order to see it.
TIP: While extremely touristy, the Golden Circle is popular for a reason. If you can, visit early in the morning or late in the evening in order to avoid the biggest crowds.
How to visit: You'll need a car to explore the Golden Circle. Alternatively, there are lots of organized Golden Circle tours from Reykjavik.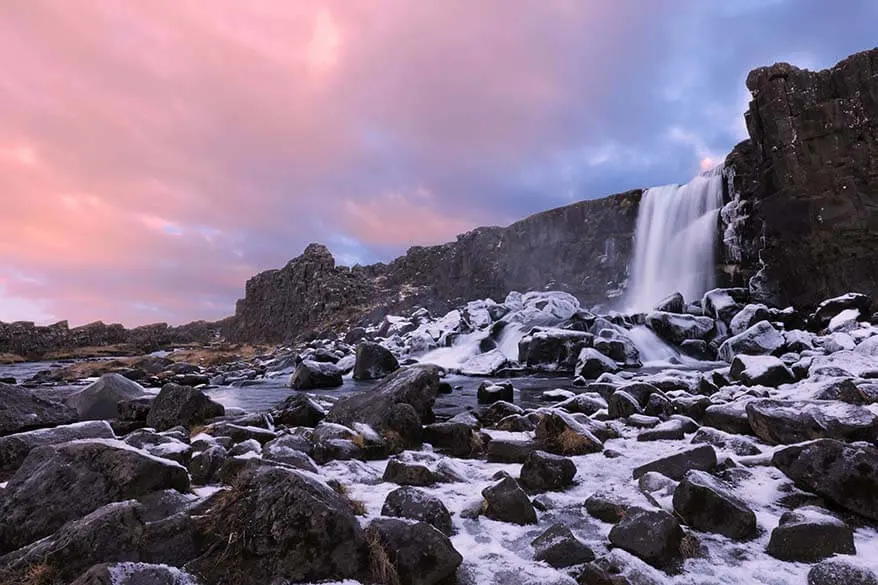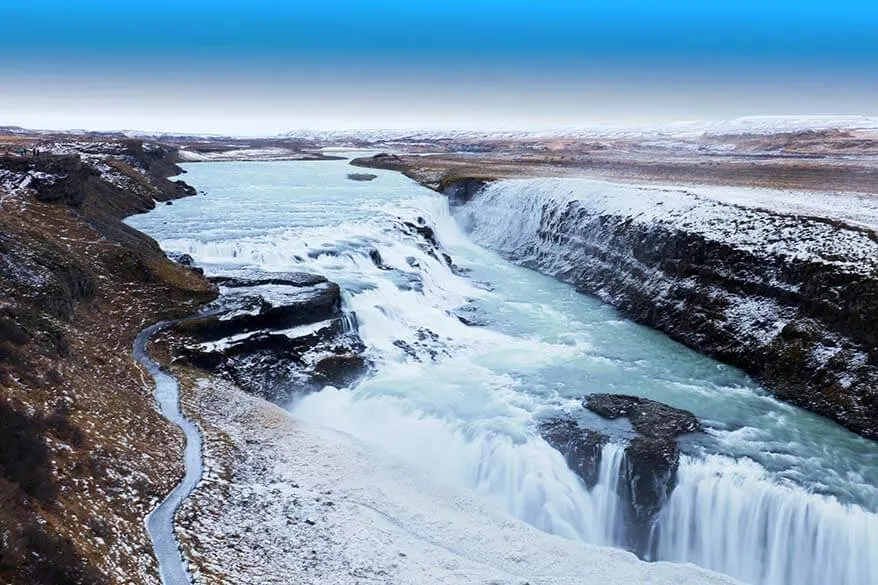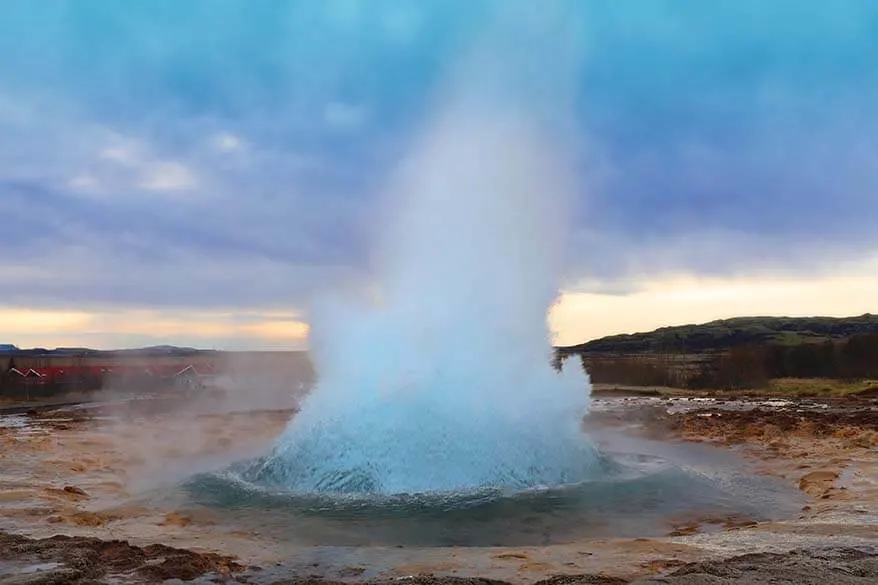 4. Snæfellsnes Peninsula
Somewhat lesser visited than the previously mentioned places, Snæfellsnes Peninsula is another region that you really should see in Iceland. This is one of the places that you can quite easily in all seasons.
Best known for its picturesque Kirkjufell mountain and Kirkjufellsfoss waterfall, this area has so much more to offer than that! Volcanic landscapes, rugged coastlines, stunning rock formations, countless waterfalls, beautiful beaches, colorful lighthouses, quaint little villages, and tiny picturesque churches… These are just a few of the reasons to visit Snaefellsnes.
TIP: If you are visiting in summer and have the time, I recommend at least 2 days for this area.
How to visit: You'll need a car to get around. Alternatively, join one of the guided Snaefellsnes day tours from Reykjavik.
LEARN MORE:
Complete Guide to Snaefellsnes
Best Things to Do in Snaefellsnes Peninsula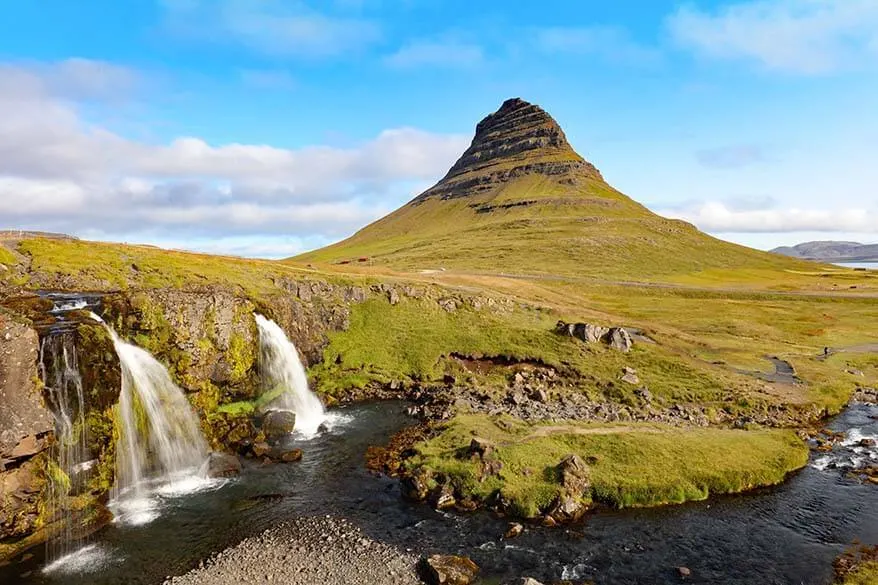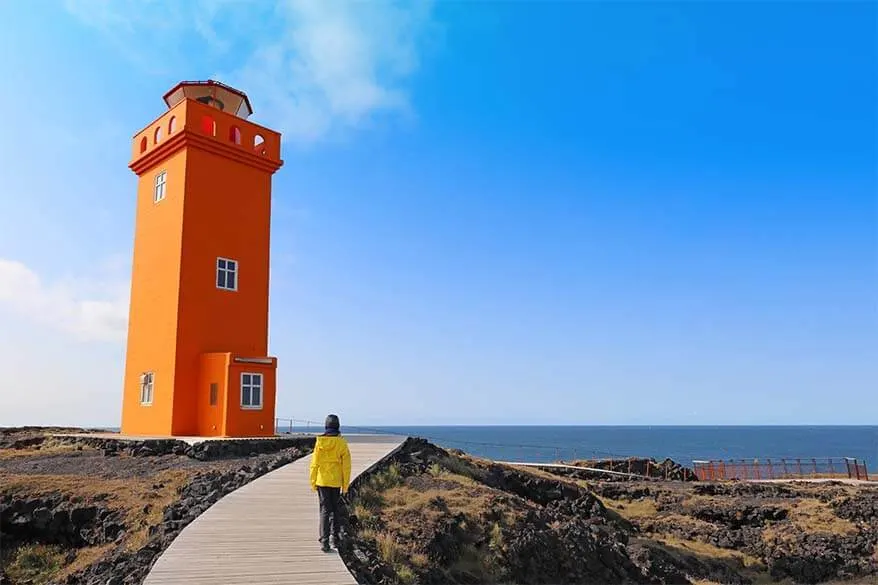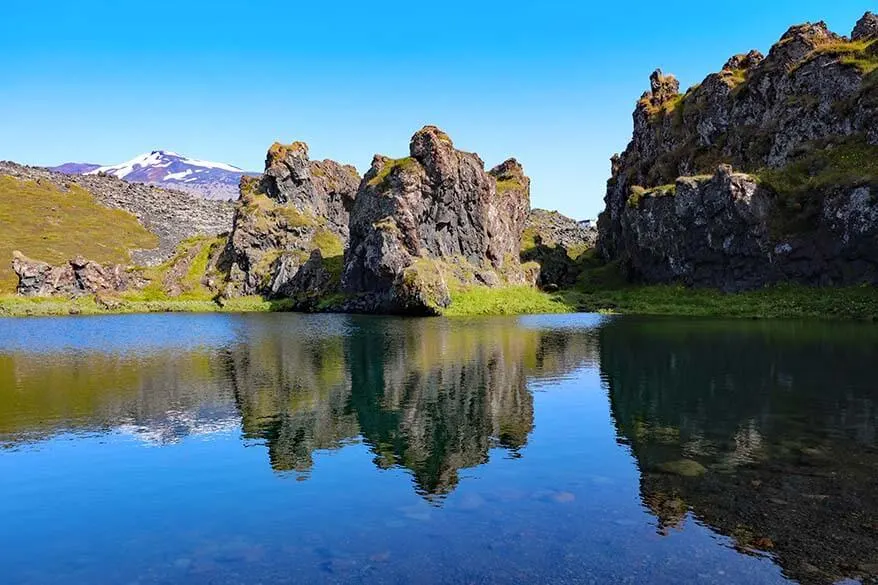 5. Blue Lagoon & Sky Lagoon
The Blue Lagoon is Iceland's most popular tourist attraction and is considered the no. 1 must-visit place in Iceland. It's a huge outdoor geothermal pool with a distinctive blue or milky blue color and nice warm temperatures.
Good to know: Blue Lagoon is extremely popular so it's essential to reserve your tickets in advance. You can book tickets here.
How to visit: Blue Lagoon is located close to Reykjavik KEF airport and you can either get there by car or by taking a Blue Lagoon bus transfer from Reykjavik. It takes about an hour to get there from the city and you will probably spend at least 2 hours in the water, so count at least 4 hours for your visit.
TIP: You can also visit the Blue Lagoon on your way to or from the airport. Bus transfers are available for Keflavik airport as well (see the link above).
Alternative: Instead of Blue Lagoon (or in addition to), you may want to visit the amazing geothermal pool Sky Lagoon. It's been opened a few years ago and has quickly become a favorite among tourists and locals alike.
Sky Lagoon is located in Reykjavik, much closer to town, and offers amazing sea views and a unique Spa ritual. You can reserve your tickets here (also here, you really have to book in advance!).
6. Skógafoss & Seljalandsfoss Waterfalls
After Gullfoss, these are the most visited waterfalls in Iceland. Located along the South Coast, both – Skógafoss & Seljalandsfoss – are among the must-see landmarks in Iceland.
Skogafoss is a really majestic waterfall. It's so photogenic that if you ever see pictures of a waterfall in Iceland, it's most likely to be Skogafoss. You can also climb the stairs all the way to the top of the waterfall for some great views of the area.
Seljalandsfoss is the only Icelandic waterfall that I know of where you can walk behind the falling water. In the winter, the waterfall is partially frozen and the whole area around it looks like an ice skating rink, so the walk behind it is usually closed. It's still nice to see and worth a short stop. But it's most magical when you can walk behind this waterfall and experience how special this place is. Prepare to get wet!
TIP: Don't miss the hidden Gljúfrabúi waterfall located inside the gorge just a short walk from Seljalandsfoss. It takes just a few minutes to visit – follow the path to the left from Seljalandsfoss and you'll see informational panels on the right side.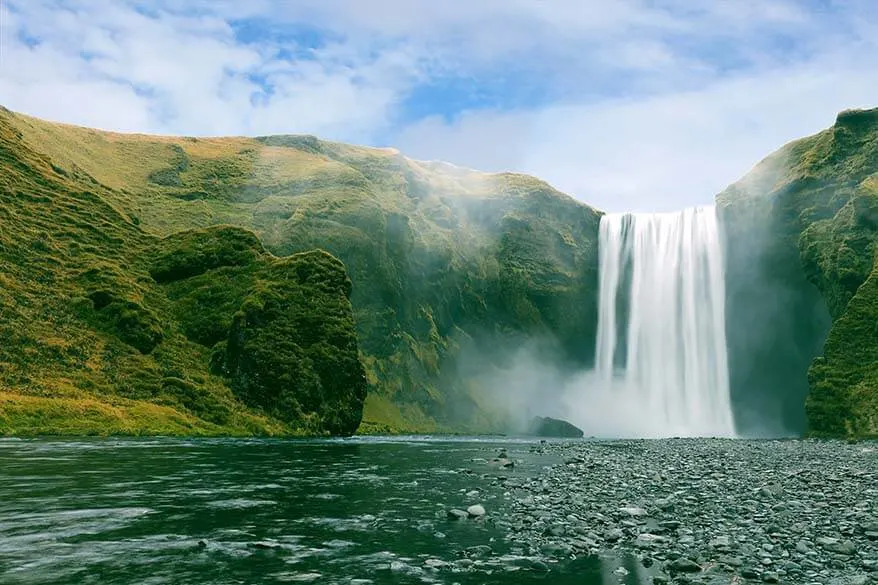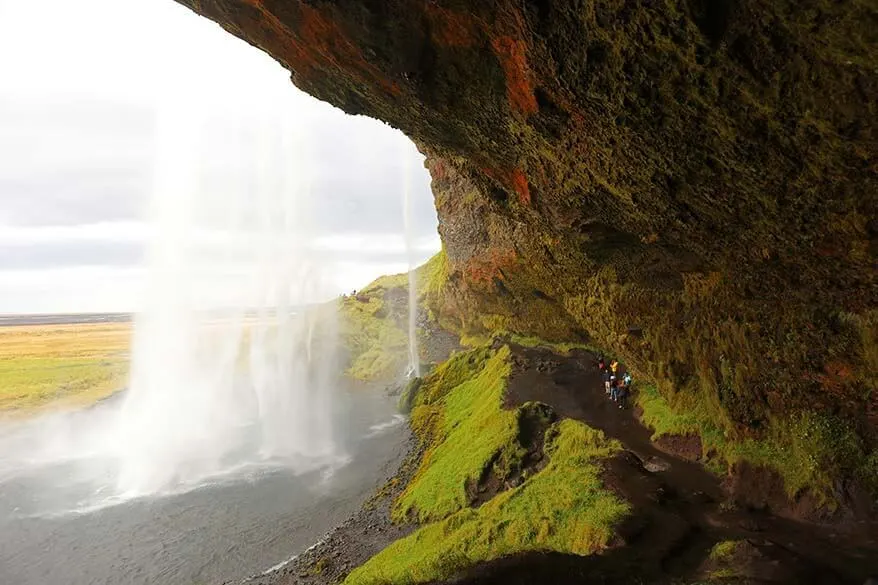 7. Myvatn
Myvatn Lake in the North of Iceland is another place you really should visit in Iceland. This area is very diverse and has a lot to offer, especially in the warmer season.
Here are some of the best things to do at Myvatn: a walk to the caldera of Krafla volcano and the lava fields, short walk to the pseudocraters at Myvatn Lake, Leirhnjukur hiking trail, Dimmuborgir area of remarkable lava formations and the 45-minute walk to Kirkjan lava tube structure.
Námaskarð geothermal area is also a must-see in North Iceland! It's an easily reachable compact area with bubbling mud pools and colorful steaming geothermal features. You have to prepare for the smell though.
Myvatn Nature Baths are also not to be missed. This geothermal pool offers beautiful views, and it's less busy and cheaper than the Blue Lagoon. However, it's changed a lot in recent years, and so if you travel here in summer, expect it to be very busy. You may want to book your tickets in advance here too!
How to visit: You'll need a car to get to Myvatn. If you are stopping in Akureyri on a cruise ship, you can visit Myvatn with this popular shore excursion.
LEARN MORE: Things to Do in Myvatn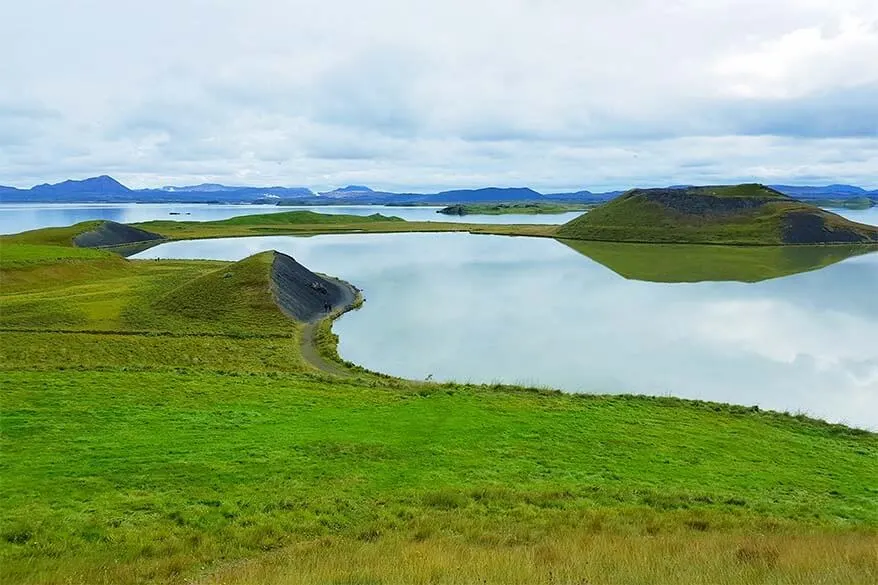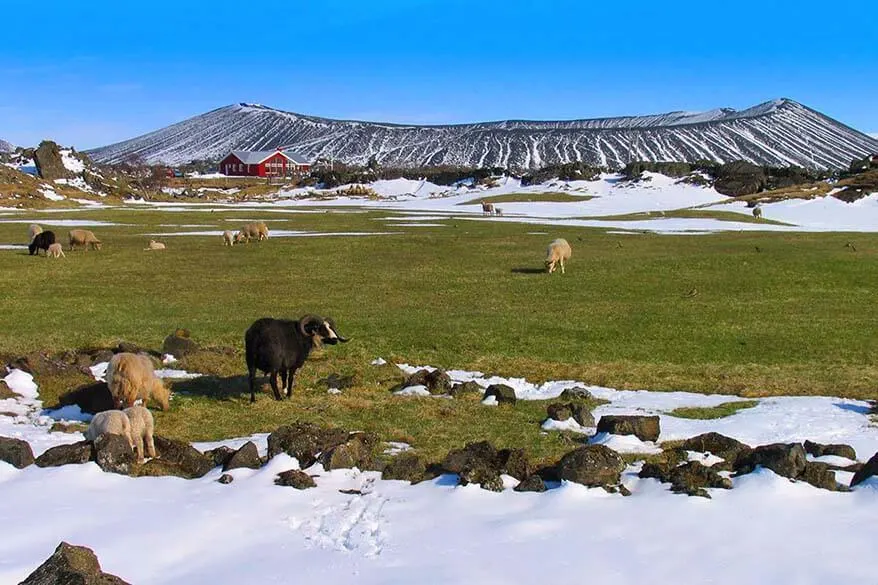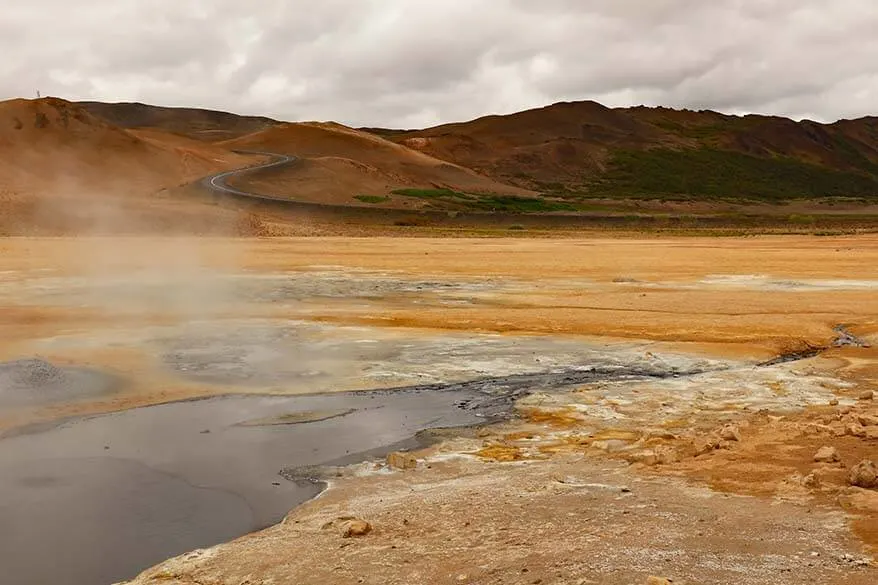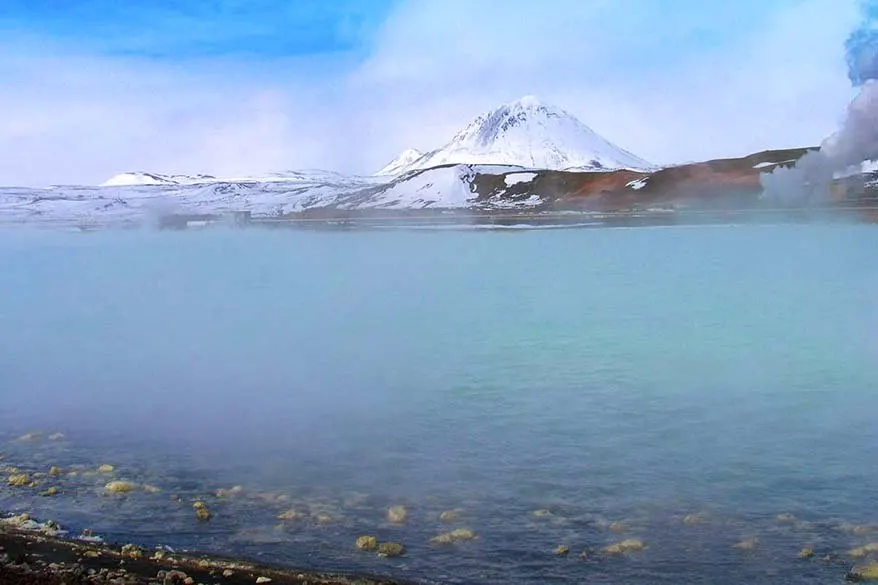 8. Húsavík
Known as the best place to see whales in Iceland, Húsavík definitely deserves a mention as one of the best places to visit in Iceland as well. If you are visiting Northern Iceland in summer, whale watching in Husavik is a must.
The town is very picturesque too and you can visit the Húsavík Whale Museum.
GeoSea – geothermal sea baths are also very popular and boast stunning sea views. It's one of the most scenic pools in Iceland.
TIP: There are many whale watching tours that run from Husavik, but they're extremely popular and have to be booked in advance. One of the best options I always hear people mention is this tour with Gentle Giants.
How to visit: You'll need a car to get to Husavik.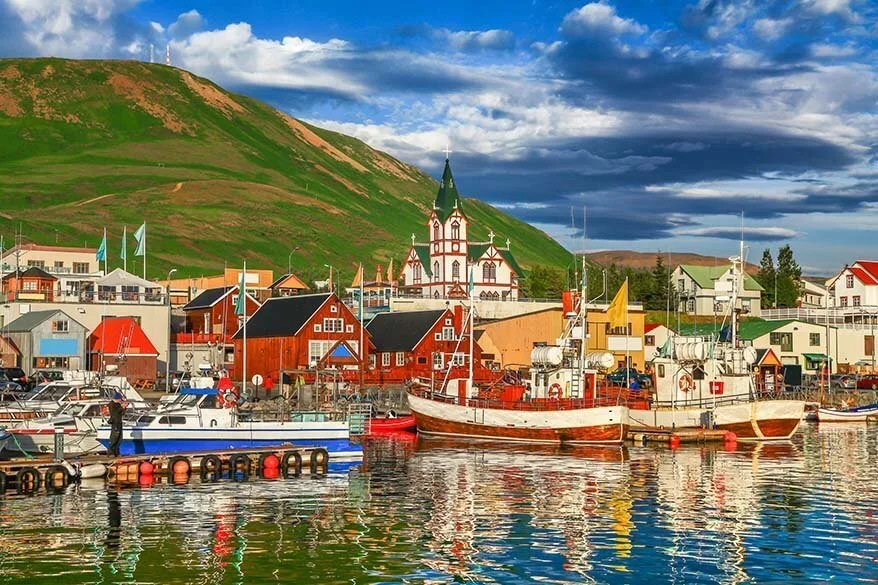 9. Raufarhólshellir Lava Tunnel
Located just a short drive from Reykjavik, Raufarhólshellir Lava Tunnel is one of the most unique places to visit in Iceland.
This underground lava tube was created by a volcanic eruption over 5,000 years ago and is one of the longest lava tubes in Iceland. It's definitely the easiest one to access and you can visit here all year round.
Good to know: The lava tunnel can only be visited with a guided tour. Tours take about 1 hour and there are several time slots during the day, depending on the season.
How to visit: If you have a car, you can easily drive here on your own (just don't forget to book a time slot for your visit so that you are sure to have a spot). Alternatively, this is a very nice 3-hour excursion from Reykjavik, and there are several companies organizing tours here.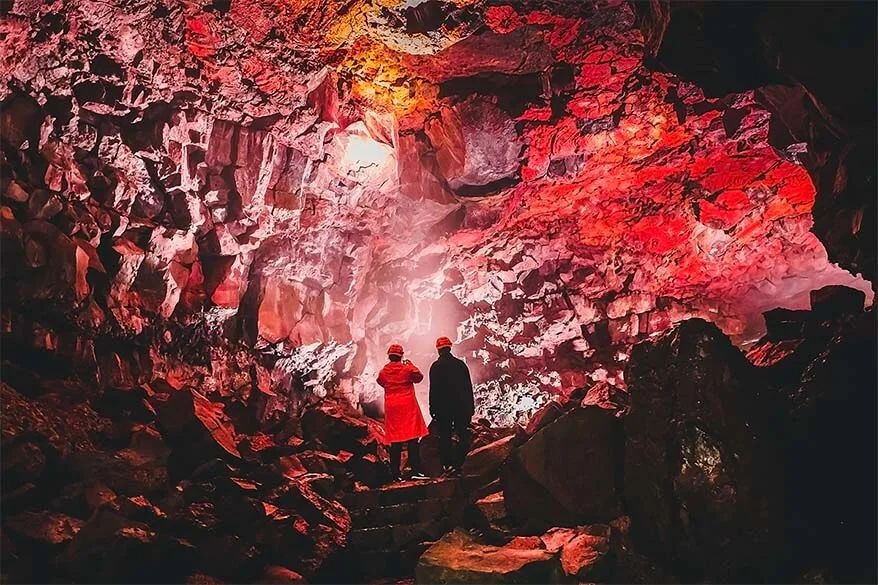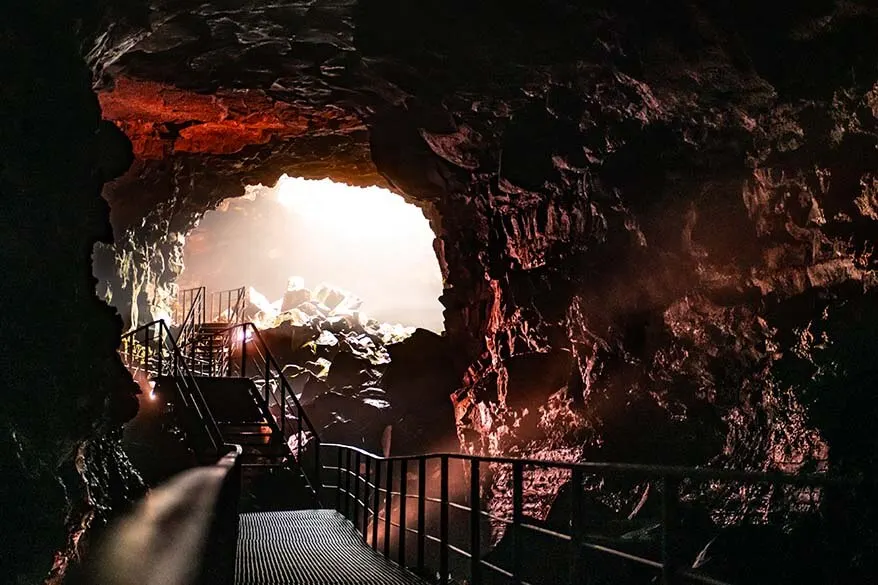 10. Westfjords Region
If you want to get a bit off the beaten path in Iceland and discover some of its most impressive, vast landscapes, then you really should consider visiting the Westfjords region.
It's quite far away from everything, however, distances are immense, and most roads are gravel. So it's best to travel here in summer and come well prepared.
Some of the most beautiful places not to be missed in the Westfjords are Dynjandi waterfall (most beautiful waterfall in Iceland), Látrabjarg bird cliffs (best place to see puffins in summer), Rauðisandur beach (endless red sand beach; unique in Iceland), and Ísafjörður town.
You'll need at least 2-3 days to see the whole region and it will be rushed, but you can also see the main attractions in 1-2 days.
How to visit: You'll need a 4WD or a 4×4 vehicle in the Westfjords. Make sure that your car insurance covers driving on gravel roads.
TIP: The easiest way to get to the Westfjords is by taking a car ferry from Stykkishólmur on Snaefellsnes Peninsula. That way, you can also just come for one or two days and see the landmarks on the southern side of the Westfjords region.
LEARN MORE: Westfjords One Day Itinerary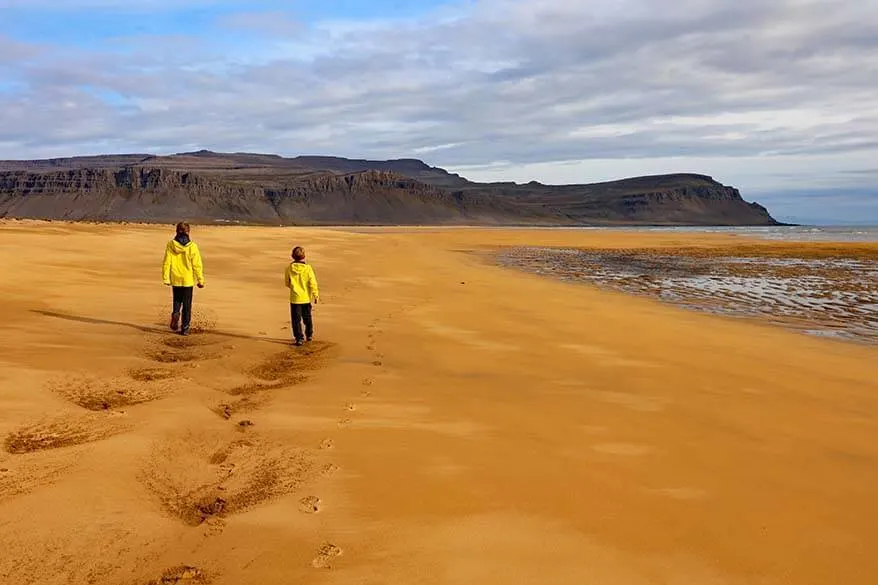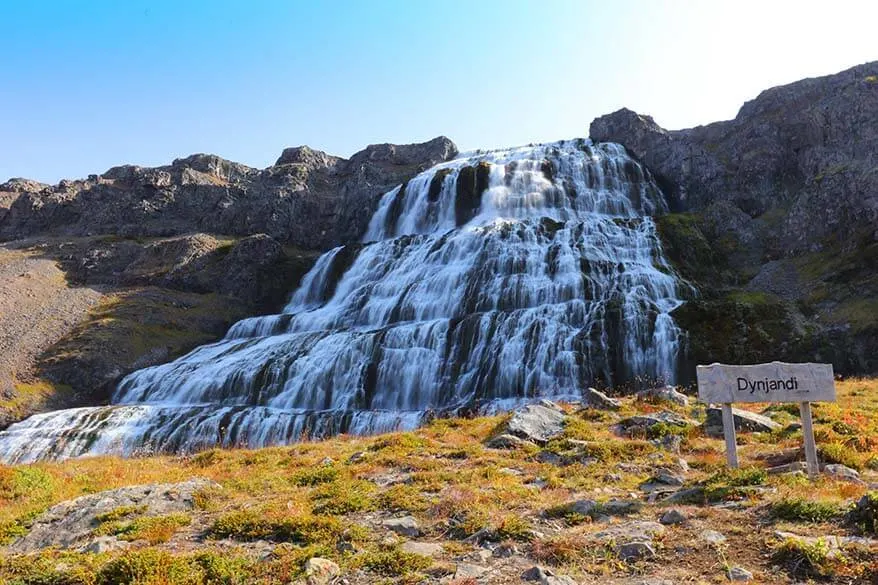 11. Skaftafell National Park
Skaftafell NP is one of the easiest-accessible and most beautiful National Parks in Iceland. It, therefore, deserves a mention on every list of the best places to visit in Iceland.
There are many short hiking trails in this park. The most popular hike is that to Svartifoss – a waterfall surrounded by impressive black basalt columns.
If you have a few hours to spare, consider the Svartifoss – Sjónarsker – Sel walk and the walk to the glacier Skaftafellsjökull. Alternatively, the Svartifoss – Sjónarnípa hike is somewhat longer but even more impressive.
How to visit: Skaftafell NP is located just off the Ring Road in the south of Iceland. You can easily get here in a regular car. There is a Visitors' Center where you get more information and find detailed hiking maps.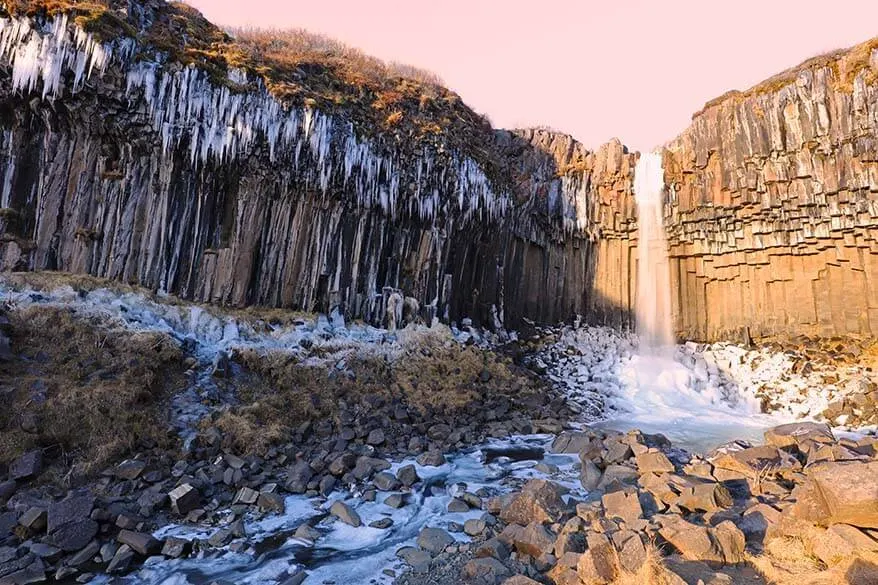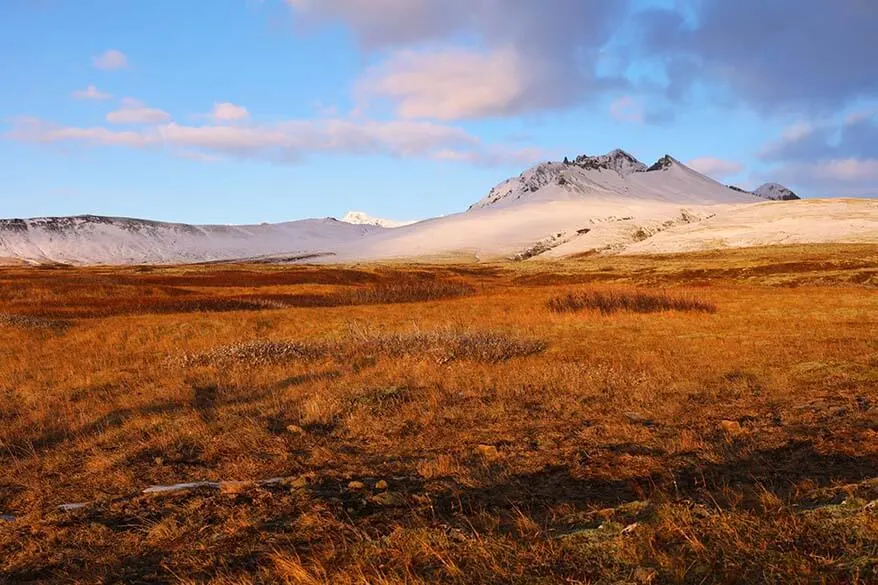 12. Icelandic Highlands
The biggest part of Iceland has hardly any roads and is very little explored, but if there is one part of Iceland that is worth visiting more than anything else, it's the Icelandic Highlands!
Since the highlands are so vast and there are so many beautiful hidden gems, it would be impossible to mention even a small part of them. At the same time, most areas are very remote and require local knowledge and super jeeps with oversized tires in order to visit them… Furthermore, the highlands are only accessible from approximately mid-June to mid-September.
Some of my favorite places in the highlands that are somewhat easy to visit are Kerlingarfjöll, Háifoss, and Landmannalaugar. Haifoss waterfall is quite easy to visit on your own as well.
How to visit: You'll need a good 4WD or a 4×4 for all of the places mentioned above, but the easiest way to visit is by joining a tour. If you want to get a taste of what the highlands are about, the most popular highlands tours are those to Landmannalaugar. You can check availability and book Landmannalaugar tours here.
LEARN MORE: Icelandic Highlands Tour with a Private Driver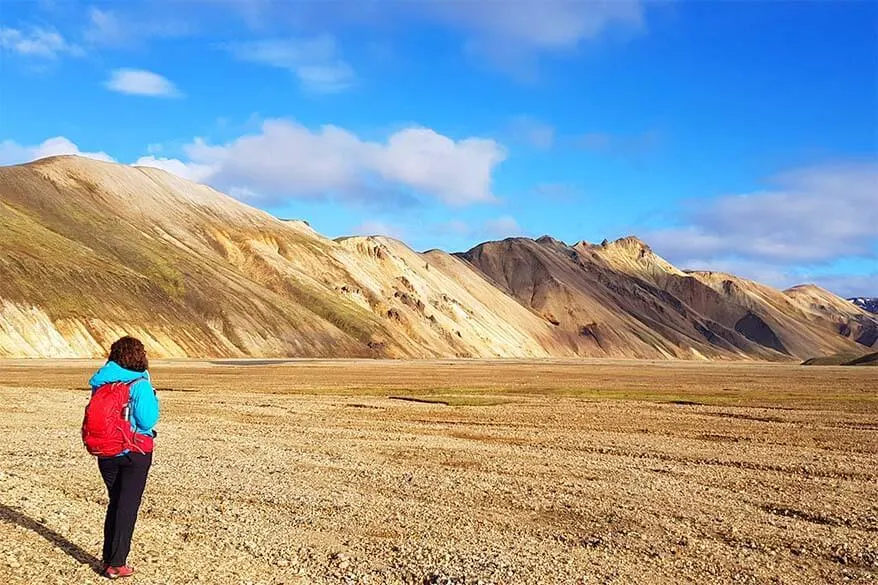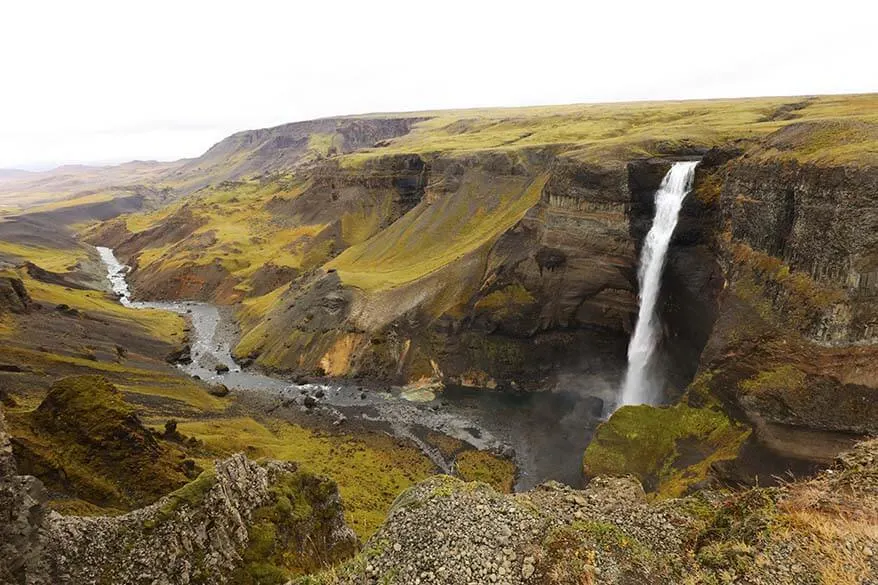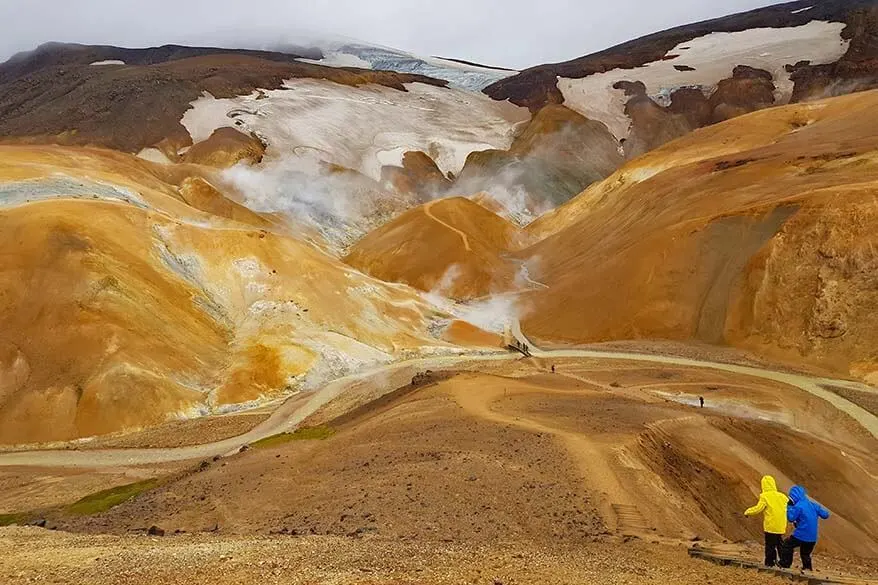 13. Reykjanes Peninsula
One of the easiest areas to visit in Iceland from this list, the Reykjanes Peninsula is often overlooked by most Iceland visitors. Their loss! This stunning area close to Keflavik airport and Reykjavik city is home to the popular Blue Lagoon and is well worth a visit too.
With colorful geothermal areas, endless lava fields, and stunning rugged coastlines, Reykjanes Peninsula is like the best of Iceland in a nutshell.
Don't miss the Valahnúkamöl Cliffs at Reykjnesviti Lighthouse and Seltún Geothermal Area. Bridge Between Continents is another nice spot, just as Strandarkirkja and Garður. Krysuvikurberg Cliffs are really beautiful too, but require a 4 WD vehicle to get there.
How to visit: You can easily visit most of the attractions of the Reykjanes Peninsula by yourself with a regular car. Alternatively, join one of the guided tours from Reykjavik. Some areas require a 4WD or even a super jeep.
LEARN MORE: Ultimate Guide to Reykjanes Peninsula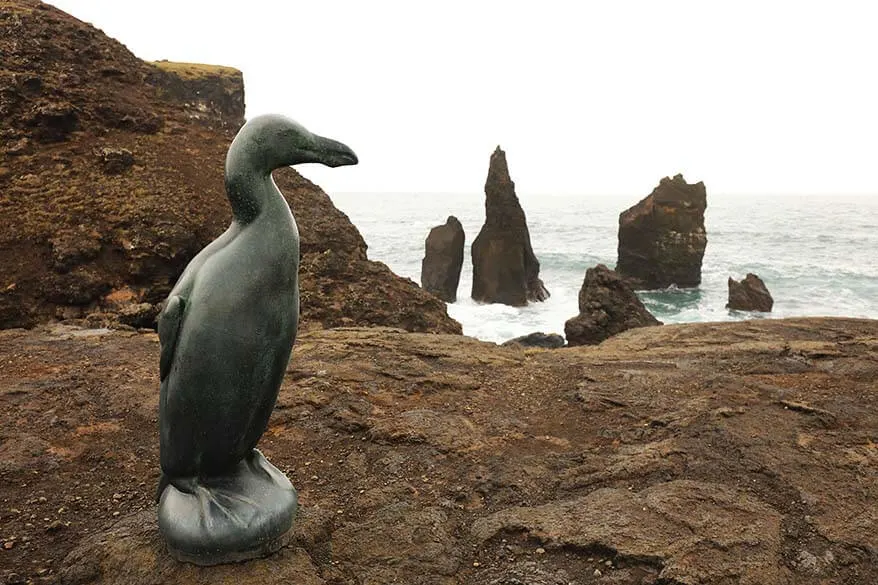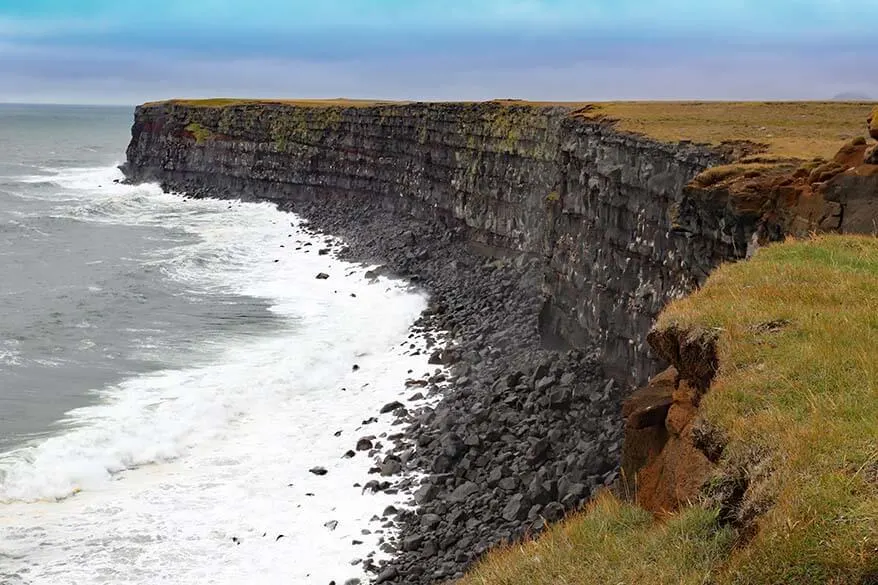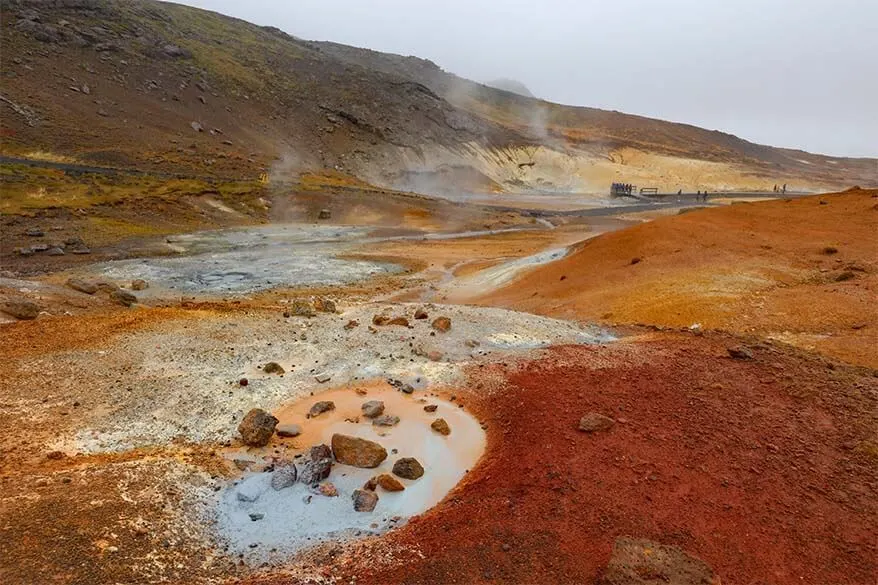 14. Recently-Active Volcanos
This is the newest addition to the best things to do in Iceland – hiking to one of the recently erupted volcanos!
In March 2021, there was an eruption of the Fagradalsfjall volcano on the Reykjanes Peninsula. The nearby Geldingadalir valley was filled with burning lava and the scenery was changing daily. The volcano quickly became the new most popular sight in Iceland attracting locals and tourists alike.
More recently, in August 2022, another volcano erupted just near the first site – Meradalir.
In the summer of 2023, Fagradalsfjall volcano erupted again, but this time it didn't last long.
At the moment of the last update, these volcano eruptions have stopped. But the eruption sites remain a very popular place to see in Iceland, attracting lots of tourists every day.
Good to know: The easiest way to get to the volcano eruption sites is by car or by joining a tour. There are quite a few volcano tours available. They include pick-up/ drop-off in Reykjavik and some also visit a few of the main highlights of the Reykjanes Peninsula or include tickets to the Blue Lagoon.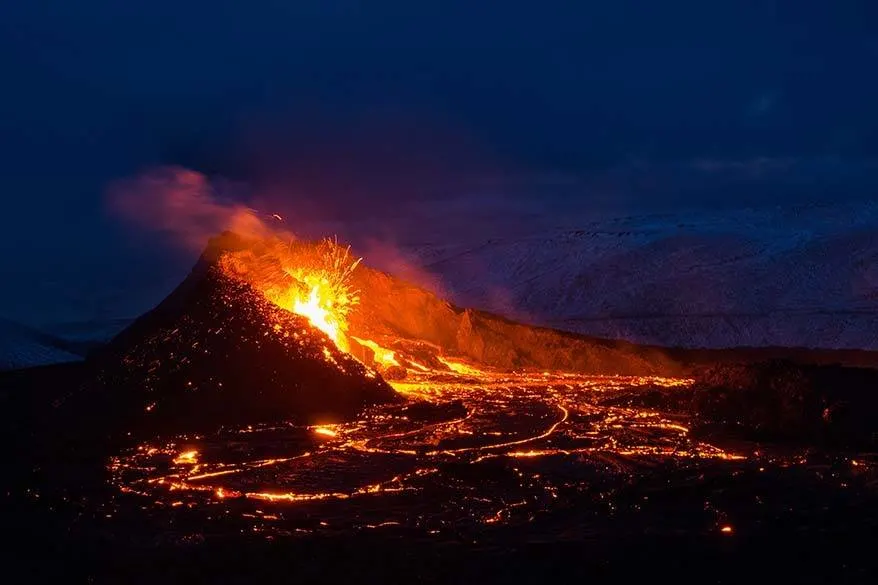 15. Tröllaskagi Peninsula
If there is one area in North Iceland that seems to be completely overlooked by international tourists, it's the beautiful town of Siglufjörður and its surroundings, aka the Tröllaskagi Peninsula. It's simply stunning!
The fishermen's town Siglufjörður is extremely picturesque and The Herring Era Museum is well worth a visit. But probably even more impressive is the scenic drive to get there. Road 76 which leads from Varmahlíð to Siglufjörður is probably the most beautiful scenic drive in Iceland.
TIP: Make sure to stop at Hofsós swimming pool. Don't miss the Grafarkirkja (said to be the oldest church in Iceland)! Víðimýrarkirkja and Glaumbær Farm & Museum are also worth a visit.
How to visit: You'll need a car to explore this area.
LEARN MORE: Best Things to Do in Siglufjörður and Trollaskagi Peninsula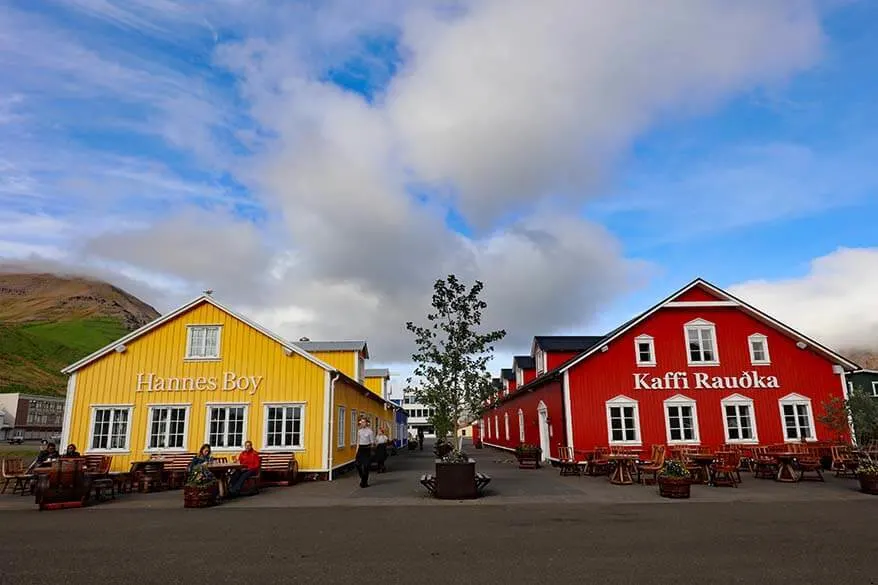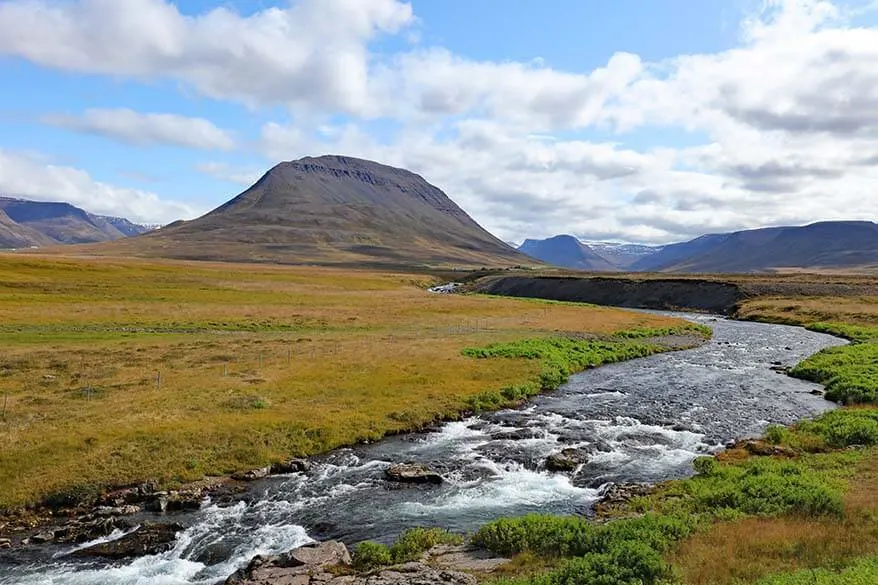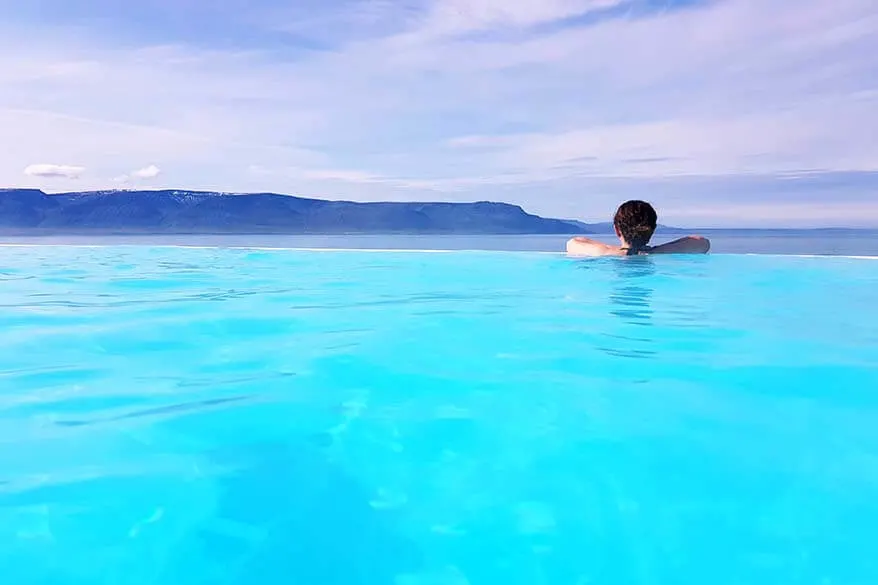 16. Heimaey Island
Part of Iceland's Westman Islands, Heimaey Island is the biggest island and one of the most beautiful places in Iceland.
It's a place where you can get acquainted with the more traditional way of living in Iceland and feel what it's really like to live on a remote island. Especially if you visit off the main season.
The landscapes here are stunning, and in summer, you can see lots of puffins on the island. There is also a whale sanctuary where you can see white Beluga whales.
How to visit: You'll need to take a ferry to get here. Private tours from Reykjavik are also possible, but very expensive. For comparison, be sure to check this option as well – the prices depend on your group size.
LEARN MORE: Visiting Westman Islands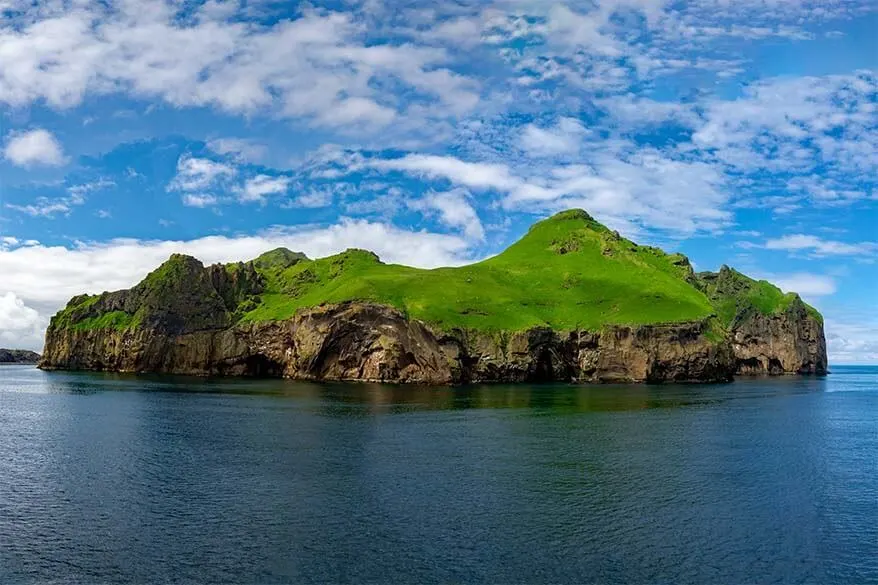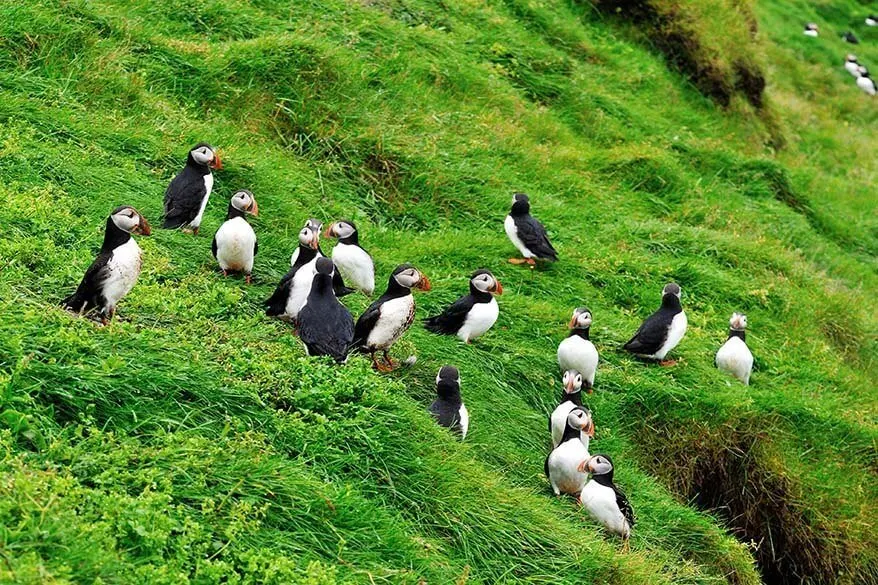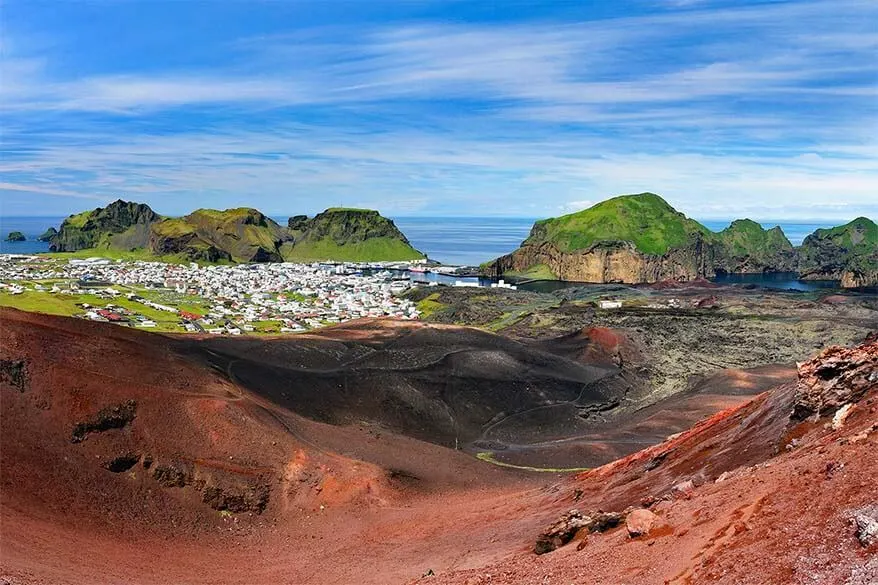 17. Dettifoss & Asbyrgi
There are two more places in Northern Iceland that are well worth visiting and deserve a mention among the best things to do in Iceland – Dettifoss Waterfall and Asbyrgi Canyon.
Dettifoss is Europe's most powerful waterfall. With 100 meters (330 ft) in width, a drop of 44 meters (144 ft), and an average water flow of 193 m³/s, this is the place where you feel the power of nature as nowhere else in Iceland. Must see!
Asbyrgi Canyon is a somewhat lesser-known place located between Dettifoss and Husavik and it's well worth a short stop or a longer visit. It always amazes me how such completely different landscapes can be so close to each other and the tranquility of Asbyrgi is just incomparable to the roaring powerful Dettifoss.
How to visit: Road #862 to Dettifoss is paved and easily accessible (road #864 is not and requires a 4WD). Road #861 to Asbyrgi is also paved. However, road #862 north of Dettifoss is gravel and it's best to have a 4WD if you are planning to drive here. Alternatively, you can reach Asbyrgi from Husavik.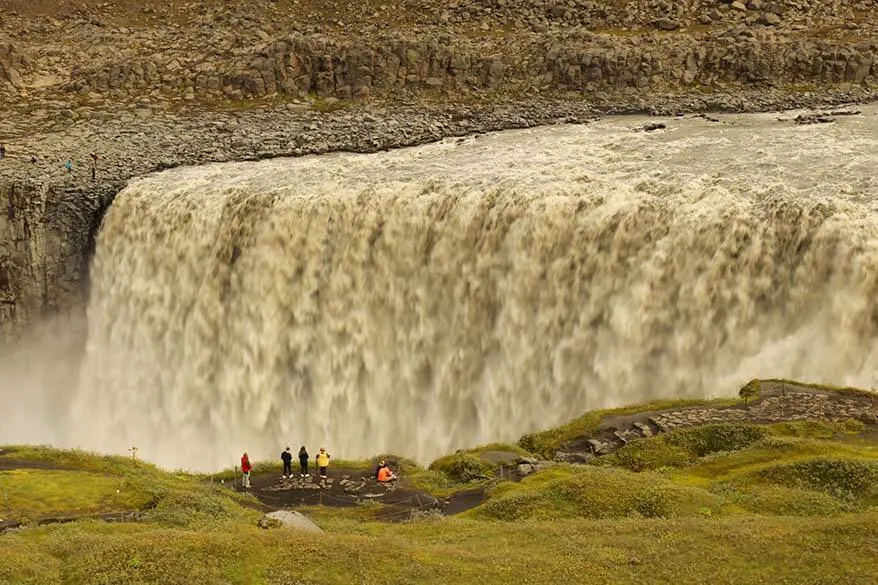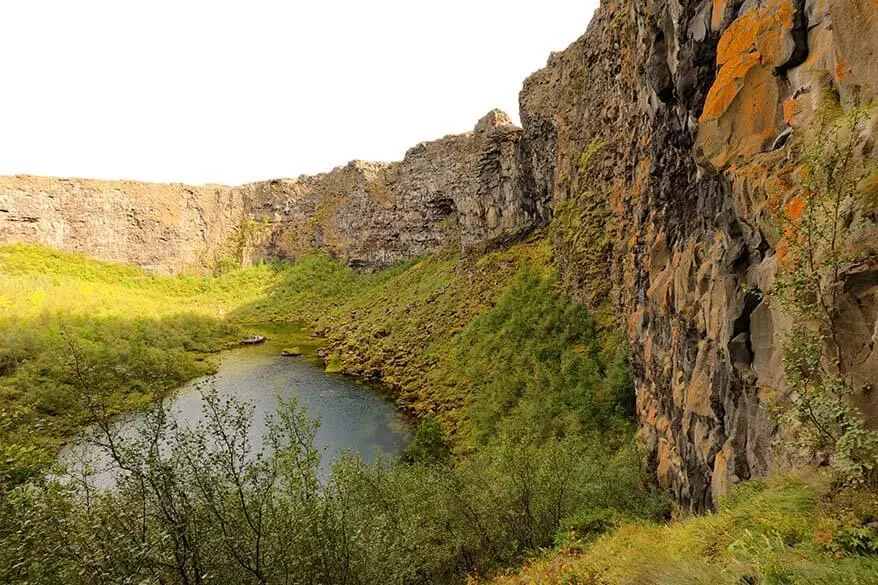 18. Vatnajökull Glacier
With so many glaciers in Iceland, it's hard to pick just one to mention as the best one to visit. However, Vatnajökull Glacier is the largest ice cap in Iceland. So if you visit just one glacier in Iceland, it will likely be this one.
With a total area of +- 7,900 km2 (3,100 sq mi), Vatnajokull is immense. It has around 30 glacier tongues (outlet glaciers), each with its own name, and so it's likely that you'll see those names mentioned in the description of various glacier tours and activities.
How to visit: You can see various glacier tongues from the Ring Road in southern Iceland. But the best way to visit glaciers in Iceland is by booking a glacier hiking tour, visiting the ice caves, and snowmobiling. Keep in mind that you need to book an organized tour for any activities where you go on the glacier itself.
In winter – from about October to March – you can also see some of the most beautiful natural ice caves in Iceland. You can only visit with a tour and you should book in advance. There is also one place – Katla – where you can visit a natural ice cave in the summer as well. This is the best tour that goes to Katla ice cave and it departs from Vik. There is also a day tour that visits this ice cave from Reykjavik.
READ ALSO: Glacier Hiking in Iceland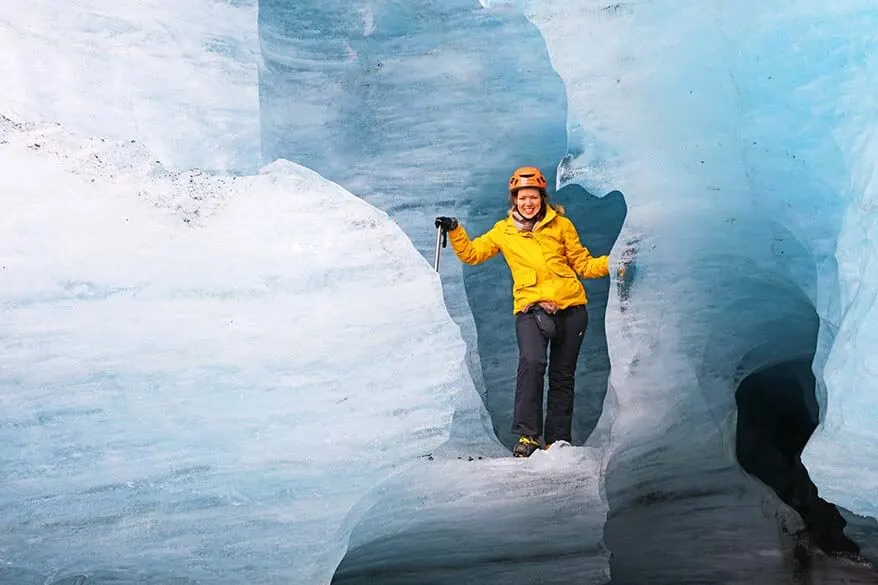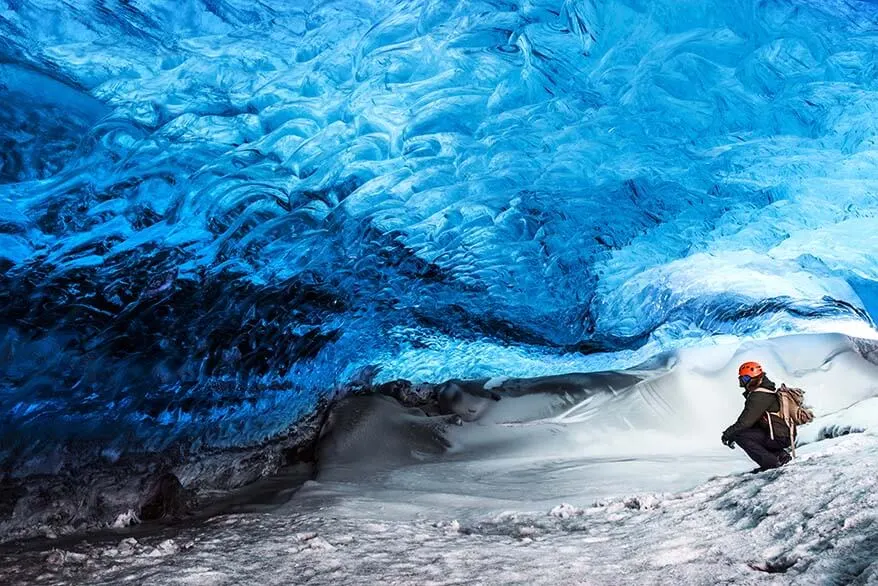 19. East Fjords
Another region that is often overlooked by travelers who just drive the Ring Road from South to North is the East Fjords. It's a stunning region that is well worth visiting if you pass eastern Iceland!
The nicest towns are probably Eskifjörður and Seyðisfjörður, the latter is famous for its colorful rainbow path leading to the church. In season, Borgarfjörður Eystri is a good place to see puffins.
There are also lots of waterfalls in the area, hiking trails, Laugarfell hot pool, and Petra's Stone collection in Stöðvarfjörður…
The eastern part of Iceland is where you're most likely to see reindeer.
How to visit: You will need a car to visit the East Fjords.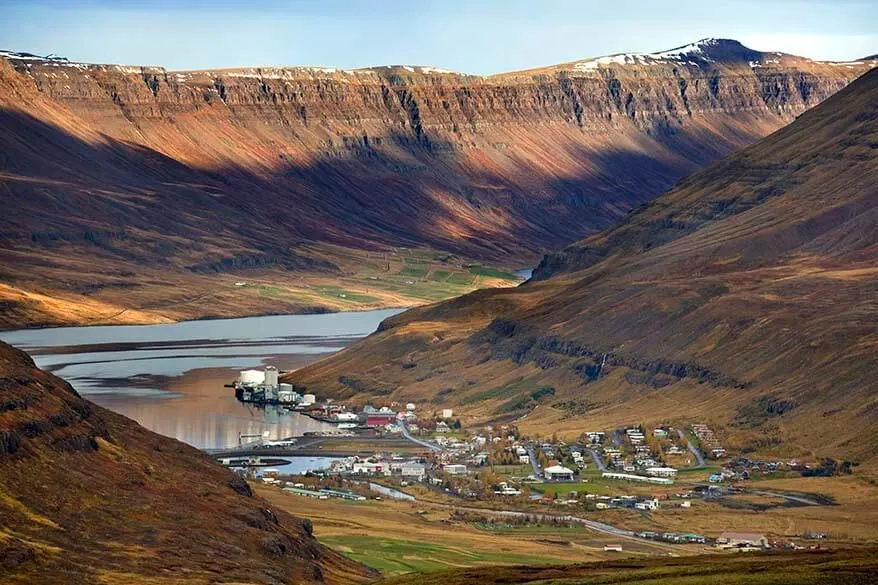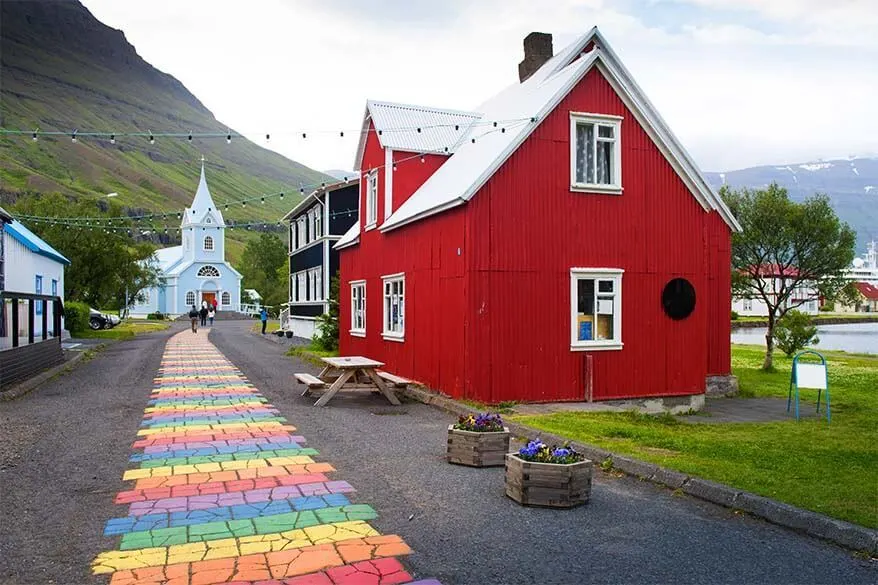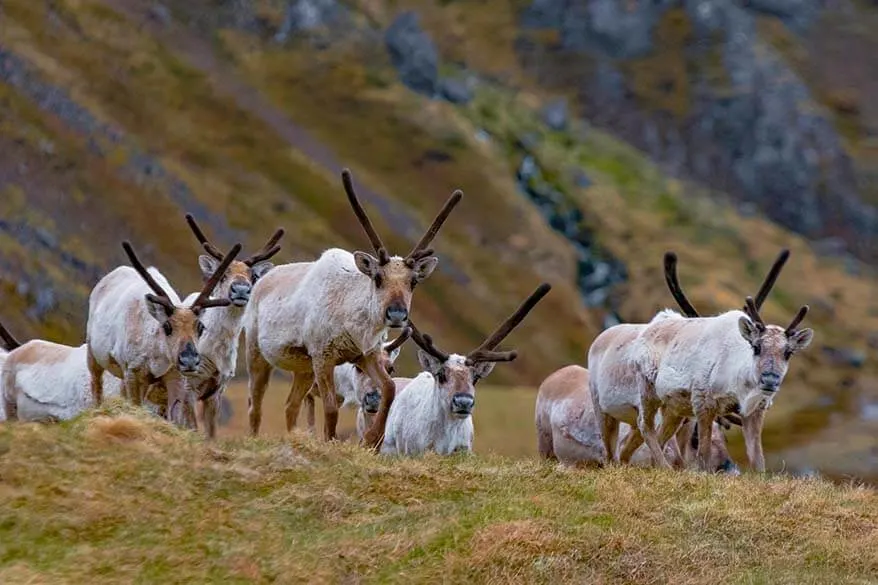 20. Fjaðrárgljúfur Canyon
Fjaðrárgljúfur Canyon near Kirkjubaejarklaustur used to be one of my favorite places in Iceland. It was so peaceful and undiscovered. Nowadays, it's so popular that the walking path along the side of the canyon had to be closed so that nature could recover a bit.
There are other incredibly beautiful canyons in Iceland, but this one is the easiest to access. So if you want to visit a canyon in Iceland, Fjaðrárgljúfur is well worth a trip. Just please be respectful to nature and obey the signs.
How to visit: You'll need a car to get here. This Jokulsarlon day tour also stops at Fjadrargljufur.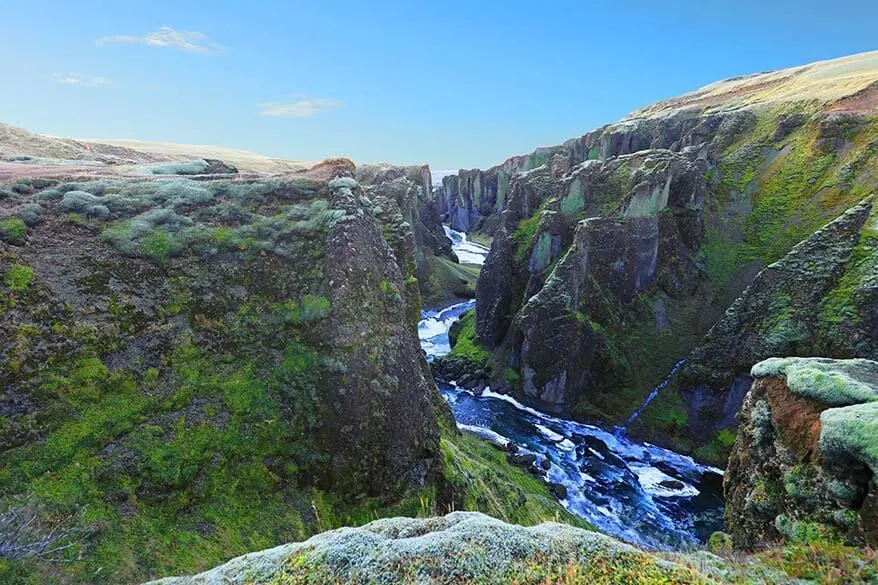 21. Goðafoss Waterfall
Goðafoss, meaning the waterfall of Gods, is one of the most visited waterfalls in Northern Iceland.
It's extremely beautiful and especially on a sunny day. Often, you can see a rainbow over the falls and it looks simply magical.
How to visit: Located just next to the Ring Road, Godafoss is very easy to get to by car. All North Iceland tours that visit Myvatn stop here as well. Paved walking paths connected by a pedestrian bridge allow you to see the waterfall from two sides of the river.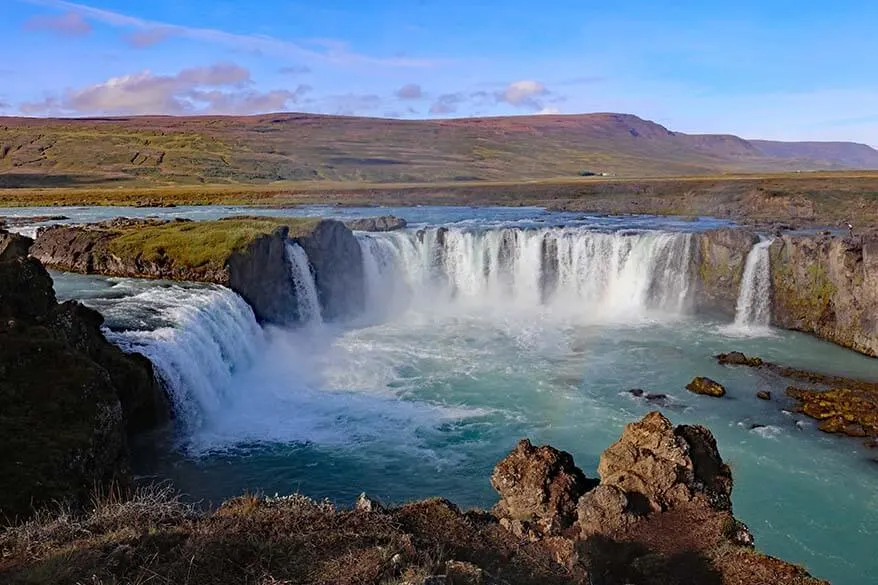 22. Hvitserkur
Hvitserkur is a beautiful rhino-shaped rock along the northern coast of Iceland. While the rock itself is very impressive, the entire area around it is simply phenomenal.
We were not sure if it was worth the long drive, but it absolutely is. I, therefore, think that Hvitserkur deserves to be mentioned among the most beautiful places in Iceland. If you are driving in the north anyway, this is just a rather short detour from the Ring Road.
How to visit: You'll need a car to get here. The road is gravel but in good condition.
LEARN MORE: Hvitserkur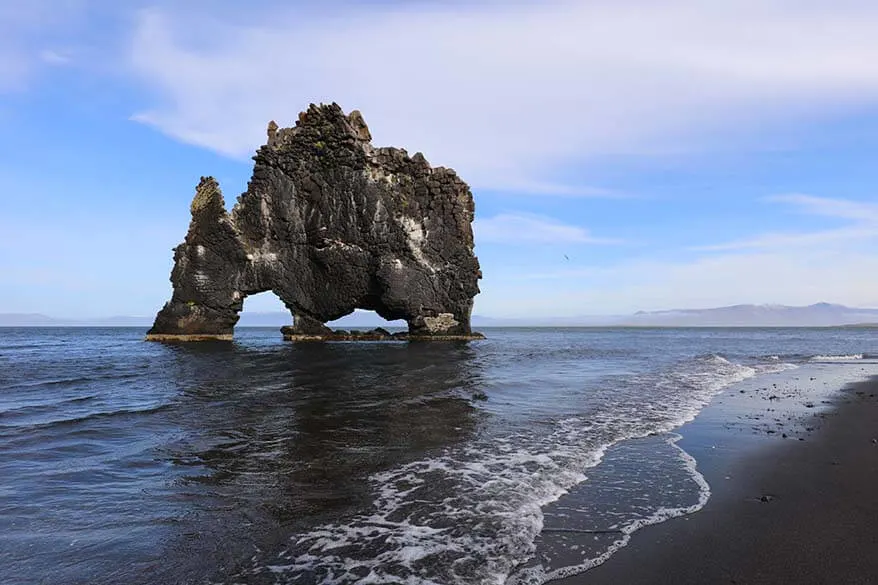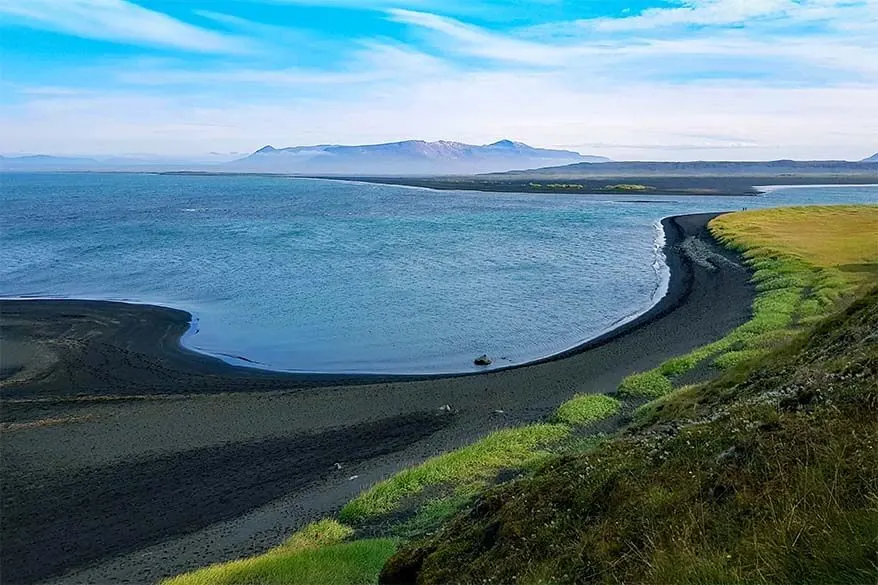 23. Reykjavík
While I think that Iceland's beauty lies mostly in its nature and people rather than its towns, no list of the best places in Iceland would be complete without mentioning its capital city, Reykjavik.
Reykjavik has changed beyond recognition in the past years and it has more to offer to tourists than ever before.
In the past, I would have told you that one day is more than enough to see all the highlights, which include the views from Hallgrimskirkja church tower, discovering the streets of the colorful town center, feeding ducks at the Reykjavik Lake Tjörnin, visiting Harpa concert hall, seeing the Sun Voyager statue, and visiting some museums.
However, there is now so much more to see and do in Reykjavik than that, with new amazing attractions opening up all over the city all the time. So if you do have some extra time to spare, plan a few days in Reykjavik (see here our guide on where to stay in Reykjavik).
TIP: My favorite museum that I absolutely recommend in Reykjavik is Perlan. Here you can find our guide to Perlan, the best museum in Reykjavik.
Other great attractions include FlyOver Iceland, Whales of Iceland, Magic Ice Bar, and the geothermal pool with cliffside ocean views, Sky Lagoon.
LEARN MORE: Top Things to Do in Reykjavik & Reykjavik 1-Day Itinerary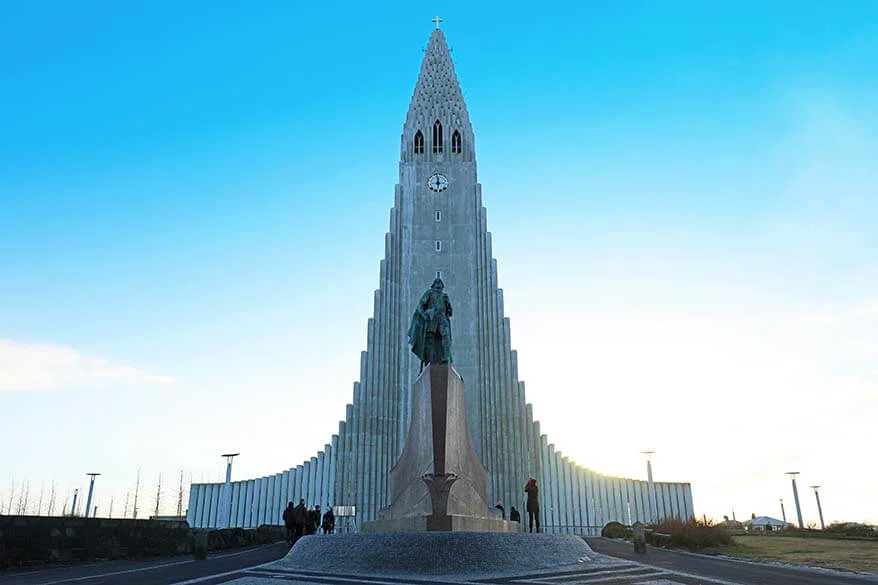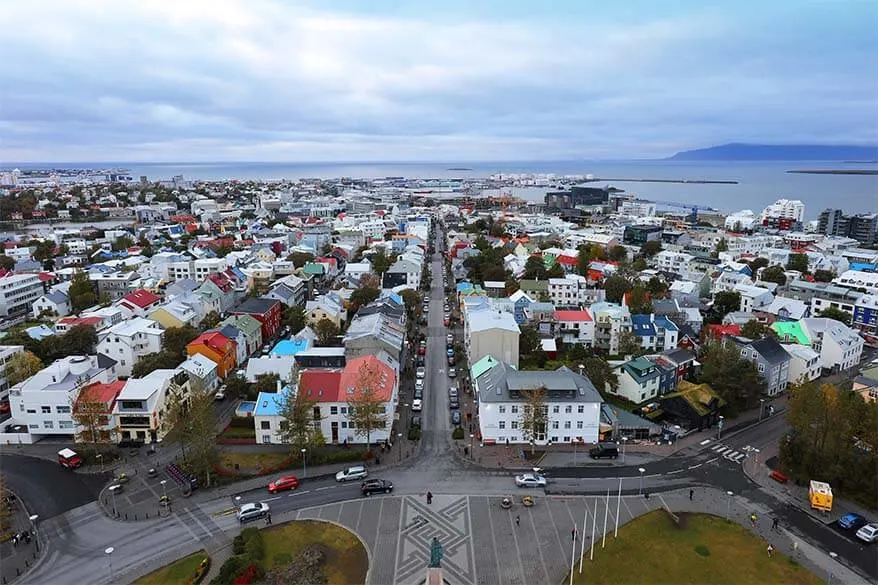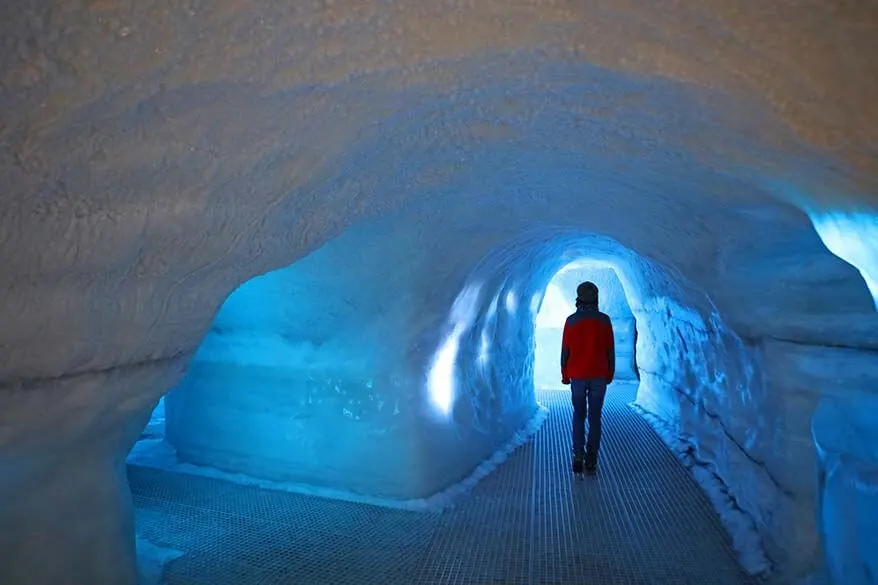 24. Langjökull Glacier
Langjökull is the second-largest glacier in Iceland. Its name means "the long glacier".
Because of its proximity to the popular Golden Circle, it's easy to visit Langjökull glacier when you are touring the area or on a day trip from Reykjavik. It's also possible to reach the glacier from Húsafell which is closer to Snaefellsnes Peninsula.
Important: Keep in mind that you need to go with a local guide who knows the area and potential dangers. You can see what kinds of tours are available here.
The glacier is vast and rather diverse, so there are some unique glacier tours here. There are also some ice caves that you can visit. There is a man-made ice cave that is accessible the whole year round, but there is also a natural ice cave, which is much more impressive, of course.
For many years, the most popular way to visit Langjökull Glacier was by snowmobile which allows you to cover big distances in a short time (there are snowmobile tours starting from Reykjavik or from the Golden Circle).
But if you want to see the ice caves of Langjokull, you should opt for a glacier truck tour instead. You can visit a man-made ice cave from Húsafell, but we recommend the newly-discovered natural ice cave that you can visit from the Golden Circle side instead. This recently launched glacier truck tour is one of the best options if you want to visit a natural ice cave near Reykjavik!
No matter which tour you choose, a visit to Langjökull Glacier is one of the most amazing experiences in Iceland. It will definitely make your trip so much more memorable!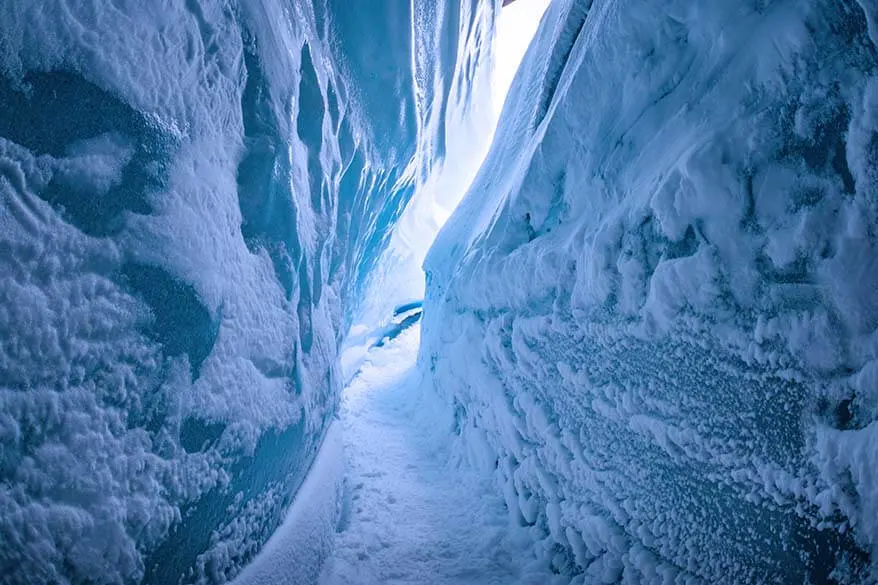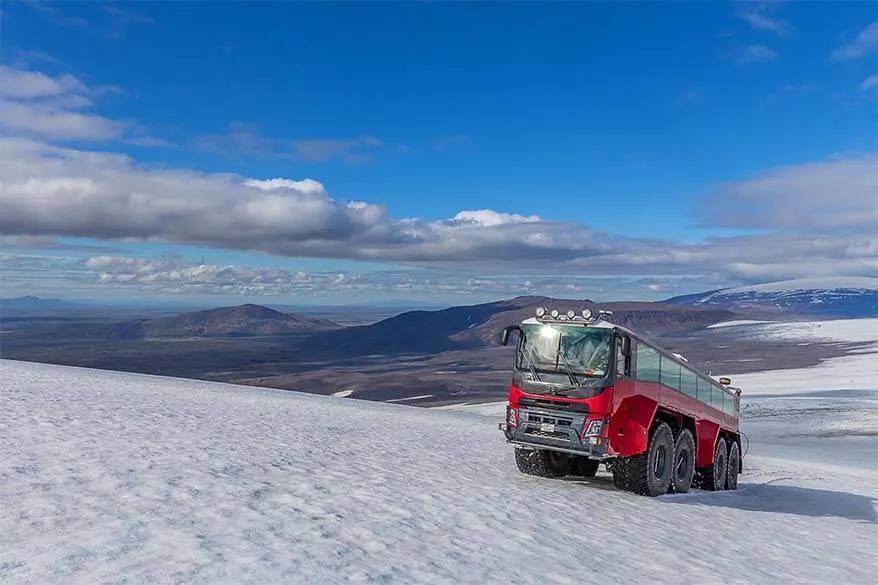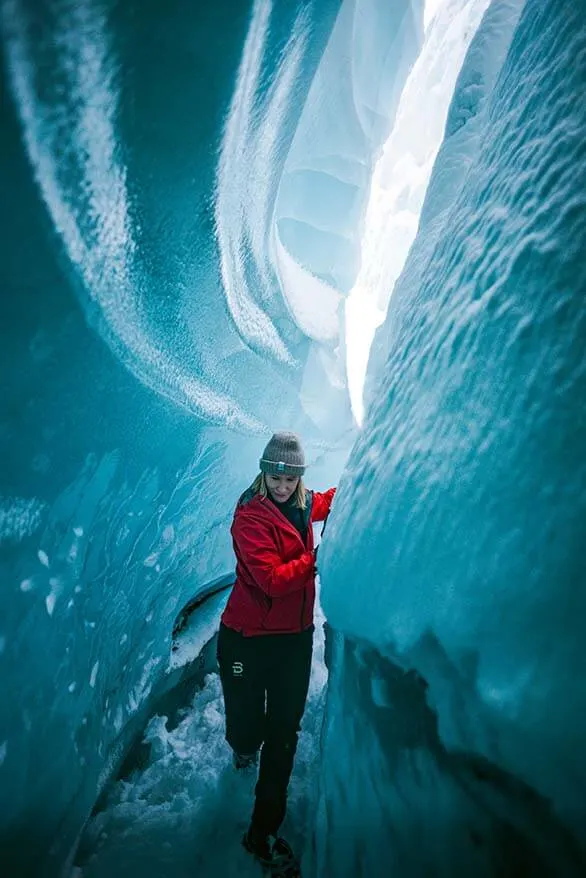 25. Akureyri
For those of you who are wondering why Akureyri is at the bottom of this list… While I think that it's a nice place to stop for an hour or two if you have plenty of time in Iceland, I also believe that there are so many nicer places to see in North Iceland that are worth your time more.
That being said, if you go to Akureyri, take some time to walk through the old town and also don't miss the Botanical Gardens. The new attraction here is the geothermal pool called Forest Lagoon. Akureyri is also a popular place for whale-watching excursions.
There are also some nice places to see nearby, so you could use Akureyri as a 'base' location for exploring more of Northern Iceland.
If you are just passing by, you may want to stop at the Christmas House just outside of town.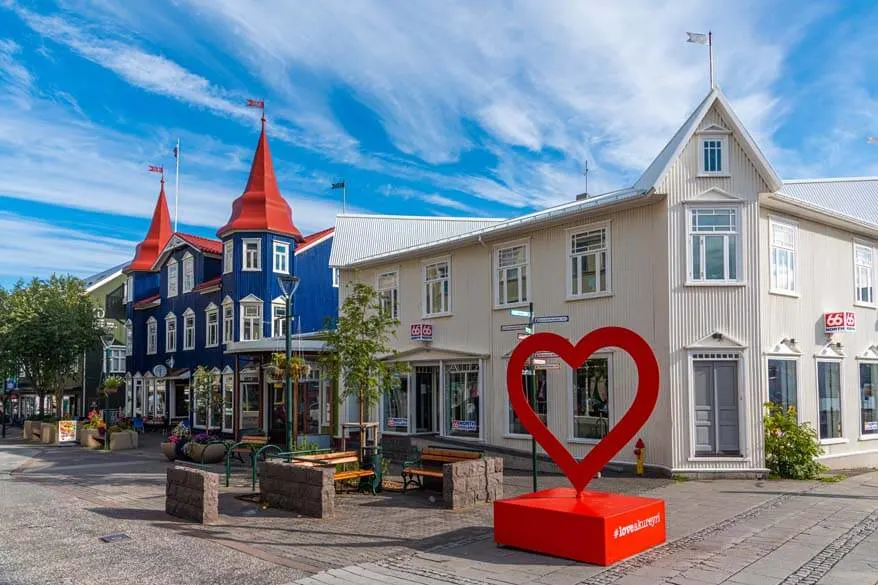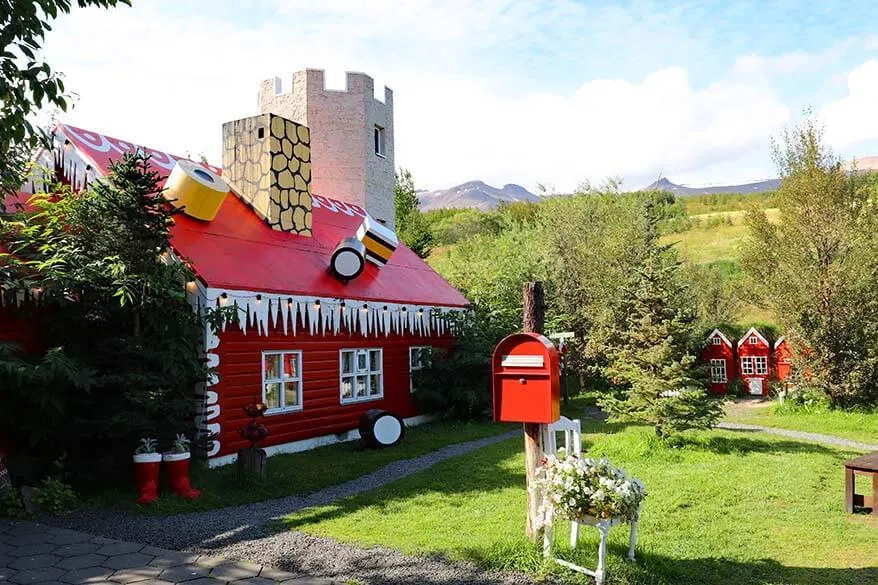 So, this is our guide to some of the very best places to visit in Iceland.
I hope that it will inspire you to discover this beautiful country beyond its most popular tourist attractions like the Golden Circle, Reykjavik, and the South Coast.
Below, is a video showcasing some of our favorite places in Iceland. Take a look! And further down, you can find links to our other guides that should help you plan your own dream trip to Iceland.
How to plan a road trip in Iceland:
READ ALSO: Where to Stay in Iceland
Planning a trip to Iceland and have questions? Please check our recommended articles below and in our Iceland travel guide.
If you have a specific question about any of the places mentioned in this article or want to share your favorite landmarks or attractions in Iceland, feel free to leave a reply below.
More tips for your trip to Iceland:
READ ALSO: Northern Lights in Iceland
TIP: Planning a trip to Iceland and have questions? Join our Facebook Group for Iceland and Scandinavia Travel!
If you found this post useful, don't forget to bookmark it and share it with your friends. Are you on Pinterest? Pin these images!