Rauðisandur (or Rauðasandur) Beach, aka the Red Sands Beach, is one of the most impressive places of the Westfjords in Iceland. It's a seemingly endless beach that stretches for over 10 km and constantly changes color in a variety of red, orange, yellow and brown tints depending on the light conditions.
The majority of the beaches in Iceland are black, so this place is really special!
If you are thinking of visiting Raudisandur, but are not sure whether it is worth it or where exactly to go and how to get the most out of your visit, then this article should help you plan your visit.
In this post, you can read all about visiting Raudisandur, including lots of practical tips. At the bottom of this article, you can also find a selection of the best tours and day trips to Raudasandur. To give you an even better idea of what to expect, we also included a short video of our visit. Read on!
Good to know: Rauðisandur or Rauðasandur are both correct names for this beach and English spelling is commonly used as well (Raudisandur or Raudasandur).
READ ALSO: Westfjords Itinerary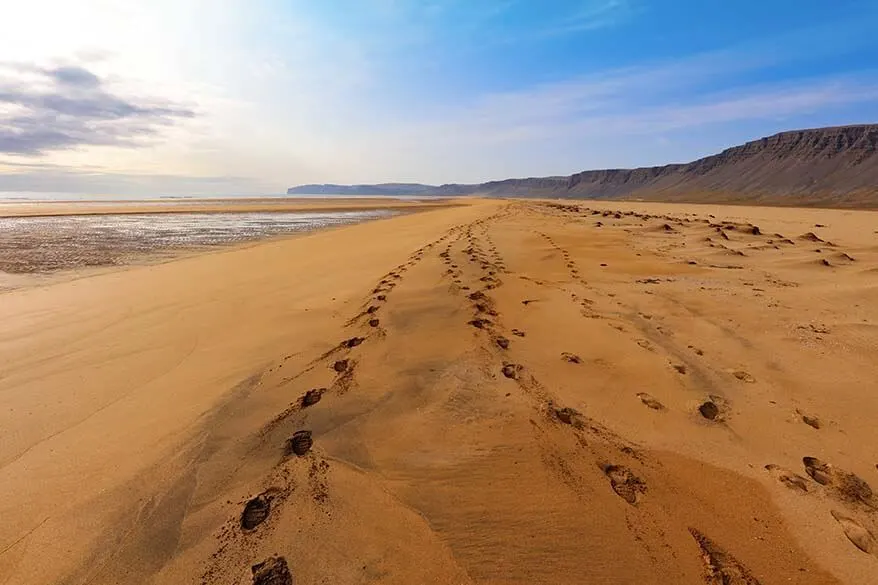 Is Raudisandur Red?
Well, it wouldn't be called the Red Sand beach if it wasn't. However, the actual color will depend entirely on the day when you visit.
If it's a grey day, the sand will probably just look dark brown and muddy. You'll probably be disappointed and wonder if it was even worth the drive.
If it's a sunny day, however, and you come here at low tide when the beach is almost dry, then yes, Raudisandur is actually red. In fact, it's more orange than red, but the color is so beautiful and it's simply breathtaking.
Good to know: I didn't saturate the images in this article so that you get a better idea of how Raudisandur truly looked like on the day that we visited. The colors in every picture are also very different because the light and the tide changed the way it looked all the time.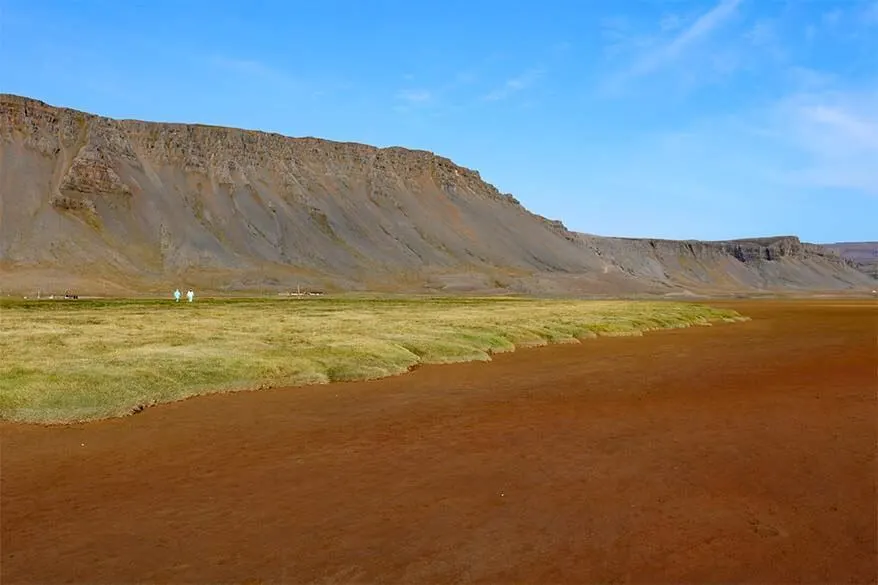 Why Visit Rauðisandur
You won't (yet) find Raudasandur in most Iceland travel guides. I didn't. Our Iceland travel book hardly mentioned it in two short sentences. If it wasn't for my Icelandic friend's recommendation, we would never even have considered going here… But even then, we were not sure whether Raudisandur was really worth our time…
We visited Dynjandi waterfall upon arrival in the Westfjords and were planning to go to Latrabjarg and potentially to Raudasandur.
As we were discussing where to go first – to Latrabjarg or Raudasandur, our accommodation host told us that we should definitely visit Raudasandur. She said that it's worth it much more than the famous Latrabjarg Bird Cliffs. Furthermore, it was late August and the puffins at Latrabjarg had already left and so there was no reason whatsoever to drive that far they said…
So Raudasandur it was.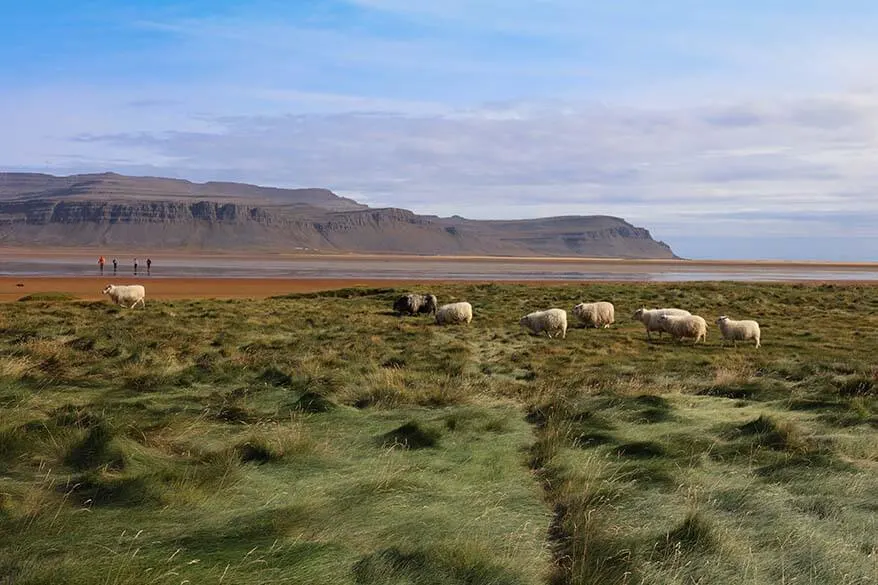 And I'm so glad that we decided to visit! It quickly became one of our favorite places in Iceland. The scenery here is surreal! Endless orange sand against blue skies and distant mountains… It felt like we were walking inside a gigantic real-life painting… This place is so vast and it seems that there is no beginning and no end to this stunning beach… Nature at its best!
As we walked, we met some sheep oblivious to all the beauty surrounding them and to the fact that they themselves made part of this incredible painting… If you are lucky, you might also see seals in this area. But the main reason to visit Raudasandur is its incredible color and endless vast landscapes.
No pictures do justice to how beautiful this place is. It's also impossible to describe the feeling you get when you're standing on that endless beach stretching as far as an eye can see… It makes you feel so tiny.
If you like nature, remote quiet places, and the feeling of being alone in the world, you really have to take a walk on the Raudisandur at low tide. It's as good as it gets!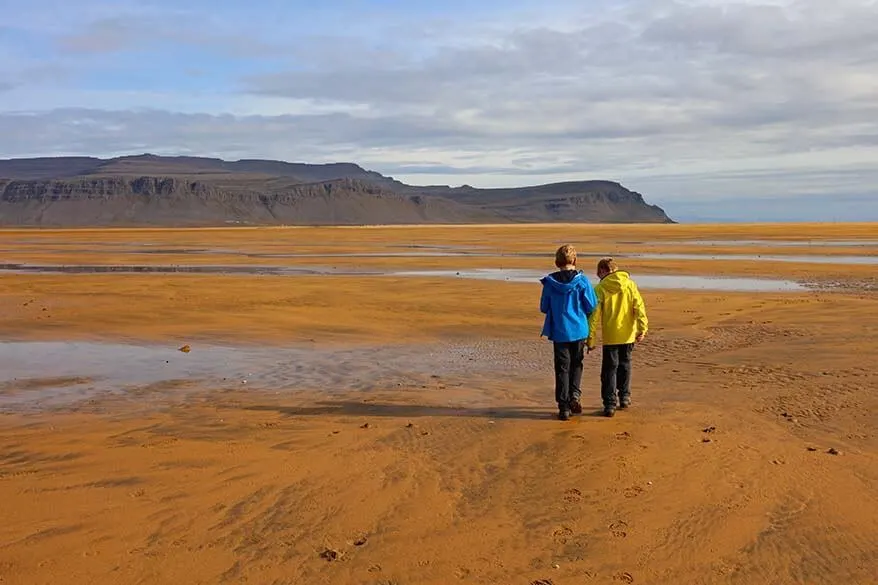 Best Time to Visit
The best time to visit Raudisandur is at low tide on a beautiful sunny day in summer.
If you come here at high tide, you won't see the beach that well. The colors will also not look anywhere as magical on a grey rainy day as they do when it's sunny…
That being said, if there is one thing you really can't control in Iceland, it's the weather. So if you are in the area on a grey day, but it's low tide, I'd say, it's still worth going.
TIP: Check tide charts in advance and try to plan your visit at low tide.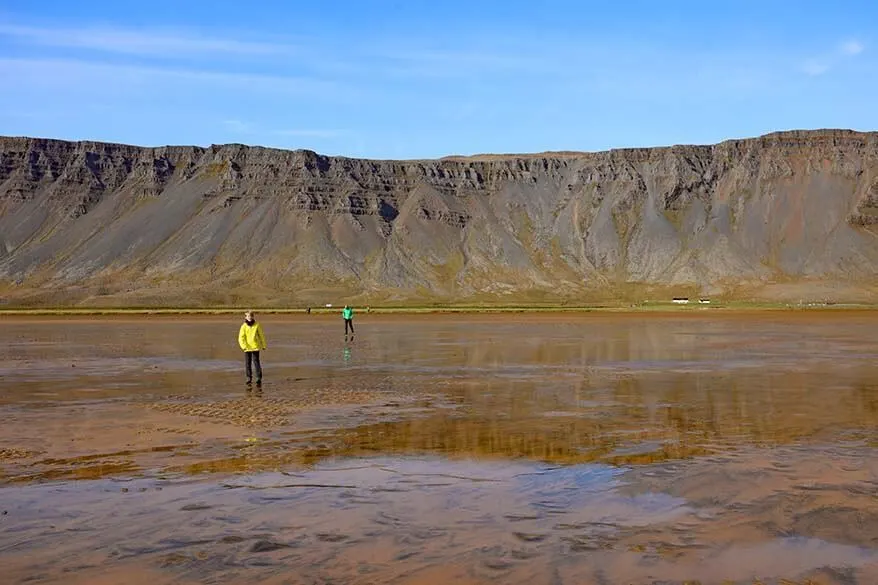 How to Get to Raudisandur Beach
Raudasandur Beach is relatively easy to get to and only the last 10-12 km of the road is gravel. If you are coming from the Westfjords ferry at Brjanslaekur, follow Road 62 west towards Patreksfjörður.
At the place where the road reaches a beautiful fjord, it also splits in two. Take the left fork and follow Road 612 in the direction of Latrabjarg. A couple of kilometers further, you'll see Raudasandur signposted to your left. Turn on gravel Road 614 (Rauðasandsvegur) and drive for 10 km. This road ends at Red Sands Beach.
Some people call this road the most dangerous road of the Westfjords, the others – of the entire country. But to us, it looked just like a regular mountain road (except that it's not paved). The road is not wide, there are no rails, and there are sharp turns, but if you drive carefully, it's really nothing scary. At least it wasn't for us.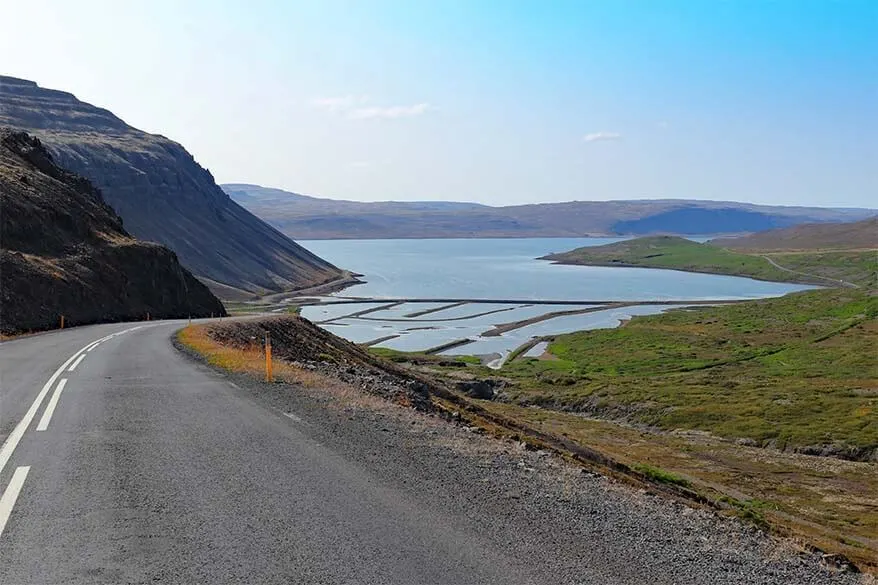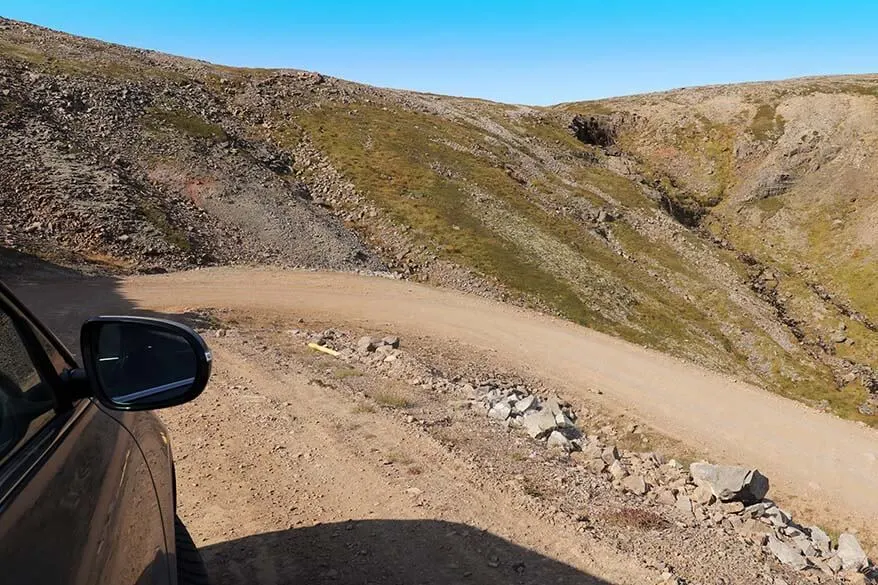 Once at the bottom of the hill, at the beach, the road splits once more. The left fork leads to the nearby camping, Melanes Campsite, some 4 km further. The right turn brings you to a little church Saurbaejarkirkja and a café, Franska Kaffihusid (+-2 km drive). Both these places give you access to the Red Sands beach.
When researching information for visiting Raudisandur, we read that the easiest way to access the beach on foot is by going there from Melanes Campsite. We later found out that there is a very good way to access the beach from the car parking by the church too.
However, we also read that the French café serves excellent waffles… Needless to say that our kids voted to go to the café first.
Further below, you can find more practical information about getting to the Raudasandur beach. But first things first – the waffles!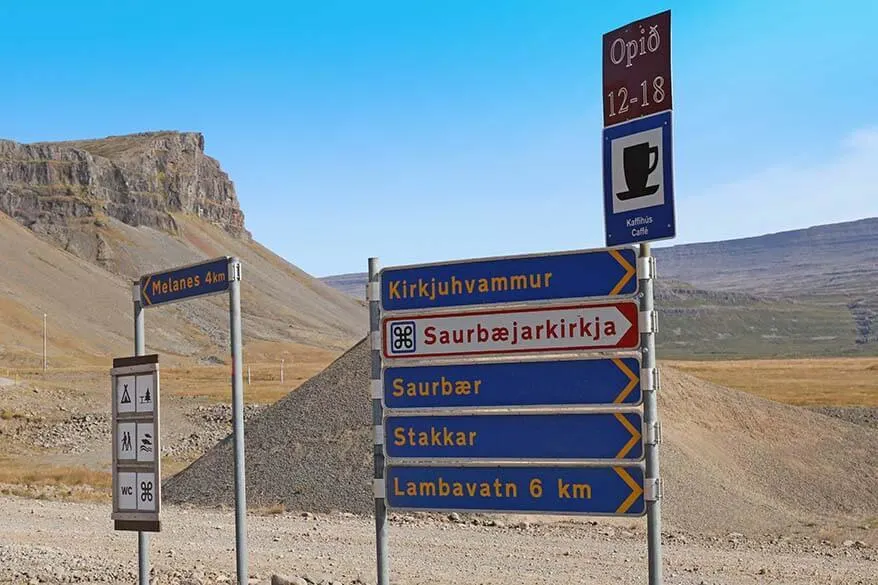 Franska Kaffihúsið
Franska kaffihúsið, or the French Café, is a tiny cafe overlooking the Raudasandur beach and serving the most delicious Icelandic waffles. They also serve warm and cold drinks and some other snacks, but before you even look at anything else, you really have to try the waffles.
Good to know: The cafe is open in the high season, daily from noon to 6 PM.
Since it was a beautiful sunny day, we sat at one of the tables on the outside patio overlooking the beach. As we were sitting there enjoying the sunshine, the scenery, and the waffles, it felt so good that we never wanted to leave. It's the simple moments like this that can make an entire vacation so much more enjoyable and memorable. Just being there, in the moment…
The area was so beautiful that we decided to stay longer than first planned and go for a long walk on the beach. We made a decision to not drive to Latrabjarg cliffs at all and just spend our afternoon at Raudisandur.
The tide was getting really low and the beach looked beautiful and dry in the distance. However, there was water next to the shore. So we had to figure out how to get on the beach itself without having to walk in the water…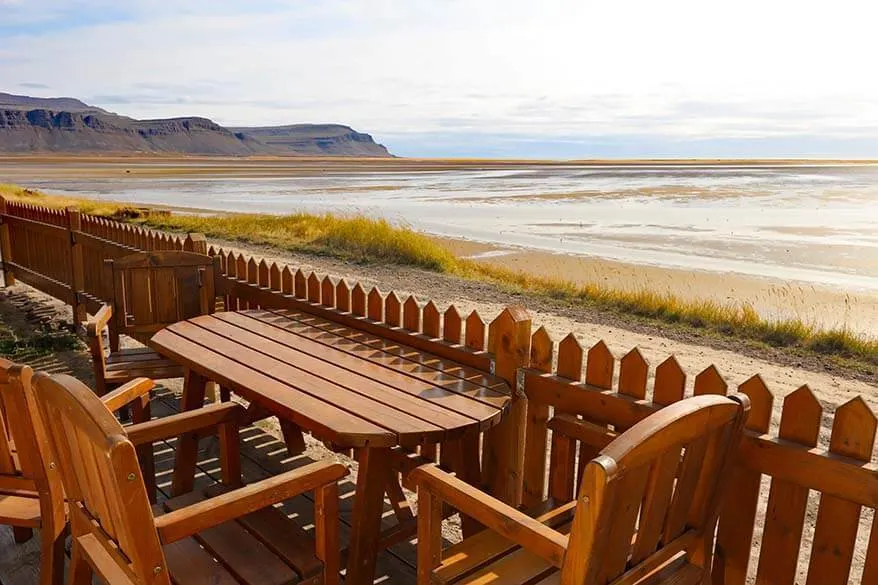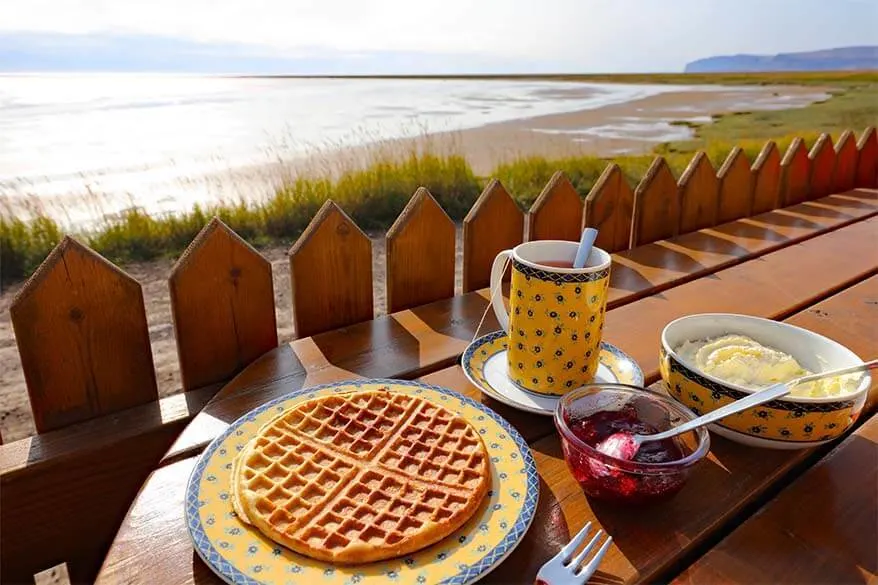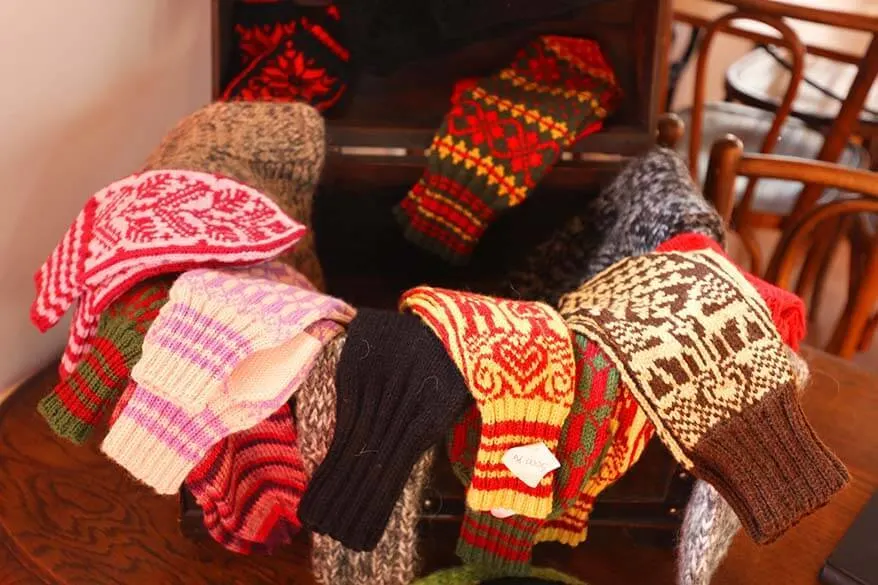 How to Access Raudasandur Beach – Melanes Campsite or Saurbæjarkirkja
At the café, we asked the staff for the best way to access the nicest part of the beach. They told us to follow the wooden poles that indicated the dry path to the beach, starting opposite the little church Saurbaejarkirkja (just next to the café). That would give us access to the part of the beach where seals are frequently seen laying in the sun…
Walking from the other side, at Melanes Campsite, was also nice, they told us. But that part of the beach is 'cut off' from the rest by water and so there was no way to get to the seals from there…
The possibility of seeing seals had the same impact on the kids as the waffles and so the decision was quickly made. We never got to Melanes campsite… Instead, we took a car to the car parking at the church and from there, we followed the wide path leading on to the beach.
At this car parking, there is also a map and an Icelandic explanation about how to get to the beach. But usually, there are quite some people walking towards the beach that you can just follow the rest. If you are not sure where to go, better ask the cafe staff. There are also wooden signs pointing in the right direction.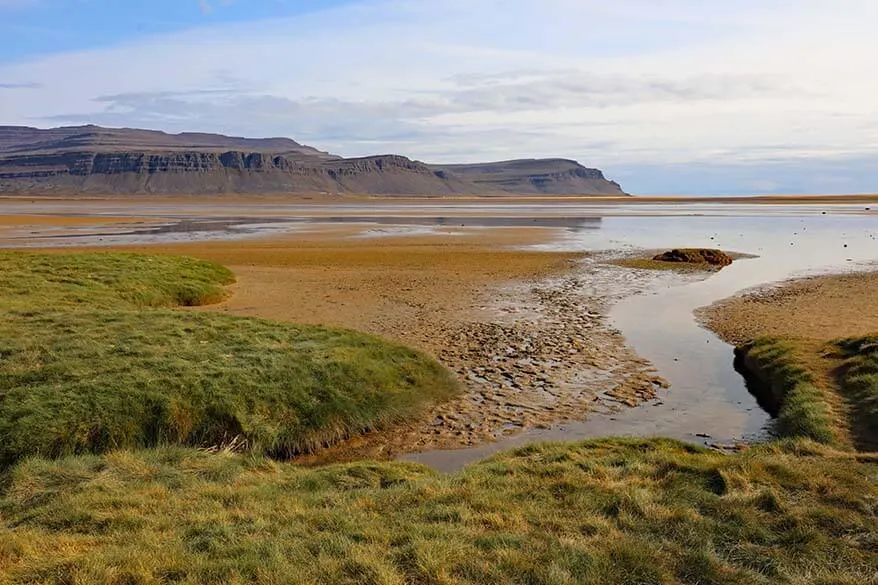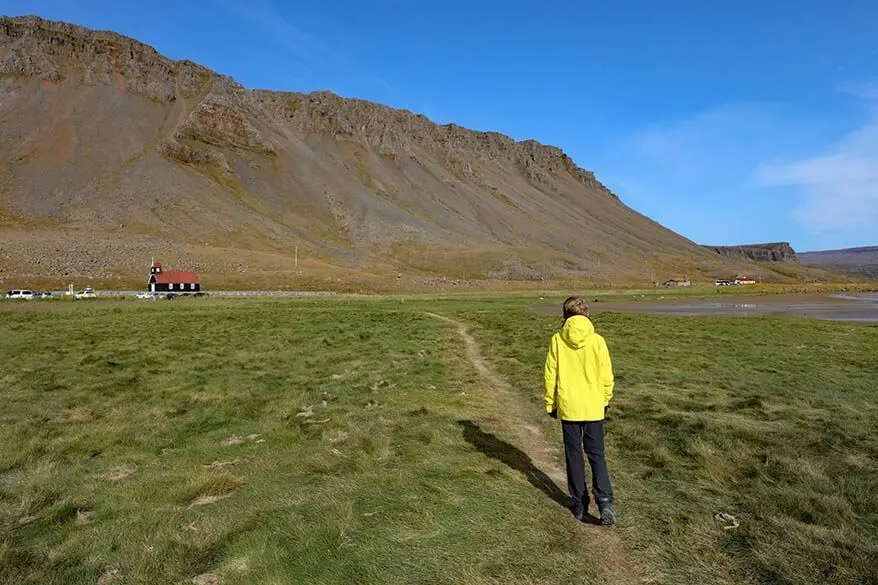 Some people, who come here at high tide, choose to walk through shallow water to still be able to get to the beach. We were lucky to be here at low tide and so there was no need to walk in the water.
That being said, the beach wasn't entirely dry and at some places, we had to step through ankle-deep water. Rain boots would have been handy, but good waterproof hiking shoes did the job for us.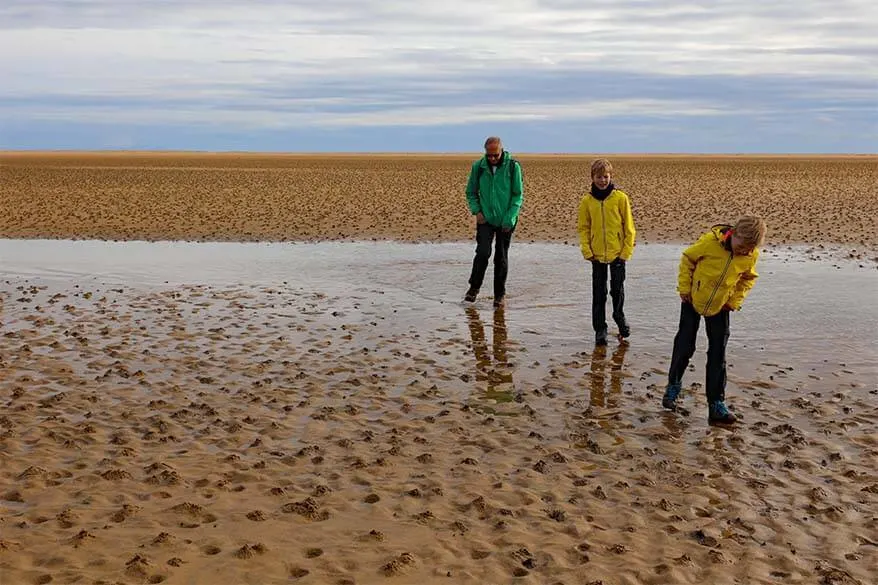 What to Do at Raudisandur Beach
There are several things to do at Raudisandur. First, obviously the beach itself. Also, as already said, you should visit the French Café and try their delicious waffles. You should also take a look at the beautiful little church, Saurbaejarkirkja.
Some people come here to see the ruins of an old turf farm, Sjöundá.
It is believed that a double murder happened at this farm in the 1800s when a man and a woman fell in love and murdered their respective spouses in order to be together. They got arrested and executed leaving 11 children as orphans (5 his, 5 hers, and 1 child of both of them). You can read the whole story if you research the Murders at Sjöundá farm, but I guess it's of more significance to the locals than to us, tourists.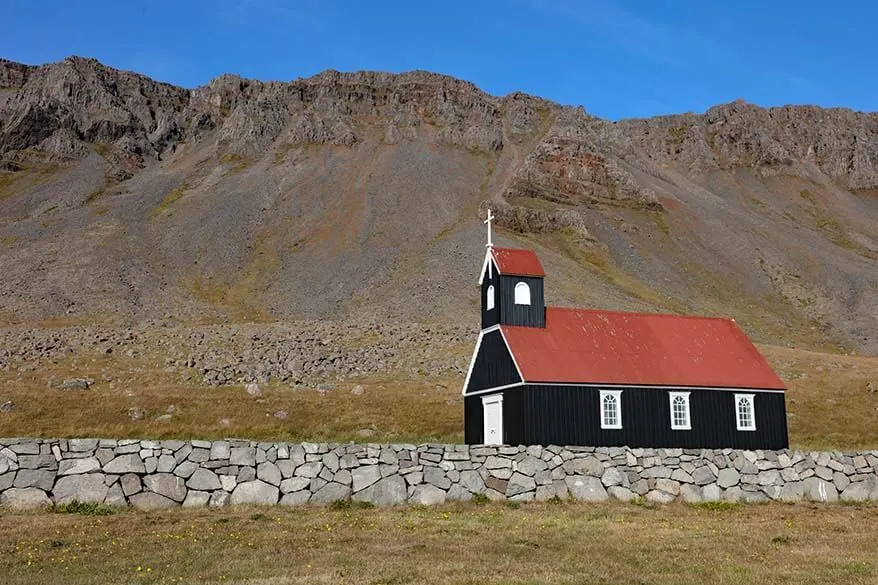 As for the beach itself, you can just look at it from a distance, take some pictures and move on. Or, tide permitting, you can go for a walk on the beach, enjoy the scenery, and try to spot some seals.
Since it was low tide and we decided to stay at Raudisandur and not go to the bird cliffs of Látrabjarg, we had plenty of time for a long walk. So that's what we did. We followed the path and went on to the beach and in the direction where the seals should be laying…
As we walked, we discovered a whole new world every time. There were crabs and jellyfish, shells and stones… Not just the color, but also the shape of the sand was changing all the time…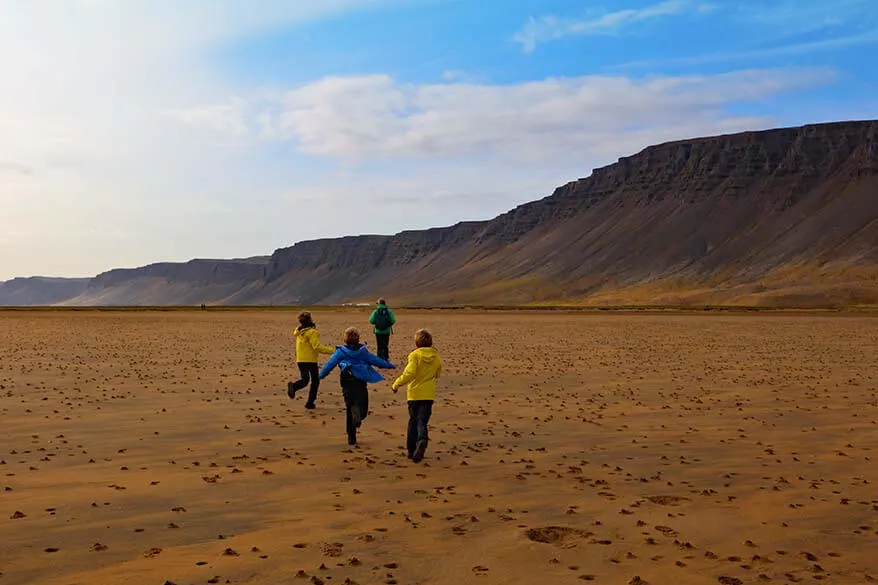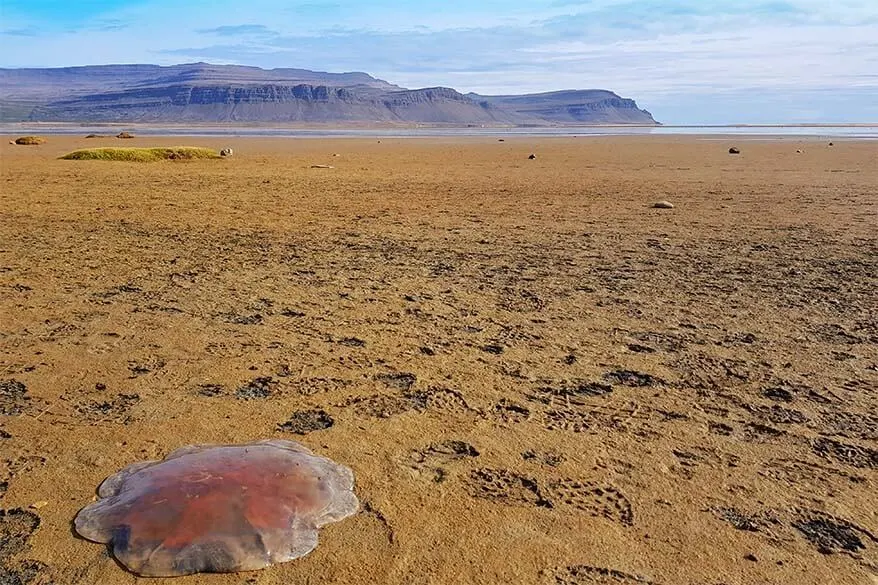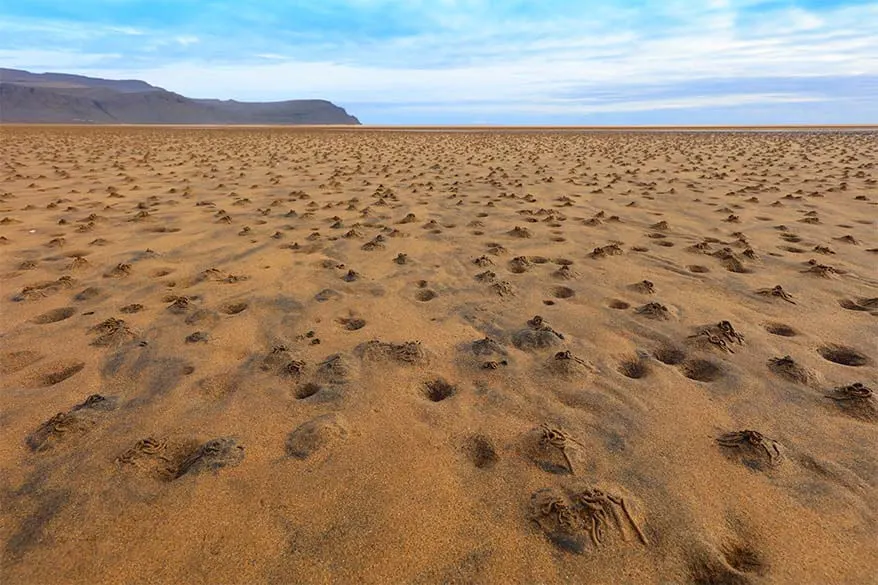 We walked for about an hour and a half until we finally reached the point where we couldn't walk any further because of the river… That's where the seals were laying before we started our walk. But by the time we got there, they decided that it was dinner time and went fishing.
We saw quite a few of them in the water, but that was it… The kids were somewhat disappointed, but the scenery was so nice and the walk was worth it in itself…
We took the same way back to the road. While it looks like you can just take shortcuts, it's important to keep an eye on the wooden poles as that is the only dry place where you can access the beach from the mainland. The walk back took us about an hour.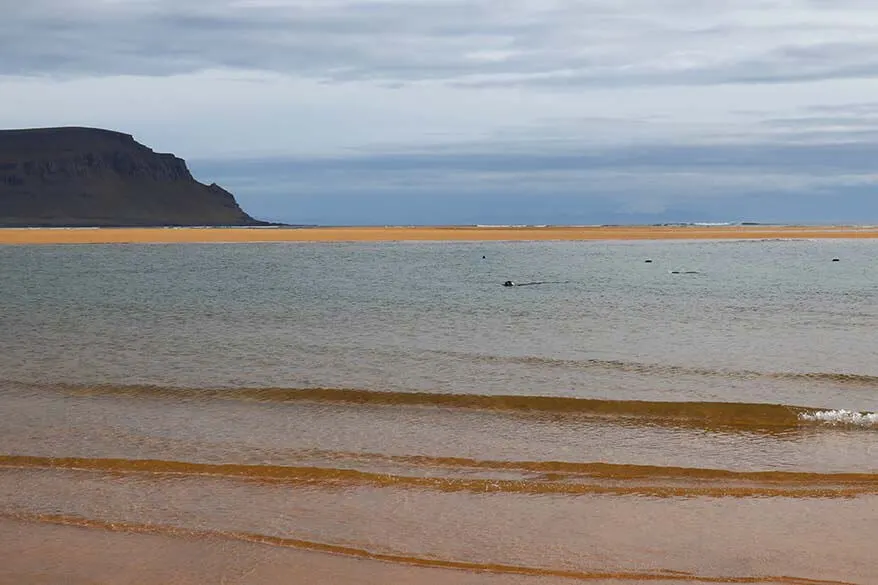 How Much Time Do You Need
You can spend 10 minutes at Raudisandur or you can stay for a couple of hours as we did. I recommend planning at least 0,5-1 hour for a visit, plus the driving time to get there and back to the main road. Add at least 1 hour extra if you want to go for a walk on the beach.
If the tide is high, there isn't that much to do at Raudisandur and it will just be a short photo stop (and probably not even that impressive). So even if you go to the cafe, you'll probably not need more than half an hour here.
If the tide is low, you can still decide not to walk on the beach. Just take a couple of pictures, get a drink or some waffles, and move on. Even if you decide to walk on the beach, it's up to you how far and how long you want to walk. Just getting on the actual red sand will probably take you about 15 -20 minutes one way, so only do this if you have at least an hour to spare. And be careful with the tides if you decide to walk far as the water can come in very quickly.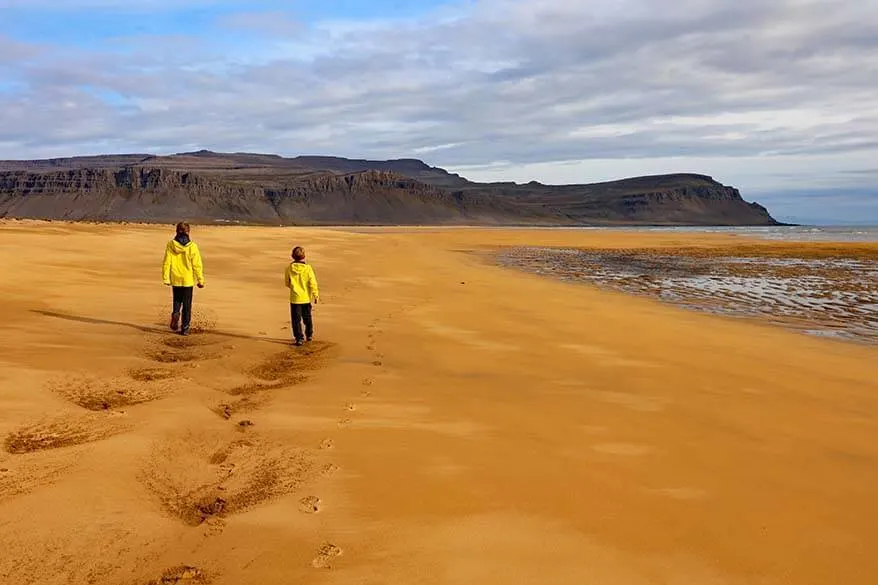 Can You Visit Raudasandur in a Regular Car?
Road 614 is gravel. It was, however, in very good condition when we visited it in August. Since the beach is much lower than the main road, this last stretch (10-12 km) is a mountain road that gently curves down the steep hill.
It's a good road and you could probably do it in a regular car on a nice sunny day in summer. However, most (regular) car rental agreements probably wouldn't allow you to drive here in a regular car. Furthermore, most attractions of the Westfjords are better visited in a 4WD or a 4×4 anyway. So it's really not such a good idea to visit the Westfjords in a regular car… Unless you only drive to Patreksfjörður and Ísafjörður…
We rented a Kia Sorento 4WD that's suitable for the F-roads. It was a good car for exploring the Westfjords. In addition, we also visited several places in the highlands with it.
I don't really know what this road looks like in spring, autumn, or winter. From what I see, Road 614 is not serviced in winter at all, so you'd need a super jeep here… If it's even possible at all.
Unless you are traveling in Iceland in the middle of the summer, I recommend that you check this website to see which roads are open in Iceland.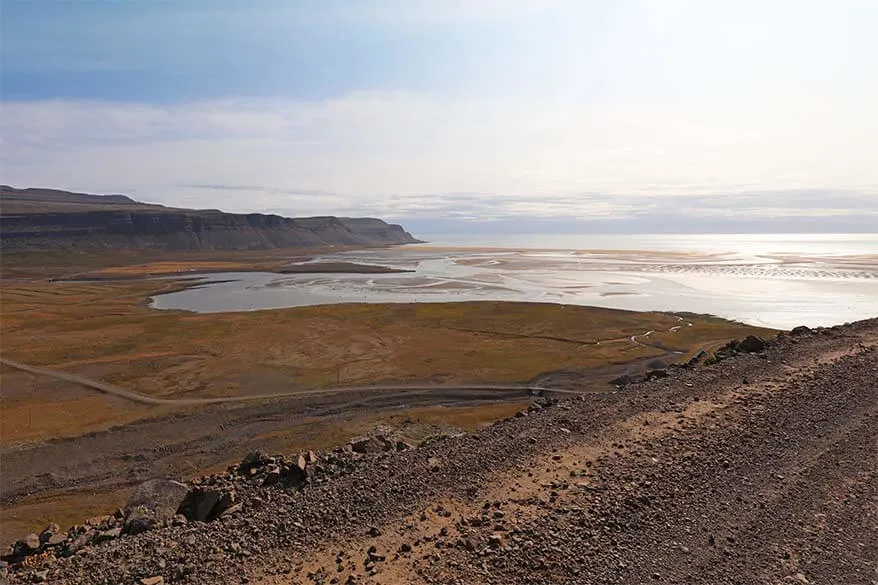 Raudasandur Tours
If you don't have a suitable car or don't feel like driving the narrow gravel roads of Raudasandur and Latrabjard, you can also take a guided tour. There are day tours from Patreksfjörður, but also multi-day tours from Reykjavik.
Most Westfjords tours run from mid-April to mid-September.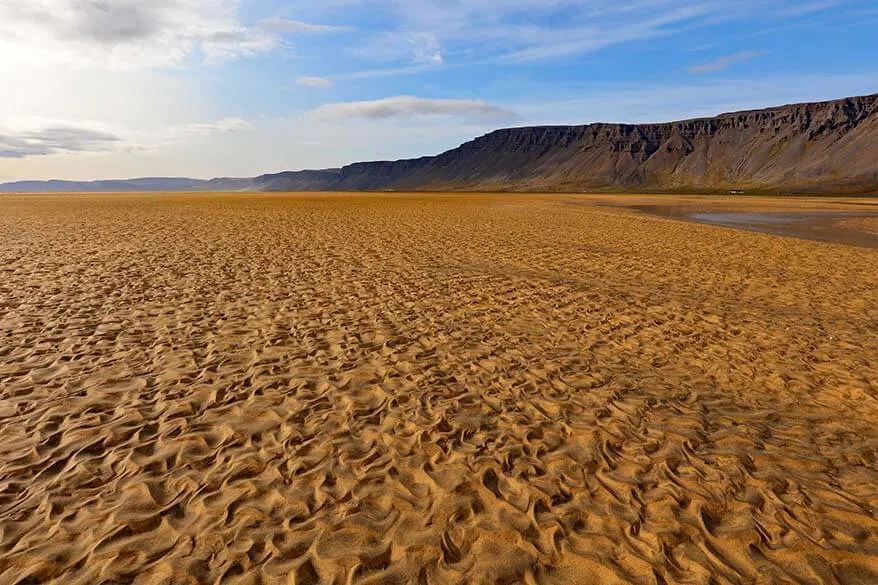 Where to Stay for Visiting Raudasandur
The closest hotel for visiting Raudasandur and Latrabjarg is Hotel Latrabjarg. It's a bit in the middle of nowhere, but since they have their own restaurant, it's a very good choice. They have rooms of various sizes from 1 up to 5 people, but it sells out very quickly. We couldn't get a family room here anymore when planning our trip.
The biggest village close to Raudasandur Beach is Patreksfjörður. There are several hotels and private accommodations in this small town and all the day tours also start from here.
Alternatively, depending on your itinerary, you may want to stay closer to the ferry. We stayed at Móra guesthouse which is somewhat centrally located and makes it possible to see Dynjandi, Raudasandur, and Latrabjarg in one day, after arriving with the morning ferry from the Snaefellsnes Peninsula. In addition, there is a very scenic swimming pool just across the road. However, there is nothing here in terms of shops or restaurants, so you have to bring your own food.
READ ALSO: Where to Stay in Iceland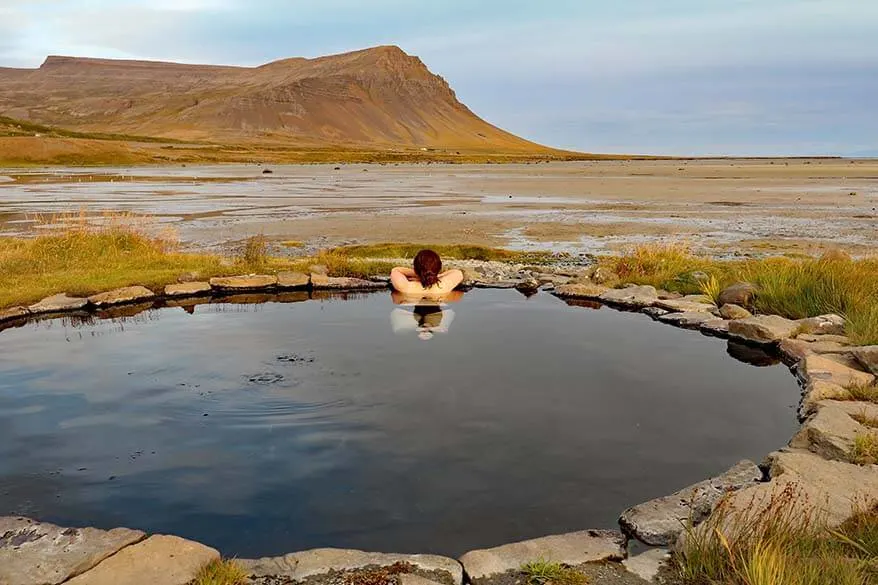 Practical Tips
Here is once again the summary of the most important practical tips for your visit.
Rent a 4WD or a 4×4 car for exploring the Westfjords.
Check if the roads are open if traveling in the shoulder season.
Visit at low tide.
Wear waterproof hiking boots or rain boots as you will have to step through some water even at low tide.
Dress warm and in layers – the weather changes all the time.
READ ALSO: What to Wear in Iceland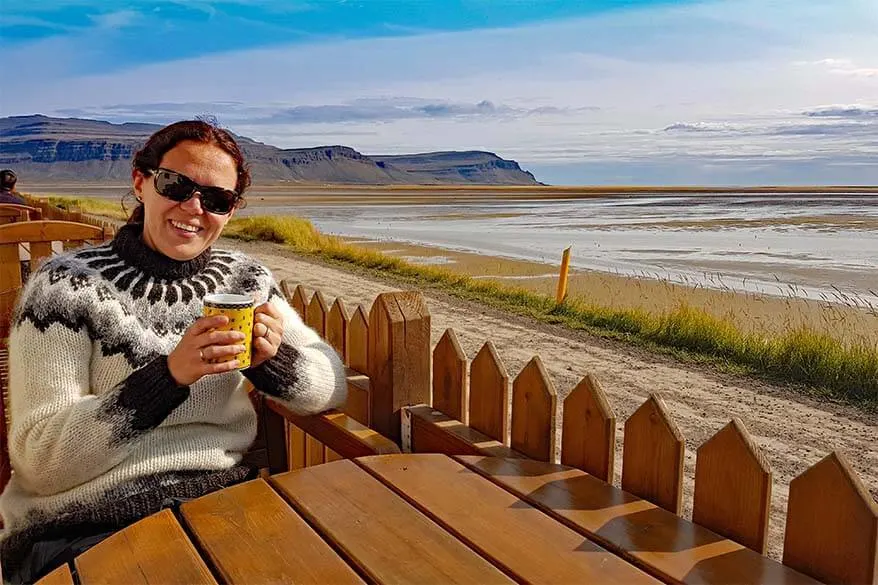 As promised, here is a short video that will give you a better idea of what the road looks like and what it's like to visit Raudasandur Beach. Take a look!
Planning to visit Raudasandur and have a question? Leave a reply below!
TIP: Looking for more travel inspiration for the Westfjords? Check out Dynjandi, aka the most beautiful waterfall in Iceland!
More tips for your trip to Iceland:
Some of our other favorite hidden gems in Iceland:
If you found this post helpful, don't forget to bookmark it and share it with your friends. Are you on Pinterest? Pin this image!