Hvítserkur is a very picturesque sea stack in the Vatnsnes Peninsula in Iceland. Little known in the past, it has become extremely popular thanks to the beautiful pictures shared on various social media platforms. Nowadays, more and more people go out of their way in order to visit Hvitserkur in a remote part of northwest Iceland.
If you're also planning a trip to this area and wondering whether Hvitserkur is worth a visit, how to get there, and what to expect, then read on!
This article should answer all your questions about visiting Hvitserkur and help you plan your trip. Find out!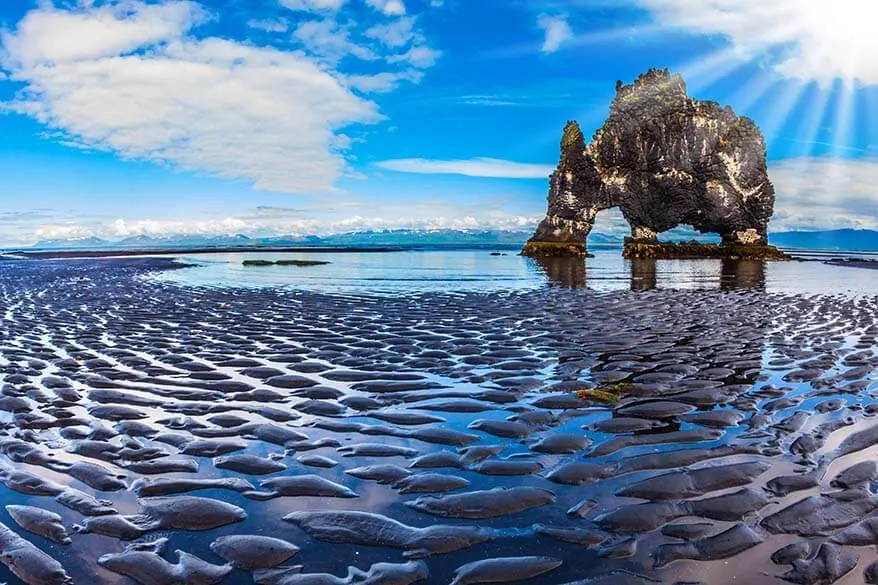 What is Hvitserkur
Hvitserkur is a very photogenic basalt rock in the sea that looks like a huge rhino drinking from the water. It's about 15 meters high and is located just near the shore of a splendid black sand beach on the eastern side of the Vatnsnes Peninsula.
Trolls. According to an Icelandic legend, this is not a rhino or an elephant. And not even a dragon as some people say. Hvitserkur is a troll that was trying to destroy a local monastery but got caught by the sunrise and turned into stone. If you are not familiar with Icelandic folklore, trolls are terrified of Christianity and all its symbols. They also can't see the daylight and turn to stone with the first ray of light.
What's in the name. Nowadays, you won't find trolls here, but – depending on the season – you may see lots of birds. The name Hvitserkur means a 'white shirt'. It comes from the white color of bird droppings that cover the top of the rock.
Interesting to know. Hvitserkur is a high and very narrow rock that's constantly being hit by the waves of the sea. Because of the erosion, it was at risk of falling down and was strengthened by the locals many years ago. The base of Hvitserkur has been reinforced with concrete and it's still standing there today. Let's hope that the foundations are now strong enough to withstand the sea for many more years to come.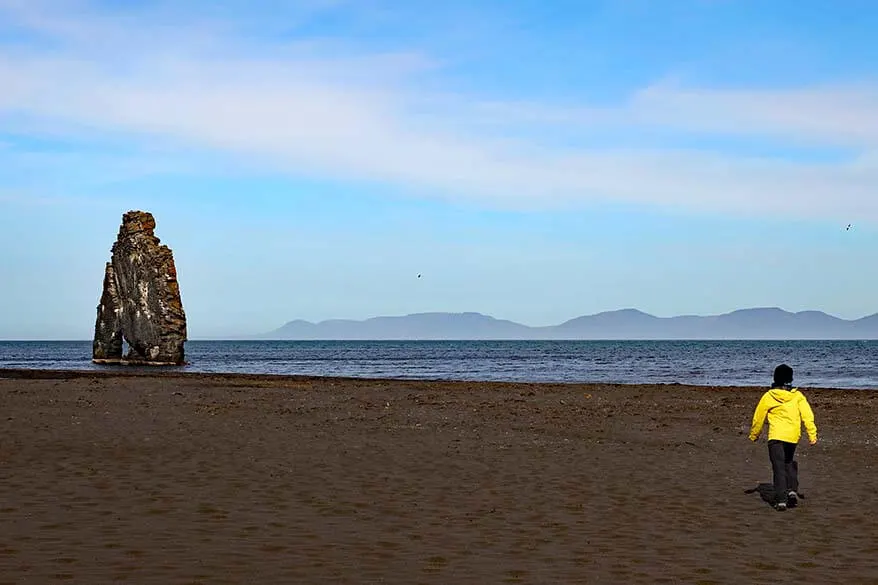 Why Visit
Come here for phenomenal landscapes, impressive black sand beaches, and of course, the spectacular Hvitserkur rock formation itself. If you love travel photography, Hvitserkur is also a beautiful place to get some unique pictures.
In summer, you can see lots of birds in this area. Nearby, you can also visit some interesting places and this area is also known as a good place to see seals (more info further below).
In winter, this is a beloved spot for Northern Light photography. The green light of the auroras often gives amazing reflections on the shallow water around Hvitserkur.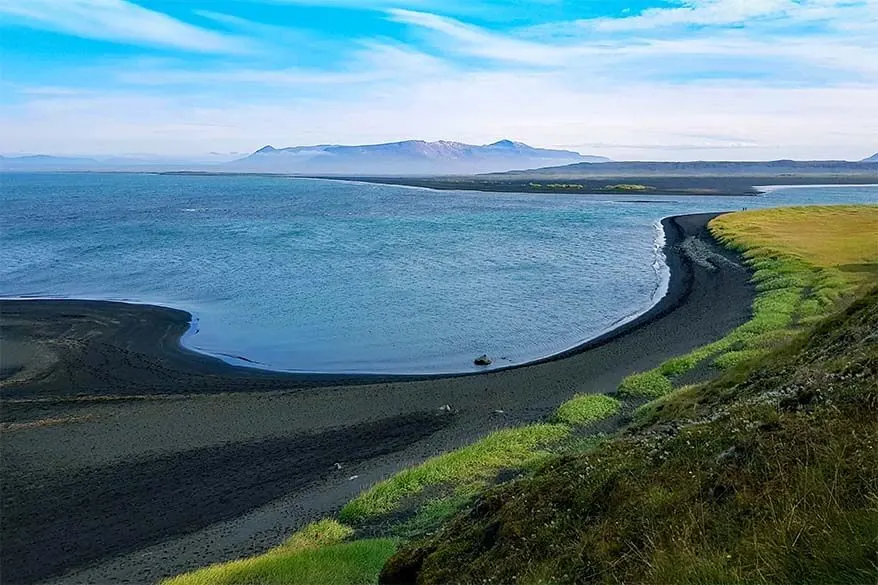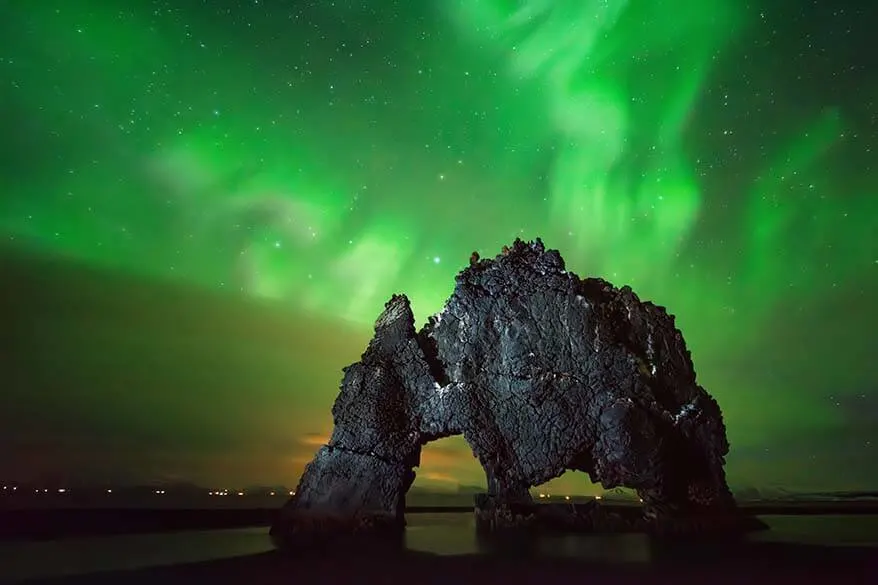 Hiking to Hvitserkur
Hvitserkur is located in the sea, about 50 meters from the shore. The parking area is located a bit higher and you can see the rock from above or you can walk down to the sea. At low tide, you can sometimes also walk to the rock itself, but normally you'll just see it from the beach.
There are two paths to Hvitserkur from the car parking area. The one on the left leads you to a viewing platform from where you can see the rock below. At this viewing platform, there is a steep path where you can walk down to the beach. There are no stairs here so you'll have to negotiate a steep muddy path. It's not far at all, but people with weak knees or limited mobility will find this challenging.
The path that starts in the right corner of the car parking area is a bit longer and much less steep. For some reason, it's not indicated well, but this is a much easier way to go down to the beach. We walked down using the less steep path on the right and came back up via the steeper path at the viewing platform.
No matter which path you take, Hvitserkur is just a short hike of 10 minutes.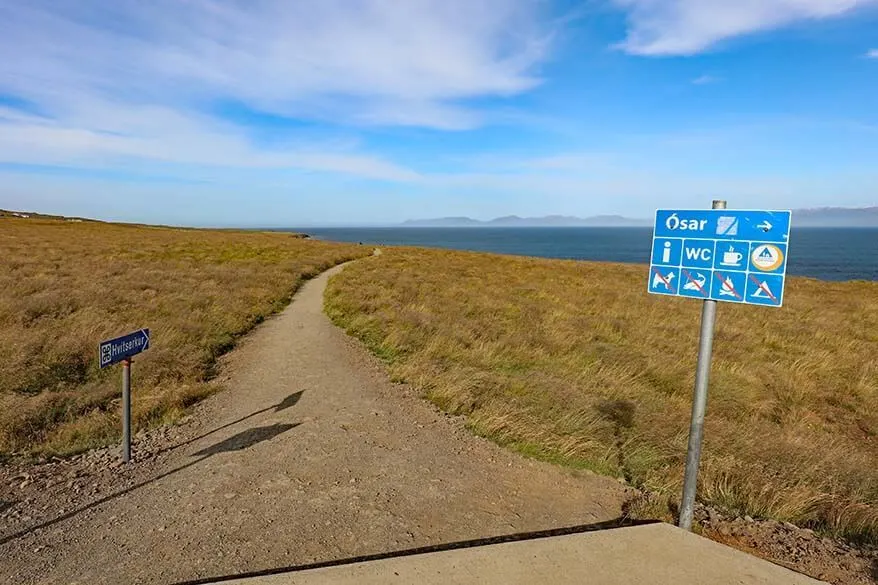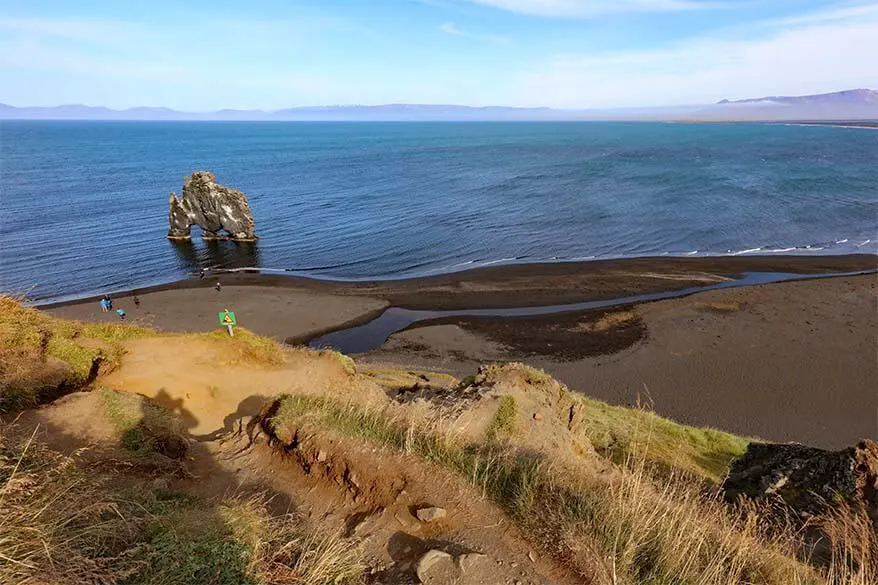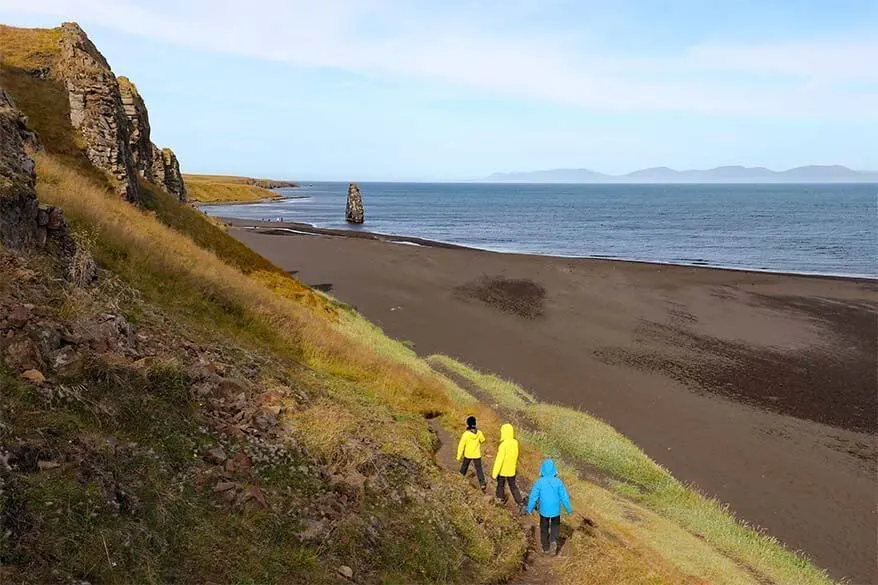 How Much Time Do You Need
Including driving time from the Ring Road and back, you'll need at least 1.5 – 2 hours to visit Hvitserkur.
First, it takes about 30 minutes to drive to Hvitserkur. Furthermore, you need at least 15-20 minutes to visit Hvitserkur; count 30-40 minutes if you are planning to go down to the beach.
If the weather is really nice, you may want to spend a bit more time here and walk around the beach or – at low tide – walk to Hvitserkur itself.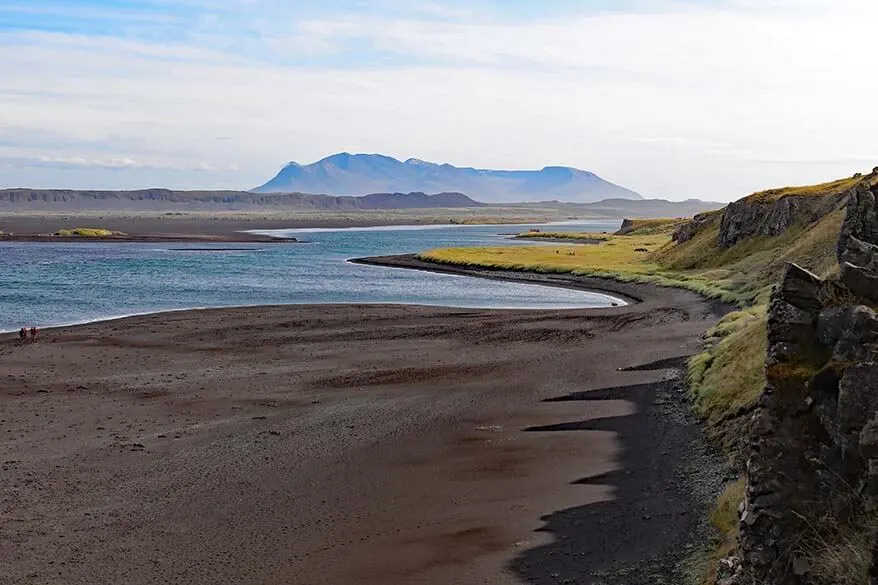 Facilities
There are no facilities at Hvitserkur itself. At the parking area, you'll find some tables and benches for a picnic.
Nearby, there is a hostel (Ósar Hostel) that has public toilets and a small bar where you can get some drinks and snacks.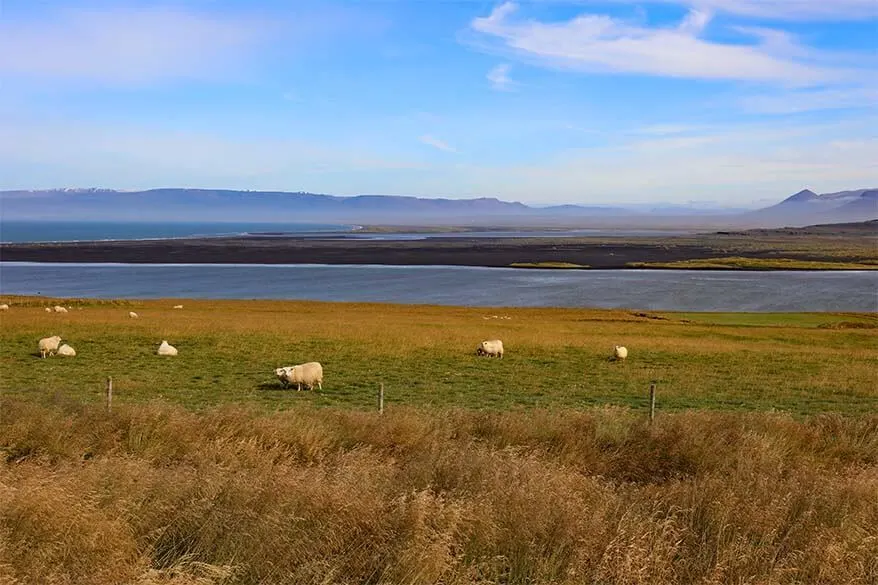 How to Get to Hvitserkur
Hvitserkur is located next to road #711 on the eastern side of the Vatnsnes Peninsula. It's about 30 km/30 minutes drive from the Ring Road. The road to get to Hvitserkur is a gravel road, but it's in a pretty good condition and it's not an F-road. In summer, you can easily tour the Vatnsnes Peninsula in a regular car. We had a 4WD, but we saw many small cars and also camper vans at Hvitserkur.
There are several ways to get to Hvitsekur. You can either take road #711 from the Ring Road or you can take roads #716 and #717. They are all gravel roads. Road #711 is mostly flat and somewhat easier. Road #717 is hilly and also more scenic. We took one road to get there and the other one to get back.
In winter, when there is snow, the last piece of the road to the parking area is often closed. You can leave your car on the road or at the nearby hostel and walk to Hvitserkur. It's advisable to pack crampons.
TIP: If you are not touring the north, you should know that it's also possible to visit Hvitserkur and all the sights of the Vatnsnes Peninsula mentioned in this article with a tour as a day trip from Reykjavik. For more information, please check out this super jeep tour. These multi-day tours also include a visit to Hvitserkur.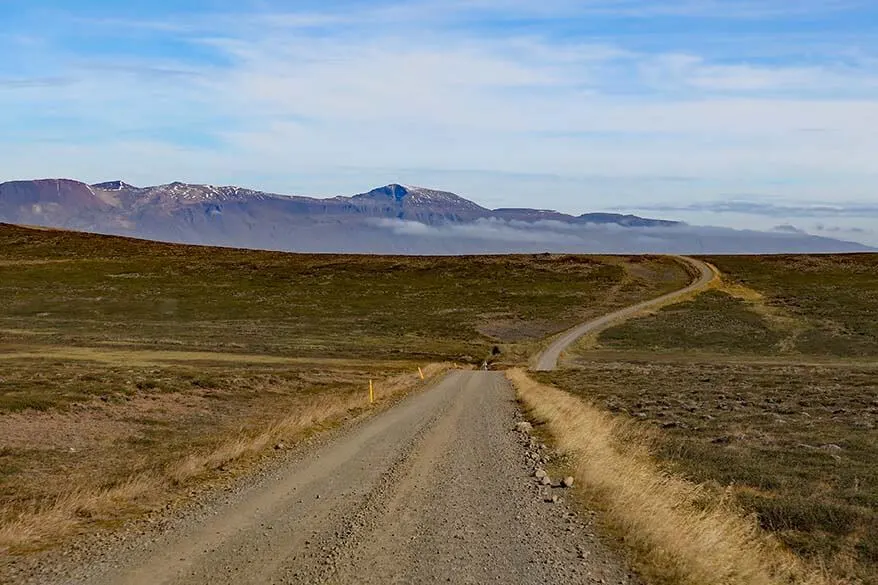 Is Hvitserkur Worth It?
Yes, Hvitserkur is absolutely worth a detour. The rock is very impressive and the landscapes of the surrounding area are simply breathtaking.
When planning our 10-day trip in West and North Iceland, we were not sure if Hvitserkur was worth a detour, especially because we already had a very long drive that day. Furthermore, on the day itself, we wasted half the morning changing a flat tire in the Westfjords. Despite the lack of time and a spare tire, we decided to make a detour to visit Hvitserkur. And we are really glad that we did!
It's a beautiful place and the whole area around it felt like a real hidden gem. We wish we had more time to explore the Vatnsnes Peninsula deeper; at the same time, we're glad that we visited to start with.
Further below, you can find more information about other really nice places that you can easily visit in this area, even if you're short on time, as we were. Read on!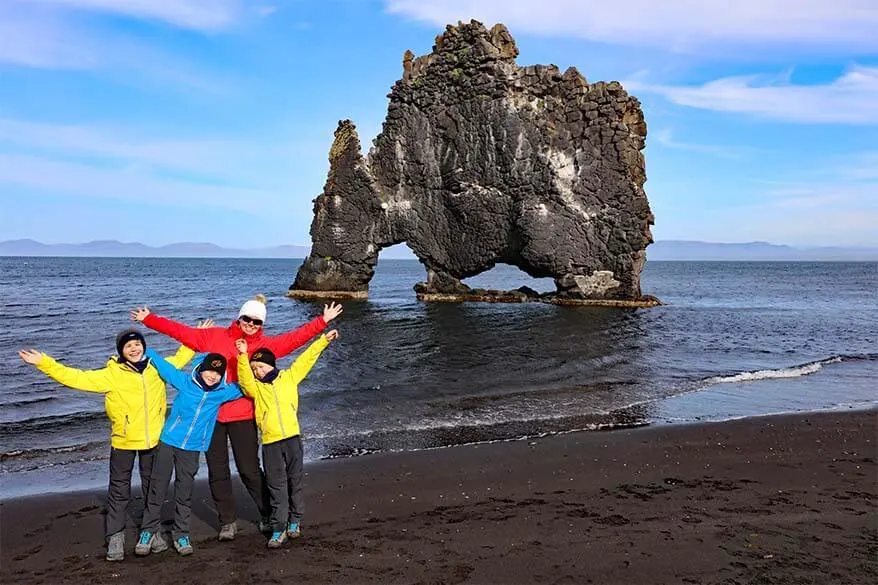 What to See Nearby & Map
Most people, visit Hvitserkur when driving the Ring Road, on their way between Reykjavik and Akureyri. Depending on your itinerary and how much driving you have to do that day, you may not have much time left for anything else. If, however, you do have some extra time, here are some places you may want to check out.
To make it easier to plan your trip, I also created this map indicating all the places and seal-watching locations mentioned in this article.
How to use this map: Use your computer mouse (or fingers) to zoom in or out. Click on the icons to get more information about each place. Click the arrow on the top left corner for the index. Click the star next to the map's title to add it to your Google Maps account. To view the saved map on your smartphone or PC, open Google Maps, click the menu and go to 'Your Places'/'Maps'. If you want to print the map or see it in a bigger window, click on 'View larger map' in the top right corner.
Here are the best places to see near Hvitserkur:
Borgarviki
Borgarviki is a medieval defensive fortification that dates from the 9th-11th centuries. It is an impressive historic site that's a combination of man-made rock walls and a natural basalt rock formation on an old volcano.
Borgarviki was one of the very first historic sites in Iceland to be granted conservation status, back in 1817. Set high on the hill, the views on a beautiful day here are incredible. Whether you come here for the history, fascinating natural phenomena, or amazing views of the surroundings, it's well worth a small detour.
There is a small parking area where you'll find some picnic tables and an information panel about the site. From there, it's just a short uphill walk to the site itself. Count 10-20 minutes for a visit.
This is a very little-known place, located just next to road #717, about halfway between Hvitserkur and the Ring Road. When we visited, there were just two other cars there. The main road to Hvitserkur (#711) is flat, whereas road #717 takes you up the hill and is, therefore, a little bit more challenging. Still, it's a good gravel road and in summer when we visited, it was very easy to drive.
We found this short detour absolutely worth it – the views are stunning and the Borgarviki site is also fascinating.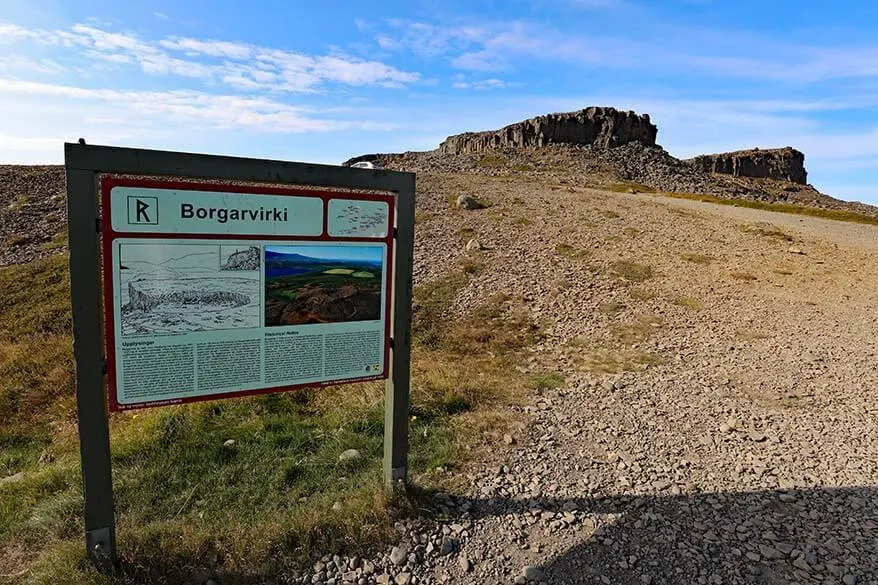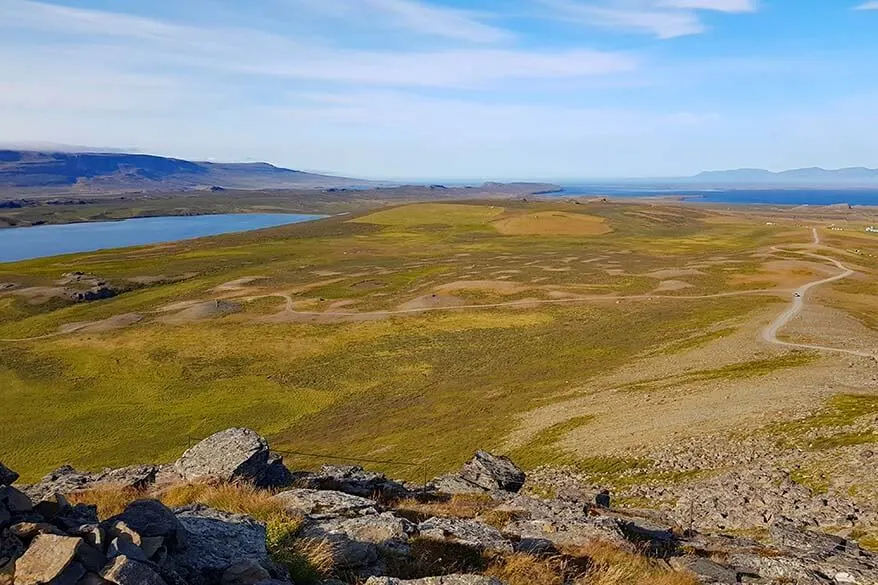 Icelandic Seal Center, Hvammstangi
Icelandic Seal Center in Hvammstangi on the western side of the Vatnsnes Peninsula is a very popular tourist attraction in this area. There is a small museum here where you can learn more about Icelandic seals, the history of seal hunting and products, and the conservation of seals nowadays.
They also run short boat tours (45 min) to see seals. Sometimes, you can also see seals right there on the beach.
Please note that the museum is only open on weekdays (Monday to Friday) in the summer (June, July, and August). For more practical information, please check their website.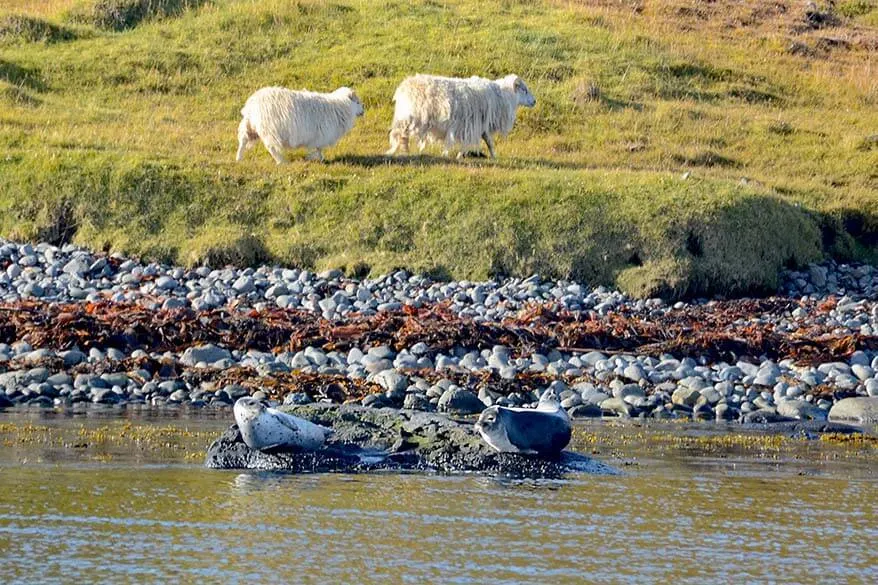 Seals
Vatnsnes Peninsula is known as a good place to see seals. There are four main locations where you can expect to see them: Hvitserkur, Icelandic Seal Center, and also places known as Svalbarð and Illugastadir on the western side of the peninsula.
Please note that the best time to see seals is about 2 hours before or after low tide. They're wild animals and so you never know if they'll be where you expect them. So be patient and always be on the lookout.
Please make sure to keep a safe distance from the seals and not disturb them.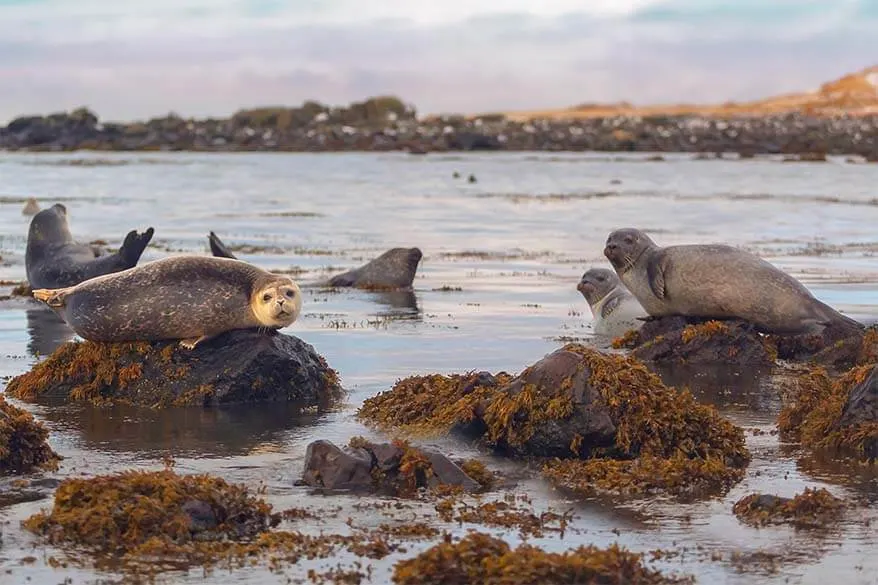 Kolugljúfur
Kolugljúfur Canyon or Kolugljúfur Gorge is another really nice place to visit when traveling in this area. This impressive gorge with the beautiful Kolufossar waterfall is a real hidden gem.
You can see the waterfall right from the car parking area or from the bridge just next to it. Some people also hike down closer to the falls, but the path isn't well indicated and can get slippery if it's been raining. Anyway, you don't have to walk far for the best view of the falls, so don't miss it when driving the Ring Road in this part of Iceland.
The waterfall is located next to road #715, just about 5km from the Ring Road. You only need a few minutes to visit and so Kolugljúfur is well worth a small detour. When the weather is nice, this is also a beautiful quiet place for a picnic.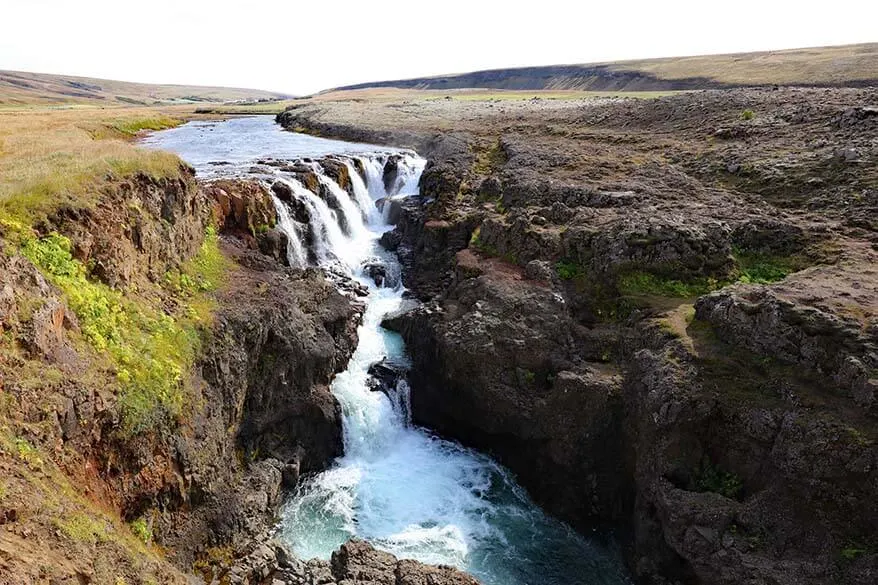 Where to Stay
As already mentioned, most people only stop at Hvitserkur for a short visit when passing this area. If you have more time to explore this remote part of northwestern Iceland, you can also opt to stay in this area at least one night and take your time to explore deeper. Please note that camping is not allowed at Hvitserkur.
The closest place to stay near Hvitserkur is the earlier mentioned Ósar Hostel. If you are thinking of visiting Hvitserkur for aurora photography, for example, this would be the best place to stay if you don't want to drive gravel roads in the dark.
If you rather have accommodation with private bathroom facilities, the closest accommodation is the Hotel Hvitserkur. Alternatively, check this map – as you zoom out, you'll see more accommodations located near Hvitserkur.
We stayed in Blonduos, the biggest town in this area. There is everything here – nice hotels and guesthouses, shops, cafes and restaurants, and a really nice local pool. This town even has a car repair center where we were able to get a new spare tire for our car (luckily, paid by our rental car insurance). We stayed in Blonduos twice – once at Brimslóð Atelier Guesthouse and the other time at Hotel Blanda.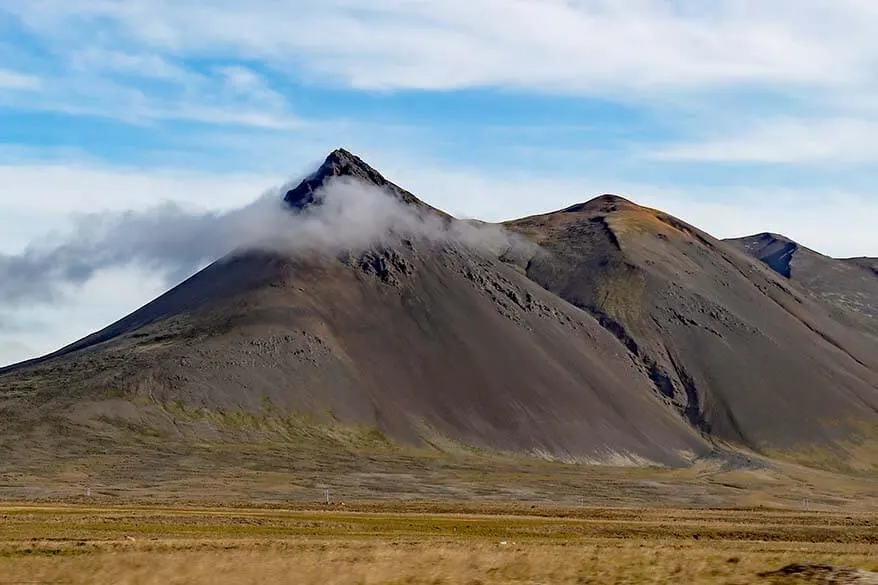 So, this is our guide to Hvitserkur and some of the nicest places to visit on the Vatnsnes Peninsula. Even if you only have time for one of these stops, I'm sure it will make your Icelandic road trip even more special.
This beautiful region is still overlooked by most tourists. Yet, it's an amazing opportunity to discover some hidden gems and make your trip more memorable.
If you are planning a trip to Iceland and are looking for more suggestions, please check our other guides. I included a small selection below. Alternatively, you can find a complete overview in our Iceland travel guide.
NEXT STOP ALONG THE RING ROAD: Snaefellsnes Peninsula
More travel inspiration for North Iceland & the Westfjords:
More tips for your trip to Iceland:
If you found this post helpful, don't forget to bookmark it and share it with your friends. Are you on Pinterest? Pin this image!