There are so many ways to spend ten days in Iceland, including driving around Iceland's Ring Road… This 10-day Iceland itinerary is for those who are looking to get off the beaten path and, in addition to some main landmarks, also visit the lesser-known parts of Iceland that most tourists never see.
This is a very different road trip than you'll find on most websites or travel brochures. It's one of my personal favorite of all self-drive trips we ever did in Iceland (see our Iceland travel guide for a complete overview). This 10-day itinerary will bring you to some of the most beautiful parts of the country with stunning vistas, jaw-dropping sceneries, and – for the biggest part of the trip – very few people.
We did this trip in the high season of the year when Iceland had the highest number of tourists of all time. Yet, for the biggest part of the trip, it was really quiet. You can't completely avoid the crowds if you want to see the main tourist attractions in Iceland. However, this itinerary gives you a very good mix of popular landmarks and some incredible places that are not yet discovered by mass tourism.
TIP: I strongly urge you to go through the entire article before deciding if this itinerary is right for you. Even if you don't follow this itinerary exactly as we did, you can use parts of it to make your Iceland trip so much more special and memorable than if you just follow the more standard itineraries. And if you want to do parts of this trip in combination with the highlights of the South Coast, please see our 7-days Iceland itinerary for more details for that part of Iceland.
Good to know: At the bottom of this post, you can find practical tips for this trip, car hire recommendations, alternative route suggestions, and a MAP. That way you can easily adjust this itinerary to suit your interests. Find out!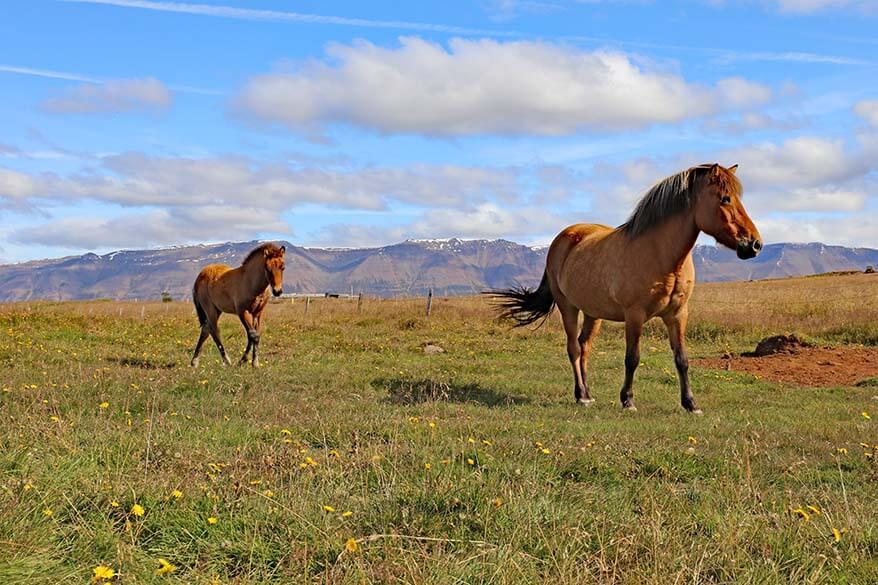 Overview of our 10-day Iceland itinerary:
Day 1: Arrival, visit Reykjavik (optional) and drive to Snaefellsnes Peninsula
Day 2: Snaefellsnes Peninsula
Day 3: Snaefellsnes Peninsula to the Westfjords
Day 4: Westfjords to Blönduós
Day 5: Blönduós to Myvatn
Day 6: Myvatn area
Day 7: Myvatn to Blönduós
Day 8: Blönduós via F35 to the Golden Circle area
Day 9: The Highlands (Haifoss, Landmannalaugar) or South Coast
Day 10: Reykjanes Peninsula, Blue Lagoon (optional), and departure
Map
Practical info
Once again, the possibilities are endless. This itinerary for 10 days in Iceland is exactly as we did it. It might look busy on some days, but most stops are rather short and it never felt rushed to us. Furthermore, we did this trip with three kids and we all found enough variation to keep the whole family interested. We also included lots of hot tubs and local pools in this itinerary and that made the trip even more fun for the kids.
Use this itinerary as inspiration to see what's possible in that time frame and how you can plan your time. For more itinerary suggestions, check out our Iceland itinerary ideas.
Based on our personal experience, I also included some extra recommendations for things that I would do differently to make this trip even more special.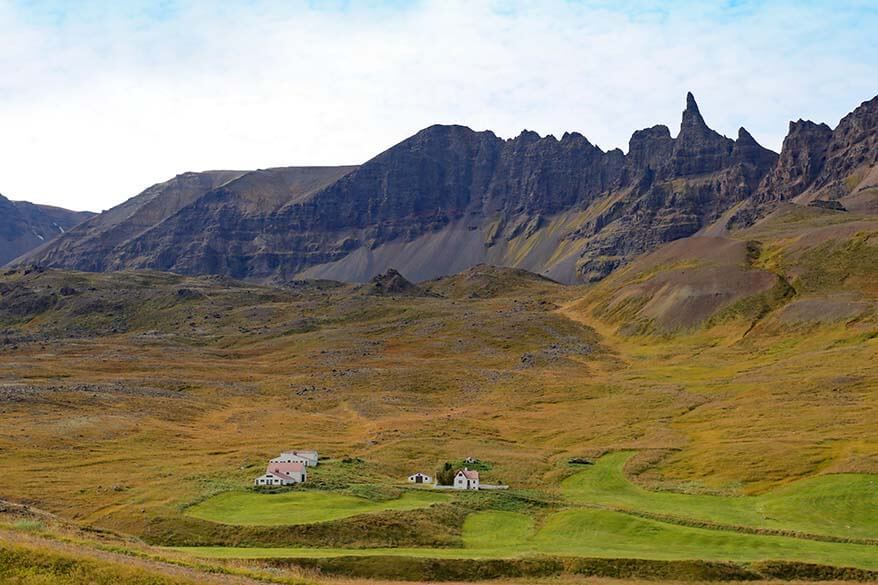 Without further ado, here is how our 10 days in Iceland looked like:
Day 1: Reykjavik to Snaefellsnes Peninsula
We arrived in Keflavik International Airport in the evening. After picking up our rental car, we drove straight to our accommodation on the Snaefellsnes Peninsula. This was a bit risky in case the flight would be delayed or in case of bad weather. But it worked out well for us. If you are also arriving late, you may want to stay in Reykjavik for the first night.
We have been to Iceland many times before and so we didn't visit Reykjavik on this trip at all. While nice to see, Reykjavik is not a city where you should spend a lot of time. The real beauty of Iceland is in its nature!
If this is your first trip to Iceland and/or your flight arrives early, I think you should visit Reykjavik shortly. Since the driving distance is not that big, you can easily see the main highlights of Reykjavik on this day before heading to the Snaefellsnes Peninsula.
You can find more information and tips for a short visit to Reykjavik in our articles below.
LEARN MORE: Is Reykjavik Worth Visiting & Absolute BEST Things to Do in Reykjavik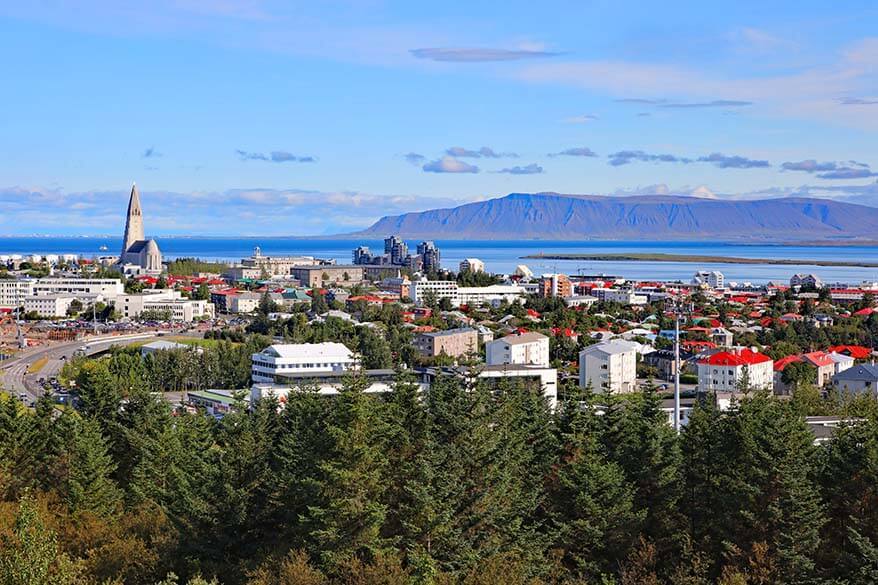 Some people also like to go to the famous Blue Lagoon geothermal pool right after arriving in Iceland. If you are coming from the United States or Canada, this might help you to feel better after the red-eye flight. If you decide to do this, make sure to book your Blue Lagoon tickets in advance!
Driving time/ distance from KEF airport: 2.5 – 3 hours/ 200 km (125 mi)
Accommodation: We stayed in Grundarfjordur. Next time, I would try to stay in Stykkishólmur, where the Westfjords ferry leaves. It would fit this itinerary even better and make it a bit more relaxing.
LEARN MORE: Where to Stay in Snaefellsnes Peninsula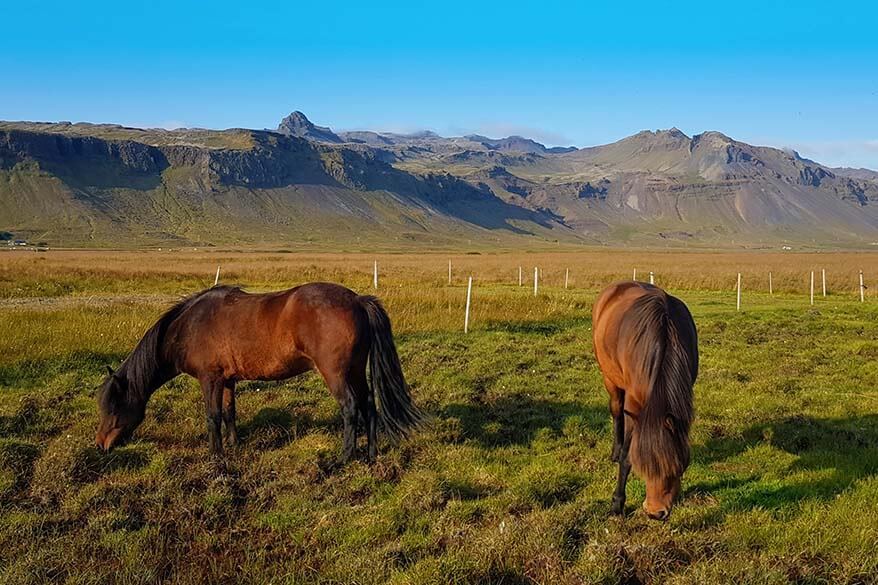 Day 2: Snaefellsnes Peninsula
Snaefellsnes Peninsula is one of the most beautiful places in West Iceland. Just 2-hours drive from Reykjavik, it's increasingly popular with day-trippers as well as people who are doing a self-drive trip in Iceland.
Nevertheless, it's not as crowded as South Iceland and it's easy to find some amazing hidden gems that tour groups don't visit. Also, if you start your tour around the peninsula anti-clock-wise, you have most sights almost to yourself.
Some of the most popular places to see in Snaefellsnes Peninsula are the Kirkjufell mountain and Kirkjufellsfoss waterfall, Saxholar Crater, Djúpalónssandur, Arnarstapi Cliffs, Rauðfeldsgjá Gorge, Búðakirkja, and Bjarnarfoss. But there is so much more!
Some of our other favorites were the orange Öndverðarnes and Svörtuloft lighthouses and a beautiful coastline next to them, but also the golden Skarðsvík Beach. There were just a handful of people at the lighthouses and it felt like we were alone at the end of the world…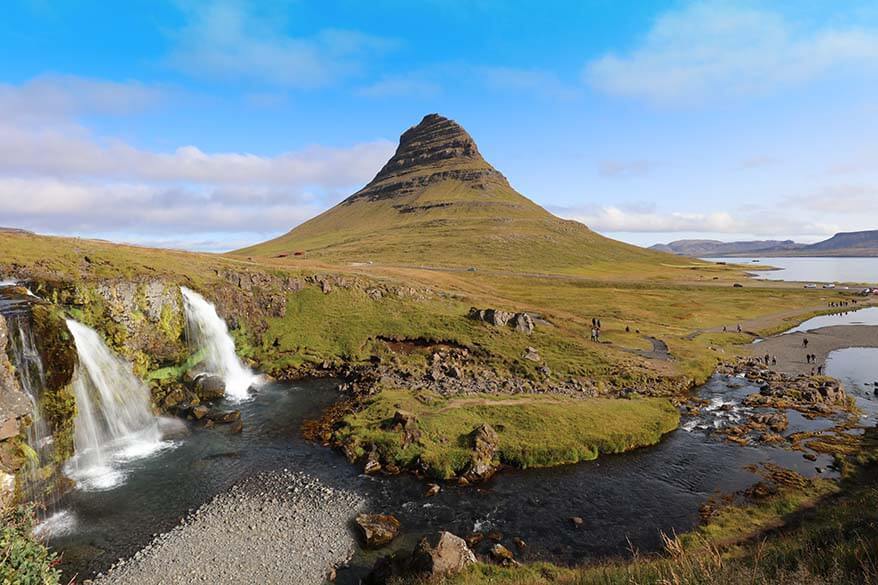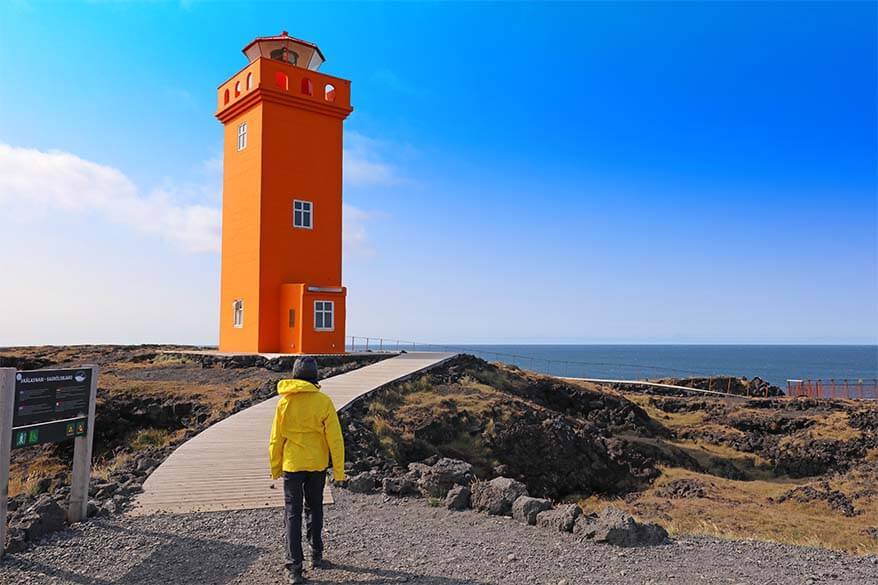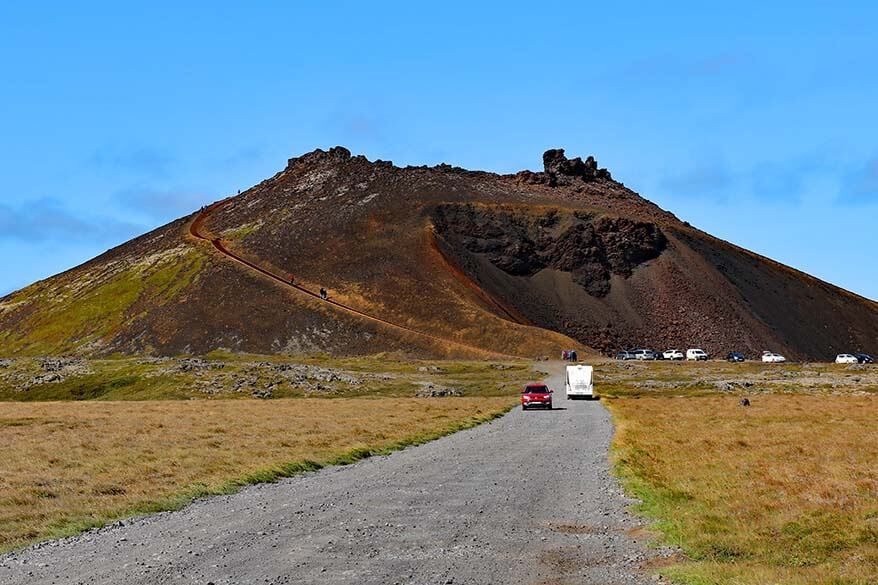 One day is enough to see the highlights and the main landmarks here, but you could also spend 2-3 days in Snaefellesnes Peninsula. However, with just 10 days in Iceland, I suggest planning to spend one full day for this area and make the most of it.
Driving time/ distance for the circle around the entire peninsula: 2.5 hrs/ 160 km (100 mi)
Accommodation: Same as the previous night.
For a full description of everything that there's to see and do in Snaefellsnes, please check our detailed guide below.
LEARN MORE: Best Things to Do in Snaefellsnes Peninsula
Our practical guide to Snaefellsnes Peninsula also contains useful tips for your trip and a suggested one-day itinerary for all the best places. Take a look!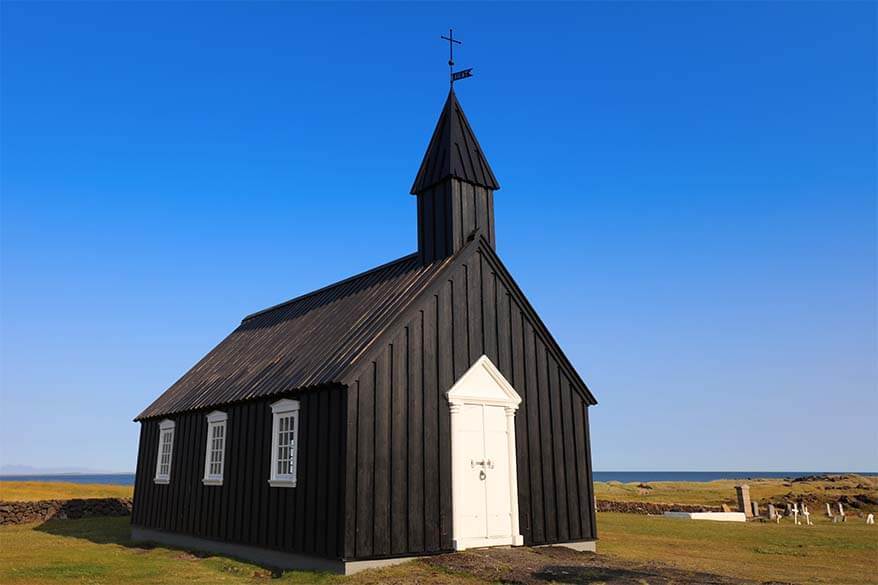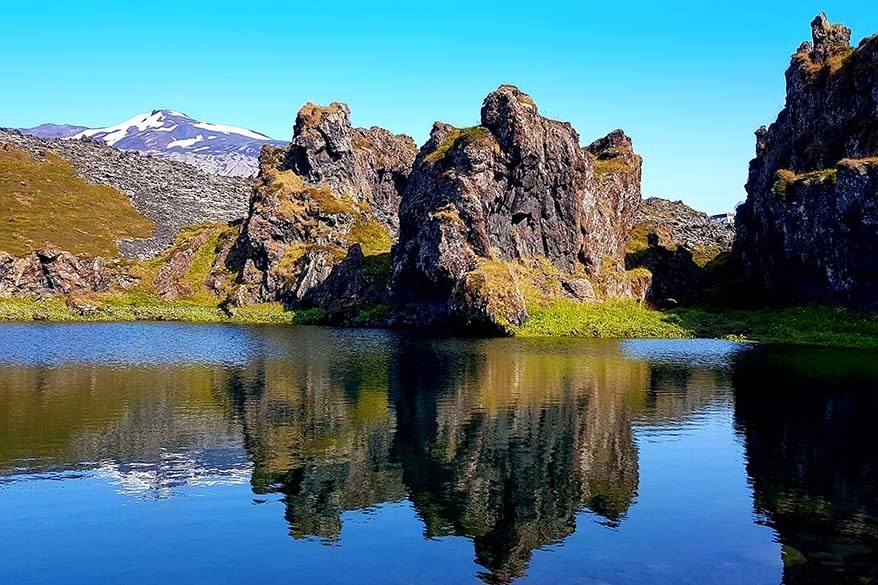 Day 3: The Westfjords
The Westfjords Region is Iceland's hidden gem. Even in the high season, you hardly meet any tourists here. It has nothing to do with the scenery – it's as beautiful as anywhere in Iceland, if not more. But the Westfjords are not that easy to reach and the roads here are not great (although rapidly improving). Therefore, most tourists driving the Ring Road don't make an effort to visit here.
However, if you're already staying in Snaefellsnes Peninsula, you can easily reach the Westfjords by car ferry (reserve in advance!). The ferry leaves from Stykkishólmur and goes to Brjánslækur in the Westfjords via the island of Flatey.
The trip takes about 2,5 hours and you can enjoy the beautiful scenery from the boat. We took the ferry at 9 AM and were in the Westfjords before noon. That gave us enough time to see the main landmarks in the southern part of this region.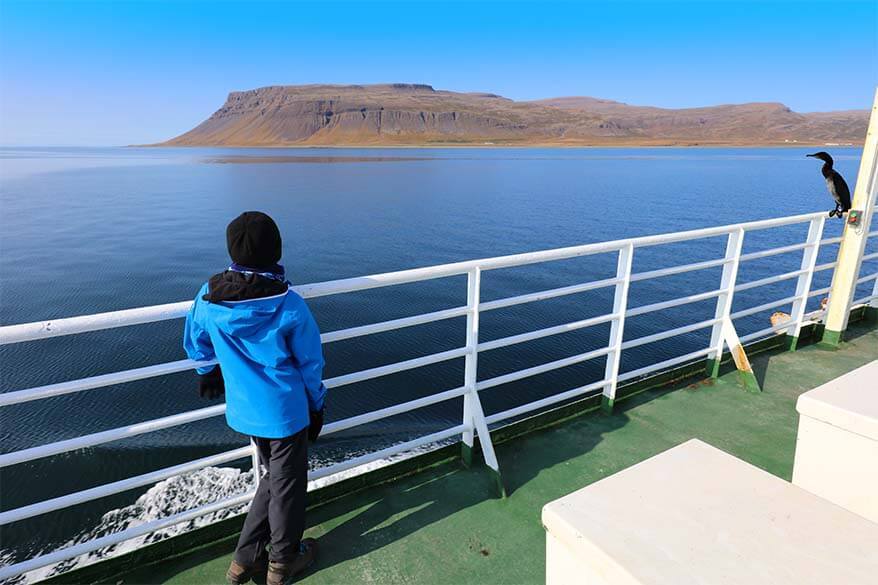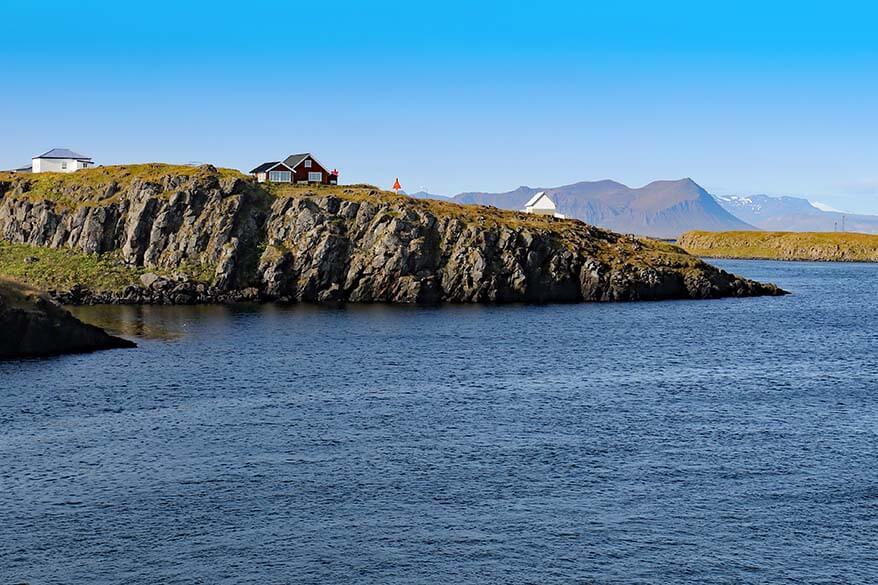 We visited Dynjandi waterfall, spent several hours walking on the Raudisandur Beach, and ended our day at the local Birkimelur swimming pool. It has a very natural-looking hot tub with a great view!
It's also very easy to visit Latrabjarg bird cliffs on this same day. Latrabjarg is one of the best places to see puffins in Iceland, so if you are traveling in the right season (June to mid August), don't miss it!
TIP: Don't forget your swimwear and a towel. We recommend packing a quick-drying travel towel for every member of your group. If you want to, you'll be able to go swimming almost daily when following this itinerary.
Driving time/ distance depends on your accommodation in the Westfjords and whether you go to Latrabjarg. 3.5 hours, 180 km (112 mi) for this route: Brjánslækur – Dynjandi – Raudisandur – Latrabjarg.
Accommodation: We stayed at Móra Guesthouse in Birkimelur. Hotel Latrabjarg is a great option if you are also planning to visit Latrabjarg.
Also in the Westfjords, you could easily spend at least three days and not see everything. But even if you just visit for one day, it's absolutely worth a trip. In our detailed guide below, you can find all the details with our suggested itinerary. Check it out!
LEARN MORE: One Day in the Westfjords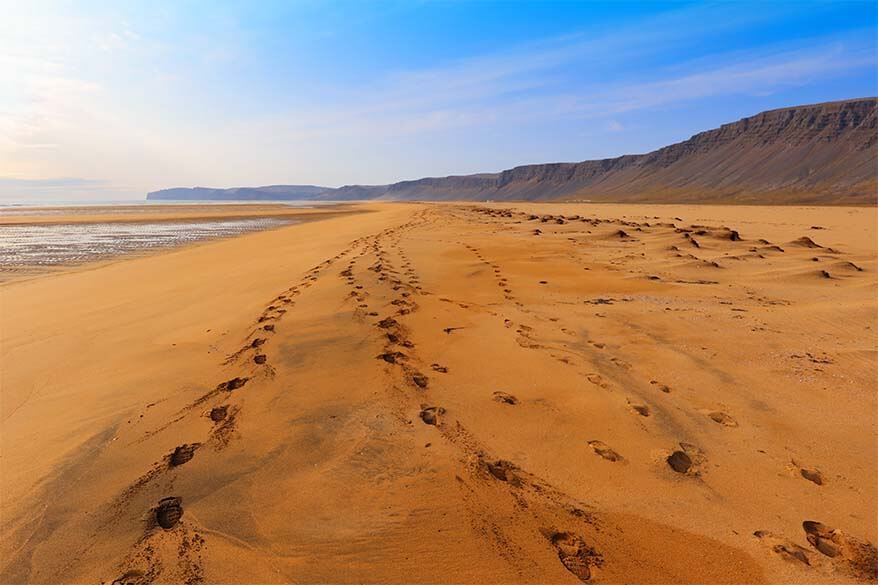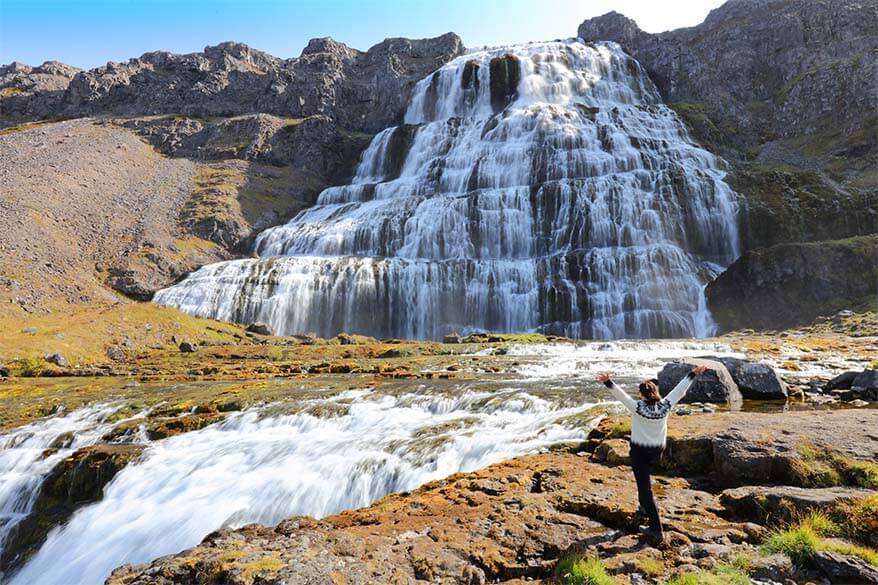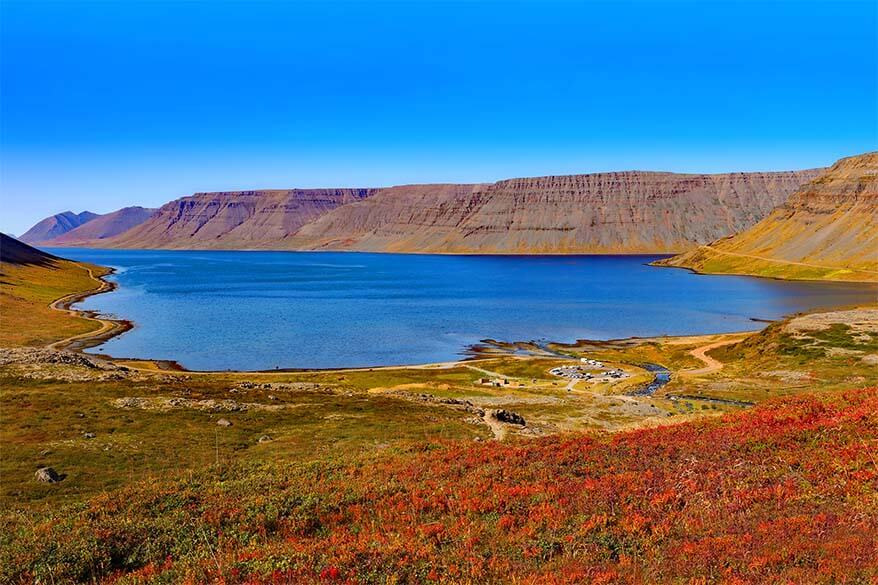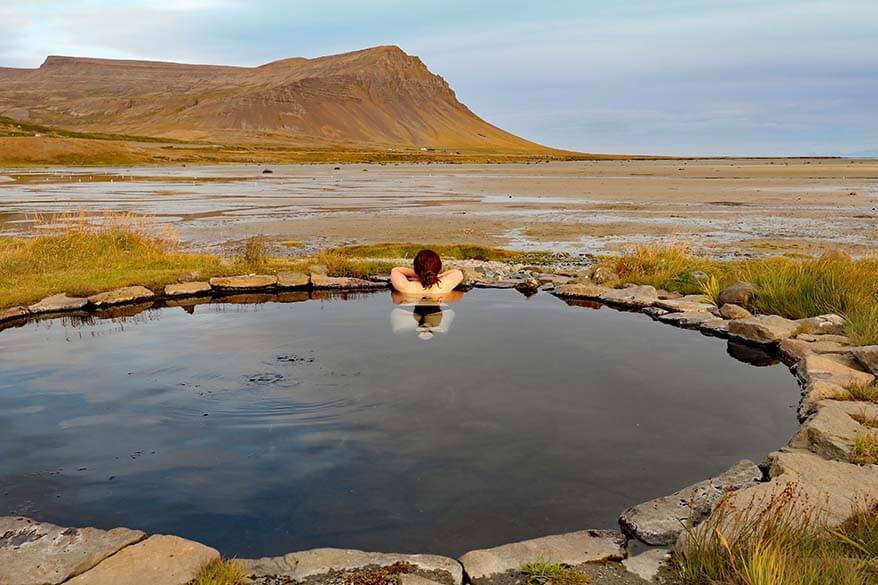 Day 4: Westfjords to Blönduós via Hvitserkur
This day involves a rather long drive. The distance and time depend on where your accommodation is, but if you stay in Blonduos and start in the Westfjords, you should count at least 4 hours of driving time (without the stops). The main road along the south coast of the Westfjords peninsula is partially gravel but in good condition. The scenery is beautiful here, so it doesn't feel like an overly tiresome drive.
There are also many nice places to see along the way – take a look at some suggestions below. Most of these do not require much time, but if you want to see everything, you'll have to plan well.
On the way, you can stop at the Eiriksstadir – Viking Longhouse, along the Road 586. It's a nice place to learn a bit about the Vikings and the early history of Iceland. They have guided tours, so you can learn a lot in a short time.
Another nice stop is the Icelandic Seal Center in Hvammstangi. It's a small museum that also runs seal tours nearby.
As you continue further along the Ring Road, make sure to also stop at the Kolugljúfur Canyon with a beautiful waterfall. It's just a short detour from the main road and well worth a few minutes of your time.
One of the main highlights of northwest Iceland and one place you definitely shouldn't miss when driving in this part of Iceland is Hvitserkur. It's an impressive sea stack in the shape of a rhino drinking from the sea. The coastline here is stunning as well. If you make just one stop on your way from the Westfjords to Blonduos, do it here.
Near Hvitserkur, you can also find an interesting medieval fortification, Borgarviki. It dates from the 9th-11th centuries and is really interesting to see. On a clear day, the views from the top of the hill here are amazing.
LEARN MORE: Hvitserkur & Things to Do Nearby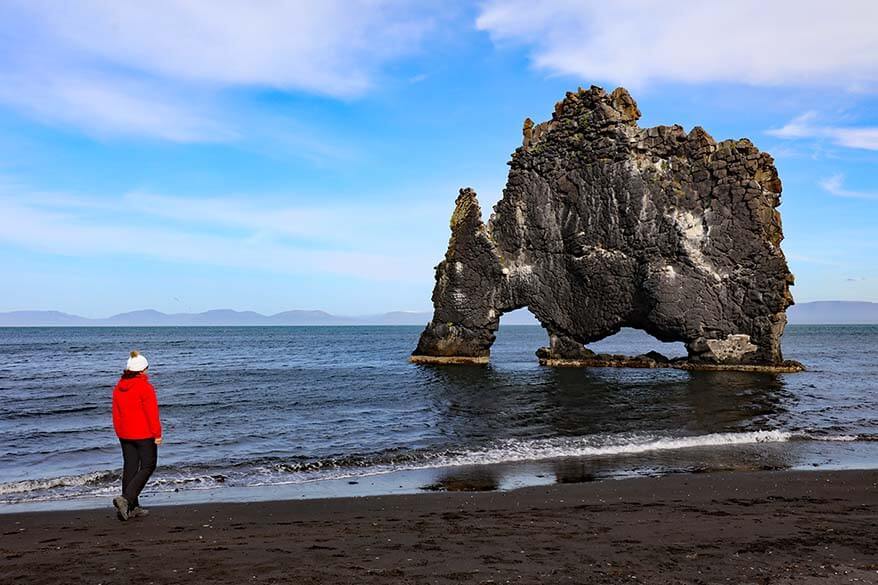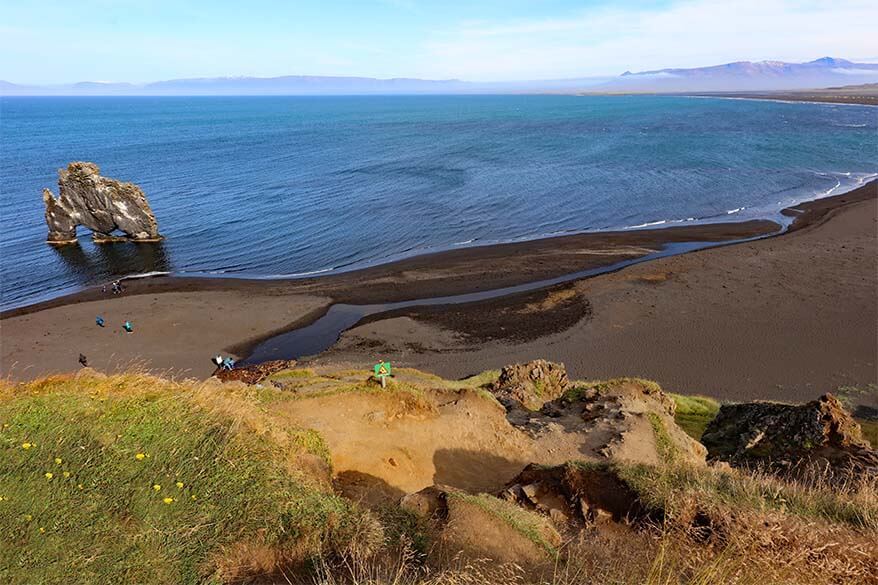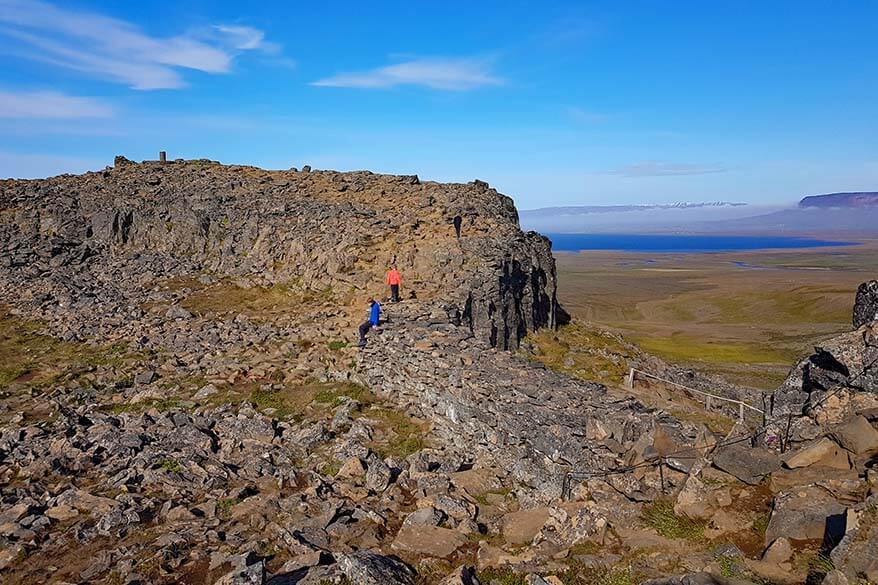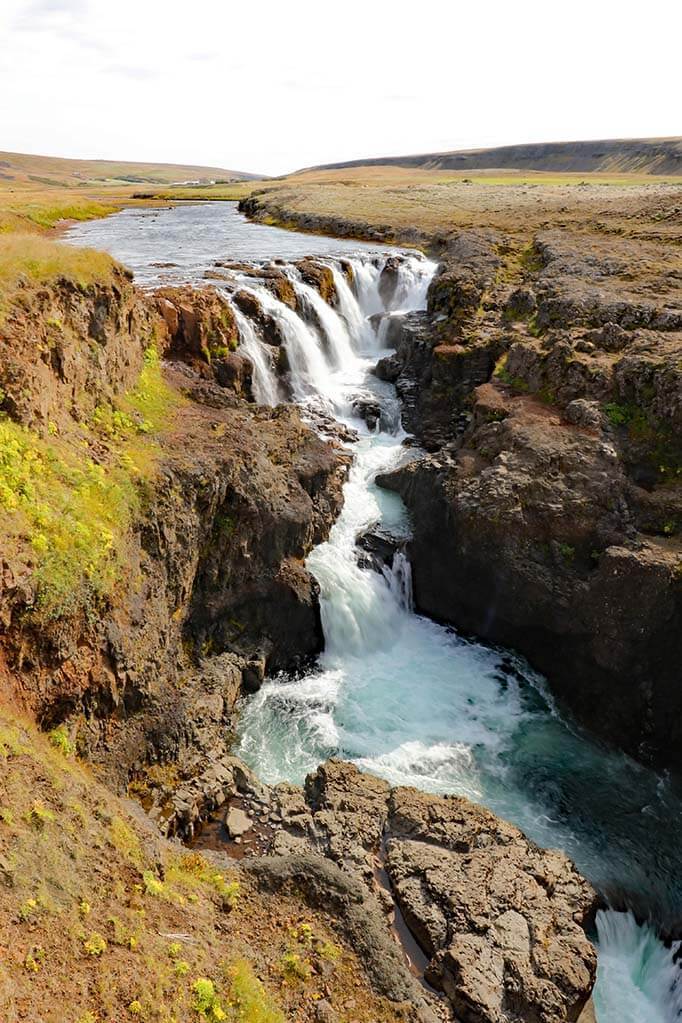 When you reach Blonduos and check-in at your accommodation, head to the local pool. Blonduos swimming pool has several hot tubs, water slides for the kids, and a sauna. It's generally open late in the evening and it's a great place to relax after a long day. Entrance fees for local pools are generally very low (5-10 USD and kids often free of charge).
Driving time/ distance: 4-5 hours/ 350-450 km (220 – 280 mi)
Accommodation: We stayed at Blonduos twice during this trip. Once on this day and then a few days later again (day 7 of this itinerary). We spent one night at Brimslóð Atelier Guesthouse and one night at Hotel Blanda.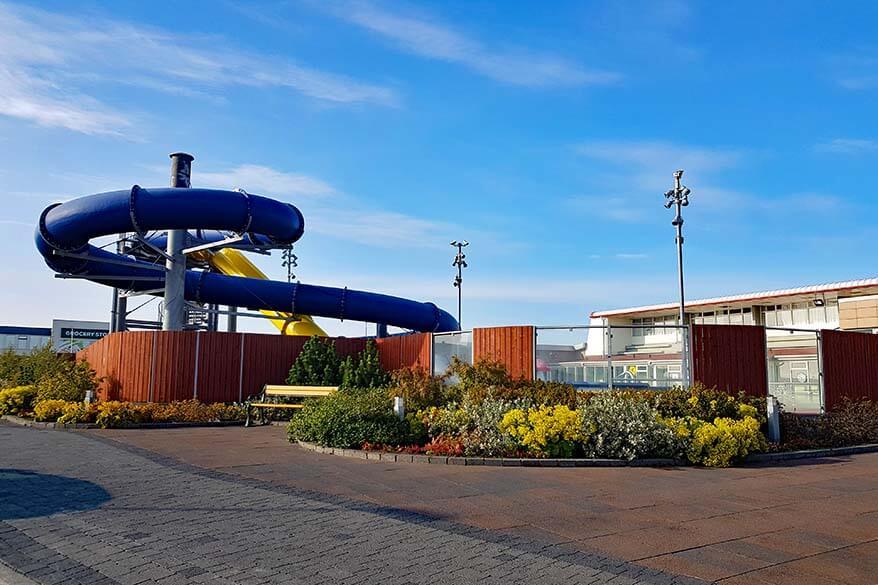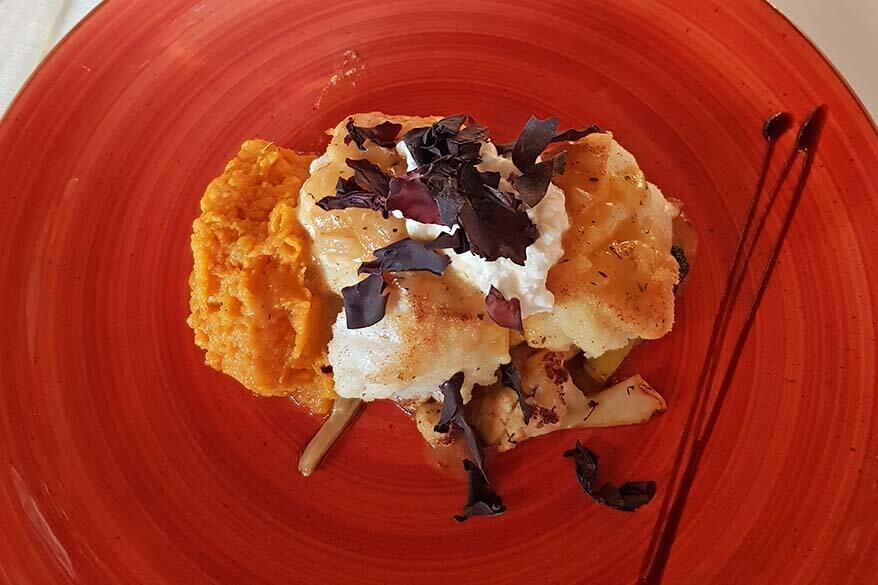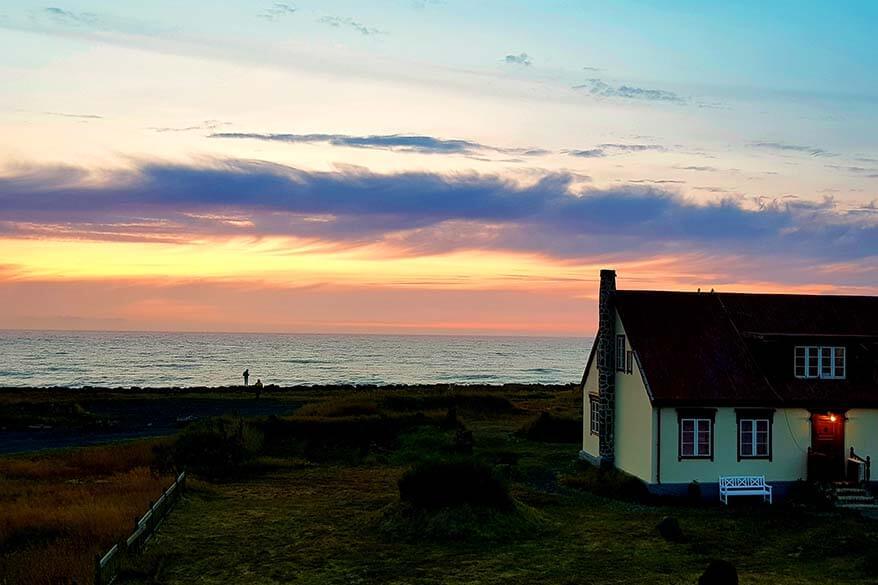 Day 5: Blönduós to Myvatn via Trollaskagi Peninsula
The road from Blonduos to Myvatn follows the Ring Road and, if you drive straight there, it's about a 3-hour drive, without the stops. However, if you do this, you'd be missing one of the most beautiful places in North Iceland – the Trollaskagi Peninsula.
You can drive to the Trollaskagi Peninsula by taking Road 74 and Road 744 North of Blonduos, or you can first take the Ring Road to Varmahlíð and then drive up from there. This way, the roads are better, and you can also visit a few other nice places along the way.
First, stop at Víðimýrarkirkja. It's a small turf church right next to the Ring Road and doesn't require more than 5-10 minutes in order to visit it. After that, continue North along Road 75 and visit Glaumbær Farm and Museum. Here, you can easily spend an hour. The museum is located inside an old turf farm and is absolutely worth visiting.
After that, continue north to Skagafjordur. There, turn left and follow Road 76 along the Trollaskagi Peninsula in the direction of Siglufjordur. This is one of the most scenic roads in Iceland! Even if you don't have much time to stop for places along the way, it's well worth driving this road for the amazing scenery.
Just before you reach Hofos, you'll see a small sign to Grafarkirkja on your right side. This turf church dates from the late 17th century and is said to be the oldest Christian church in Iceland. The surroundings are absolutely beautiful and you're very likely to be completely alone here. Magical place!
The next stop is Hofsos swimming pool. It's a public pool with the most beautiful views and is well worth a stop. We spent about an hour here and the whole family loved it.
LEARN MORE: Trollaskagi Peninsula: Road 76, Grafarkirkja, Hofsos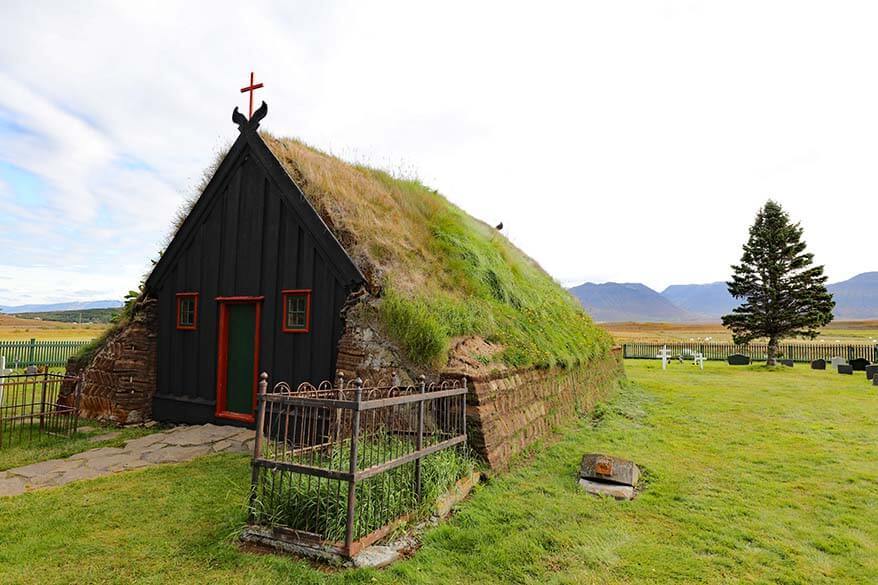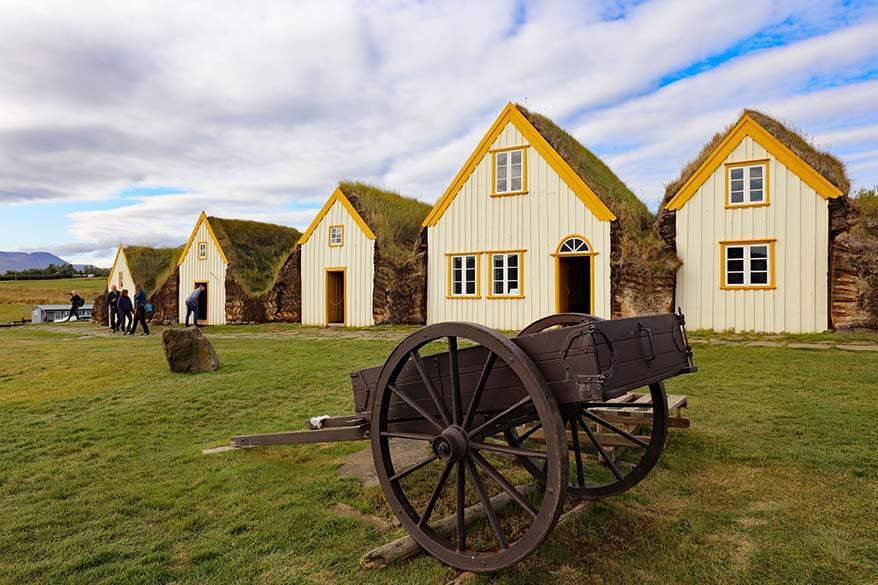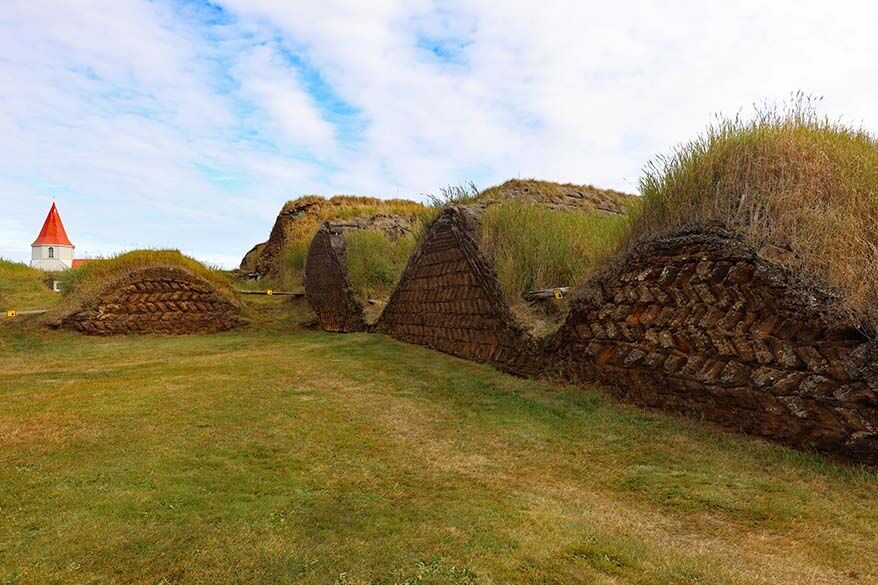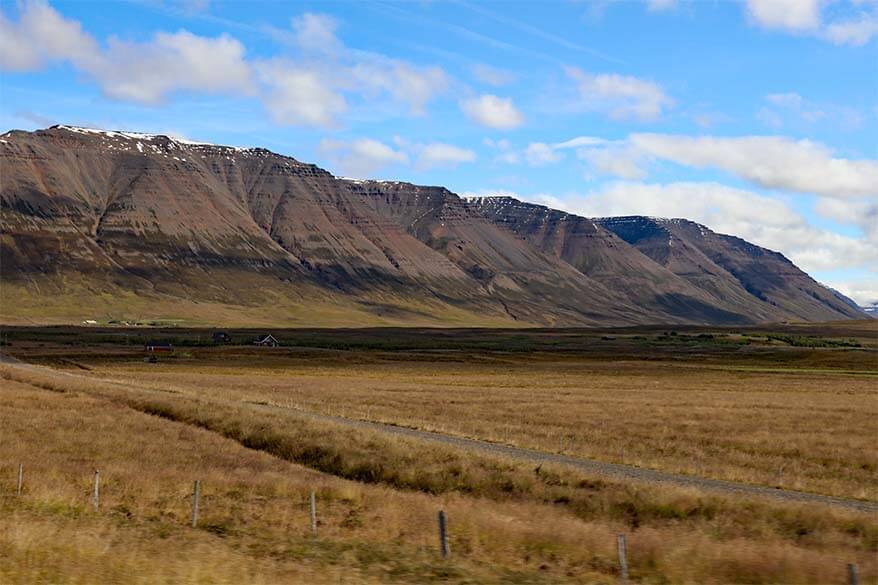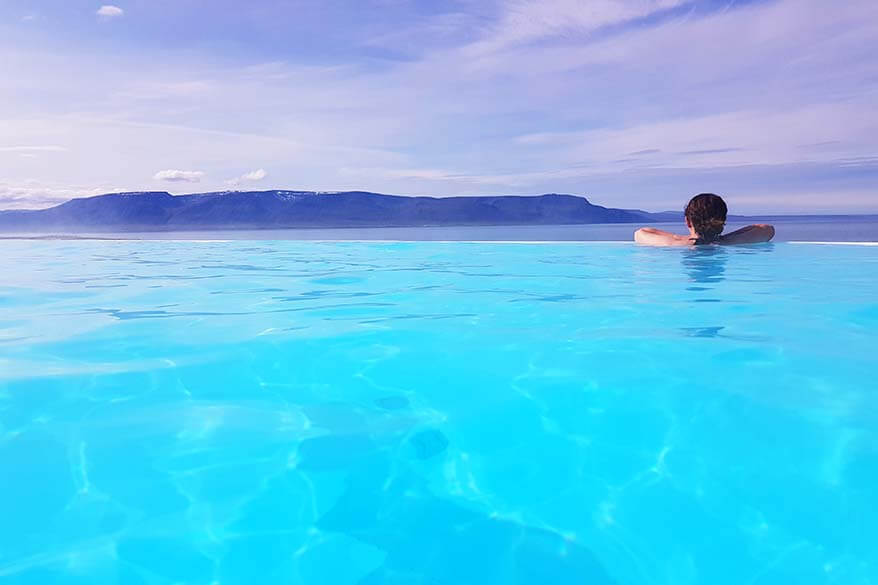 When you've seen all these amazing places, you think it can't get any better than that. But it does! As you continue further north, the scenery just gets better and more impressive.
At the very tip of the peninsula, you'll find the picturesque fishermen's town Siglufjörður. It's such a beautiful little town that you'll probably regret if you didn't book a night here (we sure felt that way). So if you have a chance to add one night to your itinerary, you may want to do it here. In that case, check out the beautiful Siglo Hotel at the harbor.
There is so much to do in Siglufjordur and the town has such a cozy atmosphere. If you are short on time, as a minimum, visit the Herring Era Museum. It's a great place to learn more about this beautiful part of Iceland and its history. Our kids loved this interactive museum as well and they even sampled herring, which is something they would have never done at home.
LEARN MORE: Best Things to Do in Siglufjordur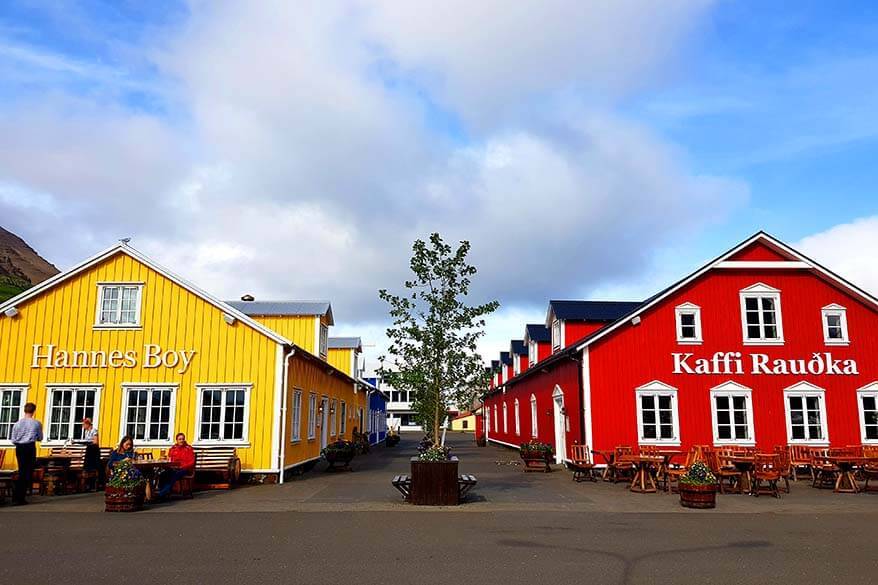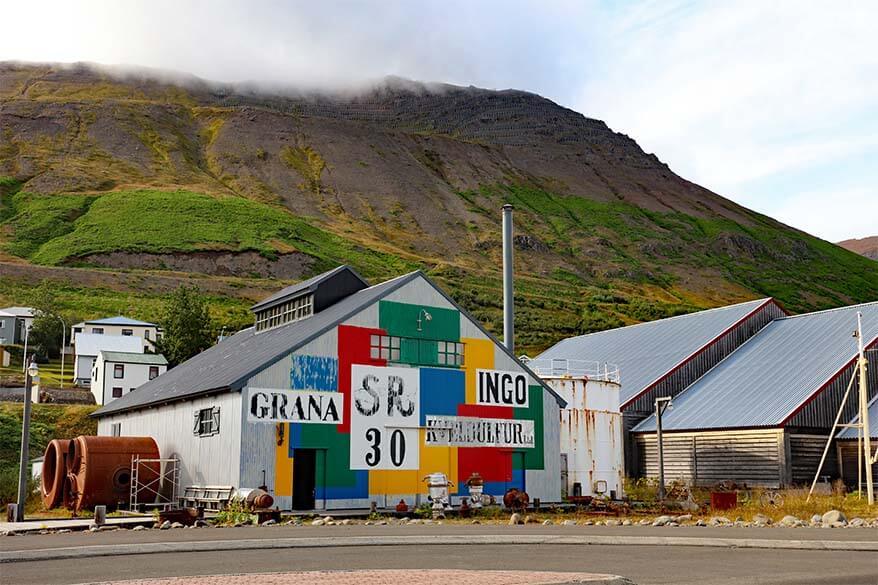 Afterwards, continue further in the direction of Akureyri and Lake Myvatn. We didn't visit Akureyri on this trip. If you like towns and have more time, you may want to include it in your North Iceland itinerary.
We opted for more nature and headed straight to the Myvatn area instead. If you stay in Akureyri, you may want to check out their local swimming pool in the evening.
On the way, we made a quick stop at Godafoss waterfall. But you can also leave it for day 7 of this itinerary. Or you can visit it twice, as we did.
Driving time/ distance: 4-5 hours/ 300-320 km (185 – 200 mi)
Accommodation: We stayed at Guesthouse Storu-Laugar for 2 nights. If there's still availability, you can also stay in Myvatn or in Husavik – all of these places will suit this itinerary well.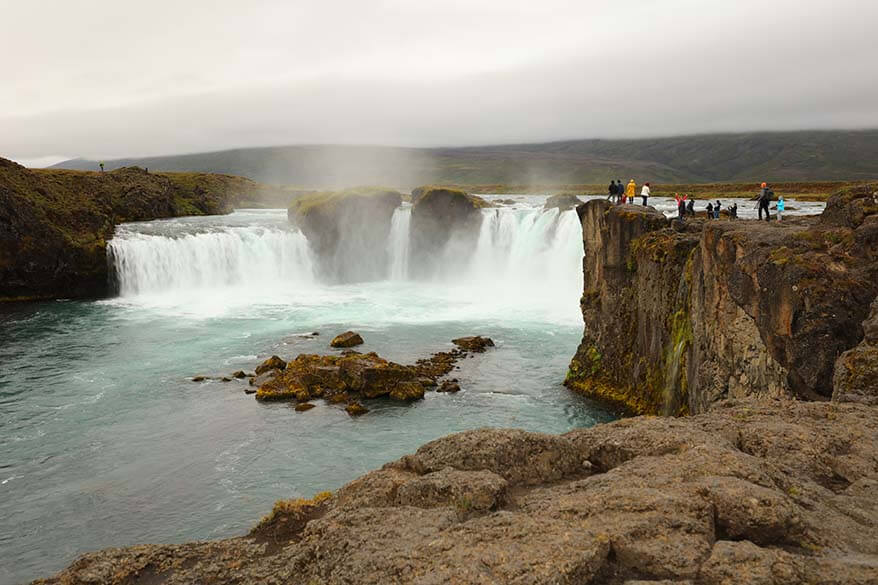 Day 6: Myvatn Area
Myvatn – Husavik area is again one of the places where you could easily spend a few days. But you can see the main highlights in one day as well. Below, you can find our suggestions based on what we did in Myvatn in a day.
Start your day at Lake Lyvatn, where you can visit the pseudo craters at Skútustaðagígar. We then made a short Kirkjuhringur hike at Dimmuborgir, followed by a short stop at Grjotagja cave.
Visit the Hverir geothermal area, followed by a visit to the Krafla Volcano area. Then drive to the western side of Dettifoss where you can walk to Europe's most powerful waterfall. At the same place, you can also visit Selfoss falls.
Continue up north and visit the Asbyrgi Canyon. If you have at least an hour to spare, make sure to also stop at Hljóðaklettar.
You can then decide to drive back to Myvatn and end your day at the Myvatn Nature Baths or continue to Husavik, visit the Whale Museum, and end your day at the Geosea geothermal pool.
TIP: If I were to do this exact trip again, I'd stay in Husavik. It's the best place to see whales in Iceland. If you stay here, the next morning you can easily take a whale watching tour before continuing your trip.
LEARN MORE: Things to do in Myvatn
Driving time/ distance: 4 hours/ 265 km (165 mi) – depends on your accommodation.
Accommodation: Same as last night.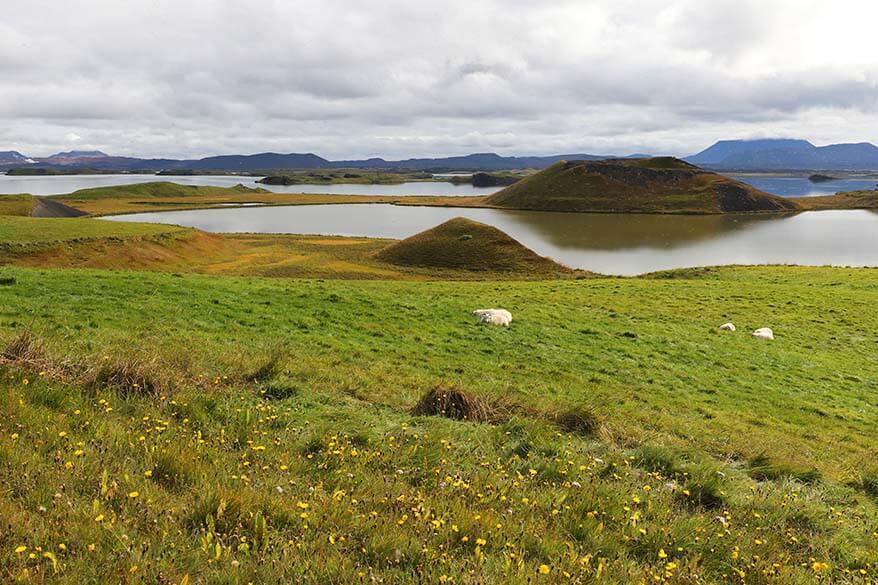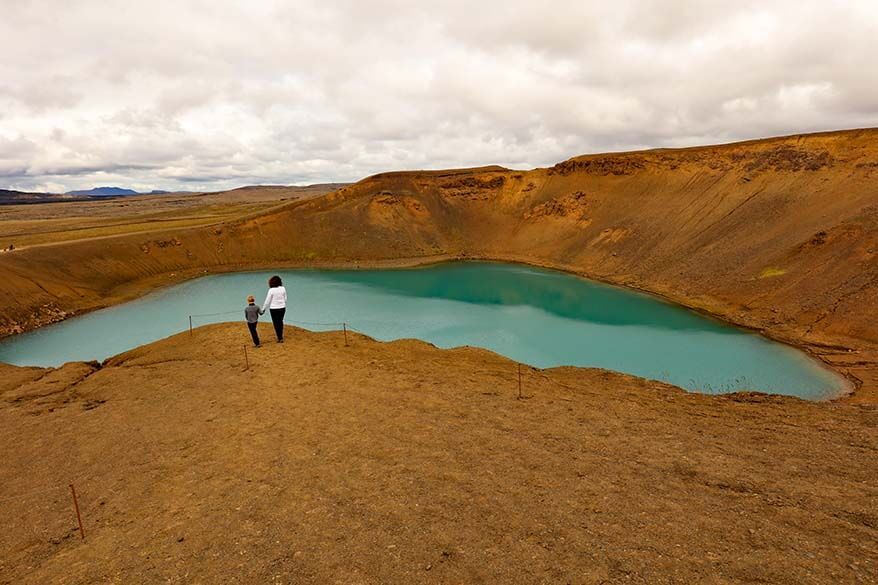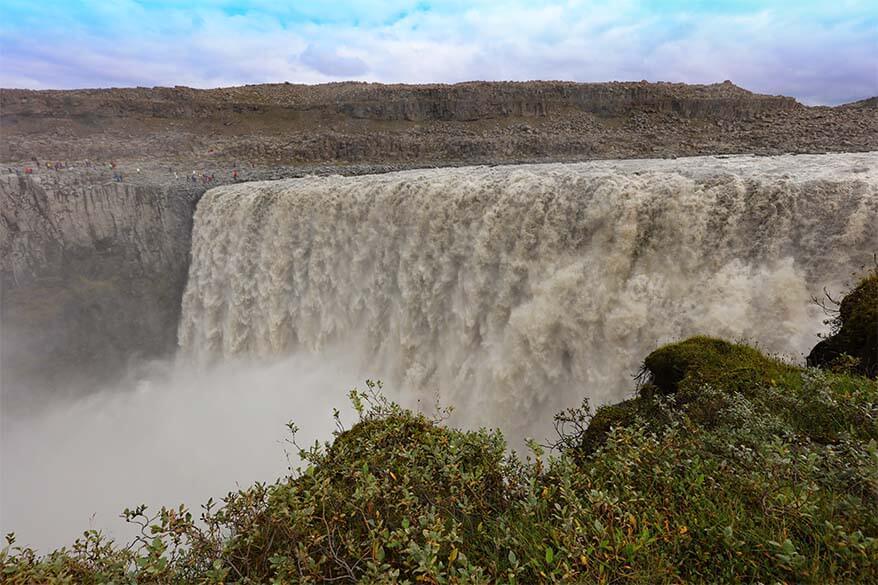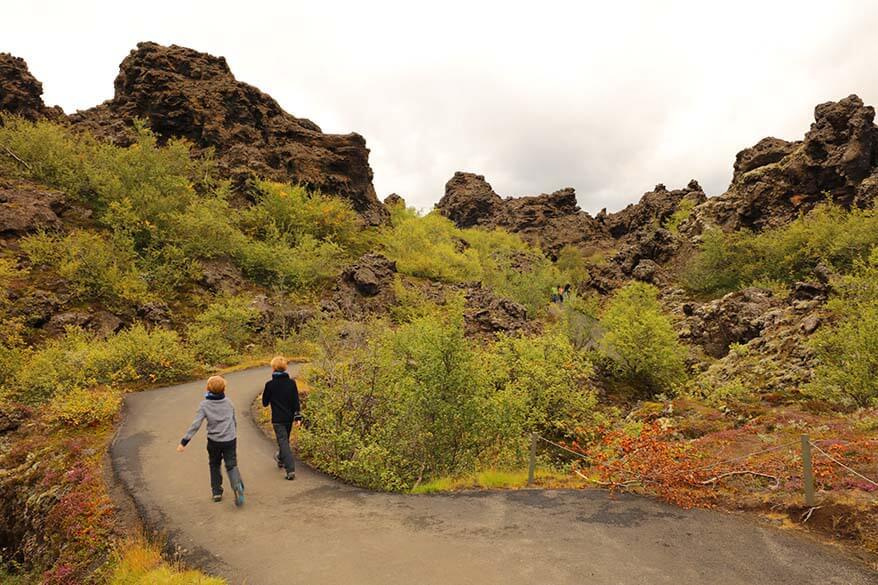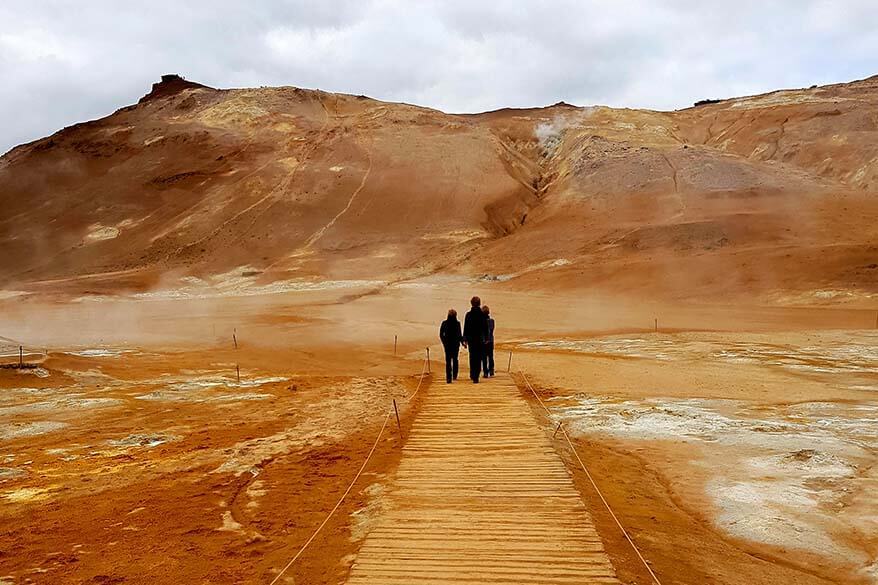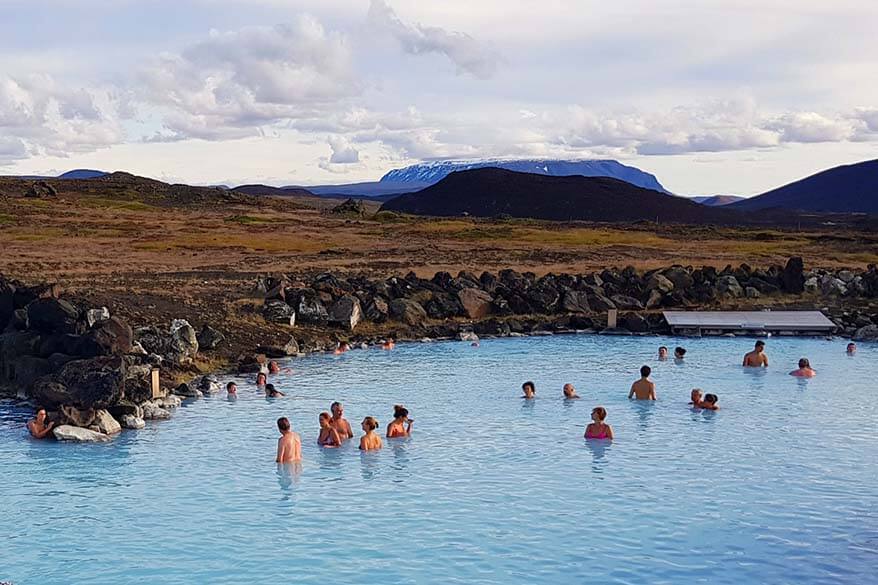 Day 7: Myvatn to Blönduós via Akureyri
Because we wanted to visit several places in the highlands of Iceland, we had to drive back to the Blonduos area, from where we could take Road F35 that connects North Iceland to the south. So we drove back from Myvatn to Blonduos via Akureyri, visiting a couple of nice places along the way that we skipped on day 5 of this itinerary.
The drive isn't that long and, as already mentioned, you can easily start this day with a whale watching tour in Husavik. After that, continue along the Ring Road in the direction of Akureyri. If you haven't seen it yet or if the weather is really nice, stop at the Godafoss waterfall.
As you reach the toll tunnel just before Akureyri, turn right on the Road 84 and take the mountain pass instead. It's a scenic road and only adds 10km to your drive (and saves you toll). If you want to, you can stop at the Safnasafnið – it's a small folk/art museum. You can't miss it – there is a giant statue standing right next to the road.
The museum was closed when we passed, so we visited the Svalbarðseyri lighthouse just nearby. We saw it from the road and just couldn't resist taking a detour. After that, you can drive to Akureyri and visit the town, or skip the town again and visit some other places nearby – see below.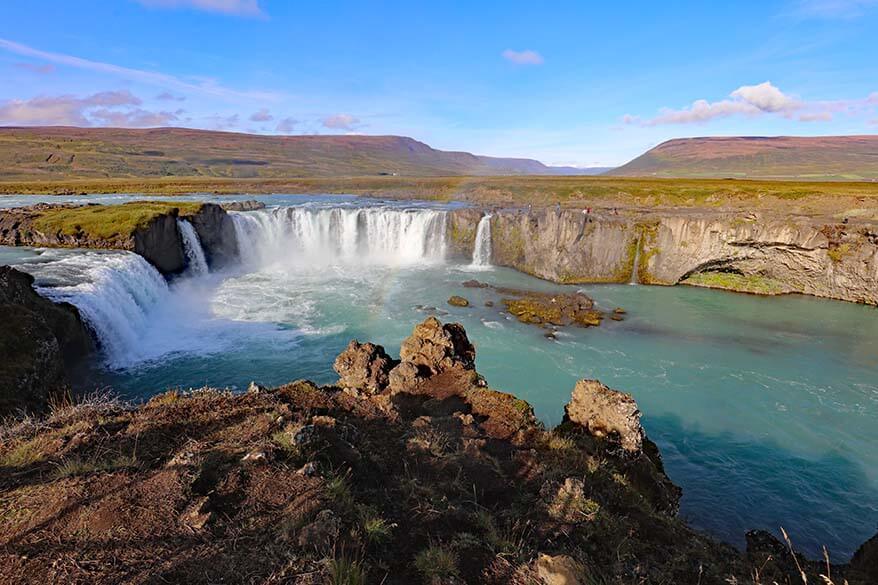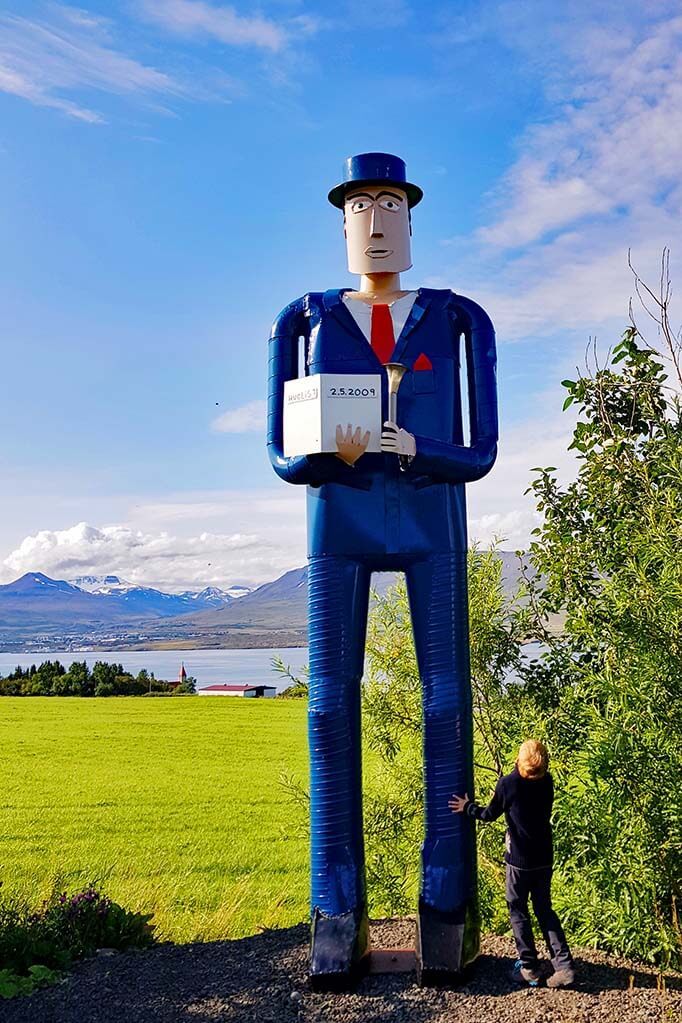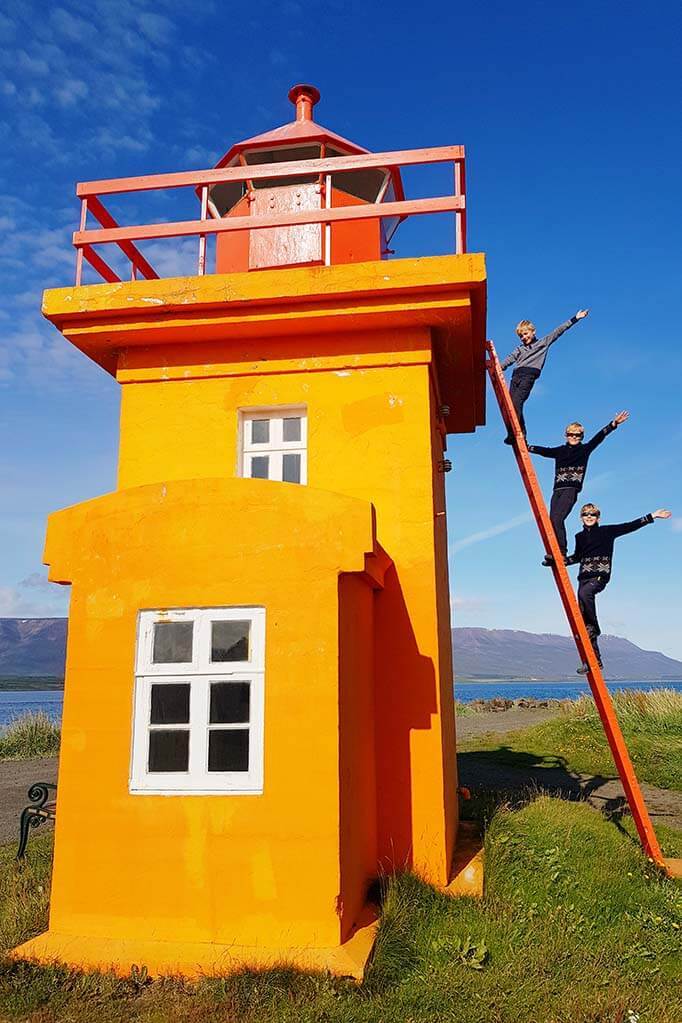 We decided to go for some quirkier alternatives and drove to the nearby Kaffi kú for lunch. This is one of the most unique cafés you'll ever see. It's located above the cowshed and you can also visit the cows if you want to.
After that, visit the Christmas House. If you like all things Christmas, this little shop 10km south of Akureyri is the place to be. Any time of the year, it's always Christmas here.
We then continued our trip and stopped for a quick visit at the Botanical Garden in Akureyri. It's free to visit and really worth a small detour.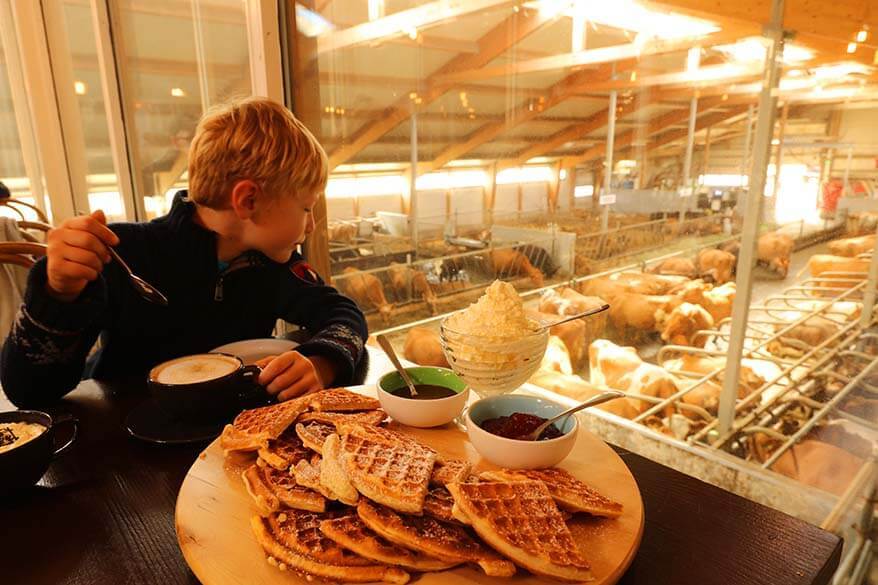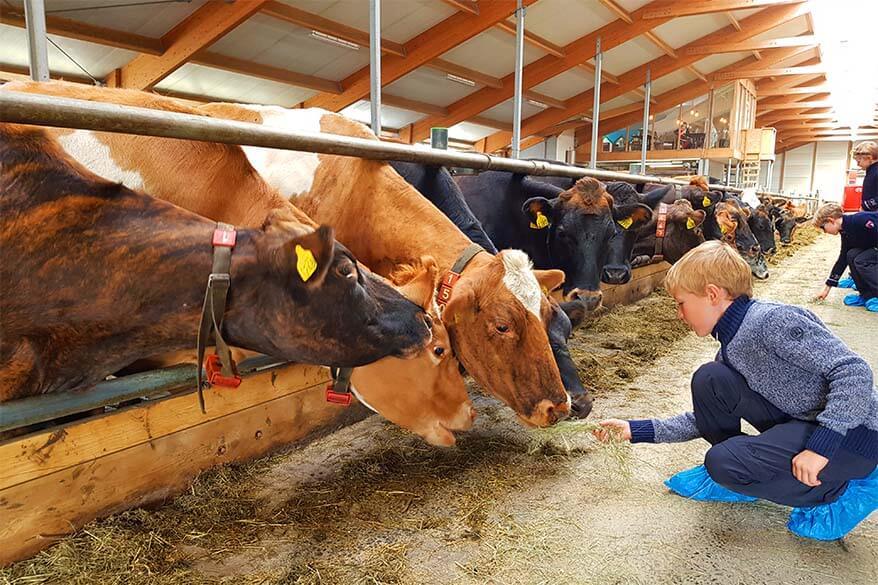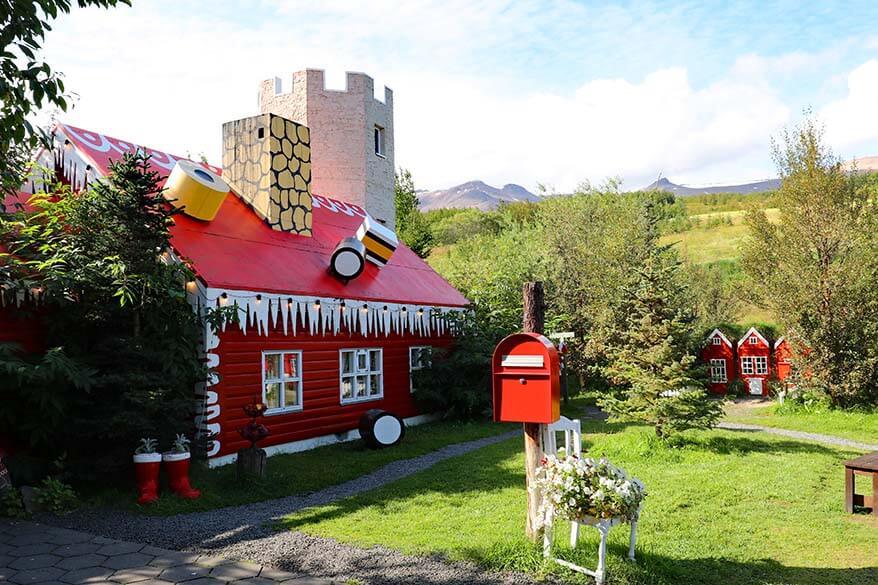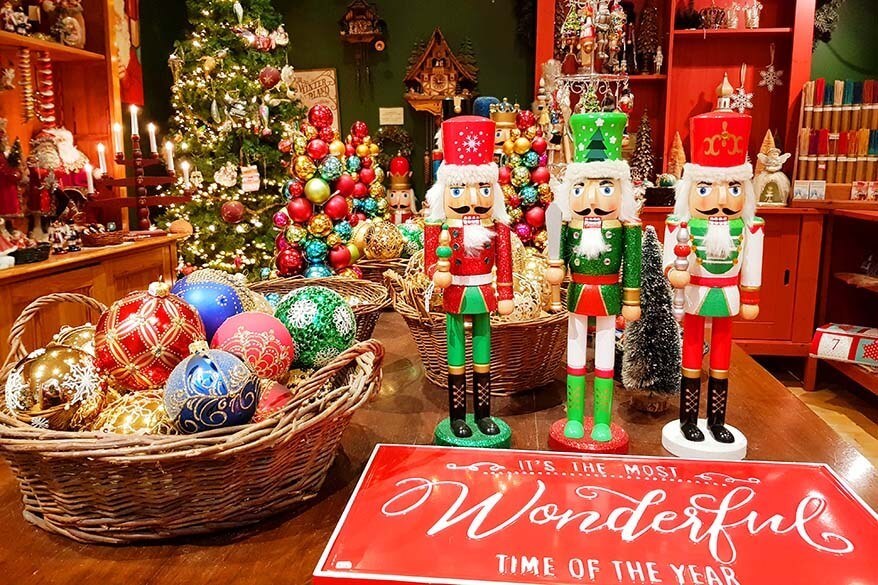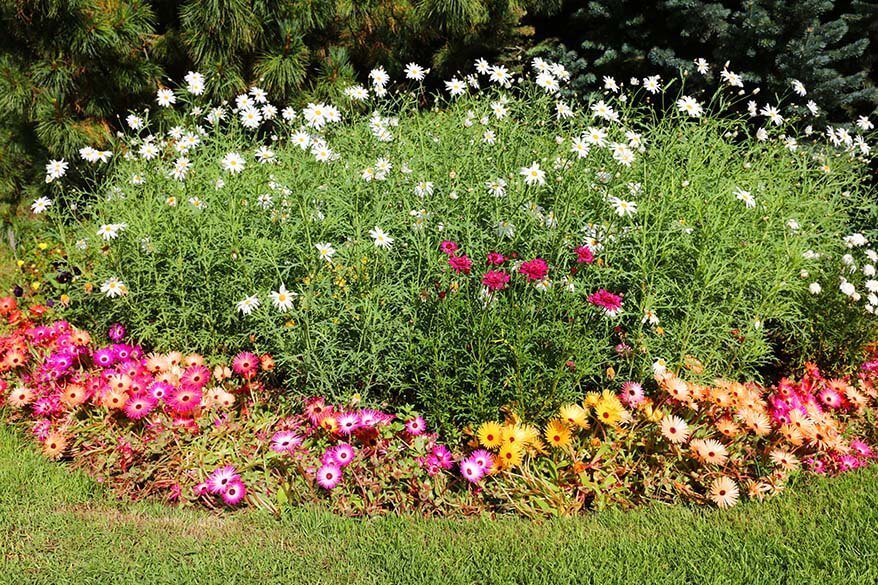 We then continued in the direction of Blonduos with one more stop for today – Reykjafoss. This is a little-known waterfall a bit off the beaten path and there is also a natural hot tub where you can take a dip if you want to.
It's located a bit off the main road, but it was quite well indicated when we visited. After you leave your car at the parking, it's a 10-15 minute walk to reach the falls. The hot tub is located on the other side of the wooden bridge and over the hill to the right.
Alternatively, head to Blonduos and take a warm dip at the local pool in town.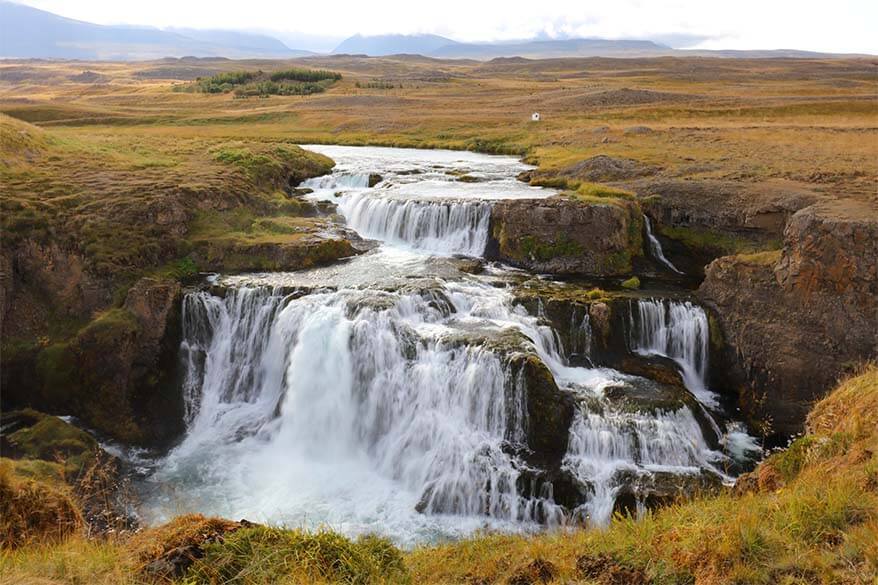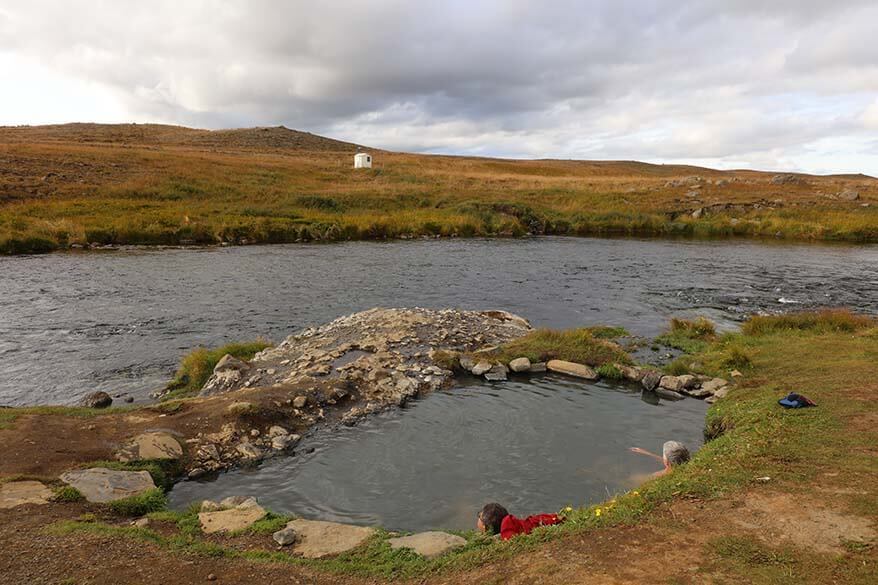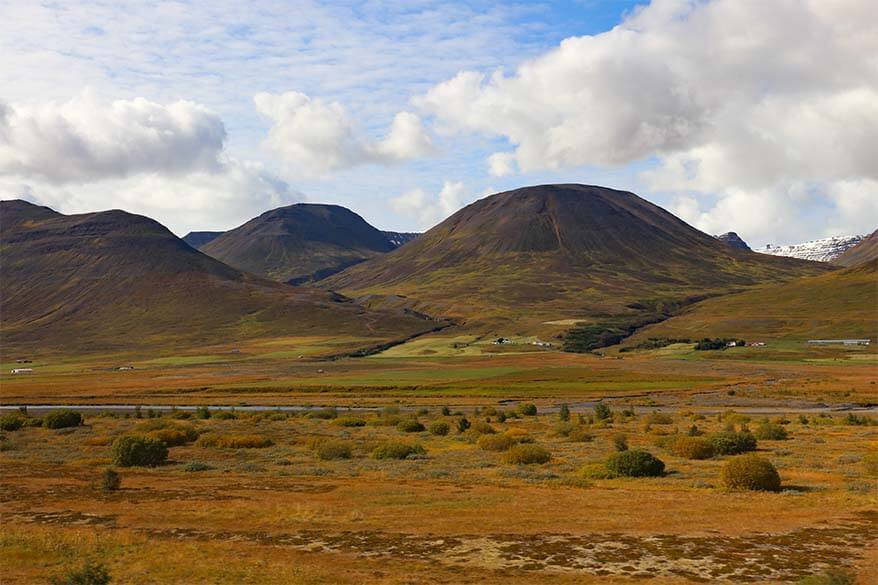 Day 8: F35 to the Golden Circle via Kerlingarfjöll
After spending time in the west and the north of Iceland, it's time to head back down to the south. You can take the Ring Road or you can opt for the gravel road F35, as we did. Just make sure that you have the right car that is allowed to drive on the F-roads!
Driving F35 is easy. It's a rather good gravel road and there are no major river crossings. At one point, there is a small stream you have to drive over, but it's usually not more than 20-30cm (one foot) deep.
The road F35 goes through a very barren landscape and in all honesty, it's not a scenic route at all. The reason we took it is because I wanted to take my family to Kerlingarfjöll that I had visited with Icelandic highlands private tour a few years ago. This area is so beautiful and so special that it quickly became one of my favorite places in Iceland.
There are a couple of stops along road F35. Don't miss the Afangafell viewpoint. One of the main places you should try to visit when driving this road is the Hveravellir geothermal area.
There are wooden boardwalks from which you can explore this area with boiling mud pools and steaming geothermal features. It's not an absolute must, but it's just a small detour and a good place to stretch your legs after a long drive. There is also a small café here, bathroom facilities and they even have a natural hot tub that you can use for a small fee.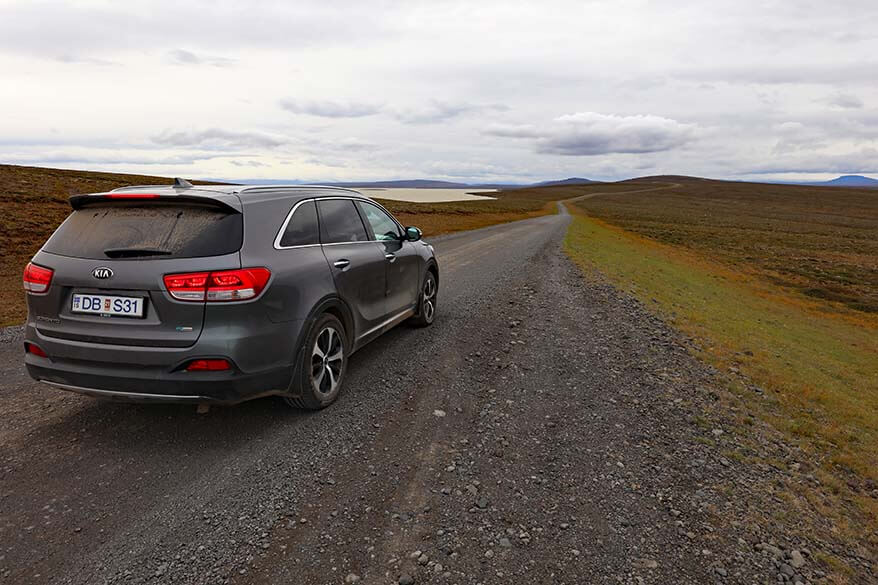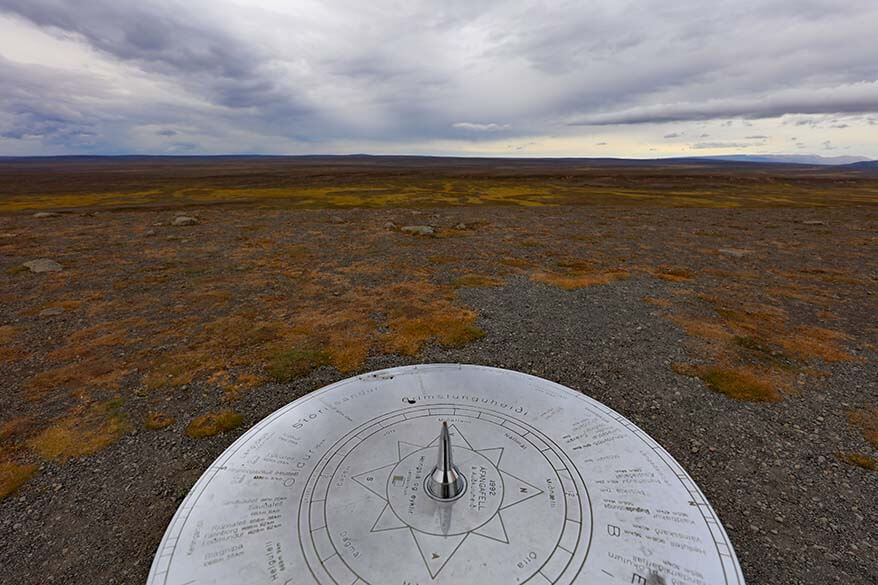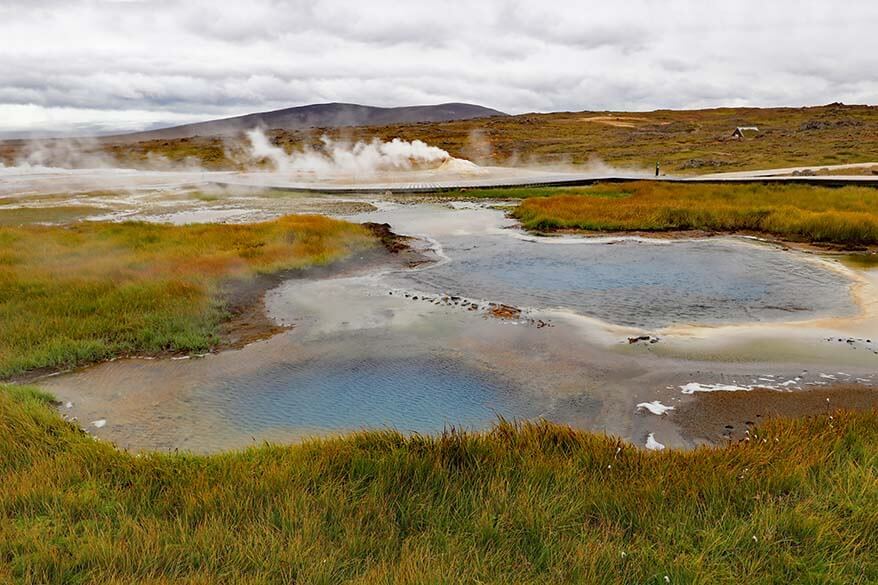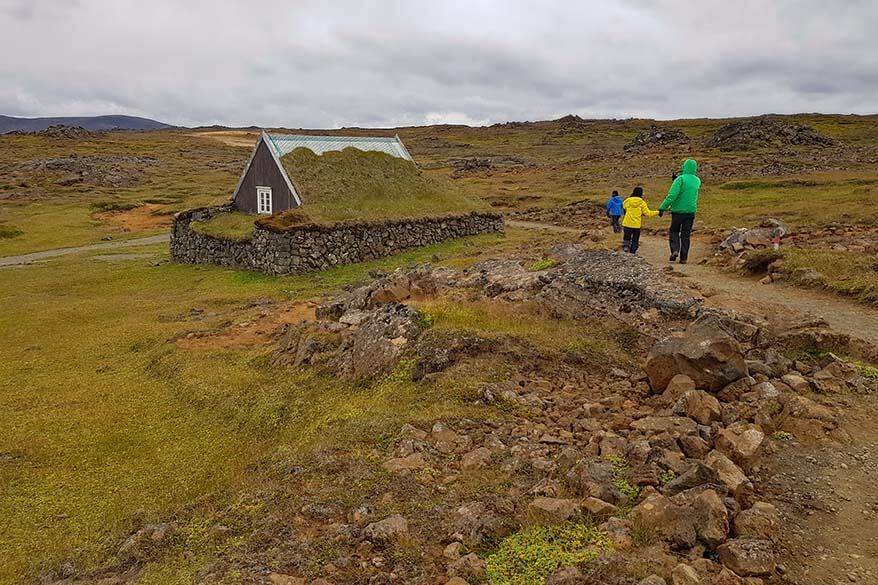 After that, continue further out on F35 until you reach the intersection with the road F347 to Kerlingarfjöll. The first part of this road is quite good and you'll reach the Kerlingarfjöll Mountain Resort before you know it. You can opt to stay here for a night and hike to the Hveradalir – Kerlingarfjöll geothermal area from there, or you can continue by car.
Good to know: The road between the Kerlingarfjöll Mountain Resort and Hverdalir is in a very, very bad condition. You absolutely need a 4WD here, but a high-clearance 4×4 would be much better. We didn't feel at ease driving this last part of the road in our Kia Sorento 4WD at all. If I hadn't been here before and didn't know that the distance isn't that bad and the road gets somewhat better, we would have never attempted even the first hill. I don't recall how long this last part of the road is – I think just about 6 km, but it feels like it will never end.
Maybe they'll improve the road one day, but I have the feeling that Icelanders want to keep this place to themselves and protect it from mass tourism, and I cannot blame them. It's a real gem and well worth the effort that it takes to get there.
Once you reach Hveradalir, there is a small car parking area where you can leave the car and explore the stunning orange hills on foot. There are wooden staircases and boardwalks with many possible routes. If the weather is exceptionally nice, you can easily spend 2-4 hours here and hike around, as we did the first time when I was here.
However, on this trip, the weather was absolutely dreadful with freezing temperatures and the horizontal wind blowing us off our feet. So this time, we hiked just a small part of the trail down into the valley and headed back. It was still worth the drive!
LEARN MORE: Kerlingarfjoll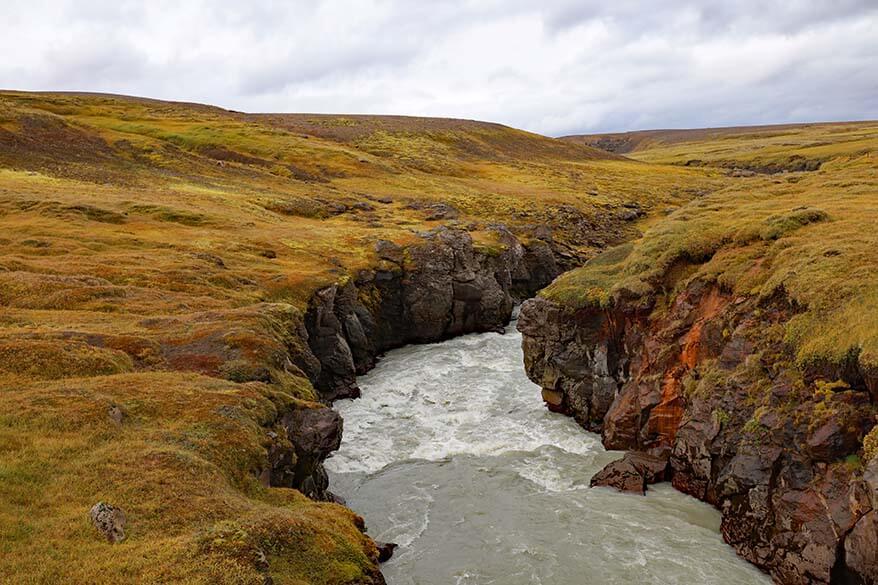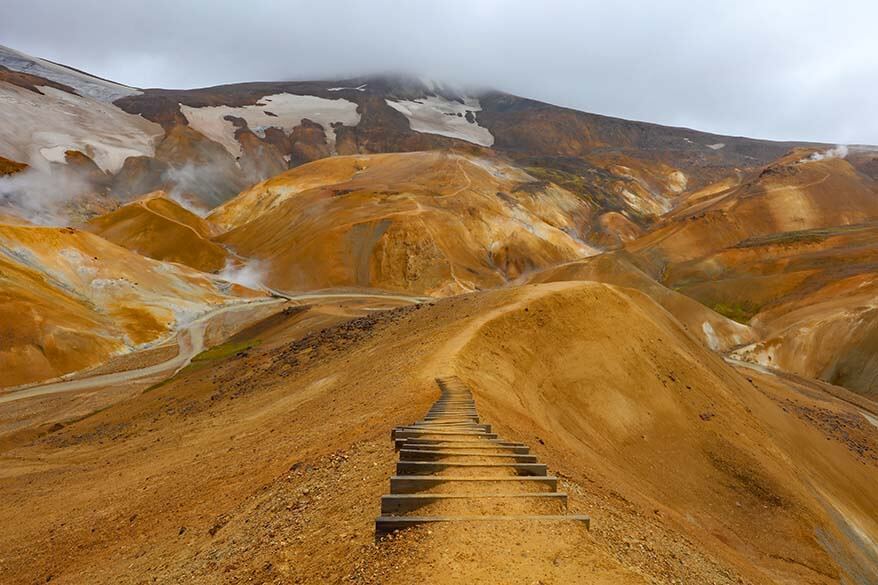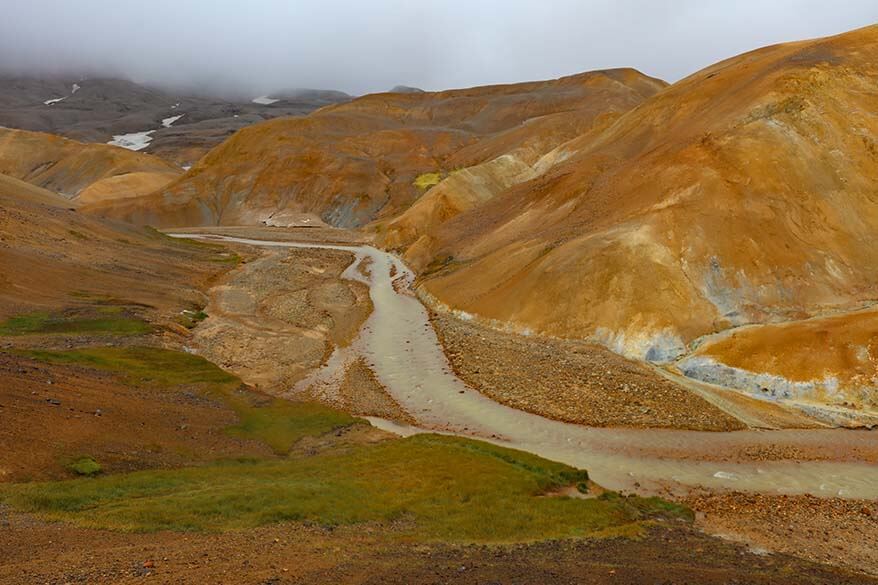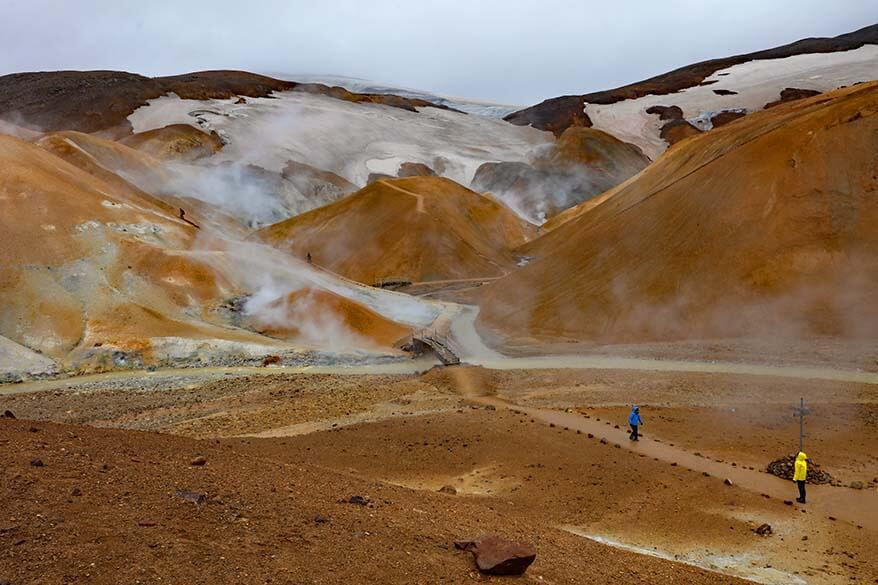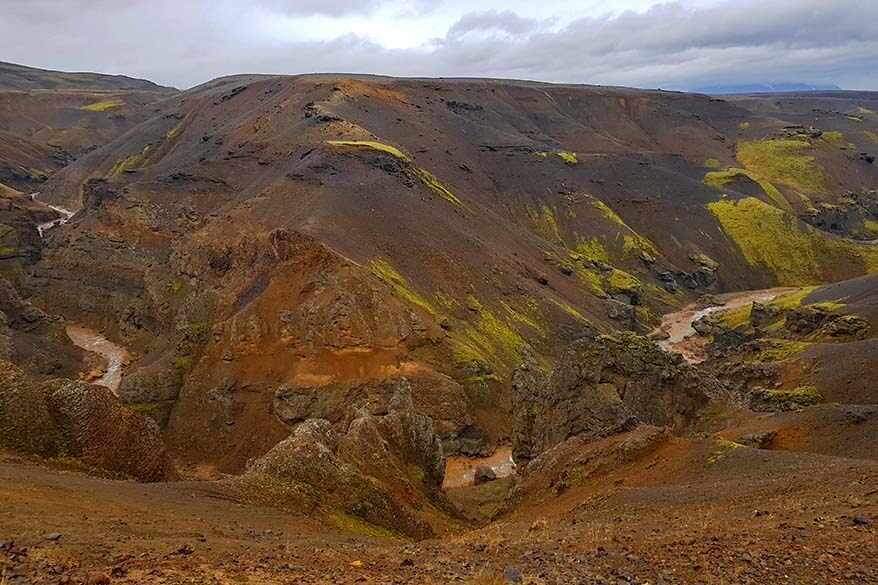 If you are not staying at Kerlingarfjoll, you have to drive to the Golden Circle area, where you'll find plenty of hotels, private accommodations, and restaurants.
If you still have energy after a long day in the car, make sure to visit two of the main attractions of the Golden Circle – Gullfoss waterfall and Geysir area with Strokkur Geyser which erupts every 5-7 minutes. This is, however, the busiest place in Iceland, and so it will be quite a shock after spending the day in the highlands.
Driving time/ distance: 4hrs / 200 km (125 mi) via F35. If you do not want to visit the highlands, take the Ring Road to the Golden Circle. Driving distance is about 320 km (200 mi), but the driving time is about the same – 4-4.5 hours.
Accommodation: We stayed at the Blue View Cabins near Fludir, but there are literally hundreds of options in this area. One of the nicest places to stay for couples or singles is Hotel Gullfoss. It's located just between Strokkur Geyser and Gullfoss waterfall, so staying here makes it easy to explore this area without the crowds of day tourists.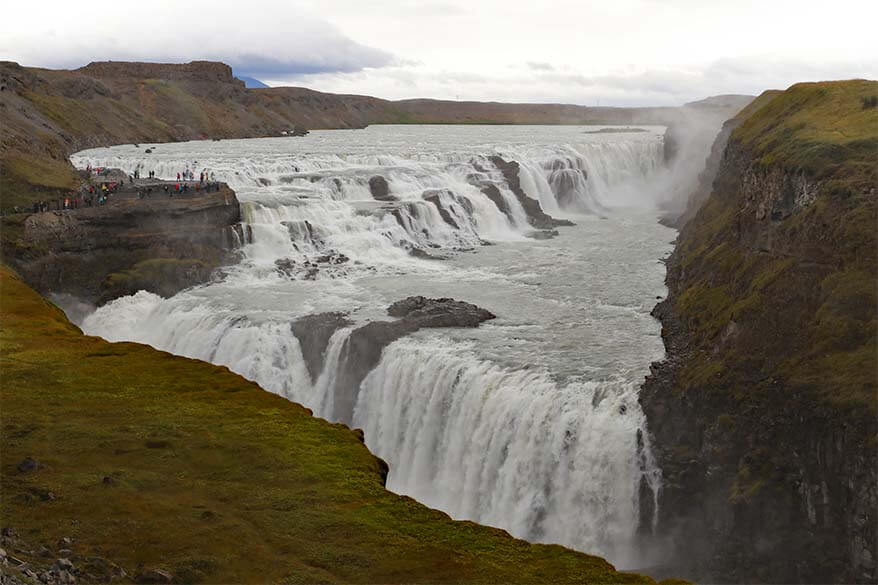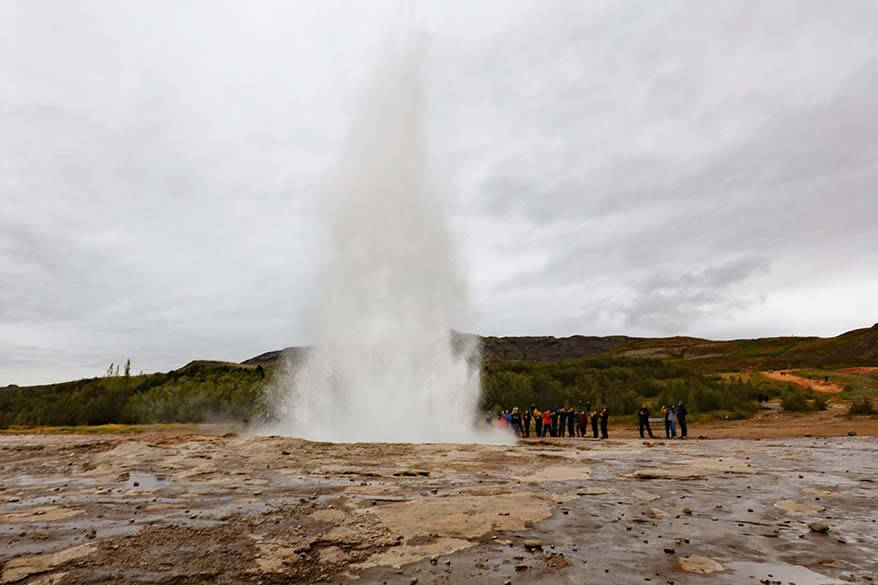 Day 9: Landmannalaugar, Haifoss Area or Golden Circle
On this day, you can choose what to do based on your interests and also depending on the weather. You can explore the Golden Circle, visit some of the lesser-known places nearby, or drive to the Landmannalaugar area in the highlands.
We had planned to visit Landmannalaugar, but the weather was again really bad on this day. Horizontal wind, rain, and mist are not the best conditions to take a gravel road into the highlands of Iceland. Since the weather was so bad and I had been to this beautiful area before, we decided to stay at a somewhat lower altitude and closer to the paved road.
Good to know: If you decide to drive to Landmannalaugar (and have a 4WD), make sure to take the Road F26 followed by F208. It's a gravel road with no river crossings. The alternative road via Friðland að Fjallabaki is a thousand times more beautiful, but there is at least one major river crossing there that usually requires a super jeep and is therefore forbidden to regular 4WD and 4×4 vehicles. You also have to take the same road back! F208 south of Landmannalaugar is not the road you want to attempt in a small 4WD either.
If you go this way, you can also stop at the Sigoldufoss waterfall and Sigöldugljúfur Canyon, just a bit off the road F208.
LEARN MORE: Landmannalaugar & Sigöldugljúfur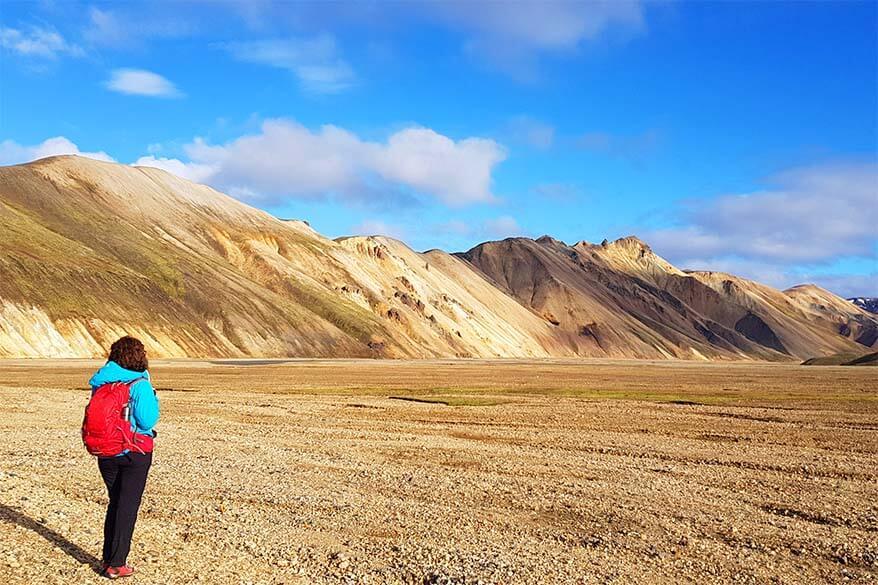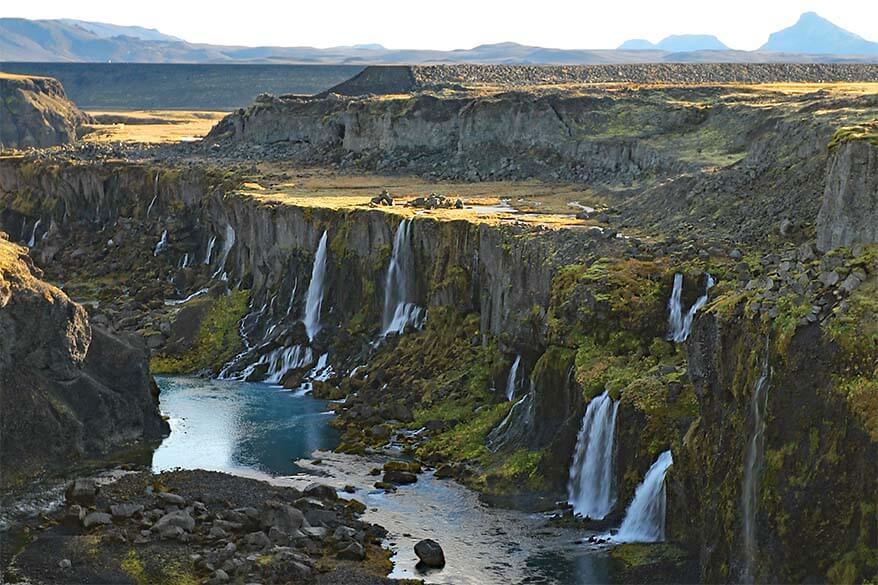 Alternatively, you can visit Thingvellir National Park, Kerid Crater, and many other attractions of the popular Golden Circle. And you can also opt for some less-known places nearby where there are practically no tourists at all.
We visited and highly recommend the following places: Hjalparfoss waterfall and Þjóðveldisbærinn Stöng, a replica of a Viking-era farm. Both are Game of Thrones filming locations and really nice to see. We were completely alone at the Viking house and it was a perfect place to be when it rains.
Another really beautiful place to visit here is the Haifoss waterfall. It's also in the highlands, but the road to get there is good and it's not that far. The scenery is incredible – it's one of my absolute favorite waterfalls in Iceland.
If you have a good 4×4, you could also attempt to drive to the nearby Gjáin area. It's a real hidden gem with lush green scenery and waterfalls, but not very easy to get to.
LEARN MORE: Haifoss Waterfall
You can end your day at one of the natural hot tubs in the area or at one of the geothermal pools nearby. I recommend either Secret Lagoon or Laugarvatn Fontana.
Driving time/ distance: Depends on what you do. If you drive to Landmannalaugar and back, count at least 2 hours 125 km (80 mi) one way. It doesn't look far, but you have to take some gravel roads in the highlands, so it takes longer than you'd expect.
Accommodation: Same as the day before.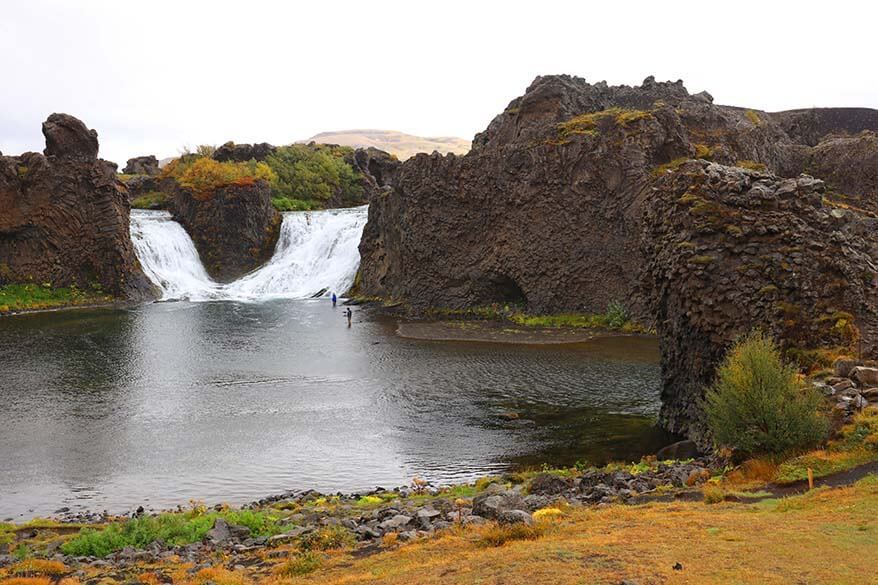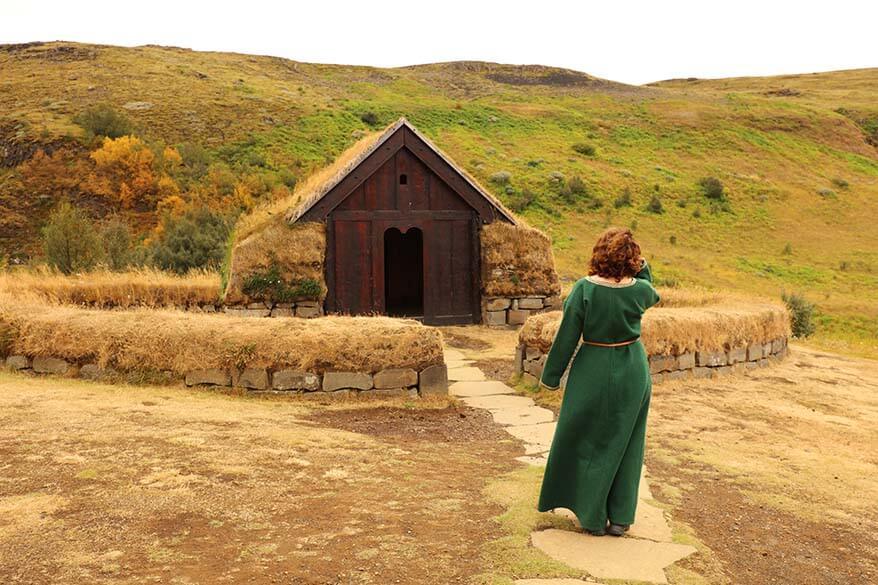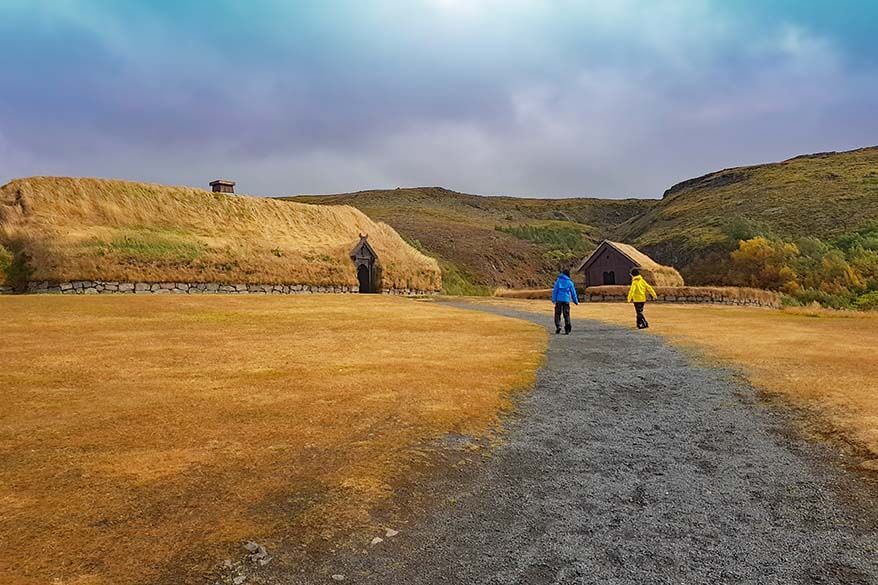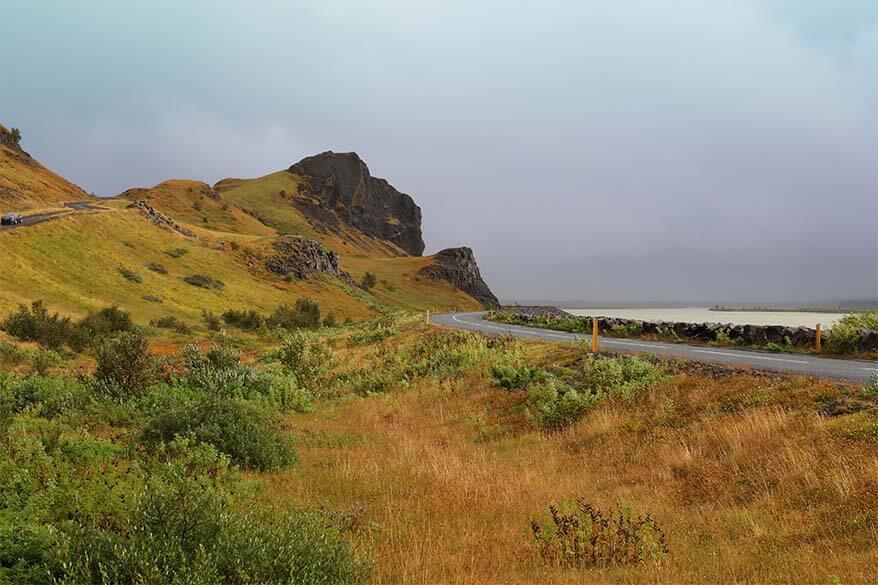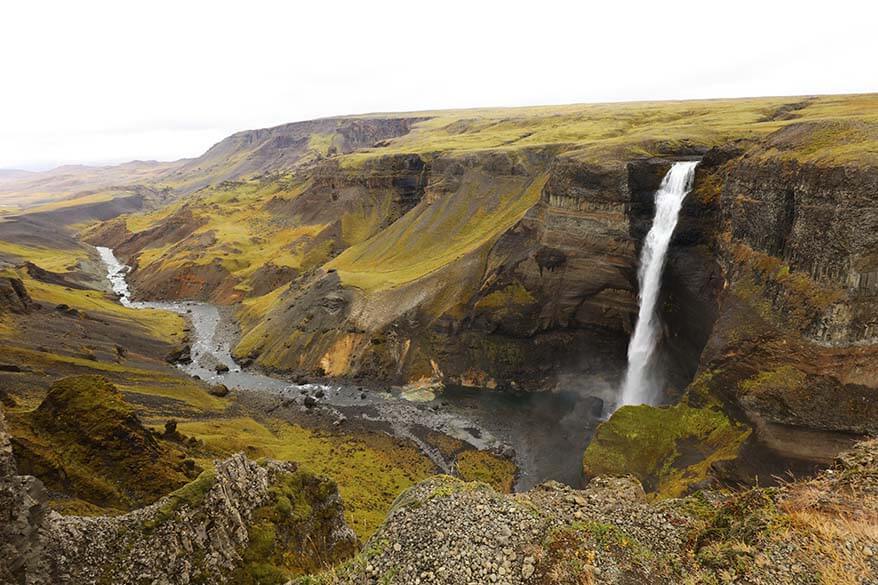 Day 10: Reykjanes Peninsula & the Blue Lagoon
On the last day of this 10-day trip in Iceland, you could potentially visit some attractions of the South Coast (or continue following our South Coast itinerary), go to Reykjavik, or visit Reykjanes Peninsula as we did.
We started our day with a visit to the small church Strandarkirkja, followed by the Seltún Geothermal Area. We then drove to the Krysuvikurberg Cliffs and also visited Selatangar. We also took an ATV tour at Reykjanes Geopark – this is an amazing tour for adrenaline seekers.
After that, we drove to the far west end of the Peninsula and visited Gunnuhver, Reykjanesviti Lighthouse, and Valahnúkamöl Cliffs. On the way to the airport, we also stopped at the Bridge Between Two Continents.
LEARN MORE: Reykjanes Peninsula
Depending on your interests and flight times, you may opt to visit the Blue Lagoon. It's located in this area and is very close to the airport. If you are planning to do that, remember to book your tickets in advance!
Driving time/ distance: 2.5 hrs/ 170 km (105 mi)
Accommodation: Depends on your flight. Ours was early the next morning. We returned our rental car in the evening and stayed at the BB Hótel by Keflavik airport that offers a free shuttle to the airport. B&B Guesthouse in the center of Keflavik is also a good option and also has a free airport shuttle. One of the most popular hotels in Keflavik town center is Hotel Berg by Keflavik Airport; it has a pool and a hot tub and can arrange a shuttle to the airport as well.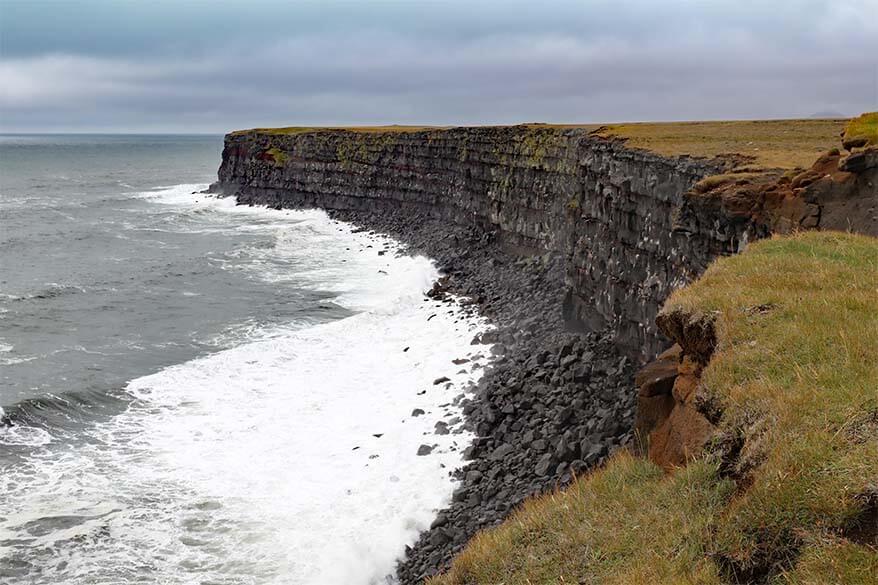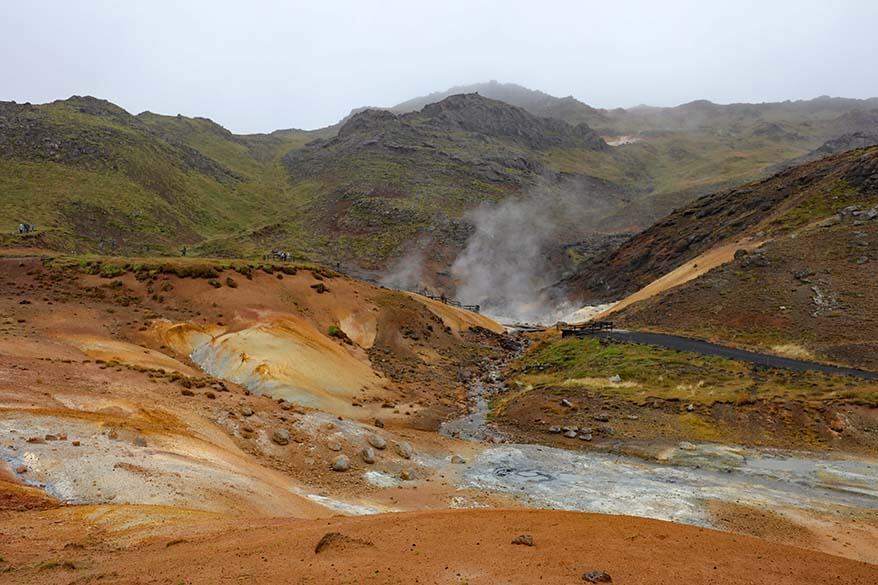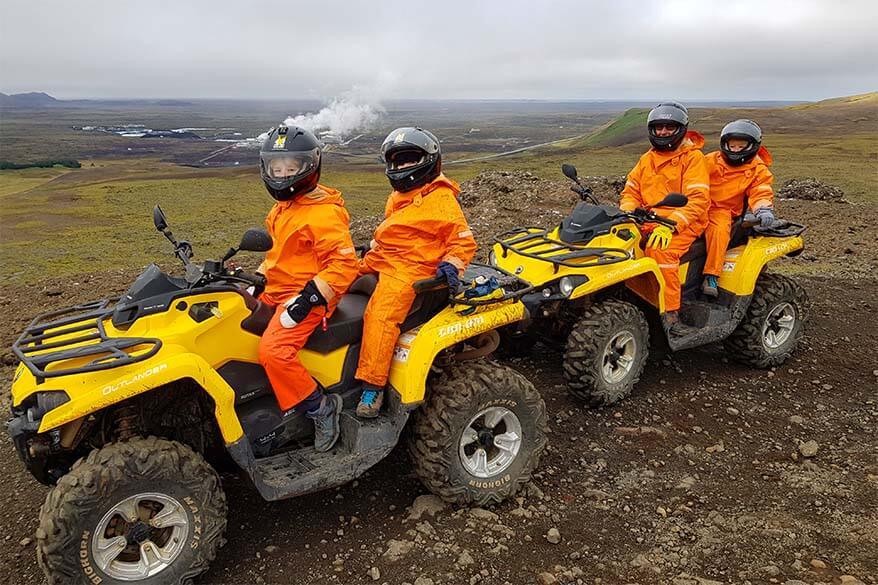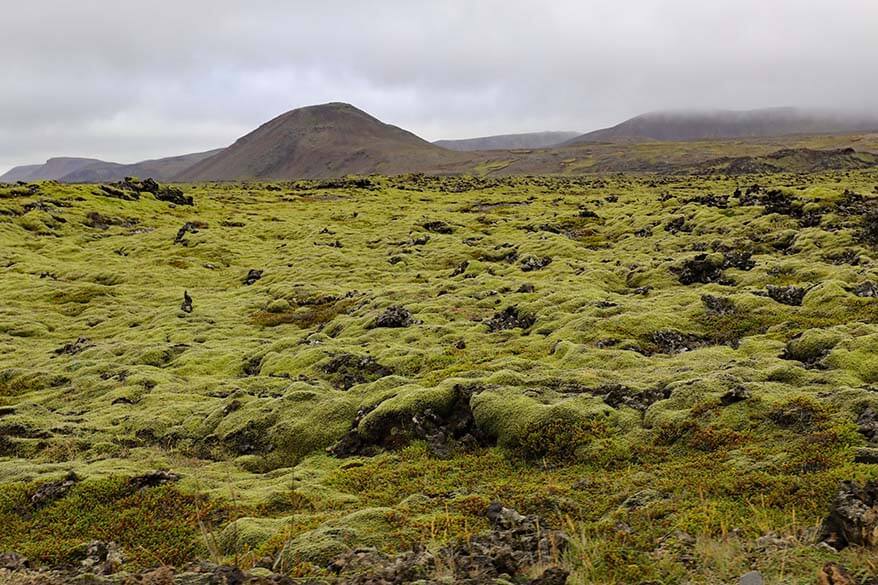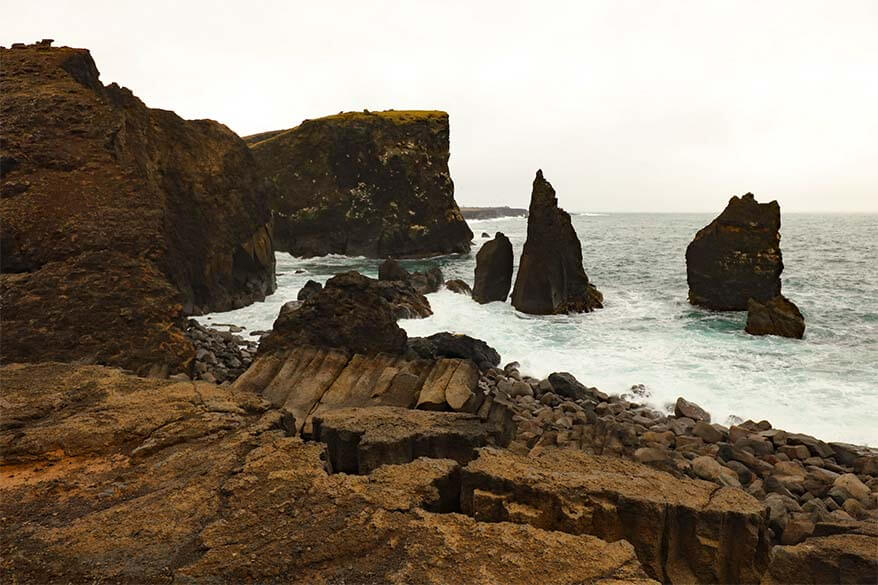 Map
To give you a better idea of where everything is located, I created this map indicating all the places mentioned in this 10-day Iceland itinerary.
How to Use This Map: Use your computer mouse (or fingers) to zoom in or out. Click on the icons to get more information about each place. Click the arrow on the left top corner for the index. Click the star next to the title of the map to add this map to your Google Maps account. To view the saved map on your smartphone or PC, open Google Maps, click the menu button, and go to 'Your Places'/'Maps'.
Practical Information
How to add South Coast to this itinerary
This itinerary starts and ends in Reykjavik. So it's very simple to expand it and add a few days in the South Coast if you want to. It can easily be combined with our South Iceland itinerary for 4 days. If you do both of these in one trip, you'll have seen the very best of Iceland in two weeks!
For example, you can visit the South Coast at the beginning or at the end of this trip. If you do it at the end, just continue to the Vik area after visiting the Golden Circle and the highlands on days 8-9 of our itinerary.
Who is this trip for
This self-drive road trip is for people who love nature and want to get a bit off the beaten path in Iceland. You also have to be prepared to drive some rougher gravel roads if you do days 8 and 9 of this itinerary. There is nothing overly extreme; it's a soft-adventure itinerary.
We did this trip with kids and so while a bit adventurous, this itinerary is quite easy-going as well. It's something that everyone in a reasonable physical condition will be able to do.
Furthermore, it's a very diverse itinerary that has a good mix of varied scenery. It also includes lots of local pools and hot tubs to relax in after a busy day of sightseeing.
TIP: If you are visiting Iceland for the first time and want to see all the main places in 10 days, then this itinerary isn't the best for you. In that case, please see our suggested Iceland Ring Road itinerary that covers all the 'musts'.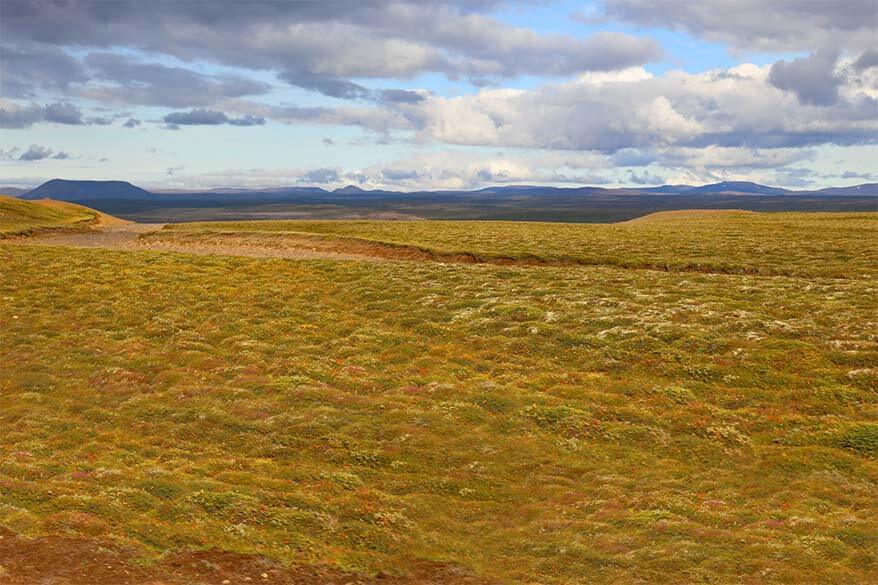 When to Go
If you do this road trip exactly as we did it, you can only do it in summer (June-September), when the roads in the highlands are open. We did this road trip in the second half of August.
If you travel in September, this itinerary is also perfect for trying to catch auroras. You're staying in so many different and remote places all across the island that the chances of seeing the Northern Lights increase significantly.
LEARN MORE: Tips & Info for Seeing Aurora in Iceland
Rental Car
Because this itinerary includes several F-roads in the highlands, we rented a 4WD car that's allowed to drive on those roads.
If you are not planning to drive the F-roads, you could also do this trip in a regular car.
However, there are quite a few gravel roads in northwest, north, and west of Iceland, so a 4WD or a 4×4 car will make your trip more relaxed.
TIP: Make sure to book your rental car well in advance as it only gets more expensive! Your rental car should be one of the very first things to book after you book the flights! Here you can find the best deals for Iceland car rental. Alternatively, check this website that also lists some of the smaller local car hire companies in Iceland and also allows you to compare all the best deals in one place.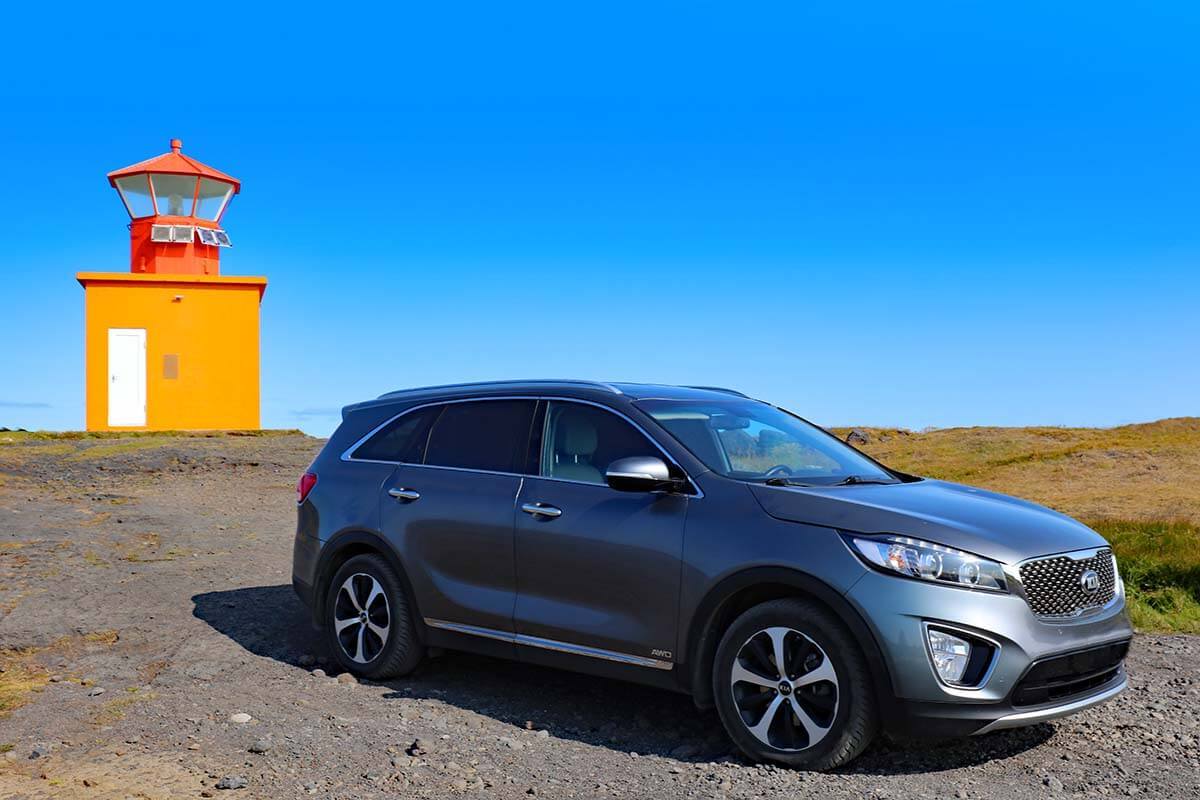 More tips for your trip to Iceland:
READ ALSO: 4 Days in Iceland: South Coast Itinerary
If you found this post useful, don't forget to bookmark it and share it with your friends. Are you on Pinterest? Pin these images!