Thinking of visiting Glasgow in Scotland for a day and not sure how to plan your time and what to see? Our writer Christine, a UK local, recently spent some time in the city with her family. In this article, she shares her favorite places to see and top tips for things to do in Glasgow in one day. Find out!
Glasgow is a bustling, vibrant city in Scotland, UK. Modern shopping outlets rub shoulders with historic Glaswegian architecture and there is a myriad of attractions and activities for the whole family to enjoy! Its people are friendly and rightly proud of their home, often more than willing to stop awhile and chat about its history.
This guide aims to show you how to make the most of one day in this fascinating city, one of the most beautiful cities in the UK. There's so much to explore that it's hard to see everything on offer if you only have a day in Glasgow.
In this article, we listed the main Glasgow attractions that we really feel you shouldn't miss on your first visit. In addition, we included a couple of other options to consider, depending on your interests.
Further below, you can also find practical tips for your visit, a map, and a suggested one day itinerary for Glasgow. We also have some suggestions for those of you who have a bit more time – 1.5-2 days in Glasgow. Find out!
READ ALSO: One Day in Edinburgh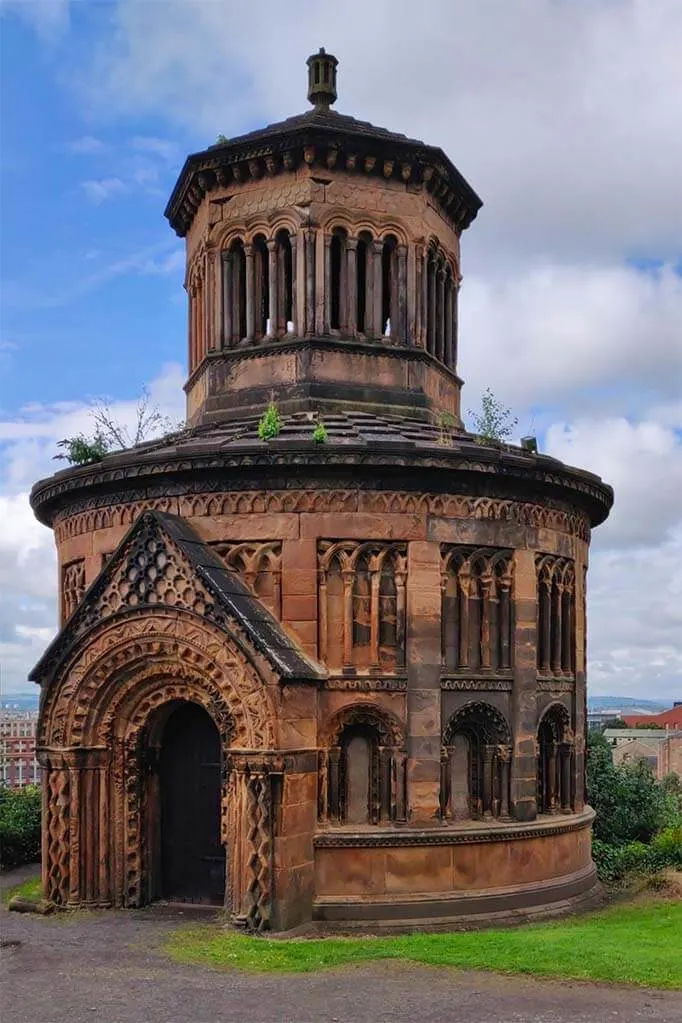 Things to Do in Glasgow in 1 Day
TIP: If you only have one day in Glasgow, we recommend taking a hop-on hop-off bus to travel around. For more information, please check the getting around in Glasgow section below. Another good option for those who want to see as many of the best places in Glasgow in a day is this highly-rated walking tour that covers all the musts in the city center.
Good to know: There are lots of museums worth visiting in Glasgow. At first sight, it might look like too much for a short city trip. However, museums are very diverse and totally different from each other. It was the most museums we'd ever visited on one trip, but they gave us a real feel for Glasgow. It's one of the trips we've talked about the most ever since.
So even if you only have a day in Glasgow, try to visit at least one or two museums featured in this article.
Without further ado, here are the best things to do in Glasgow in a day:
George Square
George Square is considered to be the heart of Glasgow. It's a great place to get a feel of the bustling atmosphere of the city. It's also here where you can hop-on on the sightseeing bus.
Take a moment to admire the magnificent architecture of the buildings surrounding the square and look out for the statue of Robert Burns, the poet who wrote Auld Lang Syne.
TIP: Before starting sightseeing or hopping on the bus, why not pop to the nearby Cafe Wander for breakfast? Open from Monday to Friday from 7.30 am, this travel-themed cafe offers a hearty Scottish breakfast and has a great selection of teas and coffees.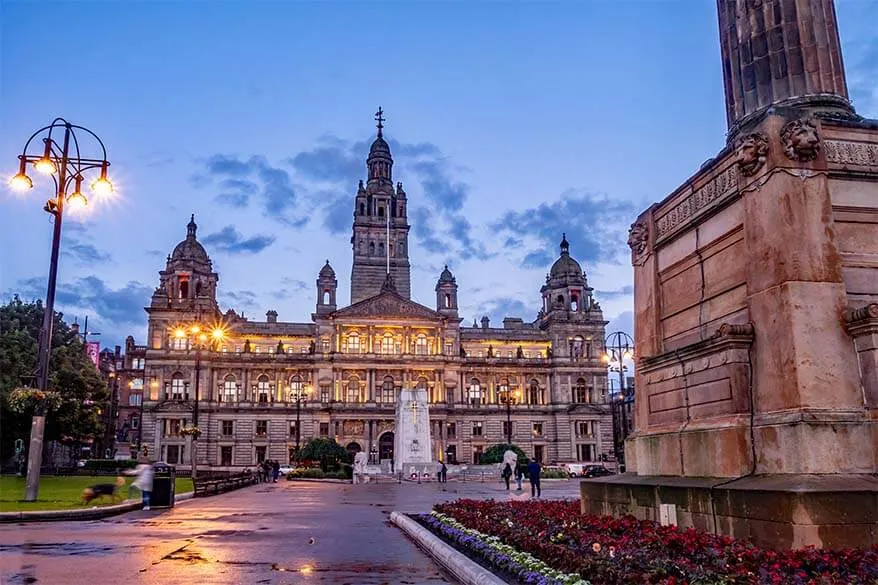 Glasgow Cathedral
The bus initially heads to the East End of the city, with the very first stop being the magnificent Cathedral, Glasgow's oldest building.
Consecrated in 1197, it was declared to be equivalent to Rome as a place of pilgrimage by Pope Nicholas V. The Cathedral was the point around which the town of Glasgow was originally built.
It's free to enter – although donations are welcomed – and there are also tours available. With only a limited amount of time, I would recommend going at your own pace. Important features – such as the crypt of St Mungo (Glasgow's patron saint) – are clearly marked. The stained glass windows are stunning, particularly the Millenium window, which you will find in the north wall of the nave.
The Cathedral still has its original roof timbers, covered in copper with a mature green patina that is now a hallmark of the building.
Glasgow Cathedral is open daily from 9.30 am to 5.30 pm and is still a place of active Christian worship.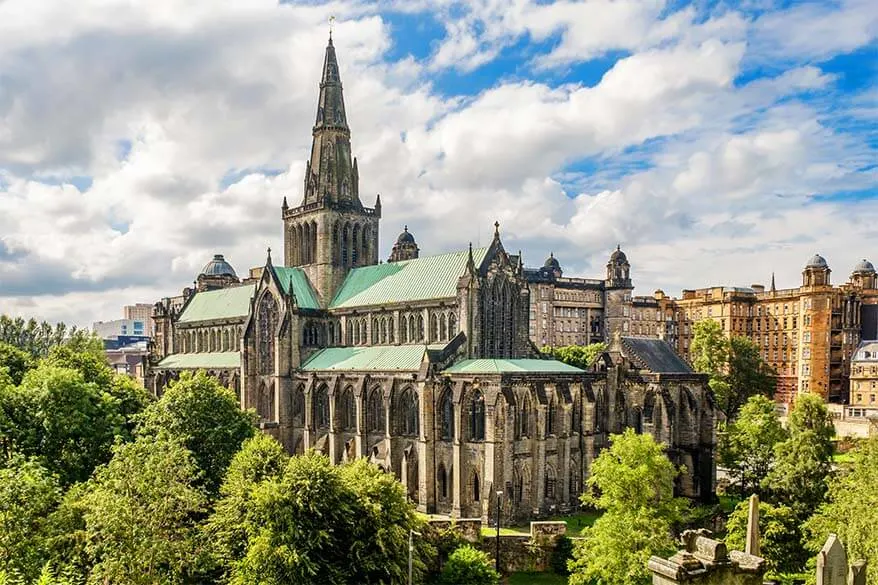 Glasgow Necropolis
Even if you've never felt like exploring a graveyard before, I do recommend visiting Glasgow's Necropolis, which is located immediately adjacent to the Cathedral.
This Victorian Garden Cemetery has 3,500 monuments and overlooks the entire city, giving you some excellent views. It's also a great spot from which to photograph the cathedral.
The Necropolis is open daily from 7 am to 4.30 pm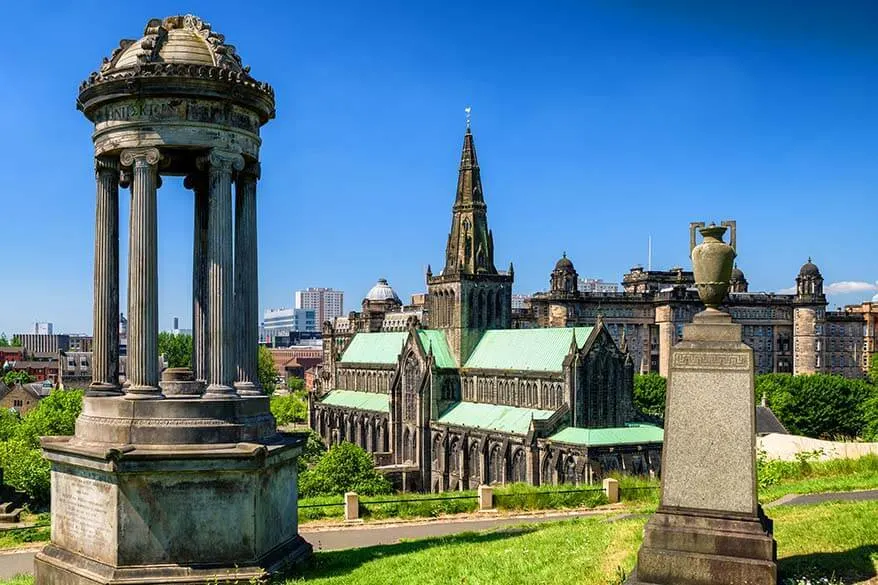 Glasgow's Murals
Throughout the city, you will find eye-catching murals, from St Mungo (the patron saint) to Billy Connolly, one of Scotland's best-loved comedians.
These works of art were commissioned to brighten up the city's streets, and new ones are being added all the time.
Before your visit, check out the City Central Mural Trail website, where you can learn more about each mural and print out a map to help you spot them as you travel. Or check out this amazing street art tour that is a great way not only to see some of the best murals but also to get a bit off the beaten path, and learn more about the city.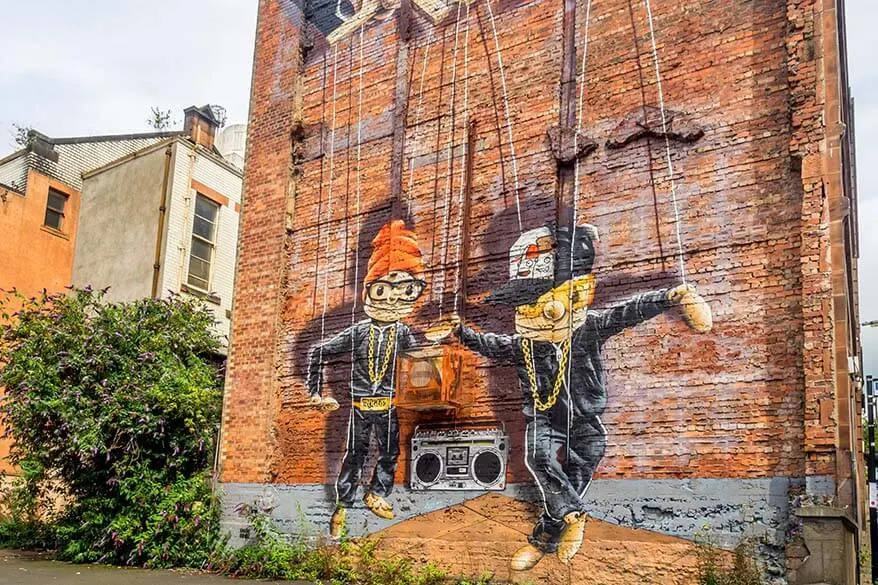 Gallery of Modern Art & Duke of Wellington Statue
After visiting the Cathedral and Necropolis, jump back on the tour bus to head to your next destination – The Scotland Street Museum (see below). En route, you will come to the Gallery of Modern Art in Royal Exchange Square. It's easy to spot because outside sits the famous Duke of Wellington Statue, which has featured a traffic cone on its head since the 1980s!
Many people mistakenly believe that the Duke's statue is an art installation and is connected to the Gallery. In fact, the statue is not connected to the gallery in any way. The cone was originally placed there by mischievous students. It was immediately removed by the police. However, the students returned at night to replace it and a long-running battle ensued!
Eventually, it was decided that the cone should stay in place – a victory for the students who had created what is now an iconic landmark! Sometimes, also the horse of the Duke has a traffic cone on his head.
The Gallery itself was originally the 18th-century mansion of William Cunningham, a tobacco magnate. With its stained-glass windows and Corinthian columns, the building is quite beautiful.
If you only have a day to explore, I would not recommend visiting the Gallery. Instead, just see it from the outside. And – if you feel hungry already – head to the nearby Willow Tea Rooms for lunch.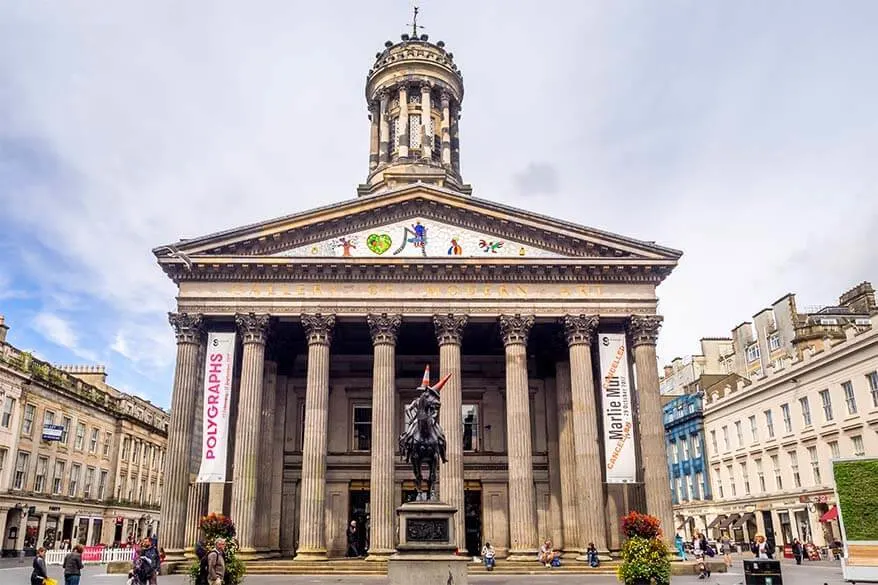 Willow Tea Rooms
Just near the Gallery of Modern Art, you'll find the Willow Tea Rooms – a great place to enjoy afternoon tea in Glasgow.
Inspired by tea rooms from the early 1900s, the interior features high-back chairs and windows with leaded glass. The Chinese rooms upstairs give you a wonderful view of one of Glasgow's busiest streets! There is also a children's menu available.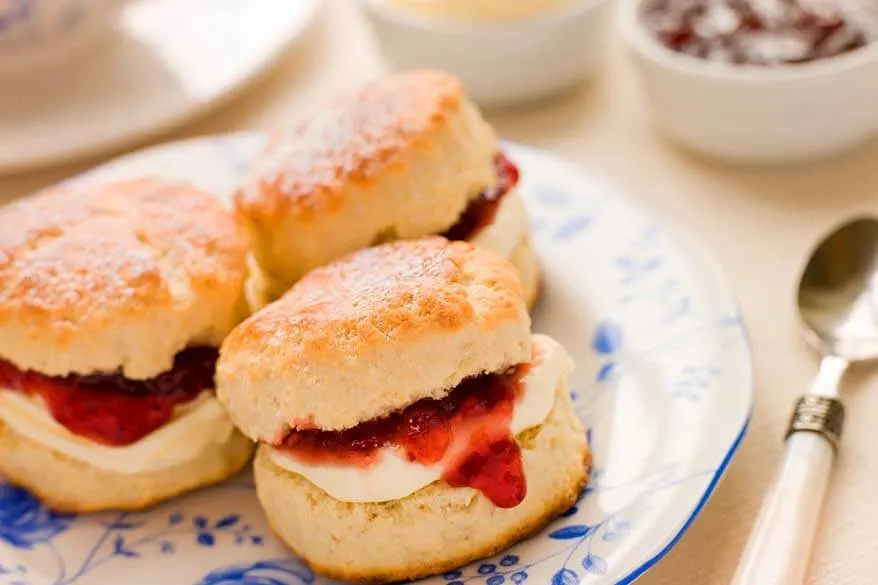 After lunch, visit at least one of the best museums in Glasgow. Depending on how much time you have and on your interests, we suggest you choose one or two from the following list: Scotland Street School Museum, Riverside Museum & The Tall Ship at Riverside, or Kelvingrove Museum and Art Gallery.
Glasgow Science Centre is also an excellent museum, but it requires so much time that we feel it's not worth it if you have just a day in the city. It contains so many interactive exhibits (over 300) that it is impossible to appreciate it all in just a few hours, and to justify the cost of the tickets.
See below for more information and pick a museum that interests you the most. If you start your day early and plan well, you can also easily visit two smaller museums in one day. I'll leave this up to you.
Scotland Street School Museum
A little off the beaten track, Scotland Street School Museum may have been the highlight of our visit to Glasgow, particularly for my children.
The museum is set inside an old school that was designed by Scottish architect and artist Charles Rennie Mackintosh. It was first opened in 1906 to educate the children of shipbuilding and engineering families of Glasgow's South Side. It has since been converted to a fascinating museum that tells the story of education in Scotland throughout the last 100 years.
As you walk into a series of classrooms reconstructed to represent various historical eras, you get a feel for what life was like for students under the reign of Queen Victoria, during World War II and in both the 50s and 60s.
Children are encouraged to dress up in the school uniforms of the time and there are even traditional playground toys they can play with outside. The cookery room is particularly beautiful, as is the exterior of the building itself.
Practical info: If you decide to visit, you'll have to get off the bus at the Radisson Hotel and take a few minutes walk to the subway for the short underground journey to the museum. The museum is free to enter – although donations are welcome – and is open daily except on Mondays. More info here.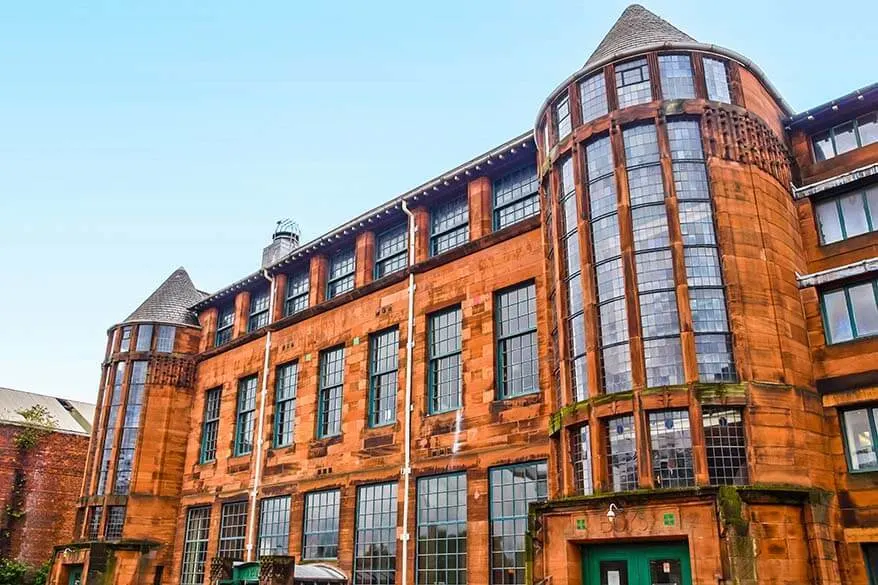 Riverside Museum
This award-winning museum on the banks of the River Clyde celebrates the history of transport in the city. Although this topic may sound a little dry, the museum is anything but! There are more than 3,000 exhibits, ranging from locomotives to prams to a beautifully decorated rickshaw! This may be one of the best free attractions we have ever visited!
Appealing to young and old alike, the museum is very 'hands-on'. You can sit in restored historic trams and even walk down a recreated cobbled street. This part was a favorite with my children, particularly since the street was lined with 'real' shops and even a 'pub', all of which you could enter to see what those shops would have looked like in times gone by.
Practical info: The museum is free to enter (donations welcome). It's open from 10 am to 5 pm daily from Jan 4th to Dec 23rd. Its spacious interior and thoughtfully laid out design mean that it doesn't get too crowded. More info on their website.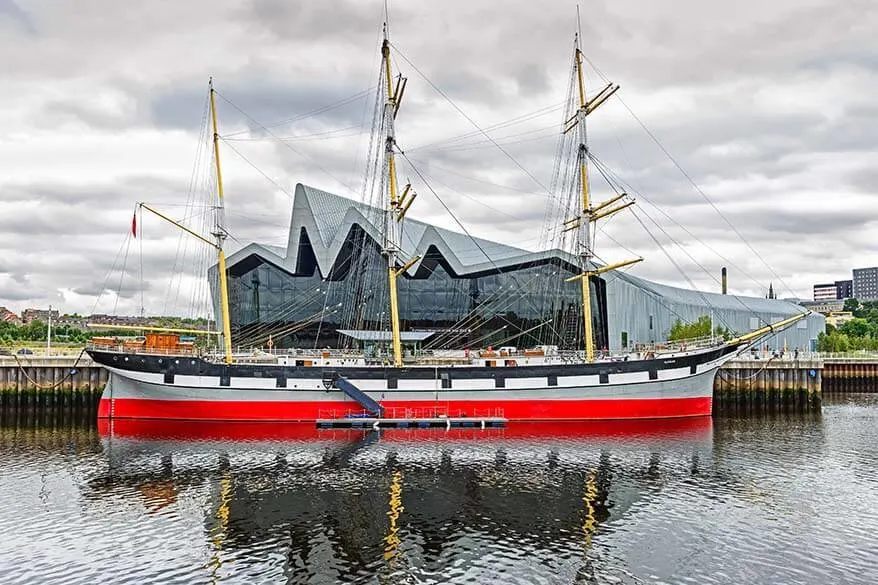 The Tall Ship at Riverside
Anchored in the river just outside the Riverside Museum, you'll find another landmark of Glasgow, a restored Victorian Tall Ship. It's also free to visit and is the only floating Clyde-built sailing ship in the UK.
Comparable to the famous 'Cutty Sark' in Greenwich, London (which is quite expensive to visit), the Tall Ship offers lots of interesting features and activities for young and old to enjoy.
Every floor is open for exploration. You can even enter the cargo hold and have a go at winching goods up and down, as sailors would have done in the past. You can view the ship's tiny 'galley' kitchen, the quarters were the crew would sleep and the far more luxurious accommodations provided for the captain and his officers!
Practical info: The Tall Ship is open daily from 10 to 4.30 pm. The cafe on board the ship has a nice selection of snacks and drinks and tends to be a lot quieter than the cafe in the main museum!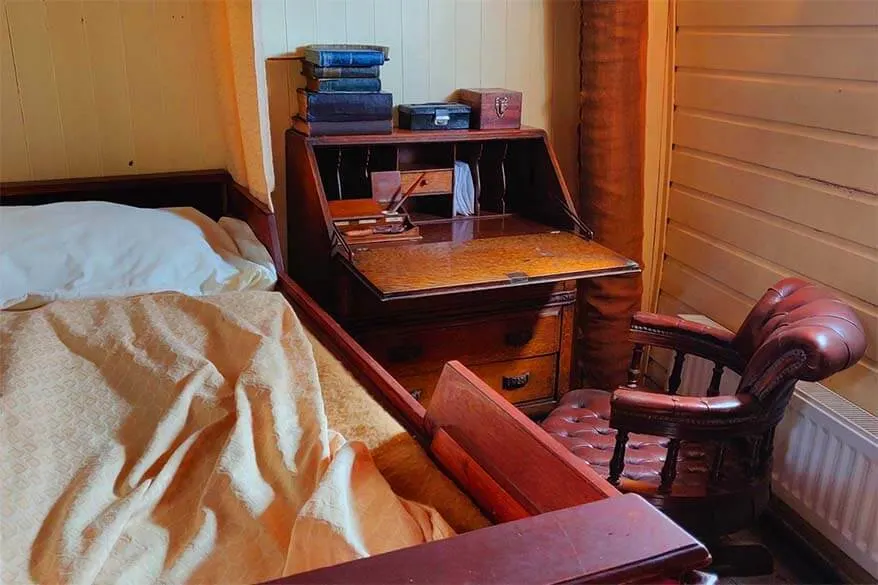 Kelvingrove Art Gallery & Museum
Adjacent to Kelvingrove Park – one of the city's finest green areas and a great spot for a picnic – Kelvingrove Art Gallery and Museum has something for everyone.
Opened in 1901, this family-friendly museum has over 8,000 objects arranged throughout 22 galleries. It's incredibly diverse – we saw everything from art by Salvador Dali to arms, armor, and natural specimens. Not to be missed is the full-sized Spitfire plane suspended from the ceiling and the creepily fascinating Floating Heads by Sophie Cavos.
The building itself – made from Glaswegian red sandstone – is both vast and stunning. If you get time, take some time to enjoy Kelvingrove Park.
Practical info: The Kelvingrove Museum and Art Gallery is open daily. More info here.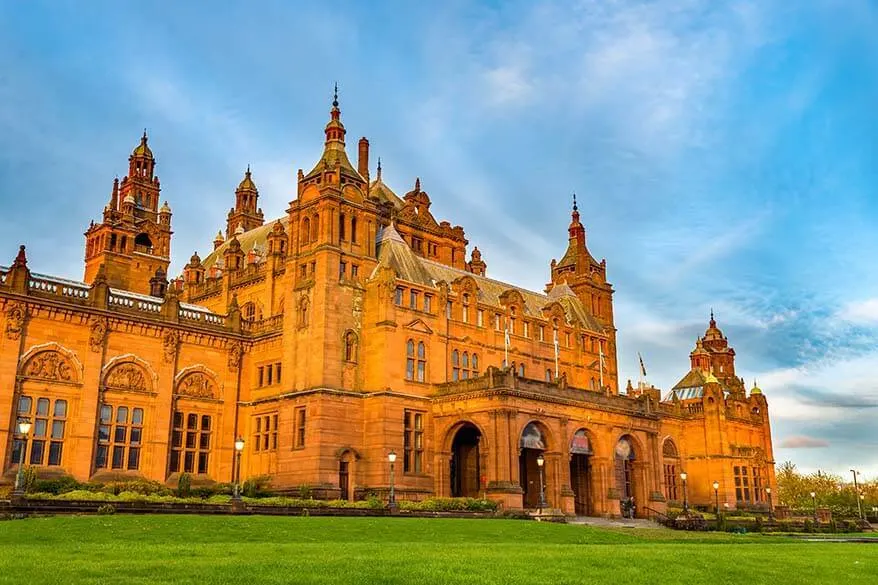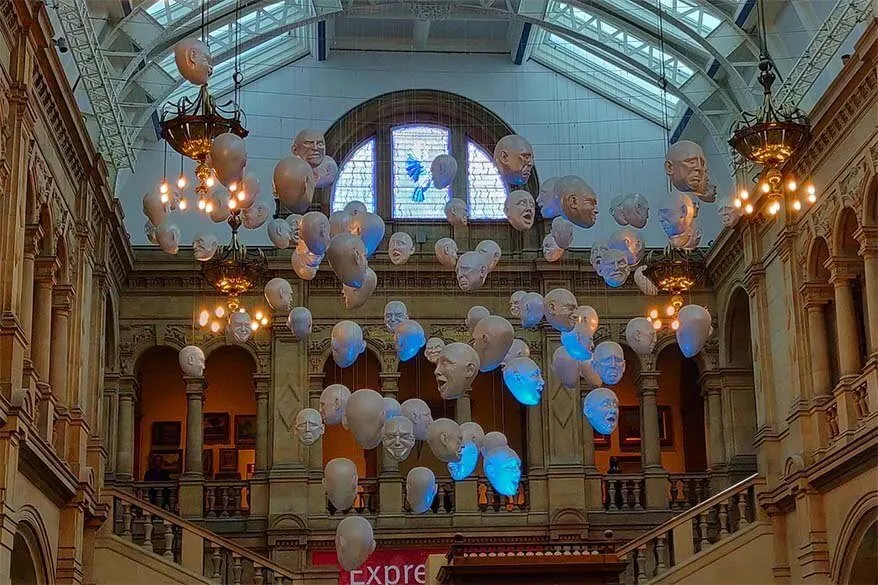 University of Glasgow
If you have some time to spare, you may also want to visit Glasgow University, on the other side of the river from Kelvingrove Park.
Founded in 1451, this is one of the oldest universities in English-speaking countries. The buildings are beautiful and there are some really impressive parts, but probably the most remarkable sight is the University Cloisters. Well worth a quick visit!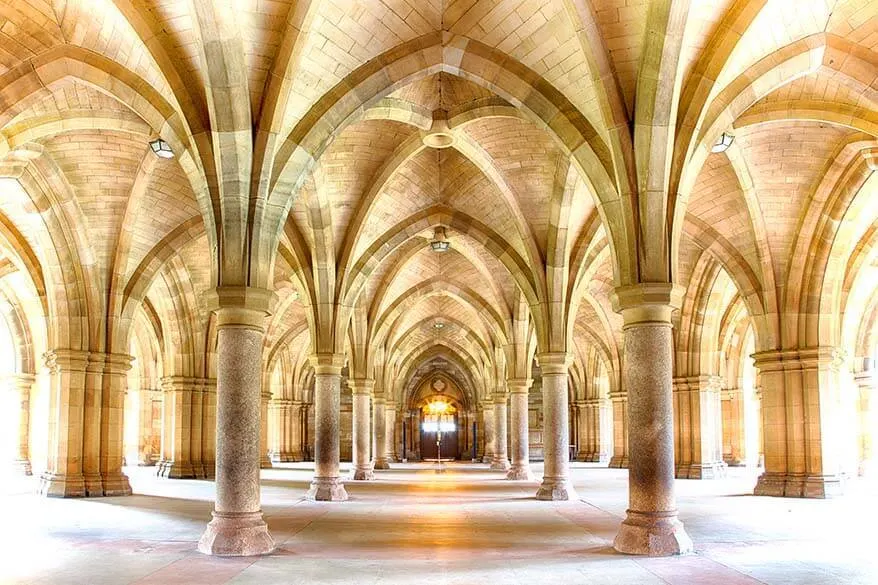 Botanic Gardens
Glasgow Botanic Gardens by the River Kelvin were founded by Glasgow botanist Thomas Hopkirk in 1817. The famous glasshouses housing the national collection of tree ferns, along with plants from tropical rainforests, were installed decades later. Don't miss the Kibble Palace – the most notable glasshouse of them all.
There are many themed trails that make it easy to explore the gardens. Check out the Heritage Trail (with 30 points of interest) and the Tree Trail. The Minibeasts, Birds, and Trees of the Botanics Trail is a great choice for families with young kids. You can get brochures to accompany the trails in the Kibble Palace.
It's hard to imagine that you are in the heart of a bustling city as you enjoy the varied plant life, flower beds, marble sculptures, and peaceful riverside walks! I find that this is a wonderful place to end a day of sightseeing in Glasgow. You can easily spend an hour or two here, before heading back to the busy city center for dinner.
Practical info: The gardens are open daily from 7 am to dusk, whereas the glasshouses are open from 10 am to 6 pm in the summer, or 10 am to 4.15 pm in the winter.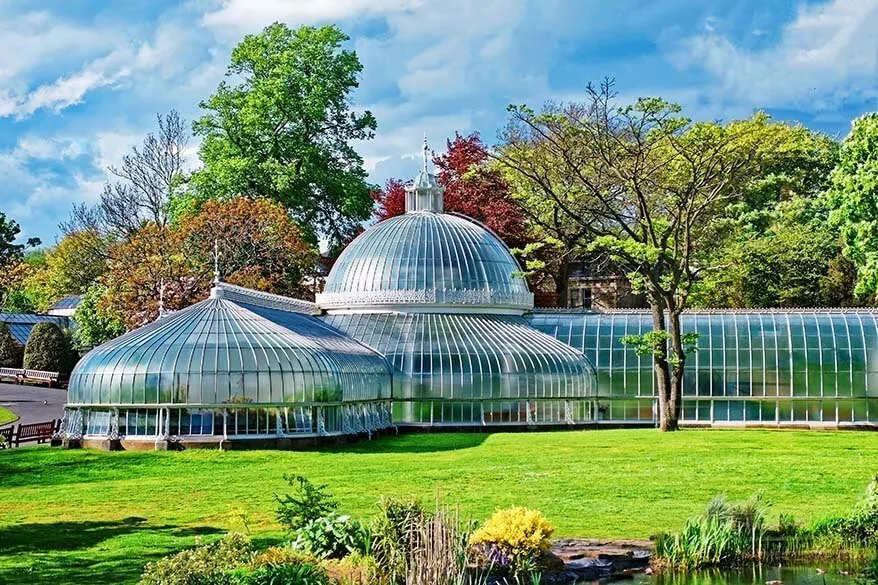 Merchant Square
End your day in Glasgow with a visit to the historic Merchant City district. Dating to the 1750s, this area was home to the warehouses of merchants handling tobacco, sugar, and tea. In the 19th century, this area was home to Glasgow's food markets.
Housed in Glasgow's Old Fruit Market (dating to the 1800s), you'll find the Merchant Square. It's a covered area where you'll find many bars, cafés, restaurants, and also art galleries and boutique stores.
Stylish and trendy, this is one of the places to be in the city for food, drinks, and entertainment. Plenty of choice for dinner here.
I recommend Cafe Gandolfi just near Merchant Square. Opened in 1979 on Albion Street, Gandolfi was one of the first restaurants in Merchant City. The cuisine is a mixture of Scottish, English, and European and it's a great place for dinner. It's popular with locals (always a good sign!) and can be very busy, so it might be worth booking ahead. If you can't get a table, you can always try their 'Fish to Go' takeaway.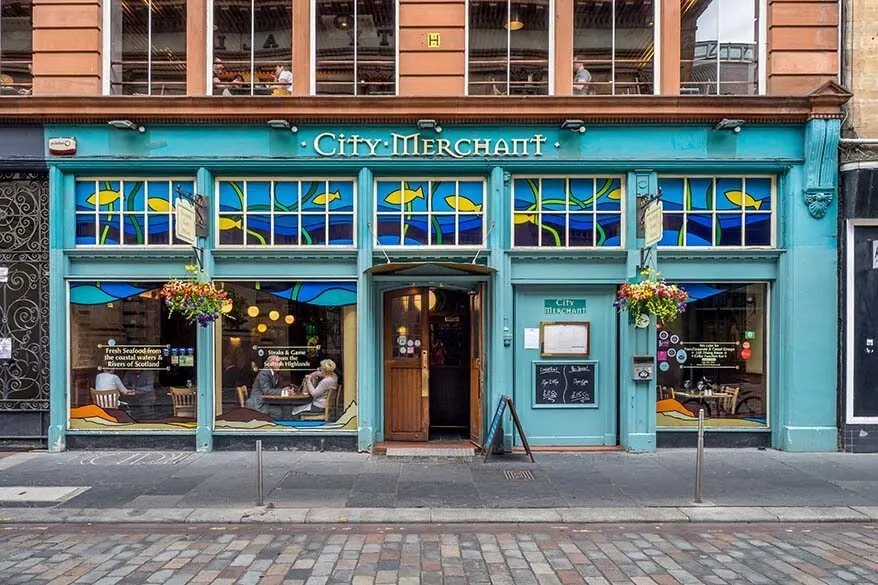 Itinerary for One Day in Glasgow
Here's how you could spend 1 day in Glasgow:
Breakfast at George Square
Glasgow Cathedral
Necropolis
Gallery of Modern Art (just see from the outside)
Lunch at The Willow Tea Rooms
Visit one or two museums
Glasgow University
Botanic Gardens
Dinner at the Merchant Square
If you have two days in Glasgow, visit all the museums mentioned in this article, plus the Science Museum.
In addition, here are some of the best suggestions for amazing day trips nearby if you have more time in the area:
Map
To help you better plan your first visit to Glasgow, we created this map indicating all the places mentioned in this article.
Further below, you can find practical information for getting around the city, places to stay, and some useful tips. Read on!
How to use this map: Use your computer mouse (or fingers) to zoom in or out. Click on the icons to get more information about each place. Click the arrow on the top left corner for the index. Click the star next to the map's title to add it to your Google Maps account. To view the saved map on your smartphone or PC, open Google Maps, click the menu and go to 'Your Places'/'Maps'. If you want to print the map or see it in a bigger window, click on 'View larger map' in the top right corner.
Getting Around
Fortunately, getting around Glasgow is easy! There are strong public transport networks, with frequent bus services (most of which have free wifi) and an underground subway system known locally as the Clockwork Orange. This underground route is a simple loop, with trains traveling in both directions.
Another option is to use taxis, although these are, of course, far more expensive. Black taxis – which can be hailed on the street – are the most expensive of all, whereas private taxis are a little cheaper but must be prearranged by phone.
There are 3 main streets in Glasgow – Sauchiehall Street, Argyle Street and Buchanan Street (considered – along with Finnieston – to be one of the hippest areas). The majority of the city's chain shops, restaurants and bars are on these streets and you'll often come across street entertainers, some of who may even be playing the bagpipes! You'll find more unique shops and bars by exploring the side roads off these main streets.
Most of the city's attractions are within comfortable walking distance of each other. However, if you only have a day, then the priority is to save time whilst still getting to see all the highlights.
So this one-day itinerary is based around using the City Sightseeing Bus. It's by far the best option if you have a limited amount of time to explore the city. It will give you a complete overview of the city – along with an informative and entertaining live commentary – and allow you to easily travel from one attraction to the next.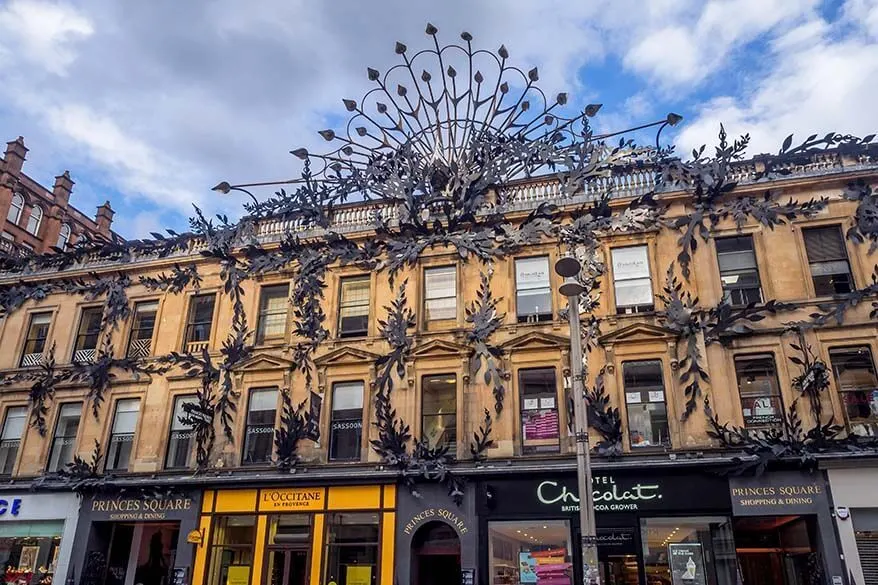 Glasgow City Sightseeing Bus
The sightseeing bus operates all year round, except for Dec 25 and 26 and Jan 1st. There is just one route – a circuit that takes you to all the main sights of the city, with 21 stops.
It's a hop on hop off service, which means you can get on and off as often as you like throughout the day. The commentary is available in multiple languages via headsets and is invaluable for learning the most important facts about Glasgow's history, alerting you to details that may otherwise have gone unnoticed. We learned something new each time we rejoined the bus, as each guide seemed to have his or her own story to tell!
In the height of summer, buses leave every 10 minutes. In lower season – every half an hour.
TIP: To really get the most out of your sightseeing bus tour, I strongly recommend sitting on the top deck, preferably in the open air (just make sure you dress warmly enough in the winter!). Some of Glasgow's most interesting architectural features are above the street level. The top deck of the bus is a unique viewpoint and the best place from which to appreciate them!
Here you can find more information and get the tickets for this hop-on hop-off bus.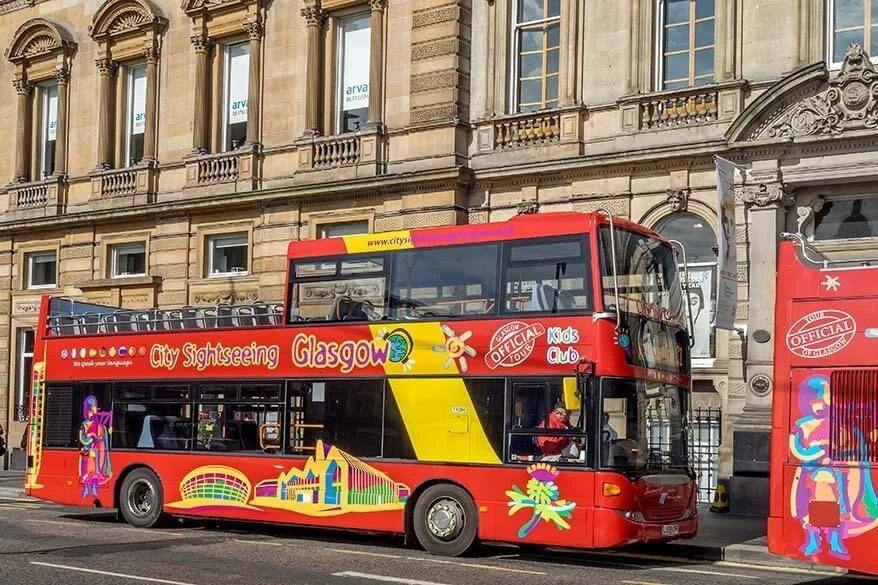 Practical Tips
Clothing. Glasgow is one of Britain's wettest cities. Don't let the rain stop you from appreciating what it has to offer. Just be sure to dress appropriately, preferably with a waterproof jacket with a hood rather than an umbrella (it can be windy, too!).
Tipping in restaurants is usually at around 10% as a minimum and up to 15% for very good service.
Food. Can't decide what to eat? Try one of Glasgow's famous Munchy Boxes! Available at many fast food outlets, these boxes contain a mixture of chicken tikka, kebab meat, pizza, onion rings, garlic bread, pakora, coleslaw, pizza, fried chicken and chips. Truly something for everyone!
READ ALSO: Best Traditional British Dishes to Try in the UK
Where to Stay
With just a day in Glasgow, I suggest that you stay in the heart of the city, close to Glasgow Central Station. It will make it easy to reach your hotel upon arrival, it's a great location for sightseeing, and there are plenty of shops and restaurants nearby.
Here are some of the best-rated hotels for all budgets in this area:
Using the map below, you can compare hotels and short-term rental accommodations in central Glasgow. Simply insert your travel dates and group size, and you'll see what's available for your stay across different accommodation providers on the internet. Check it out!
So, this is our guide to the best of Glasgow in one day. Hope you found plenty of inspiration for your visit. If you want to explore deeper, I strongly suggest that you spend at least two days in Glasgow. But for those who want to see the best of Glasgow in a nutshell, this itinerary will help you make the absolute most of your short visit.
Planning a trip to Scotland and looking for more travel ideas? Check out our guide to the best things to do in Edinburgh and also tips for visiting Edinburgh (first-timer's guide).
For stunning nature, you can't miss the Isle of Skye! And for a real Scottish experience, take a look at our review of the best Scotland whisky tour that, according to my husband, was the best trip ever…
More travel inspiration & tips for the UK:
More UK city trip itineraries:
READ ALSO: Best UK Cities (that are worth your time the most)
If you found this post useful, don't forget to bookmark it and share it with your friends. Are you on Pinterest? Pin these images!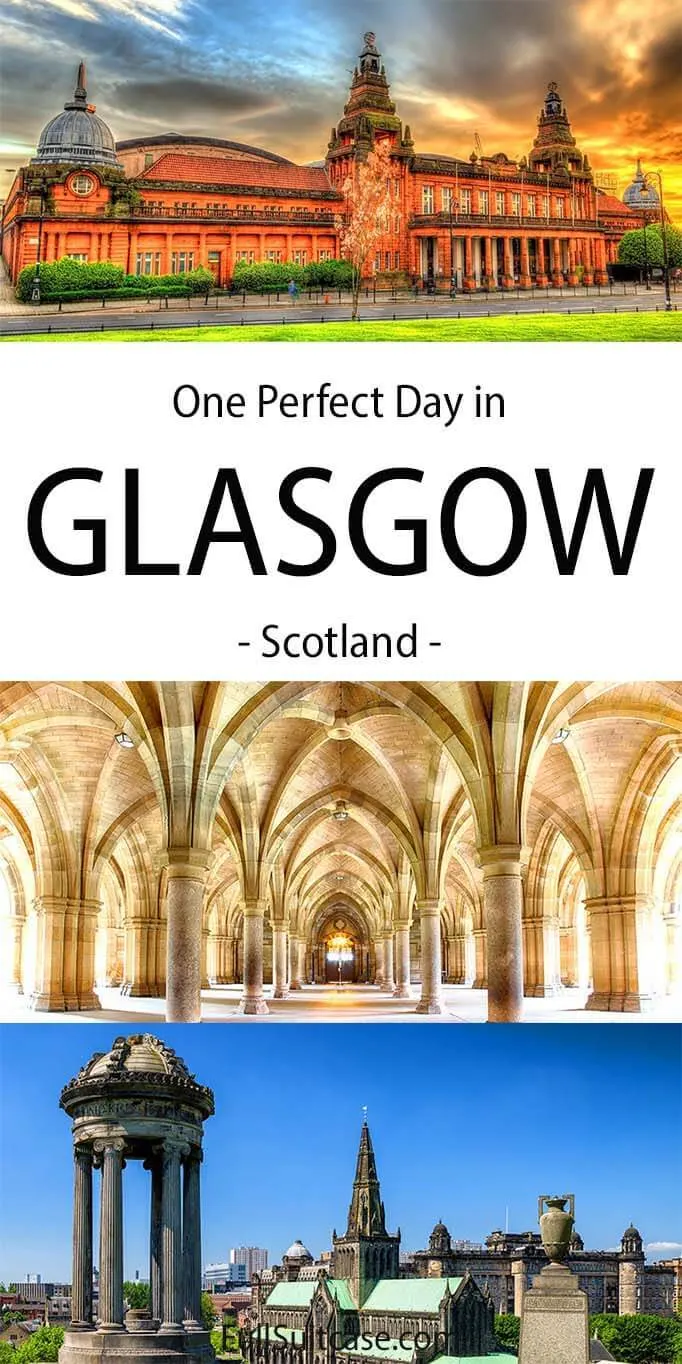 Image credits: Christine Albury// jewhyte/Depositphotos.com// erix2005/Depositphotos.com// matthi/Depositphotos.com// jarino/Depositphotos.com// Leonid_Andronov/Depositphotos.com//