Dotted with pretty villages and offering breathtaking vistas at almost every turn, Cornwall is one of the most picturesque regions of the UK. Located in southwestern England, Cornwall is also home to some of the nicest coastal areas in the country, giving part of the region the name of the English Riviera.
There are so many beautiful places to visit in Cornwall that it can be hard to narrow down your options and choose where to go… So we asked our UK writer, Christine, who recently spent a longer vacation in Cornwall, to give our readers an overview of the very best places to see and things to do in Cornwall.
In this article, she shares her absolute favorite Cornish attractions, which allow you to experience the history, natural beauty, and fascinating culture of this captivating corner of England. Find out!
Good to know: To help you plan your trip to Cornwall, we also created a map indicating all the best Cornwall attractions and nice places to see mentioned in this article. In addition, for every place on our list, we include some practical tips for your visit. At the bottom of this article, you can find more suggestions for nice places to see in Cornwall if you have more time, as well as the best Cornwall tours. Read on!
TIP: If you are looking for hotel recommendations, please see our separate guide to the best places to stay in Cornwall.
How to use this map: Use your computer mouse (or fingers) to zoom in or out. Click on the icons to get more information about each place. Click the arrow on the top left corner for the index. Click the star next to the map's title to add it to your Google Maps account. To view the saved map on your smartphone or PC, open Google Maps, click the menu and go to 'Your Places'/'Maps'. If you want to print the map or see it in a bigger window, click on 'View larger map' in the top right corner.
Here are the best places to visit in Cornwall:
1. Saint Michael's Mount
St Michael's Mount is a unique little island across the water from the town of Marazion. If anything, it could be compared to the famous Mont St Michel in France and is definitely one of the must-see places in Cornwall!
Surrounded by ancient myths and legends, the rocky island is tidal. This means that it's possible to access St Michael's Mount by foot via a causeway from Marazion at certain times of the day. At other times, there is an island boat available to take you back and forth.
St Michael's Mount is most famous for its 12th-century castle, which has been inhabited from 1650 to the current day by the St Aubyn family. But whilst the historic castle is well worth visiting – and affords you wonderful views of Mount's Bay – there is lots more to explore, including the bustling village, a chapel, quaint eateries, and sub-tropical gardens. In the summer, the 30 live-in islanders sometimes put on special events, such as storytime for children.
How much time do you need: Allow yourself at least half a day, but preferably a full day to see everything the island has to offer. In addition, be sure to allow time to explore Marazion town as well. With its clean sandy beaches and beautiful gardens bursting with rare plants and trees, it's a nice destination in itself.
TIP: The climb up to the castle is steep and rocky and the island has many cobbled paths with no handrails, so it can be difficult to manage for those with walking difficulties. Sensible shoes are a must!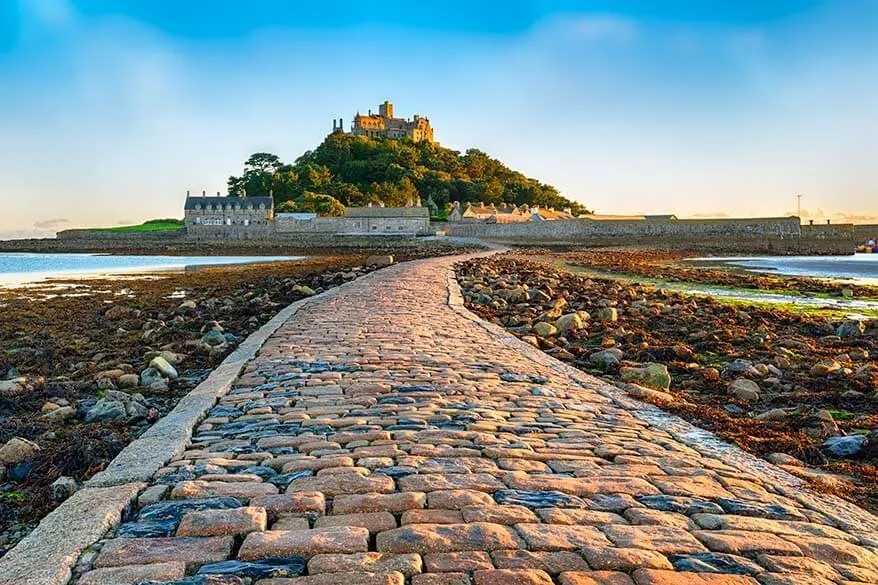 2. St Ives
The idyllic town of St Ives is located on a narrow peninsula in the Celtic sea. It has some of the best beaches in the world! In fact, there are four beaches within walking distance of the town, with Porthmeor being especially popular with surfers.
The scenic fishing harbor is surrounded by a maze of quaint, cobbled streets, lined with fisherman's cottages and local shops. But there is more to St. Ives than its stunning scenery! The town has been home to some of the world's best sculptors and artists and now has a thriving art scene. Various galleries and studios are dotted throughout the town and St Ives even has its own Tate Gallery on the seafront.
If you are a lover of good food then you will appreciate the world-class dining on offer here, with an emphasis – of course – on freshly caught seafood.
How much time do you need: It's possible to see the best of St Ives in one day. But it's worth spending 2 or 3 days to make the most of the beaches, the great shopping, and the town's numerous museums.
TIP: A great way to appreciate the beauty of St Ives is from the water! You can take a boat trip from St Ives to Seal Island, which will give you great views of the town and the chance to visit the rocky home of a colony of Grey Atlantic Seals.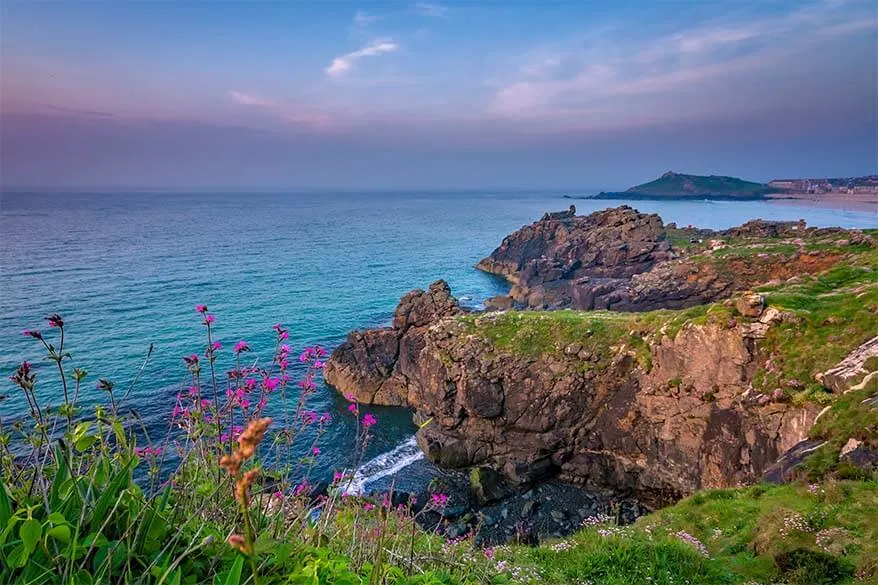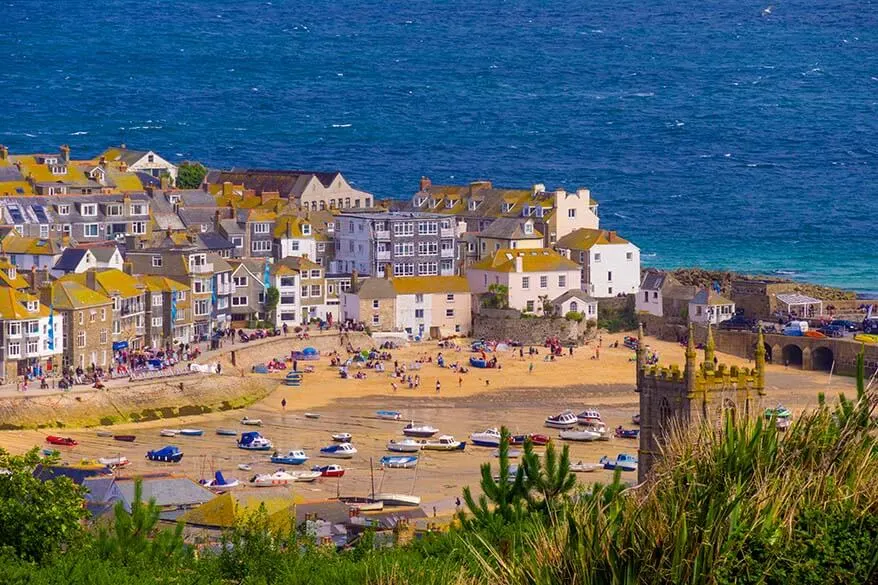 3. Land's End & Scenic Drive from St Ives
Land's End is an iconic Cornish attraction, marking Cornwall's westernmost point and offering breathtaking views of the Atlantic Ocean. It is one of the many places in Cornwall where you can experience nature in all her finery, from the waves crashing against the granite to the wind whipping through your hair as you enjoy rugged clifftop walks.
It is the home of the famous Land's End sign, which marks the distance to various points including New York and John O' Groats. Sadly, though, you now have to pay to be photographed standing beneath the sign (although you do get to have it personalized with your family name and the date). The entire area has become heavily commercialized recently, so it does not quite have the wild and rugged feel you may expect in certain areas. Nevertheless, it is still pretty cool to stand at England's closest point to the US and to admire the awesome view of the Atlantic!
Just driving to Land's End from St Ives is one of the best things you can do in Cornwall and makes a visit here more than worthwhile! The views along this scenic drive are amazing and there's a lot to see along the way! Don't miss Mên-an-Tol – this ancient Bronze Age site has a rare stone with a hole that's believed to have some magical curing powers!
How much time do you need: Unless you plan to spend time shopping or visiting the small theme park, you really only need an hour or two to see Land's End. However, in combination with the scenic drive and many nice stops along the way, you could make a nice day trip visiting the area.
TIP: Parking is very expensive At Land's End. The best option is to park at nearby Sennen Cove instead and walk the one-mile coastal path. You will see a shipwreck along the route and may even spot some dolphins frolicking in the water! Another option is parking at Porthgwarra and walking the 3.6 miles coastal path from there. This will take much longer, but the scenery is amazing as well! Don't miss Enys Dodnan Arch. But even if you drive straight to Land's End, be sure to explore (part of) the coastal paths as well!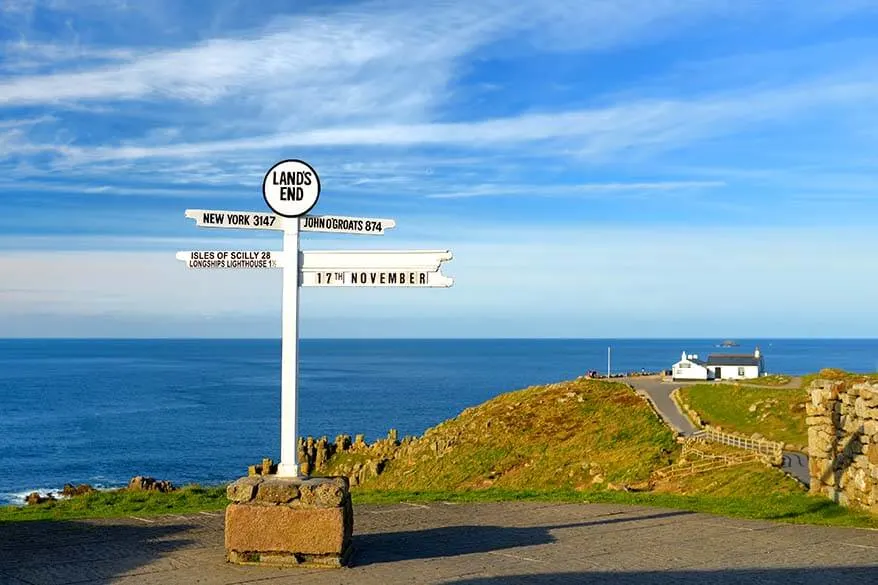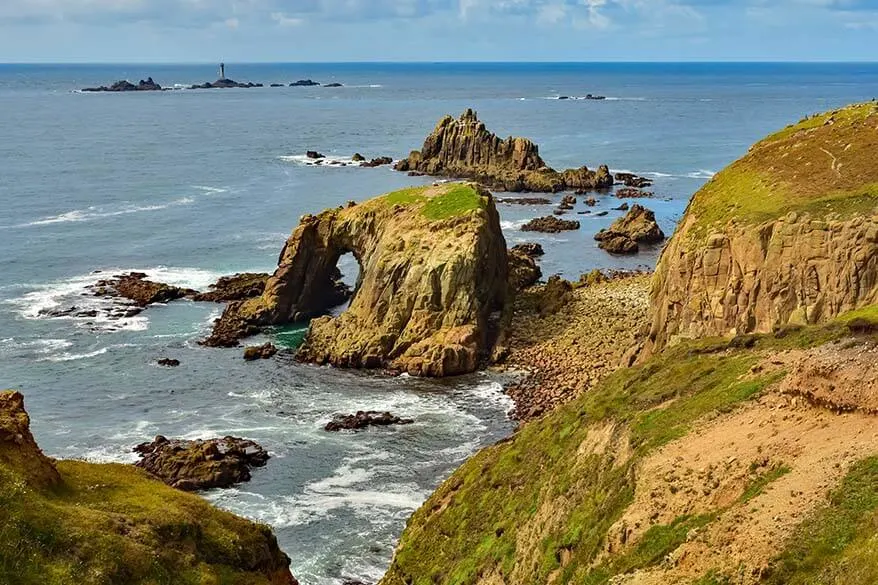 4. The Lizard & Kynance Cove
The Lizard Peninsula on Cornwall's south coast is the most southerly point of the UK mainland. With only 2 roads in and out, it is largely undeveloped and has some of the most fascinating geology in the country. It's also teeming with wildlife, particularly bird and marine life. If you're lucky you can see dolphins, seals, and occasionally even whales!
Lizard is also home to a variety of charming villages and is surrounded by beautiful beaches and secret coves. The most stunning of all is Kynance Cove, on the Lizard's west side. Accessible via a 2-mile coastal walk, Kynance Cove is one of the most photographed and painted areas in Cornwall. When you visit, you'll see why!
Pristine white sands contrast beautifully with the reds and greens of the serpentine rock stacks, all set against stunning turquoise waters. When the tide is out, you are free to explore the Cove's rock pools and caves, with names like 'The Drawing Room' and 'The Parlour'.
How much time do you need: Allow yourself 1 to 2 days to fully explore The Lizard and its many coves.
TIP: Kynance Cove is particularly busy – especially in the summer – so arrive early or visit slightly out of season to avoid the crowds. The descent to the beach is steep and rocky, so wear sensible footwear and be sure to check tide times to make sure that you will be able to safely access the caves.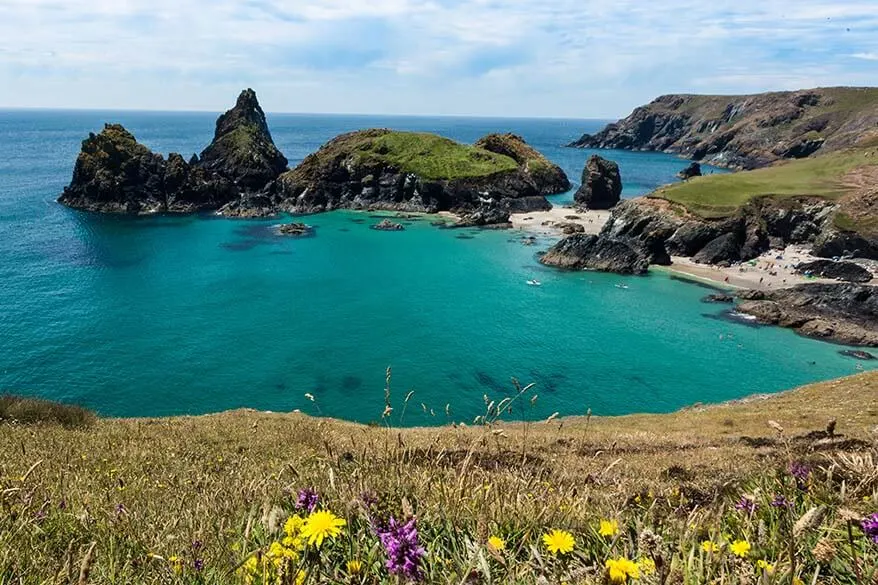 5. Port Isaac
Located on Cornwall's Atlantic northern coast is the beautiful 14th-century fishing village of Port Isaac. It is everything that you would imagine a traditional Cornish village to be, with slate-fronted white-washed cottages and narrow winding streets, all leading down to the picturesque harbor.
There's a little something of everything to enjoy in Port Isaac! Many of its buildings are important – either architecturally or historically – and it has several claims to fame. It is the setting for the UK's popular TV show Doc Martin and has been used as the location for many other TV and film projects. In fact, if you are a Doc Martin fan, you can opt for this popular walking tour of the filming locations!
Port Isaac is still an active fishing port. If you visit in the summer, you can also take fishing trips or scenic boat tours from the harbor.
Designated an Area of Outstanding Beauty and also a Heritage Coast area, there are lots of lovely walks to be had, either along the beach with its numerous rock pools, or further inland. But most popular of all is the village itself, which has lots of charming cafes and restaurants and one of Britain's narrowest thoroughfares – the aptly named 'Squeezy Belly Alley'.
How much time do you need: You can easily explore the village in a few hours. If you go walking or take a boat tour, count one day.
TIP: You can get the best views of the harbor from the main car park, which is the first thing you come to as you enter the village. From there it's quite a steep walk down to the village – which means a steep walk back up! There is a shuttle taxi available, but you might have a long wait at busy times.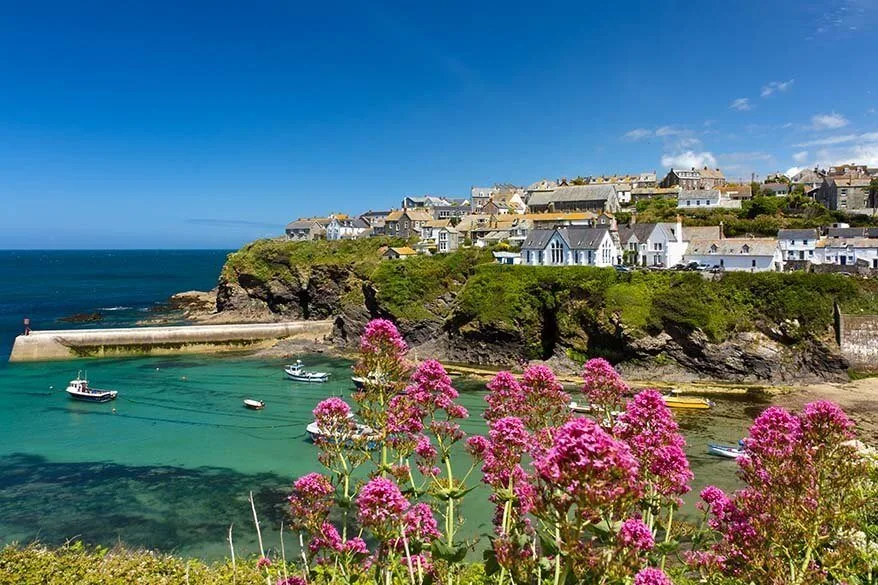 6. Porthcurno & The Minack Theatre
Best known for its stunning beaches and the famous The Minack Theatre, Porthcurno is one more of the must-see places in Cornwall.
One of the most popular beaches here is the stunning Porthcurno Beach. This award-winning beach, with its soft white sand and sparkling turquoise waters, is located in western Cornwall, in the corner of Porthcurno Bay. Sheltered by lofty cliffs on either side, Porthcurno Beach is great for families. It is fairly easy to get to via a wide footpath that slopes down gently from the car park above. And it even has its own little stream running along one side, which is perfect for paddling! Fans of the UK's TV adaptation of Poldark will recognize this beach as the setting for Nampara Cove, where Ross and Demelza were filmed walking hand in hand.
In addition, there are several other lesser-known beaches and stunning coastal paths from where you can enjoy the beautiful surroundings.
Be sure to visit the famous Minack Theatre on the cliffs above. This open-air venue gives you exceptional views of the Bay, right across to the Lizard, and hosts live performances from May to September. When there is no show, you can explore this open-air theatre to the fullest. At the moment, advance bookings are essential; see their website for more information.
The area is also home to the Porthcurno Telegraph Museum, where you can learn all about the important role that Cornwall played in the development of global communications.
How much time do you need: Allow half a day to a day to see all that Porthcurno has to offer.
TIP: Make sure you bring coins with you to pay for parking – the parking machines at Porthcurno Car Park are not equipped for card payments yet. Parking is free in the low season.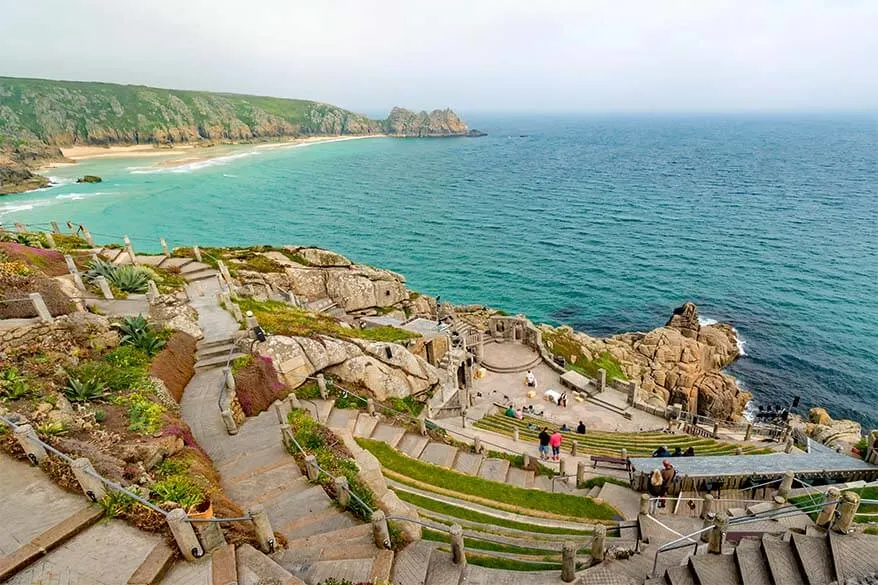 7. Tintagel Castle
Tintangel Castle is thought to be the birthplace of King Arthur, the legendary British King. This is also one of the best places to visit in Cornwall – with a wonderful location set high on the cliffs of the rugged North Cornwall coast. The views are great, the ruins are fun to explore, and a visit here is fun for the whole family!
Since recently, the two parts of the castle that are set on different cliffs have been reconnected by Tintagel Castle Bridge. A walk on this impressive bridge not only gives you the chance to experience the area as it was in medieval times but also offers some amazing views of the coastline.
Don't miss King Arthur's Statue and also the little beach below the castle and Merlin's Cave, one of Tintagel's best-kept secrets. The walk down is quite steep, but they also have a 'shuttle' that can bring you down and up.
TIP: Before you visit the castle, head to King Arthur's Great Halls in Tintagel. It's a great place to learn more about the legend of King Arthur and his Knights of the round table. Open from March to October.
How much time do you need: Count at least 2-3 hours for a visit to the castle, but you can easily spend more than half a day here. For more information and opening times, please see their website.
Good to know: Prepare for lots of walking. Sensible shoes are a must. It can also be quite windy here, so dress warm.
TIP: St Nectan's Glen Waterfalls nearby are also worth a visit.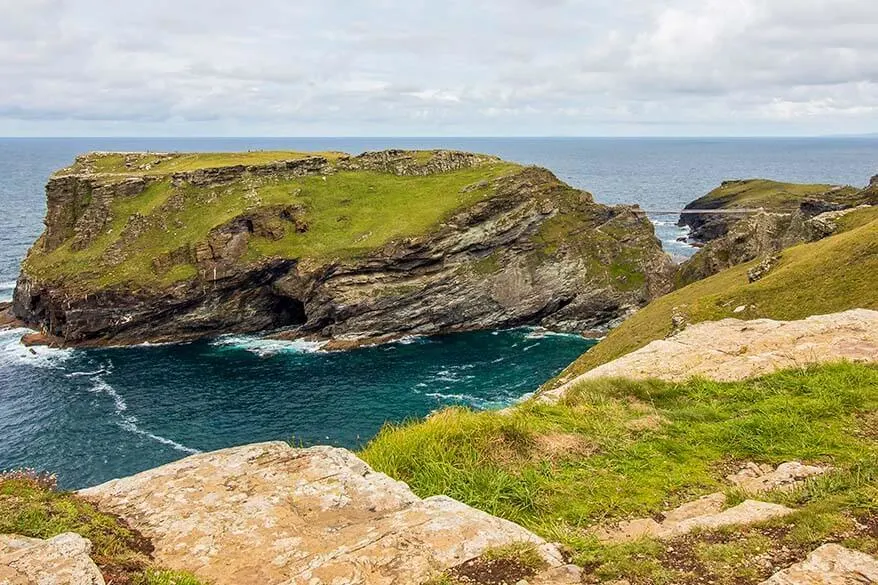 8. Polperro
With so many beautiful spots all over Cornwall, it can be hard to pick the most picturesque. Nevertheless, most visitors to Polperro will agree that it is one of the prettiest villages in the county. Its quaint fisherman's cottages and traffic-free, winding streets are set along the sides of a cliff ravine on Cornwall's south coast.
The village is centered around a peaceful fishing cove filled with colorful boats. The area has a rich history of shipwrecks and smuggling and you can see fascinating features in the village, including Roman and Saxon bridges.
Polperro has a small sandy beach and its own tidal sea pool which you can access via a steep climb down the cliff if you're feeling adventurous. The best view of the village is definitely from the water and you can easily arrange either a pleasure cruise or a fishing cruise directly from the quay. If you're traveling with children, don't miss the Museum of Smuggling and the Polperro Model Village with its very own model railway.
How much time do you need: Plan to spend a full day in Polperro. This will give you time to visit the main attractions, take a cruise, and enjoy the delicious local food available at the village's eateries.
TIP: Polperro hosts lots of seasonal events, so be sure to check ahead if there are any that might coincide with your visit. One of the most popular is the Music and Arts Festival in June, which includes a colorful carnival and the lighting of the solstice bonfire.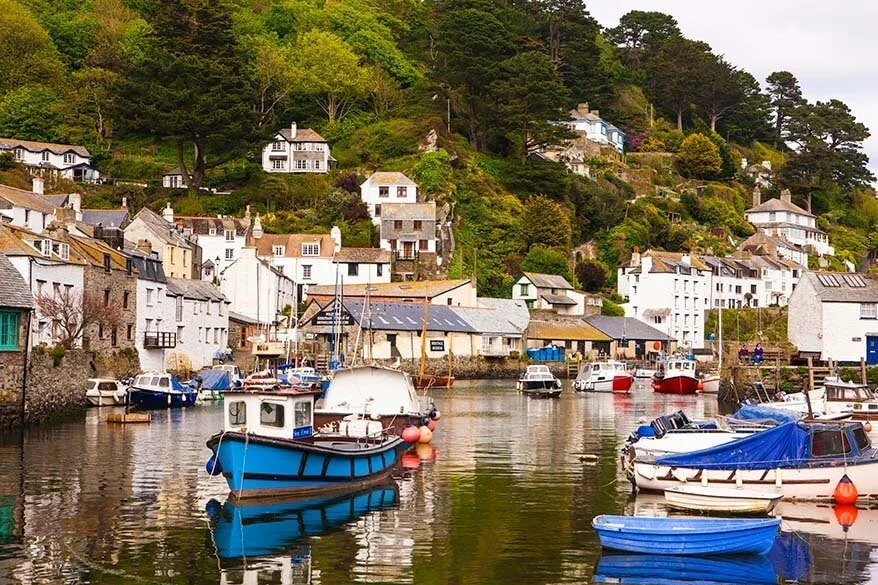 9. Padstow
The North Cornwall fishing port of Padstow has lots to offer its visitors! Most popular of all is the harbor itself, bustling with people and a great place to watch the world go by. There is a variety of great boat tours here. So whether you want to do a little sightseeing from the water, catch some fish, or get a better view of the area's varied marine and birdlife, you will find a boat tour to suit.
One of Padstow's most popular features is the stunning Camel Trail. 17 miles long and following the course of the River Camel along the route of the former North Cornwall Railway, the Camel Trail gives you the perfect opportunity to cycle through some of the most beautiful scenery in the county. There are no steep inclines and the Trail meets virtually no traffic, so it is ideal for the whole family.
Whilst in Padstow, be sure to hop aboard the Black Tor Ferry and take the 5 minute trip to Rock. Holiday spot for the Royals, it's a favorite with the rich and famous and has even been dubbed Britain's Saint-Tropez!
How much time do you need: Allow 1 to 2 days, particularly if you plan to cycle the Trail (you can rent a bicycle in Padstow for the day).
TIP: Celebrity chef Rick Stein has a restaurant, cafe, and several shops in Padstow. His specialty is seafood, so a fish and chip dinner at his restaurant is a treat not to be missed!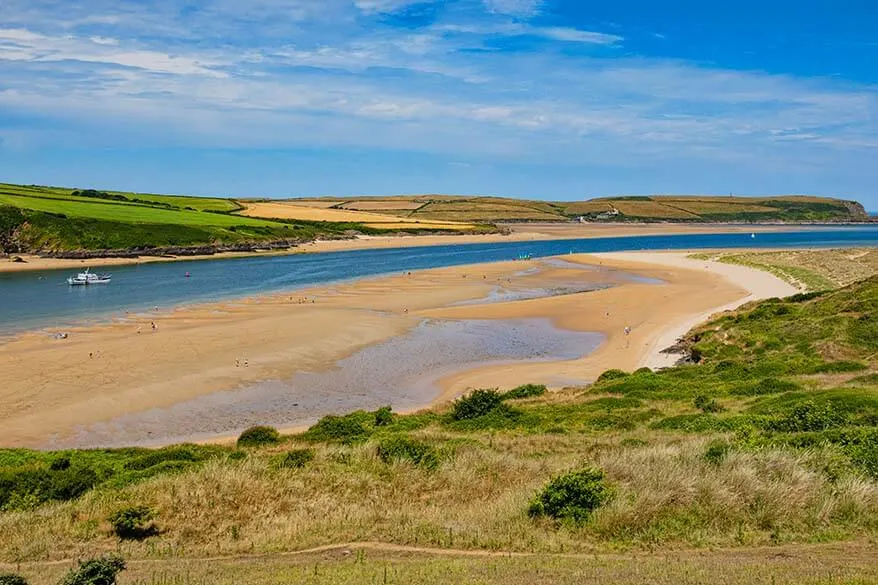 10. St. Austell, Mevagissey & The Lost Gardens of Heligan
St. Austell is Cornwall's largest town, and whilst the town itself has few attractions, it makes a great base from which to visit the nearby fishing village of Mevagissey.
In a county dotted with beautiful fishing villages, Mevagissey is considered by many to be the loveliest of them all! Brightly colored houses nestle against the steep hillside, whilst the waters of the harbor are shallow and turquoise.
Just 15 minutes by road from the center of St. Austell are the Lost Gardens of Heligan, so named because they were hidden by brambles from the end of the First World War, all the way up to 1990 when they were rediscovered. Spread over 200 acres, this is Europe's largest garden restoration project. It includes four beautiful walled gardens, along with the incredible living sculpture the Mud Maid. The Lost Gardens of Heligan have an other-wordly feel to them and it's easy to spend a few hours exploring all the different zones and woodland. For opening times and practical info, please check their website.
How much time do you need: Allow 1-2 days to see Mevagissey and the Lost Gardens of Heligan. If you have time, it's also worth visiting St. Austell's main port, Charlestown, where you will often spot old sailing ships.
TIP: As you enter St. Austell, be sure to look out for the 'Cornish Alps' surrounding it. These strange, conical white-topped mounds are actually products of the area's china clay pits, which were the backbone of St. Austell's industry for many years.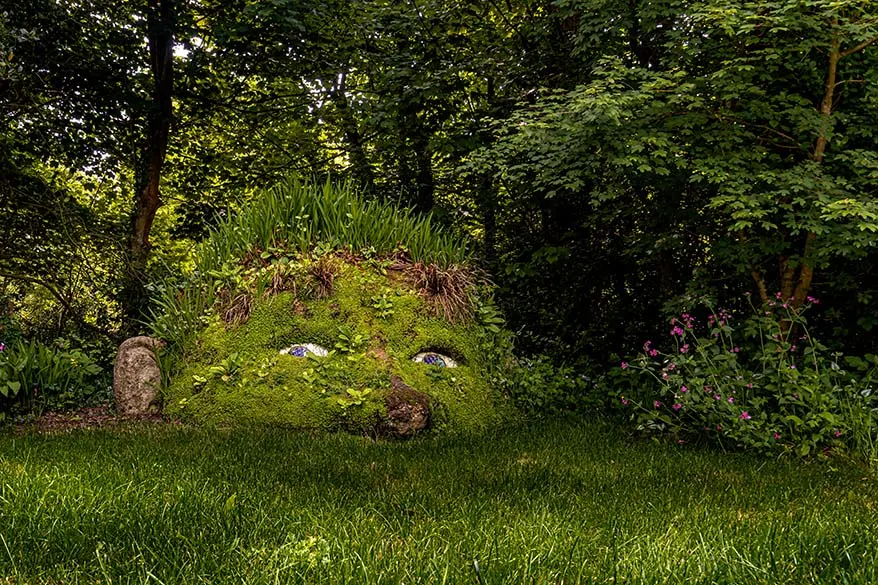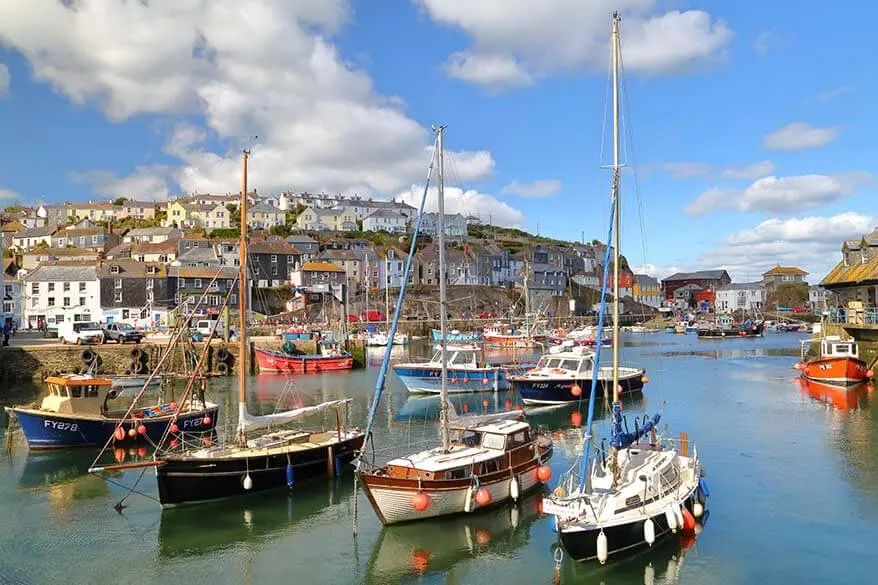 11. Eden Project
Did you know that Cornwall is home to the 8th wonder of the world? Well, that may not be officially true, but nevertheless, it's a compliment often paid to the ambitious Eden Project in Bodelva, just a few miles from St. Austell!
This vast attraction could probably be best described as a sort of botanical garden, but it's so much more than that! It houses the world's largest captive rainforest in a magnificent 'biome'. Here, you can experience tropical sights and smells and even take a walk on a canopy walkway above the treetops! Although the Rainforest Biome is the Eden Project's largest and most popular feature, there is lots more to see and do here. The 30-acre Outdoor Garden is filled with bobbing sunflowers and a second biome focuses on the Mediterranean and all of its fabulous flora.
The purpose of the Eden Project is mainly educational – for children and adults alike. There are various workshops aimed at all age groups, along with the opportunity to learn about the relationship between the plant world and mankind. Kids in particular will enjoy learning about the tropical plants that are used to produce some of the objects they see and use every day!
How much time do you need: Aim to spend a full day here. There is plenty to see and do and there are some nice cafes where you can get lunch or snacks.
TIP: The Project is quite expensive to visit. So to make the most of your day, try to visit in good weather, which will allow you to enjoy the outdoor exhibits as much as the indoor ones. Don't forget your sunscreen, as there is little sun protection anywhere. For practical info and opening times, please see their website.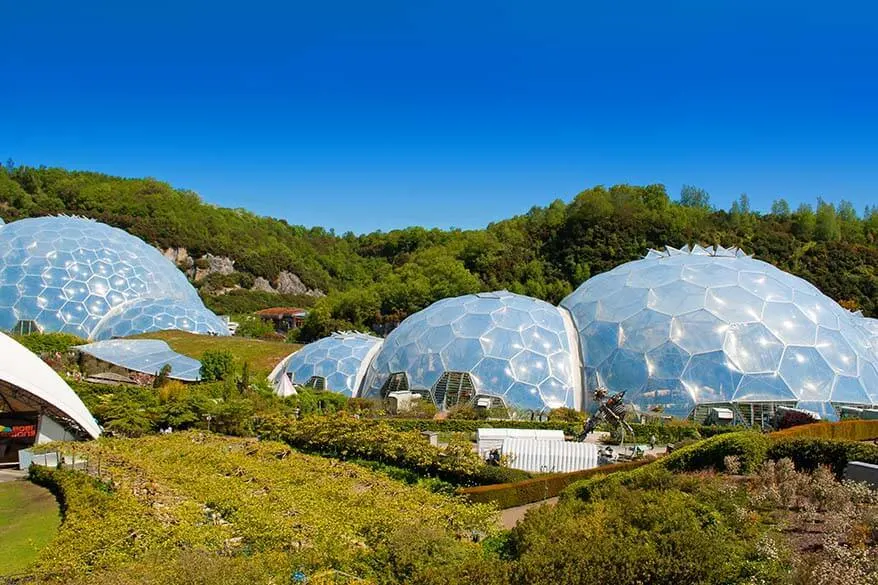 12. Falmouth
Located in a sheltered bay on Cornwall's south coast, Falmouth was recently named Britain's best coastal town. Perfect for exploring on foot, Falmouth is divided into two sides. On one side you can see the lovely working harbor and docks. You can learn more about them in the 12 galleries of the town's impressive National Maritime Museum. On the other side, you'll find two stunning sandy beaches. The best for swimming (and closest to town) is Gyllngvase Beach, with its powdery soft sand and clear waters.
The two sides of Falmouth are divided by a grassy headland, on which sits the Pendennis Castle, built by King Henry VIII in the 16th century. As you stroll through town admiring the old architecture, look out for Jacobs Ladder. This 111 step granite stairway leads up from the Moor – Falmouth's main square. It may sound Biblical, but it was actually named after the local businessman who built it as a shortcut between his home and his business premises.
How much time do you need: Allow one full day to explore Falmouth.
TIP: Falmouth regularly hosts festivals, celebrating everything from oysters to beer! See if you can plan your visit to coincide with a festival based around something you enjoy!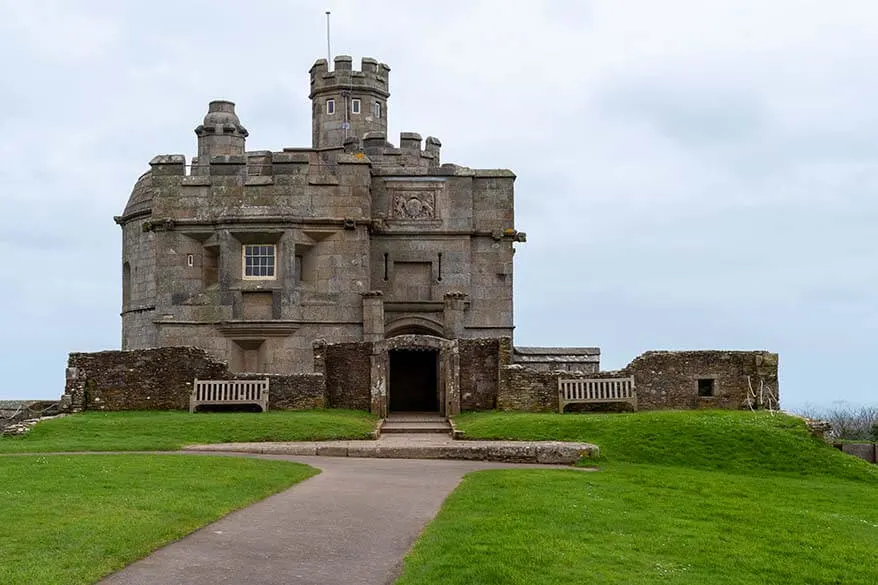 13. Bodmin
Whilst Cornwall's coastal resorts tend to be among the most popular, an area not to be missed – Bodmin – is several miles inland. Formerly the county town of Cornwall, Bodmin is steeped in history and there are lots of interesting buildings to explore, including a 15th-century church, two museums, and gorgeous stately homes.
Head to the town center to hop aboard a steam train at the Great Western Railway Station at Bodmin Central. This is a great way to explore the surrounding area! You can also take a trip back in time and learn more about the town's sinister history of crime and punishment with a tour of its courtrooms and the notorious Bodmin Jail, the site of numerous public hangings.
Aside from its historic interest, the area east of Bodmin – known as Bodmin Moor – is a designated Area of Natural Beauty. With miles of walking trails, this remote and sweeping moor is dotted with high granite boulders, ancient oak trees, and fascinating stone circles. It is easy to see why the novelist Daphne du Maurier was so inspired by this landscape! After a walk on the moor, you can enjoy a pint at the Jamaica Inn, which was immortalized in her novel of the same name.
Also the nearby Lanhydrock estate with an impressive Victorian country house and gardens is well worth visiting here!
How much time do you need: You could easily spend 2 full days exploring Bodmin town and the natural beauty of the local area. If you just visit the main attractions in town, count half a day.
TIP: It is well worth staying in the area overnight. Bodmin Moor was awarded Dark Sky Landscape status because of its efforts to reduce light pollution. This means that its exceptionally dark skies offer excellent opportunities for stargazing!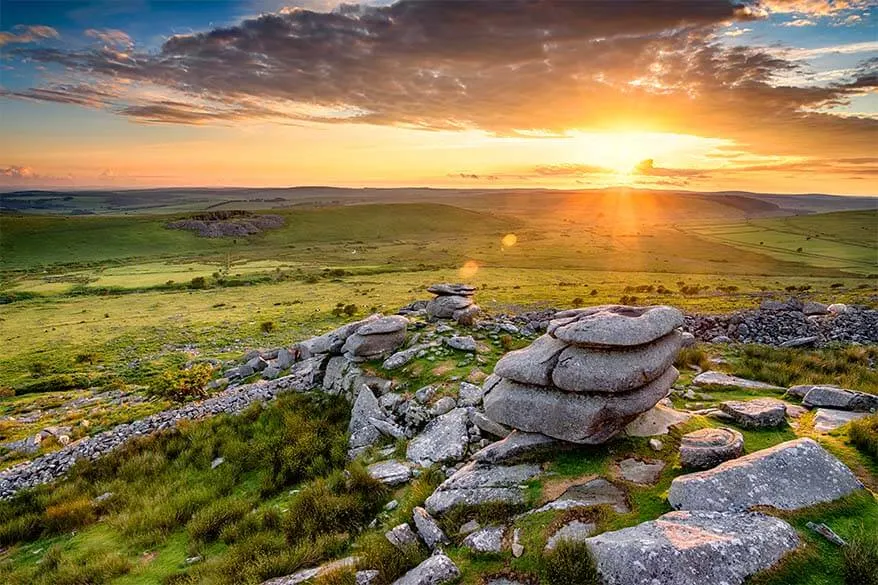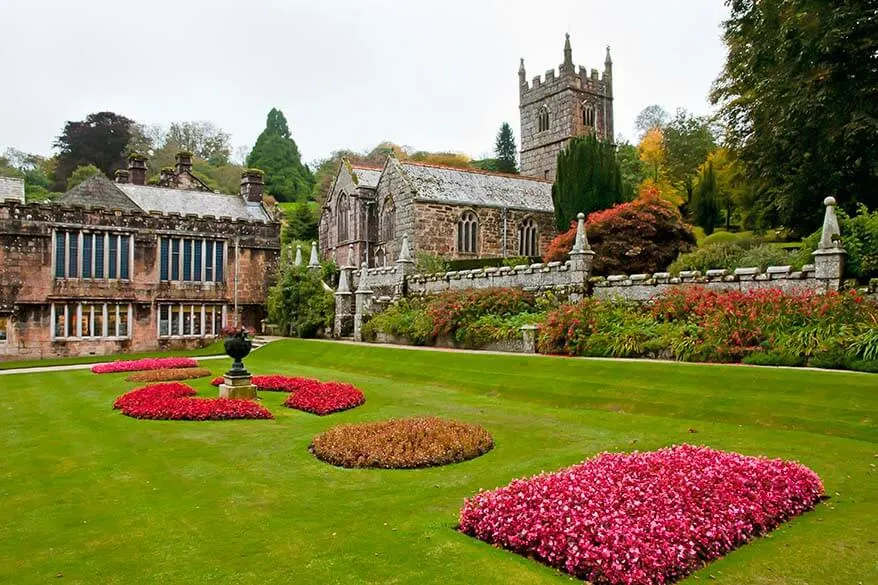 14. Fistral Beach, Newquay
Located on Cornwall's north coast, Newquay is one of the county's most popular seaside towns. But what makes it extra special is its amazing Fistral Beach! This straight, sandy beach is over 800 yards long, with high cliffs behind it, rolling dunes, and numerous rock pools perfect for crabbing.
Fistral Beach's main attraction, though, is its surf! Bounded by two headlands, powerful waves are funneled into the west-facing beach, making Fistral one of the top surfing destinations in the world. If you want to indulge in a spot of surfing yourself, there are lots of places to hire equipment. And if learning to surf has always been on your bucket list, you can even book lessons here.
If you're feeling less energetic, then it's very easy (and lots of fun) to while away the hours just watching other people tackle the waves. The beach has wonderful facilities including a very good restaurant and cafe, along with a great atmosphere for the whole family to enjoy.
How much time do you need: You can easily spend anything from a few hours to a whole day here.
TIP: Although the beach is monitored by lifeguards, do check the tide times carefully as it is possible to be cut off from the main part of the beach when the tide comes in.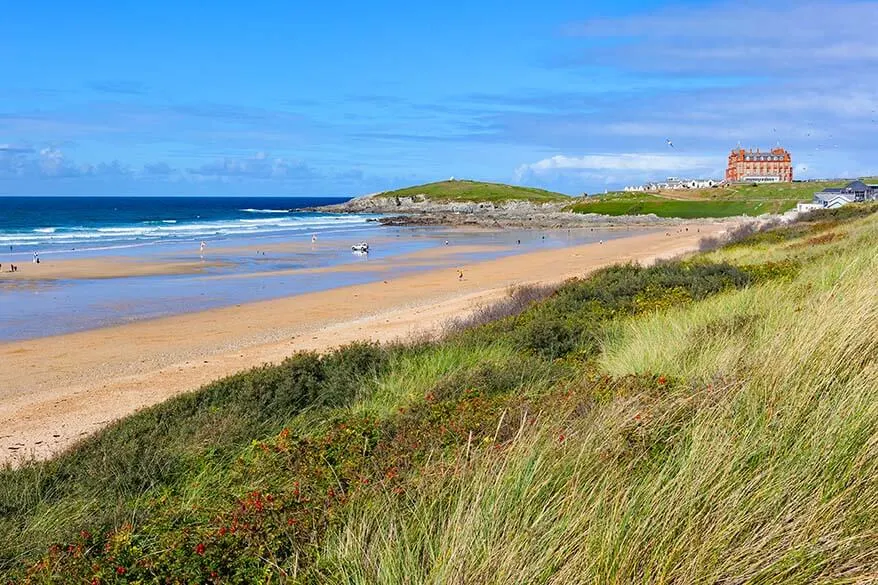 15. Mousehole
No visit to Cornwall would be complete without a visit to the charmingly named village of Mousehole on the south coast. No one is quite sure where the name actually came from, although some say it is connected to the huge cave located a few hundred yards along the coast.
Mousehole has rather a sad history – the village was completely burnt to the ground during the Anglo-Spanish War in 1595 and just one building survived. That building is now the Keigwin Arms pub, which has undergone quite a bit of restoration since!
The quaint village has narrow, winding streets with plenty of independent shops, galleries, and eateries, with many of the pretty cottages built from local Lamorna granite. One of the nicest features in Mousehole is its beach! Located in the sheltered part of the harbor, it is small, safe, and absolutely perfect for families with younger children. If you have time, be sure to take a walk along the coastal path to Lamorna – an absolutely stunning little cove at the end of a verdant valley, complete with a babbling stream!
How much time do you need: Allow half a day to a day for a relaxing visit here.
TIP: If visiting Mousehole by car, park on the outskirts and walk in. Parking on the narrow streets is very difficult. Better still, take a bus to the village from Penzance.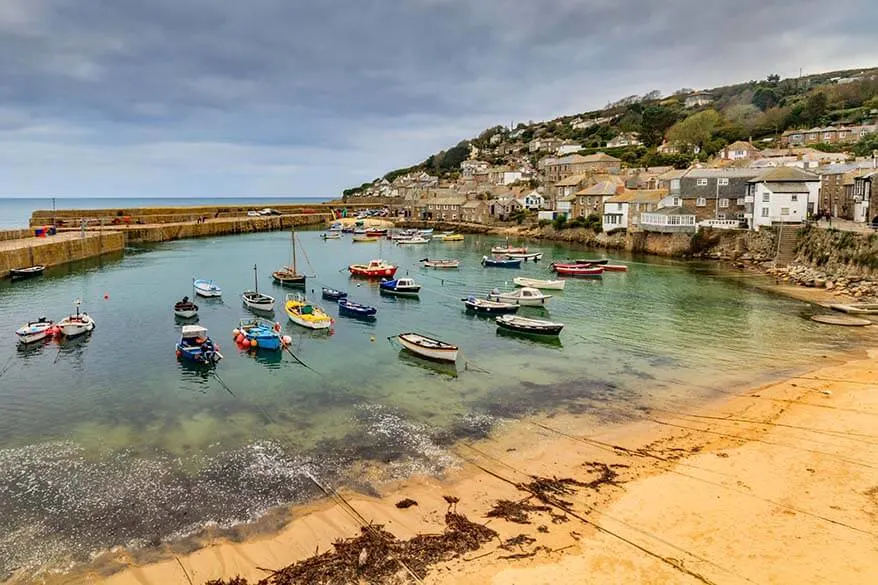 16. Cornwall Coast Path from Hartland Quay to Bude
While Hartland Devon Heritage Coast isn't officially in Cornwall, it's just at the county border. The coastal walk from Hartland Quay (in Devon) to Bude (in Cornwall) is well worth considering if you are looking for something nice to do in Cornwall a bit off the beaten path.
While the entire walk is quite strenuous and 15 miles long, you can also just walk a small part of the trail, e.g. up to Speke's Mill Mouth Waterfall. Starting in Hartland Quay, head south along the Cornwall Coastal Path. The waterfall is just about 1 mile (20-30 min) walk and is well worth it.
This area is off the beaten path and much less visited than most other Cornwall attractions mentioned in this guide. If you are looking for nice coastal scenery without the crowds, check it out!
TIP: If you drive all the way to Hartland anyway, check out the Hartland Abbey as well!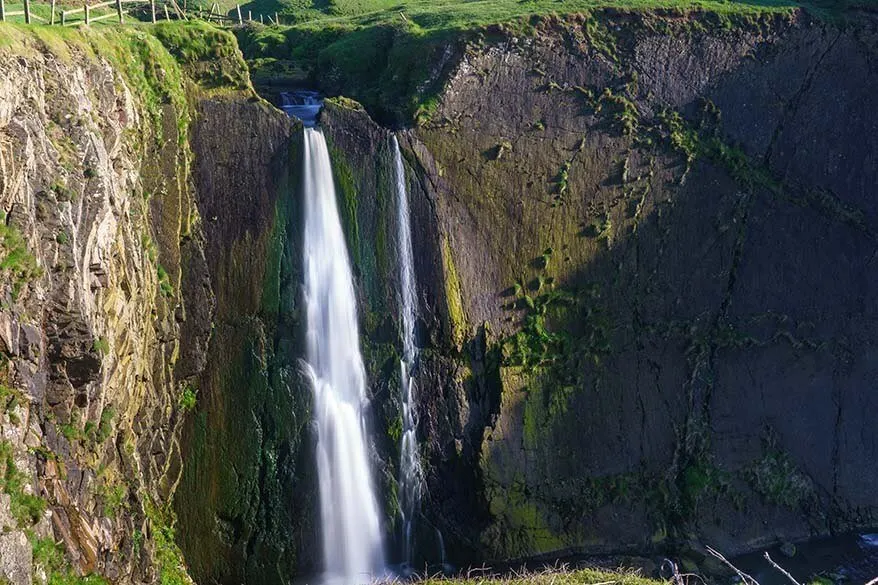 More nice places to see in Cornwall
In addition to the most popular sights and Cornwall attractions mentioned above, there is so much more to see and do in this beautiful corner of England. Here are some more nice places to see in Cornwall if you have more time:
National Trust – Trelissick Garden
National Trust – Lanhydrock
National Trust – Godrevy
Helford Passage
St Mawes Castle
Trebah Garden
Flambards Theme Park
…
As you can see, there is plenty to see and do in Cornwall to fill a few vacations. But if you are looking for the very best places, this list should help you see the best that the region has to offer.
Cornwall Tours
If you are looking for some nice Cornwall tours, here are some of the very best options:
2-days in Cornwall: King Arthur Tintagel and Boscastle Tour. This tour visits Tintagel Castle and the area around it, in combination with Dartmoor Forest and Wistmans Woods (the latter two are not part of Cornwall county, thus not included in our guide).
5-days Cornwall & Devon tour from London. Devon & Cornwall tour. This is the most popular tour of southern England. You get to see some of the main highlights of Cornwall and so many other beautiful places. Check it out!
READ ALSO: Where to Stay in Cornwall – best towns & hotels for every vacation and every budget
More travel tips and inspiration for the UK:
If you found this post useful, don't forget to bookmark it and share it with your friends. Are you on Pinterest? Pin these images!