The city of The Beatles, Liverpool is one of the most popular cities to visit in the UK. And while it's definitely worth a longer trip, it's also possible to visit Liverpool from London and see some of the main highlights in the city in a day.
In this guide, you can find all the information you need in order to plan a perfect Liverpool day trip from London. How to get there, what to see and do in Liverpool in a day, and how to make the most of your time. Find out!
Good to know: To help you plan your visit, this guide includes practical information for traveling from London to Liverpool by train and a detailed 1-day itinerary that's actually doable in just a day, with approximate time indications, etc.
In addition – at the end of this guide – you can also find a short overview of this itinerary and a map indicating all the places mentioned in our guide, as well as some useful tips.
TIP: You can easily organize your Liverpool day trip from London with the help of this highly-rated pre-booked rail tour. It includes return train tickets to Liverpool from London, maps, info, and the main Beatles attractions in Liverpool that you'll want to see on your first visit. This is a self-guided trip, so you explore on your own, but all the practicalities are taken care of.
READ ALSO: Best Day Trips from London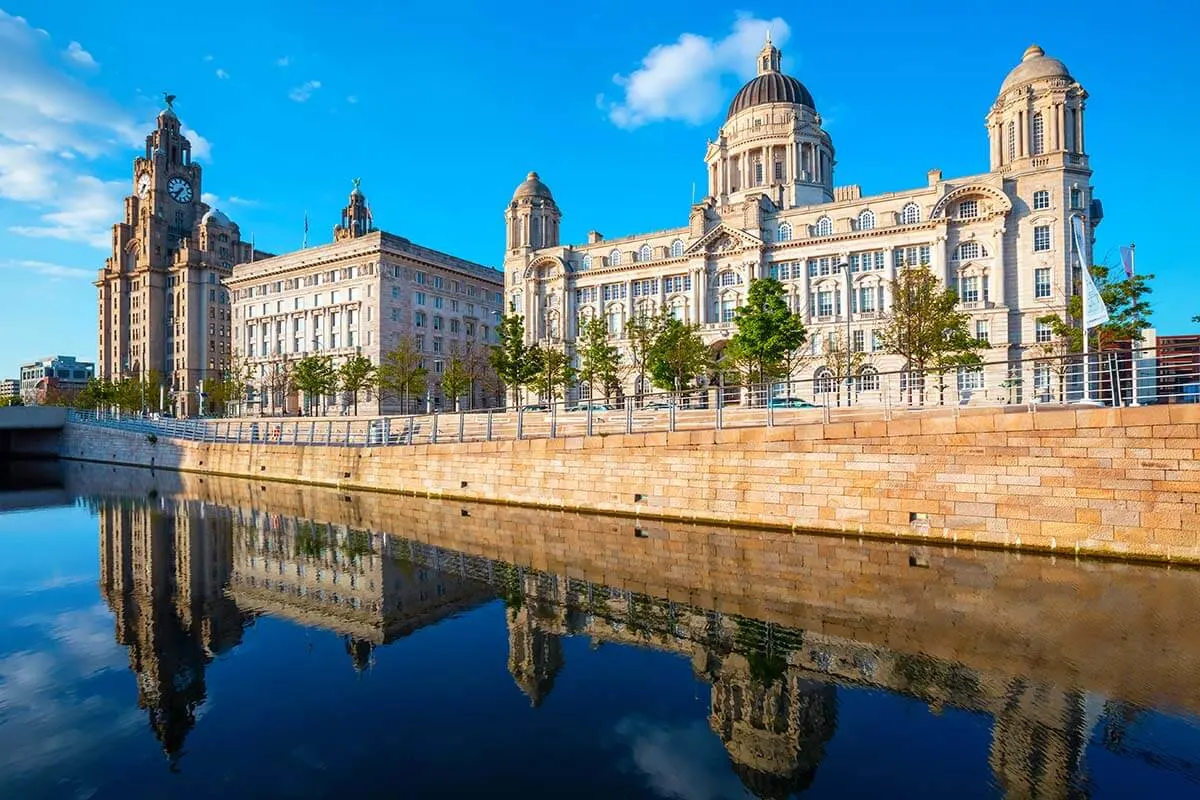 How to get to Liverpool from London
Liverpool is about 220 miles or 355 kilometers from London. While you can drive, by far the best way to get to Liverpool from London is by train. You can find all the practical information for your journey below.
By train
The best and easiest way to travel to Liverpool from London is by train. A direct train from London's Euston rail station to Liverpool Lime Street station takes about 2 hours and 15 minutes. The train makes several stops on the route but you do not have to change trains. The journey is quick, relaxing, and comfortable.
Direct trains from Euston Station run once an hour. There are also indirect trains more frequently, but the journey takes longer, so it's not something to even consider for a day trip. Here you can see train schedules and get tickets.
TIP: For a Liverpool day trip from London, we recommend that you take a train at around 7 am. This will allow you to make the most of your day. !!! The day tour from London to Liverpool that we mentioned above already includes a train ticket with departure at around this time.
Good to know: If you book your own train tickets, you should know that the cheapest rail tickets are released about 12 weeks in advance so book your tickets as early as you can. This is particularly important as you will need to depart London at peak travel times to ensure a full day in Liverpool. Peak travel times are before 9.30 am on weekdays. The train will be busier and tickets are usually more expensive.
Check Nationalrail.co.uk or Avanti West Coast for the tickets and shop around since they may differ. We recommend checking this website for the best deals.
Good to know: Children under 5 years are free on English trains but they are not guaranteed a seat unless you pay for one.
TIP: If you are traveling as a family, it may prove more cost-effective to buy and download a digital Family and Friends Railcard. This card costs £30 for one year and gives discounted rail travel for up to four adults (33% off) and four children aged 5-15 (60% off). This might not make sense for just one train journey, but can be of great value if you are planning more train trips in the UK.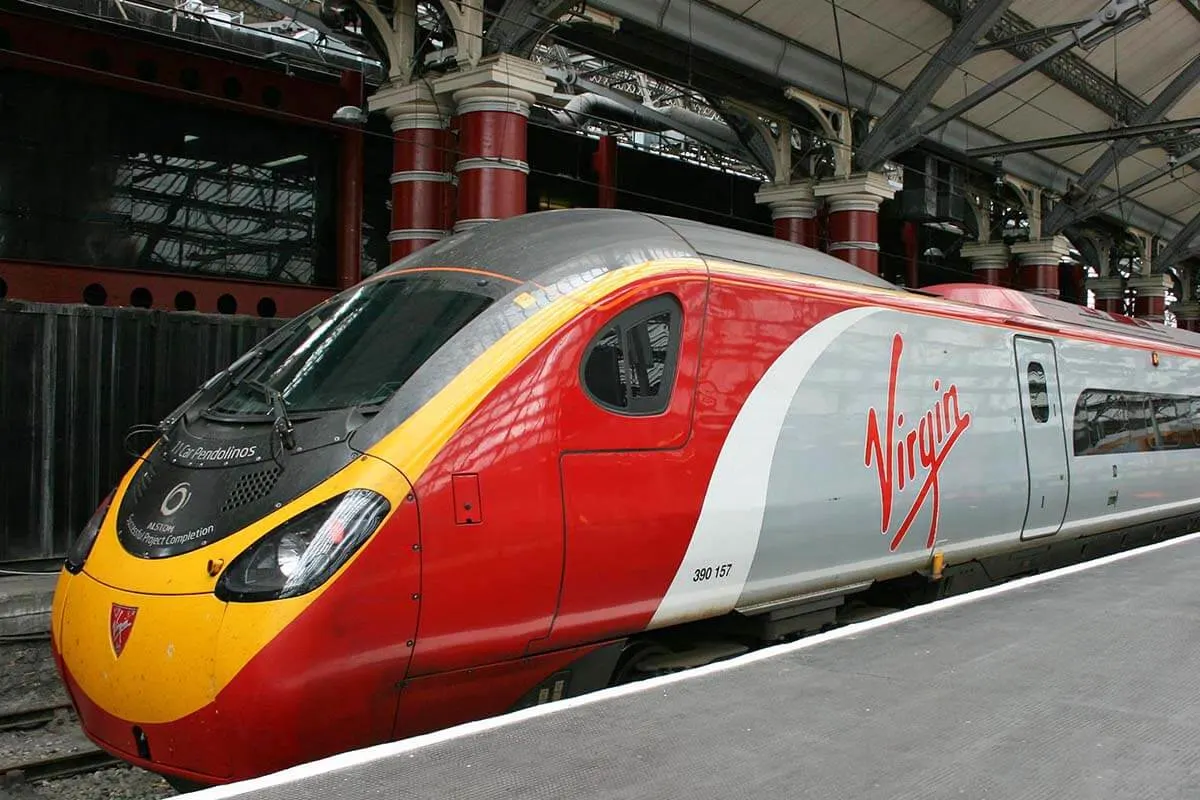 By car
London to Liverpool drive time is 4 hours 15 minutes without stops or traffic delays. It is a 220-mile / 355-kilometer journey. You will need to take a break on route so you need to allocate at least five hours for a one-way trip.
Plus, most of the route is on major motorways so it is not a scenic journey. You will also need to find parking once you arrive and pay parking fees. So we do not recommend driving to Liverpool from London, and definitely not if you just have a day or two.
With a rail tour
As already mentioned before, you can also book a day tour from London to Liverpool. There are several options and none of them is an actual organized tour. Instead, you receive train tickets, the Magical Mystery Tour in Liverpool is prebooked for you, and you also get other tickets and information to help you plan a perfect visit on your own.
The best option for this trip at the moment is offered by Evan Evans Tours. It takes away lots of guesswork and preparation.
TIP: No matter how you book your train tickets, read below on how to actually plan your time once you get to Liverpool.
London to Liverpool day trip itinerary
Below, you can find all the details, practical information, and useful tips on what to see and how to plan your day in Liverpool.
Early morning: arrive in Liverpool & walk to Albert Dock
Catch the 07.07 am train from London Euston to Liverpool. This train arrives at Liverpool Lime Street Station around 9.20 am.
Follow the signs to the Royal Albert Dock which is just 1 mile away, about 20 minutes on foot.
You could also shorten the walk by catching the Merseyrail from Liverpool Lime Street for two stops to James Street. From here, it is a shorter 10-minute walk to the Royal Albert Dock. But by the time you figure out where to be, you'll likely be halfway already. So we recommend simply walking.
Follow the signs to The Beatles Story, the first stop on your Liverpool day trip itinerary. You will walk past the historic Salthouse Dock before reaching Albert Dock where The Beatles Story is located. Salthouse Dock is the oldest dock in Liverpool. Its walls are Grade II listed and parts of it date back to the mid-18th century.
TIP: If you feel like stopping for a cup of coffee or a quick late breakfast, you'll find a few cafes at the docks. A good option right along your way is Rubens Coffee Albert Dock, which is open daily from 8.30 am. However, it would be better to eat on the train or take some coffee to go upon arrival in Liverpool and head straight to The Beatles Story.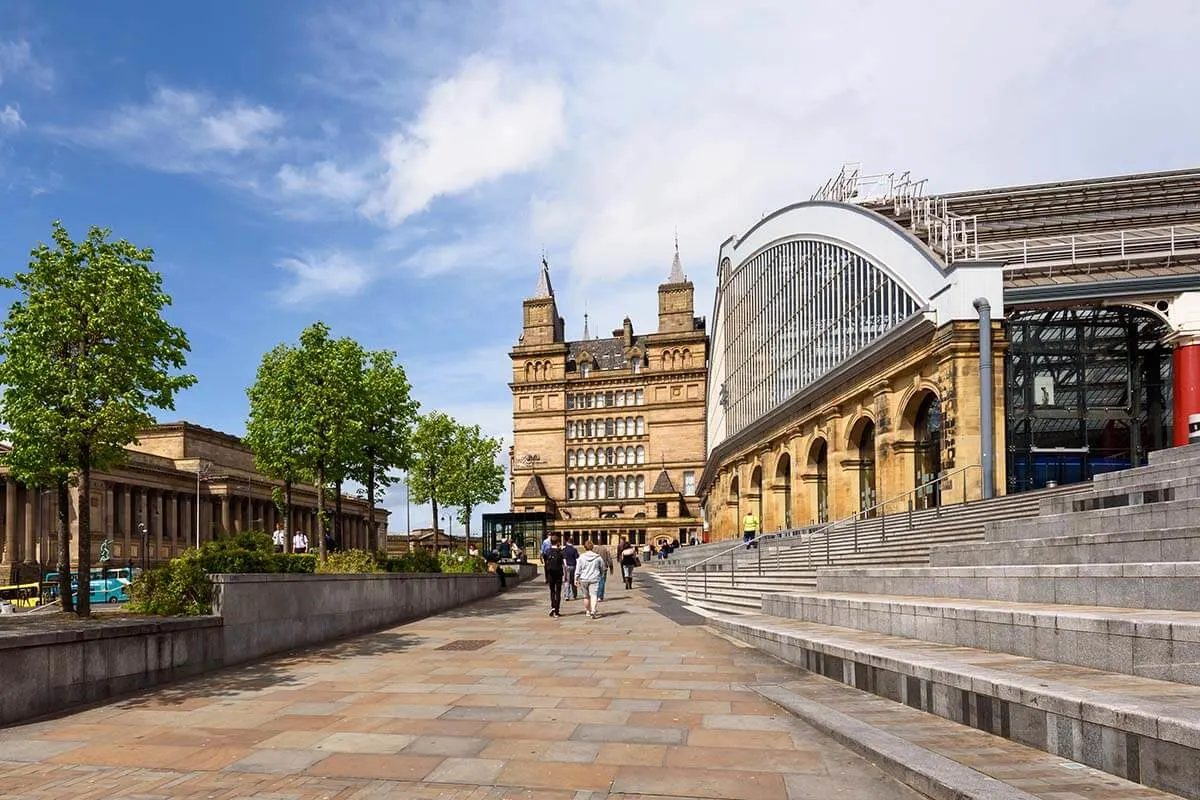 The Beatles Story
The largest Beatles museum in the world, The Beatles Story is one of the must-sees in Liverpool. It charts the history of The Beatles from their formation to their breakup. The stories, history, and music of The Beatles come alive through artifacts such as clothes, letters, song lyrics, stage outfits, and instruments.
You can also see recreations of the famous Abbey Road recording studios and a mock-up of the original Cavern Club stage. Kids will get the most fun out of the interactive Discovery Zone.
Good to know: The Beatles Story is a self-guided tour so you can stay as long or as little as you like. Audio commentaries are available in many different languages. Count around 1.5 hours for a visit.
TIP: The Beatles Story is one of the most popular attractions in Liverpool, so expect it to be busy. Ideally, you come here first thing in the morning, which should help you to avoid the biggest crowds.
Practical information: The Beatles Story is open daily except on the 25-26 of December. You can get timed skip-the-line tickets here. For this itinerary, it's probably best to book tickets at around or a bit after 10 am.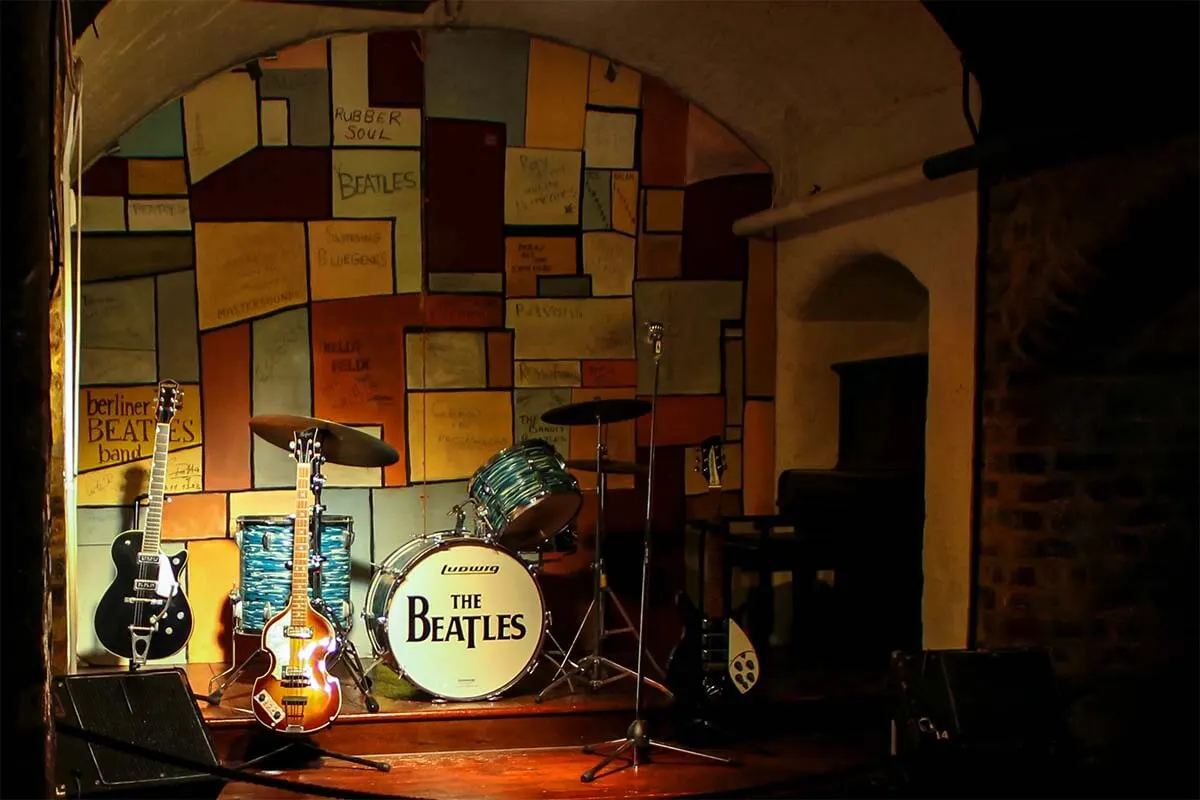 Lunch at The Royal Albert Dock
Spend lunchtime wandering the colorful, lively Royal Albert Docks which is a UNESCO World Heritage Site.
A good option for lunch is the Peaberry Coffee House. It has a wide-ranging menu including a good-value kids menu. Breakfast is served until 12.30 pm when the lunch menu starts. Pre-booking is recommended.
For something a little different, try The Smugglers Cove. This pirate-themed pub has a two-course menu for kids and an extensive menu for adults. It also offers a traditional roast dinner on Sundays.
Both of these restaurants are just next to The Beatles Story, and you'll find plenty of other choices in the area. Keep in mind, however, that going for lunch at a restaurant will take up a lot of your precious time.
TIP: If the weather's nice, you can also pick up a takeaway lunch from any of the cafes or street food stands on the Docks. Enjoy a picnic on the grass or on a bench on the waterfront. This is a great spot to people watch, enjoy street performances, or watch the ferries on the Mersey.
With some extra time to spare, you could pop into Tate Liverpool or Maritime Museum (both free to enter). There are also a couple of short attractions that are ideal for kids including a Victorian-era carousel and riding the Wheel of Liverpool.
However, with just a day in Liverpool, you'll probably have a pretty tight itinerary, so we recommend concentrating on the main places and activities that you really want to see and do.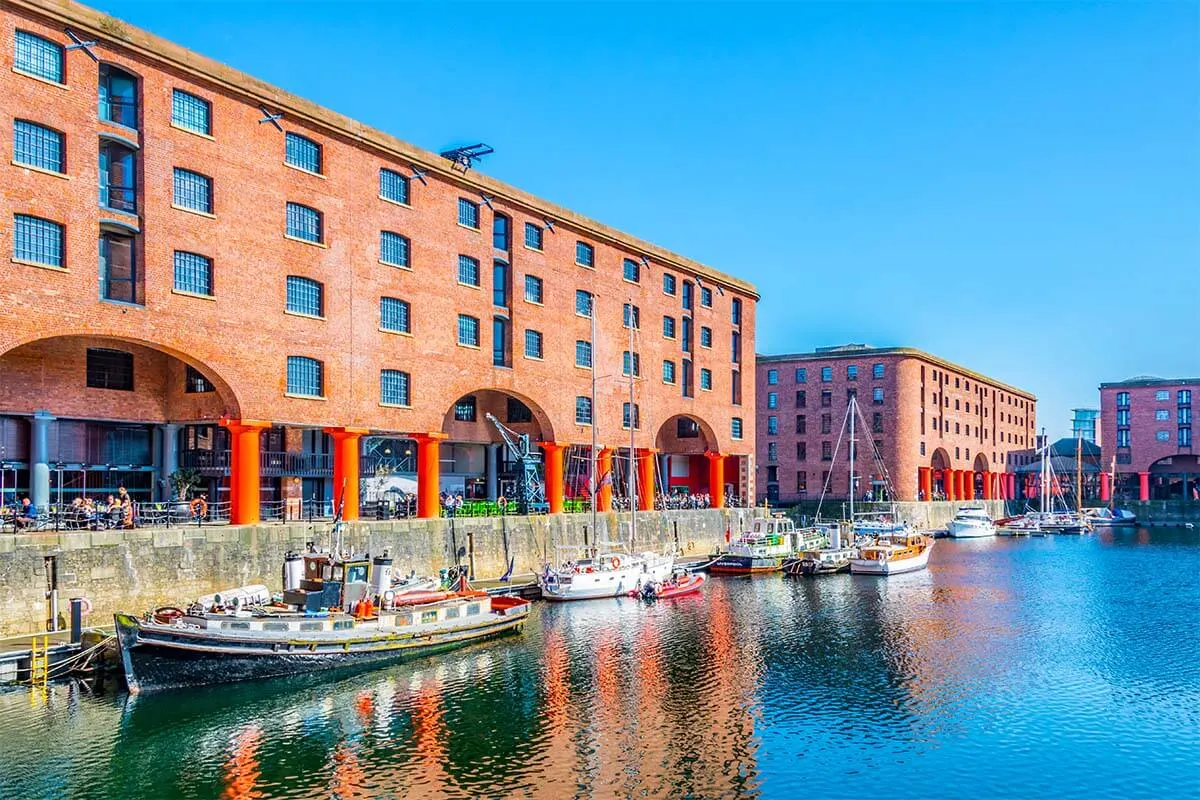 Afternoon
Since you only have one day in Liverpool, you'll have to make some tough choices on how to spend your afternoon in the city. Below, we highlight two of the best options for your first visit – one for The Beatles fans, and one for those who want to see more of Liverpool.
And no, you really can't see 'everything' on a day trip to Liverpool. But the good news is that both options are really nice and so you really can't go wrong with either. Take a look!
Option 1: Beatles Magical Mystery Tour
Take the Magical Mystery Bus Tour, a popular Beatles-themed tour that visits all the major Beatles landmarks in Liverpool. This is one of the most popular things to do for first-time visitors to Liverpool, and a must for The Beatles fans. It's also the option that is included with the self-guided tours from London that we talked about earlier in this article.
Conveniently, the tour departs from The Royal Albert Dock, so it's really easy to do with just a day in Liverpool. This will help to minimize your walking on your day trip to Liverpool. If you decide on this option, be sure to book the Magical Mystery Tour in advance. Depending on the season and availability, you could opt for a tour at 1 pm or at 2 pm.
Good to know: This is a 2-hour guided bus tour. You will get to see a lot of Liverpool as well as all the main Beatles landmarks. The coach makes brief stops at Geroge Harrison and Paul McCartney's childhood homes, at Strawberry Fields, and at Penny Lane. Other locations (such as schools that The Beatles attended) are drive pasts.
The tour is led by a knowledgeable and entertaining guide and accompanied, of course, by music from the Fab Four. The tour culminates at the legendary Cavern Club.
TIP: Be sure to use a bathroom before you board the coach as it does not have toilet facilities.
PRO TIP: If you don't like big-bus tours, you can also book a similar Beatles-themed tour by private taxi.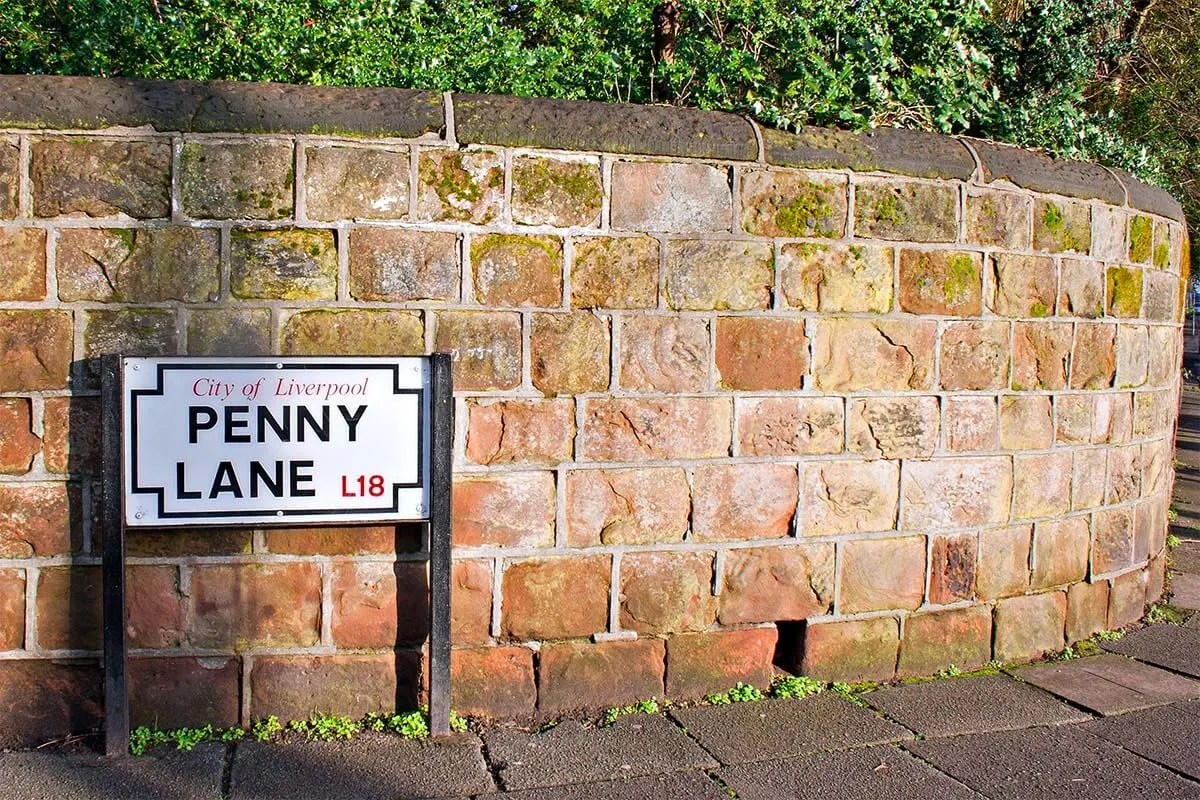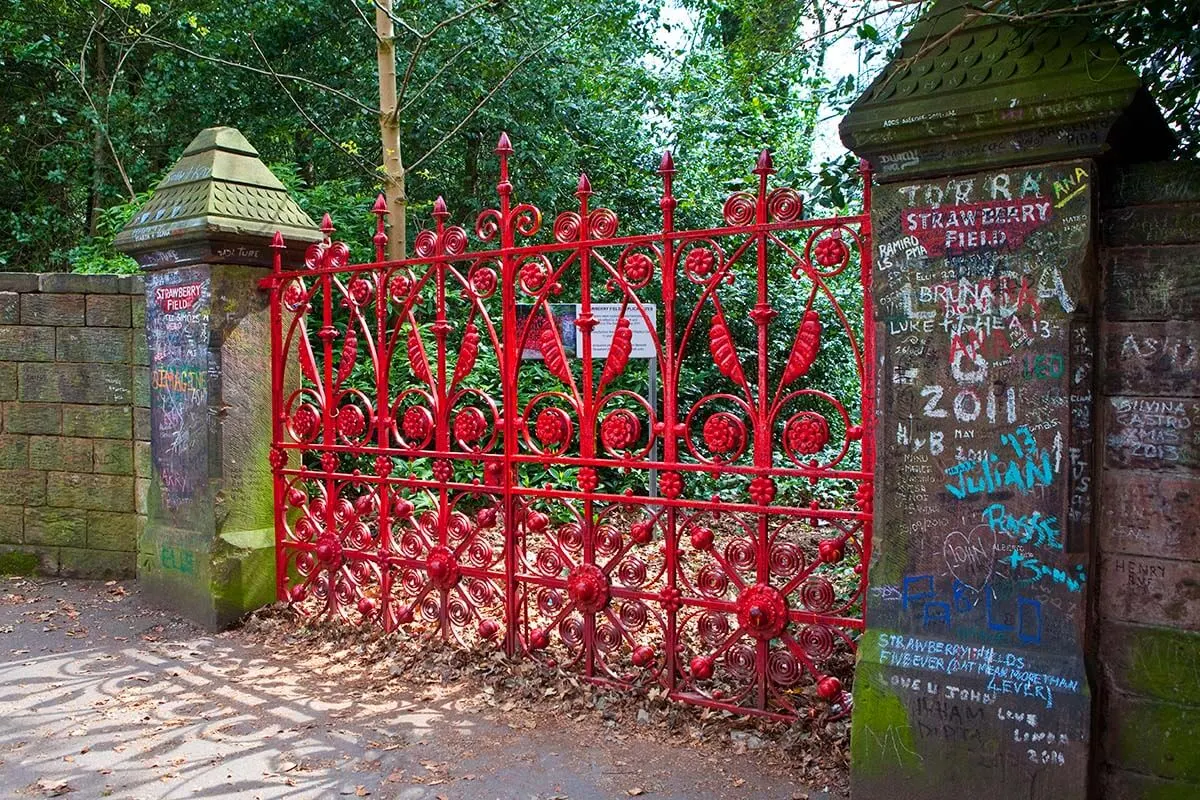 Option 2: Liverpool waterfront and the River Mersey
If a visit to The Beatles Story in the morning is plenty of the Fab Four for you, you can opt for an alternative itinerary for the afternoon. In that case, focus on Liverpool's historic waterfront, which has a lot to offer.
From the Royal Albert Dock, walk along the pedestrianized waterfront to the iconic Royal Liver Building (more info below). It is just a short walk of around 15 minutes.
On the way, you will pass Lovers Locks and several statues including 'Billy Fury' and 'The Working Horse'. An evocative statue is 'The Crossing' (sometimes called 'Legacy') which depicts a young family emigrating to the United States. Liverpool was the departure point for thousands of families seeking a better life in the U.S.
TIP: The most visited statue on the waterfront is The Beatles statue at Pier Head. The lifelike bronze statues have captured The Beatles in their happier early years. Look out for the extraordinary details on the statues that hint at future life paths such as George Harrison's Sanskrit belt.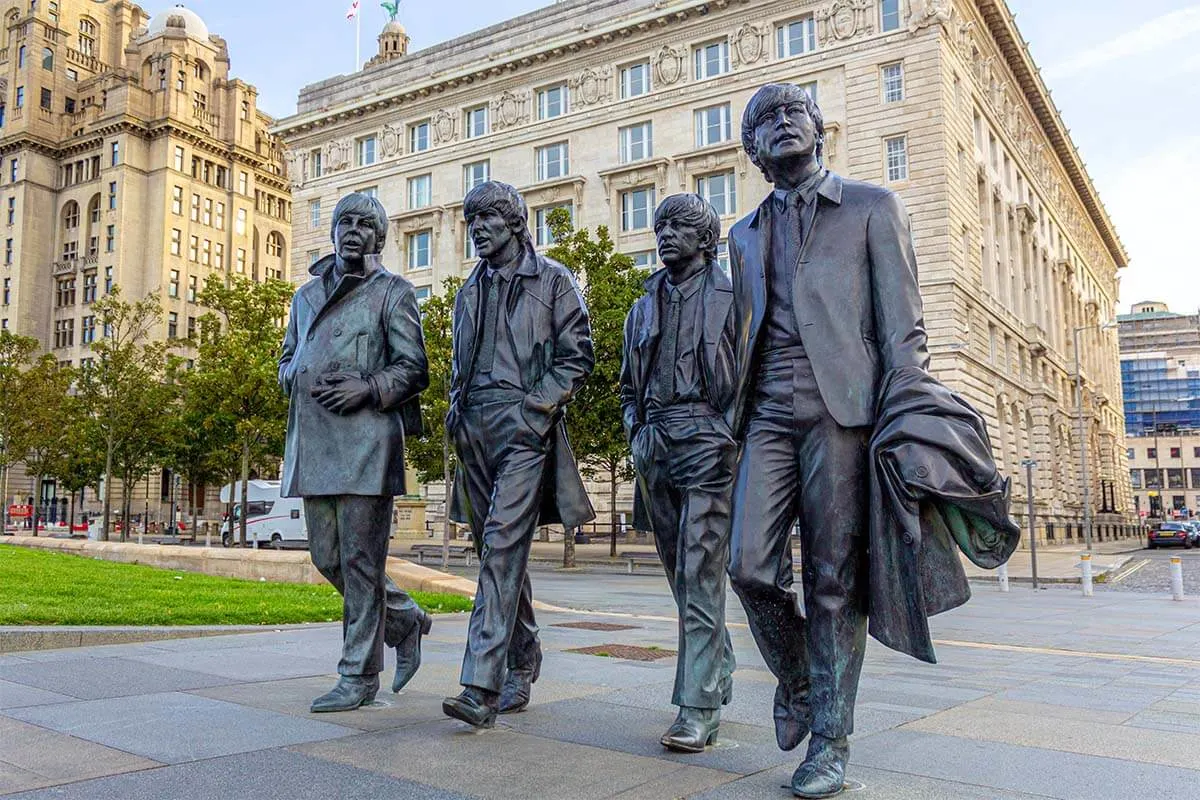 Royal Liver Building 360
The Royal Liver Building dates back to the early 1900s and is a Grade-I listed building. Sitting on top of the building are the symbols of Liverpool, the famous Liver birds.
On the ground floor, you'll find the Visitor Center (free to enter). Exhibitions inside detail how the building was constructed and its colorful history. In addition, we highly recommend the Royal Liver Building 360 experience.
This guided tour gives you access to the 10th and 15th floors where you can get a fantastic 360-degree view of Liverpool. There is also a newly opened audio-visual display in the clock tower.
Good to know: The full tour is not suitable for people with access difficulties. You can travel to the 10th floor by lift but from here, the 15th floor can only be accessed by stairs.
Practical information: If you want to go to the top, be sure to book the tickets for a specific time slot in advance. You will need to allocate 70 minutes for the guided tour. Count at least 1.5 hours for the overall visit.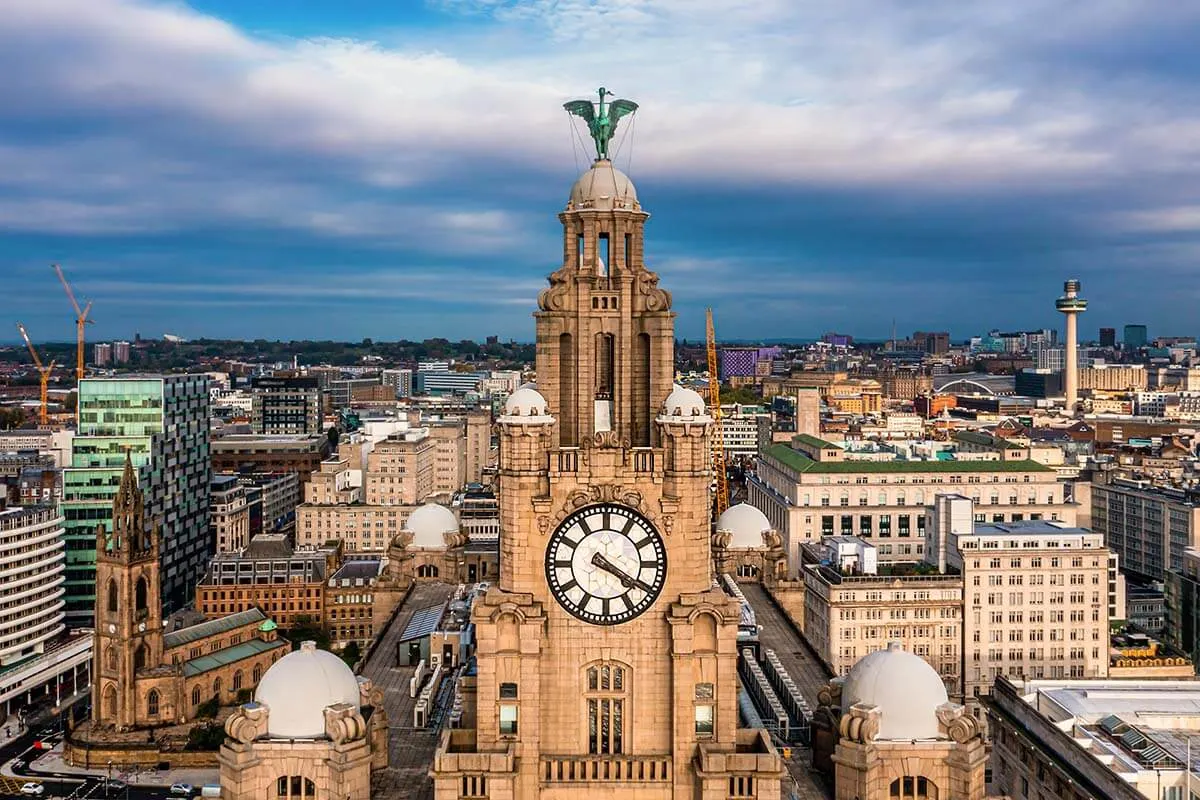 River Mersey Cruise
After all the sightseeing, you can rest weary feet with a 50-minute sightseeing cruise on the River Mersey.
The cruise departs directly opposite the Liver Building at Pier Head. It travels a loop of the River so you can see both the Liverpool and Wirral skyline. The route travels as far as Dockers Clock and Liverpool's Anglican Cathedral. There's also an audio commentary so you can learn about the buildings you are seeing as well as the city's rich maritime past.
Practical Information: Ferries depart every hour on the hour. Pre-booking is advised. Arrive at the dock at least 15 minutes before your departure time.
Good to know: There is both indoor and outdoor seating available on the boat. We recommend dressing warmly and staying outside.
After your cruise, walk from Pier Head to The Cavern Club on Mathew St. It's a short 10-minute walk.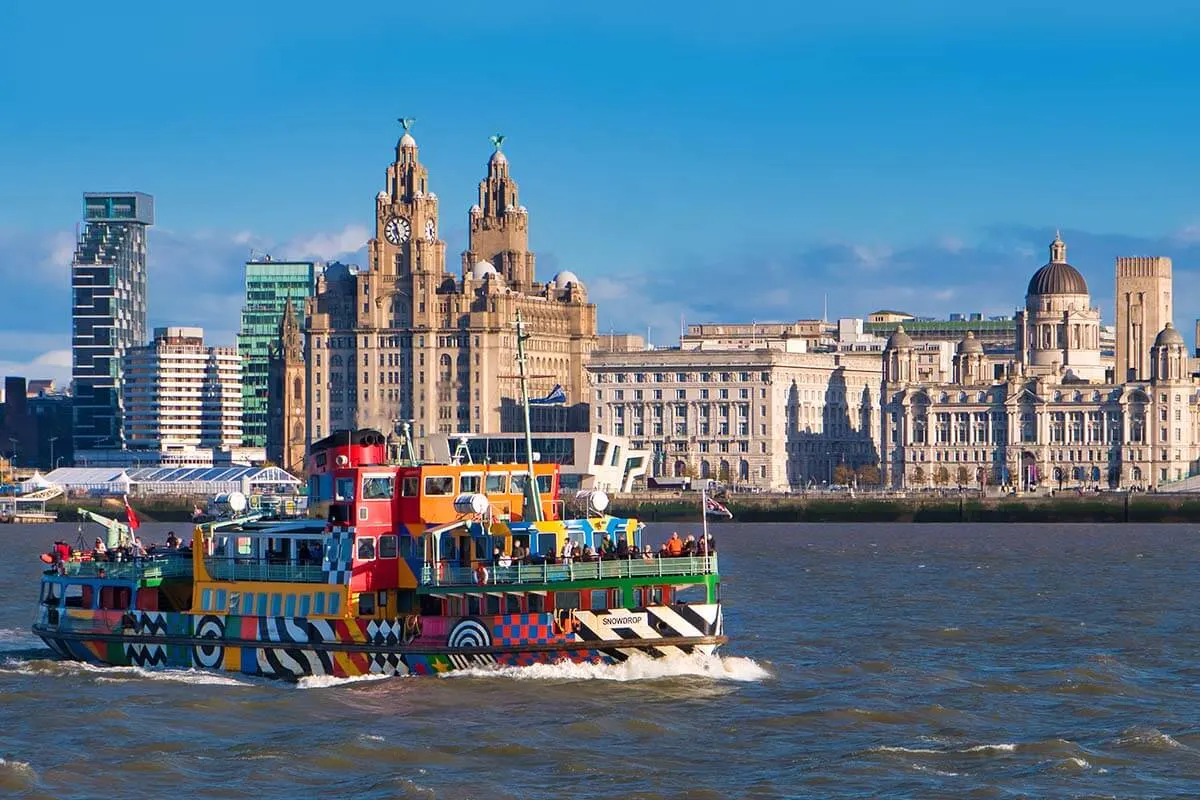 Late afternoon: The Cavern Club
No matter which option you choose above, The Cavern Club will be the next stop on your itinerary. If you booked the Magical Mystery Tour, it ends here (and the entrance to the Cavern Club is included in your ticket). And if you opted for the second sightseeing option, you can easily walk here after your river cruise.
The Cavern Club is forever linked with The Beatles. It is where they launched their career. But the club still operates as a music venue today.
The club has a main stage for daily live music and a separate live lounge for special events. Live music is performed each day from 11.15 am. Beatles tribute bands also perform here. Check the lineup for the day of your visit here.
Practical Information: Unless you go with one of the tours where the standard entry to the club is included, you cannot pre-book The Cavern Club and have to pay at the door on entry. However, you can pre-book events in the live lounge. A ticket for the live lounge includes general admission to the rest of the club but not vice versa.
Good to know: Children are welcome in The Cavern Club but only until 8 pm.
TIP: Mathew Street where Cavern Club is located is home to some of Liverpool's most popular statues. Be sure to visit the John Lennon and Cilla Black statues.
READ ALSO: The Best Beatles Attractions in Liverpool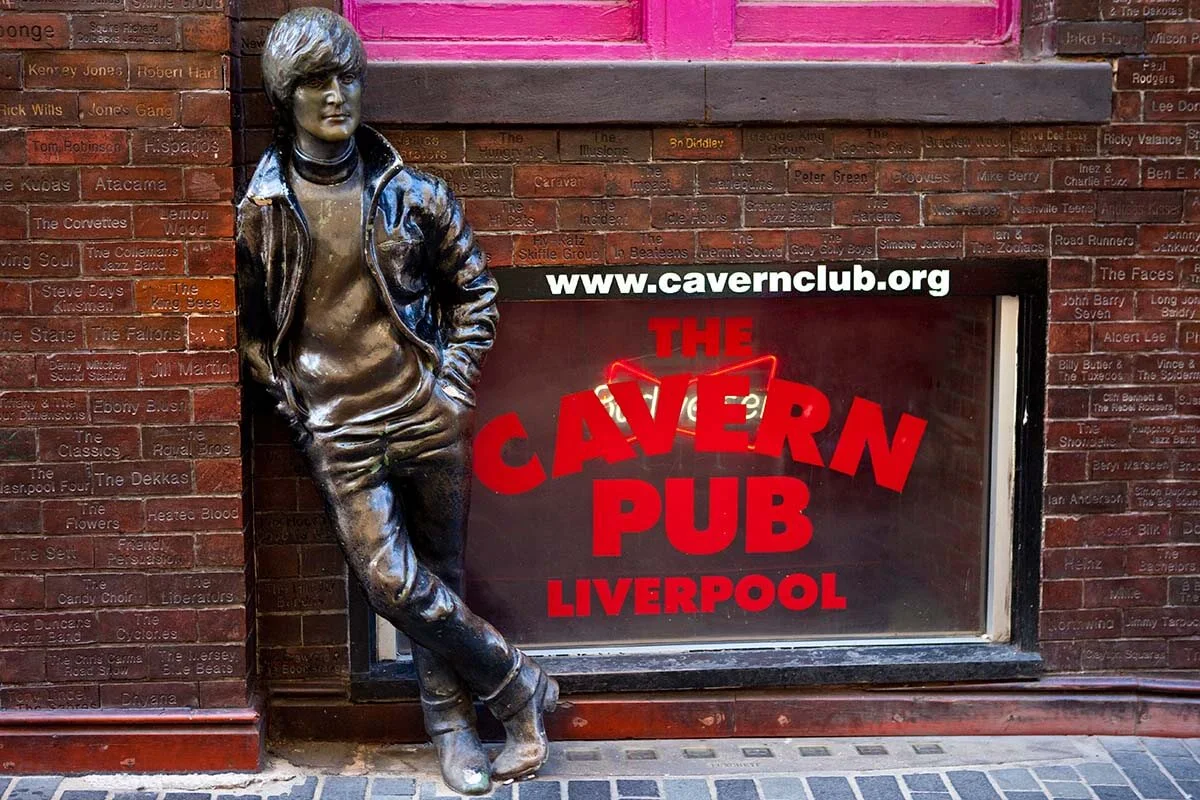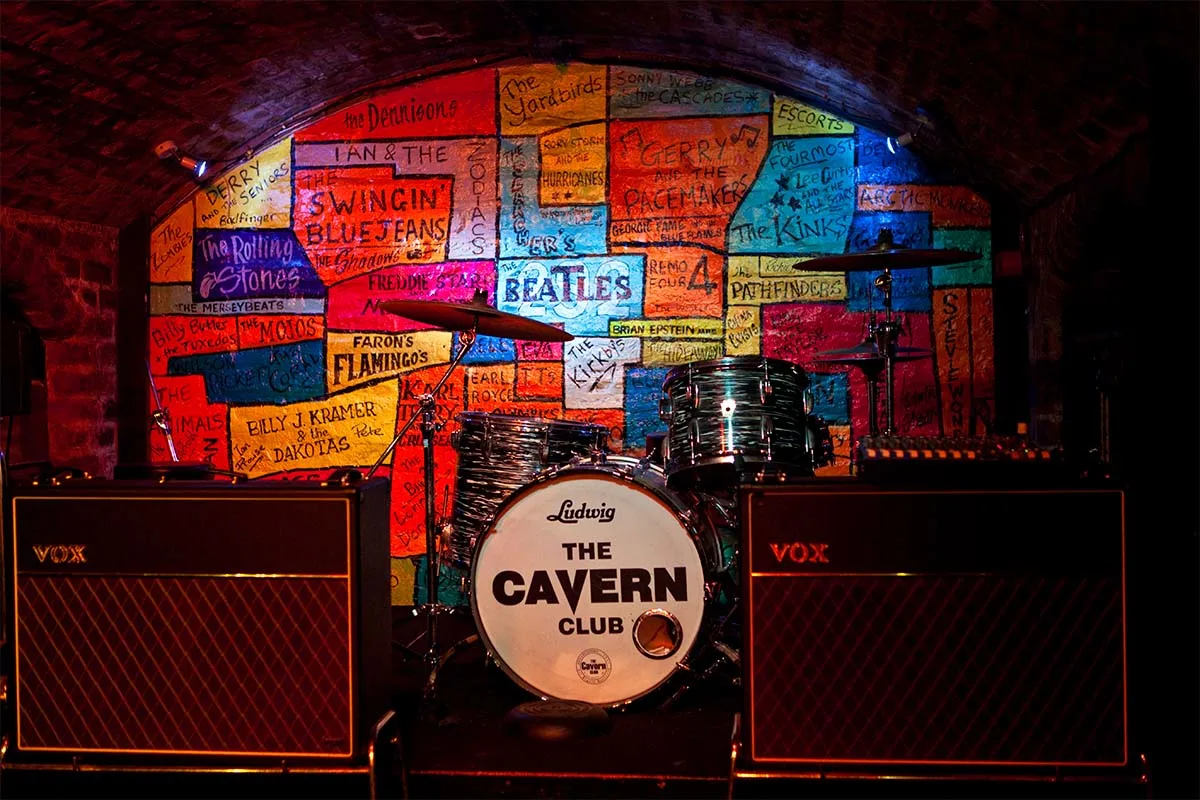 Early dinner
Before you leave from Liverpool back to London, you'll likely want to have some dinner.
If you are looking for traditional British food, The Cavern Restaurant is a good option. It has a surprisingly affordable menu for such a popular location. Its restaurant sits two floors above the basement music venue and the menu has a wide range of options. The restaurant serves a traditional fish, mushy peas, and chip dinner. You can also try 'Scouse', a Liverpudlian dish made from stewed beef and vegetables.
A popular option nearby is Smoke & Dough. This is a highly rated restaurant in Liverpool ONE, just 5 minutes walk from The Cavern Club. If you order meat, it is cooked in front of you on a grill at your table. Kids will be mesmerized.
Another nice place for dinner is Lunya. This is a popular Catalonian tapas restaurant on Hanover Street, a 7-minute walk from The Cavern Club. They have an extensive menu that includes a street food section, and a very extensive kids' menu. Plus, for the end of a long day of sightseeing, there is a long cocktail menu.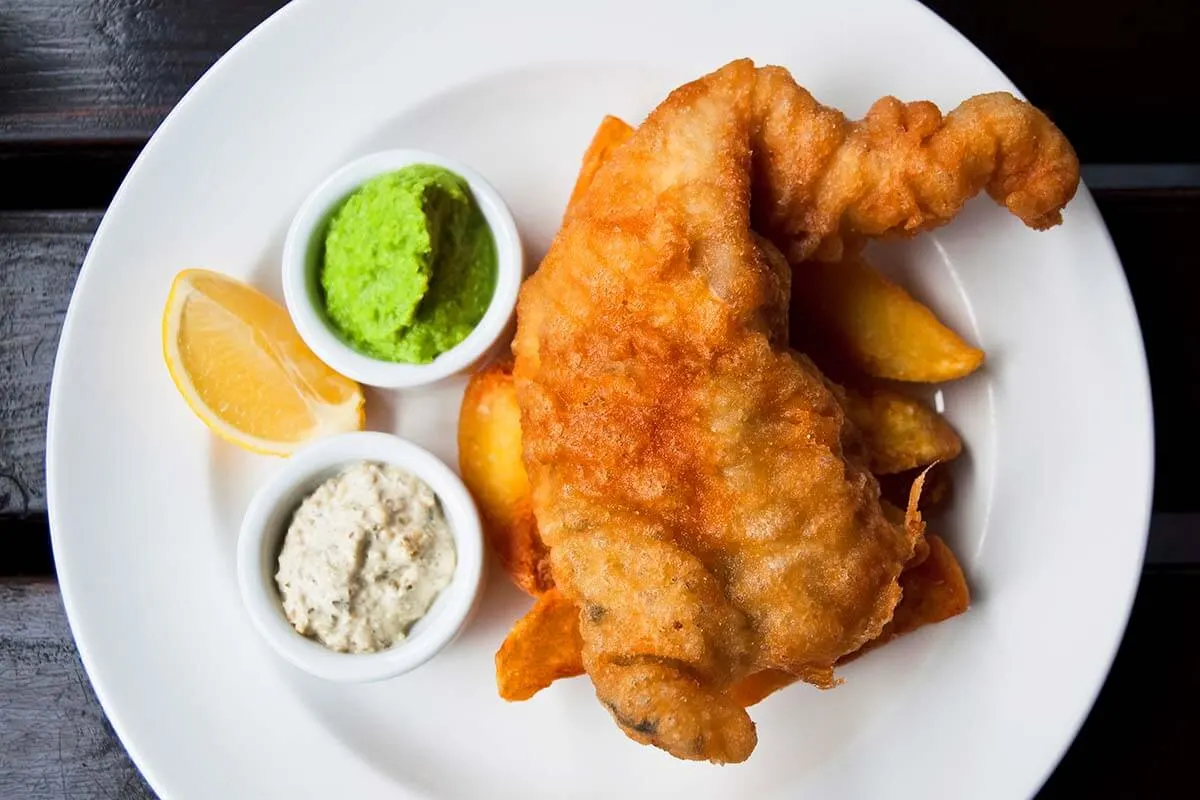 Evening – back to London
Return to Liverpool Lime Street Station to catch the train back to London Euston. The railway station is just about 0.5 miles, 10 minutes walk from the Cavern Club or the above-mentioned restaurants.
The direct trains to London leave once every hour and take around 2 hours and 15 minutes. The last direct train leaves at around 8.48 pm, although times vary.
Of course, you can also opt for an earlier train, but booking one of the latest direct trains would allow you to make the most of your day trip to Liverpool.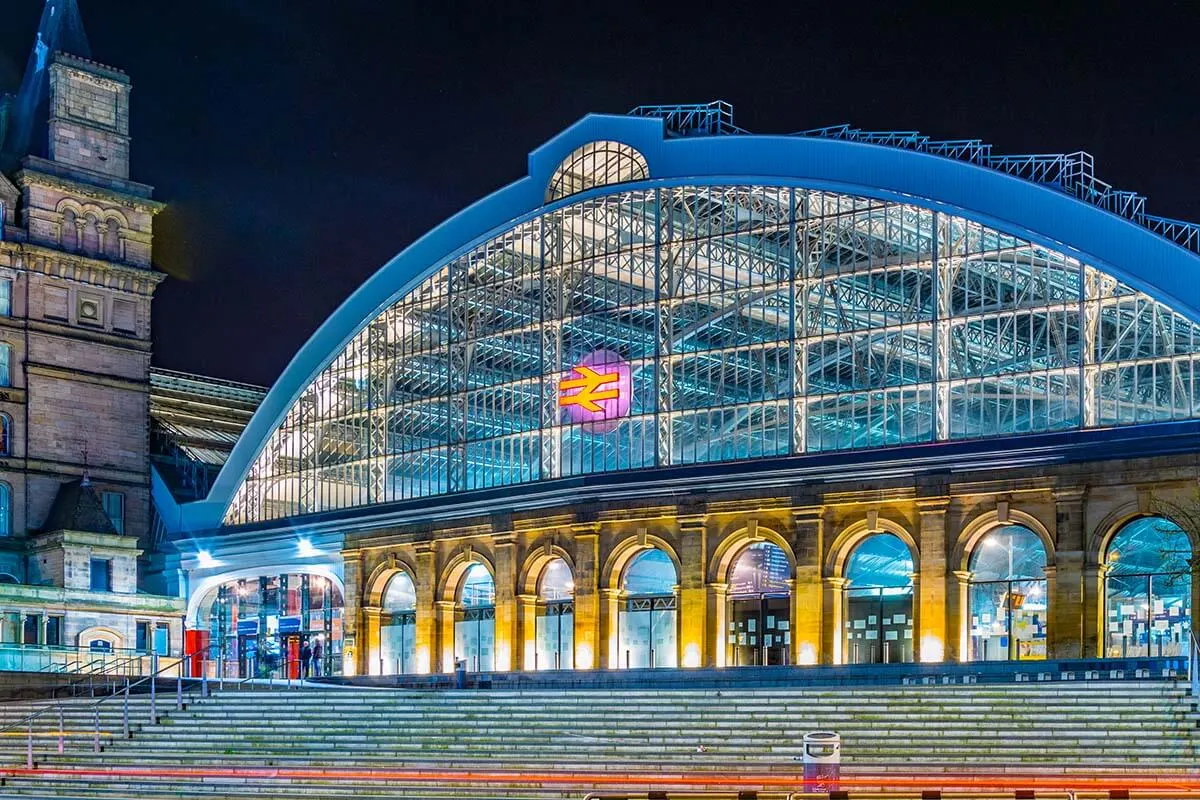 London to Liverpool Day Trip Itinerary Overview & Map
Here's a short overview of the detailed Liverpool day trip itinerary:
+- 7 am: train from London Euston station to Liverpool Lime Street station.
10 am: The Beatles Story.
Lunch at Royal Albert Dock Liverpool.
Afternoon:
Late afternoon: The Cavern Club.
Dinner.
+- 8 pm: train from Liverpool back to London.
Important! Whichever option you choose, be sure to book your train tickets as well as entrance tickets/ tours in advance. If you opt for one of the organized tours from London (like this), the train tickets, but also the Mystery Tour in Liverpool (including the Cavern Club), and The Beatles Story tickets will be pre-booked for you already.
To help you orient, here is a map indicating all the main places to see in Liverpool in a day – see below.
And if you decide to stay longer, check out our guide to the best things to do in Liverpool for more inspiration on what to see.
How to use this map: Use your computer mouse (or fingers) to zoom in or out. Click on the icons to get more information about each place. Click the arrow on the top left corner for the index. Click the star next to the map's title to add it to your Google Maps account. To view the saved map on your smartphone or PC, open Google Maps, click the menu and go to 'Your Places'/'Maps'. If you want to print the map or see it in a bigger window, click on 'View larger map' in the top right corner.
Tips for Visiting Liverpool from London
Here are some practical tips and info that you may want to know when planning a day trip to Liverpool:
Take a very early train from London and a late train back as it will give you a full day in Liverpool. You can rest or catch up on sleep on the train. Also, arrive at the station well in advance – it can be overwhelming when busy.
Avoid traveling by train on a Monday or Friday morning. Also, tickets on a weekend usually cost more. Either way, get your tickets in advance.
Pick up a continental breakfast at London Euston or nearby before you board the train. This will save buying expensive food on the train. It will also save you time once you arrive in Liverpool. There are several cafes, supermarket outlets, and pastry shops on the Euston Station concourse. Some of them are open as early as 6 am.
Book in advance. This counts for all the attractions you want to visit and the tours you wish to take, but also restaurants (especially for dinner). It will save lots of queuing time, especially in peak season, AND you'll be sure you can actually visit the places you want at the best time that fits your sightseeing itinerary.
You can use online maps, or download one to your phone before you arrive in Liverpool. This day trip to Liverpool itinerary minimizes walking, but it's useful to have a map to guide you from one place to another.
Unless you want to be part of the action, avoid visiting Liverpool on football match days. Liverpool city center gets very busy when Liverpool or Everton host a home game. You can check the match schedules here. Similarly, the city is very busy when horse racing is on at the nearby Aintree Racecourse. The busiest day is on Grand National Day in early April.
Wear comfortable shoes. As with all city trips, you'll be walking a lot, so be sure that your footwear is comfortable and your clothing is adapted to the ever-changing English weather.
READ ALSO: Best Day Trips from London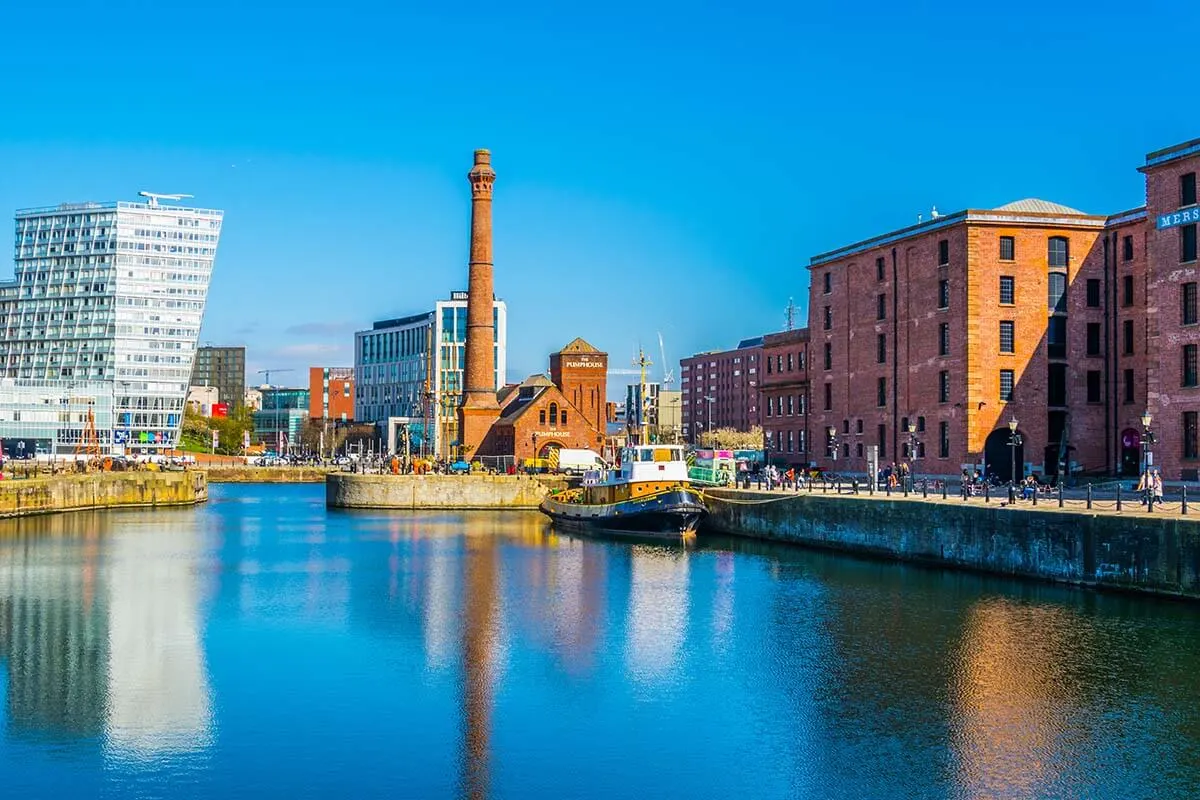 So, this is our guide to a perfect Liverpool day trip from London. Have a great time!
TIP: If you found this guide useful, be sure to check our other articles about London and many other destinations all over the UK.
London travel inspiration & tips:
You can find many other destinations in our UK travel guide.
If you found this post useful, don't forget to bookmark it and share it with your friends. Are you on Pinterest? Pin this image!
Image credits: Unsplash, Pixabay, cowardlion/Depositphotos.com, chrisdorney/Depositphotos.com mx9uk/Depositphotos.com.