getyourguide.com/s?q=Camden london&partner_id=6N2B5KS&cmp=CamdenTownLondon(opens in a new tab)
Visiting one of the coolest neighborhoods in London, UK, and wondering what there's to see and do in Camden Town? This guide will give you a good idea of what to expect when visiting Camden, plus we include some useful tips for each place and activity. Find out!
Camden Town is one of the most vibrant neighborhoods in London, best known for shopping and entertainment. It is artsy, creative, and buzzing with live music and famous markets. All this makes Camden one of the city's most popular boroughs to visit, in addition to the most famous sights and attractions in London.
Everywhere you turn there is something fun to do in Camden. Whether it's catching a live gig at an iconic music venue, dining on delicious international dishes, or enjoying the natural beauty of its royal park.
Above all, what makes Camden such a great place to visit are the people. It has such a diverse mix of locals and visitors, many hailing from all over the world and all enjoying the area's hip, cool and friendly vibe. It will come as no surprise that Camden has been home and inspiration to many artists, writers, and poets. Charles Dickens, Amy Winehouse, Virginia Woolf, and Dylan Thomas are just a few of the famous residents of Camden Town.
However, with so much going on, it's not always easy to decide where exactly to go and what to see. Especially if this is your first time in Camden and you only have a few hours…. This guide to the best things to do in Camden should give you a better idea of what to expect and help you decide where to spend your time. It includes all the must-see places, along with tips to make the very most of your visit. Take a look!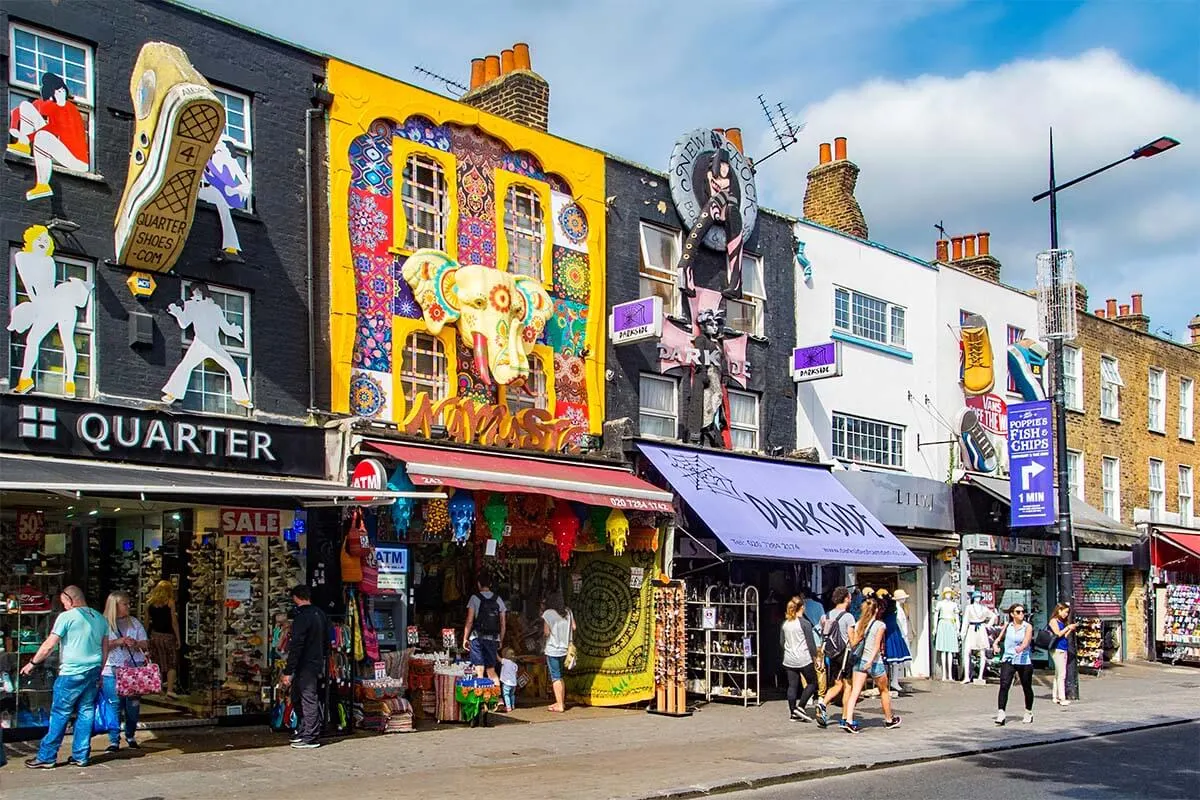 MAP. To help you get a better idea of where everything is, we created this map indicating all the best places to see in Camden mentioned in this guide.
Things to see and do in Camden Town:
1. Camden Markets & Shopping
Shopping may be one of Camden's biggest attractions! After all, that's what made Camden world-famous…
There are things you can buy here that you just won't find anywhere else!
And you are not limited to just shops! There are markets and random stalls set up throughout the area, selling quirky, eclectic goods ranging from vintage clothing and antiques to artwork and beautiful ceramics.
That doesn't mean that you can't find regular high street stores too. You'll see some big-name brands side-by-side with the indy stores that make the Camden neighborhood so unique!
Many people come to Camden just for the markets. And while there are a few dotted around town, the one you simply must not miss is the market at Camden Lock, which incorporates what used to be the old Stables Market. It has a mixture of indoor and outdoor stalls selling just about every weird and wonderful item you can think of, along with countless street food stalls serving fabulous cuisine from all over the world.
Another Camden market worth a mention is the sustainability-focused Buck Street Market. This quirky site is made up of recycled shipping containers. The traders sell eco-friendly items, there are different environmentally-conscious food vendors, and – best of all – there is a huge, pink rooftop bar, covered in greenery and a great spot to kick back and relax.
TIP: Camden markets are the best place for picking up the more unique items. Some of the quirky shops on the high street tend to have more cheap, mass-produced items than genuine hand-crafted goods.
LEARN MORE: Camden Market: Info & Tips for Your Visit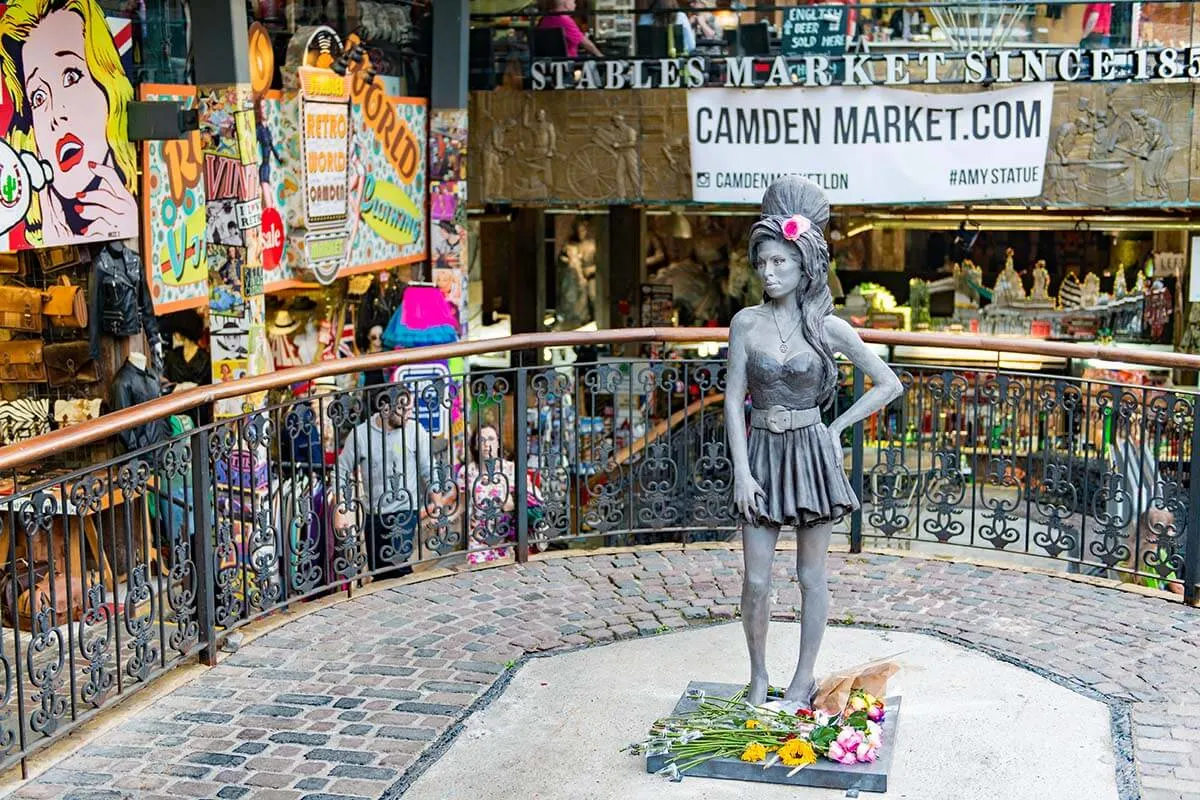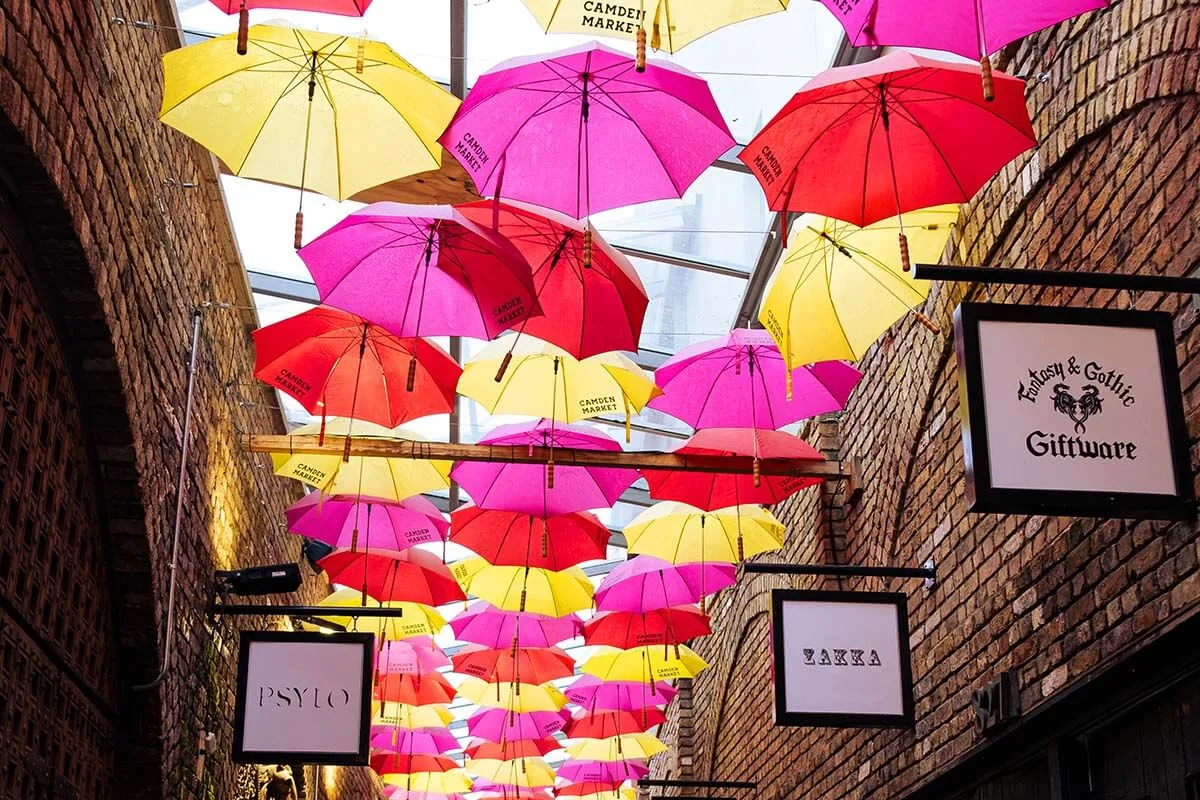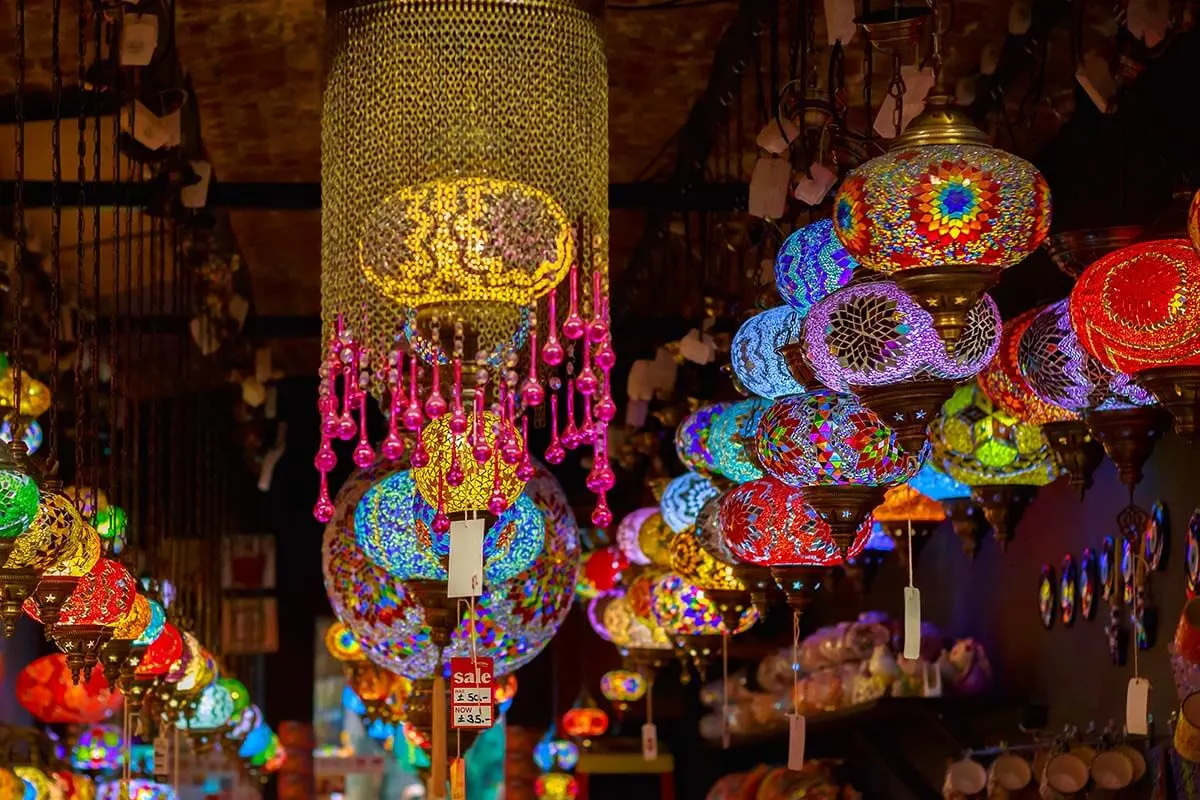 2. Street Art & Creative Artwork
As already mentioned, Camden Town is a hub of creativity, and you'll see it expressed in so many ways…
While browsing the stores, be sure to look upwards to take in some of the spectacular artwork on the facades of the buildings. The higher floors of many of the shops are brightly painted in vivid colors and some even have objects like massive dragons protruding from the brickwork!
In addition to the brightly painted shops and buildings on High Street, there are lots of murals and street art throughout the area.
Some of these striking pieces are by well-known street artists and others are anonymous. But almost all are reflective of current events or carry some kind of political message.
By its very nature, street art is temporary, so it isn't possible to list the very best pieces to visit. Nevertheless, the areas you are most likely to find some amazing work are Castlehaven Road, Hawley Street, and Kentish Town Road.
Better still, book a tour with a local guide, because they know exactly where to go and often, it is really easy to miss some of the smaller pieces, particularly those that are placed high up on walls.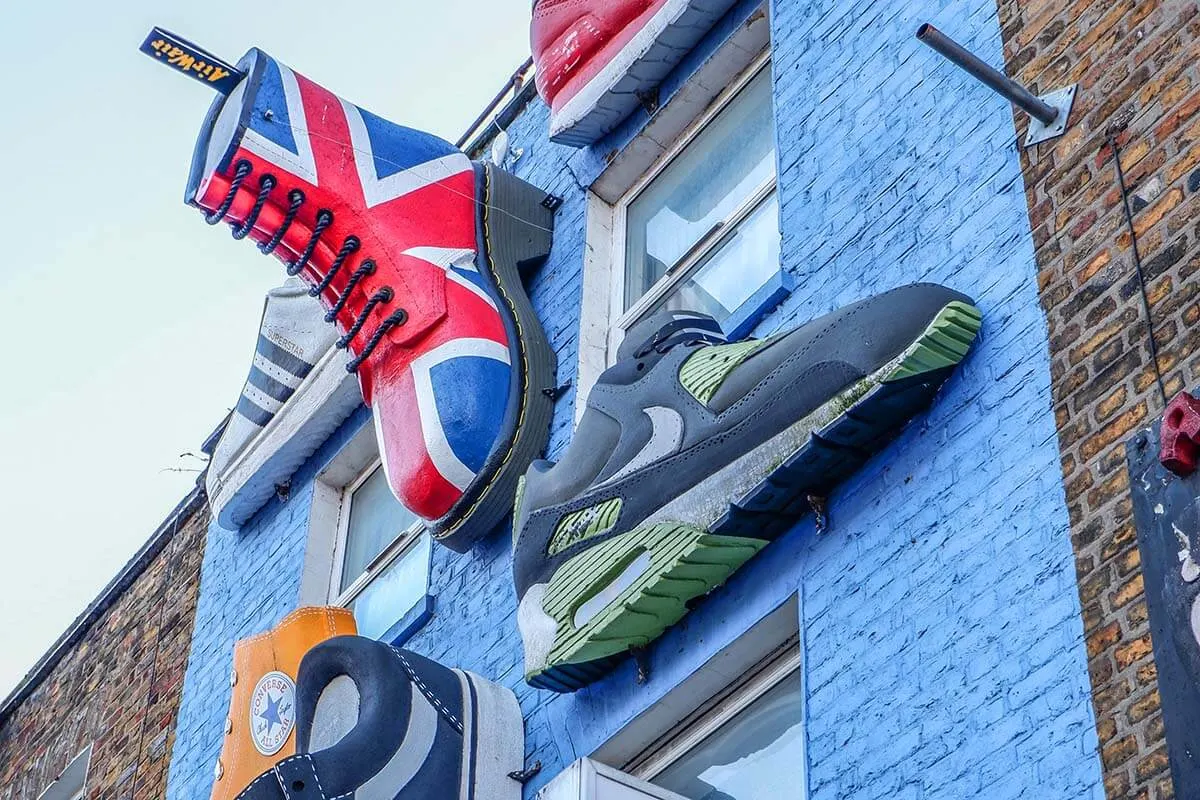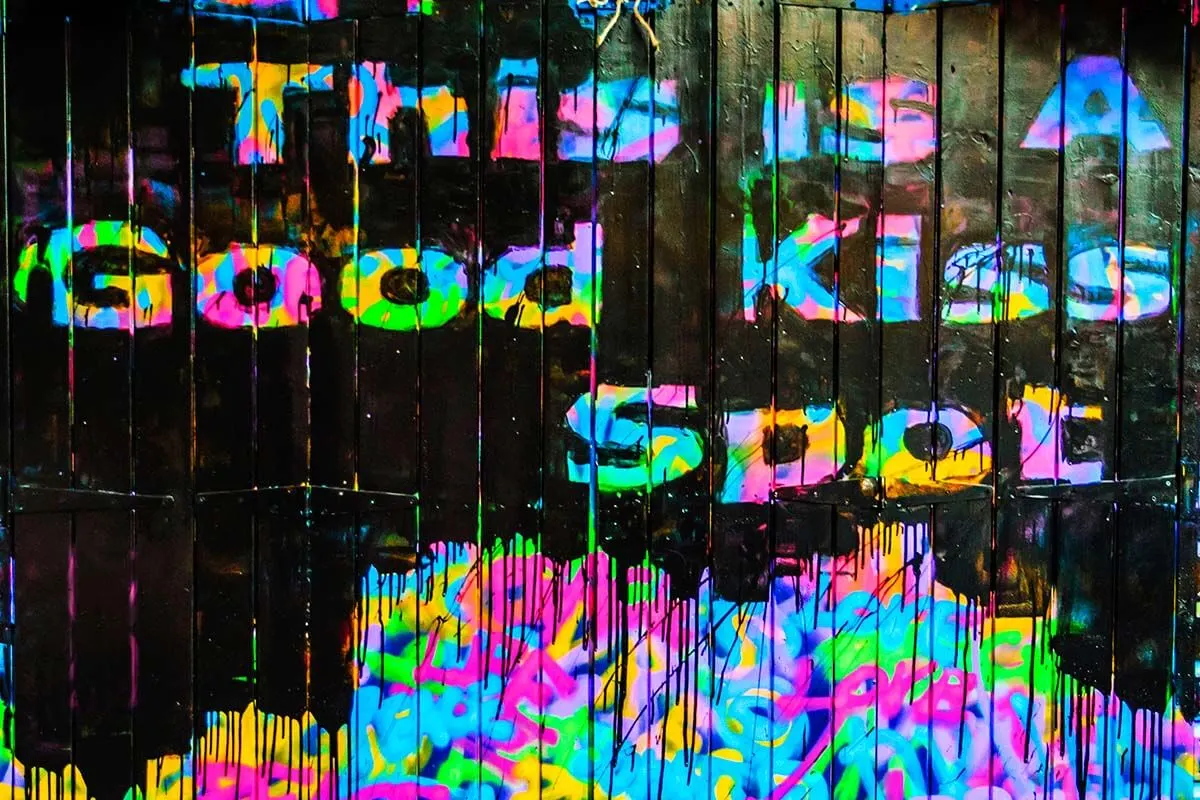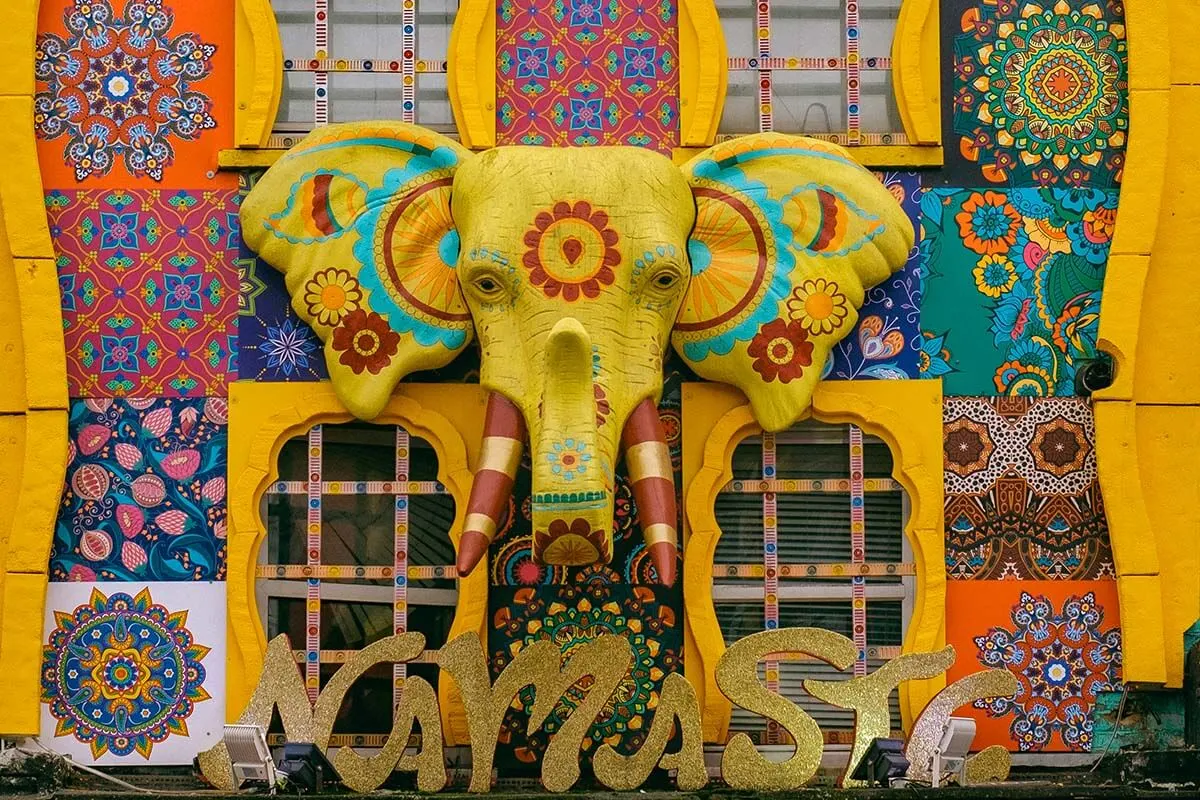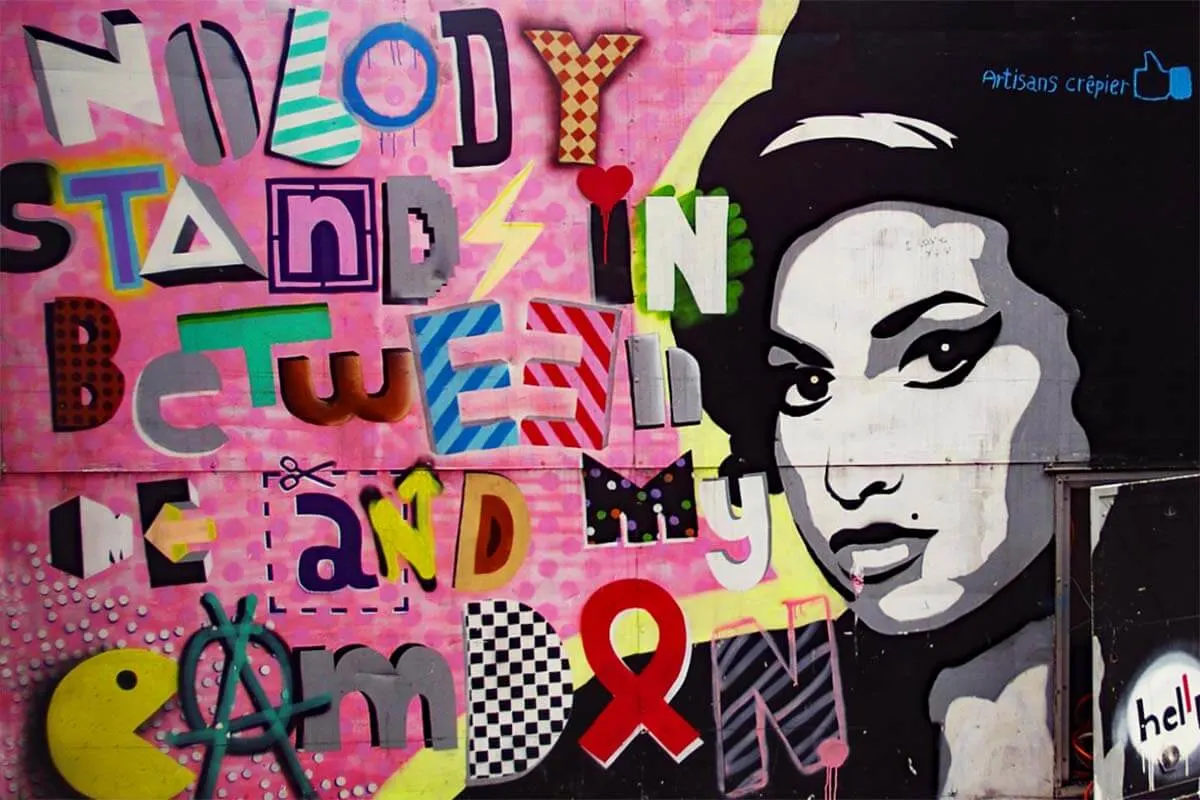 3. Primrose Hill
Primrose Hill is one of the chicest places in London and home to many celebrities, including Hollywood actors, supermodels, and politicians. The houses here are painted in pretty pastel colors, and the area is dotted with upmarket restaurants and fancy fashion boutiques. The contrast between Camden High Street and genteel Primrose Hill is huge!
In addition to its famous residents, Primrose Hill is best known for its namesake hilltop park, a beautiful green space just a 10-15 minute walk from Camden Town tube station. The perfect oasis in this vibrant part of the city, Primrose Hill offers spectacular views! It's often mentioned as one of the best viewpoints in London, so don't miss it!
In fact, the area is one of only 6 protected viewing points in the capital. This means that the trees are regularly cut back so as not to obscure the scenery.
TIP: Be sure to visit Chalcot Crescent and Chalcot Square – the most stylish streets in the district. And if you're visiting on a Saturday, pop along to Primrose Hill Market, held weekly from 10 am to 3 pm at St. Paul's School. Packed with over 50 stalls selling artisanal and street foods, it's a great place to stop for breakfast or lunch.
Good to know: Primrose Hill Park is one of the few (if not the only) parks in London that's usually open day and night. However, they sometimes close it if there's too much noise disturbance. See the official website for up-to-date info if you are planning to visit outside the daytime hours.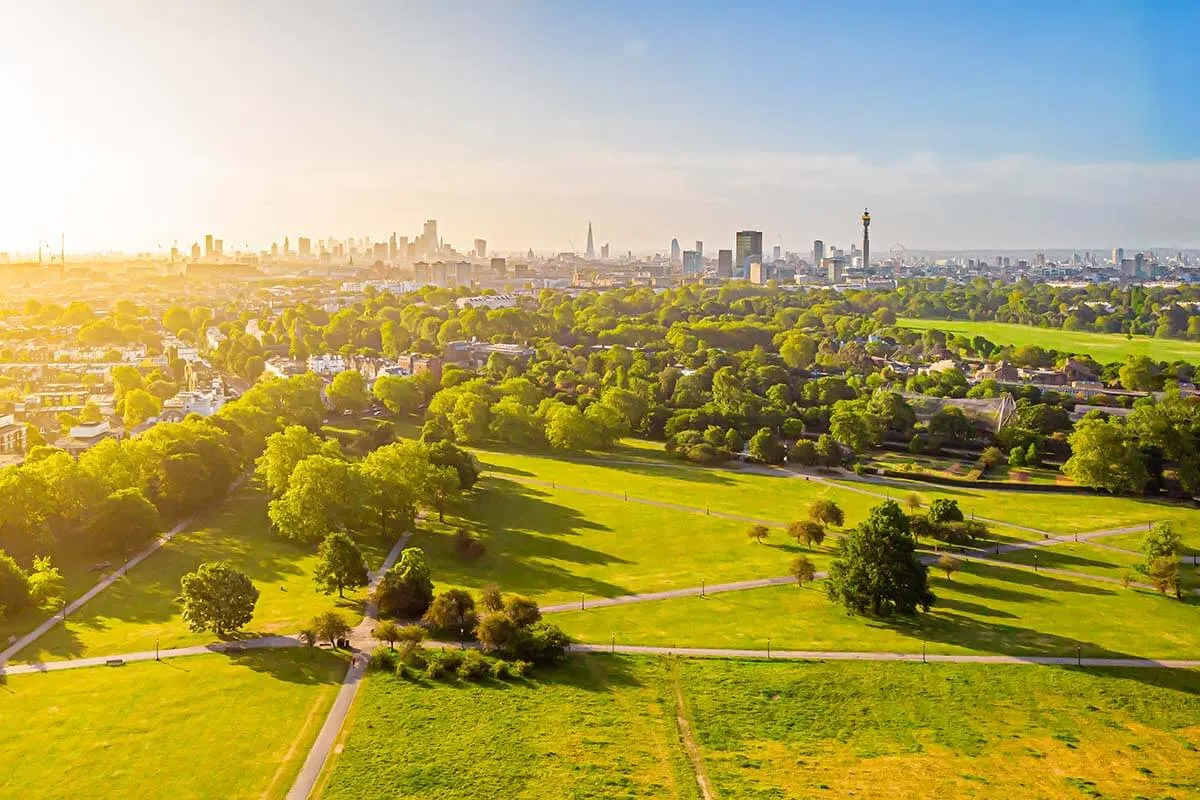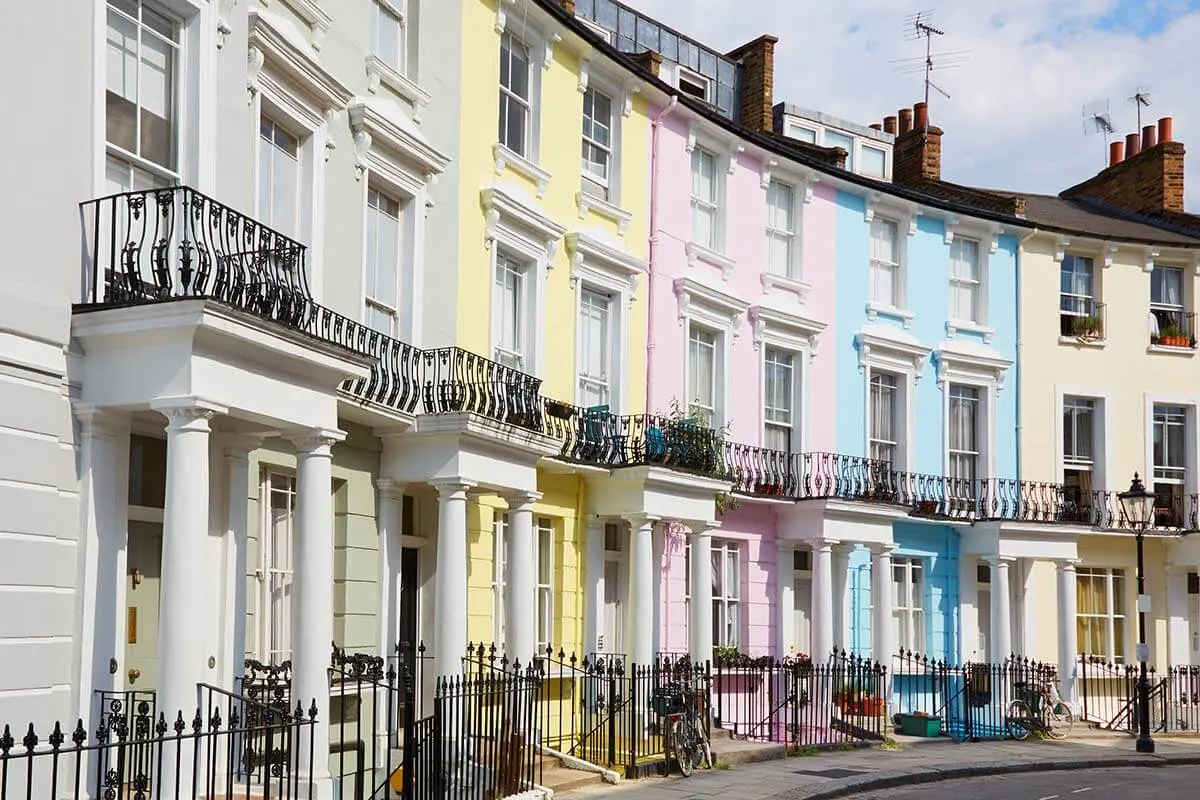 4. The Regent's Park
The Regent's Park is adjacent to Primrose Hill, just across Albert Road, and was once used as a hunting ground by King Henry VIII. Nowadays, this 400-acre park is home to London's largest outdoor sports area, with facilities for football, rugby, softball, and cricket.
There is a lovely boating lake to enjoy on a warm summer's day, several cafes, and an open-air theatre where you might be lucky enough to catch a live performance.
The rose garden is simply spectacular – with more than 12,000 roses – and wildlife in the park is abundant. You can spot many varieties of birds here and Regent's Park is the only central London Royal Park with a breeding population of hedgehogs. Because of the ongoing conservation efforts, it's important not to touch the hedgehogs if you see any – and to always keep your dogs on a leash.
Good to know: Regent's Park is open daily from 5 am all year round. Closing times vary per season (usually 9-9.30 pm between April and August) – see the link at Primrose Hill section above for the official website with current info.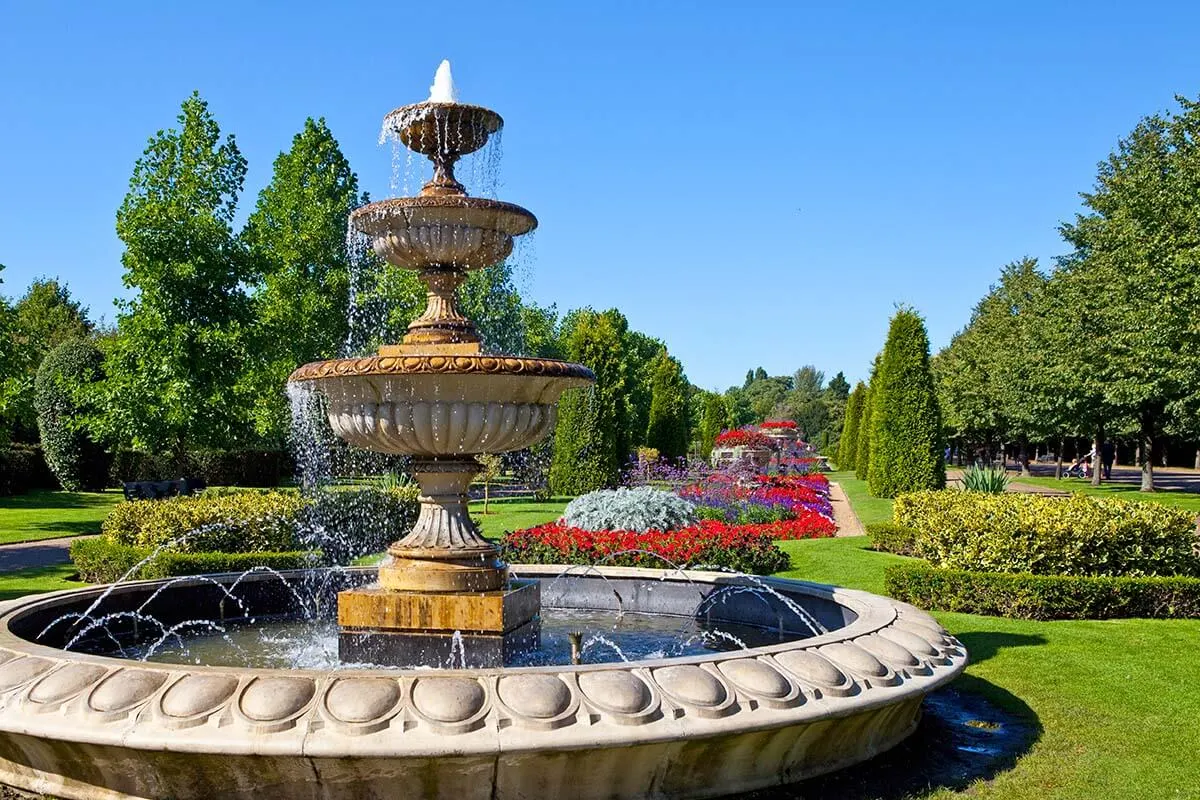 5. Regent's Canal
The atmosphere along Regent's Canal is laid-back and friendly. It's a great place to escape the hustle and bustle of town, although at certain times of day its towpath can be quite busy with walkers, joggers, and cyclists.
If you're feeling brave you can hire your own boat to explore Regent's Canal from the waterside. But if not, there are plenty of return boat tours on offer that take you to Little Venice, just north of Paddington. These boat trips are among the most popular things to do in Camden Town!
We recommend enjoying a canalside lunch here. You could bring a picnic or visit the many food vendors at Camden Lock Market, which surrounds the canal at one point. Alternatively, there are lots of scenic waterside cafes to choose from, along with picturesque traditional pubs.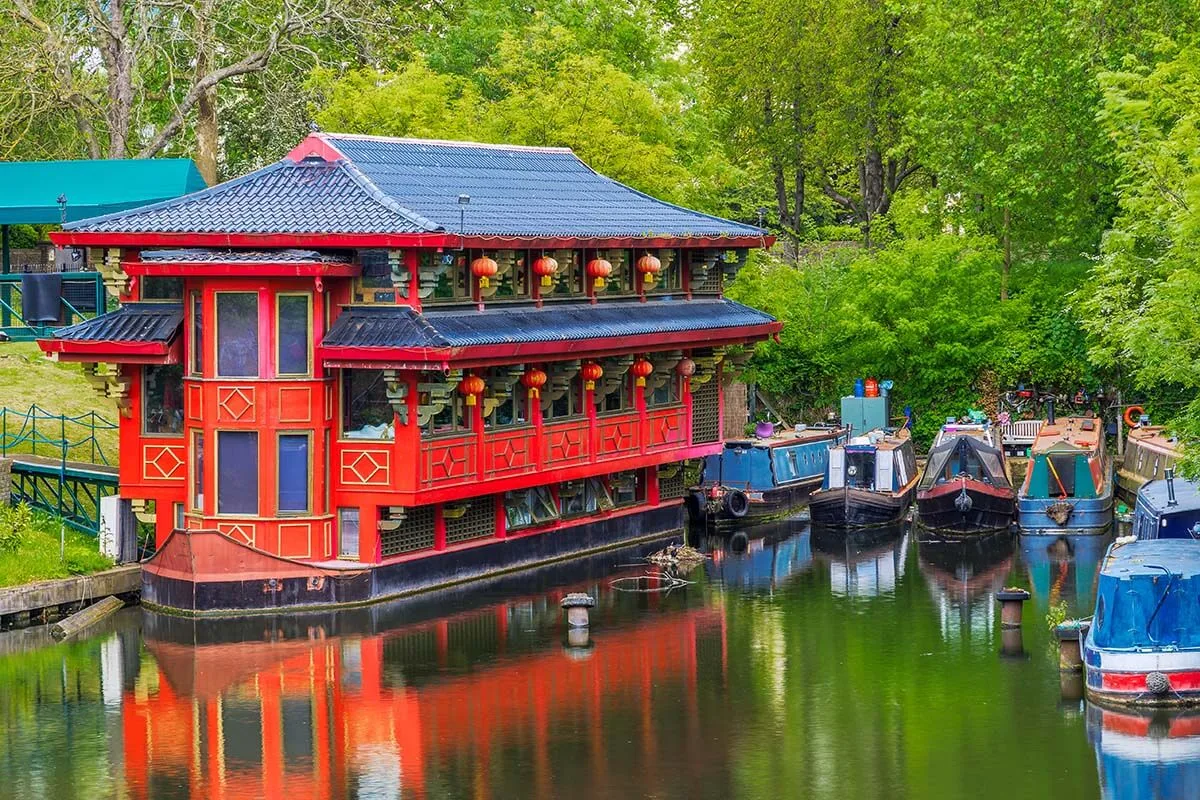 6. Jewish Museum London
The Jewish Museum London is devoted to the history of Jewish people in Britain (from approx. the 11th century until today) and the stories they have to tell.
With four permanent exhibitions and temporary exhibits that change regularly, the museum has some fascinating things to see. Don't miss the recreations of an old East London street and a tailor's workshop.
Its oldest object is a 13th-century mikveh – a bath used in Judaism for ritual cleansing.
Good to know: The museum is just a 3-minute walk from Camden Town tube station. It's open Sunday to Thursday from 10 am to 5 pm (8 pm on Thursdays). For more info, see their website.
TIP: The Jewish Museum gets very busy with school visits from 10 am to 2 pm on weekdays. So we recommend avoiding those times if you want a more peaceful visit.
7. ZSL London Zoo
Founded in 1828, London Zoo is the oldest scientific zoo in the world. It's home to more than 750 animal species.
Located on the northern edge of Regent's Park, the focus of the Zoological Society of London (ZSL) zoo is very much on conservation. So there is lots to see, do, and learn.
In addition to the UK's largest aquarium, London Zoo has well-designed enclosures that allow you to get as close as possible to the animals. There are even areas – like 'Butterfly Paradise' and 'In With the Monkeys' where you can get right in with them!
Perhaps the highlight of a visit is the impressive 'Land of the Lions', where three different walkways transport you on an India-themed journey. See their website for more information and opening hours. You can get skip-the-line tickets online in advance.
TIP: The London Pass (valid for 1-10 days) also includes the entrance to London Zoo.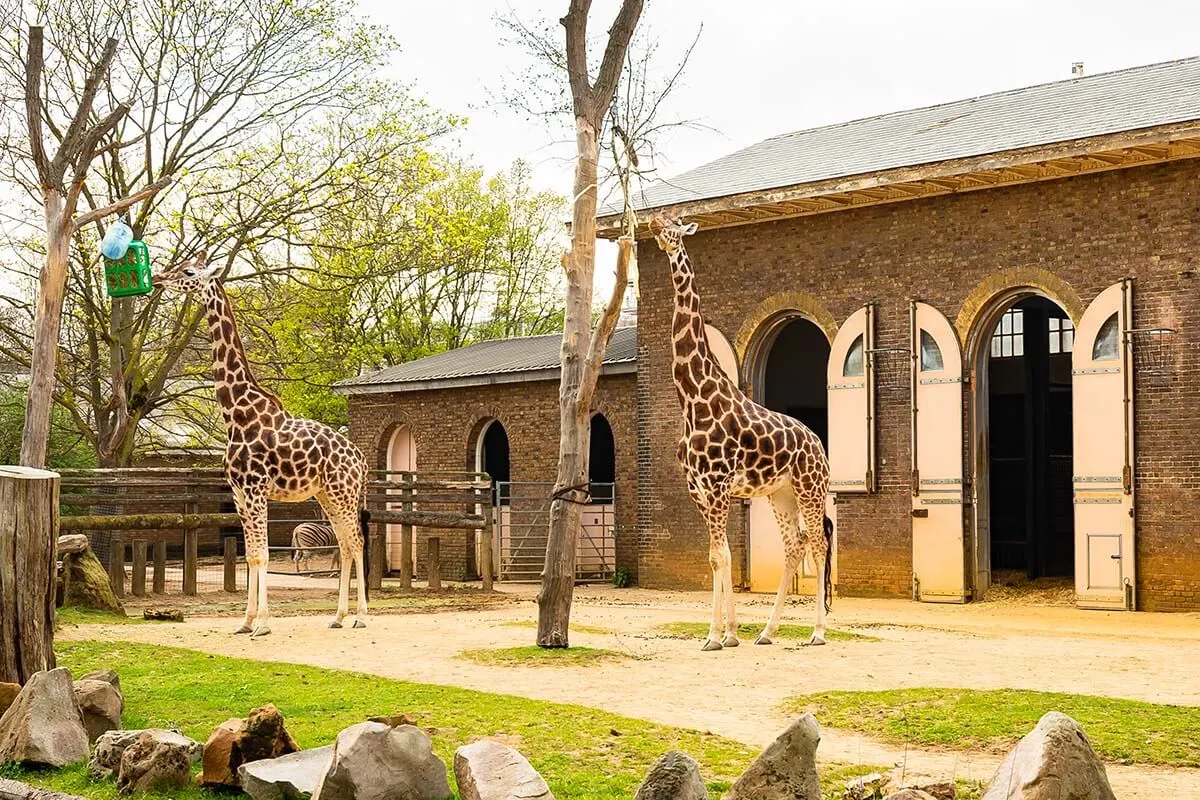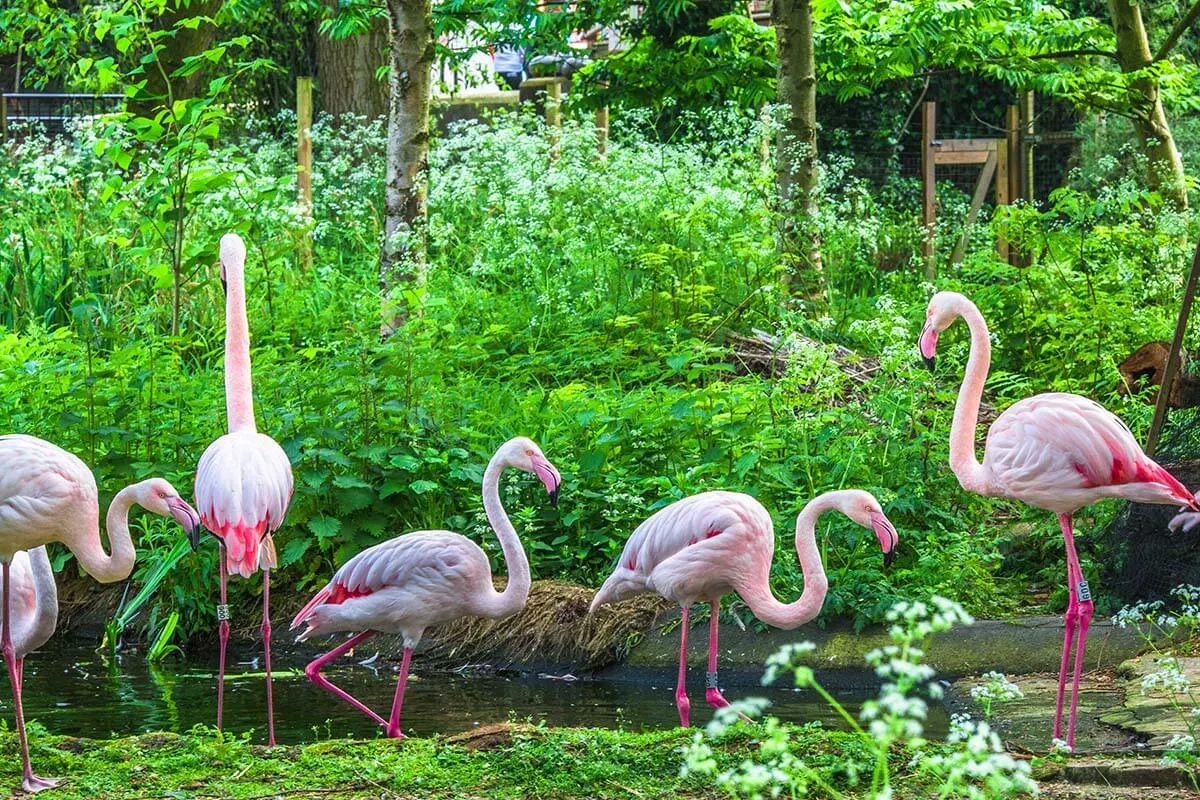 8. Camden Pubs
There are lots of great pubs in Camden, ranging from the historic and charming, to the quirky and unusual. You might want to consider booking an organized pub crawl in order to see the best of them; or do a little research and plan your own route.
There are a few pubs in Camden we'd particularly recommend (we also indicated them on the map above). The Black Heart used to be a sports pub, but is now decorated in a quirky gothic style, with religious imagery on the walls. It serves great pizza, has a retro rock vibe, and even plays films in the room upstairs.
You should also check out The World's End, opposite the Camden Town tube station. It's an iconic North London landmark, with two bars and a mezzanine balcony where you can sit and soak up the great atmosphere. If you try this pub then you're in good company – Charles Dickens often drank here too!
And for a real rock and roll atmosphere – where you can also hear ska, rockabilly, and Northern Soul, check out Joe's, located between Camden Market and Primrose Hill. It has a late license so you're free to dance here into the small hours.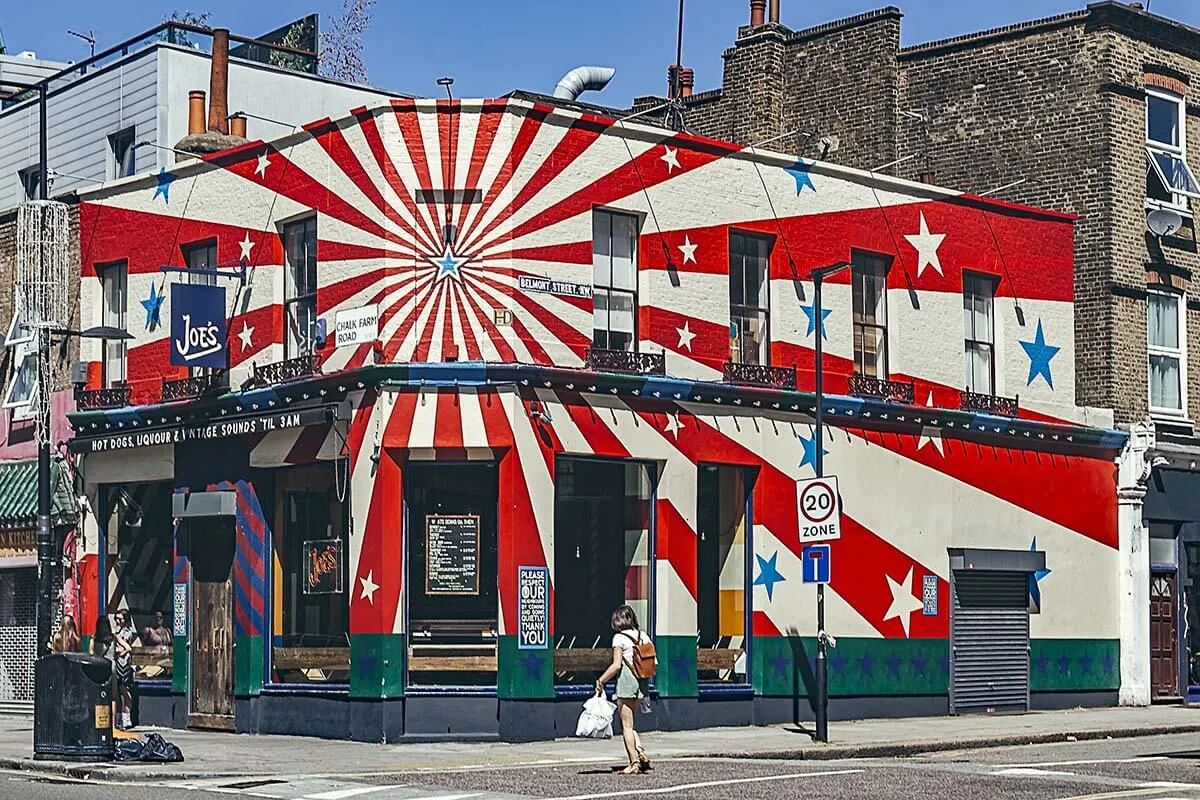 9. Good Food in Cool Venues
We already mentioned the excellent variety of cuisine on offer at Camden Lock Market, where you can sample street food from all over the world. But there are quite a few more eateries that are well worth a visit in Camden!
Shaka Zulu – located within the Stables part of Camden Lock Market – is entirely unique, serving perfectly prepared South African food in a stunning setting. With heavy safari-style furniture, statues of warriors, and carved faux wood covering every surface, a meal there is an experience for ALL the senses.
If you love traditional British cuisine, then you have to check out Poppies Fish and Chips. It is furnished in retro style using authentic fittings from the 40s and 50s, instantly transporting you back in time to when London began rebuilding after WWII. In addition to great food, it has a vintage jukebox and an upstairs performance lounge, with live music on Friday and Saturday nights.
When it's time for dessert, look no further than Chin Chin Lab, right by Camden Market. The first UK ice cream parlor to freeze its ice cream with liquid nitrogen, it has a unique menu that changes on a weekly basis. Some of the weird and wonderful flavors include Tonka Bean, Burnt Butter Caramel, and Apple Butter Pie, which you can finish off with toppings like Grilled White Chocolate, Bee Pollen Honeycomb, and Glossy Cherries. Yum!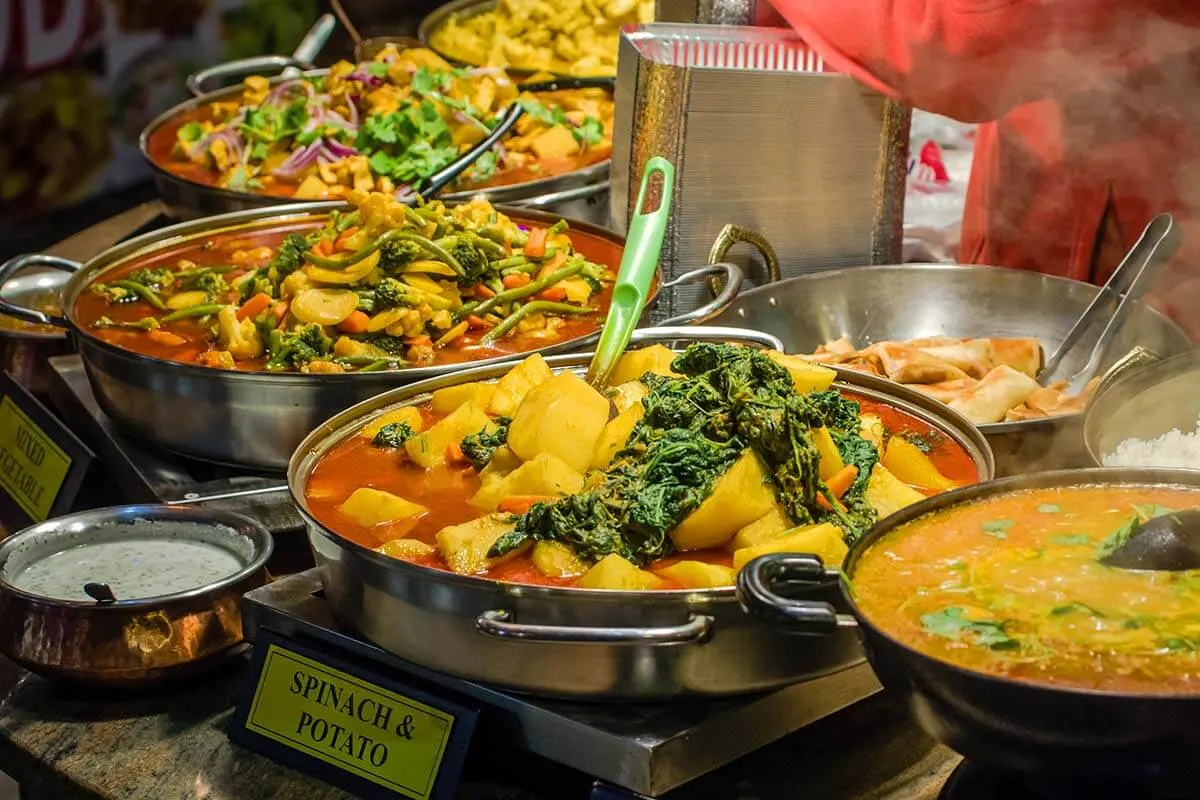 10. Live Music, Giggs & Concerts
Camden town is legendary when it comes to music. It's here that many of the UK's best-known bands started out. So there's no shortage of cool venues where you can enjoy some live music and possibly discover the next up-and-coming act!
One of Camden's most popular spots is the Roundhouse – a circular Victorian building that was once used to turn around railway engines. It is now a well-known space for performing arts, with not just live music but theatrical performances, art installations, and various workshops. While the bar is open daily from 10.30 am to 5.30 pm, events are ticketed.
If rock, indie, punk, and metal are your thing, then check out The Underworld (under The World's End Pub). Previous performers have included Smashing Pumpkins, Placebo, and Radiohead.
For jazz, soul, hip hop, reggae, and funk, head to The Jazz Cafe, just a couple of minute's walk from Camden Town tube station. It's a great place to spend an entire evening, as it has a nice restaurant on the mezzanine, overlooking the stage.
If you are looking for the 'real' Camden Town, then the gritty The Dublin Castle is the place for you. It's a rather intimate venue, so the best way to guarantee a place is to book a table, which you can keep for the whole night. Four bands play here each night and past performers have included iconic groups like Coldplay, The Killers, Oasis, and Madness.
Another spot in Camden famous for live music is the Electric Ballroom in the heart of town right next door to the tube station. Previously host to big names like U2, Snow Patrol, and The Clash, the venue, the Ballroom holds club nights on Fridays and Saturdays and hosts regular ticketed events.
Good to know: Be sure to check their 'what's on' calendars before you visit. As mentioned, some places are best booked in advance too.
TIP: If you'd like to know more about London's Rock 'n Roll history, check out this popular London's rock music history tour that covers some of the best 'musical' places in Camden Town, but also many others, including Abbey Road.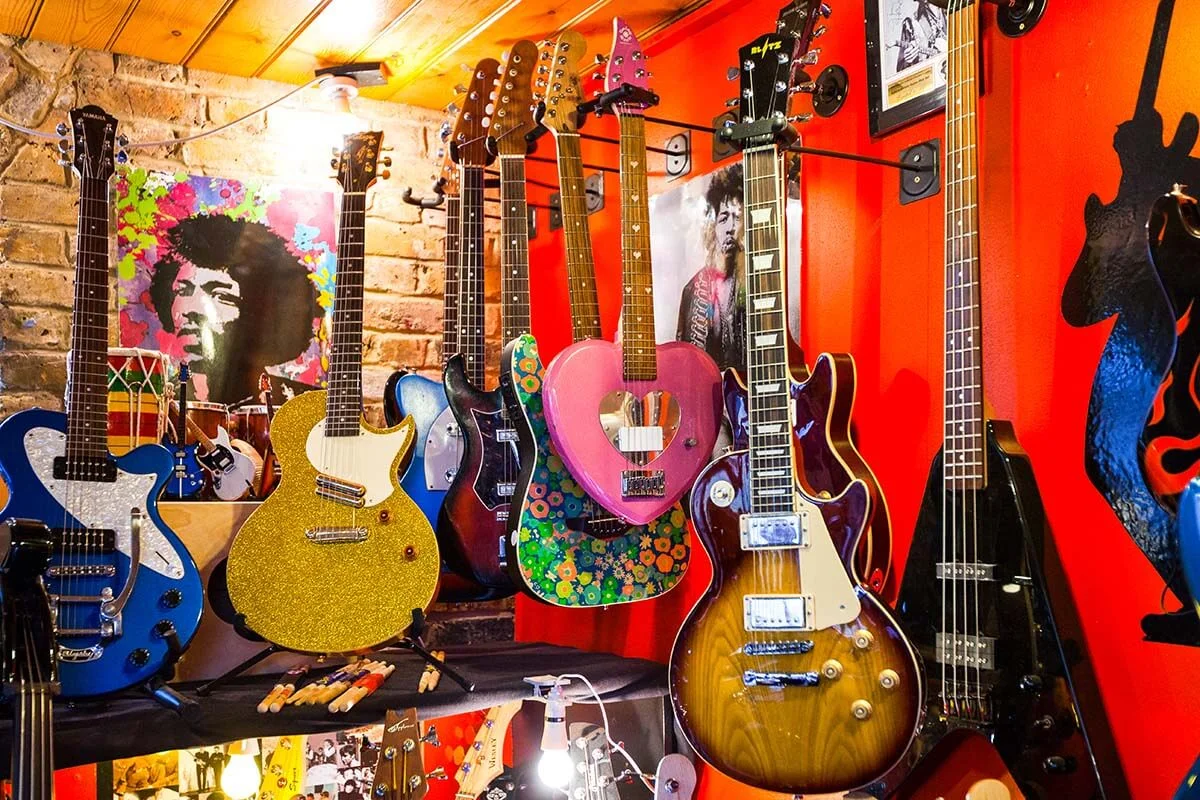 11. Live Comedy
Above the Camden Head pub in the heart of Camden Town is the award-winning Camden Comedy Club. Keeping Londoners laughing 7 nights a week, it features everything from alternative comedy to well-known TV comedians.
If you want to catch an act from one of the biggest names, book tickets for a Friday or Saturday evening. The acts throughout the rest of the week usually consist of new material from up-and-coming artists. They are free to enjoy, although you are requested to pay what you can.
Other comedy venues include The Comedy Loft (located within The Stables part of the Camden Market) and the Monkey Business Comedy Club (just a 3-minute walk from Camden Market).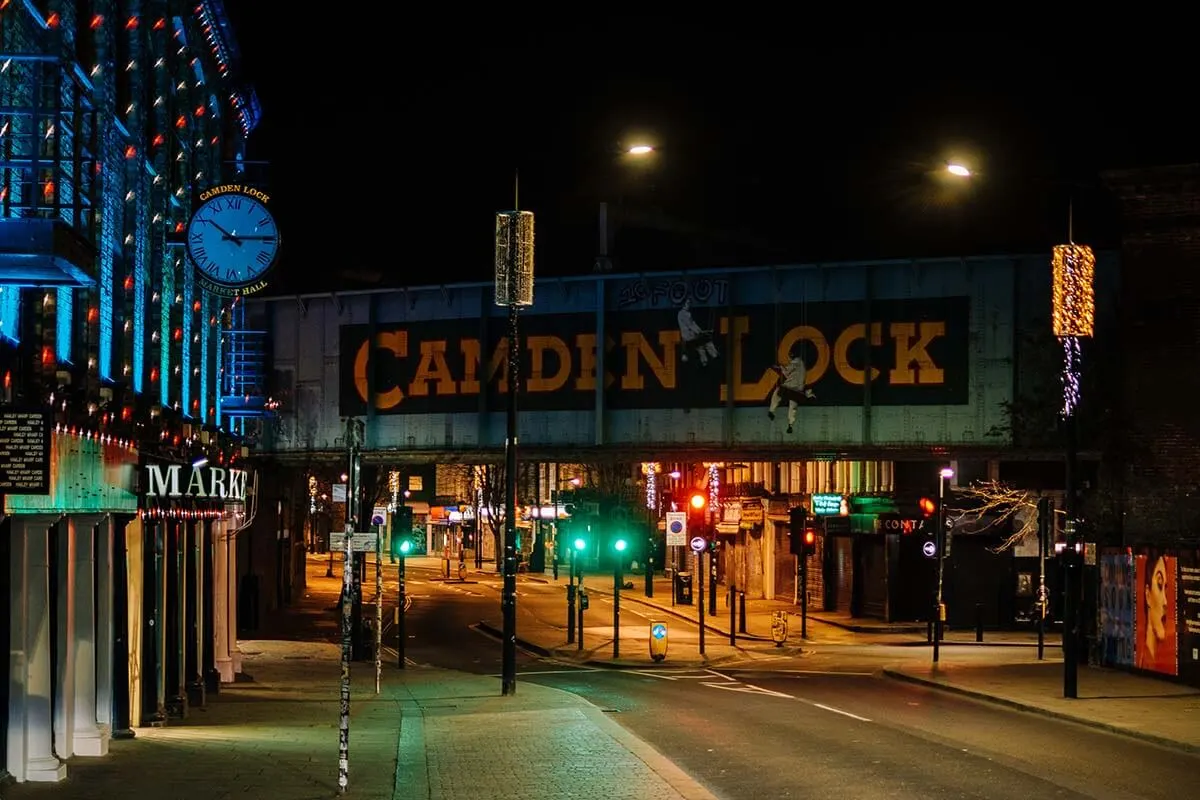 Getting to Camden
The best way to get to Camden is by tube (metro) – take either Camden Town of Chalk Farm station.
Good to know: The Camden Town station gets very busy during weekends. Often, escalator services are suspended and you have to take a spiral staircase instead. Sometimes, it even gets closed completely. Chalk Farm station is a great alternative nearby.
You can also reach Camden Market by bus – routes 24, 29, and 134 all run there from London's West End.
We do not recommend visiting Camden by car.
Best Camden Tours
If you want to experience the best of Camden but are feeling overwhelmed with all the options, you may also consider visiting Camden with an organized tour. Local guides know all the best spots and ensure a more unique experience.
You can opt for a personalized private tour with a local guide, where they tailor your visit to Camden to your interests. Or you can opt for a themed small-group tour, such as a pub crawl.
In addition, there are also self-guided audio tours that take you a bit off the beaten path in Camden.
YOU MAY ALSO LIKE: Hidden Gems of London
Where to Stay in Camden
You don't necessarily have to stay in Camden in order to experience the best that it has to offer. But if you are looking for a cool neighborhood to stay in London, it's certainly a nice choice. And if you stay somewhat close to a tube station, you can easily visit the other areas in the city as well.
There is plenty of accommodation in and around Camden, mostly private apartments – see the complete selection here. Here are some of the best-value hotels in Camden Town:
READ ALSO: Where to Stay in London (neighborhood guide and hotel recommendations)
From good food to good music and one of the most welcoming and inclusive atmospheres in town, Camden really has it all.
Whether you only have time for a brief visit or are lucky enough to be able to spend a few days, I hope that this guide to the best things to do in Camden has made it easier to plan your trip to this cool and vibrant part of London.
More travel tips and inspiration for your trip to LONDON:
More travel tips and inspiration for your trip to the UK:
If you found this post useful, don't forget to bookmark it and share it with your friends. Are you on Pinterest? Pin these images!