Yorkshire county in northern England is a perfect destination that has something to offer for everyone. Beautiful towns, charming villages, and two national parks offer plenty of sightseeing options. There is something to see and do to suit all ages, interests, and abilities.
If you are looking for ideas on what to see and do in Yorkshire, this article will give you plenty of inspiration on where to go and what to do. In this selection, we feature 17 amazing Yorkshire day trip ideas – the very best things to do in Yorkshire. From the most famous tourist destinations to local's favorites, quirky attractions, and hidden gems of Yorkshire.
Good to know: This article features insider tips and recommendations by Yorkshire-native Sinead from York with Kids. She lives in York and knows the region really well. For our blog, she selected the very best day trips and places to see in Yorkshire and also included practical tips and suggestions to help you plan your visit.
We also included a map featuring all the best places to visit in Yorkshire mentioned in this article. At the bottom of this post, you can also find tips for getting around Yorkshire and the best base for your day trips and excursions in this beautiful part of England. Find out!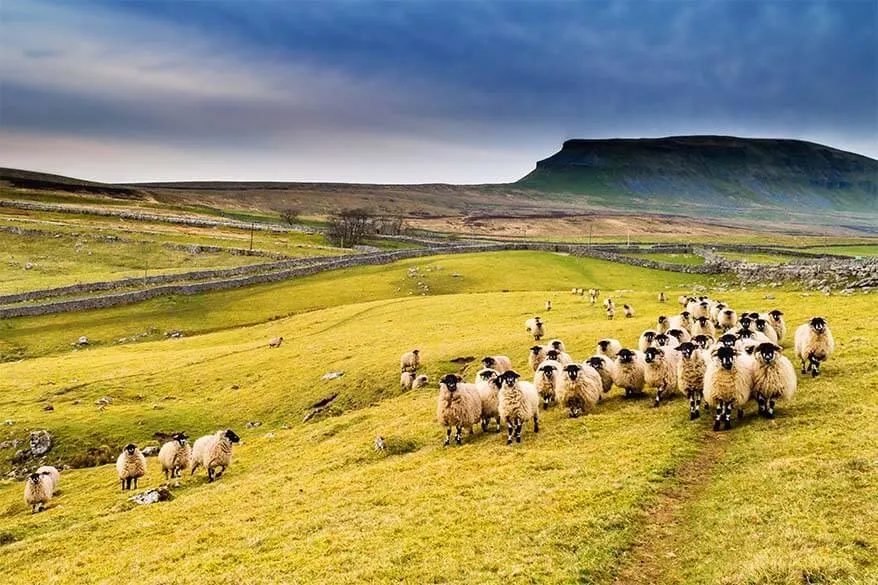 Yorkshire is very diverse and there is so much to see and do! The cosmopolitan cities of York, Leeds, Sheffield, and Hull offer world-class museums and lively city centers. You'll find countless historical attractions in Yorkshire's market towns and villages.
The hills and valleys of the Yorkshire Dales NP have stunning landscapes of woodlands and waterfalls. Whereas the contrasting, windswept Moors provide fantastic hiking opportunities…
If you don't have a car and are looking for the best day tours in Yorkshire, here's an overview of the very best organized day trips that you can do from York:
Further below, you can find the very best day trip destinations in Yorkshire. And here is a map indicating all the main locations mentioned in this article.
How to use this map: Use your computer mouse (or fingers) to zoom in or out. Click on the icons to get more information about each place. Click the arrow on the top left corner for the index. Click the star next to the map's title to add it to your Google Maps account. To view the saved map on your smartphone or PC, open Google Maps, click the menu and go to 'Your Places'/'Maps'. If you want to print the map or see it in a bigger window, click on 'View larger map' in the top right corner.
Good to know: If you are looking for Yorkshire Dales National Park on this list, you should know that it's a huge National Park with towns, villages, endless hiking possibilities, etc. So it's not just one place to go visit. Several places mentioned in this article are inside Yorkshire Dales NP. If you want to see the very best of this area in a nutshell, then you should consider visiting with an organized day tour that covers several locations in one day.
These are the best things to do in Yorkshire as a day trip:
1. York
No trip to Yorkshire would be complete without visiting York, one of the nicest cities in the UK. It's a fascinating city with a rich cultural heritage and a range of attractions dating from the Roman, Viking, Georgian, and Victorian eras. The city center has parks and pedestrianized streets making York a very pleasant city trip destination; it's also easy to visit with kids.
There are so many unmissable things to do in York that you will want to spend more than one day in the city!
Don't miss the largest gothic cathedral in northern Europe, York Minster. If you are up for it, climb the 275 steps of the central tower for a fabulous view of the city. Every Saturday, York Minster runs engaging tours of the cathedral.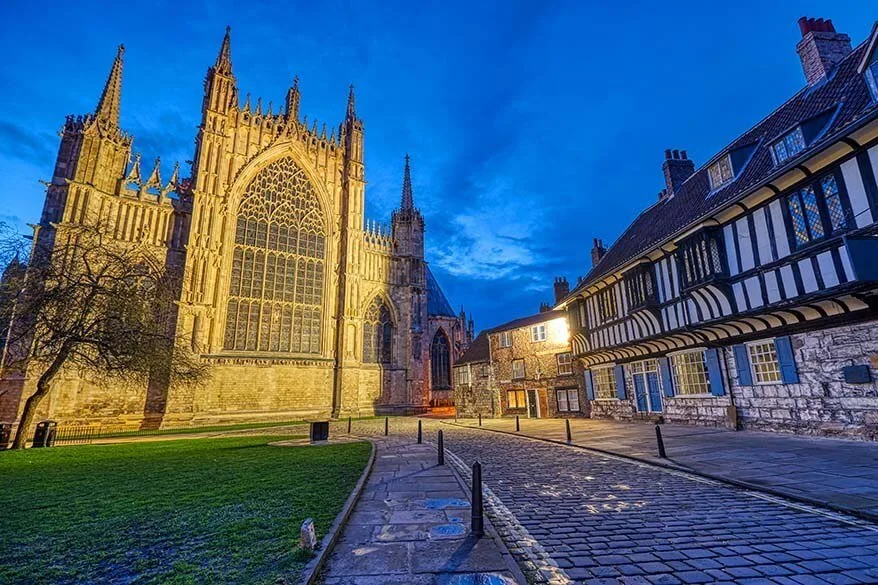 Walk the city's medieval stone walls. At two miles long, they are the longest city walls in England. Make sure to check out the quirky old street The Shambles, voted 'Best Street in Britain'. It's said to be the inspiration for Diagon Alley in the Harry Potter films.
If you want to learn about the history of York, visit the Jorvik Viking Centre, the Yorkshire Museum, or the excellent York Castle Museum.
Walk the windy ramparts of Clifford's Tower or take a break from the city center with a relaxing cruise down the River Ouse.
TIP: Anyone visiting York with kids, should take the tasty tour at York Chocolate Story. It ends with the opportunity to make your own chocolate lollipop.
How to visit: Leave your car at one of the city's Park & Ride locations to avoid city center driving and parking fees. Alternatively, travel to York by train. York's central rail station is a short, ten-minute walk to the city center. If you want to see all the highlights in a short time, consider joining this popular walking tour with a local guide. If you want to 'see it all' in a day, hop-on hop-off bus might be a good option for getting around York.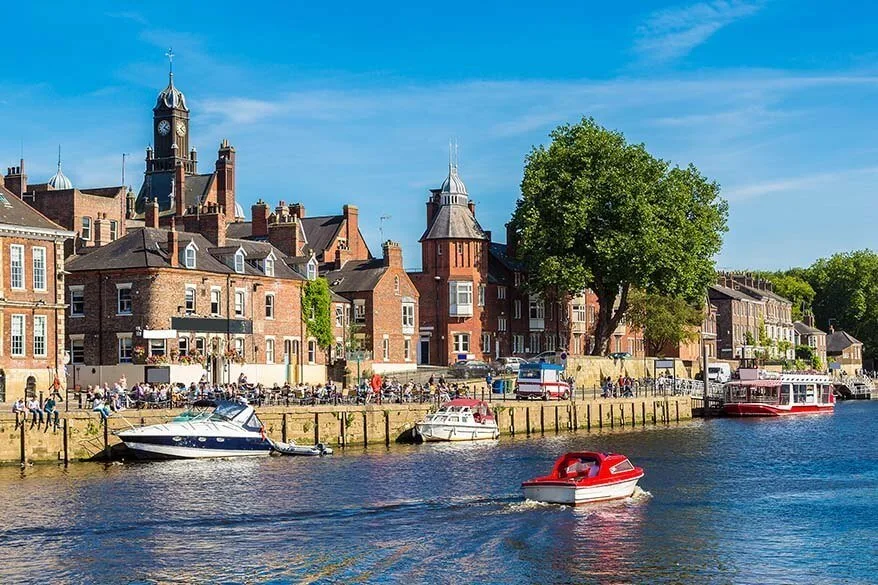 2. Bolton Abbey
Bolton Abbey or Bolton Priory is part of a private estate owned by the Duke of Devonshire and an amazing place to visit as a day trip from York. It's located on the southern edge of the Yorkshire Dales National Park and is often included in Yorkshire Dales day tours. This is not the same place as Bolton Castle, mentioned under the Wensleydale day trip above.
There is so much to see and explore at this historic site! The main highlight is the ruins of the Augustinian abbey and church which was founded here in the 12th century.
The rest of the extensive estate lies across a narrow river accessed by a wooden bridge or over Bolton Abbey's iconic 6o stepping stones. Kids and adults alike love hopping from stone to stone in order to cross the river. There are also a number of scenic walking trails along the riverbank or through the shaded Strid Wood. Don't miss Strid Wood's famous 'money tree.'
Bolton Abbey is free to visit; you only pay for car parking. You can find more practical information on their website.
TIP: Pack a towel if visiting Bolton Abbey in summer as you won't be able to resist paddling in the river on a hot Yorkshire day! You can easily spend 4-5 hours exploring the estate. Count even more time if you enjoy a paddle and a picnic.
How to visit: Bolton Abbey is about 1-hour drive from York and is best visited by car. You can also catch a steam train from nearby Embsay. The train ride takes 20 minutes to reach tiny Bolton Abbey station from where it is a 1,5-mile walk to Bolton Abbey estate. Alternatively, you can also visit with this organized tour from York.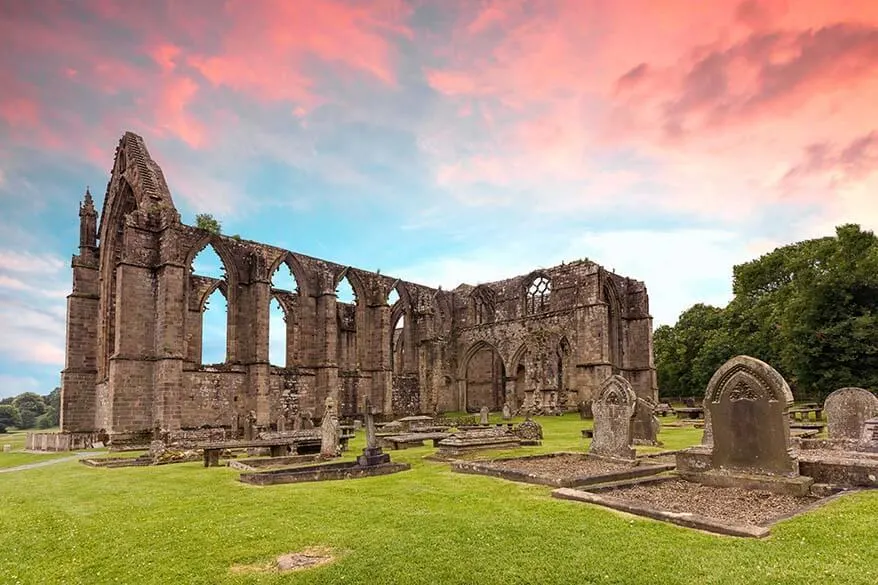 3. Wensleydale
Wensleydale is a valley in the heart of the Yorkshire Dales National Park. A day trip here encompasses the best that the Dales has to offer – waterfalls, history, food, and farming. This is the place that most Yorkshire Dales National Park tours visit.
First stop is Bolton Castle. This privately-owned castle is the best-preserved medieval castle in England and offers something for visitors of all ages.
From February to November, visitors can tour rooms in the castle and observe an archery display in the impressive castle courtyard. In the manicured grounds of the castle, you'll find a maze and delightful herb garden. There is a Bird of Prey and Falconry display daily and visitors can brave the wild boar feeding session.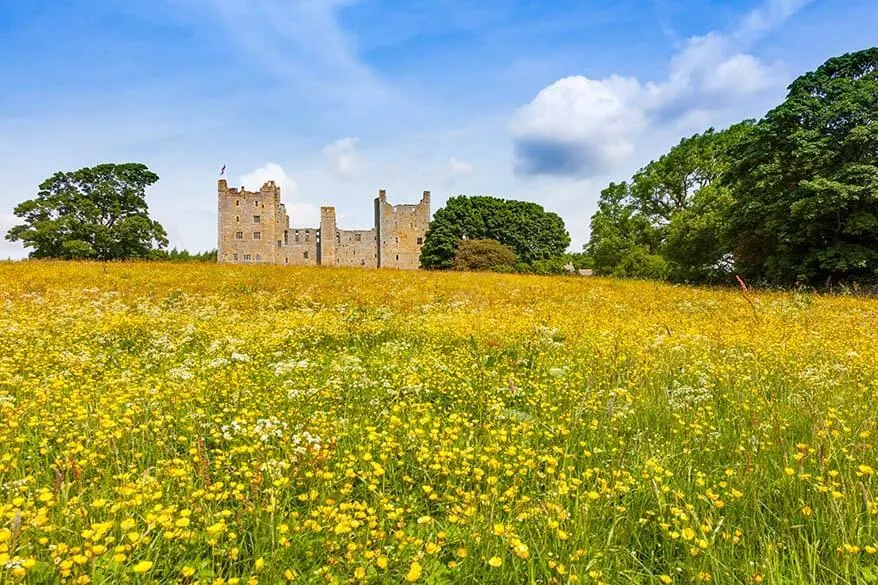 Two miles away from Bolton Castle is Aysgarth Falls. This attraction is free to enter, but there is a small fee for parking. The falls are actually three separate waterfalls – Upper Force, Middle Force, and Lower Force. These waterfalls tumble over three limestone steps over a scenic, one mile stretch of the River Ure. The falls can be viewed from a woodland path that runs alongside the river.
Aysgarth Falls is a beautiful location to visit at any time of year. The changing colors of spring and autumn provide perfect photo opportunities. The waterfalls are particularly spectacular after heavy rainfall.
A 12-minute drive away (unless you get stuck behind a tractor!) is the Dales Countryside Museum in Hawes. This small museum is housed in a lovely Victorian rail station and depicts the changes in life and farming for people living in the Yorkshire Dales. There is a rolling program of activities and exhibitions with the opportunity to try out traditional crafts and farming skills.
Whilst in Hawes, pop into the Wensleydale creamery to see the famous Yorkshire cheese being made.
Wensleydale is the favorite cheese of the character Wallace, from Wallace and Gromit movies. You will not be able to leave the creamery without making a purchase.
TIP: At Aysgarth Falls, visitors can access the water's edge at Upper Force and at Lower Force. Lower Force is accessed by an uneven path descending from the main path. Both riverbanks are unfenced and the rocks can be slippery when wet. Aysgarth Falls is the best location during this day trip for a picnic.
How to visit: The start of your day trip, Bolton Castle, is a one-hour drive from York. You should count the whole day for this area.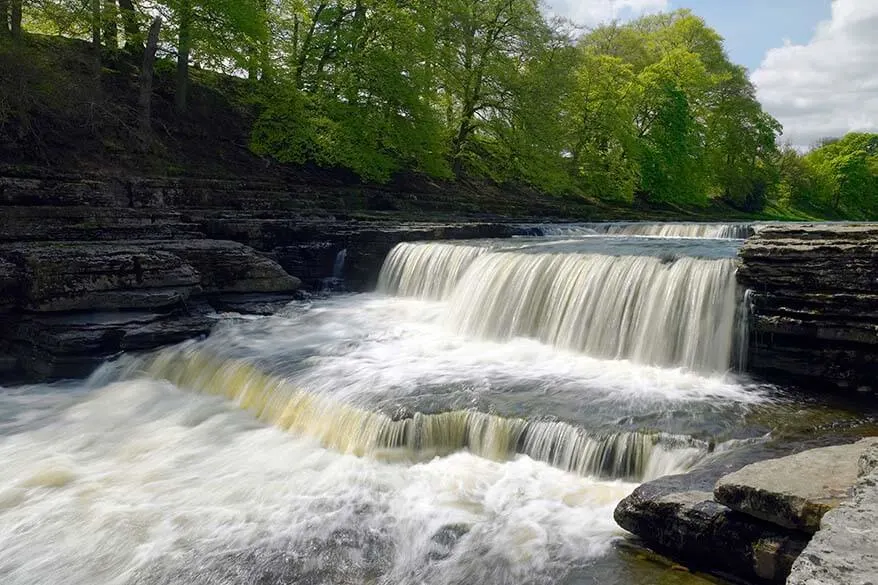 4. Whitby
Whitby is a popular seaside resort on the North Yorkshire coast but one that retains a traditional feel. it's a working harbor town that is thankfully not overrun with arcades or funfairs.
You can stroll Whitby's long, clean, sandy beach, wander the town's cobbled lanes, or visit the museum dedicated to Whitby's famous son, the explorer Captain James Cook.
Strong legs can climb Whitby's famous 199 stone steps which lead to an iconic clifftop Yorkshire landmark, Whitby Abbey. The 13th century gothic ruins of Whitby Abbey are well worth a visit. You also get a fantastic view of Whitby and the North Yorkshire coastline.
Whitby is an atmospheric, windswept location. This is why Bram Stoker was inspired to cast Whitby as Dracula's landing place in his famous vampire novel.
TIP: People drive from all over Yorkshire just to buy fish and chips in Whitby! Don't leave the town until you have tried a Whitby chippy dinner.
How to visit: Whitby can be reached by public bus or by car from York or Leeds. The regular 'Coastliner' service crosses the Yorkshire Moors to reach Whitby and the route was recently voted 'Britain's Most Scenic Bus Route'. Whitby is also part of organized day tours that include several other great attractions in this area.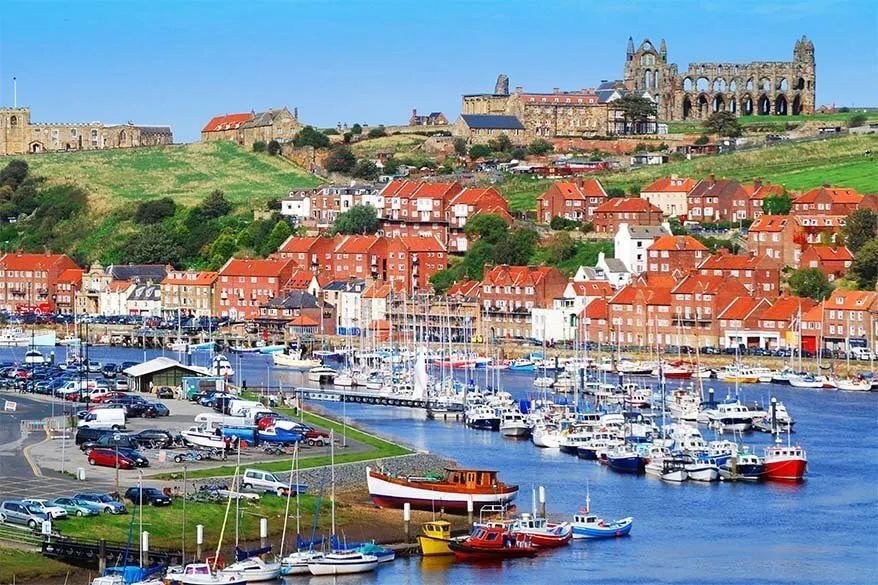 5. Robin Hood's Bay
Robins Hood's Bay is an old fishing village whose steep, cobbled lanes are too narrow for cars to access. You can explore the winding lanes lined with tiny, Victorian-era cottages, or visit the free Old Coastguard Station on the seafront. This is a good place to learn about the geology of the area and its seafaring history.
The village also has a long, sandy beach offering plenty of space to play, relax or explore the rock pools. Robin Hoods Bay is part of Yorkshire's Jurassic coastline. Fossils such as ammonites, belemnites, and Devils Toenail are regularly found on the beach.
TIP: Extend your trip with a hike to visit the seal colony at nearby Ravenscar.
Insider tip: Robin Hood's Bay can be visited on foot from Whitby by hiking along the North Yorkshire Coastal Path, part of the long-distance Cleveland Way National Trail. It's a scenic, 7-mile walk (one way) with dramatic views of the coastline, sheltered coves, secluded bays, and Whitby's isolated lighthouse. The challenging, undulating walk is not technically difficult but is high up and unfenced! You can return along the same path or catch a public bus from Robin Hoods Bay back to Whitby.
How to visit: Visitors to Robin Hoods Bay must park in one of the fee-paying car parks on the top of the hill outside the village. It is a steep descent down into the village and your legs will feel the strain on the way back up! Robin Hood's Bay can also be visited with a tour from York.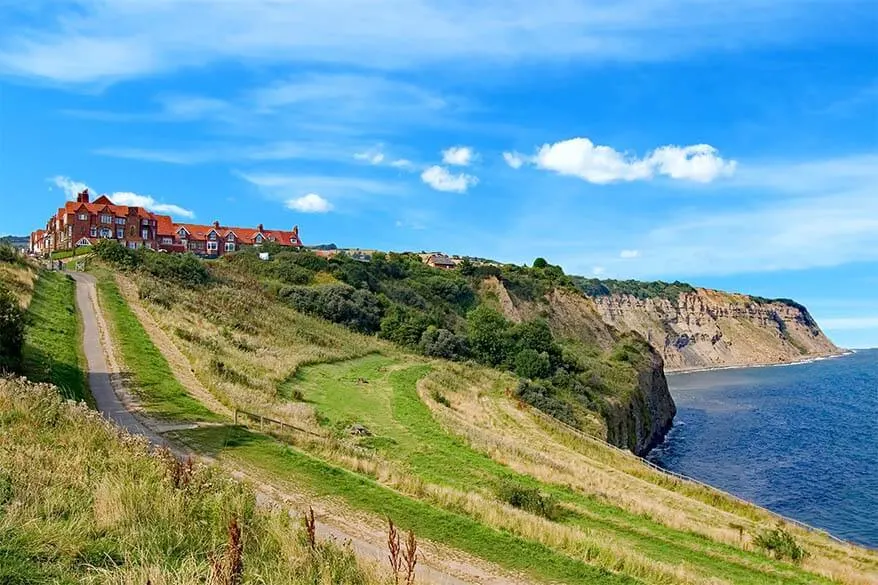 6. Ingleton
Ingleton is a charming Dales town lying on the southern edge of the Yorkshire Dales NP. It is well worth spending a long day trip here as there are several excellent attractions within this area.
One of the most popular attractions in Ingleton is the Ingleton Waterfalls Trail. This 4,5-mile hike over privately owned land offers scenic views of 6 pretty waterfalls. This is a beautiful hiking trail offering a mix of woodland, waterside paths, and wooden bridges. There is a fee to access the trail, but it's well worth it! Depending on your walking speed, the trail will take between 2 – 3 hours.
A trip to nearby White Scar Cave – the longest showcave in England – will take around 2 hours. Kids will love donning a hard hat to descend the 97 steps into the depths of the cave. Once underground, metal walkways and earthen paths lead you around the cave. You can see an underground waterfall and formations such as the spookily named 'The Witches Fingers'.
Most of White Scar Cave is head height, but there are a couple of sections where you have to bend a bit. There is also one very narrow section that will require a squeeze!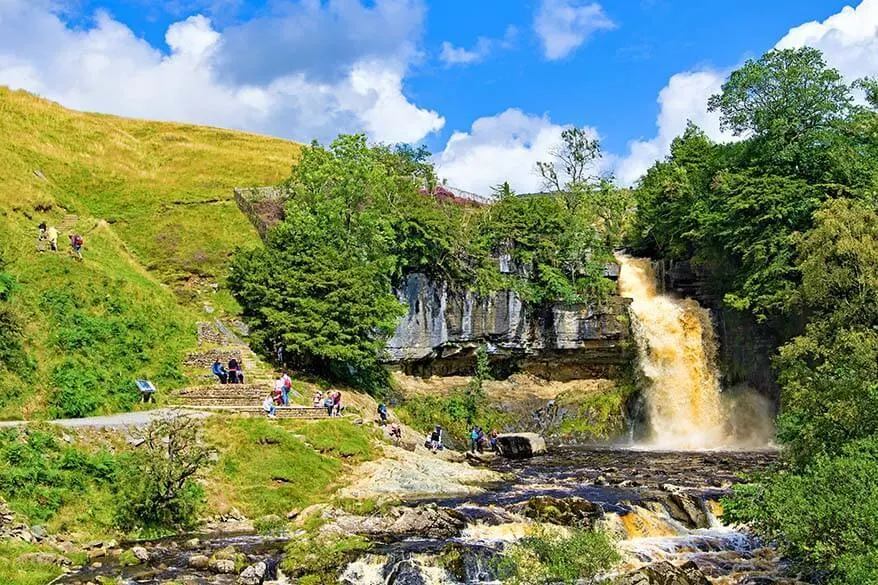 Alternatively, bring your hiking boots and attempt to hike to the top of Yorkshire's second-highest peak, Ingleborough, at 723 meters high. There are several routes of differing lengths to reach the top of Ingleborough. The most interesting route starts in the village of Clapham. You will pass several cave entrances along the way, including Gaping Gill which contains the largest cave cavern in England.
When you reach the plateau summit of Ingleborough, you will be rewarded with fantastic views across the Dale. On a clear day, you can see the iconic Ribblehead Viaduct.
You can descend via the same route or on a circular route on which you will cross over ethereal limestone outcrops similar to those at the top of Malham Cove. Ingleborough is not a technically challenging hike though there are some steep climbs in places.
TIP: Expect the hike to the top of Ingleborough to take around 4-5 hours round trip. There are no facilities once you leave Clapham, so bring plenty of snacks and water. The weather in the Yorkshire Dales can change quickly so always be prepared for any weather.
How to visit: From the city of York, Ingleton is a 2-hour drive. There are several day-tour possibilities as well.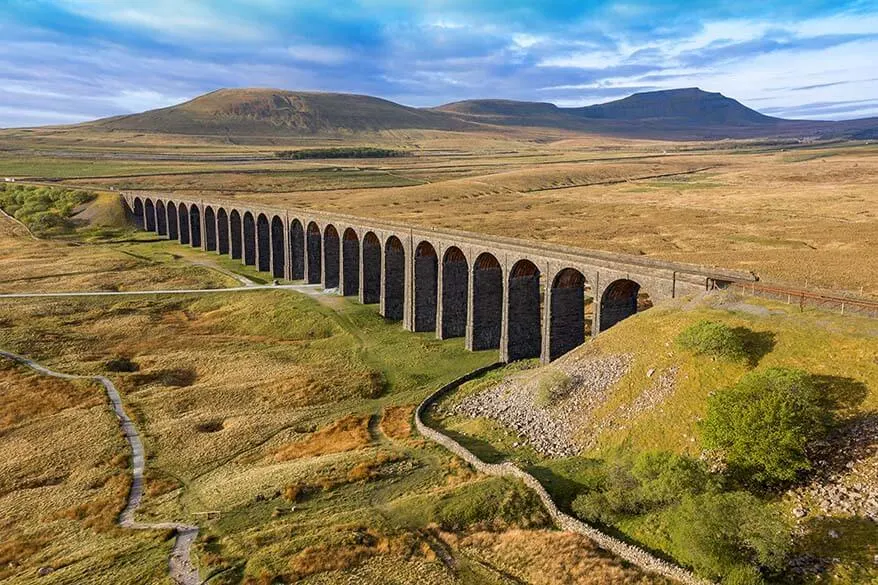 7. North Yorkshire Moors Railway
The North York Moors Railway is an old-fashioned steam train running from Pickering, across the Yorkshire Moors, to the pretty village of Goathland. This is a very nice day trip in Yorkshire, popular with locals and tourists alike.
The 'hop on hop off' tickets are valid the whole day, so this is a great way to explore the villages and sights of the North Yorkshire Moors. For example, take a break at lovely Levisham and hike over Levisham Moor. Keep an eye for evidence of Bronze Age habitation and burial sites along the way.
Your final destination is Goathland, featured in the hit tv series' Heartbeat'. It will be more recognizable to children as the setting for Hogsmeade Rail Station in the Harry Potter movies.
A direct, non-stop trip from Pickering to Goathland takes approximately 45 minutes. Stopping off at the different stations will require a full day, so arrive early to catch one of the first trains departing Pickering.
TIP: It is also possible to travel to Whitby using the North York Moors Railway. The line operates from April to October with festive trips available on December weekends.
How to visit: Catch the train from Pickering station, a 30-minute drive from York. The railway ticket is also included in the multi-day York explorer pass. There is also a tour that covers Whitby, Moors, and Yorkshire Railway as a day trip from York.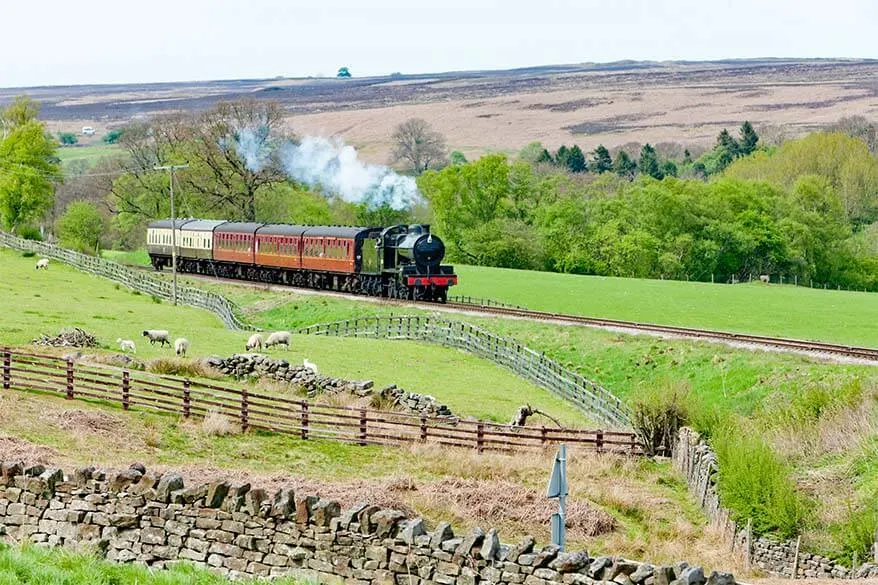 8. Malham Cove
Malham Cove is an unmissable location in the heart of the Yorkshire Dales. The imposing stone cove is a natural amphitheater. It's 230 feet high and was once home to a plunging waterfall higher than Niagara Falls.
At the base of Malham Cove, a set of uneven stone steps wind to the top of the cove and a fantastic view over the Yorkshire Dales. The edge of the cove is unfenced and the limestone 'pavement' at the top is riddled with holes and crevices, so take care where you walk!
The pavement top of Malham Cove is a must-visit for Harry Potter fans! This is the site where Hermione and Harry camped in the Deathly Hallows movie.
There are a number of excellent hiking opportunities in this area. One of the best hikes is a long, full day circular hike that encompasses all of the major sights in this area. Starting from Malham Village, a signposted trail leads through woodland to pretty Janet's Foss Waterfall. From here, it is a further 0,5 mile to dramatic Gordale Scar, a huge gorge with towering rock faces.
There are a couple of route options to reach the top of the gorge where the path eventually arrives at Malham Tarn, one of only two natural lakes in the Yorkshire Dales. From Malham Tarn, it is a short walk to the top of Malham Cove to where you can descend back to your starting point in Malham village.
The hike is not technically difficult but is a full day 13-kilometer hike. It will take around 5 hours with stops. There are no facilities on the hiking trails.
TIP: There are two family-friendly pubs and an excellent tea room in Malham Village.
How to visit: You'll need a car to get here. Park in the permitted parking areas in Malham Village. This is a free to access rural area, but please be respectful to local residents and only park in approved car parks. There are also some guided day tours that visit this area from York, Liverpool, or Manchester.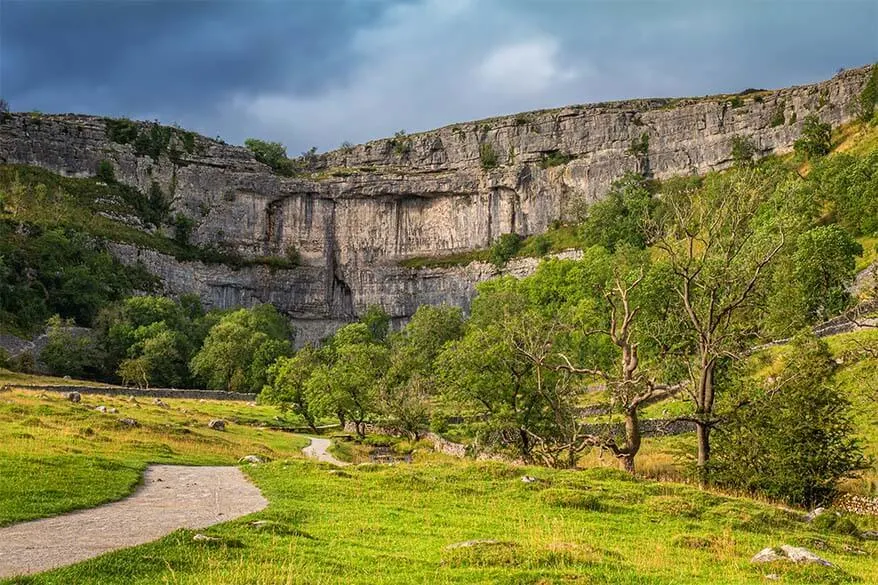 9. National Railway Museum in York
The National Railway Museum is one of the best free things to do in York. You will need a full day to see everything at the museum, so this is a great day trip in itself! But since it's free, you can always take a look even if you don't have that much time.
The museum is packed with gleaming train engines and carriages of every shape and color. See inside the luxurious Royal Train or rest weary feet in a Shinkansen carriage, the only Bullet Train carriage displayed outside Japan.
Marvel at the size of a Eurostar nose cone under a cross-section of the Channel Tunnel and view historic trains such as the fastest steam train in the world, the Mallard.
Families will love the entertaining and educational science shows that run daily. Kids will particularly enjoy seeing Barbie shot out of a cannon!
View the talented restorers at work from an elevated walkway above the museum workshop or wave at trains entering and departing York rail station from the Museum's popular outdoor balcony.
TIP: There is an excellent restaurant and cafe on site, but visitors are permitted to bring their own picnic.
How to visit: The Museum is a 10-minute walk from the center of York or you can catch the museum's 'road train' from outside York Minster. It is located just behind York railway station making it an ideal attraction to visit if arriving in York by train. There is also a car park on-site (paid). For more practical information, please check the official website of the museum.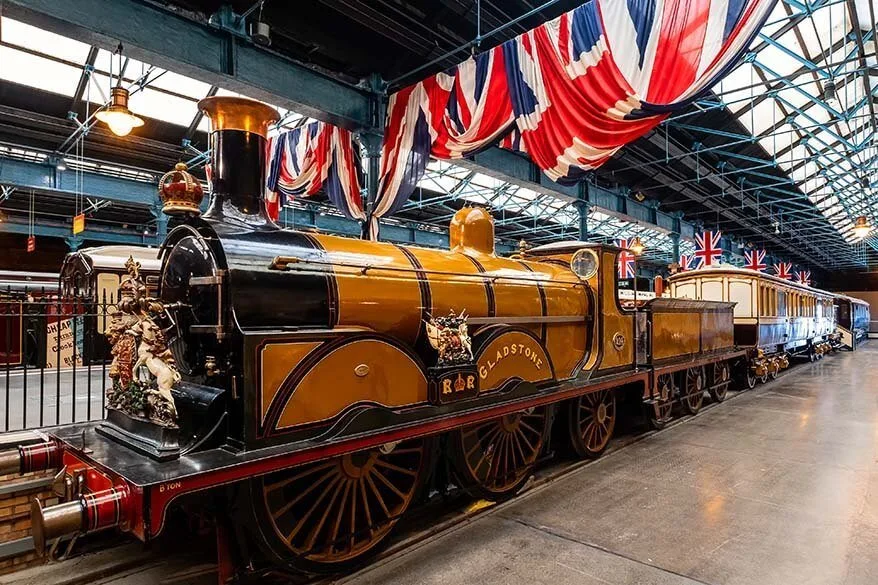 10. Castle Howard and Yorkshire Arboretum
Castle Howard is an impressive, privately owned country home located in the rolling Howardian Hills, just outside the city of York.
The historic house is beautifully restored and you can tour the elaborately furnished rooms. The highlights include the decorated dome of the main hall and the ornate chapel. The extensive grounds at Castle Howard provide scenic walks with lovely countryside views.
In addition, there is a recently renovated outdoor adventure playground in an idyllic woodland/ lakeside setting. Visitors to Castle Howard will recognize it as the setting for the TV series 'Brideshead Revisited.'
Castle Howard will take most of your day but if you have any time to spare, visit the Yorkshire Arboretum which is directly opposite the entrance drive to Castle Howard. The arboretum covers a huge 120-acre site and contains 6,000 trees from around the world. You can freely wander the tree collection or follow self-guided trails between 1 -2 hours long.
TIP: Castle Howard is a great place to visit at any time of year but Yorkshire residents like to come here at Christmas time. For many, it has become a family tradition. Every Christmas, the rooms of the house are colorfully and artistically decorated to a new theme.
How to visit: Castle Howard is only accessible by car. It is a short 20-minute drive from York city center. You can find more information and book your tickets here. Admission is also included in the multi-day York explorer pass.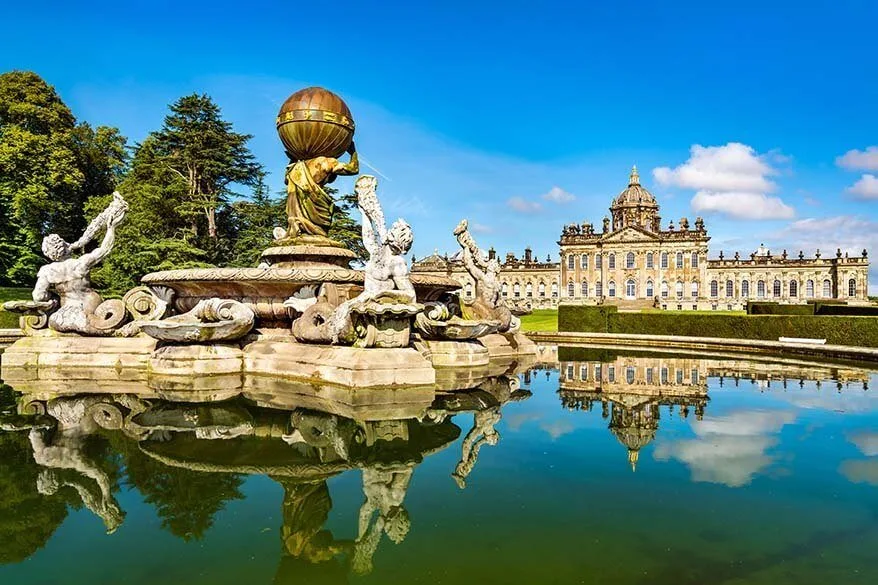 11. Yorkshire Sculpture Park
The Yorkshire Sculpture Park is an outdoor art gallery in a stunning landscape in Bretton, just south of Leeds and less than an hour from York. It's a wonderful day trip in Yorkshire, especially for those who are looking to get a bit off the beaten path. It's also a great value for money as you only pay for parking.
The 500-acre park is packed with sculptures ranging from unusual, abstract pieces to more traditional metal or wood carvings. Most of the sculptures are engaging, large works of art. Some pieces are over 10 meters tall. Even if you spend here the whole day, you are unlikely to cover all the sculptures within this beautiful park. There is so much to see!
Families can get creative at one of the family-friendly activities on offer in the indoor galleries.
TIP: Pack waterproofs as the park is completely open to the elements. But don't let bad weather put you off visiting; the sculpture park can be an atmospheric location on a rainy day.
How to visit: The Yorkshire Sculpture Park is easiest to reach by car; it's a 45minute drive from York via the major M1 motorway. Getting here by public transport is also possible. For more practical info, please check their website.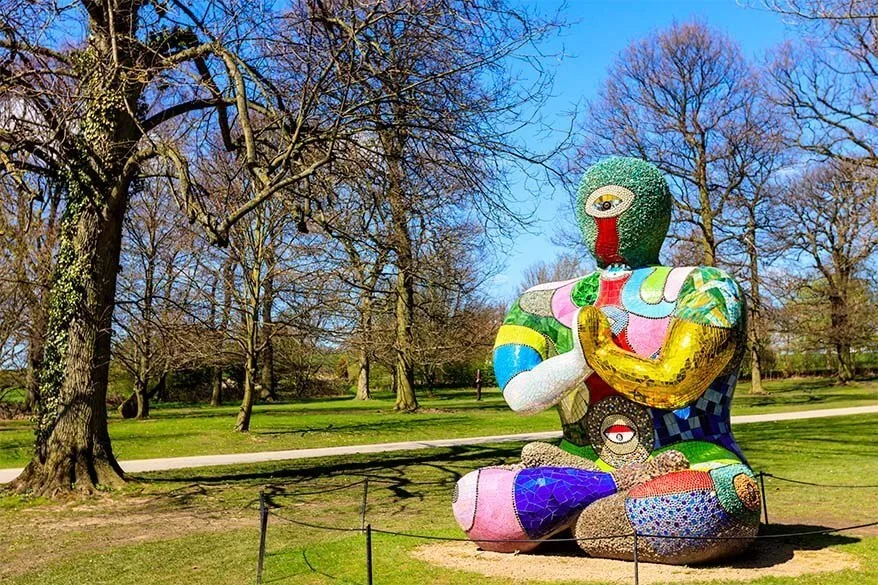 12. Fountains Abbey & Studley Royal Water Garden
Fountains Abbey & Studley Royal Water Garden is a beautiful historic property in Ripon, North Yorkshire. It is owned by England's National Trust and one entry ticket covers both sections of the estate.
Fountains Abbey contains the largest monastic ruins in England. The extensive 12th-century Benedictine ruins are full of hidden alcoves and secret staircases. The open, angular ruins create fantastic photo opportunities.
Discover the history of the abbey at the Porters Lodge exhibition or have a go at traditional crafts such as weaving at Swanley Grange near the entrance to the abbey ruins. Don't miss the Grange's excellent, medieval-inspired vegetable garden.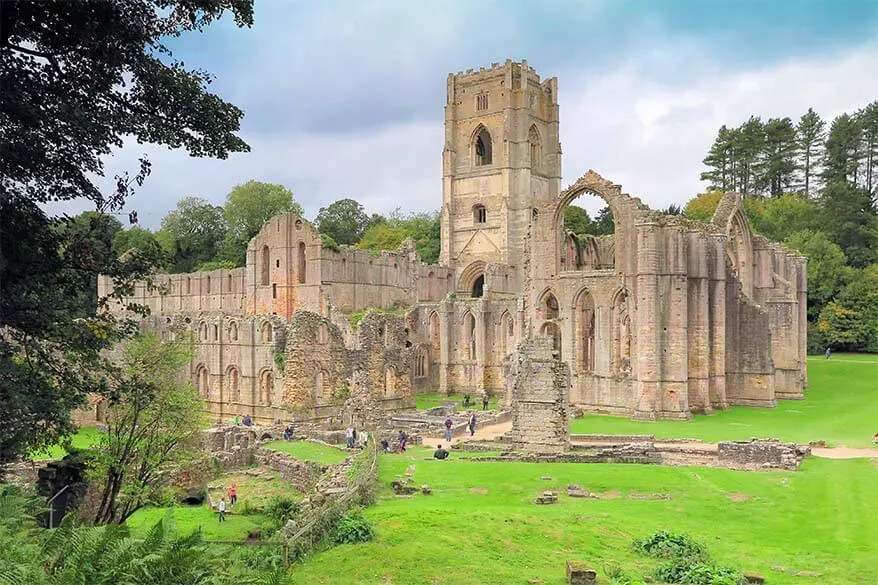 Fountains Abbey is linked by a grass walkway to Studley Royal Water Garden. These stunning gardens were landscaped in the 18th century and contain summerhouses, ornamental lakes, moon ponds, and countless sculptures. There are also several hidden folly's for children to find and extensive walking trails around the deer park and Studley's ancient woodland.
Studley Royal Water Garden is a beautiful, tranquil location. It is not your average garden attraction. This is why it was granted World Heritage status in 1986. Well-worth visiting!
TIP: Comfortable walking shoes are essential – you can spend all day walking here! If you are visiting with children, don't miss Fountains Abbey's large adventure playground. This is one of the best outdoor playgrounds in Yorkshire.
How to visit: The estate is a 45-minute drive from York. You can also visit with an organized small-group day tour from York.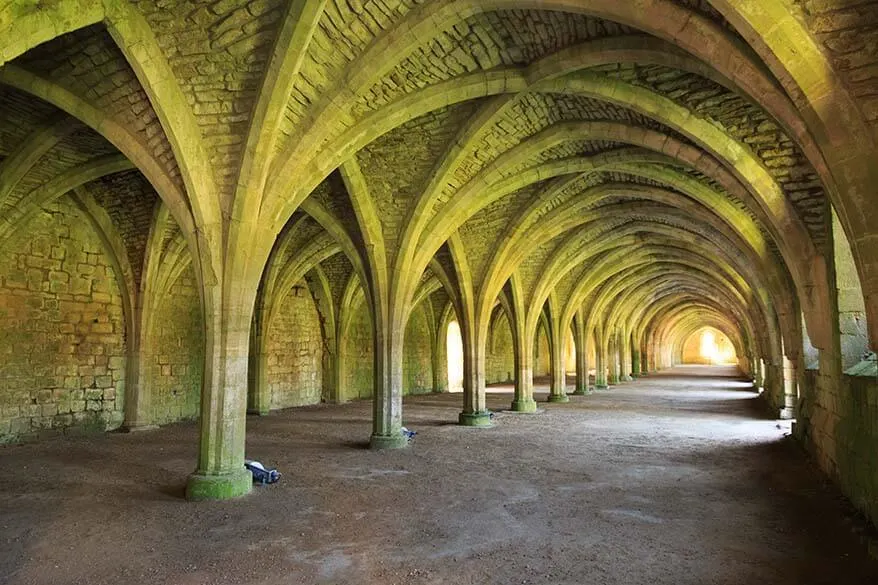 13. Harrogate, Knaresborough, and Harlow Carr
Harrogate town in North Yorkshire was famous in the Victorian era as a wellbeing destination and rejuvenating spa town. The town retains many grand Victorian buildings.
You can learn about the history of Harrogate at the town's Royal Pump Room Museum and join one of their daily tours to see the wells. Be warned – the sulfur wells are reputed to be the strongest in Europe! Allow 1 – 2 hours for your visit.
After the museum, indulge in a traditional Turkish bath in the beautifully restored, 19th-century Turkish Baths. Rejuvenated, take a stroll around pretty Valley Gardens, a landscaped park in the center of Harrogate. From the center of Harrogate, it is a 40-minute signposted walk or a short 10-minute drive to Harlow Carr.
The nearby Knaresborough Castle and Knaresborough town is also well worth a visit.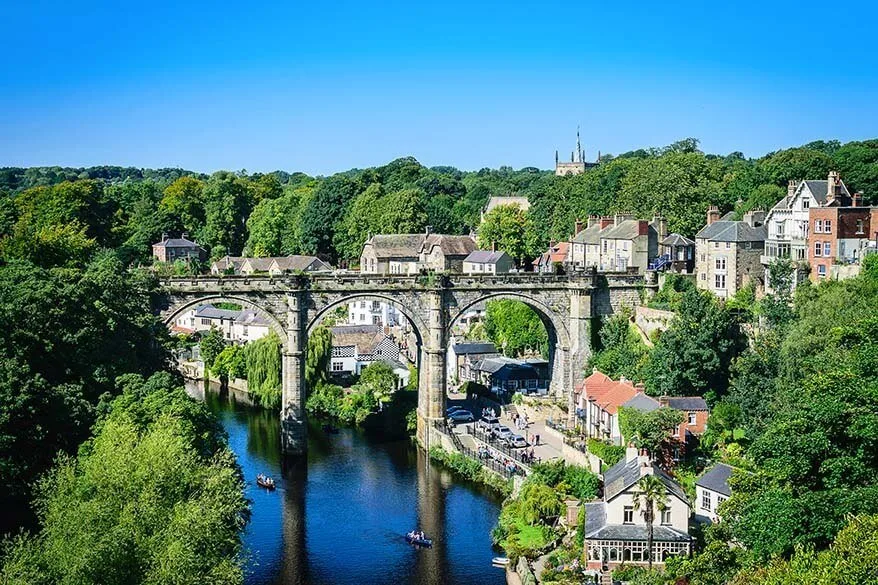 RHS Garden Harlow Carr is a beautiful garden that is open to the public year-round. Every season offers a different experience for visitors. Within the 58-acre garden, there is a woodland and wildflower area as well as more traditional areas such as a kitchen garden, alpine garden, and colorful borders.
Harlow Carr offers activities centered around the plants and animals found within the gardens. There is also a huge woodland treehouse on site. To fully explore Harlow Carr, allow 2 – 3 hours for your visit. Many visitors stay here all day.
TIP: After a full day exploring, treat yourself to an afternoon tea at the iconic Bettys Café Tea Rooms. This 100-year-old tea room can be found in the Harrogate town center. The tea room is famous for its art deco appearance and luxurious, elegant style. Make sure to try one of Betty's signature cakes, the delicious Fat Rascal!
How to visit: Harrogate can be accessed by train from York or Leeds in just 20 minutes. Avoid driving into the town center if you can as parking is limited.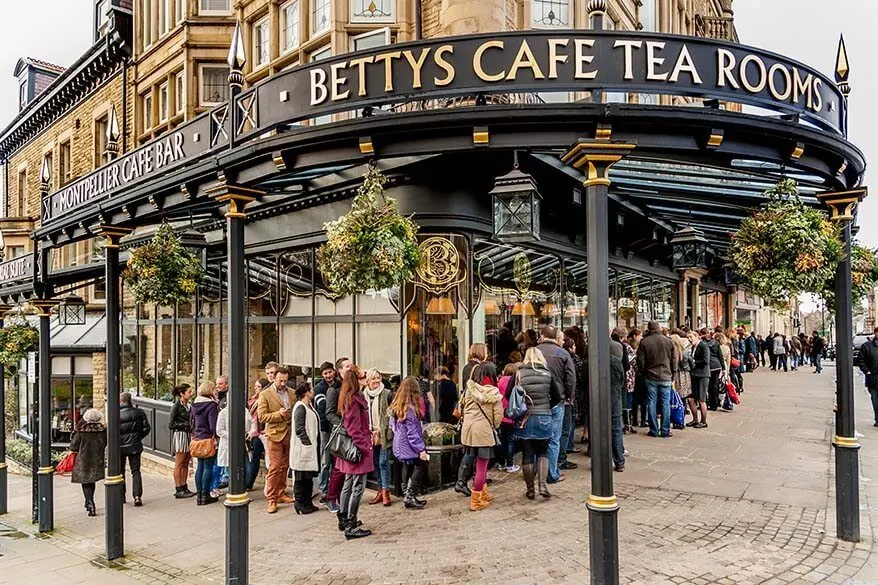 14. Sutton Bank NP, Kilburn White Horse & Rievaulx Abbey
Sutton Bank is a steep hill in North Yorkshire whose escarpment and plateau were formed as a result of the movement of ice age glaciers. This area forms the western edge of the North York Moors National Park.
Visitors to the Sutton Bank National Park Centre will be rewarded with sweeping views of the Vale of York. You can get hiking maps at the visitors' center, but most people come to Sutton Bank for its thrilling cycling trails and for the White Horse. Sutton Bank offers cycle trails to suit all ages and abilities and you can hire bikes and spend half a day here.
Don't miss the Kilburn White Horse. The White Horse 'sculpture' is an iconic Yorkshire landmark that can be seen for miles around. Yorkshire people assess the weather based on whether they can see the white horse or not!
The horse was constructed in 1857 to compete with giant chalk sculptures in the south of England. Unlike its competitors, the Kilburn White Horse was not cut into the chalk, but limestone. This means the horse requires regular 'whitening' with chalk chippings to stay white. This is no easy task as the horse measures 314 ft long and 228 ft high!
You can complete a circular walk to the White Horse returning to Sutton Bank via a pretty woodland trail. Allow 2 hours for this walk.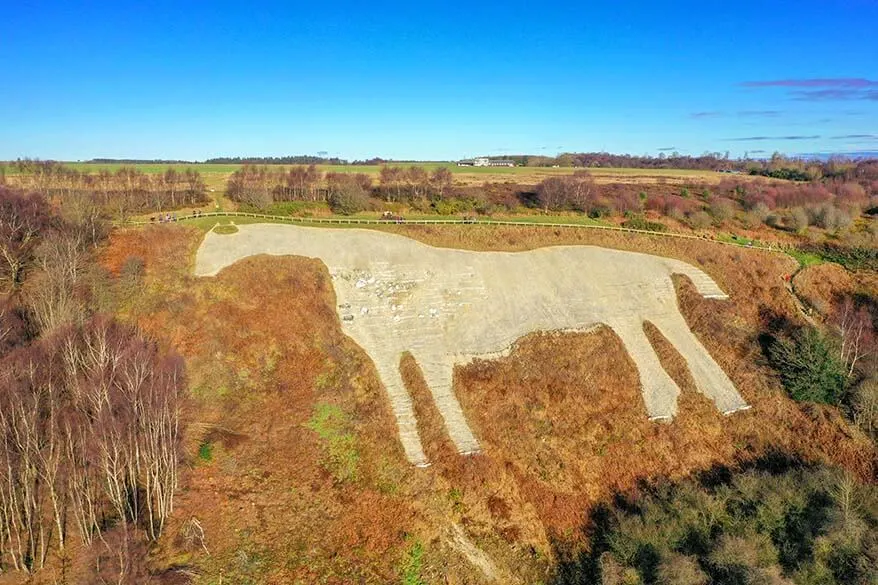 If you rather do some more sightseeing in Yorkshire instead of biking or hiking, you may want to check out the nearby Rievaulx Abbey. Here, you can visit the ruins of an impressive 11th-century abbey and a nice museum that captures the lives of monks. There is also a nice cafe on-site cafe serving amazing hot chocolates and scones.
TIP: Sutton Bank is a designated Dark Skies area. After dark, car parking is free for keen stargazers to gather to look at the night sky. Sutton Bank National Park runs year-round stargazing activities. The North York Moors National Park hosts an annual Dark Skies festival every February.
How to visit: The White Horse can only be reached by car along some of Yorkshire's windiest roads! Leave the A19 to head towards the small village of Kilburn from where you can pick up the brown road signs to reach the elevated car park under the White Horse. If you drive directly to Sutton Bank Visitor Centre, it can be found just off the A170 between Thirsk and Helmsley. Rievaulx Abbey is just a short ride from Helmsley as well.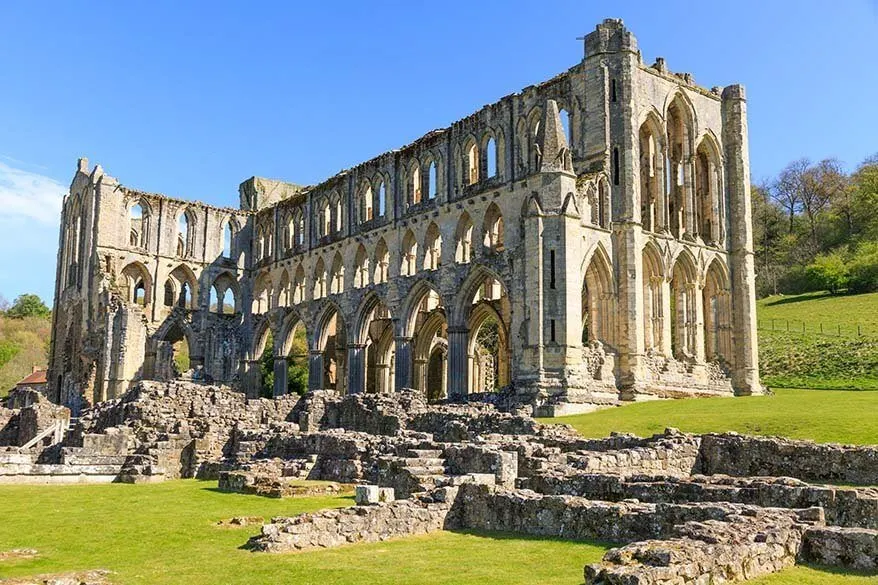 15. Hull
The port city of Hull is an underrated visitor attraction in Yorkshire. It's a great Yorkshire day trip destination for young and old! The city boasts a charming old town section lined with grand Georgian and Victorian-era houses, maritime warehouses, and cobbled streets. The old town is packed with lively restaurants and cafes and is a great place to get lost in!
Within this old town is Hull's excellent Museum Quarter. All of the museums here are worth a visit and are in close proximity to each other.
The free Streetlife Museum charts 200 years of transport developments. You can climb aboard trams, buses, and walk a recreated 1940's street. It is a 'must visit' for social history fans as well as vehicle lovers.
Next door is the Hull & East Riding Museum and a little further on, Wilberforce House. Wilberforce House was the home of William Wilberforce, who is credited with bringing an end to slavery in England. Both of these excellent museums are free to enter and well worth your time.
In addition, check out Hull Minster church or head to the bustling Fruit Market at Hull Marina for a fantastic choice of street food.
TIP: If you have any time left in your day trip to Hull, head to The Deep, a world-class, aquarium on the waterfront.
How to visit: Hull can easily be accessed by train from York, Sheffield, or Leeds. Hull's central rail station is just a 15-minute walk to the Museum Quarter.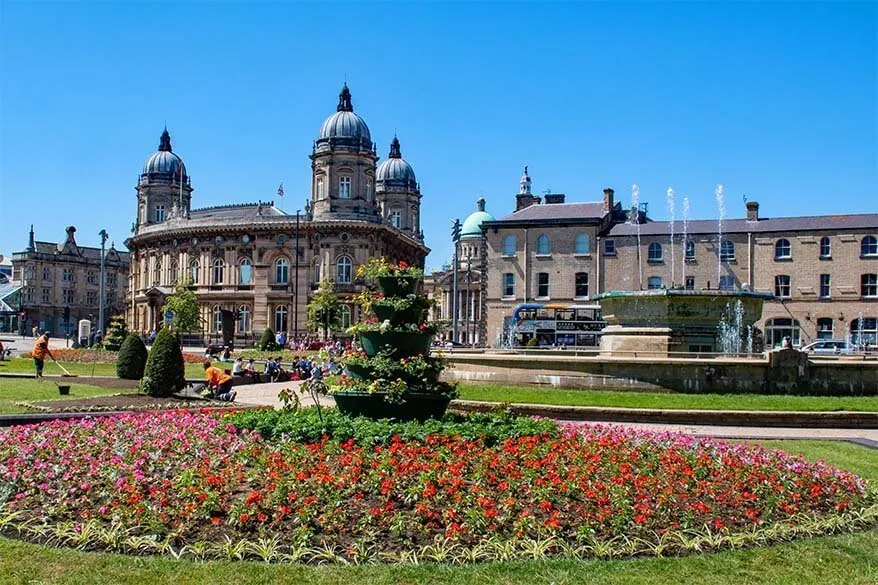 16. Newby Hall
Newby Hall is an 18th-century country house with beautiful gardens. It's a favorite day out for many Yorkshire families, especially those on a multigenerational trip. The privately-owned Newby Hall helpfully offers separate entrance tickets to the stately home and the extensive gardens. So depending on your interests, you can choose which sections of the estate to visit.
Newby Hall manor was built in the 1690s by Sir Christopher Wren who also built St. Paul's Cathedral in London. The house is elegantly and elaborately decorated in an 18th-century style. You can visit recreated dining rooms and bedrooms, with highlights including the Billiards Room and the intricate needlework of the Tapestry Room.
The colorful, landscaped gardens are dotted with winding paths leading to special interest sections such as the Tropical Garden or the White Garden. For reluctant little legs, there is a miniature steam railway that runs a 1.4-kilometer loop around a section of the garden that borders the River Ure.
However, the main attraction for families at Newby Hall is a huge, outdoor adventure playground. Kids will love the aerial slide, climbing frames, sandpit, and rope-operated aerial swing boats. Adults are not left out and are able to use the pedalo boats on the playground's central lake.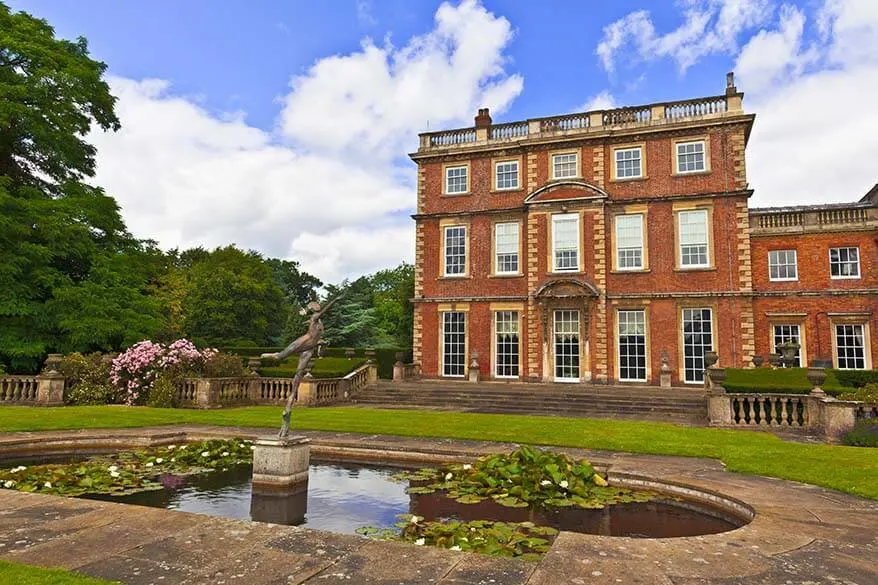 TIP: If you have any time after your day trip to Newby Hall, check out Ripon Cathedral in the nearby market town of Ripon. This stunning cathedral retains its original 7th-century crypt from the church that was originally built here by St Wilfred.
The current church that now stands above the crypt was built in the 12th century. It is world-famous for its unusual misericords (supports in the choir stalls) which date from the late 15th century.
How to visit: Newby Hall is only accessible by car and is approximately a 40-minute drive from York. For practical information and opening times, please check their website.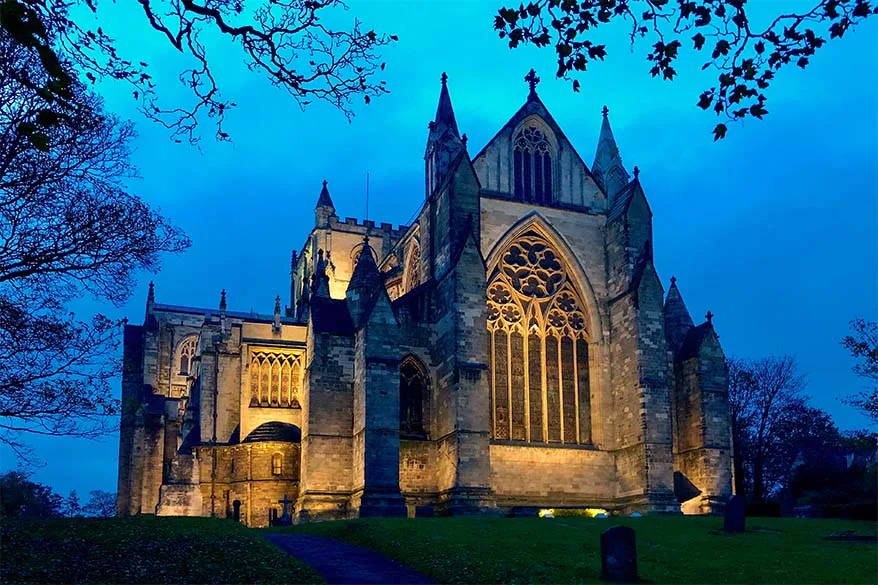 17. The Forbidden Corner
The Forbidden Corner near Bedale is a fun, 4-acre park and a very unique Yorkshire attraction. Visitors receive a 'map' upon entry which shows you what there is to see inside the park. However, the map does not tell you how to find these attractions.
You have to follow every path and turn every door handle in a quest to discover the park's secret passageways and underground chambers. It's one of the best things to do in the Yorkshire Dales with kids!
You will need to squeeze through narrow walls, crawl through cramped tunnels, and dodge water-spouting statues and follies. In other words, a visit to the Forbidden Corner is about expecting the unexpected!
The park can be rushed in 2-3 hours but you will need longer if you want to discover all the park's attractions. Food is not allowed inside The Forbidden Corner but there is a large, shaded picnic area outside the park entrance.
TIP: Spend the rest of your day exploring Tupgill Park in which the Forbidden Corner is situated.
How to visit: Bedale is a one-hour drive from the city of York and a 1,5 hrs drive from Leeds. After leaving the major A1 (M) road, you will be driving on winding, undulating roads to reach the Forbidden Corner. For more info, please consult their website.
Because this place is so special and quirky, no pictures do it justice. Take a look at the video below if you want to get an idea of what to expect.
How to get to Yorkshire
Yorkshire is a 5-hour drive or just 2 hours by train from London. The region can be reached in 3 hours by train from Edinburgh.
The nearest airport is Leeds Bradford International Airport, located in West Yorkshire. The airport has good bus links to local train stations and to other parts of Yorkshire.
Alternatively, many visitors arrive by ferry into the East Yorkshire city of Hull. Ferries travel to Hull from Rotterdam in the Netherlands and from Zeebrugge in Belgium.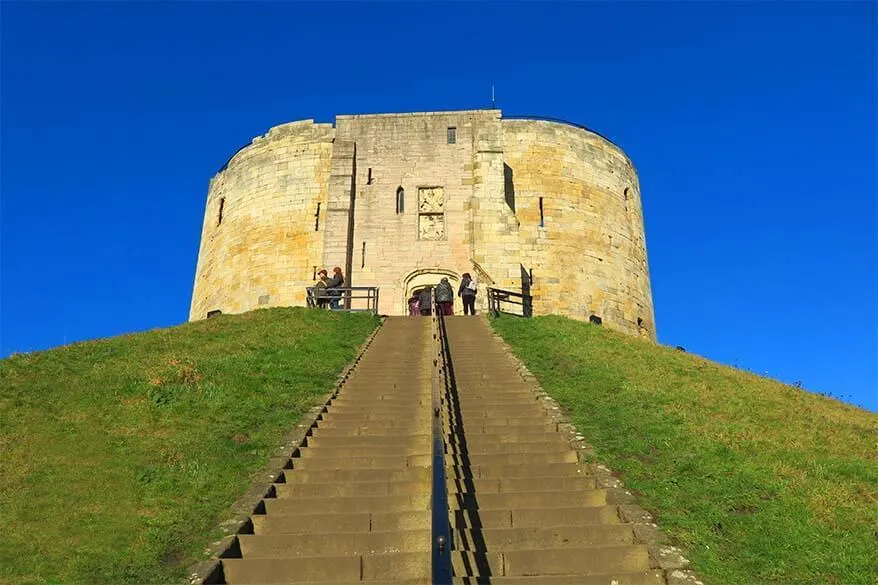 How to travel around Yorkshire
Yorkshire is England's biggest county and encompasses a large section of the north of England. It is divided into the smaller counties of North Yorkshire, South Yorkshire, West Yorkshire and East Riding of Yorkshire.
The major cities of each area – Leeds, Sheffield, York, and Hull can be accessed by motorway, major 'A' roads, and by frequent, fast rail links.
There is a good public bus network to explore Yorkshire's smaller towns and villages. But to fully explore rural Yorkshire, it's best to hire a car (see here for car rental). Self-driving in Yorkshire is easy; roads are well maintained with good signposting.
However, if you are visiting rural areas such as the Yorkshire Dales or Yorkshire Moors, you should be prepared for narrow, winding roads with high hedges and dry-stone walls blocking visibility in places. Yorkshire is dotted with one-lane roads, blind bends, and summits. So adjust your speed and familiarize yourself with the rules of countryside driving.
In addition, country roads can add a significant amount of time onto relatively short journeys. For example, from the city of York to Ingleton in the Yorkshire Dales is only 68 miles / 109 km, but due to the nature of the roads, the journey time averages 2 hours each way.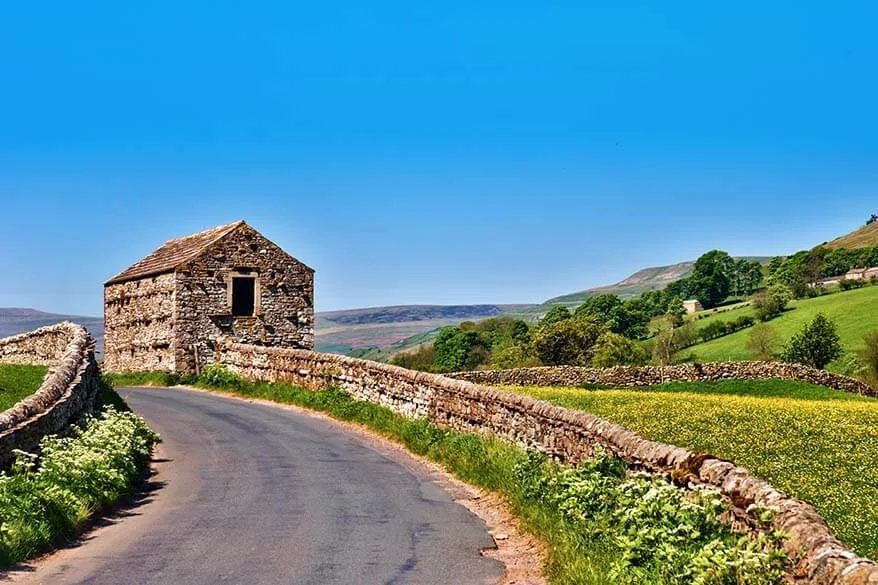 Where to stay for exploring Yorkshire
The city of York is a perfect base for exploring the rest of Yorkshire. York lies in the middle of the region and has excellent road, rail and bus links around the county.
Traveling by train, you can reach Leeds in 30 minutes and Hull in 50 minutes. By car, it is a 1-hour drive to the edge of the Yorkshire Dales and a 1 ½ hour drive to the North Yorkshire Coast.
TIP: If you don't want to rent a car, York is the best base for exploring as well. There are many great organized tours from York that allow you to easily see some of the best places in Yorkshire.
Here are some nice hotels in York for all budgets:
TIP: Using the map below, you can find the best deals for hotels, B&Bs, and short-term rental accommodations in and around York. Simply insert your travel dates and group size, and you'll see what's available for your stay. Check it out!
More inspiration for your trip to England:
London travel guides:
Travel inspiration for Scotland:
READ ALSO: Best Traditional British Dishes to Try in the UK
If you found this post useful, don't forget to bookmark it and share it with your friends. Are you on Pinterest? Pin these images!