Planning to visit Blackpool, UK, and wondering what to expect? In this guide, we share top tips and insider advice for your trip. Find out!
One of the most popular tourist destinations for families in the UK, Blackpool has lots of exciting attractions and fun activities to offer. But as it often goes with such popular places, your vacation can be a hit or a miss, and so much depends on advance preparation and having a good idea of what to expect.
If you are visiting Blackpool for the first time, this guide should help you make the most of your vacation, weekend getaway, or a day trip to this popular seaside resort in the UK. You can learn about free activities to enjoy, the best ways to get around town, where to stay, when to visit, and lots more. We also include a few local words and phrases, so you won't be totally confused when you hear them!
Good to know: This article with top travel tips for visiting Blackpool is written by our writer Christine, who lives in Blackpool and knows the city and the area very well. So in addition to all the useful info, you'll also find some insider tips and her personal recommendations.
Read on for our top tips on how to make the most of every minute of your trip to this fun and friendly coastal town!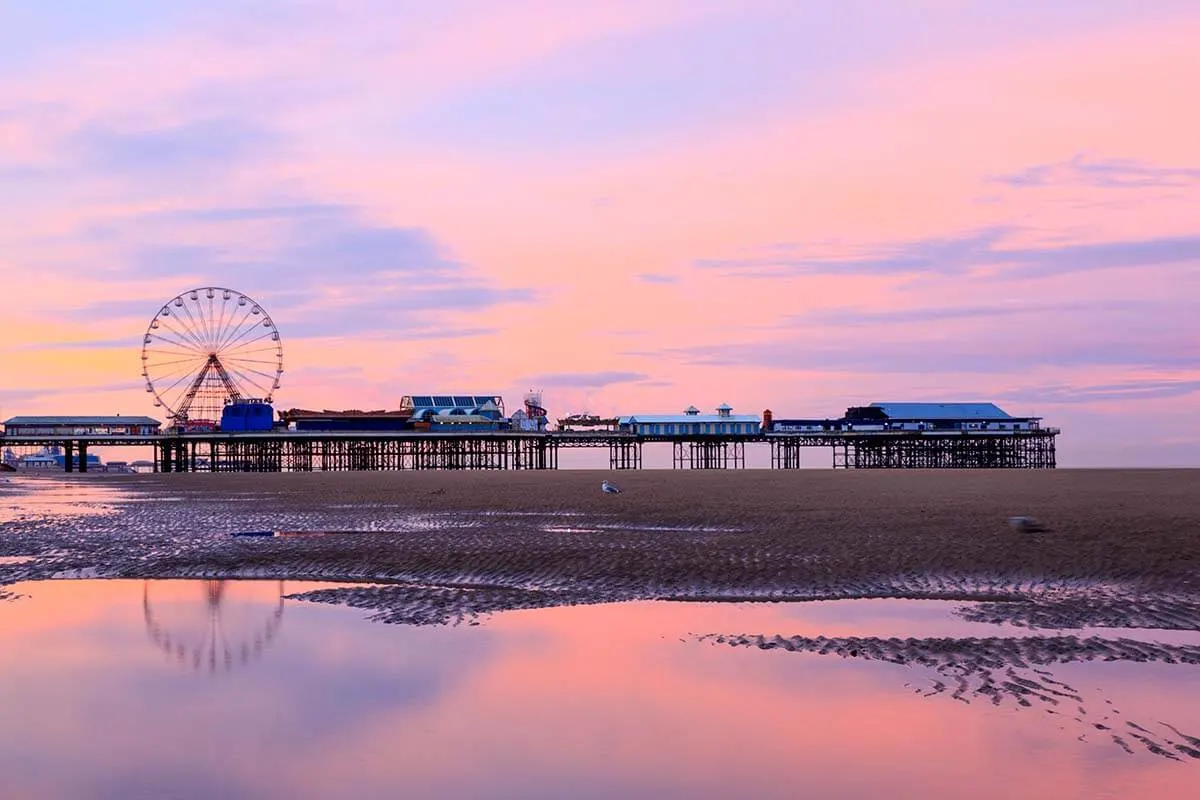 When to visit Blackpool
If you are looking for the typical seaside holiday – making sandcastles on the beach and paddling in the sea – then July and August are the best months to visit Blackpool! The temperatures are at their highest, there are lots of opportunities for sunbathing and it remains light late into the evenings.
That being said, these are also the busiest months in Blackpool by far. Children in the UK are on their summer holidays from mid-July through to early September and Blackpool's popularity means that its beaches and attractions are packed at this time of year.
If you don't mind the weather being slightly cooler – but still very pleasant – you might prefer to visit Blackpool in June. Whilst still busy with daytrippers at weekends, the weekdays tend to be much quieter throughout June. All the attractions are open, so you have a much better chance to enjoy them at your leisure.
September is another great month to visit Blackpool. The temperatures may have cooled off slightly, but at the start of the month, the world-famous Blackpool Illuminations are lit. They usually continue to shine for 66 days, although this is sometimes extended. In addition to enjoying the display – known locally as 'The Lights' – you can also enjoy the World Fireworks Championships, usually held along the Promenade every Friday evening throughout the month of September.
But Blackpool has plenty to offer during the colder seasons too: long romantic walks along the coast, storm-watching, indoor attractions and museums, and also shows and entertainment.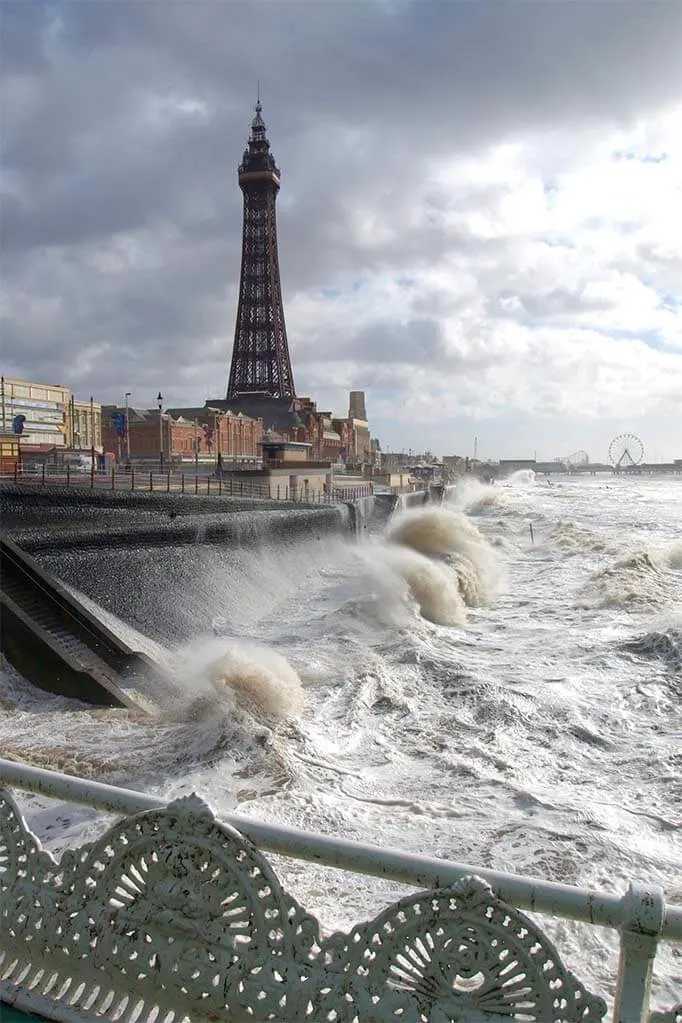 Where to stay in Blackpool
If you want to be in the heart of the action, then there is only one place to stay in Blackpool – and that is on the Promenade itself! You'll find everything from luxury hotels to bed and breakfast inns extending the entire length of the main Promenade and beyond.
Pretty much all of the hotels and guest houses along the Promenade are within comfortable walking distance of the majority of Blackpool's main attractions. Plus they all have rooms offering sea views! Here are some of the most popular Blackpool hotels along the Promenade:
Should the focus of your visit be the Pleasure Beach amusement park, there are two very popular hotels here: the Big Blue Hotel and the Boulevard Hotel. They also offer packages including tickets for entry to Pleasure Beach amusement park.
If you would prefer to escape the hustle and bustle of the main Promenade at the end of the day, there are many hotels and inns in the many side streets leading off the Promenade, plus a few slightly further inland. These hotels tend to be much cheaper than those on the promenade and usually offer great value for your money. Check out The Carlton close to the Blackpool Tower (North) or The Marsden Hotel close to Pleasure Beach (South).
A popular choice outside of town is the Village Hotel, set in 236 acres of the countryside but still only a 10-minute drive from the main Promenade. This hotel is located almost immediately adjacent to Blackpool Zoo and just across the road from the award-winning Stanley Park.
READ ALSO: Best Hotels in Blackpool
If you prefer a self-catering option, there are lots of self-catering apartments in the center and a few caravan parks/ holiday parks in and around Blackpool.
The largest caravan park is the Haven site at Marton Mere. Not only does this give you easy access to the area's Nature Reserve, but it is only 20 minutes by car to the centre of town and the Promenade. Alternatively, you can take the 'Beach Bus 26' that runs regularly from the caravan park and offers an express service to all the attractions.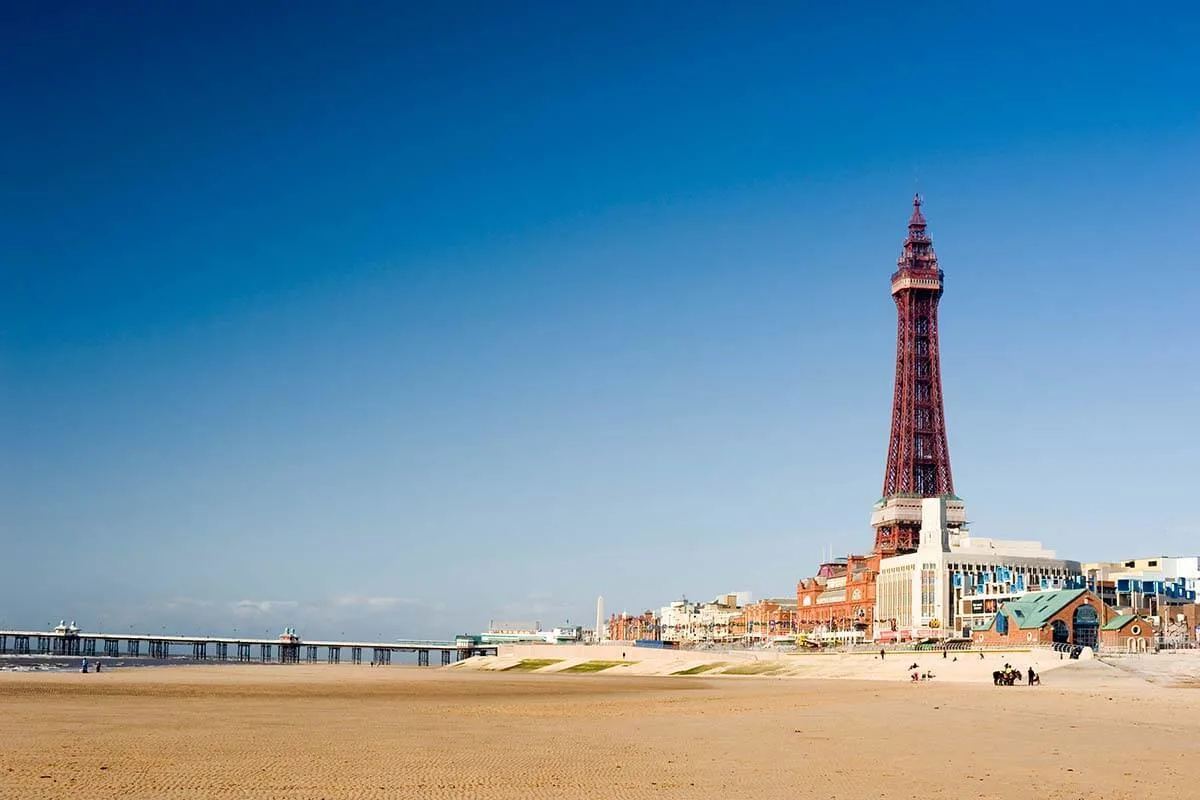 Plan & book everything well in advance
If you plan to visit Blackpool at the peak of the season (July/August or during The Illuminations), you will need to book your accommodation well in advance, as everything gets booked up very quickly.
There is so much to see and do in Blackpool that it can be overwhelming, so it is also a good idea to plan what you want to see and do ahead of time. You can easily spend a week or more in the town and still not have done everything! So I recommend checking out our guide to the best things to do in Blackpool before your trip and deciding on the things you want to see the most, based on the time you have available.
Blackpool frequently plays host to major festivals and events, including everything from the Lightpool Show (that coincides with The Illuminations) to the Rebellion Punk Festival in summer. This is when punks from all over the world gather to celebrate their style, music, and Mohawks! So be sure to check the events calendar ahead to see if there's anything you'd enjoy taking part in during your stay.
TIP: Once you have decided on the attractions you want to visit, I highly recommend booking your tickets for the most popular places in advance. Almost all of Blackpool's attractions are bookable online and the ticket prices are generally lower than if you pay at the gate. There is often a separate entrance for those who have pre-booked, so this will cut down on queuing time too.
PRO TIP: If you are planning to visit several of Blackpool's top sights, the PICK 'N' MIX Pass offers amazing value. It allows you to choose your own combination of the top 8 attractions (The Blackpool Tower Eye, The Tower Circus, The Tower Ballroom, The Tower Dungeon, SEA LIFE, Madame Tussauds, Peter Rabbit, and The Gruffalo & Friends Clubhouse). You can opt for a pass for 1, 2, or 7 days.
Some of the town's most popular restaurants will be very busy at peak times, so you might also want to reserve your table for dinner in advance too.
!!! Don't pack your days with activities and be sure to allow yourself some time just to relax! Whilst Blackpool's bustling energy is exhilarating, so too are some of the more tranquil moments. And sitting on the Promenade watching the sun go down on the horizon will make a special memory of your visit here.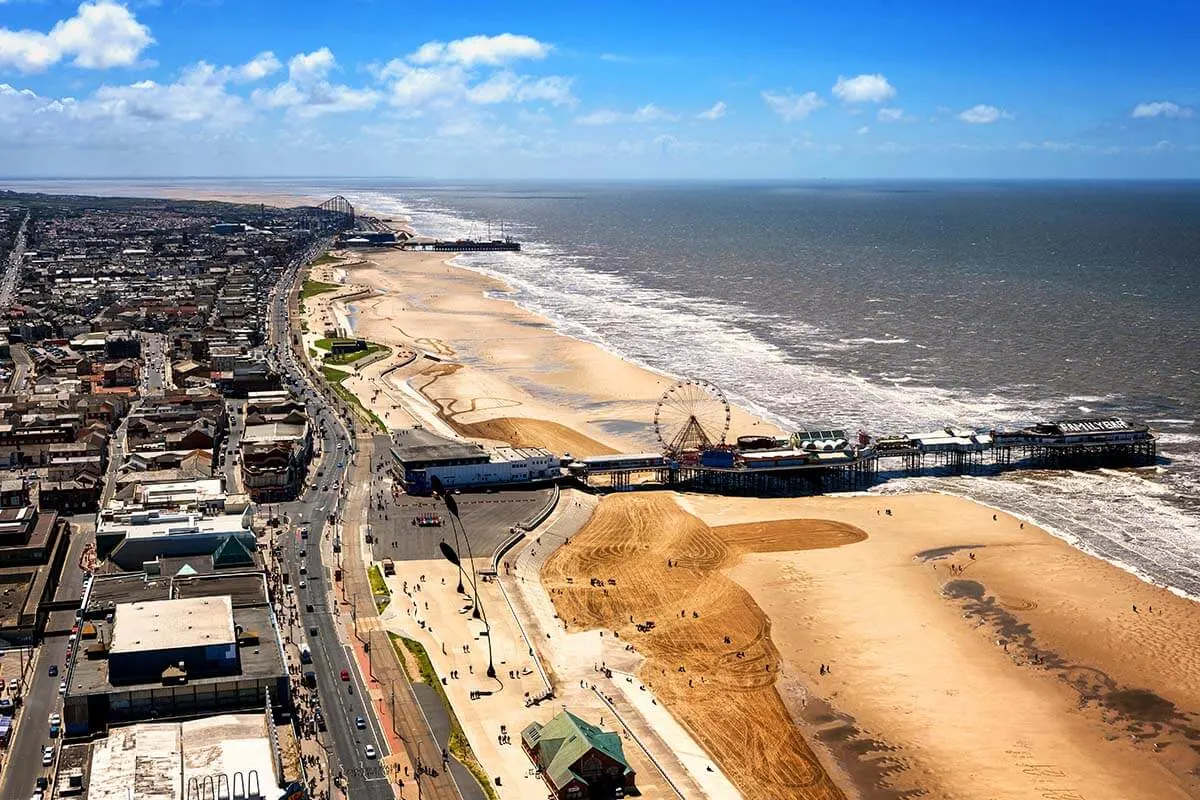 Getting around in Blackpool
The great thing about Blackpool is that most of the main attractions are so close together that you can explore everything on foot. Only a few attractions – Blackpool Zoo, Stanley Park, Blackpool Model Village, and Marton Mere Nature Reserve – are out of town. But even those places are all easily accessible by public transport and only around 20 minutes away by taxi.
Whilst hiring a car is an option if you want to explore further, parking in Blackpool is relatively expensive. It is also hard to find a spot! Although there are more than 5,000 spaces, parking in the vicinity of the Promenade at the peak of the season is challenging.
Almost all of the major car parks are owned by Blackpool Council and use a Pay by Phone system, which enables you to download an app and make your payment from there. I recommend using that system if possible, as you can extend the length of your parking session remotely.
If you buy a ticket at the machines in the car park (which accept cash or debit/credit cards), you have to predict how long you need. This may result in rushing back to the car when you might have preferred to stay in town for longer!
The easiest way to get around Blackpool is via bus or tram, both of which are clean, modern, and efficient. You can buy tickets on the bus/tram, or download the Blackpool Transport app and buy them from there. The app also allows you to track vehicles in real time and lets you know about any service updates. Alternatively, you can buy tickets from local shops displaying the PayPoint sign.
You can use contactless payment cards on Blackpool's buses (just place it under the scanner when you board). Stops are announced so it is easy to find the one you need and there is route information available on the app. At the time of writing, contactless payments are not accepted on Blackpool's trams, but this is set to change soon. Cash is accepted on both buses and trams, but try to have the correct change ready if possible.
Note that Blackpool's Heritage Trams are not included in any regular bus or tram tickets, but can be booked separately online.
Taxis in Blackpool are well-regulated, reasonably priced, and safe to use. Just call any of the local taxi companies to book your ride – you will be sent a text to let you know the taxi is on its way and the vehicle's registration number. You will usually be sent another when it has arrived. There is no Uber in Blackpool.
Blackpool's main train station – Blackpool North – is an end-of-the-line station, well connected to the National Rail Network. Blackpool is quite easy to reach by train from most bigger cities in the UK; it's just 1.25 hours to Manchester or Liverpool and only 3 hours to London!
So if you are just planning to stay in town and don't really need a car, it's best to come by train!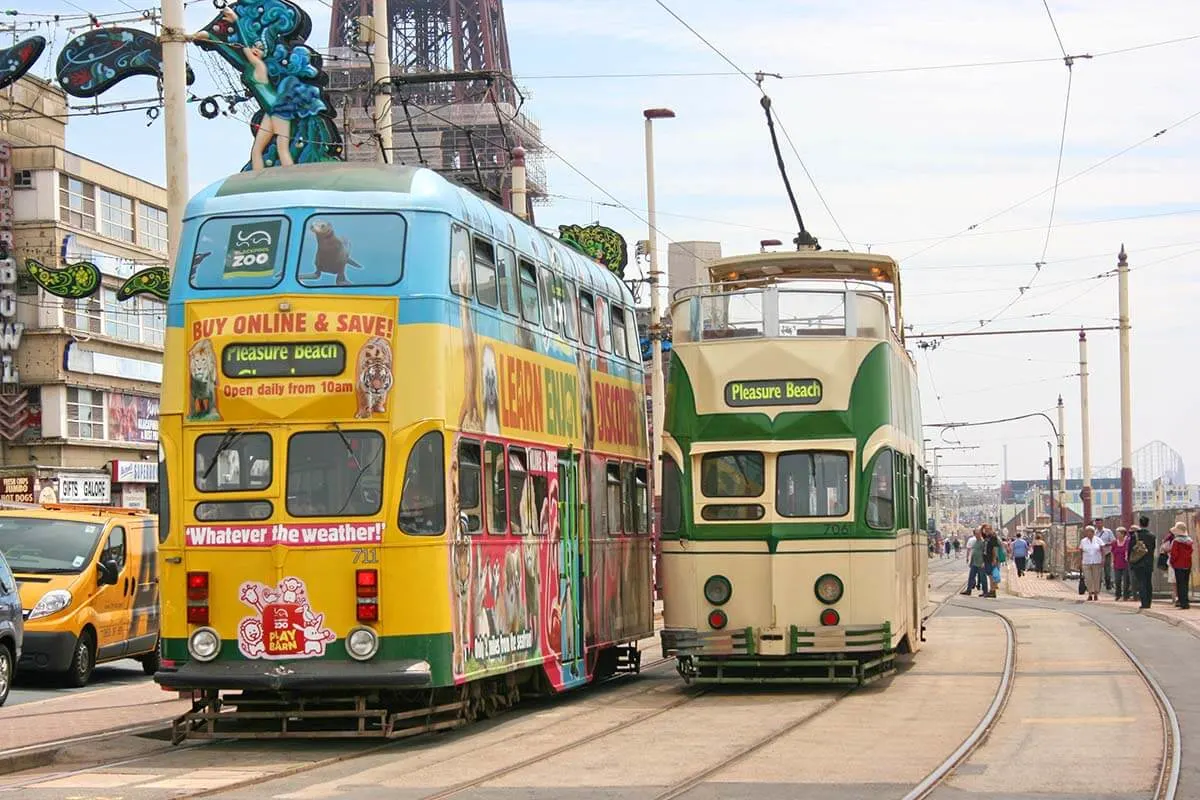 Dress for the weather
If you are visiting Blackpool in the summer, then hopefully you will be welcomed with warm days and plenty of sunshine. Temperatures can soar in July and August, so make sure you have lots of sun protection and stay well hydrated at all times.
However, the British weather is notoriously unpredictable, so it's best to be prepared with waterproof clothing in case of rain and a couple of extra layers of warm clothes in case temperatures drop.
Remember that the main Promenade runs right along the coastline and that sea breezes can sometimes be cool, particularly in the evenings. A lightweight waterproof is also ideal for taking with you to the Pleasure Beach – on some of the rides you can get very wet indeed!
As you will likely be spending most of your time enjoying the attractions along the main stretch of the seafront, make sure you wear comfortable shoes for all that walking!
Enjoy Blackpool's beaches
If you prefer your walk on the beach to be quiet and tranquil, walk north from North Pier towards Bispham.
Central Beach – between North and Central piers – is much busier, with a lively, family atmosphere. This is also where you will find the popular Blackpool donkeys providing rides for children.
For the very best photos, head south past Central pier. The beach is wide and you can get the big wheel and the Tower in one shot, capturing the iconic Blackpool skyline. Keep going south and you will come across numerous rock pools, which are great for kids to explore.
TIP: It is very important to check tide times when visiting Blackpool. In part, this is because the beach is entirely underwater at high tide – very disappointing if you're not expecting it! But you also need to be aware of whether the tide is going in or out, as sandbars make it possible to become cut off from the main beach by rapidly incoming waters. Beach patrol officers are on duty daily and it is important to heed their advice and obey any signage.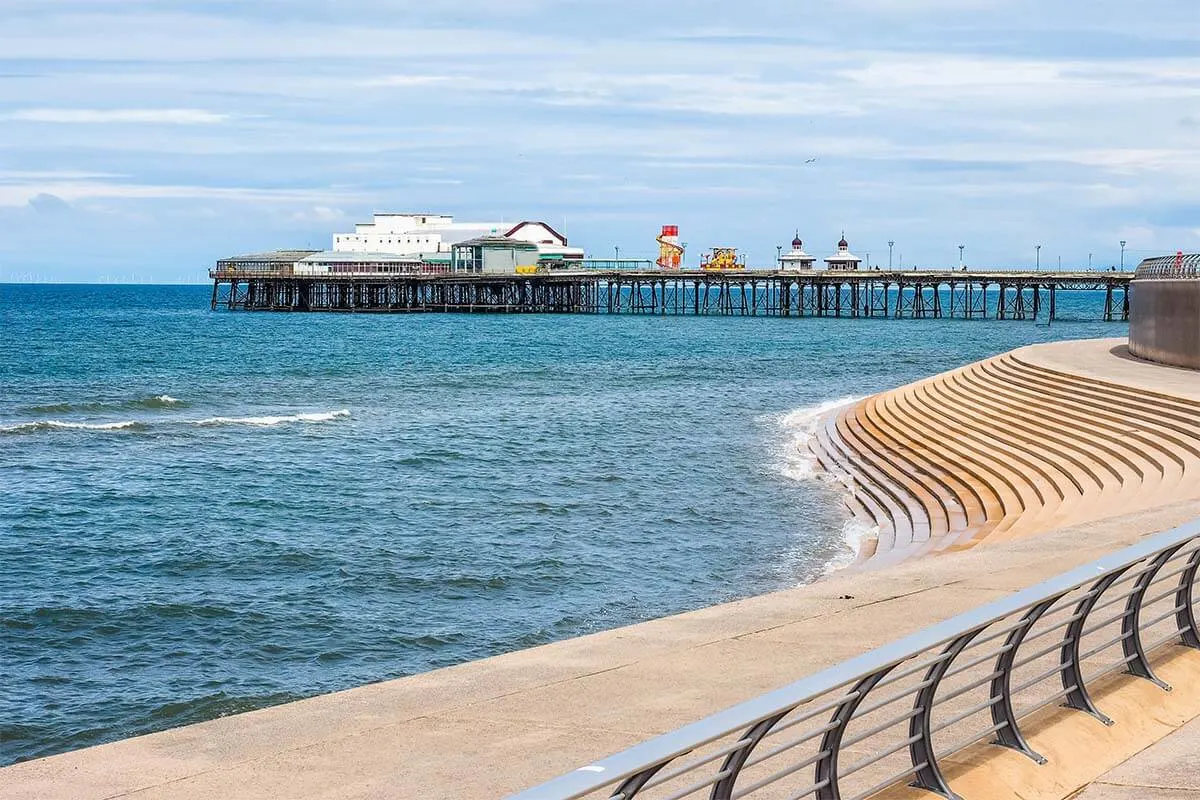 Money matters
Credit, debit, and other contactless payments are accepted almost everywhere, although be sure to set aside some cash for buying ice creams on the Promenade or playing the funfair-style games on the pier. Contactless limits have recently been raised, but you will sometimes need to use Chip and Pin (a card with a chip and a 4-digit PIN number). So be sure to have these available.
Don't be surprised to be given Scottish banknotes in your change. There are lots of Scottish visitors in Blackpool, so you will see a lot of banknotes issued by Scottish banks. Just like English banknotes, these represent pounds sterling and are accepted everywhere.
TIP: If you use an ATM during your stay, choose to be charged in local currency (GBP). If you choose to be charged in your home currency instead, the bank or ATM provider will set the exchange rate. This will make your fees higher.
Money-saving tips & free attractions
There are plenty of ways to keep the family entertained in Blackpool for free, or at a very low cost. The biggest free attraction is, of course, the magnificent coastline – an unbroken 7 miles of clean, flat sand, where you can easily while away the hours making sandcastles and enjoying the sunshine.
The piers are free to enter and there are lots of places to sit along their length and simply admire the view! Other free attractions include The Illuminations (more about it further below), Stanley Park, Grundy Art Gallery, and Marton Mere Nature Reserve.
You can save money on bus and tram travel by buying a 24-hour or 7-day 'saver' ticket, which is much cheaper than buying tickets separately. Saver tickets are available for adults, young people, children, and groups (including family groups).
They can be bought via the app, onboard buses/trams, or at shops displaying the PayPoint logo. They are valid for unlimited travel on all of Blackpool's buses and trams, so they are good value for money. Also, if you buy paper tickets onboard the buses and trams, check to see if there are any discounts for local attractions printed on the back of these tickets.
Many of Blackpool's major sights – including all the attractions inside the Blackpool Tower, but also SEA Life and Madame Tussauds – offer deals where you can get reductions if you book another Blackpool attraction at the same time (see the PICK 'N' MIX Pass for all the options).
Depending on which options you choose, the PICK 'N' MIX Pass can save you over 50%!
TIP: If you travel into Blackpool by train, you may be entitled to a '2 for 1' ticket to many attractions. Visit the National Rail website to find out more. And if you are in a group, be sure to check the website for the venue or attraction you are planning to visit for group discounts.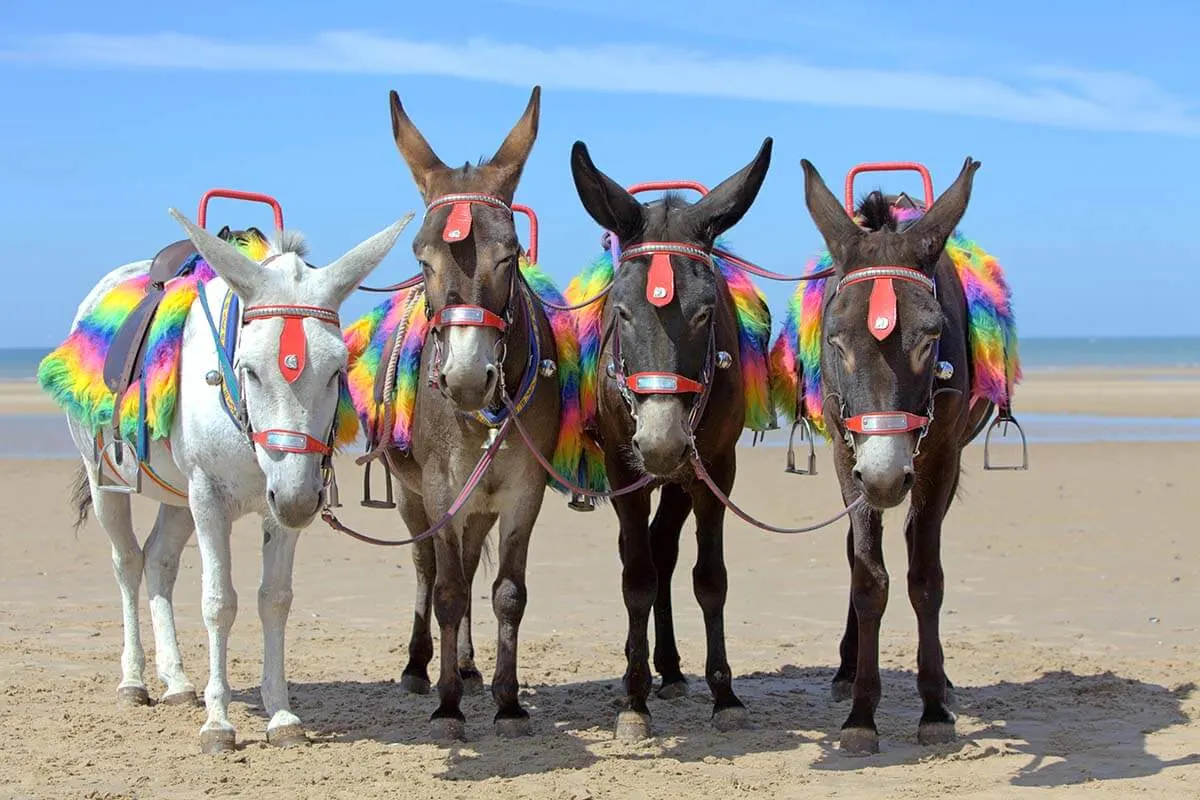 Make the most of your visit to the Pleasure Beach
Located on the South Promenade and boasting the tallest and steepest rollercoaster in the UK, the Pleasure Beach amusement park is one of Blackpool's most popular attractions.
All entry tickets are 'e-tickets', which means they will be on your phone. Make sure that your phone is fully charged for your visit, and if possible bring along a portable charger too.
Because Pleasure Beach is so busy, consider buying a Speedy Pass, which will queue virtually for you and save you standing in line. It won't get you on the ride any quicker, but it means that you can go on other rides whilst waiting for your turn. If you really want to splash out, you can get a VIP Speedy Pass that reduces your waiting time by 90%, enabling you to go on more of the most popular rides during your visit.
If you don't have a Speedy Pass, a good tip is to wait until towards the end of the day to go on the very best rides, as the queues will have died down somewhat by then. The closing time for each ride is clearly posted at its entrance, so make sure you don't leave it too late! One exception is the Icon – the theme park's newest ride. Although the queues for the Icon look very long, they go down quickly, especially when all 3 trains are running.
TIP: Avoid visiting the Pleasure Beach when it is windy, as – due to its extreme height – the Big One (the steepest rollercoaster) will be closed.
There are lots of places to eat inside the grounds of Pleasure Beach and you can buy an 'All you can Eat' ticket ahead of time, which covers all your food and drink for the day. However, this is quite an expensive ticket and it doesn't include every eating establishment (most notably, Burger King isn't included!). You can bring in a picnic if you prefer and there are lockers available to store it while you ride.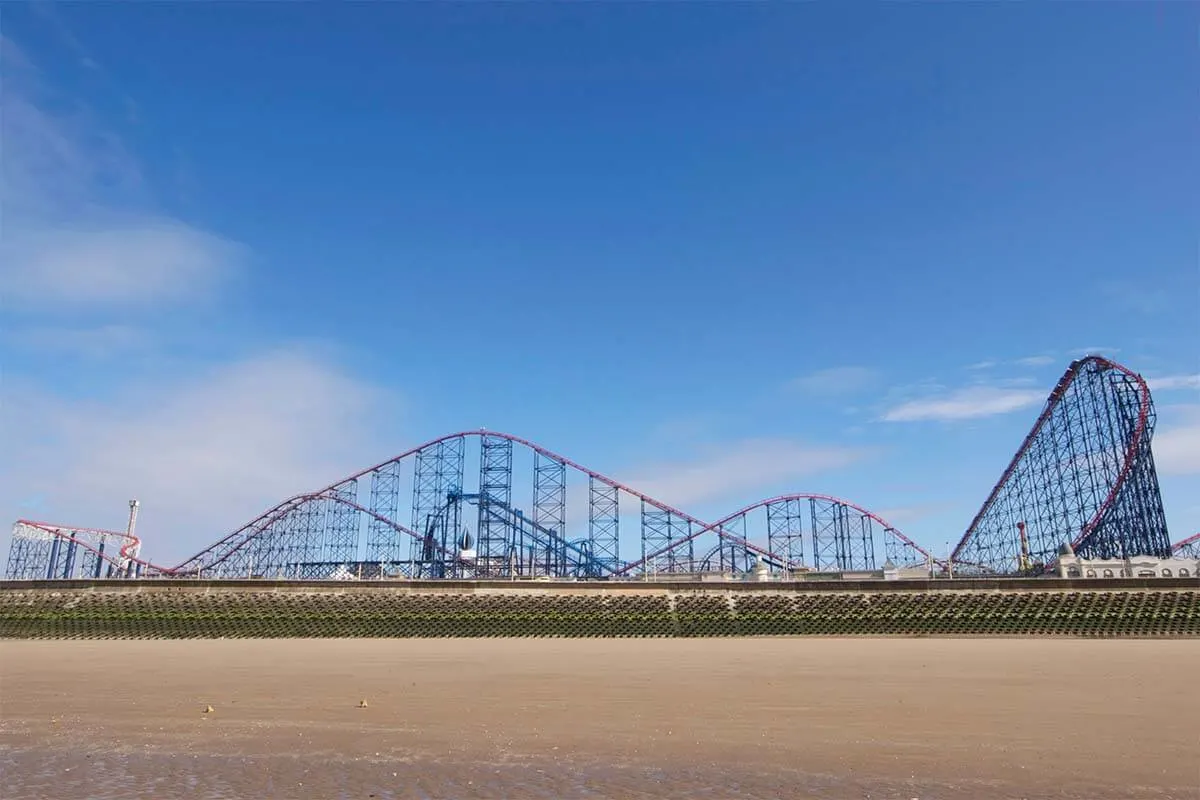 Enjoy the greatest light show on earth, Blackpool Illuminations
If you come to Blackpool to see The Illuminations, be prepared for the Promenade to be VERY busy at night. If you plan to drive through them, try to visit on a weeknight. At the weekends, the traffic virtually comes to a standstill! A good tip is to drive through them from north to south, which always tends to be the quieter direction.
Alternatively, take the tram along the entire route, or join the Illuminated Tram tour, boarding one of three illuminated trams that run in a loop, originating from a stop opposite the Pleasure Beach. When you ride on an illuminated tram you almost become part of the illuminations yourself, so get ready to wave back at everyone you pass along the route!
But perhaps the nicest way to see the Lights is to walk along the Promenade and soak up the lively atmosphere, maybe enjoying a box of fish and chips along the way! If you can't walk far, the best parts to visit on foot are the tableaux at the northern end of the display.
Good to know: The Illuminations usually take place from September to January (see here for more info) and are free to visit. But there are donation points along the route and you can even donate online. Another fun way to contribute is to become part of the Illuminations yourself! For £50 the image of you or a loved one can be brought to life in lights and included in the Headlights displays at the cliffs section of the northern Promenade.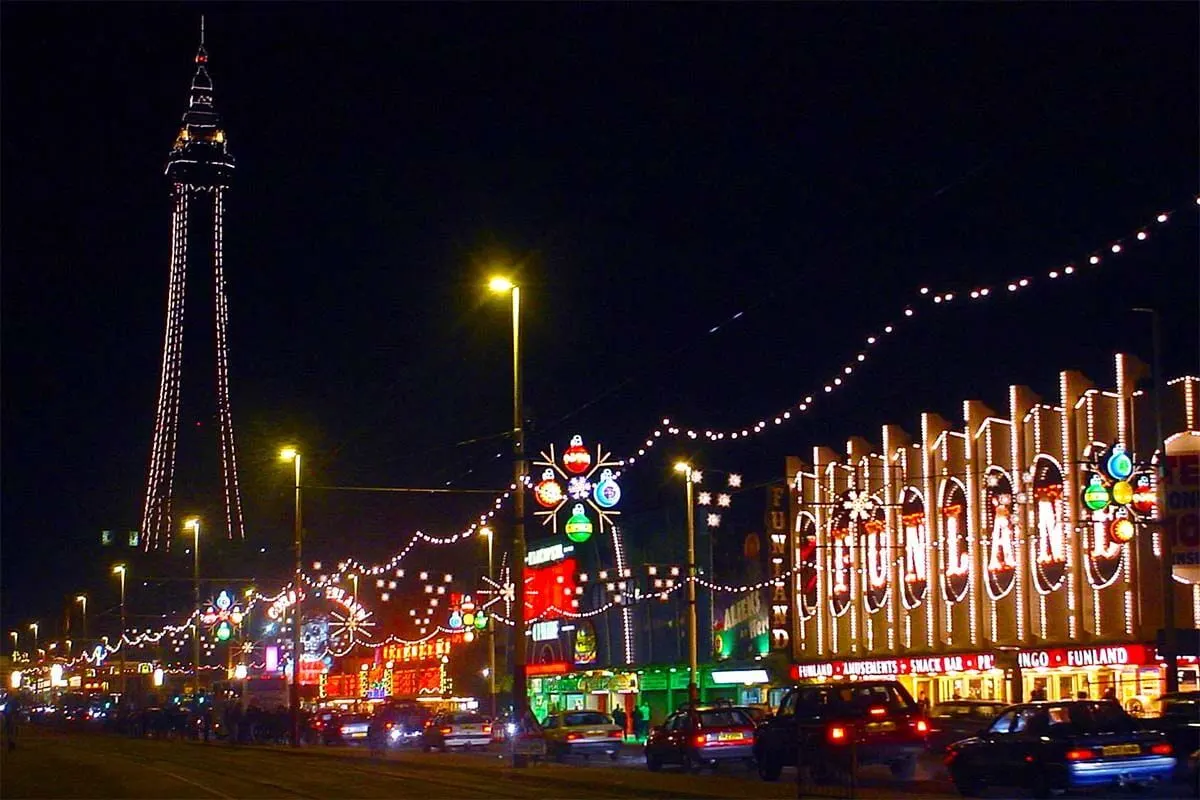 Where to eat in Blackpool
Below, are some of our favorite restaurants in Blackpool. If you are in town for a longer vacation, be sure to try them all!
Blackpool is the home of fish and chips and the world-famous Harry Ramsden's Fish and Chip Shop is located right on the Promenade. If you happen to miss it, there are plenty of other spots to enjoy this traditional British meal right throughout the town.
Be sure to check out Hive – an artisanal cafe that serves the very best coffee in town, plus mouthwatering breakfasts and lunches made with fresh local produce. It is located in the main shopping area, just a few minutes' walk from the seafront.
For the best views, visit the White Tower Restaurant, which is housed in a gorgeous art deco building beside the Pleasure Beach. Enjoy the finest cuisine as you look out to sea. In autumn, it is one of the very best places from which to view The Illuminations!
There are plenty of international options too. The family-owned Hauze restaurant offers the very best European Cuisine and is truly a hidden gem, located just off the Promenade at North Shore.
For an authentic tapas lunch, head to Mi Casa Su Casa, located just off the Promenade at Bispham. The food is divine, the service impeccable and there is a covered outdoor area for dining al fresco and watching the world go by.
Ice cream is available everywhere in this seaside town, but for the best ice cream you've ever tasted, head to Notarriani, just off the Promenade at South Shore. This 4th generation family-run business makes its own Italian vanilla ice cream following a secret family recipe.
TIP: If you have a sweet tooth, be sure to try some Blackpool rock! This iconic confectionery – still made by hand – is a cylindrical tube of solid, boiled sugar, usually flavored with spearmint or peppermint. What makes rock unique is that the name of the town runs right through it. Bags of cinder toffee – which are chunks of sinfully sweet honeycomb – are another type of confectionery very popular with the locals!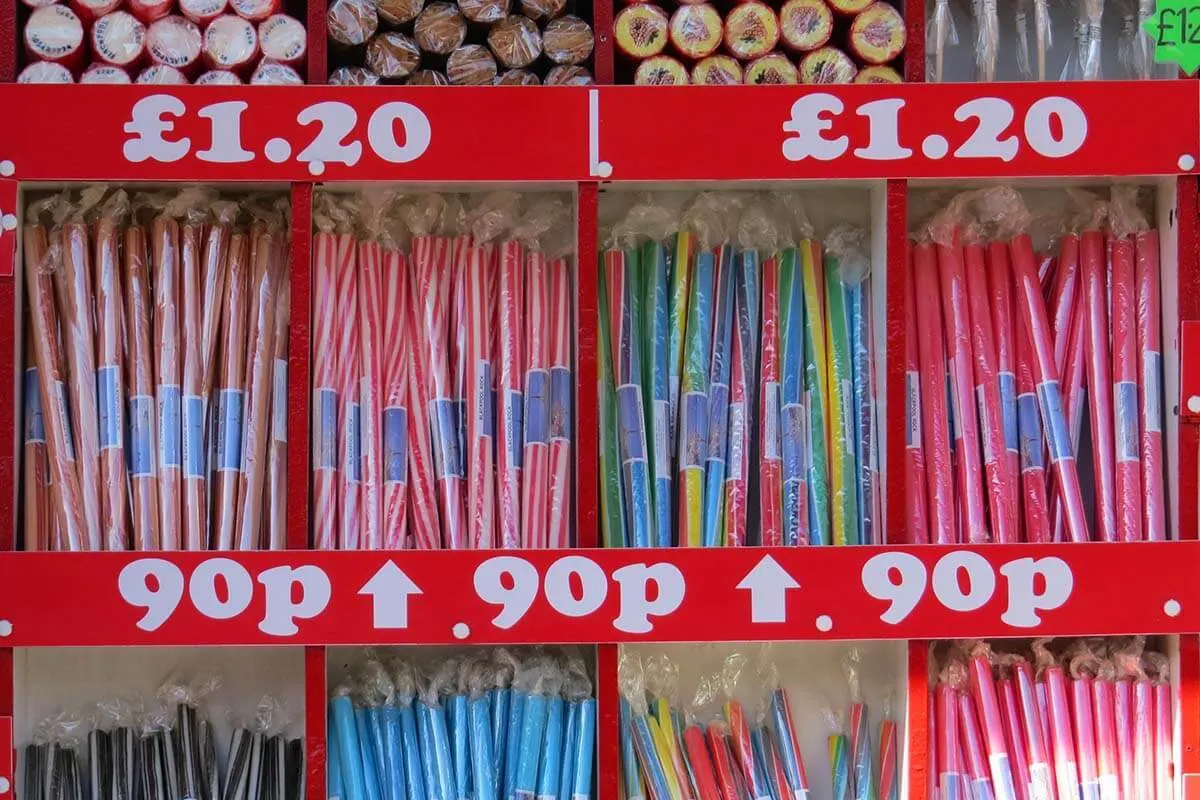 Visit some surrounding areas
Whilst Blackpool has good rail links to all of the UK's major cities – and is just an hour away from the beautiful Lake District – there are many lovely places to visit just outside town.
Head south from the main Promenade to visit St. Anne's, a lovely little town with a huge beach. At the northern end lie the sand dunes, a protected area with some beautiful views from the top and a great place to take a walk with the kids.
Head north from the Promenade and continue past Bispham into Cleveleys, a small, quiet town with a stunning Promenade. Just past Cleveleys is the Victorian resort of Fleetwood, where you will find lots of evidence of its history as a fishing town. Today it has an Art Deco Theatre, a beautiful beach, and a harbour yacht marina set beside a discount shopping village.
Blackpool is also surrounded by beautiful countryside and there are lots of pretty local villages to explore, along with the River Wyre which runs inland from Fleetwood.
LEARN MORE: Best Places to Visit Near Blackpool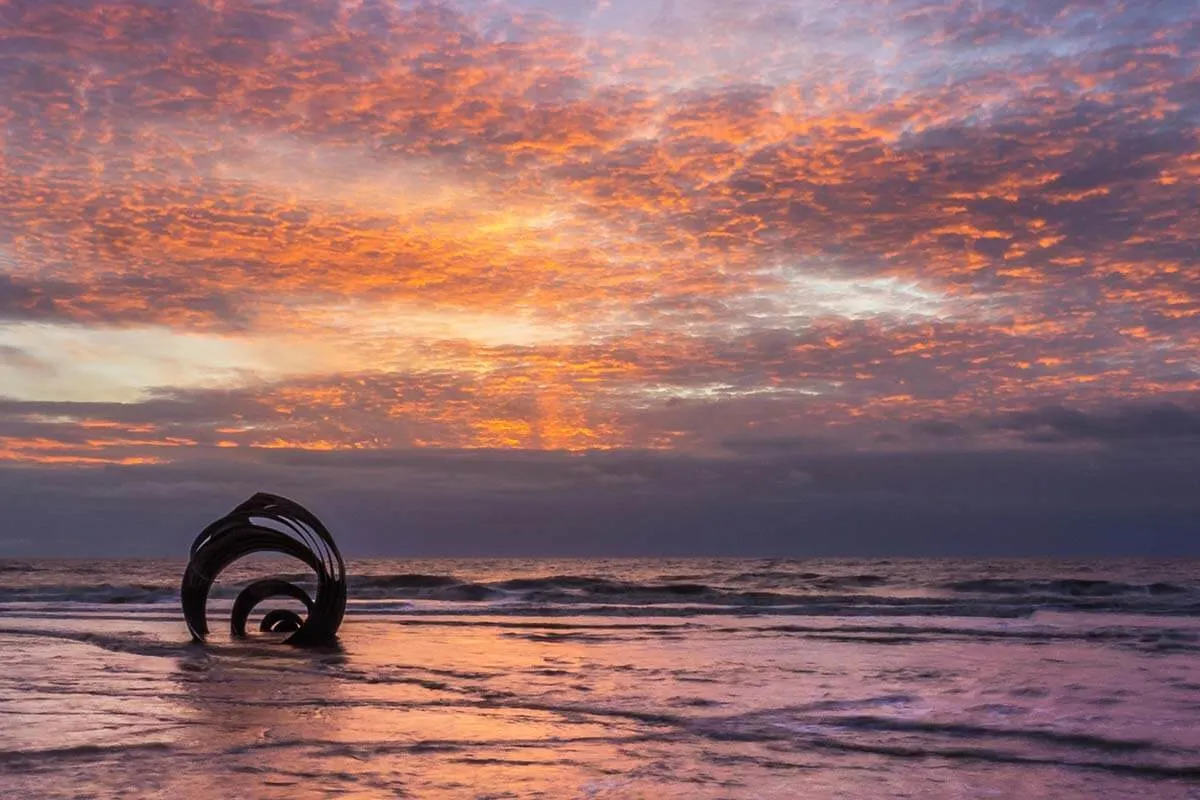 Accessibility
Blackpool is very accessible, with all major attractions, venues, and the Promenade providing wheelchair access, and some attractions offering wheelchairs to hire.
All the new trams are accessible by wheelchair and the low floor buses are designed for easy access. Only one of the Heritage Trams – the Western Train – has a wheelchair lift, along with space for one wheelchair – the rest have steps. Nevertheless, the conductors are helpful and will do their best to assist everyone in getting aboard.
For more information about accessibility in Blackpool, check AccessAble.
Discover the local dialect
There are a few words and phrases used in Blackpool that you might not have heard in the UK. So here's a quick rundown of some of the most common phrases to save you from confusion!
Ey up cocker: Hello.
Ta-rah: Goodbye.
D'ya want owt? : Do you want anything?
Nowt: Nothing.
Chuffed: Very happy.
Brew: Cup of tea.
Chippy tea: Dinner from the fish and chip shop.
Teacake: A bun with dried fruit.
Barm cake: A bread roll.
Lad/lass: Boy/girl.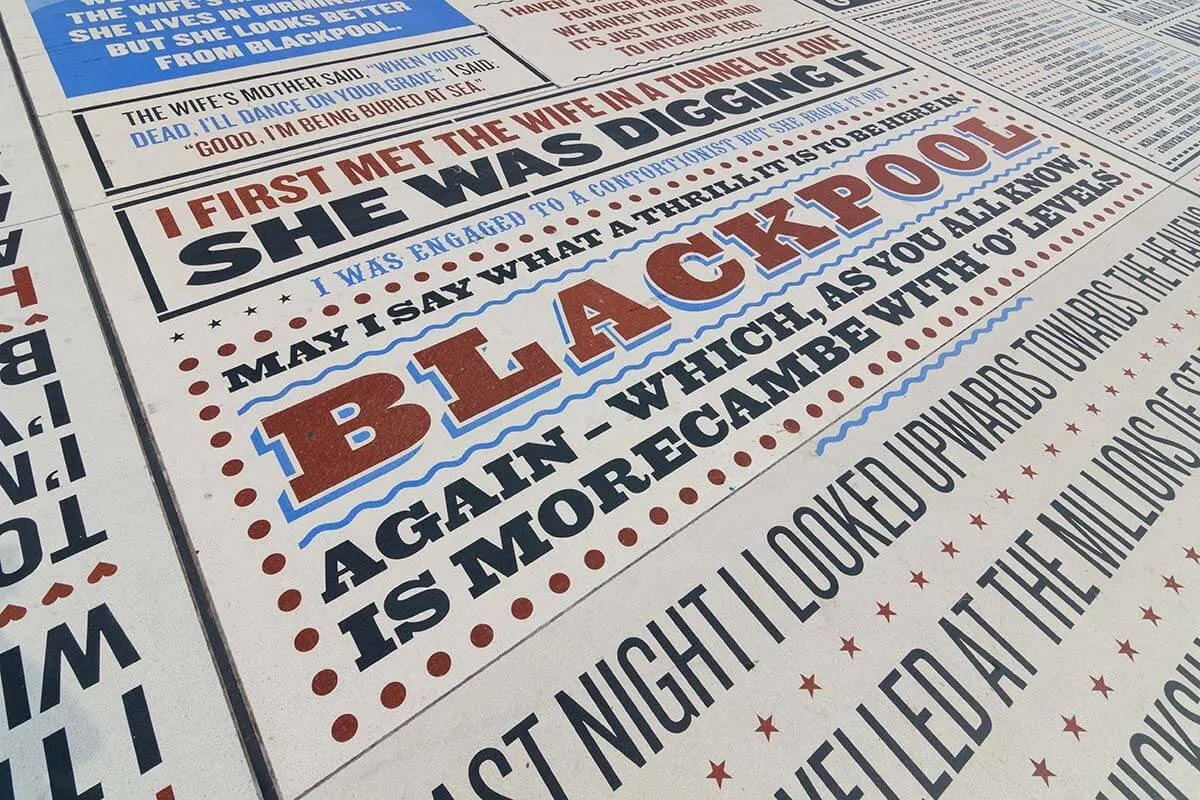 Final tips
Depending on where you are travelling from, you may need a UK travel adapter for electrical appliances. Type G plugs are used in England, which are different from those used throughout much of the rest of Europe.
Tipping in the UK is not as common elsewhere in the world, although it is still very much appreciated. If you are in a larger group, you may see this automatically added to your bill as an optional 'service charge'. Should you wish to leave a tip, 10% of the bill is considered standard, rising to 15% for very good service.
Do not litter! On-the-spot fines are issued to anyone caught littering, which includes discarding cigarette ends onto the ground.
If you have any questions or problems during your stay, visit the Tourist Information Centre. It is located at Festival House on the Main Promenade, just 2 minutes from the Blackpool Tower.
So, these are our tips and info for visiting Blackpool. Hopefully, this gives you a better idea of what to expect and helps you make the most of your Blackpool vacation. Have a great time!
READ ALSO:
Best Things to Do in Blackpool
Where to Stay in Blackpool
More tips for your trip to the UK:
If you found this post helpful, don't forget to bookmark it and share it with your friends. Are you on Pinterest? Pin this image!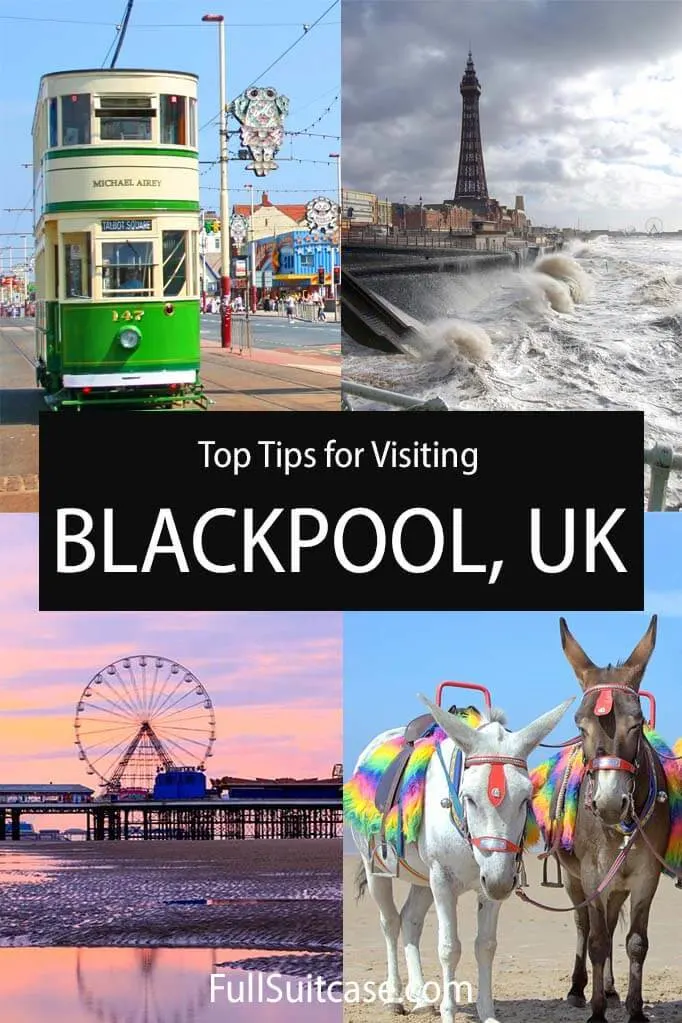 Image credits: ElectricEgg/Depositphotos.com, dannyallison/Depositphotos.com and Depositphotos.com