Looking for an Isle of Skye itinerary or tips for your Isle of Skye road trip in Scotland, UK? Read on!
The Scottish Isle of Skye is famous for its breathtaking scenery, rugged beauty, and unpredictable weather. Rolling hills, epic mountain ranges, historic landmarks, and vast lochs combine to create the perfect go-to destination for nature lovers and history buffs alike.
But with so much to see and do, deciding what to include in your Isle of Skye itinerary is a mammoth task in itself.
To save you the hassle of planning your own trip, we've put together a 5-day Isle of Skye itinerary. It will help you make the most of your time in this beautiful part of Scotland.
Whether you're visiting the Isle of Skye as part of a Scotland road trip or paying a special visit just to see this beautiful island, you'll find plenty to keep yourself busy whatever your interests or the duration of the trip.
Ever since my husband visited Scotland and shared his experience about his bucket list Scottish whisky tour, I had readers ask for more recommendations for visiting Scotland. Since my own trip to Scotland dates from many years ago, I asked Zara, a UK-based travel blogger from Passport for Living, to share her experience-based tips for one of the most beautiful parts of Scotland – The Isle of Skye.
In this article, you can read about the best places to see and things to do on Skye and find a recommended 5-day itinerary for the Isle of Skye, covering all of those places. We also included a map that should help you plan your trip. Find out!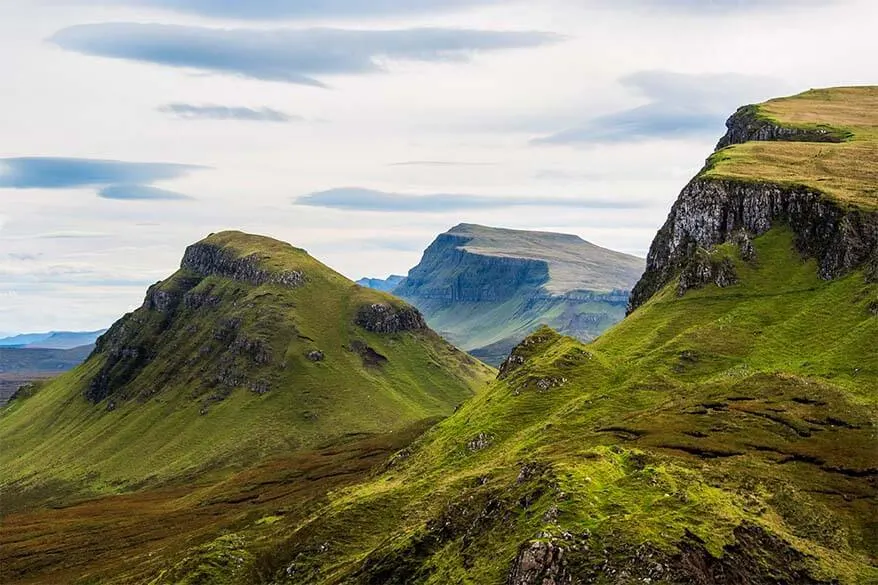 This is a slow-paced, easy-going self-drive Isle of Skye road trip itinerary. It includes an average of two activities a day, so it really should be doable for everyone. In addition, you can also find a map indicating all the places we included in our Isle of Skye itinerary.
Good to know: Use these tips and suggestions as a recommendation to create your own perfect Skye itinerary. You may be able to see more places in a day if you travel faster or don't spend time hiking, so adjust your planning accordingly. At the same time, keep in mind that the weather in the Scottish highlands isn't always cooperating, so you may want to switch some things around in order to make the best of your trip.
If you like to pack your days, it is very well possible to see the best of Isle of Skye in just 3 days as well. If you are looking for even more ideas, I also included a few additional suggestions for things to do on the Isle of Skye at the end of the post.
TIP: If you don't want to worry about any practicalities, you can also book an Isle of Sky tour. There are so many options, starting from day tours to multi-day tours to this beautiful region.
Read on for my recommendations on the best things to see, places to eat, and the best places to stay for your visit to the Isle of Skye!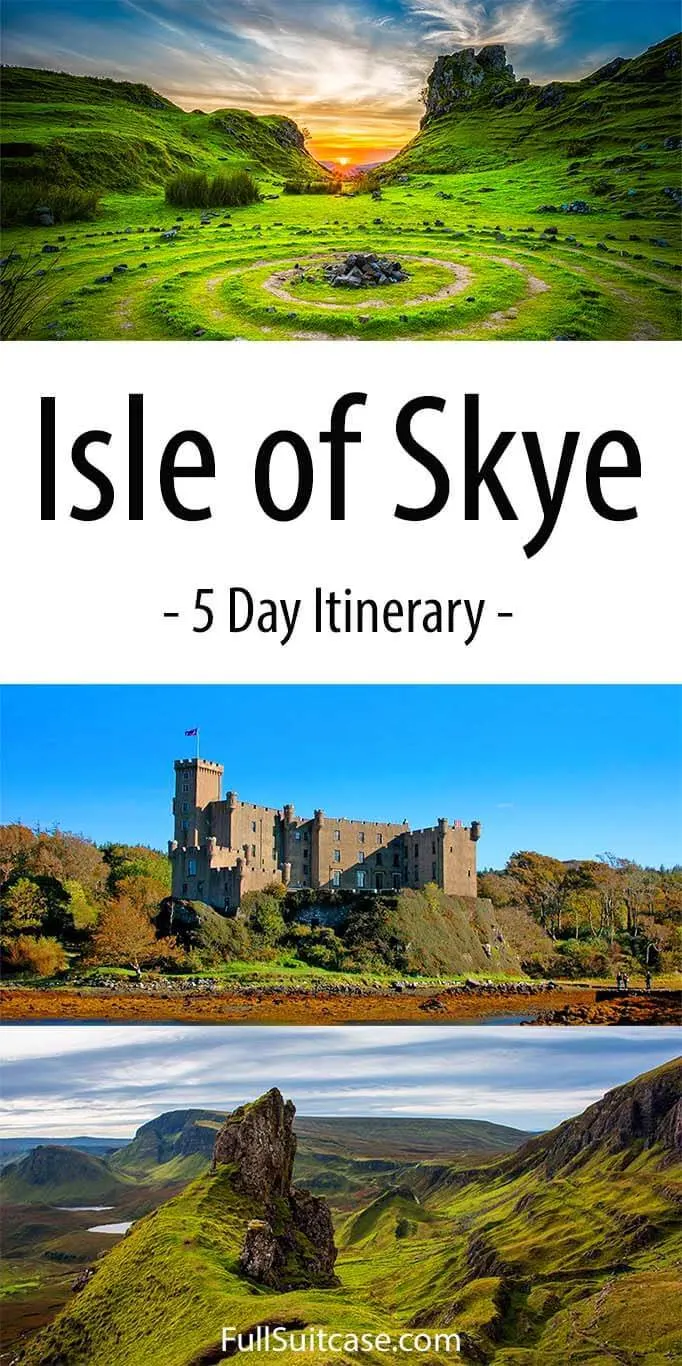 Map of the Best Things to Do on the Isle of Skye
Before we get to the detailed Skye itinerary, here is a map featuring all the main places to see on the Isle of Skye that are mentioned in this post.
We also indicated the recommended restaurants. It should help you get a better idea of where everything is located.
How to use this map: Use your computer mouse (or fingers) to zoom in or out. Click on the icons to get more information about each place. Click the arrow on the top left corner for the index. Click the star next to the map's title to add it to your Google Maps account. To view the saved map on your smartphone or PC, open Google Maps, click the menu and go to 'Your Places'/'Maps'. If you want to print the map or see it in a bigger window, click on 'View larger map' in the top right corner.
Here is our suggested Isle of Skye itinerary:
Day 1: The Quiraing – Kilt Rock – Mealt Falls – Lealt Falls – Fairy Glen
Eager to hit the road, we head towards one of Skye's most famous landmarks, the Quiraing. Situated in the north of Skye, the Quiraing is part of the Trotternish Loop, serving up some of the most jaw-dropping scenery on the island.
The Quiraing Trail
The Quiraing trail forms a hill circuit of 6,8km (4.3 miles) and offers some of the most amazing views over The Isle of Skye. Without stops, it should take 2 hours to complete but you can bank on it taking much longer than that. We stopped frequently on the way to take photos and admire the view. If you plan on doing the same, I'd recommend allowing half a day to fully appreciate the landscape.
Whether you're into hiking or not, this walk is a must do. The Quiraing hike is fairly flat, but can be slightly unsteady under foot with shingle and lose rocks on some parts of the trail, so make sure to bring a good pair of shoes and comfortable clothing, as well as light waterproofs in case of unpredictable weather. Also, don't forget to bring your camera!
TIP: If you don't fancy the entire hike, I'd recommend you just walk a little way along the trail to admire the spectacular views across the mountain range. Even if you are short on time, this is a must-do!
Practical information: The Quiraing car park is small considering its popularity and gets extremely busy during the summer months. If the car park is packed, you should be able to park further down the road.
Lunch at a Local Café
After your morning hike, you'll no doubt have worked up an appetite. Why not stop at a local café for some traditional British food.
A popular option in this area used to be the Pie Café at The Glenview which served sweet and savory gourmet pies made with local, organic produce. However, locals have let us know that the café is now closed and will only occasionally offer 'pie pop-up'.
The Telford Tea Room in Staffin might be a good alternative for lunch in this area. They serve soup, sandwiches, and traditional afternoon tea is available as well.
Kilt Rock, Mealt Falls, Lealt Falls
After lunch, drive down to the coast where you'll find epic views of Kilt Rock and Mealt Falls. It'll take you 10 minutes to reach Kilt Rock and Mealt Falls from the Quiraing, with Lealt Falls just 5 minutes further south.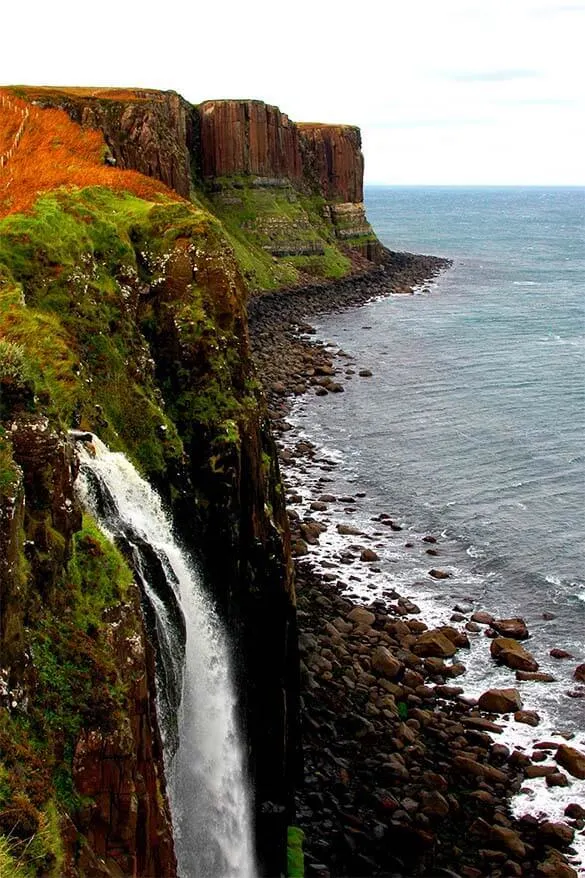 Fairy Glen
If you have an hour to spare, Fairy Glen is a nice place to visit nearby. And no, these stones have not been placed here by fairies, but tourists. It seems that locals have now started to remove all the cairns and stones in order to restore the beautiful scenery of Fairy Glen to its original state.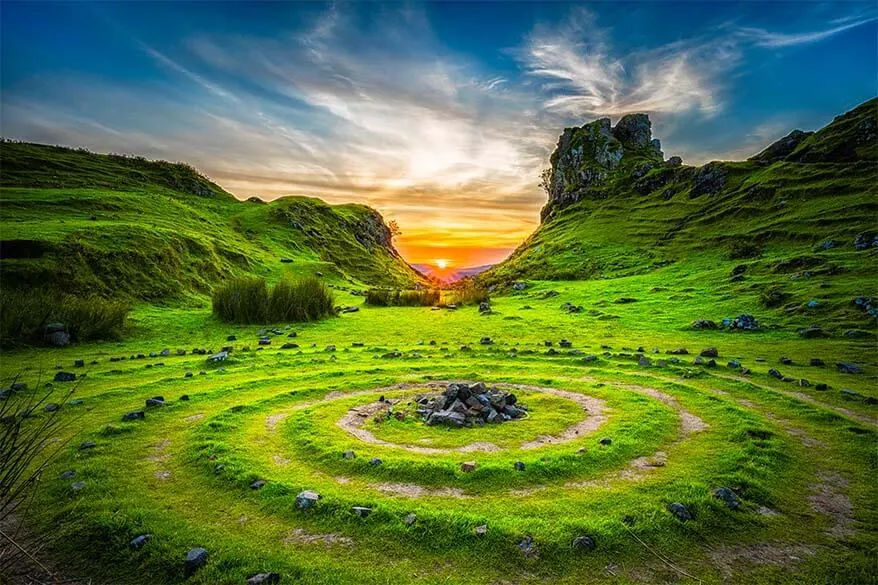 Day 2: Fairy Pools – Talisker Whisky Distillery
Fairy Pools
You'll find the magical Fairy Pools at the foot of the Black Cuillin Mountains. Set against a spectacular backdrop, the Fairy Pools present a series of waterfalls and crystal clear pools just waiting to be discovered. As another one of Skye's most famous attractions, you'll find the area busy during peak months, so arrive early to enjoy the place to yourself.
Fairy Pools is a short walk of just 1.5 miles, so it can be done in an hour. If the weather is nice, however, I suggest setting aside half a day to really appreciate the area's natural beauty and take photos to your heart's content.
If you're feeling extra brave, you may choose to take a dip in the cold waters of the Fairy Pools. Many people swim here during the summer months, but only a select few are brave enough to swim in the winter.
TIP: If you are visiting on a warm sunny summer day, you may want to bring your swimming suit and a towel.
Practical information: There is a free car park at the Fairy Pools, so no need to worry about parking.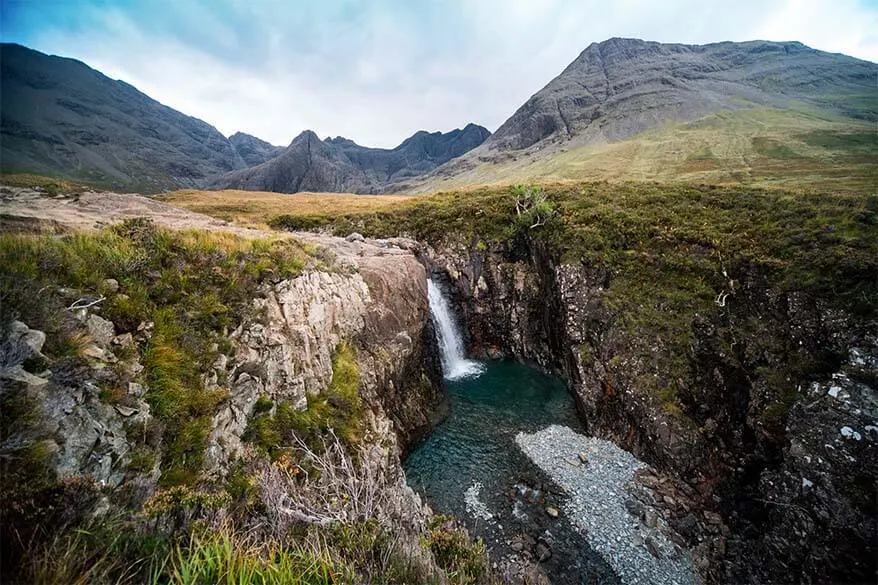 Lunch at The Old Inn
After enjoying your fill of epic scenery, drive into the nearest village of Carbost, only 10-15 minutes away. Here, you'll find The Old Inn, a cozy pub on the loch with a small but traditional menu. I tried the haggis, neeps, and tatties and have to say, it was delicious.
Talisker Whiskey Distillery
After lunch, head over to Talisker whiskey distillery for an interesting tour. Even though whiskey isn't my thing, I still found the tour fascinating. The distillery tour lasts about 45 minutes (including a whiskey tasting session) and costs (at the time of writing) £10.00 for adults and £5.00 for children aged 8-17.
TIP: Make sure to book your distillery tour at least 3-5 days in advance to secure your spot. The first time we turned up without a booking and were turned away due to the tours being fully booked all day. Fortunately, we were able to book a tour for later in the week so we didn't miss out.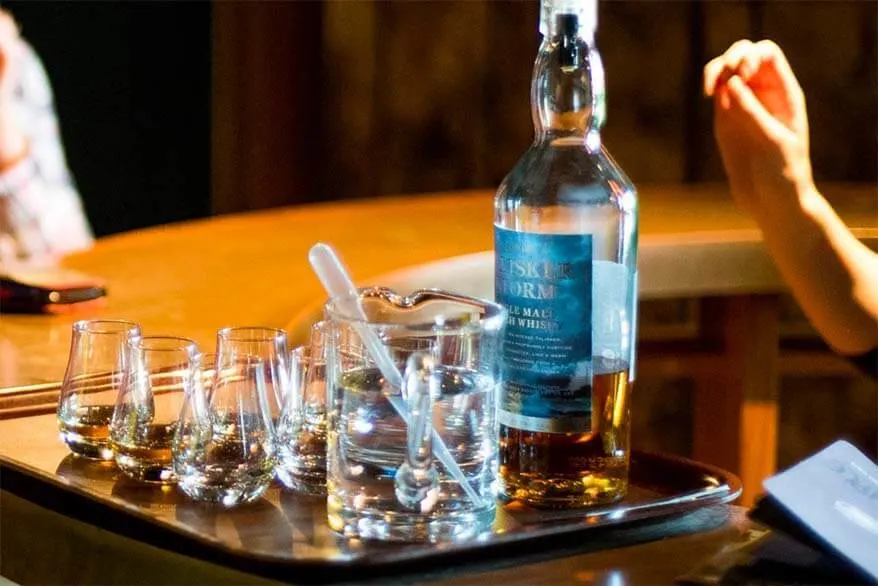 Day 3: Old Man of Storr – The Brother's Point
Old Man of Storr
Be prepared to get up early today! One of the best places to see the sunrise on Skye is from the Old Man of Storr, a large pinnacle of rock jutting out from the mountainside.
If you want to see the sunrise from the Old Man of Storr, it means that you have to wake up at least two hours before sunrise and get to the base of the mountain in order to hike to the top on time. I'll admit that rolling out of bed at 4:30 am is not my idea of fun, but I'm so glad I did this – it was one of my favorite experiences!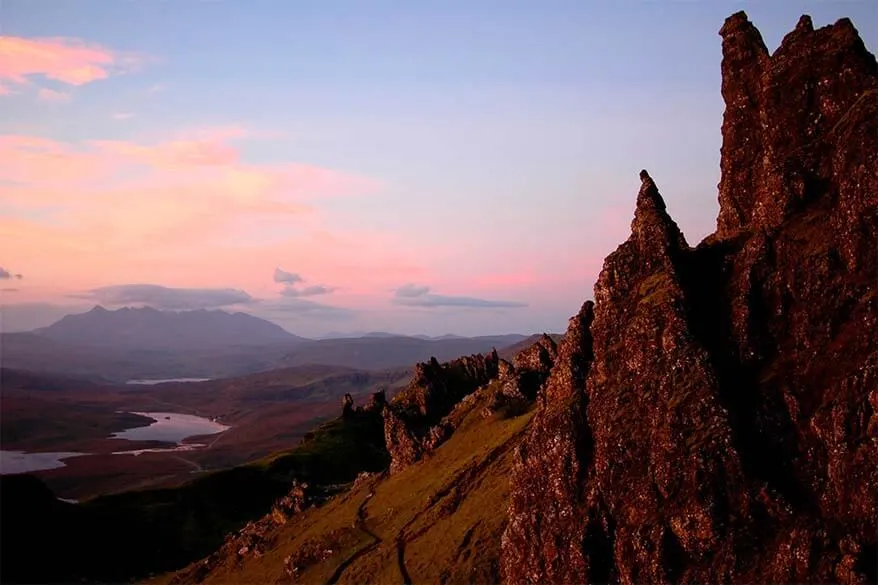 Of course, if the early start doesn't appeal, you can hike up the Storr during the day. The views are equally as spectacular at any time of the day. Just note that this area is extremely popular and can get really busy during the day.
TIP: If you opt for the sunrise walk, you'll have the entire mountain to yourself. We were the only people there and this made for fantastic photos.
Practical information: Prepare for this hike and pack good hiking boots and warm clothing. Old Man of Storr hiking time is around 1,5 hrs (3,8km – 2,4 miles). If the cloud cover is too thick or it's raining heavily, it may be best to leave the Old Man of Storr for a clearer day.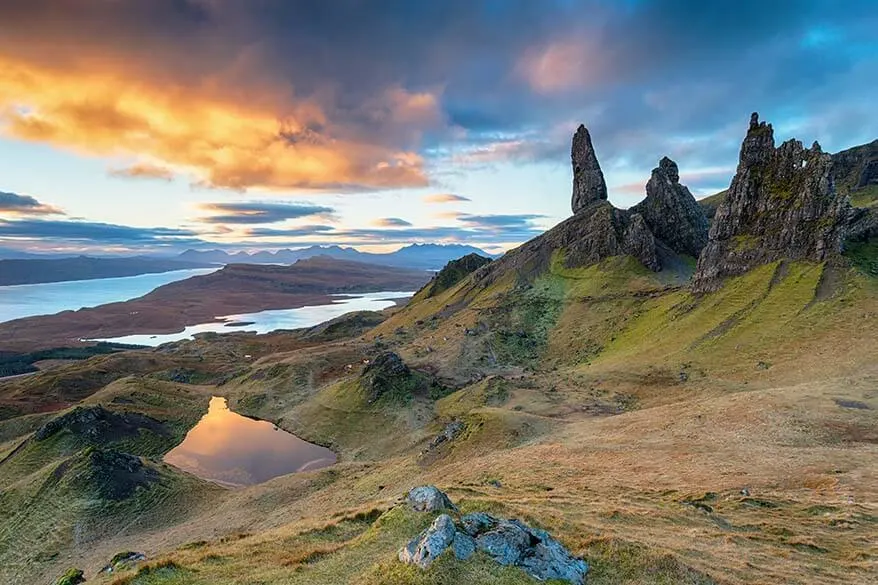 Brother's Point (Rubha nam Brathairean)
Later in the day, head north towards the Skye Pie Café to walk to Brother's Point. Just past the café, you'll find a car park and a dirt track which leads to a spectacular coastal viewpoint.
While the walk is relatively short, caution is needed as the trail can be boggy and unsteady.
The Brother's Point walk is relatively unknown, so it's a great stop to add to your Isle of Skye itinerary if you want to get off the beaten track.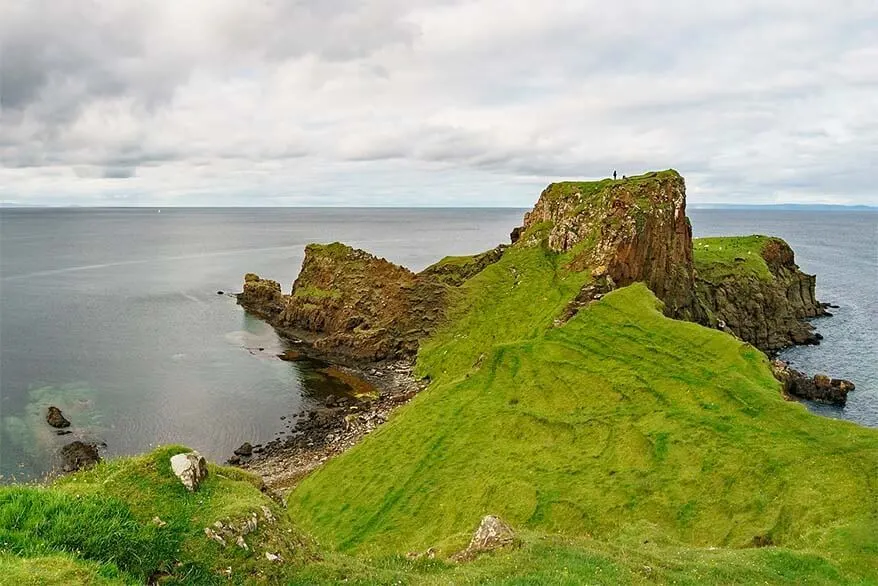 Day 4: Dunvegan Castle – Neist Point
Dunvegan Castle
After a few busy days hiking on the Isle of Skye, you'll likely want a quieter day. I recommend visiting Dunvegan Castle and Gardens to learn about the history of Clan MacLeod. The waters around the castle are the perfect place to spot seals and other wildlife. We spent an hour enjoying the views and laughing at the playful seals frolicking in the water below.
You will need 2-3 hours to fully appreciate the castle and beautifully landscaped gardens, but this is an easy one to fit in before lunch.
TIP: Follow a guided tour of the castle, leaving from the main entrance area at regular intervals throughout the day.
Practical information: The castle and gardens are only open in high season, from April till mid October.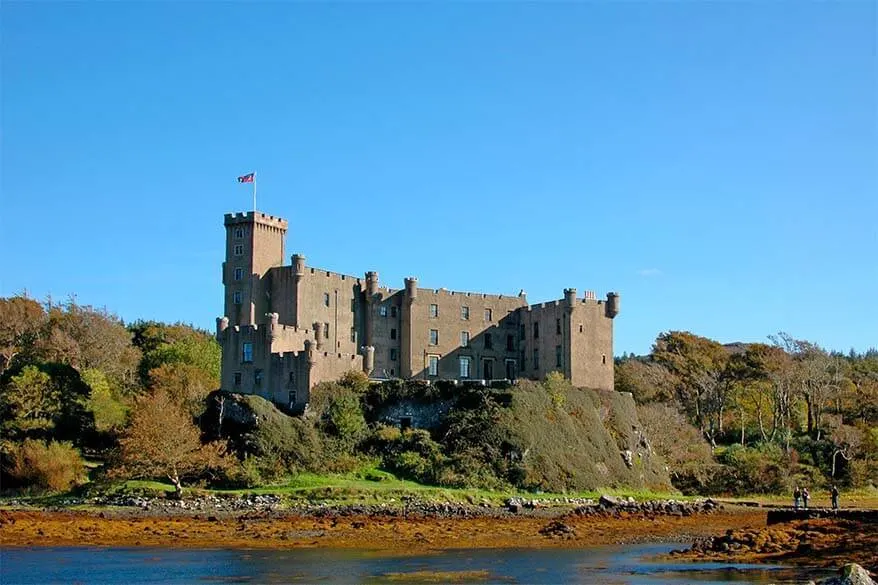 Lunch at Old School Restaurant
You can have lunch at the castle's café, but I recommend heading into Dunvegan and finding the Old School restaurant. This restaurant has a great reputation and is very popular.
TIP: If you decide to try the Old School restaurant, make sure to book in advance; it can get busy! It might be ok for lunch, but you definitely have to reserve a table if you go there for dinner.
Neist Point
Later in the afternoon, make the drive to Neist Point and visit one of Scotland's most famous lighthouses. Neist Point lighthouse provides epic panoramic views out to sea and back towards the jaw-dropping coastline – a truly unique perspective. Neist Point is also renowned for spotting whales, dolphins, and basking sharks.
TIP: Neist Point is known as one of the best places to watch the sunset on the Isle of Skye, so make sure you stick around after dusk.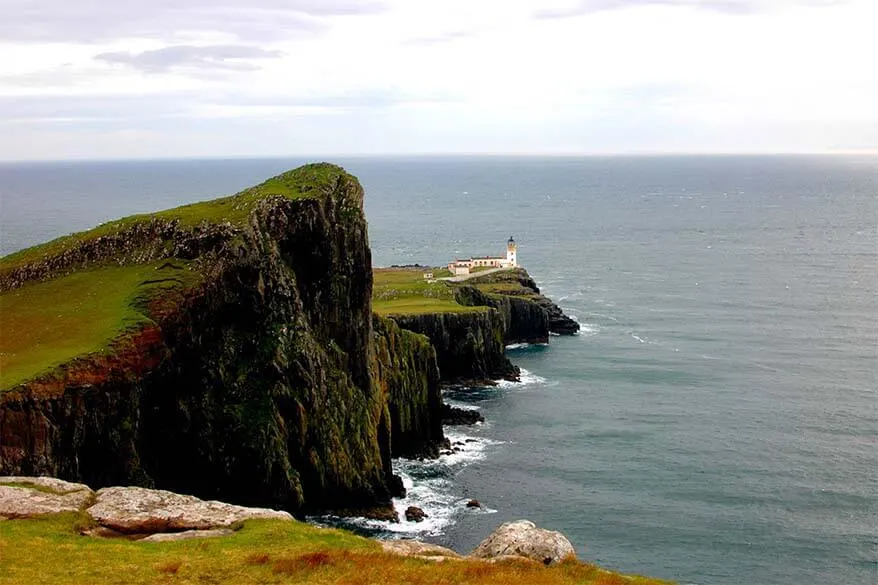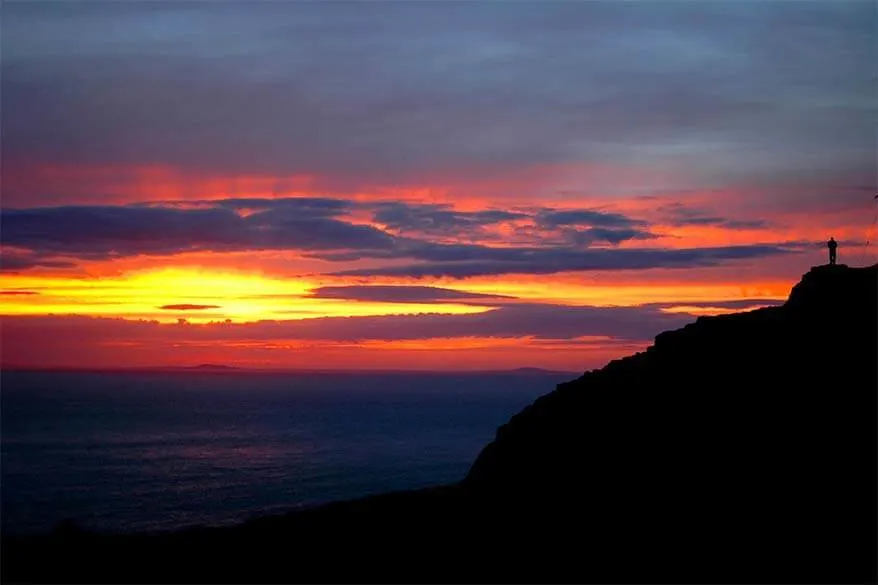 Day 5: Boat Trip from Elgol to Loch Coruisk – Portree
Loch Coruisk
Finish your Isle of Skye trip with a bang by taking a boat trip from Elgol to Loch Coruisk in the Cuillin Mountain range. Not only is this a great way to spot seals, but you'll also marvel at the beauty of the loch and even spend a few hours ashore.
Loch Coruisk is an inland fresh-water loch of spectacular beauty. Bella Jane Boat Trips offer a variety of packages, which range from a non-stop trip of 90 minutes to an all-day trip with plenty of time on shore. If you're really adventurous and not tired of hiking, you can even take a one-way boat trip which allows you to walk back to Elgol.
Practical information: Bella Jane boat trips leave from Elgol at 90-minute intervals throughout the day, starting from 9 am.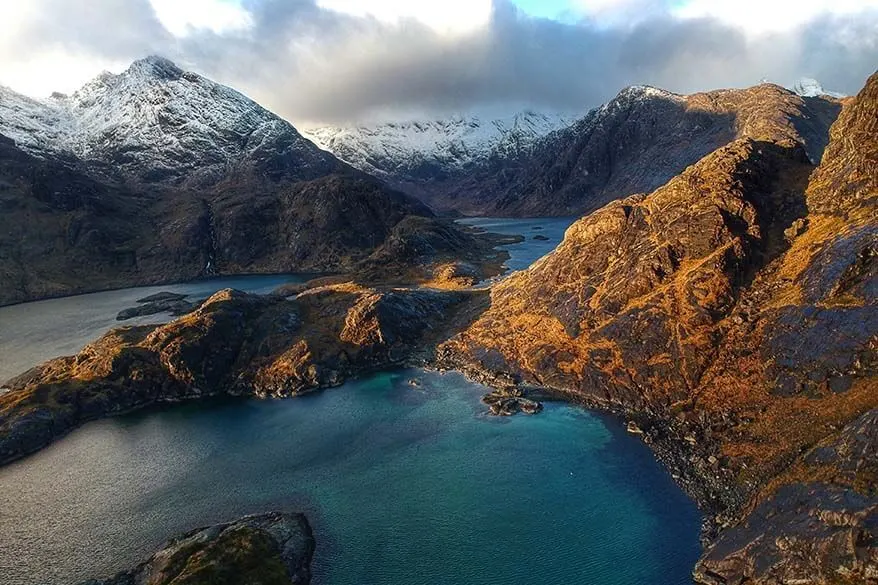 Portree
In the afternoon, why not make your way to the island's capital, Portree. It's a nice place with colorful houses that frame the port and a perfect place to get some handmade souvenirs from Skye's art galleries and craft shops.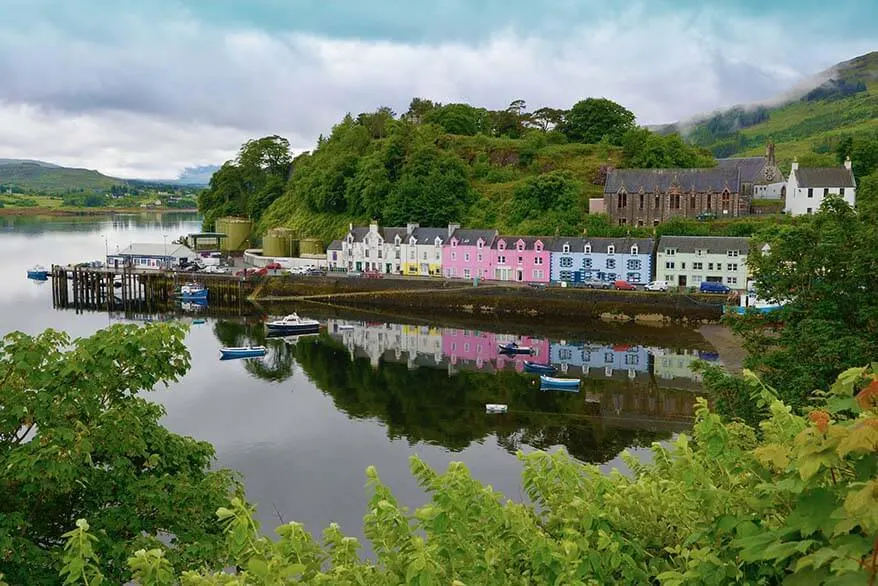 More Things to Do on the Isle of Skye
As you can see from the itinerary above, our visit to the Isle of Skye was a relaxed trip. If you are eager to get the most out of your visit to Skye, here are more suggestions on places to see and things to do on the Isle of Skye.
There are several boat trip options in Skye. Take a boat trip to spot sea eagles, whales, dolphins, seals and basking sharks.
Bla Bheinn (Blaven) hike.
Explore the ruined village of Boreraig.
Visit Eilean Donan Castle on mainland Scotland
Go canyoning or coasteering.
If you are visiting Skye from September through March, you may get lucky and spot the Northern Lights.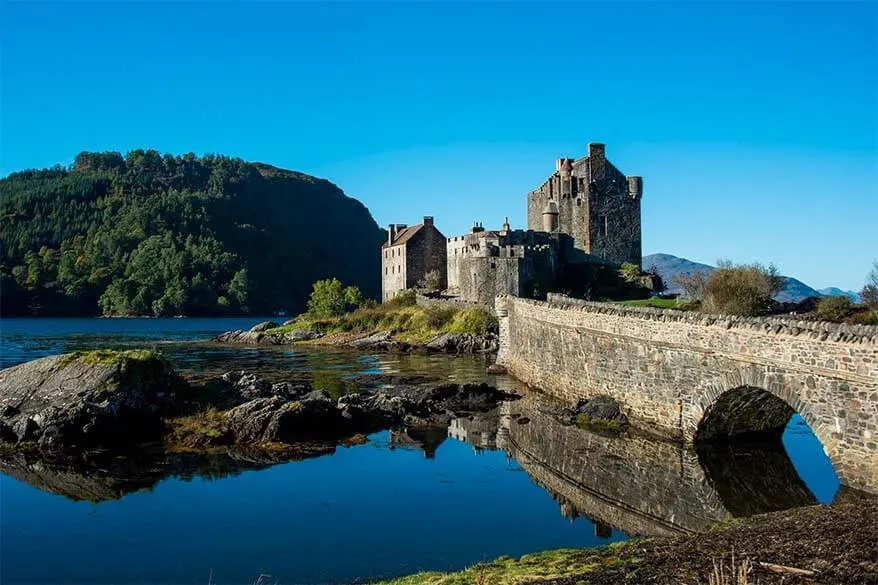 I haven't included Isle of Skye restaurant suggestions for dinner as most evenings, after a full day of sightseeing, we just cooked at our accommodation and crashed for the night.
If you are looking for nice restaurants for dinner, try one of Skye's Michelin-starred restaurants such as Coruisk House or Kinlock Lodge. For more informal dining, try Stein Inn, the oldest inn on the island. We can personally recommend the food at the Stein Inn, as well as their impressive whiskey selection.
So, there you have it; the most complete 5-day Isle of Skye itinerary for exploring the best that this beautiful Scottish island has to offer. Below, you can find some more practical tips and recommendations for visiting the Isle of Skye. Read on!
Planning Your Isle of Skye Trip
How to Get to the Isle of Skye
Unless you book an organized Isle of Skye tour, you will need a car in order to see the best of the Isle of Skye.
The closest bigger airport is Inverness (3 hours away). Alternatively, you can also drive to the Isle of Skye from Edinburgh or Glasgow (around 5-6 hours driving). You can find some of the best deals for rental cars here.
As the flights were cheap, we flew to Inverness and drove across the width of Scotland to get to Skye. The drive from Inverness to Skye is just 3 hours, but it took us a lot longer as we couldn't resist stopping at all the impressive viewpoints along the way!
Best Places to Stay in Skye
Accommodation on the Isle of Skye is quite limited and pricey, so you best book well in advance, especially if visiting Skye in summer. The distances aren't big, so you can easily see Isle of Skye from one home-base location.
We stayed in the lovely Brae Cottage, a large house in the village of Dunvegan. The cottage is beautifully decorated and was perfect for our group of 6 people, with plenty of space, stunning views and even a hot tub from which to stargaze!
If you're traveling in a smaller group though, Dunvegan has a wide range of accommodation to suit all group sizes, including guesthouses, self-catering cottages, and even a campsite.
Another good option and probably the most popular town to stay on the Isle of Skye is Portree. Here you can find all the best deals for Isle of Skye accommodation.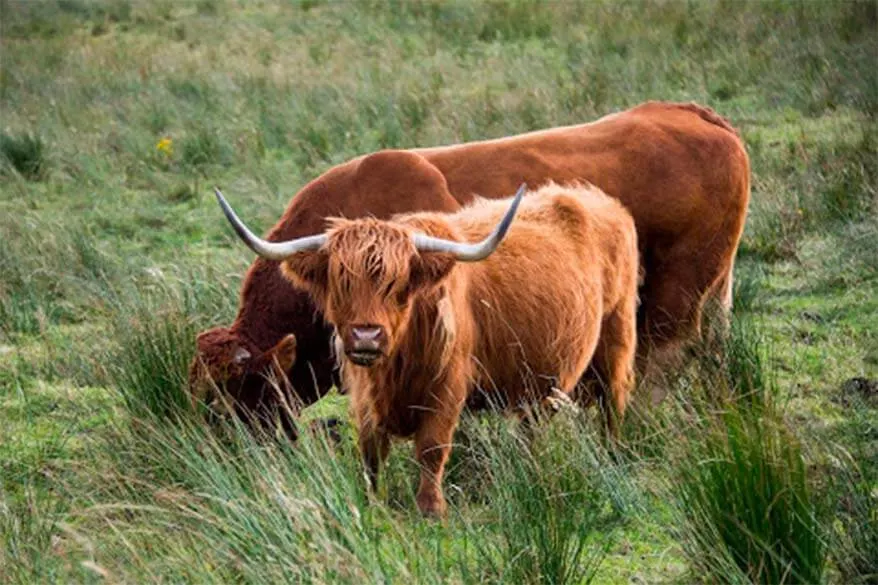 So, this is a suggested itinerary and practical tips for your visit to the Isle of Skye. Thanks once again to our guest blogger Zara for these recommendations. On her blog, you can find more tips for amazing things to do on the Isle Of Skye.
About the author: As a photography enthusiast, serious foodie and all-round adventurer, Zara aims to balance her working life as a copywriter with her frequent travel plans. Focusing on affordable but exciting experiences, Passport for Living inspires people to travel and shows that seeing the world doesn't have to be an expensive hobby.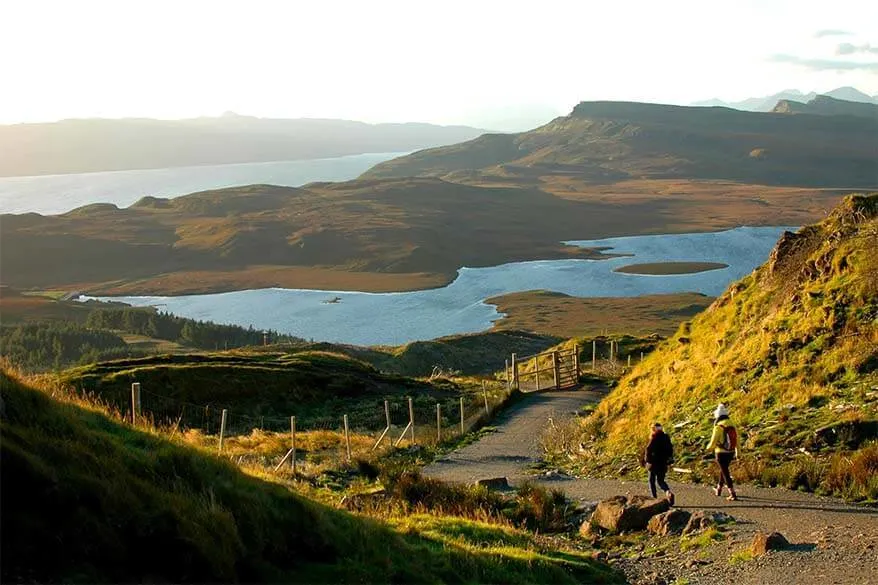 I hope these suggestions will help you to get a better idea of what there is to see and do on the Isle of Skye and help to plan your trip.
Isle of Skye Tours
If you'd rather take an organized Isle of Skye tour, you can find a lot of great suggestions on my favorite website for researching and booking activities worldwide, GetYourGuide. They have the best customer service and a 24-hr free cancelation policy that you'll never find when booking with small local companies directly.
Alternatively, you can also find a good selection of Isle of Skye tours organized by Rabbie's Tours. They are a local operator specializing in multi-day tours in Scotland.
To make your search easier, I hand-picked the best-rated Isle of Skye tours for any duration from 1 to 5 days. These tours are all sold via Get Your Guide, but some of them are actually run by Rabbie's. Note that Get Your Guide has a better cancelation policy, so consider that when booking.
More tips for your trip to Scotland:
Is the Isle of Skye part of a bigger trip to Scotland? Check out our other articles for more information on some of the most popular destinations as well!
More tips & travel inspiration for your trip to the UK:
If you found this post helpful, don't forget to bookmark it and share it with your friends. Are you on Pinterest? Pin this image!