Are you visiting Amsterdam for just one day and are looking for tips on the best places to see and things to do? You came to the right place! This article and our experience-based tips will help you get the most of your day in Amsterdam. Find out!
Recently, we took advantage of the unusually beautiful weather and decided to make a day trip to Amsterdam. We knew that we wanted to explore the canals – that's a must in Amsterdam, so we booked our canal cruise in advance. But the rest of our day itinerary was completely blank.
Since we hadn't been to Amsterdam in years, I did some research on what we could do in Amsterdam in one day and found some great advice. However, I had to read a paper travel guide and seven different websites before I came up with a somewhat feasible itinerary with the best things to do in Amsterdam if you only have one day.
Yes, there are many amazing and also quirky museums in Amsterdam, beautiful parks to visit, and lots of great bars and cafes where you can have the best meal in town… But unless you have more than one day, you will probably not want to waste your time shopping at the huge warehouse Bijenkorf or walking to the other side of town in search of that one restaurant that someone recommended…
So this is my no-nonsense guide to the best things to see and do in Amsterdam in one day. At the bottom of the post, you can find our recommended 1-day Amsterdam itinerary and some suggestions on what to see and do in and near Amsterdam if you have more time.
READ ALSO: Tips for Visiting Amsterdam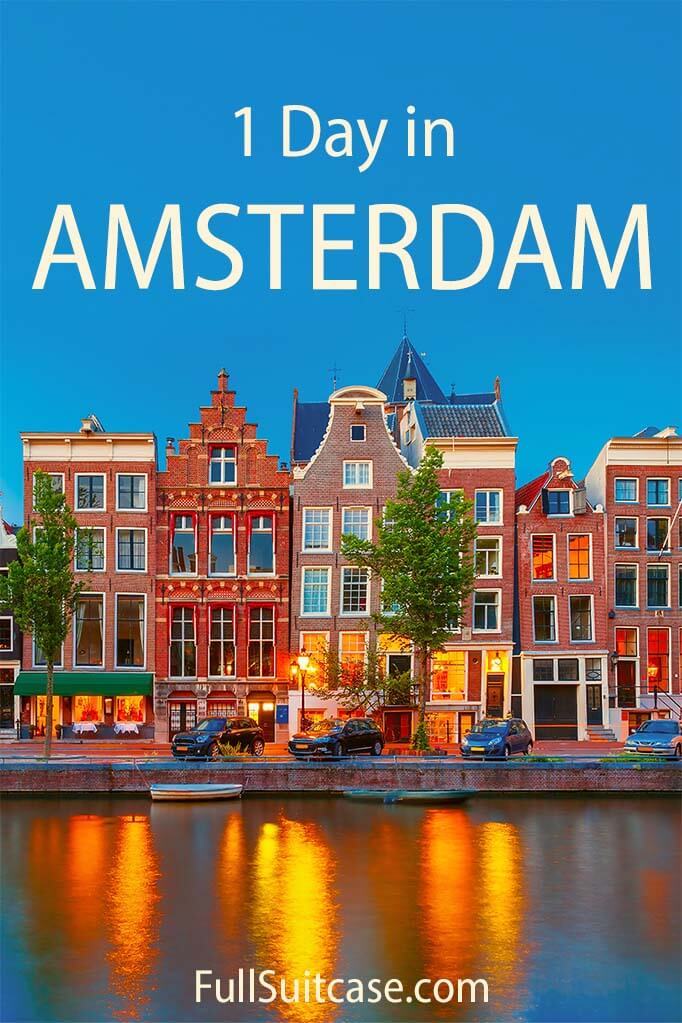 Amsterdam city center is not very big, so you can see and do quite a lot in one day. Find out the best things to see and do that you shouldn't miss, even if you only have one day in Amsterdam. I created this map to give you a better idea of where all these places are and help you better plan your day in Amsterdam.
And if this guide inspires you to stay longer, check out this guide with all the best sights and tourist attractions in Amsterdam that are worth visiting the most!
How to Use This Map: Use your computer mouse (or fingers) to zoom in or out. Click on the icons to get more information about each place. Click the arrow on the left top corner for the index. Click the star next to the title of the map to add this map to your Google Maps account. To view the saved map on your smartphone or PC, open Google Maps, click the menu button, and go to 'Your Places'/'Maps'.
TIP: If you want to make the most of Amsterdam in a day, you may want to use public transport for bigger distances. While it's not a must for this itinerary, it can help you save some time (especially if you are staying further from the city center). In that case, get an all-in public transport ticket – it includes all the buses, trams, metros, and even ferries in the city.
Here's what to do in Amsterdam in one day:
1. Explore Amsterdam Canals on Foot
There are many canals in Amsterdam, but if you only have one day, there are three main canals that shouldn't be missed: Herengracht, Prinsengracht, Keizersgracht. All dug in the 17th century during the Dutch Golden Age and surrounded by some of the most beautiful traditional Dutch houses that Amsterdam is famous for.
Singel is another canal that is definitely worth strolling along, as is the Brouwersgracht.
Actually, you can skip the Herengracht canal when exploring Amsterdam canals on foot, because it's one of the main canals, a UNESCO World Heritage Site, and you will probably pass here by boat. Which brings me to the second thing you must do in Amsterdam…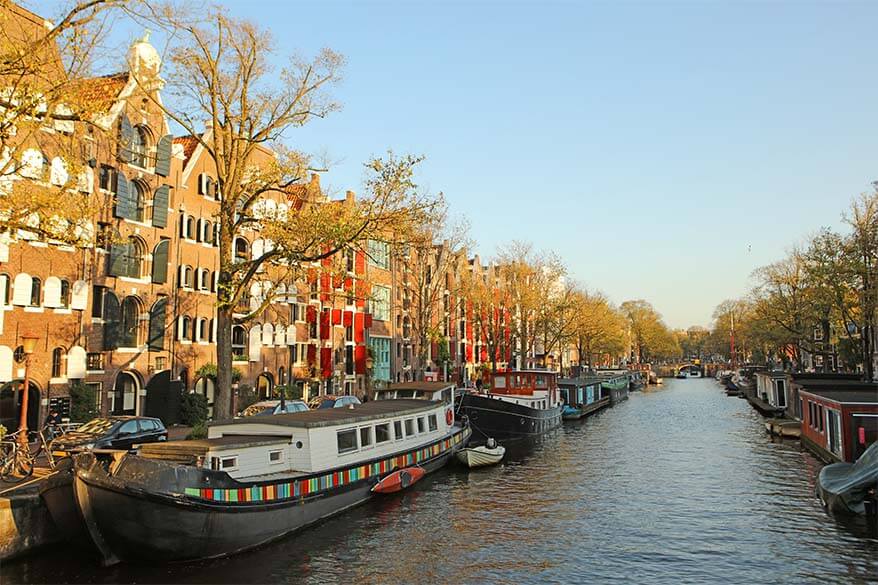 2. Take a Canal Cruise
If I were to choose just one thing that you absolutely must do in Amsterdam, it would be a canal cruise. Whether you are visiting Amsterdam for one day or a week, don't miss this! No matter how much exploring you do on foot, seeing the city from a boat gives a completely different perspective. It's also a perfect way to see a lot without having to walk even more.
When it comes to Amsterdam canal cruises, there are countless options. Some excellent, some good, and some… not so good. But how do you know it when you are in town and are overwhelmed by all the boats you see there? We thought that the best way to avoid disappointment and long queues would be to research and book the canal cruise in advance. And indeed, it saved us lots of time and we got exactly what we expected.
After some research, we quickly found this boat tour that looked perfect. Customer reviews were good too, so the choice was quickly made.
The booking process was extremely easy and a few minutes later we received a confirmation email with the vouchers. Because we had an advance booking, we could pass the long line of people who were waiting for a boat without a reservation. This was mid-October!
TIP: If you are traveling to the Netherlands in high season, I strongly suggest booking your canal cruise in advance. This is especially the case if you are short on time and only have one day to see the best of Amsterdam.
PRO TIP: If you are visiting Amsterdam in the warm season (mid-March to the beginning of November), there is now a better canal cruise available – a luxury canal cruise where everyone gets the best seat. It only costs a few euros more than a regular tour, and is well worth it!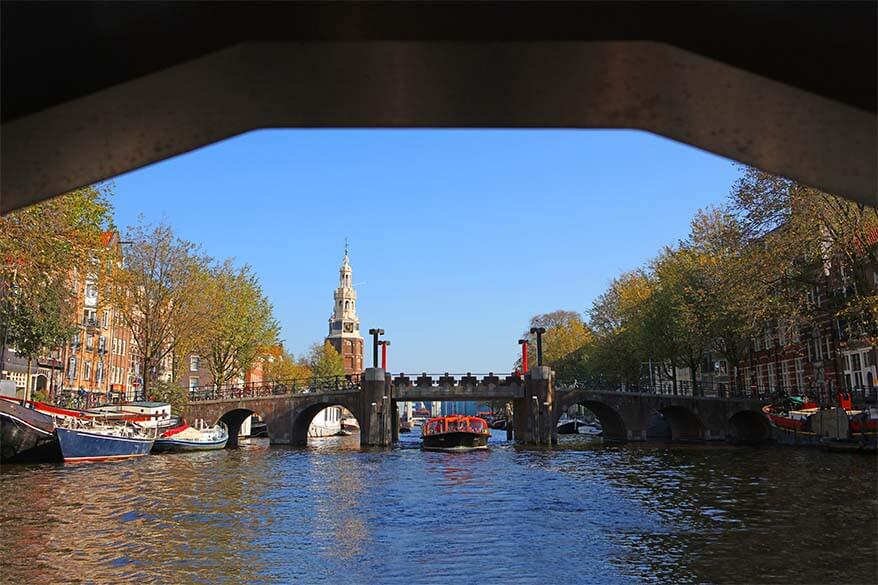 3. See Damrak, Dam Square and the Royal Palace
Don't miss Damrak – the big avenue running in the direction of the Central Station (Amsterdam Centraal) that is home to the former stock exchange building, the monumental Beurs van Berlage, and some other historic buildings that you often see on the postcards from Amsterdam.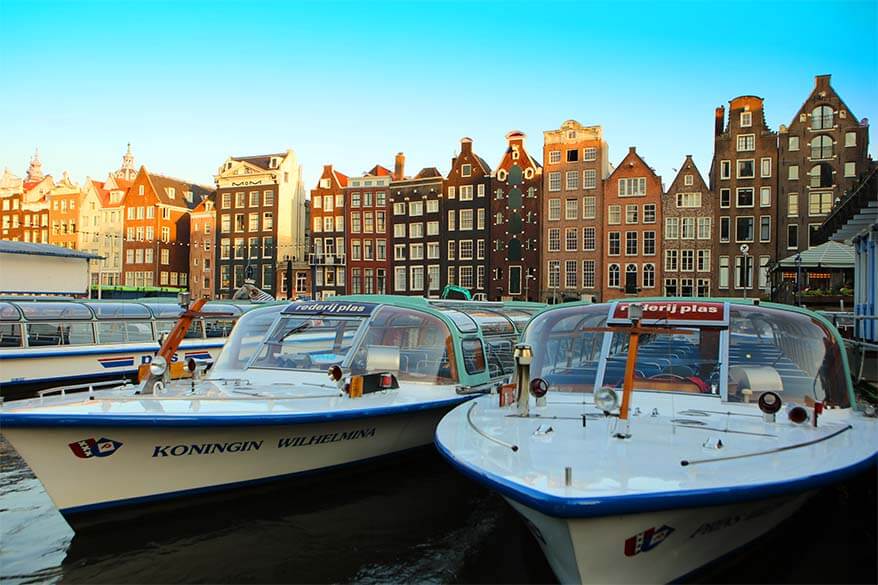 Dam Square with the Royal Palace is one of the most well-known locations in Amsterdam. Many events take place here, and it's always very lively. You don't need much time to visit (unless you go inside the Palace), but it would be unthinkable not to pass here when visiting Amsterdam.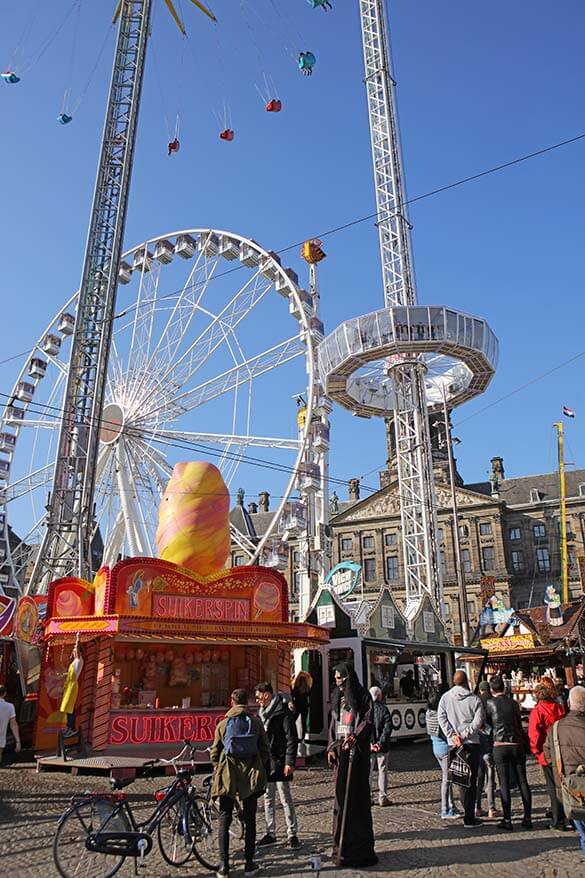 4. Visit Amsterdam Begijnhof
If you are looking for a more authentic experience in Amsterdam, the Begijnhof is a true hidden gem right off the hectic city center.
This small area houses a church, historic houses and one of the two original wooden houses in Amsterdam. However, don't expect to be alone – it's just as popular with tourists as the rest of Amsterdam.
Begijnhof is open daily from 9 AM to 5 PM and is free of charge. There are two entrances: at the Northern side of the Spui and at the Gedempte Begijnensloot (at the end of the Schuttersgallery).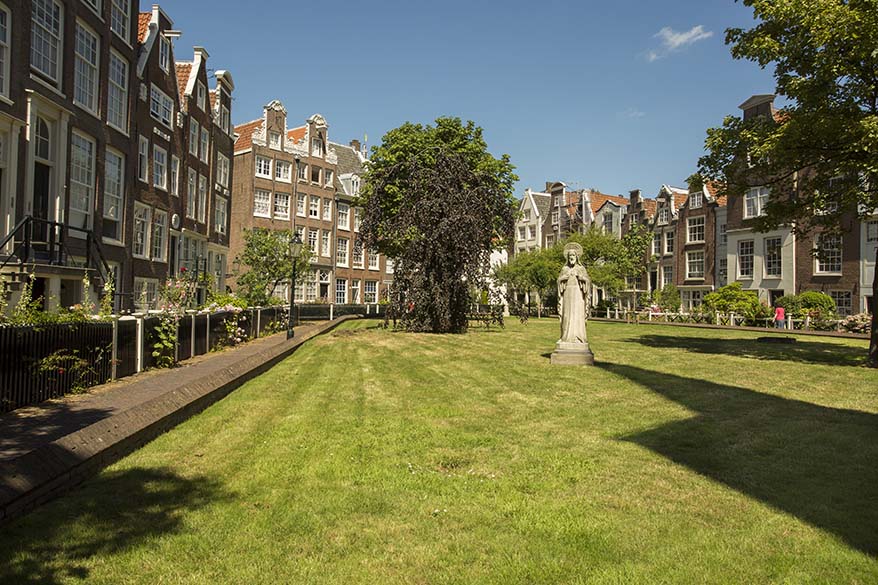 5. Floating Flower Market
Even if you are not planning to buy any flowers, the floating flower market is a must in Amsterdam. You can buy flower bulbs, all kinds of souvenirs, or just walk around.
You don't need much time there, but it's a fun place to visit and make some colorful pictures.
If you visit Amsterdam in spring or in the summer, you'll find lots of fresh flowers here. The rest of the year, the market mostly sells flower bulbs and traditional Dutch souvenirs.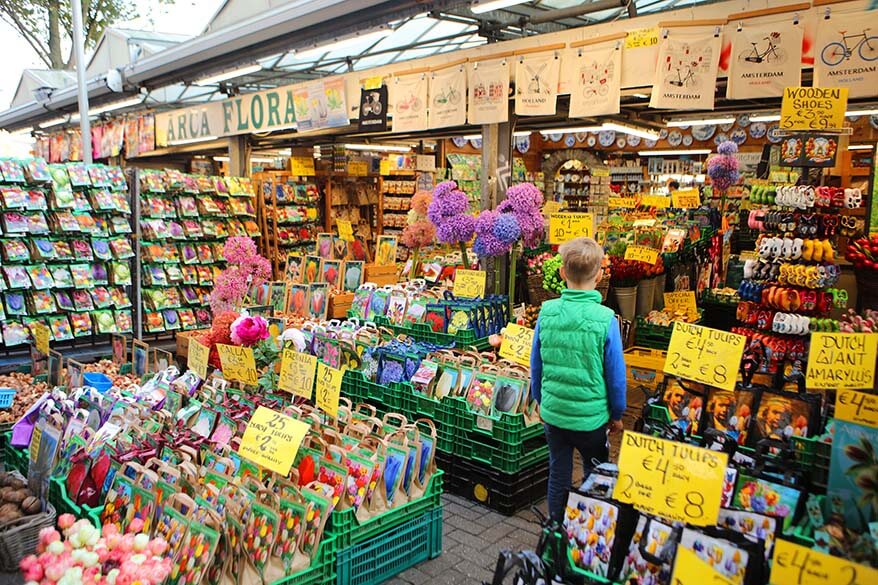 6. Visit One Museum: Van Gogh Museum, Rijksmuseum, or Anne Frank House
Amsterdam is famous for its museums, but honestly, it's difficult to visit any of them if you only have one day in the city.
If you are keen to visit one of the most famous museums like Van Gogh Museum, Rijksmuseum, or Anne Frank House, pick one that interests you the most and make sure to book your tickets in advance (you can do so via the links above).
Otherwise, if you didn't get the tickets in advance, just forget it. It's not worth it to spend two hours of your time queuing at the museum if you only have one day in Amsterdam.
Good to know: If you want to visit Anne Frank House, you can buy tickets online from 2 months before your travel date. If the tickets are sold out, you can try online at 9 AM of the day itself. They always release some last-minute tickets, but you have to be quick.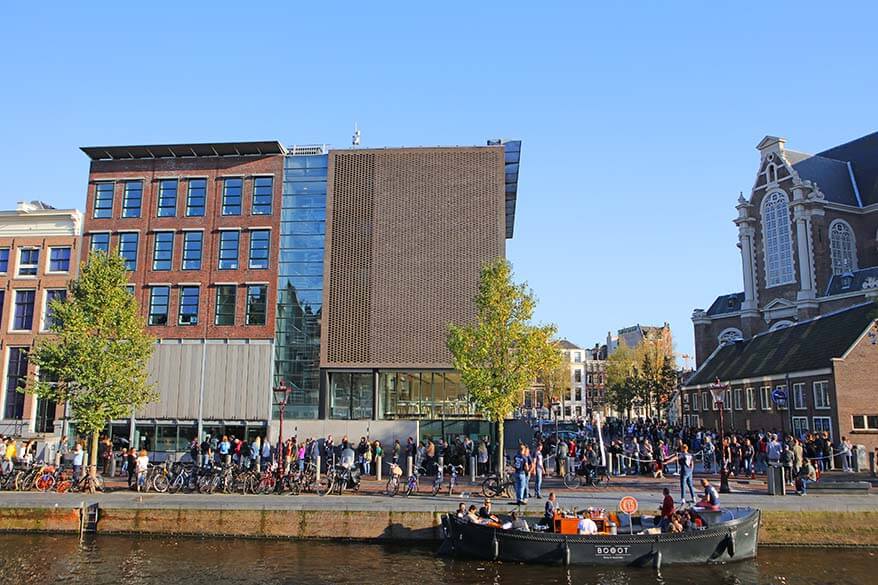 7. Museumplein
Even if you don't have the time to visit the Rijksmuseum, it's worthwhile to walk there just to see the beautiful building. If you do have an hour or two to spare, Rijksmuseum is definitely worth a visit (in that case you better get your skip the line tickets in advance).
The famous I Amsterdam sign used to be located on the Museumplein at the back of the museum. Installed in 2005, it quickly became a new landmark in the city and an obligatory photo stop for many visitors to Amsterdam. However, the city council found that the sign encouraged mass tourism and selfie culture and removed the letters in December 2018.
TIP: If you really want to take a picture with the famous IAmsterdam sign, you can still find one at Schiphol airport.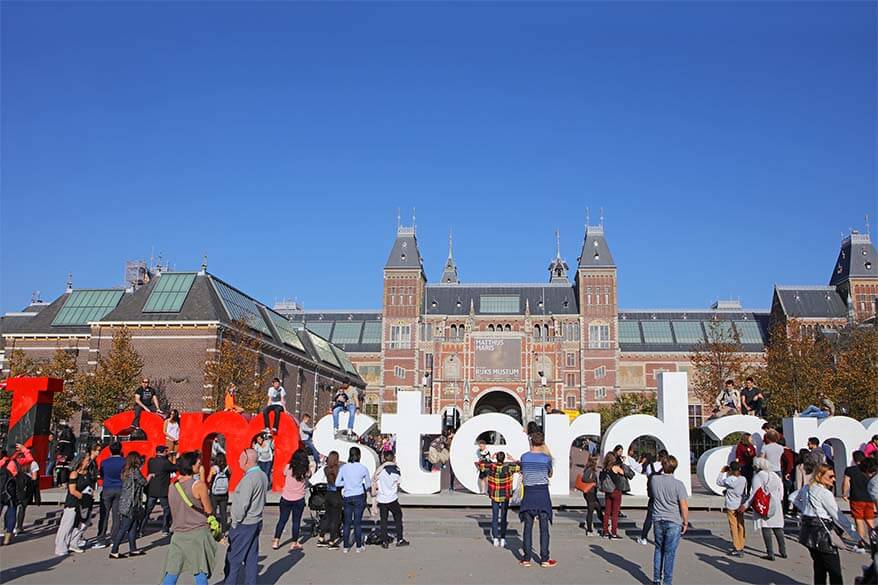 8. Heineken Experience
Visiting Heineken's oldest brewery, now converted into an interactive museum, is another popular thing to do in Amsterdam. Heineken is so typically Dutch that it's worth including Heineken Experience in your Amsterdam one day itinerary even if you are not a fan of the beer.
The tour starts with a short introduction by the staff, after which you can see the rest at your own pace. The experience is very well done with interactive games like 'Brew U' that allows you to experience what it's like to be a bottle of Heineken, to mention just one… And of course, you get to taste some free Heineken (or soft drinks for those who don't drink alcohol) at the end of the tour.
Just in case you wonder, no alcohol is served under the age of 18.
TIP: Make sure to book your Heineken Experience in advance because it's a very popular attraction. Otherwise, you'll waste too much time queuing…
9. Explore the Jordaan Neighbourhood
If you want to get a feel of an authentic residential Amsterdam far from the crowds and tourist attractions, don't miss the charming Jordaan neighborhood.
There is no specific place you should go to, and no time limit that you should spend here. I suggest to put away the map and explore the labyrinth of narrow streets dotted with local shops, quaint bars and cafes, and residential houses with cozy courtyard gardens…
You can skip Jordaan if you are really short on time, alternatively, you can go there for lunch.
TIP: Instead of looking for a nice restaurant for lunch, you could join this highly-rated food tour of Jordaan. It's a great way to get to know the local side of Amsterdam and try some Dutch food.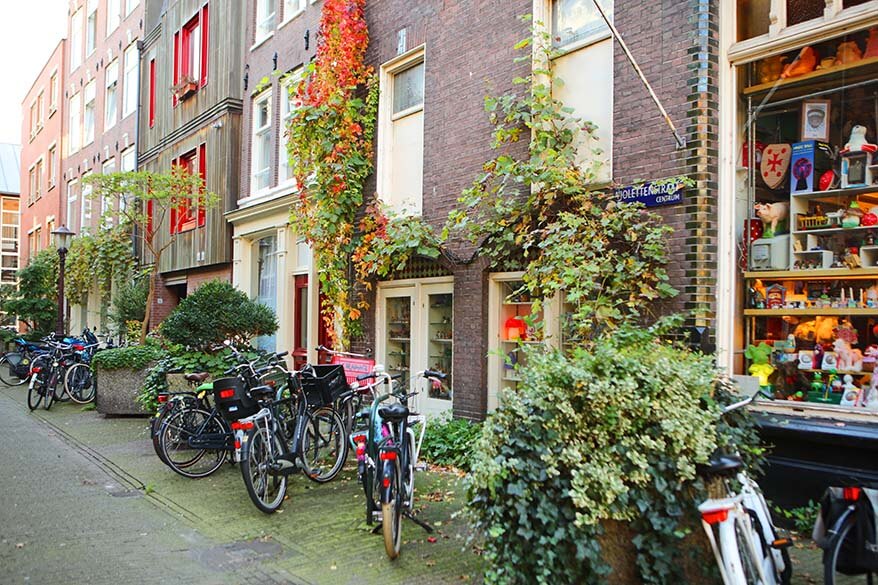 10. Stroll the Nine Streets
The Nine Streets (De Negen Straatjes) are the old cobbled streets that connect the main canals between Leidsegracht and Raadhuisstraat. You can easily explore these little streets together with the canals.
This area is famous for independent boutiques, specialty stores, and vintage shopping. It's a very different shopping experience than the main shopping street Kalverstraat with big chain stores.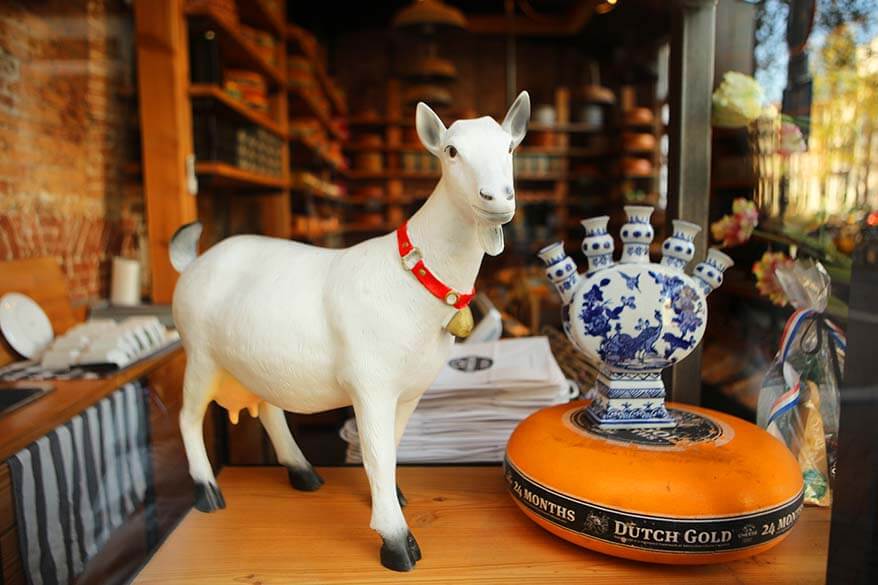 11. Visit the Red Light District
This is not my most favorite area of Amsterdam, but the Red Light District with the coffeeshops and window prostitution is a unique place in the world, and therefore worth a short visit.
It can easily be visited during the day, also with kids (just try to distract their attention from the ladies in the windows). However, if you want to see the true side of the Red Light District, it's probably best to visit in the evening. Just try to be very open-minded!
Good to know: Guided tours of the Red Light District are now forbidden in Amsterdam.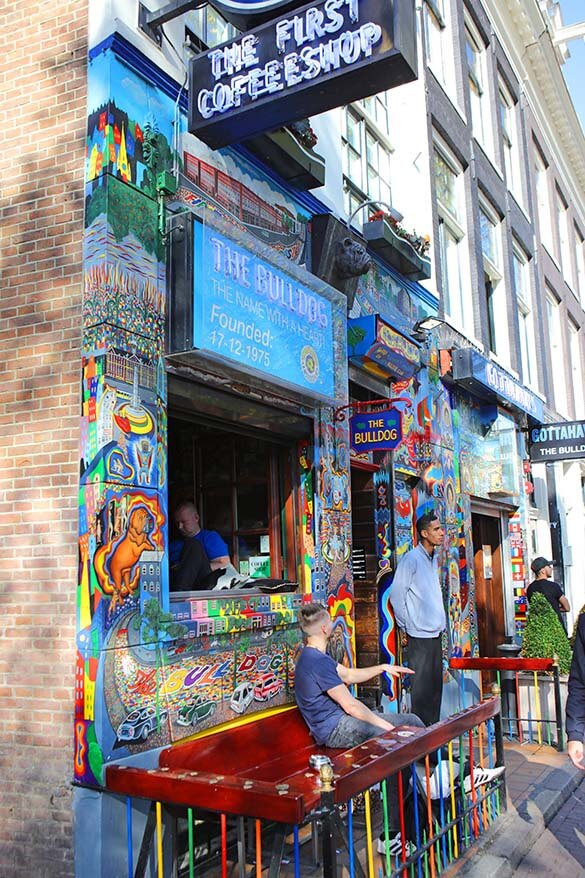 12. Explore Amsterdam Canals at Night
If your legs are still not sore, head back to the canals in the evening. The houses and the bridges are so nicely lit.
If you want to get the best of both worlds (i.e. see the canals in the evening and save your legs), why not take an evening canal cruise instead!
This is the best way to end your day in Amsterdam.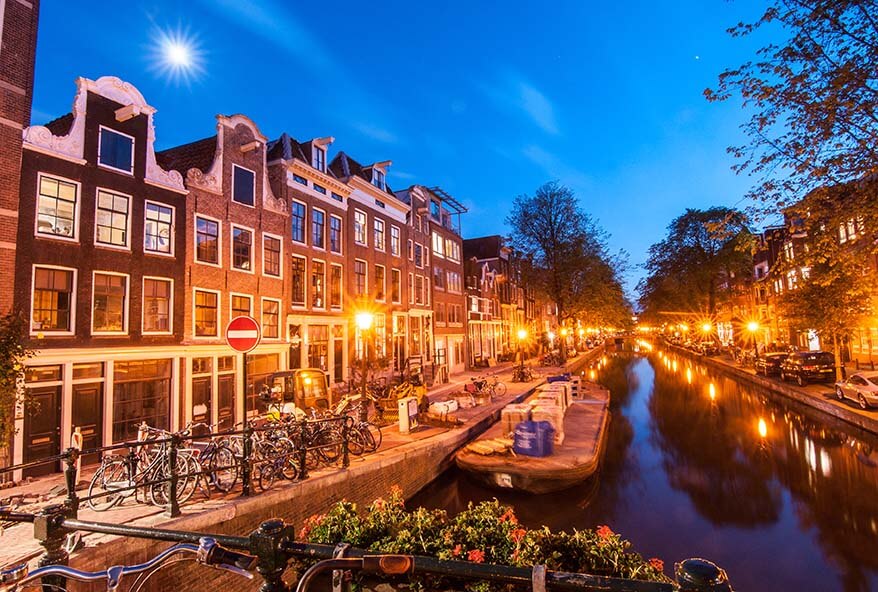 Amsterdam 1 day itinerary
Below is an overview of what your day in Amsterdam could look like (and based exactly on what we did on one of the trips).
Here's our recommended 1-day itinerary for Amsterdam:
Explore Amsterdam canals on foot.
Take a canal cruise (we recommend this canal cruise).
See Damrak, Dam Square, the Royal Palace.
Visit Amsterdam Begijnhof.
Check out the floating flower market.
Lunch.
Visit one museum – I recommend the Van Gogh Museum (get tickets in advance!).
Heineken Experience (not a must, but if you go, get the tickets in advance as well).
Explore Jordaan neighborhood + Nine Streets.
Check out the Red Lights district.
Explore the canals at night.
Dinner (or book a canal cruise that includes dinner).
Is One Day Enough in Amsterdam?
One day is enough to get a taste of Amsterdam: tour the canals, walk around the city, explore some local neighborhoods, and visit at least one museum. Of course, you can't see everything that Amsterdam has to offer in just a day. But if you are short on time and want to see the main highlights, then yes, you can see the best of Amsterdam in a day.
If you have more time in Amsterdam, you may want to visit some of the world-class museums, rent a bike or take a stroll in one of the many parks. Here you can find our suggestions for 2 days in Amsterdam.
Alternatively, take a day trip from Amsterdam and explore more of the Netherlands.
READ ALSO: More Amazing Things to Do in Amsterdam
Where to Stay in Amsterdam for the First Time
If you are visiting Amsterdam for the first time and want to discover the best that the city has to offer in a short time, stay as close to the city center as possible. An ideal location to stay for sightseeing in Amsterdam is southwest of Central Station. It's a nice area, with lots of shops, restaurants, and within a walking distance to all the main attractions.
You can find the best deals for Amsterdam accommodation here. And here are some specific hotel suggestions for Central Amsterdam, for all budgets:
TIP: Using the map below, you can also compare hotels, apartments, and short-term rental accommodations in Amsterdam city center. Simply insert your travel dates and group size, and you'll see what's available for your visit. Check it out!
Some Practical Tips for Visiting Amsterdam
Pack comfortable walking shoes – you will be walking a lot.
If you are not keen on walking a lot or if your accommodation is further away from the main sights, use public transport. This all-in public transport ticket (available for 1-7 days) is the best option since it includes all the buses, trams, metros, and even ferries in the city.
Renting a bike might be a nice way to explore the parks. But the city streets are so busy with people and bikes that even experienced local bikers have difficulties navigating. If you want to explore the highlights by bike, it's best to opt for a bike tour vs going on your own.
If you don't absolutely have to, don't come to Amsterdam by car. We came from Belgium and visited Amsterdam for just one day and parking cost us 50 EUR.
And once again, Amsterdam is one of the busiest tourist destinations in Europe. So if you are planning any day trips or excursions, best book all your tours and tickets in advance – it will save you lots of time and frustration.
READ ALSO: Info & Tips for Visiting Amsterdam
So this is the best of Amsterdam in a nutshell – things you can see and do in Amsterdam in one day.
Hop that this helps you plan a fun and memorable visit.
Have a great time in Amsterdam!
READ ALSO: Best Day Trips from Amsterdam
If you are visiting more of the Benelux, check out these guides:
If you found this post helpful, don't forget to bookmark it and share it with your friends. Are you on Pinterest? Pin this image!