Thinking of visiting Delft in the Netherlands and wondering what there is to see and do in Delft, or if it's even worth a visit? In this guide, we share a brief overview of the main landmarks and top places to see in Delft for first-time visitors.
With its old canals, lots of historic monuments, interesting museums, and cozy atmosphere, Delft is one of the most charming towns in the Netherlands. So if you ask me if Delft is worth a visit, the answer is yes, absolutely. We live just an hour's drive from Delft and the first time we visited, I couldn't believe how nice it is (or understand why it took us so long to discover it!).
World-famous for the 'Delft Blue' porcelain, Delft is also the hometown of Johannes Vermeer, one of Holland's most renowned painters. But there is more to see and do in Delft and the town deserves a place in any Netherlands trip itinerary.
In this article, we focus mostly on the most important sights and top things to do in Delft for first-time visitors. For each place, we include some practical tips and information for your visit, and you will also find a map of the top places to see in Delft.
These are one-by-one top attractions and places to see in Delft that are worth your time the most. So if you only have half a day to a day and want to get a good idea of what Delft has to offer, this guide will help you do just that.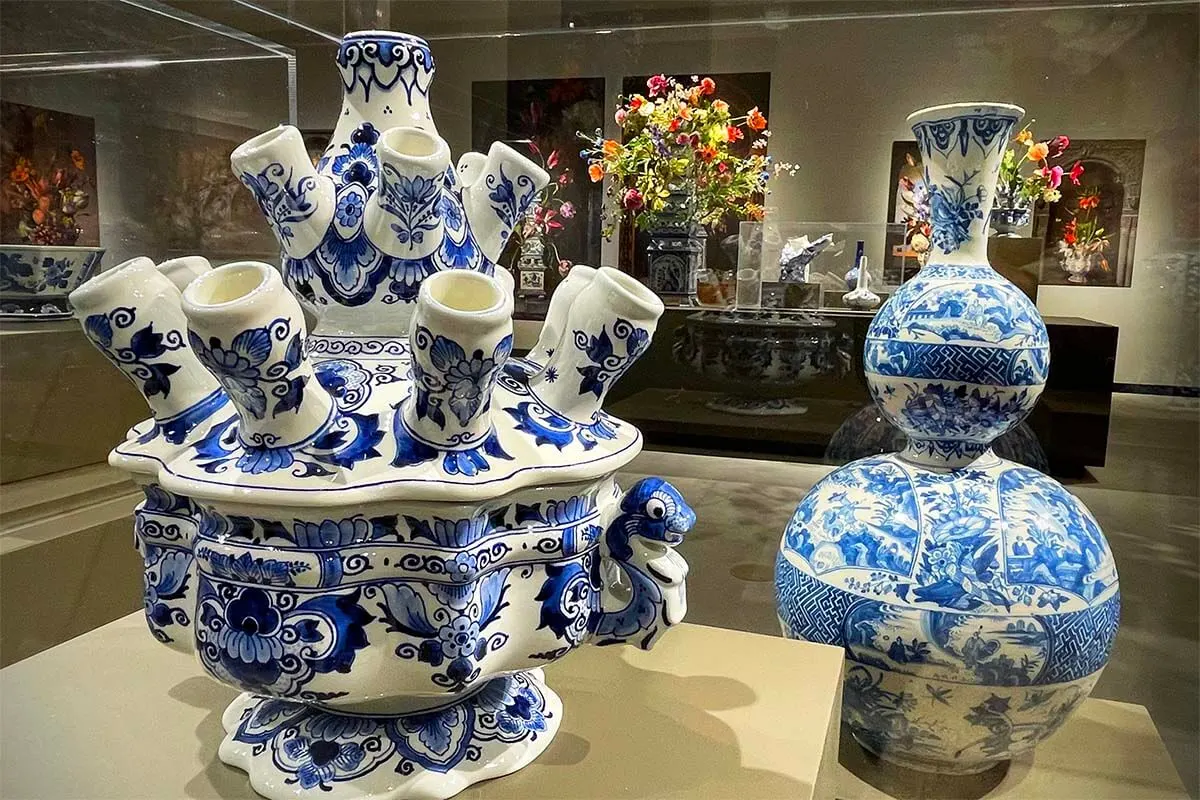 To give you a better idea of where everything is located and help you plan your trip, we also created a map indicating all the top sights in Delft mentioned in this guide.
Getting around: As you can see below, most places are located really close to each other, so the best way to explore Delft is on foot. It's a very walkable city, and even the places that are somewhat further away, are just 15-20 minutes walk from all the rest.
Getting there: Because of its central location just near Rotterdam and The Hague, and less than an hour's drive from Amsterdam, it's really easy to plan a visit to Delft. You can take a train to Delft from any of the bigger towns in the Netherlands, drive there by car, take a boat from The Hague, or visit with a tour from Amsterdam.
Spring TIP: if you are traveling to the Netherlands in the spring and want to see the famous Dutch tulip fields near Lisse, you can easily combine a visit to the flower fields or Keukenhof Gardens with some sightseeing in Delft. These areas are less than an hour's drive from each other. There is also a great tour from Brussels that combines the two in one day.
How to use this map: Use your computer mouse (or fingers) to zoom in or out. Click on the icons to get more information about each place. Click the arrow on the top left corner for the index. Click the star next to the map's title to add it to your Google Maps account. To view the saved map on your smartphone or PC, open Google Maps, click the menu and go to 'Your Places'/'Maps'. If you want to print the map or see it in a bigger window, click on 'View larger map' in the top right corner.
These are the top places to see and the best things to do in Delft:
1. Market Square
Markt is the main town square in the heart of the old town. Here you will find some of the main landmarks of Delft, such as the City Hall and the New Church (more information about these places further below).
The market square is lined with nice buildings which house all kinds of shops, cafes, and restaurants. Most stores here are very tourist-oriented. So if you want to buy some Dutch cheese, clogs, or souvenirs, you'll find it all in this area.
Just keep in mind that the souvenirs here are usually not made locally! For example, an original handmade Delft Blue vase at the factory store will quickly cost a couple of hundred euros, whereas the vases you see in souvenir shops are much cheaper because they are mass-produced (usually in Asia).
Good to know: In addition, just as the name suggests, Markt is the place where weekly markets are being held. If you visit Delft on a Thursday, you can experience a local Dutch market with fruit, vegetables, and all kinds of local specialties including stroopwafels, Dutch cheese, or herring… The prices are very reasonable, and the cheese is way cheaper than the one sold at tourist shops.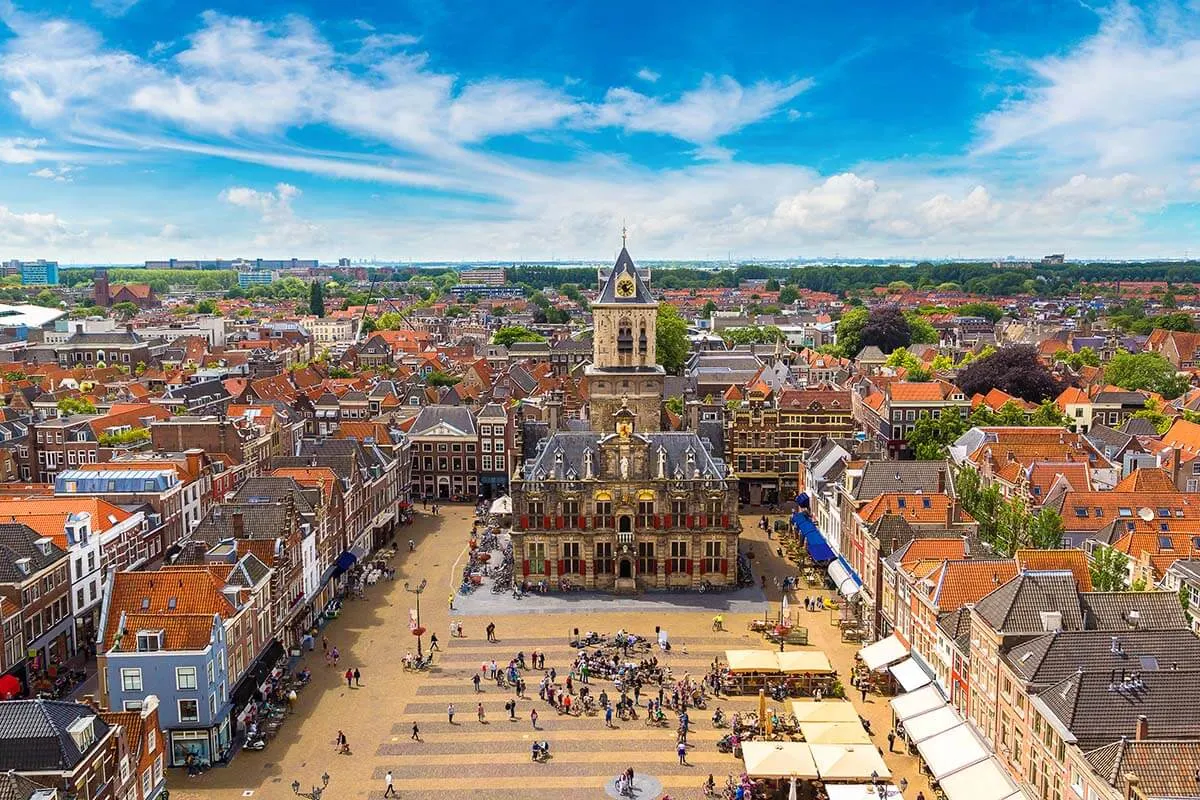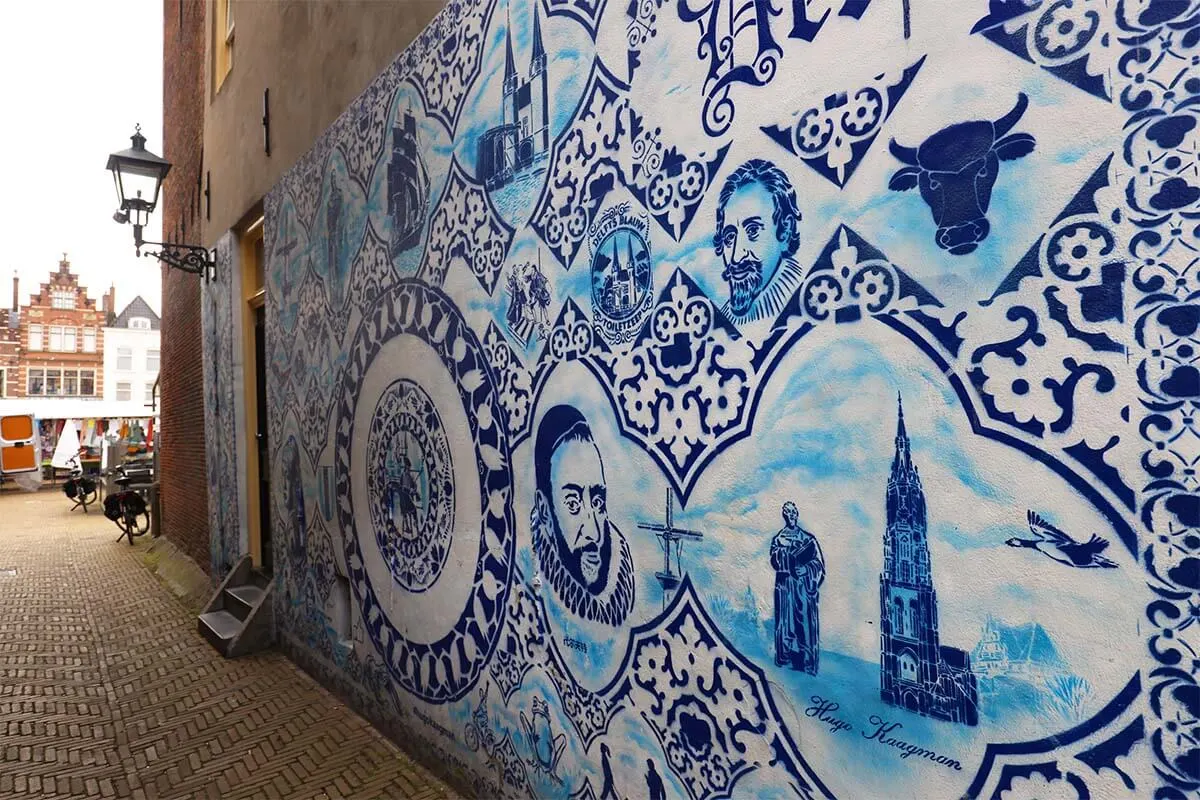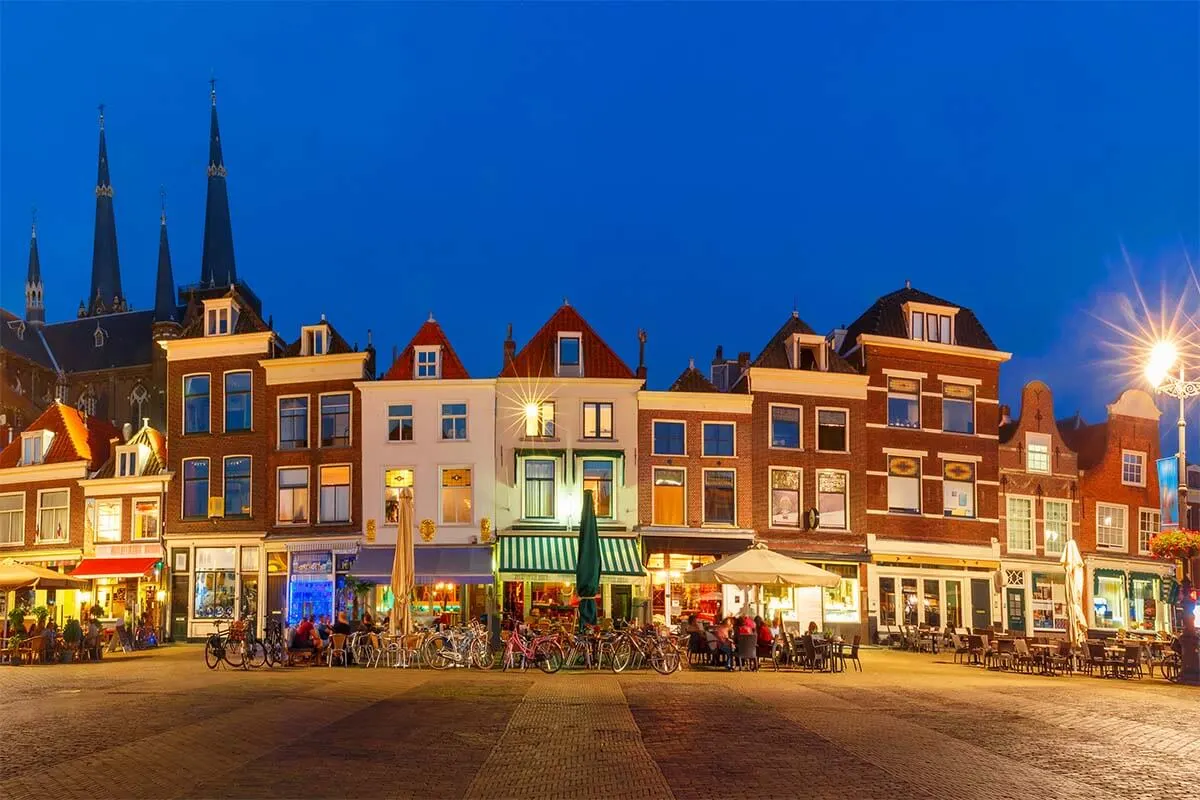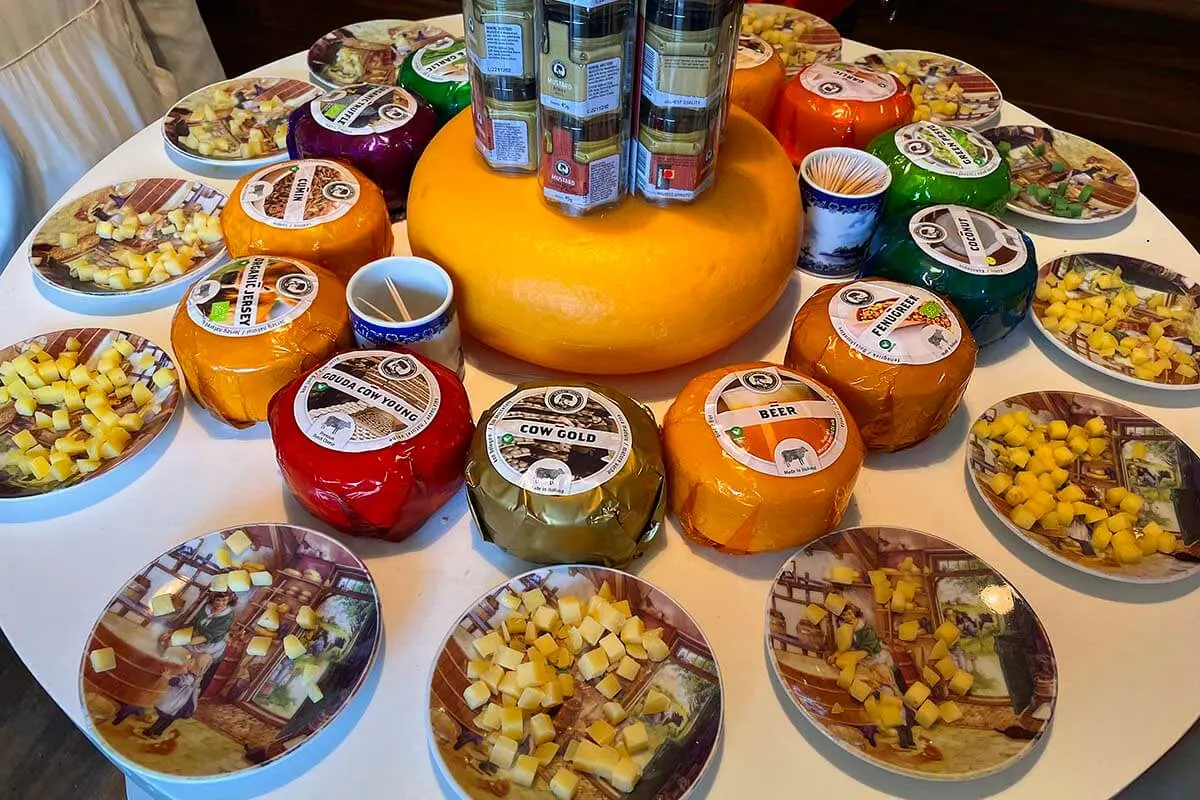 2. City Hall
Located at the southern end of Markt Square, the City Hall of Delft (Delft Stadhuis) is probably the most beautiful building in the city.
The old, medieval town hall burned down in 1618 and was completely rebuilt in a new Renaissance style in the 17th century. The new building was erected around the 13th-century Gothic tower, which is the only part of the old building that survived the fire.
You can see the old tower at the backside of the building. In the past, it served as a prison and still houses medieval torture instruments. It is also the only part of the City Hall which can be visited (although on appointment only, so it's not open to the general public).
TIP: If you stand in front of the City Hall, you have a good view of the entire Markt Square. And if you want to see the aerial view of the square, head to New Church – more info below.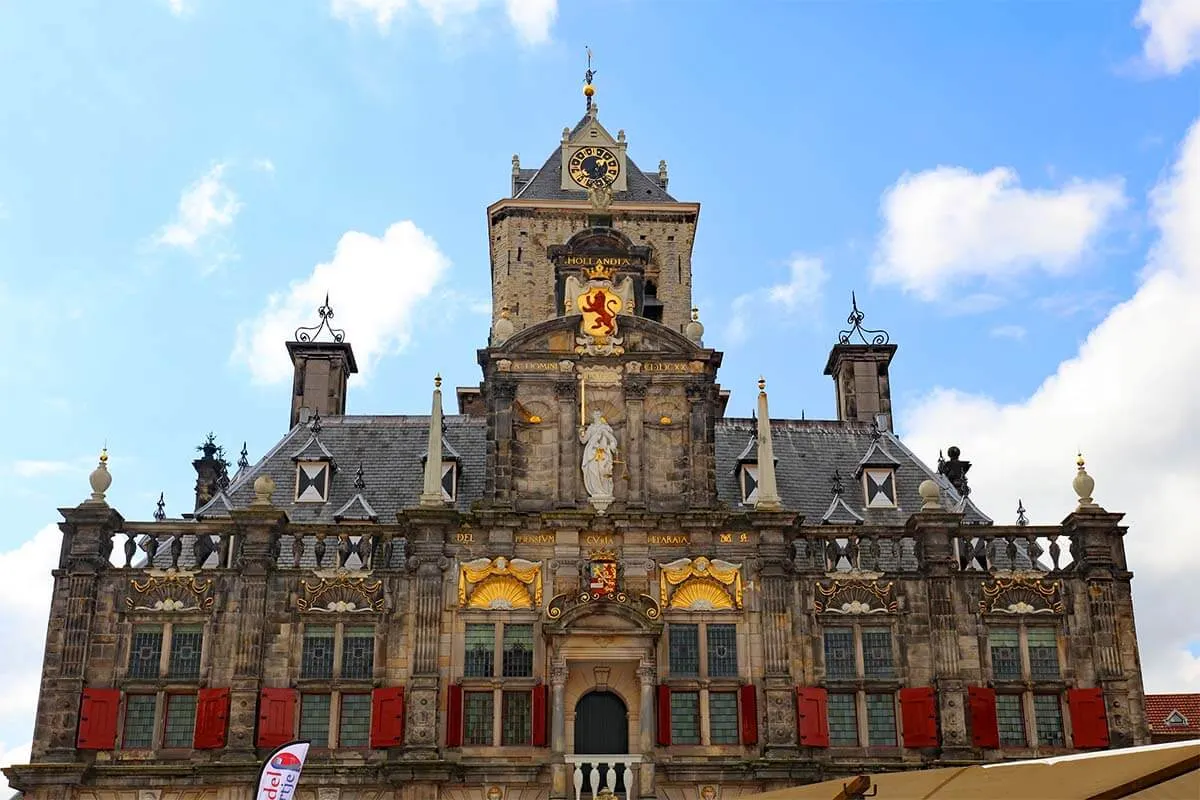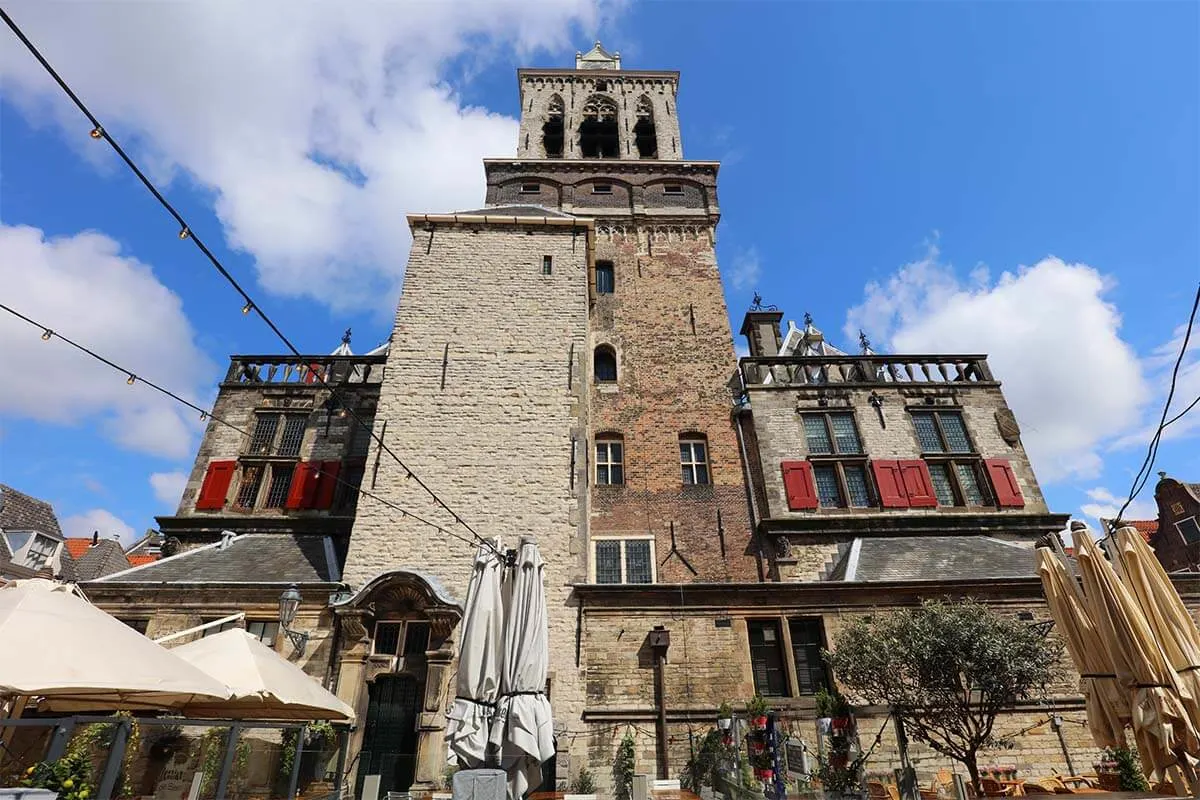 3. New Church
The New Church (de Nieuwe Kerk) is another landmark that you should visit in Delft. Built between the 14th and 17th centuries, its interior is stunning, with colorful stained-glass windows and an impressive Royal Crypt.
The New Church in Delft has been the final resting place of the members of the Dutch Royal Family, the House of Orange, ever since William of Orange was buried here in 1584.
But one of the main reasons to visit the New Church is its tower, more specifically the amazing 360° views from the top. Just be aware that the staircase is really narrow and steep, and it was clearly not built for tall people. But if you take the trouble to climb to the top, the views will definitely make up for it.
Good to know: The New Church now functions as a museum and you need a ticket in order to visit. The same ticket gives you access to the Old Church as well (see further below). You can find more information and book tickets here.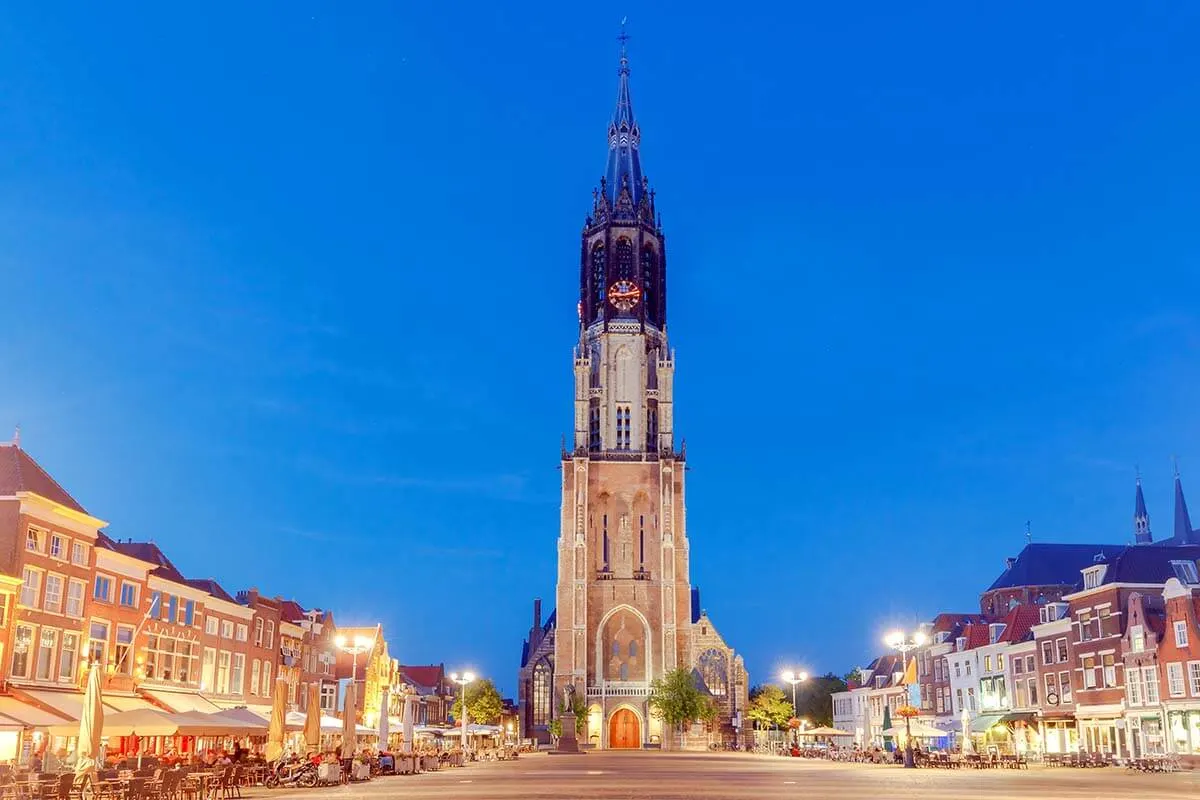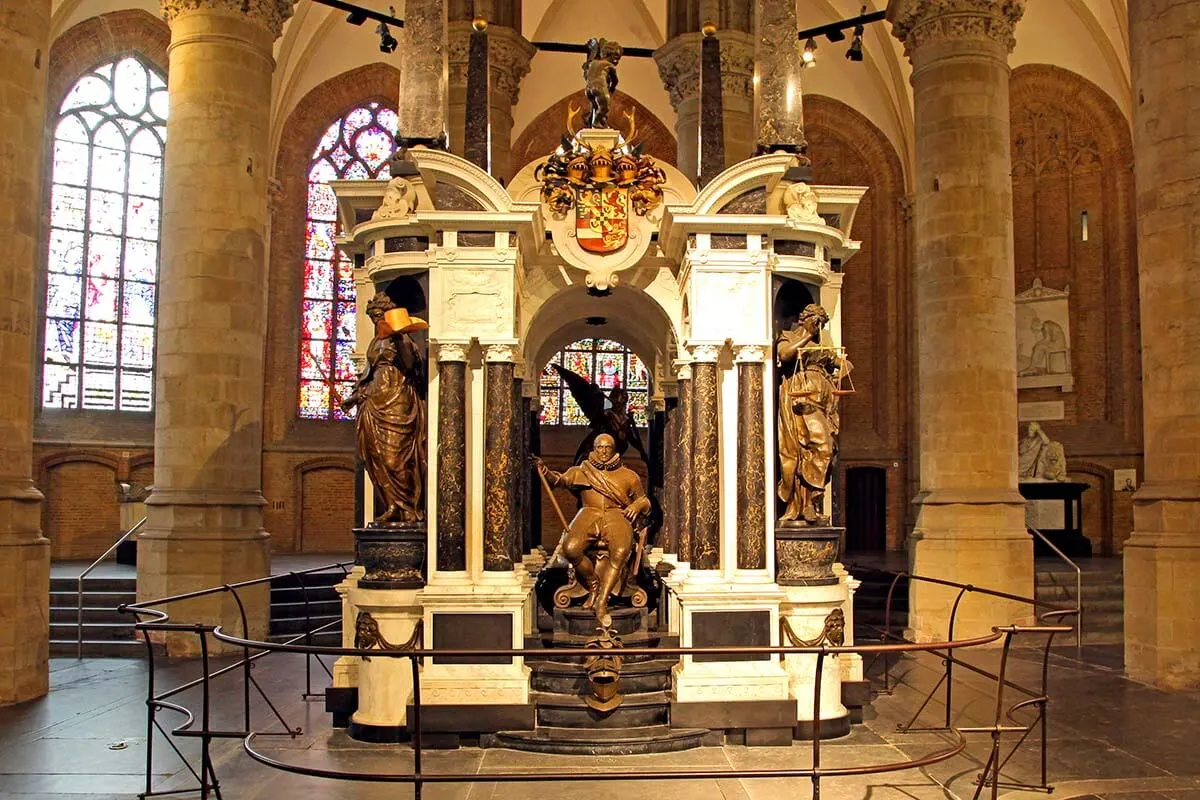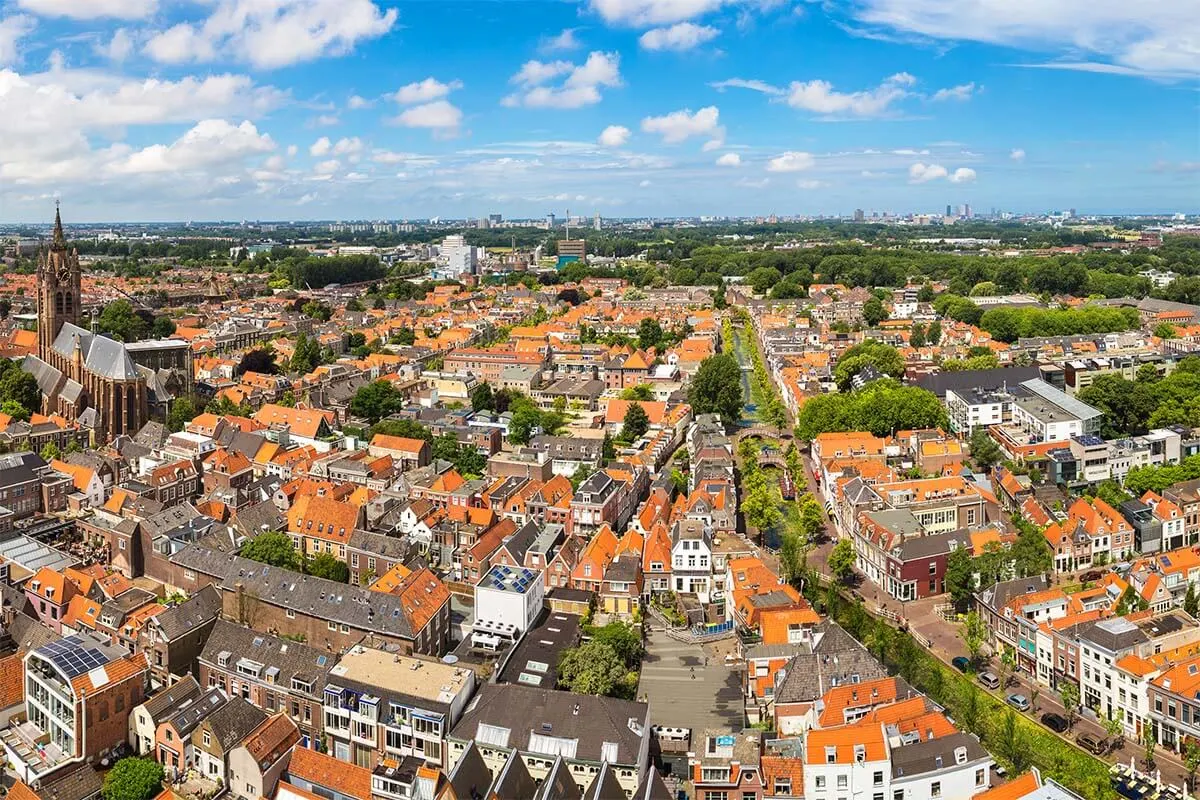 4. Old Church
The Old Church (de Oude Kerk) is another popular tourist attraction in Delft. Located just a short walk from Market Square, this 13th-century church is probably best known for its leaning tower and its bells.
The Skewed tower of the Old Church has been leaning almost from the start when it was built in 1350. This has probably to do with the fact that it was built above an old, filled canal.
Inside the tower, there are two very heavy bells, the Trinitas Bell – better known as Bourdon Bell – from the 16th century and the Laudate Bell from the early 18th century. The Bourdon Bell weighs almost 9 tons and is the heaviest bell in the Netherlands. Because of its weight, it only rings on very special occasions, in fear that regular use could make things worse for the leaning church tower.
The interior of the Old Church is well worth seeing too, mostly for its wooden ceiling, an impressive organ, and beautiful glass-stained windows.
Good to know: Also this church serves as a museum and you need a ticket in order to visit it inside. As already mentioned, the same ticket gives access to the New and Old Churches of Delft.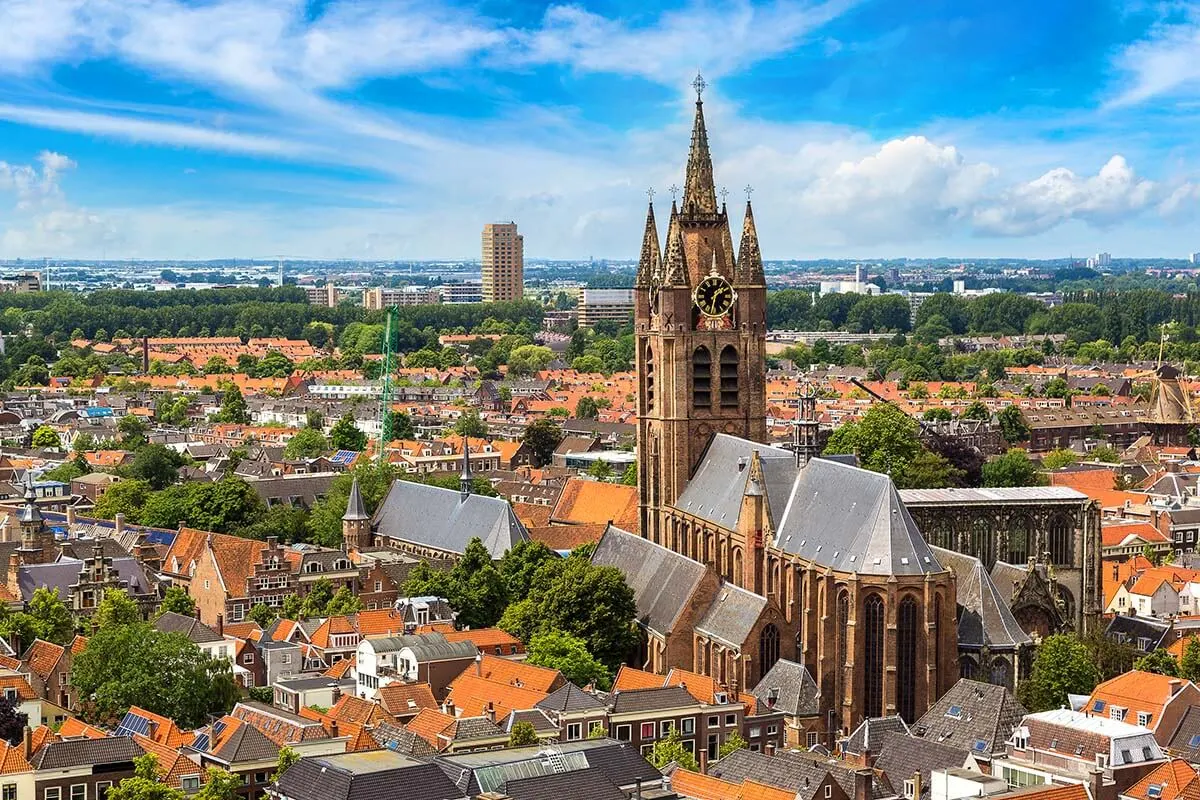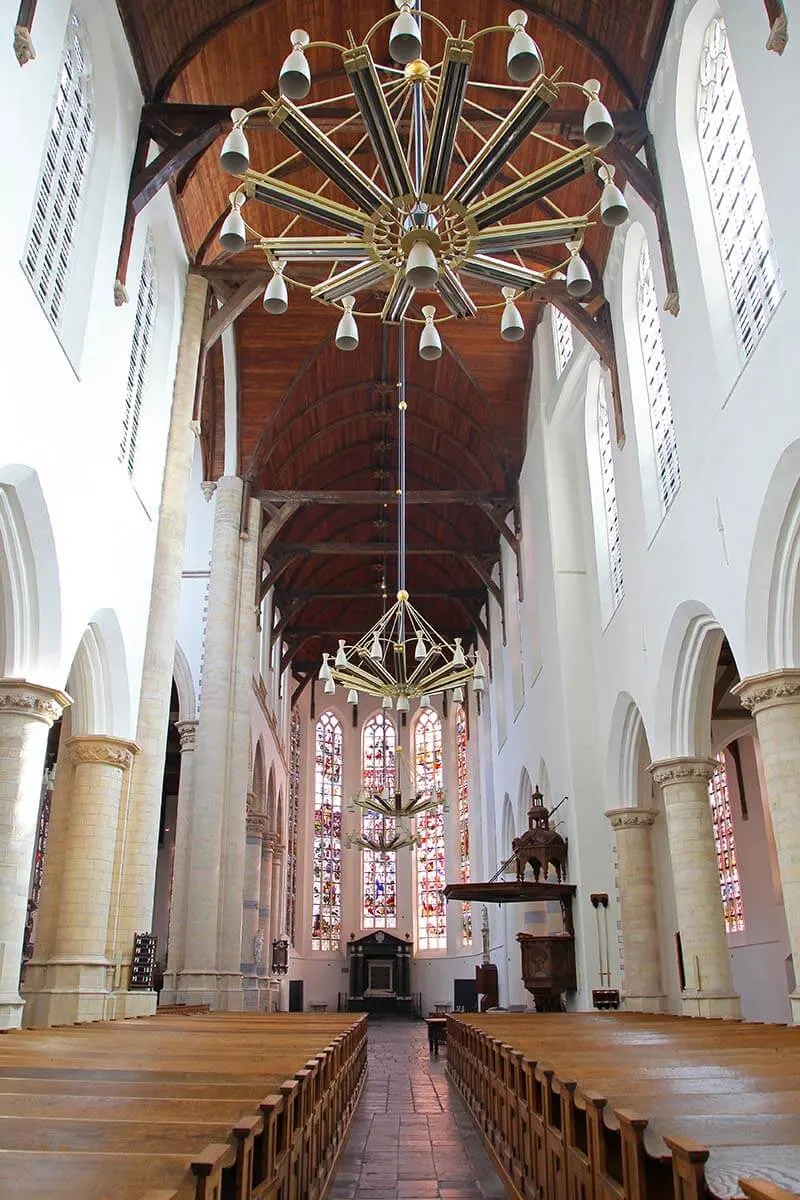 5. Royal Delft Museum & Factory
Royal Delft could just as well be at the very top of any list of Delft attractions. In fact, I would say it's worth visiting Delft even if you only have the time to visit the Royal Delft Experience.
This is an old (and still functioning) factory where the famous Delft Blue porcelain has been made since 1653. Even today, they decorate every single piece by hand.
The Royal Delft Experience includes the porcelain factory Porceleyne Fles, the museum, a shop selling handmade porcelain made in the factory, and a restaurant. You'll need a ticket for the museum/factory visit. The shop and the restaurant can be visited without a ticket. But we highly recommend that you take the time to visit the factory/museum – it's one of the must-sees in Delft!
The visit starts with a short video presentation about the history of the porcelain industry in Delft. You then move on to the next room for a deeper look at how porcelain is made and painted with a special paint that is produced using a secret recipe. Both of these video presentations take just a few minutes but are very well done. Plus, they are presented in a unique way that the whole family will find interesting.
Next, you visit a small museum where you can see some of the oldest pieces created in this factory. When we visited, they also had a temporary exhibition with some beautiful photographs of flowers in Delft Blue vases.
The last part of the museum visit takes you to the factory where you can see how everything is being made. You can even visit the painter's room and see how the vases are being decorated. It's incredible to see how much work goes into each piece, which also explains the high prices of the Delft Blue porcelain at the museum shop at the exit.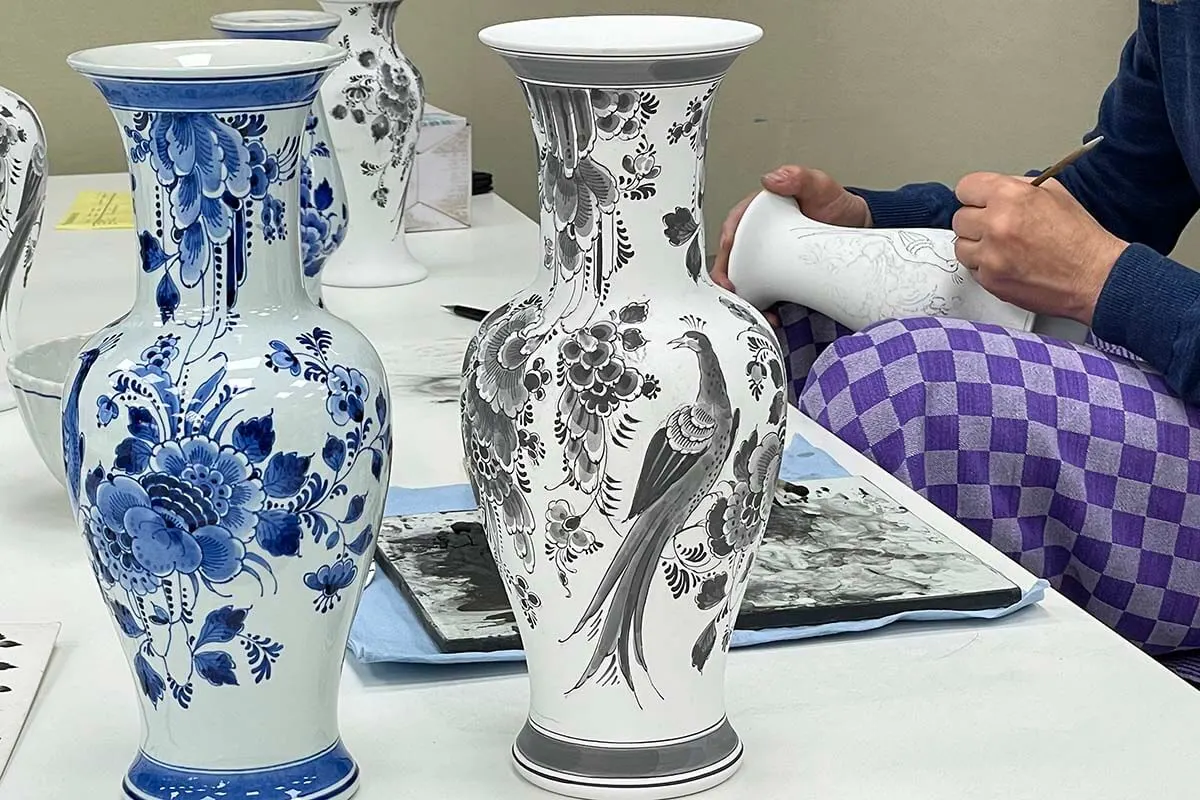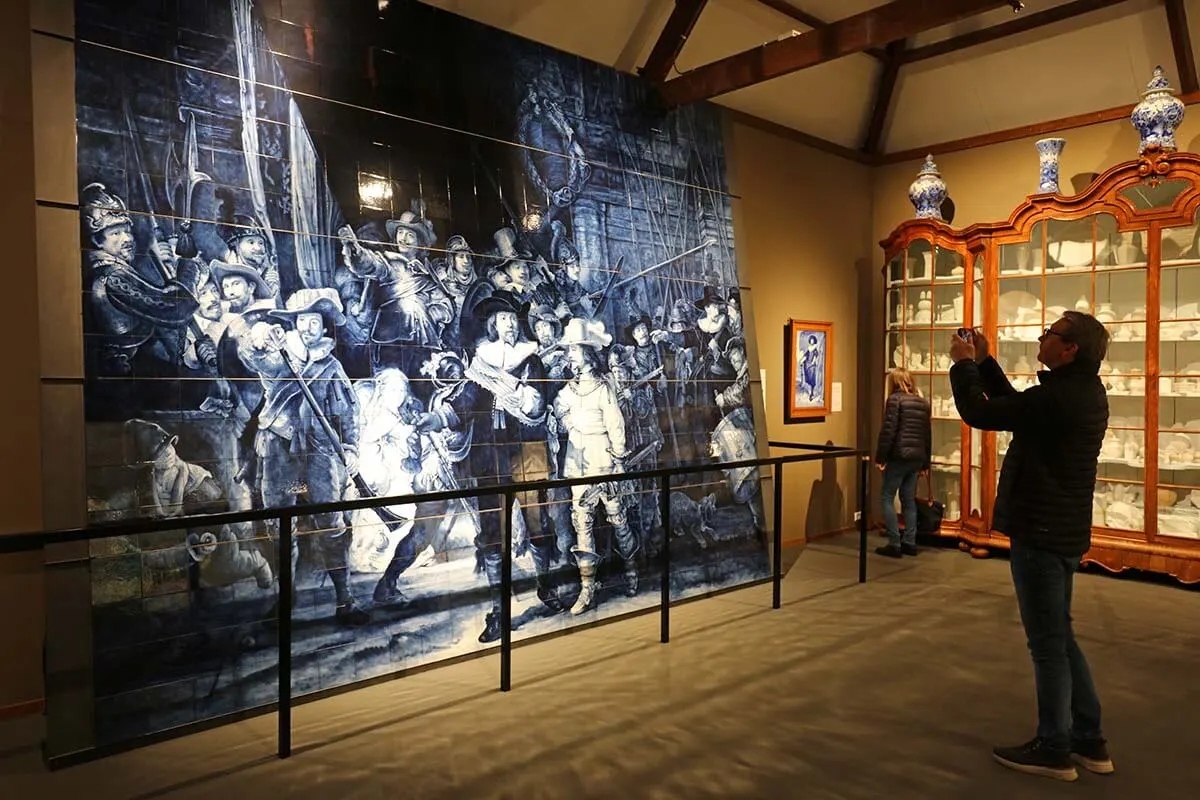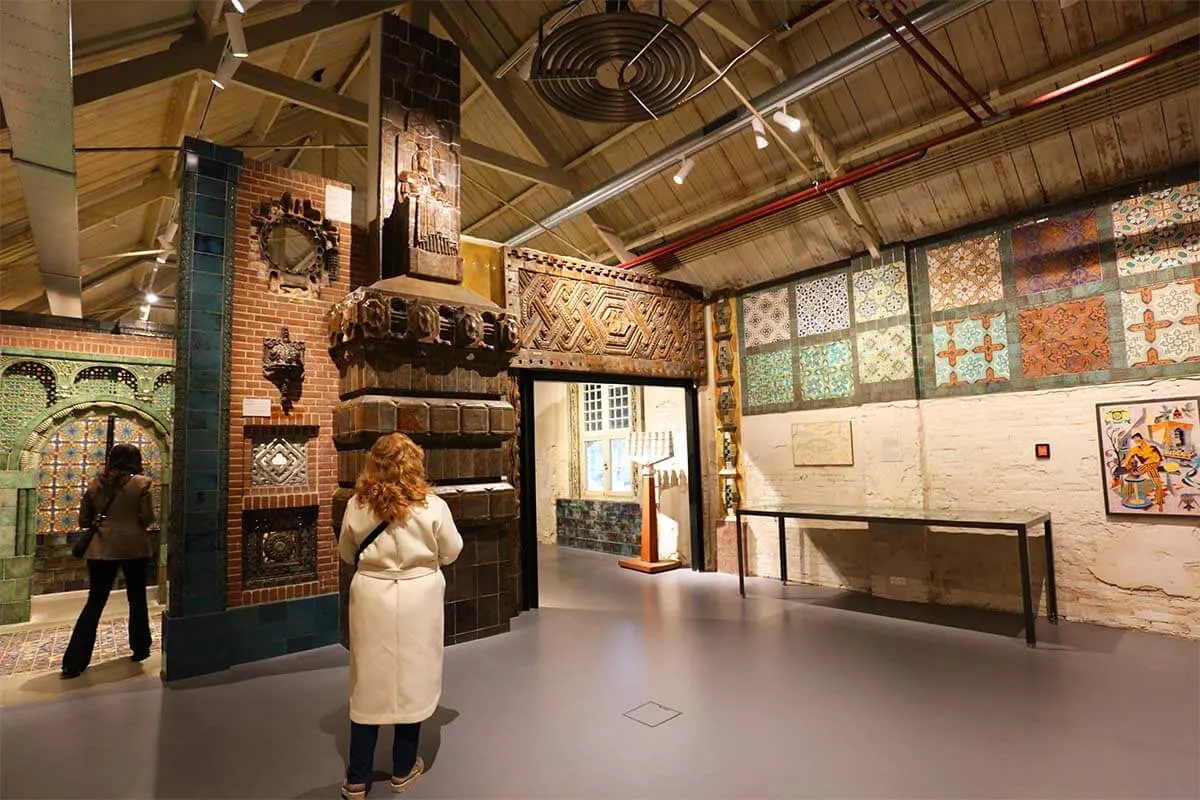 Good to know: The museum ticket includes an audio guide (available in English as well). The visit itself is self-guided so you can go at your own pace and spend as much (or as little) time as you want. We spent about 1 hour inside.
In addition, it's also possible to attend a painting workshop here. For that, check here and be sure to book in advance because walk-ins are almost never possible. They also have a high tea experience at their café; also for that, you have to reserve at least a few days in advance.
Despite the fact that it's located about 15 minutes walk from the old town center, Royal Delft is the most popular tourist attraction in Delft. So expect it to be busy. But it's absolutely worth a walk, and you get to see more of the city along the way too.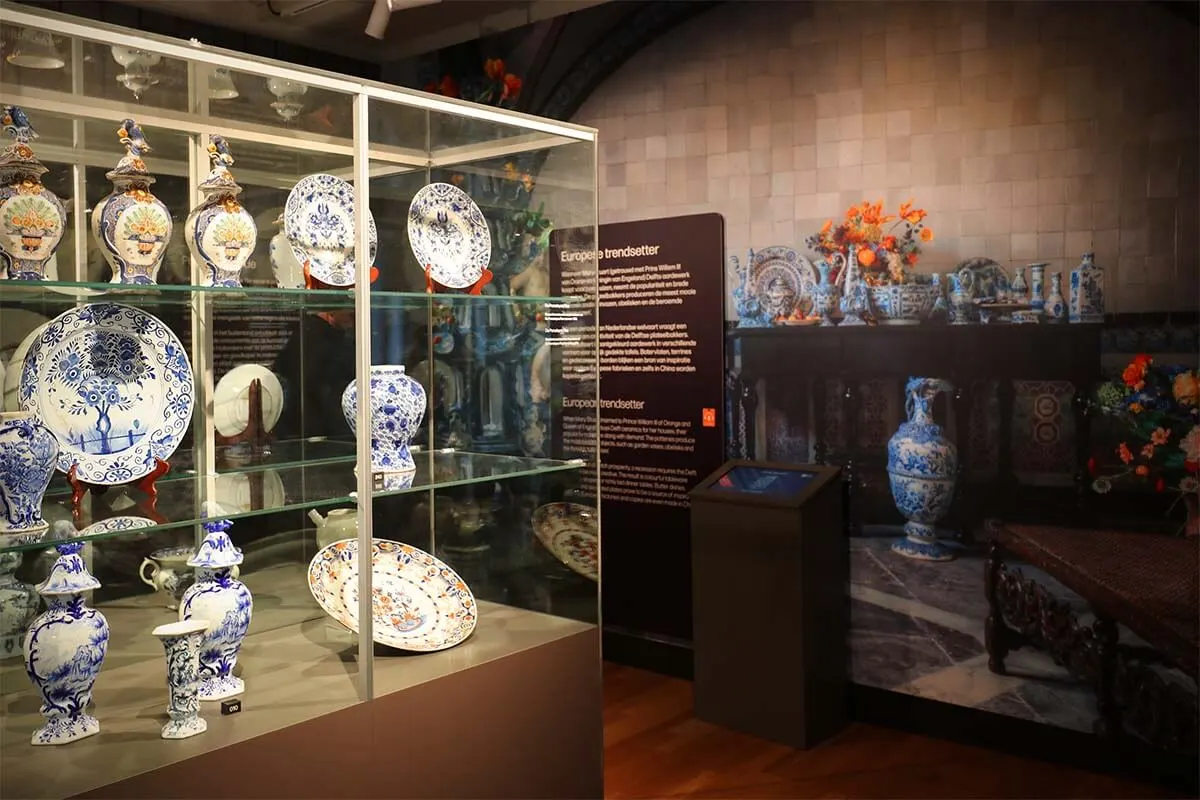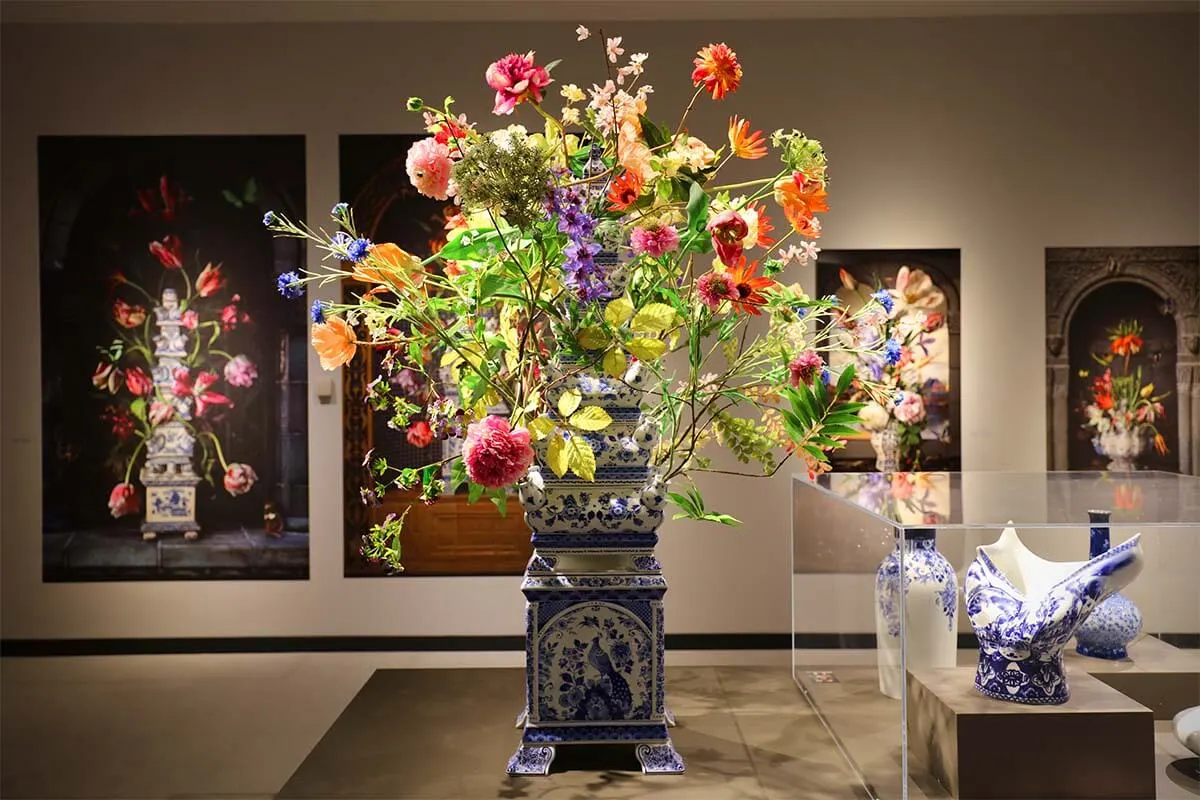 5. Vermeer Centrum Delft
Vermeer Center is a small museum in the center of Delft, entirely dedicated to Johannes Vermeer. If you are not familiar with Vermeer, he lived in the 17th century and is one of the most famous painters in the Netherlands, together with Vincent van Gogh and Rembrandt. Vermeer is also called the Master of Light.
Johannes Vermeer (1632-1675) was born and died in Delft and is one of the most famous citizens the city ever had. Only about 36 paintings survived to this day, with the most famous of them being the 'Girl with a Pearl Earring'.
These paintings are now scattered around the most famous museums all over the world, including several galleries in the USA, but also the Louvre Museum in Paris, Rijksmuseum in Amsterdam, and Mauritshuis in The Hague, to mention just a few.
While they only have reproductions at the Vermeer Center in Delft, it's still worth a visit. You can see all of his paintings in one place, displayed in chronological order. Be sure to take an audio guide (also available in English and included in the ticket price) as it will give you a much better insight into Vermeer's life and work.
Technically, this is not a museum, but more an exhibition dedicated to the master and his masterpieces, and it's really well done.
Good to know: Vermeer Centrum is located just next to Markt Square and is open daily. You can find more information and get your tickets here. Usually, you should also be able to buy tickets on the spot, but it can get very busy at times.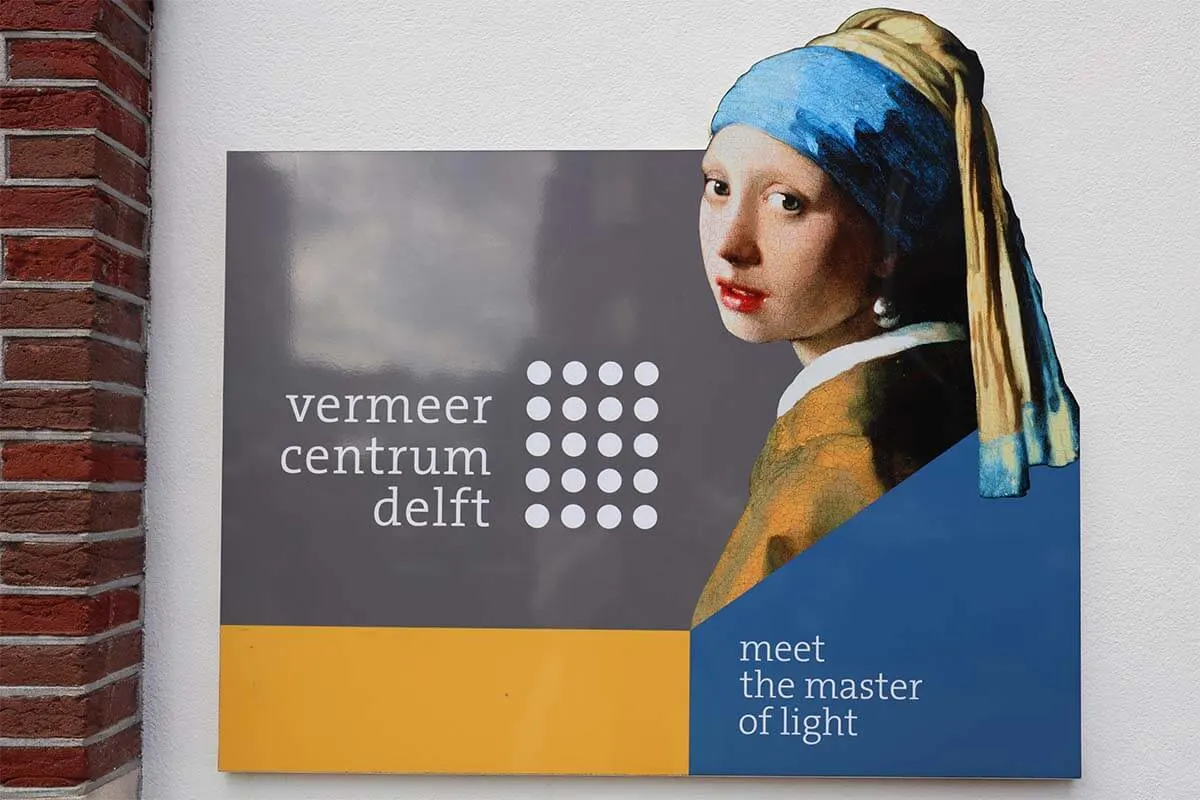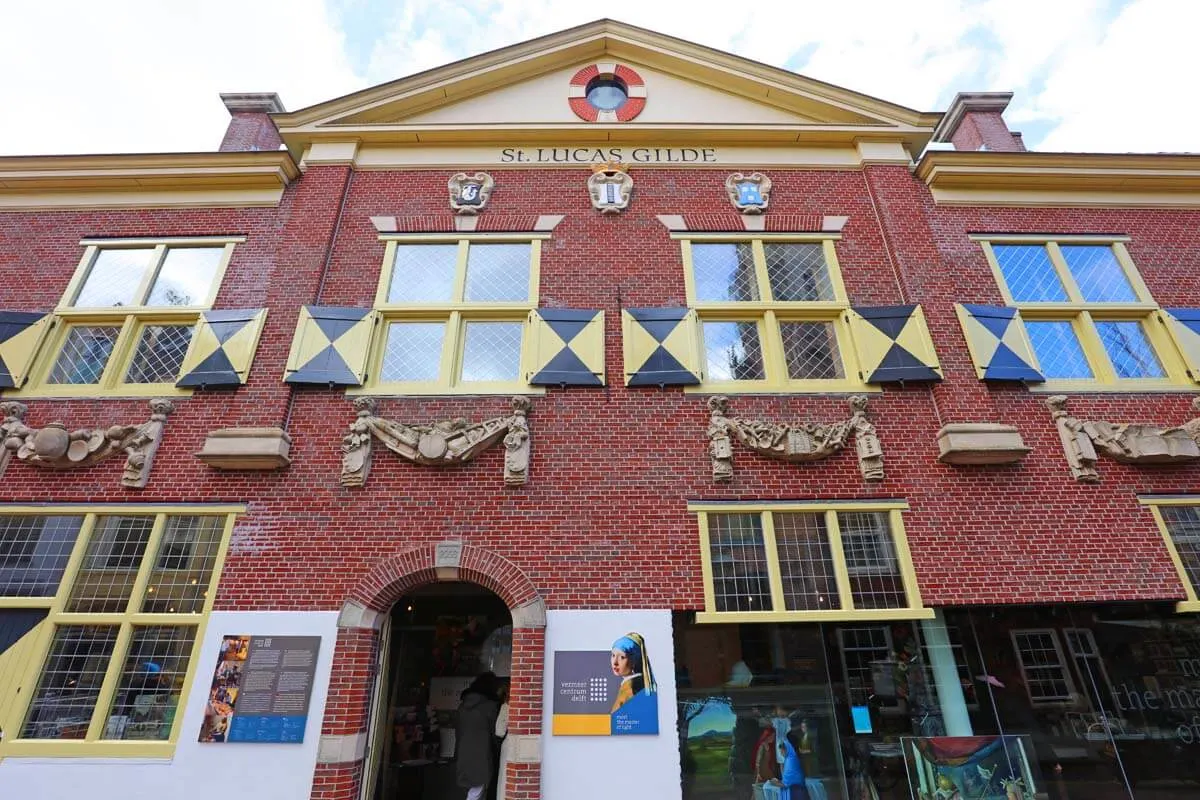 6. Delft Canals
Being quintessentially Dutch, Delft is crisscrossed by canals. So one of the best things to do in Delft is simply walking along its canals, admiring the buildings, and soaking in the great atmosphere of this charming town.
But if this is your first time in Delft and you don't have lots of time, you may be wondering where exactly to go or which canals are the most beautiful.
As a minimum, we recommend that you visit the following canals in Delft:
Oude Delft (Old Delft), one of the most picturesque canals in Delft.
Hyppolytusbuurt, one of the oldest canals in Delft.
Voldersgracht, one of the most charming little canals.
All three of these canals are located very close to each other and next to the main Delft attractions mentioned in this article. So you will likely pass them anyway. We also indicated them on our map of Delft attractions so you know where to go, but be sure to explore other canals.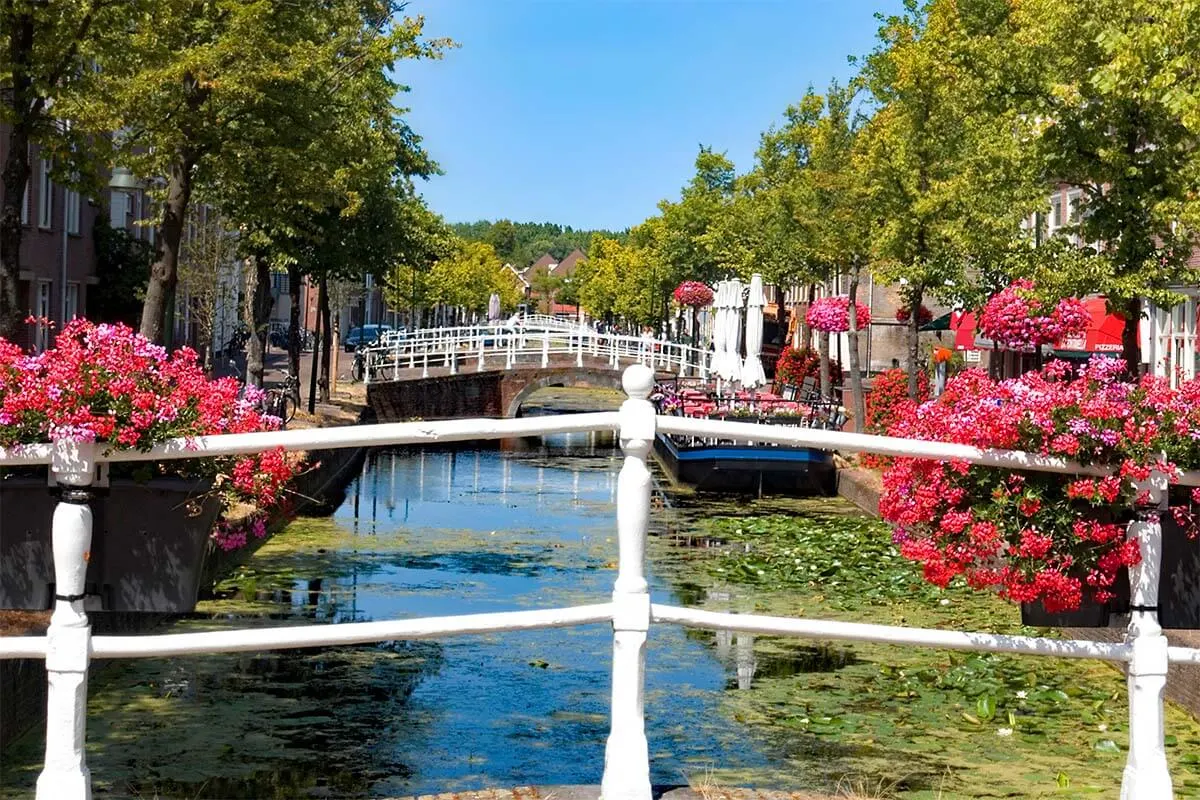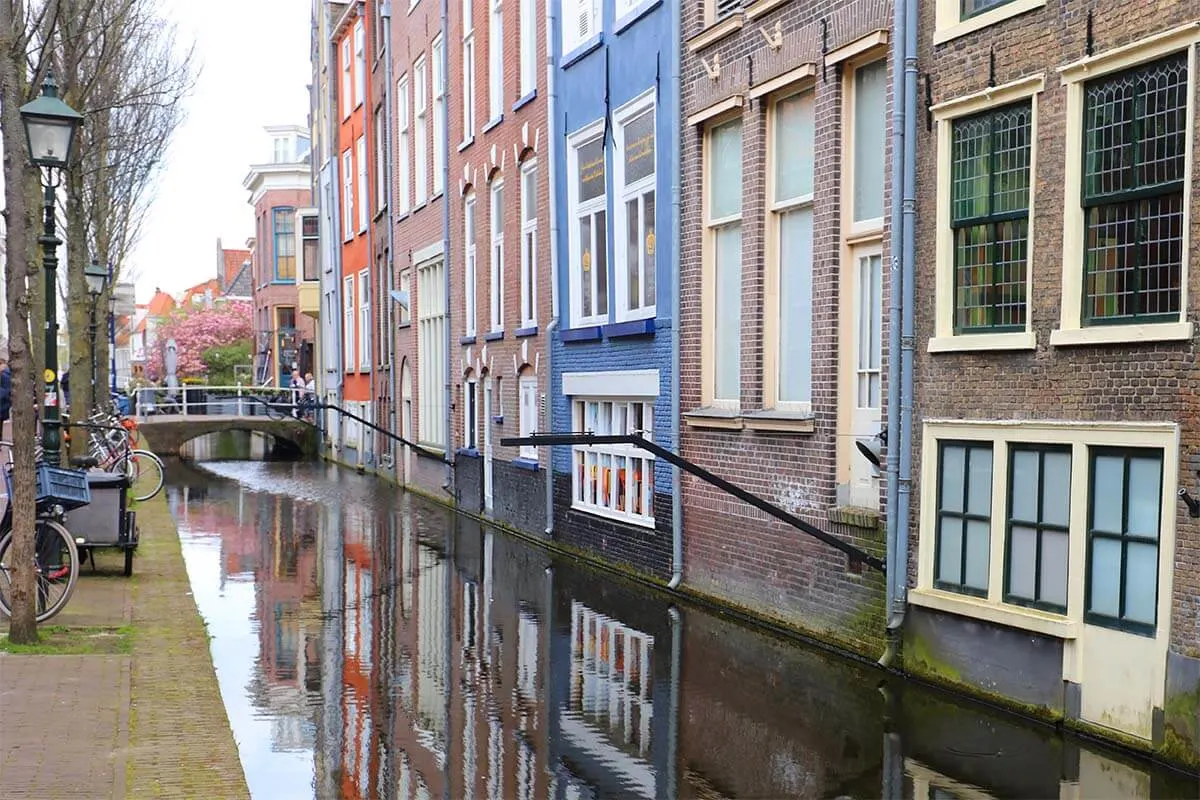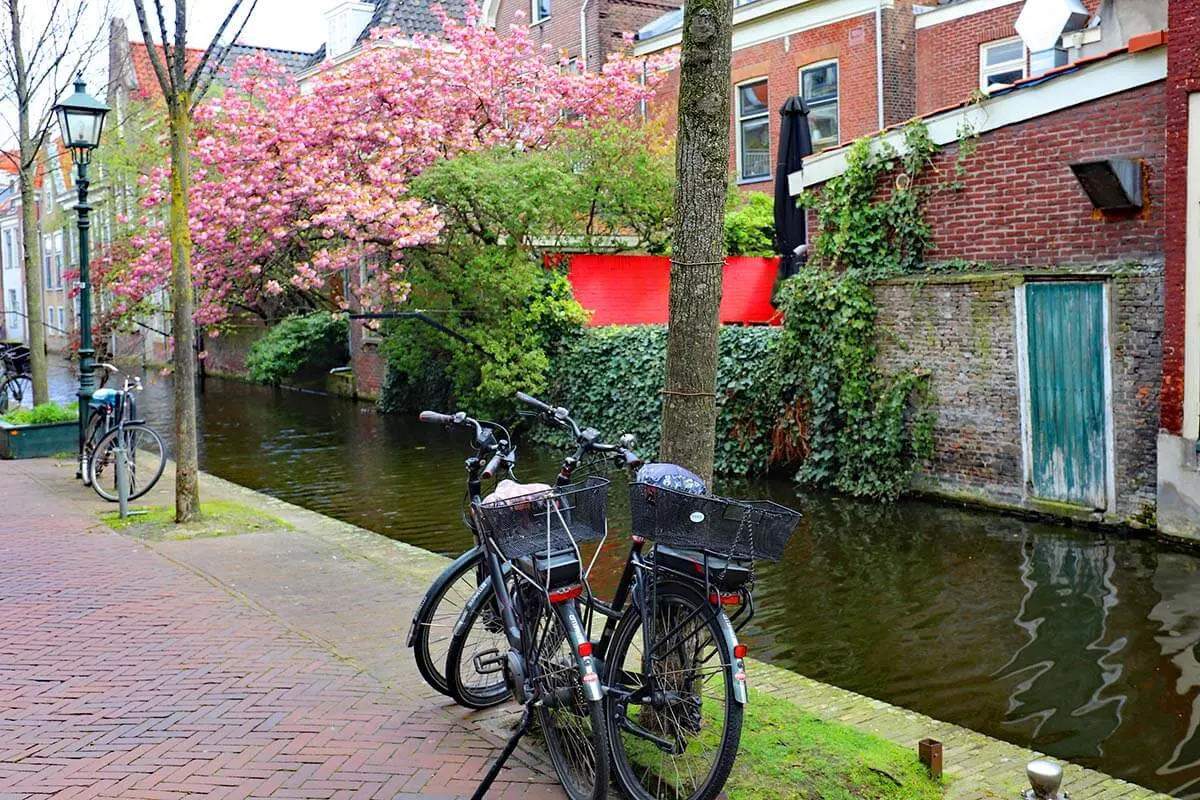 7. Canal Cruise
If you are looking for more things to do in Delft, consider taking a canal cruise. This is one of the most popular tourist attractions in Delft and it gives you yet another perspective of this cozy little town.
It's also a good way to see more of the city without having to walk. Plus, it's always good to rest your legs a bit after all the slow walking through town and museums.
Good to know: This is the most popular canal cruise in Delft. If you don't mind paying a bit more (or if you are visiting with a family or a few friends), consider this highly-rated private cruise instead.
YOU MAY ALSO LIKE TO READ: Tips for Canal Cruises in Amsterdam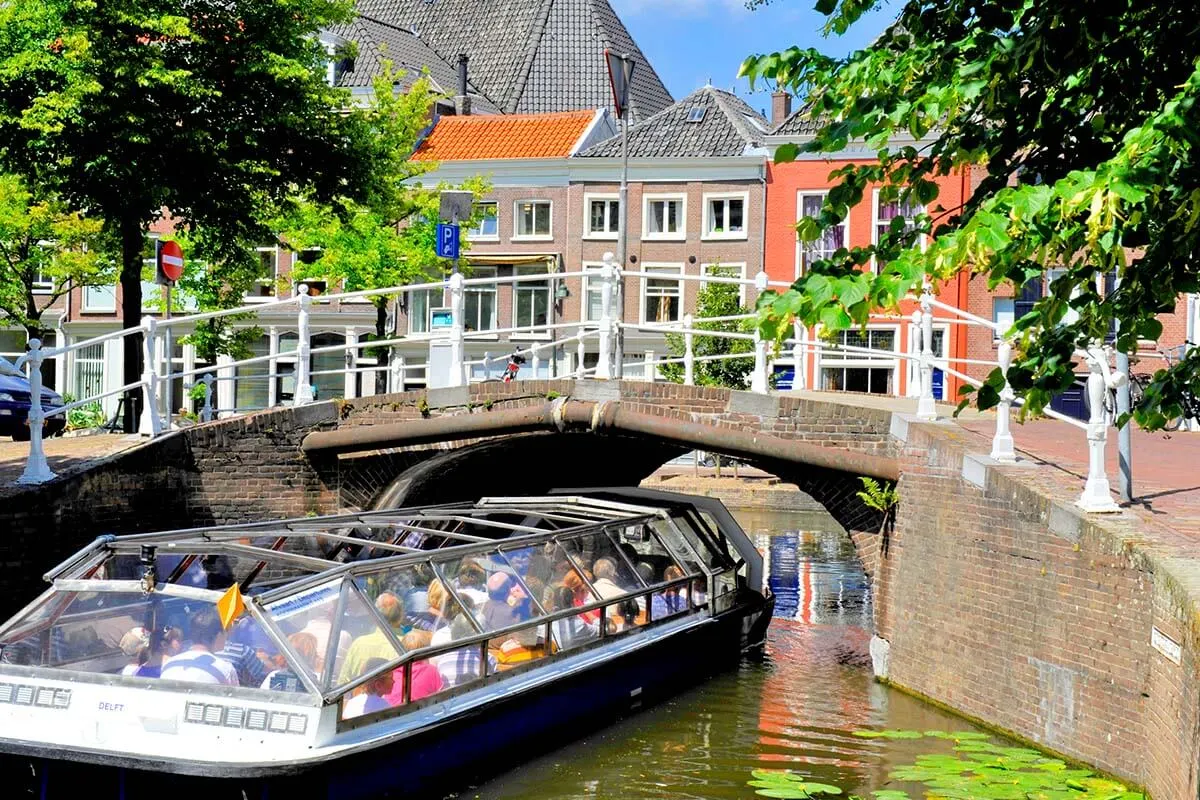 8. Maria van Jesse Church
There is one more church that is really worth mentioning among the top places to see in Delft – Maria van Jesse Church (Maria van Jessekerk). This is a working Catholic church and there is no entrance fee to visit. It's also completely different than the other (protestant) churches in Delft.
The interior is very lavish with stunning woodwork, paintings, and an impressive altar. Don't miss the pulpit, which is nothing like any other I have ever seen. Absolutely worth a few minutes of your time!
Good to know: Maria van Jesse Church is also located in the center, just a few minutes walk from Markt Square and the New Church. Entry is free, but donations are welcome.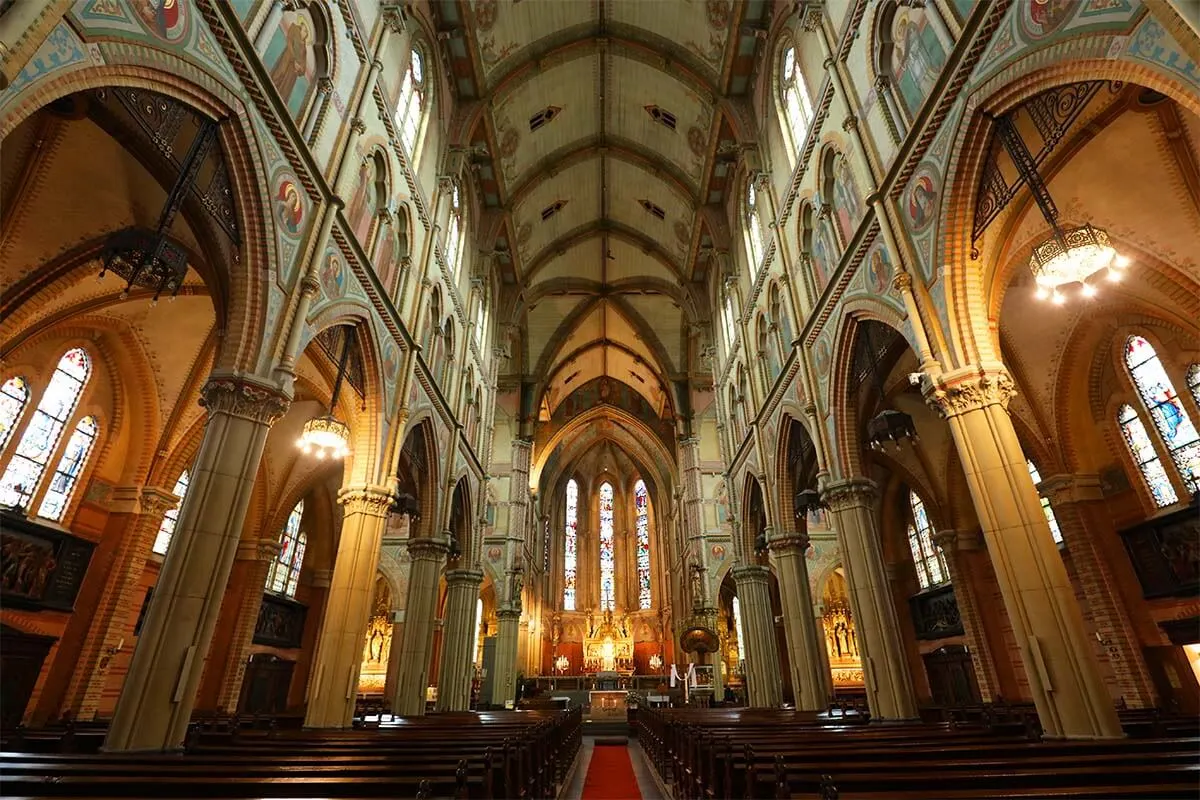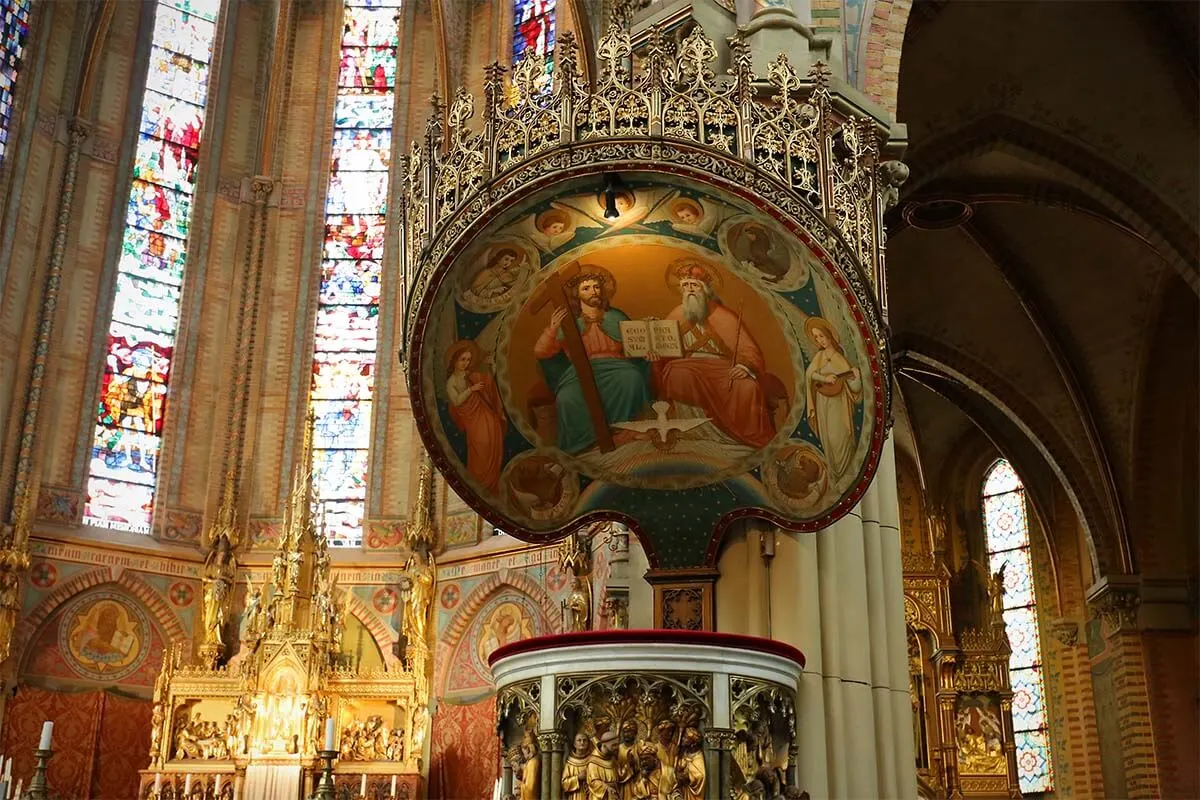 9. Museum Prinsenhof
Prinsenhof is a small museum focused on the 3 main themes that make the city of Delft famous: William of Orange and the creation of the country of the Netherlands as we know it today, Delf Blue porcelain, and the Masters of Delft.
If you would like to learn more about the city and its contribution to the country, it's a nice place to visit, and not nearly as busy as the other attractions in Delft.
The museum is located inside an old cloister, close to all the other places mentioned in this guide. For more information, see here.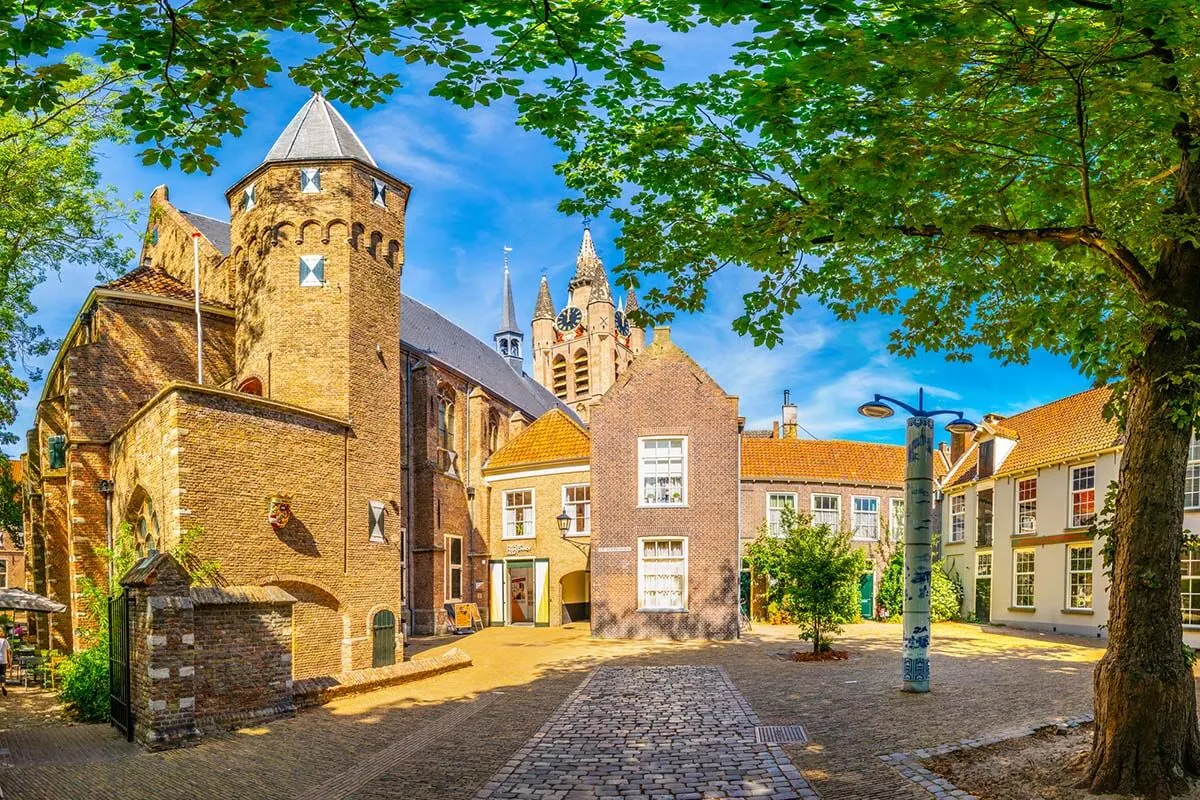 10. Eastern Gate
The Eastern Gate (Oostpoort) was a part of an old city wall around Delft, built and enhanced during the 15-16th centuries. This is the only city gate that remains to this day. It has two Gothic-style towers and looks a bit like a small castle. In addition, there is a small 'water gate' spanning over the canal here as well.
The Eastern Gate has been restored in the 1960s and is now in private hands. It cannot be visited inside and is best admired from a distance, together with an old white drawbridge, Kleine Oostpoortbrug.
This is really a nice place to see in Delft. The old city gate is very photogenic so you can take some nice pictures, plus, it's a nice walk along the canals to get there. The East Gate is located about 10 minutes walk from the main square. Canal cruises should normally pass here as well.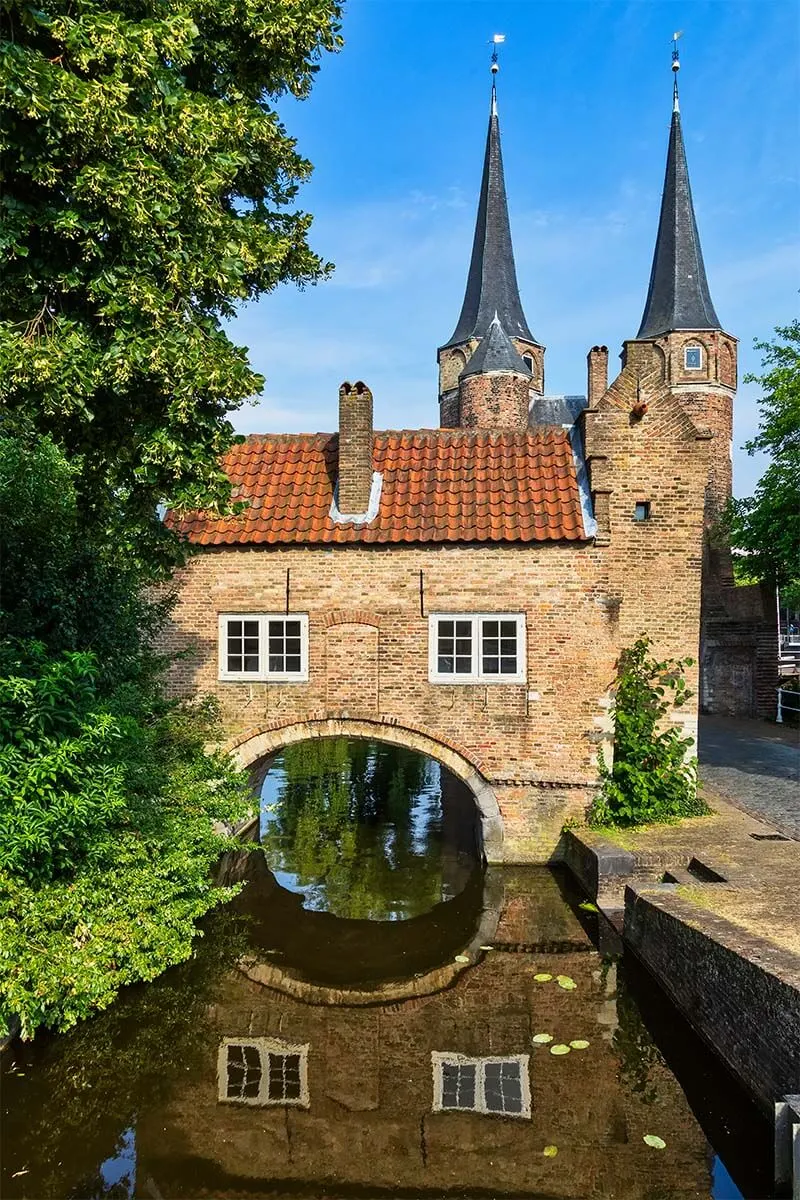 11. Blue Heart
And finally, I want to mention one more place that's nice to see in Delft. It's not a historic landmark or a museum, but a really special sculpture. It's called the Blue Heart (Blauwe Hart) and can be found just near the New Church and the main town square.
The sculpture was designed by Marcel Smink in 1998 and represents the city of Delf. The blue color refers to the Delft Blue porcelain, and it stands in the heart of the city.
This is just a quick photo stop that doesn't require much time. Check it out!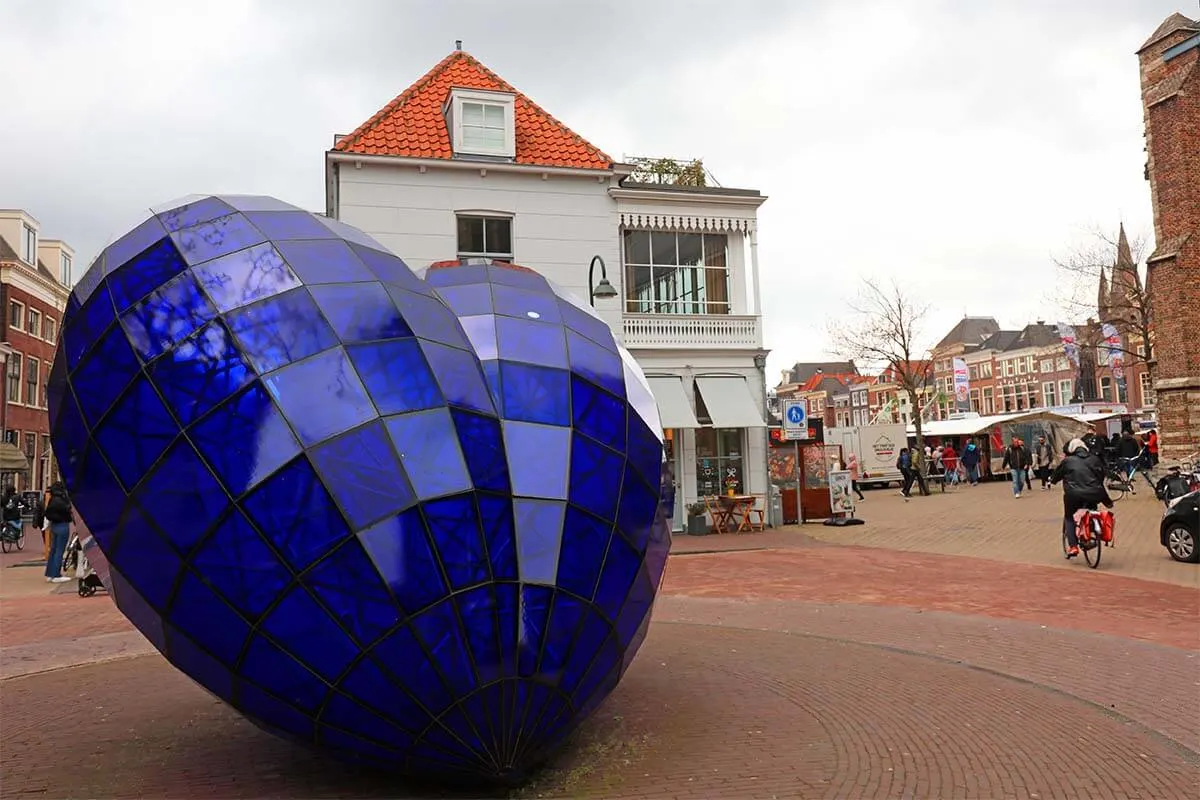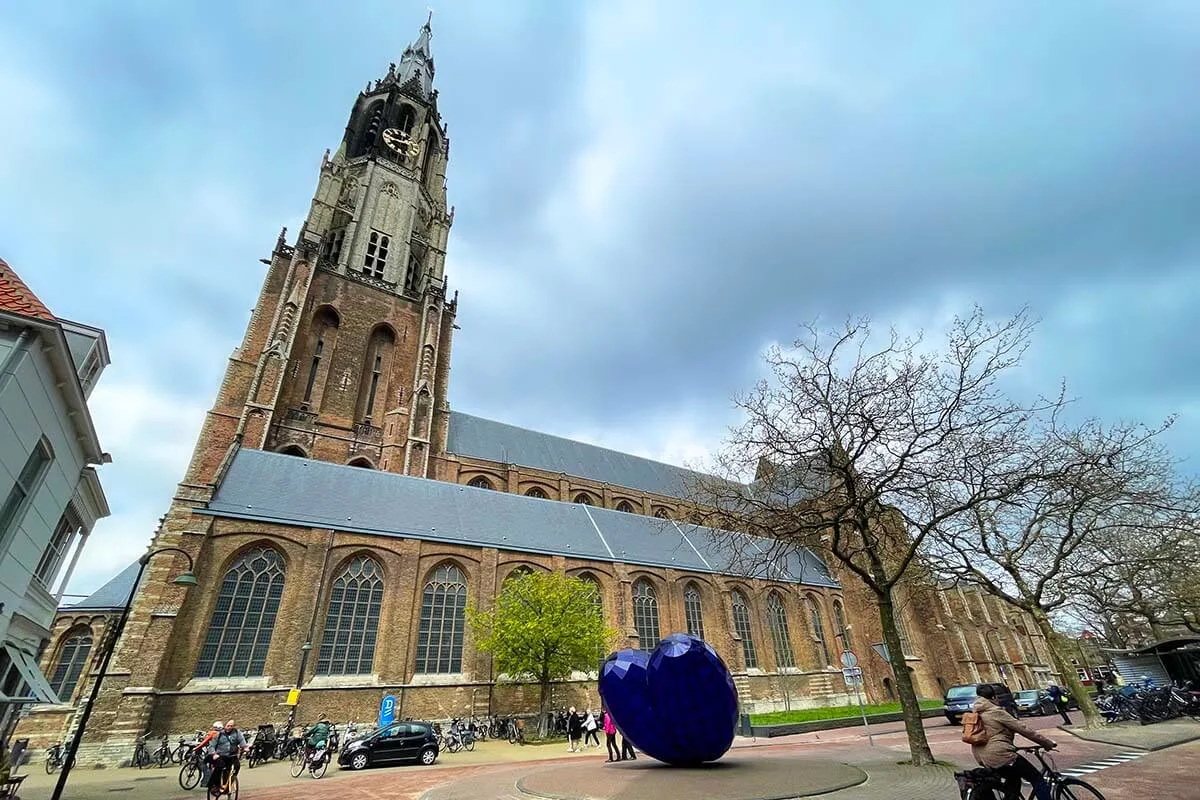 Tips for your visit to Delf
How much time do you need? Count at least half a day for a quick Delft visit. If you want to see everything from this list, we highly recommend planning an entire day for the city.
Delft is best explored on foot. Take a canal cruise in the middle of the day, to rest your legs and see a bit more of the city from a different perspective.
Where to stay. Most tourists just visit Delft for a day, or even just a few hours. That being said, if you are looking for a nice central place to stay when exploring this part of the Netherlands, Delft is an excellent choice. I would much rather prefer it over The Hague or Rotterdam, mostly because it's much smaller and more laid-back. In that case, you may want to stay at a hotel not too far from the railway station. Hotel The Social Hub is an excellent choice here.
Thursday is a market day with a big market on the main square in Delft. Visit on a Thursday if you'd like to experience a typical everyday Dutch market, or come on any other day if you prefer to see the beautiful market square and be able to admire the architecture without the market stands covering the view.
Getting there. You can easily reach Delft by car or by train from any other major town in the Netherlands. If you just want to see the highlights of Delft and also visit a few other places nearby, consider this highly-rated day tour from Amsterdam. It allows you to get a quick impression of several of the best towns in Holland: Delft, Rotterdam, and The Hague.
READ ALSO: Best Day Trips from Amsterdam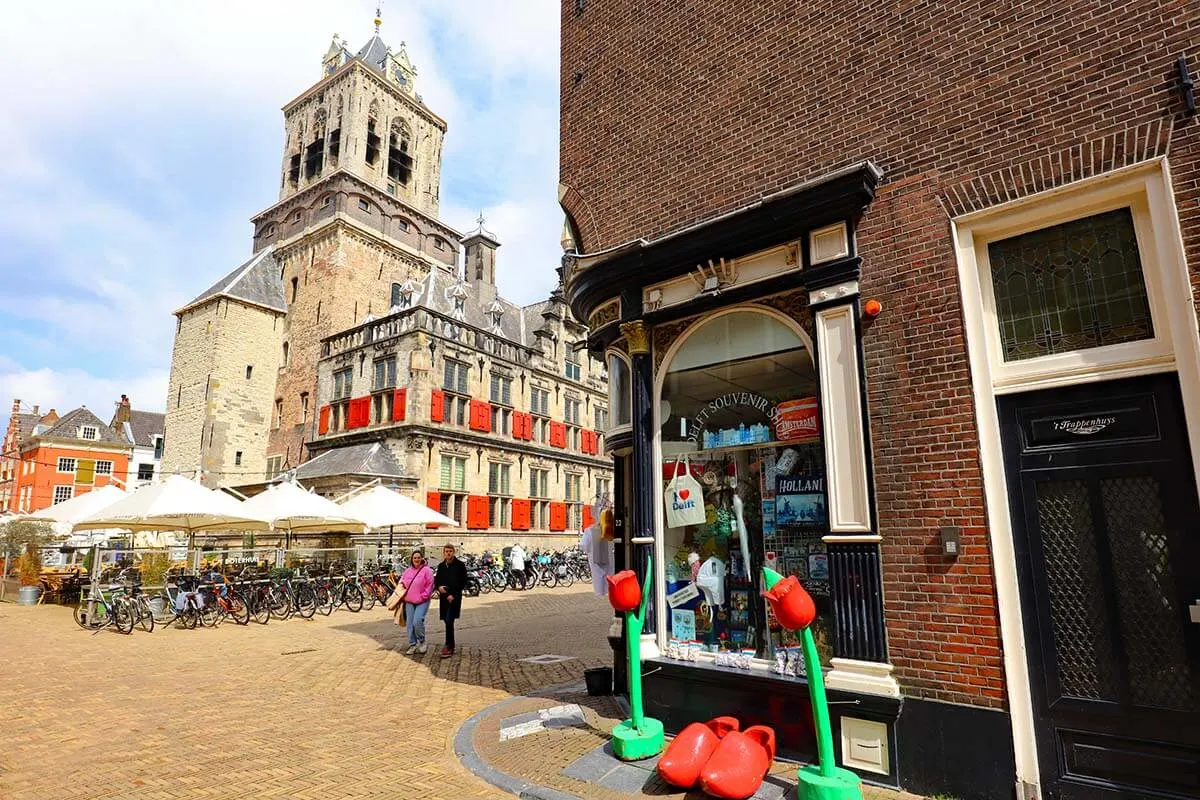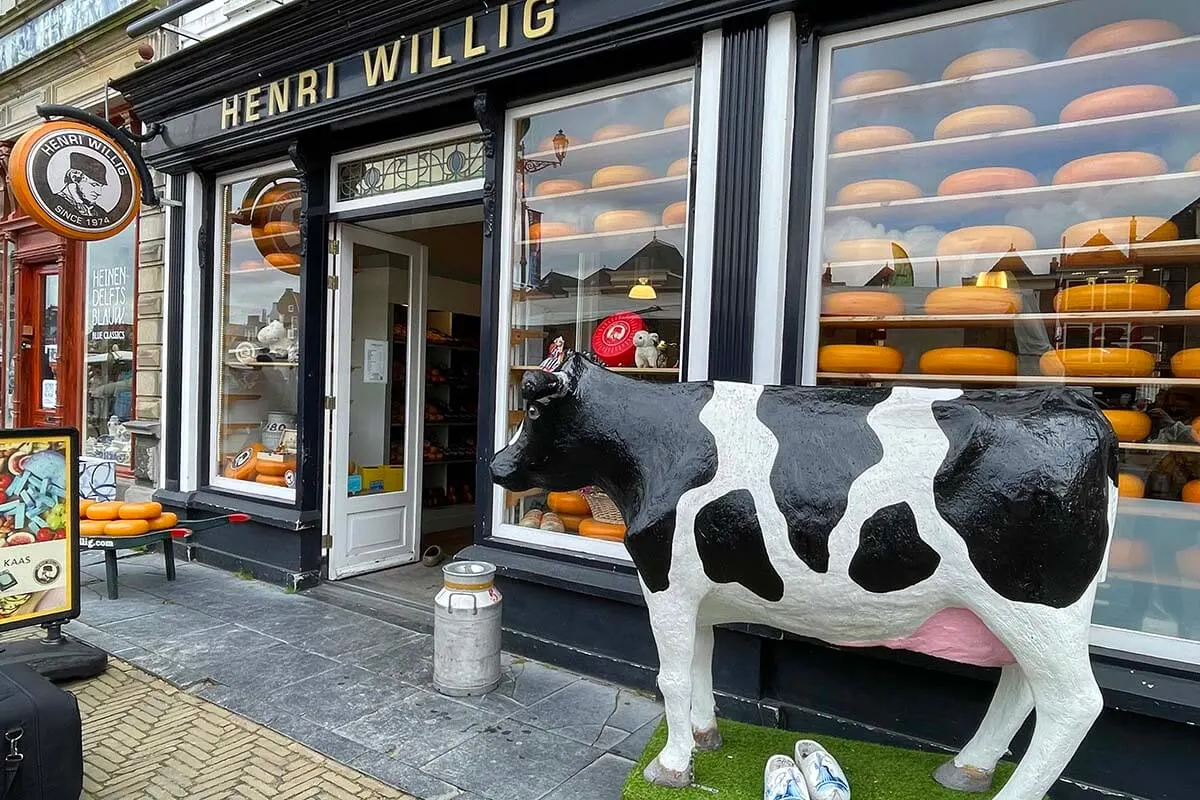 So, this is our guide to the very best of Delft. I hope that it gives you a better idea of what to expect and helps you get the most out of your visit.
Delft is truly one of the nicest towns in the Netherlands, well worth a visit even if just for a few hours.
Have a great trip!
More tips for your trip to the Netherlands:
Amsterdam:
More of the Netherlands:
If you found this post useful, don't forget to bookmark it and share it with your friends. Are you on Pinterest? Pin these images!